All the news for Wednesday 11 February 2015

Danson goal claims GB victory



Alex Danson in action for Great Britain

Great Britain narrowly took the spoils in the first of three encounters against Spain in Valencia.

Taking up the role of Skipper, Alex Danson led the way scoring the only goal of the game as she fired home a shot from the top of the circle in the 37th minute to make it 1-0 to Great Britain. The goal marked her 48th in an international shirt.

Spain pushed Great Britain all the way and were unlucky not to score from a couple of penalty corner and open play opportunities in the closing stages of the match, but Danny Kerry's side held on to take the first victory in the series.

Newcomer to the centralised training squad, 24 year old Holly Payne, made her international debut in what was the 37th encounter between these two sides.

There were also Great Britain debuts for two Scottish athletes, goalkeeper Amy Gibson who subbed on for Maddie Hinch at the half-time break and Holcombe's Sarah Robertson. Robertson's club teammate Lucy Wood, who will be a familiar name to those who followed England at the Commonwealth Games, also pulled on a Great Britain shirt for the first time.

Speaking after the game Great Britain Head Coach Danny Kerry said: "It wasn't a great performance from us, Spain could have easily won today and we rode our luck at times. Credit to Spain, they are a much improved side from the last time I saw them play and they deserved to get something out of the game. We were very much reliant on the experience of Kate Richardson-Walsh and Laura Unsworth in our defence today as they covered up a lot of our play. These test matches are so important for us to develop the squad and ensure the less experienced players get to play at the very top level before we go into major tournaments. I'm confident we'll get better over the next two games."

Great Britain's next match against Spain will take place tomorrow at the same time [1530 UK time]. The three matches are taking place at Polideportivo Virgen del Carmen Betero, the same venue Kerry's team will travel to in June when they battle for Olympic qualification at the FIH Hockey World League Semi Final.

SPAIN 0 (0)

GREAT BRITAIN 1 (0)
Alex Danson 37 FG

Match information including scorers can be accessed via this link http://tms.fih.ch/reports/competitions please be aware that Spain have opted to update the information following each match and not on a live basis.

Click here to find out the starting 11 and substitutes.

Great Britain Women v Spain – fixture information
Tuesday 10 February - 1530 - Spain v Great Britain
Wednesday 11 February - 1530 - Spain v Great Britain
Friday 13 February - 1030 - Spain v Great Britain

Great Britain Hockey media release


---

Gibson and Robertson set for first GB caps against Spain



Scottish keeper Amy Gibson in action vs India at the CWG

Great Britain Head Coach Danny Kerry has named a squad of 22 athletes to travel to Valencia to face world number 15 side Spain in a three-match test series, starting today.

The squad contains four Scotland players with the experienced defender Emily Maguire joined by goalkeeper Amy Gibson, Morag McLellan, and Sarah Robertson. Holcombe player Robertson and goalkeeper Gibson [Slough] are in line to make their Great Britain debuts.



Sarah Robertson looks set to win her first Great Britain cap.

The matches will take place at Polideportivo Virgen del Carmen Betero, the same venue Kerry's team will travel to in June when they battle for Olympic qualification at the FIH Hockey World League Semi Final.

The first of the three capped matches will take place today  1530, with the second match on tomorrow at 1530 and the final match of the series on 13 February at 1030.

Great Britain, ranked sixth in the world*, haven't faced Spain since July 2008; on that occasion they ran out 2-1 winners and have only lost to their European opponents seven times in 36 encounters.

Speaking ahead of their departure to Valencia, Head Coach Danny Kerry said: "It's great to be taking this group to Valencia and to be playing as Great Britain as we look ahead to a big year for the squad with Olympic qualification in June. There are six players in line to make their Great Britain debuts and as ever the combination of talent across the wider squad is an exciting prospect and brings extra competitiveness to selection and raises the bar of performance even further."

Live match information including scorers can be accessed via this link

Visit the Great Britain website to find out more about the squad members and fixtures.

*Great Britain automatically inherits its FIH World ranking position from the highest standing home nation side [England, Scotland and Wales] – England are the highest ranked team at number six.
Tuesday 10 February, 1530, Spain v Great Britain
Wednesday 11 February, 1530, Spain v Great Britain
Friday 13 February, 1030, Spain v Great Britain

Scottish Hockey Union media release


---

Ireland v France - Game No 1

Stephen Findlater

A youthful Irish side earned a creditable 1-1 draw with France at Grange Road as Shane O'Donoghue's first half goal was cancelled out late on by France's Jean-Laurent Kieffer in the first tie of their three game series this week.

Just three of Ireland's World League 2 panel were employed as coach Craig Fulton used a much changed selection to the one that played in South Africa last week.

Indeed, he handed out four debuts with Lee Cole – joining his elder brother Stephen in the starting line-up, Owen Magee and Luke Chadwick appearing in the first half and teenage goalkeeper Jamie Carr came on in the second period.

And they looked the part in a tight-knit first half where chances were at a premium against a more experienced French outfit.

Ireland saw their first penalty corner charged down before France's Olivier Sanchez clattered an effort into the side-netting from the pick of the openings.

O'Donoghue duly broke the deadlock in the 27th minute after Davy Carson's ingenuity won the set piece, his drag-flick having too much power for Edgar Reynaud.

The second half followed a similarly close-knit pattern with defences on top for the most part. France began to push on in the closing quarter, though, and after Sanchez fluffed a simple chance, Kieffer made sure of the draw with a sharp finish, picking up a rebound off the post and volleying home.

Ireland play France twice more this week, meeting again on Thursday and Friday evening at Grange Road at 7pm.

Afterwards, coach Fulton said he was pleased with how his young side performed

"I'm really pleased. We have been lining up this game for our development group for the last four months. It was positive, there was some good flowing play and we will bring some of these guys through to Thursday, mixed with a lot of the World League 2 panel" he said.

Ireland 1 (Shane O'Donoghue) France 1 (Jean-Laurent Kieffer)

Ireland: S West, J Bell, L Cole, M Bell, S Cole, M Robson, K Good, J Bruton, P Gleghorne, D Carson, S O'Donoghue
Subs: S Brownlow, M Elliott, J Lorimer, L Chadwick, O Magee, P Brown, L Carr
 
France: E Reynaud, C Peters-Deutz, J-L Kieffer, T Genestet, H Genestet, O Sanchez, C Masson, J-B Forgues, V Charlet, G Samson, A Coisne
Subs: F Goyet, S Martin-Brisac, G Baumgarten, G Deront, F Scheefer, C Saunier
 
Umpire: R Donaldson, W McCully.

Irish Hockey Association media release


---

Teenage Carr makes Irish international debut




Monkstown's Jamie Carr, pictured, became one of the youngest goalkeepers in Irish history as he made his international debut this evening for Ireland against France in Dublin.

The 18-year-old entered the match at half-time in a game which ended 1-1 as Ireland played four debutants including club mate Lee Cole – joining brother Stephen in the starting team – Banbridge's Owen Magee and YMCA's Luke Chadwick.

Both Carr and Cole were part of the Monkstown panel at the Euro Hockey League last October.

Dragons' star Shane O'Donoghue opened the scoring in the 27th minute before Racing Club de France's Jean-Laurent Kieffer equalised with five minutes remaining.

He was among a strong contingent from the French club along with Simon Martin-Brisac, Francois Scheefer, Cristoforo Peters-Deutz and Corentin Saunier.

The two sides meet again on Thursday and for a third time on Friday as both continue their preparations for World League round two.

Euro Hockey League media release


---

Best of the Best from the Indoor World Cup

Two compelling competitions, goals and high quality play; an event where new hockey heroes and new hockey nations emerged.



(Photo: Stanilas Brochier)

Two compelling competitions, full of drama, goals and high quality play; an event where new hockey heroes and new hockey nations emerged. That was the general consensus after the Indoor Hockey World Cup in Leipzig, Germany, came to its exciting conclusion at the weekend. While there is no surprise in seeing the Netherlands picking up trophies - both the men's and women's titles in this case – it was the absence of the German men in the final that caused the biggest shock.

The men's final was contested by the Netherlands and Austria, with the men in orange emerging as 3-2 winners, while the Netherlands women beat the German team in shoot-out, after the match ended 1-1 in regulation time.

In the men's bronze medal match, Germany ran out the winners over the surprise package Iran, while the Czech Republic took third spot – and their first ever Indoor World Cup medal – in the women's competition, defeating Austria in the shoot-out. Chris Faust, the coach who had been in charge of both the men's and women's team for the Czech Republic, said: "I'm speechless. We have worked very hard for four years now and I am so happy for the girls. I want to say a big thanks to all the spectators here in Leipzig."

Iran's coach, Esfandyar Safaei, said: "I am very much pleased with what my boys did. Looking forwards, our goal will be to reach the podium and finish first in future tournaments. For the future of hockey in Iran, this result is important because more people in Iran will play hockey and our Super League will become stronger."

Top scorers in the two competitions were Denise Admiraal of the Netherlands, who rattled in 13 goals and Alexander Otte of Germany, who scored 19 goals in total. Otte's sister, Katharina, was women's Player of the Tournament, while Benjamin Stanzl of Austria took the Player of the Tournament title for the men.

Tweeting their jubilation at winning a silver medal, the Austrian Hockey Federation wrote: "World Cup silver, the best result in the history of our two teams. Heads up guys #RoadtoRio."

And Robert Tigges, winning captain of the Netherlands men's team, said: "I feel like I am living a dream."

FIH site


---

Pearce, McCann named in 2015 National Squad



Pictured: Kirsten Pearce, courtesy www.photosport.co.nz

Black Sticks head coach Mark Hager has announced that Kirsten Pearce and Rachel McCann will join the 2015 National Squad, and he has named a further six players in the 2015 Development Squad.

The naming of these players completes selection for 2015, with all other players announced following the 2014 Ford National Hockey League.

The six players named in the Development Squad are Stephanie Dickens, Tessa Jopp, Su Arn Kwek, Tyler Lench, Maddie Dowe and Felicity Reidy. They join Erin Goad, Jenny Storey, Cass Reid and Danielle Sutherland.

Both McCann, aged 21, and Pearce, aged 23, played well in the series against Canada over the weekend and impressed selectors at the training camp in January.

A midfielder from Canterbury, McCann has come through New Zealand age-groups and was part of the Junior World Cup team last year.

Born in South Africa, Pearce lived in New Zealand for five years before moving to Australia where she played 13 years of club hockey and was named in the Australian Junior Squad. She was also in the New South Wales team that won the 2014 Australian Hockey League.

All the players in the National and Development Squads have access to a range of world-class sport services through High Performance Sport New Zealand (HPSNZ).

The Black Sticks Women are currently having a break from international competition. They have a five week training block ahead of the Hawke's Bay Festival in Hastings in April.

CLICK HERE to view the full 2015 Women's squads

Hockey New Zealand Media release


---

USA vs Argentina series to be broadcast live

LANCASTER, Pa. – Tickets for the U.S. Women's National Team four game series against Argentina was sold out two weeks after going on sale. While we're excited for a full crowd, now those who are ticketless will also have the opportunity to enjoy the matches on television. Each of the four game will be televised regionally in full HD. Host broadcaster Blue Ridge Cable – Channel 11 will produce the games televising live from inside the Dome at Spooky Nook Sports in Lancaster, Pa. The matches will also be available across the Fox 43.3 network.

The full series will be available online with streamed broadcast via www.usafieldhockey.com. USA Field Hockey has been selected by the United States Olympic Committee (USOC) for support the streamed broadcast. USA Field Hockey have additionally made the broadcast available to be shown live in Argentina via ESPN Deportes.

Former National Team player Torrie Albini will provide the color commentary. Albini retired from the team eight months ago in May 2014 and her familiarity with her teammates will give her some unique insights. "I am excited to be commentating on the Argentina games in what will be a tough series for the girls," Albini commented. "I am going to have fun working with the broadcast team and I am just so happy that we will be able to share Team USA across America and hopefully this can help inspire more kids to play our awesome sport."

SOLD OUT: Friday, Feb 13                            USA vs Argentina, 6.30 p.m. EST
SOLD OUT: Saturday, Feb 14                        USA vs Argentina, 4:00 p.m. EST
SOLD OUT: Monday, Feb 16                         USA vs Argentina, 6.30 p.m. EST
SOLD OUT: Wednesday, Feb 18                    USA vs Argentina, 6.30 p.m. EST

Keep your eyes locked on usafieldhockey.com for more information regarding the USA vs ARG series. #UN1TED

About Blue Ridge Cable
Brc-11 is the LOCAL FIRST source for Blue Ridge Communications subscribers in Northern Lancaster County

USFHA media release


---

Anticipation builds for 2015 Cal Cup

During Memorial weekend the Field Hockey Federation of Southern California (FHF) stages the California Cup International Field Hockey tournament.

Cal-Cup is an United States elite field hockey tournament featuring the highest level of competition for national and international clubs and teams. Competitors include teams, players and umpires from Argentina, Australia, Canada, England, Germany, Holland, India, Ireland, Mexico, Spain, Trinidad Tobago, USA and Taiwan amongst others.

Team registration is still open. The 2015, 44th edition is programmed for participation of more than 150 teams, with awards medals and trophies for all men, women and children divisions.  Registered teams will also have the opportunity to register for the one day hockey clinic offered by top ranked Australian players. The selected venues of Moorpark College, Arroyo Vista Park and Moorpark High School will stage 15 fields to play concurrent games during the four day tournament.

For more information please visit www.calcup.com or send an email to:

California Cup Organizing Committee
This email address is being protected from spambots. You need JavaScript enabled to view it.

USFHA media release


---

Jaypee Punjab Warriors advantage reduced

Ranchi Rays gain ground on leaders ahead of showdown meeting on Tuesday



(Photo: Nitesh_Sinha)

As the Hero Hockey India League reaches the midway mark, it is becoming clearer which teams will play in the semi-finals of the world's most prestigious hockey league.

Jaypee Punjab Warriors, who have already sealed their place in the semi-final, will face Ashley Jackson's Ranchi Rays at Ranchi on Tuesday evening (February 10). The top two teams in the league table meet for the first time this season ahead of a possible re-match of the tournament semi-final phase.

The Warriors, coached by legendary Aussie Barry Dancer, currently lead the table with 28 points, although the Rays have reduced the advantage over the past week and sit just four points behind on 24. The Warriors suffered their first defeat of the season last week, going down 2-1 to Uttar Pradesh Wizards, who now sit third in the table, in Lucknow. First half goals from India penalty corner ace VR Raghunath and Ramandeep Singh did the damage for UP, with Australian superstar Jamie Dwyer scoring the Warriors' only goal of the match in the second period.

However, the Warriors returned to winning ways in spectacular style by crushing Sardar Singh's Delhi Wave Riders 7-0, with in-form India defender Sandeep Singh – who currently sits top of the scorer's charts with eight goals - bagging a hat-trick of penalty corners in the rout, ensuring that they coming into Tuesday's meeting in Ranchi at the very top of their game. The Rays are also in great form, having lost only one of their opening seven matches and remain unbeaten at their home ground, a record that they will be looking to keep for as long as possible.

With the Rays likely to join the Warriors in the semi-finals, the race for the two land one of the two remaining spots is still very much alive. Third placed UP Wizards have 20 points, five clear of Delhi Wave Riders in fourth. Debang Mumbai have 12 points and sit fifth, three points ahead of bottom of the table Kalinga Lancers.

FIH site


---

Ranchi Rays beat Punjab Warriors to enter semifinals

RANCHI: In a thrilling contest between two top teams of the ongoing Hockey India League 2015, Ranchi Rays outwitted table toppers Punjab Warriors 3-2.

Punjab conceded an early goal in the 13th minute and the second goal in the 45th minute leaving them trailing the game 0-2.

Punjab finally made a comeback in the game by leveling the scores 2-2 in the fourth quarter, but wasting no time Ranchi Rays came back strong and scored the third goal and went on to win the game.

Post the match, both Ranchi and Punjab are locked at 29 points at the points table.

The first quarter produced frenetic action, with both the teams struggling to splinter the defence of the other team.

Ranchi seized an early initiative and opened the scoring in the thirteenth minute when the team earned a penalty corner. Ashley Jackson drag flicked and was saved by the Punjab goalie but Parvinder Singh scored on the rebound, helping his team take the early lead in the game. With 1-0 on the scoreboard, Ranchi were leading at the end of first quarter.

Ranchi took control of the proceedings for the major part of the first two quarters and made several forays into the Punjab's half whose defense held firm. As both the teams played the game aggressively and kept the pressure alive, none of the team members were able to seize the opportunity and the score remained in favour of Rays 1-0 at the end of first half.

With the change of ends, the game became more intense with Punjab struggling for a much needed equalizer. Although, the two teams tried creating chances into each other's D, Punjab managed a penalty corner opportunity but Bharat Chetri playing the replacement of Jaap Stockman in this match, saved for his team.

With the passing time, Rays switched on its attacking mode as another beautiful piece of play was displayed by Ashley Jackson who successfully converted a penalty corner in the 45th minute and added another magnificent goal to his name.

While Ranchi soaked up everything that was thrown at them, Punjab finally made a comeback and showcased its better side by scoring two goals in three minutes.

In search of opening their scorecard, Punjab's Agustin Mazzilli surged ahead and sneaked past the goal post through a field effort and opened the score card for his team in 47th minute. This was followed by another beautiful field goal by Satbir Singh who made a monster strike for Punjab in 49th minute, leveling the score to 2-2.

But this equalizer was short-lived as in the 51st minute Ranchi struck their third goal, coming from the stick of Stanli Minz and taking the score to 3-2.

Man of the Match and Ranchi captain Ashley Jackson said, "Fantastic to get a win in the last game in front of our home crowd. It is a psychological advantage winning the game against them today before the semifinal and finals stage."

Speaking on the win, Ranchi head coach Harendra Singh, said, "Jaypee Punjab Warriors have a good defence. The game came alive in the fourth quarter and while they played well in that quarter but we gave them equal fight. We are looking forward to our next match and we will learn from our mistakes today. MS Dhoni sends us a good luck message before every match to go for the kill. We as a team are improving with each game and this is positive for us."

Punjab head coach Barry Dancer, said, "They played very well. We will change our strategy for the next match against them and come back strong. We created a lot of opportunities in this match but we failed to convert the crucial goals. My team is playing excellent in this tournament and we need to keep this going".

Goal of the Match: Satbir Singh, Jaypee Punjab Warriors

Man of the Match: Ashley Jackson, Ranchi Rays.

The Times of India


---

Ranchi Rays stun Punjab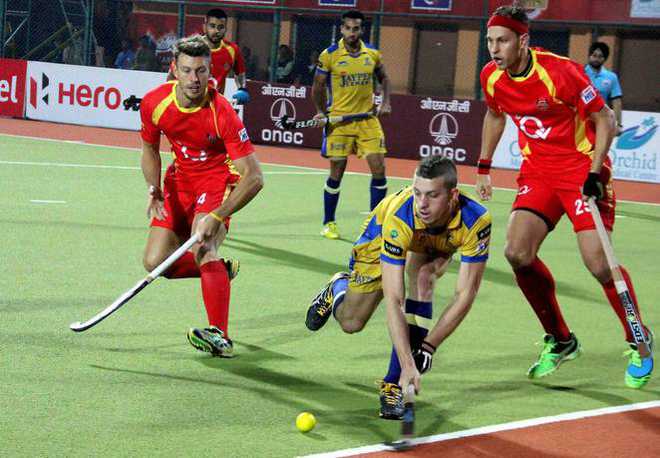 Players of Ranchi Rays (in red) and Punjab Warriors in action during their HIL match in Ranchi on Tuesday. PTI

Ranchi - In a thrilling contest between the top two teams of the ongoing Hockey India League, Ranchi Rays stunned table-toppers Punjab Warriors 3-2.

Punjab Warriors recovered after going 2-0 down but Stanli Minz's goal gave the home team a well deserved win. The win takes Ranchi to 29 points — the same as Punjab — but they still sit below the Warriors on the basis of goal difference.

The first quarter saw fast action. The Rays seized got a penalty corner in the 13th minute. Ashley Jackson's drag-flick was saved by the Punjab goalkeeper but Parvinder Singh jabbed in the rebound.

Ranchi scored their second through Jackson, who successfully converted a penalty corner in the 45th minute.

Agustin Mazzilli pulled one back in the 47th minute and two minutes later, Satbir Singh's scorching strike put Punjab back on level terms. But the joy was short-lived as Minz scored the winner in the 51st minute.

The Tribune


---

Our penalty corner conversion needs improvement: Rupinderpal

Y. B. Sarangi



Rupinderpal Singh. File photo: M. Vedhan

Even as defending champion Delhi Waveriders is trying to improve upon its mediocre performance in the third edition of the Hockey India League (HIL), prominent defender-cum-drag-flicker Rupinderpal Singh admits that the team flaunting three penalty corner specialists is yet to make an impact in this department.

In six matches Waveriders have scored just two goals, through Danish Mujtaba and Simon Child, from penalty corners. Rupinderpal, who has been part of the side since the inaugural season of HIL, said Waveriders were yet to benefit from their drag-flickers — including himself, Diwakar Ram and New Zealander Andrew Hayward.

"So far, our penalty corner conversion has not been good. We have committed a lot of mistakes. I hope we will perform better in the coming matches. We have to work hard to improve our short corner conversion rate," Rupinderpal told The Hindu.

"I am not happy with my own performance. I need to do a lot better in defence as well as penalty corners."

Following their two wins over Dabang Mumbai, Waveriders marginally improved their position on the points tally (15 points from two wins, two losses and two draws). But their 0-7 loss to Jaypee Punjab Warriors in the last match was a disappointing result for Waveriders.

Slack defence

Rupinderpal said the champion side suffered due to its slack defence. "In most of the matches we have taken lead in the first 10 minutes but conceded goals in the last quarter due to misunderstandings. Last year we had (top German goalkeeper Nicholas) Jacobi, who had a great season. The current goalkeeper (South African Rassie Peterse) is also good. But you cannot pinpoint one man when defending the goal is everyone's responsibility."

Rupinderpal said the players remained positive as they did not have any undue pressure from the management. "Our support staff and management did not put any pressure when we did not do well. We have improved in terms of coordination. We are doing a lot of video analysis and working on our mistakes in order to get better," said Rupinderpal.

The Hindu


---

Life has come a full circle for Adrian D'Souza

Overlooked for playing rival league and banned for a year for doping, goalkeeper Adrian D'Souza is keen to serve India under the bar again

Rutvick Mehta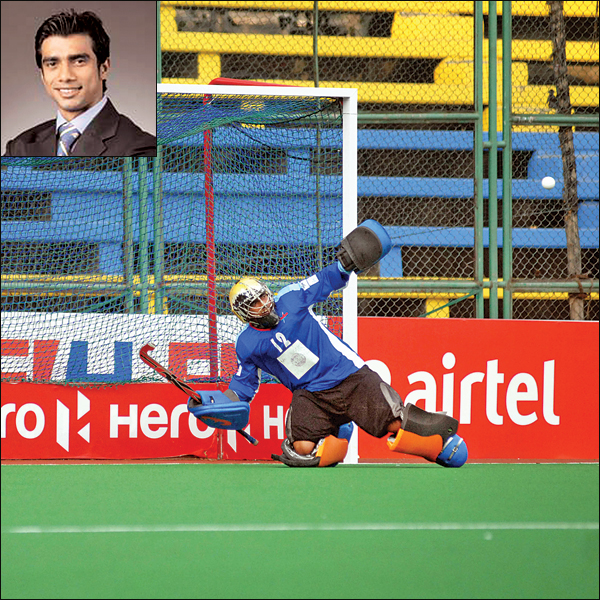 Dabang Mumbai goalkeeper Adrian D'Souza (inset) has not given up hopes of donning the national jersey again

For a sportsperson, making a comeback is not easy. And, if you're Adrian D'Souza, it is bound to be tougher.

The 30-year-old goalkeeper not only has to fight age, fitness and form, but also perception. The Mumbaikar, who has represented the country in more than 100 internationals, last donned the Indian jersey in 2011. Since then, he has been shunned by the national body for his participation in the rebel World Series Hockey (WSH), and banned for a year after failing a dope test in 2012. Why, he even decided to try his trade as a commentator in the previous season of the Hockey India League (HIL). In short, his international career, which started in 2004, seemed finished.

But, as they say, it's not over until it's actually over. D'Souza got a lease of life in the form of HIL franchise Dabang Mumbai, who stressed on having local flavour in the franchise. They picked up D'Souza, who gladly replaced the mic with the stick. Six games on, the franchise might have won only one game, but they've given D'Souza a chance to do what he does best.

"For me, it's not very challenging because I never stopped playing hockey. It's been more of a good experience. Being under the bar is something I love to do always. So, I wouldn't say it's challenging, but it's an experience that I'd love to have," he said.

After the ban, D'Souza continued to save quite a few goals at the nationals for his club, Air India. Experts reckoned he was worth giving another shot, but the people in power differed. That's where the perception factor of a slightly controversial past kicks in. Does he hope it changes, now that he is part of the HIL?

"Surely," he shot back. "I do believe in the system. We've seen Gurbaj Singh do very well in the last two HIL seasons, and today he's become a very important player for the national team. So, I don't see how the selectors could avoid it."

They indeed can't. For, the fact remains that besides PR Sreejesh, you can barely count on fingertips the number of goalkeepers that have the ability to knock on national doors. D'Souza agreed.

"Sreejesh has been doing really well for the past few years. He's accomplished himself as a professional goalkeeper. To be honest, I'm not actually looking at it in a very competitive way with regards to the national team, because if I do that, I'll lose my focus," he said.

D'Souza doesn't want to risk that again. For a man who was primed for greatness – having represented India at the Olympics (2004) and the World Cup (2006) – his career went spiralling down after 2010. His participation in WSH saw him being dropped from the national team in 2011. Three years is a long time to be out of action.

"I'm not disappointed in the sense that I regret every moment. But there are times when you always know that you've lost a couple of years when you could've been playing for the national team. But that's life, and you have to learn from it. I think I've learnt from it, and I'm still learning. I'm happy where I am today," he said.

Does he regret joining the WSH?

"Well, I wouldn't want to comment whether I regret or I'm happy about it. It's something that happened, and there were many players who played in that," he said.

Despite all the issues that hit D'Souza, not once did he think of quitting the sport, not even when he was handed a one-year ban for doping.

"I never thought of my achievements as being enough. I only thought of my performance and fitness as being important. The day I think I'm not fit enough to be a good goalkeeper, that'll be the day I'll hang my shoes and say 'no more professional hockey'.

"Hockey has been my life. The entire period of what I went through was a learning lesson for me. Every month, every day. And I'm happy that after being a commentator last year, I'm a player again now," he said.

He's clear he doesn't want to look too far ahead, and that his goal at the moment is only doing well for Dabang Mumbai and getting into the national camp. But as you're reminded of the Olympic rings that he has got tattooed on his torso, the inevitable question crops up.

Is he dreaming of Rio 2016?

"Well, playing for India at the Olympics is any hockey player's dream. If I can focus on my job, I can surely be hopeful of being back in the national set-up.

"I wouldn't want to think too much about it, but at the same time I wouldn't want to give up my hopes on it," he said.

Know Adrian
Born: March 24, 1984
Also known as: The Rush

ACHIEVEMENTS
Participated in 2004 Athens Olympic Games, 2006 Doha Asian Games
Was part of the team that won bronze in 2006 Sultan Azlan Shah, 2007 Champions Challenge, gold in 2007 Asia Cup and silver in 2008 Sultan Azlan Shah

DNA


---

Right coach to take Indian hockey forward

Indervir Grewal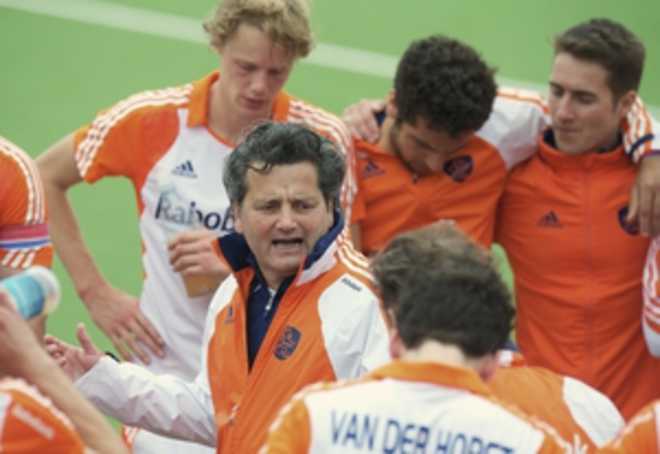 Unlike the previous foreign coaches, Paul Van Ass has come here after a very high profile job — coach of the Dutch national team. File

Chandigarh - Another year begins for Indian hockey with another new foreign coach taking over the reins. It is not a new sight for the Indian hockey fans — Paul Van Ass will be the fourth foreign coach in the last five years. However, the Dutchman is the first European coach in five years and the third in all.

The last time India had a European coach was when Spaniard Jose Brasa led the team to a 7th-place finish in the 2010 World Cup during his yearlong stint.

He was succeeded by two Australians — Michael Nobbs from 2011 to 2013 and Terry Walsh, who quit last November after a successful year.

This is the first time that India will have a fulltime Dutch coach — High Performance Director Roelant Oltmans' acted as the interim coach at the Champions Trophy. And the appointment has led to questions being raised about the effects of bringing in coaches from different countries and systems.

Former India captain Rajpal Singh joked that the Indians will become the most versatile players in the world, playing under coaches from different countries.

On a serious note, though, Rajpal said that the transition from an Australian coach to a Dutch one won't be difficult for the players. "It won't be a big problem. A good coach knows how to manage his players. In today's game, it is not about forcing a certain style on the players but playing in a style which is suitable to the available bunch," said Rajpal, who himself played under Brasa and Nobbs.

What Rajpal meant was that the game has become so fast and flexible that the styles of countries like Germany, Netherlands or Australia are not as different from each other as they used to be in the past. The modern game has, to a certain extent, moved away from set formations or fixed positions. It is about assigning roles and responsibilities to players based on their strengths and weaknesses.

Up to speed

Unlike the previous coaches, Van Ass is up to speed with the current game. He has come here after a very high profile job. While Nobbs had never coached a national side, Brasa and Walsh had not coached a major team in many years before taking up the India job.

Van Ass just finished a very successful spell with the Dutch national team, leading them to second-place finishes in the 2012 Olympics and the 2014 World Cup. Van Ass being Dutch could also help India's overall development. His appointment was not a big surprise — Oltmans' prominent role in the scouting process made it highly likely that the next coach was going to be the Netherlands. Hopefully, that would help in their working well together.

"He is the right choice to take India forward from where Walsh had left the team," Rajpal added.

Walsh had put a lot of emphasis on improving the discipline of the Indians and bringing structure and consistency into their game, and it had started to show by the end of his term. That will be the key to Van Ass's success. Dutch goalkeeper Jaap Stockmann, who played under Van Ass, had recently said that the 54-year-old was a "motivator" and a "tough taskmaster".

Van Ass still has over a year to prepare the team for the 2016 Olympics. And there are talks of keeping him till the 2018 World Cup. There shouldn't be any doubts about his capability. If SAI and Hockey India are serious about taking Indian hockey to the next level, they have to start by hiring a coach on a long-term basis. And who better to start with than one of the most successful coaches in recent years.

The Tribune


---

Kewalramani College beat PWS to win inter-district women's hockey title

Suhas Nayse

NAGPUR: Continuing their splendid show in the four days, Rajkumar Kewalramani College drubbed PWS College 2-0 to win the Harakchand Chopda Memorial Inter-District Women's Hockey tournament, organized by the Vidarbha Women Hockey Association, at the Tiger Gap ground, Sadar on Sunday.

In-form Kewalramani College struck both the goals in the first half. Monu Pradhan provided her team a sensational start by scoring in the fourth minute. Eleven minutes later, Roshni Mendhe doubled the lead to seal the fate of PWS College.

Earlier in the semifinals held in the morning, Kewalramani College rallied back superbly to beat St Ursula High School 2-1. In the seventh minute, Monu Uikey gave 1-0 lead to St Ursula.

However, Kewalramani bounced back and scored two goals through Roshni Mendhe to shatter the hopes of St Ursula HS. Roshni restored parity in the 15th minute, while in the 65th minute she added one more to help her team reach final.

In the second semis, PWS also notched up an identical 2-1 win over Yavatmal, courtesy a brace by Shruti Bagde, who found the target in the 15th and 50th minutes. Nutan Ingole scored a consolation goal for the visiting team in the 68th minute.

Later in the third place play-off, Yavatmal edged out St Ursula HS 2-1.

Retired IPS officer Rajkumar Zutshi and VHA vice-president Atal Bahadur Singh distributed the prizes.

The Times of India


---

PIA Whites, NBP, Customs and Railways in semis

Anwar Zuberi

KARACHI: The quartet comprising formidable PIA Whites, National Bank of Pakistan (NBP) hosts Customs and Railways completed the last four line-up in the fifth Quaid-i-Azam Gold Cup hockey tournament at the Customs Preventive Service Club and Sports Complex on Tuesday.

The airlines overwhelmed Railways 10-1 to register their second straight victory that was preceded by two-all stalemate against Pakistan Steels. They have completed their league engagements securing seven points from three outings to top four-team group B. They are followed by Railways with six points.

In the other match, the Chief of Army Staff Cup champions NBP, routed Customs by a tennis score (6-2) to finish on top of group A with nine points. They are followed by Customs with six points.

In a match that fell short of expectations, the national carrier was on a scoring spree right from the word go as their opponents look pathetic and at the receiving end. Kashif Ali played an effective captain's role scoring half of the tally in 5th, 15th, 45th, 50th and 55th minutes with first two goals coming off penalty corners.

Zubair (10th), Azfar Yaqoob (22nd), Inayatullah (33rd), Ammad Shakeel Butt (35th) and Nohaiz Malik (47th) slammed once. Railways managed to reduce the deficit through their captain Zeeshan 10 minutes before final hooter.

Kashif's performance earned him second Man of the Match award amounting to Rs10,000.

Member of Pakistan team Arsalan Qadir's brace of goals helped the NBP conjure up an emphatic 6-2 victory over once superior outfit Customs. Mubashir Ali (6th), Syed Kashif Shah (24th), Dilber Hassan (28th) and Atiq Arshad (40th) minute netted once for bankers. Haseem Khan, member of silver medal winning Pakistan hockey team at the last year's Incheon Asian Games, brought some respite scoring two quick field goals within a span of eight minutes (40th and 48th) after his team has conceded half-a-dozen goals.

M. Asim of Customs fetched Rs10,000 award of Man of the Match.

The league matches concludes on Wednesday.

Inaugurated by Governor of Sindh, Dr Ishrat-ul-Ebad Khan, the revival of prestigious Quaid-i-Azam Gold Cup has attracted eight teams. Having produced a large number of Olympians and international, Customs under the patronage of its chief collector M. Nazim Saleem, collector S. M. Tariq Huda, additional collector Shafqat Niazi and others have come forward to revive the national game.

As sponsors, they have put a brand new Toyota GLI for winning team, Rs50,000 apiece for winners and runners-up and RS10,000 Man of the Match awards in 15 matches.

The PHF secretary Rana Mujahid has specially come from Lahore while the PHF chief Akhtar Rasool is expected to reach here on Wednesday. A large number of former stalwarts including Islahuddin, Samiullah, Hanif Khan, Waseem Feroz, Iftikhar Syed and Kaleemullah were among others who were present on Tuesday.

Meanwhile, an amount of approximately rupees one million in cash and kind has been contributed by the A O Clinic, Dr Junaid Ali Shah, told Dawn on Tuesday.

Wednesday's fixtures:

At 2pm: Karachi v Police.
At 4pm: PAF v Pakistan Steels.

Dawn


---

The Road to Lee Valley – Competition Draws



Cannock NOW: Pensions Men's Cup Winners 2014

With the Road to Lee Valley hotting up, this past Sunday and Monday, live on Twitter the next round of each competition was drawn, throwing up some intriguing ties.

NOW: Pensions Men's Cup holders Cannock came from behind to overcome Sheffield Hallam in the quarter finals, and they will play 2013 champions Surbiton, who they defeated in last season's Round 2 en route to the final. Brooklands MU, who were defeated by Cannock in last year's final on penalty strokes, will host seven times champions Reading. Brooklands fans will inevitably remember their side's incredible comeback from four goals down when the sides met in the league at the same venue earlier this season, but will surely be hoping for a more conventional clash. 

With a repeat of last season's final still a possibility, the semi-finals will surely produce plenty of drama.

NOW: Pensions Men's Cup Semi Final Draw – Ties to be played Sunday 22nd March

Brooklands MU v Reading
Cannock v Surbiton

In the NOW: Pensions Men's Trophy, holders Guernsey survived a tough battle against West Championship leaders City of Bath, and will travel to Stourport in the last eight to continue their quest to make it to their fourth final in as many years. 2011 finalists Tulse Hill & Dulwich travel North to take on Didsbury Northern.

NOW: Pensions Men's Trophy Quarter Final Draw – Ties to be played Sunday 1st March

Didsbury Northern v Tulse Hill and Dulwich
Gore Court v Eastcote
Sheffield Univ Bankers v Ashford (Middlesex)
Stourport v Guernsey

Cirencester are the only team remaining in the NOW: Pensions Men's Vase competition to have reached the final before. They will face a home time in the Quarter Finals against the winners of Buxton or Coalville Town.

NOW: Pensions Men's Vase Quarter Final Draw – Ties to be played Sunday 1st March

Berkswell & Balsall Common v Redbridge & Illford
Cirencester v Buxton or Coalville Town
Crawley v Ludlow
Hereford v Tamworth

Investec Women's Trophy holders Henley received a home draw in the last eight as they welcome North Notts who they defeated in the Semi Finals en route to winning the 2013 Trophy.

Investec Women's Trophy Quarter Final Draw – Ties to be played Sunday 22nd February

Henley v North Notts
Lewes v Didsbury Greys
Lincoln v Newent
Newcastle v Wisbech Town

For all the knockout draws, visit our competitions pages.

England Hockey Board Media release