All the news for Friday 23 January 2015

HWL R2 Singapore: Malaysia, Japan, Oman & Poland storm into semis

Top-ranked duo Malaysia & Japan set to meet; Oman prepare for Poland test



(Photo: Singapore Hockey Federation / Alfie Lee)

Thursday (22 January) was quarter-final day at the Hockey World League Round 2 tournament in Singapore and it proved to be hugely successful for Malaysia, Japan, Oman and Poland, who all recorded wins to keep their respective Olympic qualification dreams alive and kicking.

Pool A winners and top seeds Malaysia (FIH World Ranking: 12) claimed victory over Pool B's bottom side Mexico (WR: 36), with striker Tengku Ahmad scoring four goals in the contest. Tournament top scorer Faizal Saari also got his name on the score-sheet, taking his event tally to ten in just four matches. "This is my highest scoring margin in an international tournament," said 24-year-old Faizal, "but I hope to do even better and help the team win gold in this tournament."

Malaysia's opponent in the semi-final will be Asian rivals and Pool B runners-up Japan, a side that sits just three places below them in the FIH World Rankings at 15.

Pool A runners-up Oman (WR: 23) secured their place in the semi-finals in remarkable fashion with a shoot-out triumph over Bangladesh (WR: 29). Bangladesh were just three minutes away from victory when Muhanna Al Hasani levelled the score at 3-3 before confirming his hero status by scoring what proved to be the decisive goal in the shoot-out.

Oman face stiff opposition in their semi-final, coming up against a team that has recorded four wins from four matches and netted 22 goals in the process. Pool B winners Poland (WR: 18) booked their place in the semis with a win over host nation Singapore (WR: 37), with talismanic captain and penalty corner expert Pawel Bratkowski finding the net for the fourth successive game with a brace to take his tournament total to seven.

The teams competing in the 5-8 classification games will be back in action on Friday (23 September), with the exciting semi-finals taking place on Saturday ahead of Sunday's tournament final and placement games. To see all tournament fixtures and results, please click here.

The three highest finishers in the eight-team men's tournament, which started on Saturday 17th and concludes on Sunday 25th January, will each be guaranteed a place in the semi-final of the competition, where coveted berths at the Rio 2016 Olympic Games are up for grabs. 

You can keep track of all of the action from Singapore on the official tournament microsite.

FIH site


---

Malaysia cruise past Mexico 10-1..Japan next

by Jugjet Singh

MALAYSIA cruised into the semi-finals of the World League Round Two after they whitewashed Mexico 10-1 at the Sengkang Stadium in Singapore yesterday.

Playing under a blazing 9am sun, and witnessed by eight ticket-paying fans, coach Tai Beng Hai's men missed 10 chances, but made the other 10 count to claim the favourites tag in the tournament.

Malaysia will play Japan in the last-four, after players from the Land of the Rising Sun beat Ukraine 5-0 in the other quarters.

And in the other last eight matches, Poland hammered Singapore 8-0; while Oman and Bangladesh played to a 3-3 draw but Oman won 2-0 in a penalty shoot-out.

Tengku Ahmad Tajuddin started the goalcount in the fourth minute and went on to score three more in the 30th, 31st and 48th. The other goals were scored by Faizal Saari (14th), Razie Rahim (16th), Firhan Ashaari (19th), Izwan Firdaus (40th), Izad Jamaluddin (44th) and Haziq Shamsul (54th).

The Mexico consolation was scored by Andres Range in the 24th minute.

For the record, Malaysia's only other match against Mexico was at the 1968 Olympics, where the hosts were beaten 1-0 in the 15th-16th classification match.

"We did miss many chances but that could be due to playing so early in the day as we had to wake up at 5am to prepare for the match. The blazing sun did not help either, as we missed many sitters but still, the scoreline is a big boost ahead of the crucial semi-finals," said Malaysian coach Tai Beng Hai.

The national players beat Ukraine 5-1, Oman 7-0, Singapore 16-1 and Mexico 10-1 for an impressive 38 goals scored and three let in.

"It has been a very good tournament so far, but Japan will not be easy as they have a better structure and  can be deadly if we do not score early to douse their fire. However, we are here to play in the final, and Japan can be beaten," said Beng Hai.

The only casualty yesterday was Firhan Ashaari who received a cut on his cheeks and was rushed to the hospital, but with a rest day before the semis, he is expected to be back on the pitch to help Malaysia beat Japan.

hree teams from Singapore will qualify for the World League Semi-finals, and Malaysia need to beat Japan and book their ticket early and not wait for the third-fourth placing match to qualify. The WL Semi-finals is the last shot for teams to qualify for the 2016 Rio de Janeiro Olympics.

Singappore have been a miserable host so far, as teething problems are still persistent for teams even though it has reached the knock-out stage.

Firhan's injury opened another can of worms as the hosts did not have an ambulance on standby and asked for S85 to call one from a nearby hospital:

"This is ridiculous as when Malaysia host a tournament we provide medical care and do not charge for teams for an ambulance ride. And when we complained to the tournament director he just shook his head in disbelieve. In the end, the ambulance never came and we took Firhan to the hospital in a taxi," said a Malaysian official.

Another good news yesterday was that Malaysia moved up a notch in the world and are now num 12, while their semis opponents Japan dropped from 14 to 15. The other potential finalist Poland remained at 18th.

Malaysia have the best chance to win gold in Singapore, and advance to the World League Semi-finals at either Belgium or Argentina which offer tickets to the 2016 Rio de Janeiro Olympics, a platform where Malaysia last played in Sydney 2000.

Meanwhile, the Malaysian Hockey Confederation (MHC) will hold their Annual General Meeting on Feb 13, with nominations closing on Feb 2.

World League Results Day 5
WORLD LEAGUE ROUND TWO SINGAPORE -- JAN 17-25

FINAL STANDINGS
GROUP A
                          P  W  D  L  F  A  Pts
Malaysia       3   3    0   0  28  2  9
Oman             3   2    0   1  5  10  6
Ukraine          3   1    0   2  4  8  3
Singapore    3   0    0   3  4  21  0

GROUP B
                     P  W  D  L  F  A  Pts
Poland       3   3    0   0  14  2  9
Japan         3   2    0   1  13  4  6
B'ladesh    3   1    0   2  7  11  3
Mexico       3   0    0   3  1  18  0

RESULTS:

Jan 17:
Group A: Malaysia 5 Ukraine 1, Oman 3 Singapore 2
Group B: Japan 5 Bangladesh 1, Poland 6 Mexico 0.

Jan 18: Group B: Bangladesh 5 Mexico 1, Poland 3 Japan 2.
 
Jan 19: Group A: Ukraine 2 Singapore 1, Oman 0 Malaysia 7.

Jan 20:
Group A: Ukraine 1 Oman 2, Malaysia 16 Singapore 1
Group B: Japan 6 Mexico 0, Bangladesh 0 Poland 5.

Jan 21: REST DAY

Jan 22: Quarter-finals: 
Malaysia 10 Mexico 1
Japan 5 Ukraine 0
Oman 3 Bangladesh 3 (Oman beat Bangladesh 2-0 in penalty shoot-out); Poland 8 Singapore 0

Jan 23: Fifth-Eighth -- Mexico v Ukraine (3pm); Bangladesh v Singapore (5.30pm).

Jan 24: Semi-finals -- Malaysia v Japan (3pm); Poland v Oman (5.30pm).

Jan 25: Final and placing matches.

Jugjet's World of Field Hockey


---

Superior Malaysia give Mexico a hockey lesson with 10-1 thrashing

by Aftar Singh



Malaysia's Tengku Ahmad Tajuddin (in yellow) dribbling past Mexican defence during their 10-1 win in the World Hockey League quarter-final match in Singapore. Tengku Ahmad scored four goals in the match. - Bernama

SINGAPORE: It was close to being a perfect 10.

In the end, Malaysia settled for a 10-1 thrashing of hapless Mexico in the quarter-finals of the World Hockey League Round Two at the Sengkang Hockey Stadium.

And Tengku Ahmad Tajuddin was the star of the show – netting four goals for world No. 12 and top seeds Malaysia, who will now face Asian rivals and second seeds Japan in Saturday's semi-finals.

World No. 15 Japan had no problems outplaying Ukraine 5-0 in the other quarter-final match.

The Kangar-born Tengku Ahmad was on target in the fourth, 30th, 31st and 48th minutes to take his goal tally in the tournament to seven.

Faizal Saari kept his promise to score in every match by netting in the 14th minute to stay as the leading scorer with 10 goals.

Skipper Mohd Razie Abdul Rahim (16th), Mohd Firhan Ashaari (19th), Izwan Firdaus Ahmad Tajuddin (40th), Mohd Izad Hakimi Jamaluddin (44th) and Mohd Haziq Samsul (54th) netted one each.

Andres Rangel scored the consolation goal for Mexico in the 24th minute.

Prior to the match, Malaysia last played against Mexico in the 1968 Mexico Olympics, with Malaysia winning 1-0.

Defender Azlan Misron also set a record in the match against Mexico – winning his 350th cap.

Only 10 fans bought tickets to watch the Malaysia-Mexico match.

National coach Tai Beng Hai was satisfied with the win – but not with his defenders.

"We gave the Mexican players too much room to create chances. I'm concerned with our defence as they cannot do this in the semi-final against the speedy Japanese team," said Beng Hai.

The 29-year-old Tengku Ahmad described the match against Mexico as a good warm-up in preparation for the semi-finals.

"Our challenge will only begin in the semi-finals against Japan. We can expect a strong challenge from Japan.

"Although we beat them  4-1 in the Asian Games (in Incheon last September), the semi-finals here will be a different ball game," said Tengku Ahmad.

Japan, coached by South Korean Kang Keon-wook, got their goals against Ukraine through Koshi Yamabe (12th), Kazuma Murata (14th), Kenta Tanaka (19th), Ippei Fujimoto (28th) and Koji Kayukawa (34th).

The other semi-final will see Oman taking on Poland.
Oman qualified for the semi-finals after beating Bangladesh 2-0 in a penalty shootout. Both teams failed to break the 3-3 deadlock in regulation time.

The Star of Malaysia


---

Malaysian hockey official up in arms over ambulance fee

by Aftar Singh

SINGAPORE: Malaysian hockey officials are upset with the Singapore Hockey Federation (SHF) for imposing ambulance charges to send a player to hospital.

Malaysian forward Mohd Firhan Ashaari suffered a cut on his upper lip after a Mexican player accidentally hit him with his hockey stick during their World Hockey League Round Two quarter-final match at the Sengkang Hockey Stadium.

Firhan, who scored a goal in Malaysia's 10-1 win over minnows Mexico, needed to go to hospital to stitch up his torn lip.

Although there was an ambulance available, the organisers asked the Malaysian officials to pay S$85 (RM229.60) for the ambulance service.

"As hosts, they should provide the ambulance service for free ... We refused to pay the amount as it was too expensive. We sent Firhan to hospital by taxi," said a Malaysian official, who did not want to be named.

"We can organise events much better (than them) as we provide free medical assistance to all players and officials."

Firhan, who received four stitches, is expected to recover in time for the semi-final against Japan or Ukraine on Saturday.

Meanwhile, Malaysian Hockey Confederation (MHC) senior vice-president Datuk Nur Azmi Ahmad revealed that they will send a mixed team of seniors and juniors for the Singapore SEA Games from June 5-16.

"Our priority this year is to give our best in the World League Semi-Finals, either in Belgium or Argentina, to the qualify for next year's Olympics in Rio de Janeiro," he said.

"We've not featured in the Olympics since Sydney in 2000. With the guidance of consultant (and soon to be coach) Neil (Hawgood of Australia) we have a good chance to qualify for the 2016 Games."

He added that players dropped from the World League Semi-Finals and a few others from the National Juniors would feature in the SEA Games.

"We shouldn't have any problem winning the SEA Games gold," he said.

The Star of Malaysia


---

SA hockey women finish strongly against Chile

JONATHAN COOK at Hartleyvale



SA's Shelley Russell on attack in the first Test against Chile at Hartleyvale in Cape Town Thursday. PHOTO MATT WITHERS

The women's section of the Cape Town Summer Series came alive at Hartleyvale in Cape Town Thursday night when the world's 11th-ranked Investec South Africa women's hockey team beat impressive world number 20 Chile 4-2 after the score was 1-1 at half-time.

Three minutes into the match, umpire Tanja Schafer adjudged Chile striker Manuela Urroz to have been body-checked and awarded a penalty corner, which captain Camila Caram slapped powerfully into the goals, the ball deflecting off a stick into the box (1-0).

In the seventh a neat move launched by pacy Shelley Russell involving some good combination play saw SA come agonisingly close to equalising. And towards the end of the first of the four 15-minute chukkas, Bernie Coston and captain for the match, Sulette Damons; and Quanita Bobbs and Tanya Britz, combined well on two separate occasions to create opportunities.

Into the second quarter and Illse Davids smashed a great backhand across the face of goal as SA sought parity. Then Russell split the defence with a slide-rule pass and SA earned their first PC, debutant umpire Melissa Taylor of Pietermaritzburg firm in her decision.

Lisa Deetlefs' PC slap-shot was saved low by keeper Natalia Salvador but Russell was on hand to deftly steer the rebound home for 1-1 in the 24th minute.

A Chile PC came and went and the competitive nature of this Test match showed no sign of letting up as the teams went into half-time.

Two minutes into the third stanza (32nd minute) Damons set the game alight with a stunning reverse-stick strike that put SA 2-1 up.

Chile came back two minutes later (35th) to draw level through Urroz following a PC (2-2).

The pace quickened as the action swung from end to end, allowing more space and time, and Dirkie Chamberlain worked hard to win a PC but the chance was blocked.

Coming out for the final chukka with the score locked 2-2, it was end to end stuff, and with seven left (53rd minute) good combinations play led to Chamberlain smashing a reverse-stick shot that thudded into the backboard for SA to regain the lead (3-2) and with seconds left (60th minute) Nicolene Terblanche nailed another goal for the 4-2 final scoreline.

SA meet Belgium at 6.30pm Friday, preceded by Chile versus a Western Province Invitation team at 4pm.

TEAMS
Investec SA: Sanani Mangisa (GK), Tanya Britz, Illse Davids, Shelley Russell, Lisa Deetlefs, Lilian du Plessis, Nicolene Terblanche, Erin Hunter, Jade Mayne, Sulette Damons (capt), Nicole Walraven. Rolling subs: Anelle van Deventer (GK), Tiffany Jones, Marcelle Manson, Dirkie Chamberlain, Candice Manuel, Bernie Coston, Quanita Bobbs.

Chile: Natalia Salvador (GK), Sofia Walbaum, Francisca Pizarro, Sofia Filipek, Carolina Garcia, Francisca Vidaurre, Manuela Urroz, Camila Caram (capt), Francisca Tala, Constanza Palma, Maria Ignacia Bastias. Rolling subs: Claudia Schuller (GK), Carolina Kappes, Fernanda Flores, Andrea Greene, Denise Krimmermann, Catalina Salas, Josefa Villalabeitia.

Umpires: Tanja Schafer, Melissa Taylor.

SA Hockey Association media release


---

Hockey draws the short stick when it comes to funding

By Graham Joffe

Hockey seems to always get the short stick, if you'll excuse the pun when it comes to funding in SA sport.

There is a history with the old Olympic body, NOCSA (National Olympic Committee of South Africa) and it still seems as if there's a stigma attached.

It was one of the biggest selection controversies in SA sport when the men's hockey team qualified for Sydney 2000 Olympics but NOCSA denied them the opportunity to compete saying the team was "too white".

NOCSA president, Sam Ramsamy tried to defend the decision but it only caused more harm and SA sent a baseball team to Sydney instead.

Hockey players from that era still say it's still their biggest disappointment and who can blame them as most athletes may only get to one Olympic Games in their career.

They qualified and should have gone – no ifs, buts and whatever Ramsamy and co would like to tell you.

In addition, a number of those players had given up day jobs and put their heart, soul and own money into qualification.

So, the funding issues in SA hockey have been there since day one.

I then learned that the men's players had to pay for their own accommodation for a recent home test series against Austria.

Surely not for a home series?

Hockey is seemingly one of the better run and more transparent sporting federations in SA but the players are still having to cough up to represent their country.

Why is this?

I posed the following questions to the CEO of South African hockey, Marissa Langeni.

Does SA hockey have a title sponsor for both the men's and women's national team?

Investec are currently the SA Women's title sponsor until the end of February 2015. We issued a press release last year announcing that Investec would not continue with the team sponsorship beyond February. We would like to thank Investec for the successful partnership since 2010. We are currently looking for a new title sponsor and remain positive that we will secure a sponsor going forward. The SA Men's team do not have a title sponsor, we have been in the market for some time now trying to secure one. Mugg & Bean remain a co- sponsor of the team and their support has gone a long way to support the team and ensure that they get to major events over the last 12 months.

Did the SA men players have to chip in for the Austrian's tour expenses?

Visiting teams to South Africa pay their own costs whilst here. We took that decision as far back as 2011. The hosting province will normally offer them free turf time but that is as far as it goes. The SA men had to contribute towards their own team costs for the series and not for Austria. Hosting an FIH tournament is different as there are some obligatory costs that hosts have to cover such as tournament transport, neutral umpires, medical support at matches etc.

How much do the indoor players have to pay for next month's World Cup to represent SA?

The SA Indoor players have not had to contribute any costs towards the Indoor World Cup. There has been a joint effort between SA Hockey, Coaches and Players to find sponsors to cover these costs. Initially when we started working on the budget and only had 2 confirmed sponsors there was a real reality that players would have to contribute, fortunately this is now not the case.

Is SA hockey getting funding from the Lottery?

We currently have our last Lotto Project Number that is still active and have received the last allocated tranche payment for this. Once it is completed and reports submitted our new application will be looked at. This new application falls within the new funding regulations of a R2 million rand capping per application. We have received fantastic support from the National Lottery's Board in recent years and this too ensured that our National Teams High Performance activities were fully paid for. We are extremely fortunate that in the last 5 years, we have met our obligation for every International Hockey Federation tournament that our teams have been seeded in. The only exception being in 2012 when we opted to not send the SA Men to the Champions Challenge event and opted to attend the Azlan Shah Cup in Malaysia and use that as preparation for the Hockey World Cup. Many thanks for the continued interest in our teams and the exposure given.

SportsFire Daily


---

Blazing start by Lancers



Kalinga Lancers and Ranchi Rays players in action during their opening match of the Hockey India League in Bhubaneswar on Thursday.   

Kalinga Lancers made a blazing start to the third edition of the Hero Hockey India League, drubbing the defending champion Ranchi Rays 6-3 at the Kalinga Stadium in Bhubaneswar on Thursday.

Showing an uncanny knack of scoring consistently, the home side, coached by former India captain Jude Felix, found the target in all four quarters to complete its dominance of the visiting side. Rays, who are co-owned by M.S. Dhoni, found the going tough against an aggressive Lancers.

Lancers showed good organisation and worked up fluid formations that gave them a handy 3-1 lead at half-time. The Bhubaneswar-based side's speedy counterattacks opened up Rays' defence time and again. With the playing time of the tournament reduced to 60 minutes this year, Lancers looked for an early lead which came through Argentine forward Lucas Villa.

Villa was lucky to get the goal as his shot ricocheted off Rays goalkeeper Lovell Tyler and sneaked into the net before Birendra Lakra could clear it. The third-minute strike pepped up the home side — Ryan Archibald and captain Vickram Kanth struck within the space of a minute (17th and 18th) after Barry Middleton had equalised in the 14th for Rays.

Rays tried to get back into the hunt in the third quarter, but each time it succeeded in reducing the margin, the Lancers scored one to maintain a good lead. Rays captain Ashley Jackson converted two penalty corners to make it 4-3 at one stage, but two spectacular strikes from Lancers' Mandeep Antil (58th) and Mohammad Amir Khan (60th) ended the hopes of the visitor.

The result:

Kalinga Lancers 6 (Lucas Vila 3, Ryan Archibald 17, Vickram Kanth 18, Gurjinder Singh 37, Mandeep Antil 58, Mohammad Amir Khan 60) bt Ranchi Rays 3 (Barry Middleton 14, Ashley Jackson 36, 50).

Man-of-the-match: Vickram Kanth (Lancers).

The Hindu


---

Lancers eclipse Rays in the HIL opener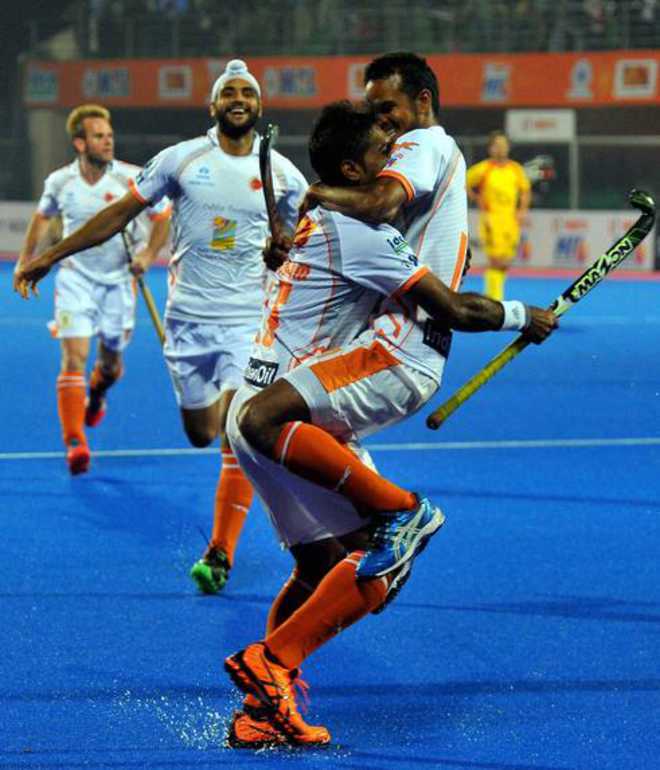 Kalinga Lancers' captain Ickram Kanth celebrates with teammate Lalit after scoring a goal against  Ranchi Rays in Bhubaneswar on Thursday. PTI photo

Bhubaneswar, - It was quite a positive and dominant start for the Kalinga Lancers as they defeated debutants Ranchi Rays 6-3 in the opening match of the third edition of the Hockey India League (HIL) at the Kalinga Stadium here on Thursday. For a team which finished last in 2014, the Lancers came out strongly to defeat the Rays, which have many players from the now defunct Ranchi Rhinos.

The start of the first quarter saw the ball travelling from one end to the other, with the home team striking immediately through Argentine Lucas Vila, who struck a brilliant field goal by reverse flicking his shot past Rays' custodian Lovell Tyler. The ball was slowed down by Tyler but it just managed to crawl over the line to give Lancers the lead in the third minute.

Within minutes, the Lancers earned three back-to-back penalty corners, all taken by recently crowned international hockey federation's (FIH) Rising Star of the Year Gonzalo Peillat. However, the Argentine failed to convert all chances. The Rays struck back in the 15th minute through England's Barry Middleton.

The second quarter belonged entirely to the Lancers who took a two-goal lead via the efforts of Ryan Archibald (17th minute) and skipper Vickram Kanth (18th). The home team went into halftime with a convincing 3-1 advantage.

Rays, however, came out strongly in the second half. Their aggression paid off as they converted a penalty corner in the 36th minute-- captain and drag-flicker Ashley Jackson sounded the board to make the score 2-3. However, the Lancers raced ahead in the very next minute when drag-flicker Gurjinder Singh converted a short corner, making it 4-2.

The Rays pulled one back in the 49th minute, but that turned out to be the last goal for them. Lancers, on the other hand, pumped in two more to sign off with a comprehensive 6-3 scoreline in their favour.

The Tribune


---

Clinical Kalinga Lancers defeat Ranchi Rays 6-3

BHUBANESWAR: Hosts Kalinga Lancers started this year's Hockey India League with a bang by defeating newcomers Ranchi Rays 6-3 in a high-scoring inaugural match of the third edition of the tournament in front of a capacity crowd at Kalinga Stadium on Thursday.

The best part about Lancers' display was that they scored five goals through field efforts while one came from penalty corner. They had finished last in their debut season last year.

Lucas Villa (3rd minute), Ryan Archibald (17th), skipper Vikram Kanth (18th), Gurjinder Singh (37th), Mandeep Antil (58th) and Mohd Amir Khan (60th) were the goal scorers for the winners.

For Ranchi Rays, captain Ashley Jackson (36th, 50th) converted two penalty corners and Barry Middleton (14th) scored the other from a field effort.

Under new coach Jude Felix, the Lancers looked more organised and started on a positive note with some impressive runs into the rival citadel.

Egged on by a vociferous home crowd, the Lancers took the lead in the third minute through Villa, who scored with a nice lob over Ranchi custodian Lovell Tyler's head from a counter-attack.

The Lancers continued to attack after surging ahead and in the process earned three penalty corners in succession, two of which was wasted by Argentine Gonzalo Peillat and the third was not stopped properly.

The Rays played well in patches at least in the first two quarters but managed to draw level in the 14th minute when Englishman Barry Middleton scored with a reverse hit from a tight angle to end the opening quarter at 1-1 scoreline.

Kalinga Lancers players celebrate a goal against Ranchi Rays during their match in the Hockey India League. (TOI Photo)

The Lancers, however, restored their lead from the very first move after the resumption of play when Archibald found the back of the Rays' net with a reverse shot from the left corner of the goal.

Captain Vikram Kanth scored again for the Lancers in the very next minute with a field goal to go into midway break with a comfortable 3-1 lead.

But the Rays, who were shaky in the opening two quarters, came out with more purpose and looked far more threatening after the change of ends.

The visitors went into the attack and managed to pull one back when Jackson perfectly converted a short corner in the 36th minute.

The Lancers restored their lead again in the very next minute through Gurjinder from a set piece.

Trailing by two goals, the Ranchi outfit came all out attacking in the fourth and final quarters and earned two penalty corners in quick succession, the second of which was utilized by Jackson to score his second goal of the day in the 50th minute.

Rays had a good chance of drawing parity soon when they earned another penalty corner, but this time Jackson's try was saved by Andrew Charter in front of Lancers' goal.

With the Ranchi side full on attacking mode, the Lancers hit the visitors hard in counters as they scored two quick goals in the final few minutes of the game to seal the match in their favour.

First, Antil scored with a brilliant diving effort from Russel Ford's diagonal pass from the left and then Amir drew the final nail in Rays coffin just at the stroke of hooter with a fine field goal.

The Rays will next face another new team Dabang Mumbai in Mumbai on Saturday, while the Lancers will travel to Mohali to play Jaypee Punjab Warriors on Sunday.

The Times of India


---

Dabang Mumbai starts on a clean slate



Players of Dabang Mumbai in action at a practice session in Mumbai. File Photo

Dabang Mumbai starts on a clean slate in the Hero Hockey India League 2015. A new group of players with Belgium forward-cum drag-flicker Tom Boon, India goalkeeper Adrian D'Souza as big-match performers, playing under a new coach in Germany's Valentine Altenburg, step into the unknown against second-placed Jaypee Punjab Warriors on Friday.

"Fielding a new team against well-settled sides is an adventurous idea," said Altenburg, ahead of the opener at the Mahindra stadium.

Altenburg, associated with the German junior squad, added: "No one knows what is going to happen in the match. They (Punjab) don't know what we can do. We have an idea about their game."

The home team has experienced hands in Boon, Australians Matthew Swann, Glenn Turner and India's V.S. Vinay. With goalkeeper Adrian looking for a stage to perform, tackling Australians Mark Knowles and Simon Orchard, Indian goal-getters S.V. Sunil, Shivender Singh and standing up to penalty corner specialist Sandeep Singh is motivating enough.

The home side, known as Mumbai Magicians last year, ended up second last in the six-team league, followed by a change in ownership from Dabur Group to DoIt Sports Management.

Punjab Warriors lost the HIL final last year to Delhi Waveriders and has retained a major chunk of players. Chief coach Barry Dancer, aware of tough time ahead despite Mumbai's raw look, said: We want to make a good start, by winning on the opponent's home tie. It will be step towards our objective this year to go one step further than last year."

Asked to comment on the home side, he said: "We are focusing on our own game and strategies and make sure we come out as a strong team."

The Hindu


---

Turner backs Dabang Mumbai to reach HIL semis

MUMBAI: After being part of the squad that disappointed in the first two years of Hockey India League (HIL), star Australian forward Glenn Turner exuded confidence that new city franchise Dabang Mumbai would at least make it to the semifinals this year.

"Our main goal is to get into the semis. This year, with the team we have and the management we have, it would be disappointing not to make the semis. Once in the semis anything can happen, so that's our first goal," said Turner here ahead of the HIL commencing on January 22.

Turner felt the team has a good mix of experienced players and young, talented hands who are gelling well.

"It's an experienced team, with some really good older guys and some good young guys also coming through. It's a good mix and gelling together well in training and practice games. For me it's really good feeling this year. Everything has been organised well. We are on the right track.

"We had a few obstacles in our way in the first two years which were out of our control. This year management side has gone very well," the 30-year-old maintained.

Turner, a vital cog in the strong Australian team that won back-to-back World Cup titles in 2010 and 2014 apart from consecutive Champions Trophy crowns, felt the first two games at home will be crucial to the team's progress.

"In a tournament like this getting together a week before is very important. Momentum in the first two games is crucial. If we get that we will be into the semifinals."

Mumbai start their campaign against Punjab Warriors (January 23) and then take on Ranchi Rays the next day.

Turner, a member of the bronze medal winning Australian outfit in the 2012 London Olympics, admitted that Dabang Mumbai's first two matches would be tough, but sounded confident about his team doing well in them.

"Yes, it's very tough. I think in this competition even in the past we have not lost by much. I think we can win these two games. Playing at home, we want to give the fans something back this year. These first two games are crucial for us to get the momentum to go into the semi finals."

The player maintained he did not feel extra pressure last year because of lack of sufficient experienced players.

"Obviously (this year) we have got guys like (Belgian forward) Tom (Boon) who are all very experienced. And the Indians like Arjun (Halappa), (V S) Vinaya, Vikram (Pillay) are also very experienced and well known in world hockey. Even last year, I did not feel that much pressure and this year we have a lot of experienced guys.

"We have got other world-class guys like (Australian forward) Jeremy (Hayward) and Harman(preet), who has been very impressive not just as a flicker but as a player too."

The Times of India


---

Delhi Waveriders take on Uttar Pradesh Wizards

LUCKNOW: Delhi Waveriders will look to launch their title defence on a positive note against hosts Uttar Pradesh Wizards in their opening match of the third Hockey India League on Friday.

The last time both the teams met, it was the semifinals of the second edition of the HHIL where Delhi got the better off the Wizards and the hosts will be eager to pay them back on Friday.

With the Lucknow crowd cheering and backing their team to go for the kill, Uttar Pradesh Wizards will be fancying their chances on Friday.

Beefed by the addition of Goalkeeper PR Sreejesh, Oltmans coached team has in place a strong defence line-up with the likes of Raghunath, Marcel Balkestein, Wouter Jolie and Harbir Singh.

Also with the mid-field position getting strengthened by the addition of Bob De Voogd of Netherlands and Shea McAleese of New Zealand, the UP Wizards team looks a formidable line-up which every other team should be weary of.

On the other side, Delhi will be looking at living upto their defending champions tag. The inclusion of defender Andrew Hayward of New Zealand has strengthened the current defence line-up which boosts of names like Rupinder Pal Singh, Steven Edwards of New Zealand and Andres Mir Bel of Spain.

Delhi will be looking at Yuvraj Walmiki, who was leading the field goal table in the last edition wherein he struck 5 field goals, to earn them the field goals. The team would also be looking at Rupinder Pal Singh to convert the penalty corners for the team.

Captain Raghunath had converted eight important penalty corners in the last edition and he would be aiming at continuing his form in the upcoming edition.

Speaking on the match tomorrow, Delhi Waveriders captain Sardar Singh said, "In the last two editions of the League, the team has been performing exceptionally well. In this season too we are looking forward to a good start of the league by winning the first match as it will boost the confidence and morale of the team."

"So this makes the opening game even more important for us. In this edition, all the teams are equally good and well prepared. Uttar Pradesh Wizards has a really good line-up of players and it is going to be a tough competition for us," Sardar Singh said.

"We are aiming at successfully incorporating all the strategies and duties assigned by the coach. In addition to it, we will be using the strengths of the players to the maximum and eventually win the first match."

His opposite number VR Raghunath said, "We want to start the tournament on a positive note. We are looking forward to a healthy match tomorrow with Delhi Wave Riders. We will be playing on our strong points and we hope to put up a fantastic show tomorrow."

Speaking on the clash on Friday, Delhi Head Coach Cedric D'Souza said, "If we look at this season of the League, all the teams are very balanced and stacked with good players so it's going to be tough competition but the first match is always the tougher one.

"It's like getting your feet on the ground properly. Uttar Pradesh Wizards is a strong team and so are we so all I want to say is that may the best team win. We have learnt from our past mistakes and tried to rectify them.

"As a team, we will play to the best of our strengths and cover our weaknesses. It all depends on the performance on that given day as the level of competition is very high and we look forward to repeat history this year."

The Times of India


---

Not bad to learn hockey on non-synthetic surface: Bovelander

MUMBAI: Dutch hockey legends Floris Jan Bovelander and Teun de Nooijer do not see learning the rudiments of the game on non-synthetic turf as an impediment to the growth of a player in later years.

"You can start to learn hockey on any type of pitch. I don't see it as a big problem. Later on, yes, you have to learn to play on an artificial surface," said Bovelander, a former penalty corner specialist on Thursday.

He was addressing a media conference called to announce the tie-up between Dutch club FC Bloemendaal and Hockey Indian League (HIL) franchise Dabang Mumbai.

Former midfielder Nooijer went a step further and said it was prudent to learn to play the game on not only synthetic turf but on various other surfaces like natural grass.

"To add further to what Floris said, I feel a player should learn the basics on different surfaces which improves his skills as it's harder to play on natural grass or another non-artificial surface," said the 38-year-old two-time Olympic champion and three-time FIH Player of the Year awardee.

Bovelander, 11 years older to his Atlanta Olympics gold medal winning teammate Nooijer and six-time national champion with FC Bloemendaal, hailed the tie-up which will see Indian coaches being trained by the 13-time Dutch champion club.

"We cannot be here the whole year but nowadays it's possible to connect through technology from anywhere in the world. We are here to coach the coaches," said the three-time Olympian and scorer of 215 goals from 241 internationals representing The Netherlands.

"I hope we can bring Indian hockey back to the level where it should be," said the Dutch great and successor to another penalty corner legend, Paul Litjens.

Dabang Mumbai's mentor and former India captain Viren Rasquinha said as part of the partnership, the Dutch legends would come down to the city to impart knowledge to the coaches and conduct hockey clinics twice a year - during summer and Diwali vacations - for schools in Mumbai, Goa and Gujarat - the franchise's catchment area.

The Times of India


---

Punjab Warriors' Jamie Dwyer back after injury lay-off

Dhananjay Roy

MUMBAI: Punjab Warriors came tantalizingly close to winning the second edition of the Hockey India League last year, before faltering in the final, going down to Delhi Wave Riders in the penalty shootout.

They are back this time and the core of the team is intact and they are eying a shot at glory.

The Warriors face the city's new franchise Dabang Mumbai on Friday and are eager to get off to a strong start. "Our strength is that we have an experienced team that has played together for the last couple of years," said coach Barry Dancer during his team's practice session at the Mahindra Stadium on Wednesday.

"We are looking forward to the first match.

The conditions in Mumbai are fantastic. Our opposition is strong, and hopefully we will have a good game," he added. The Warriors have a strong Aussie presence in the side with the likes of the legendary Jamie Dwyer leading the attack and Kieran Govers, Christopher Ciriello, Simon Orchard, Mark Knowles and Rob Hammond being the other Aussie members of the squad.

Dwyer is returning to the pitch after a four-and-a-half month injury lay-off and conceded it will take some time before he gets into the groove. "I was down with a torn ligament in the foot. I wasn't able to play for four-and-a-half months," said the 35-year-old.

"It was very frustrating. I was bed-ridden for the first month, began walking thereafter, and was able to run only by the third month."

Nevertheless, Dwyer was glad that the time spent away from the game helped him think deeply about his future, and how much longer he should continue playing the sport.

The HIL has been received well over the last couple of years, and Dwyer said he is confident that it will keep growing. "I believe 22 million people watched the league last season."

The Times of India


---

Indoor Men face Dutch

Diary updates from the team as they prepare for the Indoor World Cup




With the Australian men's indoor hockey team in Europe, preparing for the forthcoming Indoor World Cup in Leipzig (4-8 February), Team Manager Brent Deans is providing a series of short updates exclusively for the Hockey Australia website.

The newest diary entry is nearest the top.

During the tournament we'll have reports and photos from every match (men's and women's). For the details of the squad and the tournament fixture card visit our Australian Indoor team page.

You can follow the team on Instragram at @indoorhockeyaus.

22nd January: Up very early…6am. Another big day as we were to play our first match against the Dutch in Almere at 11.00am. The players were looking forward to the chance to face the Dutch team as this would really give us an indication of where we are in terms of our World Cup prep. After a good warm-up we were into the match. The increase in tempo was noticeable, which was expected, but the boys' work rate matched that of the Dutch team. It took some seven minutes before the Dutch got a PC and from this a stroke to open the scoring.

The first half of play went to the Dutch who from their four penalty corners scored three. We had two corners with no goal. The second half continued at the same tempo with both sides having good opportunities. The half was even with two corners each; we scored from one while we were able to keep out both of the Netherlands' efforts. The match finished 3-1 to the Netherlands but we were not too disappointed having improved our performance in the second half.  Again, another long drive back (two hours) with some very tired guys. [Coach] Anthony [Potter] was pleased and will have a workshop and video session tonight.  We play the Netherlands again tomorrow.

21st January: Early training sessions again. We are spending time working on getting used to the work load as well as playing together. And more work on attacking penalty corners (PCA) because we feel that the teams who are best with PCA will be successful at the World Cup. We took a break for lunch and a short rest before heading to the north of Holland to play Venlo HC. This club plays indoor hockey in the top Dutch division so it was a good progression for the team. The journey was about 1h40m so at least the boys could rest in the mini bus.

The club arranged for a youth match before ours, which provided for quite a good crowd that stayed on to watch our match. We continue to work on our basic game and although Venlo scoring a couple of early goals, we were able to increase our performance and gained the upper hand in the end. The match finished 8-3, a good result.

20th January: Early start for breakfast then into the mini buses and off to training at the Royal Antwerp Hockey Club who are hosting us. A third of the group is new to the team and even though they all knew each other it is quite different playing together. The training sessions involved working on basic skills just to get the guys back on the ball.

We had two training sessions, lunch, rest and then set off to Brussels to play a select team. A 50 minute drive at 5pm was pretty good!

The match was quite an adjustment for the guys. We were nowhere up to speed in the first half and struggled with the pace and pressure. The second half was much improved and we were very competitive in all areas. There were some very tried guys on the mini bus trip back. Day one had taken its toll.

19th January: All arrived in Antwerp, fit and ready to start the prep program. Coach Anthony Potter welcomed everyone and gave a short presentation outlining the key areas of the program leading to the Indoor World Cup. We then had a team dinner.

Hockey Australia media release


---

Noronha-Teixeira "living in the moment" on the court and field

Twenty-five year old is headed to the Indoor World Cup after Chile tour

Shaheed Devji




Being a member of a National Team is a lot of work. Being a member of two is considerably more, especially when they train at opposite ends of one of the world's biggest countries.

Seems daunting. Now, imagine doing it all at the relatively young age of twenty-five.

That's precisely what Mississauga's Devohn Noronha-Teixeira is doing as a member of the Canadian Men's National Indoor and Outdoor Field Hockey Teams.

Teixeira is getting set to travel to Leipzig, Germany with the Indoor National Team for the 2015 World Cup. It will be his third Indoor World Cup.

"We've been training hard for almost eight months now. It's exciting the last three weeks coming up," he says.

But before he can shift his attention fully to the chance to medal on indoor field hockey's ultimate stage, he has some other business to take care of.

As a member of the Men's Outdoor Senior Development Squad, Teixeira is currently on a tour in Chile, during which the outdoor National Team is playing five matches and preparing for the upcoming World League 2 tournament.

It's a juggling act to say the least, with the Indoor Team training in Toronto, and both outdoor squads in Vancouver, let alone switching from one variation of the sport to another.

"It's a little bit easier to switch to outdoors because some of the skills you can take from indoor to outdoor," he explains. "The Outdoor Team is always a bit harder to make because there's more competition because all of Canada plays it."

But like with the Indoor Team, the payoff can be immense.

With 2016 Olympic Games right around the corner, Canada's outdoor men have a very important task to achieve in 2015: Olympic qualification.

World League 2, which will be held in San Diego, California during the first week of March, is just one step in that process, a process that Teixeira wants to be a part of.

"Definitely I have goals," he says. "My goal is to make the World League 2 and Pan American Games [which will be held in Toronto in July] teams."

Of course, it's nice to be wanted. But having to split his focus on two teams, two pathways, and two ends goals can take a lot of an athlete, young or old. But Teixeira isn't worried as much about outcome as he is one of the oldest sports clichés in the books: the process.

"Right now I'm just enjoying it and living in the moment."

Whatever the result at the upcoming Indoor World Cup and in the journey to be a part of the outdoor team that vies to qualify for the 2016 Olympics, the year ahead is set to be a memorable one for him.

Field Hockey Canada media release


---

Hockey 5s Final Preview: Bowdon Hightown



Bowdon Hightown Hockey 5s Huddle 2015

Bowdon last picked up the trophy in the 2010-11 season when goalkeeper Amy Tennant, then just 16 years of age, saved in a penalty shootout with Reading to hand her side the title. Since then, the competition has been a heartbreaking one for them. They missed out in the semi-finals of the 2011-12 season thanks to two goals in the last 30 seconds which sent Sutton Coldfield to Wembley instead. Last year Hightown went one better and made it the final where they were beaten by Reading.

This time out, their mix of youth and experience pushed them to the top of the league and then past an excellent Canterbury side in the semi-final ensuring they once again make the trip south to Wembley.

With the competition's top scorer, Sally Walton (20 goals) linking up almost telepathically with Tina Cullen (12 goals) on the road to Wembley, they will take some stopping, whilst in goal, Tennant; the hero of 2011 is in scintillating form. It is a well balanced side who will take some stopping.

Tina Cullen, Bowdon Hightown Player/Coach:

"The girls are really delighted to have made the final. We play good indoor hockey and are a strong unit. We've got to focus on the here and now and put last year behind us. We want to give a good account of ourselves because we don't feel we did ourselves justice last year, but we just have to go out and do our best and see where that leaves us."

League position 2014/15: 1st

Top goal scorer: Sally Walton [20 goals].

Star players: Amy Tennant and Sally Walton

Route to the final: Played 8, won 5, drew 1, lost 2, scored 45.

Semi-Final: Bowdon Hightown 5-4 Canterbury.

England Hockey Board Media release


---

Hockey 5s Final Preview: East Grinstead



EG celebrate Hockey 5s semi final win

Everyone knows about the East Grinstead men's side when it comes to the indoor form of the game, but now, in only their second season in the top flight the women have muscled their way onto centre stage.
Having narrowly missed out on the semi-finals last year they made sure of their place in the final four with a thumping 7-3 win over Sutton Coldfield in their final game of the qualifying stage, before narrowly seeing off Slough in the semi-finals by a Sophie Bray goal to nil.

Now, with England duo Kirsty Mackay and 12-goal Sophie Bray in great form alongside the likes of skipper JoJo Davis and Pippa Rabey, the Sussex side are daring to dream of a first Hockey 5s title.

JoJo Davis, East Grinstead Captain:

"We fancy ourselves in the final we're quietly confident in our abilities. We're a squad and we don't depend on one or two players we are a unit and we rotate the players regularly and it's a squad performance that we thrive on."

League position 2014/15: 2nd

Top goal scorer: Sophie Bray [12 goals]

Route to the final: Played 8, won 5, drew 1, lost 2, scored 36.

Semi-Final: East Grinstead 1-0 Slough

England Hockey Board Media release


---

Men's Hockey 5s Semi-Final Preview: East Grinstead



Simon Faulkner in action for EG at Hockey 5s 2015

East Grinstead are the dominant force in indoor hockey in this country, winning the last six domestic titles in a row, taking their overall tally to nine. Skipper Niall Stott has provided his usual blend of tenacity and ruthless finishing in front of goal, taking him to 19 goals and the top of the competition's scoring charts. Simon Faulkner has proved a useful weapon from penalty corners, too, netting nine of his 12 goals from set pieces whilst Glenn Kirkham continues to keep the machine ticking over with his unique blend of calm, experience and skill. There is quality right the way through this side and a magnificent seventh title in a row is very much a possibility.

East Grinstead Captain Niall Stott:

"We all really enjoy indoor and take it very seriously and I think that shows given the titles we've won over recent years. We play very much as a team not as individuals and our work ethic and understanding of the indoor game as a group is really strong. It's the right amount of pressure; we want to keep winning the title for as long as we can. We set the record last year [six consecutive indoor titles] and that's absolutely our aim again for 2015."

League position 2014/15: 1st

Top goal scorer: Niall Stott [19 goals]

Star player: Glenn Kirkham

Route to the final: Played 8, won 7, drew 0, lost 1, scored 61.

England Hockey Board Media release


---

Men's Hockey 5s Semi-Final Preview: Sevenoaks



Sevenoaks Coach Richard Payne sets out his master plan

Sevenoaks have had quite a meteoric rise to prominence in the indoor form of the game. Six years ago they took their first steps on the ladder having never previously competed indoors. A series of promotions later and they almost made the semi-finals last year, missing out on goal difference to Holcombe. This time out they made sure they qualified, snatching second place in qualifying with a series of excellent displays to set up a clash with Kent rivals Canterbury in the semi-finals.

Home-grown star George Torry has fired in 10 goals but has been ably assisted by a fellow Loughborough graduate, Dom Bowden, who has nine. Meanwhile the former East Grinstead contingent of Giles Dakin, Mike Holland, Richard Payne and Ben Payne should ensure the occasion doesn't get the better of them.

Chris Barker, Sevenoaks Captain:

"We came in fairly optimistic after a good season last time round where we missed out on Wembley by goal difference. We made a good start the first weekend which gave us a good platform after doing well against some of the bigger sides. The boys have done fantastically well and got to Wembley this time which we're delighted about."

League position 2014/15: 2nd

Top goal scorer: George Torry [10 goals].

Star players: Dominic Bowden and George Torry.

Route to the final: Played 8, won 5, drew 1, lost 2, scored 40.

England Hockey Board Media release


---

England Hockey defends gender equality at Hockey 5s

Hockey 5s finals at Wembley SSE Arena will see men's semi-finals and finals played while only women's finals contested
           
By Rod Gilmour



Net gains: England Hockey have defended scheduling at Hockey 5s finals Photo: SIMON PARKER

England Hockey, the national governing body, has sought to defend gender equality across the sport after two Canterbury players spoke out over the scheduling of this weekend's Hockey 5s Championship at Wembley.

Although Bowdon Hightown will play East Grinstead in the women's final on Sunday at the SSE Arena, the semi-finals were held in Kettering two weeks ago.

Conversely, the men's semi-finals and finals will be played at Wembley where holders East Grinstead take on Reading, while Sevenoaks face rivals Canterbury.

"Winners and through to the semi finals at Kettering! If we were men it would be Wembley though. #noequality," tweeted Susie Rowe, whose Canterbury side were beaten by Bowdon Hightown in Kettering.

Her team-mate, Nikki Lloyd, added on Twitter: "Top 4 men's teams making it to Wembley. Shocking the women still have to playoff & only 2 teams to make it."

However, the Wembley scheduling is partly down to timings, given that Sky Sports has broadcast the indoor showpiece in the past.

"We pride ourselves on balance of portfolio across each gender," an England Hockey spokesperson said.

England Hockey added that it was "already bringing the 2016 women's Champions Trophy and the 2018 women's World Cup to England".

The women's final at this summer's EuroHockey Championships at Lee Valley will be the culmination of the event, while the men's final, which has already sold out, will be played 24 hours' earlier.

At Wembley this weekend, East Grinstead will be looking to add a seventh straight indoor title and will travel alongside the women's side, who advanced to their first final.

Niall Stott, the East Grinstead captain, said: "We want to keep winning the title for as long as we can. We set the record last year with six consecutive indoor titles and that's absolutely our aim again for 2015."

The Telegraph


---

MJHL a platform to form a new junior team

by S. Ramaguru

KUALA LUMPUR: The Malaysian Hockey Confederation (MHC) will use the MHC-Milo-NSC Junior Hockey League (MJHL) as a platform to form another project team – Project 2020 (Under-16).

The MJHL is an Under-19 tournament and players aged below 16 will be closely scrutinised by MHC selectors.

The MJHL will also see eight players from the Project 2016 team (Under-21) in action. The other players from the Project 2016 team cannot take part in the MJHL because they are overaged.

The Project 2016 coaches will also be on the lookout for players who may be good enough for a second look as the team prepare for next year's Junior World Cup in New Delhi.

The MJHL has been a fertile feeding ground for the Project squads and the players will do well to take their participation in the competition seriously.

A record number of 30 teams will take part in this year's MJHL – nine in Division One and 21 in Division Two.

SSTMI-Thunderbolt, who have won the MJHL double for the last four years, will again be the team to beat.

But teams like Universiti Kuala Lumpur (UniKL), Politeknik Malaysia (of Johor) and Petaling Jaya City Council (MBPJ) have made greater efforts and should be able to put up a credible challenge this year.

SSTMI chief coach Wan Mohd Roslan Wan Abdul Rahman expects a tough time this year "as most of the other teams have doubled their efforts".

But SSTMI can at least still count on seven Project 2016 players to rely on. They are Firdaus Omar, Lukman Nur Hakim, Ahmad Shukran, Luqman Hakim Md Asri, Nik Aiman Nik Rozemi, Zulhanizan Awang Abas and Daniel Asyraf Ab Ghani.

The coach said that consistency would be a crucial factor in defending their titles

SSTMI shouldn't have any problems getting their campaign off on the right track as they will face their Juniors in today's opening match.

Former champions Bukit Jalil Sports School (BJSS), who had won 13 titles before SSTMI's domination, have no major targets other than to keep their place in Division One.

Having earned promotion by virtue of finishing as runners-up to Politeknik Malaysia in Division Two last year, all coach S. Prakash wants is for his team to continue to show improvement and try to qualify for the knockout stage.

BJSS kick off their campaign against Olak-PKT Tigers today before playing MBPJ on Sunday.

The Star of Malaysia


---

Pakistan moves back in top 10 of FIH rankings

Shahnaz says if given due rights, players can achieve the best

Mohsin Ali

RAWALPINDI - Pakistan hockey team head coach Shahnaz Sheikh Thursday said that the team moved back into the top 10 of the latest FIH World Rankings released by the International Hockey Federation (FIH) after their outstanding performance in the Champions Trophy Hockey Tournament held in India in December.

The FIH has released the latest FIH World Rankings as of December 2014.
These include points awarded following the completion of the Hockey World League round one, the 2014 Champions Trophy and the Champions Challenge events.

In the FIH Men's World Rankings Australia, the Netherlands and Germany retained their top three spots respectively.
Below them, England moved up into fourth place and Argentina, whose team includes the recently crowned 2014 FIH Rising Star of the Year, Gonzalo Peillat, moved up to their highest ever ranking (6), ahead of New Zealand.
Pakistan moved back into the top 10 at the expense of Spain who dropped one place.

Talking to The Nation, ex-Olympian Shahnaz said: "Only in six-month time, I, along with the help of entire coaching staff, managed to put Pakistan hockey on right track without any international series at all."

"I have time and again requested to the PHF to arrange at least 30 to 35 international matches before the all-important Olympic qualifier event to be held in Belgium from June 20, but instead China series was called off due to financial reasons.

We have not being paid a single penny since onboard and the players are also suffering a lot.

I don't know what the PHF is thinking and what will be the future of Pakistan hockey under such circumstances," Shahnaz questioned.

When asked about participation of Pakistan team in the Azlan Shah Hockey Tournament, Shahnaz replied: "Frankly speaking, I don't know about the exact situation.

The PHF doesn't inform me about the decision of not sending the team for the event.

It must be asked from the PHF secretary.

As far as my knowledge, the event is still on, but I can't tell exactly about the team's participation in the Azlan Shah."

The head coach said if he remained at the helm of affairs of the team, he had set the target of taking green shirts to world No 8 by the end of this year and by the end of 2016, it would be among world's top six hockey playing nations.

"I can't commit about my future and where it lies under present atmosphere, and I don't know what is being cooked in the PHF's mind and why the Prime Minister is reluctant to meet the team despite repeated requests for meeting."

"I once again request Prime Minister Mian M Nawaz Sharif to have some mercy on hockey players and invite them for a meeting or else order shut down of the national game completely as under such gloomy financial conditions, it is almost impossible to further request players to play their hearts out for the sake of the country's pride," he asserted.

"I am quite amazed that Pakistan Sports Board (PSB) is also not helping our cause.

They are not in a mood to release the incentives for the team clearly mentioned in the sports policy as per government rules of playing in the Asian Games and Champions Trophy final.

At least, the PSB must have issued that amount, which could have helped the PHF to ease the players' concerns to some extent and put a new lease of life in them.

How could it be possible for me and my staff to take best out of players in the Olympic qualifiers, when the players would be deprived of their due rights," the ex-Olympians questioned.

"I once again request the prime minister, IPC Minister and PSB Director General to help the PHF and hockey players by releasing grant for them and also to save the national game from complete darkness," Shahnaz concluded.

The Nation


---

Pakistan hockey team jumps back in the top ten



Pakistan jumped one spot to enter the top ten. PHOTO: AFP

KARACHI: Pakistan hockey team grabbed the tenth spot in the recently published International Hockey Federation (FIH) rankings after their surprisingly good performance in the 2014 Champions Trophy.

The World Rankings published were till December 2014 and Pakistan jumped to the tenth place with 1422 points to replace Spain (1374).

The rankings include points from the Hockey World League Round One, the Champions Trophy and the Champions Challenge tournament.

Meanwhile, at the top of the table, Australia (2534), the Netherlands (2422) and Germany (2187) are comfortably placed first, second and third.

England (1989) are on the fourth position, while Belgium (1972) hold the fifth spot.

Argentina (1828), New Zealand (1814) and Korea (1659) are placed sixth, seventh and eighth respectively, while India are on the ninth spot with 1644 points.

The Express Tribune


---

Army, PIA win COAS Hockey Cup openers

RAWALPINDI - Army and Pakistan International Airlines (PIA) Thursday won the opening matches of the 1st Chief of the Army Staff (COAS) Challenge Hockey Cup 2015 here at the Army Hockey Stadium.

Army thrashed Police 6-0 while PIA outclassed Punjab 6-1, while NBP held Wapda 1-1 but managed to snatch a point against Wapda, who had the services of world's top plenty corner specialist Sohail Abbas. The tournament is a joint venture of Pakistan Hockey Federation (PHF) and Army Sports Directorate.

The opening match between Wapda and NBP ended in 1-1 draw. Though Wapda had recalled veteran Olympians Sohail Abbas, the world record holder of the highest goals, and Shabbir Ahmed but they failed to show glimpses of their glorious past. Sohail missed two penalty corners amid weak dragging of the ball. Shabbir, however, was instrumental in making a couple of good moves.

NBP took lead in the 12th minute when Olympians Tousiq Ahmed and Ali Shan launched an attack and passed the ball to unmarked Arslan Qadir in the Dee who managed to put the ball into the goal and scored a field goal. Wapda's counter attack led by M Imran and Tasawar Abbas created a penalty corner for their team and Waqas Sharif netted it on rebound in the 13th minute. Haider Rasool and Kamran supervised the match.

Army was too strong for Police 6-0 in a one-sided second match amid two goals each by Abdul Jabbar and Hammad Dar. Army took lead in the 23rd minute through field goal by Jabbar. The soldiers scored four goals in the third quarter while M Imran, M Shafiq and M Rizwan (senior) launched a well-coordinated move in the 34th minute to get a penalty corner. Imran netted to double the lead. In the 37th minute, Hammad scored the third one for his team on a pass from Shahid Ali Khan, Hammad struck again in the 41st minute to score his second and team's fourth goal. Jabbar scored in the 45th and Faraz Dar scored the sixth in the 59th minute.

PIA maintained their supremacy in the third and last encounter of the day outclassing Punjab 6-1. PIA took lead in the fourth minute through Kashif Ali who scored on a penalty corner, but against complete run of play, Punjab managed to draw level in the ninth minute, when Amir Ali scored a field goal.

But their joy short lived as PIA once again took lead in the 12th minute through Ammad Butt. In the very next minute, M Zubair scored the third and fourth goals. In the 33rd minute, Azfar Yaqoob scored the fifth while Hammad hit sixth and last goal in the 46th minute.

PHF secretary Rana Mujahid Ali, Director Army Sports Directorate Brig Jillani, PHF chief selector Islahuddin Siddiqui, former captain Shahbaz Senior along with other dignitaries and hockey lovers were also present on the occasion.

Three matches will be played today (Friday) as Army (Junior) will take on SSGC, Wapda faces Navy and PIA takes on PAF.

The Nation


---

Massive wins for Army, PIA at COAS hockey

Kashif Abbasi

RAWALPINDI: Army and Pakistan International Airlines (PIA) recorded huge victories in the Chief of Army Staff Hockey Championship that began at the Army Hockey Stadium here on Thursday.

Army blanked Police 6-0 while PIA outclassed Punjab 6-1.

In an absolutely one-sided affair, Army thrashed Police with the help of brilliant show by Abdul Jabbar and Hammad Dar.

Jabbar opened scoring for Army in the 23rd minute.

Ten minutes later, Army captain Mohammad Imran, who is also skipper of national team, doubled the lead on penalty corner, convincingly putting the ball into the net.

In the 37th and 41st minutes, Hammad struck back-to-back goals.

Later, Jabbar scored his second and the team's fifth goal while Faraz Dar made it 6-0 in the 59th.

Police tried hard during the last 10 minutes to score a consolation goal but Army's resolute defence didn't allow opponents any chance.

Speaking to Dawn after the match, Army captain Mohammad Imran said: "All our players are in good form… in the first match of the tournament we managed to win 6-0, it's a big achievement. I hope we manage to win the championship."

Noting that PIA and Wapda were among major contenders of the tournament, Imran said his team had the potential to defeat them.

Meanwhile, PIA in their first match against Punjab, showed exactly why they were among hot favourites of the tournament.

The national airline dominated almost throughout the match.

It took only four minutes for a well-drilled PIA outfit to penetrate the Punjab defences as striker Kashif Ali scored the first goal on penalty corner.

A few minutes later, Punjab equalised through their forward Amir Ali. However, in the 12th minute, Ammad Butt made it 2-1 for PIA.

Later, Mohammad Hammad added a brace while Mohammed Zubair and Azfar Yaqoob registered a goal each to give PIA a huge victory.

Earlier, the tournament opener held between the National Bank of Pakistan (NBP) and Wapda ended in a 1-1 draw.

Wapda, despite having the services of veteran Olympians Sohail Abbas and Shabbir Ahmed, failed to impress.

Sohail, a world-renowned penalty-corner specialist, missed two penalty corners and Shabbir could only make a couple of good moves.

NBP took lead in the 12th minute when Olympians Tousiq Ahmed and Ali Shan launched a combined attack passing the ball to an unmarked Arslan Qadir in the goal-scoring area, who put the ball into the net.

In the very next minute however, Wapda's Mohammad Imran and Tasawar Abbas made a good move to earn a penalty corner, which was utilised by striker Waqas Sharif.

Both the teams failed to score any more goals till the end of regulation time.

Dawn


---

Smith nominated for coach of the year award

Shalveen Chand



Tai Smith. Picture: FT FILE

IT was in 1986 when Tai Smith was last nominated for a sports award, now twenty eight years later she has been nominated as the coach of the year in next month's Fiji Sports Awards.

Smith was then the goalkeeper for the national hockey team.

Smith said she was surprised with the nomination but happy that her hard work was being recognised

Smith coached the youth teams to the Youth Olympics last year where both the boys and girls have had a good outing.

"I feel that we have had a good year where we have established wider recognition for the sport of hockey not only locally but also on the international scene," she said.

"People have to realise that hockey was not given a direct ticket to the Youth Olympics but we had to fight our way in. And once there Fiji ranked at 52 was pitted against world number one, three, 11 and number 15.

"Yet, we held our composure and showed that Fiji maybe a minnow and geographically difficult to find on the map, we love our sports, we love our hockey."

Smith is also happy that a few players from her youth squad have been nominated for the sports awards as well. This year also sees hockey make nominations in 11 different categories.

The Fiji Times


---

FIH talk to the newly-crowned 2014 Goalkeeper of the Year Jaap Stockmann



(Photo: FIH)

Jaap Stockmann was crowned the FIH Goalkeeper of the Year 2014, after a year in which he showed time and again why he has been the first choice keeper for the Netherlands for the past six years.

Last year began well for Jaap: he won the 'Most Valuable Player' at the Hockey India League in January, playing for the second-placed team Jaypee Punjab Warriors. He was then an integral part of the team who won the 2014 Hockey World League final and finished runner's up at the 2014 Hockey World Cup.

The Goalkeeper of the Year award was fiercely contested with five very talented goalkeepers shortlisted, all of whom have had an excellent year between the sticks. England's George Pinner, Australia's Andrew Charter, India's Parattu Raveendran Sreejesh and Argentina's Juan Vivaldi would all have been equally worthy winners, but it was the big man from Bloemendaal who walked away with the title.

Talking just hours after he won the award, Jaap said: "It is an extremely big honour to be chosen best goalkeeper of the year. This is particularly special as it was chosen by hockey fans and players. I thank my teammates and all who voted for me."

The 31-year-old 'keeper, who first picked up a stick when he was six years old says that he has not particularly changed his training this year, but he feels that goalkeepers do hit their prime later in their hockey career than field players. "I have been pretty happy with my overall performances in the tournaments I've played. I just keep on working hard at training and it is paying off. Let's hope it's true what people say about goalkeepers – the older you get, the better you become."

Jaap is certainly not planning to rest on his laurels. He says that he will continue to work hard with his hockey coaches, but he also wants to learn some skills from other sports, all of which will add to his goalkeeping repertoire. "I already do judo training with a Dutch Olympic athlete to train falling and rolling skills and I did goalkeeper training with a Dutch premier league football club AZ to improve my stretch coverage. A football goal is at least twice the size of a hockey goal, so that was a challenge."

When it comes to his own performances, Jaap says his two biggest strengths are his reflexes and his flexibility. As his opponents at club and international level know all too well, the closer they get to Jaap's goal, the smaller he manages to make it look, "the longer you can stay between ball and goal, the better. I wait as long as possible and rely on my reaction."

For the next few weeks, Jaap will be using those reflexes to help the Jaypee Punjab Warriors in their attempt to win the Hockey India League, however, with Rio 2016 looming on the horizon, all thoughts this summer will be on success at the World Hockey League Semi-Final in June and the European Cup in August. The main goal for Jaap and his teammates is qualification for the Olympics in 2016.

FIH site


---

Kelowna's Hennig Canadian Team's POY

By Lorne White   



Danielle Hennig, right, Canadian national women's field hockey team player of the year, with Team Canada teammates from Kelowna, Abigail Raye, left and Natalie Sourisseau.

Playing as defender on the No. 22-ranked field hockey team in the world called for exceptional skill and stamina.

Meeting that tough challenge contributed to Kelowna's Danielle Hennig being chosen Team Canada's player of the year.

The choice had even more to do with   "competency, skill and attitude on and off the field" according to coach Ian Rutledge.



A graduate of Kelowna Secondary School in 2008, Danielle Hennig, also a former University of Victoria Vike, was presented with the Canadian team player-of-the-year award during the past weekend. Yan Huckendubler Photo

"To me, it's a just reward for a girl who works tirelessly to improve her game and to help improve the team," said Rutledge from Vancouver as the Canadian national team prepares to leave this weekend for a training camp and test matches in New Zealand. "Her work ethic is impeccable. And she's courageous — constantly putting herself in a position that allows her team to be successful."

And while Hennig, incredibily, one of three Kelowna Secondary School graduates — Abigail Raye and Natalie Sourisseau are the others — on the national team, said it was "a huge honour and really unexpected", Rutledge wouldn't be surprised if the 24-year-old earns the award again.

"She's still quite young as far as international field hockey is concerned (the average age is 28). In my mind Dani still has the best years ahead of her. I'm looking forward to seeing how good she'll be at 28-30.

"There are players with more natural ability, but very few who work as hard as Dani. She knows she doesn't have the perfect game, but continues to want to get better."

Chosen as the vice-captain of the team preparing for the World League 2 competition in Dublin — the next step toward 2016 Olympic qualification — Hennig was an obvious choice for Rutledge and his coaching staff.



Dani Hennig in 2007 when she and KSS Owls teammates Abigail Raye and Natalie Sourisseau led the team to a silver medal at the B.C. high school field hockey championship tournament. Lorne White/Okanagan Sports Page

"Dani demonstrates every single day the values that it takes to become an elite athlete," said Rutledge, who signed a contract extension recently that will keep him with the women's program through to August 2018. "Leadership is about your actions — not so much about your words — and Dani delivers with her actions."

Fittingly, Hennig, who began playing field hockey (on grass) in Grade 7 at Dr. Knox Middle School under coach Brian DeMug and continued with the Kelowna Owls and coach Arnar Bernhardsson for three seasons, gave credit to her teammates for the player of the year award.

"With any team sport, you can't do anything without the rest of the team. I know as much as it's a big honour, all the credit goes back to my teammates."

Hennig also noted that as a defender on a team that played often in its own end against higher-ranked teams — the majority of which were among the top 10 in the world — she was in the spotlight more than is normal for a backfielder.

"We had a lot of really tough competition, so we had our work cut out for us back there," said Hennig, who represented Canada at the Commonwealth Games in Glasgow in the summer "But playing against those good teams was what we needed to prepare us for our run at an Olympic qualification this year."

Now with 79 caps, Hennig is beginning her fifth season with the national team after being passed over several times for international matches early in her career.



Abigail Raye in 2007. She was the first of the former Owls to make it to the national team, earning her first international cap in 2009 in Ireland. She now has 115 caps and was the youngest-ever Team Canada player to reach the century mark. Lorne White/Okanagan Sports Page

She joined the national program in 2009, following her first of three years at the University of Victoria, where she helped the Vikes win a CIS national title in her rookie season.

She admits to having been frustrated not making the lineup for touring teams during her first year, but was encouraged by coaches, who assured her she had the potential to be a regular if she continued to work hard.

Especially difficult to swallow was not having the opportunity to play for Canada in the 2010 Commonwealth Games team.

"It was a bit discouraging because I knew I was close," recalled Hennig. "One of the girls was having trouble making the fitness standards, and the coaches told me that if she didn't, I'd be added to the team. The teammate ended up making standards just before the deadline."

Although disappointed, Hennig realized she was on the verge of being a regular and continued to work at "not only making the team, but to being an impact player."

She was one of the 16 players to play for Canada at the Pan Am Games in 2011 and has been in the starting lineup on a regular basis ever since.

Last season, Team Canada was focused on good performances against top-tier teams around the world and it paid off with three straight games at the World League 1 tournament in Guadalajara, Mexico to advance to World League 2 in Dublin.



Following the Commonwealth Games in Glasgow last summer, Abigail Raye headed to Belgium to play semi-pro field hockey. She's rejoined the national team for a training camp and exhibition matches in New Zealand.

Hennig believes the Canadian team — the core of which as been together for the past two or three years — is poised to take another step toward being among the top teams in the world.

"Now that we're shifting into Olympic qualifications, the focus is not just performing well but getting winning results," she said. "We've won against teams like Ireland (ranked 15th) and Chile (20th) and we tied England last year (sixth), so we know we can play with the higher-ranked teams.

"I think we're in a good spot — we're young, we're strong, we're fit and there are a lot of talented players. Now it's matter of executing under pressure and playing well for a full 70 minutes. At the top level, a single mistake — even a small one — can cost you.

"But we're a confident group that trusts in each other and what we can achieve. I'm excited."

So is coach Rutledge.

"I'm quietly confident that if we can put it together on the day, we can move on to the World League 3 competition (including Ireland and Chile," he said. "The team has gained a great deal of experience in the past year (World League explained).

Rutledge, a native of Australia, whose national team is ranked No. 2 in the world, said the key to success for Team Canada will start with Hennig and the defensive corps.



Natalie Sourisseau was a Grade 10 rookie with the Kelowna Owls in 2007 when they earned a silver medal at the BCSS provincial championship. Lorne White/Okanagan Sports Page

"We will be successful if we're well organized defensively. And of course we have to be well structured on the attack. But everyone has to know their role."

Both Hennig and Rutledge acknowledged the fact that Canada has had difficulties keeping a strong core of players together for a long period of time.

"The program has been in a perpetual state of flux — with veteran players leaving the program and team having to rely on really young and inexperienced players," Hennig explained. "But we've had the same group now for two or three years and we're gaining experience together."

Adds Rutledge: "For any team to have success on the world stage you need continuity, and that's what we're starting to have now. We want to keep the core of this group together for the next six years."

The coach is also hoping Kelowna's Hennig, Raye and Sourisseau — who together won a silver medal at the B.C. School Sports championship tournament in 2007 — will remain a part of that nucleus.

"All three of them have so much ability and so much potential. And best of all, they all have such great work ethic and drive. To have three players like that from one town and having all played together in the same high school is a world-wide phenomenon.

"It's a credit to the community of Kelowna and the field hockey program at the school. But most of all, what the girls have achieved has been with hard work.



Considered the fittest of an extremely fit Canadian national team, Natalie Sourisseau will again patrol the midfield during Team Canada's tour of New Zealand. Yan Huckendubler Photo

"I've seen the degree of sacrifice and commitment they and their families have invested. It's not easy even at the provincial level for players to make the commitment to travel back and forth to Vancouver. They had to give up a lot," added Rutledge.

The three have risen to the top because the made those commitments and sacrifices early on in their career. And it's obvious they've overcome adversity along the way.

"Many talented players didn't have to go through what they did and when it became a bit uncomfortable for them at 21 or 22 years old, they didn't know how to handle it and they quit."

Hennig gives much of the credit for where she is now to coach Bernhardsson, who "knew how to push us and get the best out of us."

She also credits having Raye on the team while she was at KSS.

When Abi came over (from England in 2005) it helped us a lot. We (Sourisseau too) saw the skills she had from playing field hockey at an early age, and we wanted to emulate her.

"And later on when she made the national team, seeing someone you've played with achieve something like that, you think 'that could be me.'"

Meanwhile, Raye, tied for first in team caps with 115, has rejoined the national team after playing half a season of semi-professional field hockey in Belgium.

Following the Commonwealth Games (a second time for Raye), the Canadian team was in a stand-down phase, so the 23-year-old native of Epsom, Surrey, England decided to take the opportunity to play in Europe.

She joined the Royal Wellington Club in Brussels in August and played in the top Belgian league until the end of November.

"Playing top-level club hockey in Europe is something I've wanted to do for a long time," said Raye. "The professional environment allowed me to focus completely on hockey and improve my game."

The league attracts many talented and experienced international players — the Belgian team alone consisted of South African, Spanish and Swiss players.

"The mix of players really allows for so much more learning and sharing of different concepts and styles of play," noted Raye. "I learned an incredible amount, both tactically and technically — playing there and found myself more inspired than ever before," added Ray, who also was the head coach for both the U-16 premier team and the men's second team.

"I absolutely loved my time playing in Belgium and I'm sure I'll be back playing in Europe as soon as I can."

As for Sourisseau, the 22-year-old is looking forward to the training camp in New Zealand after missing the opportunity of playing in the Commonwealth Games.

The 2010-11 CIS rookie of the year (UBC) goes into the New Zealand tour as the "best athlete physically on the team" according to Rutledge.

"Nat (58 caps) also has that immense work ethic and is well on her way to being a world-class player," added the Canadian-team coach.

Okanagan Sports Page


---

The Hockey Dynamic

World renowned coach Gavin Featherstone has written a book "The Hockey Dynamic: Examining the Forces That Shaped the Modern Game" that will be published in March 2015 in paperback and e-book. Here is a preview of the book for your enjoyment.