All the news for Thursday 22 January 2015

FIH release latest World Rankings



(Photo: FIH)

FIH has released the latest FIH World Rankings as of December 2014.  These include points awarded following the completion of the Hockey World League Round One, the 2014 Champions Trophy and the Champions Challenge events.
In the FIH Men's World Rankings Australia, the Netherlands and Germany retain their top three spots respectively. Below them, England move up into fourth place and Argentina, whose team includes the recently crowned 2014 FIH Rising Star of the Year, Gonzalo Peillat, move up to their highest ever ranking (6), ahead of New Zealand.  Pakistan moves back into the top ten at the expense of Spain who drop one place.

The Men's World Rankings are joined for the first time by Tanzania (73) and Iran (70) following their participation in the Hockey World League Round One. Other notable moves are Azerbaijan who are up three places to 31 which is their highest ever ranking and both Bulgaria (55) and the Dominican Republic (57) move up five places each.

The FIH Women's World Rankings sees no movement in the top 10 as the Netherlands compound their place at the top of the Rankings, leading by 250 points over nearest rivals Australia who are closely pursued by Argentina.  The Netherlands also finished the year with two winners of the 2014 FIH Player of the Year Awards – midfielder Ellen Hoog and goalkeeper Joyce Sombroek.

The Women's World Rankings have swelled to 68 places which includes Ranking debutants, Myanmar and Guatemala joint 67.  Meanwhile, Turkey have moved to their highest ever ranking (36) with Kenya (37) and Thailand (46) moving up seven places respectively.  All took part in the Hockey World League Round One with Turkey and Thailand qualifying for Round Two later this year.
FIH Men's and Women's World Ranking
Below are the current World Ranking positions for the men's and women's teams. To view the complete list and point distribution, please refer to the PDF below the chart. The FIH World Ranking is updated after any major international events -- approximately 3-4 times per year.
| | | | | | | | | |
| --- | --- | --- | --- | --- | --- | --- | --- | --- |
| Rk. | Country - Men's | CF | Pts. |   | Rk. | Country- Women's | CF | Pts. |
| 1 | Australia | OCE | 2534 |   | 1 | Netherlands | EUR | 2639 |
| 2 | Netherlands | EUR | 2422 |   | 2 | Australia | OCE | 2389 |
| 3 | Germany | EUR  | 2187 |   | 3 | Argentina | PAN | 2379 |
| 4 | England | EUR  | 1989 |   | 4 | New Zealand | OCE | 2037 |
| 5  | Belgium | EUR  | 1972 |   | 5 | China | ASI | 1827 |
| 6  | Argentina | PAN | 1828 |   | 6 | England | EUR | 1821 |
| 7 | New Zealand | OCE | 1814 |   | 7 | Germany | EUR | 1789 |
| 8  | Korea | ASI | 1659 |   | 8 | United States | PAN | 1757 |
| 9 | India | ASI | 1644 |   | 9 | Korea | ASI | 1704 |
| 10  | Pakistan | ASI | 1422 |   | 10 | Japan | ASI | 1652 |
| 11  | Spain | EUR | 1374 |   | 11 | South Africa | AFR | 1372 |
| 12  | Malaysia | ASI | 1190 |   | 12 | Belgium | EUR | 1317 |
| 13  | South Africa | AFR | 1129 |   | 13 | India | ASI | 1062 |
| 14  | Ireland | EUR | 990 |   | 14 | Ireland | EUR | 957 |
| 15  | Japan | ASI | 983 |   | 15 | Spain | EUR | 949 |
| 16  | Canada | PAN | 976 |   | 16 | Scotland | EUR | 787 |
| 17  | France | EUR  | 794 |   | 17 | Italy | EUR | 732 |
| 18  | Poland | EUR | 767 |   | 18 | Belarus | EUR | 692 |
| 19  | Russia  | EUR  | 705 |   | 19 | Azerbaijan | EUR | 684 |
| 20 | Egypt | AFR | 577 |   | 20 | Chile | PAN | 640 |
---

Rise in World Ranking for Irish Men and Women's Teams!

Congratulations to our Ireland Men and Women's teams who have moved up in World Rankings to fourteenth place. The rise in ranking is a result of an excellent 2014 season for our national squads. Last year the Men beat thirteenth-ranked South Africa and fourth-ranked England on home soil, while the Women triumphed over Korea (9th), South Africa (11th) and Belgium (12th).

This jump has come at a pivotal time for our Irish squads as they prepare for the Olympic qualifier process with World League 2 in February and March. The Men head to San Diego on February 28th and the Women will host their event at home in Dublin from March 14th to 22nd. Both teams finish in the top three of their respective tournaments to progress on to World League 3 and Olympic qualification.

Congratulations to all the players and coaching staff involved on their achievement and we look forward to cheering our National Squads on to the 2016 Rio Olympics!

Irish Hockey Association media release


---

Tequila Sunrise at Sengkang Thursday

By Jugjet Singh

MALAYSIA'S quarter-final against Mexico today is a warm-up to a bigger task at hand, as a Japan semi-finals await them in the World League Round Two at the Sengkang Stadium in Singapore.

Japan play Ukraine in the quarters, and judging by form and ranking, the Japanese are hot favourites to advance to the last four.

As for Mexico, they received beatings from Poland (6-0), Bangladesh (5-1) and Japan (6-0) to finish at the bottom of Group B. They meet Malaysia at 9am and surely, there will not be a Tequila Sunrise at the Sengkang Stadium for the South Americans.

The Mexican's were not willing partners to travel to Singapore, because they had finished second behind Chile in WL Round 1 in Guadalajara but when Fiji pulled out of the tournament here, the International Hockey Federation threw them a life-line which they gladly grabbed and traveled half the globe.

In WL 1, Mexico lost 3-1 to Chile, beat Guatemala 15-1 and drew 0-0 with Brazil before winning the shoot-out 3-0.

"We were a little slow off the block in our first match against Ukraine (5-1) and I believe it was because the MHL (Malaysia Hockey League) had just ended and the players were a little rusty physically. But the win against Singapore (16-1) saw a better performance and I believe the semi-finals could be a little tougher, but we are ready to face either Ukraine or Japan," said Malaysian coach Tai Beng Hai.

Beng Hai did not even mention Mexico, because a win is assured, while only the scoreline remains to be recorded.

Malaysia, who beat Singapore 8-2 in the Asian Games, were hardly challenged by the hosts at their own back-yard, but even in heavy defeat, their 500-odd fans cheered them until the final whistle, and them gave them a standing ovation.

However, the Singapore Press tore their association apart for the huge defeat, suggesting drastic changes as they will host the Sea Games hockey in a few months time.

Faizal Saari, who scored six out of the 16, said he is able to handle his temperament   and play better hockey after being benched for the Commonwealth and Asian Games for unruly and disruptive behaviour.

"I'm much more composed now, and this is my highest scoring margin in an international tournament, but I hope to to even better and help the team win gold in this tournament," said Fazial.

Faizal will get a chance to practice his shooting against Mexico, and he might just break his personal record.

Malaysia have the best chance to win gold in Singapore, and advance to the World League Semi-finals at either Belgium or Argentina which offer tickets to the 2016 Rio de Janeiro Olympics, a platform where Malaysia last played in Sydney 2000.

Jugjet's World of Field Hockey


---

Faizal, Azlan on the brink of making history in World Hockey League

by Aftar Singh



Faizal Saari is the tournament's top scorer with nine goals. - Bernama

SINGAPORE: Two Malaysian hockey players are on the verge of creating history in the World Hockey League Round Two.

In-form striker Faizal Saari should win the top scorer's award hands down while defender Azlan Misron is set to become the first Malaysian to earn 350 international caps in hockey.

Faizal has netted nine goals in three group matches and is the leading top scorer in the tournament. He scored one goal against Ukraine, two against Oman and six against Singapore. Poland's Pawel Bratkowski is the second leading scorer with five goals.

Malaysia outplayed Ukraine 5-1, hammered Oman 7-0 and thrashed Singapore 16-1 in the group matches.

Malaysia top Group A and face winless Mexico, who finished last in Group B, in the quarter-finals on Wednesday.

Faizal said his mission is to score in every match and help Malaysia win the tournament.

"I'm happy with my contribution but I want to score as many goals as possible to win the top scorer's award as well," he said.

Azlan, who has been representing Malaysia since 2002, will earn his 350th cap in the match against Mexico.

The defender, who will turn 31 on May 21, said that he is honoured to be the first national player to achieve the feat.

"I love playing hockey for the country but never ever thought that I will create history as the most capped player in the national team," said the Perak-born Azlan.

The former national skipper is also elated to see Malaysia improving their ranking by one spot to No. 12.

"Malaysia have been ranked 13th in the world for five years ... finally, we have improved. It's good for Malaysian hockey as it'll motivate us to play better," said Azlan, who added that they will not take Mexico lightly.

Mexico, a last-minute replacement for Fiji, have scored just one goal and conceded 17 in three matches. They lost all their three group matches – against Poland (6-0), Bangladesh (5-1) and Japan (6-0).

If Malaysia reach the semi-finals, they will face either Japan or Ukraine.

The Star of Malaysia


---

Singapore coach's job on the line after ignominious defeat to Malaysia

by Aftar Singh

SINGAPORE: Singapore hockey coach Solomon Casoojee's head is on the chopping block.

The South African looks to be on the way out following Singapore's humiliating 16-1 thrashing by Malaysia in a Group A match of the World Hockey League Round Two tournament at the Sengkang Hockey Stadium on Tuesday.

It was their worst defeat since losing 8-2 to Malaysia at the Incheon Asian Games last September.

The Singapore Hockey Association (SHA) hired Casoojee four years ago in a bid to improve the standard of the game and to prepare a formidable side for the SEA Games, which Singapore will host from June 5-16.

Singapore, who finished last in their group after losing to Oman (3-2), Ukraine (2-1) and Malaysia (16-1), will face Group B winners Poland in the quarter-finals today.

Poland team manager Tomasz Cichy expressed shock at Singapore's capitulation on Tuesday.

"The knockout stage is a different ball game. We won't take Singapore for granted. We will apply pressure on the home team," said Cichy.

World No. 18 Poland are seeded third in the tournament and will be relying on penalty corner specialist and skipper Pawel Bratkowski to deliver the goals. To date, the defender has scored five goals in three matches.

The winner of this match will face either Oman or Bangladesh in the semi-finals.

The Star of Malaysia


---

Kenya face France in Rio qualifiers



Kenya players warm-up at City Park Stadium last week. The team is preparing for the International Hockey Federation World League Two cum Olympic qualifier that will he held in Montevideo from February 14 to 22. MARTIN MUKANGU |   NATION MEDIA GROUP |

The national women's hockey team will take on France in their opening match of the World League Two set for Montevideo, Uruguay from February 14 to 22.

A 2016 Rio de Janeiro Olympic Games berth is at stake

According to the draw released by the International Hockey Federation (FIH) Wednesday, Kenya has been placed in Pool B that also has Azerbaijan and Trinidad and Tobago.

Kenya, who finished first in the World League One series to advance, will continue their quest for an Olympic slot against mid-level European opponents France, who are ranked 25th in the world, on February 14 before taking on Trinidad and Tobago on February 16.

Kenya will finish their pool matches against the top ranked team in the group Azerbaijan (18) on February 17.

According to the tournament system, all teams will advance to the quarter-finals where they will face nations from the other Pool for a place in the semi-final. Pool A consists of Dominican Republic, Italy, Mexico and hosts Uruguay.

Kenya will end up playing six matches in the week-long qualifiers which will see the top three teams advance to the next round of qualifiers.

Kenya's coach Jos Openda welcomed the draw noting that his charges are not afraid of facing any team in the competition. Openda, the 2014 SOYA coach of the year, said they will be out to shed of the underdog tag.

QUALIFY FOR OLYMPICS

"We know nothing about our opponents and we therefore have to concentrate on our own game and ensure we are well prepared to play at this level. We are not going there just to make the numbers. We seriously want to qualify for the Olympics," he said.

The national team has been training at the City Park Stadium over the past two weeks under the tutelage of Openda and William Oketch.

but the technical bench is yet to name a provisional squad to enter residential training.

Openda admitted that the provisional squad will be named later in the week after the coaches have assessed the fitness of every player to be able to determine who makes the final cut. he warned that any player who fails to attain the fitness required will be dropped from the team.

"we want our players to be at the highest level because we are playing in an international event against top counties that have played at this level for many years, we therefore must raise our standards to their level," he added.

A majority of players in training include those who led Kenya to the first round victory in Nairobi last year against Ghana and Tanzania. Among these are skipper Bettsy Omalla, Jackline Jow Wangeci, Margaret Rotich and Anita Agunda.

Daily Nation


---

Scotland Senior Women European preparations underway with training camp

Scotland Senior Women begin their preparations for the EuroHockey Nations Championship in London this summer with a warm weather training camp, including three training matches against Germany, in Valencia, Spain, from 27 February to 8 March.

As Scotland Senior Women Head Coach Gordon Shepherd was keen to emphasise, the ten day trip has a real focus on preparation and training, rather than results in the matches against their German counterparts,

"This training camp is about creating a high quality training environment for the players ahead of the European Championships this summer."

"The matches against Germany will be non-capped and we will spend time working with the German squad to integrate practice situations into the training matches, including attacking and defensive set-plays. It gives our players a great opportunity to learn and develop their skills with a group of top players.

The Dundonian has selected a travelling party of 23 players, although he will be minus the Great Britain quartet Emily Maguire, Amy Gibson, Morag McLellan and Sarah Robertson who stay in training at Bisham Abbey, while Becky Ward (work commitments), Mairi Drummond (injury) and Jenny Morris (studies) are also not available for selection.

"We're without four players who will continue Great Britain programme and others have work and study commitments. Given the number of retirements after the Commonwealth Games too, there is now a great opportunity for players to demonstrate their potential and put themselves in the selection window for the international matches later in the year."

Scotland Senior Women: Siobhan Cowie (Merlins Gordonians), Nikki Cochrane, Rebecca Merchant, Kirsten McIntosh, Maisie Morris, Louise Campbell (Edinburgh University), Susan McGilveray, Alison Howie, Millie Brown, Nicki Skrastin, Jennifer Eadie, Fiona Bruce (all Milne Craig Clydesdale Western), Amy Brodie, Leigh Fawcett (both Grove Menzieshill), Nikki Lloyd (Canterbury), Nikki Kidd (Mannheimer HC), Vikki Bunce (Dundee Wanderers), Emma McGregor (CALA Edinburgh), Fiona Burnet (Bath University), Rebecca Condie (Birmingham University), Kareena Marshall (Western Wildcats), Aileen Davis (Clifton), Robyn Collins (Beeston).

Scottish Hockey Union media release


---

Indoor Men arrive in Europe

Diary updates from the team as they prepare for the Indoor World Cup




With the Australian men's indoor hockey team in Europe, preparing for the forthcoming Indoor World Cup in Leipzig (4-8 February), Team Manager Brent Deans is providing a series of short updates exclusively for the Hockey Australia website.

The newest diary entry is nearest the top.

During the tournament we'll have reports and photos from every match (men's and women's). For the details of the squad and the tournament fixture card visit our Australian Indoor team page.

You can follow the team on Instragram at @indoorhockeyaus.

20th January: Early start for breakfast then into the mini buses and off to training at the Royal Antwerp Hockey Club who are hosting us. A third of the group is new to the team and even though they all knew each other it is quite different playing together. The training sessions involved working on basic skills just to get the guys back on the ball.

We had two training sessions, lunch, rest and then set off to Brussels to play a select team. A 50 minute drive at 5pm was pretty good!

The match was quite an adjustment for the guys. We were nowhere up to speed in the first half and struggled with the pace and pressure. The second half was much improved and we were very competitive in all areas. There were some very tried guys on the mini bus trip back. Day one had taken its toll.

19th January: All arrived in Antwerp, fit and ready to start the prep program. Coach Anthony Potter welcomed everyone and gave a short presentation outlining the key areas of the program leading to the Indoor World Cup. We then had a team dinner.

Hockey Australia media release


---

Keeping it in the family

Kookaburra Flynn Ogilvie moves indoors for World Cup in Leipzig



(Photo: (c) Koen Suyk)

Flynn Ogilvie is one of the newest recruits to the Kookaburra team, having made his international debut at the Champions Trophy in Bhubaneswar last year. But for the next few weeks, Flynn will be displaying his skills on a smaller pitch as he hopes to help Australia win a first Indoor Hockey World Cup medal.

Flynn is the only Australian player to be currently playing both indoor and outdoor hockey and this crossover stems from indoor hockey being a family tradition in the Ogilvie family. Flynn will be competing in Leipzig alongside two of his brothers, Heath and Kurt Ogilvie who have both played in previous Indoor Hockey World Cups.

"Flynn hasn't played too much indoor lately so he has been in training since he got back from the Champions Trophy trying to prepare for it," Heath said. "He is pretty keen for it, we were all pretty keen to play a World Cup together."

Australia men's and women's teams travel to the Indoor Hockey World Cup with high hopes of making it to the podium. The women face a tough challenge in the pool games as they face indoor specialists Ukraine and the current world indoor hockey champions Germany. Also in their group are newcomers Belgium and the aspirational Canadian team. The men also face Germany, alongside Austria, the Czech Republic, Iran and newcomers, Sweden.

While Australia does not have a history of indoor success – finishing out of the top six at all previous Indoor Hockey World Cups – the current indoor squads have been preparing for their assault on the titles for a number of months. In January 2014, the squads toured Europe, where they played a series of matches against two of the top sides in the world – Germany and Holland. Speaking about the tour, head coach to the women's side, Stewart Fenton said: "After the FIH decision to reduce the number of players on the indoor field to five from six, the tour gave our coaching staff and players the opportunity to work on structure and strategy against many of the top European nations.

"It was also a great opportunity for many of the younger players selected in the squad to experience international competition against many of the world's best indoor players."

"With indoor being a smaller sided game, the players need speed, agility, strength and good technique," added Fenton. "And indoor assists with skill development, particularly close skills. It helps with identifying space in confined areas and it helps players to understand about being patient and not pushing passes."

And Anthony Potter, a former indoor international himself and now head coach to the men's team, enjoys the challenge indoor hockey poses for the men and women on the side of the pitch. He says: "It great for coaches as it's now a tactical game of chess."

FIH site


---

Indoor veteran Hapuarachchi headed to second World Cup

Brier Dodge




Malinda Hapuarachchi, who grew up in Orléans, will take on European powerhouse teams as a part of Team Canada in the upcoming Indoor Hockey World Cup.

Hapuarachchi plays indoor field hockey, which she started after an impulse tryout during her first week as a Grade 9 student at Cairine Wilson Secondary School.

She played with a competitive club in Ottawa, and eventually went to the University of Toronto, which is known for having a strong field hockey team.

"That one decision to try out for that (high school) team really shaped the rest of my life," Hapuarachchi said.

She played for the U of T Varsity Blues in Toronto, and now as a PhD student still at the school, acts as the team's assistant coach.

She played outdoors with the Varsity Blues and for other teams and was briefly a part of the outdoor national program, but has found her competitive niche in the indoor game.

The now 31-year-old is still a force to be reckoned with on the court, and will head to her second World Cup, which takes place in Leipzig, Germany, the first week of February.

She's the only member of the team that travelled to the 2007 World Cup; Canada didn't qualify in 2011.

The Canadians have to win at the Pan American Cup the year prior to the World Cup in order to qualify. The Canadian team won in 2014; a team that Hapuarachchi couldn't play on because of academic commitments.

Indoor field hockey, a four-on-four sport played on a court, is very popular in Europe – especially Germany and the Netherlands, where Hapuarachchi played for several months after finishing her undergraduate degree.

She compared the European clubs to Canadian ice hockey clubs, with multiple courts and competitive divisions.

"Indoor is growing for a lot of the European teams," she said. "And in Europe, everyone is so close to each other, it's very easy to compete. In Canada we're more isolated. To get to international competitions, it's a lot more cumbersome."

The Canadians are going into the tournament ranked ninth of the 12 teams, so they have realistic goals, including improving their position on the international stage.

Hapuarachchi said the team aims to have strong play in the opening rounds of the tournament and finish in the top eight – which would mean upsetting higher ranked teams.

Not all Canadian national teams receive funding from Sport Canada; indoor field hockey is an unfunded sport. It means training, travel and competition costs fall to the athletes themselves, many of whom have full time jobs or studies to deal with at the same time.

"You do it because you love it and you want to play at the highest level possible," Hapuarachchi said. "It takes a lot of time and money to do these things."

While there's a chance this may be her last World Cup as she prepares to finish her studies at the University of Toronto, Hapuarachchi doesn't see field hockey ever leaving her life.

"I feel like I'm going to be one of those people who will be involved in field hockey in some capacity for my entire life," she said. "If it's coaching, or if it's being an old lady at 65 trucking around the field with my stick."

Orleans News


---

It's back! Hero Hockey India League returns

Glittering ceremony set to launch thrilling third season of month-long hockey extravaganza



(Photo: FIH)

The hugely anticipated third season of the star-studded Hero Hockey India League gets under way on Thursday with a dazzling Opening Ceremony at Bhubaneswar's Kalinga Stadium, the world class venue that recently played host to the Men's Hero Hockey Champions Trophy.

The month-long competition, which features many of the greatest talents in the game representing six showpiece franchises based throughout India, kicks off with a mouth-watering clash between home team Kalinga Lancers and 2014 semi-finalists Ranchi Rays. The hockey-mad fans of Odisha are certain to turn out in their thousands to see who will emerge victorious in what promises to be a pulsating opening fixture.

The Lancers and the Rays are fired up and ready to make a big impression on the 2015 tournament and have set their sights on reaching the finals. Both sides are flushed with talent, with the Lancers being able to count on genuine international quality such as Australian internationals Glenn Simpson, Russell Ford and goalkeeper Andrew Charter as well as Argentinean duo Lucas Vila and penalty corner expert Gonzalo Peillat, who was top scorer at last year's World Cup and recently named "FIH Rising Star" of 2014. The Rays are also packed full of class, with English superstars Ashley Jackson and Barry Middleton playing alongside Indian icons Mandeep Singh and Manpreet Singh among many others.

Defending champions Delhi Waveriders, led by Indian skipper Sardar Singh, will start their campaign with an away trip to Lucknow's Uttar Pradesh Wizards on Friday (23 January). Featuring celebrated players such as Simon Child (New Zealand), Matt Gohdes (Australia) and shot-stopper Pirmin Blaak (Netherlands) competing alongside brilliant Indians Rupinder Pal Singh, Gurbaj Singh and Danish Mujtaba, it is hardly surprising that the Delhi-based team has a genuine chance of winning back-to-back HHIL championships. However, with India defender and penalty corner ace VR Raghunath among their ranks and backed by the home crowd, UP Wizards will feel confident that they can make a winning start to this year's tournament.

Friday will also see the first games for Jaypee Punjab Warriors and Dabang Mumbai, who do battle in Mumbai's Mahindra Hockey Stadium. Jaypee Punjab Warriors, lead by Australian icon and five times FIH Player of the Year Jamie Dwyer, are seen by many as potential winners of the tournament, something that comes as no surprise when you consider that the team also contains legendary Kookaburras defender Mark Knowles and Netherlands shot-stopper Jaap Stockmann, the respective FIH Player and Goalkeeper of the Year for 2014. Dabang Mumbai are considered as the dark horses in this edition of the Hero Hockey India League, but the newly assembled team certainly has more than enough quality to make big waves in the 2015 edition of the HHIL. Expect Belgian goal machine Tom Boon and Australian World Cup winners Matthew Swann, Glenn Turner, Tim Deavin and Jeremy Hayward to shine.
You can keep track of all the action from the Hero Hockey India League on the official tournament website and on their Twitter and Facebook social media channels. To see the star-studded squad lists, click the links below.
#HeroHIL

FIH site


---

Hockey India League gets rolling today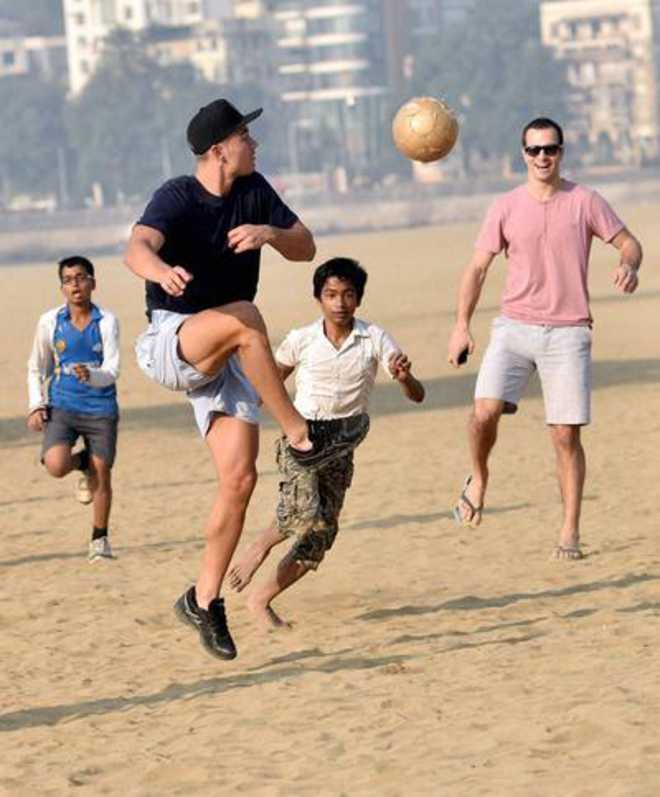 Dabang Mumbai's players play football with the city children ahead of their opener against Punjab Warriors, on Wednesday.  PTI

Bhubaneswar - The third edition of the Hockey India League (HIL) is all set to begin at the Kalinga Stadium here on Thursday with home team Kalinga Lancers taking on debutants Ranchi Rays. It will be interesting to see which team bags the first points to take an early lead in the month-long tournament which will eventually culminate at the Major Dhyan Chand National Stadium in New Delhi February 22.

Young Indian hockey talents are eager to perform in the event alongside top internationals like "Player of the Year" Mark Knowles or "Goalkeeper of the Year" Jaap Stockmann and learn from them. The Rays are focussed on winning and making an immediate impact by reaching the knockouts in their debut season. On the other hand, the Lancers, who finished at the bottom of the table in their debut season, look a much improved team this year.

Then, led by experienced India skipper Sardar Singh, defending champions Delhi Waveriders will start their campaign against the Uttar Pradesh Wizards Jan 23 in Lucknow. Boasting of celebrated players like Simon Child, Matt Gohdes, Pirmin Blaak along with top Indians such as Rupinder Pal Singh, Gurbaj Singh and Danish Mujtaba, the Delhi-based team is once again the top contender for the title and is aiming to win back-to-back championships.

On the other hand, the V.R. Raghunath-led Wizards will step on their home turf with the single-minded objective of starting the league on a winning note. The two-time semifinalists now hope to break their jinx and make it to the summit clash.

Punjab Warriors take on Mumbai Dabang

Last year's finalists Jaypee Punjab Warriors will commence their battle against another new team -- Dabang Mumbai -- in their first match Jan 23 at the Mahindra Hockey Stadium in Mumbai. The Jamie Dwyer-led Warriors plan to go one better and finish last year's unfinished job. With top players such as Stockman, Knowles, Sandeep Singh and S.V. Sunil in their ranks, the Warriors are among the favourites.

Though Mumbai may not have many big names, they have a good side with talented and spirited players who have trained hard under a new management. Considered the dark horses of the competition, the newly assembled team is ready to take everyone by surprise. "After the first two successful seasons, the best players from the world over are all geared up this time too as we hope for a much more competitive and exciting league ahead," HIL chairman Narinder Batra said Wednesday.

"With new teams and fresh players joining us in this edition, I am sure this league will be a huge accomplishment and fruitfully serve the purpose of escalating the game of hockey to a new pinnacle," added Batra.

The Tribune


---

HIL 3 to kick start with Lancers-Rays clash



Ranchi Rays team members during a practice session in Ranchi. File Photo

After two successful seasons, the Hero Hockey India League (HIL) is back with fresh vigour and anticipation in its third edition starting with a clash between hosts Kalinga Lancers and debutant Ranchi Rays clash at the Kalinga Stadium, in Bhubaneswar on Thursday.

Young talents of both Kalinga Lancers and Ranchi Rays are raring to face each in what promises to be an exciting contest.

After finishing at the bottom of the table in their debut season, Kalinga Lancers will be desperate to prove their detractors wrong with a much-improved performance this year.

The Ranchi Rays, co-owned by Indian cricket team captain Mahendra Singh Dhoni, on the other hand, will be making its debut in HIL this year and will be focussed on maintaining the good work of the previous Ranchi franchise, Ranchi Rhinos, who won the inaugural HIL in 2012.

The Lancers will definitely start as favourites on their home turf as they stunned the previous Ranchi Team 4-1 at the same venue last season.

Led by Vikramkanth, the Lancers have a young team which has the potential to spring a surprise.

The Lancers also have a new coach this year in Jude Felix, who very well understands the requirements of the game having been a part of the Indian national team's coaching department for quite sometime now.

In Gurjinder Singh and Argentine Gonzalo Peillat, the Lancers boast of a strong drag flick department, while experienced Australian goalie Andrew Charter and India's Harjot Singh will man their citadel.

There isn't much experience in Lancers forward-line and midfield but the likes of Lalit Upadhyay, Mandeep Antil, Australian Russell Ford, Lucas Villa of Argentina, Roshan Minz and Mohammad Amir Khan has the potential to surprise opposition defences.

The Rays, on the other hand, are a new outfit which has tried to retain the core base of players that used to be a part of the Ranchi Rhinos team.

Coached by experienced and Wiley Harendra Singh, the Rays have tough task at hand, the task of living up to the reputation of the previous Ranchi franchise.

On paper, the Rays have a far superior team than the Lancers. In Spain's Francisco Cortes, the Rays have reliable person in front of the goal, while the defence will be under the watchful eyes of Birendra Lakra and South Africa's Justin Reid Ross.

With the likes of Englishmen Ashley Jackson, Barry Middleton, Germany's Moritz Furst and India's Manpreet Singh, the Rays boats of a strong midfield while Australian Trent Mitton,Mandeep Singh and Kiwi Nick Wilson will be in charge of the forwardline.

Lancers coach Felix feels all the six teams in the league are equally matched and whoever plays well on the given day will emerge winners.

"We are excited about the third season of HIL. I don't think any team is extra strong. All the teams have good players nd equally balanced," he said.

The newly-appointed captain of Ranchi Rays Ashley Jackson said their main objective this year is to win the title and they have a strong team to achieve the goal.

"We have a strong team filled with experienced international players and fantastic Indian players. We are here to win the title. Of course no team can will all their matches but our aim is to win as many games as possible to enter the semifinals and then the final. It will be a step by step process," he said.

Meanwhile, title-holders Delhi Waveriders start as favourites to defend their crown. Led by Indian skipper Sardar Singh, the Waveriders will start their campaign against Uttar Pradesh Wizards on Friday at Lucknow.

Studded with celebrated players such as Simon Child, Matt Gohdes, Pirmin Blaak along with India's top players such as Rupinder Pal Singh, Gurbaj Singh and Danish Mujtaba, the Delhi-based team is the top contender for the title.

The Hindu


---

Hockey India League 2015: preview guide

By Rod Gilmour



Full of life: Ranchi Rhinos, winners of the first HIL, have been replaced by Ranchi Rays  Photo: HOCKEY INDIA LEAGUE

The third edition of the Hockey India League begins on Thursday when Kalinga Lancers take on Ranchi Rays in Bhubaneswar. Here, Telegraph Sport runs the rule over this year's four-week long tournament
   
Top of the HIL

Tom Boon will be under pressure to perform over the next four weeks after Dabang Mumbai bid an eye-catching US$103,000 (£68,000) for the Belgian forward - against his original base price of $20,000. Broken down, Boon will net more than $25,000 per week – a significant sum in world hockey terms as he became HIL's highest-ever earner. Overall, Mumbai spent $750,000 putting together their outfit.

Team to beat: Punjab Warriors (Mohali)

Beaten in last year's final after a shoot out, Punjab's squad is an impressive one for the third edition. Led by Jamie Dwyer, the Australian, and with compatriot Mark Knowles, the world hockey player of the year, on board, the Warriors have quality all over the field, starting with Jaap Stockmann in goal ahead of a world-class defence. Add in Australian corner specialist, Christopher Ciriello, and the tournament's top scorer Sandeep Singh, and Punjab will be hard to stop.

What they say

"I feel we must adapt a style that suits the Indian culture without losing our personal style of play as we get to play with the mixed bag of players from different teams."
Jamie Dwyer

"What was crucial for the league was India's qualification for the Rio Olympics. It was an important part for the sustainability of the league because it means there will be more fan following, more sponsors and support for league."
Mark Knowles

One to watch

Kalinga Lancers successfully bid for four players, including Gurjinder Singh, the Indian drag-flicker and former Punjab Warrior. Given that his original base price was $8,600 and he went for $65,000 shows how much his stock has risen - and that was before his good form at the recent Champions Trophy.

Consistency pays

Delhi Waveriders, the defending champions, have been the most consistent team in the tournament, with 19 wins in 26 matches overall. They also posted the longest unbeaten run with 11, in the first edition.

Stick cricketers

Lucknow-based Uttar Pradesh Wizards is co-owned by Suresh Raina, while India's one-day captain MS Dhoni is the latest convert, co-owning new franchise Ranchi Rays, which includes England duo Ashley Jackson and Barry Middleton – Nick Catlin (Mumbai) is the only other Englishman in this year's HIL - and Germany's Moritz Furste.

What the HIL will be without in 2015...

Pakistani players. Nine were part of the first edition two years ago, but were forced to leave India ahead of the tournament due to a political wrangling. No neighbouring player has since taken part.

The Telegraph


---

Australians Dwyer, Dancer find HIL "best in the world"



Australia's Jamie Dwyer. File Photo   

Hockey India League (HIL) on Wednesday earned high praise from two Australians — player-turned-coach Barry Dancer and current international Jamie Dwyer — who hailed the franchise-based tournament, commencing on Thursday, as "the best in the world".

"The quality is definitely up there. It is better than the Dutch competition. We used to always rate the Dutch competition as the best in the world. But now this is the best I have played, for sure. Last year, some of the goals and penalty corners, were unbelievable. I expect it to get better this year," said Dwyer.

According to Dwyer, captain of Jaypee Punjab Warriors, HIL has immensely benefited Indian hockey.

"The quality of the game is outstanding. It is international (class) hockey out there and is good for the Indian players. They have improved a lot in the past two years. I think HI is a big factor to that and it is showing the world to good hockey," said the 35-year-old Australian.

Coach Dancer agreed. "Hockey in Australia doesn't have the corporate support that India has. India is quite unique with the amount that is behind this league which is the highest in the world.

"Earlier it was the Dutch league. For five weeks, the players are well supported and have better salaries than Europe," gushed Dancer, who is coach of the Warriors team.

Dwyer has been out of action for four-and-a-half months due to a rare toe ligament tear and said he was unlikely to be at his best for his team's lung opener against Dabang Mumbai at the Mahindra Stadium in Mumbai on January 23.

"I haven't prepared too well. I have been out of hockey for four and a half months with an injury. I have just picked up the stick, so I don't expect to be my best straight away.

"Hopefully, I will be playing my part for the team in the last week of the competition," said Dwyer, who has been part of title-winning Australian teams in the last two World Cups, the 2004 Athens Olympic Games and six Champions Trophy since 2005.

Dwyer has been out of competitive hockey since helping Australia clinch the last World Cup in The Hague, Netherlands, on June 15.

Asked to describe his injury, Dwyer said, "I had a torn ligament in the toe of my foot. I just started running a month a go. I had a good time away thinking about my future whether I can play for the Australian team."

Dancer said his team was expecting a tough fight from new-look Mumbai team and a settled combination was his team's plus point.

"They (Mumbai) have added extra players including Tom Boon (Belgium). So we expect them to be better than last year.

"Continuity for us is an important. We haven't had the disruption of new people coming in, so we expect we will be better having the continuity of last year."

Dwyer said the team has prepared well for the tournament and wants to win the title after finishing as the losing finalist to champions Delhi Waveriders last year.

"We have had a very good week's training in Chandigarh and, as Barry mentioned, there's continuity from last year to this year and we want to build on from last year.

"We want to win every game and the cup. We want to play attractive hockey. We want to win the cup but for that we have to play good hockey and then everything else will take care of itself and then we move on to the international calendar," he added.

The Hindu


---

Dhoni wishes his team ahead of Hockey India League

BHUBANESWAR: India cricket captain Mahendra Singh Dhoni may well be playing the tri-series Down Under, but he hasn't forgotten to wish his team - Ranchi Rays - ahead of the Hockey India League (HIL), which begins on Thursday.

Rays' captain and penalty corner specialist Ashley Jackson on Wednesday said that though he hasn't met Rays' co-owner Dhoni in person, he and his team have been getting messages from the wicketkeeper-batsman, who hails from the Jharkhand capital.

"I have not met him in person but we have got his messages, wishing us the best ahead of the tournament. It will be an honour to meet him some day," said the England midfielder, who also follows cricket.

"It is an honour to have him as our co-owner."

The third edition of HIL commences on Thursday with home team Kalinga Lancers taking on debutants Ranchi Rays at the Kalinga Stadium in this Odisha capital city.

The Times of India


---

Hockey India League (HIL) 2015 Highlights & Match Videos

Want to watch the HHIL2015 and it is not being shown on your local TV Channels? Star Sports will be streaming the games live on

http://www.starsports.com/hockey/leagues/competitionid=30000001/index.html


---

Indian hockey is on the rise, says Halappa

MUMBAI: Notwithstanding the absence of a regular national hockey coach since the exit of Australia's Terry Walsh, selector Arjun Halappa sounded upbeat about the Indian squad's future following its good show over the last year-and-a-half.

"Some things are not in our control. We should not take it in a negative way. Indian hockey has been doing very well in the past 11 to 18 months. These things will be taken care of by the administrators. Let's be positive," said Halappa who is representing Dabang Mumbai as a player in the Hockey India League (HIL).

He also said that Indian captain Sardar Singh is there to see first hand the home country talent on hand in HIL along with selectors and interim coach Roelant Oltmans who is also Director, High Performance at Hockey India.

"Roelant (Oltmans) is there. We are there. Sardar is there leading a side (Delhi Waveriders)," he pointed out.

Halappa said the Test series win over Australia Down Under, a first for Indian hockey (after winning the Asian Games gold for the first time after 1998 to qualify for the Rio Olympic Games), augured well.

"As Hockey India selector I can say we have beaten Australia in Australia in the Test series. That jinx has been broken. We had never done that before. These things are getting better.

"We can't straightaway say we are becoming world no. 1. It's a step by step process. (Junior) Players like Harmanpreet and Santa Singh can get lot of positives from this league," he said.

Halappa said he keeps his selector's hat behind when he takes part in HIL as a player.

"It's a new challenge and I have to fight for my place. I am putting in my effort. I can see some players also while they train and play and their approach. But right now I am enjoying as a player. If I get into the selector's mode, the players will be too reluctant to speak to me," he said.

Halappa, who was part of champion outfit Delhi last year, said his new team - Dabang Mumbai - looked good on paper and the players were gelling well, while adding that the proof of the pudding would be how it performs on the pitch.

"On paper it looks really good, but let's see how we perform on the pitch. It's a mix of different cultures and there are a lot of different emotions. Things are looking positive.

"I have been speaking to a few guys like (Australian Glenn) Turner. They said compared to last year the planning and approach looks different," he remarked.

Asked about the success mantra in HIL, Halappa said, "A good mix of Indian and foreign players playing together well, that makes the difference."

"Indians are very skillful, Australians are aggressive and very fast, Europeans are tactically good. Everything has to fall into place," he added.

The Times of India


---

GBSSS, Saket J Block and VCS Agriculture, Khera Kheri take top honours at the inaugural Cairn Juniors Hockey Cup 2015




New Delhi, January 21, 2015: GBSSS, Saket J Block and VCS Agriculture, Khera Kheri won the junior (U-17) and sub junior (U-14) finals at the inaugural Cairn Juniors Hockey Cup. The INR 300,000 event was held for the first time at the Shivaji Stadium from January 15 to January 21, 2015.

In the juniors final GBSSS, Saket J Block-- a school supported by city based NGO, One Thousand Hockey Legs--edged past SS Mota Singh in a penalty shootout to become the first winners of the Cairn Juniors Hockey Cup 2015. The boys from Saket played brilliantly and created several goal scoring opportunities but couldn't breach the tight defense of SS Mota Singh in regulation time. The match stayed goalless at the end of the regulation time and was decided in a penalty shootout, in which GBSSS, Saket J Block won 2-1. Pawan and Sunil converted for Saket, whereas Tejender scored one for SS Mota.

In the sub junior final VCS Agriculture produced a clinical performance to beat GBSSS, Khanpur 6-1. VCS dominated the proceedings from the word go and took the lead through a penalty corner in the 10th minute. They doubled the lead in the 17th minute and raced to a 3-0 lead at half time. They scored three more goals in the second half. GBSSS scored a consolation goal in the 56th minute of the goal. Kunal socred a hattrick, whereas Sushil, Ankit and Ashish scored a goal apiece for the winners. The only goal for GBSSS was scored by Shantu Kumar.

Stick2Hockey.com


---

PHF faces shortage of funds, requests PM for grant

Kashif Abbasi

RAWALPINDI: Ten top domestic teams will vie for top honours in the 10-day Chief of Army Staff Hockey Championship, beginning from Thursday (today) at the Army Hockey Stadium here.

"This championship will help us select our national squad for upcoming international events," said Rana Mujahid, secretary of the Pakistan Hockey Federation.

Top domestic teams like PIA, Wapda, Army, Navy, National Bank, Punjab, Higher Education Commission, Sui Southern Gas Company and Punjab are all set to vie in the championship.
Army Staff hockey begins today

"We are waiting for grant from the government for the Azlan Shah Cup to be played in the months of April and May, and Olympic qualifiers to be held in Belgium during June and July.

"If we get the grant, this championship will help us select our national squad," Mujahid said.

He said members of the selection team will observe matches to add some new faces in the national squad.

Mujahid added that performance of green-shirts remained brilliant in Asian Cup and Champions Trophy but the team was facing acute shortage of funds.

"We have been requesting Prime Minister Nawaz Sharif, who is also the patron of the PHF, for the last many months to release funds for us but to no avail," he said and added that the future of hockey was bleak if funds were not released.

"I request the prime minister to release the required funds to save future of hockey," he said.

Former national captain Shakeel Abbasi said the event was a good opportunity for youngsters to learn techniques from their senior players.

To a query, he said: "PIA, Wapda, National Bank and Army are the main teams of the tournament and I foresee good competition among them," he said.

Shakeel will lead the SSGC in the championship.

A few weeks back, PIA defeated Wapda 4-2 on penalty shootouts to lift the National Hockey Championship held in Sialkot.

Dawn


---

As govt pays no heed, Army comes to rescue hockey

RAWALPINDI - At last national game hockey, which was being suffering a lot due to step-motherly treatment by the government even after beating India in Champions Trophy and finishing there as silver medalist, and hockey players get a new ray of hope when Pakistan Army came forward to rescue the game with the aim of helping the players to regain the lost hockey glory.

Pakistan Hockey Federation (PHF) and Army Sports Directorate are jointly organising the first ever Chief of the Army Staff (COAS) Challenge Hockey Cup which will roll into action at the Army Hockey Stadium here today (Thursday). The event is being organised with a collective resolve to make it an exemplary event.

Tournament Director Col (r) Nadeem Ahmed Bhatti, flanked by Army Sports Directorate secretary Col Aslam Bodla and Major Tariq, said: "It is the first time in the history of Pakistan hockey that a tournament after the name of COAS is being held and it will be regular feature of the annual calendar of the PHF. It is our collective effort to make it a huge success."

Nadeem praised the Army Sports Directorate for organising this tournament in the city. "At a time when nobody is prepare to take the ownership of the national game, Army stepped in to rescue the hockey as government was not paying any heed to the national game. The whole nation is thankful to them for organising a national level tournament."

Recalling great service of the armed forces in the field of hockey, Nadeem said: "Pakistan Army enjoys a splendid history in the game and many of its officials not only headed the PHF but were also part of the national hockey team which brought laurels in Olympics, World Cup and Champions Trophy."
He said the winner of the event will walk away with a prize of Rs 100,000 while the runners-up and third position holder will get Rs 50,000 and Rs 30,000 respectively.

In his opening remarks, Col Bodla said: "Being the host of the tournament, Army has made every possible effort to ensure the comfort of the participating teams and the officials. I urge that we should make a collective endeavour to make this tournament a great success. This is our mutual interest to organise it in a befitting way."

Nadeem said that 10 participating teams have been divided into two pools. Pool-A comprises PIA, Army (Senior), Punjab, PAF and Police while Pool-B consists of Wapda, NBP, SSGC, Navy and Army (Junior). Three matches will be played on the opening day. In the first one, Wapda will face NBP while Army (Senior) will vie against Police in the second and PIA to take on Punjab.

The Nation


---

Olympian Mansoor to train disabled hockey players

ISLAMABAD - Pakistan Disabled Sports Association (PDSA) has joined hands with Mansoor Ahmed Hockey Academy (MAHA) to groom and train disabled hockey players.

PDSA chairman met with Olympian Mansoor Ahmed Wednesday here at The Nation office and announced the deal was struck all the formalities and an MoU would be signed soon. "We are very glad that a proven stuff like Mansoor has very kindly accepted our request of imparting coaching/training to handicapped players. When we formed the PDSA, we had kept in mind not restrict our activities to only cricket but to expand to all other indoor and outdoor sports as well. We had already taken on board different past greats in different sports and distributed each and every sport to the concerned persons. We will soon announce the entire sporting calendar of 2015, according to which all the major sports tournaments will be organized.  "We want to provide a platform to handicapped players, where they may showcase their skills and also earn bread and butter for their families and that too in a very respectable manner," PDSA chairman Sheikh Abdul Waheed said.

Waheed added: "I am working day and night to finalise terms and conditions before handing over central contracts to the cricketers in the first phase and gradually, all the other sports will be included into central contract category. We have a huge set back, as our patron Munawar Mughal passed away last month. We had completed almost all the formalities, Islamabad Chamber of Commerce and Industry (ICCI) was very much onboard and Munawar had already started donation campaign in this regard. But unfortunately, in his absence, we have been struggling to get over from that huge loss, but we have not lost hope and carry on the mission of late Munawar." "I once again want to say a big thanks to Mansoor Ahmed. His able guidance will certainly help handicapped players learn a lot. On his permission, we will announce a hockey tournament for the disabled players after first phase of training completes," Waheed concluded.
Sharing his views, Mansoor said: "I am already working on a charity foundation and it gives me immense pleasure to work for a noble cause. I would love to help the PDSA in best possible way. We have a joint mission to help out the disabled persons and I will not only train and coach the handicapped players, the PDSA will recommended but also provide them free hockey sticks, goalkeeping equipment and other required stuff. "I hope our efforts will bear fruits and handicapped players will soon start producing better results at international platform, which the PDSA chairman has promised me to provide them," Mansoor concluded.

The Nation


---

Dragons to welcome 35,000 hockey fans to Brasschaat

Dragons are hoping to welcome up to 35,000 fans to their club in Brasschaat as they play host to the World League Round 3 this summer, welcoming 20 of the world's best teams for the event which acts as part of the Olympic qualifying process.

The club is no stranger to big events having previously hosted the Euro Hockey League and they will construct a temporary stadium to house 5,000 fans for this event which runs from June 20 to July 5.

The organisation of the competition consists of 100 employees who are active on eight different committees. During the event, a call will be made on 1,200 volunteers in order to ensure a flawless event.

Hans Borstlap, chairman of the Dragons' organising committee, says it is a fitting event for his club to host

"Dragons is a hockey club with a rich tradition, known for the quality of our young players, developing future champions," he said. "We have won many championships and regularly deliver excellent performances at European level in the EHL. Our loyal supporters (D-side) are among the best in Europe.

"Beyond that, we have always devoted ourselves to beautiful hockey. Therefore, we are extremely proud to be organizing this major event along with the KBHB.

"We will organize this tournament in our club spirit: quality of hockey in a family environment supported by our enthusiastic members to make sure everyone has a brilliant hockey festival filled with all the emotions of top sport."

Euro Hockey League media release


---

Iain Lewers and Susannah Townsend named UK players of the year by Hockey Writers' Club

England internationals rewarded for fine year in 2014 while European president praises two players caught up in Charlie Hebdo attacks
           
By Rod Gilmour



Full focus: Iain Lewers attempts to clear during the Champions Trophy in India in December Photo: AP

Holcombe's Iain Lewers and Canterbury's Susannah Townsend were named UK players of the year by the Hockey Writers' Club (HWC) at the Royal Thames Yacht Club in Knightsbridge on Tuesday.

Lewers and Townsend were worthy recipients of the award at the annual lunch, following a poll conducted among British members of the HWC.

Lewers, 31, was an outstanding performer at the heart of England's defence during 2014, while Townsend, 25, took a leading role in England's midfield as the women's side won silver at the Commonwealth Games, including scoring the vital second goal in the 2-1 win over Scotland that secured a semi-final place.

Runners-up in the men's vote were Lewers' team mate Nick Catlin and East Grinstead's Ashley Jackson. Last year's winner, goalkeeper Maddie Hinch also from the Holcombe club, and another Holcombe player, defender Laura Unsworth came second and third respectively in the women's vote.

Lewers said: "It's a great honour to win an individual award and especially this one. I was quite surprised. We have played a lot of hockey in 2014, the World League in India seems so far away now, but there were many positives and tests for our group and that was a big step forward for us."

Marijke Fleuren, the European Hockey Federation's president, revealed to guests how two men caught up in the Charlie Hebdo attacks in Paris were both hockey players.

Michel Catalano, below, plays for Blanc-Mesnil in the French Hockey Federation's Zone 2 and is the owner of the printing factory who was taken hostage by the attack suspects in Dammartin-en-Goele.

He also helped a colleague and fellow hockey player, Lilian Lepere, hide from the Kouachi brothers.




"These were two hockey heroes in the middle of this awful scene, who made it to still be with us today," wrote Fleuren in a speech read out by MC Simon Mason at the lunch.

"It is unbelievable how small the world is and how it nearly always affects our hockey world."

One of the Hockey Writers' guest speakers, Leandro Negre, the International Hockey Federation (FIH) president, has expressed initial concern over the International Olympic Committee's decision to launch a digital Olympic Channel.

Described by Thomas Bach, the IOC president, as "a great, great step forward". operational costs have been projected at £385 million over the 2015-2021 period. However Negre told Telegraph Sport that there were "many questions still to be asked".

He said: "Will the IOC channel be looking to buy the rights of the hockey World Cup? Will it be for free? If so we would be losing income. There are many questions, so let's wait and see."

The Telegraph


---

Checkers repeat, Parkites new champions

Harvard Checkers repeated as champions of the T&T Hockey Board American Style Opening Day Tournament in the Women's Open Division when they blanked national Outdoor champions Paragon 3-0 after penalty strokes at St Mary's College Grounds, Serpentine Road, St Clair on Sunday.

The trio of Kecia Hosein, Patricia Wright-Alexis, and Cristina Abreu were the players who converted their chances for the winners, while Alanna Lewis and Zene Henry muffed their efforts for Paragon after the teams played to a 0-0 draw in the 20-minute final.

The match was a repeat of last year's decider at the same venue which ended 0-0 before Checkers also prevailed 2-1 via the penalty-strokes shoot-out.

Earlier on in the semifinals, Checkers eked out a 1-0 win over Ventures thanks to a Mindy Charles goal, while Paragon, winners in 2013 got the better of Notre Dame 3-1 on penalty strokes after another goalless deadlock.

The Dames regrouped and took third spot thanks to a 1-0 defeat of Ventures.

Daniel wins it for Parkites

Ryan Daniel got the lone item as Queen's Park captured the men's Open title with a 1-0 defeat of Paragon in their decider, dethroning Notre Dame in the process.

In the semis, Jarryon Paul, and Raphael Govia, who set up the winner in the final, got a goal each for the Parkites in their 2-1 win over Petrotrin, which got a lone reply from Wayne Legerton.

Paragon, meanwhile, blanked Defence Force 2-0 with goals from Sheldon Mc Kellar and Joel Daniel.

And, in the playoff for third, Petrotrin narrowly edged Defence Force 2-1 in the dying minutes of the game to nudge them out of the final podium spot.

The sponsors of the event were the Sport Company of T&T, Subway, Massy Stores and Blue Waters.

RESULTS

T&THB round-robin results:
Women's Open:
Group A:
Harvard Checkers bt Notre Dame 1-0
Harvard Checkers 0 vs SC Magnolias 0
Harvard Checkers 5 bt Police 0 - by default
Notre Dame 1 bt SC Magnolias 0
Notre Dame 5 bt Police 0 - by default
SC Magnolias 5 bt Police - by default

Group B:
Courts Malvern 0 vs Ventures 0; Paragon 2 bt Malvern 0; Ventures 0 vs Paragon 0; Ventures 0 vs Paragon 0; Paragon 1 vs Courts Malvern 0
Malvern 0 vs Ventures 0

Final standings:
Group A
Teams    P    W    D    L    F    A    Pts
Checkers    3    2    1    0    6    0    7
Notre Dame    3    2    0    1    6    1    6
SC Magnolias    3    1    1    1    5    1    4
Police    3    0    0    3    0    15    0

Group B:
Paragon    4    2    2    0    3    0    8
Ventures    4    0    4    0    0    0    4
Malvern    4    0    2    2    0    3    2

Semifinals
Checkers 1 bt Ventures 0
Paragon 0 vs Notre Dame 0 - Paragon won 3-1 on penalty shoot-out

Third: Notre Dame 1 bt Ventures 0

Final: Checkers 0 vs Paragon 0 - Checkers won 3-0 on penalty shoot-out

Men's Open:
Group C:
Notre Dame 0 vs Petrotrin 0
Defence Force 1 vs Notre Dame 0
Petrotrin 0 ve Defence Force 0
Fatima 0 vs Notre Dame 0
Notre Dame vs Shape 0
Petrotrin 0 vs Fatima 0
Petrotrin 1 vs Shape 0
Defence Force  0 vs Fatima 0
Defence Force 1 vs Shape 0
Fatima 1 vs Shape 0

Zone D:
Malvern 0 vs QPCC 0; Malvern 0 vs Paragon 0
Malvern 0 vs Carib 0; QPCC 0 vs Paragon 0
QPCC 1 vs Carib 0; Paragon 0 vs Carib 0

Final standings
Zone C:
Teams    P    W    D    L    F    A    Pts
Defence Force    4    2    2    0    2    0    8
Petrotrin    4    1    3    0    1    0    6
Fatima    4    1    3    0    1    0    6
Notre Dame    4    0    3    1    0    1    3
Shape    4    0    1    3    0    3    1

Zone D:
QPCC    3    1    2    0    1    0    5
Paragon    3    0    3    0    0    0    3
Malvern    3    0    3    0    0    0    3
Carib    3    0    2    1    0    1    2

Semifinals:
QPCC 2 (Jarryon Paul, Raphael Govia) vs Petrotrin 1 (Wayne Daniel)
Paragon 2 (Sheldon Mc Kellar, Joel Daniel) vs Defence Force 0

Third: Petrotrin 2 vs Defence Force 1

Final: QPCC 1 (Ryan Daniel) vs Paragon 0​

The Trinidad Guardian


---

Martin-Faustin wants more support for hockey

Nigel Simon



T&T senior men's hockey players celebrate after a win in an international match last year.

Cindy Martin-Faustin, the T&T Hockey Board national team's administrator is calling for more support, especially financially for the teams as they prepare for FIH World League Round Two qualifiers.

The national teams which won their round one series in Jamaica last year after wins over Dominican Republic (2-0 on penalty-strokes) after a 2-2 draw, Barbados (3-1) and Jamaica (3-0) will journey to Chula Vista, San Diego, California, USA from February 28 to March 8 where they will face host USA, Austria, Canada, Chile, Ireland, Italy and Russia in a round-robin series.

However, looking ahead to the tournament for which regular coach Glen "Fido" Francis will resume head coaching duties after missing the Jamaica qualifiers, Martin-Faustin says the team is facing a lot of struggles, mainly financially.

She explained, "As administrators of sporting organisation our greatest challenge is to motivate and inspire players when you can't even give them the smallest amount of stipend as appreciation for their selfless work of representing your country."

Noting the demand on local athletes to suceed on the international scale without much support most times, Martin-Faustin added, "Our country wants to see our teams raise the T&T flag high with success at these tournaments, but players are not treated as professionals and are expected to play as professionals.

"Last year was a hectic one for hockey as we participated in three major tournaments within a five-month period.

"And two of those months were spent abroad by none professional players which puts a strain on your job stability and family life, especially for players who are self employed it's a financial burden.

Martin-Faustin pointed out that apart from the World League qualifiers in Jamaica, the men's team also partricipated at the Commonwealth Games in Scotland, England and then to end off the year, took home silver in the central American and Caribbean (CAC) Games in Veracruz, Mexico, after losing to Cuba in the final.

She noted that at present the men's team has a great combination of youth and experience working in unison for the same goal.

However, while training has resumed, it has been hampered by a few players being unavailable due to new jobs, school or family commitments.

Despite these challenges, Martin-Faustin said coach Francis was still hoping of fielding a very competitive team to compete in the USA with England-based star player Kwandwane Browne set to return for a live-in camp from January 26-30 with the aim of bringing the team training to the level of intensity required to take their game to the next level.

In addition to Browne, the other senior players to miss the first round series in which Raphael Govia was the interim T&T coach and back in the training squad are Cogie Butler, Dillet Gilkes, Dominic Young, Ron Alexander, Christopher Scipio, Dwain Quan Chan, Mickelle Pierre and Allan Henderson while Wayne Legerton is the lone casualty.

Following the World League round two series, the national men's team is carded to head to the Pan Am Games in Toronto, Canada from July 10-26.

And it is hoped the team will use the World League qualifiers against their much fancied opponents to assist with preparing them together for Pan Am with hopefully a camp in May or June finance permitting

With regards to the securing of financial support from corporate T&T, the national team administrator admitted that the sport of hockey may not be well known as other ssport in T&T to command the same funding like football and cricket but it's continued success speaks volumes for the work being done by the administration and players.

"In this regard, the T&THB continues to dialog with the Sport Company of T&T and the Ministry of Sport for funding for these tours and camps etc.

"With a small fraternity of averagely 1000 membership it's commendable that we have reach this far and broken so many inroads internationally from technical staff and umpires always being chosen to officiate tournaments at all levels and in various countries around the world, " ended Martin-Faustin.

​Men's training squad: Ron Alexander, Kwan Browne, Cogie Butler, Lyndell Byer, Ishmael Campbell, Darren Cowie, Shaquille  Daniel, Aidan De Gannes, Solomon Eccles, Kwasi Emmanuel, Kristen Emmanuel, Dillet Gilkes, Nicholas Grant, Dominic Jaikaransingh, Marcus James, Shane Legerton, Terrence Baptiste, Justin Pascal, Tariq Marcano, Che Modeste, Stefan Mouttet, Kiel Murray, Michael O'Connor, Allan Henderson, Mickell Pierre, Dwain Quan Chan, Jordan Reynos, Andrey Rocke, Christopher Scipio, Karlos Stephen, Akim Toussaint, Jordan Vieira, Danil Trancoso, Dominic Young.

The Trinidad Guardian