All the news for Tuesday 16 August 2016

Views from the pitch: Women's field hockey quarterfinal

By Hayley Tafuro



AP Photo/Dario Lopez-Mills

Recapping every matchup of the women's field hockey quarterfinal round in Rio.

Netherlands Holds Onto 3-2 Victory Over Argentina

In a battle between the No. 1 and No. 2 world-ranked teams, it was the top-seeded Netherlands who came out on top with a 3-2 win over Argentina.

The Dutch never gave up the lead, which they began to develop in the first quarter. Lidewij Welten scored early in the first, which was key for the team as the weather conditions started to deteriorate and make it harder to play.

Laurien Leurink scored the second after breaking into the circle with ease and taking the wide open shot that flew past Belen Succi for the 2-0 lead.

Although the wind and rain eased up, the Netherlands did not. They topped another goal onto their tally after Kelly Jonker scored on a rebound after a penalty corner attempt.

Las Leonas were not giving up so quickly despite the daunting 3-0 lead. At the end of the third, Florencia Habif tipped in a goal off a penalty corner shot to finally get Argentina on the board.

With about seven minutes left to play, Argentina had another penalty corner opportunity that Delfina Merino tipped into the goal to cut the Dutch lead to just one goal.

In an effort to tie, Las Leonas swapped Succi out for an extra player on the field. With only a couple of minutes left, the Netherlands did everything they could to take time off the clock and keep the ball out of Argentina's possession.

They would succeed, ending Argentina's Olympic run and securing their spot in the semifinals against Germany to continue the quest to defend their gold medal.

Undefeated Great Britain Tops Spain

Great Britain cruised to a 3-1 win over Spain to pave the way to a semifinal appearance.

Three different players scored for Great Britain in the win, and all came in the first half.

Georgie Twigg got things going when she tipped in a long shot in the first quarter. Before time expired, Sophie Bray chipped a pass into the middle of the circle for Helen Richardson-Walsh who put Team GB up two.

Alex Danson assisted Lily Owsley to end the second quarter with a 3-0 lead.

Spain came out with more aggression and fire in the third, but couldn't capitalize until the fourth quarter after Gerogina Oliva finished inside the circle to cut the Great Britain lead to two goals.

Still, Great Britain maintained control of the game. They did not let Spain come any closer to their lead and held on to win it.

Great Britain will play New Zealand in the semifinal round.

New Zealand Defeats Australia 4-2

New Zealand put together one of its best games of the tournament to beat Australia 4-2 and move on to the semifinal round.

Right off the bat, the Black Sticks scored off a penalty corner attempt executed by Anita McLaren.

Kelsey Smith added another penalty corner goal before halftime, putting New Zealand at a comfortable 2-0 lead.

Australia picked up the pace and drew a penalty corner in the third quarter. Kathryn Slattery scored to cut the lead to just one goal.

What looked like a glimmer of hope turned into a breakaway from New Zealand. Gemma Flynn and Olivia Merry led the offense in the third with two goals, suddenly putting the Black Sticks up three goals.

Time was not on Australia's side. As the minutes trickled down in the fourth quarter, the Black Sticks continued to manage the clock. Slattery put one final goal on the board for the Hockeyroos with a minute and a half left in play, but her last effort would not be enough to overcome New Zealand's lead.

This will be New Zealand's second consecutive semifinal appearance. The team made the semifinals for the first time in program history in the London Games. Australia has been ousted from the quarterfinals every tournament since the 2004 Athens games.

NBC Olympics


---

Netherlands, New Zealand, Britain and Germany make semis

by Shravanth Vijayakumar




RIO DE JANEIRO (Reuters) - Defending champions Netherlands will face Germany, while Britain take on New Zealand in the women's hockey semi-finals of the Rio Olympics on Wednesday.

World number one Netherlands, who are seeking a third successive gold, beat Argentina 3-2 in the quarter-finals, while Germany dumped out the United States with a 2-1 victory on Monday.

New Zealand hammered world number three Australia 4-2 in their quarter-final to set up a chance of a rare hockey medal, as Britain, who won the bronze medal in the 2012 London Games, ousted Spain 3-1.

Netherlands were quick off the blocks against world number two Argentina as they romped to a two-goal lead thanks to goals from Laurien Leurink and Lidewij Welten in the first half.

Kelly Jonker opened up a three-goal gap after she scored from a penalty corner just six minutes into the third quarter but Argentina's Florencia Habif pulled one back ahead of the final quarter.

Delfina Merino scored eight minutes from the final whistle to set up a nervy ending but Netherlands nullified Argentina's attacking threat to book their place in the final-four.

Germany held off a late surge by the United States to advance to the semi-final. Germany's Marie Mavers opened the scoring with a goal midway through the first period.

Lisa Altenburg knocked in a backhanded shot high over U.S. goalkeeper Jackie Briggs to put Germany up 2-0 late in the first.

Katelyn Falgowski's goal with four minutes left gave the Americans a glimmer of hope, but the Germans remained strong defensively to set up a semi-final clash with Netherlands.

New Zealand took an early lead as Anita McLaren converted a penalty corner and Kelsey Smith handed her side a two-goal cushion prior to halftime when she added another penalty corner goal.

Australia's Kathryn Slattery scored to cut the lead to just one but Gemma Flynn and Olivia Merry struck for New Zealand in the third period to put the result beyond doubt as Slattery netted a late consolation.

Goals from Georgie Twigg, Helen Richardson-Walsh and Lily Owsley gave Britain a comfortable three-goal lead heading into halftime. Britain continued their dominance in the third quarter as they did not give Spain a sight of goal.

Spain piled on the pressure in the fourth period but left it too late as Georgina Oliva only managed to grab a consolation.

The Star of Malaysia


---

Three in a row still on for Oranje



The Netherlands celebrate Kelly Jonker's goal. Pic: Frank Uijlenbroek/EHF   

The Netherlands held off a concerted late Argentinean comeback to keep alive their chance of a third successive women's Olympic title, winning 3-2 in their quarter-final in Deodoro.

It took just five minutes for the Dutch to break the deadlock, a brilliant flowing move with Kelly Jonker flipping the perfect pass under her arm to Lidewij Welten who struck a crisp shot past Belen Succi.

The rain washed down and made the next phase of the game a tricky one with the extra surface water slowing the momentum. Argentina did win a couple of corners but Noel Barrionuevo could not get full purchase behind her shots and the Dutch cleared.

The second goal was a thing of beauty, Laurien Leurink bursting forward, pushing into space before unleashing a vicious shot that beat Succi to record her second goal of the competition.

2-0 at half-time became three seven minutes into the second haf when Maartje Paumen's corner hit ricocheted across the face of goal and Jonker was on hand to poke home from close range.

Argentina fought back and – with Eva de Goede in the sin-bin – Florencia Habif got the Pan-American champions on the scoreboard with a neat touch to Barrionuevo's low push.

Naomi van As and Margot van Geffen followed de Goede to the sin-bin, reducing the Dutch to eight for a time but they suffered no further concessions during that time.

Two had returned but van Geffen was still on the sideline when Argentina got their second in the 53rd minute, Carla Rebecchi's disguised push making it to Delfina Merino who guided in the chance. It set up a grandstand finish in which the Dutch came closest to scoring again, sending their fans home – including King Willem-Alexander and Queen Maxima – wet but happy.

They will meet Germany in their semi-final on Wednesday.

EuroHockey media release


---

Dutch down Argentina to keep field hockey 3-peat alive

FOSTER NIUMATA



New Zealand's Gemma Flynn, fights for the ball with Australia's Karri McMahon, left, and Australia's Jane Claxton, right, during a women's field hockey quarterfinal match at 2016 Summer Olympics in Rio de Janeiro, Brazil, Monday, Aug. 15, 2016. (AP Photo/Hussein Malla)

RIO DE JANEIRO - The Netherlands survived its toughest test yet in Olympic women's field hockey when it edged No. 2-ranked Argentina 3-2 on Monday to push its gold medal threat into the semifinals.

The No. 1 vs. No. 2 contest was a rematch of the 2012 London Games final, but far more thrilling.

The Netherlands led 3-0 after 37 minutes, most of them in the rain. But when the clouds closed back up, Argentina came out to play, and scored twice while the Dutch were women down from yellow cards. Despite pressing the Dutch within their own 23 for the last eight minutes, Argentina could not get off a shot, leaving them out of the Olympic medals for the first time in 20 years.

The Netherlands' quest for an unprecedented third straight gold medal put them in Germany's path on Wednesday. Both have won gold, but not the other semifinalists, New Zealand and Britain, either of which will reach an Olympic final for the first time.

The Dutch and Argentina were seeded to meet in the final until Argentina lost three preliminary games and qualified last in its pool. Still, the rivalry and quarterfinal match was big enough to attract King Willem-Alexander and Queen Maxima of the Netherlands, who cheered and chanted with Dutch fans.

The Dutch went up 2-0 in the rain, with great solo goals by Lidewij Welten and Laurien Leurink. Losing the fight in midfield, Argentina's only shots of the half came from penalty corners.

When the Netherlands moved ahead 3-0, after a penalty corner popped up off an Argentine defender and Kelly Jonker whipped in the ball, the result seemed certain. But the Dutch hurt themselves through yellow cards to Eva de Goede, Naomi van As and Margot van Geffen, and the Argentines pounced with penalty corner goals to Florencia Habif and Delfina Merino.

''Three cards was a bit hard,'' Welten said. ''One we could handle, two was harder. .... But we kept going, and we are the deserved winner.''

Argentina pulled its goalie, which almost backfired, and pinned the Dutch, but mistraps and too-easy turnovers undermined the Argentines' comeback.

''We gave everything we had on the pitch,'' Argentina captain Carla Rebecchi said. ''Sometimes you have to go, and today it was us.''

Earlier, black smoke swept over the stadium from a nearby bush fire as Britain won its sixth straight match when it handled Spain 3-1.

The first half seemed to be a glorified training run for Britain as Georgie Twigg, Helen Richardson-Walsh and Lily Owsley capped superb teamwork for 3-0 and didn't give Spain a shot on goal.

But Spain, which reached the knockout rounds only when China lost its last pool match, showed pride and went down swinging. Lola Riera was denied on the goal-line, and Lucia Jimenez hit the post before Georgina Oliva scored to make Britain sweat a little.

New Zealand earned a shot at its first Olympic medal by beating Australia 4-2, only its third win over its trans-Tasman neighbor in major competition since the London Games.

Anita McLaren and Kelsey Smith scored from penalty corners for the Kiwis' 2-0 lead at halftime, but a backlash was expected and Kathryn Slattery hit in a rebound from a short corner to halve the deficit.

But New Zealand's reply was quick, too, as Gemma Flynn and Olivia Merry gave the Black Sticks insurance with a quarter to go, and goalie Sally Rutherford and the defense limited the outgunned Hockeyroos to one more too-late Slattery goal.

Australia was out of medal contention for a fourth consecutive Olympics since the last of its three gold medals in Sydney in 2000, while New Zealand was through to the semifinals for the second straight games.

''This team has got so much depth and we're just starting to click,'' New Zealand captain Kayla Whitelock said. ''If we keep playing the way we're playing, believing in ourselves and having the confidence, and executing our game plan, then that's going to get us through to that (gold) medal match.''

One-time champion Germany scored early and held on to beat the United States 2-1 for its best result since 2012, before the last Olympics.

Germany hit the Americans quick. Marie Mavers and Lisa Altenburg had them up 2-0 within 14 minutes, and the Americans still hadn't had a shot on goal. It evened up the rest of the way, but the defenses ruled in 36 degree (97 degree F) heat.

The Americans brought some tension back through Katelyn Falgowski, but the U.S. threat limped away when leading scorer Katie Bam hyper-extended her knee.

The men's semifinals on Tuesday are Germany vs. Argentina and Belgium vs. Netherlands.

Yahoo Sports


---

Great Britain into semi finals after victory over Spain



Helen Richardson-Walsh celebrates scoring against Spain. Credit FRANK UIJLENBROEK

A first half blitz from Great Britain booked their place in the semi finals of the Olympic Games after a convincing 3-1 win over Spain in Rio. Early goals from Georgie Twigg, Helen Richardson-Walsh and Lily Owsley ensured Danny Kerry's side raced into a 3-0 lead before half time. Although Spain came back into the contest and struck back in the second half through Georgina Oliva; GB sailed through, setting up a semi-final with New Zealand this Wednesday.     

Great Britain came out of the blocks at a searing pace in the first quarter. Crista Cullen stung the palms of Maria Lopez in the Spain goal with an early penalty corner before Sophie Bray's deflection flew just over the bar. Bray terrorized the Redsticks defence, showing her full range of 3D skills, setting up chances and winning penalty corners almost at will. With eight minutes on the clock, Danny Kerry's side took the lead. A polished penalty corner move saw the Surbiton connection link up as Giselle Ansley's precise pass was expertly diverted into the roof of the net by Georgie Twigg. Just before the break Great Britain made it 2-0. Bray once again was at the heart of the move, breaking free down the left before picking out Helen Richardson-Walsh for the simplest of finishes.

Danny Kerry's team continued their dominance into the second quarter. Lily Owsley set up Shona McCallin but her shot flashed just wide of the far post. Ansley almost added to the tally but somehow Lopez got a touch on her penalty corner to turn it wide. Great Britain were threatening to run away with the game. Laura Unsworth went close from a broken down penalty corner but it wasn't long before Danny Kerry's side notched their third. Almost a carbon copy of their second goal, Great Britain broke along the baseline, this time via Alex Danson who set up Owsley to slot home.

After the interval Sam Quek, winning her 50th Great Britain cap drew a good save out of Lopez as GB hunted another goal to kill the game off. Spain tiptoed their way back into the match and Maddie Hinch, making her 100th international appearance had to be alert to block from Begonia Garcia at close range. The Redsticks soon won their first penalty corner but Owsley did her defensive duties and blocked Lola Riera's shot. Adrian Lock's team  were unlucky not to find a goal when Berta Bonastre's deflection thudded against the post but their lack of good fortune ensured GB's commanding lead remained intact at the end of the third quarter.   

At the start of the fourth period Unsworth had the crowd on their feet with some outstanding defensive work, swiftly followed by a skilful break out of defence but despite GB being in a strong position the final quarter produced some nervy moments. With seven minutes remaining the Spanish got themselves on the board thanks to a lovely individual goal from Oliva. Spain threatened with a couple of late penalty corners but Great Britain's defence held firm and their place in the semi-final was confirmed on full time.

Great Britain's next match is the semi final on 17 August, live on BBC Sport against New Zealand. Time to be confirmed

Kate Richardson-Walsh, Great Britain captain:

"It was a dominant performance. We let it slip a couple of times in the second half, particularly when we went down to ten which made it difficult. Spain are a great side who have ability all over the field but we did well even with ten. Overall we were very dominant."

"I feel the pressure more because I'm older. When you wait all day for an evening game it makes the expectation build. You just want to get out there. We started brilliantly in the first five minutes we really went at them. We created chances and had a corner and that really settled us down."

"Our form reminds me of the Olympic qualifiers in Valencia. We built momentum game to game and we went unbeaten at that tournament. It feels the same as that. Each game we're taking a little more and each game we're showing a little more of what we can do. It bodes well for the semi final that each game we're showing another facet of ourselves which sets us up well."

"We don't expect to win. We believe. We go back to square one for the next game. We believe we can win but we must do our jobs. We have to execute the tactics laid out by the coaches but we believe in what we're doing."

"We can't go into the New Zealand game thinking emotionally. We must play it as it comes. We can't think of what's gone or what might be; you have to concentrate on what you're doing. I'm just thinking about the next game. We believe we can get a medal but it's off in the distance and we are focused on the semi final."

Great Britain 3 (3)
Georgie Twigg 8 (PC)
Helen Richardson-Walsh 13 (FG)
Lily Owsley 27 (FG)

Spain 1 (0)
Georgina Oliva 53 (FG)

Great Britain Hockey media release


---

Great Britain's women hockey team beat Spain to progress into semi-finals

Helen Pidd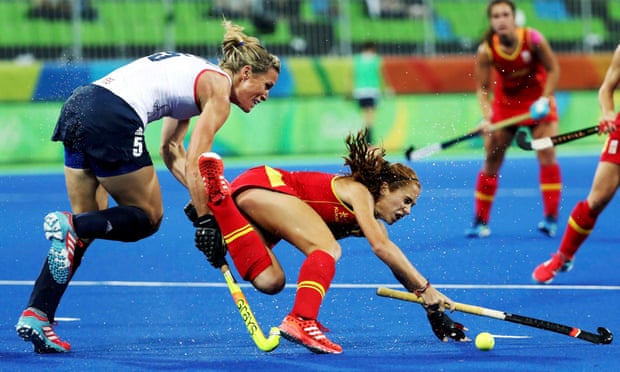 Great Britain's Crista Cullen vies for the ball with Spain's Begona Garcia at the Hockey Centre in Rio de Janeiro on Monday. Photograph: Vasily Fedosenko/Reuters

Shortly before Britain's ladies hockey team took to the pitch to thrash Spain 3-1 on Monday night, a huge forest fire began to rage on the hillside above the Olympic annex in Deodoro, a no-man's land of half‑finished favelas and pungent rivers 40km west of Rio. The sky darkened as smoke filled the air. A strong wind dumped a load of ash right on to the field, bringing back memories of that Icelandic volcano with all the consonants that ruined spring in 2010.

An hour before push-off, the venue organisers dispatched volunteers to the pitch to pick up the falling ash, like a particularly sisyphean edition of The Crystal Maze finale. They were always on to a loser, and before long the venue's water cannons were deployed to wash the pitch as an insanely enthusiastic man in a mint green headband made a gallant attempt to gee up the initially lukewarm crowd.

The result of the cannon deployment was a somewhat waterlogged pitch that brought to mind every Year 10 match your correspondent ever played in the swamps of Morecambe. As the women warmed up, each thwack of the luminous yellow balls produced a substantial amount of spray, perhaps unwelcome on what was a slightly nippy Olympic evening in what amounts to the Brazilian winter.

If Britain's women were unhappy about the prospect of mid-match smoke inhalation, they didn't show it as they jogged cheerfully on to the pitch to perform a full-throated rendition of God Save the Queen. Hockey girls are like that: always willing to make the best of a bad situation. They were cheered along by a small but vocal gaggle of Brits, some dressed as knights, others with drums, who outsung the Spanish contingent with relish.

The British women showed their intent within the first minute by winning a penalty corner. The Spanish defence wisely put on Hannibal Lecter masks to protect themselves from the power of Hannah Macleod, who whacked the ball to Crista Cullen. Cullen, a hardnut who sleeps in a tent whenever she returns to her native Kenya, boshed the ball right on target, but it was saved by the Spanish goalkeeper, María López de Eguilaz. Despite having had the honour of representing her country more than 130 times in international competition, López de Eguilaz says it is her dream to win the lottery so she can become a writer instead of having 11 angry women pelt rock-hard balls in her face.

As the time in the first of four 15-minute quarters ticked down, 25-year-old Georgie Twigg scored her first goal of the tournament. Twigg was part of Team GB's bronze-winning squad in London 2012 and has put her legal career on hold while she pursues her international sporting career.

The captain, Helen Richardson-Walsh, soon followed her with another goal. She and her team-mate Kate Richardson-Walsh are the first married couple to play hockey together for Team GB ladies, having fallen in love on the pitch and tied the knot three years ago. Both are competing at their fourth Olympic Games. A third goal followed from the 24-year-old Giselle Ansley, an enthusiastic baker, with just over three minutes left of the second quarter.

It took until the eighth minute of the final quarter before Spain got a goal past Maddie "Mad Dog" Hinch, GB's fearless goalie. The scorer was Georgina Oliva.

Shona McCallin and Ansley both received green cards, hockey's equivalent of being sent to the naughty step, but the Spaniards failed to take advantage of their automatic two-minute suspensions. Spain won three penalty corners in quick succession with less than four minutes left but failed to score.

As they prepare for the semi-final against New Zealand on Wednesday, the British team will be hoping to improve on their London 2012 performance, when a 3-1 win over that nation secured them the bronze medal and ended a 20-year Olympic medal drought for the women's team. The performance in London matched Great Britain's best ever Olympic performance, as they also claimed bronze at the 1992 Games in Barcelona. In total, eight of the women's team who won bronze at London 2012 have returned to Rio.

The competition has changed slightly in the intervening four years, with games now divided into four 15-minute quarters instead of two 35-minute halves. Between 1988 and 1996, Great Britain made the semi-finals at three consecutive Olympic Games, but failed to maintain that record at the 2000 Games in Sydney, where they finished eighth with just a single pool victory. Worse followed when they missed qualification for the 2004 Games in Athens. That failure triggered an administration change and a resurgence that eventually led to sixth place at the 2008 Games in Beijing.

The Guardian


---

Germany ends USA's Rio Olympic run with 2-1 quarterfinal win

By Jawwad Qamar

Two first quarter goals were all Germany needed to dash any podium hopes USA had in Rio. Behind two goals for the first time in the tournament, USA found it difficult to play catch up and at times seemed frustrated with some umpiring decisions.

Marie Mavers scored her first goal for Germany in the Olympics putting in a rebound off USA goalkeeper Jackie Briggs' save on the initial shot from Charlotte Stapenhorst at the eight minute mark. Briggs had no chance as she was swarmed by unmarked German players. Lisa Altenburg followed six minutes later moving right to left across the goal and going high into the net with the reverse stick to make it 2-0 for Germany and they were in control.

Nothing seemed to be working for USA in the first half. Katie Reinprecht almost got a goal back but it was her knee that touched the ball when she slid to put in a rebound and the first half ended with no goals for the Americans. However, after a few unsuccessful tries by USA in the fourth quarter, Reinprecht on a nice baseline run from the right found Katelyn Falgowski in the 57th minute and Falgowski deflected the ball off Anne Schroder for the first USA goal.

With the clock winding down, Katie Bam made a run into the circle looking for the equalizer and swung for the net but her attempt was stopped in a heavy collision with a German player as she hit the turf hard. However, no foul was called much to the frustration of the Americans and their coach Craig Parnham. Bam was helped off the field and the next minute saw Franzisca Hauke sent out on a yellow card for impeding play.

While any other coach would have opted to pull the goalkeeper out of the game at this late stage in favor of a field player to give their team any chance of sending it into a shootout, not sure why Parnham did not. With Hauke out and a field player in place of Briggs would have given USA a two field-player advantage and a much better chance of levelling score!

Overall, it was a good run for the USA Women at the Rio Olympics finishing 4-2 and it created a lot of excitement back home not to mention the much needed media coverage for the sport and the team.

Fieldhockey.com Exclusive


---

USWNT Leaves Every Ounce of Heart on Turf in Rio but Falls Short in Quarterfinals




DEODORO, Brazil - On the electric lime and cobalt blue turf in Rio de Janeiro, the U.S. Olympic Women's Field Hockey Team made history. This roster of 16 athletes, the nation's supreme stick talent, has accumulated the most United States' wins in the sport to date at the Olympic Games. It marks a true achievement for field hockey in the United States as it shows how much the international squad has grown and developed since landing in last place at the 2012 London Olympic Games. Although inking this bold bullet point to their playing resume, today the USA took to the pitch for quarterfinal match against Germany with both teams vying to continue their journey in Brazil. Despite undeniable heart and hustle present in USA's pitch performance, Team USA fell to Germany 1-2, ending USWNT's Olympic Games campaign.

"I'm proud of what we've done; it has been a great journey," said Craig Parnham, USWNT Head Coach. "The players have given everything they got. As a coach, that's all you can ask for. 'Incredibly proud' would be the adjective here."

Off the starting whistle, Team USA gained a circle penetration into their attacking end looking for an outcome. Germany stood strong defensively to take possession and worked the ball down field. In the 3rd minute of play, Germany earned their first penalty corner of the match but USA captain Lauren Crandall (Doylestown, Pa.) requested a video referral on the play. Upon review, the umpire's call was retracted and Germany lost the opportunity. As play continued to transition from end line to end line, both teams used physicality and high speed looking to capitalize on forward momentum. A long ball from the left side of the field entered Germany's attacking circle and found an open forward on the right post who found space for a shot. Off of a rebounded save, Marie Mävers located the back of the cage in the 8th minute to make it USA 0, Germany 1. Just a minute later, Germany drove back into their attacking circle and fired off a backhanded shot that Jackie Briggs (Robesonia, Pa.) denied with an important glove reaction.

Finding counterattack room, USA took possession into their attacking circle and recorded two goalmouth scrambles but were unable to find a result. In the 14th minute, Germany had the ball deep on the right side of the field and after beating two USA defenders it was bumped to Lisa Altenburg who found space at close range to fire off a backhand goal and make it USA 0, Germany 2. To finish out the first quarter, USA had an opportunity in front of the cage that was absorbed by Germany's defense.

"With two goals early on, you're a bit heavy on the back foot," said Parnham. "All that meant was that we were going to continue to make risks to create opportunities which makes us a little more susceptible to a counterattack but we managed it pretty well. Of course we prefer not to be two goals down in the first part of the game but we've been there before and fought our way back. Had we have scored a little earlier I think it would have been a different game."

Eager to get on the scoreboard, USA knew they had to take care of possession and work the ball forward. With aggressive mentality, Kelsey Kolojejchick (Larksville, Pa.) took it into the circle and ripped a backhand shot that was deflected high and went past Germany's goalkeeper Kristina Reynolds. A sliding Katie Reinprecht (Perkasie, Pa.) put the ball into the goal but after a video referral requested by the umpire it went off her body first resulting in no goal. As energy rose in the stands, Germany penetrated USA's defense and Briggs came up with a big block. USA kept threatening forward looking for a final finish inside the circle. The movement paid off when USA earned their first penalty corner in the 23rd minute. Rachel Dawson's (Berlin, N.J.) drag flick was stopped by Germany's defense and they instantly countered down the field. Briggs made the save off the play and knocked the ball away from the goal.

At the other end of the pitch, Katie Bam (Blue Bell, Pa.) found an open passing channel from the right baseline and popped the ball into the circle through Germany's defense that went unanswered. USA continued to work it forward as a chance came when Jill Witmer (Lancaster, Pa.) got the ball at the stroke mark and with a diving sweep attempt tried to get it past Germany's Reynolds but she made the save. Quick passing combinations continued for Team USA to finish out the quarter but the halftime score stood at USA 0, Germany 2.

USA entered the third quarter and looked to set the tone with high, hard pressure on Germany's defense. A big interception in the middle of the field by Bam led to an advantage for Team USA but K. Reinprecht's shot at the end of the transition was tipped away by Germany's defense. This was followed up by a backhand attempt by Melissa Gonzalez (Mohegan Lake, N.Y.) that was deflected away. USA's backfield continued to be tested and upheld the pressure until a Germany penalty corner was drawn in the 36th minute. Off the low drag flick by Hannah Krüger, Briggs came up big getting down quickly to block the opportunity.

Being disciplined, Kolojejechick recognized that a German defender was not 5-yards away for a free hit and earned a penalty corner from outside the circle. Off the penalty corner, Michelle Vittese's (Cherry Hill, N.J.) sweep was deflected out of bounds by Kolojejechick. A final chance came at the end of the third as Kolojejchick crossed the ball from the left baseline to a waiting K. Reinprecht on the stroke mark but Germany's defender cleared it away to keep it USA 0, Germany 2.

As 15 minutes stood between Team USA and the conclusion of the match, they knew it was going to be a battle until the end. Bam created a chance early as she skilled her way around one German defender but was unable to find the result. In the 48th minute, a double green card was given to Germany's Charlotte Stapenhorst and USA's Gonzalez resulting in a 9v9 situation on the field. Germany took the ball deep in their attacking circle and Briggs came up with a stick save and it was cleared by Caitlin Van Sickle (Wilmington, Del.). Germany earned back-to-back penalty corners but Briggs did her job and denied any more goal chances.

As time ticked down, USA continued to be persistent and threatened forward as Kolojejchick grabbed a penalty corner. Germany requested a video referral on the play claiming a foot foul occurred before the shot. After review, Germany was correct and USA lost their penalty corner chance. Efforts continued as Vittese and Gonzalez worked the ball from the left sideline into the attacking circle as they searched for outcomes. An opportunity came in the 54th minute when Vittese drove hard to the top right of the circle and fired off a shot that was deflected wide.

Determined, K. Reinprecht worked the ball on the right baseline and dumped it into the circle to Katelyn Falgowski (Landenberg,Pa.) who shot on target and it was deflected into the goal by a German defender to make it USA 1, Germany 2. Moments later Bam found space and took it hard into the circle. She managed a backhand shot but was taken out on the play and no call was made. In the 58th minute Germany's Franzisca Hauka played the ball after the whistle resulting in a 5-minute yellow card giving USA a player up advantage. With a fight until the end, USA fell to Germany 1-2 in the quarterfinal match.

In pool play the USWNT toppled both global hockey powerhouses Argentina (2nd FIH World Ranked) and Australia (3rd FIH World Ranked) with the same score of 2-1. Continuing in their preliminary schedule the USA rose above Japan 6-1 as well as India with a score of 3-0. Great Britain was USA's final pool play competitor who defeated the USWNT dashing their near spotless record with a 2-1 win. 

"We came into the tournament hopeful of getting on the podium but were unable to achieve that," said Parnham. "I'm so proud of what this team has done over the past 3 1/2 years and the strength of the program will only continue to grow. Hopefully we inspired a few Americans to get into the sport and pick a stick."

USFHA media release


---

Germany holds off United States in a 2-1 defeat

By Hayley Tafuro

Germany will move on to the women's field hockey semifinal round after holding off a surge from the United States to win 2-1.

Germany held off the United States to earn a 2-1 victory and a place in the semifinal round.

The Germans established their tempo right from the start with two first quarter goals.

Marie Mavers scored her first goal in the Olympic tournament off of a second chance opportunity. She caught U.S. goalkeeper Jackie Briggs in a spot she couldn't recover from, and the goal went just past her reach.

At the end of the first, a shot by Lisa Altenburg soared high over Briggs' head and into the cage.

Team USA could not get anything going its way in the first half. Katie Reinprecht almost put the U.S. on the board, but the goal was disallowed after footage showed Reinprecht put the ball into the cage with her body.

Germany owned the time of possession once again in the second half. The U.S. had trouble connecting on its passes, and the Germans took advantage.

Briggs came up with some huge saves down the stretch to prevent Germany from increasing its lead and keeping Team USA in the game, particularly in the fourth quarter during two penalty corner plays.

However Team USA was racing against the clock, feeling the pressure of Germany's two-goal lead as they desperately tried to get anything that would shift the momentum.

With four minutes left in play, the U.S. got what it was looking for. A shot by Katelyn Falgowski delfected off of a Germany defender, giving her the score that cut Germany's lead in half.

With new life, Team USA attacked the goal with minutes left on the clock but could not manage to overcome Germany's lead.

The Germans would take home the victory and move on to the semifinal match, ending the United States' run for a medal.

NBC Olympics


---

US women eliminated in Olympic field hockey with controversial loss

Kolojejchick and Sharkey can't rally squad into Olympic semifinals

By Paul Sokoloski



United States coach Craig Parnham, right, hugs former Wyoming Seminary star and Team USA forward Kat Sharkey, after the team's loss to Germany. Hussein Malla | AP photoo

Late in the first quarter, Wyoming Seminary graduate Kat Sharkey got her stick on a shot that couldn't quite find the cage.

In the third quarter, her former Sem teammate Kelsey Kolojejchick tipped a pass wide of the net.

From beginning to end, the ball never did bounce the USA's way.

Germany scored two quick goals Monday and made it stand up to take a 2-1 quarterfinal-round victory over Team USA and eliminate the United States from the Olympic women's field hockey tournament quarterfinals in Rio De Janeiro.



Wyoming Seminary grad Kelsey Kolojejchick's aggressive play down the stretch provided opportunities, but Team USA lost to Germany, 2-1, in the women's field hockey tournament in Rio on Monday. Dario Lopez-Mills | AP photo

"They played a good game," Kolojejchick said through a USA field hockey spokesperson. "I thought we just made a few little mistakes in the beginning of the game to give them a little momentum. I think we fought really hard. They just got us a little early."

A determined United States team tried to rally.

After Katelyn Falgowski cut Germany's lead in half with a goal at the 3:59 mark, the United States had a golden opportunity to tie the game when the team's leading scorer Katie Bam drove into the circle and tried to drive a ball into the net.

She never really got the chance.

Bam was engaged by a Germany player who prevented a full swing on her backhand attempt and then collided with Bam, who went to the ground and was helped from the game.

An enraged USA coach Craig Parnham called for a penalty corner, to no avail. The ball went to Germany .

Earlier, it appeared Kolojejchick created a penalty corner when her pass went off the leg of a German player inside the circle. But Germany called for a video review for a play some 20 seconds earlier, challenging that a dribble went off Bam's stick and hit her foot. The review reversed the corner call, sending the ball back to Germany.

"The officiating was very questionable," Tom Sharkey, Kat's dad who attended the tournament in Brazil, said through an email. "But we don't want to make any excuses. We needed to score more goals no matter what the officials did."

Officiating also came into play during Team USA's first loss, a 3-2 comeback by Great Britain on Saturday that cost the United States the top seed in Group B.

This defeat was much more damaging.

The USA was eliminated from the Olympic tournament in the first round of the knockout round, finishing its Olympic run at 4-2 overall and with twice as many victories as the United States has managed in any Olympic run. The 1984 United States team finished with two wins to win the bronze medal at the Los Angeles Olympics to remain as the nation's only women's field hockey medalist.

"I love this group of girls," Kolojejchick said. "I wouldn't want to play on any other team. It's just disappointing we obviously didn't get to the medal round."

Not that Kolojejchick and Sharkey didn't try to put Team USA in position play for the medal stand.

Sharkey, from Moosic, got her stick on a hard crossing pass near the goal line in the final minute of the first quarter, only to tip it to the side of the cage. She also drew an apparent free hit on an obstruction call in the second quarter, only to have the ruling reversed by video review. And Sharkey's pretty pass to the center of the circle set up a direct shot on goal that was turned away.

"Her dad and I feel that this was one of her best tournaments ever," Anne Sharkey, Kat's mom, emailed about her daughter. "She not only helped the team offensively but defensively as well. Her off-ball movement was key to making space to help other teammates advance up the field."

As the game wore on, Kolojejchick seemed intent on trying to help Team USA advance.

The Larksville native drew a penalty corner that led to her tip in the final two minutes of the third quarter, but the ball was re-directed wide of post. A little later, Kolojejchick delivered a hard centering pass that set up another United States chance, but the shot missed is mark.

"Could not be more proud of Kelsey and all that she has accomplished," her brother, former Wyoming Valley West football standout Matt Kolojejchick, emailed before the quarterfinal game. "Witnessing her achieve her goal of playing in the Olympics is a fulfillment unlike any other. Seeing all the hard work, blood, sweat, and tears she has put in throughout her career pay off is fulfilling."

By the time the first period was finished, though, Germany had gained firm control. Entering as the No. 3 seed from Group A against Group B's No. 2 squad Team USA, Germany rattled off goals from Marie Mavers and Lisa Altenburg in the opening quarter to put Team USA two goals behind for the first time in the tournament.

The USA nearly gained some hope when Katie Reinprecht appeared to punch in a goal with a diving attempt at a rebound sitting at the Germany goalmouth. But officials determined the ball crossed the goal line after making direct contact with Reinprecht's knee, nullifying the goal.

By the time expired, Team USA's medal dream was taken away, too, as the victory moved 3-2-1 Germany into Wednesday's semifinal round against either the Netherlands or Argentina.

Team USA will move on with nothing but pride from its most successful Olympic performance in terms of victories.

"It was a great one," Kelsey Kolojejchick said of her Olympic experience. "I'm proud of us to never give up. That's always been our motto. I love this team.

"I wouldn't trade it for the world."

Times Leader


---

Germany and New Zealand advance to semis



Lisa Altenburg scored the second goal on her backhand. Pic: Frank Uijlenbroek/EHF

Germany set up their fourth Olympic women's hockey semi-final since reunification with a 2-1 win over USA, meaning they will play either the Netherlands or Argentina on the horizon on Wednesday.

Germany got off to a great start with Marie Mavers opening the scoring in the eighth minute when she reacted quickest to a loose ball and shot into a half-open net.

Soon after, Lisa Altenburg smartly opened up space in a tightly-packed circle, moving the ball onto her backhand to double the lead at 2-0.

The US pressed forward in the second quarter and had a couple of chances, notably when Julie Reinprecht was initially awarded a goal but, on video review, saw her effort disallowed.

Germany, meanwhile, looked the more incisive and went close to going three ahead when Hannah Kruger's low drive was brilliantly saved by Jackie Briggs' out-stretched stick.

Chances came and went for both teams in the closing quarter and USA got one back with four minutes remaining courtesy of Kate Falgowski's push from mid-circle.

But Germany's young side – with an average age of just 24 – held their nerve, crucially blockeing Katie Bam's big chance with a perfectly timed tackle to see off their more experienced rivals.

New Zealand were the first side to make it into the women's Olympic semi-finals when they saw off Trans-Tasman rivals Australia 4-2 in the opening match of the morning session in Deodoro.

Anita McLaren's pin-point drag-flick into the top corner set things in motion before Kelsey Smith nabbed a second from another set piece.

Kathryn Slattery pulled one back for the Hockeyroos only for Gemma Flynn to restore the two-goal advantage from a Stacey Michelsen cross. Olivia Merry was credited with the last touch from Charlotte Harrison's shot across the face of goal.

Slattery got one back but New Zealand were well clear and advance to their second successive semi-final, keeping alive hopes of a first ever medal. They will face the winner of Great Britain and Spain in Wednesday's semi-final.

EuroHockey media release


---

Unstoppable Kiwis through to semi finals



Photo: www.photosport.nz

The New Zealand Women are through to the semi finals following a stunning 4-2 win over trans-Tasman rivals Australia at the Rio Olympic Games.

The Kiwis led from start to finish and were unstoppable with goals from Anita McLaren, Kelsey Smith, Gemma Flynn and Olivia Merry.

New Zealand will now look to make their first ever gold medal match when they face either Great Britain or Spain in the semi finals on Thursday (NZ time).

Head coach Mark Hager said it was a brilliant effort from his side which now sets them up for the chance to win a medal.

"Australia put us under a lot of pressure early on but the girls hung in and relaxed which gave us a lot of belief," he said.

"We worked bloody hard throughout the game, if you're going to win medals you need everyone playing well and we certainly did that.

"The next two games are going to be harder. We're in with the chance of a medal so we will go away and prepare for an even better performance next up."

Defender Sam Charlton said the result was just the beginning for her side, who are eyeing a gold medal in Rio.

"We knew it was going to be a really tough game, with Australia it's whoever wants it most on the day and I honestly think every one of our girls wanted it more than they did," she said.

"This is just the start for us, we need to improve ahead of the next game which will be even bigger than this one."

New Zealand opened the scoring in the sixth minute when Anita McLaren sent a penalty corner drag flick rocketing into the top of the net.

Midway through the second quarter the Kiwis doubled their lead from another penalty corner with Kelsey Smith getting a fine deflection on a shot from Kayla Whitelock.

Australia responded following a halftime deficit and clawed one back thanks to a Kathryn Slattery penalty corner goal shortly after the break.

New Zealand grabbed a 3-1 buffer in the 38th minute when Stacey Michelsen went on a brilliant run and found Gemma Flynn in front of an open goal for an easy knock in.

Olivia Merry provided the killer blow three minutes later after getting a deft deflection on a hard shot at goal from Charlotte Harrison.

Slattery scored a consolation goal for the Hockeyroos, her second of the game, just out from the final whistle.

New Zealand 4: (Anita McLaren, Kelsey Smith, Gemma Flynn, Olivia Merry)
Australia 2: (Kathryn Slattery 2)
Halftime: New Zealand 2-0

Hockey New Zealand Media release


---

Devastation as Women are out of Rio 2016

New Zealand win 4 - 2

Holly MacNeil




Australia's women have been knocked out of the medal rounds by Trans-Tasman rivals New Zealand, going out in a 4 – 2 battle which saw Australian Kathryn Slattery as the double goal scorer.

The Aussies had all of the attack in the first quarter and were pressing hard, but the Kiwi's had the first chance on goal with a penalty corner seven minutes in. Anita McLaren took the shot with a powerful drag flick that soared straight past Rachael Lynch into the top right corner of the net.

The second quarter saw Australia fight even harder, but NZ bit back, with multiple penalty corner opportunities seeing Kelsey Smith convert one to another goal for New Zealand.

With 30 minutes left in the game Australia trailed 2 – nil.

Three minutes into the second half and Australia finally hit the scoreboard, with Kathryn Slattery scoring her first goal of the match and fighting back for the Aussies.

New Zealand were not having it and score minutes later after a cross through the circle directly to Gemma Flynn who was standing directly in front of goal and flicked it into the net. Only minutes later, and New Zealand extended their lead with a pass across the circle turning into a goal for Olivia Merry as it snuck past Rachael Lynch.

With just two minutes left in the game, Australia rallied and Kathryn Slattery scored a swift field goal, but it wasn't enough.

The siren sounded and Australia was out of the medal rounds of Rio 2016.

AUSTRALIA 2 (0)
Kathryn Slattery (PC, FG) 33, 59

NEW ZEALAND 4 (2)
Anita McLaren (PC) 7
Kelsey Smith (PC) 23
Gemma Flynn (FG) 39
Olivia Merry (FG) 43

Australia squad v NZL
Madonna Blyth (Brisbane, QLD) 342/70
Jane Claxton (Adelaide, SA) 108/10
Jodie Kenny (Wamuran, QLD) 186/100
Rachael Lynch (Warrandyte, VIC) 156/0
Karri McMahon (Berri, SA) 110/9
Georgina Morgan (Armidale, NSW) 52/10
Georgie Parker (Berri, SA), 108/33
Brooke Peris (Darwin, NT) 101/13
Casey Sablowski (Albion Park, NSW) 258/44
Kathryn Slattery (South Stirling, WA) 62/21
Emily Smith (Crookwell, NSW) 163/65
  
Used Substitute
Edwina Bone (Evatt, ACT) 121/2
Kirsten Dwyer (Mackay, QLD) 114/2
Gabrielle Nance (Kingscliff, SA) 42/2
Grace Stewart (Gerringong, NSW) 28/10
Mariah Williams (Parkes, NSW) 56/7

Hockey Australia media release


---

Black Sticks on cusp of first ever medal

The Black Sticks' 4-2 win over Australia in their women's hockey quarter-final places them on the cusp of history in Rio.

New Zealand, the world No.4, have promised much before, but never secured a medal.

Think of the 7-1 pool loss to Argentina at Sydney in 2000 as a medal play-off loomed on the back of winning their pool; or cast your mind back to London when they drew with eventual gold medallists the Netherlands at fulltime before losing the penalty shoot out 3-1. They lost the bronze medal match 3-1 to Britain.

However, the experience and belief of the incumbents, combined with current circumstances, suggests they are line for the country's second hockey medal after the men's gold of 1976.

Only four of the 18-woman squad began this tournament with less than 100 caps. Five - Kayla Whitelock, Anita McLaren, Gemma Flynn, Charlotte Harrison and Stacey Michelsen - each had more than 200.

The team has excelled of late, finishing as beaten finalists to world No.2 Argentina in December's World League final. They drew with world No.3 Australia in October's Oceania Cup pool play before losing 2-1 on penalties after a drawn final.

The New Zealanders should also benefit from the fact that one of the world's top two ranked sides - and London finalists - the Netherlands and Argentina will be eliminated in their quarter-final this morning.

Great Britain (England are ranked seventh in the world) and Spain (ranked 14th) will be New Zealand's semi-final opponent on Thursday morning (NZ time).

If the Black Sticks were to win in Rio it would be the country's first gold in a teams event involving three or more people for 32 years.

The hiatus extends to Los Angeles in 1984 when Keith Trask, Conrad Robertson, Shane O'Brien and Les O'Connell won rowing's coxless four and Alan Thompson, Ian Ferguson, Paul MacDonald and Grant Bramwell repeated the dose in canoeing's K4 1000m.

The 1992 equestrian team came close, taking silver at Barcelona. They have been matched by the women's sevens side and men's team sprinters at Rio. The equestrian teams (1988, 1996 and 2012), team pursuit cyclists (2008, 2012) and rowing coxed four (1988) earned bronzes.

Memories of the loss to the Netherlands in London were still raw for Whitelock and Flynn when the team was named for this campaign.

"It was bitter disappointment," Flynn said. "It hurt for a while, and you'd wake up in the middle of night thinking 'if only'. I'm lucky to get the opportunity again because that memory is engrained. It could have been so different for us and our sport. The highlight and lowlight was playing the semifinal."

"To lose in a shootout was tough, especially the thought of having to back up in a bronze medal playoff," Whitelock added. "It was bittersweet because no one expected us to be in that top four, or drawing [at the end of regulation time] with Holland. People say it's one of the best games they've seen - and it's probably the best we've played - but it's good to know a number of us have been to that level."

Against Australia the Black Sticks led throughout with goals from McLaren, Kelsey Smith, Flynn and Olivia Merry.

"Australia put us under a lot of pressure early but the girls hung in and relaxed which gave us a lot of belief," coach Mark Hager said.

"We worked bloody hard throughout. If you're going to win medals you need everyone playing well and we certainly did that.

Defender Sam Charlton said the result was just the beginning for a side eyeing gold.

"I honestly think every one of our girls wanted it more than they did," she said.

New Zealand opened the scoring in the sixth minute when McLaren sent a penalty corner drag flick rocketing into the top of the net.

Midway through the second quarter another penalty corner was deflected in by Smith from a Whitelock strike.

Australia responded but New Zealand grabbed a 3-1 buffer in the 38th minute when Michelsen found Flynn in front of an open goal.

Merry delivered the final goal three minutes later after latching onto a Harrison deflection.
Australia scored a consolation goal just before the finish.

The victory is New Zealand's first major success over Australia at these Games.

Shooter Natalie Rooney and the women's sevens team were pipped for gold medals by Australian opponents, and the eventing team was beaten for bronze.

The New Zealand Herald


---

Black Sticks women book Great Britain semifinal after Australia upset

Sean Martin



Gemma Flynn salutes after scoring a goal against Australia. MARTY MELVILLE/PHOTOSPORT

The NZ women's team is in medal contention after a 4-2 win over Australia put them into the semi-finals.

As soon as the final whistle blew in their quarter-final demolition of Australia, Black Sticks coach Mark Hager was already thinking about their next match,

But he also had one eye on the past.

In London in 2012, the side lost a semifinal penalty shootout to the Dutch and then lost to Britain to return home empty-handed to prolong their Olympic medal drought.

"We don't want to go home with nothing this time," he told the huddle of players after their crushing 4-2 win over the Hockeyroos.

They face Great Britain at 8am on Thursday (NZ time) for a spot in the final and skipper Kayla Whitelock sounded an ominous warning for their opponents.



Captain Kayla Whitelock scored from a penalty corner as the Black Sticks advanced to the semifinals with a 4-2 victory over Australia. MARK KOLBE/GETTY IMAGES

"I think we're just starting to click. Things are working well for us," she told NZ Newswire.

"We know the job's not done. We can't just rest on our laurels here and think that because we've had a good win in the quarters it's going to happen in the semi.

"If we keep playing how we're playing and believe in ourselves, have confidence and execute the game plan that's going to get us through to that medal match," she told NZ Newswire.



Goalkeeper Sally Rutherford made a couple of slick saves with New Zealand only up one goal on Australia. CHRISTIAN PETERSEN/GETTY IMAGES

Anita McLaren opened the scoring for New Zealand with her first penalty corner strike of the tournament before Kelsey Smith doubled their lead before the break.

Australia pegged a goal back through Kathryn Slattery but two more efforts from Gemma Flynn and Olivia Merry put the game beyond doubt despite a late consolation to Slattery.

Veteran McLaren says they'll head into the semifinal on something of a roll after beating Australia and drawing with defending champions the Netherlands, both of which are ranked ahead of New Zealand.



New Zealand players celebrate after defeating Australia 4-2 to reach the Rio Olympics semifinals. CHRISTIAN PETERSEN/GETTY IMAGES

"We just have to play our structures, play our game and go into the game confident like we've been doing.

"We've been building through this tournament and I'm excited about what we can do."



New Zealand's Stacey Michelsen controls the ball under pressure from Australia's Mariah Williams (24) and Madonna Blyth (12) during their quarterfinal. CHRISTIAN PETERSEN/GETTY IMAGES

Great Britain toppled Spain 3-1 to set up the semifinal showdown.

The quarterfinal against the Hockeyroos played out just as Anita McLaren had envisioned.

"I played this game a few times in my head over the night, but to come out with the win was amazing."

She had visualised them winning, but not by scoring four goals against the No 3-ranked Australians.

McLaren chose the perfect time to open her penalty corner account in the tournament to shoot over the head of Jodie Kenny in the seventh minute.

"I finally backed my drag flick," she said.

McLaren said their goal glut was reward for the attention they had paid to that facet of the game.

"This whole year we've been getting the chances, creating so many opportunities but they haven't been falling.

"To start getting those goals now for us is great. We've worked really hard, especially after the Champions Trophy, we've been working on goalscoring and to see it pay off is great."

Whitelock said the key to the win was their work off the ball.

"We stuck to our guns. We knew what we needed to do to beat Australia.

"We just had to believe in ourselves, execute the game plan and chase. That's the key to us - if we chase, we're going to win games."

NZ Newswire


---

Aussie media reaction to loss to Black Sticks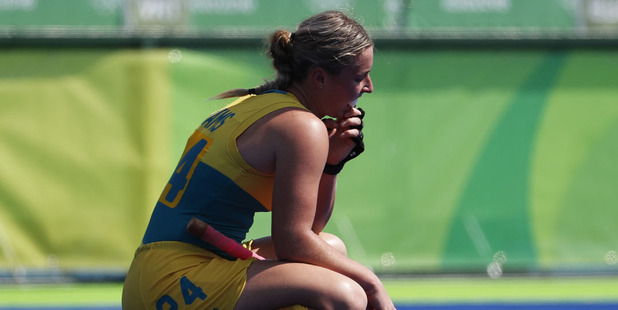 Australia's Mariah Williams pauses inside the pitch after her team lost to New Zealand. Photo / AP

Australia media are describing their country's hockey campaign as a "train wreck" after the Hockeyroos was knocked out of the Rio Olympics by New Zealand's Black Sticks women's team.

Writing in Sydney's Daily Telegraph and Melbourne's Herald Sun, Jon Ralph said the Australian women's capitulation at the hands of the red-hot Black Sticks matched the men's team's unexpectedly early demise in Rio.

"Australia's train wreck of an Olympic hockey campaign is over after the Hockeyroos meekly joined their men's counterparts in a humbling quarter-final exit," Ralph told his readers.

"So much was expected of the dominant world No. 1 men and the emerging, exciting women, who had risen to No. 3 in the world.

"Yet the women's team were downed by trans-Tasman rival New Zealand in a 4-2 defeat just 16 hours after the men were stunned 4-0 by the Netherlands."

Ralph wrote that the Hockeyroos "were powerless to stop the command performance from New Zealand's Anita McLaren", who scored two goals and set up a third.

Not since the 1984 Olympics in Los Angeles have neither of Australia's field hockey teams failed to win at least one medal.

Yet neither of the Australian teams could curse at the hockey gods or curse their misfortune.

Instead they were both played off the park in the quarter-final stages introduced only for the Rio Olympics.

Neither would have made the straight semi-finals of the previous Olympic formats, and that form was reflected when the cutthroat rounds arrived.

The women's side at least is a young, building team with 12 Olympic first-timers, while the Kookaburras had no excuses to crumble.

The New Zealand Herald


---

Black Sticks complete Australian hockey 'train wreck'



The New Zealand's women's Black Sticks celebrate their quarter-final victory over Australia at the Rio Olympics. REUTERS

New Zealand have finally got one over the Aussies at the Olympics with the Black Sticks women's hockey team contributing to the "train wreck" of their trans-Tasman rivals in Rio.

New Zealand hammered Australia 4-2 in their women's quarterfinal to set up a chance of a rare hockey medal when they play Great Britain in the semifinals.

The loss is being felt hard in Australia with the women's result coming hot on the heels of the exit of the world ranked No 1 men's team who were rocked 4-0 by the Netherlands in their quarterfinal.



Australia is reeling from the country's loss to NZ in Rio. VASILY FEDOSENKO

Australia's loss is New Zealand's delight, especially after so much heartache at these Games.

Two of New Zealand's silver medals – women's trap shooter Natalie Rooney and the women's sevens – came with Aussie rivals winning gold.

To knock out the world No 3 ranked women's hockey team is coup for the Black Sticks.

"Australia's train wreck of an Olympic hockey campaign is over after the Hockeyroos meekly joined their men's counterparts in a humbling quarter-final exit," Sydney's Daily Telegraph reported.

"So much was expected of the dominant world No 1 men and the emerging, exciting women, who had risen to No 3 in the world.

"The Hockeyroos were powerless to stop the command performance from New Zealand's Anita McLaren.

"... Kathryn Slattery's pair of goals – including a consolation goal with just 80 seconds on the clock – were Australia's only fleeting resistance.

"Not since the 1984 Olympics in Los Angeles have neither of Australia's field hockey teams failed to win at least one medal.

"Yet neither of the Australian teams could curse at the hockey gods or curse their misfortune.

"Instead they were both played off the park in the quarter-final stages introduced only for the Rio Olympics.

"Neither would have made the straight semifinals of the previous Olympic formats, and that form was reflected when the cutthroat rounds arrived.

"The women's side at least is a young, building team with 12 Olympic first-timers, while the Kookaburras had no excuses to crumble."

"Four more years" was the headline on Australia's Yahoo Sports, in a play on the famous sledge by Wallabies halfback George Gregan at the All Blacks in the 2003 World Cup.

"The Hockeyroos' long wait to add to their three Olympic gold medals just got longer," their report read.

"Australia's 4-2 belting at the hands of New Zealand in the quarter-finals of the women's hockey competition ended a campaign that never really got going.

"The result also means Australia will head to the 2020 Tokyo Olympics having not won a Games medal since their gold at Sydney in 2000."

The commanding performance by the New Zealand women went some way to helping ease the pain of the Black Sticks men who lost their quarterfinal to Germany 3-2, surrendering a 2-0 lead and conceding two goals in the last 40 seconds to lose.

Stuff


---

'Curse of Richie McCaw' finally broken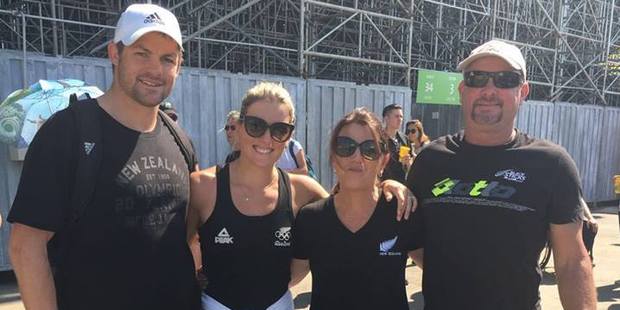 Richie McCaw with Gemma Flynn and parents after the quarter final win over Australia by the Blacksticks women's hockey team at the Rio Olympics. Photo / Richie McCaw Facebook

It's time to lay the Curse of Richie McCaw to rest.

Although he might have watched over some of New Zealand's biggest disappointments at the Rio Olympics, he's still proving a lucky charm for the women's Black Sticks team, which features his fiancée Gemma Flynn.

McCaw watched the All Blacks Sevens' shock loss to Japan - the game in which Sonny Bill Williams suffered a tournament-ending injury.

And he was there to see Val Adams pipped to shot put gold by Michelle Carter's late winning throw.

Asked last week by TVNZ if he was bad luck, he joked: "Perhaps I am. I might have to leave!"

But after talk of the Curse of Richie McCaw started circulating on social media, Flynn posted a photo of the pair in Rio, with the message: "We've sealed our place in the quarter finals. Loving our support team over here including this lucky charm."

That was after the Black Sticks secured a draw with world No 1 the Netherlands on Saturday thanks to captain Kayla Whitelock's stunning late strike.

And this morning, it emerged McCaw was watching as Flynn and co swatted aside Australia 4-2 to qualify for the final four.

"Great quarter final win over Australia by the Blacksticks women's hockey team. Awesome girls. Bring on the semi final!!"

So the sight of the man who played a record 148 tests for the All Blacks and twice lifted the Rugby World Cup in the stands might be a good omen after all.

The New Zealand Herald


---

Owsley hopes to add one final gong to epic year



Lily Owsley has been enjoying an epic year on all fronts. Pic: Frank Uijlenbroek/EHF

Great Britain are looking forward to a second successive women's Olympic semi-final as they swept aside the tournament's surprise package Spain 3-1 in Deodoro.

First quarter goals from Georgie Twigg and Helen Richardson-Walsh set them on their way before Lily Owsley made it 3-0 with just 22 minutes gone. Gigi Oliva got one back in the last ten minutes but GB were good value for their win and look forward to a semi-final date with New Zealand.

Speaking about the performance, Owsley said: "I thought we dealt with them well. We solved the problems they presented to us and we got on the scoreboard pretty early which is always a really big thing in massive games like this. It really sets the momentum.

"We're not stopping now. It's on to the next game. We're going to recover the same way, prepare the same way and we're going to make sure we get that semi-final win in two days."

It continues a remarkable year for Owsley in which she helped England win the European Championships in London before being named the FIH Rising Star of the Year.

And she would like to add one more award to that ever-growing list.

"I guess I have had a brilliant kind of individual year; if you put it like that! But this is the pinnacle and this is everything and everything that comes before this is just a nice stepping stone.

"This is what means everything to me and the year would not be capped and it would not be topped off if we don't go on to succeed in this tournament."

EuroHockey media release


---

Men's field hockey semifinal preview

By Hayley Tafuro



AP Photo/Dario Lopez-Mills

Previewing the two semifinal matchups that will determine who continues to fight for gold in Rio.

Germany vs. Argentina

Right when you think the time has come to count Germany out, they prove you wrong.

The Germans came into this tournament ranked third in the world by FIH standings. Not the worst place for the two-time defending gold medalists, but some rocky times between London and Rio had some questioning whether they could come back strong enough for a three-peat.

Yet here they are, after a stunning win over New Zealand in which 24-year-old Florian Fuchs scored the game winner in the very last second of the game to send them to the semifinal game against Argentina.

Los Leones had a dramatic win in the quarterfinals as well. They secured the lead over Spain after a penalty stroke goal in the fourth quarter.

Both teams are coming straight off of adrenaline-filled contests and have their fair share of talent on the roster.

Argentina will look to Gonzalo Peillat as always to lead the offense, particularly during any penalty corner opportunity.

Germany has a deep roster to look to, but team captain Moritz Furste has been the towering force for the team. Furste led the comeback against the Black Sticks with two electrifying goals off of penalty corner attempts in the fourth quarter.

Argentina will be looking for the program's first medal while Germany will be looking to be the first team to notch a three-peat since India did it in 1956.

Belgium vs. Netherlands

Belgium dominated throughout the entire tournament. They have shined in this "coming-of-age opportunity", and it wants this story to continue all the way through the gold medal match.

The Netherlands might have a different plan.

The powerful offensive influence of Mink Van der Weerden might be too much for any team to handle, particularly if his team draws enough penalty corners for him to showcase his perfect drag flick.

The Dutch roster goes deep as well, with offensive threats in Billy Bakker and Seve Van Ass to name just a couple who have been key producers throughout this tournament.

However, with Tom Boon back in the lineup for Belgium and the force of Tanguy Cosyns, this team has the potential to give the Netherlands a serious run.

All four teams left will have the opportunity to compete for a medal, win or lose. The winners of each game will move on to the gold medal match while the losers will vie for bronze

NBC Olympics


---

Shattering stumble at death hard to get over

By David Leggat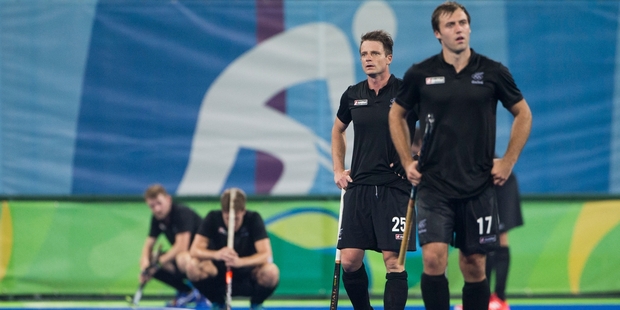 The Black Sticks men are left devastated after Germany snatched a 3-2 win. Photo / Photosport.nz

It will take a long time for New Zealand to get over their shattering stumble against Germany at the Rio Olympic men's hockey tournament yesterday.

Losses come in different shapes. Would New Zealand's quarter-final loss to the world No3 Germans - winners of the last two Olympic golds, and who have fashioned a formidable record against New Zealand - have been easier to stomach had it been, say, a 5-0 beating?

Or even a routine 2-0 loss? Instead, it came about through the most dramatic imaginable circumstances which left the Black Sticks devastated.

The bare facts, eighth-ranked New Zealand 2-0 up until the last six minutes, only to lose 3-2, paint the outlines of a gripping conclusion which had to be seen to be believed.

New Zealand lost it at the death, the winner from Florian Fuchs coming with a blink over one second left in the match.

They had a highly winnable semifinal against world No7 Argentina beckoning, their reward for a terrific display of heart and skill.

Instead it turned to porridge, Germany once more proving they are indefatigable in fighting a losing cause and still in the frame for a third successful title.

New Zealand will agonise how it all went wrong. There were several points to consider.

Being down to 10 men, with Nick Wilson carded for the final two minutes, didn't help.

New Zealand had got where they were by playing skilful hockey.

A fine second quarter goal by striker Hugo Inglis, followed by a deftly deflected shot into the German net by Shea McAleese at a penalty corner with 11 minutes left, seemed to have had Germany on the mat.

But hockey, unlike, say rugby, can change in seconds. It can take half a minute to get a rugby ball moved from deep on defence to an attacking chance at the other end. In hockey, make that six seconds.

So when Germany launched their final desperate attack, culminating in Fuchs nudging the ball into New Zealand's net in the last second, they knew it was winnable.

New Zealand, who had two chances to cut out that final cross from the right, had given away too much ball in the final quarter.

They were relying on holding out Germany where their success had come from playing hockey, occupying Germany with defensive work, rather than allowing them to launch wave upon wave of attacks at a goal defended stoutly by Black Sticks and their goalkeeper Devon Manchester, who made a string of brilliant saves.

Germany had surrendered their goalkeeper, playing 11 outfield players in those final minutes. New Zealand had to keep them conscious of conceding a third goal.

They did not play savvy hockey against an unrelenting and classy opponent when they needed to, which is not to say they hadn't put an immense effort in.

Twice German captain Moritz Furste scored from penalty corners, the second in the final minute to set up the barely credible conclusion.

"You can't take the four or five minutes at the end back but I'd certainly love to, if you could," New Zealand captain Simon Child said.

"We played well for a long part of the game and then just got down to the last four or five minutes and the Germans showed why they're the two-time Olympic champs. They make every second count."

Furste thought his time in a German shirt was up.

"That was the best New Zealand performance I've ever seen. They played their best hockey and the moment when it counted we were unbelievably lucky today and that's it," he said.

New Zealand were never outclassed in Rio and finished up playing to their world ranking.

The New Zealand Herald


---

Fuerste almost speechless after epic German win

Moritz Fuerste said that Germany's epic comeback against New Zealand "could have been my last minutes of German hockey" before he was instrumental in one of Olympic hockey's most amazing moments.

Germany trailed 2-0 with 4:31 minutes remaining before the UHC Hamburg man got one goal back from a penalty corner. Another came with 41 seconds left on the board before Tobias Hauke and Timur Oruz combined to set up Florian Fuchs for the grand finale – 3-2 in the final second.

Speaking about that mad finish, Fuerste was almost lost for words.

"I have no idea. I was pretty sure that could have been my last minutes for German hockey and then, I don't know what happened. I'm not even happy. I don't even know what to say!

"That was the best New Zealand performance I've ever seen. They played their best hockey at the moment when it counted; we were unbelievably lucky today and that's it."

It was the third match in which Germany had scored crucial goals in the closing minute. Asked how his side manage to do this time and again, he added: "We never give up. You have to beat us and you have to constantly beat us.

"As long as there are seconds on the clock, we will keep playing. We showed that again today and we will do that a couple more times."

After scoring the equaliser, Fuerste admits he did not believe there was time for the winner from Fuchs.

"I prepared myself for the penalty (shootout). I was sure I would have to dry up my stick and just focus and then score a penalty. And then that little kid from my own club just dived in (to deflect the ball into the goal).

"I didn't even see it. I was standing on the other side of the pitch just focusing on my penalty. I'm just happy I didn't have to do that."

Fuchs, meanwhile, said: "What happened in the last four minutes is just indescribable. It's crazy."

"After we scored the 2-1 goal, yeah, we were all pumped up and just thought about scoring the equaliser. That it finally came through to the winning goal, no one dreamt of that."

Euro Hockey League media release


---

Roelant Oltmans' India lost the mental battle to Belgium

Sundeep Misra

It's for a reason that knock-out matches are considered "mind games". And that is exactly why India lost to Belgium on Sunday at the Rio Olympics 2016 hockey quarter-final. India had the lead and believed it might break Belgium. But the Belgians aren't considered the most improved side in world hockey for nothing; they played professional hockey, and used space, patience and a structure that kept pushing India back.

Akashdeep's deflected opening goal gave India hope, but it also brought into focus Belgium's resilience. They broke India down quarter by quarter to record a 3-1 victory and secure a semi-final spot for the first time since 1928. Sebastien Dockier, one of Belgium's superior ball players, decided this was the day he should show off his skills and he constantly slipped past Indian defenders, scoring twice in the 33rd and 44th minute before Tom Boon, having fought back from injury, dealt the death blow with a wonderful angular strike in the 49th minute.

Belgium opened the attacks from the moment the ball rolled. There was a period when India did enjoy territorial parity, with attacks coming in from both midfields, but the sharpness was always with Belgium. Dockier almost came close to scoring, but his tap went off Sreejesh's pads and ballooned out. If India was losing possession, Belgium, held tight, rotating the ball till they found the opening.

India's goal came against the run of play. Manpreet Singh saw a gap in the Belgium striking circle and his hard hit zipped across, with Akashdeep doing enough to put stick to ball and sending it past Belgian goalkeeper Vanasch, who was surprised by the speed. Only 36 seconds were left in the first quarter and India played it out safely.

It was a position India preferred. Instead of chasing the other team, they had Belgium looking for the equaliser. Akashdeep had another chance in the second quarter, when his reverse hit from the top of the circle flashed across Vanasch, missing the post by inches. India was looking for a goal on the counter-attack.

At the other end, Belgian captain John Dohmen missed a shot that beat Sreejesh and glanced by the post. India was holding shape. The defence, though under tremendous pressure, held on with Rupinder Pal, Harmanpreet and Surender trying to tackle the Belgians outside the striking circle. For the first time in the tournament, India didn't have any card till the half time break; Belgium, one of the more disciplined teams at the Olympics, had already picked a green.

At the start of the third quarter, one had a feeling that something would give. Belgium, without panicking, built attacks, rotating till they found a gap which they felt was worth going for a goal. Patience was key for Belgium. They could have rushed in with the Indian defence tackling them well and building a counter-attack. An offensive structure was taking on the defensive one and for the fans, it became an absorbing battle.

Sreejesh was key to India's hopes as he had already brought out two saves. Thomas Briels broke through in the third quarter, but Sreejesh charged out and cleared with his pads. India was soaking up the pressure, but errors were creeping in. It was almost impossible for any team to keep up the defensive posture without any breathing space.

But when Dockier found space in the middle of the striking circle, he outsmarted two Indian defenders and shot towards the Indian goal. The ball bounced awkwardly and went off the outstretched pads of Sreejesh. The equaliser was in for Belgium, their patience was paying off.

Sreejesh soon brought out another save to deny Dockier. He also saved a penalty corner flick. But it was getting tough for India, the pressure was just too high. Another cross from the left flank saw Dockier slipping in his stick to see the ball deflected past Sreejesh's pads again. It was 2-1, and unless India did something different, the match and the momentum were already with Belgium.

At the end of the third quarter, Belgium was like a boxer pummeling an opponent who was back pedalling. India needed belief that they could break Belgium down. But for some reason, they were half-hearted in their attacks. The halves were not moving up and the forwards were just too less in number to crack the Belgian defence. Belgium was marvelously clinical. They had established a rhythm and they circled around in dizzying patterns.

After Sreejesh had saved the third penalty corner, an error in the Indian midfield saw Tom Boon with the ball and trying to muscle past Surender. The Indian defender, instead of hustling him away to the corner of the circle, tried tackling him. Boon slipped the ball through and cracked an angular shot that beat Sreejesh on the right post. At 3-1, it seemed like it was over for India.

With 10 minutes remaining, it was time to gamble. Coach Roelant Oltmans decided to take off Sreejesh and put in an extra player. Raghunath, who had a great match, wore the yellow shirt, and for the 10-odd minutes, he attacked and defended with vigour. One could argue with the decision that India with a penalty corner battery that had done well in the tournament should have attacked with a packed midfield earlier in the third quarter, but it was visible that Belgium dominated every aspect of the game.

For Belgium, the turning point was from the third quarter, where they held and waited for their opportunities. It's amazing to watch Belgium so sure about their technique and ball play. For India, it is bitter frustration and the same old questions. They would also look back at the 2-2 draw with Canada with a lot of regret.

Watching Argentina beat Spain won't help matters either. But an honest assessment is that India held its own with some of the big teams like Germany and Holland. This is a side that apart from a couple of players can remain a committed bunch till the 2020 Tokyo Olympics. In reaching the quarter-finals and playing the way they did in the group games, they have for sure given a sneak preview of the talent at their display. It's time for Hockey India to do a Belgium.

Firstpost


---

India has exited, but it played the right kind of hockey at the Rio Olympics

In Rio, our team was outstanding in the group stage.

Written by M.M. Somaya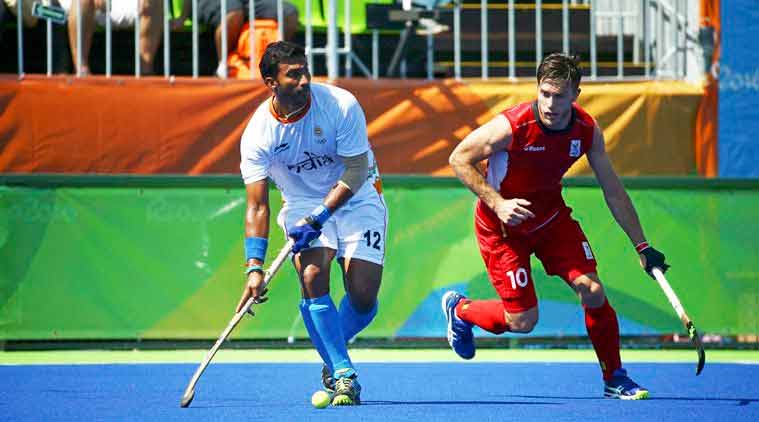 This isn't a one-off. The performance of the team has been very consistent since the London Games — be it at the Asian Games, Champions Trophy or Azlan Shah Cup. (Source: Reuters)

When the Indian hockey team was camping in Delhi, I used to drop by at the National Stadium once in a while to watch them train. Then, just before they left for the Olympics, I happened to meet some players at the official send-off for the team in Delhi. They looked confident. They had reasons to be. The team had been playing some mesmerising hockey. So I was expecting them to finish in the top-four at the Rio Games. Alas, they lost to Belgium in Sunday's quarterfinal.

If you get over the initial disappointment of being ousted, you realise this was a very encouraging performance. It shows they have moved on since the London Olympics debacle, where we finished 12th. In Rio, our team was outstanding in the group stage. They played the right brand of hockey after many years — fluent in attack, quick on counters and at the same time, maintaining a solid defensive structure.

This isn't a one-off. The performance of the team has been very consistent since the London Games — be it at the Asian Games, Champions Trophy or Azlan Shah Cup. One of the reasons has been the continuity in the playing group — at least seven-eight players are the same, which means the core group of the team has remained untouched.

There has been a marked improvement in the overall understanding of international hockey among the players. Once you get more aware what the opposition is trying and their tactics, it automatically increases your confidence and changes outlook. Fitness wise, too, there has been a definite improvement.

A lot of the credit for this turnaround must go to chief coach Roelant Oltmans. He has been with the team since 2012, first as a high performance director and now a coach. Roelant has the knowledge of modern hockey and hasn't been confusing or complex in his training methods. Once in a while, I speak with assistant coach Tushar Khandker. He says players find it easy to relate to Roelant compared to the previous coaches, who at times might have made things a bit complex for their liking.

Unlike the past, this wasn't a one-or-two-man team; the game plan was not based on individuals. Roelant changed his players so frequently during the match — he made around 430 substitutions in five group stage games, according to a commentator. So he was playing to win a tournament. Otherwise, to win a game, you play the same player right through 60 minutes and by the time it's time to play the next match, he is drained. Roelant was giving rest to his key players and making judicious changes.

That allowed him to be flexible in his gameplan. He always had tricks up his sleeve. Except for Sunday's quarterfinal against Belgium, he had very fluid formation. He didn't rely solely on 3-3-3-1, 4-4-2 or 5-3-2 formations. He would change the system in between the game, and from match to match. It showed the confidence he had in the players.

So there are plenty of positive takeaways from India's performance in Rio. But it's crucial we build on them and ensure the momentum isn't lost.

The next logical step would be to retain people like Roelant. We shouldn't change the coach like we have done in the past. Within the playing group, we need to take a close look at a few players who've had a long run. But since most players are still very young, I think we are placed well when it comes to the pool of players. Most importantly, we need to continue giving them international exposure. We have reached this level because the International Hockey Federation (FIH) and Hockey India are on good terms. Consequently, we are exposed to high-level competition almost 5-6 times a year.

I also feel Roelant can be used for designing a coaching system for the National Hockey Academy that's being planned in Delhi. That can be a prototype for all grassroots academies in India to ensure there is uniformity in coaching. At the same time, his services can be used to educate the Indian coaches. If we do this, it will hold us in good stead and bring consistency in our performances.

The Rio Olympics isn't a setback for us.

It gives reassurance that the team is heading in the right direction. We should use it as a springboard.

Indian Express


---

India proved they belong to the big stage of hockey



The Men in Blue showcased the progress they have made in the last four years. PTI photo

They might have failed to qualify for the Olympic Games semifinals here, but the Indian men's hockey team has shown it belongs to the big stage and could emerge as a serious medal contender four years hence.

In 2012, at the London Olympics, the eight-time gold medallists endured a disastrous campaign to finish 12th and last after failing to even qualify four years earlier in Beijing.

This time around the Men in Blue showcased the progress they have made in the last four years under the programme put in place by Dutch master strategist Roelant Oltmans, the team's head coach.

It's thus, vital that for achieving a podium finish at the 2020 Tokyo Games the process put in place by Oltmans is continued unhindered.

Going into the Games, India's realistic target was to progress to the quarter-finals and as Oltmans said thereafter everything depended on performance on the given day.

The Indians managed to achieve their initial goal of making the knock out phase after a huge gap of 36 years.

And the way they played in the pool stage, especially against top sides like reigning champions Germany and former gold medal winners Netherlands, raised the hopes of millions following them back home.

But eventually they had to face the reality that there is still some time and miles to travel before they become serious medal contenders.

In the Games here the team started on a nervous note against minnows Ireland, but managed to eke out a 3-2 win.

But India soon pulled up their socks and dished out inspirational performances against Germany and Netherlands before silly errors in the final stages cost them the points.

Against Germany India conceded a goal three seconds from the final hooter to lose 1-2. The script remained unaltered against the Netherlands as they gave away unnecessary penalty corners in the final 10 minutes to again lose by a 1-2 margin.

However, the Indians got their act together just in time to beat Argentina 2-1, but what cost them dearly was the uninspiring 2-2 draw against lowly Canada in their last league game.

A win against Canada would not only have boosted their morale but also propelled them to the third spot in Pool B and helped them avoid Pool A toppers Belgium in the quarterfinals.

The effect of that draw was literally visible in yesterday's quarterfinal loss against Belgium when they squandered a goal advantage to lose 1-3 and crashed out.

With three drag-flickers—Rupinder Pal Singh, VR Raghunath and Harmanpreet Singh—in the squad, penalty corners were considered as India's most potent force going into the tournament.

However, leaving aside the initial burst of Rupinder and Raghunath, the Indians cut a sorry figure in their execution.

The other front which should be a cause for concern for Oltmans was the performance of the team's forward line, which managed just four field goals in six matches.

India were badly let down by the forwards as they failed to earn a single penalty corner in the quarterfinal against Belgium.

The midfield led by Sardar Singh, which also includes Manpreet Singh and SK Uthappa, played well and so did the backline although the defence, when put under immense pressure, crumbled to give away soft goals.

In the back line young Surender Kumar stole the limelight alongside Kothajit Singh, but seniors like Raghunath were found wanting when put under pressure.

Sreejesh, considered as one of the best goalkeepers in the world currently, was terrific but he lacked support from others.

The Indians were also guilty of committing unnecessary fouls, resulting in a number of cards, among the highest in the tournament.

All said and done there were a lot of positives to take away from the failed outing. If India expects to better the performance in Tokyo, it needs to carry on the same set of programmes put in place by Oltmans for the next four years.

The performance here proved that all is not lost for the past masters of the game and from here on they can only improve provided the national federation, Hockey India, doesn't take any drastic decision which might destroy all the hard work put in the place over the last few years.

The Tribune


---

Scotland men's squad announced for Italy triple header



Scotland mens squad

Scotland men will continue their preparations for September's World League 1, held in Glasgow at the National Hockey Centre, by welcoming Italy to Glasgow for a three-match challenge. The games against Italy will take place on Thursday 18 August at 7pm, Saturday 20 August at 3pm, and Sunday 21 August at 10.30am at the National Hockey Centre.

It is an exciting time for Scotland's men's team as they kick-off their qualifying campaign for the World Cup in 2018. The team made a great start to the summer by winning a 4-Nations tournament in Poland, and then scoring 17 goals over three games against Czech Republic in Prague recently.

The squad for the three games against Italy has been announced and is as follows:

Name, Club
Gordon Amour, Edinburgh University
Kenny Bain, HGC
Michael Bremner, Klipper HC
Patrick Christie, Durham University
Dan Coultas, Edinburgh University
Callum Duke, Hillhead
Luke  Cranney, Grange
David Forrester, Edinburgh University
Alan Forsyth, Surbiton
David Forsyth, Qui Vive
Cammy Fraser, Grange
Ed Greaves, Loughborough University
Sean Hadfield (TBC), Bowdon
Hamish Imrie, Schaerweijde
Lee Morton, Kelburne
Nick Parkes, Surbiton
Duncan Riddell, Grove Menzieshill
Robbie Shepherdson, Loughborough University
Jamie Wong, Edinburgh University

Staff:-
Derek Forsyth, Coach
Dave Reid, Assistant Coach
Graham Moodie, Assistant Coach
Graham Stuart, Video  /  GK Coach
Heather Binnington, Physiotherapist
Emma Traynor, Sports Science
Nairn Scobie, Sports Science

Scottish Hockey Union media release


---

9-a-Side Tournament: WAPDA down PIA to clinch Pakistan Cup

KARACHI: In the inaugural Pakistan Cup 9-a-Side Hockey Tournament, Wapda defeated PIA 4-2 in the final to lift the trophy at the Abdul Sattar Edhi Hockey Stadium in Karachi yesterday.

Wapda received a prize money of Rs2 million, while PIA won Rs1 million and SSGC and NBP shared the third-place prize amounting to Rs500,000.

In an exciting encounter, Wapda took the lead in the 12th minute with Ijaz scoring a field goal, however, the winners couldn't hold on to the lead as PIA's Haseem Khan equalised in the next minute singlehandedly.

Tasawar Abbas scored the second goal to take back the lead before the end of the first half. After the break, Wapda's Muhammad Irfan scored a third goal in the 30th minute to take the lead to 3-1.

PIA captain Muhammad Irfan Sr then found the net to make it 3-2 but Abbas ended all hopes of a PIA comeback when he netted the winner.

Talking about the outcome of the tournament, director domestic and development Olympian Naveed Alam said: "The technical moves which we had lost in the past years were seen during this tournament, along with the players getting their confidence back."

Tournament director Olympian Mansoor Ahmed, meanwhile, hailed the positive impact the tournament had on the players. "This event had a positive impact on the players. The starting matches were not very balanced, but by the last four matches, the players got settled to play better and so competitive matches were seen."

The Express Tribune


---

Gurbaj has arrived to beef up Sapura in MHL

by S. Ramaguru

KUALA LUMPUR: Indian midfielder Gurbaj Singh has checked in and Sapura can now heave a huge sigh of relief as they aim to get their Malaysia Hockey League (MHL) Premier Division campaign off to a winning start.

The former champions will kick of their MHL campaign against Universiti Kuala Lumpur (UniKL) on Friday. They then meet Kuala Lumpur Hockey Club (KLHC) on Sunday.

Gurbaj is one of the three foreigner in the Sapura team.

The other two – Phillip Burrows of New Zealand and Oscar William Wookey of Australia – will only arrive next week and will miss three of Sapura's matches.

Two of those matches are Premier Division games while the other is their Tan Sri P. Alagendra Knockout Trophy tie against Nur Insafi on Tuesday.

"Burrows and Wookey's arrival has been delayed as they have playing commitments in Australia," said Sapura team manager Louis Gregory.

"But Gurbaj arrived Monday morning, so we will have a strong line-up for our opening game. We're looking at taking maximum points in the opening week although we know it won't be easy."

UniKL and KLHC have the maximum six foreign players in their teams and, as such, should give Sapura a run for their money.

"Last year, we beat UniKL twice ... although the results were close. We hope to do it again. KLHC are different ... they have good all-round players," said Louis.

The Star of Malaysia


---

BPFI on track in schools hockey

Kalesi Mele



Members of the St Joseph's Secondary School hockey side at Nadovu grounds in Lautoka yesterday. Picture: BALJEET SINGH

BA Provincial Freebird Institute (BPFI) are on track to retain the National Secondary School Hockey under-U19 boys title after a win and a draw in their first two games at Nadovu grounds in Lautoka yesterday.

BPFI drew 1-all against Cathedral Secondary School of Suva in their first match and beat Suva Grammar School in their second match 1-0.

Team manager Salome Dave said they had a match left before the play-offs.

"We are taking each game at a time and we plan to take back the title. The boys were a bit shaky in the first game, but played well in the second match," she said.

They play Natabua High School today.

Meanwhile, St Joseph's Secondary School of Suva U16 and U19 have qualified for the play-offs today. With a match still to play in the U19 pool games, their point differences in the first two matches alone have guaranteed them a spot in the semis.

The U16 topped their pool after beating St. Thomas High School 3-1 and Xavier College 1-0.

Coach Alice Crocker said they faced some challenges co-ordinating some of their players who were playing hockey, and basketball in a Fiji Secondary Schools tournament also in Lautoka.

"We had to find avenues to make sure the girls were able to play both games," Crocker said.

The Fiji Times