All the news for Sunday 7 August 2016

Men's field hockey day one recap

By Hayley Tafuro



AP Photo/Dario Lopez-Mills

Recapping all of the action in day one of the men's field hockey tournament in Rio.

Spain vs. Brazil

Spain blanked host team Brazil 7-0 in the last round of men's day one pool play.

Both teams may have been silent in the first quarter, but the fans certainly were not. Brazil's home base showed full support by being loud and booing Spain every chance that they could.

Spain opened up all scoring in the second quarter after Xavi Lleonart put one past Brazil's goalkeeper Rodrigo Faustino. This would end up being the highlight of the first half as Spain went into the break with a 1-0 lead.

Spain built on its lead in the third quarter. Roc Oliva deflected a shot into the goal. Almost immediately after, Josep Romeu scored off of a penalty corner. Spain scored twice more to put themselves up 5-0 over Brazil.

In the fourth quarter, Spain would not slow down. The team scored two more goals, giving them the final, overpowering seven-goal lead.

Canada vs. Germany

The reigning gold-medalist Germany defeated Canada in its first game by a score of 6-2. Four different players scored for the Germans.

Team captain Moritz Furste got everything started after scoring off of the team's first penalty corner. They continued to dominate on offense when Niklas Wellen put one past Canada's goalkeeper.

The Red Caribou answered with a goal from Mark Pearson, but Germany would continue to overwhelm the Canada defense. They converted off of a rebound from a penalty corner. Mathias Muller increased the lead to two goals.
Starting the third quarter of play, Linus Butt and Furste scored a pair of goals to put Germany up 5-1. Canada finally got things going once Keegan Pereira slapped one into the back of Germany's goal.

The lead that Germany built up was too much for Canada to come back from. The teams battled it out defensively in the fourth ultimately leading to Germany's four-goal victory.

Australia vs. New Zealand

Defending bronze-medalist Australia defeated New Zealand 2-1 in its first matchup of Pool A play.

The Kookaburras took an early lead over New Zealand after Chris Ciriello converted on a penalty corner.

Both teams remained quiet until about halfway through the second quarter. Jamie Dwyer pushed the ball downfield and flicked a pass to teammate Matt Gohdes to put the Kookaburras up 2-0.

New Zealand came out in the third quarter attacking, knowing they needed to make up for a slow start. The Black Sticks ended up bringing it right back within one goal of the Olympic favorites.

They had a chance to tie it up when Hugo Inglis tipped the ball into the goal with six minutes to go in the game. The goal would end up being disallowed, and Australia's defense played strong for the rest of the game to keep its 2-1 lead in tact.

Belgium vs. Great Britain

Belgium dominated Great Britain 4-1 in the first round of men's field hockey Pool A play.

The Belgium team got on the board early after a goal from Jerome Truyens. After trading shots back and forth for most of the first two quarters, Great Britain finally put one in the goal. Nick Catlin fired a shot that landed in the near post and sent his team into the second half tied with Belgium.

Belgium scored back-to-back goals early in the third quarter. First, they executed a penalty corner to perfection when Tanguy Cosyns scored. Shortly after, Simon Gougnard scored off of a clear from Great Britain's goalkeeper, putting his team up two goals.

With a cushioned lead, Belgium headed into the fourth quarter confident. They clutched the victory after luring Great Britain's goalkeeper out far enough for Cedric Charlier to be wide open for a shot, tallying the final score up to 4-1.

India vs. Ireland

India defeated Ireland 3-2 in Pool B's second game of the day, led by Rupinder Pal Singh's two goals.

India tested David Harte in goal for the entirety of the first quarter after a strong offensive attack. After getting multiple chances at a penalty corner with one second remaining on the clock, India's Raghunath Vokkaliga finally managed to sneak one past Harte to put India up 1-0 heading into the second.

India continued its scoring streak in the second quarter, but The Green Machine would remain scoreless heading into the second half of the game down by two goals.

John Jermyn put Ireland back in the game with 12 seconds remaining in the third with a drag flick off of a penalty corner. This cut India's lead to just one.

In the fourth quarter, India continued to dominate with its penalty corner conversions after a shot bounced into the goal off of an Ireland defender's stick. However, Ireland continued to attack. Conor Harte bounced one over the top of the goalie's head to make the score 3-2 with four minutes left in the game. India's defense as time expired sealed its first victory of pool play.

Argentina vs. Netherlands

In an exciting first game of men's field hockey pool play, Argentina came back to tie the Netherlands 3-3.

The two teams stayed even at one goal each through the first half of the game. The Dutch had a breakout third quarter beginning with a goal from Mink van der Weerden off of a penalty corner.

Goal number three for the Dutch came in the 42nd minute from Severiano van Ass. He received a cross while wide open in front of the goal and tapped the ball easily into the corner of the net. This put the Dutch ahead by two heading into the fourth quarter.

Argentina would not go down easy. The fight began with Los Leones converting on a penalty corner to cut the deficit to just one goal with plenty of game left to make a run. They continued to pound at the Netherlands defense and tied it all up at three goals after Matias Paredes scored off of a wild bounce of the ball.

NBC Olympics


---

Belgium light up Olympic morning session



Ireland sing their anthem before their first Olympic match in 108 years. Pic: Yan Huckendubler   

Belgium's Red Lions made the biggest impact on the opening morning of the men's Olympic Games with a powerful 4-1 win over Great Britain to start Pool A in style.

It was down to a breathtaking second half in which – from 1-1 – Tanguy Cosyns, Simon Gougnard and Cedric Charlier all scored as they were good value for their success. Jerome Truyens and Nick Catlin had earlier exchanged goals during a closer phase of the game.

It gives an early impetus in Pool A where Australia beat New Zealand 2-1. Spain begin their campaign in the evening session against Brazil.

In Pool B, Ireland's return to the Olympic games after a 108-year wait did not prove to be a fairytale, falling 3-2 to India with all five goals coming from penalty corners.

For Conor Harte, it was a disappointing start after their historic qualification: "We wanted to play the game, and not the occasion and that's the most important thing. At times, we let the occasion get to us.

"Ultimately, losing. We were here for a result and we didn't come away with anything so it's very disappointing."

The Netherlands tied 3-3 with Argentina in a spectacular affair. The Dutch led 3-1 after 41 minutes thanks to goals from Jeroen Hertzberger, Mink van der Weerden and Seve van Ass but final quarter efforts from Lucas Vila and Matias Paredes saw the South American side land a draw.

Speaking afterwards, Dutch coach Max Caldas said: "As a coach you always want to win but if you ask me, this is better than we had won 4-1 or 5-1, I say, secretly, this is better.

"Only the finishing could have been better. We had maybe one or two goals more that we left behind which is now on our to-do list."

The Netherlands play Ireland in their next tie on Sunday evening.

EuroHockey media release


---

Great Britain slip to Belgium defeat in Olympic opener



Iain Sloan

Great Britain slipped to a 4-1 defeat at the hands of old foes Belgium in their opening match of the Olympic Games. Belgium led via an early goal from Jerome Truyens and despite a thunderous strike from Nick Catlin which levelled the scores at half time, a stellar second half display from the Red Lions handed them the points. Goals in quick succession in the third quarter from Tanguy Cosyns and Simon Gougnard did the damage before Cedric Charlier put the gloss on the score with a late fourth.   

Great Britain almost scored from the first play of the match. A long aerial from Iain Lewers found Alastair Brogdon all alone in the circle but he couldn't bring the ball under control. At the other end, Belgium won a penalty corner in the second minute. They moved the ball to Gauthier Boccard but he blazed his shot over the bar. Brogdon was causing the Belgian defence problems in the final third and his snap shot forced a good save from Vincent Vanasch. With six minutes gone, Great Britain fell behind. Shane McLeod's side turned the ball over high up the pitch and Truyens broke into the circle to smash home for the first goal.

George Pinner performed heroics to keep the score to 1-0 with a fine block from Charlier and then produced a smart piece of stick work to deny Truyens a second. Just before quarter time, Belgium lost Sebastien Dockier after he was struck on the head with the ball.

Belgium started the second quarter well with Florent Van Aubel drawing another save from Pinner in the opening minutes. Bobby Crutchley's team built a good spell of pressure but despite some mesmerising skills from Barry Middleton they couldn't get the final pass right. Just before the break, Great Britain got themselves on the board with a splendid goal. Ashley Jackson won the ball in midfield and fed Catlin who turned the defender inside out before unleashing a rocket strike past Vanasch to make it 1-1 at half time. 

Belgium re-established their lead three minutes after the break from a well-worked penalty corner which set up Cosyns to find the net and then just moments later they made it 3-1 via a bullet strike from Gougnard. The third goal was harsh on Pinner who had made a fine save in the build up only for Gougnard to be allowed space to beat him with the follow-up. 

In the final quarter Great Britain's giant goalkeeper was called upon once again, this time gloving away a penalty corner from Loick Luypaert. With Great Britain struggling to create clear chances Belgium sealed the win with five minutes left thanks to Charlier's close range effort. Crutchley's side had a chance of a consolation with a last minute penalty corner but Jackson's shot was deflected over the bar by a defender and Belgium took the three points.

Great Britain's next match is Sunday at 21:00 vs. New Zealand

Belgium 4 (1)
Jerome Truyens 6 (FG)
Tanguy Cosyns 33 (PC)
Simon Gougnard 34 (FG)
Cedric Charlier 55 (FG)

Great Britain 1 (1)
Nick Catlin 27 (FG)

Great Britain Hockey media release


---

Australia narrowly defeat NZ in opener

Ciriello & Gohdes score for a 2 -1 win

Holly MacNeil




The Australian Men's Hockey Team have fought back from a near draw tonight, after a goal from the New Zealanders was disallowed in the final minutes of play in the opening match of the Aussie's competition at the Olympic Park in Deodora.

With six debutants in the side, the Aussies got off to a nervous start, with their first goal coming via a penalty corner from Chris Ciriello at eight minutes into the quarter, after an initial miss on penalty corner minutes in.

Jamie Dwyer shone, proving why he was included in the team for his fourth games, with great skills shown as he took control of the ball a number of times including bouncing the ball on his stick to outrun the New Zealand side.

The second quarter saw cousins working together, with Matt Gohdes scoring a goal after being fed the ball by cousin Jamie Dwyer, following a quick steal from the New Zealand team.

New Zealand fought back into the second half after mistakes were made by both teams, scoring in the first two minutes of play thanks to James Coughlan.

New Zealand continued to press in the final quarter determined not to give away any opportunities. Zalewski narrowly missed on goal, sliding to take a shot following a pass from Dwyer, but the New Zealand goalkeeper was quick to trap and kick the ball from danger.

A New Zealand goal from Hugo Inglis tied the score, but was quickly disallowed following a referral from the umpire. The Australian managed to maintain their lead in the final nail-biting minutes, with the game finishing at AUS 2 - 1 NZL.

The Australian Men's Hockey Team next take on Spain on Monday, August 8 at 9.30am AEST / 9.00am ACST / 7.30am AWST.

AUSTRALIA 2 (2)
Chris Ciriello (PC) 8
Matt Gohdes (FG) 23

NEW ZEALAND 1 (0)
James Coughlan (FG) 31 

Athlete (Hometown/Games/Caps/Goals)
Start List
Daniel Beale (Brisbane, QLD) 1st Olympic Games 82/15
Andrew Charter (GK) (Canberra, ACT) 1st Olympic Games 115/0
Matthew Dawson (Central Coast, NSW) 1st Olympic Games 48/7
Tim Deavin (Launceston, TAS) 2nd Olympic Games 133/6
Jamie Dwyer (Rockhampton, QLD) 4th Olympic Games 360/241
Matt Gohdes (Rockhampton, QLD) 2nd Olympic Games 154/52
Blake Govers (Wollongong, NSW) 1st Olympic Games 33/26
Fergus Kavanagh (Geraldton, WA) 3rd Olympic Games 226/15
Mark Knowles (Rockhampton, QLD) 4th Olympic Games 286/24
Eddie Ockenden (Hobart, TAS) 3rd Olympic Games 279/65
Jake Whetton (Brisbane, QLD) 1st Olympic Games 103/44

Used Substitute
Chris Ciriello (Melbourne, VIC) 2nd Olympic Games 189/115
Simon Orchard (Maitland, NSW) 2nd Olympic Games 204/56
Matthew Swann (Mackay, QLD) 2nd Olympic Games 142/6
Glenn Turner (Goulburn, NSW) 2nd Olympic Games 131/93
Aran Zalewski (Margaret River, WA) 1st Olympic Games 93/12

Hockey Australia media release


---

Kiwi Men edged by Aussies in Rio opener



Photo: Getty Images/FIH

Despite a dramatic second half, the New Zealand Men have been edged 2-1 by Australia in their opening match at the Rio Olympic Games.

Down 2-0 at halftime, the Kiwis scored a goal straight after the break through James Coughlan and then looked to have delivered a stunning equaliser in the fourth quarter only to have it disallowed by a video referral.

The result sees world number one Australia take away all three points although the New Zealanders should carry some confidence from their gritty performance.

New Zealand made a fast start to the match as they looked to put early pressure on in attack, although the Australian defence held firm.

Australia opened the scoring in the seventh minute when Chris Ciriello rocketed a penalty corner drag flick into the side of the net.

A mistrap at the back midway through the second quarter allowed the Aussies to counter attack with Matt Gohdes setting himself up for an easy deflection into goal.

The Kiwis lit up the scoreboard in the 31st minute following a brilliant run from Hugo Inglis who took the ball into the circle and fired across the face for James Coughlan to smash into goal.

The goal sparked a clear lift in momentum from New Zealand who muscled up in defence and continued to create some solid chances on attack.

With just five minutes left in the game, the Kiwis looked to have equalised with Hayden Phillips sending a screamer towards goal for Inglis to deflect in.

However, following a video referral from Australia the goal was overturned with the initial strike from Phillips ruled dangerous.

New Zealand battled bravely as time ticked away and put huge pressure on the Aussies, but just couldn't muster another goal.

The Men are back in action against Great Britain at 8:00am tomorrow (NZ time), with live coverage on SKY Sport 3.

Meanwhile, the New Zealand Women get their first taste of action in Rio at 1:00am tomorrow when they take on Korea, live on SKY Sport 3.

New Zealand 1: (James Coughlan)
Australia 2: (Chris Ciriello, Matt Gohdes)
Halftime: Australia 2-0

Hockey New Zealand Media release


---

NZ Hockey men's side lose to Australia in opener

By David Leggat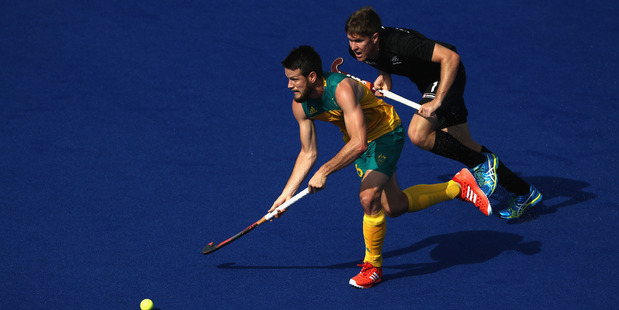 Matt Gohdes of Australia runs past Black Stick James Coughlan during their Olympic clash earlier today. Photo / Getty Images

It always shaped as a crucial chance for New Zealand to make a statement, and they came up just short against Australia in their opening men's hockey match at the Rio Olympics today.

The world No 8 Black Sticks went down 2-1 to the world's top ranked team. A win would have given them a cracking start to the tournament, in which, under the new format, the top four teams in each of the two pools will advance to quarter-finals.

They trailed 2-0 at halftime, through goals by Chris Ciriello and Matt Gohdes, but hit back a minute into the third quarter through midfielder James Coughlan.

It gave New Zealand a glimmer of hope and indeed they believed they had found an equaliser through Hugo Inglis, only to have it ruled out by the video referee.

New Zealand coach Colin Batch said he had been unhappy with the slow start his team mate, while acknowledging the trying, 30degC conditions.

"The positives are that we played quite a good second half, we did apply ourselves really well," Batch said.

"Australia are a good side. I'm not sure they'd be happy with the way they played but they got the win.

"We've got to take what we can from this game, and start again against Britain tomorrow."

Britain, ranked fourth, were beaten 4-1 by world No 6 Belgium today.

The New Zealand Herald


---

New Zealand men's hockey team lose Rio Olympics opener to Australia video

Cathy Walshe

Australia have defeated NZ 2-1 in hockey at the Rio Olympics.

Black Sticks coach Colin Batch was philosophical about the video referral which denied his team a late equaliser against world No.1 Australia, condemning them to a 2-1 defeat in Rio.

The Kiwis conceded two goals in a lacklustre first half at the Olympic Hockey Centre, Vila Militar.

But midfielder James Coughlan inspired a second-half fightback when he found the net barely 60 seconds into the third quarter.

New Zealand thought they'd found an equaliser when Hugo Inglis deflected in a vicious cross from Hayden Phillips only for the video referee to rule it out.

Batch had yet to see a replay of the incident and was reluctant to make any snap judgments.

"We understand it was dangerous with the first hit against one of the Aussie defenders," he told NZ Newswire.

"The video umpire has got that luxury of looking at a number of different angles, but it does set a precedent for the rest of the tournament."

Stuff


---

Germany impress in opening win over Canada



Christopher Wesley celebrates. Picture: Frank Uijlenbroek/EHF

Germany made a big impression in their opening in Pool B of the men's Olympic Games, sweeping aside Canada 6-2 in the opening game of the evening session.

Two goals in the first six minutes set the tone, Moritz Fuerste scoring a stroke and Niklas Wellen adding the second.

Mark Pearson got one back but further strikes from Matthias Muller, Linus Butt and Fuerste extended the lead to 5-1 with 28 minutes to go. Keegan Pereira added another before Wellen was credited with the sixth goal when his intended cross was turned in by a defender.

Speaking afterwards, goalkeeper Nicolas Jacobi described the win as a "powerful start".

"I think it was a really nice, powerful start to the competition which is always good to help with confidence."

Speaking about his next two opponents, he added: "I thought India looked quite strong but Ireland is always quite tough to play against as well, quite physical and I expect them to be quite a bit stronger than what we faced today."

In Pool A, Spain shook off Brazil's brave efforts, taking control in the third quarter to record a handsome opening win.

Xavi Lleonart scored the only goal of the first half with a lovely run and finish. But they found Brazil difficult to break down in a tough battle in which the hosts were dogged in defence and never gave an inch.

Roc Oliva made it 2-0 when he touched in Pau Quemada's miscued shot early in the second half as Spain upped the tempo. Josep Romeu's corner, another from Lleonart and a master-blaster from Vincenc Ruiz extended the lead to 5-0 by the end of the third quarter.

Romeu and David Alegre added further goals for a 7-0 win.

Speaking afterwards, Spanish captain Manel Terraza said it was a matter of staying patient: "We knew it would be tough and, in the first half, they really packed their defence but in the end we were able to move the ball fast and find the occasions to score. In the end, we are happy and looking forward to the next game.

EuroHockey media release


---

Canada drops opening match to defending Olympic champion Germany

Shaheed Devji



Germany's Florian Fuchs tries to beat Canada's Benjamin Martin during the men's field hockey Canada vs Germany match of the Rio 2016 Olympics Games at the Olympic Hockey Centre in Rio de Janeiro on August, 6 2016 (By: Yan Huckendubler)

Canada's men's field hockey team began the 2016 Olympic Games with a 6-2 loss against defending Olympic champion, Germany, Saturday in Pool B action in Deodoro, Brazil.

The 3rd ranked Germans opened the scoring in the third minute, after the they were awarded a penalty stroke.

Two Germany players found themselves behind the last Canadian defenders and as the ball was played towards the goal, it was stopped on the line by Gordon Johnston, but deflected into his body, giving Germany the opportunity.

David Carter guessed correctly by diving to his right on the shot from Moritz Furste, but the ball went just beneath the Canadian keeper to put Germany ahead 1-0.

The game against the two-time Olympic champion was a test of sorts for the 15th ranked Canadian men, who have not finished higher than 10th at an Olympics, and are looking to make their way into the quarterfinal by finishing in the top four in Pool B.

And after conceding the first goal, Canada settled into the game quite quickly, seeing more of the ball in the minutes to follow.

It was Germany, however, which picked up the game's next goal when Niklas Wellen got a stick on a ball in tight to put Germany up 2-0 in the 6th minute.

The Canadians showed good resolve from the outset of the game, playing a fast pace and not backing down from the powerful Germans and the effort paid off in the 11th minute.

After a German turnover, the Canadians were off to the races on a odd-man rush in the German end.

Ajax, Ontario's Keegan Pereira carried the ball and waited for Tsawwassen, British Columbia's Mark Pearson to open up in the circle. The ball was played nicely to Pearson, who went to his backhand and put the ball under Nicolas Jacobi for Canada's first goal of the 2016 Games.

Canada was given life, but the thrill was short lived as Germany earned back-to-back corners late in the first quarter.

The first opportunity was stopped by Carter, who got a stick on the ball while diving to his right.

Germany picked up another corner shortly after and made good. After Carter stopped the dragflick, the rebound was converted by Mathias Muller.

The lead was expanded to 4-1 in the second quarter and then 5-1 in the third before Canada – once again not relenting – picked up a goal off a Germany mistake.

A turnover in the circle landed once again on the stick of Pereira, who bided his time to get into the middle of the circle and put a hard hit by Jacobi for Canada's second goal.

The Canadians once again gained some confidence from the goal, going on to control possession for the next several minutes and into the fourth quarter.

However, early in the fourth, Germany picked up its sixth and final goal after the ball was deflected by Carter off the stick of captain Scott Tupper.

Canada does not play on Sunday. Its next game is against Pan American rival Argentina on Monday at 8:30am PT/11:30am ET. The game will be broadcast live on TSN 2 and at olympics.cbc.ca.

Canada and Argentina have met in the last eleven Pan American Games gold medal matches, including Toronto last summer when Argentina won 3-0.

GAME SUMMARY
Goals – Canada
11′ – Mark Pearson (FG)
39 – Keegan Pereira (FG)        

Goals – Germany
3′ – Moritz Furste (FG)
6′ – Niklas Wellen (FG)
14′ – Mathias Muller (PC)
26′ – Linus Butt (FG)
33′ – Moritz Furste (PC)
45′ – Niklas Wellen (FG)

Field Hockey Canada media release


---

Terraza ready for change in tempo



Picture: Koen Suyk

Spain got their Olympic campaign started with a 7-0 win over Brazil, belatedly racing clear of the hosts in their first ever Olympic game.

Xavi Lleonart scored the only goal of the first half before six second half goals changed the nature of the tie into one-way traffic.

Speaking afterwards, Spanish captain Manel Terraza said it was a matter of staying patient: "We knew it would be tough and, in the first half, they really packed their defence but in the end we were able to move the ball fast and find the occasions to score. In the end, we are happy and looking forward to the next game."

They face a steep change in standards as they go from facing the tournament's lowest ranked side to playing the highest.

"We are in good form but we just want to take it game by game. We have Australia tomorrow which will be  very tough but we will do our best. That's the only thing we are thinking about.

"It will be a very different game. Today we had the ball a lot but against Australia, we expect to do a lot more defending as they move the ball. It's just a different mindset but we knew about this months ago.

"We just need to work hard and see what we can do to, first of all, get in the top four of our group and get into that quarter-final and then we can see what we can do."

Euro Hockey League media release


---

Green Machine Get Olympic Games Underway




India's greater set piece accuracy gave Ireland a harsh lesson in their first Olympic hockey match for 108 years as three penalty corner goals to two told the tale in Deodoro this morning in intense heat.
 
For head coach Craig Fulton, he put it down to "accuracy" as Ireland matched and outdid the eight-time Olympic champions for many periods.
 
"We just didn't take our chances today," he said after the tie. "It ebbed and flowed for three quarters and we finished strong in the last quarter after John Jermyn's goal. We were playing well and had a good few chances but were just not accurate enough.
 
"As a team, we normally pride ourselves on that accuracy and today it didn't fire for us. All of our flickers are good and you can see that the shots were on, we just missed the target."
 
It was a bright and breezy tie from the outset with John Jackson working an early overload while Nikkin Thimmaiah's breathtaking turn of speed drew a top stop from David Harte on the baseline.
 
Peter Caruth and Eugene Magee both fizzed first half efforts over the bar from circle entries but India took the lead on the quarter-time hooter after a string of back-to-back penalty corners.
 
Ronan Gormley cleared one scuffed effort off the line but a follow-up effort from VR Raghunath broke the deadlock.
 
Ireland had a leveller chalked off from Jermyn's switch-move, umpire Paco Vazquez deeming the dummy that delivered the ball to the flicker to have been illegal. Conor Harte dragged another corner shot wide.
 
India, meanwhile, were more efficient, Rupinder Pal Singh scoring from their second set of corners, hitting the top corner for 2-0 at half-time. Fulton's side kept creating chances with O'Donoghue firing over before Jermyn found the backboard with his 91st international goal, a low bullet.
 
It set up an epic final 15 minutes; Rupinder Pal Singh restored the two-goal wedge with a drag that popped off John Jackson's knee at a vicious speed.
 
Conor Harte pulled one back with five minutes left when he beat a man off a corner spin-move and then volleying home when the second tackle popped up chest-high.
 
Ireland were hunting in packs at this stage, hungry for the equaliser. It almost came from a sixth Irish corner but O'Donoghue's flick went inches past the right post.
 
Reflecting further on the result, Fulton says it is just those final details the side need to rectify as the fixtures go on this week.
 
"You have got to be a realist; it's not like you are playing in a club match. There's a lot at stake but we'll be back. Looking behind the result, I see some really good things but it came down to set pieces.
 
"Tomorrow, we are fully focussed on the Netherlands and getting a result from that. For now, less is more in terms of training and I think we are in an ok place."
 
Ireland play the world number two ranked Dutch at 10pm Irish time (5pm in Brazil)tomorrow. The Dutch opened their account with a 3-3 draw against Argentina. The match will be shown live on RTE2 and BBC4.




Men's Hockey - Pool B
Ireland 2 (J Jermyn, C Harte)
India 3 (RP Singh 2, VR Raghunath)

Ireland: D Harte, J Jackson, R Gormley, M Watt, C Cargo, J Jermyn, P Caruth, S O'Donoghue, M Darling, P Gleghorne, C Harte
Subs: J Bell, A Sothern, E Magee, K Shimmins, K Good
 
India: PR Sreejesh, H Singh, K Khadangbam, S Kumar, M Singh, S Singh, VR Raghunath, SK Uthappa, D Mujtaba, SV Sunil, A Singh
Subs: R Singh, D Walmiki, C Kangujam, R Singh, C Thimmaiah

Photo Credits: Sportsfile & Getty Images

Irish Hockey Association media release


---

India open hockey campaign with unconvincing win; tougher tests await

Sundeep Misra



The Indian hockey players celebrate a goal against Ireland. PTI

The Indian men's hockey team started their Olympic campaign with a win for the first time in 16 years, as they held off a mini wave of Irish attacks on Saturday, finally prevailing 3-2 in a tense finish.

At 3-1 in the final quarter, it looked like the Indians would close out the match. But old habits die hard. Possession hockey gave way to some abysmal defending, as Ireland cut the score to 2-3. Ramandeep then committed the cardinal sin of getting a yellow card, reducing the Indians to 10 men. Without the fear of a counter-attack, Ireland did well to push the Indians back. Finally, time ran out and India held on.

But the Irish performance would have proven that this was a side which would hate the "minnows" tag. Never did they look like a side which last played Olympic hockey 108 years ago.

For India, the defenders were the attackers on Saturday; Raghunath and Rupinder Pal Singh got the goals, the latter scoring a brace. All three came off penalty corners. India needs to worry about their forwards; none of them really worked here: Nikkin Thimmaiah did some decent runs on either flank but pure stick-work wouldn't count without goals. Ramandeep still needs to understand the ground rules of reaching cross hits that come across the goal mouth. Against Ireland, he failed to reach the ball on two occasions. Akashdeep was his efficient self and was distinctly unlucky not to get a strike converted into goal. SV Sunil, recently elevated to vice-captain, was surprisingly a passenger on the field.

Sardar Singh's work rate was quite effective, and it was thanks to his referral that Raghunath was able to slip it past the Irish goalkeeper to give India the lead. Worryingly though, India looked suspect against the Irish counter-attack throughout the match. For players like Harmanpreet Singh and Surender Kumar, one hopes that it was a case of first match nerves and, with their debuts out of their systems, they would only get better.

The second goal was a Rupinder Pal Singh classic. Knowing that the Irish captain and goalkeeper David Harte had a massive height advantage and might stop straight flicks, Rupinder moved in with one that went into the far corner of the goal. At 2-0, India was cruising.

But the signs were not healthy. Too many breakaway moves in the midfield meant India kept giving the momentum away. The midfield was sluggish and some pace was noticed only when Sardar came into his own with the lovely parallel passes that carved the Irish defence open.

The Irish finally cut the scores in the 44th minute, when John Jermyn scored off a penalty corner. Four minutes later, off India's sixth penalty corner, Rupinder scored his second goal; India led 3-1 and threatened to pull away.

But silly errors in the midfield and jittery defence meant Ireland were always threatening. In the 55th minute, Conor Harte got the second Irish goal and the match was on. India was on the run as Ireland suddenly got a bagful of penalty corners, but somehow, the Champions Trophy silver medalists held on and beat back three penalty corners.

The last time India started on a winning note in the Olympics was in the 2000 Sydney Olympics, when their first match was a 3-0 win against Argentina. At Athens in 2004, they lost 1-3 to Holland, didn't qualify for Beijing 2008 and faced the Dutch again in London in 2012, going down 2-3. So their win against Ireland to start the 2016 Rio Olympics on a winning note would give the momentum to the Indians.

For coach Roelant Oltmans, it's back to video sessions now. The nine penalty corners enjoyed by Ireland probably showed that the defence didn't put in the effort required. They will face tougher teams in their next group matches, and stronger teams like Germany, Netherlands and Argentina will not give India any gift sessions. The Germans play tight man-to-man marking and a few field goals would have helped morale. Yet, looking at the Netherlands' 3-3 drawn match against Argentina, India would sleep happy knowing they have three points in the bag and top the group currently

Firstpost


---

Shaky start for India

s2h team



Photo: Yan Huckendubler

Veteran defender V. Raghunath's early goal and a follow up brace of goals by his peer in defence Rupinder Pal Singh gave India a gainful but shaky start at Rio. Trailing all through first three quarters, the Irish came from behind with late surges to take match to an edge of the seat thriller.

Always a poor starter, India for once gained full points with a narrow 3-2 win over Ireland.

Despite dominating first three quarters, Indian gave enough leeway for the Irish to strike two goals in the space of 10 minutes and then forcing Ramandeep Singh get a yellow card suspension three minutes before hooter, the Irish almost took all sweat out of India. With clear passes and clinical pressings, India dominated almost 45 minutes of the game

Shane O'Donogue struck at the fag end of third quarter (seconds before close time) to reduce Indian margin (1-2) and then using another penalty corner Conor Harte tapped in a soft rebound above the head of Sreejesh to reduce the margin to 3-2 with just four minutes left in the clock (2-3). Interstingly, all the goal were today struck off penalty corners

Ireland over all got eight penalty corners compared to India's six. Good defence by India and a disallowed goal helped India emerge unscathed.

When India struck off a penalty corner in the 49th minute, second goal of Rupinder Pal Singh, it appeared smooth passage for India, but Conor Harte's opportunistic goal put the Indians on mate.

India dominated first three quarters, took comfortable 2-0 lead at half time.

Indian forwards however did not shine, perhaps aimed to create penalty corners as a part of strategy.

Akashdeep Singh missed a couple of sitters, while Ramandeep Singh was conspicuous for his near absence from action.

In the earlier part, Nikkin Thimmaiah and SK Uthappa shone with good single-handed thrust ins and turn overs, but the forwards inside the circle were sloppy.

It was left to Raghunath to pep up the attack.

Sardar Singh played upfront with mixed result.

INDIA: PR Sreejesh(gk), V Raghunath, Rupinder Pal Singh, Kothajit Singh, Surender Kumar, Harmanpreet Singh, Manpreet Singh, Sardar Singh, Devinder Walmiki, Danish Mujtaba, SK Uthappa, Nikkin Thimmaiah, SV Sunil, Chinglensana Singh, Akashdeep Singh, Ramandeep Singh. SB: Pardeep Mor, Vikas Dahiya. Chief Coach: Roelant Oltmans, Manager: Tushar Khandker, Physio: Shrikant Iyenkar, Masseur: Arup Naskar, Video: Aadhithya Chakravarthy, Scientific advisor: Mathew Fyles, Analytical Coach: Roger van Gent.

IRELAND: David Harte (gk), John Jackson, Jonathan Bell, Ronan Gormley, Michael Watt, Chris Cargo, Alan Sothern, John Jermyn, Eugene Magee, Peter Caruth, Kirk Shimmins, Shane O'Donoghue, Michael Darling, Kyle Good, Paul Gleghorne, Conor Harte. SB: Timothy Cockram, Michael Robson. Manager: Stephen Barry, Chief Coach: Craig Fulton, Coach: Jonny Caren.

Umpires: Grime Murray (AUS) & Paco Vazquez (ESP)

HEAD TO HEAD BEFORE TODAY: Played: 6. India won 4: India lost: 1, Draw 1.

Stick2Hockey.com


---

Hockey team beats Ireland 3-2 to raise hopes

Alok Sinha

RIO DE JANEIRO: Roelant Oltmans had both his arms up in the air as he muttered to himself outside the dugout of Pitch Two. Striker Ramandeep Ramandeep Singh had got a yellow card with just two minutes to go in the match against Ireland. India were leading 3-2. It was touch and go and the Irishmen were pressing full court. He glared at Ramandeep and rushed to the sidelines to scream out instructions. They were very tense final seconds but the Indians stayed calm and ran to their coach as the hooter went off. India had sealed their first hockey win in Olympics in 12 years. The last one came in 2004 in Athens against South Korea, a match remembered for the two minutes Dhanraj Pillay got to play in his farewell game. That was cruel. But Saturday's win here has given hope that the Indians came make the quarterfinals in the new format.

What was encouraging for India was the fact that all the three goals came through penalty corners. Raghunath struck in the first quarter and Rupinderpal Singh got a brace, scoring in the second and fourth quarters. The Indians looked sluggish in the beginning but settled down after Raghunath's strike. They attacked from the flanks, cutting in to create opportunities. The victory margin could have been bigger but for two missed chances in the final quarter.

Almost every player had a decent outing but the team would want more from Sardar Singh. He looked good in patches but it is clear that he has slowed down and his passes often fail to find the player he is looking for.

Goalkeeper P Sreejesh had a good game. He made several saves when the Irishmen attacked viciously in the last two quarters, winning several penalty corners.

Later, he walked out, pads in hands, and exchanged a high five, saying, " Kya bola tha aapko... Jo bola, who kiya (what did I tell you earlier...I did out there what I promised)."

Oltmans was beaming after the game as he walked out into the mixed zone. He knows that one more win will get him to his first target. "Yes, a win is all that matters. I will not talk about mistakes... I am proud of these days. There was immense pressure but the players did not give in."

Oltmans said he had tweaked the team's structure slightly to counter the Irishmen who can always be a handful. "It is a tactical victory, I always tell the boys to play to a plan but not compromise on skills. An Indian team should showcase some masala too."

So how would be rate the win on a scale of 1 to 100? He thought for a while and said: "75 per cent."

The star of India's win, Rupinder, rated it at "70%". "We made some mistakes and will have to study the videos to rectify them. But a win is a win... three points. We should not be complaining. It's time to go back to the drawing board and plan for Germany."

On a personal note, Rupinder said it felt good to be part of a team which had secured an Olympic Games win after 12 years. "But there is a lot of work ahead."

Well, there is. India will next play Germany and Oltmans said the boys will have to play 100% and more for a win. "I studied them in Champions Trophy. They are a very strong team. But I can see opportunities for us in their game."

The Times of India


---

Relief for medal-less India as hockey team wins first Olympics match in 12 years

In the past three decades, India had not managed to start their Olympic campaign with a victory, but on Saturday they achieved this against Olympic debutants Ireland.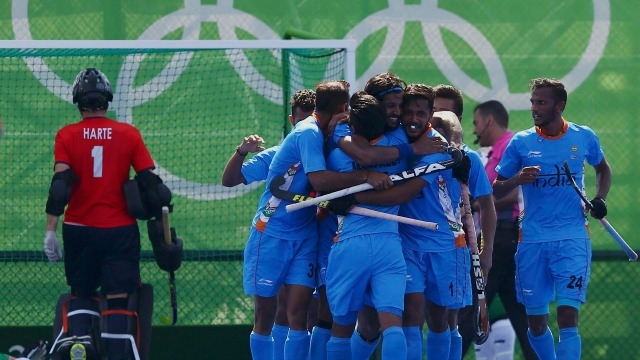 In the past three decades, India had not managed to start their Olympic campaign with a victory, but on Saturday they achieved this against Olympic debutants Ireland. (Reuters)

A big sigh of relief is what came out from the Indian camp at having won an Olympic hockey match after 12 years as they held back resurgent debutants Ireland to prevail 3-2 and pick full three points.

"It's a big relief to emerge winners after some late Irish resurgence," said Rupinder Pal Singh, who converted two penalty corners to emerge as India's hero in the first outing, which ended a lean run for India whose last victory at an Olympic hockey match came in 2004 at Athens.

India did not qualify for the 2008 Olympic Games and suffered the embarrassment of losing each of their seven fixtures to end at the bottom of the 12-team competition in London 2012. "It is after two Olympic Games that India have won a match and I am pleased to have played my part," said Rupinder, acknowledging that the errors crept into the Indian game in the middle part of this outing, but luckily they did not cost the Indians much.

Sardar Singh, who was replaced by P.R. Sreejesh as the captain ahead of the Olympics, was given the honour of wearing the captain's arm-band in the opening fixture. "We have 3-4 scoring chances and we could have killed this game before, but what is important is that we have three points, which is not what Indian teams have done in recent times," said Rupinder.

In the past three decades, India had not managed to start their Olympic campaign with a victory, but on Saturday they achieved this despite an indifferent performance. "The positivity will do us well going into the next encounter against defending champions Germany on Monday," said Rupinder. "On a yardstick of 100, I would rate our show to be about 70 per cent. We need to do better than that when playing the two-time Olympic champions in two days."

Germany have come to Rio de Janeiro with two successive Olympic titles under their belt, seeking to become the first country to complete a hat-trick in men's hockey after India's six-goal winning sequence ended in 1960 at Rome, when they lost the final to Pakistan. In Indian coach Roelant Oltmans' assessment, the Indians performed around 75 per cent of their capacity. "We could have done better, but I am happy with three points from the first fixture," said Oltmans.

"Why could we not have killed this the match well before the final whistle," wonders seasoned penalty corner shooter V.R. Raghunath, who opened the Indian scoring with a deft drag flick into the left corner in the 15th minute. "We had the chances to kill this game and put it beyond Ireland earlier. I would suppose we should have clinched the game there itself," said Raghunath.

Rupinder bolstered the lead with a rasping shot into the cage in the 27th minute before Olympic debutants Ireland scored their maiden goal in the 45the minute with a penalty corner conversion by John Jermyn. Rupinder then returned to goal-scoring action with his second penalty corner conversion in the 49th minute, this time with a low drag flick that went in off a defender's stick.

Ramandeep Singh and S.V. Sunil could have put the game beyond Ireland, but Ramandeep muffed a sitter as he shot wide of a open goal, while Sunil failed to collect a back-pass and the chance was gone. Sensing some nerves in the Indian camp, Ireland applied a lot of pressure in the last five minutes and scored their second goal in the 56th minute on another penalty corner attempt. It was during a goalmouth scrimmage in the penalty corner attempt that the ball ballooned over goalkeeper Sreejesh before Conor Harte tapped the ball in.

Another penalty corner in the next minute and the Indians were sweating, but the drag-flick went soaring over the cross-bar this time. "We need to raise our level, some better finishing could have got us this result easier," said Raghunath.

DNA


---

India start with tight win

Drag-flickers Rupinder, Raghunath star in 3-2 win over gritty Ireland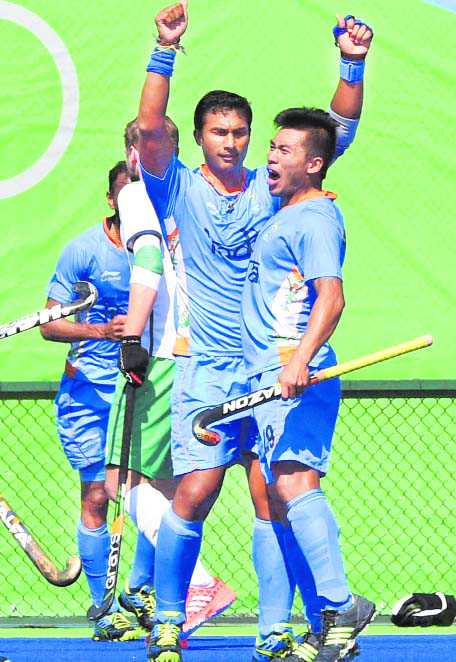 India's VR Raghunath (L) celebrates after scoring a goal against Ireland on Saturday. PTI

Rupinder Pal Singh struck twice as drag-flickers ruled the roost to help India register a fighting 3-2 win over Ireland in their opening match of the men's hockey competition at the Olympics here today. VR Raghunath (15th minute) and Rupinder (27th, 49th) converted three out of seven penalty corners India earned in the match to secure their first win in an opening clash at the Olympics since the 2000 Sydney Games.

Ireland gave India a run for their money, especially in the second half, finding the net twice through Jermyn John (45th) and Conor Harte (56th) at the Olympic Hockey Centre.

Going by world rankings, India (5th) were the favourites in the Pool B encounter against Ireland (12th) and the eight-time gold medallists started on an expected note by dominating the first two quarters.

From the word go, the Indians started on an attacking note and put pressure on the Ireland citadel with relentless raids.

The Irish, on the other hand, were happy to fall back and defend in numbers, depending mainly on counter attacks to stun their opponents.

India's domination can be gauged from the fact that they earned as many as six penalty corners in the first two quarters as against Ireland's two.

The Tribune


---

USA edges out arch rival Argentina 2-1 for a huge Olympic opener win

By Jawwad Qamar

A revers stick deflection by Michelle Kasold in the 50th minute of a penalty corner pass by Rachel Dawson proved to be the winner for USA in a huge win over their Pan American rivals Argentina.

The pool B contest saw first quarter dominance by Argentina and resurgence by USA in the second quarter helped by a strong defense and the play of goalkeeper Jackie Briggs. However, luck was not on USA's side early as the always reliable Katie Bam found herself open in this period but fanned on her initial attempt and got the ball back for another try from the left only to find the goalpost.

Luck was also not on Argentina's side as they thought they had gone up 1-0 on a Maria Campoy's backhand shot, from the top left of the circle, two minutes into the third quarter, but the goal was denied as the shot was deemed dangerous on umpire's referral much to the dismay of a large Argentina crowd. Three minutes later Katie Reinprecht struck on a tough angle shot from the right that was misplayed by the Argentina keeper Belen Succi for a 1-0 USA lead. Down two goals, Argentina showed urgency but Team USA held their own as captain Lauren Crandall controlled things before allowing a goal to Delfina Merino in the 57th minute for the South Americans only tally. Three massive points for the Americans, who'll next face the Australians on Monday morning for another big challenge.

Fieldhockey.com Exclusive


---

U.S. Olympic Women's Field Hockey Team Makes Statement with Win Over Argentina in First Pool Match




DEODORO, Brazil –  "Out of Many, You are the One." alludes to E pluribus unum, the 13-letter phrase on the Seal of the United States. These words are etched on the inside of the U.S. Olympic Women's Field Hockey Team's footwear as a reminder, with every step taken, the Rio 2016 Olympic Games is chased by many but achieved by few. Now on a quest from Pennsylvania to the podium, USA's first game of pool play opened against their Pan American rival Argentina. Both international squads brought the stadium to life with dynamic drama but the red, white and blue was able to edge out Las Leonas with a final score of USA 2, Argentina 1.

Eager to make a quick statement, Argentina maneuvered the ball into USA's defensive circle where Maria Granatto released a hard backhand shot on cage that USA's goalkeeper Jackie Briggs (Robesonia, Pa.) placed a firm touch on to deny the attempt. Play switched to the opposite end of the pitch where an entry pushed in just outside the 25 yard line found Katie Reinprecht (Perkasie, Pa.) who fired off Team USA's first shot of the game. Argentina continued to threaten forward but solid defense led by captain Lauren Crandall (Doylestown, Pa.) denied any Argentina chances.

"The first match of the Olympic Games with several new players to the event leaves room for a little bit of tentativeness and perhaps nerves," said Craig Parnham, USWNT Head Coach. "I think the difference was our group came together the second quarter and as the game went on. It was our defense that kept us resolute, giving us a nice platform to play off of, giving us good chances to score. Argentina is a great team, and I'm sure they'll do well in this tournament but that's a great start for us."

In the 11th minute of play, Argentina's Delfina Merino found herself in the attacking circle where she struck a low shot off right side board. Team USA's defense continued to contest Argentina's forward movement and just a minute later Argentina was awarded their first penalty corner of the match after a play was questioned and reviewed. The Las Leonas' drag flick from the top was stopped and cleared by Crandall but fell right to an Argentine stick. The ball was sent back in and crossed in Argentina's attacking zone but no sticks were able to connect. USA's goalkeeper Briggs was tested in the last play of the quarter where she made a save and stick clear to end with a score of USA 0, Argentina 0.

Play picked up for Team USA in the second quarter as they earned their first penalty corner of the match in the 18th minute. Coming from the top, Rachel Dawson's (Berlin, N.J.) drag flick was absorbed by Argentina's goalkeeper Belen Succi but Crandall came in with a second attempt on target that was deflected wide. Argentina took possession and quickly transitioned up the field in a numbers up advantage where USA's goalkeeper Briggs came up big with a save.

A threatening ball was passed up field just a minute to find Katie Bam (Blue Bell, Pa.) in a 1v1 situation with Argentina's goalkeeper Succi but she was unable to get a clean shot off. Pressure continued to build for Team USA as Bam found another opportunity in the circle where her shot went just wide. In the 27th minute of play, a ball that was deemed dangerous inside USA's attacking circle earned them another penalty corner chance. A deceptive play from the top gave Crandall a sweep on cage that Argentina's defense saved. USA requested a video referral looking to see if the ball hit an Argentina body but the referral was rejected and played went the other way. Defensively, Team USA stayed composed in the final minutes of play coming up with some key interceptions to keep the score at USA 0, Argentina 0 at halftime.

"In the last tournament we played in, we were exposed a little in the backfield," said Briggs. "As a team we've been practicing on working together a lot, to play off of each other's lines and take up more space overall. If one person got beat tonight, we worked hard to get in position to slow Argentina player down. We played outstanding 1v1 deep defense." 

At the start of the third quarter, Argentina gained possession and swung the ball from sideline to sideline looking to work the ball into the attacking circle. Patience paid off as in the 32nd minute when Argentina's Maria Campoy took a backhand shot from the top right of the circle sending it into the net. Before the mark was put on the scoreboard, an umpire requested a video referral to determine whether the shot was dangerous or not. The referral was upheld meaning no goal for Argentina.

Looking to build momentum to the other end of the field, Team USA worked the ball into the lower right hand corner of the field where a pass found Katie Reinprecht who cranked a low angled shot on cage. The ball hit Argentina's goalkeeper Succi's pads and found the back of the goal to give USA a 1-0 advantage.

Not letting up, Kelsey Kolojejchick (Larksville, Pa.) displayed aggressive attack as she entered the circle and earned a penalty corner. This attempt was sent to a video referral by Argentina looking for a foot before the call. The review was granted correct and no penalty corner was given to Team USA. Looking to find the equalizer, Argentina earned a penalty corner in the 43th minute. Fearless defensive flying by Melissa Gonzalez (Mohegan Lake, N.Y.) deflected the shot away to keep the score at USA 1, Argentina 0 to end the third quarter.

Quick to start the fourth quarter, Argentina took possession into their circle where they were confronted by Briggs who made a solid baseline save. Las Leonas continued to test USA's defense as they worked the ball in from the right side of the field but Briggs again came out to deflect the ball away from danger. Team USA kept composure and earned a penalty corner in the 50th minute on a dangerous stick play outside the circle. From the top of the circle, Dawson placed a low drag flick to the left side of the goal that inserter Michelle Kasold (Chapel Hill, N.C.) reverse deflected in to change the score to USA 2, Argentina 0.

USA continued to hold momentum but possession changed in the 57th minute of play when Argentina responded with a low backhand shot by Merino that was buried into the corner of the cage to tally their first goal and make the score USA 2, Argentina 1. Argentina kept fighting with speed as they worked the ball up the field looking for the equalizer. The forward Argentina movement was stopped by Briggs' glove but on the clear a video referral was requested by Argentina. Umpires did not uphold the call and USA continued to hold possession in the final minutes of play to secure the victory in their first pool play match.

Next, the USWNT will contend against Australia on Monday, August 8 at 9 a.m. EST.

USFHA media release


---

Team USA edges Argentina 2-1

By Hayley Tafuro

Team USA pulled off a 2-1 upset victory over No. 2 ranked Argentina in the first round of pool play in Rio.

In its first game of pool play, Team USA came up with a huge 2-1 upset win over medal-winning favorite Argentina.

Las Leonas dominated the clock on the offensive end for most of the first quarter, but drag flick specialist Maria Barrionuevo could not convert on the team's only penalty corner of the half. Team USA goalkeeper Jackie Briggs came up with some huge saves to keep Argentina from getting on the board. She stopped 13 Argentina shots on the day.

In the second quarter, the U.S. had its first penalty corner opportunity of the game. However, Argentina's defense was just as strong in thwarting away Rachel Dawson's shot attempt. Katie Bam had a chance at a goal when she got Argentina's goalkeeper out of position, but the shot bounced off the near post. Both teams ended the half scoreless.

"I think the first period, we started a little slow, maybe a little bit tentative," Team USA head coach Craig Parnham said. "We've got some players that have not played on this stage before. It may be better attributed to that."

Argentina appeared to go up a goal early in the third, but the shot ended up being disallowed for dangerous play. Team USA capitalized on this call. Katie Reinprecht fired a shot shortly after which deflected off of Belen Succi in goal and into the back of the net putting them ahead 1-0.

"That first goal we scored, if you saw it coming, you're thinking, 'That's probably not going to go in,'" Briggs said. "But you just never know. You've got to shoot it."

Team USA added to its lead on a penalty corner attempt early in the fourth quarter. Michelle Kasold deflected the shot in off of another Dawson drag flick to put her team up 2-0.

With just over three minutes remaining in the game, Argentina's Delfina Merino converted on a shot to cut the U.S. lead to one goal. Team USA's defensive efforts led by team captain Lauren Crandall would prove to be enough to earn them a huge statement win over a dominant Argentina squad as the seconds ran out on the game clock.
 
This marked one of the biggest wins for Team USA in its Olympic history. The U.S. are slated against No. 3 Australia on Monday, another tough matchup for the No. 5 ranked team.

NBC Olympics


---

U.S. Women's Field Hockey Team Pushes Toward Recognition, Defeating Argentina

By JAY SCHREIBERAUG



Stefanie Fee, left, of the United States, battled for the ball against Argentina's Delfina Merino during their field hockey match. Credit Jeon Heon-Kyun/European Pressphoto Agency

RIO DE JANEIRO — The United States women's field hockey team, seeking an Olympic medal and maybe, just maybe, a boost in national recognition, played its first game Saturday against the powerhouse Argentina, and did just what it needed to, pulling off a 2-1 victory.

The game was scoreless at halftime, but Katie Reinprecht (whose sister Julia is also on the team) and Michelle Kasold then scored in succession. Argentina scored a late goal, but the Americans held on.

The game was the first of five that the United States will play in the group phase of the competition. There are two pools of six teams each, and four from each group will advance to the quarterfinals.

The Americans are ranked fifth in the world by the International Hockey Federation, a heady status for a group that finished dead last four years ago at the London Games.

In addition, the Americans were able to win one of two pre-Olympics exhibition games they played against the Netherlands, the two-time defending Olympic champions. Then again, those games didn't count and these do.

Next up for the United States is a game on Monday against Australia, which is ranked No. 3. After that, the first-round schedule for the United States eases up a bit, with games against Britain (No. 7), India (No. 10) and Japan (No. 13). Looming in the other group are the top-ranked Dutch, who share a bracket with China, Germany, New Zealand, South Korea and Spain.

Women's field hockey was introduced to the Olympics in 1980 and only once since then have the Americans managed to win an Olympic medal — a bronze, at the Los Angeles Games in 1984.

The game on Saturday took place directly opposite the second game of the Olympics for the U.S. women's soccer team, which has a long history of success on the world stage, is the current defending champion in both the Olympics and the World Cup and has become a widely admired group, even among casual fans.

The women's field hockey team, of course, has none of that, but a really good run in Rio might alter the situation at least a little bit. There are 18 players on the United States roster, including two alternates, and 11 of them are from Pennsylvania, underlining the strength of the sport in the Eastern United States. The other seven players on the roster are from New York, New Jersey, Virginia, Delaware and North Carolina.

Unlike their counterparts in women's soccer, the top women's field hockey players in the United States do not have a domestic professional league they can join after they finish college. The national team, in any number of ways, becomes the be all and end all.

However, there is one similarity between the two squads. In soccer, the American women have achieved results the American men can only dream about. Likewise in field hockey, the American men are not even in Rio. Only the women are, with four games to go in the round and a growing chance to do something interesting.

New York Times


---

Great Britain's hockey teams have mixed fortunes in opening fixtures

Great Britain had mixed fortunes on the opening day of the Olympics as the women's team beat Australia after their male counterparts lost to Belgium.

The women's side, who won bronze at London 2012, led after Lily Owsley scored in the second quarter.

Georgina Morgan equalised from a penalty corner but Alex Danson grabbed the winner with a reverse-stick shot late in the third quarter.

The men's team were thrashed 4-1 by Group A rivals Belgium in Rio.

Nick Catlin levelled before half-time, but Belgium took command with three second-half goals.

Belgium, ranked two places below their opponents at sixth in the world, took an early lead through Jerome Truyens before Tanguy Cosyns, Simon Gougnard and Cedric Charlier sealed the win.

However, there was better news for Great Britain later on Saturday.

Danny Kerry's women's side have slipped to seventh in the world rankings after a disappointing Champions Trophy, but made an impressive start in Brazil by beating the third-ranked Australians.

With the introduction of a quarter-final stage, both sides only need to finish in the top four of their six-team groups to qualify.

Great Britain women's captain Kate Richardson-Walsh:

"It was a good three points for us. It was a difficult game and it was not pretty at times, but we stayed disciplined throughout.

"Australia are a fantastic side. They have strength all over the field and they will do very well in this tournament, so to get a win against them is definitely a great confidence booster."

GB goalscorer Lily Owsley said:

"To say we have been waiting for this game for a long time is an understatement. We have been waiting for it for four years so it is great to get the ball rolling with a win.

"As far as Saturday nights go, making my Olympic debut and scoring probably tops a Saturday night as a 21-year-old, so I am over the moon."

Great Britain men's captain Barry Middleton:

"Belgium took their chances well. Credit to them for that, but it was a disappointing display from us.

"We weren't quite 100% all over the pitch. If everyone isn't at the top level, that can add up and it certainly cost us.

"One of the good things is that you get chances in this tournament, so if you lose one, you are not out of it."

BBC Sport


---

Owsley and Danson sink Australia in thriller



Lily Owsley takes the congratulations after her goal. Credit FRANK UIJLENBROEK

Great Britain got their Olympic campaign off to a perfect start with a thrilling 2-1 win over Australia. Goals from Lily Owsley and Alex Danson ensured Georgina Morgan's goal for the Hockeyroos was in vain in a tense encounter. Goalkeeper Maddie Hinch produced a masterclass, pulling off a string of fine saves to keep Adam Commens' team at bay and hand GB the three points.      

Australia started well and created the first clear chance via a neat turn and strike from Kathryn Slattery. Hinch was alert and beat the ball away with her gloves. The Hockeyroos were putting the pressure on early and Emily Smith had a gilt-edged opportunity, finding herself clean through only to be denied by the GB goalkeeper who bravely blocked the shot with her facemask.

Danny Kerry's side came into the contest more as the quarter wore on and a good run and shot by Alex Danson forced the first save from Rachael Lynch. Australia forced their first penalty corner with two minutes to go to the break. Jodie Kenny took the shot but Crista Cullen was brave and charged the shot down.

Adam Commens' side started the second quarter well and Grace Stewart was free in the circle. Once again Hinch was the saviour, dashing from her line to make another save. Karri McMahon then went close with a penalty corner but Helen Richardson-Walsh was on the line to touch the ball away to safety.
Hinch continued to frustrate Australia and made another super save from Stewart to preserve parity.

With four minutes to go to the break Danny Kerry's side got their noses in front thanks to a sublime team goal. Hollie Webb's long pass was touched on by Shona McCallin to Sophie Bray whose first time pass found Owsley who calmly slotted home. Australia hit back immediately at the other end but Georgina Morgan's shot rattled the woodwork and it remained 1-0 at the half way mark.    

Three minutes after the break it was all square. Morgan, who had been denied by the woodwork earlier on found her range and fired a lovely drag flick into the top corner. Undeterred, Great Britain went up the other end and after some excellent work from Owsley won their first set piece of the match. Cullen took the shot but Lynch got a strong glove on it to repel the chance. 

Australia hunted the next goal, hoping to edge themselves in front. Jane Claxton had a wonderful chance but with Hinch putting her under pressure she could only shoot wide. With time running out in the third quarter, what turned out to the the match's decisive moment came. A flowing move from GB carved the Hockeyroos' defence open. Shona McCallin dummied the through ball allowing Susannah Townsend to break into the circle. She found Danson who spun onto her backhand and fired home.

The final quarter was a nervy affair with both sides knowing the next goal would be crucial. Hinch made another splendid save from Grace Stewart and at the other end Lynch was on hand to block brilliantly from a marauding Owsley. There was late drama as Hinch had to save from Brooke Peris and then watch as a penalty corner flashed wide of the target but Great Britain were able to run the clock down and clinch the win. 

Lily Owsley, Great Britain forward:

"We gave them the respect they deserved going into the game. They've had the better of us in other games so we knew it'd be tough and they'd come out flying. We had to match them and that's what we did early on and we got the momentum throughout the game and were able to get the win. To say we've been waiting for this game for a while is an understatement we've been waiting four years and it's great to get the ball rolling.

As far as Saturday nights go, making my Olympic debut and scoring on it tops most other Saturday nights as a 21-year-old. I'm over the moon and to get the 3 points in the group stage and be where we want to be puts us in a strong position. We have to take it game by game it's a long group stage but to start with three points is really important."

Great Britain's next match is Monday at 22:00 vs. India

Great Britain 2 (1)
Lily Owsley 26 (FG)
Alex Danson 43 (FG)

Australia 1 (0)
Georgina Morgan 33 (PC)

Great Britain Hockey media release


---

Dazzling Danson shoots GB to victory over Australia



Great Britain celebrate their victory. Pic: Frank Uijlenbroek/EHF

Alex Danson's quality 42nd minute goal earned Great Britain a hugely significant 2-1 win over Australia in one of two big games played in the women's competition on the opening of Olympic action.

Lily Owsley opened the scoring from a lovely interchange via Hollie Webb to Shona McCallin and on to Sophie Bray for the lead in the 26th minute.

Australia responded with an excellent Georgina Morgan drag-flick from the left of the circle finding a delicious angle into the right side of the goal.

GB replied, though, with Danson's glorious goal. Laura Unsworth's long ball split the Australian defence before McCallin threw a brilliant dummy to leave the last defender backpedalling. Susannah Townsend took on the ball before squaring for Danson.

Her initial control meant she could not score on the open side but, no matter, she flipped the ball onto the reverse and shot high past Rachael Lynch.

The United States opened the women's competition with an impressive 2-1 win over Pan-American rivals Argentina, repeating their victory of four years ago in London against the same opponents.

Back then, it was 1-0 and, this time, Craig Parnham's side showed why they are considered a dark horse for a medal. Katie Reinprecht's opening goal had a touch of fortune to it, her shot from a tight angle slipping through Belen Succi's pads.

Michelle Kasold redirected in a corner for the second goal. Delfina Merino got one back with a few minutes left but the US got over the line for another famous win over their old enemy.

Speaking about the win, Parnham said: "I think the difference was our group came together in the second quarter. It was our defense that kept us resolute, giving us a nice platform to play off, giving us good chances to score. Argentina is a great team, and I'm sure they'll do well in this tournament but that's a great start for us."

EuroHockey media release


---

Lily Owsley and Alex Danson goals help Great Britain to see off Australia in Rio



21-year old Lily Owsley celebrates scoring on her Olympic debut Credit: PA

Great Britain's women enjoyed an ideal start to their Olympic campaign with a hard-fought victory over Australia in Pool B in Rio.

Having lost 4-1 to the same opponents in the Champions Trophy at the end of June, Danny Kerry's side exacted a measure of revenge on their arch rivals through superb goals from Lily Owsley and Alex Danson.



Alex Danson (C) celebrates scoring a goal against Australia Credit: AFP

After an early scare when Crista Cullen was briefly floored by a close-range shot which struck her in the stomach, Britain took the lead on 26 minutes thanks to a slick team move eventually finished in style by Owsley, who was a spectator when some of her team-mates won bronze in London four years ago.



Owsley attended London 2012 as a spectator four years ago Credit: PA

Moments later Georgina Morgan hit the post at the other end as Maddie Hinch was beaten for one of the few times in the contest, but Morgan made no mistake three minutes into the third quarter from a penalty corner.

Australia's Edwina Bone then received her first yellow card of the game for a foul, although Britain's penalty corner routine was too convoluted and the chance went begging.



Britain claimed all three points against Australia Credit: Reuters

Another opportunity then looked set to elude Danson when she appeared to have turned into trouble as she closed in on goal, but the 31-year-old cleverly reversed direction to fire into the net.

Australia piled on the pressure in search of an equaliser but Hinch was superb as Britain's last line of defence and they held on to claim all three points.

The Telegraph


---

Women defeated by GBR in opening match

Go down 2 - 1

Holly MacNeil




The Australian Women's Hockey Team went down fighting against arch-rivals Great Britain this morning at the Deodoro Olympic Park. The girls fought hard, but the Great Britain defense were pressing, and Australia could not break free.

Emily Smith was on fire taking a great double crack at goal only minutes in, but Maddie Hinch, the UK goalkeeper wasn't having it and knocked the ball away. Alex Danson fired back with a shot on goal but Rachael Lynch wasn't going to let the first shot on goal through.

Great pressure was given by both teams in the first term, with the scoreboard remaining untouched going into quarter time.

The Australian side, with 12 new Olympians, was determined to have the game as their own, with Kathryn Slattery going in to earn a shot at penalty corner minutes into the second. It wasn't to be and the pace of the game picked up.

Australia had some work to do, as Lily Owsley scored the first goal of the game with a field goal 25 minutes in. The Australians answered with a PC opportunity with Georgie Morgan's drag flick almost converting, but hitting the top post, denying the goal.

Morgan got her revenge 3 minutes into the second half with a penalty corner going in right below the woodwork it hit earlier following an injection from Kathryn Slattery, equalizing the match.

The Great Britain Team were fighting, with Alex Danson scoring a field goal at 43 minutes after a brilliant piece of attacking work.

The final quarter saw Australia a player down for 5 minutes with Edwina Bone getting a second yellow card. Brooke Peris was firing having a double crack in the scoring circle, and Maraih Williams literally flew across the pitch to try and fight back for the team.

With less than two minutes on the clock, the girls had their six opportunity on a penalty corner and the chance to equalise, but it was just wide of the net leaving Great Britain to take out the game 2 - 1.

Australia next play the USA on Monday at 11pm AEST / 10.30pm ACST / 9pm AWST

AUSTRALIA 1 (0)
Georgie Morgan (PC) 33

GREAT BRITAIN 2 (1)
Lily Owsley (FG) 25
Alex Danson (FG) 43

Australia squad v Great Britain
Madonna Blyth (Brisbane, QLD) 337/70
Jane Claxton (Adelaide, SA) 103/9
Jodie Kenny (Wamuran, QLD) 181/98
Rachael Lynch (Warrandyte, VIC) 151/0
Karri McMahon (Berri, SA) 105/9
Georgina Morgan (Armidale, NSW) 47/9
Georgie Parker (Berri, SA), 103/32
Brooke Peris (Darwin, NT) 96/13
Casey Sablowski (Albion Park, NSW) 253/44
Kathryn Slattery (South Stirling, WA) 57/17
Emily Smith (Crookwell, NSW) 158/63
  
Used Substitute
Edwina Bone (Evatt, ACT) 116/2
Kirsten Dwyer (Mackay, QLD) 109/2
Gabrielle Nance (Kingscliff, SA) 37/2
Grace Stewart (Gerringong, NSW) 23/10
Mariah Williams (Parkes, NSW) 51/6

Hockey Australia media release


---

UN Secretary General and IOC President make hockey first stop on opening day




The hockey family was delighted to welcome United Nations (UN) Secretary General Ban Ki-moon to his first Olympic sports event as guest of International Olympic Committee President Thomas Bach.

The pair took in the opening match of the Rio 2016 Olympic hockey events between Argentina and Netherlands men and were treated to a thriller of a game, with Argentina coming back to draw 3-3 after being 3-1 down earlier in the match.

Guided through the match by International Hockey Federation (FIH) President Leandro Negre and CEO Kelly Fairweather, both guests were staggered by the speed and skill of the game, which lived up to its action-packed and fast paced billing.

Speaking of their visit, Negre said: "Secretary General Ki-moon and President Bach were in awe of the pace of the game and the technical ability of our athletes. It's fair to say they are both now really big fans of hockey. As a sport, we're delighted that these two prestigious guests joined us for our sport's opening Olympic match."

Noting the UN's recognition of sport's role as a driver for social change and sustainable development, Negre added: "Hockey's diversity and parity are very much in line with both individuals drive for greater equality, not only in sport but throughout all walks of life. We will continue to use our sport as a driver to promote such values."

Make sure that you use #Hockey, #SambaSticks and #Rio2016 on social media when showing your support for your nation during the events, and follow FIH for all the latest updates from the biggest show on earth – the Olympic Games. For more information about hockey in Rio, visit Rio2016.com.

FIH site


---

Hockey grapples with Olympics 'wake up call' in Rio

by Jack Stubbs




RIO DE JANEIRO (Reuters) - With its future as Olympic sport under scrutiny, there are more than just medals at stake for hockey players at the Rio Games and the pressure is on to produce a crowd-pleasing tournament, cementing their place in the top-flight of world competition.

Despite ticket sales of 630,000 making it the third biggest-selling event at the 2012 Games in London, hockey narrowly avoided being dropped from the Olympic roster in 2013 over concerns organisers were not doing enough to engage new fans.

"There was a perception that we were not a fan-focused sport," said Kelly Fairweather, chief executive of the International Hockey Federation (FIH).

"To be honest, we were shocked ... It was a bit of a wake up call."

The FIH has responded by introducing a number of changes to the way hockey will be played and broadcast at the Rio Games.

Those include a move to 15-minute quarters and scheduling more time for television replays and analysis to showcase players' virtuoso skills with a ball moving at more than 160 kilometres an hour, Fairweather said.

For the first time in Olympic competition, the Rio hockey tournament will also feature quarter-finals, making it the last team sport to adopt the format at the Games.

Fairweather said he hoped the move would give fans the thrills and excitement of an extended knock-out competition while raising the stakes for teams who now have to finish in the top four of each group, leaving little room for error in the early stages of the tournament.

"Hockey has had a lot of catching up to do," he said. "The Games are the pinnacle of our sport ... To have been removed would have been devastating."

Underlining the heightened attention from top sporting officials, International Olympic Committee head Thomas Bach and United Nations Secretary-General Ban Ki-moon joined hockey fans watching the opening stages of the Rio Games' first men's pool match between Argentina and the Netherlands on Saturday.

Argentina, who are currently seventh in the FIH world rankings, fought hard to hold their world No. 2 and London 2012 silver-medallist opponents to a 3-3 draw, delighting fans on both sides and setting the tone for what organisers hope will be a competition worthy of this and future Olympics.

The Star of Malaysia


---

Unwanted Black Stick Nick Haig to boost Canterbury hockey side



Former Black Stick Nick Haig will be a pivotal figure for Canterbury in the NHL. David Rowland/Photosport

Canterbury will be bolstered by unwanted Black Sticks' veteran Nick Haig for next month's national hockey league.

Defensive midfielder Haig, capped 186 times, was one of the unlucky names to miss out on coach Colin Batch's squad for the Rio Olympics.

New Zealand's loss is very much Canterbury's gain, who will be able to draw on his experience and class as they look to improve on fifth last season.

Avon defender Ari Barrow is the lone new cap in the Cavaliers' squad.

Barrow, 20, gained NHL experience last year with Dunedin-based Southern, who are not participating this season.

He was captain of the Canterbury under-21 side for the past two seasons and led the team to the national title earlier this year.

Barrow is a true graduate of the Canterbury representative scene, playing each age-group from the Hatch Cup primary schools tournament.

New Zealand development member, goalkeeper George Enersen, will captain the side.

The Cavaliers will feature an international guest player, who is still to be confirmed.

Canterbury will again be coached by Andrew Hastie, who will be assisted by Andrew Buckley and Sunjay Ganda.

They open their campaign against defending champions Capital in Christchurch on September 3.

The remainder of the tournament will be played in Whangarei over September 10-17.

AT A GLANCE:

Canterbury squad: Richard Bain (Harewood), Ari Barrow (Avon), David Brydon (HSOB/Burnside), George Connell (Marist), Willy Davidson (Carlton Redcliffs), George Enersen (Carlton Redcliffs), Nick Haig (player of origin), Cam Hayde (player of origin), Mitch Hayde (player of origin), Will Hayde (Harewood), Angus Hazlett (Harewood), Sam Lane (Southern United), Thomas Mallon (Harewood), Tom Mouldey (Carlton Redcliffs), Dominic Newman (player of origin), Jason Niles (player of origin) Jono Spence (Harewood) *International guest player to be confirmed.

Stuff


---

Mismanagement continues as five more matches decided

Mohsin Ali

ISLAMABAD - Railways thrashed hapless KP 21-0 on the second day of the 29th Pakistan National Women Hockey Championship 2016 played here at the Naseer Bunda Hockey Stadium on Saturday.

It was once again miserable day for the journalists, who were in quite a few numbers to cover the event, but there was no one from the Pakistan Hockey Federation (PHF), who could provide them with details and other related stuff.

The entire PHF top brass including women wing officials were missing from the venue.

Despite several attempts to contact the PHF secretary Shahbaz Senior, who is presently in Balochistan, to draw his attention towards sorry state of affairs, he wasn't contacted as his mobile was powered off.

Later, he contacted this scribe and promised things would be streamlined from today (Sunday) and there would be no issue from onward.

After the first day, it was hoped that the things would improve and the PHF's platoon would finally visit the venue and ensure smooth functioning of the event, but no heed was paid and the journalists were left on their own to find results, names of scores, umpires and other related stuff.

On another hot and humid day, five matches were played.

Three matches were played in the morning session while two in the evening session.

The PHF officials were enjoying liberty of sitting in air conditioned rooms or were busy in their private works, while the hockey players, who travelled long distances to feature in the tournament, were left on the mercy of hot and humid weather.

If any player gets fainted due to extraordinary heat, only the federation and the organisers will be held responsible, as the players are not physically and mentally prepared to survive hot weather.

The organisers should change the timings and reschedule matches to avoid any untoward incident.

In the first match of the day, Railways thrashed hapless KP 21-0.

It was not like a hockey match between the two teams, instead it seemed a club level team was playing against the hockey experts.

The KP management should have conducted training camp before finalising the team, as their team doesn't look like a playing unit instead it seemed it was just picked up just for the participation.

Nimra Abdul Khaliq was the heroine for Railways as she slammed seven goals including double hat-trick, while Kalsoom Munir smashed five, Hina Kanwal four, Saira Ashraf and Shikria Rasheed two goals each and Iqra Hanif hit one.

In the second match of the day, Punjab Colours hammered Balochistan 7-0.

Although Balochistan conceded seven goals, yet they played like a unit and tried to put a brave face against much experienced opponents.

Hamza Lateef scored three goals, Sidra Ayub two, while Rimsha Ilyas and Aqsa Javed scored one goal apiece for the winners.

In the third match of the day, Islamabad and Sindh Colours played out 1-1 draw.

Sindh took lead in the seventh minute of the first quarter through Madeeha while Islamabad bounced back in the 17th minute through Hira who hit an equalizer.

After that, no goal came from both the sides and the match ended in 1-1 draw.

In the fourth match of the day, Wapda outclassed HEC 6-0.

Maira Sabir and Nazia Rehmat scored a brace each, while Hina Kanwal and Sidra pumped in one goal apiece for the winners.

The Nation


---

Pakistan Hockey Federation eyes future tournaments

PHF president says prime target is to qualify for next World Cup, Olympic Games




ISLAMABAD: Pakistan Hockey Federation (PHF) President Brig (r) Muhammad Khalid Sajjad Khokhar on Friday acknowledged the team's failure to reach the Olympic Games this year and said the organisation's prime target was to qualify for the next World Cup and Olympic Games.

Speaking to journalists at the inauguration of the National Women Hockey Championship here at the Naseer Bunda Hockey Stadium, Khokhar expressed disappointment over national side's failure to qualify for Rio Olympics. "We are disappointed that the team has not qualified for Rio, but now old mistakes will not be repeated. I am grateful to prime minister for taking interest in the national game," he said.

"We will not allow a single penny to be wasted from the grant we get from the government," he said. Khokhar called on the former Olympians to come forward and play their role for the revival of the game. Speaking about the Pakistan Hockey League, he said the PHF and the government are very serious about organising the league and will get the No Objection Certificate.

On the occasion, PHF Secretary Shahbaz Ahmed said he could feel the pain of the players for not qualifying for the Olympics as it is an honour to participate in the Games. 'Players from 30 countries likely to participate in PHL'

Players from 30 countries, including Argentina, Germany, and Australia, are likely to participate in the inaugural edition of country's franchise-based professional league to be staged in November, Shahbaz Ahmed told APP. "The event will most likely be staged in Lahore, Faisalabad and Gojra," he said, adding, now we just need the permission from the Punjab Government and for that we have written a letter to them.

"We are making all-out efforts to initiate our first league before the end of this year and for that we are making contacts with players of different hockey playing nations." Besides providing financial support to us, the league will prove a landmark in regaining the lost glory of the national game. "We are sure it will help rebuild our supremacy in the game internationally," he said.

He said that since Pakistan has not been performing well in the international arena, the league would therefore increase the national and domestic players' confidence by playing with foreigners.

Pakistan failed to qualify for Rio Olympics for the first time in their illustrious hockey history after losing to Ireland 1-0 in the 5-8 position classification match of the Hockey World League in Antwerp, Belgium last year.

The Daily Times


---

Lautoka school to defend title

Kalesi Mele

BA Provincial Free Bird Institute seeks to defend their title in he U19 boys grade at the Fiji Secondary Schools Hockey competition in Levuka.

School assistant principal Alisio Saukuru said it had been tough preparing for the competition seeing that most of the students were affected by Tropical Cyclone Winston.

"To be really honest it's been a hard few months for these students. Trying to get them together was difficult. A lot of the students in the team were left without classrooms after the cyclone and it's been hard trying to get back on track because morale has been low," he said.

He added that the trip to Levuka had only been possible with the help of old scholars.

"We weren't sure of the travel until some of the ex scholars provided financial assistance. We lost some of our players from last year who have gone for higher education but we are still optimistic of our chances," he said.

He added that the team were wary of St. Thomas High School and St. John's College who would provide stiff competition for the coveted title.

The Fiji Times