All the news for Friday 25 July 2014

England Men start with six



England's Ashley Jackson is challenged by Trindad and Tobago's Mickell Pierre during their pool game at the XX Commonwealth Games 450, Photo by Ady Kerry

England Men started their Commonwealth Games campaign by putting six past Trinidad and Tobago in their opening game.

England eased to victory in their opening Pool B group game, defeating Trinidad and Tobago 6-1 at the Glasgow National Hockey Centre on Thursday evening.

Goals from Ashley Jackson, Iain Lewers and Mark Gleghorne – all from penalty corners – put them 3-0 up after 32 minutes.

Mickell Pierre's dribbling run and finish reduced the deficit just a minute later but an England victory was never in doubt as Nick Catlin, Phil Roper and Barry Middleton added further goals after the break.

England now have two days break before taking on Malaysia in their second Pool B group game on Sunday at 2100.

Barry Middleton, England Men's captain, said after the game: "People underestimate teams with their rankings, we've proven in the end we have won the game quite comfortably but you have to fight to get that chance to start putting some goals in.

"There are no games where they are going to roll over and let you walk past them, you still have to work hard for them. There was no messing about from us, or thinking we are better than them; when we are like that we don't play to our full potential. But it's a win in the end and I'm happy with that."

Bobby Crutchley, England Men's head coach, added: "We were a bit frustrated with the performance. There were good bits, but we were a bit slack with some of our passing and attacking play.

"Having said that I thought Trinidad & Tobago played well, they frustrated us and had a good game plan. There were certainly glimpses of some quality play for us across the 70 minutes and we will look to take that into the game against Malaysia on Sunday."

England 6 (3)
Ashley Jackson 7 (PC)
Iain Lewers 25 (PC)
Mark Gleghorne 27 (PC)
Nick Catlin 51 (PC)
Phil Roper 59 (FG)
Barry Middleton 64 (FG)

Trinidad and Tobago 1 (1)
Mickell Pierre 29 (FG)

England Hockey Board Media release


---

England 6 - Trinidad & Tobago 1: Men romp to hockey victory in Commonwealth Games opener

By Graham Wilson



Ashley Jackson (centre) took centre stage during England's opening game in Glasgow[Ady Kerry]

ASHLEY JACKSON showed the fans in Glasgow what was missing from England's arsenal in the World Cup in Holland.

Jackson dragged a flick from a penalty corner into the roof of the net after five minutes to spark off their 6-1 win over Trinidad and Tobago.

Jackson could not do that in the World Cup because of a shoulder injury. England still managed a fourth place there, even though they were disappointed to be out of the medals. They want a medal from these Commonwealths, that is for sure, and the only fault here was perhaps that they made enough chances to have hit double figures.

The opposition put up a game fight, though, under the direction of Canterbury player-coach Kwan Browne, and even managed to pull a goal back five minutes before half-time to make the scores 3-1.

Jackson had seen his corner for the second goal go out to injector Iain Lewers, who slapped a short shot home in the 27th minute and then Mark Gleghorne converted a corner two minutes later.

England piled on the pressure intercepting in defence and overwhelming the opposition with their pace and fitness before Nick Catlin scored in the 50th minute and Phil Roper eight minutes later after intense pressure. Barry Middleton finished off the scoring seven minutes from time.

Coach Bobby Crutchley said: "We were a bit frustrated with the performance. There were good bits, but we were a bit slack with some of our passing and attacking play. Trinidad and Tobago played well, they frustrated us and had a good game plan.

"There were certainly glimpses of some quality play for us across the 70 minutes and we will look to take that into the game against Malaysia on Sunday."

England captain Middleton said: "People underestimate teams with their rankings. We've proven in the end we have won the game comfortably but you have to fight to get that chance to start putting some goals in.

"There are no games where they are going to roll over and let you walk past them, you still have to work hard for them. There was no messing about from us, or thinking we are better than them; when we are like that we don't play to our full potential. But it's a win in the end and I'm happy with that."



Barry Middleton (right) celebrates scoring for England [Ady Kerry]

On Malaysia for Sunday's match he said: "I think they have a different team here to the one we played recently in the World Cup so I don't know exactly what to expect, whether it is younger or older.

"But we have played them a lot in recent years, all the Asian teams are strong, they give you a good battle going forward so we have to be right on it and take a step up from our opening game."

Crutchley said: "Malaysia are a top country [ranked sixth at Glasgow 2014] and they've caused us trouble in the past at the Commonwealth Games. They will be quick on the counter attack and are a well organised side.

"For us the challenge is to keep improving through the tournament, whoever we play we are looking to put a performance down and execute our game plan."

Daily Express


---

New Zealand Men win 3-1 against Canada




The New Zealand Men have won their opening match of the 2014 Commonwealth Games, beating Canada 3-1 at the Glasgow National Hockey Centre.

An early goal from Andy Hayward was backed up by second half goals from Arun Panchia and Phil Burrows and despite the game not being as clinical as perhaps the team wanted, they are pleased to secure a first game win.

"The first game is always a tough game, I guess after that first half we wanted to be a few more goals up but it's good that in the last ten minutes we put our chances away," said Hayward.

Hayward said the team will be reviewing the video footage from tonight's game and debriefing on any changes ahead of their next game against Trinidad and Tobago.

"I think we need to just continue doing what we are doing and playing our game. We had a lot of chances in the first half and I think if we had have taken them, then more chances would have come," said Hayward.

The New Zealand Men were decisive and threatening on attack in the first half and had ample opportunities with seven shots on goal and four penalty corner attempts. The Kiwis were awarded a penalty stroke which Hayward seemingly easily slotted home. Although Canada only had a couple of goal scoring opportunities in the first spell, they made the most of it when Sukhpal Panesar took a shot and it bounced up over Kiwi goalkeeper Devon Manchester to equalise.

In the second half, New Zealand placed real pressure on the Canadians working hard to get through their staunch defence. The magic moment came from Auckland's Arun Panchia with 12minutes left on the clock, when the video umpire confirmed the decision to allow the goal.

But only one goal up, Canada made sure the game wasn't over and rallying together on attack, Manchester and Captain Dean Couzins were called on to bat away a couple of great penalty corner attempts.

The NZ Men play their next game against Trinidad and Tobago at 8pm on Saturday 26 July (NZ time). While the Women will play their first game, also against Trinidad and Tobago at 6am on Saturday.

RESULT
Full time: 3-1 NZ win
Half time: 1-1
NZ goal scorers: Andy Hayward, Arun Panchia, Phil Burrows
Canadian goal scorers: Sukhpal Panesar

Hockey New Zealand Media release


---

Black Sticks beat Canada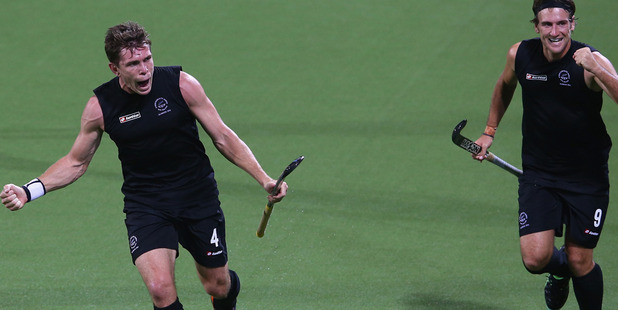 Nick Haig and Blair Hilton of New Zealand celebrate after Phil Burrows scored. Photo / Getty Images

Two late goals have seen the men's Black Sticks side open their Commonwealth Games campaign with a 3-1 victory over Canada in Glasgow.

In a close affair, New Zealand edged away from the eighth ranked Canadians with second half goals to Arun Panchia and Phil Burrows after it was 1-1 at halftime.

New Zealand goalie Devon Manchester made a pair of late saves to ensure the Black Sticks picked up a crucial opening win.

It was a close encounter in the first half with both sides having early chances. Number two ranked New Zealand opened the scoring just seven minutes in when Andy Hayward converted a penalty stroke.

New Zealand, ranked sixth in the world, were awarded the stroke after Canadian defender Scott Tupper blocked a crafty penalty corner with his shoulder.

The Canadians bounced back quickly though and tied the game up when Sukhpal Panesar got on the end of a well-worked cross with a reverse stick.

The game got more physical in the second half with both teams holding strong in the middle of the pitch.

New Zealand took the lead again as the game moved into the final quarter when Panchia finished off a great run into the circle by Steve Edwards. Canada referred the goal but it was turned down.

Burrows added a third from a penalty corner with six minutes to play with a deft touch deflection after first laying the ball to the edge of the circle.

Also in Pool B, England thrashed Trinidad and Tobago 6-1. New Zealand face Trinidad and Tobago on Sunday before a crucial match against England. Malaysia is the other team Pool B.

The New Zealand Herald


---

Black Sticks open campaign with a victory

New Zealand men's hockey have their first win of the Commonwealth Games beating Canada 3 - 1.

JACOB PAGE



STRIKE FORCE: Simon Child and the Black Sticks started their Glasgow campaign with a 3-1 win over Canada. JOEL FORD/ Getty

The New Zealand men's hockey team started its Commonwealth Games campaign with a 3-1 win over Group B rivals Canada at the National Hockey Centre in Glasgow this morning.

It took a goal from substitute Arun Panchia, 12 minutes from fulltime, to send the Black Sticks on their way to victory over a resolute and physical Canadian team, who, despite being ranked 10 places lower than the Black Sticks, offered a strong defence and a constant threat on attack.

It started well for New Zealand, who opened the scoring through a penalty stroke from Andy Hayward in the third minute after Nick Haig shot from a penalty corner struck Canadian captain Scott Tupper on the shoulder in front of goal.

It was reward for Hayward who had been in a moon boot just 24 hours earlier.

Despite having four unanswered corners and seven shots to two, the Black Sticks struggled to generate further scoring chances in the first half.

The early set-back did not deter the world number 16 Canadians as they began to threaten on attack against the world No 6 Kiwis.

The two teams drew 1-1 at the Delhi Commonwealth Games four years ago and a well taken goal from substitute Sukhpal Panesar saw the Candian pressure pay off in the 21st minute.

His shot, just one of two his team had in the first 35 minutes was gently lifted over Kiwi goalie Devon Manchester, who got a touch but could not stop the shot.

New Zealand tried to inject Simon Child and Hugo Ingles to be more of an attacking presence in the second half but the Kiwis struggled to penetrate the attacking circle.

Canada were reduced to 10 men for two minutes after Benjamin Martin committed a stick check, but the Kiwis still could not find a way through.

A jinking run from the right corner from Steve Edwards drew a number of Canadian defenders and left Panchia free with an open goal for a simple finish.

Veteran Phil Burrows then gave his team a two-goal advantage when he got a deflection from New Zealand's fifth penalty corner of the game with six minutes remaining.

The Black Sticks hit the post in the dying minutes but a goal would have flattered the Kiwis on the scoreboard.

Colin Batch's side will next face Trinidad and Tobago on Saturday night.

The Caribbean team were comprehensively beaten 6-1 by Group B favourites, England, in the opening men's match.

Stuff


---

Canadian men drop intense first match to New Zealand

Yan Huckendubler

The Canadian men's field hockey team lost their opening match of the 2014 Commonwealth games competition after an intense match against their perennial rivals New Zealand (3-1).

New Zealand, known as the "Black Sticks", are ranked sixth in the world, ten spots ahead of Canada, and had good results at the World Cup just a few weeks ago. They started the match at full speed, shaking the Canadian defence and forcing a penalty-corner after 3 minutes of play. It was upgraded to a penalty-stroke and the Canadian were down one goal before even settling in the match.

It was a beautiful evening in Glasgow and the capacity crowd was kept well entertained by the fast paced game. There was more fluidity on the New Zealand side, but Canada were pressing hard and finally managed to balance possession and play. Phil Wright had the crowd screaming with a swift behind the back deflection that missed the goal by a whisker.

Canada had now found their groove and Gabriel Ho-Garcia lit a fire in the Black Sticks' defence with Iain Smythe close to conclude. The Canadian fans did not need to wait too long; in the 20th minute, a combination between Matt Guest and Mark Pearson on the right wing found Richard Hildreth on the back line, then Sukhpal Panesar with space in the circle. Panesar did not miss the opportunity and sent a shot high in goal to level the score.

It was the turn of the New Zealanders to be on their heels, and Matt Guest nearly doubled the Canadian tally, but the break was reach on a level score (1-1).

Play remained intense in second period. Both teams have similar aggressive play and managed to neutralize each other in midfield with little room to manoeuver and no real danger for goal-keeper. Carter was called into action in the 55th minute, rushing out of his goal to meet a lone attacker at the top of the circle.

The deadlock was finally broken in the 58th minute after a confuse sequence in the Canadian circle, that Canada unsuccessfully appealed to the video-umpire. Canada had a series of penalty-corners in the final minutes, but could not generate much danger. New Zealand was more realistic at the other end and added a penalty-corner to build a more comfortable 2-goal cushion.

Canada now plays on Saturday (11:00am) against Malaysia, a team that they have met many times this year with split results.

Field Hockey Canada media release


---

Winning start in Glasgow

Australian women beat Malaysia at Commonwealth Games opener




The Australian women began the defence of their 2010 Commonwealth Games gold medal with a 4-0 victory over Malaysia on day one of Glasgow 2014.

Jodie Kenny's pin-point penalty corner drag flick into the top corner in the seventh minute gave the World Cup silver medallists the perfect start. Kellie White doubled the advantage with a deft deflection midway through the half before Georgie Parker pulled off a textbook tomahawk to fire Australia 3-0 in front before the break, her shot finding the backboard low inside the bottom corner.

Malaysia, ranked 21 in the world, weathered a series of five Australian penalty corners in the second half but could do little about Parker's reverse stick strike that flew into the roof of the net with just over 20 minutes to go.

Prior to Kenny's opener, both Emily Smith and Brooke Peris had looked bright as they teased the Malaysian defence early on. Kenny was a heroine at both ends of the pitch in a matter of moments, first converting a penalty corner high into the goal before clearing off the line at Malaysia's only penalty corner of the match.

It was a dominant Australian performance with Malaysian goalkeeper Farah Ayuni Yahya one of the stars of the show as she pulled off a string of saves to deny Anna Flanagan, White and Parker in the second period.

Afterwards, Australian captain Madonna Blyth, playing in her third Commonwealth Games, said, "It is always a bit hard for us when we have to play against somebody not quite in our league but I thought they played pretty bravely and their defence was pretty good."

Australia wore black armbands as a mark of respect for those that died in the crash of Malaysia Airlines flight MH17 last week.

Blyth added, "There were so many people on this plane, not only from Australia and Malaysia. This way we could show a sign of respect."

Midfielder Ashleigh Nelson missed the match with a shin injury sustained in training on Wednesday.

The Australian women play Wales in their second match of the tournament at 2pm local time (11pm AEST / 9pm AWST) on Friday. Watch on Ten Sport on ONE, Ten and on TenPlay.com.au.

Australia (women) v Malaysia
Commonwealth Games, Glasgow 2014
Pool B

AUSTRALIA 4 (3)
Jodie Kenny 7 (PC)
Kellie White 20 (FG)
Georgie Parker 30, 49 (FG, FG)

MALAYSIA 0 (0)
-

Australian squad v Malaysia
Starting XI
Madonna Blyth (Brisbane, QLD) 287/65
Edwina Bone (Evatt, ACT) 48/2
Jane Claxton (Adelaide, SA) 49/5
Casey Eastham (South Coast, NSW) 211/44
Anna Flanagan (Canberra, ACT) 132/30
Jodie Kenny (Wamuran, QLD) 114/58
Rachael Lynch (Melbourne, VIC) 112/0
Georgie Parker (Berri, SA) 64/18
Emily Smith (Crookwell, NSW) 94/37
Jayde Taylor (Bunbury, WA) 102/2
Kellie White (Crookwell, NSW) 84/27

Used Substitute
Kate Jenner (Tamworth, NSW) 103/1
Karri McMahon (Berri, SA) 47/4
Georgia Nanscawen (Melbourne, VIC) 132/23
Brooke Peris (Darwin, NT) 30/7

Unused Substitute
Ashleigh Nelson (Wagin, WA) 155/61

Hockey Australia media release


---

Farah stood tall despite hockey team's loss

By Aftar Singh

GLASGOW: Malaysia parked the bus but still could not stop defending champions Australia from romping to a 4-0 win in their opening women's Group B hockey match.

Malaysia can thank goalkeeper Farah Ayuni Yahya for playing brilliantly between the posts to keep the scoreline down to a respectable margin at the Glasgow National Hockey Stadium on Thursday.

After all, this is the girl who admitted to having the jitters about facing Australia again – having conceded nine goals the last time the two teams met in the International Super Series nine-a-side tournament in Perth last October.

Australia, who finished runners-up in last month's World Cup in The Hague, went on the offensive from the start and drew first blood in the seventh minute off their first penalty corner, with Jodie Kenny's high drag flick sailing past Farah.

Australia added two more goals in the space of 10 minutes – through Kellie White (20th minute) and Georgina Parker (30th).

Australia, who are gunning for their third gold medal in the Commonwealth Games, continued to pile on the pressure after the break but only managed to beat the excellent Farah one more time.

That came in the 49th minute when Parker collected a loose ball in the semi-circle before letting fly from the top D with a reverse stick attempt.

Malaysia created only two chances in each half but to no avail.

National coach Mohd Nasihin Nubli was clearly pleased with Farah's performance.

"We could have lost by a bigger margin if not for her. Our defence looked shaky and gave the Aussies too much room to move," said Nasihin.

"The defenders must learn to play with confidence and mark the players betters.

"The forwards also need to be sharper in the semi-circles … they wasted two chances in the match.

"I hope we can play much better against Scotland tomorrow."

Malaysia are ranked 21st in the world while Scotland are ranked No. 16.

The Star of Malaysia


---

England take two against Wales



England's Alex Danson, congratulated by Ellie Watton, in their game against Wales. Glasgow 2014 Commonwealth Games - Photo by Ady Kerry

England Women got their 2014 Commonwealth Games campaign up and running with a hard-fought win over Pool B opponents Wales on day one.

Goals in each half from Alex Danson and Nicola White made the difference for England against a determined Wales outfit at the Glasgow National Hockey Centre.

England lost midfielder Georgie Twigg to injury inside the first minute before Danson's 29th minute shot from the edge of the circle put them ahead.

And White finally sealed the points seven minutes from time with a sliding finish from a penalty corner to give England victory ahead of Sunday's second group game against Malaysia.

You can see highlights of today's match here, courtesy of the BBC.

Kate Richardson-Walsh, England Women's captain said after the game: "With tournament hockey nobody remembers what the scoreline was in the end, they just remember how many points you had on the table so I'm really happy to get the win.

"Coming on the back of a disappointing World Cup, we just want to build some momentum and we know how important winning your first game is. Second-half we did play some better stuff and if we can build on that I think we can be right in it."

Danny Kerry, England Women's head coach added: "To win and play not as well as we can was good. The second half was much better, it was just about trying to play with more brains and trying to keep the ball in bigger pieces of space.

"Wales were defending deep and with real tenacity so it was just ensuring we didn't play into the hands of that. We did that better for periods in the second half but we need to make sure we do it for the full 70 minutes. That's what we need to work on ahead of playing Malaysia."

England 2 (1)
Alex Danson 29 (FG)
Nicola White 63 (PC)

Wales 0 (0)

England Hockey Board Media release


---

England 2 - Wales 0: Queen watches England hockey victory at Commonwealths

By Graham Wilson
   


England's Nicola White celebrates with Sophie BrayEngland's Nicola White celebrates with Sophie Bray after scoring against Wales[ADY KERRY]

ALEX DANSON did not hold back for a second. She took full advantage of a bad Wales mistake which was a gift of a quickly-taken hit out of defence straight to the England centre-forward at the top of the circle.

Without thinking, she smashed the ball high into the net and England had at last broken the deadlock in their opening game of the Commonwealth Games after 29 minutes.

It was a right royal strike to put before the Queen and the Duke of Edinburgh, who were watching the match at the Glasgow Hockey Centre.

England had beaten Wales 8-0 on their way to winning the Investec London Cup at the Olympic Park only a couple of weeks ago. This time, though, Wales dug in hard and England had to fight a scrappy contest all the way.

England's cause was not helped by the loss to injury of central midfielder Georgie Twigg in the first minute. But the game was made certain when Nicola White latched on to a penalty corner in the 63rd minute for a 2-0 win. 



The Queen and the Duke of Edinburgh watch on from the stands [ADY KERRY]

England captain Kate Richardson-Walsh said: "With tournament hockey nobody remembers what the scoreline was in the end, they just remember how many points you had on the table so I'm really happy to get the win.

"Coming on the back of a disappointing World Cup, we just want to build some momentum and we know how important winning your first game is. Second half, we did play some better stuff and if we can build on that I think we can be right in it."

Coach Danny Kerry said: "To win and play not as well as we can was good. The second half was much better, it was just about trying to play with more brains and trying to keep the ball in bigger pieces of space.

"Wales were defending deep and with real tenacity so it was just ensuring we didn't play into the hands of that. We did that better for periods in the second half but we need to make sure we do it for the full 70 minutes. That's what we need to work on ahead of playing Malaysia on Sunday."

Daily Express


---

Indian women begin with a win

India began its campaign in women's hockey on a winning note, defeating Canada 4-2, but not before surviving several anxious moments due to the lack of combination within the side, particularly in defence and midfield.

India dictated proceedings early on, but was unable to capitalise until midway through the first-half. Several chances went abegging as the Indians failed to convert, even against little opposition from the rival defence.

The wait was finally over in the 22nd minute when Rani Rampal gave India the lead.

But Brienne Stairs restored parity within three minutes, finding space to steer the ball home.

India gained the lead once again in the 29th-minute as Poonam Rani stretched herself into position to score off a penalty corner.

The Indians seemed better focused in the second session as Jaspreet Kaur made it 3-1, again off a penalty corner.

Chinks

However, the chinks in the Indian defence were exposed again by the Canadians as they pulled one back through Kristine Wishart.

The reverse had its desired effect on the Indians who pushed hard thereafter, Jaspreet Kaur finding the net again. India will face New Zealand (July 27), Trinidad and Tobago (July 28) and South Africa (July 30) in its remaining Pool A matches.

The Hindu


---

Indian women's hockey team beats Canada 4-2

GLASGOW: The Indian women's hockey team got off to a rollicking start as it comfortably beat Canada 4-2 in its opening group A match at the 20th Commonwealth Games on Thursday.

Seasoned Rani Rampaul opened the scoring in the 22nd minute followed by Poonam Rani in the 29th minute while Jaspreet Kaur scored twice with successful dragflicks in the 37th and 52nd minute respectively.

For Canada, Brienne Stairs and Karli Johannsen were the scorers. India are currently placed second in the group as South Africa walloped Trinidad & Tobago 16-0 in another group league match.

India dominated the match for the better part with Vandana Katariya, playing her 100th international game, controlling the proceedings down wide right.

Vandana did the initial spadework to provide the assist for Rampal, who scored an opportunistic goal off a rebound in the 22nd minute.

However, the joy was short-lived as Canada equalised within three minutes when defender Grace Ekka failed to clear a scoop from the opposition defence, as Stairs sprinted down unchallenged before placing it past custodian Savita Punia.

The Indians got back the lead within two minutes when Poonam Rani stabbed home an angled crack taken by Jaspreet off a penalty corner.

The Indians increased their lead just after the change of ends when Jaspreet's low drag-flick, placed to the left of the Canadian goalie Kaitlyn Williams, went in to make it 3-1.

Johansen made it 2-3 for Canada with a strike identical to Poonam Rani's, deflecting a shot taken from the penalty corner push.

However, Jaspreet sealed the match in India's favour in the 52nd minute with classical drag-flick conversion straight on the upper part inside the net.

The Times of India


---

Jaspreet scores brace as Indian women beat Canada 4-2

The Indian women's hockey team beat Canada 4-2 in the opening match of the Commonwealth Games here Thursday.

The match started in high momentum with both teams going on the attack immediately. India was awarded their first penalty corner in the seventh minute but were unable to convert. Canada too were unsuccessful on their penalty corner in the 13th minute.

It was in the 21st minute when India scored through Rani Rampal but Canada immediately came back when they equalised in the 24th minute through Brienne Stairs.

This did not deter the Indians and within four minutes Poonam Rani scored through another penalty corner to give India a 2-1 lead going into the break.

In the second half, India continued the momentum and bagged a penalty corner opportunity immediately. Jaspreet Kaur scored in the 37th minute to give India a 3-1 lead.

Karli Johansen of Canada converted a penalty corner to reduce the goal margin to 2-3 but India went on the attack and in the 52nd minute Jaspreet scored again with the final score reading 4-2 in India's favour.

India will next take on New Zealand July 27 at the Glasgow National Hockey Centre.

Firstpost


---

Canadian women lose close match to India at Commonwealth Games

Yan Huckendubler

The Canadian women's field hockey team lost their opening match of the 2014 Commonwealth games competition after an animated and close match against India (4-2).

The Indian team is ranked 13th in the world, nine spots ahead of Canada, and it showed in the opening minutes. For many young Canadian players, it was their first exposure to playing in a major competition, and they might have been impressed by the decorum, pre-game introduction on the big screen, etc… However, they quickly shook their early nerves, and play became balanced and mostly in midfield. The first goal opportunities were even for Canada, first on a penalty-corner then for Kate Gillis.

Kate Williams in the Canadian goal only saw her first action after 20 minutes of play, when India managed to score from a mad scramble in front of goal after a penalty-corner. Canada came back level three minutes later with a long ball that found Brienne Stairs behind the defense; she outran the defenders and coolly slotted the ball under the rushing goalkeeper with a clinical reverse shot.

India scored a second penalty-corner on a penalty-corner deflection that left no chance to the Canadian defense, but Canada was very much on par with their opponent going into the break.

As in first period, the Canadian defence was pushed on its heels at the beginning of second period and had trouble breaking away from their defensive zone. India took advantage of their domination to score a third goal, again on penalty-corner, building a two-goal cushion.

Canada reacted well and they were rewarded by a penalty-corner goal, Krissy Wishart deflecting in front of the Indian goal-keeper the original shot by Karli Johansen. They kept pushing but could not break through the stacked Indian defence.

Jaspreet Kaur scored another penalty-corner for India, shaving Kaitlyn Williams' left post with a powerful flick that was too high for the post player and too far for the diving goal-keeper. The match was animated in the final stages, with Canada pushing desperately to reduce the gap, but no more goal was scored and India walked away with the 4-2 win.

Field Hockey Canada media release


---

Canadian umpire Wendy Stewart receives golden whistle for 100th match




Field Hockey Canada would like to congratulate Canadian umpire Wendy Stewart for receiving the "golden whistle" for officiating her 100th international match on Thursday at the Commonwealth Games.

Wendy is originally from Scotland and emigrated to Canada in 2000, and today had the pleasure of officiating her 100th match in her native Scotland.

She got involved umpringin in Calgary as a way to give back to local associations and takes great pride in being involved in field hockey from a grassroots level to the international stage.

"It's an amazing sport that has provided many priceless opportunities."

Congrats to Wedny and here's to many more!

Field Hockey Canada media release


---

Indian hockey team looks to salvage pride after WC debacle



File picture of India's hockey captain Sardar Singh. Getty Images

Hoping to salvage some pride after a disappointing World Cup outing and also end its title drought in the process, a talented but unpredictable Indian men`s hockey team will open its Commonwealth Games campaign against a lowly Wales on Friday.

Clubbed in Pool A along side Wales, Scotland, South Africa besides world champions and reigning gold medallist Australia, the Sardar Singh-led India were handed relatively easy opening two matches before taking on the heavyweights of the game.

In Pool B, England, New Zealand, Malaysia, Canada and Trinidad and Tobago will fight it out for two places in the knockout phase.

After playing Wales, India take on hosts Scotland on July 26 before taking on mighty Australia on July 29, followed by last pool encounter against South Africa slated for July 31.

And undoubtedly, the Indians will be determined to register big wins against Wales and Scotland to boost their confidence ahead of the encounter against the Aussies.

India come into the Glasgow Games as reigning silver medallists, having been humiliated 0-8 by Australia in the final of the 2010 edition of the quadrennial event in New Delhi.

After Australia, the ninth-ranked Indians are the favourites to progress to the semifinals from Pool A with South Africa (13th ranked) posing an outside challenge.

The Games will also provide India a chance to make a point before their detractors, especially after their ninth-place finish at this year`s World Cup at The Hague, Netherlands.

India`s chief coach Terry Walsh has set `improvement` as the main objective in the quadrennial event and said his first target is to ensure a last-four berth for the erstwhile giants of the game.

The Glasgow Games also holds great significance for India ahead of this year`s all-important Asian Games, where a gold will secure India`s ticket to 2016 Rio Olympics.

"Our big objective (in CWG) is to improve our game and finish in the top two in our pool and then move into the crossover situations. It`s an important tournament leading to the Asian Games. So we are looking for improvement during the tournament. Our objective is to grow during the tournament," Walsh had said.

India were also bolstered by the return of experienced Danish Mujtaba and Gurvinder Singh Chandi besides young strikers Ramandeep Singh and Nikkin Thimmaiah, all of them missing the World Cup due to injuries.

In the World Cup, the Indians were guilty of conceding late goals which hampered their chances, but the fragile backline would be desperate to turn things around in Glasgow.

Vice-captain P R Sreejesh was in stellar form in the World Cup in front of the Indian goal and the lanky custodian would be hoping to continue the good work.

Sardar too has high expectations from his side in the Games. He is eyeing an encore of 2010 Delhi CWG final against Australia.

But compared to 2010, India are much-improved side now, which was evident in their 0-4 loss to Australia in the World Cup earlier this year.

"We have worked on the mistakes which we committed in the World Cup, like conceding late goals and penalty corner conversions. The target of all players is to win a gold because we have improved a lot since the World Cup," Sardar had said.

Firstpost


---

Australia prepare for Wales

The Australian women face Wales Friday night




With up to six matches in the 11 days of the Commonwealth Games things come thick and fast. No sooner had Australia's women overcome Malaysia on Thursday than their attention turned to Friday's content against Wales.

It's rare that Australia comes up against a team it plays so infrequently and earlier in the week coach Adam Commens admitted the Australian camp knows far less than they normally would about the Welsh side that they face. Friday will be just the ninth meeting between the two sides and only the second since 1983 – they have never before met at the Commonwealth Games.

Scouting of Wales' opening contest against England on Thursday – a 2-0 defeat - will provide some insight into the lowest ranked side in the competition. It was a big defensive performance from the Welsh that kept England's advantage to only two goals despite their 10 shots and ten penalty corners. For their part, Wales struggled to threaten England, managing only one shot on goal.

Australia and Wales last met at the Champions Challenge in 2010 when a 4-0 Australian win helped the Hockeyroos on their way to the gold medal with a hat-trick from now retired Emily Hurtz and a goal from Emily Smith.

Midfielder Jane Claxton is set to make her 50th appearance for Australia in the match on Friday while Ashleigh Nelson remains a doubt having sat out the win over Malaysia with a shin injury.

Wales have had their own injury worries to contend with as they were forced to replace Eloise Laity on the eve of the competition; 20 year-old Sophie Clayton replaced her.

Hockey Australia media release


---

Royal Photobomb

Jayde Taylor and Brooke Peris photo goes viral




Australian women's hockey athletes Jayde Taylor and Brooke Peris have become a global overnight sensation following their 'selfie' photo, which featured Her Majesty The Queen smiling at the camera over their shoulders.

Widely known as photobombing, the pic went viral after Taylor posted it to her Twitter account following Australia's 4-0 win over Malaysia on Thursday. It was picked up on the Hockeyroos' social media pages and by journalists across the globe.




Just six hours after it was first posted, Taylor's tweet had been retweeted 6688 times and attracted 5369 favourites. On the Hockeyroos' Facebook page the photo attracted 8200 'Likes', 620 'shares' and more than 260 comments. On Taylor's Instagram account the photo recrived more than 1500 likes and 100 comments.

Media from across the globe joined the #roovolution with the pair receiving interview requests from all the major Australian networks and several of the USA's biggest shows, including NBC's Today Show and Good Morning America.

With a match against Wales to prepare for less than 24 hours later the pair had to forego the spotlight, focusing instead of pre-match preparations.

Hockey Australia media release


---

Queen 'photo-bombs' hockey players' selfie




They are arguably the most coveted "photo-bombed selfies" in the whole of the Commonwealth - featuring the Queen.

Two Australian Commonwealth Games hockey players were left stunned when the most famous royal in the world appeared smiling in the background of their picture.

Jayde Taylor (left), 29, posted the first image on Twitter  and said: "Ahhh The Queen photo-bombed our selfie!! #royalty #sheevensmiled #amazing", with the tweet instantly going viral.

That led to a series of other postings on social networks with England's European and Commonwealth 110m hurdles champion Andy Turner, 33, and another Australia hockey player, Anna Flanagan, 22, uploading similar images.

Flanagan tweeted:  "What a day!! 4-0 win over Malaysia... And we just met the QUEEN!!! #queenselfie #roovolution."



Australia's Anna Flanagan wrote: "What a day. 4-0 win over Malaysia. And we met the Queen!"

BBC Sport


---

Queen's Scotland photobomb 'not total accident'

SYDNEY: It may have looked like a lucky quirk of timing, but the queen's photobombing of a selfie at the Commonwealth Games was not a complete accident, an athlete in the image said on Friday.

The image of a beaming Queen Elizabeth II in the background of Australian hockey players Jayde Taylor and Brooke Peris' selfie has gone viral.

Taylor said she and Peris seized the opportunity when, during their warm-down after the Hockeyroos' 4-0 win over Malaysia in Glasgow on Thursday, they saw the monarch at the venue.

"Brooke and I planned it so that when she came out the door she would be behind us," Taylor told Sydney's Daily Telegraph.

"And then she came out and smiled at the camera. We were in the right spot at the right time."

Taylor was charmed by the 88-year-old queen who was touring Commonwealth Games venues.

"We were warming down on the second pitch after our game and the Queen came out to meet Donny (team captain Madonna Blyth).

"The security guard led us all round and we got to meet her. She asked us a bit about the pitch, how we were going and told us to enjoy our time here," she said.

"She was lovely. Really, really lovely." The original tweet, in which the queen appears smiling over Taylor's shoulder, has gone viral, with more than 11,000 retweets by early Friday morning and widespread media coverage.

"Ahhh The Queen photo-bombed our selfie!! #royalty #sheevensmiled #amazing," Taylor wrote as she posted the image on Twitter.

The queen formally opened the Games at a lively Scottish-themed ceremony on Wednesday night.

The Times of India


---

Team USA Remains Unbeaten through Fifth Match in Summer Series

CHULA VISTA, Calif. – The U.S. Men's National Team remains unbeaten after their fifth game of the week against Chile at the Chula Vista Olympic Training Center. With a scoreless first half, Chile took the lead early in the second half. As minutes ticked away in the match, the U.S. was able to even the score and force a 1-1 draw.

After the U.S. received a yellow card shortly after the break, Chile converted on a penalty corner to go up 1-0 at the 42 minute mark. The majority of the second half was filled with midfield play, as neither squad was able to capitalize on offensive opportunities. Near the end of the match, the U.S. was able to create an offensive push and force a few corners. Finally, Will Holt (Camarillo, Calif.) found the back of the net to put Team USA on the scoreboard. The 1-1 score remained through to the final whistle.

"We've played well throughout the week and we are pleased that we remain unbeaten," said Head Coach Chris Clements. "We created a number of opportunities early in the match that we didn't take advantage of, however our young team managed to stick to the process and score a goal in the dying minutes of the game."

The U.S. Men's series against Chile concludes tomorrow at 10:45 a.m. PDT. Follow @USAFieldHockey on Twitter for live match updates.

USFHA media release


---

Usual suspects to contest Junior Euros semis

England, the Netherlands, Germany and Belgium will contest the semi-finals of the men's Fintro Junior EuroHockey Championships in Waterloo following an exciting group phase of the competition.

The English soared through their group with three straight wins, beating France 7-0 and Poland 6-2, while the pick of their results was a 1-0 win over the hosts on day one, Luke Taylor scoring the vital goal. Belgium joined them in round two with two comfortable wins but they face a tough semi-final against Germany.

They emerged from an incredibly tight Group B in which they ended level on five points with Spain and the Netherlands. After two initial draws, the Dutch were assured of their final four place with Kampong's Thierry Brinkman scoring twice in the last three minutes to earn a 3-1 win over Austria.

It left Germany and Spain to battle it out for the other semi-final place with a winner taking all. It was a thriller throughout and Spain were in pole position four minutes into the second half when Enrique Gonzalez de Castejon fired home a backhand shot.

But Tom Grambusch equalised on the hour mark from a corner in the 49th minute and put his side ahead with ten minutes to go to virtually assure Germany's passage through. Eduardro Garriga levelled with three minutes left for Spain while the Germans finished with nine players due to two yellow cards but they held on for the draw and the point was enough to advance with the Dutch on goal difference with Spain unlucky to miss out.

It means the final four are the same sides that contested last August's senior European championships. England will play the Netherlands at 5.30pm (CET) while Belgium play Germany at 8pm.

Euro Hockey League media release


---

England U21 Women lose to Germany



England U21 Women v Germany, July 24 2014, Olivia Page - credit Frank Uijlenbroek

England Under-21 Women will battle for the bronze medal on Saturday after narrowly losing to Germany 2-1 in the first semi final at the EuroHockey Junior Nations Championship in Belgium on Thursday afternoon.

After conceding two early goals, England hit back to pressure their rivals well, and halved the deficit shortly after half time through Emily Defroand.

But they couldn't break through some strong defending from the Germanys and will now face either the Netherlands or Spain on Saturday afternoon (12.30pm UK time).

"We struggled in the first half with our technical execution in key areas of the pitch and finding ourselves two nil down was disappointing," said Head Coach Kevin Johnson.

"However, the passion and determination put things right in the second half and enabled us to get a foothold in the game, and as the quality improved we pushed a strong German team to the very end. We will need to show all of these qualities in the upcoming bronze medal match."

Germany got off the mark through Sabine Knuepfer after just two minutes when she intercepted a pass from a free hit, and they made it two-nil with Selin Oruz scoring from the rebound at a penalty corner.

England steadily fought back into the game in terms of possession and skill, and Birmingham University player Emily Defroand scored on 41 minutes after Rebekah Walker had won the ball well in the England half and fed down the right to Hannah Martin, whose shot was rebounded out to Defroand.

England took their goalkeeper off for the final seven minutes as they searched for an equaliser but it didn't come, and a late yellow card limited their attacking potency.

England Hockey Board Media release


---

EuroHockey 2015 tickets now on sale



EuroHockey 2015 Tickets on sale

Tickets for the EuroHockey Championships London 2015, the pinnacle of European international hockey, have gone on sale today, at www.eurohockey2015.co.uk.

The European Hockey Federation (EHF) event will be hosted by England Hockey at the new Lee Valley Hockey and Tennis Centre on Queen Elizabeth Olympic Park on 21 – 30 August 2015.

England Hockey has just staged its first event at Lee Valley Hockey and Tennis Centre, bringing back memories of the London 2012 Olympics. The EuroHockey Championships features the top 8 women's and top 8 men's teams in Europe, and as such, EuroHockey 2015 promises to be the perfect place to watch some truly world-class sport in a family friendly environment.

The event's website is now live – www.eurohockey2015.co.uk – where tickets can be purchased, and which features information on the tournament and its participating teams. EuroHockey 2015 also has its own facebook and Twitter pages. Tickets for the Semi-Finals, Finals and significant England fixtures are expected to sell quickly. Like the Olympics, tickets are available in sessions, allowing spectators to pick and choose their games. In line with the family focus of the event, children's tickets are available from £1.

The event starts with England's men playing a Friday evening match, and concludes with the women's Final, which is a point of difference to most tournaments which conclude with men's fixtures, demonstrating the equal footing of both genders in hockey. The tournament also has the added significance of being a qualifier event for the 2016 Rio de Janeiro Olympics.

EHF President Marijke Fleuren commented: "When we set out our strategic plans for the EuroHockey Championships, the EHF put a player's tournament at the core of what we want to achieve from these Championships, as well as giving fans a great experience.

"Starting with the men's games on the Friday evening creates an extra opportunity for fans to come to the Lee Valley Hockey and Tennis Centre, and in addition this gives us the opportunity to finish with the Women's Final, showing that hockey is a sport that reveres its female and male athletes equally. I am very much looking forward to meeting the hockey family from all over Europe back in Queen Elizabeth Olympic Park."

National pride will be one of the main themes for the Championships, and the core values of the EuroHockey 2015 event fit very well with the values that England Hockey focuses on for its events and the sport in general – a strong sense of national pride, a family offering, a focus on entertainment on and off the pitch, and a welcoming atmosphere forvisiting fans and teams alike.

England Hockey Chief Executive Sally Munday added: "Hosting the EuroHockey Championhips in 2015 in London is a very exciting prospect, and having just hosted a brilliant first tournament at Lee Valley Hockey and Tennis Centre, we're confident we can deliver a fantastic spectator experience, as we do at all our events. We're very much looking forward to rallying the English public to get behind their teams in what will be a big summer for sport in this country"

ParaHockey and Masters tournaments will also run alongside the main tournament, as The European Hockey Federation is committed to these important and growing areas of hockey.

Shaun Dawson, Lee Valley Regional Park Authority Chief Executive said: "We're excited to be welcoming Europe's best hockey players to this country's best hockey venue next summer for the 2015 EuroHockey Championships. Lee Valley Hockey and Tennis Centre is unique in that hockey players of all abilities can play on the same distinctive world class pitches which the International stars will be competing on during this tournament.

"We have already had some great feedback from players and supporters involved in the recent Investec London Cup, the first major event to be held at the venue. I have no doubt that the EuroHockey Championships will recapture the magic of 2012 and will help to inspire the next generation to play hockey."

EuroHockey Championships London 2015 facts:

Men's teams: GER, BEL, NED, ENG, ESP, IRE, RUS, FRA

Women's teams: GER, ENG, NED, BEL, ESP, SCO, ITA, POL

Website:
www.eurohockey2015.co.uk

Social media:
www.facebook.com/EuroHockey2015
www.twitter.com/EuroHockey2015 

England Hockey Board Media release


---

Everything to play for as event reaches business end of Group stage

JONATHAN COOK at Hartleyvale

The drama, the uncertainty:

Paarl Girls beat Dutch side Kennemer 2-1 in the early match at Hartleyvale stadium - after the final hooter, when the penalty corner had to be played out …

the 1-1 draw between the classy Millfield team and absolute underdogs Potchefstroom Gim …

the Felsted boys beating the feisty Outeniqua lads in a 10-goal thriller at Stellenberg …

the fantastic support offered by the Merchant Taylors lads that inspired the Wakefield girls to a 3-0 victory over Springfield Convent in driving rain and howling wind on Hartleyvale A …

the remarkable yet ultimately unsuccessful fightback by Merchant Taylors when home side SACS were all over them at the school's most picturesque setting in the benevolent shadow of Table Mountain …

Day two of the 2014 Cape Town U18 International Hockey Festival on Thursday had everything for everyone.

The quality that is John Miller got a brace, his goals coming in the first and second half, for the young Kingston Grammar team in their 2-1 win against a bigger, faster Windhoek Gim side on Hartleyvale B; but it must be said that the Namibians play so well considering they don't even have an Astro.

There were also some great tackles from both sides at the critical moment - and plenty of goalshots. Dangerous Windhoek Gim striker Kyron Sprake was a constant thorn in Kingston's side and scored a great solo goal in the 25th minute to level the scores.

The one-touch passing of Kingston was a feature of Thursday's play – and created a lot of space and time for Miller and company upfront, while a full-blooded shot from Travis Mayers saw Kingston keeper Abel Lamaj make a match-winning save.

******

SACS, established in 1829, is the oldest school in South Africa yet their predecessors would have been delighted with the vigour and verve employed by the 2014 first team in racing into a 4-0 lead against a bewildered, indeed shellshocked, Merchant Taylors outfit, such was the unrelenting bombardment on their goal zone.

SACS captain Nick Price's deft touch and Gareth Tate's clinical finish set the ball rolling before South Africa U18 striker Luke Schooling made it 3-0 and SA U16 player Matt Breetzke added the fourth; utter carnage it was.

Yet Merchant Taylors pulled one back through skipper Rhodri Jones as the teams went into half-time. After the changeover Merchant Taylors continued to press very hard but the goal simply wouldn't come until Eddie Richards finally breached the stubborn SACS defence after George Smith had put in the crucial pass.

From 4-0 to 4-2 for SACS – and Merchant Taylors now totally dominant – the home supporters were justified in being concerned at the change in the tide, but the classy SACS squad pulled themselves together with Breetzke on the right flipping a sublime pass to Schooling who showed his goalscoring skills with a first-time connect into the net for the 5-2 final scoreline.

What a game – and SACS looking like gold medal material with four wins from four starts … but this event is far from over …

TOMORROW (FRIDAY)

Some classic clashes are in store and at a glance those of the many with the potential for rich entertainment see:
Millfield vs Bellville girls at Hartleyvale B at 9am;
Bloemhof vs Paarl Girls at 9am at Western Province Cricket Club;
Paul Roos vs Kingston Grammar boys at Hartleyvale A at 11.30am;
Windhoek Gim vs Millfield girls, Hartleyvale A at 12.45am;
Wynberg boys vs Felsted, Hartleyvale A at 2pm

FOLLOW ALL THE ACTION

You can follow the action and get the results at #CTIHF2014 as well as the www.teamsports.co.za website, and their facebook page and at TEAM_Sports_TDM which is the sports travel company's twitter handle.

This year, each day, the results and logs shall be posted as close as possible to 1pm and 6pm on the website, facebook page and twitter handle, as well as the day's video highlights, photos, reports and press releases.

2014 Cape Town U18 International Schools and Clubs Hockey Festival media release


---

W C Eagles Repeat as U14, U16, U19 US National Club Champions

W C Eagles solidify their tradition of excellence as Gold and Glory belong to W C Eagles at the National Club Championship

The Under 14 age group opened up the nine-day USA Field Hockey event featuring the top teams in the country. Top seeded W C Eagles got off to a strong start beating AIM from Missouri 7 - 0, followed by a 12 - 0 defeat of Pennsylvania neighbors Vipers. They rounded out the Pool play with an 11 - 1 win over Maryland's H2O to move into the quarter finals where they continued to dominate, this time at the expense of Delaware's GottaLoveIt! Oranje 12 - 0. W C Eagles faced a much sterner test in the semi final from Saints (Virginia) but gradually took control of the game and pulled away to win 4 - 0, setting up a repeat of last year's final against Northeast Elite from New Hampshire. Scoring two goals in the first five minutes, W C Eagles dominated the Championship game from the opening whistle on their way to a 9- 0 victory and being crowned Under 14 National Champions for the third year in a row. It was a remarkable performance by the young W C Eagles Squad who scored 55 goals while conceding only 1 in their six games.

The Under 16s took the spotlight for the next three days. Number one seeded W C Eagles opened with an 8 - 0 win over New Heights (New Jersey), and cruised to a 13 - 0 victory over New Hampshire's Northeast Elite, before rounding out their pool play by beating the strong Kentucky club IFHCK 5 - 0, to move into the quarter finals. Unperturbed by a lengthy thunder delay, W C Eagles picked up where they left off storming past AIM from Missouri 12 - 0 to secure a place in the semi finals against arch rivals XCalibur and a rematch of the Pennsylvania Regional Final. W C Eagles once again won the close encounter, taking opportunities in an end to end battle to earn their place in the final with a tough 3 - 0 win. There was much anticipation as the final drew close, the Saints (Virginia) had dominated their half of the draw, coming into the final outscoring their opponents 15 - 1. However, after establishing an early lead, W C Eagles controlled the midfield and applied constant pressure on the Saints defense with wave after wave of attacks to win the Championship game 9 - 0. This brought the W C Eagles' total of goals scored to 50 goals without conceding any, as they retained the Under 16 National Championship.

Moving into the last three days, it was the nation's top Under 19 teams' turn to take center stage. All eyes were on the #1 nationally ranked W C Eagles - could they repeat their sweep of the U14, U16, and U19 National Championships as they had done the previous year? Day 7 saw W C Eagles off to a comfortable start with wins over Total Dutch (New Jersey), 9 - 0, and FH Life, from Ohio, 4 - 1, before completing their pool play the next morning with a 5 - 0 win over Focus (Virginia). New Jersey champions, Jersey Intensity, awaited W C Eagles in the quarter finals but three goals in the first five minutes took the steam out of Jersey Intensity's sails and W C Eagles ran out 4 - 0 winners as they cruised into the semi finals where Virginia champions, Saints, were waiting to create an upset! It was indeed a close encounter with both sides vying for the win, but an upset was not in the cards as W C Eagles slammed what proved to be the winning goal with just 8 minutes left and hung on with some staunch defending to win 2 - 1. This set up a dramatic final against Pennsylvania neighbors XCalibur which would prove to be an exciting game of end to end hockey befitting the two talented squads and the Under 19 Championship game. W C Eagles took the lead three times only for XCalibur to pull a goal back each time. With the score at 3 - 2 XCalibur equalized on a penalty corner as time ran out to tie the score at 3 - 3 and send the game into a shoot out. Five players from each team stepped up for the tense shoot out, a 1 v 1 test of skill against resolute goalkeeping. W C Eagles held their nerves to win 3 - 1 and retain their National Championship for the third straight year and repeat their sweep of all three age groups as Under 14, Under 16, and Under 19 National Club Champions.

"I was very pleased with the quality of our players' play and their confidence on the ball. This is a result of their hard work and dedication" said W C Eagles Director of Coaching, Jun Kentwell. "Generally our ball speed was good, our first touch has really improved, and we were seeing the pass into the space well. Our U14 and U16 pressed very well as a unit. I was pleased that all three teams were able to handle the high pressure and showed they have the ability to perform under pressure."

Fieldhockey.com


---

Core group for Next Junior World Cup identified

s2h Team

Hockey India has today announced identification of 33-member core group for next Junior World Cup, having been pruned from about 60 boys who were in the camp earlier.

Harendra Singh is the coach of the team, with Tushar Khandker as assistant.

The camp has started yesterday at the Major Dhyan Chand National Hockey Stadium in New Delhi.

The list of 33 players who are now in the camp

GOALKEEPERS
1. Vikas Dahiya
2. Subodh Tirkey
3. Abhinav Kumar Pandey
4. Jugraj Singh

DEFENDERS
5.  Abhay Ekka
6.  Jarmanpreet Singh
7.  Harmanpreet Singh
8.  Anand Lakra
9.  Sanjit Toppo
10. Abhishek Pratap Singh
11. Baljit Singh
12. Nilam Sanjeep Xess
13. Dipsan Tirkey
14. Varun Kumar

MIDFIELDERS
15. Sumit
16. Simranjeet Singh
17. Santa Singh
18. Prakash Barla
19. Harjeet Singh
20. S. H. Nilakanta Sharma
21. Imran Khan
22. Manpreet
23. Rajat Sharma
24. Ajay Yadav

FORWARDS
25. Parvinder Singh
26. Armaan Qureshi
27. Ajit Kumar Pandey
28. Mohd. Nizamuddin
29. Pawan Kumar
30. Raushan Kumar
31. Janma Majhi
32. Sumit Toppo
33. Sumit Kumar

Stick2Hockey.com


---

Kenya to host World Hockey League Series qualifiers



From left: National Hockey team players Terry Juma, Audrey Amooh, Pauline Amutebi and Anita Agunda celebrate a goal during their Africa Cup for Nations match against Tanzania played at City Park Stadium on November 13, 2013. Kenya will host the International Hockey Federation (FIH) World Hockey League Series One qualifiers for the African region from September 2-7. PHOTO | CHRIS OMOLLO

Kenya will host the International Hockey Federation (FIH) World Hockey League Series One qualifiers for the African region at the City Park Stadium from September 2-7.

A total of five teams have confirmed their participation for the tournament that will also double up as a qualifier for the 2015 World League Championships.

Hosts Kenya, Uganda, Ghana and Tanzania will field both men and women`s teams while Egypt will send only their men`s team.

The tournament was initially set to be held in Zimbabwe, but the southern Africa state declined citing lack of a certified international playing pitch prompting African Hockey Federation (AFHF) to move the venue to Nairobi.

The top men and women teams will qualify for the second round of the qualifiers where they face South Africa, who were given a bye after winning the Africa Cup of Nations last year.

The second round will be held in Uruguay next year and will feature the teams ranked from number 12-19 on the International Hockey Federation (FIH) world ranking. Finalists at the second round earn an automatic entry to the 2016 Olympics set to be held in Rio.

Kenya will fancy its chances of clinching top spot in the regions qualifiers especially with favourites South Africa not featuring in the round one.

Kenya Hockey Union (KHU) chairperson Nashon Randiek said the country is looking forward to the tournament and will work hard to win both the men and women titles.

"We have learnt from the mistakes we made during the Nations Cup last year and we have confidence that we can win the titles at home," Randiek said.

South Africa's men and women team dominated the Africa Cup of Nations held In Nairobi last year with the Kenyan teams finishing third.

The winners of round two advance to the semi-finals where they lock horns with the world's best in hockey ranked 1-11 in the world.

Daily Nation


---

FIH introduces Indoor Hockey rule changes

Move designed to make the sport even more dynamic



(Photo: FIH / Frank Uijlenbroek)

The International Hockey Federation (FIH) Executive Board has approved several changes to the rules of indoor hockey following a proposal from the Rules Committee. The majority of the changes are aimed at improving gameplay and the experience for spectators, while others are clarifications and tidying up of existing rules.

Most notably the number of times a team may substitute their goalkeepers off the pitch will now be limited to two per game, as opposed to the previous possibility for unlimited substitutions. The change addresses the issue of multiple goalkeeper substitutions during matches, which were detracting from the game and spectator experience. It also ensures that goalkeeping skills continue to be an integral part of the game, while still allowing teams to make tactical use of goalkeeper substitutions at suitable points during any game.

A limit on the maximum length of a hockey stick will be introduced into the rules for the first time, following the use of this requirement as a regulation at the Rabobank Hockey World Cup in The Hague last month. In recognition that goalkeepers were swapping to longer sticks for shoot-outs, which was considered as being against the spirit of the rules, all sticks must now be a maximum of 105cm long.

The breaking at a penalty corner regulation, which has been successfully used at FIH tournaments, is introduced as a full rule. An attacker who breaks into the circle early or any defender who crosses the back-line early is sent beyond the centre-line. Special provisions apply if a goalkeeper crosses the back-line early, with one of the other defenders being required to go beyond the centre-line. The use of this regulation has seen a dramatic decrease in the number of breaks, encouraging fair play and reducing the amount of time spent on re-setting penalty corners.

Leandro Negre, FIH President, said the rule changes would help drive the continued growth of the sport: "In all forms of the sport we strive to create the most fair, entertaining and competitive environment possible, with particular consideration for our increasingly global fan base. The changes introduced embody these values and are aimed at improving the game at all levels"

The complete list of rules changes can be found below.

Rule Changes to Indoor Hockey 2015

The following are the changes that were recommended by the FIH Rules Committee to, and approved by, the FIH Executive Board: -

i. Date of implementation: It was agreed that this should remain as 1 January 2015.
ii. Terminology
i. Hit – to be amended to 'Striking or 'slapping' the ball …' with the guidance from page 23 to be moved to this section
iii. Composition of team
i. Rule 2.3a – last paragraph of guidance to be changed from 'If the goalkeeper or player with goalkeeping privileges is suspended, the offending team plays with one less player' to ' … plays with one fewer player'

ii. Rule 2.3b – the change from 6 to 5 players has resulted in a tactical re-think on the part of a lot of Indoor Coaches, whereby their teams will try to attack with 5 field players and defend with 4 field players and a goalkeeper. This has resulted in multiple goalkeeper substitutions during matches, which has not been seen as an attractive aspect of Indoor Hockey.

In an effort to address this issue Rule 2.3f was adjusted, with effect from 25 November 2013, such that goalkeepers needed to be substituted (as all other players) within 3 metres of the centre-line. Whilst this has had some effect, it has not had the desired effect, and with agreement from the respective Continental Federations two trial goalkeeper substitution experiments were set up to operate at the PanAm Indoor Cups in Montevideo (URU) 7-12 April 2014 and at the Men's Indoor Asia Cup in Changhua (TPE) 16-22 June 2014.

Following consideration of the feedback from the trials and a review of the information from the Rules questionnaires, the preferred route is a limitation of two fully kitted GK substitutions off the pitch per match (with allowances for injury and/or suspension) which would still permit teams to make tactical use of these at suitable points in any match.

Rule 2.3b currently reads: -
There is no limit to the number of players who are permitted to be substituted at the same time or to the number of times any player is permitted to substitute or be substituted

A Mandatory Experimental Rule 2.3b will read: -
There is no limit to the number of players who are permitted to be substituted at the same time or to the number of times any player is permitted to substitute or be substituted, except that the number of times a team may substitute their goalkeepers off the pitch is limited to a total of two per match

Guidance:
If a team has used their full allocation of goalkeeper substitutions and their goalkeeper is injured and incapable of continuing then, for safety reasons, that team is allowed if it so wishes one further substitution onto the pitch of another goalkeeper who is wearing full protective equipment. The substitution of this replacement goalkeeper should take place in accordance with Rule 2.3g and its guidance.

In the event that a goalkeeper receives a temporary suspension, their return to the pitch following its completion does not count towards the total number of goalkeeper substitutions, but only if they are replacing a player with goalkeeping privileges or another field player. Should they return to the pitch in place of another goalkeeper who is wearing full protective equipment, this will count towards the total number of times a team may substitute off their goalkeepers.

If a team has used their full allocation of goalkeeper substitutions and their goalkeeper receives a temporary or permanent suspension then, for safety reasons, that team is allowed if it so wishes one further substitution onto the pitch of another goalkeeper who is wearing full protective equipment. The substitution of this replacement goalkeeper should take place in accordance with Rule 2.3g and its guidance.

iii. Rule 2.3d – the guidance to be adjusted from 'one less player' to 'one fewer player'

iv. Conduct of play: players

i. Rule 9.5 – the guidance regarding 'slap' hitting is to be deleted and inserted in the terminology section.

ii. Rule 9.11 - Guidance to be adjusted from 'The player only commits an offence if they voluntarily use their hand, foot or body to play the ball …' to 'The player only commits an offence if they gain an advantage  …'
iii. Rule 9.19 – greater emphasis to be placed in the guidance on intentional, as compared to unintentional, trapping of the ball against the boards.
v. Penalties

i. Rule 12.1 - Guidance that 'If awarding a penalty is not an advantage to the team which did not break the Rules play must continue' to be deleted, since it does not add anything to the Rule

ii. Rule 12.4c – given that the Regulation concerning Breaking the line at Penalty Corners will be adopted as a Rule, the requirement that a penalty stroke is awarded 'for defenders persistently crossing the back-line before permitted during the taking of penalty corners' will be deleted. Breaking at Penalty Corners can now be managed using the new Rule, noting that the penalty stroke provision was only very rarely invoked

iii. Rule 12.5 – the provision, if there is another offence or misconduct before the awarded penalty has been taken, to progress a free push by up to 5 metres is to be deleted. This has become redundant with the new Free Push Rules and the ability to self-pass, whilst any other offence or misconduct can be managed using the other provisions in Rules 12.5b, c and d, and/or Rule 14 Personal penalties.

vi. Procedure for taking penalties

i. Rule 13.3h – this Rule that 'until the ball has been played, no attacker other than the one taking the push from the back-line is permitted to enter the circle and no defender is permitted to cross the centre-line or back-line' is to be supplemented by the adoption of the Breaking at a Penalty Corner Regulation as a Rule

ii. Rules 13.7b, 13.7c & 13.7d – to be adjusted by the adoption of the Breaking at a Penalty Corner Regulation as a Rule

iii. Rule 13.10d - the guidance that 'if the player defending the stroke prevents a goal being scored but moves either foot before the ball has been played, this player must be warned (green card) and for any subsequent offence must be suspended (yellow card)' to be amended to 'if the player defending the stroke prevents a goal being scored but moves either foot before the ball has been played, this player may be awarded a personal penalty and for any subsequent offence must be suspended'.

vii. Personal penalties

i. Rule 14.1b – it was decided not to adopt the Regulation that a green card indicates a temporary suspension of one minute as a Rule, since it was considered that the green card as a warning is still important at lower levels of the game. It will however remain as an FIH Tournament Regulation

ii. Rules 14.1c and 14.1d – the guidance to be adjusted from '… one less player' to '… one fewer player'.

viii. Umpiring signals

i. 4.6c Penalties – as a result of the deletion of Rule 12.5a and advancing a Free Push up to 5 metres, it follows that the signal should also be deleted

ix. Field and Equipment Specifications

i. 2.18 Stick – in view of longer than normal sticks being used by goalkeepers at Shoot-out competitions, the stick specification will now include a maximum length provision, 'the length of stick, as measured from the top of the stick to the bottom of the head of the stick (line X in Figure 3 on page 57 of the Rules of Indoor Hockey), shall not be more than 105cm'

FIH site


---

HI names Grewal as High Performance Manager of North Zone

NEW DELHI: Taking forward its plan of developing the game at grassroots level in the country, Hockey India on Thursday appointed former coach Sukhvir Singh Grewal as the High Performance Manager of North zone.

The move will further ensure HI's commitment towards identifying, developing and giving young players an international platform to showcase their skills in the game of hockey.

Grewal will take charge on August 1. The North Zone comprises Punjab, Haryana, Himachal Pradesh, Jammu and Kashmir, Chandigarh, Rajasthan and Delhi, a statement from HI said.

Grewal is the second zonal High Performance Manager appointed by HI after V Baskaran who is in charge of the south zone.

HI also aims to put in place similar initiative in Central, East and West zone soon. The Manager High Performance of each zone will work under Director High Performance Mr. Roelant Oltmans.

The initiative will also help HI's state member units and academies to get in place a more robust system towards player development in individual regions.

Having coached the Indian men's team for five years since 1987 to 1992, Grewal understands the nuances of identifying, understanding and then developing a player in the right manner.

According to the HI statement, Grewal will also monitor and evaluate the performance of coaches in Hockey India's member units and academies and identify the talent for elite coaching opportunities.

In consultation with Director High Performance Roelant Oltmans, Grewal will create, maintain and develop technical content for dissemination, the release further stated.

Speaking on the new appointment, HI secretary general, Narinder Batra said, "Hockey India today welcomes Sukhvir Singh Grewal and I would like to tell him that we are very happy that he accepted our proposal to be the Manager High Performance in the all-important North Zone.

"In the past we have seen that this zone has brought to the forefront many world class players who have made us proud. Hence this zone becomes very important for us because we are sure that there is abundance of talent in this zone which needs to be skillfully developed."

Grewal added: "I thank Hockey India for starting the initiative of High Performance Development Programme at grassroots level in the country. Hockey has totally changed in the past few years, by starting this initiative at grassroots level, we can expect better results from Indian hockey in the coming years at international levels. It will help us to create a greater pool of players."

The Times of India