All the news for Thursday 29 May 2014

A golden time for hockey's best

2 Days to go and 2 gold medals on the line




It has already been a steep climb for the 24 teams that qualified for this year's Rabobank Hockey World Cup. There will be no easy matches as the world's best will be immediately thrown into vigorous rounds of pool-play matches. The qualification that follows will be nothing short of brilliant for hockey fans around the world but only two gold teams, one men's and one women's, will be able to boast a gold medal around their necks.
HOCKEY GOLD - MEN
The team that has won the men's World Cup more than any other is Pakistan, a nation that fell short of qualifying for the 2014 event. The team from Asia have won the title four times, with the Netherlands winning three times and Germany and Australia capturing the title twice each. Australia are the reigning champions, after an exciting win in 2010 in New Delhi, and the Kookaburras also occupy the number one ranking spot in the world, which certainly makes them the team to beat.
 HOCKEY GOLD - WOMEN
In the women's competition there is a distinct orange hue to the Hockey World Cup trophy. The impressive Netherlands have won the title six times. In 2010, though, it was Las Leonas, of Argentina who upset the Dutch to enter this year's event as the reigning champions. Both Germany and Australia earned the title twice. To date, only The Netherlands and Australia have successfully defended the title, but Argentina will hope to become the third on that list as they hope to silence   the home crowd and take the cup back to South America.
---

World Cup warm-ups update

Hockeyroos overcome China and USA in practice matches in The Hague




The Hockeyroos' preparations for Saturday's live telecast World Cup opener against Korea continue apace with back-to-back practice match victories over China and USA this week.

A 3-1 win over China in the team's first outing on the main pitch on Tuesday was followed up with a 4-2 victory over the USA on pitch two, the GreenFields Stadium, on Wednesday.

After falling behind early in the match, which was played as three periods of 20 minutes, the Hockeyroos hit back to lead 3-1 midway through the second period. The up and coming Americans made it 3-2 before the change of ends but the Australian win was secured when a deflection off the US goalkeeper rolled into the bottom corner after a quick break down the right.

The temporary GreenFields Stadium will be the scene of the Aussie girls' opening match at 10:30pm AEST (2:30pm local time) on Saturday, a game that can be seen live on ABC 2 in Eastern states, on delay at 10:30pm in non-Eastern states and live online across the country at youtube.com/fihockey.

On Tuesday, Jane Claxton, Ashleigh Nelson and Kellie White all found the target against China in a very wet Kyocera Stadium. Off the pitch, the finishing touches were still being implemented as the home of the ADO Den Haag soccer team makes its transformation into the venue for the biggest hockey World Cup in history.

The Kookaburras also took the opportunity to train at the Kyocera Stadium on Tuesday. In torrential rain, the 90 minute session gave the defending World champions the chance to experience the venue for the first time ahead of their opening match with Malaysia on Saturday (6:30pm AEST).

On Wednesday, a shortened practice match against Argentina saw the Kookaburras run out 2-0 winners.

The Kookaburras' opening match against Korea will be shown live on the FIH YouTube channel with highlights available on ABC 2 following the Hockeyroos' match against Korea.

Hockey Australia media release


---

India faces a stern test in the World Cup

S. Thyagarajan



THE INSPIRER: Sardar Singh (fourthnfrom left) woul have to marshal his resources well and showcase his talent if India is to make an impact at the World Cup. File photo: S. Subramanium

A litmus test awaits India when the hockey World Cup begins at The Hague on Saturday. It pertains largely to estimating the influence of foreign coaches at this summit level.

This is the second World Cup for India under the stewardship of a foreign coach. Spaniard Jose Brasa was at the helm at the last edition in Delhi. Now it is the irrepressible Aussie Terry Walsh.

Much has happened in the intervening four years. Suffice it to say that the overall showing of the National teams, both at home and abroad, has been anything but shining. That India has made it to the 12 is itself a chapter filled with suspense.

Given the new power alignments, it will be a huge guessing game trying to evaluate the outcome. Form and rankings go for a toss during the World championships.

The exercise of finding a spot for India in the 12 will be extremely hazardous. The signs are anything but encouraging, notwithstanding some meticulous and tough preparations at various camps and tours.

Possessing just one player — Sardar Singh — reckoned as world class, the squad wears a label of mediocrity. It is prone to lose form in a jiffy. The perils of playing tough games before the start of a major event have taken a toll as evidenced by the injuries to Ramandeep Singh and Nikkin Thimmiah. The replacements, Lalit Upadhyay and Yuvraj Walmiki, hardly evoke a trace of optimism. Walsh and his team of coaches are now compelled to rework their strategies to accommodate the newcomers at the eleventh hour. A fifth spot, last obtained in Sydney in 1994, is the target, but that seems to be a tall order.

India opens the campaign against Belgium, a country whose rise to the top in the last four years has been fascinating. In the last five matches played between them, India has lost three, including the one at the World League earlier this year. If India wins this tie, the result can be termed as "stunning."

What needs to be looked into is the alarming decline of the Asian challenge. For the first time since inception in 1971, four-time champion Pakistan is missing from the event. India, Korea and Malaysia have not come in with as much comfort as have the defending champion Australia, Germany, the Netherlands, England and even Argentina.

A new power equation is bound emerge and it could be shaped by the performances of Australia, Germany and the Netherlands.

The Hindu


---

We will play to win for Ramandeep, Nikkin, says Sreejesh

THE HAGUE (Netherlands): India will definitely miss the services of Ramandeep Singh and Nikkin Thimmaiah in the upcoming hockey World Cup but injuries to the two key strikers has made the team more determined to put up a good show in the mega-event, said goalkeeper P R Sreejesh.

Both Ramandeep and Nikkin have been ruled out of the tournament due to injuries after landing here. While Ramandeep suffered multiple fractures to his right eye socket and cheekbone during a practice game against Argentina, Nikkin sustained a hamstring injury during training. Lalit Upadhyay and Yuvraj Walmiki have replaced the duo in the squad.

"While we will be missing both Nikkin Thimmaiah and Ramandeep Singh, it has not dampened our spirits. Rather we are more determined to win. We will play to win for them as their hopes are pinned on us," Sreejesh said.

For any team the first game of a tournament is always crucial and Sreejesh too aired the same feeling.

"The first game is critical for both India as well as the Belgians. The Belgium side at The Hague is one of the most experienced team with 10 players having surpassed the 100 international appearances mark but I feel that our team which is a combination of young and experienced players will give them a tough challenge," he said.

The Indian men's hockey team will open their World Cup campaign against Belgium in a tough Group A on Saturday.

Stating that goalkeepers of both the teams will have a busy outing in Saturday's match, Sreejesh challenged the Belgians to outwit him and his colleague Harjot Singh under the Indian goal.

"Our opening match in the World Cup will be a war between Jeremy Gucassoff and Vincent Vanasch - the goalkeepers of Belgium on one side and Harjot Singh and me on the other side. Let's see who is able to save more goals," he said.

"We are up for the challenge and we will ensure we are the winners. So I think the Belgians need to think hard and strategise themselves to surpass us," Sreejesh added.

The Times of India


---

Young guns set to make their World Cup debut

Mandeep, Manpreet say there is pressure but both will look to give their best

Rutvick Mehta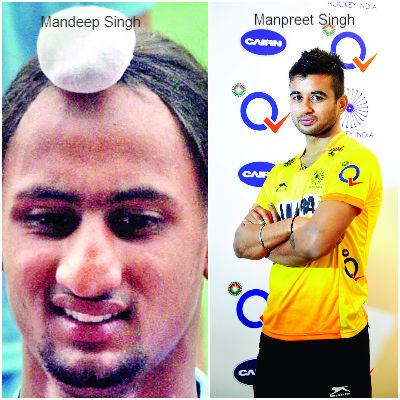 Manpreet Singh and Mandeep Singh have a lot in common. Both are from Jalandhar, both are a product of the Surjit Hockey Academy, both play for Ranchi Rhinos in the Hockey India League (HIL), both are the future stars of Indian hockey, and both will be playing their first World Cup for the senior national hockey team.

The duo has been a cog in the wheel of the senior team for more than a year now. And make no mistake, if India are to do well in the Hockey World Cup that kickstarts on May 31 at the Hague, Manpreet and Mandeep will have to perform at their optimum as halfback and forward, respectively.

Manpreet, 21, is more experienced of the two, making his senior debut in 2011 and being a regular member of the team ever since. Mandeep, 19, shot to fame after an excellent show in the inaugural HIL last year that immediately got him into the senior team. He's not looked back since.

Both know this is one of the toughest assignments of their careers so far, and are going in with a tinge of excitement and pressure.

"I'm very excited to be part of such a big tournament," Manpreet said. "I'm confident and nervous at the same time. Personally, there is a lot of pressure on me when I'm off the ground. But once I enter the field, and the entire team motivates each other, it vanishes. Once I get into my game zone, I feel no pressure at all."

Head coach Terry Walsh had said before the team's departure that he would be shocked if there wasn't some degree of stage fright among youngsters like Manpreet and Mandeep. Clearly, there seems to be none.

"Pressure comes naturally, but we don't want to take any of it. We're going in with the simple mindset to perform to the best of our levels and go into the first match with the objective of winning," said Mandeep, who is back in the team after a two-and-a-half-month injury layoff.

What would help the lads is that both have the experience of representing India at the Junior World Cup held in the country last December. However, both would like to bury the ghosts of it, especially Manpreet, who led the team to a disappointing 10th place finish.

"Our performance in the Junior World Cup was not good. I don't want it to happen with the senior team. That's why I'm putting in a lot of hard work. What I couldn't do with the junior team, I want to do with the senior team," Manpreet said.

Ask them how far they see the team going in this World Cup, and the reply again comes on similar lines.

"We want to ensure we don't finish outside the top eight. If we do, it will be very disappointing. If we better that, it will be great. But our practise sessions have been really good and I feel we'll come back with a good show this time," Manpreet said.

"It all depends on how we play in the first match, and then we'll look to increase our performance level. But I'm very confident that we'll come back with a good result," he added.

DNA


---

Target top-8: Time to be realistic

Indervir Grewal

Chandigarh - It is probably the first time in Indian hockey's history that the chief coach of the national team has been so frank about his team's chances at the World Cup. Where previous coaches had only talked about winning medals in the premier competitions such as the Olympic Games and the World Cup, current coach Terry Walsh has regularly said during the build-up that a top-eight finish would be a great result for Indian hockey. "Anything higher than that will be a big bonus," he has said.

His statement has been criticised – former captain Ajit Pal Singh had said, "If your mindset is such that you are going there as mere participants, then sorry, nothing can be achieved."

But there are those who feel that it's time the Indian coaches as well as the fans started being realistic.

"A medal would an unrealistic target. India are ranked 10th in the world," said Baljit Singh Saini, former India player and junior men's team's coach. "We can't just think about medals. Our goal should be a steady climb in world hockey. And it should last. If we finish in the top-six in the World Cup and then again slip to a 10th or lower finish in the next tournament, then what is good in that temporary climb?"

Saini added that a practical target would also help in easing the pressure on the players. "False talk won't get us medals. 'We will bring back the gold' kind of attitude doesn't get medals but it puts pressure on the players," he added. Shivendra Singh, the former India forward, said that Walsh's comments shouldn't demoralise players but ease the pressure. "The players know that it's a new coach and a fairly new team so Walsh's comments will help the team play with a free mind," he said.

However, former captain Rajpal Singh feels that the coach should not have talked about the final position in the World Cup. "It might lead to players calculating how many matches they need to win to finish eighth," he said. "In the 2010 World Cup we won only one match and finished eighth. So it could play on the minds of the younger players."

But he added that the senior players in the team would be thinking about getting a medal. "Seniors such as Sardar Singh, Gurbaj Singh and PR Sreejesh, who could well be playing their last World Cup, would be hungry for a medal."

The Tribune


---

All the best, hockey champs!

Ikhhlaq Singh Aujla

CHANDIGARH: Does anyone really care for hockey, the country's national sport? On Saturday, India's men's team will take on Belgium to open their campaign in the 13th edition of the hockey World Cup at The Hague, Netherlands. But the event is sandwiched between the more popular Indian Premier League (IPL) and soccer World Cup in Brazil starting on June 12.

As a result, Indian dribblers have been all but forgotten even in Punjab, the cradle of hockey in India that has produced many legends.

Consider these numbers - as many as seven players in the Indian team in Holland are from Punjab while the captain is from Haryana. Touch artist Sardar Singh, who hails from Sant Nagar village of Sirsa will lead the squad that also features Dharamvir Singh, Rupinder Pal Singh, Gurbaj Singh, goalie Harjot Singh, Mandeep Singh, Manpreet Singh, Jasjit Singh Kular and Akashdeep Singh, all from Punjab.

Former captain Pargat Singh, who represented India in three Olympics and three World Cups, says, "Players are like artists who need to be promoted and projected like performers. Hockey India (HI) hasn't been able to promote the team and the event. However, I am not denying that the players, too, have to stand up and deliver consistently so that fans start idolizing them again, as was the case about 30-40 years ago."

Pargat is now an MLA from Jalandhar Cantonment and secretary of Punjab Hockey, which is an affiliated unit of HI.

"Hockey and soccer World Cups being staged close to each other has also shifted the focus to far more popular stars like Lionel Messi, Neymar and Cristiano Ronaldo. However, nothing much could be done about the timing of the hockey World Cup as the international hockey federation (FIH) planned the event to avoid the freezing conditions in Holland in winters," said Olympian Sukhbir Singh Gill. He played for India in the Utrecht (1998) and Kuala Lumpur (2002) World Cups.

Not many are expecting India to do well in the 12-nation World Cup. But that doesn't stop us from wishing the champs all the best as they take on the might of the world.

The Times of India


---

Susannah Townsend set for England loyalties as girlfriend clash awaits

England midfielder has risen through the ranks under coach Jason Lee and will be key figure during World Cup

By Rod Gilmour



On song: Susannah Townsend celebrates against Argentina last summer Photo: ADY KERRY

There will be two members of the same household playing for different countries at the Hockey World Cup and one of them, Susannah Townsend, is describing how it will feel to play against her girlfriend, Dirkie Chamberlain, when England women meet South Africa next Friday.

"Emotionally, she will always be there for me, but she is the opposition," says the England midfielder, who will be a pivotal part of Jason Lee's World Cup squad in The Hague over the next two weeks.

If Townsend is keen to put her feelings on the back burner ahead of next Friday, England's third group stage game, then it's down to her forward-thinking philosophy, one entwined with 'front foot' written on her hockey stick.

Townsend admits that London "came too early for me"; her attacking aspects were there, but defensively she was off the pace. Now, her all-round, visionary game has propelled her to secure a regular berth under Lee after she was first called-up in 2011 for the EuroHockey Nations Championships.

"Although it was a massive knock to miss London, it never stopped me believing that I would make it," she says. "The strides that I made in those two years were massive. If I carried on doing the same thing, by taking some time away and refocusing, it would pay off and thankfully it has."

Confident and forever a Canterbury player – she will make a return to her beloved Kent side next season after one year with Reading – Townsend enthuses over Lee's philosophy that "everybody contributes".

"We are a squad of 28 and 18 get selected. It's not necessarily a starting 11, more that 18 get to play minutes on the pitch," she says. "What Jason sees in me is that I like influencing games and I like to be a game-changer. I want to be consistent at tournaments and that is my main focus at the moment."

The front foot mantra is clearly paying dividends. "We had a talk in the squad on what helps us as a player. I had one of my poorer games recently against Germany in the Four Nations. Susie Gilbert came on as a sub and said 'come on Suse, front foot'. It is little things like that help completely."

Against South Africa on June 6, she will adopt the same aspects. Whatever happens against "the opposition", namely Chamberlain, her 26 year-old partner, all will be forgotten after 70 minutes.



Dirkie Chamberlain goes to ground against Hannah Macleod in 2012

"It's tricky as people ask us how we cope," Townsend admits. "We do leave things on the pitch and we share a hug at the end – even if I have elbowed her.

"Our secrecy is that we don't share anything because we can't. Emotionally she will always be there for me, but she is the opposition. I have played against her before so it won't be a new thing.

"What we've struggled with in the past is if one of us has had a good tournament and that you don't get affected by it."

Meanwhile, England will have to get used to playing without the services of Helen Richardson-Walsh. The experienced midfielder failed to make Lee's squad after her brave bid to recover in time from back surgery, but Townsend believes it is a chance for younger players to showcase their potential on the world stage.

She says: "Helen is one of the most skilful players on and off the ball. You could say that is one of the things we will miss but there others who are going to have to step up and to perform.

"It will be a massive test for those who haven't played in big tournaments. But that's good, they will have to fill in those potential holes that Helen leaves."

There was an emotional piece of the jigsaw missing when Townsend left Canterbury for Reading too. She admits that she departed "for all the right reasons" – to play with Reading's raft of international players to gain more practice – and it is a decision she has few regrets about.

"But I am a Canterbury girl and I play all my best hockey there," she says. "It's where my heart is and I need to feel playing for my club."

Just like Townsend will do when running out on Sunday lunchtime in her debut World Cup game against USA.

The Telegraph


---

Alastair Brogdon on success and setbacks



Alastair Brogdon at the EuroHockey Championship

As Alastair Brogdon closes in on the 100 cap mark, he's now preparing for his second World Cup. We caught up with the Wimbledon man to talk about the tournament in The Hague, injuries and of course, Belgium.

Alastair Brogdon has pretty much seen it all as far as hockey is concerned. He made his international debut back in 2009 at the Champions Trophy, and was a member of the England side who went on a stunning run and brought home the European gold in that same year. He has also battled his way back from a series of injuries and still found time to play abroad with Belgium's Waterloo Ducks.

The competition in The Hague will be your second World Cup, how are you feeling about it? What are you looking forward to most?

I played in the last one out in Delhi and this is going to be a similar environment. It'll be a big stadium with big crowds which we're very excited about. Playing in front of big crowds brings the best out of us. I'm personally very excited about it but everyone else in the squad is too. Hopefully we can put in some good performances.

You've battled back from a few injuries during your career. Does that give you a different perspective and make you enjoy these occasions a bit more?

Maybe a little bit. I've put a lot of effort into making sure the injuries don't reoccur so I'm out on the pitch a lot and working hard every day. These tournaments are what I want to be playing in and I'm sure that goes for every international hockey player, it's now just about making sure I put in the performances I know I'm capable of.

Does the fact you and some of the other players have been exposed to different tactics and styles from playing in Europe stand you in good stead coming into these tournaments?

Definitely it does. Playing in different environments and different competitions is always good for you. In Belgium there was a slightly different style of hockey and you play with a lot of different nationalities who you can pick up and learn things from. It's one of the reasons I went in the first place, to learn as much as I could and bring that back to put into my game when I play for the national team. The English players who have played abroad have certainly benefitted from doing so.

You know the Belgians very well, what can we expect from them?

They're a very driven side and very quick on the counterattack. They score a lot of goals and at the other end their goalkeeper, Vincent Vanasch - who I played with at Waterloo Ducks - is an outstanding 'keeper. They will be a team who is pushing to win the World Cup. Their attacking style of play and the ability to score goals is something everyone will need to watch out for.

England play them last in the pool, in what could be a potentially decisive match. How do you feel about lining up against friends and possibly knocking them out?

It'd be great. They've beaten us in a few test matches recently but I think playing them in the World Cup will be different. It's a game we really want to win. If we can do it, and hopefully we can, it'll be a great feeling for me and of course the team.

Penalty shootouts and England in the World Cup make for uncomfortable company. Have you been practicing? Will you be able to step up when it's needed?

We've practiced them quite a bit so we're a bit more used to the situations we're going to be in. You can't really replicate what it'll be like on the day or night that it takes place for real but we've done as much as we can. We'll be ready if that's what it comes down to.

If you could pick one player from another team in the World Cup to play for England who would it be and why?

I don't think I'd take anyone. We have a great passion for playing for England within the group and I think we have enough great players in the side to get the job done without needing anyone from any other teams.

Can England win it?

Definitely. We've got a great chance. We've shown previously we can win against the best teams so we'll be aiming to do that when we get there.

Brogdon goes round Vanasch and fires home the winner in the final, how does that sound?

It sounds brilliant. I'm sure I'd have a nice celebration off the back of that. I'd love to be in position to score the winning goal, especially against him!

England Hockey Board Media release


---

Putting umpires at the heart of the action

FIH Umpire Manager Seminar 29 May to 1 June



(Photo: Grant Treeby)

Every hockey fan knows the importance of an umpire for the smooth running of a tournament; most fans also appreciate the need for technical directors and judges. But how many people stop and consider the role of the umpire manager?

Hockey players arriving at The Hague do so following months of training and preparation. Throughout their time as an elite player they will be looked after and supported by a host of personnel – physical trainers and psychologists, athlete welfare officers and of course their coaches and managers.

So it is only right that the men and women whose job it is to control the matches should also be subject to some pretty intensive preparations, with a support network behind them. When the team of umpires turn up at The Hague to take on the responsibility of controlling the action, they will be as prepared for the task as it is possible to be and they will have the support and guidance of the umpire managers every step of the way.

Henrik Ehlers is one of the umpire managers that will be in The Hague. He says: "The role of the umpire manager is all about creating a dynamic environment around the umpiring group that enables them to provide outstanding performances on the field. That means supporting the umpires' preparations leading up to a tournament, to understand that different umpires need different leadership approaches, to provide coaching and feedback and to challenge their comfort zones."

Javed Shaikh, a first-time World Cup umpire from India spoke of the support he has received as he has moved up the ranks of umpires to elite international status. "It has been one of the best things, you just feel part of the umpiring family, there is always support from others who are more experienced," he said.

The main tasks of the umpire managers around an event as prestigious as the World Cup is to liaise with the umpires prior to the start of the tournament to make sure they are physically and mentally prepared for the challenge ahead. This includes fitness, match practice and updates on any rule interpretations.

Throughout the tournament, the umpire managers will provide feedback on performance and liaise with the technical director to produce a performance report at the end of the tournament. The umpire managers also arrange the day-to-day practical issues such as transport to the venue, umpire kit, accommodation. In short, everything the umpires need to do their job.

In preparation for this role, FIH is running a three-day Umpire Managers Seminar at The Hague starting the day before the World Cup begins. Clive McMurray, FIH World Panel Umpire Manager and Rogier Hoorn, a sports psychologist, will be leading the event, which includes looking at the role of the umpire manager; developing relationships with the umpires and other officials; how to feedback effectively, and how to deal with cultural differences.

The delegates will also spend a day watching hockey matches before reconvening to review the action and discuss the new umpire manager marking system.

Speaking before the event Clive McMurray summed up the role of the umpire manager: "Their primary role and goal is to create a safe working environment for umpires and to give them the direction, confidence and courage to go onto the field to serve the teams/players in a manner that exceeds their expectations."

The FIH Umpire Manager seminar begins on 29 May and runs until 1 June and will feature nominated Umpire Managers who will learn the ins and outs of this important group of officials.

FIH site


---

Never too old for hockey…

The Masters Hockey World Cup will also be happening in The Hague!




More than 70 teams are starting to assemble for the Masters and Grand Masters happening alongside the Rabobank Hockey World Cup in The Hague from 5-13 June. We caught up with the Australian Over-45 (O45) men's team and if anyone was in any doubt as to the spirit in which Masters hockey is played, this Facebook entry from the Australia O45 home page should tell you all you need to know.

"As we head off from points North, South, East and West to gather in Europe, excel in the fact you are representing your club, state and country in the next three weeks. Wear with pride the green and gold - it is an honour and a privilege.

Over the next 21 days you will play with some great blokes, see some amazing skill and make some lasting friendships.

From the precision of the Germans, the pizzazz of the Spanish and the hard grind of the English you will play against some great teams and excellent players. But remember we've come up through the hard school of state and national championships, and we've been selected as being the best 045 players in Australia and thus some of the best in the world at this level.

We will go well. We have the cattle and the drive to win this. Focus on the job in hand. Respect the opposition. Play hard, play well. Go Aussies."

Teams from 21 nations are represented in men's and women's competitions at different age categories. Among the teams playing are Ghana, Egypt, USA, Russia, Italy and Austria, demonstrating once again, just how global the game of hockey, at all ages, has become.

For more about the Masters Hockey World Cup Click visit: mastershockeyworldcup2014.com and Follow them on Facebook.

FIH site


---

Perak solemn despite victory

THE news that the Sultan of Perak, Sultan Azlan Shah had passed away, was broken to the Perak players moments before the game started. As the tears started to flow, so did the goals.

Perak defeated hosts Perlis 5-0 in the Malaysia Games hockey competition yesterday.

Perak coach Mohd Nizam Mohd Hashim said: "We were told of the news by a Perak official before the game and we observed a moment of silence. I think all the boys were touched in one way or another.

"We had vowed to win this game against Perlis and also bring back the gold medal in honour of the late Sultan."

The title contenders, who have only dropped points in a 2-2 draw against defending champions Terengganu, were in fine form in the Group A encounter at the Perlis Sports Complex in Kangar

Perak opened the scoring in the 18th minute through a Muhamad Fitri Ismail penalty corner and added to their tally through field goals from Shazril Izwan Nazli (26th), Mohamad Soffian Kamaruddin (49th) and Muhammad Haziq Samsul (68th) as well as a second penalty corner scored this time by Shazril Izwan (60th) en route to notching a 5-0 win.

"The conditions were tough for the first 35 minutes as the weather was hot but the players stayed disciplined and showed great teamwork," said Nizam.

"We have already qualified for the semi-finals but we still have to improve if we want to win the tournament, especially our penalty corners.

"We will play Sabah tomorrow and although we have already qualified, we will still push ourselves."

Perak had earlier in the tournament thumped Johor 7-1 and Pahang 4-0. They are currently tied on 10 points with Terengganu, who beat Johor 3-2 yesterday. Perak, however, have the edge on goal difference.

The other Group A match yesterday saw Pahang beat Sabah 2-0 while in Group B Kelantan beat Sarawak 4-0.

New Straits Times


---

PHF plans bilateral hockey series with India, gets government nod

KARACHI: Keen to revive bilateral ties with India, the Pakistan Hockey Federation is planning to host the country for a Test series and has got the government's clearance for it even though the dates are yet to be finalised.

"The government has given us clearance for the series and also agreed to provide funds for the series," PHF president Akhtar Rasool said.

The PHF has planned a home and away bilateral hockey series with its Indian counterparts this year and Rasool said he was now awaiting a response from the Indian authorities.

"We are keen to have this series with India this year but now we are waiting to see the response from the Indian hockey federation as they also have to get clearance for the series," he added.

Once dominant teams in the international arena, Pakistan and India are struggling to remain among the top nations. Pakistan even failed to qualify for this year's World Cup, a new low for the sport in the country.

The PHF chief said it was necessary to bring more funds into the sport in Pakistan and also revive people's interest in hockey.

"That is why we see this planned series with India as very important. We are happy that our government is supporting us because. If this series goes through it will serve both purposes for us," he said.

The former Olympian said he was confident that with the formation of a new government in India some ice will melt between the two countries allowing for the hockey ties to be revived this year.

"If this happens it will benefit both teams," he stated.

The Times of India


---

'PHF gets govt clearance for bilateral series against India'

KARACHI: The Pakistan Hockey Federation (PHF) is planning to host the country for a bilateral Test series against India, and has received the government's clearance in this regard even though the dates are yet to be finalised.

"The government has given us clearance for the series [against Induia] and also agreed to provide funds for the series," PHF president Akhtar Rasool said.

The PHF has planned a home-and-away bilateral series against India this year and Akhtar said he was now awaiting a response from the Indian authorities.

"We are keen to have this series with India this year but now we are waiting to see the response from the Indian hockey federation as they also have to get clearance for the series," he added.

Once dominant teams in the international hockey arena, Pakistan and India are struggling to remain among the top nations. Pakistan even failed to qualify for this year's World Cup, a new low for the sport in the country.

The PHF chief said it was necessary to bring more funds into the sport in Pakistan and also revive people's interest in hockey.

"That is why we see this planned series with India as very important. We are happy that our government is supporting us because. If this series goes through it will serve both purposes for us," he said.

The former Olympian said he was confident that with the formation of a new government in India some ice will melt between the two countries allowing for the hockey ties to be revived this year.

"If this happens it will benefit both teams," Akhtar stated.

Meanwhile, on one hand the PHF is trying its best to restart bilateral series with India this year, on the other, Hockey India is hardly optimistic about the timing and reckons it would be better to hold the series between the two countries in 2015.

"We will try our best to organise the series this year but it's doubtful," a top HI official was quoted as saying. "I feel whatever happens will happen next year, as the new government needs time to settle down before taking such important decisions."

Dawn


---

Probables shortlisted for Asian Games

By Kashif Abbasi

ISLAMABAD: The Pakistan Hockey Federation (PHF) on Wednesday announced a short-list of 26 probables for the 2014 Asian Games.

Pakistan, who won the continental crown in the 2010 Guangzhou Asian Games, will be defending the title at the September-October Games in Incheon, South Korea.

The five-member selection committee headed by former Olympian Islahuddin Siddiqui conducted the trials that had been in progress here at the Naseer Bunda Hockey Stadium since May 4.

"Out of the 44 probables we picked 26 players in the shortlist while the remaining players have been asked to leave the camp," said head coach and former Olympian Shahnaz Sheikh.

The Islahuddin-led selection committee, which witnessed the players at the camp included former Olympian Khalid Bashir, Chaudhry Arshad, Shahnaz and secretary Rana Mujahid.

Speaking to Dawn, Shahnaz said the camp would continue till June 13 after which the probables would participate in domestic championship, starting on June 17.

Answering a question, he said the squad for the Asian Games would be finalised on Aug 13.

Meanwhile, Mujahid insisted merit had been the primary criterion in naming the shortlist.

"We shortlisted the players purely on merit," he told reporters. "The PHF has been trying its best to improve hockey. And I hope, now we are on the right track."

Earlier, 37 probables had reported at the trials, later joined by seven more aspirants.

The players who could not satisfy the selectors at the trials include Adnan Shakoor, Mohammad Iqbal, Asad Aziz, Usman Hanif, Waleed Hanif, Mohammad Humad, Liaquat Rasool, Khurram Shahzad, Bilal Khan and Shah Jee.

However, the selection committee assured these players that they would be given chances in future.

"Those who have been asked to leave the camp should not be disappointed. We provided them the best training and in future we will consider them again. They should keep doing hard work," emphasised Shahnaz.

Probables shortlist:

Full-backs: Mohammad Imran, Mohammad Khalid, Abaad Ali, Abdul Sattar, Zahidullah, Asad Aziz.

Halves: Rizwan Junior, Mohammad Tousiq, Rashid Mahmood, Tasawwar Abbas, Mohammad Sohaib.

Forwards: Ali Hussain, Shafqat Rasool, Abdul Haseem Khan, Ali Shan, Mohammad Umar Bhutta, Mohammad Rizwan Senior, Mohammad Dilber, Asfar, Shahbaz Ahmed, Shakeel Abbasi, Zeeshan Akram, Arsalan Qadir.

Goalkeepers: Imran Shah, Imran Butt, Mazhar Abbas.

Dawn


---

PHF awards contracts to selectors, managers

Mohsin Ali

ISLAMABAD - Pakistan Hockey Federation (PHF) secretary Rana Mujahid Wednesday confirmed that contracts were awarded to the senior and junior selection committee and team management till 2016.

Talking to The Nation, Rana said: "I am more than satisfied with the progress of the national camp at Islamabad as I had visited twice the camp during the last two-weeks or so and found complete dedication and total commitment from the head coach and his entire coaching staff and players."

He said that the federation had taken the initiative of taking on board right persons for the right job. "Now after four weeks of the camp, I can confirm with complete authority that we have taken the right decision and now with the combined efforts of the federation, selection committee and team management, more than desired can be achieved. I am quite impressed the way Shahnaz Sheikh is working with the boys as he has been striving hard to remove the flaws and weaknesses of the players and giving them important tips to improve their games. It will surely help boost the players' morale and making them mentally and physically strong to take on any given opponents."

"The federation has put Pakistan hockey on right track and the masses will soon reap benefits and will soon turn their attentions towards hockey. It was quite bleak period in Pakistan hockey, but those days are about to end and good days are now at arm's length," he added.

"We have decided to conduct junior hockey camp under the command of Manzoor-ul-Hasan Senior and the dates are yet to finalize, but we have agreed in principle to start junior camp. We have given top priority to senior team for some high profile events including the Asian Games. Seniors need top most attention, which the federation had dully obliged. Now we have been focusing on juniors who are the future of Pakistan hockey. The camp is great opportunity for the juniors to perform and show their potential and make their ways into the national squad," Rana concluded.

The Nation


---

Dar Academy Boys Stole the Show at the National Juniors

Just a look at the team sheets of the three sides mounting the podium at the recent national junior championships at Karachi would signify the role of the Dar Hockey Academy in today's Pakistan hockey.  

If the winners, National Bank, had four (Adeel Latif, Sikander, Waseem Akram and Abid Bhatti), the runner up WAPDA had three (Bilal Mahmood, Adnan and Ahad) while Punjab Colours, who finished third, enjoyed the services of four (Asif, Mansouri, Awais (GK) and Usman) academy boys. 
 
This youthful talent is coming from an academy being run without any help from the PHF or government. 

All the above lads have not only been benefited by the modern coaching imparted at the academy but the talent of most of them also got polished by playing against European outfits during academy's tours of Holland, Germany and Belgium in recent years.
 
For good measure, the fourth placed PIA also had one Aamir in their colours. While four of the Dar HA's  younger lot (Ishtiaq, Yaqoob,  Shanawar and Yasir) played for the Punjab Whites, province's second string.
                                                                                                                                                                
For many, in this darkest period of Pakistan hockey, the Dar HA is only ray of hope.

www.darhockeyacademy.com

Ijaz Chaudhry writes on hockey and other sports. For more about him and his work, visit: www.sportscorrespondent.info

Fieldhockey.com


---

East Grinstead and Surbiton strengthen for 2014/15 season

EHL-bound East Grinstead have signed England and Great Britain-capped goalkeeper Paddy Smith for next season. The 22-year-old moves from Cannock and told the East Grinstead Courier he is "extremely excited" about the move.

He said: "The club have been a real force in the English Premier League over the past decade with success both outdoor and indoor, domestically and in Europe and I aim to build on this over the coming seasons in the run up to Rio 2016 and beyond.

"I am really impressed with the management's professionalism, hunger for success, and to be playing alongside some of my international team-mates and the best players in the league. This will give me a fantastic opportunity of winning major competitions both at home and in Europe."

England's third placed side Surbiton have also strengthened with another England and GB player David Beckett, formerly of Cannock, and Nick Cooper – top goal scorer in National Conference West with 22 goals.

Cooper returns to Surbiton having graduated from Exeter University. In announcing the new arrivals, coach Todd Williams said: "We are delighted to welcome David and Nick to Sugden Road.

"Whilst our progress over the past two seasons has been pleasing we now want to get to the very top and believe both David and Nick bring the sort of qualities we want in our players to achieve that goal. Importantly, we also hope that their success with us helps them achieve their own hockey goals."

Euro Hockey League media release


---

U.S. Head Coach Chris Clements announces Men's National Squad

COLORADO SPRINGS, Colo. – Over the course of a lifetime players are always striving in the hopes of competing for something greater than themselves - the U.S. Men's National Squad. The dream to represent Team USA is one that for many, began years ago while admiring their heroes from afar. The opportunity to achieve that dream and become heroes to the next generation of hockey athletes is one that is not taken lightly.

Years of intense hockey training, weight room work outs and pushing beyond perceived limits culminates when you read your name on the selected list and then have the chance to sing the national anthem. For a select group of elite male players, the dream to wear the red, white and blue has become a reality.

For the newly selected athletes, this is the beginning of an exciting chapter in their lives. Things will not get easier, only harder. USA Field Hockey and U.S. Men's National Team Head Coach Chris Clements are excited to give more new players the earned opportunity to represent the red, white and blue. The Senior Team will now begin preparing for their first competition as a squad in an upcoming series at the Olympic Training Center in Chula Vista, Calif. July 19-26 against Chile, which will be shortly followed by a series against Mexico in early August and a late-August series against Argentina. The competitions are vital in the preparation of World League Round 2 and 2015 Pan American Games, which is only a little more than 12 months away.

"We have selected a very youthful, competitive and dedicated group," said Clements. "The transition of the squad over the past two and a half years has seen a marked change in personnel. The growth of players via training in the centralized training program has provided an accelerated level of performance, directly increasing the quality of hockey players we are producing."

The time on the field complimented with the support of the USOC resources and staff, employment opportunities and academic monitoring has enabled a sustainable long term program to be put in place, where the program can begin to gain ground on international rivals. The process takes time to develop and Clements and his team will be patient with growth and pragmatic with their approach, while setting high expectations for long term success.

Clements has named the following three groups of players: Players who have established themselves on the Men's National Team Senior Squad, players who will compete for the final seven places on the Men's National Team roster and players who are on the development squad.

Recognition of Service

Nearly 300 caps and countless hours of training are stepping away from the U.S. Men's National Program.

"These players have given an unquestionable amount of time and effort combining for almost 300 international matches, most being played together," said Clements. "We wish them all the best with their careers outside of hockey."

Thank you to the following outstanding male athletes:

#1  Jon Ginolfi - 103 caps
#9   Ian Scally - 106 caps
#17 Sean Harris - 78 caps

An upcoming article will be recognizing the hard work and dedication of these athletes in the next week.

2014-15 U.S. Men's National Squad

U.S. Men's National Team Head Coach Chris Clements is proud to announce the 2014-15 U.S. Men's Senior Squads.

The following athletes have been selected to the 2014-15 U.S. Men's Senior Squad:

Kevin Barber (Camarillo, Cali.), Michael Barminski (Ventura, Cali.), Sean Cicchi (Thousand Oaks, Cali.), Alex Cunningham (Bad Kreuznach, Ger.), Ajai Dhadwal (Agoura Hills, Cali.), Mohan Gandhi (Ventura, Cali.), Alex Grassi (Brookeville, Md.), Pat Harris (Moorpark, Cali.), Aki Kaepellar (Stuttgart, Ger.), Christian Linney (San Diego, Cali.), Tom McCarthy (East Windsor, Conn.), Manny Martinez (Lakeside, Cali.), Johnny Orozco (Ventura, Cali.), Chris Rea (San Diego, Cali.), Ranjot Sangha (Sacramento, Cali.), Ajaypal Singh (Hayward, Cali.), Paul Singh (Simi Valley, Cali.), Tyler Sundeen (Simi Valley, Cali.)

The following athletes have a pending selection to the 2014-15 U.S. Men's Senior Squad:

Tom Barratt (Greensboro, N.C.), Jed Cunningham (Moorpark, Cali.), William Holt (Camarillo, Cali.), Brandon Karess (Allentown, Pa.), Ranveer Kundi (Glendora, Cali.), Steven Mann (Hollidaysburg, Pa.), Adam Miller, Spencer Reed (Ventura, Cali.), Moritz Runzi (Boston, Mass.), Liam Walsh (Sedro Woolley, Wash.), Andy Zayac (Hayward, Cali.)

The following athletes have been selected to the 2014-15 U.S. Men's Development Squad:

Austin Groeneveld (Jenkintown, Pa.), JaJa Kentwell (Spring City, Pa.) , Amandip Sandhu (Sacramento, Cali.), Amarpreet Sidhu (San Jose, Cali.)

USFHA media release


---

Men's Development Squad headed to Mexico for test series

Vancouver, BC – Field Hockey Canada is sending its Senior Development Squad to Mexico for a test series versus Mexico and Cuba to be held in Mexico City from June 3 to June 8, 2014.

Sixteen athletes have been named to the touring roster, the majority of whom are part of the Field Hockey Canada Men's Senior Development Squad (SDS) and Junior Developments Squad (JDS).

"These types of competitions are invaluable to the long term success of our program," says Canadian Men's National Program Head Coach Anthony Farry.

"We are getting more and more athletes international exposure. This is critical for not only the success of our senior group but also the underpinning programs as it shows the athletes coming through that there are opportunities and pathways to play international matches."

With the majority of the Men's National Team athletes currently training for the upcoming Commonwealth Games, which will be held in Glasgow, Scotland this July, the Mexico three-nations series is an opportunity for the Development Squads to earn extremely valuable international experience.

"We are looking to expose some of our JDS athletes to senior level hockey while also continuing to give athletes in our Men's National Team and SDS the chance to push for Commonwealth Games selection," adds Farry. "With the mix of ages it will be a great test, especially playing a side like Cuba who will be very physically strong."

The Canadian roster is led by twenty-two year-old Keegan Pereira (Ajax, Ont.), who has been capped internationally seventy-eight times. Vancouver's John Smythe and James Kirkpatrick, who have appeared in ten international caps each, also add to the team's experience.

Canada will open the series on June 3 versus Mexico A.
Tour Roster
| | | | |
| --- | --- | --- | --- |
| Name |   | Position | Hometown |
| Sunny | Aujla | Defender | Surrey, BC |
| Josh | Brown | Forward | Victoria, BC |
| Tristan | Burgoyne | Goalkeeper | Vancouver, BC |
| Arshjot | Buttar | Defender | Victoria, BC |
| Rohan | Chopra | Forward | Ottawa, ONT |
| Adrien | D'andrade | Defender | Coquitlam, BC |
| Oliver | Ewasechko | Mid/Fwd | Calgary, ALB |
| Manvir | Kingra | Defender | Surrey, BC |
| James | Kirkpatrick | Forward | Victoria, BC |
| Jannu | Mahal | Mid/Fwd | Surrey, BC |
| Balraj | Panesar | Mid/Def | Surrey, BC |
| Keegan | Pereira | Midfield | Ajax, ON |
| Matthew | Sarmento | Forward | Vancouver, BC |
| Arshjit (Amrit) | Sidhu | Mid/Fwd | Abbotsford, BC |
| John | Smythe | Mid/Def | Vancouver, BC |
| Harp | Virdi | Mid/Fwd | Vancouver, BC  |
Tour Staff
Head Coach – Geoff Matthews
Team Manager – Preet Sidhu
Jennifer Mark – Athletic Therapist
Videographer – Kim Ewasechko
Schedule
June 3 – vs Mexico A
June 4 – vs Cuba
June 5 – vs Mexico B
June 7 – Semi-Final
June 8 – Final
Field Hockey Canada media release


---

Passing of Sultan Azlan Shah (1928-2014)

Sultan Azlan Shah, FIH Executive Board Member & President of Asian Hockey Federation




It is with deep sadness that FIH acknowledge the very recent passing of Sultan Azlan Muhibbuddin Shah, President of the Asian Hockey Federation (AHF) and FIH Executive Board Member.

His Royal Highness passed at the age of 86 after being the leader of the AHF since 1990. With Sultan Azlan Shah as President, the AHF showed significant growth, improving from 20 to its now 31 members. In addition, Sultan Azlan Shah was pivotal in the start-up of the Raja Ashman AHF-MHFC Academy, which is now the leading centre for hockey officials and coaches in Asia.

"Sultan Azlan Shah was an important and passionate member of our Executive Board and we are very saddened by this news," said Leandro Negre, President of FIH. "Our condolences go out to his Royal Highness' entire family and especially his wife, Raja Permaisuri Perak Tuanku Bainun, his son, Raja Muda of Perak, Raja Dr Nazrin Shah and three daughters, Dato Seri Raja Azureen, Raja Eleena and Raja Yong Sofia."

Sultan Azlan Shah was a talented hockey player and also a distinguished lawyer. In 1965 he was elevated to the High Court of Malaysia and at 37 years old became the youngest High Court Judge in the Commonwealth. He ascended the Malaysian throne to become the Yang di-Pertuan Agong in 1989 and reigned until 1994.

"This is a great loss for the hockey world as Sultan Azlan Shah was an icon in hockey," added Kelly Fairweather, FIH CEO. "His commitment to grow hockey and his dedication as an ambassador for the sport will truly be missed."

Moments of respect will be paid during the Rabobank Hockey World Cup 2014 in The Hague, Netherlands.

FIH site


---

Sultan Azlan Shah passes away

It is with great sadness that the Asian Hockey family notes the passing of its beloved President, Sultan Azlan Muhibbuddin Shah.

Born on 19 April 1928, His Royal Highness was 86 years of age. He had been President of the AHF since 1990. During his term the AHF grew from 20 to the current 31 members. He also oversaw the setting up the Raja Ashman AHF-MHC Academy, which is now a leading centre for training of hockey officials and coaches.

Besides being an accomplished hockey player, Sultan Azlan Shah was also a distinguished lawyer. In 1965 he was elevated to the High Court of Malaysia and at 37 years of age was the youngest High Court Judge in the Commonwealth.

Sultan Azlan Shah ascended the Malaysian throne to become the Yang di-Pertuan Agong in 1989 and reigned until 1994.

He is survived by his wife Raja Permaisuri Perak Tuanku Bainun, his son Raja Muda of Perak, Raja Dr Nazrin Shah and three daughters, Dato Seri Raja Azureen, Raja Eleena and Raja Yong Sofia.

The AHF expresses and sends it heartfelt condolences to the family.

Asian Hockey federation media release


---

Sultan Azlan's passing a great loss to local and international hockey



Sultan of Perak, Sultan Azlan Shah deliver words of encouragement to national hockey players ahead of the qualification round of London Olympic Games in 2012. Also present is Tengku Mahkota of Pahang Tengku Abdullah Sultan Ahmad Shah. File Pic

KUALA LUMPUR: The local and international sports arena, especially hockey, suffered a huge loss with the demise of the Sultan of Perak, Sultan Azlan Shah who is regarded as the 'Father of Malaysian Hockey' for his tremendous contributions to the sport over 41 years, both as a player and administrator.

Sultan Azlan Shah, 86, who started playing hockey since his school days, played for Perak during his hey days before being elected as the Malaysian Hockey Federation (now Malaysian Hockey Confederation) vice president in 1973.

As a centre-forward for the Perak Malays and Perak State teams, Sultan Azlan Shah was feared by his opponents for his speed as well as his dribbling skills on the field.

Sultan Azlan Shah possesses a staunch enthusiasm for sports, especially hockey as his love for hockey began during his schooldays.

Under his stewardship, Malaysian hockey was able to stand on the same platform of the big boys in world hockey like India, Pakistan, Australia and Holland to name a few.

It was also during his time that Malaysia was first given the honour to host the World Cup of hockey in 1975 where Malaysia finished an all time high of fourth in the 1975 edition.

Under his leadership, Malaysia were once again given the host job for the 2002 World Cup which was held at the National Hockey Stadium in Bukit Jalil.

Upon the death of the then MHF president Tun Abdul Razak in 1976, Tun Hussein Onn stepped in as the President until 1981 before Sultan Azlan Shah took over the role of MHF President and stayed at the helm until 2005.

In 1997, Sultan Azlan Shah was elected as the President of the Asian Hockey Federation and remained the President until his demise today.

In 1992, Sultan Azlan Shah helped set up the Yayasan Hoki Malaysia, to enable hockey players in the country to enjoy a better benefits in terms of education, welfare and jobs.

Sultan Azlan Shah was also elected as the vice president of the Federation International Hockey (FIH) in 1992 and stayed on for two terms.

New Straits Times


---

Big shoes to fill

By Satwant Singh Dhaliwal



The writer and Sultan Azlan exchanging views on hockey.

PETALING JAYA — The demise of Sultan Azlan Shah, the ninth Yang di-Pertuan Agong, has created a vacuum in Malaysian and Asian hockey.

His passion for hockey was second to none. Often seen wearing dark glasses, it was said it was to hide his emotions at times of joy and despair on the exploits of the national hockey team.

Sultan Azlan was elated when Malaysia qualified for the World Cup that gets underway at The Hague, Holland, on Saturday and the hockey boys will surely go all out to give him something to smile about.

It was Saturday, May 19, 2012 that I was summoned to be at Istana Perak in Kuala Lumpur for an audience with Sultan Azlan.

It was just a few days after I had met Tuanku at the National Hockey Stadium in Bukit Jalil where he gave a talk to the national ladies hockey team who were bound for the Olympic qualifiers in Japan.

At the pitch, Tuanku beckoned me over and started a conversation on hockey. But this time it centred around the events that occurred in Dublin, Ireland, which was the Olympic qualifier for men.

As I uttered my condolences on the demise of Prince Ashman Shah, Tuanku asked me about the conversation I had with the late Prince in Dublin as we sat together watching the crucial Ireland-Malaysia match.

As a tear rolled down his cheek, I told Tuanku that his son had such passion for hockey and even knew the players by their nicknames.

And on May 19, His Royal Highness shared something that was never reported — that Prince Ashman was to take over as president of the Asian Hockey Federation.

Hockey is indebted to Sultan Azlan and many will have only fond memories of a personality that could walk as equal amongst his citizens, dispensing protocol to share the joys and sorrows in hockey.

Sadly, Tuanku will not be around to follow the fortunes of the national team at the World Cup. Rest assured, Malaysian hockey will forever remember you, Sir.

Malay Mail


---

The dashing prince of hockey




SULTAN Azlan Shah was a rare member of the Malaysian royalty. A man of humility and yet a man who generated an incredible charisma wherever he went.

There have been great rulers, political leaders and stars of theatre and show business who have created a similar aura, but in Malaysian hockey, Sultan Azlan was unique.

It's difficult to explain how the affable former king aff ected people in such a moving way.

Always immaculately dressed, Sultan Azlan cut a fl amboyant character under a heavy mop of silver hair, both in and outside sporting circles.

Yet whenever he walked into a room everybody sensed they were in the company of an outstanding man who could illuminate their day.

Generations of hockey players whom he inspired realised they had to be on their best behaviour because they always knew when 'the boss' was around.

He was a visionary. In fact his determination was to boost the horizon of the Malaysian game.

What hockey devotee could ever forget the drama?

Malaysia and defending champions Holland locked at 1-1 in the 1975 World Cup. Seconds before fulltime, captain N. Sri Shanmuganathan provided a dream ending with a winning goal at the stroke of fulltime at Pantai.

Today players look back in wonder at the goal.

It was Sultan Azlan's greatest moment — "the most memorable moment of my sporting life," he told me the morning after.

Tall and athletic looking, Sultan Azlan, from the beginning to the end, lived a charmed life amidst a comfortable upbringing.

Born on April 19, 1928 in Batu Gajah, Perak, his early education was at the Government English School, Batu Gajah and higher education at the prestigious Malay College Kuala Kangsar where he also excelled in sports, particularly in athletics and hockey and earned the moniker 'the dashing prince of hockey'.

At best he was a member of the Malay College's sprint relay team which included M. Shanmuganathan one of Malaysia's greatest ever hockey fullbacks.

From the playing fields he moved up to govern the sport at Malaysian, Asian and world levels.

He used to say if he felt somebody hadn't played well or had let the team down, he would wait 24 hours before telling them off.

If he felt the same way 24 hours later he knew he had to say his piece.

He never abused a player in front of his colleagues. He felt it was a cowardly approach.

He would confront you, man-to-man in his office. He would not shout.

He was installed Raja Muda of Perak by his uncle, Sultan Idris Shah on July 1, 1983. Within six months, Sultan Idris died after a long reign leaving the throne to him on February 3, 1984.

Five years later in April 1989, Sultan Azlan became the ninth Yang di-Pertuan Agong, serving the five-year term with distinction.

But it was as a hockey team manager, patient but firm, that he made his mark.

The players worshipped him. They repaid him by giving him their best.

Hockey has lost a man who felt fatherly duty towards those who were good at its play who had an easy comradeship with those who shared his delight.

But the sport has also lost a man who loved the game itself, who knew that his skills at its thrilling simplicities handed him most of lives rewards.

For Sultan Azlan, it was always people first. His ability to remember faces and take — or fake, if you insist — interest in the personality is a priceless gift for those who are to be judged or how they managed men.

This is something he did well. I asked him once: "What constituted a good sportsman", he replied: "Discipline, fitness and character".

On religion, he once told me: "I am not saying I am the best Muslim who ever lived, but I attend to my duties and I attend Friday prayers and the mosque is a great solace to me.

"I want to be and try to be a better man each day, with love and tolerance to be a better Muslim and to my non-Muslim brothers."

Always highly articulate in anything he did. He handled a wide variety of cases both civil and criminal, but it was cases involving complex facts that his constructive logic was brought to bear.

Despite his wide achievements, he remained modest and unassuming and he had no social pretentious. He was happiest among his family.

He enjoyed the reputation of an informal monarch, one who liked nothing better than to mix with his subjects.

Of course there were times and occasions when he felt he had to lay down the rules.

On many occasions he called me to his High Court chambers, allowing me the use of his private staircase leading up to his room and after our team discussions, he once asked me if I was following the team overseas.

I said "No".

"Do you want me to give them a call." "Please don't do that," I pleaded.

That reflected the humanity of the man and the confidence he had in me.

Even today, years later, I remain humbled by that gesture of kindness.

Malay Mail


---

Father of Malaysian Hockey Sultan Azlan Shah passes away

KUALA LUMPUR: International hockey suffered a big setback on Wednesday as the Sultan of Perak, Sultan Azlan Shah who is regarded as the 'Father of Malaysian Hockey', passed away at the age of 86.

Sultan Azlan Shah was known as the 'Father of Malaysian Hockey' for his colossal contribution to the sport for over 41 years -- both as a player and an administrator.

The ruler died at 1.30pm at the National Heart Institute. His remains will be taken to the palace in Kuala Kangsar on Thursday morning and buried at the royal mausoleum after mid-afternoon prayers.

Sultan Azlan Shah was a staunch lover of sports, especially hockey, and this love for the game inspired him to start the Sultan Azlan Shah Cup hockey tournament in 1983.

The Sultan Azlan Shah Cup began as a biennial event but became an annual event after 1998 and is hosted in the Perak capital of Ipoh.

Sultan Azlan Shah, who started playing hockey in his school days, played for Perak during his heydays before being elected as the Malaysian Hockey Federation (now Malaysian Hockey Confederation) vice-president in 1973.

Under his stewardship, Malaysia hosted two hockey World Cups -- 1975 and 2002 editions. In 1997, Sultan Azlan Shah was elected as the president of the Asian Hockey Federation and he held the post until his demise on Wednesday.

Sultan Azlan Shah also became the vice-president of the International Hockey Federation (FIH) in 1992 and stayed on for two terms.

The Times of India


---

Sultan Azlan Shah dies at 86



Azlan Shah (pictured left) was the President of the Asian Hockey Federation and was known for the hockey tournament named after him.—File Photo

The Sultan of Perak, Sultan Azlan Shah, passed away on Wednesday at the age of 86, Malaysia's state-run BERNAMA news agency reported.

Sultan Azlan Shah, who reigned over the Malay state of Perak for three decades, was an avid fan of field hockey and was known for the Azlan Shah Cup annual hockey tournament, which was named after him.

In 1997, Sultan Azlan Shah was elected the President of the Asian Hockey Federation, a position he held until his demise. He also served as the President of the Malaysian Hockey Federation until 2005.

Azlan will be laid to rest Thursday afternoon at the royal mausoleum in Kuala Kangsar.

He leaves behind his wife, a son, and three daughters.

Dawn


---

PHF condoles Azlan Shah's death

LAHORE: Pakistan Hockey Federation (PHF) and some former players have offered their condolences on the death of great hockey lover and organiser Sultan Azlan Shah on Wednesday.

Sultan was an accomplished lawyer, became Lord President of Malaysia, the highest judicial position in Malaysia, and served the country as its ninth king.

He also served as president of the Malaysian Hockey Federation for over 20 years and as president of the Asian Hockey Federation since 1990.

Those who offered their condolences were:

PHF president Akhtar Rasool, secretary Rana Mujahid, chief selector Islahuddin Siddiqui, head coach Shahnaz Sheikh, selection committee member Arshad Chaudhry, manager and head coach of Pakistan junior team Manzoor-ul-Hasan, Qasim Zia, Asif Bajwa, Samiullah and Manzoor Junior.

Dawn