All the news for Sunday 27 November 2022

2022 Test matches AUS v IND (M) - 27 November
Adelaide

All times GMT +9:30

26 Nov 2022 16:00     AUS v IND     5 - 4
27 Nov 2022 16:00     AUS v IND     7 - 4
30 Nov 2022 18:30     AUS v IND

FIH Match Centre


---

Kookaburras triumph over India in nine goal thriller




The Kookaburras and India have turned on a classic as a Blake Govers late show secured a thrilling 5-4 win for the hosts in the first of the 5-match series in Adelaide.


---

Akashdeep's hattrick in vain, as Tom Craig and Australia snatch 5-4 win.

s2h team




What a match! The fighting Australians snatched a win from the hands of the visiting Indians, who held their nerves all along, took 4-3 lead despite trailing often before the well-known last minute disaster had struck them. Blake Govers who was seen struggling with penalty corners in the first three quarters, came alive in the last, striking a brace to put paid to the Indian hopes.  A hattrick by Tokyo discard Akashdeep Singh went in vain while Tom Craig, who set up almost all goals for his team walked away with the Man of the Match epithet. The label was befitting.


---

Fighting India Done in by the Flair of Tom Craig & Blake Govers' Late Surge in Thriller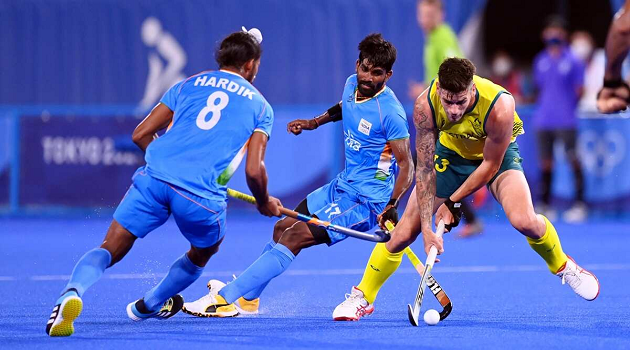 It was the sublime run of Tom Craig and a late surge from Blake Govers that paved the way for world number one Australia to close out a nail-biting 5-4 win over world number five India in the first of the five Test series at the MATE Stadium in Adelaide. Playing under hot weather conditions, both teams took their time to settle down before Tom Craig rushed down the middle and dodged past Harmanpreet Singh and fed Lachi Sharp who unleashed a tomahawk that sailed into the top corner of the Indian goal. Tom Craig was again in the thick of action, bursting down the left flank and relaying a precise pass to Nathan Ephraums for Australia's second goal. India were kept in the contest by vastly experienced Akashdeep Singh, who scored once in first and second quarter – his second strike – a stinging reverse hit that brooked no answer from the Aussie deep defence.


---

Akashdeep Singh's hat-trick in vain as Australia defeat India in high-scoring thriller, lead five-match series 1-0

Akashdeep Singh (10th, 27th, 59th) scored thrice but the Aussies prevailed in the end as Blake Govers (57th, 60th) found the back of the Indian net twice from penalty corners in the dying minutes of the game.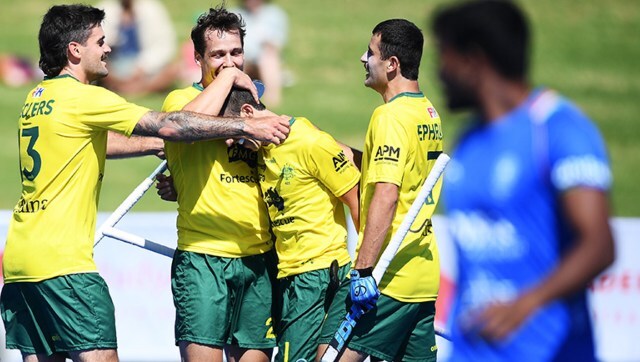 The Australians celebrate after scoring against India in the first of the five-Test series in Adelaide. Image credit: Twitter/@Kookaburras

Adelaide: Akashdeep Singh's hat-trick went in vain as India conceded two late goals to lose 4-5 against Australia in the high-scoring first hockey Test of the five-match series in Adelaide on Saturday.


---

FIH Hockey Men's Nations Cup South Africa 2022
Potchefstroom

All times GMT +2

28 Nov 2022 09:00         CAN v JPN (Pool B)    
28 Nov 2022 11:00         FRA v IRL (Pool A)        
28 Nov 2022 13:00         MAS v KOR (Pool B)    
28 Nov 2022 15:00         RSA v PAK (Pool A)        

Pool Standings

FIH Match Centre


---

Nations Cup: what the coaches have to say!




With less than 24 hours to go to the inaugural FIH Hockey Nations Cup, the coaches of all teams have spoken exclusively to FIH.hockey to express their expectations:


---

Indian Women's Hockey Team departs for 2022 FIH Women's Nations Cup

The Indian women's hockey team led by Savita Punia departed for the 2022 FIH Nations Cup happening in Valencia, Spain.



Indian Women's Hockey team (Source: Twitter/Pratt)

The Indian Women's Hockey Team left for Valencia, Spain and will be participating in the 2022 FIH Women's Nations Cup from 11-17 December.


---

SA Hockey Indoor Men named for December Namibia Series

The South African Hockey Indoor Men, powered by Tops at SPAR, have been named for the five match test series against Namibia in December in Cape Town. The two teams renew their rivalry after South Africa won the five-match series in Windhoek last month 3-1.


---

SA Men's Inaugural Hockey5s squad announced for African Qualifier

South African Hockey have announced the first ever South African Men's Hockey5s Squad today. The team will head to Ismailia in Egypt with the objective of qualifying for the Hockey5s World Cup in 2024.


---

Hockey, a sport for life

Masters World Cups

Sarah Juggins, for PAHF



Canada, 2022 Masters World Cup O50. Photo: Chris Wilson

On the World Masters Hockey website there is a picture of two players, Billy Taylor from Scotland, Darryl Michael from USA. They were both playing in the Over 65s Men's World Cup in Japan. The two players were celebrating more than just a hockey tournament because in 2018 Taylor saved the USA player's life when he suffered a heart attack while pitch side. The Scottish player carried out CPR for more than 40 minutes as they waited for the ambulance to arrive. Four years later and following a quadruple bypass, Michael was back representing USA.


---

2022 National Hockey Festival Concludes



IMAGES TAKEN BY AM PHOTOGRAPHY

TAMPA, Fla. -  All good things must come to an end and Saturday marked the third and final day of the 2022 National Hockey Festival. After final whistles blew, champions of each pool were honored at the stage. Congratulations to all the 2022 Festival Pool Winners!


---

Congratulations 2022 National Hockey Festival Pool Winners

TAMPA, Fla. - The 2022 National Hockey Festival is in the books! After bringing many athletes, coaches, umpires and families to the Tournament Sportsplex of Tampa Bay, the beloved annual holiday tournament wrapped up today. With its rich tradition, USA Field Hockey would like to thank all who participated and helped make another event under the sun successful.


---

Nurul's brace powers NHDP East to victory in Mirnawan Cup

By Aftar Singh



Skipper Nurul Iman Damia (right) scored a brace to steer National Hockey Development Programme (NHDP) East to a convincing 4-1 win over NHDP North in a Mirnawan Cup Group B match at the National Hockey Stadium in Bukit Jalil today. -NSTP/HAZREEN MOHAMAD

KUALA LUMPUR: Skipper Nurul Iman Damia scored a brace to steer National Hockey Development Programme (NHDP) East to a convincing 4-1 win over NHDP North in a Mirnawan Cup Group B match at the National Hockey Stadium in Bukit Jalil today.


---

How to get Olympic hockey tickets for Paris 2024



Ticket registration goes on sale in December PIC: FFH

"I want them to come to Paris, Lee Valley, Bhubaneswar everywhere, they are unbelievable. They have really had our back." That was the message from England and GB captain Zach Wallace following the bronze medal at the Commonwealth Games.