All the news for Sunday 7 August 2022

Commonwealth Games 2022 - 7 August
Birmingham, England

All times GMT +1

Men

6 Aug 2022 09:00 SCO v GHA (9-10)    7 - 2
6 Aug 2022 11:15 PAK v CAN (7-8)       4 - 3
6 Aug 2022 18:00 IND v RSA (Semi-Final 1)    3 - 2
6 Aug 2022 20:15 AUS v ENG (Semi-Final 2)    3 - 2

Women

7 Aug 2022 09:00 NZL v IND (Bronze Medal)    1 - 1 (1 - 2 SO)
7 Aug 2022 11:15 CAN v CO ( 5-6)
7 Aug 2022 15:00 ENG v AUS (Gold Medal)

Men

7 Aug 2022 18:00  NZL v WAL (Men's Classification 5-6)

Men

8 Aug 2022 09:00  ENG v RSA (Bronze Medal)   
8 Aug 2022 12:30 AUS v ND (Gold Medal)       

All Pool Standings

Official results site


---

India secure place in gold medal clash after hard-fought South Africa win

Australia stage comeback victory against England to earn chance for 7th gold medal




The morning session saw a couple of the men's placings sorted. The day began with Scotland securing 9th place with a big win over Ghana, this was followed by Pakistan edging a high-scoring match against Canada to confirm 7th. The evening session saw the men's semi-finals contested, starting with India earning a place in the final with a hard-fought win over South Africa. Over in the other semi-final Australia came back from 2-0 down to beat England.


---

Scotland Men hit Ghana for seven in final match




 Scotland's Men finished their Commonwealth Games campaign with a well-deserved 7-2 win v Ghana at the University of Birmingham Hockey Centre.


---

Last minute Pakistan goal ends thriller in Birmingham

Sarmento scores a pair in a thrilling fourth quarter defeat



Photo: Yan Huckendubler

Two goals off the stick of Matt Sarmento wasn't enough this morning in Birmingham, as Pakistan scored a last-minute field goal to earn the 7th place victory. It was a rematch of last Commonwealth Games 7/8 match. Canada's eighth place finish matches their 2018 Gold Coast performance.


---

Last-gasp Hanan earns Pakistan seventh place at CWG



PAKISTAN'S Moin Shakeel (L) and Mohammad Hammaduddin vie for the ball with Brendan Guraliuk of Canada during their seventh place match at the University of Birmingham Hockey & Squash Centre on Saturday.—courtesy CWG2022

BIRMINGHAM: Once again, Pakistan took on Canada in a seventh-place playoff at the Commonwealth Games. Just like four years ago in Australia, Pakistan came out as winners. This time thanks to a last-minute strike by Abdul Hanan Shahid that sealed a nerve-wracking 4-3 win on Saturday.


---

South Africa push India all the way in Semi-Final




South Africa's Hockey Men produced an outstanding display to push India all the way in the Commonwealth Games Semi-Final. A brilliant display from Gowan Jones inspired his team as they fell narrowly short of defeating the Asian Champions in a 3-2 thriller.


---

Indian Men Wear Down Spirited South African Challenge to Reach Third Commonwealth Games Final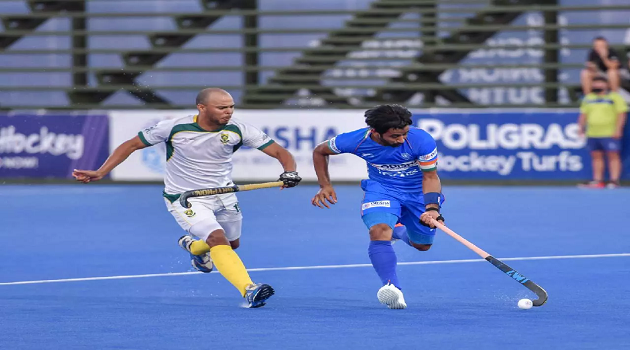 It was on expected lines that it won't be a stroll in the pitch for the Indian men's hockey team against the South Africans, who have earned a lot of respect in the hockey world over the last twelve months or so – their 4-3 upset of Germany at the 2021 Tokyo Olympics, followed by 4-3 win over New Zealand in their concluding pool tie at the 2022 Commonwealth Games are a testimony to their growing stature. South Africa have improved in leaps and bounds since losing rather tamely 2-10 on both occasions to India in the FIH Pro League in Potchefstroom earlier this year.


---

India men reach Commonwealth Games final after 3-2 win over South Africa



Rising Indian star Abhishek fires home WORLDSPORTPICS FRANK UIJLENBROEK

Birmingham — India men reached their third final in four Commonwealth Games after scuppering South Africa's bid for a debut final appearance. India won 3-2, a goal in the final minute giving Graham Reid's side some late butterflies, but they were fully deserving of this win.


---

India men beat South Africa 3-2 to qualify for hockey final at Commonwealth Games

India, which extended its unbeaten streak against South Africa in the CWG to 4-0, will meet the winner of the other last-four fixture between Australia and England in the final on Monday.

Santadeep Dey



Mandeep Singh of Team India celebrates after scoring his team's second goal during the Men's Hockey semifinal against South Africa on day nine of the Birmingham 2022 Commonwealth Games. | Photo Credit: Getty Images

The Indian hockey team guaranteed itself a silver medal on Saturday as it beat South Africa 3-2 in the men's semifinal of the Commonwealth Games at the University of Birmingham. India, which extended its unbeaten streak against South Africa in the CWG to 4-0, will meet the winner of the other last-four fixture between Australia and England in the final on Monday.


---

India men's hockey team outplay South Africa 3-2 to reach final

Abhishek (20th minute), Mandeep Singh (28th) and Jugraj Singh (58th) scored for India, while South Africa's goals came from the sticks of Ryan Julius (33rd) and Mustapha Cassiem (59th).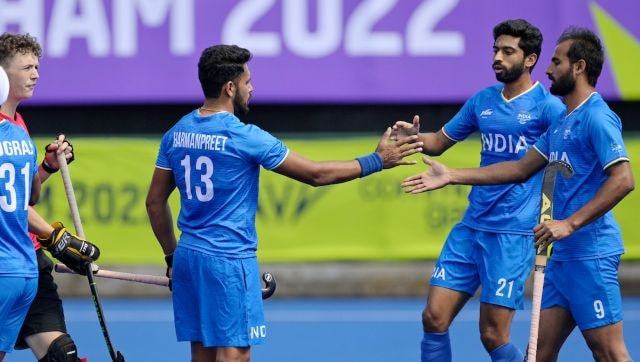 File image of the India men's hockey team at CWG 2022. Image: Hockey India

Birmingham: Olympic bronze medallists India eked out a hard-fought 3-2 win over South Africa to qualify for the men's hockey final of the Commonwealth Games here on Saturday.


---

Kookaburras dig deep to beat hosts




The Kookaburras will compete for a seventh straight Commonwealth Games gold medal after surviving a huge scare against England, coming from two goals down to win 3-2.


---

Heroic England beaten by Australia in semi-final thriller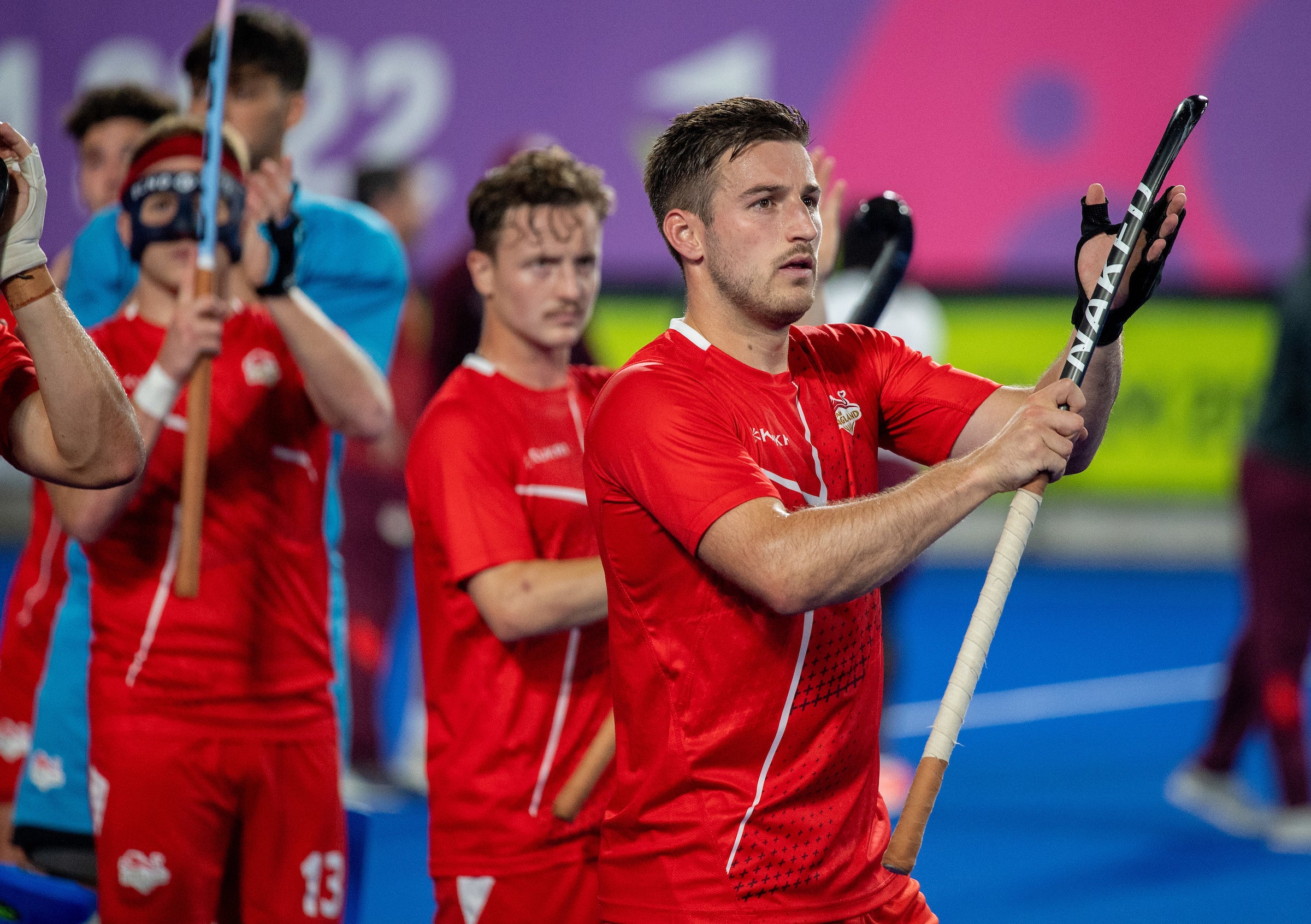 England will battle for bronze at the Commonwealth Games after an excellent fightback from Australia consigned the home nation to defeat in a gripping semi-final in Birmingham.


---

Australia fight back against England to reach men's hockey final in dramatic circumstances

By Patrick Burke



Australia came from two goals behind to beat England and reach the men's hockey final at Birmingham 2022 ©Getty Images

Australia produced a stirring comeback against hosts England to continue their bid for a seventh consecutive men's hockey Commonwealth Games final here, although there was controversy about the manner of Daniel Beale's fourth quarter winner against hosts England.


---

'Gutted' Zach Wallace hails young England side



Zach Wallace leads England to the 6,000 fans after defeat PIC: WORLDSPORTPICS ADY KERRY

Birmingham — A "gutted" Zach Wallace, England men's captain, said his side fell short of the "complete performance" to beat world No 1 Australia as their search for a first ever Commonwealth Games final continued after a rampaging 3-2 defeat to the Kookaburras.


---

England to face South Africa for hockey bronze

By Becky Grey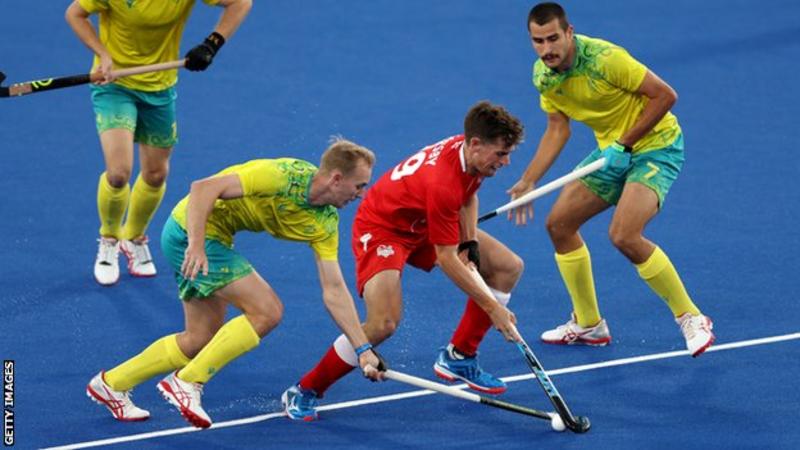 England's men will face South Africa for Commonwealth hockey bronze after a 3-2 defeat against perpetual champions Australia.


---

Malone relishes English crowd at Commonwealth Games hockey tournament

By Philip Barker



Australia beat India in a shootout to reach the Birmingham 2022 final ©Getty Images

Australia's Rosie Malone insists she will not be worried by a pro-English crowd in tomorrow's women's hockey final at the University of Birmingham.


---

'Such an incident appalling at the top level,' says former Indian coach Sjoerd Marijne Former Indian women's team coach

Sjoerd Marjine expresses his disappointment over the clock howler in the penalty shootout in the India v Australia semi-final at Commonwealth Games 2022.

By Pritish Raj



The dejected India women's hockey team after a cruel loss in the CWG semifinals

ndian hockey is in heartbreak after the women's team fought bravely against Australia but were defeated on penalties in the Commonwealth Games semifinal on Friday night. The former coach of the team Sjoerd Marijne said that it is appalling that something like the clock howler could happen at the top level of the game.


---

2022 Test matches - 7 August

All times GMT +2

CZE v SUI (M)
Plzen and Prague, Czech Republic

5 Aug 2022 19:00     CZE v SUI     2 - 2
6 Aug 2022 16:00     CZE v SUI     3 - 1
7 Aug 2022 10:30     CZE v SUI        

POL v AUT (W)
Siemianowice Slaskie, Poland

5 Aug 2022 19:00     POL v AUT     1 - 1
6 Aug 2022 17:00     POL v AUT     3 - 0
7 Aug 2022 11:00     POL v AUT    

FIH Match Centre


---

2022 Test Matches IRL v CHI v AUT (M) - 7 August
Abbotstown (IRL)

All times GMT +1

2 Aug 2022 19:45     IRL v CHI         3 - 2
3 Aug 2022 19:45     IRL v CHI         3 - 1
5 Aug 2022 19:45     CHI v AUT     2 - 1
6 Aug 2022 15:30     IRL v AUT     2 - 0
7 Aug 2022 09:30     IRL v AUT    
9 Aug 2022 19:45     IRL v CHI    

FIH Match Centre


---

Ireland beat Austria 2-0 to extend winning run.

Men's international test match




Ireland made it three wins in succession at the Sport Ireland Campus as second quarter goals from John McKee and Jeremy Duncan saw off world number 19 side Austria 2-0.


---

BJSS thrash Penang NHDP 29-0

By Jugjet Singh

BUKIT JALIL Sports School (BJSS) Juniors set a Division Two Malaysian Junior Hockey League record when they crushed Penang U14 NHDP 29-0 at the National Hockey Stadium today.


---

Asian Hockey Federation chief executive Ikram to run for FIH President

By Ali Iveson



Tayyab Ikram is to stand for FIH President ©Getty Images

Asian Hockey Federation (AHF) chief executive Tayyab Ikram has announced he will stand for the International Hockey Federation (FIH) Presidency.


---

PHF-PSB tussle set to intensify as Khokhar decides to hold elections

Mohammad Yaqoob

LAHORE: The ongoing gulf between the Pakistan Hockey Federation and the Pakistan Sports Board over holding fresh elections of the federation has increased further as it seems PHF president retired Brig Khalid Sajjad Khokhar has decided to conduct the elections himself instead of giving this role to the committee already appointed by the PSB.