All the news for Friday 5 August 2022

Commonwealth Games 2022 - 5 August
Birmingham, England

All times GMT +1

Women

4 Aug 2022 09:00 RSA v NZL (Pool B)        1 - 4
4 Aug 2022 11:00 ENG v WAL  (Pool A)        5 - 0

Men

4 Aug 2022 14:00 IND v WAL (Pool B)        4 - 1
4 Aug 2022 16:00 CAN v ENG (Pool B)       2 - 11
4 Aug 2022 19:00 RSA v NZL (Pool A)        4 - 3
4 Aug 2022 21:00 AUS v PAK (Pool A)        7 - 0

Women

4 Aug 2022 09:00 GHA v KEN  (9-10)   
4 Aug 2022 11:15  WAL  v RSA (7-8)
4 Aug 2022 18:00   ENG v NZL Semi-Final 1
4 Aug 2022 20:15   AUS v IND Semi-Fina 2

Men

6 Aug 2022 09:00 SCO v GHA (9-10)
6 Aug 2022 11:15 PAK v CAN (7-8)
6 Aug 2022 18:00 IND v RSA (Semi-Final 1)
6 Aug 2022 20:15 AUS v ENG (Semi-Final 2)

All Pool Standings

Official results site


---

Pool stage comes to a close as South Africa's men pull off stunning victory to secure semi-final berth

England's women win 4 in a row for first time in Commonwealth Games




The final day of Pool action got underway with New Zealand's women cruising to victory over South Africa, before England went 4 wins from 4 for the first time in the Commonwealth Games with a comfortable win over Wales. The afternoon began with India's men securing top spot in Pool B, with the second game of the session seeing England put up double figures against Canada. South Africa's men pulled off a crucial win over New Zealand in the opening game of the evening, ending the Black Sticks chance of a medal. The final Pool match of the games saw Australia maintain their 100% record, setting up a semi-final against hosts England.     


---

New Zealand seal spot in semi-finals




An opening blitz from New Zealand saw them score three times in the opening quarter that gave them a lead that would never be shaken. Ultimately the three goal difference would remain until the end and New Zealand would secure a spot in the Semi-Finals.


---

Women's Black Sticks target another gold at Commonwealth Games after trouncing South Africa



Black Sticks captain Megan Hull bringing the ball under control against South Africa. Justin Setterfield/Getty Image

The women's Black Sticks have gold in their sights again after clinching their place in the Commonwealth Games semifinals by trouncing South Africa 4-1 on Thursday (Friday NZ time).


---

England hit five past Wales to maintain unbeaten run in Birmingham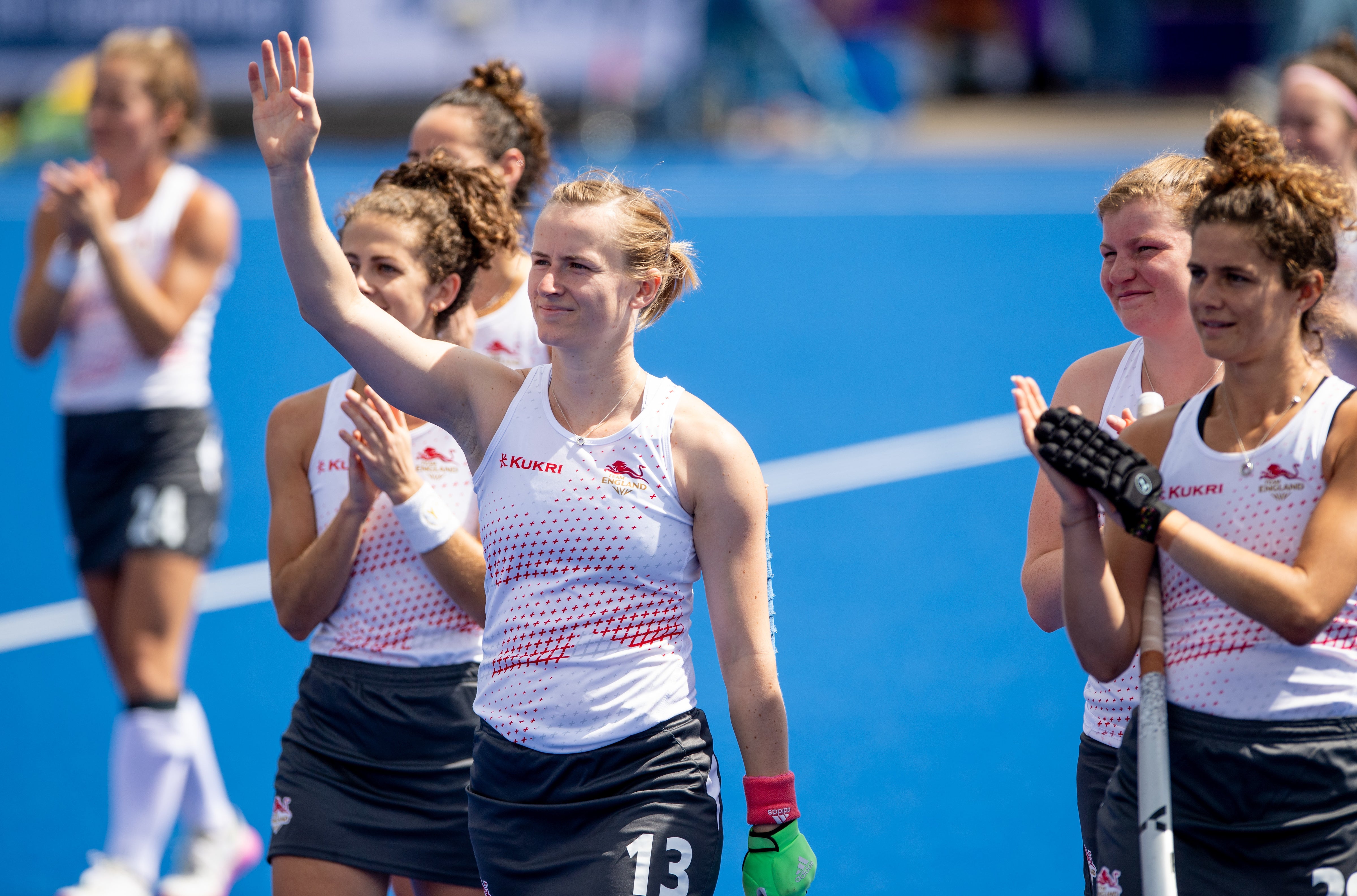 Five-star England eased past Wales to ensure they topped Pool A with maximum points and set-up a Commonwealth Games semi-final with New Zealand.


---

Solid Performance From Wales Women In Home-Nation Battle With England



IMAGE: David P McCarthy Photography

In their final pool match of the Commonwealth Games, Wales women fought hard against a strong England side but ultimately lost 0-5 to the hosts.


---

England women and men reach semi-finals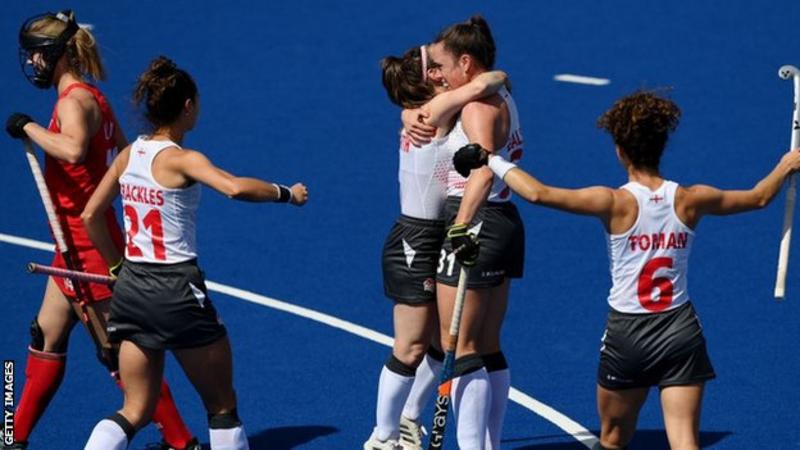 England finished the pool stages with a perfect winning record

England women will face defending champions New Zealand in the Commonwealth Games hockey semi-finals, while England men will take on holders Australia.


---

Valiant Effort From Wales Men Against India In Final Pool Match At Commonwealth Games



IMAGE: David P McCarthy Photography

Ranked fifth in the world, India was always going to be a tough challenge for Wales men as they battled it our for a spot in the Commonwealth Games semi-final.


---

Indian Men Brush Aside Wales After Initial Resistance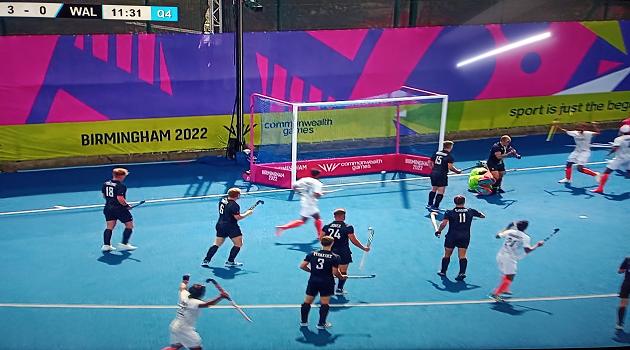 The flair of the Indian men's hockey team have been a visual treat for all and sundry. The blazing hockey we have come to see from the Blueshirts in the 2022 Commonwealth Games (barring the final quarter of the England game) was at play against Wales as well. The only noticeable difference was that Wales crowded their defence and kept India at bay for the first quarter only. The barrage of raids from India made one understand that it was only a matter of time before the Welsh defence cracked. India appeared extra pumped up after Lewis Prosser's ugly tackle on skipper Manpreet Singh inexplicably saw the umpire did show the temporary marching orders to the Canadian. India channelised their dismay in the best possible direction – attacking more and it paid off when Harmanpreet Singh struck twice in two minutes of shorties – on both occasions wrong-footing Wales goalkeeper Toby Reynolds-Cotterhill.


---

India men's hockey team qualifies for semifinal at Commonwealth Games 2022



Indian men's hockey team qualifies for the semifinals. | Photo Credit: Getty Images

India men's hockey team defeated Wales 4-1 on Thursday and qualified for the semifinals of the Commonwealth Games 2022.


---

Harmanpreet's hat-trick hands India 4-1 win over Wales, enter semifinals

Indians had the better share of possession in the first two quarters, but Wales gave a tough fight to their fancied opponents, especially in the first 15 minutes



Indian hockey players celebrate after scoring a goal against Wales during the Pool B men's field hockey match of the Commonwealth Games, at the University of Birmingham Hockey and Squash Centre in Birmingham, UK, on Thursday, August 4, 2022. PTI

Vice-captain Harmanpreet Singh slammed a hat-trick as the Indian men's hockey team beat Wales 4-1 in its final Pool B match to qualify for the semifinals of the Commonwealth Games here on Thursday.


---

'We're getting closer': Wales think positive after falling to India



Akashdeep Singh shoots towards Wales' goal in Birmingham PIC: WORLDSPORTPICS FRANK UIJLENBROEK

Birmingham — A third straight win at a Commonwealth Games over Wales saw India into the hockey semi-finals of the men's event. For Wales, a classification to finish fifth. How they will want to finish here on a high.


---

England finish Pool stage in fine form after goal glut against Canada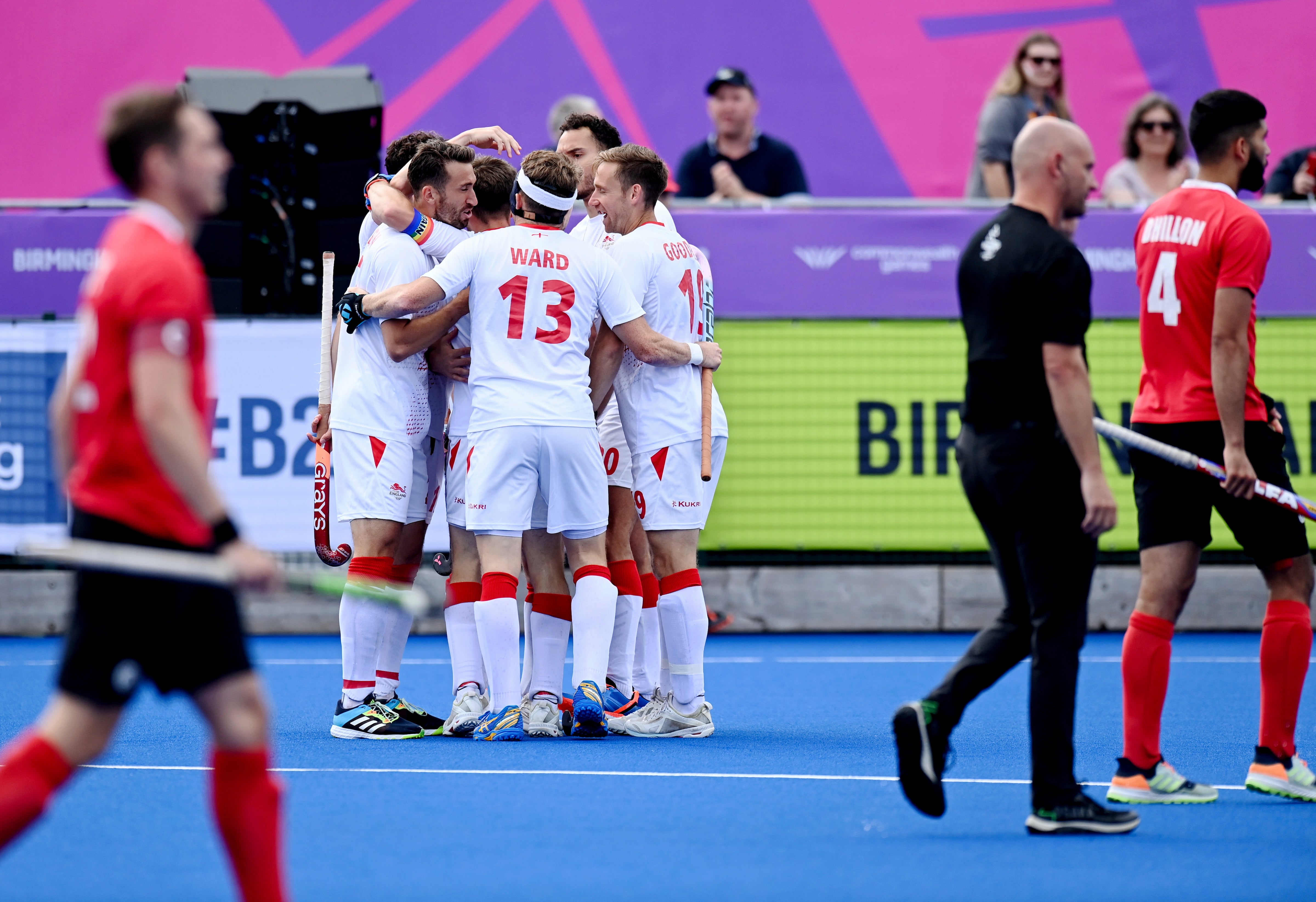 England finished Pool B unbeaten after an 11-2 demolition of Canada at the Commonwealth Games.


---

England topples Canada in final pool B match

Canada finishes fourth in their pool at Commonwealth Games



Photo: Yan Huckendubler

Canada's final pool-play matchup was against the host country, England. With a win, England would secure their spot in the semifinals. Canada was fighting for a higher finishing position in their pool.


---

South Africa produce sensational victory against the Black Sticks




The SA Hockey Men showed class and heart in defeating New Zealand to keep the hope of a medal and a top 4 finish alive. They led 3-1, were pegged back to 3-3 before Connor Beauchamp punished the opponents with a brilliant and brutal penalty corner.


---

SA men's hockey team book first semifinal spot in two decades

By Karien Jonckheere

A nailbiting victory over New Zealand in their final pool game on Thursday night ensured the South African men's hockey team booked their first semifinal place at the Commonwealth Games in 20 years.


---

Black Sticks men crash out Commonwealth Games with defeat to South Africa

David Long



Matthew Guise-Brown scored two goals in South Africa's upset win over New Zealand. Justin Setterfield/Getty Images

The men's Black Sticks team have failed to make the semifinals at the Commonwealth Games, losing 4-3 to South Africa in their final pool game.


---

SA men's hockey team makes first Commonwealth semi-final since 2002: 'It's a proud moment'

Lynn Butler

It's a huge moment for hockey in South Africa as the men's side sealed their spot in the Commonwealth Games semi-finals in Birmingham.


---

'Dream big, anything's achievable': South Africa men reach Commonwealth hockey semi-finals

By Rod Gilmour



South Africa celebrates their thrilling win at the final hooter. PIC: WORLDSPORTPICS FRANK UIJLENBROEK

Birmingham — "Every time we play is for something bigger than ourselves," said Mustapha Cassiem, South Africa's 20-year-old forward, brother of Dayaan and one of a cohort of counter-attacking green shirts after advancing to a first Commonwealth Games semi-final in 20 years on Thursday night.


---

Clinical Kookaburras waltz past Pakistan




The Kookaburras have tuned up for a blockbuster semi final showdown with host national England by dispatching Pakistan 7-0 in clinical fashion at the Birmingham 2022 Commonwealth Games.


---

Pakistan out of medal race in hockey event



Source: Twitter

BIRMINGHAM: Pakistan are out of the medal race in the hockey competition in the Commonwealth Games 2022. The invincible Australians showed Pakistan the door in their pool-A match on Thursday.


---

Semi-final opponents confirmed at Commonwealth Games

England have learned their opponents in the Commonwealth Games semi finals.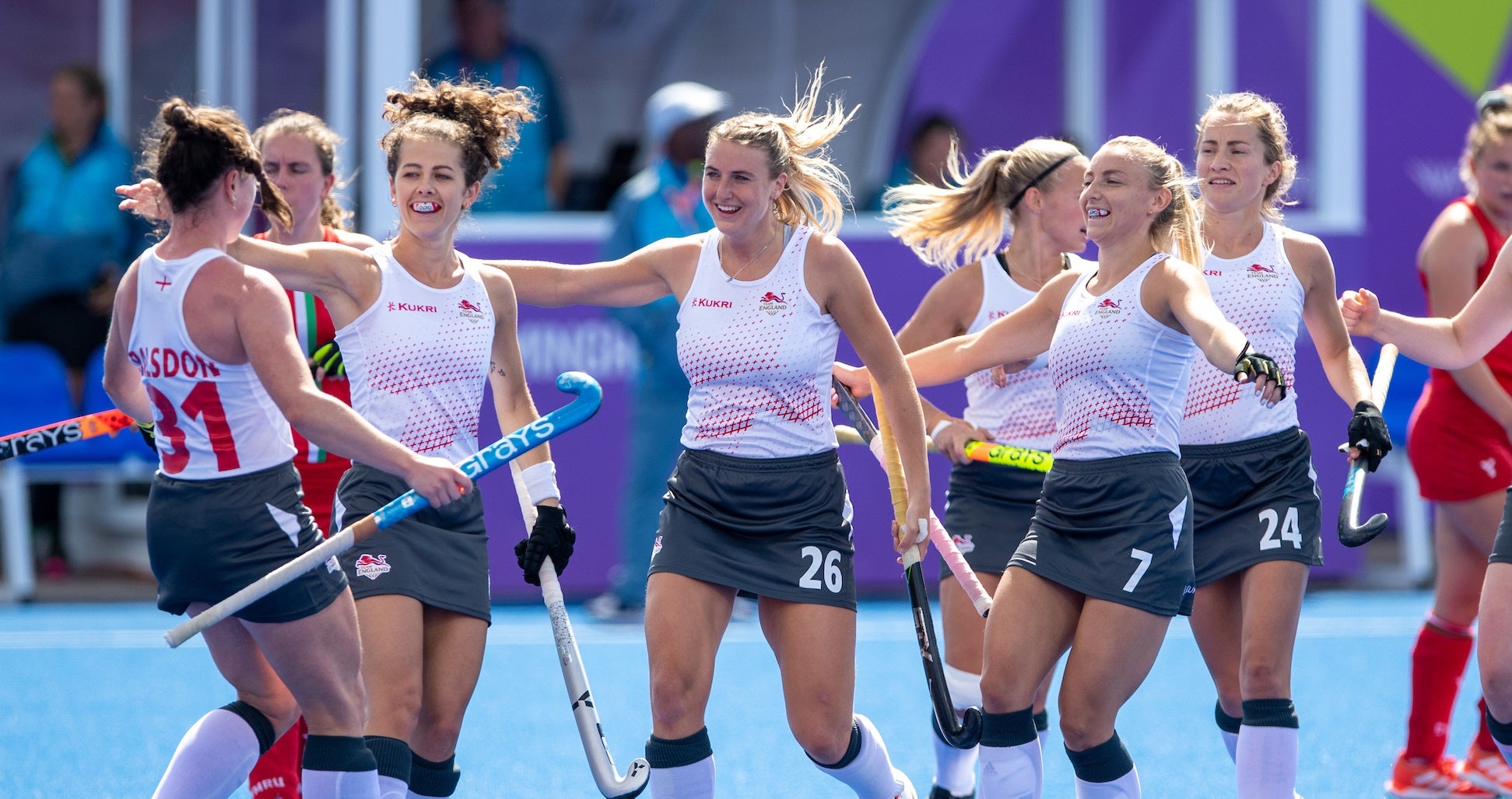 England's women topped their group after a 5-0 win over Wales in their final group game. They won all four matches; scoring 21 goals via eight different scorers. Conceding only once in four hours, they go into the final four in fine fettle. They take on a New Zealand side who they know well, having played them in the FIH Hockey Women's World Cup just a few weeks ago.


---

2022 Test matches

All time GMT +2

CZE v SUI (M)
Plzen and Prague, Czech Republic

5 Aug 2022 19:00     CZE v SUI    
6 Aug 2022 16:00     CZE v SUI    
7 Aug 2022 10:30     CZE v SUI    

POL v AUT (W)
Siemianowice Slaskie, Poland

5 Aug 2022 19:00     POL v AUT    
6 Aug 2022 17:00     POL v AUT    
7 Aug 2022 11:00     POL v AUT    

FIH Match Centre


---

2022 Test Matches IRL v CHI v AUT (M)
Abbotstown (IRL)

All times GMT _1

2 Aug 2022 19:45     IRL v CHI     3 - 2
3 Aug 2022 19:45     IRL v CHI     3 - 1
5 Aug 2022 19:45     CHI v AUT    
6 Aug 2022 15:30     IRL v AUT    
7 Aug 2022 09:30     IRL v AUT    
9 Aug 2022 19:45     IRL v CHI    

FIH Match Centre


---

Hockey men withdraw from Afcon qualifier

by Helge Schütz



The Namibian men's hockey team will not be competing at the Afcon qualifier in Zimbabwe. File photo

NAMIBIA's women's field hockey team has been announced and will compete at the Africa Cup of Nations Southern qualifier in Zimbabwe next month, but the men's team has withdrawn due to various factors.


---

Best U21 hockey talent selected in Jillaroos and Burras squads




The crop of prospective Hockeyroos and Kookaburras stars have been identified following the selection of the Australian Junior (Under 21) Men's (Burras) and Women's (Jillaroos) squads.


---

Missy Meharg earns four-year contract extension with Maryland field hockey

Taylor Lyons



Coach Missy Meharg celebrates after Maryland field hockey's 2-1 win over Syracuse on November 14, 2021. (Cam Andrews/The Diamondback)

Maryland field hockey coach Missy Meharg signed a four-year contract extension that keeps her in College Park through the 2026 season, according to a team spokesperson.