All the news for Wednesday 19 January 2022

2022 Africa Cup of Nations - 19 January
Accra, Ghana

All times GMT

Men

18 Jan 2022 13:00     NGR v UGA (Pool B)     10 - 3
18 Jan 2022 17:00     NAM v KEN (Pool A)     1 - 4
18 Jan 2022 19:00     GHA v EGY (Pool B)     0 - 1

19 Jan 2022 16:00     KEN v RSA (Pool A)    

20 Jan 2022 13:00     EGY v UGA (Pool B)    
20 Jan 2022 19:00     NGR v GHA (Pool B)   

Pool Standings

Pool A
| Rank | Team | Played | Wins | Draws | Losses | Goals For | Goals Against | Goal Difference | Points |
| --- | --- | --- | --- | --- | --- | --- | --- | --- | --- |
| 1 | South Africa | 1 | 1 | 0 | 0 | 13 | 0 | 13 | 3 |
| 2 | Kenya | 1 | 1 | 0 | 0 | 4 | 1 | 3 | 3 |
| 3 | Namibia | 2 | 0 | 0 | 2 | 1 | 17 | -16 | 0 |
Pool B
| Rank | Team | Played | Wins | Draws | Losses | Goals For | Goals Against | Goal Difference | Points |
| --- | --- | --- | --- | --- | --- | --- | --- | --- | --- |
| 1 | Egypt | 2 | 2 | 0 | 0 | 5 | 2 | 3 | 6 |
| 2 | Nigeria | 2 | 1 | 0 | 1 | 12 | 7 | 5 | 3 |
| 3 | Ghana | 2 | 0 | 1 | 1 | 1 | 2 | -1 | 1 |
| 4 | Uganda | 2 | 0 | 1 | 1 | 4 | 11 | -7 | 1 |
Women

18 Jan 2022 07:00     ZIM v UGA (Pool A)     5 - 0
18 Jan 2022 09:00     NGR v ZAM (Pool B)     2 - 1
18 Jan 2022 11:00     KEN v GHA (Pool B)     0 - 5 Forfeit
18 Jan 2022 15:00     NAM v RSA (Pool A)     0 - 6

19 Jan 2022 09:00     KEN v ZAM (Pool B)    

20 Jan 2022 09:00     NGR v KEN (Pool B)    
20 Jan 2022 11:00     ZIM v NAM (Pool A)    
20 Jan 2022 15:00     GHA v ZAM (Pool B)    
20 Jan 2022 17:00     RSA v UGA (Pool A)    

Pool Standings

Pool A
| Rank | Team | Played | Wins | Draws | Losses | Goals For | Goals Against | Goal Difference | Points |
| --- | --- | --- | --- | --- | --- | --- | --- | --- | --- |
| 1 | South Africa | 2 | 2 | 0 | 0 | 9 | 0 | 9 | 6 |
| 2 | Zimbabwe | 2 | 1 | 0 | 1 | 5 | 3 | 2 | 3 |
| 3 | Namibia | 2 | 1 | 0 | 1 | 3 | 6 | -3 | 3 |
| 4 | Uganda | 2 | 0 | 0 | 2 | 0 | 8 | -8 | 0 |
Pool B
| Rank | Team | Played | Wins | Draws | Losses | Goals For | Goals Against | Goal Difference | Points |
| --- | --- | --- | --- | --- | --- | --- | --- | --- | --- |
| 1 | Ghana | 2 | 1 | 1 | 0 | 7 | 2 | 5 | 4 |
| 2 | Nigeria | 2 | 1 | 1 | 0 | 4 | 3 | 1 | 4 |
| 3 | Zambia | 1 | 0 | 0 | 1 | 1 | 2 | -1 | 0 |
| 4 | Kenya | 1 | 0 | 0 | 1 | 0 | 5 | -5 | 0 |
Live streaming and full game replay on the Watch Hockey App (May be Geo blocked if there is TV coverage)

FIH Match Centre


---

Kenyan women forfeit match at hockey's Africa Cup of Nations as South Africa reach semi-finals

By Ali Iveson



Nomnikelo Veto was among South Africa's scorers versus Namibia ©Getty Images

South Africa are the first women's team through to the semi-finals of hockey's Africa Cup of Nations in Accra following a 6-0 win against Namibia.


---

South Africa first side to seal semi-final birth with victory over Namibia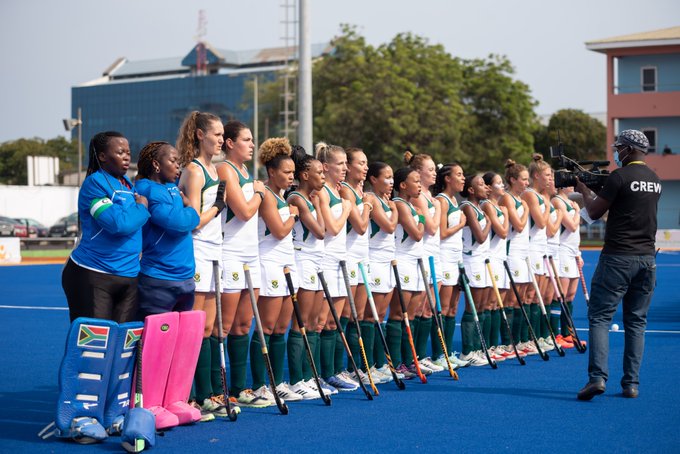 South Africa took on their Southern African counterparts Namibia on day 2 of the 2022 African Cup of Nations in Accra, Ghana. With both sides having won their opening games, a victory for the South Africans would secure a semi-final spot thanks to Zimbabwe's victory over Uganda.


---

Kenya women's hockey team miss match after arriving late in Ghana

By  Agnes Makhandia

The Kenya hockey teams landed in Accra, Ghana for the Africa Cup of Nations Tuesday afternoon, but the women's team handed a walkover to the hosts after failing to honour their match.


---

Kenya down Namibia to storm hockey Afcon semis

By  Agnes Makhandia

National men's hockey team Tuesday cast aside jet lag to beat Namibia 4-1 in their opening match of the 2022 Africa Cup of Nations and qualify for the semi-finals.


---

Kenya thrash Namibia kick of Africa Cup of Nations with a win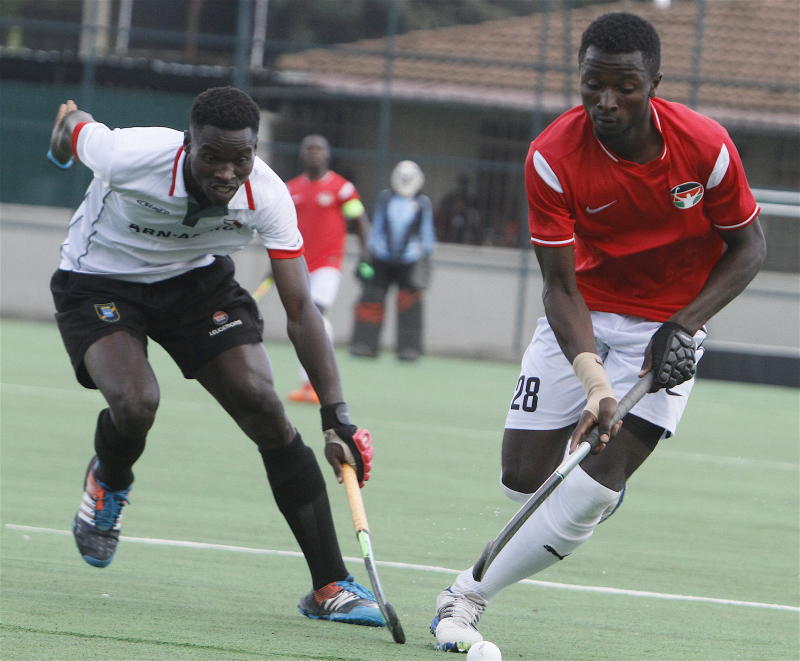 Uganda's Maxwell Mugusa(left) and Kenya's Edson Omukkamani in action at Sikh Union, Parklands during an Africa Cup of Nations Test match. ON March 20, 2021. [Jenipher Wachie, Standard]

Kenya national men's hockey team on Tuesday evening taught Namibia how to play hockey after defeating the South African nation 4-1 to kick off the 2022 Africa cup of Nations on a winning note in a match played Theodosia Okoh Hockey Stadium in Accra, Ghana.


---

Hockey She cranes fall short in Africa Cup opener

The She Cranes forward line tried to make a comeback, but their efforts didn't work out. ...

Charles Lwanga




Hockey She Cranes head coach Franchesco Richichi believes his team lost concentration in their opening game against Namibia in the Hockey Africa Nations Cup.


---

Namibia off to winning start

by Helge Schütz



Namibia's national women's hockey team. Photo: Helge Schütz

NAMIBIA's women's field hockey team got off to a winning start at the Africa Cup of Nations championships in Accra, with a 3-0 victory against Uganda yesterday.


---

2022 Pan Am Cup (W) - 19 January
Santiago (CHI)

All times GMT -4

19 Jan 2022 14:00     CAN v PER (Pool B)    
19 Jan 2022 16:15     USA v TTO (Pool B)    
19 Jan 2022 18:30     ARG v URU (Pool A)    

FIH Match Centre


---

Prospect of World Cup qualification turns up the heat at Pan Am Cup in Chile




The sixth editions of the Men's and Women's Pan American Cups, which take place in Santiago, Chile from 19 January until the 30 January are set to be two scintillating competitions, all the more appreciated by the teams following months of interruption to hockey activities – due to the ongoing Covid pandemic.


---

Hockey World Cup places on the line at Pan American Cups in Santiago

By Geoff Berkeley



Argentina will be seeking a sixth straight title in the Women's Pan American Cup ©Getty Images

Qualification for the International Hockey Federation World Cup will be on the line when men's and women's teams compete in the Pan American Cups in Chilean capital Santiago.


---

T&T senior hockey players delayed in USA

by Nigel Simon



T&T's Kaitlyn Olton, right, and Saarah Olton of Long Island University with their sister Samantha Olton of Saint Francis University.

T&T senior women hockey teams face the possibility of having to play their Pool B opener against the USA at the 2022 Pan American Hockey Cup in Santiago, Chile scheduled for 3.15 pm on Wednesday on little rest time or having the match postponed.


---

Pan American Cups Livestream Information




SANTIAGO, Chile - The Pan American Hockey Federation (PAHF) and Chile Hockey Federation have confirmed the 2022 Pan American Cups, set to start tomorrow, January 19 and run through Sunday, January 30 at the Prince of Wales Country Club in Santiago, Chile, will be live streamed by CDO+.


---

Malaysia hope to play China in friendly before Asia Cup

By K. Rajan



Nasihin Nubli

NATIONAL women's coach Nasihin Nubli hopes his team will be able to play China in a friendly before the Asia Cup in Muscat, Oman on Jan 21-28.


---

Mülders stands in for the Netherlands

Jamilon Mülders interim national coach of Orange Women




As expected, German assistant Jamilon Mülders will hold sway as national coach of the Orange Women in the coming weeks. The former national coach of Germany and China replaces Alyson Annan, who left the reigning world and Olympic champions with immediate effect last week.


---

One year to go, India take own steps towards men's Hockey World Cup



The 20,000-seater stadium in Rourkela is set to be completed by June

Construction is still on track for the new 20,000-seater stadium in Rourkela, which will act as a second venue alongside Bhubaneswar at the 2023 Men's Hockey World Cup. Logistics and match schedule for teams have yet to be determined. So too the Rourkela airstrip.


---

Scottish Umpires and Officials appointed by FIH



Ged Curran

Scottish Hockey umpires and officials have a great reputation worldwide and this reputation has been enhanced with some tremendous appointments from the FIH.


---

2021 USA Field Hockey National Umpire Award Winner: Mallory Federoff




COLORADO SPRINGS, Colo. – Following the announcement of all winners, USA Field Hockey is individually highlighting each recipient of USA Field Hockey's 2021 Annual Awards. This week, USA Field Hockey is honored to feature the 2021 National Umpire Award winner Mallory Federoff.