All the news for Saturday 7 August 2021

Olympic Games Tokyo 2020 – Hockey competitions

6 August 2021 – Day 14

Results
Bronze – Great Britain 4-3 India
Gold – Netherlands 3-1 Argentina

Final Standings – Men
Gold – Belgium
Silver – Australia
Bronze – India
4 – Germany
5 – Great Britain
6 – Netherlands
7 – Argentina
8 – Spain
9 – New Zealand
10 – South Africa
11 – Japan
12 – Canada

Final Standings – Women
Gold – Netherlands
Silver –  Argentina
Bronze – Great Britain
4 – India
5 – Australia
6 – Germany
7 – Spain
8 – New Zealand
9 – China
10 – Ireland
11 – Japan
12 – South Africa

FIH


---

Netherlands defeat Argentina to take women's Olympic crown



Photo: Yan Huckendubler

he Netherlands added the Olympic gold medal to their World, European and FIH Hockey Pro League titles thanks to a 3-1 victory over Argentina, bringing a wonderful Hockey competition at the Olympic Games Tokyo 2020 to a close.

The win gave the Oranje their fourth Olympic crown, with the 2020 gold medal being added to those collected at Los Angeles 1984, Beijing 2008 and London 2012. For team captain Eva de Goede and star attacker Lidewij Welten, it is a third Olympic gold medal and a fourth in total, with both players having been part of the triumphant campaigns in 2008 and 2012 as well as winning silver at Rio 2016.

It is a fitting reward for a Netherlands side that has been the dominant force of women's international hockey for the past five years, with the team coached by Alyson Annan – herself a double Olympic hockey gold medallist with Australia - absolutely justifying their position as pre-competition favourites.

Argentina made life incredibly difficult for the Netherlands in the first period, although Caia van Maasakker came close to opening the scoring when her penalty corner drag-flick rattled the Argentine crossbar.

The third quarter was decisive, with the Oranje opening up a three-goal lead that would prove too great a mountain for Las Leonas to climb. Margot van Geffen's superb penalty corner tip-in broke the deadlock in the 23rd minute, before van Maasakker scored two unstoppable penalty corner drag-flicks to put the Dutch into a commanding lead.

However, Argentina hit back almost immediately when Agustina Gorzelany's powerful penalty corner drag-flick squeezed between the legs of Netherlands goalkeeper Josine Koning, giving the South American giants a lifeline going into the final 30 minutes.

Argentina battled hard in an attempt to claw back the situation but found clear goal-scoring opportunities few and far between thanks to the magnificent Dutch defensive line, which only conceded four times in their eight matches here in Tokyo. It was a deserved success for a team that is without question the best in the world, with Argentina having to settle for a third Olympic silver following their final defeats at Sydney 2000 and London 2012.

"It's amazing - I'm a bit speechless, I'm sorry, I just can't believe that we actually did it", said Netherlands captain Eva de Goede after the match. "We worked so hard for it, just like every other team. My fourth Olympics, fourth time in the final, and to win my third gold medal is just something that you not even dare to dream of.

"And I'm so happy that after five years ago when we won the silver medal that I can give this gold medal now to the team, to the girls who won the silver there. It's just the best feeling ever."

When asked about how proud she was to captain this team, de Goede said: "It's almost an easy job for me. It's just great to play in a team that's willing to do better every training, every time we see each other we invest so much time in each other. We are each other's friends, we have each other's backs, just can't be better than this.

"You really see a team playing every single time you step on the pitch and that's what I'm most proud of, and that's why I actually started to play hockey because it was most fun to play in a team, and this is it for me."

Argentina captain Noel Barrionuevo said: "I'm feeling sad, but at the same time I'm also feeling happy because at the end we were able to reach an Olympic final, this is something amazing, and we were also able to take the silver home. It was a pretty close game. We were facing a very dynamic rival. They scored their goals very quickly, so we were not able to recover from that."

On how proud she is to win a silver medal for Argentina, Barrionuevo said: "I'm feeling proud, really proud. I'm very proud to represent Argentina here. I'm also proud of the team, and at the end right now I'm feeling like a privileged person."

More information about the match can be found by clicking here.

Earlier in the day, Great Britain's women secured their third successive Olympic medal by edging India 4-3 in a hugely entertaining bronze medal match. The London 2012 bronze and Rio 2016 gold medallists were given a huge test by the Indian team, fighting back from 3-2 down to win 4-3 thanks to strikes from captain Hollie Pearne-Webb and Grace Balsdon in a contest played in sweltering conditions.  

It is Great Britain's fourth Olympic medal, having also medalled at Barcelona 1992 with a 4-3 victory against Korea. It is also a first Olympic medal for Great Britain head coach Mark Hager, who took New Zealand's women to the bronze medal games at both the London 2012 and Rio 2016 Olympics but suffered defeat on both occasions. It is a third Olympic medal for defender Laura Unsworth, who was also part of the London and Rio campaigns.

While defeat left India's players and coaching staff clearly heartbroken, the team captained by Rani and coached by Sjoerd Marijne can leave Tokyo feeling incredibly proud of their achievement, matching their previous best Olympic finish of fourth, which came at Moscow 1980.

More information about the match can be found by clicking here.  

For all information about the hockey competitions at the Olympic Games Tokyo 2020, visit https://olympics.com/tokyo-2020/olympic-games/en/results/hockey/olympic-schedule-and-results.htm.

Olympic Games Tokyo 2020 – Hockey competitions

6 August 2021 – Day 14

Results
Bronze – Great Britain 4-3 India
Gold – Netherlands 3-1 Argentina

Final Standings – Men
Gold – Belgium
Silver – Australia
Bronze – India
4 – Germany
5 – Great Britain
6 – Netherlands
7 – Argentina
8 – Spain
9 – New Zealand
10 – South Africa
11 – Japan
12 – Canada

Final Standings – Women
Gold – Netherlands
Silver –  Argentina
Bronze – Great Britain
4 – India
5 – Australia
6 – Germany
7 – Spain
8 – New Zealand
9 – China
10 – Ireland
11 – Japan
12 – South Africa

#Tokyo2020
#StrongerTogether
#HockeyInvites

Pan American Hockey Federation media release


---

The Netherlands win record fourth Olympic gold medal in the women's hockey

The Dutch affirmed themselves as hockey powerhouses, winning a record fourth Olympic title. With the victory, they cemented their status as the most successful women's hockey nation at the Games, increasing their tally to nine in total.

The opening quarter was a subdued affair in comparison to a final frenetic seven minutes of the second period in which four goals were scored – three courtesy of the Dutch.

Dutch defender Margot van Geffen broke the stalemate in the 23rd minute, sending the ball into the box from a penalty corner.

The women in orange showed their teeth, with Caia van Maasakker scoring a brace of goals from penalty corners three minutes apart.

Argentina received a brief reprieve, earning their first penalty corner of the match with Agustina Gorzelany dragging the ball straight through the middle and into the back of the box on the stroke of half-time.

The South Americans enjoyed more possession in the second half but could not convert it into points with the Dutch keeper Maria Verschoor saving a shot in the third quarter.

The Netherlands' defence held firm despite a persistent onslaught from Argentina, who failed to find the breakthrough despite two penalty corners.

"That's a dream that's come true. Never thought about scoring a goal in the Olympic final but what actually matters is the gold medal," Van Geffen said.

"It's unbelievable, we are so good (and) I think the best team I ever played in. The combinations we play, it's passing and it's so cool."

    #Gold Beijing 2008 #Gold London 2012#Silver Rio 2016#Gold Tokyo 2020@oranjehockey regain their Olympic women's #Hockey crown!#StrongerTogether | #Tokyo2020 | @FIH_Hockey pic.twitter.com/JZnEzbejlK
    — Olympics (@Olympics) August 6, 2021

IOC Media release


---

Netherlands tops Argentina for gold in women's field hockey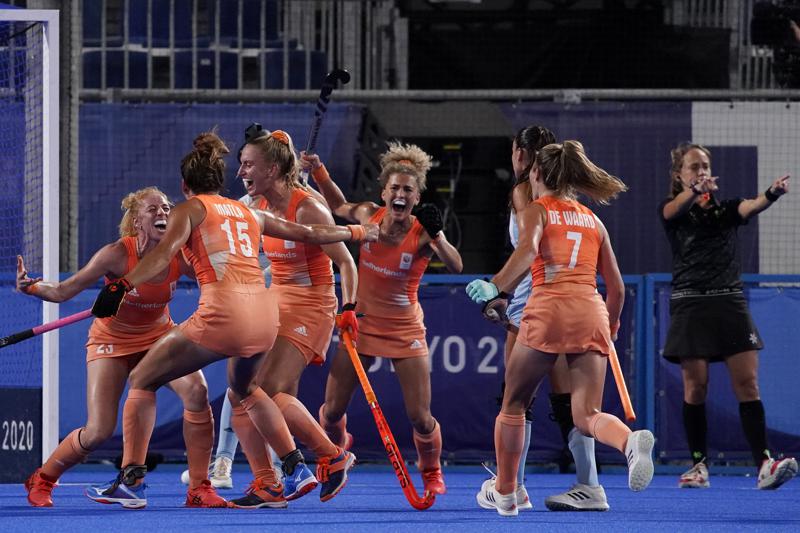 Netherlands players celebrate after scoring against Argentina during the women's gold medal field hockey match during the 2020 Summer Olympics, Friday, Aug. 6, 2021, in Tokyo, Japan. (AP Photo/John Locher)

TOKYO — The Netherlands defeated Argentina 3-1 on Friday night for the gold medal in women's field hockey.

The Dutch rolled through pool play with a 5-0 record, outscoring their opponents 18-2. They won their quarterfinal 3-0 over New Zealand and their semifinal 5-1 over Britain.

Caia van Maasakker scored two goals for the Netherlands in the final. The Dutch settled for silver in 2016 and didn't want another disappointment.

"I'm so proud of the team and every individual," Netherlands forward Lidewij Welten said. "It's been five years since the last Olympics, and we trained so hard, and I think in every tournament we showed that we're the best. But showing it on this stage as well makes me really proud."

Welten and Eva de Goede joined Australia's Rechelle Hawkes as the only women to win three field hockey gold medals.

"That's incredible," Welten said. "It's not something you're busy with before the game but it's like the cherry on the pie. It's really incredible. We both have had an incredible career and still going, so that's amazing. That makes me proud."

Netherlands coach Alyson Annan became the first woman to win Olympic gold as a player and as a coach. She won as a player for Australia in 1996 and 2000.

"It's nice, but it's not why I do this," Annan said. "My goal as a coach is to hopefully be a part of someone's career and have them look back and say 'That was a great time and I learned a lot and I became a better player and a better person.'"

The Netherlands' Frederique Matla led all scorers in the tournament with nine goals, and teammate Felice Albers was second with six.

In the bronze medal match, Grace Balsdon scored the winner on a penalty corner early in the fourth quarter to help Britain defeat India 4-3.

Britain — which won bronze in 2012 and gold in 2016 — was thrilled to win another medal.

"After the highs of Rio, we lost a lot of players, people retired," Britain's Laura Unsworth, a member of all three medal-winning teams, said. "It's always hard because you're the Olympic champions as the pressure's on you.

"But as a squad we dug in so deep. We are so resilient, I am so proud of every single one of the girls."

Britain jumped out to a 2-0 lead, but India scored three goals in a five-minute stretch late in the first half, including two by Gurjit Kaur, to take a 3-2 lead at halftime. Britain's Hollie Pearne-Webb scored early in the third quarter to tie the match.

India's men claimed bronze with a win over Germany on Thursday night, and the women came close to matching them.

"We didn't win the medal, but I think we achieved something bigger, and it's inspiring a country and make the country proud," India coach Sjoerd Marijne said.

"And I've shown many messages of people who were saying that, and I think the world have seen another Indian team, and I'm really proud of that."

The Associated Press


---

The Netherlands regain Olympic women's hockey title with victory over Argentina at Tokyo 2020

By Liam Morgan



The Netherlands beat Argentina to claim women's hockey gold at Tokyo 2020 ©Getty Images

The Netherlands finally earned redemption for their defeat in the women's hockey final in Rio de Janeiro five years ago as they swept aside Argentina 3-1 to regain their Olympic title at Tokyo 2020 here today.

Caia van Maasakker scored twice and Margot van Geffen also found the net as the Dutch, beaten by Britain in the gold medal match at Rio 2016, blew Argentina away with a superb attacking display in the second quarter.

Agustina Gorzelany had pulled one back on the stroke of half-time but it proved to be little more than a consolation for Argentina as The Netherlands' saw out a comfortable win to secure their fourth Olympic gold medal.

Victory for the red-hot favourites also continued their global domination of the women's game since they suffered shootout heartbreak in the Rio 2016 final.

The Netherlands are the reigning two-time world champions and three-time European champions, and have won both of the Hockey Pro League tournaments held since the competition launched in 2019.

Argentina have now claimed five women's hockey medals at the Games - but none of them are gold and tonight's defeat prolongs their wait for a first Olympic crown.

Britain had earlier clinched the bronze medal with a thrilling 4-3 win over India.



Caia van Maasakker scored twice to help The Netherlands regain their Olympic title ©Getty Images

All four goals in the final came from penalty corners in a breathless period of action in the second quarter, with three in six minutes for The Netherlands effectively ending the match as a contest.

After a period of relentless Dutch pressure, Frederique Matla's effort was cleverly deflected home by Van Geffen to put her side in front.

Van Maasakker doubled the Dutch advantage shortly after as her powerful drive arrowed into the bottom corner, before she scored her second of the match with another well-struck shot which went through the legs of Maria Succi in the Argentina goal.

Gorzelany replied for Argentina - her shot nutmegging Dutch goalkeeper Josine Koning - as the hooter sounded to bring the first half to a close.

Chances were few and far between for both sides after the restart as the Dutch defence held firm to see out a comfortable victory.

"We worked so hard for it, just like every other team," said Dutch captain Eva de Goode.

"My fourth Olympics, fourth time in the final, and to win my third gold medal is just something that you not even dare to dream of.

"I am so happy that after five years ago when we won the silver medal that I can give this gold medal now to the team, to the girls who won the silver there.

"It is just the best feeling ever."

Inside the Games


---

Brilliant Oranje complete clean sweep with Olympic gold




The Netherlands added the Olympic gold medal to their World, European and FIH Hockey Pro League titles thanks to a 3-1 victory over Argentina, bringing a wonderful Hockey competition at the Olympic Games Tokyo 2020 to a close.

"It's amazing – I'm a bit speechless, I'm sorry, I just can't believe that we actually did it", said Netherlands captain Eva de Goede after the match.

"We worked so hard for it, just like every other team. My fourth Olympics, fourth time in the final, and to win my third gold medal is just something that you not even dare to dream of.

"And I'm so happy that after five years ago when we won the silver medal that I can give this gold medal now to the team, to the girls who won the silver there. It's just the best feeling ever."

When asked about how proud she was to captain this team, de Goede said: "It's almost an easy job for me. It's just great to play in a team that's willing to do better every training, every time we see each other we invest so much time in each other. We are each other's friends, we have each other's backs, just can't be better than this.

"You really see a team playing every single time you step on the pitch and that's what I'm most proud of, and that's why I actually started to play hockey because it was most fun to play in a team, and this is it for me."

The win gave the Oranje their fourth Olympic crown, with the 2020 gold medal being added to those collected at Los Angeles 1984, Beijing 2008 and London 2012. For team captain Eva de Goede and star attacker Lidewij Welten, it is a third Olympic gold medal and a fourth in total, with both players having been part of the triumphant campaigns in 2008 and 2012 as well as winning silver at Rio 2016.

It is a fitting reward for a Netherlands side that has been the dominant force of women's international hockey for the past five years, with the team coached by Alyson Annan – herself a double Olympic hockey gold medallist with Australia – absolutely justifying their position as pre-competition favourites.

The second quarter was decisive, with the Oranje opening up a three-goal lead that would prove too great a mountain for Las Leonas to climb.

Margot van Geffen's superb penalty corner tip-in broke the deadlock in the 23rd minute, before van Maasakker scored two unstoppable penalty corner drag-flicks to put the Dutch into a commanding lead.

However, Argentina hit back almost immediately when Agustina Gorzelany's powerful penalty corner drag-flick squeezed between the legs of Netherlands goalkeeper Josine Koning, giving the South American giants a lifeline going into the final 30 minutes.

Argentina battled hard in an attempt to claw back the situation but found clear goal-scoring opportunities few and far between thanks to the magnificent Dutch defensive line, which only conceded four times in their eight matches here in Tokyo.

Argentina captain Noel Barrionuevo said: "I'm feeling sad, but at the same time I'm also feeling happy because at the end we were able to reach an Olympic final, this is something amazing, and we were also able to take the silver home. It was a pretty close game. We were facing a very dynamic rival. They scored their goals very quickly, so we were not able to recover from that."

On how proud she is to win a silver medal for Argentina, Barrionuevo said: "I'm feeling proud, really proud. I'm very proud to represent Argentina here. I'm also proud of the team, and at the end right now I'm feeling like a privileged person."

Earlier in the day, Great Britain's women secured their third successive Olympic medal by edging India 4-3 in a hugely entertaining bronze medal match. The London 2012 bronze and Rio 2016 gold medallists were given a huge test by the Indian team, fighting back from 3-2 down to win 4-3 thanks to strikes from cap

Euro Hockey League media release


---

Netherlands reign supreme on top of the world



TOKYO – Tokyo 2020 Olympic Games Ceremony Photo: Netherlands gold medal COPYRIGHT WORLDSPORTPICS FRANK UIJLENBROEK

The Netherlands has crowned its reign of the past five years with an Olympic gold medal. In Tokyo, the Orange Women won the final against Argentina 3-1 on Friday. A key role was played by the retiring Caia van Maasakker, who converted two penalty corners. For the Netherlands, it is the fourth Olympic title in women's hockey and the first since that of 2012 in London.

The hands of Van Maasakker, who played her last match against Argentina, went up five seconds before the buzzer sounded. She then found the arms of Eva de Goede and Lauren Stam, after which the substitutes stormed into the field and the Netherlands cheered in a circle to celebrate the achievement of Olympic gold.

With two striking drag pushes, Van Maasakker led the Orange Ladies in the second quarter from a 1-0 to a 3-0 lead. It was a dream match for the retiring Van Maasakker, whose penalty corner has been criticized not only during these Olympic Games, but in recent years.



Player of the match Caia van Maasakker cheers after one of her two penalty corner goals. Photo: Koen Suyk

Since Rio de Janeiro, the Netherlands has only lost three of the 104 international matches

After the dramatically lost Olympic final against Great Britain in Rio de Janeiro in 2016, the Dutch national team said goodbye to no fewer than eight internationals. Former World Players of the Year Maartje Paumen (2011, 2012), Naomi van As (2009, 2016) and Ellen Hoog (2014), among others, end their impressive international career, in which they won the world title (2014) and the Olympic title (2008) in the Netherlands. , 2012) delivered.

National coach Alyson Annan stayed on after the silver of Rio de Janeiro. She gave the Dutch national team a rejuvenation cure and built a team that was called 'the new Orange' in the first few months because of the many newcomers. Josine Koning, Anne Veenendaal, Frédérique Matla, Lauren Stam and Pien Sanders, among others, were transferred from the national youth teams. Malou Pheninckx and Ireen van den Assem, who was injured before Tokyo, started a second hockey life as an international. It was unclear exactly how strong the renewed selection was compared to before and compared to other countries.

The renovation turned out to be the starting signal for a golden period. Since the lost 2016 Olympic final in Rio de Janeiro, the Orange Women have suffered only three defeats in 104 international matches in five years (92 wins, 8 draws). Only Belgium (0-1), Australia (1-0) and Argentina (2-0) lost.



The Netherlands cheers after winning the Olympic final against Argentina. Photo: Robin van Lonkhuijsen

All tournaments in which the Dutch participated in the past five years were won. Often with force majeure too. Successively, the Netherlands won the European Championship (2017), the Hockey World League (2017), the World Cup (2018), the Champions Trophy (2018), the FIH Pro League (2019), the European Championship (2019), the FIH Pro League (2021) and the European Championship (2021).

Key to the success was, among other things, the confidence that Annan gave to the regular core players. For five years, the selection of the Netherlands was largely a closed bastion. Of the sixteen internationals in Tokyo, twelve were in Brussels in 2017 during the Hockey World League Semi-Final, the first tournament after the Olympic Games in Rio de Janeiro. Lidewij Welten was absent during that HWL due to an injury and Eva de Goede was enjoying a sabbatical at the time. Only Sanne Koolen and Felice Albers of the Tokyo-goers joined the Orange team later. As a result, Annan dragged automatisms into the team for five years, which impressed with tiki-taka hockey both at the 2018 World Championship and at these Olympic Games in Tokyo.



The Netherlands celebrate Margot van Geffen's 1-0. Photo: Koen Suyk

The Netherlands also rose above everything and everyone at these Olympic Games. All matches were won in the group stage. New Zealand didn't stand a chance in the quarterfinals. Also impressive was the way in which outgoing champion Great Britain was sidelined in the semi-finals. The gold medal was up for grabs.

Argentina, the current number two in the world, was also unable to withstand the Dutch college hockey in the final. After five minutes it was Margot van Geffen who took the first penalty corner. Caia van Maasakker's drag push, who played her last game, exploded on the crossbar.

After a strong opening phase by the Orange squad, Argentina gained more possession halfway through the first quarter. It provided the first field opportunity of the game for Micaela Retegui, the daughter of national coach Carlos Retegui. She hit a bouncing ball towards the goal, but she didn't hit it well and shot wide. It was immediately clear that Argentina was a serious opponent. It was really a game in which hard duels were fought.



Caia van Maasakker cheers after one of her two penalty corner goals. Photo: Koen Suyk

The Netherlands started the second quarter strongly. The dribble over the back line of midfielder Laura Nunnink was wonderful. She slalomed in front of four Argentina players, after which she pushed on goal with her backhand, but the ball went wide. Moments later, Maria Verschoor shot out of the turn against the side plank. Orange was chasing a goal.

That fell after 23 minutes of hockey, when Frédérique Matla took a penalty corner from a penalty corner. This time a variant was chosen. Matla replaced the incoming Margot van Geffen, who slipped in the 1-0. Rarely in the past five years have the Orange Ladies cheered as loudly as they do now. Ancient cries echoed through Tokyo's Oi Hockey Stadium.

After that, the score went very fast. Van Maasakker first dragged the 2-0 onto the board from a penalty corner, through the legs of line stopper Sofia Toccalin. Three minutes later she also pushed in the 3-0 from the head circle, in the bottom left corner. Delirious with joy, her teammates fell into her arms.

Before the break, Las Leonas did something back, when the Argentinian drag star Agustina Gorzelany pushed in the 3-1 through the legs of goalkeeper Josine Koning. The Argentines were then looking for the 3-2 in the third quarter, but in general the Netherlands continued to dominate. Verschoor had the 4-1 on her stick, but ran into goalkeeper Belén Succi.



Eva de Goede cheers with the Dutch flag after winning Olympic gold. Photo: Robin van Lonkhuijsen

Tension mounted at the start of the final quarter, when Argentina scored two penalty corners in a row. Twice it was goalscorer Gorzelany who pushed. But both times her grenade bounced off a corner on the running Lidewij Welten, who prevented the 3-2 at the risk of his own life.

Three minutes before the end, the Argentines fervently hoped for another penalty corner, but the video referee did not agree with them. The time then ticked away and the Orange defense gave nothing more. When the buzzer sounded after seventy minutes of hockey, the Olympic gold had been won: the award for being the best team in the world for five years.

Netherlands – Argentina 3-1 (3-1)
'23 Margot van Geffen 1-0 (sc)
'25 Caia van Maasakker 2-0 (sc)
'28 Caia van Maasakker 3-0 (sc)
'30 Agustina Gorzelany 3- 1 (sc)

Hockey World News


---

Emotional Eva de Goede: 'Bizarre that we did this'



TOKIO – Eva de Goede juicht na het winnen van de finale tussen Nederland en Argentinie op het olympisch hockeytoernooi in het Oi Hockey stadion op de Olympische Spelen van Tokio. ANP ROBIN VAN LONKHUIJSEN

Eva de Goede could not fully comprehend it after the Olympic final. The captain of the Orange Women took her third gold medal after the 3-1 win over the Argentines at the Oi Hockey Stadium in Tokyo.

"I still don't believe it," said an emotional De Goede in front of the NOS Studio Sport camera. "It's so bizarre that we've done this. This is so beautiful and I'm so proud of all those girls. Really super handsome.'

All titles

By winning the Olympic title, the Orange Women own all titles: the world title, the European title and the win in tournaments such as the Pro League, Champions Trophy and the Hockey World League.

'Winning every tournament is not easy', De Goede continues. "It's the hardest part of all to stay number one and we just get it done. This is really very special. The pressure was high. From ourselves, from everyone. We know teams want to beat us all, but we continue to do well as a team. It doesn't fall apart. The chemistry is good.'

Penalty corners

The final was decided by penalty corners. It was a part that did not go smoothly during the tournament, but the corner ran smoothly when it had to. Caia van Maasakker made two of the three hits. With that she gave herself a beautiful farewell as a top hockey player.maasakker juicht



Caia van Maasakker cries out after her goal in the Olympic final against Argentina (3-1) in Tokyo. Photo: Koen Suyk

Finish with Olympic gold. Yes, you can't think of anything better', Van Maasakker admitted. 'The joy is so great. I can hardly put it into words. We have Olympic gold. We've got him!'
Team spirit

The Olympic title also caused emotions for national coach Alyson Annan. She especially praised the team. 'The past year and a half has been very tough, in the programming, in everything we have had to experience. Fortunately, we have amazing players and an amazing team. It's just such a lovely group to work with. I'm just really proud of that. That's what dominates now. We're just really a team.

It was Annan's third Olympic title. As a player of Australia, she won the highest hockey gold in 1996 and 2000. 'Both are equally beautiful. As a player you are on the field and you have influence on what happens. As a coach you can only steer and guide and try to get the best out of the players, as a player and as a person. I have to say as a coach it is very nice to experience this with this group of ladies. Pride predominates in me.'Oranje Dames Olympisch kampioen Tokio 2020 KS



The Orange Women with their gold medal after winning the Olympic final in Tokyo against Argentina (3-1). Photo: Koen Suyk

Hockey World News


---

The Netherlands win their fourth Olympic gold medal in women's hockey



The Netherlands win their fourth Olympic gold medal in womens hockey (Source: Olympics) The Netherlands win their fourth Olympic gold medal in women's hockey (Source: Olympics)

he Netherlands won their fourth Olympic women's hockey title by defeating Argentina 3-1 in the final at the Tokyo 2020 on Friday.


---

GB keep spirited Indai at bay, clinch Bronze




India's bid for a bronze medal in women's hockey at the 2020 Tokyo Olympics ended in tears at the Oi Stadium on Friday.


---

'What an amazing opponent', Great Britain laud India for valiant effort in bronze playoff

Great Britain hockey team took to Twitter to congratulate their Indian counterparts for their valiant effort in the bronze medal playoff match.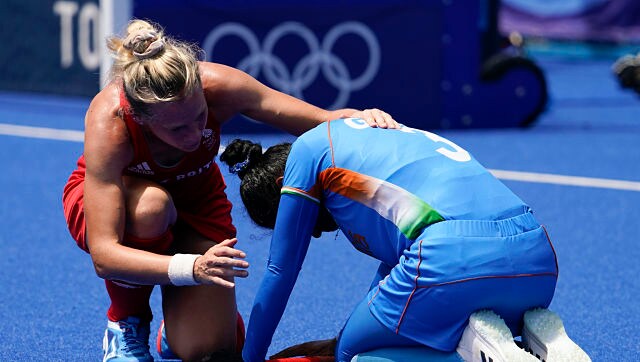 India's Deep Grace Ekka is comforted by Great Britain's Leah Julia Wilkinson after the bronze medal playoff at Tokyo Olympics on Friday. AP

The India women's hockey team, led by Rani Rampal, put up an inspired performance in the bronze medal match against Great Britain on Friday, but still fell short of an elusive Olympic medal, losing by a narrow margin of 3-4.

The women's team, coached by Sjoerd Marijne, exceeded all expectations, bouncing back in the campaign after three consecutive defeats at the start to reach the semi-finals, where they eventually lost 1-2 to Argentina.

Against Great Britain, the Indians conceded two early goals to fall behind in the game but bounced back to score three goals in five minutes (Gurjit Kaur 25th and 26th) and Vandana Katariya (29th).

This turned fortunes in India's favour, albeit narrowly with a 3-2 lead. However, their lead was short-lived with Great Britain skipper Hollie Pearne-Webb (35th minute) and Grace Baldson (48th) finding the net to seal that bronze-medal winning victory.

While the sporting fraternity across India congratulated the women's team's valiant effort, there was praise even from the opponents. Great Britain's hockey handle on Twitter hailed the Indians' efforts while wishing them best for the future. Not to forget post the game, the Brits consoled Indian players as well on the turf. It was a sight to behold and the visuals reflected of the Olympic spirit.

"What an amazing game, what an amazing opponent. @TheHockeyIndia you've done something special at #Tokyo2020 - the next few years look very bright," read the tweet.

    What an amazing game, what an amazing opponent 🙏@TheHockeyIndia you've done something special at #Tokyo2020 - the next few years look very bright 👏 pic.twitter.com/9ce6j3lw25

    — Great Britain Hockey (@GBHockey) August 6, 2021

On Thursday, the Indian men's hockey team had clinched bronze after beating Germany in the playoff. That was their first medal at the Games in 41 years.

So far, India have on two silver medals and three bronze medals, and lie at 65th position in the overall medals tally. Weightlifter Mirabai Chanu and wrestler Ravi Dahiya clinched silver while shuttler PV Sindhu, boxer Lovlina Borgohain and the India men's hockey team were the bronze medallist of Tokyo 2020.

Firstpost


---

Marjine to part ways with team he transformed




Sjoerd Marijne will bid adieu to the Indian women's hockey team, a unit he transformed from also-rans to one to be feared. The Dutchman, who took charge of the team four years ago, said his decision was based on spending time with his family.


---

Over and out: Marijne says Olympics was last assignment as coach with India women's hockey team

These girls would inspire the newer generation of players in the country, said Marijne

Y.B. Sarangi



Janneke Schopman and Sjoerd Marijne. Sources said that Schopman will be taking over as coach from Marijne. File   | Photo Credit: K. Murali Kumar

After his last assignment with the Indian women's hockey team, chief coach Sjoerd Marijne was proud of the girls' fourth place finish in the Tokyo Olympics and hoped that they would inspire the newer generation of players in the country.

Marijne backed the Indian team after its defeat to Great Britain in the bronze medal match on Friday. "We did not win a medal but we achieved something bigger to make the country proud," said Marijne at a virtual press conference.

Marijne highlighted the fact that the side believed in its ability and earned a creditable finish despite its low ranking, 10th place about a month before the Olympics.

"We are among the best four and everybody is taking us seriously. That's a big step."

The Dutchman, who had taken over as the coach in February 2017, revealed that the Olympics bronze medal contest was his last match with the women's side and said more exposure, like Hockey India League and Pro League, would help the team grow.

"I don't have any plans because this was my last match with the women. It's up to (analytical coach) Janneke (Schopman) now."

Marijne said the girls were emotional after the defeat. "They are still emotional. They wanted to win. Only when they arrive in India will they see it's not so bad. It will take time.

"Every girl has a story and every story is amazing. The country I come from, the Netherlands, we don't have these kinds of stories. These stories inspire the new generation."

Olympic gold medallist Janneke said, "The medal is missed but the journey makes it different. The journey is worth it. They don't understand it right now," said Janneke.

Janneke, who also works on the mental side of the players, said, "When you are an athlete, your mind plays a vicious role. If you make a mistake, you need to make it normal. You still have to run. It's about being aware, allowing the feelings and thoughts to be there and focusing on the job. It's about being honest," said Janneke.

The Hindu


---

Punjab village proud of hockey player Gurjit Kaur's stellar performance at Tokyo

Sports stadium at Miadia Kalan named after star dragflicker

Neeraj Bagga & Aakanksha N Bhardwaj



Gurjit Kaur's family members exult as they watch the match live at Miadia Kalan in Ajnala. Vishal Kumar

"Tu jitti hain, haari nahi," said a proud Satnam Singh while speaking to his daughter Gurjit Kaur on the phone after the Indian women hockey team lost to Great Britain in the bronze medal match and finished fourth at the Tokyo Olympics. "You gave an unforgettable performance. The entire nation is very proud of you," he said.

    Unforgettable moment

    Tu jitti hain, haari nahi (You have won, not lost). You gave an unforgettable performance. The entire country is proud of you and other girls of the team. — Satnam Singh, Gurjit's Father

    There will be many Gurjits now

    Gurjit's feat will now inspire many young girls to pick up a hockey stick. There are going to be many Gurjits now. Women hockey is in for a revival. — Parminder Kaur, Gurjit's College Coach

Later, talking to The Tribune, Satnam Singh, said: "I felt sad to see tears in the eyes of our girls. Had Gurjit not scored goals in the Olympics, we would have felt bad. She, along with other girls, gave her best."

Though residents of star dragflicker's Miadia Kalan village in Ajnala tehsil were heartbroken after the team's defeat, they felt proud of their daughter for making the obscure village famous and hogging the limelight at the international level.

Gurcharan Singh, a village nambardar, said: "If it was goalkeeper Savita who was the protagonist of the team in the first quarter, saving two penalty corners and three goal attempts, it was dragflicker Gurjit Kaur in the second quarter who converted two penalty corners into goals."

Gurjit's sister Pardeep Kaur, a coach at Sansarpur, said: "I am proud of my sister. She has worked very hard to make it up to here. The girls played their hearts out and gave us a perfect display of quality hockey".

Parminder Kaur, who coached her at Lyallpur Khalsa College, Jalandhar, said, "Gurjit's feat will now inspire many young girls to pick up a hockey stick. There are going to be many Gurjits now. Women hockey is in for a revival with Gurjit at the centre of it."

Meanwhile, Congress leader Dilraj Singh Sarkaria today inaugurated a stadium named after Gurjit Kaur in the village.

The Tribune


---

My daughter stood like a wall against Great Britain: Indian goalie Savita Punia's father



Savita Punia's family watches the match at Sirsa's Jodhkan village.

For goalie Savita Punia's father Mahender Punia, the biggest challenge after the team's defeat was to console his daughter.

Mahender, a pharmacist at a Primary Health Centre (PHC) in Sirsa, had called Savita after watching her breaking down on the field, but she couldn't respond then and called him back later. "Beta, why are you crying? You played exceedingly well. The entire country is proud of you and your teammates," Mahender told his daughter.

Like thousands of fans across the country, it was heartbreaking for Savita's family to see her breaking down as the game ended.

Later, Mahender told The Tribune that Savita, who earned the sobriquet of "The Great Wall" after the team's quarterfinal win, held herself solely responsible for the team's defeat today.

"I told her that she played well and saved many goals. At the end of the day, one team has to lose. It was not our day. But the team's performance during the entire Olympics has been laudable," he added.

The Tribune


---

"Won't comment, police is investigating" - Vandana Katariya on casteist abuse

Indian women's hockey player Vandana Katariya, whose family faced casteist abuse after the semifinals loss, said police is investigating the matter



Vandana Katariya hockey Vandana Katariya (Source: Getty Images)

Indian women's hockey team forward Vandana Katariya on Friday sought to steer clear of commenting on the alleged casteist slurs hurled at her family after the side lost to Argentina in the Olympic semifinals, saying that the police is probing the incident.

Read the full story here

The Bridge has many more quality articles for you to choose from here


---

How gherkin-in-vinegar pickle helped India women hockey team

The first time Lombard used it with the Indian team was during the tour to Argentina in January this year, which was the first international series in almost a year owing to the pandemic.

By Mihir Vasavda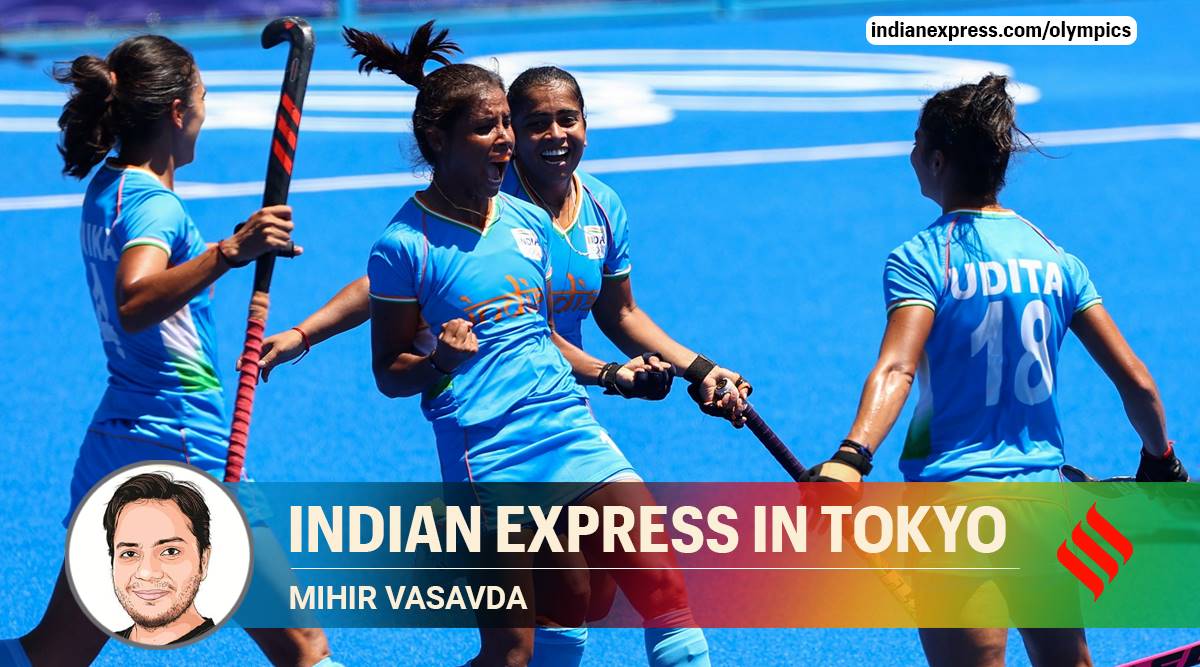 Vandana Katariya of India celebrates with teammates after scoring. (Reuters Photo)   

India were faster, stronger and, at fourth, finished higher on the classification table than any other women's team in the last four decades. And the secret behind their dream run? Dollops of courage and shots of the humble gherkin-vinegar pickle.

"Literally, just raw pickles, nothing fancy," said India's strength and conditioning coach Wayne Lombard. "I don't know how they came about it but someone randomly tried it, this was followed by a lot of research and it seems to work."

India put up a gallant fight in the bronze medal playoff match but lost 3-4 to Britain. But once again, they showed how much they have improved during this Olympic cycle, running relentlessly, weaving a web around their opponents with some intricate passing and tiring them out.

Chief coach Sjoerd Marijne credited Lombard for a lot of this. "He has worked incredibly hard to improve the team's fitness," Marijne said. "Without that, it would have been tough for us to execute our plans."

And the South African relied on his extensive research on pickle juice. There have been multiple studies, Lombard said, which suggest pickle juice relieves muscle cramps. The vinegar, he said, triggers a reflex that alerts a player's brain to tell their muscles to stop contracting and relax. Thus, muscle cramping is reduced as soon as the vinegar touches receptors in the mouth.

The first time Lombard used it with the Indian team was during the tour to Argentina in January this year, which was the first international series in almost a year owing to the pandemic. During that tour, a player suffered cramps, which was largely a non-issue for the Indian players until that point.

"I had known about pickle juice (and its effects) for a while so we got one and popped straight away," Lombard said.

So, when the players were packing their bags for Tokyo, Lombard was busy shopping for pickles, the ones with gherkin, vinegar. "There are two ways to consume it. You either have it as a shot or you can gargle so your membranes get it and then you spit it out," he said.

He carried roughly 100 shots to Tokyo. "When it was back-to-back games, the girls would drink that after breakfast, or depending on when the game was. And then, at the onset of cramps they would have additional shots if required," he said.

The trick worked. There was not even a single incident throughout this campaign when an Indian player suffered cramps despite most of their matches being played during day time, when the conditions were always sultry.

And it was evident once again on Friday, when the conditions for the bronze medal playoff were unforgiving: almost 40 degrees on the pitch side, sun blazing down, dry heat and no wind. It was so hot that the players, for the first time, were given a couple of minutes break in between the 15-minute quarters so they could keep themselves hydrated.

After the game, Prime Minister Narendra Modi, in his phone call to the entire team, would mention the sweat that the team had let drip on the Tokyo astro-turf all through the tournament.

"Aapka paseena padak nahi la paya, par desh ki karodon betiyon ki prerna ban gayi hai (Your sweat could not get a medal but it has become an inspiration for crores of daughters of the country)," he said.

India, a team that was so unfit in Rio five years ago that it sometimes seemed that they played their matches in slow-motion, dug deep, pressing for an equalising goal.

On the flanks, Salima Tete tirelessly darted forward every time she got the ball on the flanks, gliding on the field and leaving the British in her wake. Upfront, Lalremsiami puzzled the rivals with her smart, quick movements. Neha Goyal, not the tallest on the field, snuck behind the defence line frequently with her short, fast steps.

And each time they outran their opponents, Lombard allowed himself a satisfied smile.

"When I first arrived and saw the profile of the players, I thought there is a lot of work that needs to be done," he said. But once they bought into his ideas, the transformation was radical. It wasn't anything eye-catching, just days and weeks of basic, boring work in the gym, on the field and off it, monitoring everything from what they ate, how much they slept and how they felt physically and emotionally.

The results within a couple of years were fascinating. "For example, the yo-yo test numbers when I first came were probably averaging around 16 or 17. Now, it is 19, 20, 21… Our fittest girl ran a 22, 23. That's some serious running," said Lombard, who has worked with several other Indian athletes, including wrestler Vinesh Phogat.

Fitness, more than anything else, has been the hallmark of this Indian team. It became even more significant given that they hadn't played a competitive game of this level since the Olympic qualifiers took place in November 2019 — unlike the Europeans, who played in their continental championship just before the Olympics, or Australia and New Zealand who competed against each other.

Almost everything was stacked against the Indians, including the draw which pitted them against the podium finishers of the Rio Olympics in their first three games.

"We knew we had improved on the technical aspects. We knew we were very fit. But we were kind of going blindfolded into the Olympics because we hadn't played a proper match in more than a year," Marijne said. "So we didn't know what would happen."

What happened was India surprised the hockey world with their speed and skills. Marijne, the architect of it, said he will move on as he had decided before the Olympics. He is set to be succeeded by the team's analytical coach Janneke Schopman, who now has a solid base to work with.

And Lombard, of course, will be there doing his thing. "But before that, the girls will take a proper break," he said. "They deserve it."

Indian Express


---

Hockey Goalkeeper Sreejesh's Father sold a family cow to afford a Hockey Kit; son returns with Olympic bronze

On Sreejesh's childhood, his father says that the boy had secured good scores in school, despite having focussed intensely on sports. Another stark contrast in Sreejesh's personality as opposed to that of many of his teammates is that the man from Kerala is a voracious reader.

By: Sidharth



PR Sreejesh with his family. Photograph:( WION )

While all of India celebrates PR Sreejesh, the Hockey Goalkeeper who has earned the moniker of being the 'country's wall', his father has a vivid memory of how the Olympian bronze-medallist forayed into hockey.

His father recalls how the modest agriculture-reliant family had to make some sacrifices to meet the expenses of a Hockey Goalkeeper's kit that young Sreejesh required.

It all happened in the 1990s, when Sreejesh excelled in district-level sporting events including sprinting and volleyball, until he was in class 7.

Thereafter, his inclination and impressive performance in sports helped him switch over to the G V Raja Sports School in Thiruvananthapuram.




Given the specialized focus on sports at his new school, the teenager tried his hand at various sports. Of the handful of sports that he tried, he seemed to fit best as a hockey goalkeeper.

However, this was a sport and a position that required considerable deal of equipment and kit. Every ready to encourage the young man, Sreejesh's father Raveendran gladly sold their cow to eke out funds for the hockey kit.

"We are a very modest family and we couldn't really afford to spend Rs.10,000 on a kit. Hence I sold one of our five cows and managed to get Rs.7,000 and also made arrangements for the remaining sum" Raveendran proudly reminisces to WION.

"We did the best for children within our limited means. I remember having accompanied him to Delhi for the Junior National camp around 2002-03" the elated father adds. Acknowledging the celebrations, love and wishes pouring in from all around, Raveendran says that it is God 's grace that's taking their family ahead in life.

It is notable that Sreejesh had dedicated his medal win to his father, via a tweet, and now we know why.

    This medal is for you my achaaan ( father )

    My hero, he is why I'm here pic.twitter.com/1OdO5eZwaw
    — sreejesh p r (@16Sreejesh) August 5, 2021

On Sreejesh's childhood, his father says that the boy had secured good scores in school, despite having focussed intensely on sports. Another stark contrast in Sreejesh's personality as opposed to that of many of his teammates is that the man from Kerala is a voracious reader. In the words of his father, "During the COVID-19 lockdown, he had nothing much to do and his love for reading grow even more intense. His friends and roommates play PUBG, but he has no interest in whatever that is! He just loves his books, a lot of them."

For Sreejesh's schoolmate and wife Aneeshya, who herself was a former athlete they are a very tightly knit family. While she and the kids don't get much time to spend with Sreejesh, they make the most of the few weeks that they get. Their little kids now realize that their father has won and won big! "Daughter knows a fair deal about the Olympics as she's in the 2nd standard, our son is too young, but he's equally excited about dad playing on screen" Aneeshya told Zee media.

With sports having been the sole focus at their residence over the last few weeks, their daughter has become specially attracted towards women's hockey, thanks to the stellar performance by the Indian side. "Usually she tells people that she aspires to be a teacher, but now she's smitten by Rani Rampal and wants to be a hockey captain" Aneeshya says happily.

Wion


---

Hockey medallist Vivek Sagar Prasad dreams of a concrete house from cash award

Indian hockey midfielder Vivek Sagar Prasad speaks on becoming an Olympic medallist at 21, what he will do with Rs 1 crore cash prize and the mental fortitude of the men's hockey team

Shubham Pandey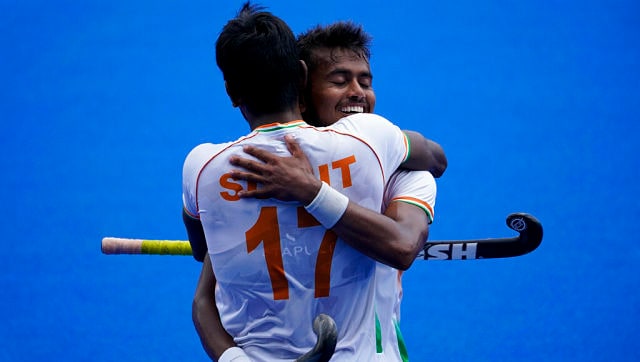 India's Vivek Sagar Prasad, right, celebrates with India's Sumit (17) after winning their men's field hockey match against Argentina. AP

Vivek Sagar Prasad does not have fancy wishes. He doesn't yearn for a car, a lavish house in a new city, or an expensive watch, neither is he going overboard with all the success.

The first thing Vivek is going to do when he returns and gets the Rs 1 crore cash prize promised by the Madhya Pradesh government is build a pucca (concrete) house for his family.

His voice, over a series of WhatsApp calls, does not reflect what he and his team have achieved. You have to remind him that he is part of history now, but Vivek is not the one to romanticise. "Haan sir (Yes, sir)," is all he says.

His life has suddenly changed. His WhatsApp feed is full of unseen messages. He says he does not have time to reply to them. Most of these messages are from unsaved numbers. He does not even know who he is thanking for "making them proud of him."

But he reveals himself freely when he says he does not want to leave his village and instead build a pucca house there.



India hockey player Vivek Sagar Prasad. Image: Hockey India

"With money, I am going to build a house. The current house in which the family lives is made of cement sheets. There are not enough rooms as well. My dream is to make a pucca house for my family. And I want to live in Chandon, my village. I don't want to leave my village."

But none of this would have been possible had PR Sreejesh not saved the penalty corner given to Germany with six seconds remaining in the bronze medal match.

A confident Vivek says, "It was nerve-wracking, yes, but we had trust in each other, we knew we will win."

That's something that is new about both the hockey teams of today - the new approach, the new mindset, and the nerves of steel in crunch moments to come out on top.

Even in a soft voice, he does not shy away from saying that he is mentally strong. That's self-praise, he knows, but that is also a fact.

Four years ago, he was battling for life as an injury to collarbone had led to other complications in his body. His positive attitude helped him fight the illness, get back on his feet and resume his sport. He wanted to play hockey for India, his childhood dream, something his father had objections to.

"My father wanted me to become an engineer because my brother was also studying engineering. My interest was in hockey. They used to stop me from playing hockey. They were right in a way because no one from where I come (Chandon, a small village near Itarsi district in MP) had gone on to become a national athlete. They had never heard about anyone so how would they think that it is possible but I had it in me that I want to go on and become a national-level player."

Vivek dared to dream. And his dream started to come true when he met Ashok Kumar, the 1972 Games bronze medallist, and son of legend Dhyan Chand.

"Whatever I have learned in hockey is under him. When you get the basics right and get good coaching at the start, it helps in your career," he said.

He is fittingly a member of this men's hockey team that carries the same mental fortitude.

Despite being bashed in 1-7 in the second match, the team did not lose focus. Regrouped and came back strongly to beat Spain 3-0 and rescurrect the campaign.



India's Vivek Sagar Prasad (32) alongside his teammates during a men's field hockey match against Australia. AP

Vivek says the loss was unexpected, nobody in the team imagined such a big margin loss at just the start of the competition.

So what helped in overcoming the massive loss?

What helped was a team culture that allows committing mistakes and forgetting them and moving on.

"There was no other way to tackle it than overcoming it. If that defeat was stuck in our heads, we would have failed in the next matches as well," he said.

Graham Reid, the coach, says Vivek has set in place a mindset on which the team runs. It is called 'The next thing mentality'.

"Coach always tells us about the 'next thing mentality', that whatever happened has happened, we cannot change what has been done in the past; let's look ahead, focus on what is ahead. That mentality helped us come back strongly in the next game. That really makes us brave. He does not really scream at you for making mistakes, he says look ahead now. He enjoys his hockey. He asks us to be cool and enjoy the game."

The team is set to reach India on 10 August and si due to meet the PM, Odisha CM, and attend several other functions.

For now, Vivek has some days to relax, and reply to the unseen messages on Whatsapp. There are plenty of them.

Firstpost


---

Explained: The importance of Dhyan Chand for Indian sport

Dhyan Chand was the first superstar of hockey, considered a wizard or magician of the game.

By Tushar Bhaduri



Dhyan Chand during the 1936 Olympic semi-final against France. (Wikimedia Commons)   

The Rajiv Gandhi Khel Ratna Award will now be named after Dhyan Chand. This rechristening of the country's highest sporting honour after one of the country's legendary names could be termed political one-upmanship or a decision that didn't come a day too soon, depending on the way one looks at it. But what can't be denied is the emotional resonance Dhyan Chand's name carries and what he meant for Indian hockey, and Indian sports in general.

Who was Dhyan Chand?

Quite simply, he was the first superstar of hockey, considered a wizard or magician of the game. He was the chief protagonist as India won three consecutive Olympic hockey gold medals — Amsterdam 1928, Los Angeles 1932, and Berlin 1936. He is said to have wowed the watching public with his sublime skills, intricate dribbling and gluttonous scoring ability.

During those tournaments, there was no team that could compete with India — and most of the matches saw huge victory margins.

India beat hosts the Netherlands 3-0 in the 1928 final, the United States were thrashed by a scarcely-believable margin of 24-1 in the 1932 gold medal match, while Germany went down 8-1 in the 1936 decider.

In all, Dhyan Chand played 12 Olympic matches, scoring 33 goals.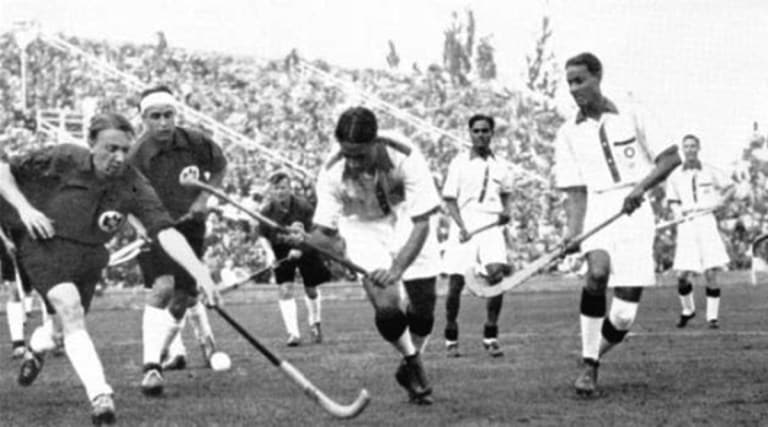 Dhyan Chand in action during the 1936 Berlin Olympics. (Twitter/Olympics)

What are some of the tales and anecdotes associated with Dhyan Chand?

Some of the stories about Dhyan Chand's prowess with a hockey stick are difficult to confirm while others are definitely apocryphal.

It is said that once his sublime skill and close control of the ball aroused such suspicion that his stick was broken to see whether there was a magnet inside. One has to remember that the game was played on natural grass in those days in contrast to the astro turf now, and the surface would often be bumpy and uneven, making ball control difficult for lesser mortals.

During the 1936 Berlin Games, German Chancellor Adolf Hitler — a proponent of Aryan racial superiority — was so enamoured with Dhyan Chand's play that he offered him German citizenship and the post of Colonel in his country's Army, a proposition the Indian ace refused.

Why does the name evoke such emotion?

Dhyan Chand played during India's pre-independence years, when the local population was subjugated and made to feel inferior by the ruling British. Hence, seeing an Indian dominating the Europeans in a sport invented by them evoked a lot of pride in them.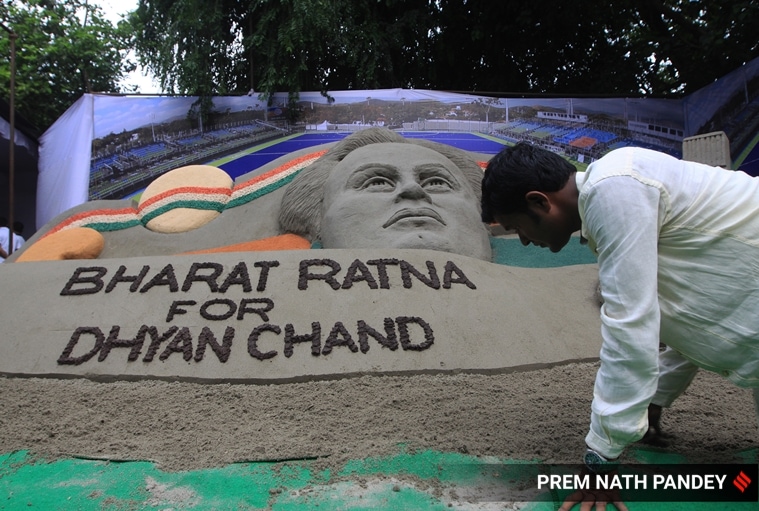 There has been a long-running campaign arguing that Dhyan Chand be posthumously awarded the Bharat Ratna, the country's highest honour.

Before Independence and for some years after that, hockey was the only sport in which India consistently excelled at the international and Olympic stage. In fact, starting from Amsterdam 1928, India won seven of the eight hockey gold medals at the Games. Apart from K D Jadhav's wrestling bronze at Helsinki 1952, India had to wait until Atlanta 1996 and tennis player Leander Paes for an Olympic medal in a sport other than hockey.

There were other great contemporary players like K D Singh 'Babu', Roop Singh, and Balbir Singh, but Dhyan Chand's name was always taken first.

There has been a long-running campaign arguing that Dhyan Chand be posthumously awarded the Bharat Ratna, the country's highest honour. There was a big debate around the time of the retirement of cricketer Sachin Tendulkar in 2013 about which sportsperson, if any, was deserving of the accolade. Tendulkar was eventually conferred the honour, but arguments for Dhyan Chand have continued nonetheless.

How has Dhyan Chand been recognised till now?

His birthday, August 29, is celebrated as National Sports Day with the President giving away the Arjuna Awards and the other honours — including the one now named after Dhyan Chand himself.

An award for lifetime achievement in sport is already named after him. The Capital's National Stadium was renamed Major Dhyan Chand National Stadium.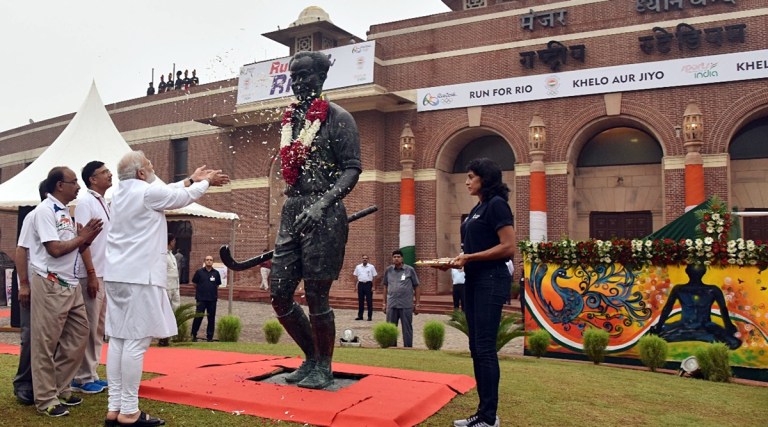 Prime Minister Narendra Modi pays floral tribute to Indian Hockey player Dhyan Chand in 2016. (File/ANI)

Why is the renaming of the award on Friday significant?

The eight gold medals in hockey have often been termed as the millstone around the necks of the subsequent generation of players. The modern game is an altogether different sport from the one played in Dhyan Chand's era. The Europeans and Australians have become much more proficient over the decades, while the change of surface has put a premium on fitness, speed, stamina, and physical strength.

India had not managed to get into the top four at the Olympics since the boycott-affected Moscow Games in 1980. The later generations may have felt out of touch with the golden years, about which one could only read in books or listen to in tales of the protagonists and those who witnessed the heroics.

In that context, the performance of the Indian men's and women's hockey teams in Tokyo can re-ignite large-scale interest in the game. Hockey may not have a fandom like cricket, but it's definitely followed, especially when India play a major tournament. Renaming the Rajiv Gandhi Khel Ratna after Dhyan Chand may ensure that the current and subsequent generations know about the original superstar of hockey.

Indian Express


---

AOC reprimands five Australian hockey players for breaching Covid protocols

Kookaburras broke rules to buy alcohol after losing final. Players involved self-reported and isolated in their rooms



Australia's chef de mission said the players did not harm anybody but breached the Olympic playbook. Photograph: Pete Dovgan/Speed Media/REX/Shutterstock

Australian hockey players who sought to drown their sorrows in beer after losing the Olympic gold medal match also temporarily lost their freedom on Friday, after breaching Covid-19 rules by leaving the athletes' village to buy the booze.

Five members of the men's squad had been reprimanded and isolated in their rooms, Australia's chef de mission Ian Chesterman said. It is the fourth sport after rowing, soccer and rugby sevens to have athletes disciplined by Australian Olympic bosses during the Tokyo Games.

Three Australian men's hockey players went to a nearby convenience store on Friday at 3am and bought two cartons of beer. Another two players left the village for the store at 6am but returned without a purchase. The players self-reported their breach to Australian officials and the entire Kookaburras squad was tested for coronavirus. They all returned negative results.

Chesterman said three of the players left the village to buy two cases of beer at 3am on Friday, hours after Australia lost the final to Belgium. Under the state of emergency operating in Tokyo for the duration of the Games, athletes are restricted to the Olympic Village and competition venues.

"We have reprimanded them," Chesterman said. "We have isolated them in their rooms ... they are feeling deep remorse, they have let their own teammates down. The players themselves have not done any harm outside the village, they haven't done any harm inside the village. My concern is they have breached the protocols.

"In the Australian culture – indeed, in many places right around the world – people celebrate and commiserate over a drink, so that is understandable behaviour for them. What wasn't acceptable to us was the breach of the [Tokyo Olympic] playbook."

In the so-called playbooks released by Tokyo Olympic organisers, athletes are banned from leaving the village unless for training or competition. Tokyo organisers had threatened any athlete who breached the playbooks with expulsion from the Games.

"They have embarrassed the Kookaburras, the Australian Olympic team and it's completely out of character," Kookaburras coach Colin Batch said.

Chesterman refused to name the five players who were disciplined, after previously reprimanding some rowers, soccer players and men's rugby sevens players for alcohol-related incidents. In previous incidents at the Tokyo Games, some Australian rowers damaged a room in the athletes' village. And Australia's men's soccer players and the nation's men's rugby sevens team were also reprimanded after a drunken flight home.

The Guardian


---

EuroHockey Championship III Men 2021 - Day 5
Lousada, Portugal

All times GMT +1

6 Aug 2021     MLT v LTU (Pool C)     1 - 0
6 Aug 2021     CZE v TUR (SF1)         3 - 2
6 Aug 2021     BLR v POR (SF2)        3 - 2

7 Aug 2021 10:15     MLT v SVK (Pool C)
7 Aug 2021 12:45     POR v TUR (3rd/4th Place)
7 Aug 2021 15:00     BLR v CZE (Final)

Pool C

| Rank | Team | Played | Wins | Draws | Losses | Goals For | Goals Against | Goal Difference | Points |
| --- | --- | --- | --- | --- | --- | --- | --- | --- | --- |
| 1 | Malta | 1 | 1 | 0 | 0 | 1 | 0 | 1 | 3 |
| 2 | Lithuania | 2 | 1 | 0 | 1 | 2 | 2 | 0 | 3 |
| 3 | Slovakia | 1 | 0 | 0 | 1 | 1 | 2 | -1 | 0 |
---

EuroHockey Championship III Women 2021 - Day 5
Lipovci, Slovenia

All times GMT +2

6 Aug 2021     SLO v POR (Pool C)     0 - 6
6 Aug 2021    UKR v TUR (SF1)          3 - 1
6 Aug 2021    SUI v CRO (SF2)           4 - 0

7 Aug 2021 10:15     SLO v SVK (Pool C)
7 Aug 2021 12:45     TUR v CRO (3rd/4th Place)
7 Aug 2021 15:00     UKR v SUI (Final)

Pool C
| Rank | Team | Played | Wins | Draws | Losses | Goals For | Goals Against | Goal Difference | Points |
| --- | --- | --- | --- | --- | --- | --- | --- | --- | --- |
| 1 | Portugal | 2 | 2 | 0 | 0 | 12 | 1 | 11 | 6 |
| 2 | Slovakia | 2 | 1 | 0 | 1 | 5 | 6 | -1 | 3 |
| 3 | Slovenia | 2 | 0 | 0 | 2 | 0 | 10 | -10 | 0 |
---

Day 5 EuroHockey Championship III, m, Lousada

Day 5, 6 August 2021

Malta v Lithuania 1-0

Pool C here in Lousada (POR) started with the match Malta vs Lithuania.

Lithuania had won their Pool B match against Slovakia (2-1), hence they were already awarded 3 points in Pool C. A win for LTU would assure them of 5th place in the event.

The 1st half was mostly played in the midfield. A few small changes for LTU but no goals were scored. The same thing happened in the 3rd quarter. It was until 10 minutes before the end of the game when Keith BAJADA scored 1-0 to Malta, which was their 1st goal of the event. The Lithuanian side kept pressing and got a few more chances, but Malta was able to keep a clean sheet, winning 1-0. This meant all to play for on Saturday when Slovakia meets Malta.

Czech Republic v Turkey 3-2

Semi-Final 1 saw the Czech Republic taking on Turkey. Ali Akin ÖZKILIÇ was the first to hit the net in the 21st minute. An equal game was shown on the pitch by both squads. Just after half-time, it was time for Jan ŽELEZNÝ to equal the score and a few minutes later he put his team in front with his second goal of the game. He came in front of his defender and a long pass was deflected into the goal. The 1st minute of the last quarter of the game saw Ali Akin ÖZKILIÇ scoring his second of the game, putting the Turks back into the game. 7 minutes before the end a straight PC drag-flick in the top crossing of the goal by Tomas PROCHÁZKA meant the winning goal, advancing the Czechs into the Final on Saturday.

Belarus v Portugal 3-2

Belarus and Portugal were up next in Semi-Final 2. The first half showed hardly any chances for both teams, except for some PCs who were not executed well. In the 34th minute, Portugal took the lead via a field goal of Afonso CARAMALHO. Some minutes later a good penalty corner variant was scored by the Belarussian side via the stick of Aliaksandr HANCHAROU. Portuguese goalkeeper Andre ROMARIZ made some excellent saves during the 2nd half, but Uladzislau BELAVUSAU put Belarus in front just before the end of the 3rd quarter. 6 minutes before the end it seemed Belarus closed the game scoring 3-1 via Dzianis TSALUIKA, but Portugal fought back. With 3 minutes to go Philipp WENZEL made the 3-2. The home nation tried their best, but the final result stayed 3-2 advancing Belarus to Saturday's final against the Czech Republic. Portugal and Turkey will fight for the bronze medal.

The final day of the event is tomorrow and here is the line-up:
10:15    MLT – SVK    Pool C           
12:45    POR – TUR    3rd/4th Place           
15:00    BLR – CZE    Final

You can follow the event live on www.eurohockeytv.org

EuroHockey media release


---

Day 5 roundup – EuroHockey Championship III, Women, Lipovci

Day 5, 6 August 2021

Slovenia v Portugal 0 – 6

The first match of the day was between the home team and debutants. In the 5th minute, the Portuguese scored a nice field goal and was going to the win, but next 30 minutes Slovenian ladies didn't let them score any goal.

At the end of the 3rd quarter, Claudia Fidalgo scored the second goal and create a scoring mood for the team which scored four more goals in the last quarter.

Goals scored: Sousa Katarina, Fidalgo Claudia, Ledesma Mariana, Nunes Daniela, Oliveira Irina, Oliveira Flávia. After this game Portugal ladies, the biggest surprise of the tournament, finishing in 5th place of the tournament.

Ukraine v Turkey 3 – 1

The first semi-final Ukraine against Turkey started as a very quick game. Both teams took the same tactic – 'high pressure'. At the end of the first quarter, the Ukrainian ladies had a penalty corner and Yevheniya Kernoz scored the first goal for the team.

In the 3rd quarter, the action was on the Turkish team's side, Karyna Leonova scored in 32nd minute, but Ukraine ladies can't score any goal till the end of the quarter. Turkish team had one penalty corner in this quarter, unfortunately, the goal was not scored.

In the 4th quarter the situation changed, Turkish team took initiative and most of the time action was on the Ukraine side. Finally, İlayda Taşkiran scored a field goal and Turkish ladies tried to keep pressure on opponents. In the 57th minute, Oksana Ponomarenko scored one more goal for the team and the final result, which gives a ticket to the final for the Ukraine team, 3 – 1.

Switzerland v Croatia 4 – 0

The second semi-final between Switzerland and Croatia was tough for both teams. Everyone wanted to go to the final, so in the first quarter, teams played head-to-head. In the 19th minute, Ria Müller scored first field goal for Swiss ladies. Croatian team defend was strong ant players didn't let to score the second goal until the 45th minute when Switzerland had a penalty corner and Sofie Stomps ended it with a goal. After Carina Zimmermann and Sara Zbinden scored two more goals and Swiss going to the final with a final result of 4 – 0.

Dawn Bonner, Umpire manager of the tournament said "We have a very keen team of eight umpires who arrived on the 30th / 31st July to umpire in EuroHockey Championship III. Of the eight umpires only two had "caps", so six were going to their first Senior International cap. The umpiring team represented six different countries. Within the umpiring team – we have representatives from National Panel and EHF programmes including UDP and U4E. I'm happy that 'third team' had the opportunity to be here and all through enjoyed their first international cap."

The event ends tomorrow with Ukraine and Switzerland contesting the final! All games will earn vital ranking points for the teams for the 2022 EuroHockey qualification events ahead of the 2023 Championships:

Final games on Saturday 7th August:
10:15    SLO – SVK    Pool C           
12:45    TUR – CRO    3rd/4th Place           
15:00    UKR – SUI    Final

Follow the live scoring here: https://tms.fih.ch/competitions/1266

EuroHockey media release


---

Alex Danson-Bennett set for 'personal mission' in summer coaching

By Imogen Ainsworth.




Alex Danson-Bennett says her summer masterclasses are a 'very personal mission' to inspire the future.


---

Five star Scotland U23 men win in Wales

Scotland U23 men won 5-0 in the opening game of a three match series against Wales in Wrexham. Fraser Heigh scored twice, while AJ Lochrin, Jack Jamieson and Keir Robb all got a goal each.

It was a slow start to the game with Wales edging the play in the opening quarter. Scotland defended two penalty corner opportunities well and kept themselves in the contest. Against the run of play it was the Scots who took the lead when Fraser Heigh struck just before the break to make it 1-0.

The second quarter saw Scotland step up the play and take control of the match. There were chances for Sam Knight and Jacob Tweedie but neither found the net. Despite Scotland's dominance it remained 1-0 at half time.

Scotland really turned the screw in the third quarter and made their control of play count. Andrew Lochrin found the net when he deflected a corner to make it 2-0. A short while later and a lovely drag flick by Jack Jamieson made it 3-0.

The final quarter saw Scotland continue to dominate play and Keir Robb soon made it 4-0. Robb carried the ball into the D from the right and struck after Scotland won the ball after some good pressing.

Then Heigh struck his second and Scotland's fifth when he found the net on the rebound to make it 5-0.

Graham Moodie said, "It was a really good performance and we could have scored more, though it probably wouldn't have been a fair reflection of the match. We really grew into the game and got better and better as the match continued.

"There were lots of really good performances today and it was pleasing to see the U19 players come in and step up to this level with some good performances. We'll look forward to tomorrow's game and look to improve further."

Scottish Hockey Union media release


---

Victory for Scotland emerging squads on day one of Wales test series

Scotland Emerging Girls 4-3 Wales

Scotland Emerging Girls took a hard-fought 4-3 victory over Wales in the first match of three at the Glasgow National Hockey centre.

It was a very close first half with the Scots making a nervous start, which was understandable with 95% of the team earning their first cap.

The second half, however, saw a much more composed and impressive outing from the Scots and they were a rewarded with a goal through Jess Main early in the second half.

After this the contest became something of a cat and mouse affair with Wales equalising, Scotland retaking the lead after a lovely move down the right and finish by Emma Murray, before another equaliser from Wales.

The game went to 3-3 with Scotland going ahead through Kirsten Muirson and Wales again equalising.

Then with 30 seconds left to play the Scots took the victory with a well finished penalty corner into the bottom corner by Main to give Scotland a well-earned 4-3 victory.

Scotland Emerging Boys 2-1 Wales

In a game that saw 18 new caps for Scotland it was the Scots who ran out 2-1 winners over Wales at the Glasgow National Hockey Centre.

Scotland got off to a great start with a very mature performance from the first whistle. The great start was rewarded by a great goal. From a position of deep defence, Scotland won the ball and set off on a brisk counter attack which saw them pass the ball around the keeper for Murray Griffiths to finish and make it 1-0.

As the game progressed Scotland's mature start waned somewhat with some needless cards. Eventually Wales capitalised and equalised to make it 1-1.

The equaliser set up a grandstand finish and with 30 seconds left on the clock it went the way of the Scots. A penalty corner routine saw Henry Porter pounce on a block by the keeper and scramble the ball home to give Scotland the win.

Scottish Hockey Union media release