All the news for Saturday 31 July 2021

2020 Olympic Games - Day 9
Tokyo (JPN)

All times GMT +9

Men

29 Jul 2021    IND v ARG (Pool A)   3 - 1
29 Jul 2021    BEL v CAN (Pool B)    9 - 1
29 Jul 2021    RSA v GER (Pool B)   4 - 3
29 Jul 2021    NED v GBR  (Pool B)   2 - 2

30 Jul 2021      AUS v ESP (Pool A)        1 - 1
30 Jul 2021     CAN v RSA (Pool B)        4 - 4
30 Jul 2021     JPN v IND (Pool A)           3 - 5
30 Jul 2021     ARG v NZL  (Pool A)        4 - 1
30 Jul 2021     GER v NED (Pool B)        3 - 1
30 Jul 2021     BEL v GBR  (Pool B)       2 - 2

31 JUL 2021 - Rest Day

Pool Standings

Pool A
| Rank | Team | Played | Wins | Draws | Losses | Goals For | Goals Against | Goal Difference | Points |
| --- | --- | --- | --- | --- | --- | --- | --- | --- | --- |
| 1 | Australia | 5 | 4 | 1 | 0 | 22 | 9 | 13 | 13 |
| 2 | India | 5 | 4 | 0 | 1 | 15 | 13 | 2 | 12 |
| 3 | Argentina | 5 | 2 | 1 | 2 | 10 | 11 | -1 | 7 |
| 4 | Spain | 5 | 1 | 2 | 2 | 9 | 10 | -1 | 5 |
| 5 | New Zealand | 5 | 1 | 1 | 3 | 11 | 16 | -5 | 4 |
| 6 | Japan | 5 | 0 | 1 | 4 | 10 | 18 | -8 | 1 |
Pool B
Women

29 Jul 2021    ESP v CHN (Pool B)   2 - 0
29 Jul 2021   GBR v NED (Pool A)  1 - 0
29 Jul 2021    JPN v ARG (Pool B)   1 - 2
29 Jul 2021    NZL v AUS (Pool B)   0 - 1

30 Jul 2021    RSA v GER (Pool A)     1 - 4
30 Jul 2021    IRL v IND (Pool A)        0 - 1

31 Jul 2021          CHN v NZL (Pool B)       3 - 2
31 Jul 2021         JPN v ESP (Pool B)        1 - 4
31 Jul 2021         ARG v AUS (Pool B)       0 - 2
31 Jul 2021        IND v RSA  (Pool A)        4 - 3
31 Jul 2021 18:30       GER v NED (Pool A)
31 Jul 2021 21:00         IRL v GBR  (Pool A)

Pool Standings

Pool A
Pool B
| Rank | Team | Played | Wins | Draws | Losses | Goals For | Goals Against | Goal Difference | Points |
| --- | --- | --- | --- | --- | --- | --- | --- | --- | --- |
| 1 | Australia | 5 | 5 | 0 | 0 | 13 | 1 | 12 | 15 |
| 2 | Argentina | 5 | 3 | 0 | 2 | 8 | 8 | 0 | 9 |
| 3 | Spain | 5 | 3 | 0 | 2 | 9 | 8 | -1 | 9 |
| 4 | New Zealand | 5 | 2 | 0 | 3 | 8 | 7 | 1 | 6 |
| 5 | China | 5 | 2 | 0 | 3 | 9 | 16 | -7 | 6 |
| 6 | Japan | 5 | 0 | 0 | 5 | 6 | 13 | -7 | 0 |
---

India down Japan in feisty match

S2H Team




India warmed up for the quarterfinals with a 5-3 win over hosts Japan in their concluding Pool 'A' Men's Olympic hockey match at the Oi stadium on Friday.


---

Indian men's hockey team beat Japan 5-3 in their last Pool A game

The Indian men's hockey team concluded their pool stage journey with a 5-3 victory over Japan.

By Md Imtiaz



Indian men's hockey team at Tokyo Olympics (Source: Hockey India)

The Indian men's hockey team defeat the host nation Japan 5-3 in their concluding match of Pool A at the Tokyo Olympics on Friday at the North Pitch of the Oi Hockey Stadium.


---

India beat Japan to finish second in Pool A

By Jugjet Singh



India's Manpreet Singh (right) and Japan's Yuma Nagai vie for the ball during their men's Pool A match at the Oi Hockey Stadium in Tokyo yesterday. -AFP pic

India completed their men's Olympic Pool A campaign with four wins from five matches after beating Japan 5-3 in an entertaining hockey encounter yesterday.

Japan gave a brave account of themselves, but inexperience saw them on the losing end.

So far, Australia, India and Spain have booked their slots for the quarter-finals from Pool A.

In Pool B, the four quarter-finalists are Belgium, Netherlands, Britain and Germany.

Although India were already assured of a quarter-final berth going into the match against Japan, they did not slow down their momentum.

India scored through Gurjant Singh (17th, 56th), Harmanpreet Singh (13th), Shamsher Singh (34th) and Nilakanta Sharma (51st) at the Oi Stadium in Tokyo.

New Straits Times


---

India script best group stage performance in 49 years

The Indian men's hockey team ended the group stage with an impressive5-3 win against hosts Japan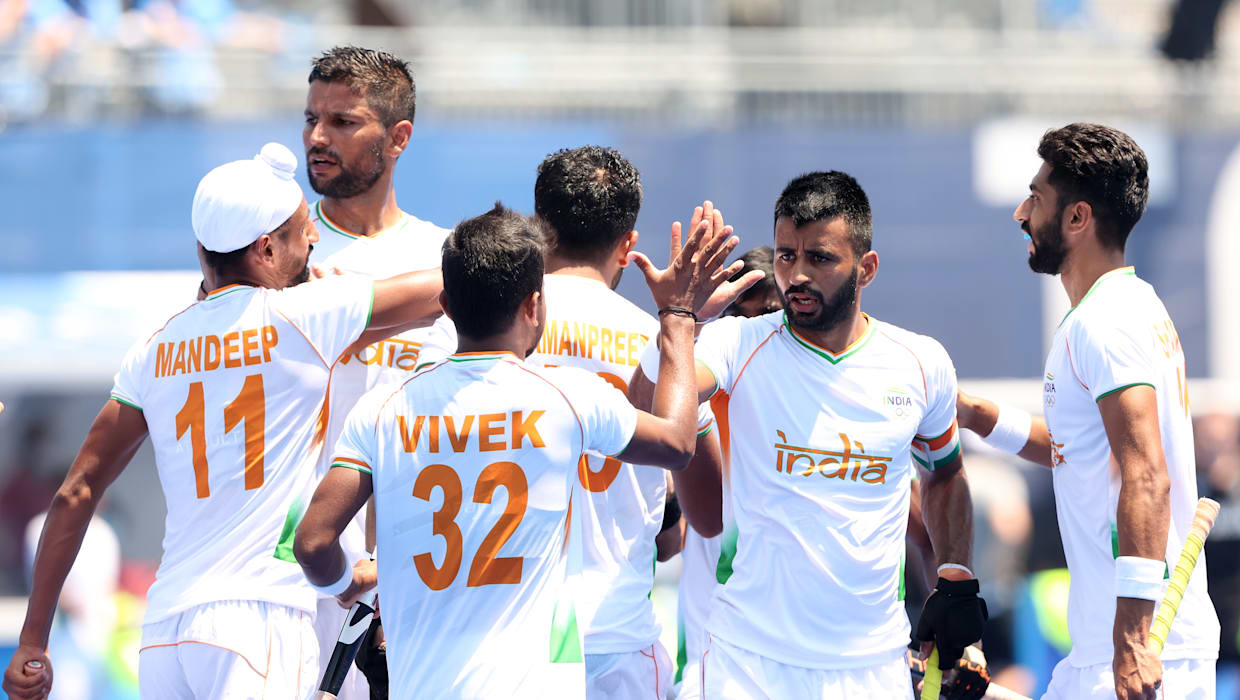 India wrapped up their group stage in men's hockey at Tokyo 2020 on a high as they defeated hosts Japan 5-3 on Friday. The result once again confirmed their resurgence on the world stage in a sport they once ruled.

The 'Men in Blue' sit second in Group A with four wins and a loss in their five matches. They finished behind Australia, the only team to beat them in the competition so far. The 12 competing teams are split into two groups and the top four from each group qualify for the quarterfinals.

India's win on Friday also meant they had registered four wins in the group stage for the first time since Munich 1972 where they won a bronze. Even though India did win a gold medal at Moscow 1980, only five teams had competed in the men's hockey event in that edition.

In 1972, hockey was a more elaborate affair with 16 teams, split into two groups, competing for the big prize. India had topped Group B with five wins and two draws in their seven matches. They went on to lose 2-0 against arch-rivals Pakistan in the semifinal. But India bounced back, beating Netherlands 2-1 to clinch the bronze.

Since then, the Indian team has not been impressive at the start of the tournament. Before Tokyo 2020, the last time they won three matches in the group phase was way back at Los Angeles 1984. The low point was at London 2012, when they failed to win any of their five group matches.

The Indian team, under coach Graham Reid, is keen to regain some of the lost lustre. They had come well prepared for the Tokyo heat, training in draining conditions during the afternoon during the national camp in Bangalore.

Indian teams have traditionally flagged off in the dying minutes in hockey, to conceded crucial goals to their opponents. But India have been relentless from start to finish in the tournament so far.

They were outclassed 1-7 by Australia in the second match of their campaign. But they shook off that defeat and won three matches on the trot, including those against reigning Olympic champions Argentina and reigning Asian Games champions Japan, to storm into the quarterfinals.

Harmanpreet Singh (13th minute), Gurjant Singh (17th minute, 57th minute), Shamser Singh (34th minute) and Nilakanta Sharma (51st minute) were the goal scorers for India against Japan. The team finished the group phase with a goal difference of +2.

On Sunday, India will take on Great Britain in the last eight, hoping to seal a semifinal berth.

Olympic Channel


---

India thumps Japan 5-3 to finish second in group stage

India's third successive win puts it in good stead ahead of the quarterfinal where it will face the third-placed team in Pool B.

Shyam Vasudevan



India players celebrate after scoring against India during its final pool A game against Japan on Friday.   -  AP

The Indian men's hockey team outclassed host Japan 5-3 in its last group game of the Tokyo Olympics on Friday to finish second in Pool A.

The side's third successive win puts it in good stead ahead of the quarterfinal where it will face Great Britain.

India got off to a fine start as Harmanpreet Singh struck his fourth goal of the campaign to put his side ahead in the 13th minute. Manpreet Singh's men doubled their lead within two minutes of the start of the second quarter with Gurjant Singh scoring from a Simrajeet Singh pass.

The Japanese reacted quickly to peg one back in the 19th minute. A lapse in the Indian defence saw Kenta Tanaka latch onto the ball and thump home to reduce his side's deficit. The Indians went into the interval with a slender one-goal lead, which was nullified in the 33rd minute when Kota Watanabe found the back of the net. However, it took less than 60 seconds for India to take the lead again as Shamsher Singh helped Nilakanta Sharma's shot past the goalkeeper.

India dominated possession and created chances upfront in a constant endeavour to restore its two-goal advantage. And the goal came in the 51st minute when Nilakanta turned scorer this time and Gurjant, then, converted a penalty corner to score his second of the evening five minutes later. Though, Kazuma Murata pulled one back with a minute left, it was too little too late as India secured a morale-boosting victory ahead of the all-important knockout rounds.

Sportstar


---

Indian men's hockey team achieves highest-ever world ranking of no.3

After finishing second in the group stage at the Tokyo Olympics, the Indian hockey team achieves its highest-ever ranking in the world.

By Kalptaru Agarwal



Indian men's hockey team (Source: PTI)

The Indian men's hockey team capped off their pool stage matches at the Tokyo Olympics with an exciting 5-3 victory over hosts Japan on Friday. The team that has already moved to the quarterfinals of the Games in Tokyo emerged as the second-best team in the group stages behind Australia.


---

Olympics over for Black Sticks men after loss to Argentina




The Black Sticks men have finished their Olympic campaign without making the play-offs after going down 4-1 to Argentina in their final pool match tonight.

In the all-or-nothing game, the Kiwis needed a win or a draw to secure a quarterfinals spot with both teams sitting equal on four points chasing the last play-off spot.

The Argentine victory meant the Black Sticks finished fifth in Pool A and failed to grab a quarterfinals berth. The Kiwis had previously lost 4-2 to Australia and 3-2 to India, drawn 2-2 with hosts Japan and collected a 4-3 victory over Spain.

Today the Black Sticks sorely missed the experience of vice-captain Hugo Inglis and four-time Olympian Shea McAleese both out with hamstring injuries as was striker George Muir. Canterbury defender David Brydon again came into the match day squad.

In the first quarter the Black Sticks were building nicely, retaining possession and showing patience on when to push forward. On one of those occasions Nic Woods casually popped the ball onto an Argentine foot to win the first corner with a minute left in the quarter.

Step up Kane Russell, and the drag flick expert was again on the scoresheet with his fifth goal of the Olympics.

With a blink of the eye all that good work was undone with a Black Sticks' own goal. And just minutes into the second quarter Argentina were 2-1 ahead with Lucas Martin Vila deflecting one in from the right post.

Two minutes before the end of the quarter, Argentina gained their first penalty corner of the match and thought they had won a penalty stroke from it when Nick Ross saved the corner on the line and the ball fell on his foot. After a video referral, the call was downgraded to a corner which Argentina couldn't convert and they went into the break 2-1 ahead.

A scrappy third quarter went goal-less until the final minute when Jose Leandro Tolini converted with a lightning fast penalty corner high in to the left of the goal.

Despite the Black Sticks taking off their keeper Leon Hayward early in the final quarter to push for those equalising goals, it was Argentina who added to their score with Nicolas Santiago Keenan knocking an overhead into an open goal.

And at 4-1 to Argentina was sadly where the Black Sticks' Olympic campaign came to an end.

Argentina 4 (Lucas Martinez 15 min, Lucas Martin Vila 17 min, Jose Leandro Tolini 44 min, Nicolas Santiago Keenan 60 min) New Zealand 1 (Kane Russell 14 min) Halftime: 2-1 Argentina.

New Zealand Men: Steve Edwards (North Harbour); Leon Hayward (GK), Jared Panchia (Auckland); Nic Woods (Waikato); Sean Findlay, Dylan Thomas (Hawke's Bay); Nick Wilson (Manawatu); Stephen Jenness, Dane Lett, Jacob Smith (Wellington); David Brydon, Sam Lane (Canterbury); Nick Ross, Kane Russell, Blair Tarrant – captain (Otago).

Official Blacksticks site


---

Champions Argentina keep men's title bid alive




"Goooolllll!" Carlos Retegui screamed with clenched fists on the sidelines.


---

Black Sticks men out of Tokyo Olympics after losing to Argentina in last pool game

Brendon Egan



New Zealand's Kane Russell battles with Argentina's Maico Casella for possession. Tim de Waele/Getty Images

The Black Sticks men's Tokyo Olympics is over after losing to Argentina in their do-or-die final pool game.

Argentina's 4-1 victory on Friday night saw New Zealand finish fifth from six teams in Group A and miss out on the top four and quarterfinals.

The final pool match had everything riding on it with the loser eliminated from the knockout stage of the tournament.

Argentina, the reigning Olympic gold medallists, had struggled in the early pool games, but with their place in the quarterfinals on the line, played their best game of the tournament.

This was New Zealand's third loss from five pool games, mixed in with a 4-3 win over Spain and a draw against Japan, completing a disappointing Olympics campaign.

It signals the end of the road for Black Sticks veterans Shea McAleese and Nick Wilson, who have both stated they will step away after the Olympics. Several other experienced performers could also decide the time is right to finish up.



New Zealand's Kane Russell celebrates his side's opening goal against Argentina. Tim de Waele/Getty Images

Needing a draw or win to advance to the quarterfinals, New Zealand's task wasn't made any easier with experienced striker Hugo Inglis ruled out for the third straight game with a hamstring injury.

After an even first quarter, where both teams found it tough to break through and create attacking opportunities, New Zealand capitalised from their first penalty corner late in the term.

Kane Russell, who is so dangerous from the set piece, struck with a textbook drag flick to beat Argentine goalkeeper Juan Manuel Vivaldi and give New Zealand the lead.

It was New Zealand's eighth penalty corner goal from 26 attempts in Tokyo and Russell's fifth of the tournament.

Argentina responded, scoring two quick goals either side of the first quarter break to hit the front.

New Zealand's Dane Lett turned the ball into his own net on the final play of the first quarter from Lucas Martinez's goal bound shot.

Argentina then had two in three minutes to begin the second quarter with Lucas Vila in the right spot at the right time, getting a goalmouth deflection.

A smart referral from New Zealand denied Argentina a penalty stroke after the umpire initially thought defender Nick Ross had stopped the ball going into the goal with his foot.

New Zealand would have been desperate to score an early second half goal, but weren't helped when they were reduced to 10 players for five minutes.

Captain Blair Tarrant was shown a yellow card for bringing down an Argentine attacker, making the Black Sticks' challenge even steeper.

Ross defended superbly on the line from an Argentina penalty corner, keeping the ball out with his stick in a goal-saving moment.

A penalty corner from Jose Tolini with two minutes left in the third quarter put New Zealand in a 3-1 hole, leaving them with plenty to do to fight their way back.

New Zealand had a chance to pull a goal back from a penalty corner early in the final quarter, but Russell's effort was kept out by Vivaldi.

In a desperate attempt to get back into the contest, the Black Sticks pulled goalkeeper Leon Hayward late in the game for an extra attacker.

A last minute goal from Nicolas Keenan into the empty net put an exclamation point on Argentina's win, booking their spot in the quarterfinals.

AT A GLANCE:

Argentina 4 (Lucas Martinez, Lucas Vila, Jose Tolini, Nicolas Keenan) New Zealand 1 (Kane Russell) HT: 2-1.

Stuff


---

GB's Men Book Quarter-Final Match Against India With Belgium Draw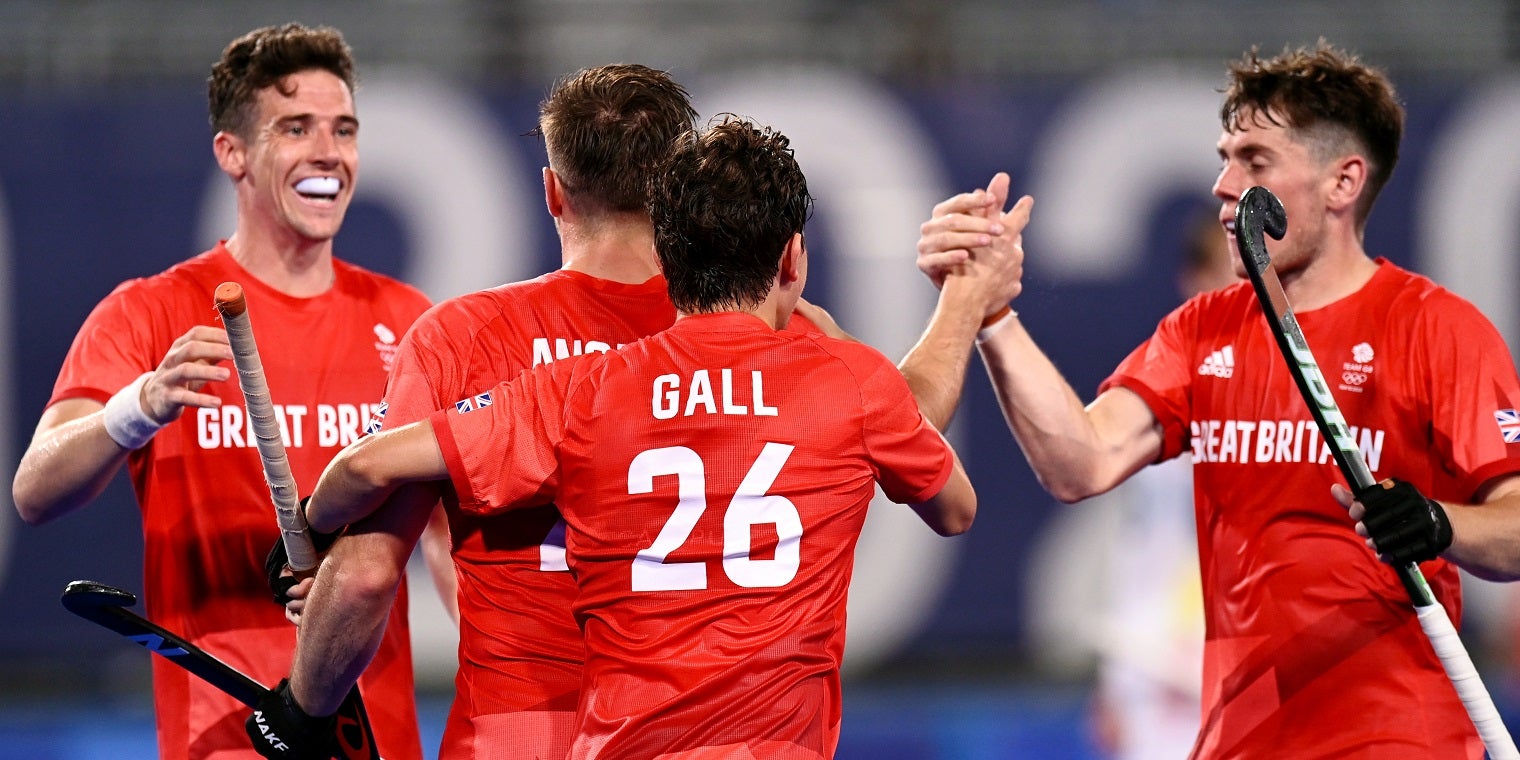 Great Britain's men produced an impressive performance in their final Pool B match as they took a 2-2 draw against Belgium.

Rupert Shipperley's first Olympic goal had given GB a first-half lead, but three goals in six third quarter minutes changed the complexity of the game.

Tom Boon had levelled for Belgium via a deflected drag flick, before Liam Ansell's exquisite finish restored GB's lead a minute later. Thomas Briels' strike shortly after would prove to be decisive as neither side could go on to find a winner.

The result means that Great Britain will face India in the quarter-finals on Sunday 1 August at 13:00 BST.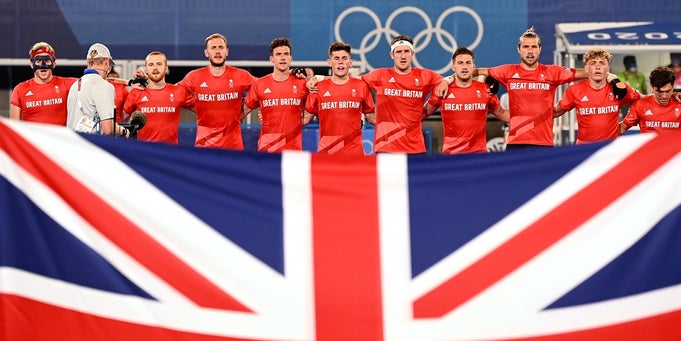 GB line up ahead of their final Pool B match, against Belgium. Credit: World Sport Pics

Great Britain took the early impetus and were first to record a shot on goal as Jacob Draper's effort forced a save out of Vincent Vanasch after less than five minutes of play.

Though both sides were showing plenty of energy despite the high humidity, chances were few and far between in an evenly contested opening quarter.

GB did make the breakthrough immediately after the restart. A quick one-two between Zach Wallace and Liam Ansell worked the ball into the path of Rupert Shipperley who calmly slotted the ball into the net with a composed finish.

Belgium came close to an immediate response with two quick-fire penalty corners. The first effort being well saved by Ollie Payne, though the rebound hit the leg of Tom Sorbsy, before the second attempt was dragged wide of the goal.

In what had been a frantic five-minute spell, Shipperley almost had another, his fierce shot on the reverse forcing a sublime save out of Vanasch.

GB were cruelly denied a goal shortly after. A brilliant run along the base-line and cut back into the circle from Phil Roper saw a goal-mouth scramble ensue. The ball crept towards the goal but was adjudged by the umpire to have stopped short of the line, GB without a referral to appeal the decision – though later replays went on to show the ball had crossed the line.

The attacking intent continued after the half-time break. Sam Ward's shot was drifting narrowly wide of the goal and the onrushing James Gall came within inches of tapping the ball in at the back post.

In a gripping third quarter, three goals in six minutes would determine the outcome of the match. It was a slice of misfortune that saw GB concede an equaliser. Tom Boon's drag flick taking a wicked deflection off the shin pad of the charging Ansell to take the ball away from Payne and into the roof of the net.

The teams weren't level for long as Brendan Creed launched an aerial from deep inside his own half perfectly into the path of Ward. Having expertly brought the ball down, Ward found Ansell in space to sweep the ball into the top corner of the goal with a delightful finish and make it 2-1.

It wouldn't be the end of the scoring during this frantic spell. Thomas Briels getting ahead of Jack Waller to tuck the ball in at the back post and restore parity.

Chances were few and far between in the closing stages of the match as the teams settled for a point in their final Pool B match. The result means that Great Britain's men finish third in Pool B and will face India in the quarter-finals on Sunday 1 August at 13:00 BST.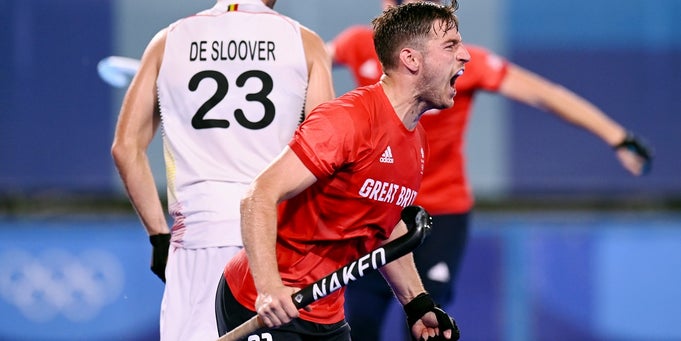 Liam Ansell had given GB a 2-1 advantage before Belgium replied just minutes later. Credit: World Sport Pics

After the match, Head Coach Danny Kerry commented: "The lads prepared well for today and that was reflected in the quick start we made to the game. Four matches in five days is punishing, but we've navigated a very difficult group well and I'm proud of the team for what they've achieved so far."

Ollie Payne also commented: "Getting a point against the world champions, we'll take that. It was a bit of a weird ending to the game. With tournament hockey you kind of know where you stand which is nature of the beast really.

"I think with it being such a long tournament you want to work yourself into it, which is something we definitely feel like we've been doing. To be honest, you could have said we'd be playing anyone next and we would have fancied it, that's just where we are as a group. We're playing India in the quarter-finals where we'll fancy our chances but also respect what they bring.

"We'll have a bit of a chill out tonight before getting on the recovery tomorrow and start preparing for the game.

"I've enjoyed every minute so far, which is what I wanted to say when I come home. Results can go either way and to say that the tournament rides on how results go as to whether or not I enjoy it is not how I want it to be. You watch the Olympics and it's the pinnacle of sport, especially hockey, so this has been an unbelievable experience. I probably am the most inexperienced in the squad but credit to the lads because I don't feel it!"

Belgium 2 (0)

Boon (37', PC), Briels (43', FG)

Great Britain 2 (1)

Shipperley (17', FG), Ansell (38', FG)

Starting XI: Ames, Draper, Ward, Roper, Dixon (C), Payne (GK), Ansell, Waller, Gall, Sanford, Wallace

Subs: Shipperley, Griffiths, Sloan, Creed, Sorsby

Great Britain Hockey media release


---

Bizarre ending, umpire goal error as GB and Belgium share spoils

By Tom Pilcher



Liam Ansell attempts to hold off Thomas Briels in entertaining clash PIC: REUTERS/Bernadett Szabo

TOKYO — From hotly contested decisions to barely a stick raised in anger towards the end, second-ranked Belgium and Team GB's 2-2 draw had it all as Danny Kerry's side progressed to the Tokyo Olympics men's quarter-finals.


---

Great Britain's 'use referrals better' note to self after controversy

By Tom Pilcher



The ball clearly went over the line but umpire ruled a review PIC: Eurosport UK

If Team GB want to get past India and secure a semi-final men's Olympic hockey berth, players concurred they'll need to get better at using the referral system after they were denied a stonewall goal in Friday's 2-2 draw with world champions Belgium.


---

Great Britain to face India in quarter-finals after Belgium draw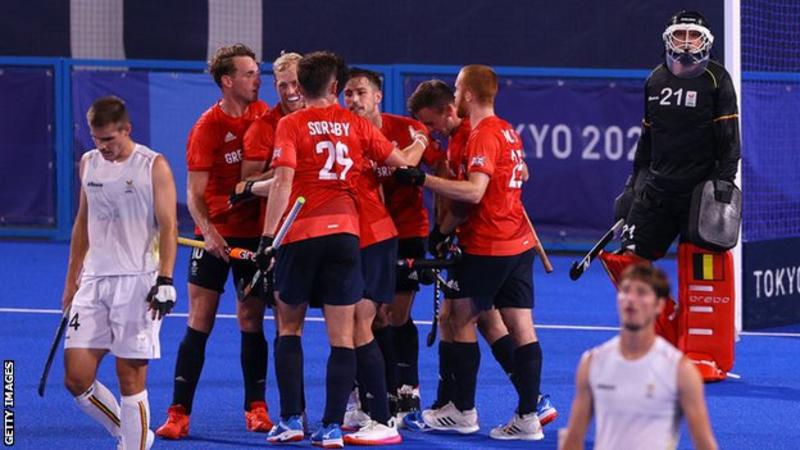 Great Britain players celebrate a goal against Belgium. Great Britain finished their five pool games with two wins, two draws and one defeat

Great Britain will face India in the men's hockey quarter-finals in Tokyo after a 2-2 draw with Belgium.

Both sides had already qualified for the last eight going into their last pool game, with world champions Belgium top of Pool B with a 100% record.

GB twice led through Rupert Shipperley and Liam Ansell, only for Tom Boon and Thomas Briels to draw Belgium level.

The two sides were then happy to play out a draw, meaning GB came third in Pool B and avoided in-form Australia.

The Pool A winners will face the Netherlands in Sunday's quarter-finals.

Belgium will take on Spain while Pool B runners-up Germany will play Argentina.

BBC Sport


---

Chance to foster belief up front says O'Hanlon




Black Sticks goalkeeper Grace O'Hanlon is hoping their strikers will gain some real confidence from today's final pool match against China.

O'Hanlon, who has been at the core of a strong Kiwi defensive unit in Tokyo with just four goals conceded, hopes today's game is a chance to foster belief up front.

"I think it'll be a good opportunity for our strikers to gain some real confidence. If we can slot in a few and start connecting a little better that will really foster belief."

"We just want to watch and clap at the back," she says jokingly.

O'Hanlon says the team needs to build sustained pressure.

"We lose as a team, we win as a team, we attack as a team and we defend as a team. We've had to do a lot of defending, but as a team it's about creating those opportunities up front and supporting each other. We really need to have that sustained pressure against China."

China currently sit outside the top four in Pool B, so will need to topple the third-placed Kiwis by at least five goals to overtake them on the table.

"China are strong and skilful, and they're still in this competition. It's a must-win for them so they'll come at us with all guns blazing and all swords out."

"For us it's important we set ourselves up mentally for what's to come."

Today's game is the fifth in a week for the Black Sticks but O'Hanlon feels they couldn't be better prepared.

"Tournament hockey is always going to grind you down a bit but we're very well prepared. All the things we did in the build-up are paying dividends now and we're very grateful for that."

"It is hot, it's actually unbearable at times but we're probably the best prepared out of any teams I've seen."

As the tournament moves into the business end with shootouts deciding any drawn matches, O'Hanlon feels the Black Sticks are now in a much better headspace about shootouts.

"They're a challenge we once shied away from, and now given our recent performance we'd probably rise to them."

Official Blacksticks site


---

Black Sticks cling on for quarterfinals spot




The Black Sticks women have qualified for the Olympic quarterfinals by the skin of their teeth after going down 3-2 to China in their final pool match today.

In the must-win game for China, they showed greater desire to claim the victory despite their poor form earlier in the tournament.

With the loss, the Black Sticks finished fourth in Pool B – equal on six points with China but with a much better goal difference. They will face the winner of Pool A – either the Netherlands or Germany – in their quarterfinal on Monday.

New Zealand were today at full strength with captain Stacey Michelsen back after missing the Australian clash as she manages her return from a hamstring injury. Defender Tarryn Davey also returned after a minor groin strain.

The Kiwis had earlier collected two wins in Tokyo – a 3-0 upset against world no. 2 Argentina and 2-1 victory over Japan before going down 2-1 to both Spain and Australia.

Michelsen said the team had a lot of reflecting to do after today's loss.

"I think it was not good enough decision-making and a few errors that let China get the better of us."

"While our defence has been so strong all tournament we're probably still leaking a few too many. And on attack we're not creating enough opportunities up front."

Today China had the better of a goal-less first quarter with Black Sticks goalkeeper Grace O'Hanlon brilliantly stopping their first shot after a fast break from Yang Chen.

Twice the Chinese had the ball in the goal in the opening quarter, the first a disallowed penalty corner as the ball did not go outside the circle before the shot at goal, and the second was from the back of the stick. The change to the penalty corner goal was an excellent use of the video referral by the Kiwis.

The Black Sticks were the first to get on the board in the 20th minute as Ella Gunson made sure Kelsey Smith's deflection from a penalty corner went over the line. Four minutes later China equalised with Meng Liu slotting in a penalty corner lay-off from the left post.

China were the first to break the deadlock in the second half with Chen firing in a penalty corner rebound, before Rose Keddell evened things up for the Black Sticks right at the end of the third quarter. Some nice build-up work from Hope Ralph and then Kelsey Smith left Keddell open near the top of the circle to rocket in the equaliser.

Meiyu Liang added the winner in the final quarter as she finishing off a lovely passing move, and it could have been a bigger winning margin with China dominating the final minutes.

China 3 (Meng Liu 24 min, Yang Chen 37 min, Meiyu Liang 54 min) New Zealand 2 (Ella Gunson 20 min, Rose Keddell 45 min) Halftime: 1-1.

New Zealand Women: Ella Gunson, Stacey Michelsen – captain (Northland); Stephanie Dickins (North Harbour); Katie Doar, Grace O'Hanlon (GK), Elizabeth Thompson (Auckland); Tarryn Davey (Thames Valley), Samantha Charlton, Frances Davies, Rose Keddell (Tauranga); Hope Ralph (Taranaki); Olivia Shannon (Manawatu); Megan Hull (Wairarapa); Kelsey Smith (Nelson); Olivia Merry (Canterbury), Tessa Jopp (Otago)

The Black Sticks' quarterfinals opponent will be determined after the top-of-the-table Pool A match tonight between the Netherlands and Germany.

Official Blacksticks site


---

Black Sticks women qualify for quarterfinals despite loss to China

Mark Geenty



Ella Gunson of New Zealand and Zhang Ying of China compete for the ball. Alexander Hassenstein/Getty Images

New Zealand's Black Sticks have lurched through to the Olympic women's hockey quarterfinals despite a third successive defeat in Tokyo.

The world No 6-ranked women's side lost 3-2 to world No 10 China on Saturday, after losses to Spain and Australia which followed a flying start with victories over Argentina and Japan.

Still, the Black Sticks' goal difference of plus-1 was enough to see them through ahead of China (minus-7) into Monday's quarterfinals where they will need a significant lift to progress further.

New Zealand advance as fourth qualifier from pool B which means a daunting quarterfinal against the pool A winner: either The Netherlands or Germany who play each other late on Saturday.

A lively, accurate Chinese side deserved their win, which was sealed with six minutes remaining after Ella Gunson and Rose Keddell scored for New Zealand.

Match statistics told the story of China's dominance, with 22 shots on goal to New Zealand's 10, and 13 penalty corners to three.

Again, New Zealand made a sluggish start and China were the better side in the first half with their up-tempo style in the heat, needing a big victory to force their way into playoff contention.



New Zealand goalkeeper Grace O'Hanlon is called on again to repel a China attack. John Minchillo/AP

China had two goals ruled out, one for an incorrect penalty corner and another for hitting the back of the stick.

The Black Sticks struck first, via a simple tap-in from Gunson after Kelsey Smith got the crucial shot in from a penalty corner.

China hit back from a slick penalty corner variation, via captain Liu Meng six minutes before the main break to lock the scores.



The Black Sticks celebrate their first goal against China. Alexander Hassenstein/Getty Images

Into the second half China kept creating chances and were dangerous from penalty corner range. Gunson blocked one shot and China pounced with a reverse stick shot from Chen Yang to put New Zealand behind for the first time, as the umpires ruled it good after a video replay.

Frustration grew among the team in white at the officiating and, finally, they broke out and created a chance. Smith, the most dangerous New Zealand attacker, probed into the circle and the ball fell to Keddell who smashed it home for 2-2 on the stroke of three-quarter time.

They just couldn't mount any consistent attacks, though, and China kept the pressure on to net a well-taken winner from pinpoint passing. They had another ruled out with two minutes left, and a desperate last Black Sticks attack saw captain Stacey Michelsen's shot saved.

AT A GLANCE

Olympic women's hockey, pool B:

China 3 (Liu Meng 24, Chen Yang 37, Liang Meyu 54) Black Sticks 2 (Ella Gunson 20, Rose Keddell 45). HT: 1-1

Stuff


---

Black Sticks Women lose to China, face daunting quarter-final

By Dylan Cleaver



Ella Gunson of the Black Sticks and Ying Zhang of China compete for the ball. Photo / Getty

The Black Sticks' faltering campaign continued with a sloppy defeat to China in searing heat today.

While the men's campaign has ended limply, the women will live to fight another day but they will need a super-charged improvement to win their quarter-final against either the Netherlands or Germany and progress to the medal rounds.

The Black Sticks were not hard done by this score, quite the opposite. They were in fact the beneficiaries of every 50-50 decision, with China having three goals disallowed and completely outplaying their more vaunted opposition.

New Zealand came into this match safe in the knowledge they could not be tipped out of the knockout rounds – well, not unless they contrived to lose by more than five goals.

Even though they flattered to deceive, that was never on the cards.

Even with the comfort zone of almost certain progress to the knockouts, it was hard to find anything to credit in New Zealand's opening quarter. After a bright start in which captain Stacey Michelsen put one chance over the bar, the Black Sticks fell apart.

Unable to string basic passing sequences together through the midfield, China were allowed to take charge and were desperately unlucky not to be leading at the quarter. They had two goals disallowed, one for the ball not leaving the circle before being drag-flicked into the net off a penalty corner, the other for a back-of-the-stick offence. Both were probably correct calls but there were millimetres in them.

Keeper Grace O'Hanlon was required to make three saves in the quarter, one an excellent one-on-one stop from close range.

Things turned around early in the second quarter after Liang Weiyu was yellow carded for dangerous play. New Zealand forced a penalty corner from which they worked a nice training-ground play that was finished – if you can call deflecting a ball that was already goal-bound from the stick of Kelsey Smith "finishing" – from a centimetre out by Ella Gunson.

China quickly worked back into the game with a strikingly similar penalty corner move, one that afforded them after a successful referral, finished by Liu Meng.

China took a deserved lead midway through the third quarter. The initial threat from a penalty corner was blocked but Chen Yang backtracked and brilliantly reversed a shot into the bottom corner.

Just minutes later O'Hanlon saved brilliantly from another corner to prevent a two-goal deficit.

China had further opportunities and there was always a danger they would pay for their profligacy. That they did with seconds remaining in the third quarter as Rose Keddell provided a nifty finish to some excellent Smith work on the right.

As the players started wilting in the extreme heat, play started to swing wildly from one end to the other. Liang atoned for her earlier yellow card by finding herself on the end of one such sweeping movement, calmly deflecting past O'Hanlon with a little more than six minutes remaining.

This time there was no comeback.

China's dominance was reflected in close to 60 per cent possession and forcing 13 penalty corners to three.

These are worrying times for New Zealand hockey.

After a bright start to the tournament they will enter the quarter-finals with a 2-3 win-loss record and an obvious lack of cohesion.

At least, however, they have a chance.

China 3 (Liu, Chen, Liang)
New Zealand 2 (Gunson, Keddell)
Halftime: 1-1

The New Zealand Herald


---

Spain, New Zealand reach women's quarters, China out

Daniel Leussink



Berta Bonastre of Spain in action with Yu Asai of Japan. REUTERS/Corinna Kern

TOKYO, July 31 (Reuters) - Spain and New Zealand reached the quarter-finals of the women's hockey tournament at the Tokyo Olympics on Saturday, while China were eliminated despite a 3-2 win over New Zealand, who scraped through ahead of them on goal difference from Group B.

India kept their hopes alive with a 4-3 triumph over South Africa in Group A, though they could still be knocked out of the tournament if debutants Ireland beat Olympic champions Britain later on Saturday.

Spain fell behind to Japan striker Kanon Mori's goal after six minutes but ramped up the pressure and emerged with a 4-1 victory.

Captain Maria Lopez Garcia said they were extra motivated with coach Adrian Lock returning to the sidelines following his COVID-19 quarantine.

"We have been improving in each game. Now, we scored four goals. It gives us a lot of confidence for the next game," Lopez Garcia said after taking a celebratory group photo with her team mates.

"In the early game we can improve everything, in defence, in scoring more goals."

Japan defender Shihori Oikawa shed tears as the hosts ended the Tokyo tournament after losing all five group matches.

"Players of foreign teams are looking for ways to contribute even after making a mistake," Oikawa said.

The inexperienced players on Japan's team worried too much after having made a mistake, she said.

Australia topped Group B after their 2-0 win over Argentina and Savannah Fitzpatrick hailed their team spirit.

"I think we just pride ourselves ... on playing a real team game," she added. "The beauty of a team sport is that we're out there with 10 other girls. We don't have to do it on our own.

"That's our secret to our success at the moment."

Argentina also progressed to the quarter-finals, trailing the Hockeyroos and Spain in third position in their pool.

Reuters


---

Historic five-straight for Hockeyroos

Catriona Dixon




The Hockeyroos continued their fairy-tale run in Tokyo winning a historic fifth straight match to seal what is Australia's best lead into the play-offs at an Olympic Games.

The world number two side surpassed the performance of the gold-medal winning 1988, 1996 and 2000 Olympic women's hockey teams who were unbeaten, but had at least one draw, in their preliminary round matches.

As a player, Hockeyroos Head Coach Katrina Powell was key to two of those feats (1996, 2000) and is hoping she can repeat the overall success in her new leadership role.

Today's hard-fought 2-0 win over four-time Olympic medallists Argentina cements the Hockeyroos at the top of Pool B.  




They are likely to meet rising stars India or World Cup silver medallist Ireland, who are making their Olympic debut in Tokyo, in the quarter finals with placings in Pool A to be decided tonight.

"It's not every day you win five out of five at an Olympic Games but unfortunately this is now the business end and that won't count if we go into a quarter final and aren't successful," Jane Claxton, who captained the Hockeyroos against Argentina.

"We are going into the quarter finals with a lot of momentum, we want to win.

"When you are winning you are confident, you are playing with freedom, you are playing with a calm mindset. We have definitely done that and set ourselves up well for a good quarter final.

"The main thing is the next 24 hours recovering well, it's a long tournament for us…it's a marathon. We know this quarter final means everything. Past that you can get the energy from where you want, but quarter finals mean everything now."




Argentina went into the match ranked second in Pool B with three wins and just one defeat against New Zealand (3-0). The South Americans needed to win by five goals to topple the Hockeyroos from top spot.

Late callup Georgia Wilson made her Olympic debut as Powell rested Amy Lawton and striker Grace Stewart.

In a match that was played in extreme midday heat and humidity, Argentina signalled their intentions early in the match, with 22-year-old debutant Julieta Jankunas putting pressure on the Aussie defenders in the opening three minutes of play but was unable to consolidate.  

Her side dominated with a fiery passion in the opening quarter but could not convert a penalty corner in the final minutes to keep the score nil-all at the break.

Two failed corner attempts by Valentina Raposo Ruiz de los Llanos in the opening minutes, and an inability to capitalise on a two-player advantage with Brooke Peris and Jane Claxton eliminated with green cards, best illustrates the South Americans' inability to convert despite owning the ball in the second quarter.  

Australia had opportunities through Rosie Malone, Emily Chalker and Savannah Fitzpatrick but fell short despite attacking Argentina's circle eight times and with two shots on goal in the opening half.  

The Hockeyroos offence lifted in the third quarter with relentless dominance of Argentina's half, but even with Jankunas sidelined for five-minutes with a yellow card they couldn't get themselves on the scoreboard.




In a controversial move, Argentina challenged the umpire's call after Australia broke away in attack from their own defensive penalty corner, the referral stopping play and preventing a possible runaway goal.

But justice was served moments later with Savannah Fitzpatrick slamming in a backhander in the 49th minute after an Argentinean defensive howler to give her side a sought-after 1-0 lead.

With quarter final positions already decided, it was pure pride on the line as the two sides battled it out in the final quarter, with Steph Kershaw teaming with Fitzpatrick to set Chalker up for a 2-0 lead with just over a minute left in the match.

Coach Katrina Powell saluted the South Americans' efforts identifying her side's pace and agility in the second half as critical to the result.

"Argentina are a very good team and they never let you get away with too much," Powell said.  

"The start of the game probably wasn't as we would have scripted it, or liked, it took a lot of persistence then and perseverance to hold them out.  

"I'm really pleased with our second half and we were able to shift the momentum back in our favour."

Match Details

Argentina 0

Hockeyroos 2 (S.Fitzpatrick 49', Chalker 59')

@ Oi Hockey Stadium, Tokyo

Hockeyroos: 2.Rosie Malone, 3.Brooke Peris, 8.Georgia Wilson, 10.Maddy Fitzpatrick, 12.Greta Hayes, 13.Edwina Bone, 14.Steph Kershaw, 15.Kaitlin Nobbs, 18.Jane Claxton (c), 20.Karri Somerville, 21.Renee Taylor, 22.Kate Jenner, 24.Mariah Williams, 26.Emily Chalker, 27.Rachael Lynch (gk), 32.Savannah Fitzpatrick

Hockey Australia media release


---

Hockeyroos Enter The Olympic Record Books

Ashley Morrison

Modern day sport is focussed on attack and scoring goals. Maybe that is why one Olympic record has been missed by many, one that the Hockeyroos can now claim.


---

Sjoerd Marijne: "This is the new India team. They don't give up"




It was a do or die match. As the clock ticked by, the Indian hockey fans waited with bated breath for a solitary chance, which would sway the game in India's favour. With less than three minutes for the final hooter, Navneet Kaur's deflected off Rani cross, scoring the lone goal in the match against Ireland. The goal not only gave the first taste of victory to the women's team in the Olympics, but kept the quarter-final hopes alive.


---

Seven Goal Thriller edged by India




India and South Africa served up a pulsating affair in a seven-goal thriller on Saturday morning at Oi Hockey Stadium in Tokyo. The Indians led three times only for the South Africans to peg them back, but eventually they got over the line in the final chukka.

South Africa and India met in the Women's event at the Tokyo Olympics with both teams fighting for a place in the final 8, but both cognisant that it could also be their last game in the tournament.

India came out firing winning an early penalty corner, but before the game even started three long referrals took the momentum out of the early exchanges. India was the first to refocus and took the lead after a goal mouth scramble was bundled home. India was exerting the most force, which is when a South African will be the most dangerous and Tarryn Glasby restored parity with the deftest of touches to sneak the ball home with the final touch of the quarter.

India again gained the lead in the second quarter with Katariya playing the perfect deflection past Mbande. South Africa kept their composure, endured pressure and created a superb opportunity for Charne Maddocks that was spurned. But the African champions continued fighting and managed to level just before half time with skipper Erin Hunter (Christie) finishing a penalty corner. 2-2 the score at the break.

In the third quarter it was the Indians that landed the first blow as Katariya once again deflected a penalty corner home. They also had two great opportunities to stretch the lead but both times they were denied expertly by vice-captain Phumelela Mbande. And they would rue those chances as Marizen Marais burst into the circle and despite some tight challenges pushed the ball low and hard past the Indian Keeper to level the score. South Africa were growing in belief, but the quarter end came a bit too soon and it was 3-3.

The final chukka started with South Africa dominating proceedings winning three early penalty corners, but they were all well defended by India and the deadlock remained. But that deadlock was broken with 10 minutes remaining as Katariya completed a hat-trick of deflections at penalty corner time to make it 4-3.

South Africa thought they had a late penalty corner, but a video referral denied the opportunity and India saw out the game superbly that leaves them waiting eagerly on the result in the Ireland game later today. For South Africa

SA Hockey Association media release


---

Vandana serves triple treat as India pip South Africa

S2H Team




India did what they had to – beat South Africa – and stay alive in the women's Olympic hockey competition in Tokyo but they will spend tense hours awaiting the Great Britain vs Ireland result in Pool 'A'.


---

Indian women's hockey team beat South Africa 4-3 in their final Pool A game

The victory puts India in a great position to qualify for the quarterfinals, as they finish the group with six points

By Manish Sharma



The Indians can still qualify for the quarters (Source:Hockey India)

Indian women's hockey team defeated South Africa 4-3 in their final pool A match at Tokyo Olympics in the Oi Hockey Stadium.


---

Vandana Katariya becomes first Indian woman hockey player to score a hat-trick in Olympics

The experienced Vandana Katariya scored thrice against South Africa to keep the Indian women's hockey team in contention for the quarterfinals of the Tokyo Olympics.

By Md Imtiaz



Vandana Katariya in action against South Africa (Source: Reuters)

The most experienced forward of the Indian woman's hockey team Vandana Katariya became the first women's hockey player to score a hat-trick at the Olympics as India beat South Africa 4-3 in their last Pool A fixture on Saturday.


---

Vandana's hat-trick keeps India's quarterfinal hopes alive in women's hockey

With two wins from their final two pool matches, India have finished group stages with six points from five games



Indian women hockey players celebrate after scoring a goal against South Africa during a womens field hockey match at the 2020 Summer Olympics, Saturday, July 31, 2021, in Tokyo. PTI

Striker Vandana Katariya scored a historic hat-trick to keep alive the Indian women's hockey team's quarterfinals hopes in the Olympics with a fighting 4-3 victory over lower-ranked South Africa in its must-win final group match here on Saturday.

Vandana (4th, 17th, 49th minutes) achieved a rare feat by becoming the first Indian woman hockey player to score a hat-trick in the history of the Olympics.

Young Neha Goyal (32nd) was the other goal getter as the Rani Rampal-led side registered its second consecutive win at the Games.

South Africa's goals came from the sticks of Tarryn Glasby (15th), skipper Erin Hunter (30th) and Marizen Marais (39th).

With two wins from their final two pool matches, India have finished the group stages with six points from five games.

By virtue of this win, India have jumped to the fourth position in Pool A, but Ireland still have a chance to leapfrog the Indians.

India's fate now depends on the outcome of the last Pool A match between Great Britain and Ireland.

The Indians will have to wait till the evening to know their fate. A Ireland loss or a draw will be enough for India to seal their place in the quarterfinals.

The top four teams from each pool will qualify for the knockout round.

Needing a win to stay alive in the competition, the Indians meant business and pressed hard on the South African defence from the start.

In doing so, India secured two penalty corners in the first two minutes of the match but dragflicker Gurjit Kaur's poor execution continued in the tournament.

Still it didn't take India long to open their account and in the fourth minute, Vandana gave her side the lead, tapping in from close range after being set up by Navneet Kaur's great run from the right flank.

India kept up the pressure and penetrated the South African circle many times without much success.

But seconds from the end of first quarter, a lapse in concentration from the defence cost India dearly as South Africa drew level through Tarryn Glasby, who deflected in a long shot from Taryn Mallett.

India had enough time to regain their lead through a penalty corner but wasted the opportunity.

Two minutes into the second quarter, Vandana restored India's lead when he deflected in Deep Grace Ekka's flick from their fourth penalty corner.

The Indians had three more chances to extend their lead in the second quarter but they couldn't do so.

The Rani Rampal-led side got two more penalty corners which they wasted, and then, Neha Goyal's effort from open play was saved by the South Africa goalkeeper.

Just like in the first quarter, India gave away their lead seconds away from half time when Hunter found the net from her team's first penalty corner.

Two minutes after the change of ends, Neha restored the lead again, deflecting in a Rani hit from a penalty corner as the Indians executed a fine variation.

The fragile Indian defence wilted under pressure once again, when South Africa drew level for the third time in the match, through a Marais strike.

South Africa enjoyed a good run of play in the initial minutes of final quarter and, in the process, secured three penalty corners quickly, but this time the Indian defence did enough to thwart the dangers.

In the 49th minute, a brilliant Vandana saved the day for India when she deflected in Gurjit Kaur's flick from another penalty corner.

Thereafter, the Indians fell back and looked contend to keep the possession as South Africa pressed hard.

Two minutes from the final hooter, the Indians successfully referred a penalty corner decision given against them.

The Tribune


---

Indian women's hockey team keep hopes of QF qualification alive, beat South Africa 4-3

Forward Vandana Katariya became the first woman to score a hat-trick for India in Olympics as she helped her side win the final group stage game.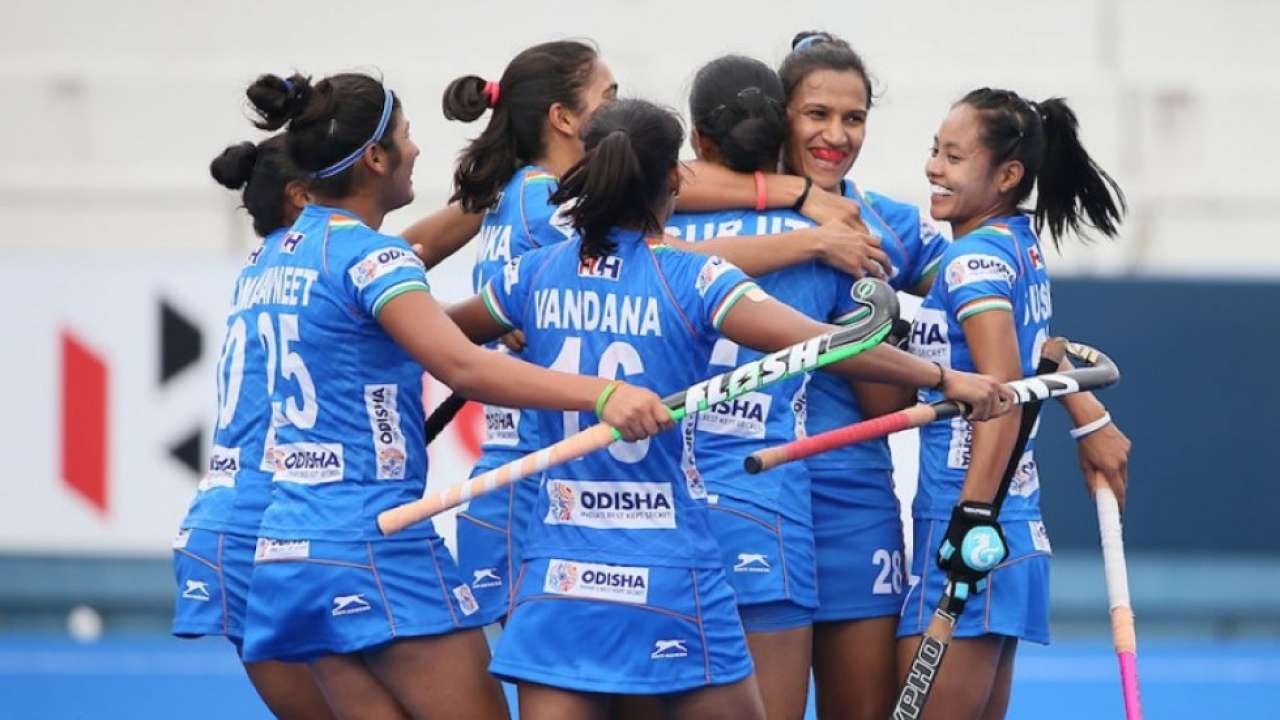 Indian women's hockey team kept the hopes of a QF berth alive after beating South Africa 4-3 in their final group stage game | Photo: Tokyo 2020

The India women's hockey team defeated South Africa 4-3 in their final Pool A game here at the Oi Hockey Stadium South Pitch on Saturday. As a result of this win, India's hopes of qualifying for the quarter-finals remain intact.

In their five Group Stage matches, India won two and lost three. Rani and girls' fate will now depend on Ireland's game against Great Britain.

The Rani Rampal-led Indian outfit gained a 1-0 lead in the first quarter as Vandana Katariya got her name on the scoring sheet. In the dying minutes of the first quarter, South Africa got the equaliser as Tarryn Glasby scored a goal, bringing the scoreline to 1-1 at the end of the first quarter.

In the second quarter, it was once again Katariya who scored the goal for India and Rampal's side gained a 2-1 lead. However, just like the first quarter, South Africa registered the equaliser in the final moments of the second quarter as Erin Hunter scored the goal. India restored its lead in the third quarter as Neha scored the goal.

Frustrating the Indians, South Africa managed to get the equaliser once more as Glasby scored her second goal of the match. At the end of the third quarter, the scoreline read 3-3.

Katariya was once again the MVP as she registered her third goal of the match in the fourth quarter, giving India a 4-3 lead with 11 minutes still left to play.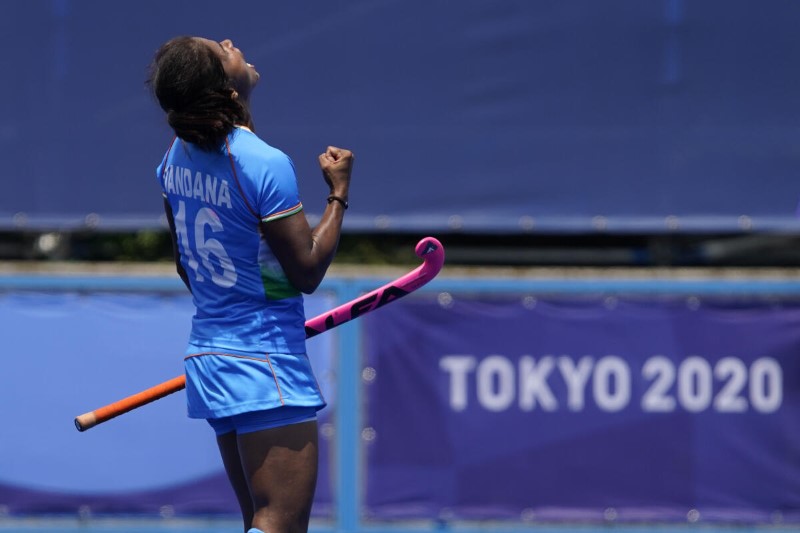 In the end, India managed to hang on and the side registered a 4-3 win with Katariya stealing the show with her hattrick.

Daily News & Analysis


---

Indian women's hockey team beat South Africa: How can they qualify for the quarterfinals?

A brief overview of how the Indian women's hockey team can advance past the group stage in Tokyo 2020

By Subhashish Majumdar



The Indians can still qualify for the quarters (Source: Reuters)

The Indian women's hockey team have kept their hopes alive of qualifying for the quarterfinals with a hard-fought 4-3 win against South Africa.


---

India women end group stage with win over South Africa and an eye on Tokyo Olympics quarter-finals

Vandana Katariya became the first Indian women's hockey player to score a hat-trick at the Olympics. India's quarter-final hopes now rests on Ireland losing to Great Britain.

By Ritu Sejwal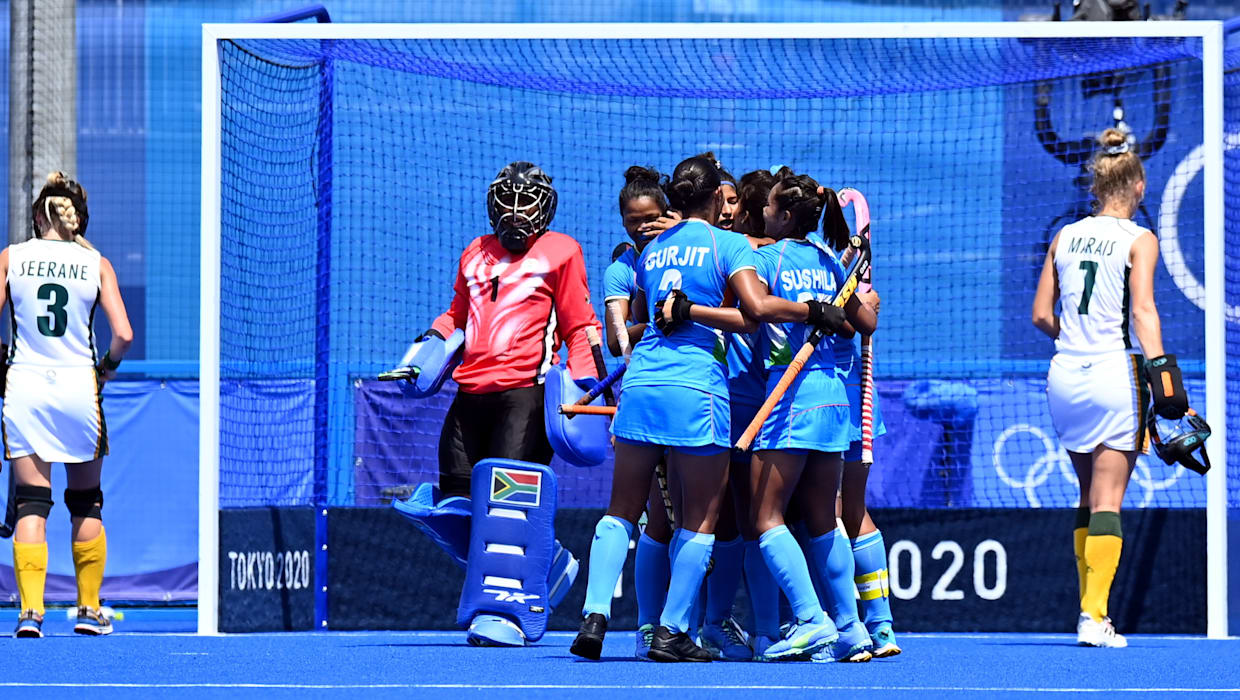 Picture by WORLDSPORTPICS.COM/FRANK UIJLENBROEK

The Indian women's hockey team beat South Africa 4-3 in a must-win Tokyo Olympics Pool A group match at the Oi Hockey Stadium on Saturday.

With the result, India moved to fourth place in the pool standings with six points behind leaders the Netherlands (12 points), Germany (12 points) and Great Britain (six points). Ireland are fifth with three points and South Africa last, failing to score.

The top four teams from each of the two pools advance to the quarter-finals.

India's hopes of making the quarter-final now rests on the outcome of the last Pool A group match between Great Britain and Ireland.

Should Ireland lose or draw their last group game, India will advance to the quarters. However, a victory for Ireland will increase their points tally to six, as many as India, but will take fourth spot from India based on goal difference.

Against South Africa, Vandana Katariya steered her team to victory by becoming the first Indian woman to score a hat-trick at the Olympics. She sounded the board in the fourth, 17th and 49th minutes. Neha scored in the 32nd.

Tarryn Glasby (15th minute), captain Erin Hunter (30th minute) and Marizen Marais (39th minute) scored for the South Africans to keep in play in the high-scoring match.

The Indian women started from the first whistle as captain Rani Rampal led the attack from the right flank and earned their first penalty in the opening minute but South African goalkeeper Phumelela Mbande was up to the task.

The Indians continued to build early pressure and a successful video referral earned their second penalty in just the second minute but drag-flicker Gurjit Kaur missed.

India got their first breakthrough when Navneet Kaur built an attack from the right and Vandana Katariya gave her the finishing touch to get a 1-0 lead.

India went on the backfoot as South Africa's attacking intent continued. Captain Erin Hunter took a long shot and Tarryn Glasby's soft touch in the circle got the team an equaliser.

The Indian women's hockey team bounced back with its third penalty in the 17th minute, Deep Grace Ekka's variation was successfully deflected by Vandana Katariya to lead 2-1.

Interestingly, this was India's 26th penalty corner of the tournament with only two successful conversions.

South Africa came close to an immediate response with Lilian du Plessis missing a shot. India, then, responded with two penalty corners in the 21st and 22nd minute, and Neha's attack in the 23rd minute, all denied by the South African keeper.

South Africa, who trailed and later equalised in the concluding minute of the first quarter,  attacked in a similar fashion to get a penalty corner in the 30th minute. Erin Hunter ensured an equaliser at 2-2.

After the half-time break, India gave away its early lead as South Africa capitalised in the concluding minutes owing to openings in Indian defence.  

In the third quarter, Neha led the Indian attack from the left and earned a penalty corner. A variation from Rani Rampal to Neha was rightly deflected for a 3-2 lead in the 32nd minute.

South Africa bounced back yet again when Marizen Marais breached the Indian defence and goalkeeper Savita Punia in the 39th minute to tie 3-3.

The final 15 minutes were a do-or-die for India to have a realistic shot at the quarter-finals and three successive penalty corners by South Africa only added to the pressure. The shots were saved.

India responded with two successive penalty corners in the 49th minute with Vandana Katariya getting a close-range deflection right for 4-3 for her hat-trick.

Three minutes before the final hooter, India had their chance via penalty corner but South Africans countered to earn a penalty instead. The South African hopes of another equaliser were dashed with a successful video referral from India in the 58th minute.

Olympic Channel


---

Why the India-Great Britain men's hockey quarterfinal is steeped in history

A brief overview of the historic significance of the Men's Hockey quarterfinal to be played between India and Great Britain on Sunday

By Subhashish Majumdar



Can India tame the Aussies in Tokyo? (Source: Hockey India)

The last of the quarterfinal matches of the Men's Hockey competition at Tokyo 2020 will be played between India and Great Britain - two old powerhouses who created and nurtured the game but are now striving unsuccessfully to relive the glory days.


---

'Indian men's hockey team are used to playing in high humidity, unlike Great Britain'

The former India international stressed that the quarterfinal tie will boil down to the mental strength of each team

By Soham Mukherjee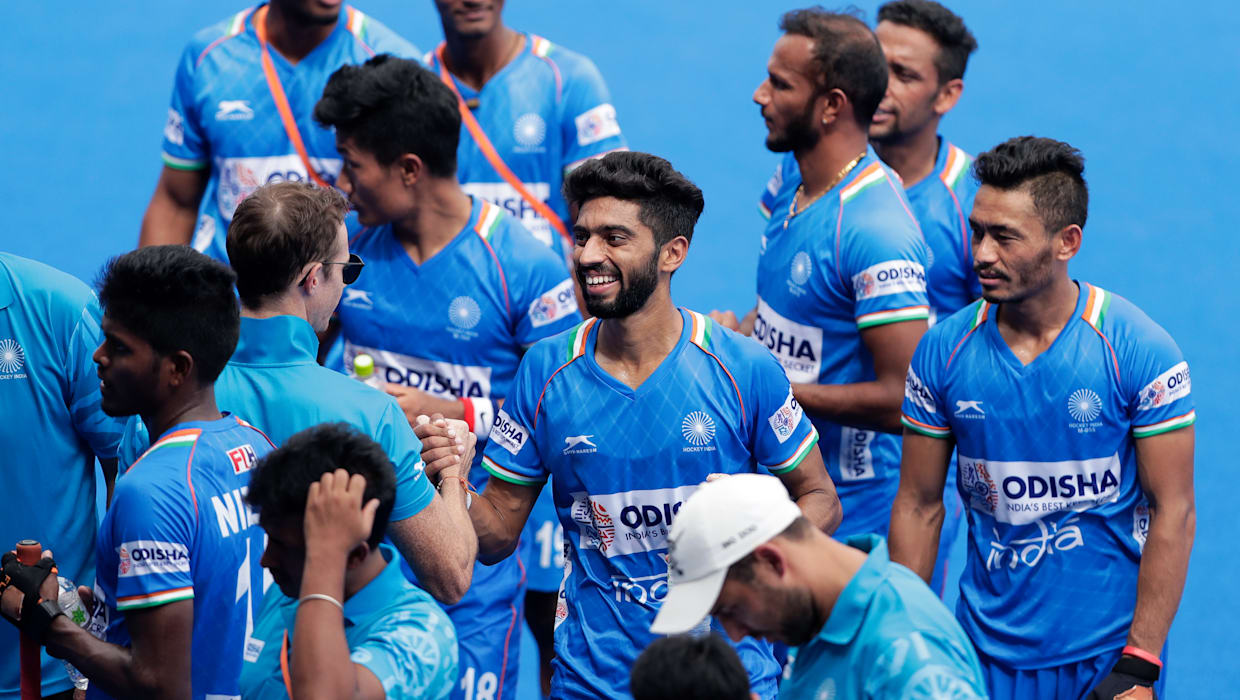 India men's hockey team have been drawn against Great Britain in the quarterfinal clash at Tokyo 2020.

Graham Reid's side finished second in Pool A with four wins and a draw while Great Britain were placed third in Pool B with two wins and as many draws.

Vokkaliga Ramachandra Raghunath, the former India hockey international, stated that Great Britain entered the game against Belgium with a mindset of avoiding a defeat which would have placed them in the fourth position and face an in-form Australian side in the quarterfinal. Belgium and Great Britain's final group game ended in a 2-2 draw.

"I feel Great Britain didn't want to face Australia. If they had lost, they would have finished fourth. Therefore, they played safe and in the fourth quarter, they hardly attacked. They are happy with India. Both teams will not have any psychological pressure of facing the top two teams. However, India is ahead of them in rankings. It is a golden chance for India to break the jinx and enter the top four. It is time to go for the kill," Raghunath told Olympics.com.

The 32-year-old pointed out India's primary weapon in attack has been penalty corners and that will hold the key to unlocking the Great Britain defence. He also vouched for the team to go for an early goal which would force the opposition to not just sit back and look for counterattack and thus, create space for the Indian forwards.

"The match might be decided in penalty corners. Britain will be compact against India. They would not like to open up too much against our forwards. We have skills and can beat them in one-versus-one. An early goal will put us in a comfortable position and also force them to open up.

"Britain will not play the way that they played against Belgium. Penalty corners are our primary weapon and try to get at least two in every quarter. We will not have 25 penetrations; it will be a maximum of 15-17. Now how many penalty corners we get from that will be key," he explained.

India had as many as 10 debutants in their ranks and Raghunath mentioned that with most of them getting some game-time under their belt coupled with some good performances, India's confidence will certainly be high going into the quarterfinals. In their final Pool A tie, they defeated hosts Japan 5-3.

"Against Japan, we rotated pretty well. We preserved our energy and yet scored five goals. Gurjant (Singh) getting two goals before the knockouts is another positive. With five games under their belt, they have got the hang of the Olympics. Now there's only one match and you need to put everything in those 60 minutes. The concentration level should be high throughout, as in Olympics, mistakes decide fortunes. Every team in the quarters is good, these minute things make the difference," he said.

Raghunath, who played 228 games for India, feels that the Indians have adapted well to the humid conditions in Tokyo as they are used to playing in such conditions, unlike Great Britain, who might have a problem or two.

"The quarterfinal will be all about mental strength. Everyone will be fit; everyone knows the strategy and it will come down to which team plays more intelligent hockey. One fraction chance, one mistake and you must make the most of it. These young players have got the taste of success and they will go all for it. Moreover, we are used to playing in high humidity. That is an added bonus for us," he mentioned.

The Indian men's hockey team haven't won a medal at Olympics since Moscow 1980 and Raghunath opined that it's time to play an attacking brand of hockey in order to progress further and hopefully, end the 41-year wait.

"I could not win an Olympic medal as we lost in the quarterfinals at Rio 2016. This team can fulfill my dream. I keep telling my juniors that they can do it. They just need to play fearless hockey. One Olympic gone, that means half your career is over. Every team has one bad game and that is over for us. There's no looking back now," he said.

Olympic Channel


---

Harendra Singh: India men's team will play the hockey final at Tokyo 2020

The former coach is confident of India booking a berth in the finals of hockey at Tokyo 2020.

By Samrat Chakraborty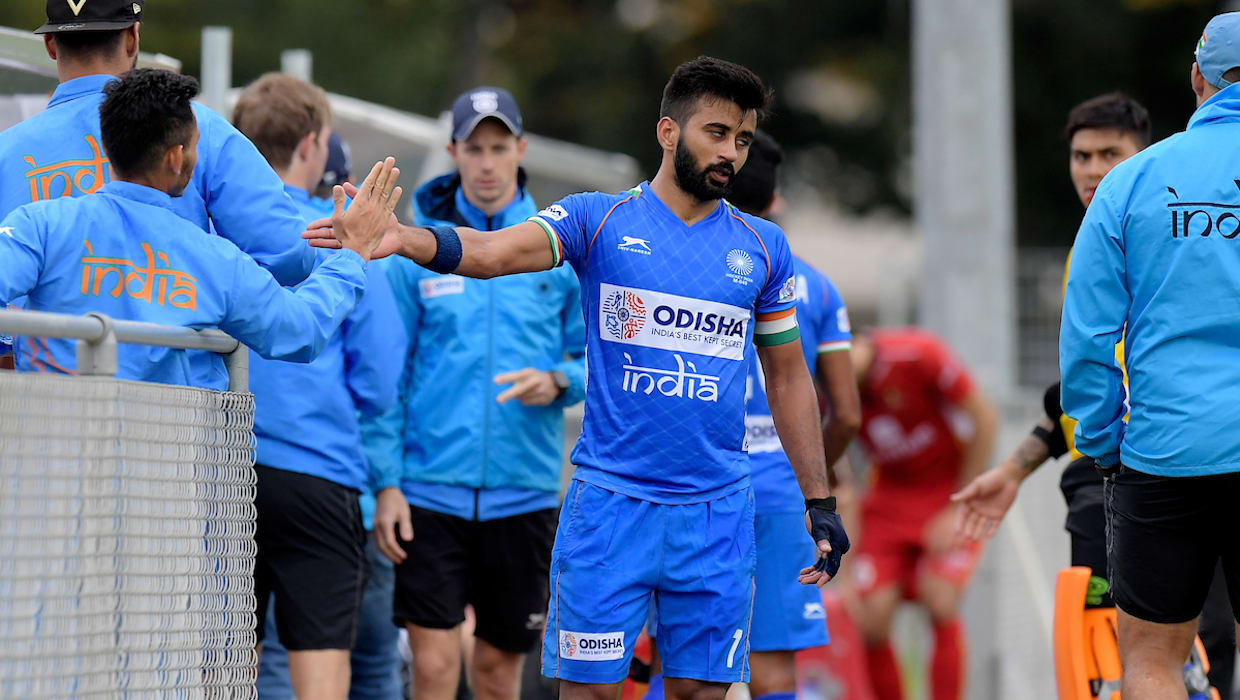 India men's hockey team have successfully made it into the quarterfinals of Tokyo 2020 Olympic Games as they finished second in Pool A behind Australia, after winning four out of their five matches.

They started their campaign with a 3-2 win over New Zealand but suffered a 7-1 hammering at the hands of Australia. While many expected their campaign to wither away, Graham Reid's India bounced back in some style to win their final three group games against Spain, Argentina, and Japan.

Harendra Singh, who was the coach of the Indian men's hockey team, reiterated that the Men in Blue will win their next two knockout games and reach the finals at Tokyo 2020.

"I am pretty sure India will play in the final at Tokyo 2020 Olympics. The reason behind that is after getting hammered by Australia by 7-1, the team has bounced back like a hungry fox. They have shown massive improvement in every department after the second game. The team is hungry, super fit and playing an attacking brand of hockey with some structure. The credit goes to Graham Reid," Singh spoke to Olympics.com ahead of the quarterfinal clash against Great Britain.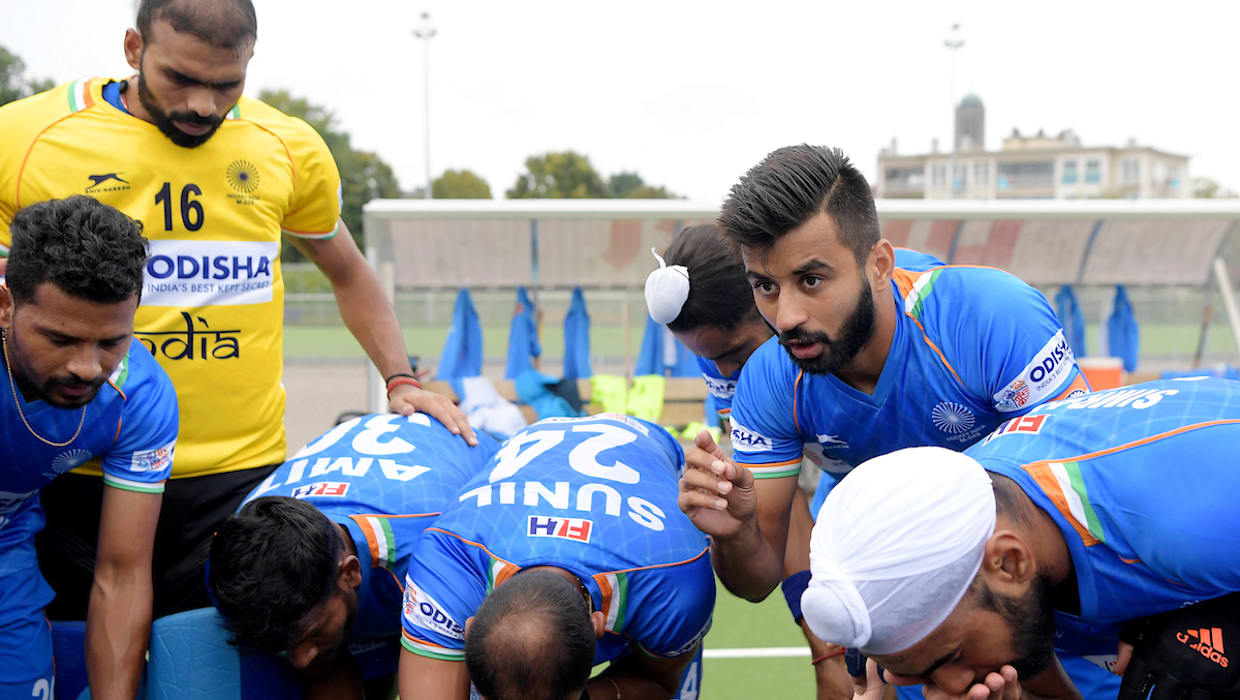 India men's hockey team captain Manpreet Singh

Singh explained that for India to succeed against Great Britain, they should take the initiative and dictate terms on the pitch. They also must be careful as Great Britain are known for their counterattacks, especially from their right side.

"We should not allow Great Britain to dictate the terms on pitch and be aware of their counterattack from the right. We must close down as quickly as possible, regain the ball possession as quickly as possible and be in a position to intercept," he pointed out.

The head coach of the USA men's hockey team has warned the team to not overcomplicate matters and look to win as many penalty corners as possible.

"Get penalty corners as much as possible as Harmanpreet Singh and Bob (Rupinder Pal Singh) are in good form. Last but not the least, they must play simple with the basics being strong," he shared his thoughts.

Olympic Channel


---

Argentina goalie Vivaldi looking to add another gold and tattoo to his collection

Daniel Leussink



Pedro Ibarra of Argentina and Juan Manuel Vivaldi of Argentina react after winning their match. REUTERS/Bernadett Szabo

TOKYO, July 30 (Reuters) - Argentina goalkeeper Juan Vivaldi hopes his team mates will join him in getting an Olympic tattoo if the reigning champions come out on top of the men's hockey tournament at the Tokyo Games.

Since men's hockey debuted at the 1908 London Games, India, the Netherlands and Germany are the only nations to have won the men's gold at two consecutive Olympics.

So it would be nothing short of historic for Argentina to do the same.

"I feel like if we have the luck of winning again, we can do a next tattoo with the whole team," Vivaldi said on Friday after they reached the quarter-finals.

He added it was still players' personal decision.

Vivaldi, 42, had the five Olympic rings and the words "Rio 2016" and "gold" tattooed on his right biceps to celebrate winning five years ago, which he said was an "epic moment."

"We will see this time," he said.

The goalie is the oldest player in Tokyo's Olympic hockey tournament and is planning to retire when it's over.

Vivaldi deserved to be at the Games given how he trains and reacts, said team mate Agustin Mazzilli.

"I think he's a legend now and the best goalie we have in the history of Argentina," he said.

Reuters


---

Veteran SA hockey player Rassie Pieterse retires after 'lekker' few days at Olympics

By Zaahier Adams



Players of South Africa greet players of Canada after their match. REUTERS/Bernadett Szabo

"The last few days have been really lekker."

That's how South Africa's veteran hockey goalkeeper Rassie Pieterse signed off his international career on Friday night in Tokyo.

Pieterse will go back to his day job as Managing Director of TK Sports because "we're the only team at the Olympics who are still amateurs" with a host of fond memories gained over the past 14 years of representing the national team.

But none have been more enjoyable than the past fortnight here in Japan spent with a group of "wild dogs" that have "left it all out there" in their maiden Olympic experience.

"I've been playing for South Africa for quite a long time. But for the first time I really do feel like there is something special here. It's actually sad to leave the team. The Olympics has not just been a great experience but there are lot of things that happen behind the scenes with this team.

"It was just so special. We have had quite a few hurdles to go through to get to the Olympics. So getting here and then actually competing, and seeing the boys just leaving everything out there … I think it's a proud moment.

"But I'm 37 now and I think it's time that I spend time with my two little girls. I actually called it a while ago. It should have been last year but obviously Covid moved the Olympics out to this year. It's been great ride. I've had an enjoyable career."

Pieterse, the last remaining member of the SA team that competed at the 2012 London Olympics, showed no signs over the past five matches that his cat-like powers were on the wane.

In fact, his reflexes were as sharp as ever, with a certain stick save in the tournament opener against Great Britain being particularly special.

But ironically for someone whose job was to stop the opposition from scoring goals for the past 167 matches, Pieterse is more excited about his own team's dynamic frontline that is led by the Cassiem brothers (Dayaan and Mustaphaa), Nqobile Ntuli, Tevin Kok and Samkelo Mvimbi.

"This is a special group of guys. You just have to look at out strikers, the wild dogs upfront. They are scoring some unbelievable goals and world hockey has taken notice of what this team is capable of. It's just exciting to see where we can go," Pieterse told SuperSport.

"We came into the Olympics ranked No 14 in the world and now we looking at a top 10 ranking. We came here as the underdogs, but most importantly we showed that we can score goals and we can compete. We beat Germany and we drew against a very good Canadian side and I am sure the rest of the world has seen how exciting this team is by the types of goals that we scored."

South Africa's next major hockey assignment on the international calendar is the Commonwealth Games in Birmingham in less than 12 months time.

Pieterse believes that this current crop of players could deliver something really special in England's midlands.

"I've said it so many times that South African hockey is a sleeping giant. If we get a few things right we can really bring the medals home," he said.

"I definitely feel that you are going to see something from this team. Next year is the Commonwealth Games and hopefully the boys can podium. There is a definitely a chance for the boys to medal."

Independent Online


---

How crowdfunding helped the South African hockey team compete at Tokyo Olympics

They did all the work on the field but it took a lot more work off the field to get to the Olympics How crowdfunding helped the South African hockey team compete at Tokyo Olympics

By C.C. Chengappa



Men's team against Great Britain(source- GB Hockey)

It might seem as though all countries are funding their sports team and are taking every possible step to give the best opportunity to their athletes. However, the South African government and sports authority have not done enough for the men's Hockey team. In a story that came to light, it was discovered that the team has been led by a crowdfunding campaign as they did not have enough money to make it to Tokyo. There were several post put up by their coach Garreth Ewing and this was the first call for funding for the team.