All the news for Monday 24 May 2021

2020-21 FIH Pro League (M) - 24 May
Lee Valley Hockey & Tennis Centre, London

22 May 2021     GBR v ESP (RR)   2 - 2 (SO 1 - 3)
23 May 2021     GBR v ESP (RR)   2 - 0

Live streaming and full game replay on the Watch Hockey App (May be Geo blocked if there is TV coverage)

Pool Standings
| Rank | Team | Played | Wins | SO Win | SO Loss | Losses | Goals For | Goals Against | Goal Difference | Points | Percent |
| --- | --- | --- | --- | --- | --- | --- | --- | --- | --- | --- | --- |
| 1 | Belgium | 13 | 9 | 2 | 1 | 1 | 40 | 22 | 18 | 32 | 82.1 |
| 2 | Germany | 10 | 5 | 2 | 0 | 3 | 26 | 23 | 3 | 19 | 63.3 |
| 3 | India | 8 | 3 | 3 | 0 | 2 | 22 | 17 | 5 | 15 | 62.5 |
| 4 | Australia | 8 | 3 | 1 | 3 | 1 | 27 | 20 | 7 | 14 | 58.3 |
| 5 | Netherlands | 11 | 4 | 2 | 2 | 3 | 28 | 29 | -1 | 18 | 54.5 |
| 6 | Great Britain | 12 | 3 | 0 | 3 | 5 | 25 | 25 | 0 | 12 | 41.7 |
| 7 | New Zealand | 8 | 2 | 1 | 0 | 5 | 15 | 25 | -10 | 8 | 33.3 |
| 8 | Argentina | 12 | 2 | 1 | 3 | 6 | 26 | 35 | -9 | 11 | 30.6 |
| 9 | Spain | 12 | 2 | 1 | 1 | 8 | 23 | 36 | -13 | 9 | 25.0 |
---

2020-21 FIH Pro League (W) - 24 May
Lee Valley Hockey & Tennis Centre, London

22 May 2021     GBR v USA (RR)   5 - 1
23 May 2021     GBR v USA (RR)   5 - 0

Live streaming and full game replay on the Watch Hockey App (May be Geo blocked if there is TV coverage)

Pool Standings
| Rank | Team | Played | Wins | SO Win | SO Loss | Losses | Goals For | Goals Against | Goal Difference | Points | Percent |
| --- | --- | --- | --- | --- | --- | --- | --- | --- | --- | --- | --- |
| 1 | Netherlands | 11 | 8 | 1 | 0 | 1 | 32 | 7 | 25 | 29 | 87.9 |
| 2 | Argentina | 10 | 5 | 2 | 0 | 3 | 24 | 15 | 9 | 19 | 63.3 |
| 3 | New Zealand | 8 | 4 | 0 | 2 | 2 | 19 | 14 | 5 | 14 | 58.3 |
| 4 | Great Britain | 12 | 5 | 2 | 1 | 3 | 24 | 14 | 10 | 20 | 56.6 |
| 5 | Germany | 8 | 4 | 0 | 1 | 3 | 12 | 11 | 1 | 13 | 54.2 |
| 6 | Australia | 6 | 1 | 1 | 1 | 2 | 6 | 9 | -3 | 9 | 50.0 |
| 7 | Belgium | 11 | 3 | 1 | 2 | 5 | 19 | 22 | -3 | 13 | 39.4 |
| 8 | China | 2 | 0 | 0 | 0 | 2 | 2 | 7 | -5 | 0 | 0.0 |
| 9 | United States | 10 | 0 | 0 | 0 | 9 | 7 | 46 | -39 | 0 | 0.0 |
USA v NED (26.01.2020) worth double points because of the match cancelled on 24.01.2020
AUS v GBR (01.02.2020) worth double points because of the match cancelled on 02.02.2020

FIH Match Centre


---

Spain men and USA women downed by Great Britain



Image courtesy of GB Hockey.

Great Britain's men and women both secured FIH Hockey Pro League victories on Sunday, with the men getting the better of Spain before the women proved too strong for USA at the Lee Valley Hockey and Tennis Centre in London.

Great Britain men bounced back from Saturday's shoot-out defeat at the hands of Spain to record a 2-0 victory against the Red Sticks, with Rupert Shipperley scoring both the goals for the team coached by Danny Kerry. The result leaves GB sitting sixth in the FIH Hockey Pro League standings with a win percentage of 41.67, with Spain down in ninth position with a win percentage of 25.

There was little to choose between the two teams in the first and second quarters, with GB eventually breaking the deadlock in the 28th minute when Shipperley volleyed home from close range after excellent build-up play from Will Calnan. Spain found chances hard to come by after half time, with Shipperley doubling GB's advantage in the 41st minute with a tap-in after brilliant link-up play between Liam Sanford and Alan Forsyth.  

"It's nice to get a win, especially after yesterday", said GB's Shipperley, who was named Player of the Match. "We knew we had some things to improve on, and we worked on those today and got the result for it."

Regarding those areas of improvement, Shipperley said: "We needed to tidy a few things up. We asked them [Spain] a few different questions yesterday. Some things didn't work - we had a big chat about connecting the deep midfield to the high midfield. We did that today, and came away with the win."

Reflecting on the game, Spain head coach Fred Soyez said: "I'm disappointed with the result and our performance today, but I think GB played a very good game, and gave us a tough game in defence. You need to be efficient [in front of goal], and GB were more efficient than us today."

More information can be found by clicking here.

Great Britain's women scored five times for the second time in two days when they overpowered USA 5-0 to claim a maximum six points from their FIH Hockey Pro League double-header. The result against the ninth-placed Americans has helped Great Britain climb up to fourth in the FIH Hockey Pro League standsings, boosting their win percentage to 55.56.

In a dominant performance, the needed just 16 minutes to establish a 3-0 lead thanks to penalty corner conversions from Anna Toman, Giselle Ansley and Sarah Evans. USA soaked up huge amounts of British pressure throughout the contest, but eventually buckled in the fourth quarter when Sarah Robertson cracked home a backhand strike before Sarah Jones produced a fabulous deflection to complete the scoring.

"I think over the two games we showed a lot more consistency in our performances than in the past, and that is a really positive thing for us", said GB's Sarah Jones, who was named Player of the Match. "It was pleasing to score some penalty corners today, because we won a lot of them. I think everyone is feeling positive. We've had a really positive run recently, and the mood in the camp is really good. Still challenging and learning a lot, but I think really positive going towards the Olympics."

Reflecting on the result, USA captain Amanda Magadan said: "GB are a very experienced team and we are kind of in a re-building stage. It's important to take these games and learn a lot from them. The energy is a bit down right now, but we'll take some good lessons from this game."

More information can be found by clicking here.

The FIH Hockey Pro League will continue next weekend when the the men's and women's national teams of Belgium and the Netherlands take to the field in Antwerp.

Keep up to date with all the latest news on the FIH Hockey Pro League via the Watch.Hockey app, event website and through FIH social media channels - Facebook, Instagram and Twitter.

FIH Hockey Pro League
Sunday 23 May 2021 – London (GBR)

Men
Great Britain 2, Spain 0 [Match 2 of 2]
Player of the Match: Rupert Shipperley (GBR)
Umpires: Dan Barstow (ENG), Hannah Harrison (ENG) and Sarah Wilson (SCO - video)

Women
Great Britain 5, USA 0 [Match 2 of 2]
Player of the Match: Sarah Jones (GBR)
Umpires: Alison Keogh (IRL), Sarah Wilson (SCO) and Hannah Harrison (ENG - video)

#FIHProLeague
#HockeyInvites
#PlayHockeyStayHealthy

Official FIH Pro League Site


---

Shipperley Inspires GB's Men To Impressive Win Over Spain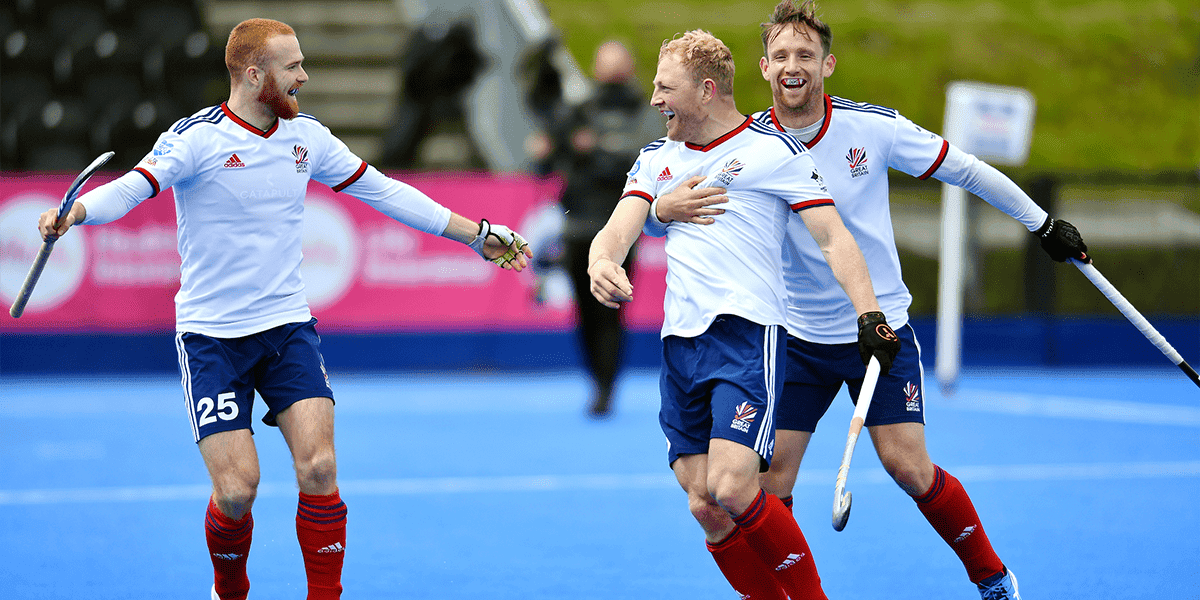 Rupert Shipperley's fine goalscoring streak continued as he struck twice to hand GB's men victory in their final game before the Tokyo Olympics.

The Welshman produced two fine finishes either side of half-time to secure all three points for his team in their final FIH Hockey Pro League game of the year.

That took his tally to five in the second season of the league and ensured Danny Kerry's team ended their set of home fixtures unbeaten with three wins and a draw.

There were also extra reasons to celebrate for Jack Waller and Zach Wallace as they celebrated their 50th combined appearances for England and Great Britain.

Great Britain started the game firmly on the front foot, winning a corner after just 70 seconds but Adam Dixon's effort was saved down low by Quico Cortes. The Spanish 'keeper was largely untroubled again until the dying seconds of the quarter as he kicked clear a Sam Ward effort, while moments before Ollie Payne raced off his line to thwart David Allegre.

Pau Quemada fired Spain's first corner wide in the 24th minute but Shipperley made no mistake four minutes later as he turned home Will Calnan's pass with precision.

Calnan himself almost made it two sixty less than a minute later but his wicked effort on the reverse just whistled over the top of the crossbar as GB ended the half with the momentum.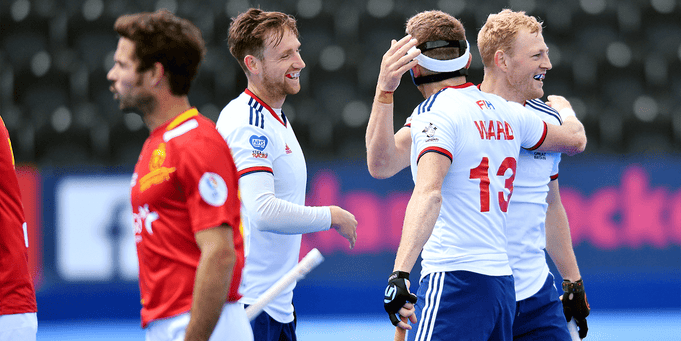 Shipperley scored his fourth and fifth goals of the 2020/21 FIH Hockey Pro League, meaning his now GB's highest scorer in the second season of the league

Shipperley then added his second in the 41st minute, turning home Alan Forsyth's cross for his fifth goal in this year's FIH Hockey Pro League. The real credit went to Liam Sanford though, whose started the move with an inch perfect pass to Forsyth from in his own half that perfectly dissected two defenders.

Dixon had a chance to make it three just moments later as Danny Kerry's team won a corner on review but Cortes was down smartly to his right to make the save.

The Spanish goalkeeper was then substituted in favour of an extra outfield player with nine minutes remaining but were unable to force an effort until the final minute, when Sam Ward threw himself in the way to secure the clean sheet.

Speaking after the game, Shipperley said: "I'm really happy to score. Yeah they're from a distance of about eight yards but I'm not too fussed, I'm just in the right place at the right time at the moment.

"We looked at that stats yesterday and to concede two goals from two shots is pretty harsh. We're working really hard on our defence and it showed today. OIlie Payne has been excellent recently too so credit to him.

"It's nice to win and getting that momentum is always good. We've got a little way before the OIympics but the Euros are coming up. It's been a long time coming and we're on the countdown clock now. I can't wait to see how things go."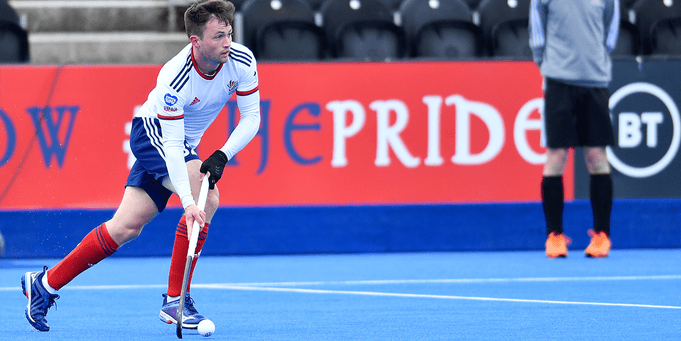 Zach Wallace (pictured) and Jack Waller played their 50th combined international matches for GB and England

Great Britain's men are next in action when they begin their Olympic campaign against South Africa at 10:30 on Saturday 24 July.

Great Britain 2 (1)

Shipperley (24', FG; 41', FG)

Spain 0 (0)

Starting XI: Ames, Shipperley, Griffiths, Ward, Dixon (C), Creed, Goodfield, Payne (GK), Waller, Sorsby, Wallace

Subs (Used): Weir, Forsyth, Gall, Sanford, Calnan, Draper

Subs (Unused): Pinner (GK)

Great Britain Hockey media release


---

Five Star GB Blitz USA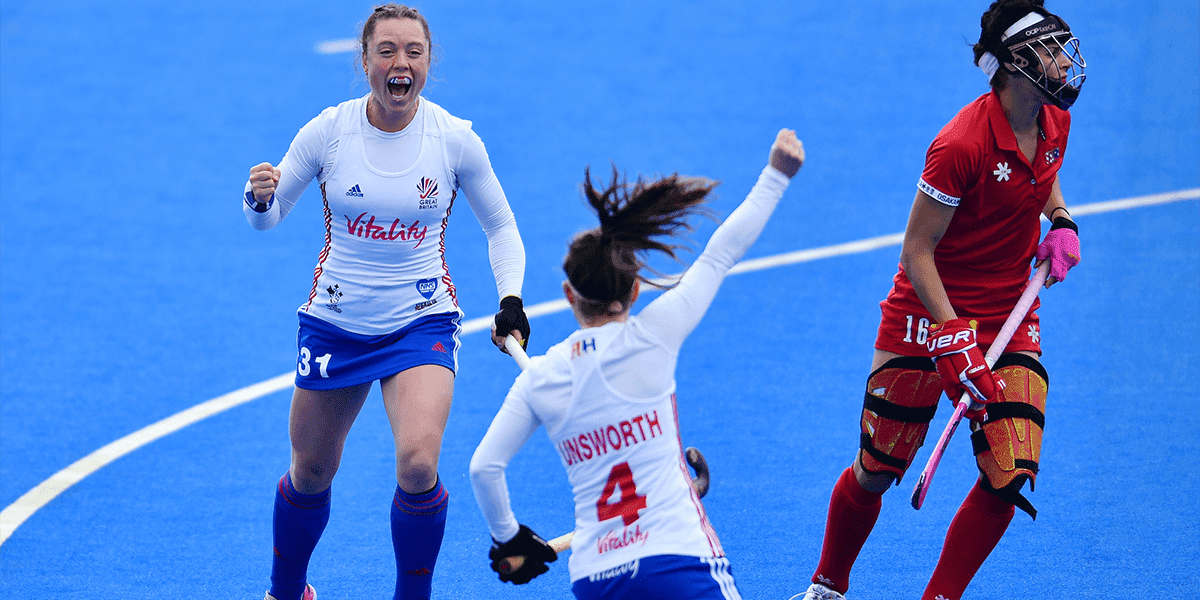 Great Britain's women produced a dominant performance to seal their third consecutive victory in their final game before the Tokyo Olympics.

From the very first moment they took the game to an inexperienced American side and put their goal under constant siege, with Grace Balsdon producing a sublime finish in just the second minute.

Giselle Ansley and Sarah Evans struck to give GB a 3-0 lead before Sarah Robertson and Sarah Jones got their names on the scoresheet in the second half to cap a stunning day for the side.

Great Britain started as they meant to go on, winning two corners in the opening minute before Balsdon fired the third into the top corner after 90 seconds.

Fiona Crackles forced Kelsey Bing into her first impressive save of the day in the fourth minute before Shona McCallin's diving effort was blocked just before the end of the first quarter.

There was still time for Ansley to score her first goal in this year's FIH Hockey Pro League as her flick squeezed into the corner, while Evans then struck her maiden goal in the league just 30 seconds into the second quarter as another Ansley corner bounced kindly for the Surbiton captain.

Bing then produced several more saves to deny Ansley, Robertson and Balsdon while Laura Unsworth hit the post.

The onslaught continued in the second half with Bing's replacement Kealsie Robles called into action to deny Ellie Rayer, Sarah Jones and Balsdon, while Rayer and Petter also saw efforts just go the wrong side of the post in the third quarter and a diving Jones couldn't quite deflect home Ansley's wicked cross.

There was nothing the goalkeeper could do though to stop Robertson's effort in the 48th minute as the Scottish midfielder rifled home a shot on the reverse from the top of the circle for her fourth goal in five matches.

Jones then converted a beautiful move just four minutes later, deftly touching the ball into the corner after Unsworth had turned Hollie Pearne-Webb's delightful pass into the path of the Welsh woman.

Speaking after the game, Ansley said: "Really pleased. To back up yesterday's performance with another 5-0 win was something we put a lot of focus on. We're greedy, we wanted to score more but to put five in the back of the net is pleasing.

"To have so many goalscorers is testament to the work we're putting in at Bisham and to the girls for putting themselves in the right positions to score and create the chances that we do.

"It's absolutely amazing to be back. I hadn't played a capped match since 2019 so I'm chuffed to be back here and do it at Lee Valley. It's our last home game before the cycle so it's special to play in front of our friends and family.

"I'm super excited for the next few months. It's what you train for. If we keep track, I cannot wait for this summer."

GB's women will next be in action when they open their Olympic campaign against Germany at 01:00 on Saturday 24 July.

Great Britain 5 (3)

Balsdon (2', PC); Ansley (15', PC); Evans (16', PC); Robertson (48', FG); Jones (52', FG)

USA 0 (0)

Starting XI: Hinch (GK), Unsworth, Toman, Jones, Townsend, Rayer, Pearne-Webb (C), McCallin, Owsley, Balsdon, Petter

Great Britain Hockey media release Evans, Robertson, Wilkinson, Ansley, Hunter, Crackles

Great Britain Hockey media release Heesh (GK)

Great Britain Hockey media release


---

USWNT Wraps Up 2020-21 FIH Hockey Pro League in England



Image Taken by FIH & WorldSportsPics/Will Palmer

LONDON, England – The No. 15 U.S. Women's National Team met No. 5 Great Britain for their second game in less than 24 hours to finish out their 2020-21 FIH Hockey Pro League season. A wet and windy day at the Lee Valley Hockey and Tennis Centre in London, England saw a game that was mostly possessed by Team GB as they capitalized on three penalty corners and two field goals to defeat USA, 0-5.

Early and late penalty corner goals for Great Britain set the pace for the first quarter. Almost starting identical to yesterday's game, the home team got into their attacking circle within the first minute of play to earn three penalty corners. Off the third attempt, a high drag by Grace Balsdon went into the upper right of the net for Great Britain to take the lead. Two minutes following Great Britain looked to double the score when Sarah Jones received a ball deep in the right corner and passed it to Fiona Crackles who struck it out of the air only for USA goalkeeper Kelsey Bing (Houston, Texas) to make a brilliant stick save. The middle portion of the frame was more eventually possessed although Great Britain tallied three more penalty corner chances and produced a handful of shots. With second remaining, Great Britain did double the lead to make it 0-2 off a low penalty corner drag from Giselle Ainsley.

At the start of the second quarter, Nicole Woods (Beverly, Mass.) was issued a green card and Great Britain capitalized on the player-up advantage by increasing their lead to 0-3. Anna Toman's initial penalty corner strike was stopped by Bing but Laura Unsworth got on the rebound and lifted it over where Sarah Evans finished on the post. Bing and the defensive unit continued to endure the high pressure, fending off more shots. USA struggled to earn a circle entry as their forward momentum kept getting shutdown by Great Britain.

Coming out of the break, USA produced their best defensive effort by limiting Great Britain on the number of circle entries while allowing zero goals. Although they were under a lot of offensive pressure, USA now behind the leadership of goalkeeper Kealsie Robles (Yorktown, Va.), maintained composure to deny the seven attempts on goal.

The defensive proficiency continued for USA in the fourth quarter and the red, white and blue even produced their first shot of the game. In the 48th minute, Danielle Grega (Kingston, Pa.) found space in the circle and fired off a backhand shot that was saved by Great Britain goalkeeper Maddie Hinch. The home team's continued to knock and eventually broke down USA as they responded on the following play through a counter attack goal. A sweeping cross from Toman found Sarah Robertson who sent a hard backhand strike through the legs of Robles. Four minutes later, Great Britain sealed the win on a turning deflection goal by Jones to make it 0-5.

Following the game, Great Britain's midfielder Sarah Jones was named Player of the Match.

"[Great Britain] is a very experienced team and we're kind of in the bit of a rebuilding stage so it's important to take these games and learn a lot from them," said Amanda Magadan (Randolph, N.J.), USWNT Captain. "The energy is a bit down right now, but we'll learn and take some good lessons from this game."

"The tour was a great learning piece," said Anthony Farry, USWNT Head Coach. "it was fantastic for us to see where we sit against some of the best teams in the world and to learn what we need to do to bridge the gap both short and long term. Whilst the results didn't fall our way this time we know we've made improvements around some key areas and that augers well for the future. From a selection standpoint, we've now got a few more athletes to look at as we head into the upcoming series which is another positive as we look to make the final selections for the 2021 USWNT."

Today's contest marked career milestones for USA athlete Alyssa Parker (Woodbine, Md.) who played in her 50th international cap for Team USA.




The 2020-21 FIH Hockey Pro League season was full of unprecedent obstacles for the USWNT. This included the death of team manager Larry Amar just prior to their first matches, a 14-month pause due to the coronavirus pandemic and the hiring of a completely new coaching staff in Anthony Farry and Greg Drake. The USWNT will head back home and start preparing for a series set to take place this summer in the United States. More information will be shared soon.

#FIHProLeague | #HockeyAtItsBest

USFHA media release


---

Britain shut out opponents for men's and women's FIH Hockey Pro League wins

By Michael Houston



Rupert Shipperley scored twice to give Britain a 2-0 win over Spain ©Getty Images

Britain kept two clean sheets at the Lee Valley Hockey and Tennis Centre today in men's and women's International Hockey Federation (FIH) Pro League matches against Spain and the United States.

In the men's tie against Spain, yesterday's hero Rupert Shipperley scored twice - in the second and third quarters - to claim a 2-0 victory over the visitors.

Yesterday, Shipperley scored a last minute equaliser to take Britain's match with Spain to a penalty shoot-out, but the home team lost 3-1.

Shipperley's double gave Britain the payback win, keeping them firmly in sixth place with four wins from 12 matches.

Spain remained bottom in ninth place after 12 matches.

Following a 5-1 thrashing yesterday, Britain added another dominant win against bottom-of-the-table the US again today in the women's FIH Pro League.

Grace Balsdon and Giselle Ansley both scored in the first quarter to put Britain firmly in front and Sarah Evans added a third a minute into the second quarter.

After more than half an hour with no goals, Sarah Robertson added a fourth and teammate Sarah Jones completed the scoring in the fourth quarter, with the match ending 5-0.

Their second victory in two days has moved Britain up to fourth in the standings after 12 of 16 matches.

The US remain without a point after 10 matches, planted at the bottom of the standings.

Inside the Games


---

Doubles all round as Great Britain make hay



Rupert Shipperley was in fine fettle at Lee Valley PIC: WORLDSPORTPICS / WILL PALMER.

Geography teacher Rupert Shipperley signed off from Great Britain duties ahead of Wales' EuroHockey campaign next month with a superb double against Spain at Lee Valley on Sunday.

On the day that Wales overpowered Scotland 6-1 in Cardiff, their form was boosted further when Shipperley made it three goals over a productive Pro League weekend for the Welshman.

GB men bounced back from their shoot-out, bonus point defeat on Saturday to record a 2-0 victory against the Red Sticks. Shipperley will now focus on Wales' continental campaign as they kickstart the EuroHockey Championships against Germany on June 4.

He scored either side of half-time; Will Calnan's turn and lob towards goal inside the circle was met by Shipperley before Liam Sanford's precision pass to the Spanish baseline turned into a GB attack as the Welshman slapped home from close range.

Shipperley, 28, turned down a job promotion as assistant head of year at KCS Wimbledon in his bid to make the Olympic squad last year. And he now looks a strong contender to make the Tokyo Games.

"We knew we had some things to improve on, and we worked on those today and got the result for it," he said on Sunday.

"We needed to tidy a few things up. We asked them [Spain] a few different questions yesterday. Some things didn't work – we had a big chat about connecting the deep midfield to the high midfield. We did that today, and came away with the win."

Coach Danny Kerry expressed satisfaction as his side secured a final victory before the Olympics.

"In terms of progress, I can't ask more from the players," he said.




Great Britain's women scored five times for the second time succession in ousting USA 5-0 to claim a maximum six points from their Lee Valley double-header.

PC conversions from Anna Toman, Giselle Ansley and Sarah Evans gave GB the ascendancy before Sarah Robertson and Sarah Jones made it five, the latter guiding home brilliantly from a long pass by Hollie Pearne-Webb.

SIGN UP for The Hockey Paper's returning newsletter: Promotions, exclusives and our best coverage

The Hockey Paper


---

Great Britain women beat United States after men defeat Spain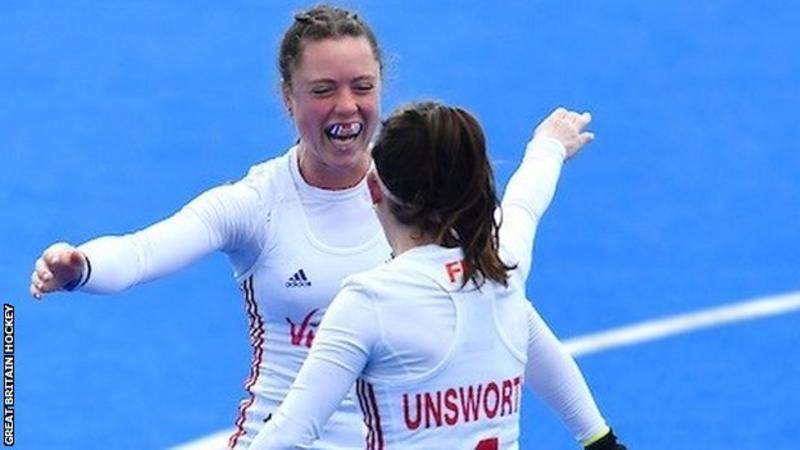 Great Britain's women scored 10 times in two weekend matches against the United States

Great Britain's women warmed up for the defence of their Olympic title with a 5-0 win over the United States in the FIH Pro League.

The side followed up Saturday's 5-1 win over the same rivals in their last match before the Tokyo Games in July.

"As a team we're really positive, the mood is good, we're learning a lot and looking forward to what's ahead," player of the match Sarah Jones said.

GB's men avenged their previous day's defeat with a 2-0 win over Spain.

Grace Balsdon, Giselle Ansley, Sarah Evans, Sarah Robertson and Jones were all on the scoresheet for Britain's women at the Lee Valley Hockey and Tennis Centre.

The result against the ninth-placed Americans has helped GB climb to fourth in the standings.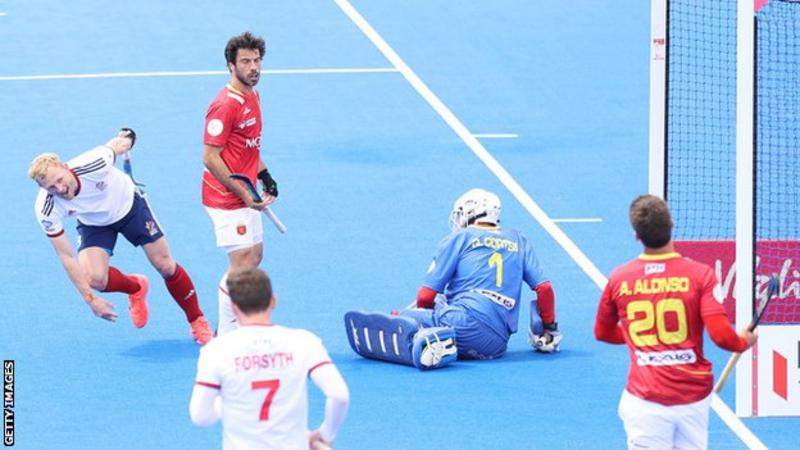 Rupert Shipperley scored a goal in either half as Great Britain beat Spain on Sunday

Great Britain' men were beaten in a shootout by Spain on Saturday, but two goals from Rupert Shipperley ensured victory on Sunday.

Spain rallied in the final quarter but were kept out by some resolute British defending in the hosts' last home game.

Great Britain remain sixth in the table, while Spain stay bottom.

Individual home nations will now prepare for the EuroHockey Championships, which take place from 4 to 13 June.

BBC Sport


---

2021 Test matches WAL v SCO (M) - 24 May
Cardiff (WAL)

22 May 2021     WAL v SCO   2 - 4
23 May 2021     WAL v SCO   6 - 1

FIH Match Centre


---

Scotland men lose in Cardiff as competitive test series ends with one win each




Scotland men were defeated 6-1 by Wales in the second of two test matches in Cardiff, with Ed Greaves finding the net for the Blue Sticks.

The Scots won the previous day's contest 4-2 and both games provided a highly competitive outing for the many new faces in the Scotland team, playing their first games for their country.

Scotland went on the attack at the start and put the Welsh defence under pressure with a high press, but Wales, deep into preparations for the EuroHockey Championships, dealt with the pressure well and prevented an early goal.

Midway through the quarter a green card was shown to Scotland's Gordon Amour and moments later Wales took the lead through a goal by Jolyon Morgan.

Gareth Furlong then extended the home side's lead four minutes later when he slammed home a drag flick penalty corner to make it 2-0.

It went to 3-0 just before the end of the first quarter when James Carson struck a lovely finish to give his side a great advantage.

Into the second quarter and the game raged on with end-to-end attacks; superb energy was shown by both teams with the game played at high tempo.

It would be Wales to strike next however when a penalty stroke was awarded to the home side, and converted by Joseph Naughalty.

A yellow card was shown to Andy Bull, but the Blue Sticks responded well and pulled one back through Ed Greaves just before half time. Jamie Golden found himself unmarked and surged forward on a counter attack, Greaves made a 50 yard run to support and found himself on the end of Golden's pass to score.

After the break Scotland responded well and won the first penalty corner of the half but their attack was kept at bay by Welsh defence.

Half way through the third quarter Wales further extended their advantage when Rhys Bradshaw scored to make it 5-1 to the home side.

The Scots earned a couple of penalty corners towards the end of the quarter, but the first was well run down by the Welsh defence and the second was well saved by the keeper.

Another penalty stroke went the way of Wales in the final quarter and Naughalty converted it for his second, and Wales' sixth of the match.

Head Coach Derek Forsyth, "We made a really bad start and it's really hard to come back from 3-0 down. Also, I think the second game coming so quickly after the first – we're not ready for that turnaround yet, but that'll come back to us in time. We're right at the start of our programme, and we've still got a bit to go yet.

"It's a poor result but there's also lots of positives from the game, we had really good periods of play and won more corners than them. It was important for us to not get too high after winning yesterday, and also not to get too low after today. There's a lot of new and young players in the team who'll learn a lot from these games, and we've got plenty to build on as we continue our return to play. It's been a good weekend for us."

Scottish Hockey Union media release


---

2021 Test matches GER v CAN
Hamburg (GER)

23 May 2021     GER v CAN     5 - 0

FIH Match Centre


---

Indian hockey team midfielder Jaskaran Singh learning tricks of trade from seniors in build up to Olympics

Jaskaran, son of hockey Olympian and former India coach Rajinder Singh Jr, is currently training with the men's senior core group for the upcoming Tokyo Olympics at the Sports Authority of India (SAI) Centre.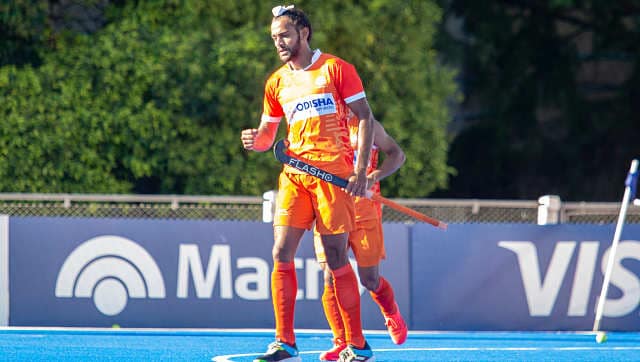 File image of Jaskaran Singh, Hockey India

Bengaluru: Indian hockey team midfielder Jaskaran Singh says he is learning the tricks of the trade from senior players like captain Manpreet Singh as he hopes to make it to the Tokyo Olympics squad.

Jaskaran, son of hockey Olympian and former India coach Rajinder Singh Jr, is currently training with the men's senior core group for the upcoming Tokyo Olympics at the Sports Authority of India (SAI) Centre.

Manpreet, striker Mandeep Singh and Jaskaran all hail from Jalandhar in Punjab.

"Our homes are around 2-3 km apart. They both have been helping me a lot. It's important to have good understanding between a midfielder and a striker, and I feel understanding comes naturally to us because we have been playing together since a long time," Jaskaran said.

"Even Manpreet along with other senior players in the team also guided me throughout. Whenever I feel I am in doubt, I speak to them to get better clarity," said the midfielder, who made his international debut in 2019.

Reflecting on his third international tour in Argentina recently, Jaskaran said, "I was playing internationally after a very long time, so I was focused on giving my 100 percent. I had the support of coaches throughout the tour.

"Senior players also motivated me and gave me the confidence to compete against the Olympic champions. They helped me improve on my mistakes throughout the tour. So, it was a great learning experience for me personally."

About the Olympics preparations, Jaskaran said, "We are really in a good shape, and preparing well for the Olympics.

"We are currently putting in the hard work, working on our structure and focusing on covering all the bases. I feel we are giving each other good competition in our training, which I feel is bringing out the best of us," he said.

Jaskaran said his father, who was a part of the 1984 Olympics team, was his biggest inspiration and the reason why he took up hockey.

"My childhood memories are all about hockey. Not only that I grew up watching him, but I also honed my skills under him. He is my first coach and my inspiration."

Firstpost


---

PHF vote helps India's Batra retain FIH presidency

Mohammad Yaqoob



Dr Narinder Batra retained the seat for the second consecutive time as he gained 63 votes against 61 secured by Marc Coudron, president of the Belgium Hockey Federation. — Photo courtesy Dr Narinder Dhruv Batra Facebook

LAHORE: A worthy vote of the Pakistan Hockey Federation (PHF) to the traditional rival candidate of India, Dr Narinder Batra, helped him again win the election as president of the International Hockey Federation (FIH) on Saturday.

The election was held during the 47th FIH Congress held virtually.

Batra retained the seat for the second consecutive time as he gained 63 votes against 61 secured by Marc Coudron, president of the Belgium Hockey Federation. Had the PHF keeping in mind the traditional rivalry against India, put its weight behind Coudron, the vote count would have tied at 62-62 and it could have been considerably difficult for Batra to beat a strong rival like Coudron in the second voting.

"We went to support Batra following the decision of the Asian Hockey Federation to remain united," PHF president retired Brig Khalid Sajjad Khokhar told Dawn here on Saturday soon after Batra was elected as FIH president.

Khokhar said overall 124 votes were cast as four members of the house abstained. "Batra served well hockey and hopefully he would continue to serve the FIH to further promote the game in the world."

Khokhar lamented that due to Covid-19 hockey activities both at local and international level were abandoned, otherwise, the PHF intended to organise some international events besides Pro League.

Khokhar said due to the apathy of the federal government, Pakistan could not complete its commitment with the FIH of fielding the national team in the FIH Pro League due to which the country suffered a lot.

But now, he added, the PHF had again shown interest to participate in the Pro League, noting it will be a big source to play against world's top teams throughout the year.

It may be mentioned here that Khokhar had made the commitment to participate in the FIH League, but due to lack of financial resources, he failed to comply with the commitment as Pakistan slumped from 13th to 17th position in FIH rankings and missed the opportunity to play against world's top teams.

"I made efforts to raise funds and I also tried my best to convince the federal government to release funds for the Pro League but I failed as Pakistan suffered a big loss, and it also faced a cash penalty," he lamented.

Khokhar was elected PHF president during the last government of Nawaz Sharif in 2014, setting a target to qualify for the 2020 Olympics as Pakistan could not qualify for the Olympics 2016.

Though the federal government issued funds to the PHF during the Nawaz Sharif government, the incumbent one did not extend a friendly hand despite the fact that Prime Minister Imran Khan is patron-in-chief of the PHF. During the last three years, the PHF could not get any big grant from the federal government. In fact, Khokhar made the commitment to the FIH during Nawaz's government but when the Pro League started, the PTI-led government was functioning.

When asked whether there was a guarantee that the federal government would now make funds available for Pro League participation, Khokhar sounded hopeful.

"We had a very productive meeting with Prime Minister Imran Khan last year. However, due to Covid-19 another meeting could not be made possible. We hope the situation will not be the same," he said.

"The PHF has tried its best to continue some hockey activities but Covid-19 pandemic is hindering this effort. Despite this the federation organised some training camps to keep the ball rolling at the national level while following the SOPs," he remarked.

Meanwhile, it is learnt that the PHF has shown interest in bidding for three major events including the first Five-a-Side World Cup, Asia Cup, and an eight-nation invitational tournament.

Dawn


---

Prospects for India-Pakistan hockey series brighten as FIH president retains post



India's Vikram Vishnu Pillay (right) vies for the ball with Pakistan's Waseem Ahmed during their field hockey match for the XIX Commonwealth Games at the Major Dhyan Chand National Stadium in Delhi. Photo: AFP

An India-Pakistan bilateral hockey series may see the light of day soon after Dr Narinder Dhruv Batra from India, edged out Belgian Marc Coudron 63-61 for the post of the International Hockey Federation (FIH) in a thrilling contest.

Interestingly, it was Pakistan's vote that proved decisive in Batra's favour and helped him retain his spot. Batra will now retain the post of FIH president till 2024.

With his election as the FIH president for the second consecutive time, the prospects of revival of Pakistan-India bilateral hockey series have become brighter than ever before.

In a press conference after the election results were announced, Batra said he personally favoured the idea of an India-Pakistan series.

"But there is more to it as the respective governments are needed to be on board. I expect that two respective federations would take up the matter in near future," he said.

FIH Chief Executive Officer Thierry Weil said he would love to see both countries playing regularly against each other. "That would help hockey grow even further. I think series between the two countries would go a long way in regenerating the interest amongst fans and to improve the overall standard."

In response to a question of whether the standard of hockey had gone down in Asia as India was the only nation playing the FIH's Pro League, Batra insisted Pakistan had also been offered the chance to play as well.  "Pakistan was also offered to play the League at the outset. But Asia is still maintaining the standard barring one odd country," he added.

Talking to 'The News' the other day, Brig (rtd) Khalid Sajjad Khokhar said that he would support Batra as he was a big supporter of the revival of Pakistan-India hockey relations.

"We would go all out in his support as he was a big advocate of revival of Pakistan-India hockey series and wants to further strengthen hockey relations between two countries," Khokhar said.

Geo News


---

Claims of Corruption and wrongdoings as Narinder Batra wins the FIH presidency




Under a dark cloud of allegations of corruption and wrongdoings, Narinder Batra, President of the Indian Olympic Association (IOA) and an International Olympic Committee (IOC) member, defeated his rival Marc Coudron, chief of Belgium Hockey Federation, by a margin of two votes 63-61.


---

Marc Coudron will not be president of the International Hockey Federation




Terrible disappointment for the president of the ARBH beaten by the smallest majority by the outgoing president.


---

Sam Ward Wins FIH Fair Play Award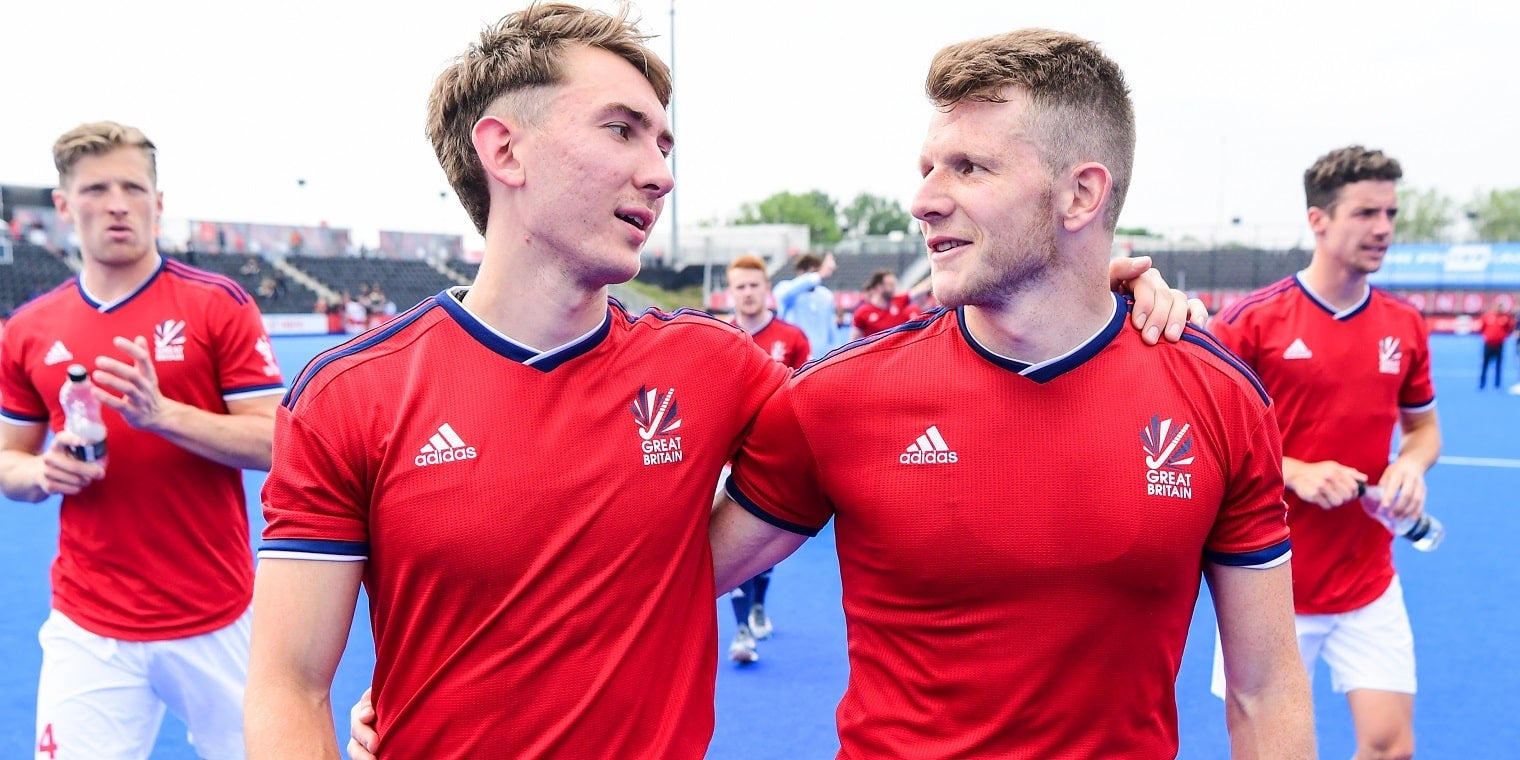 Great Britain & England forward Sam Ward was the recipient of the FIH's Super Fair Play Trophy René G Frank, announced at the 47th FIH Congress on Friday 21 May 2021.  

It was in recognition of his perseverance, dedication, and energy not only in his own recovery from a career-threatening eye injury but also his work off the pitch.

Sam has raised awareness of mental health issues, volunteering his time to deliver food and medicine to his local community and supporting a young Luton hockey player with leukaemia, Alfie Sharpe.

Congratulations go to Sam, and well done to the other FIH Honorary award winners from the across the hockey world; more details can be found here.

Great Britain Hockey media release


---

Ward, Makar and Poland honoured at FIH Awards




Inspirational England and Great Britain striker Sam Ward – who suffered a career threatening eye injury in 2019 – was revealed as the recipient of the Super Fair Play Trophy René G Frank at the FIH Awards on Friday.

It comes in recognition of his perseverance, dedication, and energy not only in his own recovery but also raising awareness of mental health issues and even volunteering his time to deliver food and medicines to his local community and supporting a young leukaemia patient, Alfie.

Also at the awards, the Guust Lathouwers Memorial Trophy – for an individual who has made a significant mark on the development of umpiring – went to Croatia's Ivona Makar, who was described as an outstanding umpire with a very bright future ahead of her.

The Polish Hockey Association, picked up the Theo Ikema Award thanks to various hockey development projects resulting in 30 newly trained coaches and over 3000 schoolchildren being introduced to the sport within the country.

Euro Hockey League media release


---

Award will motivate me: Pandian

K. Keerthivasan



V.K. Pandian.  

Bureaucrat V. Karthikeya Pandian, who was conferred with the FIH (International Hockey Federation) President's Award at the FIH Congress on Sunday, has been a sports buff right from his school days.

"I feel really happy. I've always had a love for sports. It was our team that made it all possible. Actually the award will motivate me to contribute more to Indian sports," said Pandian, who has been private secretary to Odisha Chief Minister Naveen Patnaik since 2011, to The Hindu.

"The award I believe was due to the work we did for the men's World Cup held in Bhubaneswar in 2018. Of course without the encouragement from our CM, the award would not have been possible."

A university champion in 800m and 1500m, Pandian was born in Madurai and did his schooling at the Neyveli Sports Hostel. He then did his graduation (BSC) at the Agriculture College and Research Institute in Madurai and post graduation at the reputed Indian Agricultural Research Institute in Delhi before clearing the IAS examination.

Detailing Odisha's contribution to sports, Pandian said it is the only State in the country that has a High Performance Centre for weightlifting, athletics, badminton, swimming and hockey, all with corporate sponsors.

A fitness freak, Pandian is up at 4 a.m. for his rigorous fitness regimen. "His discipline, hard work, clarity of vision and never-say-die attitude is pushing Odisha towards greater heights in the field of sports," read a note from the Chief Minister's Office.

Occupied with the impending cyclone and COVID-19 issues in the State, Pandian has his hands full now. "The situation is tough but we are doing our best," he said.

The Hindu


---

Hockey India inducts 126 new umpires and technical officials

The umpires, and technical officials, including judges, were selected after two sets of online workshops conducted between September 2020 to March this year.

Hockey India has inducted 126 new umpires and technical officials into its panel, making them eligible to officiate in domestic tournaments in the sub-junior and junior categories.

The umpires, and technical officials, including judges, were selected after two sets of online workshops conducted between September 2020 to March this year.

A total of 60 Judges (21 female and 39 male) have been added to the list, besides 66 umpires (16 female and 50 male).

Kartikeyan Pandian says FIH honour will motivate him to contribute more to Indian sports  

The selected candidates in the Potential List have become eligible to be appointed for the upcoming Hockey India sanctioned sub-junior and junior category tournaments.

They will also be opportunities to attend the ongoing Asian Hockey Federation online education workshops.

The 126 candidates have been shortlisted from a list of 227 who were a part of the induction program (124 candidates in 2020 and 103 candidates in 2021).

FIH honour for Odisha IAS officer Kartikeyan Pandian  

The 227 candidates were selected through the induction program as per HI's eligibility criteria after they were nominated by their respective state member units.

The induction program for both umpires and technical officials are divided into three levels.

According to a HI statement, level one sessions are designed to provide the candidates with basic knowledge of the latest FIH Rules and Regulations of the game.

"In order to achieve Level 2, a candidate has to pass an online test based on the Level 1 session attended earlier.

"Level 3 sessions are based on FIH General Tournament Regulations, FIH guidelines for fitness of umpires, information on match reports and statistics for technical officials (judges), HI grading guidelines, the importance of performance feedback reports and various other operational knowledge," the statement read.

Sportstar


---

Caldas to switch to Spain as part of circle of international coaching moves




Max Caldas will become Spain's men's national coach following the conclusion of the Tokyo Olympics this summer.

The Argentinean will make the switch from the Netherlands whom he will lead to the Games and he brings with him a hugely extensive CV.

A former international player, Caldas played in both the 1996 and 2004 Olympic Games before moving into the coaching realm, first of all with Leiden Heren in the Netherlands.

He went on to coach HC Bloemendaal's men, helping them to win the Euro Hockey League in 2009. As Dutch women's coach, he was part of World Cup (2014) and Olympic (2012) gold medal winning successes as well as landing the 2011 European Championships.

He moved on to coach the Dutch men's side and secured European titles in 2015 and 2017 and was a runner-up at the 2018 World Cup in India.

"We have opted for a very successful and prestigious coach, who will surely give us many successes," said Santiago Deó; President of the Royal Spanish Hockey Federation.

The San Isidro-born coach, for his part, considers that "it is a real honour to be able to lead Spain", adding that "it comes at the right time to start such an exciting project".

His predecessor in Spain, Freddie Soyez, will move to coach his homeland of France once the Olympics is complete.

That completes a perfect circle of coaching moves with current France coach Jeroen Delmee already co-opted by the Netherlands for the coming years.

Euro Hockey League media release


---

Harte and Charlier on the move between Racing and Dragons




Conor Harte and Cédric Charlier will move in opposite directions down the motorway between Brussels and Antwerp following the latest transfer moves between KHC Dragons and Royal Racing Club de Bruxelles.

Harte – capped 256 times for Ireland – has left Racing after seven seasons to line up in their defence following the departure of Luke Noblett back to Australia.

It continues Dragons' lengthy engagement with Irish players with Stephen Butler, Graham Shaw and Shane O'Donoghue among those to previously line out for the club.

"I am very happy to join the Dragons," Harte said. "A special club steeped in history and a club that has the conquest for titles in its DNA. The bond between the Dragons and Irish players has been around for over two decades now and it's great to be able to continue this tradition."

Dragons were crowned Belgian champions last season and will play in the EHL as a result. Harte is their third addition for the next season along with the return of goalkeeper Loic van Doren and new coach Dennis Dijkshoorn , who takes the place of Gilles Van Hesteren.

Charlier, meanwhile, has rejoined Racing after two years at Dragons, linking up with fellow international striker Tanguy Cosyns who moved to the club from AH&BC Amsterdam.

"There is an extremely strong emotional bond with Racing where I still have many friends," Charlier said. "With the Covid, I must admit that this last season was not easy to manage in terms of logistics.

"The journeys were long and heavy, especially since social relations outside of hockey were not possible. I was not able to enjoy all these moments as a team off the field and it was not easy to manage.

"I have also been the father of a little girl for five months. It made me think a lot about my future. But, to be honest, once I made my decision, I couldn't see myself playing anywhere else in Belgium.

"It was also very important to integrate myself into an ambitious sporting project. I came to the Dragons to win a title and discover another club culture. And at that level, I learned so much.

"In the finals, I was keen to finish in style and show my true face because to be completely honest, I haven't always been at my best this season. But this coronation was the best way to end my adventure in Brasschaat."

Euro Hockey League media release


---

Geens and Leopold part company after successful spell as T1




Robin Geens has finished up his coaching role with Royal Léopold following a successful four year tenure as T1, culminating in an EHL Men's third place last month.

In a press release last week, the club stated: "The Royal Leopold Club Hockey and its coach Robin Geens have, by mutual agreement, taken this Thursday the decision to end their 6-year collaboration, first as T2, and then as T1 at the head of the DH Men team.

"The general context that we have all been experiencing for over a year has led us to search for a new dynamic for each of us and for our men's team in particular.

"Leo wishes to bring in new blood and find a new dynamic, and thus continue its progress and integration of its young players."

Geens was at the helm when the Brussels club won the Belgian championship in 2019 and finished third in the recently concluded Belgian championship.

For Geens, he told Le Soir: "We have come to the end of a cycle although I think I could still get this team to play a leading role or even aim for a title next year.

"But the board, or part of it, may not have aligned with my vision anymore. I am frustrated but I accept this vision. I just regret the timing. This could have already been settled several weeks ago.

"I want to get back on track as soon as possible and I am therefore open to all opportunities. I have ambitions that remain intact."

Euro Hockey League media release


---

Covid-19 vaccine delay keeps players from returning to field

By Jugjet Singh

Malaysian Hockey players and officials have yet to receive their Covid-19 jabs, and it is hampering their return to the field.

"They were supposed to be vaccinated on May 12 but was postponed to a later date.

"I believe the players and officials will receive their jabs in a month's time," said Malaysian Hockey Confederation (MHC) president Datuk Seri Subahan Kamal yesterday.

All international tournaments, including the Azlan Shah Cup, have been shelved, except for the women's Junior Asia Cup in August.

The men's Asian Champions Trophy and Junior Asia Cup have also been postponed by the Asian Hockey Confederation (AHF), and they are still waiting for a better window.

"There are no tournaments, except for the women's JAC, which is why vaccination is not a priority for hockey players.

"However, if they get it soon, it will be easier for applications to the relevant authorities to open up training at the National Hockey Stadium in Bukit Jalil," Subahan added.

Meanwhile, Yang di-Pertuan Agong Al-Sultan Abdullah Ri'ayatuddin Al-Mustafa Billah Shah was named as an honorary member of the International Hockey Federation (FIH) at the #HockeyInvites virtual conference on Friday.

It is a recognition for his tireless efforts to promote and develop hockey.

"His Majesty, who is the current Royal Patron of the Asian Hockey Federation, has initiated the regeneration of hockey in Asia and vowed to recreate its status as an extravaganza and symbolic sport on the Asian and global platform," said FIH.

New Straits Times


---

JHL in December?

By Jugjet Singh



The Malaysian Hockey Confederation (MHC) will try to host the Junior Hockey League (JHL) in December. - NSTP/file pic

The Malaysian Hockey Confederation (MHC) will try to salvage the Junior Hockey League (JHL) this season after it was knocked out last year by Covid-19.

Its cancellation last year, the first since its inception in 1995, deprived at least 300 junior players of a chance to showcase their talent.

"We will try to host the JHL in December.

"The competitions' committee will meet soon to discuss how best to organise the tournament," said MHC president Datuk Seri Subahan Kamal.

"It all depends on the Covid-19 situation in the country.

"If there is no improvement, we will use the sports bubble concept to organise the JHL."

Following the cancellation of several international tournaments, the MHC were planning to invite foreign teams for friendly matches in December.

However, the confederation have decided not to go ahead due to travel restrictions and quarantine measures.

"In its place, we will organise the JHL in December," Subahan added.

However, the Education and Health Ministries will have the final say on whether the JHL can be held in December.

Tenaga Nasional, who is MHC's biggest sponsor, have four teams, comprising Thunderbolts, Ipoh Anderson, Tunku Mahkota Ismail Sports School (SSTMI) and Temerloh Sports School, in the JHL.

SSTMI were the double champions in 2019.

New Straits Times


---

In the Same League: Masters Team carves own path in Vancouver Men's Division

Masters Team playing in Division 2 presents new avenues of success for future World Cups




Jim Knight first started playing field hockey in high school after being surrounded by the game all his life. He grew up in the Cowichan Valley in British Columbia, a mecca for field hockey, but pursued other interests at the same time, including water polo and a move to New Zealand. Little did he know that, three decades later, he and a group of dedicated individuals would find themselves playing at the 2018 Masters World Cup, and later enter a team of their own into the Vancouver Men's Field Hockey League.

High off the 2018 World Cup campaign, the potential that Knight and several others saw from training together as a Men's 50+ group for nearly twelve months was tremendous.

With an incredible management team led by John Sacre, the ability to work together on a regular basis is what made them so competitive. It was the common realization that, in order to sustain and grow masters hockey in Canada, one needs to be prepared as a team.

"It's one thing to send a training regime to people around the country or various provinces, but that's only going to take you so far," Knight explained. "So part of that was a recognition that we had a few options. While training sessions would be centralized in the West, having active competition puts us a step beyond what previously existed."

The goal was to get half a team together on a weekly basis. With players coming in from Abbotsford, Chilliwack and the Island, the team actually built a squad bigger than the standard 20-person roster. To allow members from Alberta and sometimes Ontario to join, Knight had to be realistic about the commitment required.

"For me and three others, we come from the Island and it's about a 12-hour journey. It's a four-hour ferry to Vancouver from Victoria, then we warm up, play a game and head back," Knight said. "People from out of town would now come maybe every second week."



Men's O50 Team spotted in Vancouver and Barcelona.

Another challenge presented was joining the right division, appropriate for a Masters 50+ team, and matching experience and skills to teams with 20-year-olds playing. There was slight hesitation over whether the group would be competitive enough, before settling on Division Two. Their first season, recorded in 2019-2020, saw them amass 11 points with four wins, three ties and nine losses. Finishing second to last was a satisfying run for the World Cup stars.

Adam Hyde, who sits on the Masters Steering Committee, was one of the individuals who recruited and formed the team, as well as managed and played on it. Seeing the idea come into fruition has paved the way for future successes.

Hyde said, "Having a masters team play in the Vancouver League has been instrumental in the development of masters athletes because it allows players to play together competitively and also experience the benefits of national calibre coaching."

Looking back at what the group has achieved since 2018, the response has been positive around having a new form of competition — having a different type of team in the league. But the focus is on what comes next. There is an untapped opportunity in masters hockey, and Knight believes the momentum has to come from the national teams and youth.

"I was speaking to Antoni Kindler (Goalkeeper, Men's National Team) at the 2018 National Championships and he was interested in the fact that I was heading to Spain [for the Masters World Cup] the following week," Knight said. "We have these fantastic opportunities that people should be made more aware of so there's not just a small group of people wanting to play at the master's level.

"We need to retain the connection so there are players from the 45+ group that spill over to the 50+ team, to the 55+ team and so on. We haven't had that yet, but it starts with community and being a member for life. It's loyalty to the sport and ensuring field hockey isn't lost with them during that in-between period."



Jim Knight and the Men's O50 Canadian Team at the 2018 World Cup in Spain.

Having the same league structure for the upcoming 2021-2022 season is the goal for both Knight and Hyde. The ability for players to go and meet new individuals is what will motivate and sustain participation, in addition to creating a team familiarity as they work towards the 2022 World Cup in Cape Town, South Africa. Though cancelled once in 2020, they're eager to make up any lost ground and, most importantly, have fun in the process.

"We're setting up to be reasonably competitive and if you're not in the same league, it's never as much fun. I think we've done really well to achieve that and we're just taking it one step further with cohesion and consistency," said Knight.

With progress and time, the group hopes that Eastern provinces will pick up on something similar and enter teams into their respective leagues. It goes without saying that representing your country, no matter at which age or stage of life, is an honour and playing masters hockey is certainly no exception.

Field Hockey Canada media release