All the news for Saturday 27 February 2021

Hockey team taking one tour at a time

Indervir Grewal



After matches against world No. 2 Argentina, the Indian team takes on No. 3 Germany in four matches. - File photo

With a whole year of competitions lost due to the Covid-19 pandemic, the Indian women's hockey team is racing against time to get as much international exposure as possible before the Tokyo Olympics.

The Olympic Games are just five months away, and hockey teams across the world are keen to click into gear after having missed almost a year of competitions.

While Europe has already seen post-lockdown FIH Pro League matches along with the resumption of the national and continental leagues, the Indian teams have spent almost a year in training.

Important tours

Even as the women's team is away on its second tour this year, the men's team has not seen any competitive action since February last year. The men's team, though, will get to face top teams in the Pro League in April-May. And as the women's team is not competing in the Pro League, its recent tour of Argentina and the upcoming Germany tour will be crucial in its preparations for the Olympics.

"It was a very important tour because we will be able to use this tour as a benchmark for our Olympics preparations," Indian women's coach Sjoerd Marijne said of the Argentina tour.

In their month-long tour of Argentina, India played seven matches — two against the junior team, two against the B team and three against the senior national team. Playing competitive hockey after a long break, Marijne used the tour for experimentation. "We tried all the 25 core probable players in the first four matches. We were also experimental in the sense that players were deployed in a number of roles to have a better idea of who fits where," Marijne said.

Attitude shift

"Of course, without match practice, there was a bit of rustiness initially. But we had worked a lot on our fitness. We had the rare opportunity of being in camp almost for nine months. It's the reason why our fitness level didn't drop," Marijne said.

Marijne said that one of his goals was to "see where we stand against a No. 2 side in the world". "Ahead of the Olympics, it was important to test ourselves against a team like Argentina so that we would know what we need to improve upon," he said.

Though India did not have a win, they ended the tour with a 1-1 draw against Argentina. Despite the results, Marijne was impressed by the team's attitude. "We played our strongest side in the last three games and did very well. We'd have ideally liked a win on the tour but still, I am happy with the effort," he said.

"A very positive improvement in this team has been their attitude. There is a big difference now when they are up against the top sides in the world. A few years ago, the players would tell each other to keep the scoreline down but now they are trying to go for a win and were really disappointed when they couldn't do so after coming so close," he said.

Marijne said the team knows the areas that need improvement. "We need to play consistently in all four quarters and against a team like Argentina, you can't defend a goal-difference of just one goal. You need to score more. Though, compared to previous years, we made good opportunities in the circle, we need to improve our conversion rate," he said.

Confidence booster

The team's next assignment is four matches against No. 3 Germany starting tomorrow. Captain Rani said the 18-member team is raring to go. "Argentina tour helped us gain confidence. We are just months away from the Tokyo Olympics, and these matches against top teams will help us finding loopholes and gain momentum before the Games," Rani said.

"It is going to be a totally different experience than the Argentina tour. From our skills to fitness level, everything will be tested, and that's what we as a team want. It will be a challenging tour," she added.

The Tribune


---

India skipper Rani Rampal feels 'testing' Germany tour will help Tokyo Olympics preparations

The India eves will play four matches against the European giants

By Samrat Chakraborty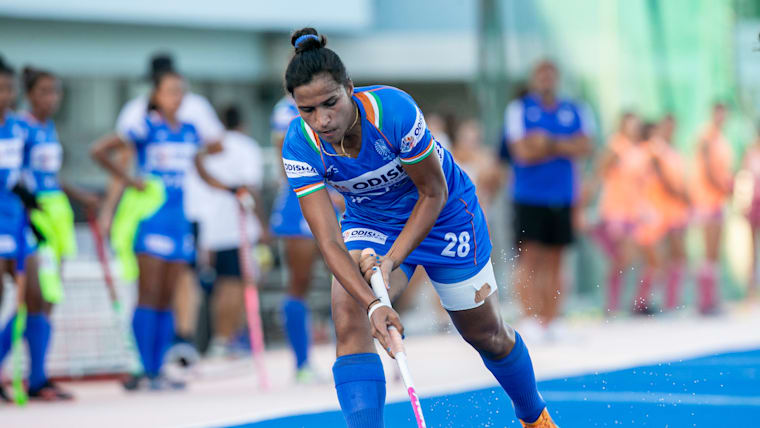 The Indian women's hockey team is currently in Germany as part of their preparations for the upcoming Tokyo Olympics.

They will play four matches against the hosts, the first of which will be played on Saturday. This is their second exposure trip in 2021 after they toured Argentina earlier in January where they played seven matches.

Skipper Rani Rampal is excited about the European trip as she wants to plug the chinks in the team's armour before travelling to Tokyo.

"Argentina tour helped us gain confidence, and we are really looking forward to our next assignment. These back-to-back tours in a short span are like golden opportunities for us. We are just months away from the Tokyo Olympics, and these matches against top teams will help us finding loopholes and gain momentum before the Games.

"I would like to thank SAI and Hockey India for making this happen despite tough situations, we are looking forward to making the most out of the tour," she stated.

Germany is currently ranked at number three in the word and it is needless to say that the Indian eves will be up against it against a well-drilled side.

"It is going to be a totally different experience than the Argentina tour. From our skills to fitness level, everything will be tested, and that's what we as a team want. It will be a challenging tour for us, considering we will be playing back-to-back matches, but I feel we are up for any kind of challenges thrown at us.

"To be honest, there's no extra pressure as such. Our priority, for now, is to get into that competitive frame of mind. You know, the experience of playing against a top team like Germany will really add value to our preparations for the Olympic Games," expressed the skipper.

The hockey federation has ensured that the team will be put up in a bio-bubble to minimise risks of the players contracting Coronavirus.

"Bio-bubble isn't a fuss for us anymore. We are now prepared to live under such circumstances because that's the only way in order to keep the action going. When we step on to the field, I don't think it plays in our mind. The only thing which is in our minds right now is the Olympics," concluded the veteran forward who has 118 international goals to her name.

After the match on Saturday, they will once again take the pitch on Sunday. After a day's rest, the team will get back to action on March 2 and 3 to conclude the tour.

Olympic Channel


---

Germany tour will add value to Olympic preparations: women's hockey captain Rani

The four-match series starting Saturday will be the Indian women's team's second assignment in 2021.



Rani Rampal emphasised that the matches against Germany will test every aspect of her team's game.   -  FIH

The Argentina tour was a confidence-booster, but the matches against Germany will add value to India's Tokyo Olympics preparations, said women's hockey team skipper Rani Rampal.

The four-match series starting Saturday will be the Indian women's team's second assignment in 2021. "Argentina tour helped us gain confidence. These back-to-back tours in a short span are like golden opportunities for us. We are just months away from the Tokyo Olympics, and these matches against top teams will help us finding loopholes and gain momentum before the Games," Rani said on the eve of the series opener against the world no.3 side in Dusseldorf.

The skipper emphasised that the matches against Germany will test every aspect of her team's game. "It is going to be a different experience than the Argentina tour. From our skills to fitness level, everything will be tested. That's what we as a team want. It will be a challenging tour for us, considering we will be playing back-to-back matches," Rani said.

"Our priority, for now, is to get into that competitive frame of mind. The experience of playing against a top team like Germany will add value to our preparations for the Olympic Games." The second game of the series will be played on Sunday, followed by the final two matches on March 2 and 3.

Sportstar


---

Men's National Team Carding Camp officially kicks off 2021 season

ID Camp reignites the Men's National Team's Olympic campaign




There are only 150 days remaining until the Olympic opening ceremonies. 150 days to prepare the best possible Team Canada for the competition. And as the days count down, the Red Caribou are working hard every day to bring their best to the world stage in Tokyo.

Each year, the National Team coaching staff hosts an Identification and Carding Camp to identify and determine the members of the squad for that calendar year. Typically, these camps are held in the fall but as with many competitions and camps, the timelines have been thrown out the window and adapted to fit into the COVID world we are living in. In an Olympic season, being selected out of camp is the first step to walking out onto the Olympic pitch.

Last year, COVID-19 swept the globe, shutting down every major 2020 competition and delaying the Olympic Games an entire year. The IOC recently announced their steadfastness in hosting the rescheduled games as planned, and this week's camp can be looked at as a milestone moment for the team as it truly signifies the re-ignition of the Olympic campaign. For a group that trains together so regularly, a domestic camp might seem like business as usual but with new coaching staff looking on, Red Caribou forward Oliver Scholfield said there's an added intensity to the upcoming week.

"As soon as you call it a carding camp, all of a sudden, the level of competition goes up," Scholfield said. "Players are trying to prove something; we're trying to show how we fit in with the team. Especially with the new coaching staff who don't know us as well."

Scholfield is a dual citizen as he was born in Toronto, Canada and grew up in the UK. He recalls dreaming of playing in the Olympic Games for as long as he can remember — only he imagined he'd be wearing the colours of Team Great Britain.

When he moved to Vancouver in 2011 and got involved in the Canadian national junior program, that dream quickly shifted to donning the Red and White of Team Canada. After missing out on the 2016 Rio Olympics, he has used every opportunity to improve and give himself the best shot of making the 2020 Olympic Team.

"Honestly, every single decision I make counts," he said. "Whether that's lifestyle, nutrition, recovery, training, pre-hab. It all goes into the trying to achieve that goal."

For the individuals players on the squad, like Scholfield, this camp is an opportunity to showcase their skills, athleticism and how they fit into the new style of play.



Field Hockey Canada's Men's National Team trains at Rutledge Field in West Vancouver.

Pasha Gademan, the newly appointed Red Caribou Head Coach has been in Canada for just over a month. Previously working in the Dutch Hoofdklasse and with the Dutch National Team, Gademan arrived and quarantined for 14 days in West Vancouver before joining the team on the pitch last month.

"We're already making very big steps. It's been good to get a complete overview of the team and even some of the NextGEN boys that are in town," Gademan said. "When I'm on the ground, on the pitch, I can really see the energy of the group and the individual. Their commitment, their enjoyment of the game. It's huge."

Andre Henning worked with the team during January and handed the reigns over to Gademan in February. The two new coaching members have injected energy into training and Gademan sees a lot of potential with the group. He said he sees a motivated team that will be ready to play their best at the Tokyo games.

"This is a group of ambitious players that has a naturally high work rate," he said. "This is a team that never gives up. In the core of this group, there is hard work. It's like that at every training session."

The Men's National Team is currently ranked 10th in the world and qualified for the 2020 Games by way of a thrilling comeback shootout victory over Ireland at Rutledge Field in the fall of 2019. The team is coming off a 11th place finish at the 2016 Rio Games and a 11th place finish at the 2018 Hockey World Cup. Gademan thinks this is the group to take that next step and crack the top-10 barrier.

"With proper preparation, this group should believe in ourselves that we can compete for a spot in the quarterfinals [in Tokyo]. That's my dream and my belief."

With COVID-19 still dictating the international competition schedule, both Gademan and Scholfield said the team has to remain adaptable and take their opportunities when they can. Both highlighted the need to get competitive games prior to the Games.

"We have faith in the coaching staff to get us good competitions with safety as the top priority. But for me, it's all about staying flexible," Scholfield said. "We do what we can to prepare for what we think is going to happen and if it doesn't, there will be an alternative."

One competition alternative is intra-squad matches. The five-day carding camp takes place from Friday, February 26 – March 2 and will feature daily training sessions and two matches. According to Scholfield, these camp matches will be the first true 11-a-side games of the season. And even though there is no international ranking on the line, the opportunity to compete is huge for the team.

"We have an extended training group in town, so we're going to get some full matches in this week. Just having those first real games to kick off the year will be huge as a starting point for the team."

Follow along during the Red Caribou training camp on Field Hockey Canada's social media channels. Note: The Women's National Team is getting set for their carding camp starting on the 15th of March. Be on the lookout for stories and social media coverage of the event.

Field Hockey Canada media release


---

Faizal is Covid-19 positive, urges 'close contacts' to get tested

By Jugjet Singh



Faizal Saari

KUALA LUMPUR: After three Terengganu Hockey Team (THT) players tested positive for Covid-19, there are now fears that they may have infected others.

The Tenaga Nasional team for the Malaysia Hockey League (MHL), especially, are on red alert.

That is because Shello Silverius, one of the three infected THT players, was living with several Tenaga Nasional players in a rented house in Kuala Lumpur.

Shello and his two THT teammates, Faizal Saari and Khalid Hamirin, are now quarantined at the MAEPS centre in Serdang. However, they show no symptoms of Covid-19.

There are now fears that the number of Covid positive cases might get bigger with tests being done on players who have been in contact with the infected "THT three".

Faizal and Shello today took to social media to reveal their condition, while asking their close contacts to undergo Covid-19 test.

Faizal wrote on his Facebook page: "I'm Covid-19 positive and those who are my close contacts, as well as have met me in the last two weeks, please undergo a swab test.

"This is a sensitive issue and I hope everybody understands the situation. And Abe (brother) would like to remind everybody to always be cautious and use a mask as well as sanitiser."

Shello, the first player from East Malaysia to be named as captain of the national junior team in 2019, wrote: "Hi, I underwent a swab test at the Titiwangsa government clinic and returned positive.

"I am currently housed at MAEPS quarantine centre in Serdang, and my close contacts for the last two weeks, please go for a swab test as well.

"I am sorry for troubling all of you."

Tenaga Nasional chief coach Nor Saiful Zaini said: "We have done tests on our players who were staying together with Shello, as well as those in close contact with him. The results should be out soon.

"However, none of our players have shown any Covid-19 symptoms. But then, they are young and healthy sports persons,"

All the 14 MHL teams, eight men's and six women's, will undergo another mandatory Covid-19 test before checking into a bio-secure sports bubble venue on March 10.

While three THT players were infected, their other 14 teammates returned negative results following Covid-19 tests.

"THT are relieved that the other 14 players returned negative results, and we can start our national league training soon.

"The three positive players will undergo a 10-day quarantine and once their pink band is removed, they will be able to join the others as well," said THT manager Rafhan Harun.

New Straits Times


---

Maryland field hockey blanks Michigan State in season opener, 2-0

Shane Connuck
    ·


Goalkeeper Noelle Frost mans her net during Maryland field hockey's 5-1 win over Michigan State on Oct. 25, 2019. Gabby Baniqued/The Diamondback)

For the first 17 minutes of Maryland field hockey's season opener, it was dominant, earning three penalty corners while its strong attack consistently kept the ball near Michigan State's goal.

The Terps broke the ice on their fourth corner of the afternoon, with junior defender Riley Donnelly flicking the ball off an insertion from forward Bibi Donraadt and set from newcomer Maura Verleg.

Senior forward Kyler Greenwalt was the beneficiary, slotting home from Donnelly's flick to push coach Missy Meharg's squad out in front. Maryland didn't look back from there, collecting a 2-0 victory over the Spartans in Virginia Beach, Virginia.

Maryland won its 24th consecutive season opener and extended its unbeaten all-time streak against Michigan State to 13 games.

"We played so fast and furiously in the first two quarters," Meharg said. "We were flying."

And the Terps (1-0) did it with some new faces on the pitch. Maura Verleg and Rayne Wright made their Maryland debuts in the starting lineup and Anna Castaldo saw plenty of action coming off the bench.

After Greenwalt's goal gave Maryland the upper hand in the second quarter, it continued to roll past the Spartans (0-1).

With just over a minute to play in the first half, the Terps padded their lead before the break. Off a pass from Donnelly, Virginia Beach native Sam Zwyna stepped by her defender and knocked in her first career goal, giving the Terps a two-goal cushion.

"It was awesome," Zwyna said about playing on the same field she'd played on her whole life.

After taking this commanding lead into halftime, Meharg said the team did well to slow the pace of the game down without allowing Michigan State to come back.

"What we did well was slow the tempo down and control the game, through really systematic, tactical hockey," Meharg said. "That was super exciting to see us be able to control the game like that."

Jade Arundell was steady in the cage for the Spartans, pushing eight shots away. But it wasn't enough, as the Terps' two first-half goals kept them in control for the rest of the match.

The Terps even kept Michigan State senior forward Lia Sinisi — who led the team with seven goals last season — quiet.

Maryland held the Spartans to just two penalty corner attempts and just one shot on goal. And Noelle Frost maintained a clean sheet, as the graduate student earned a shutout in her final season debut.

"Noelle and the communication with the defense was awesome," Meharg said. "Couldn't be happier for the women and for our staff and for the journey we've been on."

The Diamondback


---

Hockey stars add key recovery and strength tool to workout regime



Wales international Lewis Prosser in recovery mode

The closure of thousands of fitness facilities across the UK has left not only millions of gym members on the search for alternative fitness regimes but professional athletes too.

Hockey housemates Alan Forsyth and Lewis Prosser took matters into their own hands by setting up a near-to-full garden gym for their home-friendly workout routines – aided by new technology to complement strength training, conditioning and recovery.

The international pair have been using Nurokor's bioelectronic wearable technology – a bit like a compex machine – and during lockdown saw the value of this additional tool to their gym armoury after heavy training sessions.

Before the lockdowns, Forsyth would use it coming back from training while driving. Stimulating the muscles, the technology provides small electrical pulses which produces blood flow without contracting the muscles.



Scotland's Alan Forsyth

"If someone wants to circulate more blood around a particular area it produces small pulses which you don't feel and works really well," says Prosser, who plays for East Grinstead and Wales.

"We use it after any heavy session and can take from 10 minutes up to an hour," adds Scotsman Forsyth.

But it's not just the pros who can use it. With hockey becoming ever more expansive, the Nurokor technology can be utilised by all amateur players after their weekend games.

Wearable by design, the technology can be used for sessions to get more contraction out of muscles. Say you want to work on your quads, the device has different training modes where it contracts the muscles while squatting or lunging to make it harder and stimulate growth.

"I use it while squatting," says Prosser, "and it definitely feels like you are working harder. If you don't have all the equipment it is a great tool and for recovery after sessions."

What they say



"For those who are used to having everything imaginable in a fitness centre, it can be difficult to switch to workouts at home. But you can actually get a great workout just by doing exercises using your own bodyweight.

"Be creative, and use stuff you have in your home, or train with your kids and use them as resistance. This can also be a great way to have a bit of fun with the family!

"Bioelectronic devices such as NuroKor's, can be of benefit, both for activating and maintaining your muscles, as well as to intensify your workout for specific strengthening training. This will help to activate up to 100% of your muscle fibres and give you better results for your training efforts.

"On the other side, NuroKor can be effective for relieving most types of pains in a natural, way. Relieving pain from sore and stiff muscles as well as reducing inflammation and increasing blood circulation."
Hilde Hjertholm, physiotherapist

For more information about NuroKor visit www.nurokor.com
SIGN UP for The Hockey Paper's returning newsletter: Promotions, exclusives and our best coverage