All the news for Tuesday 2 February 2021

Red Sticks and Red Lions prepare for action in Valencia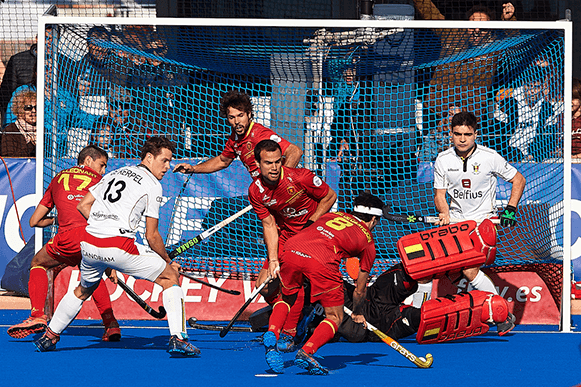 The FIH Hockey Pro League returns to action this week with a double header between two of the most exciting, attack-minded men's teams on the planet.  

Spain's Red Sticks welcome Belgium's Red Lions to the city of Valencia for two matches in the Estadio Betero, which will take place on Friday 5 and Saturday 6 February.

Belgium currently sit top of the FIH Hockey Pro League standings with 26 points from 11 games, eight points clear of the Netherlands but having played two games more than the Dutchmen. The lowland neighbours went head-to-head in what proved to be the final FIH Hockey Pro League match of 2020, playing out a magnificent 4-4 draw in Brussels before the Red Lions nicked the bonus point in the shoot-out thanks to an inspirational performance from goalkeeper Loic Van Doren, younger brother of double FIH Player of the Year Arthur Van Doren. In a fan vote conducted on the Watch.Hockey app, the thrilling Belgium versus Netherlands clash was voted as the best FIH Hockey Pro League match of 2020.
While Belgium will be hot favourites against the Spaniards, head coach Shane McLeod will certainly not be underestimating their hugely talented, unpredictable opponents. The team coached by former France international Fred Soyez claimed a shoot-out triumph over the Red Lions when the two teams met in Valencia during the 2019 FIH Hockey Pro League season, with Ignacio Rodriguez and Enrique Gonzalez scoring dramatic late goals to tie the match at 2-2 before snatching a crucial bonus point.
That being said, 12 of the 17 meetings between the two teams since 2013 have been won by Belgium, with Spain winning just twice and three clashes ending in draws. Recent history clearly favours the Belgians, but Spain will be determined to claim a share of the points, especially on home soil.
As was the case in the FIH Hockey Pro League matches that took place in the latter part of 2020, the health and safety requirements in relation to the COVID-19 global health pandemic means that spectators will be unable to attend the upcoming clashes, which will be played behind closed doors. However, the TV cameras will be present to capture all of the action via the global broadcast.

Due to issues directly associated with the COVID-19 pandemic in relation to the uncertainties and restrictions around European travel, both teams have agreed that the on-field umpires may come from one of the competing nations, and that there will be no video umpire in these two matches.

More information about the matches can be found below.

 Spain v Belgium (Men)
 Where: Estadio Betero, Valencia (ESP)
 Dates: Friday 5 & Saturday 6 February 2021
 Times (CET – GMT / UTC +1): Friday: 11:00 | Saturday 13:00
 Match pages: Match 1 | Match 2

 The essentials…
Current FIH World Ranking: Spain: 9 | Belgium: 1
Current FIH Hockey Pro League position: Spain: 7 | Belgium: 1
Final standings - FIH Hockey Pro League 2019: Spain: 7 | Belgium: 2

Head-to-heads in all competitions (since 2013 – 17 matches)
Wins: Spain: 2 | Belgium: 12 | Draws: 3
Goals scored: Spain: 22 | Belgium: 55

Team pages (squads & statistics): Spain | Belgium

Although the fans will not be allowed into the stadium itself, the matches will be available to watch via television or digital streaming thanks to our broadcast partnerships, as well as on the new Watch.Hockey app in every country where a rights holding broadcaster is not showing the matches live.

You can also keep up to date with all the latest news on the FIH Hockey Pro League via the event website and through FIH social media channels - Facebook,Instagram and Twitter.

 #FIHProLeague
#HockeyInvites
 #PlayHockeyStayHealthy

Official FIH Pro League Site


---

Positives for Indian Eves despite winless Argentina tour

s2h Team




A winless tour may otherwise have caused disappointment. But India's women's team that toured Buenos Aires recently did not. First of all, the tour did take place amidst COVID-19 situation and went off well with the bio-bubble environ. These are  heartwarming developments. The long tour drew some positives and ample cheer from the  eight-match tour.

The World No. 2 Argentines are a premium product in the world of women's hockey. To run the Las Leonas close is a creditable performance. And if the ball ran a little differently in two of four matches (one was a washout) against the senior home side, India could have notched 'Rahane's Australia moment'.  

The tour was an answer to a collective prayer by the team who spent almost a whole year in a Covid-19 bubble that confined them to training in Bengaluru for most of the year gone by.

Argentina won the first match 3-2 and followed that up with a 2-0 victory. After incessant rain caused the abandonment of the third match, the fourth ended in a 1-1 draw – the vaunted Las Leonas equalizing five minutes from the end with a penalty stroke.

In the first match too, India captained by the iconic Rani Rampal led 2-1 going into the fourth and final quarter only for Argentina to bounce back with two goals and victory.

Much as India matched their illustrious hosts toe-to-toe in the second match, crucial penalty corner goals settled the issue.

One mustn't forget, however, that Argentina may have been in an experimental mode with the Tokyo Olympics presumably on the horizon. Still, the Indian lasses, ranked distant No.9, produced percentage hockey stemming from systematic training under Dutch coach Sjoerd Marijne. They denied their top opponents space and didn't shy of taking the battle to the opposition camp.

But in a multi-nation event, come July if and when the Olympics get going, Marijne knows too well that the team must raise their performance a couple of notches higher.

The Dutchman was quick to spot a lapse or two in concentration when his team led 2-1 in the first match. It's usually enough for a crack team like the Las Leonas to get a foot in the door and bring the citadel down.

That's exactly what happened. Goals by Augustina Gorzelany (50th minute, penalty stroke) and Maria Granatto (57th), a thorn in rival defences, snatched a win for the home side.

Marijne called for consistency in all four quarters and concentration. Points to be noted and underlined if India are to jump up the ladder from 12th position at Rio 2016. He also called for calm in the ranks. Understandably, 2-1 up with 15 minutes to go and that against Argentina would have brought pressure and anxiety of its own and it seemed to undermine the girls as the minutes ticked by.

If failing to hold on to a lead was the bugbear in the first match, the inability to capitalize on chances in the second did the team in.

Marijne commended the team on creating opportunities in the first two quarters but without that translating into goals, punishment from the Las Leonas was imminent. Surely enough, while their penalty corner battery fired, India's remained silent with disastrous consequences as a 0-2 defeat may suggest.

Rain caused the loss of valuable competitive play in the third match and with just one match left on tour, India's resolve to break a winless run was plain to see.

They provided the sparkle despite the home team controlling play for most of the encounter. India even took the lead – Rani finding the net in the 35th minute.

Argentina, however, turned on the heat to equalize – again via a penalty stroke. The ability to withstand relentless pressure when ahead is an area that will need addressing and Marijne and his staff  know that a change of character and mentality when in that zone would be crucial come tournament play.

Heartening, though, was the performance by goalkeeper Savita Punia and could well have been a factor in the taut nature of the matches. Her saves in the heat of battle kept India in the game and often inspired a change of momentum in the proceedings.

The team played two matches against the Argentine juniors before the seniors' encounters – drawing both 1-1 and 2-2. Defeats followed, albeit by the narrowest of margins, to Argentina B who won 2-1 and 3-2.

Eight matches in Buenos Aires resulted in three draws, four defeats and one washout.

India scored a total of nine goals on tour, conceding 14. Forwards captain Rani Rampal and Sharmila Devi, defenders Salima Tete and drag flicker Gurjit Kaur scored two goals each with defender Deep Grace Ekka netting one.

But beyond the numbers, Rani's tweet in which she expressed the immeasurable gains from playing a team the caliber of Argentina is likely to hold her team in good stead for stern challenges that lie ahead.

Stick2Hockey.com


---

One of New Zealand's most respected umpires hangs up her whistle




When Karen Bennett put up her hand to umpire her sister's Mid Canterbury Under-15 side in Ashburton she didn't think her efforts with the whistle would take her to a World Cup in the home of hockey  – the Netherlands.

Bennett has now decided to hang up the whistle after eight years and 59 matches as an international umpire, gaining respect both here and overseas since her first international in 2012.

The primary school teacher had her first child last year and thought it was the right time to focus more on her family and her teaching career.

"My umpiring has filled my life with endless happy memories both striving for success as an elite umpire on the international stage and making friends all around the world. But the moment is right for me to spend more time at home making memories with my family."

Bennett says the pinnacle of her career was being selected to umpire at the 2014 World Cup in the Dutch capital Den Hague.

"It was an incredible experience to be umpiring the best players in the world, and the atmosphere at the venues was superb with such passionate hockey fans."

Hockey New Zealand Technical Manager Colin French acknowledged Bennett's stellar umpiring career which included her prestigious appointment to the 2014 World Cup.

"Karen is without doubt one of the most respected and cherished umpires in our hockey family. I have always admired her energy and professionalism. She is a true team player who is always willing to help both her peers and the wider umpiring community," said French.

"Karen was a high achiever who never sought the limelight, and who always ensured continuous learning and enjoyment were key pillars to her umpiring craft."

Bennett said with the game getting faster over the years, umpires also needed to be fitter and faster.

"I've often found training on my own quite tough as I live remotely, but the biggest challenge for me has been managing the pressure I put on myself to perform at my best in every game."

The Banks Peninsula resident singled out former Hockey NZ Umpiring Director Craig Gribble as having had the biggest influence on her career.

"I will be forever grateful for his belief in me to always strive to be better. He has been instrumental in so many ways but most of all as a mentor and a friend."

"There is a big hockey family I've been a part of and I'll miss those friends. Hockey has given me the most sensational experiences, friends and feeling of success."

Now it's time for Bennett to focus on family and improving her golf swing.

Hockey New Zealand Media release


---

GB Hockey captain Hollie Pearne-Webb returns after surgery



LONDON - FIH Hockey Olympic Qualifiers 2019 Great Britain v Chile (W) Photo: Great Britain wins the Qualifiers. Shona McCallin and Hollie Pearne-Webb (C) WORLDSPORTPICS COPYRIGHT WILL PALMER

GB women have been given a welcome boost after captain Hollie Pearne-Webb pulled on the national shirt for the first time in a year at the weekend.

GB are currently involved in a five-match intra-squad series, while Pearne-Webb is returning after last featuring in Australia/New Zealand in February 2020 during the FIH Pro League.

"The last time I pulled on one of these shirts I had just returned from rehab from Op number 1," she said.

"Shortly afterwards, with the Olympics postponed it was decided that the planned post Olympic Op was needed to be bought forward to see me through."

The 30-year-old, who has revealed to The Hockey Paper that she is aiming for another Olympic cycle after Tokyo, also admitted that the Bisham matches were the first time in two years where she didn't feel pain.




She added on social media: "So after a second Op last year and lots of rehab, today I played my first match since. The first match since 2018 where I haven't been in pain."

Pearne-Webb missed the European Pro League matches in the autumn after the decision was taken to bring forward surgery on her big toe shortly after the first lockdown.
SIGN UP for The Hockey Paper's returning newsletter: Promotions, exclusives and our best coverage
---

EHF confirm changes to Euro indoor and club competition schedule



Pegasus await news of what changes will be made to the Euro Hockey League. Pic: Adrian Boehm

The European Hockey Federation have announced their updated schedule for the coming year and a timeline of when further announcements will be made to account for the ongoing pandemic.

The Junior men's and women's championships – in which Ireland will be competing for the first time – have been moved to new dates in December.  

For the Under-21 men, they are bound for Portugal for the Championship II for a one-pool group of seven teams – Belarus, Croatia, Denmark, hosts Portugal, Ukraine and Wales alongside Ireland – from December 10 to 12, 2021.

The women's Under-21s compete in Croatia in a five-team event alongside the host nation, Italy, Slovakia and Sweden.

The seniors are scheduled for action a month later with the women's reward for promotion last year being a Championship II competition in Ourense, Spain. They are grouped with Poland, Scotland and Lithuania while Switzerland, Belgium, Croatia and Spain are in the other group. It runs from January 21 to 23, 2022.

The men are in a six-team group which – if no team withdraws – has two promotion places on offer. The other teams are Denmark, Scotland, Wales, Cyprus and Lithuania and takes place from January 14 to 16, 2022.

On the club front, a decision over the Euro Hockey League's men's FINAL12 and women's FINAL8 will be made in the coming weeks with Three Rock Rovers and Pegasus, respectively, awaiting finalised details. The ABN AMRO EHL Under-14 competition has been formally cancelled.

Loreto's EuroHockey Club Trophy tournament in Boom, Belgium and Lisnagarvey's Club Trophy II event in the Czech Republic will not be held at Easter. Talks are ongoing with the host reschedule to a weekend in September or early October.

Explaining the decisions, EHF President Marijke Fleuren said the hope is to still get these competitions played should situations allow.  

"Paramount to our decisions is the safety of our players, support staff, officials, volunteers and fans. However, as 2021 goes on we are still hopeful to deliver, along with our hosts, as many EuroHockey events as possible.

"As you can see, we have had to make the decision to move our tournaments planned for Easter to the early part of next season. We understand this may not be ideal but are sure you recognise the challenges the pandemic has thrown us.  Our goal is to provide a meaningful competition calendar and we will continue to engage with clubs and hosts to ensure this happens as best we can.

"We are very sorry that the Euro Hockey League U14 (boys and girls) has had to be cancelled, we are extremely hopeful that our young players will once again be able to take up their place on the EHL stage in 2022."

Senior Men's Indoor Championship III (January 14-16, 2022), Nicosia, Cyprus

One pool: Denmark, Scotland, Wales, Ireland, Cyprus, Lithuania

Senior Women's Indoor Championship II (January 21-23, 2022), Ourense, Spain

Pool A: Poland, Scotland, Lithuania, Ireland

Pool B: Switzerland, Belgium, Croatia, Spain

Junior Men's Indoor Championship II (December 10-12, 2021), Pavilhão Rota dos Móveis, Portugal

One pool: Belarus, Croatia, Denmark, Ireland, Portugal, Ukraine, Wales

Junior Women's Indoor Championship II (December 17-19, 2021), Sveti Ivan Zelina, Croatia

One pool: Croatia, Ireland, Italy, Slovakia, Sweden

The Hook


---

Hockeyroos major beneficiaries of Perth Hockey Stadium upgrade




Australia's national women's hockey team, the Hockeyroos, will enjoy a new state-of-the-art changeroom and recovery facility at their home base at Perth Hockey Stadium at Curtin University courtesy of funding from the federal government.

The federal government's $600,000 commitment to hockey comes as part of a focus on women in sport. Athletes across Hockey Australia's Women's High-Performance Programs will have a dedicated world-class locker area within the 'Roos Retreat', in addition to recovery areas with ice-bath, spa and gymnasium facilities.

Hockey Australia, together with Hockey Western Australia who share use of the stadium, are committed to addressing the detailed requirements of athletes and providing the best possible high performance environment.

"Securing this significant investment from the federal government for new infrastructure at the home of our national high performance programs is fantastic for our athletes and our sport," said Perth based Hockey Australia Board Member Pat Hall.

"We are grateful for this funding that will not only benefit our female athletes, but also the men's high performance program who will have access to the gym and recovery facilities."

"Our national teams are proudly among the world's best and this will further aid their mission of regularly being on the podium at the major benchmark events."

Work will soon commence on the new high-performance zones, which will further assist the next generation of Australian hockey stars vying to be the world's best.

"This is an important shift for Australian hockey, and an opportunity to deliver player environments like those found with soccer at the Bernabeu Stadium in Madrid," Hockey WA President Michael Henderson said.

"These exciting upgrades will create a secure and vibrant environment, particularly recognising and respecting our elite female athletes.

"We are thrilled to be making such important steps forward and I thank the West Australian community for their support in helping to deliver this opportunity."

Perth has been the home of the Hockeyroos and Kookaburras since 1984, with both squads in preparations for the rescheduled Tokyo Olympics.

Hockey Australia media release


---

Bloemendaal blow away Kampong early on to strengthen hold at top in men's Hoofdklasse




HC Bloemendaal's blistering first quarter performance saw them strengthen their place at the head of the men's Tulp Hoofdklasse with a 4-1 win over SV Kampong.

It maintains their perfect start to the season, making it eight wins from eight  games, building a 3-1 lead in the first quarter which they never looked like giving up.

After just two minutes, Florian Fuchs fired home a rocket of a shot from the right of the circle to break the deadlock. Fuchs' next shot was then tipped in over David Harte by Yannick van der Drift a minute later.

Jip Janssen slammed home from a penalty corner second phase but Tom Hiebendaal turned in from close range to restore Bloemendaal's two-goal lead with plenty of time to play in the first quarter.

Tim Swaen's corner completed the win in the second half for Rick Mathijssen's team who have a full set of 24 points, six clear of HC Rotterdam who were 2-1 winners over Den Bosch.

On Thursday, Kampong have a chance to close some of the 11-point gap to Bloemendaal when they face Tilburg.

HGC won a thrilling 4-3 success against AH&BC Amsterdam to move up to third place. Karst Timmer and Valentin Verga shared first half goals before Mirco Pruijser's deflection put Amsterdam in front in the third quarter.

A pair of Seve van Ass corners got HGC in front with nine minutes to go but Amsterdam seemed to have nicked a draw when Pruijser's stroke in the 69th minute made it 3-3. Luuk van Duren, however, swooped to net the winner with less than five seconds left to play.

Oranje-Rood's 5-1 win over Hurley put them into the top six while Tilburg beat Almere 3-2.

Euro Hockey League media release


---

HitCheck cognitive assessment tool offers concussion education resource, CrashCourse by TeachAids to all users for free

Users Will Receive Certificate Upon Completing Curriculum
 
SAN FRANCISCO – HitCheck, a mobile app that allows clinicians and trainers to baseline and screen for cognitive assessment, announced today its partnership with TeachAids to offer the concussion education platform, CrashCourse, for free to its users. Upon taking the course, users will receive a completion certificate showcasing their knowledge on the prevention and treatment of concussions.

"We created CrashCourse in collaboration with more than 100 medical, science and sport industry experts to improve understanding and awareness of concussions among athletes, parents and coaches," says Dr. Piya Sorcar, Founder and CEO of TeachAids.

The curriculum utilizes state-of-the-art technology and interactive features to appeal to and engage athletes as they learn how to identify and respond to concussion injuries. The product is unique not only in its visual technology but also in that it speaks from the athlete's perspective on the importance of reporting a concussion to a coach, athletic trainer or parent.

Drawing on decades of medical research, HitCheck takes standardized cognitive testing methods and translates them into short, simple mobile assessment exercises users can take immediately whenever and wherever an injury is suspected. Each test measures a specific aspect of brain performance, such as coordination, memory, reaction time, etc. Once the test is complete, HitCheck captures, records and compares these objective, quantitative results with prior performance and highlights changes in brain functions that may require additional medical attention.
 
"We are excited to offer HitCheck users access to CrashCourse--a free education and certification program that will provide an amazing experience for athletes, coaches and parents to learn what a concussion is and how to identify and respond. Providing the ability to educate athletes and coaches on early detection of a concussion will help them understand the importance of a healthy brain," said CEO of HitCheck, Mike Piha.
 
For more information on HitCheck and to download the app please visit: https://www.hitcheck.com/

HitCheck media release


---

France hockey signs Le Coq Sportif deal



France Hockey signs Le Coq Sportif deal

Iconic French clothing brand Le Coq Sportif said it was "proud to be alongside the Blues" after signing a four-year deal with the national teams.

France's men, women and youth teams will wear new jerseys up until 2025 as the national sides sights its sights on Paris 2024.

France men will compete in the jerseys at the EuroHockey Championships, slated for June, while France women will do the same at the European II Championships in Prague.

Antoine François, French men's team manager, said: "We are delighted to have signed with an emblematic French brand that counts in the history of sport.




"Being able to associate the image of the Federation with the Coq Sportif is a source of pride."

Emma Ponthieu, captain of the French women's team, added: "I'm super happy to be able to wear the Le Coq Sportif brand.

"It's a French brand that represents a lot of sportsmen and women as well as national teams, so it's really an honour for us to be part of "the team". We hope to represent the brand with dignity for the competitions to come."
SIGN UP for The Hockey Paper's returning newsletter: Promotions, exclusives and our best coverage
---

Farewell to the King

Ian Johnston, Canada's first ever field hockey captain, passed away on December 11, after a long battle with Parkinson's

Submitted by Victor Warren and John McBryde




Ian, who was born near Dublin, Ireland in March 1929, played for many years with the Grasshoppers H.C. after he arrived in Vancouver, before playing for B.C. and then for Canada in 1962. That year a test match was played in New York against the United States, a 1-0 victory for Canada.

The following year, 1963, The Canadian Team went to Lyon, France to play in a tournament which had three matches scheduled against the U.S.A., and the winner would qualify for the 1964 Olympic Games in TOKYO. Canada qualified and defender, Ian Johnston, scored one of Canada's three goals against the U.S.A.

Owing to a family situation, the "King," as many of his hockey friends called him, was not able to assume the duties of captain, but he was a key member of Canada's 1964 Olympic Team. Later on, Ian was Co-Captain of the 1967 Canadian Pam American team in Winnipeg, where Canada finished fourth.

Ian leaves one son, Alan, and three daughters, Adele, Anne, and Kay, as well as four grandchildren, Ryan, Rebecca, Lucas and Megan who will all miss him greatly. His wife Martha, was always very supportive of Ian's hockey career. After his hockey career ended, Ian played a lot of golf, and remained friends with his hockey buddies for the rest of his life.

His many hockey friends will not forget all the good times they had as a result of knowing "The King."

Rest in peace, Ian.




Field Hockey Canada media release