All the news for Saturday 16 January 2021

Gurjit Kaur, Savita Punia say Indian hockey team all set for Argentina test

After almost a year, the Indian women's hockey team will play a series of quality competitive matches in Argentina.

By Utathya Nag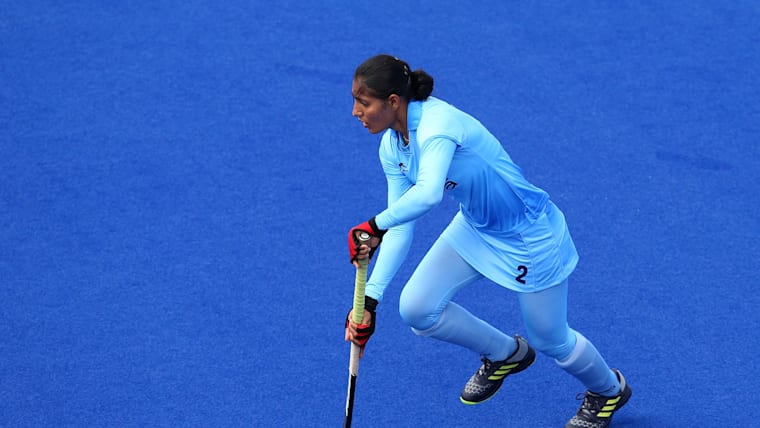 Gurjit Kaur, Savita Punia say Indian hockey team all set for Argentina test

Indian women's hockey team drag flick specialist Gurjit Kaur reckons the Argentina trip will prove to be a good gauge of where the team stands heading into the Tokyo Olympics later this year.

Having been away from competitive hockey since January last year, the Indian eves will finally return to action with the tour to Argentina starting Sunday. Over the course of its stay in South America, the 25-member touring squad, including Gurjit, will play eight matches.

While they start playing preparatory matches against the Argentina junior and B teams from January 17, India's final four fixtures will be against a strong Argentina senior women's team.

"Playing against a strong team like Argentina in their home ground won't be easy but our focus will be on bringing out our best play against them," Gurjit told the Hockey India website.

"This will be our first competitive match in almost a year and we are keen on learning where we stand in terms of fitness and execution against a top team like Argentina who are currently ranked No. 2 in the world," she said.

The squad left India on January 3 and has been training in Buenos Aires after serving the quarantine period.

"We have been here nearly 10 days and have got a few sessions on the pitch. We have paid extra attention to areas such as penalty corner conversion and penalty corner defending," Gurjit revealed.

Gurjit, a defender, also expects a tough test for the Indian backline against a free-scoring Argentina team, featuring ace goal scorers like Julieta Jankunas and Gorzelany Agustina.

Facing the Argentine onslaught along with Gurjit will be goalkeeper and vice-captain of the team Savita Punia.

Savita, an Asian Games silver medallist, is also looking forward to the upcoming matches starting with the fixture against the Argentina junior women's team.

"This week, we will be getting four good sessions of hockey where our focus will be on getting match-ready," Savita said.

Despite the team being out of action for almost a year, Savita Punia is confident that the squad won't be lacking in the fitness department, courtesy the hard yards the group put in at the national camps.

"Though we have not competed in the past one year due to COVID-19 restricting our tours, we have achieved match-fitness. We have not played Argentina in the recent past and we are confident of a good show," Savita reckoned.

Olympic Channel


---

Looking forward to test our preparations before Olympics, says women's hockey team skipper Rani

Buenos Aires [Argentina]: Ahead of their first game of the Argentina tour, Indian women's hockey team skipper Rani Rampal said that it is a crucial tour for the side to test themselves before the Tokyo Olympics.

Indian women's hockey team will become the first of India's hockey teams to resume international matches as they play their first of eight matches scheduled during their tour of Argentina.

"I think this tour is really important for us in terms of resuming competitive hockey. We have a crucial year to look forward to, and with such matches against strong sides, we will be able to keep working hard towards our goal of preparing well for the Tokyo Olympics," expressed the 26-year-old in a Hockey India release.

"It has been a strange period for sportspeople around the world, but to be resuming doing what we love the most, it is the best feeling. On behalf of my team, I would like to thank and highlight the efforts of both Hockey India and the Argentine federation for having organised this tour for us. We are looking forward to testing ourselves against some strong teams, and also understanding where we stand at the moment," added the skipper.

Having been awarded with the prestigious Khel Ratna Award in the past year, Rani also added that she intends to keep working hard for the nation, and hopes to start this important year on a positive note.

"As they say, sport can bring a lot of joy to people across various spheres of life, and for me and my team, that puts a responsibility on our shoulders. We know what our aim is this year, and we want to make sure that we start the year in the perfect manner, put in some excellent performances, and build some momentum again," expressed the experienced forward.

"However, we also understand and take into consideration that we haven't played an international match with the maximum intensity in these past 9-10 months, and that we might take time to get back into our groove, and that is what this tour is all about," stated Rani, whose team faces the Argentine junior women's team on Sunday evening in the capital city.

The Indian team will kick-start their tour of Argentina with a match against the Argentine junior women's team at 02:00 hrs IST on Monday.

Business World


---

Toni Cumpston resigns from Hockey Australia

Hockey Australia (HA) acknowledges it has today received and accepted Toni Cumpston's resignation as High Performance Director, effective from 15 April 2021.

Cumpston took on the role in December 2016 and has been instrumental in making a raft of positive and significant changes to the delivery of the HA High Performance program.

"Under Toni's tenure, and with support from the coaching and support Staff within the High Performance unit, both the men's and women's programs have made significant improvements across the Tokyo cycle," said HA CEO Matt Favier.

"Toni has been a consummate professional throughout and worked tirelessly in creating an elite high performance environment in the pursuit of on field excellence and success.

"At the start of 2020 prior to COVID, the Kookaburras were ranked number one in the world while the Hockeyroos were ranked second, and Toni's expertise and contribution was a major part of this."

"On behalf of everyone at Hockey Australia, I wish Toni all of the best in her future endeavours in whatever she chooses to do next."

Hockey Australia will be not be making any further comment at this time.

Hockey Australia media release


---

Hockey Australia performance director quits role amid controversy



Spain celebrate as Australia finish fourth at 2018 World Cup PIC: World Sport Pics

Hockey Australia has been further rocked by the allegations of negative culture within the women's programme after high performance director Toni Cumpston quit her role on Friday.

In a statement issued by her lawyers, Cumpston confirmed she would leave her role just months out from the Tokyo Olymmpics after citing that she had lost support of Hockey Australia's board.

Hockey Australia responded on Friday that it had received Cumpston's resignation "effective immediately".

Cumpston, involved in high performance sport in Australia and New Zealand for over two decades, had been in the role since December 2016 and Hockey Australia said that she had been "instrumental in making a raft of positive and significant changes to the delivery of the HA High Performance programme."

But her departure follows a torrid period for Australian hockey – ever since the women's squad was announced for the Tokyo Games in early December.

That period saw a plethora of former and ex Hockeyroos speak out over the "toxic" and "destructive" culture engulfing the women's programme.

It sparked reports of a players' strike over the way the Perth programme had been conducted over the last 10 years, while Australian newspapers, TV and radio ran stories alluding to bullying and players' mental health concerns.

Sydney's Daily Telegraph reported that complaints include "allegations of bullying, body-shaming and homophobic behaviour, which has reportedly led to players developing serious eating disorders and mental health issues."

Hockey Australia announced its own inquiry last month into the team and its governance. This week a new independent panel was convened to take over the investigation, the findings of which were due to be revealed to the national governing body's board in February.

Full statement



Toni Cumpston, High Performance Director of Hockey Australia

In a detailed letter delivered earlier today, I have advised the management and Board of Hockey Australia that I will be resigning from the role of High Performance Director, effective from 15 April 2021.

This is not a decision I have made lightly.

I have loved hockey since I was a girl, and I care deeply about my staff and those players who I have worked with at Hockey Australia since I commenced my role in 2016. I love my job and while I am very mindful this is an Olympic year, I feel I have been left with no choice but to resign from my position as it is untenable to continue in the present circumstances.

I was brought into Hockey Australia to address many of the problems that have existed within the organisation for a long period, including serious allegations of bullying and behavioural issues.

I have worked assiduously to improve the culture of Hockey Australia and our national sides, and in doing so I have always received strong support and encouragement from management and the Board.

However, in a very short space of time it has become evident that I no longer have the support of the Board of Hockey Australia to continue this work. I was left with no option but to engage Mr Josh Bornstein of Maurice Blackburn Lawyers to assist in finalising my departure from the organisation.

Despite my resignation, I will continue to be involved in the independent inquiry into concerns raised with Hockey Australia and the upcoming Sport Integrity Australia investigation, both of which I believe are vital to the wellbeing of our staff, players and our sport.

I am proud of what I have achieved during my time at Hockey Australia and I am deeply disappointed that I will no longer be involved with our country's national hockey teams. I wish all players and staff the very best for the upcoming Olympics and I greatly hope our hard work pays off and that our teams are rewarded for their efforts – you deserve every success.

I will not be making any further comment.
SIGN UP for The Hockey Paper's returning newsletter: Promotions, exclusives and our best coverage
---

Getting players to think on their feet

By Jugjet Singh

AFTER spending seven days in quarantine, Malaysian national hockey coach Arul Selvaraj returned home and immediately turned on his computer to conduct online coaching.

He is on a mission to have thinking players who can make quick decisions on the pitch in his squad.

However, to do that, he needs players to be more independent and confident, and he hopes to instil these qualities during his online coaching sessions under the Movement Control Order (MCO).

"Upon returning from Ireland, I was under quarantine for seven days, after which I immediately started online coaching.

"I want my players to be independent — from keeping their fitness up to mark to making quick decisions on the pitch without waiting for the coach to give instructions," said Arul.

Arul observed only seven days in quarantine as he had a Covid-19 swab test 48 hours before flying off from Ireland.

He completed his quarantine on Thursday.

One of the advantages in having independent players is that they can make right decisions during matches.

From the time German-born coach Paul Lissek coached Malaysia, players depended on instructions from the bench, and some became robotic.

Lissek even took the trouble to learn Bahasa Malaysia, and his first two words were 'kiri' and 'kanan'.

It enabled him to give instructions from the sidelines to his charges like playing a remote-controlled match with the players as pawns.

Following the postponement of the Malaysian Hockey League (MHL), the coaches of all three national teams, including the junior and women's squads, have gone online to guide their players.

In the second half of last year, the teams were under quarantined-based training and housed at the National Sports Council in Bukit Jalil.

Arul, Nasihin Nubli (women's project squad) and Wallace Tan (men's junior) presented their respective training programmes to the Malaysian Hockey Confederation (MHC) national team management committee recently.

"All players are under online programmes, prepared by their respective coaches.

"The MHC will decide on the next step after the MCO ends on Jan 26, depending on further announcements from the government," said MHC national team management chairman Datuk Ahmad Najmi Razak.

The MHC are also in a bind because all the planned international tournaments are in danger of being postponed, including the men and women's junior and senior World Cup qualifiers.

Arul's team are expected to start their season with the Asian Champions Trophy in Dhaka, Bangladesh on March 11-19.

But if the players and officials do not get vaccinated by then, the Malaysian government might not allow them to play for health reasons.

New Straits Times


---

Beins to move from Bloemendaal from Oranje-Rood




Bloemendaal has strengthened for the 2021/22 season with Dutch international Teun Beins set to make the move from Oranje-Rood.

The 22-year old defender – pictured in EHL action in 2019 – from Breda is currently the joint top scorer in the Hoofdklasse and he is set to move on an initial two-year deal.

"It was not an easy choice," Beins told hockey.nl of the swith. "I am having a great time at Oranje-Rood and have been able to develop well here over the past five years.  

"Bloemendaal already approached me about a switch two years ago, but then I thought it was still too early. At the time, I still had my studies in Tilburg and was not ready for it. Now things are different; I am ready to develop further and I hope to complete my studies in commercial economics in Amsterdam next year."

Beins says the family-feel of Bloemendaal will suit him well, adding: "I like the culture in the team: everyone is willing to work hard for each other. That really appeals to me.  

"I look forward to being in defence with someone like Arthur Van Doren. He is the world's best defender from whom I can undoubtedly learn a lot. And I am happy to link up with Floris Wortelboer. I played at Teteringen together with his younger brother!"

Beins has stepped up this season for Oranje-Rood, scoring eight times since taking over the penalty corner duties from Mink van der Weerden. It puts him alongside Kampong's Jip Janssen and Bloemendaal's Tim Swaen on that front.

Bloemendaal board member Pepijn Post is convinced that Beins will fit in well: "We look very closely at the structure of our selection and it is nice to add a young, strong defender.  

"Teun is a positive, serious boy who has already gained the necessary experience. We are very pleased with his arrival."

Euro Hockey League media release


---

Job Opportunity: Men's National Program NextGEN Director




Field Hockey Canada (FHC) is the national sport governing body responsible for the development, growth and promotion of field hockey in Canada. Among its responsibilities and in collaboration with a variety of partners, FHC selects, prepares and promotes Canada's teams towards the goal of delivering sustained podium performances in international competitions including FIH World League, Continental Championships, World Championships, and major multi-sport games.

Reporting to the High Performance Director(HPD) the NextGen Director will oversee the implementation of the Men's NextGen Program at Field Hockey Canada. The successful candidate will work with the HPD, Men's National Team (MNT) staff, Women's NextGen Director and manage the Junior National Age Group Coaches and National Training Centre (NTC) staff.

Primary Responsibilities

This is position is orientated towards the delivery of an aligned high performance system.

    Deliver and implement the Men's Next Gen program key priorities identified in FHC's High Performance Plan;
    Lead the development and integration of the National Training Centre network;
    Work closely with the Women's Next Gen Director in developing integrated talent identification tools, planning and DTE delivery.
    Establish benchmarks and where applicable, training plans for NextGen athletes;
    Support the DTE of identified athletes to ensure athletes are working to a single program and with expert oversight
    Provide oversight to the Next Gen Yearly Training Plan (YTP)
    Communicate with and coordinate logistics with all NTC and provincial coaches involved with NextGen athletes;
    Work with the High Performance Director on the implementation and monitoring of the HP plan as it relates to Next Gen portfolio;
    Monitor and coordinate NextGen athletes, providing athlete reports as required;
    Provide technical support during identified training and competition elements;
    Oversee strategy, development and implementation of the athlete pathway;
    Oversee the implementation of talent identification opportunities in accordance with the FHC player pathway;
    Support in the selection of the NextGen squads and teams;

Working Conditions

    A combination of on field and office work is required. Currently, office work can be done from home due to the limitations imposed by COVID-19.
    Travel required. Travel deemed necessary to occur during 2021 will occur during the COVID-19 pandemic to areas and events that have been approved and are low risk for athletes and staff.
    Required to work irregular hours and on occasion, be on-call for emergencies for time sensitive and priority issues.

Experience and Qualifications

The ideal candidate will have experience in high performance coaching, and possess strong consultative, facilitation and decision-making skills. They will have demonstrated success as a team leader with excellent management and administrative skills, both of which are considered key attributes. The ideal candidate attributes and qualifications include:

    A strong understanding of high performance sport
    Between 4-6 years of progressive leadership experience in sport, preferably field hockey;
    Appropriate coach education and certification is a strong asset;
    Post-secondary degree related to sport science and/or sport management;
    Knowledge of Long Term Athlete Development.
    Competent working with Word, Excel, Outlook and Windows;
    Familiarity of the sport landscape within Canada;
    Strong leadership abilities;
    Strong people and program management skills;
    Demonstrated critical thinking related to program planning and evaluation;
    Bilingualism an asset

Terms and Conditions

    This position is a one-year term (contract) with the possibility of renewal.
    This position is contingent on Sport Canada and Own the Podium funding
    This position will be based in Vancouver, British Columbia
    Start Date: ASAP
    The successful candidate will be required to provide a criminal reference check and complete safe sport training.

Renumeration

Dependent on skill level and experience, with a compensation range of $55,000 to $60,000 CAD per annum, plus a benefits program. If you believe you posses the appropriate experience and skill set for this role, please submit your resume and covering letter by January 29th, 2021 to Adam Janssen, High Performance Director: This email address is being protected from spambots. You need JavaScript enabled to view it.. Please include your name and title of the role in the email subject line.

DOWNLOAD JOB DESCRIPTION

Field Hockey Canada is committed to employment equity and encourages applications from all qualified candidates. In addition, Field Hockey Canada is committed to providing accommodation for people with disabilities. If you require accommodation, we will work with you to meet your needs. We appreciate your interest; however only those selected for an interview will be contacted.

Field Hockey Canada media release