All the news for Thursday 14 January 2021

India Junior women's hockey team excited to return to competitive action in Chile

The India eves are set to play six matches during their exposure trip to the South American country

By Samrat Chakraborty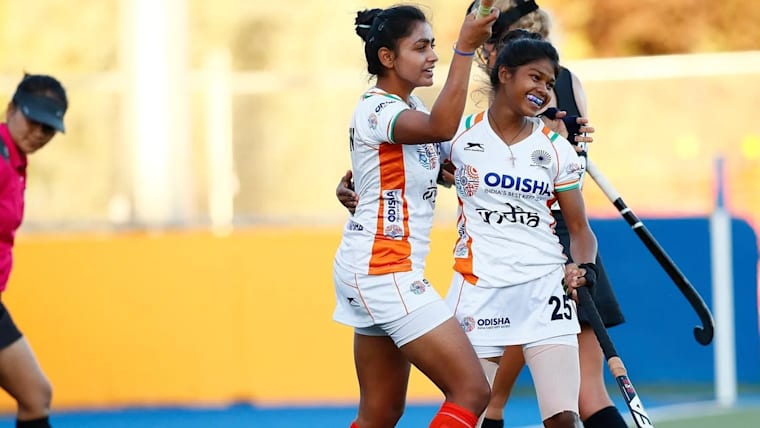 India Women's junior hockey  team in action

The Indian junior women's hockey team have already reached the capital city of Chile, Santiago, and are preparing to lock sticks against Chile's junior side in their first encounter of the tour on January 18.

India's striker Beauty Dungdung, did not hold back her excitement as the team is finally set for some competitive action after a year which was ravished by the Coronavirus pandemic.

"First of all, I would like to thank Hockey India, Sports Authority of India, and hosts Chile, for having organised this tour for our team," said the 17-year-old striker in a media release.

"We feel very fortunate to be in this position to resume competitive hockey, and with all the protocols in place, we are preparing now to take part in our first match this weekend."

"Obviously with the pandemic, we could not play any tournaments last year, but my last memory of playing for the Indian team is a memorable one, as we won the 3-Nations invitational tournament held in Australia in December 2019. It hasn't been easy since then to only take part in limited sports activities back at camp in Bengaluru, but we feel really confident in our abilities, and we have all been putting in the work to make sure we are ready to compete here in Chile," expressed Dungdung.

After playing twice with the junior Chile side, they will take on the senior team on January 20, 21, 23 and 24. The tour is considered crucial as the side prepares for the Junior Women's World Cup, to be held in South Africa in December 2021. It must be noted that the Junior Women's Asia Cup will also take place in April 2021 in Japan.

Hockey India (HI) has named a 24-member squad for the tour, led by defender Suman Devi Thoudam. Ishika Chaudhary is the vice-captain.

The forward, who idolises senior team skipper Asunta Lakra, believes that the experience gained from this tour will be invaluable for the upcoming Asian Cup and World Cup.

"We know we have these six matches against a tough opponent. First, we play two matches against Chile and then four matches against their senior team, which gives us great exposure, and our team is really looking forward to gaining as much as we all can from this tour," said Dungdung.

Their last competitive outing was a tri-nation tournament against Australia and New Zealand in December 2019. In that tournament, they were impressive -- winning two out of four matches.

Olympic Channel


---

Two years to 2023 Hockey World Cup: Memories of the previous editions in India

Incidentally, one-time World Champion India have never won the marquee tournament, when they have hosted it and the latest setback came in Bhubaneshwar.

By Samrat Chakraborty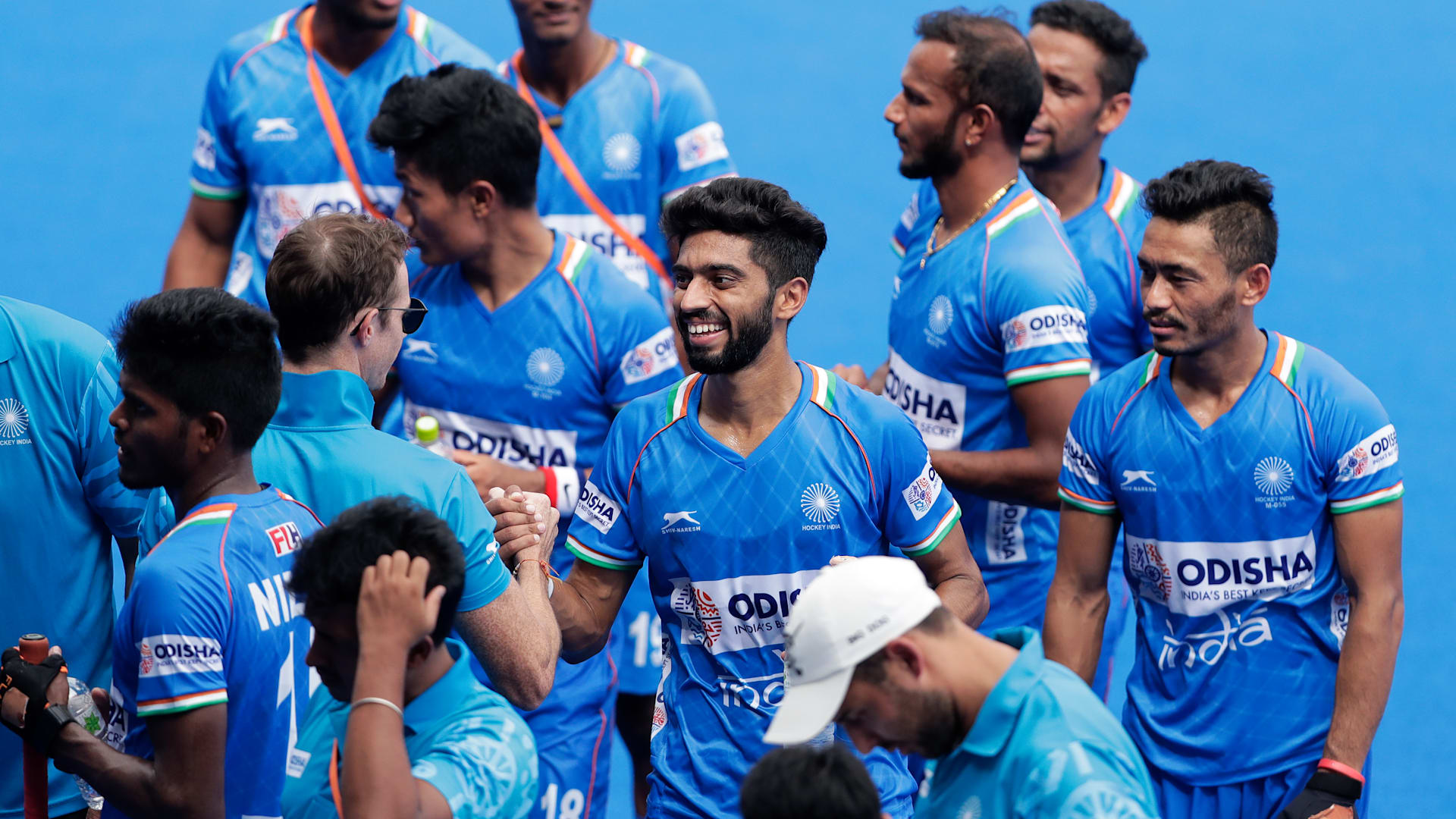 Two years from today, India will host the Hockey World Cup for the fourth time. The marquee event will once again take place in the state of Odisha as Bhubaneshwar and Rourkela have been hand-picked to welcome the best hockey talent in the world. The 2023 Hockey World Cup will run from January 13 to 29.

The last time India hosted a World Cup was in 2018 in Bhubaneshwar where its team had to settle for a fourth place finish. A rejuvenated Indian side, will, however, look to bury the past and put their best foot forward in front of a big and enthusiastic home crowd.

As the love for hockey continues to grow in the country, the apex body and Odisha government, all set to host the marquee event. A world-class stadium is being constructed in Rourkela for the 2023 edition of the World Cup. It is designed to hold about 20,000 people, making it the largest hockey stadium in the country in terms of seating capacity.

"The upcoming World Cup is expected to be even bigger than the one in 2018," Minister for Sports and Youth Services, Odisha Tusharkanti Behera said in a media release.

"It will be a challenge and an opportunity for us to organize the 2023 World Cup in two venues – Bhubaneswar and Rourkela. Since the World Cup in 2018 was held at the Kalinga Hockey Stadium in Bhubaneswar, most of the arrangements are in place in Bhubaneswar, while a new world-class Hockey stadium is being built in Rourkela."

"World-class infrastructure at both venues will enable Odisha to once again deliver a successful and memorable tournament and leave behind a valuable and lasting legacy," he added.

As India gears up for another edition of the World Cup let us look at what happened in the three previous occasions when India hosted the event: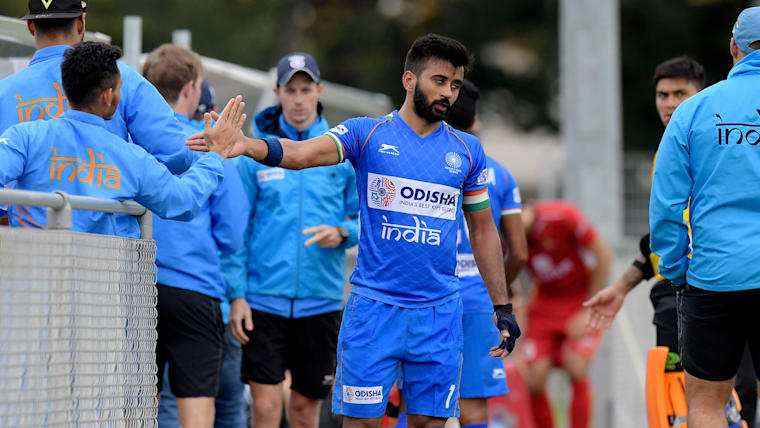 Current Indian captain Manpreet Singh

1982 World Cup (Mumbai)

India hosted the World Cup for the first time in 1982. All the matches in the fifth edition of the Hockey World Cup were played in Bombay, present day Mumbai. The 1982 World Cup was a 12-team event - divided into Pool A and Pool B.

India were drawn with Australia, Netherlands, Soviet Union, England and Malaysia. The hosts finished in third place in the preliminary round behind Australia and Netherlands and did not advance to the semi-finals.

India, however, played the fifth to eighth place classification matches where they finished at the 5th spot. Pakistan defeated West Germany in the finals to emerge champions at the 1982 World Cup. Australia, meanwhile, bagged the third spot.

2010 World Cup (New Delhi)

After a gap of 22 years, India hosted the 12the edition of the Hockey World Cup in the capital city of New Delhi.

The hosts were placed alongside Australia, England, Spain, South Africa and Pakistan in Pool B. Their sub-par performance saw them finish at fourth place and later lose the seventh-place match to end their campaign at the eighth spot.

Australia, became the World Champions for the second time with Germany finishing as runners-up and Netherlands at the third spot.

2018 World Cup (Bhubaneshwar)

Incidentally, one-time World Champion India have never won the marquee tournament, when they have hosted it and the latest setback came in Bhubaneshwar.

The 16-team event saw India being placed alongside Belgium, Canada and South Africa in Pool C. The hosts finished at the top of their pool with two wins from three matches to qualify for the knockouts.

India, however, lost the quarterfinals 1-2 to the Netherlands as their campaign came to a disappointing end. The hosts finished at the sixth spot with Belgium capturing their maiden World title.

Olympic Channel


---

Hockey Australia secures TigerTurf for another four years




Hockey Australia is pleased to announce TigerTurf has renewed its partnership as the official turf supplier.

The recommitment is for a further four years. TigerTurf manufactures and installs high quality synthetic turf products and systems for a range of sports, leisure and landscape applications.

"TigerTurf has been a highly valued and trusted partner of Hockey Australia for over a decade," said HA General Manager Commercial, Communications and Events, Tim Cherry.

"The new four-year commitment illustrates that the partnership is of significant value and benefit to TigerTurf.

"TigerTurf's 'passion for performance' aligns with the excellence and exceptional standards Hockey Australia strives for both on and off the field and we are thrilled that the partnership will continue."

One of the world's largest synthetic turf manufacturers in the world, TigerTurf started in New Zealand in 1981 and has been instrumental in developing products and systems that result in top performing surfaces.

"TigerTurf is proud to be continuing its partnership with Hockey Australia for another four years," said Nick Kerr, TigerTurf Australia National Sales & Marketing Manager.

"This agreement sees our partnership extend beyond 15 years and we see this as a great way of supporting the sport of hockey within Australia which is very important to all at TigerTurf.

"We look forward to working with the team at Hockey Australia to further promote the sport of hockey."

For more information about TigerTurf visit https://tigerturf.com

Hockey Australia media release


---

England Hockey inks significant Vitality deal to support women's game

By Rod Gilmour



Vitality takes over from Investec as principal women's partner

In another boost for women's sport, England and Great Britain Hockey has inked what it described as "one of the most significant partnerships in the sport's history" after health insurance brand Vitality was announced on Thursday as principal women's hockey partner up until the Paris 2024 Olympics.

Five months after the national governing body lost Investec as a top-tier sponsor, Vitality will support the women's game in another landmark deal for the sport over the next three years, becoming a GB shirt sponsor as well as presenting partner for both the women's and men's matches in the FIH Pro League.

As with previous partners, the English domestic competition will be renamed – in this case the Vitality Women's Hockey League – while grassroots will also stay in focus with participation programmes continuing with Back to Hockey and driving more people to play the game.

The healthy lifestyle brand has been involved with England Hockey since becoming the sport's wellness partner in 2017, while the insurer's input into hockey was very much evident at the 2018 World Cup in London when it was title partner of the women's showpiece.

But today's news is yet another lift to the women's game in terms of raising hockey's profile at the elite end as well as, it is hoped, ensuring overall visibility and, more importantly, access for all.



Lily Owsley scores at 2018 Vitality World Cup PIC: WORLDSPORTPICS

Vitality's managing director, Nick Read, said: "There has never been a more important time to be involved in women's sport at all levels, inspiring many more people to become more active and live healthier lifestyles."

Women's hockey in England has been bolstered since 2011 when Investec became a multi-year partner up until last August. The men's game has been less fortunate in finding a title sponsor, with only NOW: Pensions' partnership and a short deal with Toshiba emerging in the last decade.

England Hockey had been in talks with several interested parties for some time before this announcement. It had been hoped that a cross-gender partnership could be found, but for a major sponsor to be signed during these times clearly shows the value of the shirt and what it entails.

Nick Pink, England Hockey's chief executive, said: "The profile of hockey has grown significantly in the last ten years, and to be able to announce this new partnership at such a challenging time speaks volumes for the progress hockey in this country has made both domestically and internationally."

One of the game's greats, Alex Danson-Bennett, will also be utilised as a performance champion to aid businesses in health and wellbeing.
SIGN UP for The Hockey Paper's returning newsletter: Promotions, exclusives and our best coverage
---

Alex Danson-Bennett to aid Vitality as part of women's hockey deal




Vitality's three-year sponsorship of women's hockey will see Alex Danson-Bennett become an ambassador where she will use her passion and drive in the game to help businesses prioritise health and wellbeing.

Adding to her growing portfolio, the Rio gold medallist will join the brand's performance champions team, where the likes of sports stars Maggie Alphonsi, Lizzie Simmonds, Crista Cullen and Alex Gregory go into businesses to encourage colleagues to lead healthier lifestyles.

Danson-Bennett, current assistant coach of Wimbledon women, said Vitality's partnership with England Hockey was "fantastic news for the game of hockey and for women's sport."

She added: "I am delighted to be joining an organisation that seeks to raise the profile of women's sport, and I'm sure this partnership will see many more people get involved in the game, become more active and live healthier lifestyles."

Vitality has been the official wellness partner of England Hockey since 2017, as well as the title partner of the 2018 Hockey Women's World Cup.

Vitality's deal with England Hockey runs for three years, and will include GB shirt sponsorship as well as title naming of the women's domestic league.
SIGN UP for The Hockey Paper's returning newsletter: Promotions, exclusives and our best coverage
---

Men's sponsor could follow Vitality deal, says England Hockey

By Rod Gilmour




England Hockey says it is in talks with potential men's sponsors before next season's regional and county restructure.

In what could be a huge boost for the sport ahead of one of the biggest changes in two decades, landing a much-needed men's partnership would also bring the English top flight in line with the women's game after Vitality took over from Investec on Thursday.

The Vitality deal was several months in the making and follows Investec's exit from the sport last August.

England Hockey chief executive Nick Pink sold the sport to Vitality "with the whole picture" in mind in terms of cross gender sponsorship.

And although Vitality was only focused on the women's sport side, Pink said that talks were ongoing with potential brands for a men's partnership, which would add extra profile to the domestic game.

Asked whether the Vitality deal was a seven-figure investment, Pink would only say that the three-year partnership was a "signficant" sum.

Details announced on Thursday included GB shirt sponsorship, a partnership with the women's and men's Pro League internationals, as well as naming rights for the Women's Premier Division.

With the Investec deal, the banking giant also sponsored the schools' championships. There was no mention of this regarding Vitality's deal, but EH admitted that it had to prove itself to the health brand in order to develop a fruitful, long-term partnership.

The partnership may also see promotion of the masters' game given that hockey ranks as one of the top sports played from an early age right through into the eighties.

"It is this positive side of the game we need to shout about," added Pink. "More people are playing longer than ever before."
SIGN UP for The Hockey Paper's returning newsletter: Promotions, exclusives and our best coverage
---

'Ambitious' school outreach programme set for Nottingham Hockey Centre



Nottingham Hockey Centre, home of Beeston HC

Nottingham Hockey Centre bosses say the facility is ready to start work on its "ambitious" community outreach programme after becoming the largest hockey centre in the world outside Holland.

Last month saw the completion of £2 million worth of investment by Nottingham High School, creating a purpose-built sports facility at Nottingham Hockey Centre – home of Beeston HC – and bringing the total number of hockey pitches to six.

The new facility will expand the school's already impressive hockey provision and help to establish its outreach programme for hockey in the community, with a particular focus on local schools. The new development will also be available to the general public.

Nottingham Hockey Centre Chairman David Griffiths said: "I'm in no doubt that Nottingham High School's investment will be one of the most critical parts of this incredibly important undertaking."

Kevin Fear, Headmaster of Nottingham High School said: "We are thrilled to have completed this impressive development of our sporting facilities. Since our very successful move to co-education in 2015 we have focused on hockey as one of our major sports for boys and girls.

"The Sunday Times have recently named us as East Midlands Independent School of the Decade and our sport plays a key part in this success. This facility will also be used by the local community and means that our pitches play an important part in the city's sporting offering."

The project completion ran to time following some favourable weather conditions, the impressive build saw 4500 tons of topsoil removed then recycled, one kilometre of ball stop fencing and over 75,000 man hours on site.
SIGN UP for The Hockey Paper's returning newsletter: Promotions, exclusives and our best coverage
---

Hockey Australia investigation panel changed to avoid conflict of interest

By Michael Houston



The team investigating allegations of bullying at Hockey Australia has been changed ©Getty Images

The team investigating allegations of bullying at Hockey Australia has been changed to avoid any potential conflict of interest.

Initially, lawyer Richard Redman and Ernst and Young partner Adam Carrel were to head up the independent investigation.

But Hockey Australia instead announced this week that Bruce Collins, Gabrielle Trainor and Moya Dodd will instead lead the investigation.

This followed concerns being raised about the original investigation team's links to current Hockey Australia staff, including chief executive Matt Favier, according to the Australian Associated Press.

Allegations of bullying, body-shaming and homophobic behaviour within Hockey Australia have emerged, leading to an independent investigation being ordered last month.

It came following reports that up to half of the Australian women's hockey squad were considering a strike before the Olympics, such was their unhappiness with senior management.

High-performance director Toni Cumpston and coach Paul Gaudoin have come in for particular criticism.

The axing of 2019 International Hockey Federation (FIH) goalkeeper of the year Rachael Lynch and former captain Georgina Morgan from the 2021 squad was also cited as a key reason for disharmony.

A special complaint process has been established with Sport Integrity Australia to receive and act on complaints concerning conduct within the governing body.



Members of the Australian women's hockey team are reportedly considering strike action over the culture within the sport ©Getty Images

"It has always been Hockey Australia's intention that this review to be robust, transparent and independent," said Hockey Australia President Melanie Woosnam.

"The establishment of a review panel led by Bruce Collins makes it clear that these principles are fundamental to the Board."

Favier recently stated that he was committed to taking "the necessary action" once the inquiry was completed.

Collins is an international sports lawyer who has sat on Court of Arbitration for Sport (CAS) tribunals.

Trainor is a member of the Australian Football League Commission.

Dodd, an ex-FIFA Council member, played for Australia's national football team.

Australia, currently ranked second in the world, have won three Olympic gold medals in women's hockey, the last coming on home soil at Sydney 2000.

The Hockeyroos also finished second in the inaugural edition of the FIH Hockey Pro League in 2019.

Australia booked a place at Tokyo 2020, postponed to next year because of the coronavirus pandemic, through the Olympic qualifiers.

Inside the Games


---

Tribute to Fabian Gregory



Source: Jan Kruger/Getty Images Europe

SA Hockey is shocked and saddened by the sudden passing of the multi-talented Fabian Gregory. Fabian excelled as an all-round sportsman at school, representing Border at Athletics, Baseball, Cricket, Football and Hockey in various age group teams. His leadership attributes saw him in a role as captain in his school Hockey and Cricket teams.

He obtained national school colours in Hockey and Cricket in the SACOS era. Fabian achieved provincial hockey colours for both Border and Western Province.

The well-liked Fabian qualified as a teacher and quickly got involved in coaching at school and club level. He embraced the challenge of achieving his coaching qualifications in both hockey and cricket, which afforded him the chance to grow as a coach and to take up coaching opportunities in both sports in various provinces.

Fabian took on the position of Coaching Education Manager at SA Hockey in 2008. He was instrumental in the reviewing and restructuring of the SA Hockey Coach Education Scheme, which became the cornerstone of the current SA Hockey Coach Education Framework. Given his background in Education, Fabian excelled as the lead coaching facilitator and coaching manager that coordinated the SA Hockey & Dutch Hockey coach education exchange programme.

Fabian took on national opportunities as a highly qualified coach himself from as early as 2004 when he took on the role as Assistant Coach of the SA/u19 and the SA 'A' Mens Manager. He served various national teams noticeably as the coach of the SA u17 and u18 Boys, SA u21 Women and the Assistant Coach of the SA Women.  In 2014 he made a switch and was appointed the National Mens Coach. As a coach he represented SA at different international competitions with his best highlights being the Africa Cup and Olympic Qualification events of 2006, 2007, 2011 and 2015, the Womens World Cups of 2006, 2010 and 2014, the Junior Womens World Cup of 2009, the Commonwealth Games of 2010 and 2014, and the Olympic Games of 2008 and 2012.

Fabian was presented with his FIH Coach certificate in 2016, this is the highest level of FIH Education.

In 2016 Fabian took up an opportunity to coach in Hong Kong at club level and was eventually appointed at as the Hong Kong National Mens Coach a roll he fulfilled until his untimely passing.

Fabian was highly regarded in African Hockey circles and was always willing to impart & share his knowledge with other African Hockey coaches. He was highly regarded within the international hockey coaching arena.

He made a huge impact on the standard of coaching within South Africa & Africa and has been attributed by many players at all levels as the biggest influence in their hockey development. The tributes seen since his passing speak volumes about the passion he had for the game, his special ability for talent identification and his mentorship role for both coaches and players alike.

We pay tribute to Fabian Gregory today and express our sincere condolences to his son Jamie, his family, his friends and the hockey community at large.

SA Hockey Association media release


---

Death of former South African hockey coach Fabian Gregory leaves huge void

By Peter Martin



 MISSED: Former SA hockey coach Fabian Gregory died in Hong Kong on Saturday. Image: BACKPAGEPIX/ LUIGI BENNETT

Former South African hockey coach Fabian Gregory died aged 47 in Hong Kong on Saturday and his untimely passing has left a huge void within Border and worldwide hockey circles.

At a young age at Buffalo Flats Primary School in East London, it was soon apparent that Gregory's future life would be forever connected to sport. As a young boy he excelled at hockey, athletics, cricket and soccer and his talent for playing sports continued at Greenpoint Senior Secondary School where he matriculated.

He then studied at the Hewitt Teacher's College in Cape Town, before returning to teach at Greenpoint.

He played for the Di Roma junior hockey team and moved into the senior ranks and later played for Aces Club under the excellent guidance of top coach and mentor Roger Matroos.

Though he represented Border at various age levels in hockey as well as cricket, his true love was hockey and he quickly developed into a capable coach at interprovincial level.

He started at boys' U16 level and thereafter coached the U18s and U21s. His experience as a coach was then recognised at national level and he was appointed assistant coach to the national women's squad where he served for a number of years.

Later, in 2014, he took over as the coach of the SA men's team. He took the SA team to the 2014 World Cup held at The Hague in the Netherlands where SA finished in 11th position.

Australia ran out as winners of the tournament, beating the home team in the final.

In the Commonwealth Games in Glasgow just a month later the same year, the squad did extremely well. In the finals SA outplayed Canada 7-3 to grab fifth position overall at the Games.

Though SA won the Africa Nations in Randburg against Egypt in 2015, a passport to the 2016 Rio Olympic Games, SA hockey did not take part in the Olympics that year.

Gregory will forever be known as a coach who had a great knack of spotting talent among the youth of SA. He excelled at introducing and mentoring these young players in the men's squad with a number of them going on to represent the country with great success.

Gregory was also a registered Level 3 cricket coach, had a great love of reading and he also began to play golf as a way to relax.

He had accepted an invitation to coach the Hong Kong men's national team as well as a local club there, the Valley Club.

Born in August 1973, Gregory leaves his mother, Cathy, his girlfriend Carol and son Jamey.

First published in DispatchLive

Go Express