All the news for Tuesday 24 November 2020

The innovation of the Red Panthers is taking shape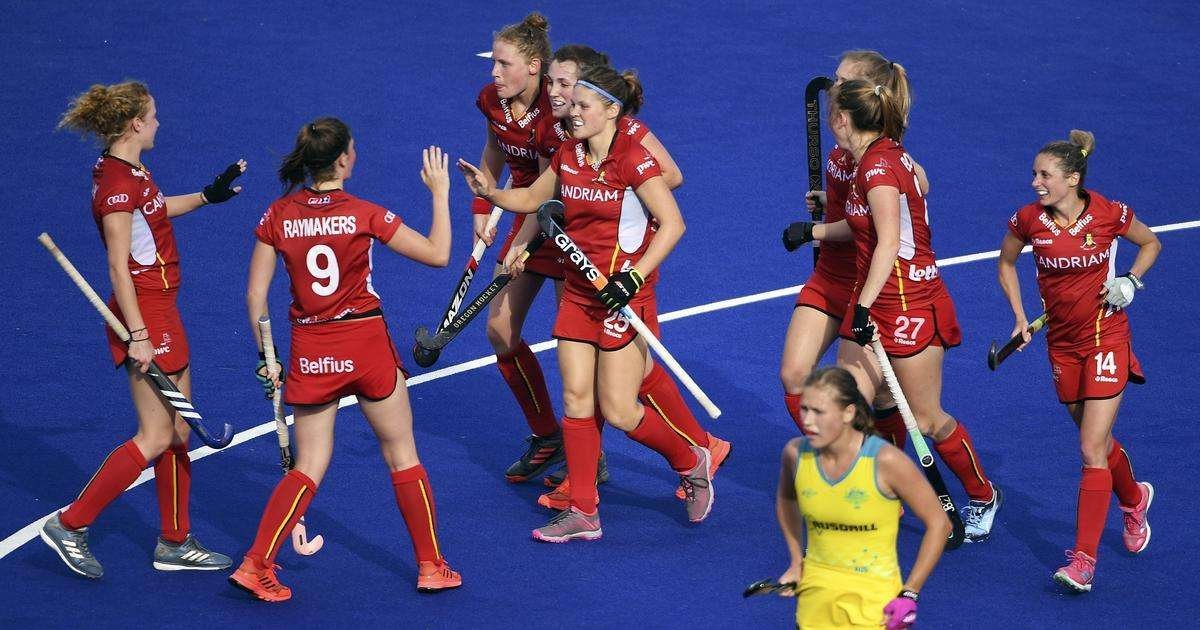 The Red Panthers are in a rebuilding phase. After failing to qualify for the Olympics a year ago, the staff decided to focus on the future, educating emerging talent and building a close-knit team that can handle all conditions. The ambition is to develop a solid Belgian team that is able to surprise at the Olympic Games in Paris in 2024.

To make this happen, some changes have been made recently:

To start with, Tim White will be the new assistant to national coach Niels Thijssen, replacing Simon Letchford who left a few months ago. Tim White is from Australia and has coached the Australian Women's U21 for the past four years, winning a bronze medal at the last Junior World Cup. In recent years he has worked hard to prepare the young talents as well as possible to become complete and competitive athletes for the A-team. Tim White about his appointment:"I am delighted to be able to participate in the Belgian national women's program and to work with Niels and the other staff members. I have been closely following women's international hockey over the years and have always considered the Red Panthers as a team full of talented and promising athletes. I look forward to working with the staff and players! "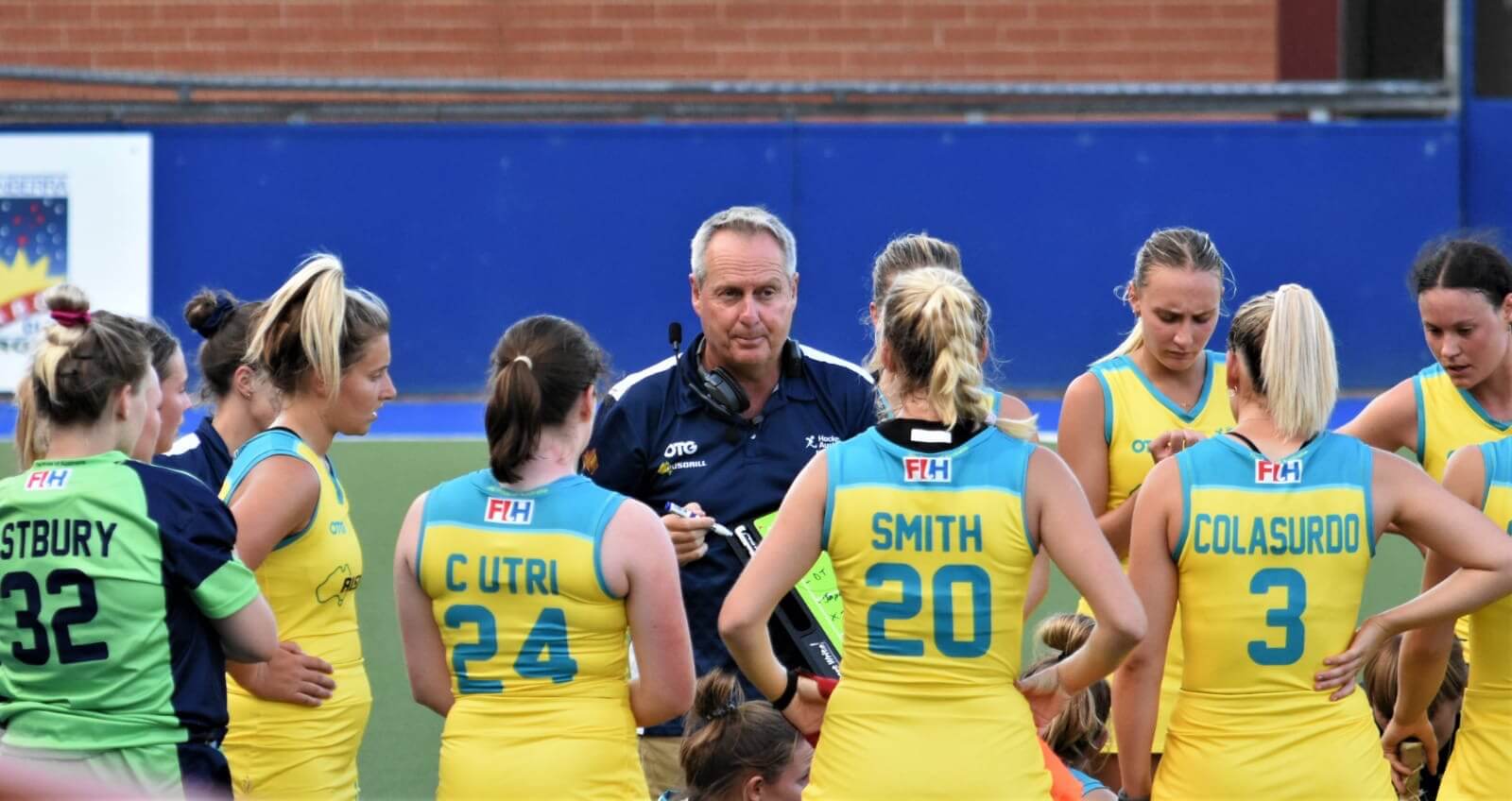 In addition, as you could see during the last Hockey Pro League games, some new recruits from the Young Red Panthers (U21) have entered the A squad. Vanessa Blockmans, Anne-Sophie Roels, Hélène Brasseur and Shaunda Ikegwuonu will continue to train with the Panthers. Together with them, France de Mot and Agathe Willems are included in the same program, with a view to developing our young talents. These new "test players" will therefore train with the A-team until the end of this year, before returning to the U21-core, who must also try to achieve goals in 2021. But they will continue to enjoy a specific development environment and will be closely monitored by the staff of both teams.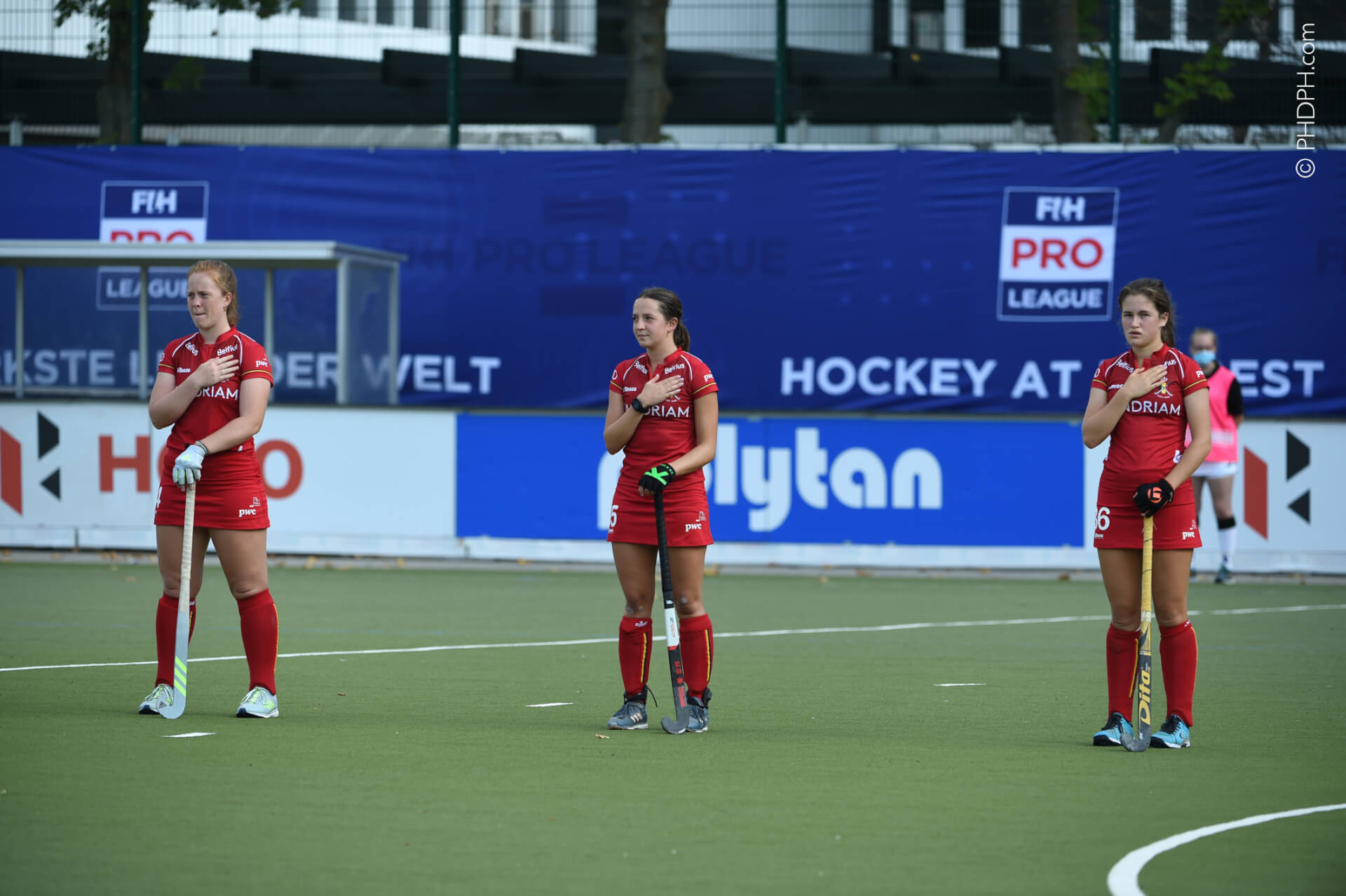 Unfortunately, the integration of new players also means the departure of others.

The Red Panther staff have made the difficult decision to no longer integrate Joanne Peeters into the core of the national team. "We are aware that this is never pleasant news, both on a sporting and personal level. Especially since Joanne has been a member of the Red Panthers for some time. But in view of the upcoming European Championship and the young guard knocking at the door, we have to be honest with her by explaining that we no longer count on her for the future of the Red Panthers " , says national coach Niels Thijssen. "We are extremely grateful to Joanne for everything she has done for the team over the years and for her exemplary mindset! We wish her the best for the future! "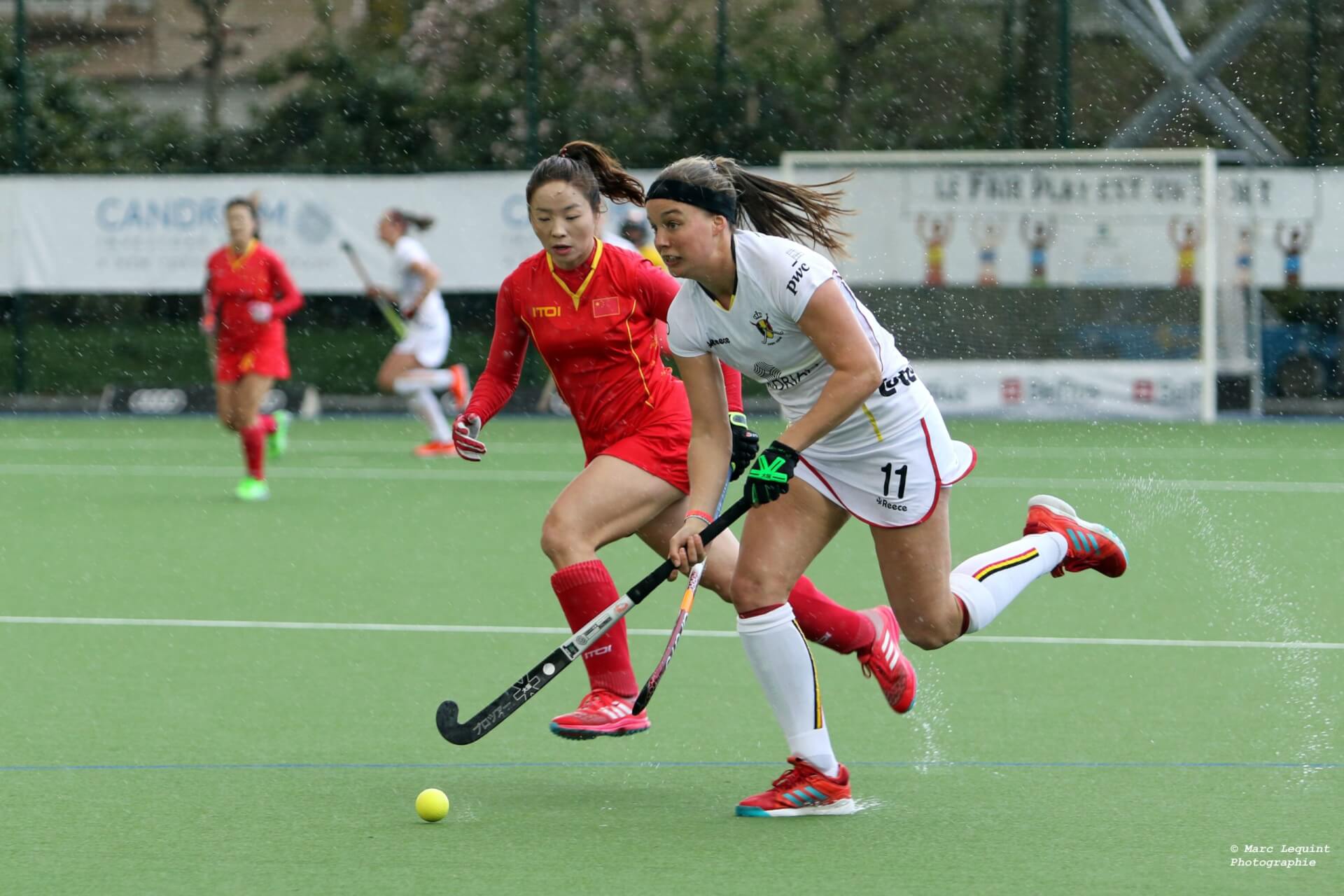 In the coming weeks, the Red Panthers will continue to train in preparation for their next big challenges: the Hockey Pro League in May 2021 and the European Championship in June 2021. And of course this will be done with total respect for the health measures in force.

Hockey World News


---

Promising Signs For Resumption of Hockey Following Govt Announcements



England Hockey Championships

Following the Government announcements earlier today (Monday), there are now signs of what will be allowed during the next return to play. Whilst the headlines are promising there is not yet clarity on the detailed implications for hockey or the nature of what will be allowed in what tier from December 2.

England Hockey have been working with Sport England, DCMS and the other team sports and were able to demonstrate that outdoor team sports can be played safely and with extremely low Covid-19 transmission risks. Indeed, both government scientists and politicians have admitted this in statements in recent weeks. The good work hockey clubs have done in putting in place safe environments, following the guidance and reporting cases has been invaluable in providing evidence to government.

We are now very optimistic that hockey will be able to be played before Christmas in line with Tier 5 of our Return To Play (RTP) guidance, as we were able to prior to the second lockdown. However, as was the case then, restrictions specific to certain areas may well still impact on what is possible.

As soon as guidance on the new tiered alert levels becomes available and the implications can be considered we will issue updated guidance. We hope this will be in the next few days.

England Hockey Board Media release


---

Grassroots hockey given green light to resume




Outdoor hockey in England can return when national lockdown measures are lifted next month following Boris Johnson's statement on Monday.

Hockey and other grassroots sports will be able to restart from December 2, with the first weekend of potential league fixtures set for three days later.

Some leagues across England have already proposed a fixtures restart for December 5, with many questioning the measures given the timeframe of being able to train again after four weeks of lockdown.

From next week, outdoor sporting activities along with both leisure centres and gyms will be allowed to reopen although Parliament is set to vote on plans with government expected to announce on Thursday which areas fall into which tier. There will be some restrictions on highest-risk activity in tier three areas.

"I can confirm the national restrictions will end on December 2. People can leave their home, subject to the rule of six," Johnson told the House of Commons.

"Wedding services, outdoor sports can resume. Leisure can resume. Sports will be able to resume inside in tier one and two with measures on social distancing."

Grassroots hockey has been banned since November 5 under the current Covid restrictions.

On the news that restrictions would be lifted, Ali Oliver, chief executive of the Youth Sport Trust, said: "It will now be important to ensure community clubs have the clear guidance and targeted support they need to get youth sport back up and running as quickly and safely as possible.

"Community clubs are vital to young people fully experiencing and enjoying the life-enriching benefits of sport. This is why we are supporting calls from the sport sector for a recovery fund to protect grassroots sport, ensuring they can afford to re-open and play their part in the young people's recovery."

Meanwhile shadow sports minister Alison McGovern said that plans must be implemented for grassroots sport should there be another national lockdown in early New Year.

McGovern told the Evening Standard: "We are all hoping that both a vaccine and improvements in mass testing enable activity to take place.

"But if it doesn't, what is the plan B for sport? What happens in spring and what happens in summer? Sport needs a contingency plan and it feels, right now, there's no contingency."
---

Meet Izzy Gardiner: Hockey's voice for more state school inclusion

By Rod Gilmour




In a normal, pre-Covid week, 17-year-old goalkeeper Izzy Gardiner would have a training session before preparing for match day with Broxbourne HC. But as an English state school pupil in lockdown 2.0 she currently has no hockey provision and so Izzy took to Twitter to express her feelings for what she perceives as a lack of diversity and inclusion for all in her sport. She was soon thrust to the forefront of one of the most debated issues in hockey.

"The voice of state school hockey players needs to be heard," she wrote. A few hours later young Izzy had become the voice. As she published her post, she originally thought she may get a few comments. Instead, her post resonated and went viral. "It has been madness and overwhelming," Izzy tells The Hockey Paper. "It was nothing like I imagined, especially with some of my idols retweeting and commenting – it has been insane!"

England Hockey have been in touch, while she has conversed with Mikey Hoare, the GB international who was also state school educated and has started a coaching business to help those without access to hockey facilities.

The hundreds of comments and likes on the topic have also underlined that this is a very emotive subject – and a difficult one to untangle due to hockey's infrastructure. This is certainly not just a governing body issue.

"It has been so positive and getting people to talk about it, that's the main thing I wanted to happen," says Izzy, who attends Presdales School in Hertfordshire. "I want state school students to have hopes and dreams – that's what I want to change."



Izzy Gardiner, 17, is Broxbourne Ladies 1s' goalkeeper

Izzy's story is likely shared by hundreds of hockey players; one where she believes she is singled out for being at a state school, her lack of facilities and opportunities leaving her on uneven footing.

"I would go to trials and girls would be like 'I get all this extra training' and I would be thinking I haven't trained all week apart from this. It made me feel quite down about it. Luckily I am motivated and determined so I can get past that but it's not the same for many young players who are thinking they won't be able to achieve as they don't have the same opportunities.

"I'm not against private schools – two of my best friends are privately educated – but state school children need to be able to compete with everyone else."

Naturally, the debate only widens the gap when viewing our sport as a whole. Izzy adds: "There is a stigma around hockey and being classed as a private school sport. I agree it is but the stigma puts people off playing hockey, or only being able to play it if you have a lot of money."

So what does the sport need to do to bridge the gap, The Hockey Paper asks.

Hockey's young campaigner firstly believes that more money needs to be put into secondary schools to have pitches (she says that her school raised money but failed to get the required funding for their own pitch). Secondly, that clubs should play more of a part in the community, with access for state school provision.

Izzy's own hockey career started at primary school on a Friday afternoon where she would play at her local secondary school. After starting out at Broxbourne, she moved to Southgate at under-13 level for a few seasons before getting the opportunity to play national league back at her first club. She swiftly took up the offer.

As a goalkeeper she's clearly not afraid to raise her voice both on and off the pitch. "A lot of people maybe don't want to talk," she continues passionately, "maybe they are embarrassed or don't want to face the fact that they are disadvantaged in some way.

"But let's say I was going for a trial now, I would feel threatened. I would have missed loads of sessions in four weeks. Like Sam Quek said 'practice does make perfect' and without practice you aren't going to get anywhere.

"I love it, hockey is the best thing in the world. But hundreds of people could be lost to the game. That really upsets me. If you don't start on an even playing field, you have no chance."

One thing's certain; Izzy won't just let her viral Tweet remain a lockdown post which briefly caught the attention.

"I really want to push it," she says breezily. "Now I have the support and people telling me the stories, it makes me want it more and I won't give up!"

Get in touch with your news and views by emailing This email address is being protected from spambots. You need JavaScript enabled to view it.
---

MHC hope to get indoor hockey back on track next year

By Jugjet Singh



MHC indoor hockey committee chairman Shurizan Mansor. PIC COURTESY OF MHC

KUALA LUMPUR: It was supposed to be a breakthrough year for the local indoor hockey scene, but instead, it was floored on the playing mat by Covid-19.

The Malaysia Indoor Hockey League (MIHL) was set to make its debut in October this year, only to be called off due to the pandemic.

Indoor hockey received another blow on Friday when Vietnam dropped the sport from their programme for next year's Sea Games.

However, Malaysian Hockey Confederation (MHC) indoor committee chairman Shurizan Mansor is not giving up yet.

"This year's MIHL was supposed to serve as a platform to pick players for the Indoor Asia Cup in May. Following its cancellation, we hope to host the event in the first quarter of next year.

"The Asia Cup is a qualifier for the World Cup, and we hope to get the best players for this tournament."

On Friday, Vietnam finalised their list of 40 stories for the Sea Games with indoor hockey failing to make the cut.

Seven Asean nations had appealed for the inclusion of indoor hockey, but Vietnam stood firm.

Meanwhile, the sister of national women's assistant coach Lailin Abu Hassan passed away yesterday.

The MHC extended their condolences to Lailin and his family in a statement on their Facebook page.

New Straits Times


---

Nasihin sees a timely event in ACT

By Jugjet Singh



Nasihin Nubli. - NSTP/File pic

National women's coach Nasihin Nubli felt the Asian Champions Trophy (ACT) was a timely gift which fell onto his lap.

Postponed due to the Covid-19 pandemic, the Asian Hockey Federation (AHF) have marked the Junior Asia Cup (JAC) down on April 11-17 in Kakamiganara, Japan.

And just before the Junior World Cup qualifier, Nasihin will get a chance to test his youth brigade at the ACT on March 31-April 7 in Donghae, South Korea.

"I have a relatively young squad and when the new dates for ACT were announced (two weeks ago), I felt like this tournament could not have been scheduled at a better date.

"This is because the team will get a chance to spar against the best players in Asia and then head to the JAC to try and qualify for Malaysia's maiden Junior World Cup entry," said Nasihin.

While the boys have played in numerous Junior World Cups, the Malaysian women, placed fifth in Asia for decades, have yet to make their entry and

In Donghae, Malaysia will be up against Thailand, India, China, South Korea and Japan.

Nasihin's only worry is injures.

"We will not set any target for the ACT and go with the tournament flow.

"The end target is the JAC where Malaysia will aim to win a medal and qualify for the first Junior World Cup.

"However, playing against teams like India and China in ACT is really exciting to test where we actually stand among the Asian teams," he said.

At the ACT, Thailand are the only lower ranked team than Malaysia and the plan is to beat al least one of the four Asian giants and try to finish among the top four.

New Straits Times


---

A lifelong love of the game




Abdul Rehman's hockey career began when he first picked up a hockey stick in 1958.

Hailing from Muscat, Oman, Abdul's parents were both hockey players and so encouraged their son to take part in as much hockey training and competitive games as possible. He was also lucky enough to meet several Indian and Pakistan hockey players who were visiting Oman and these encounters served to both help him develop his skills and knowledge of the game as well as inspired a lifelong love of the sport.

Hockey was a popular sport in Oman at this time and, through events such as the domestic club league, the Sultan Cup, and school tournaments, Abdul had ample opportunity to play the sport he loved. Eventually, his dedication to training and skill development meant he was selected for the Oman national team.

Over the years, Abdul transitioned from player to umpire and eventually coach. Over his long coaching career, thousands of young Oman players have benefited from his knowledge and passion for the game.

He added a new skill to his repertoire when, in 2001, the Oman Hockey Federation selected him to be manager of the Oman National Team.

The Rehman hockey dynasty continues with Abdul's sons. All four sons are hockey players, with Khalid al Raisi an assistant coach of the Oman national team, and Marwan al Raisi is a member of the Oman national team.

Tayyab Ikram, chief executive of the Asia Hockey Federation says: "During his career, Abdul Rahman has whole heartedly given himself to volunteer and charity work. He has distributed hockey sticks free of cost to the young players on multiple occasions. He also trains young players in hockey completely free of charge!"

For the future, Abdul Rehman plans on establishing a hockey training academy or school where young players will be trained free of cost in Oman.

FIH site


---

Dual roles for Nonnie




Nonhlanhla Mtolo, who is also known as Nonnie in South African hockey circles, started volunteering in 2016 and in that time has become an expert in both team management skills and the demands of being a tournament Technical Official.

The South African started her volunteering career in 2016 when she was a judge for the Varsity Hockey tournament at the University of Witwatersrand in Johannesburg, universally known as 'Wits'.

This bi-annual hockey event, which features the top eight university hockey sides in the country, is a true showcase of university hockey in South Africa. A huge number of varsity hockey alumni going on to represent South Africa on the international stage. The event provided a big platform on which Nonhlanhla started her volunteering journey.

Following the Wits event, Nonhlanhla took up a role as the U14 D Southern Gauteng Schools Team Manager, organising and caring for the young players in the provincial hockey calendar of events. She undertook this responsibility for two seasons – 2016 and 2017 – before taking her considerable organisational skills into team manager roles with the U16s, the U18s and the Southern Gauteng Women's Indoor Team.

While continuing with her volunteering roles on the domestic hockey scene, Nonhlanhla has also made the step into international volunteering. She was Ball Patrol Manager at the FIH World Hockey League finals in Johannesburg in 2017 – a crucial job that involves managing the team of youngsters who ensure the game runs smoothly and without delay.

She has continued to manage ball patrol teams at the Premier Hockey League in South Africa every year since.

Nonhlanhla's big break came in 2018 when she was appointed Technical Official for the U21 Inter Provincial Tournament. It was a role she repeated for the African Youth Games in Algeria. In 2019, she was Technical Official for the South Africa v Namibia series and in 2020, for the South Africa v Germany series.

Talking about her dual volunteering career as a Team Manager and Technical Official, Nonhlanhla says: "I am passionate about both aspects of the game and feel really privileged to be able to do both. I've been lucky enough to learn from one of the greats, Josie Milella. The experience and passion she has for the game is immeasurable and she definitely someone I look up to and feel honoured to work with."

FIH site


---

Staff Departure: Hugh Purvis, NextGEN Director

Hugh Purvis departs after two years as the Men's NextGEN Director with Field Hockey Canada




Field Hockey Canada is announcing the departure of Men's NextGEN Director, Hugh Purvis. Purvis is moving back to his home country of Australia after spending over two years in Canada working with Field Hockey Canada.

Purvis took the role of Men's NextGEN Director in the fall 2018 and has since built and refined the Canadian NextGEN landscape. Moving from Australia to Quebec, he used his knowledge of high-performance environments to elevate the on and off-field experience for junior and youth identified athletes. He has built a connected network of athletes, coaches and support staff in the NextGEN space and has worked tirelessly to offer quality competition and training opportunities. Hugh Purvis said he thoroughly enjoyed his time working with the staff and athletes at Field Hockey Canada and wishes the group nothing but success going forward.

"I feel privileged to have worked with some very dedicated and talented staff. The NextGEN program has gone through a number of positive developments and I'm excited to see the future achievements this crop of athletes can achieve," Purvis said in an outgoing interview.  

I am grateful for the opportunity Field Hockey Canada provided me to lead the Men's National Team in our return to play following the Covid pandemic. I am excited to see where the new strategic and technical leadership take the organization and I wish all Men's National Program staff and athletes all the best in their 2021 Tokyo campaign."

On top of his responsibility to the NextGEN program, Purvis also supported the Men's National Team as an assistant coach and video analyst. Most recently, Hugh has been the interim Head Coach of the Men's National Team during the COVID-19 pandemic period. He spearheaded safe return to play for the national team programs and has been critical in the MNT training environment. According to Field Hockey Canada CEO Susan Ahrens, Purvis was a perfect fit and someone who departs with a great legacy.

"On behalf of everyone at Field Hockey Canada, I would like to thank Hugh for his contribution to the Men's National Program over the past two years. Hugh leaves the NextGEN program well structured, well–staffed and well positioned for continued success," she said. "His legacy is a group of outstanding young athletes coming up through the system who will be the podium contenders of the future. Our best wishes to Hugh and his fiancé, Pil, for their future together back home in Australia. Thank you, Hugh."

Hugh has been an integral part of Field Hockey Canada's growth and development over the past two years. His professionalism, good natured attitude and commitment to his programming has elevated the organizational environment. We are thrilled to have had Hugh on board and wish him all the best in his future endeavours.



Hugh's last practice with the Men's National Team. Thanks, Hugh! / Photo FHC

Field Hockey Canada media release


---

O'Flanagan aiming to inspire schoolkids as part of Dare to Believe campaign



Team Ireland player Anna O'Flanagan pictured at the Sport Ireland Campus in Abbotstown, Dublin. Picture: Eóin Noonan/Sportsfile

Anna O'Flanagan, Roisin Upton, Nicci Daly, Shirley McCay, Emma Buckley and Shane O'Donoghue are among 25 athlete ambassadors for Sport Ireland's Dare to Believe which aims to bring Olympic stars into the classroom.

The brainchild of 2008 Olympian Roisin McGettigan, the campaign is now in its second year with O'Donoghue playing a part in the first edition, bringing the Olympics into the classroom for over 5,000 children nationwide.  

The school activation programme, championed and supported by the Olympic Federation of Ireland Athletes' Commission, will expand significantly in 2021 with 16 new ambassadors.

Run in association with FBD, will teach primary school students about Olympic Values and Olympism through a curriculum that includes over 40 of the approved education methodologies with each ambassador delivering their personal stories.

For O'Flanagan, speaking at the launch of the programme's expansion, she cannot wait to share her story: "I never had that opportunity as a kid sitting in a classroom and getting to meet someone. I thought of how it would have made my school year to have someone come in and tell me about their Olympic journey.

"I want to get every girl in a classroom to see us and aspire to achieve something, whether it is in sport or in other ways of life. As a young girl growing up, my role models for team sport were all male. That's not because they didn't exist; I just didn't have access to them."

The Muckross player-assistant coach is hopeful her Olympic journey is revving up once again after a tough summer, not knowing whether her dream was going to be fulfilled.

But the mood music continues to be positive that Tokyo 2021 will happen and she will do everything she guarantee her spot on that flight.

"I've trained on the Irish team for 10 years and every day, my goal has been to get to an Olympics. In April, I thought that goal was going to be ripped from my hands and just be gone.  

"Now, it's back on the table, yes, it could be a different setup but I feel extra motivated now to get there, compete and do the best we can.  

"If the Olympic Games was down in Muckross Park tomorrow, I wouldn't care. I'm told the frills are great and I am sure people will tell us what we miss out on but, as athletes, we don't care!"

To that extent, it has meant an extended career-break. Since returning from the Netherlands with Bloemendaal and Pinoké, she has taken time out to fully focus on her hockey. With the Olympics moving back a year, it did put her in a tricky position.

"You are looking for a job facilitating around your training. For me, it's hard to get right now because the job market isn't what it used to be, particularly finding someone who is flexible around your commitments.  

"It's something we are struggling with. Before Covid, companies were able to support athletes a bit better and bring them on part-time contracts. Now, it's more difficult."

However, while a couple of her Irish team mates have indicated plans to finish up with the Green Army after Olympic year, O'Flanagan says being able to pursue both simultaneously is possible and something she has done before with McCann Fitzgerald and is keen to combine again.

"Lockdown did give us all more time to reflect on what we are doing and what we want to achieve. The Olympic has always been a goal of mine, to get there and then to compete. I am also ambitious in my career.  

"I think they can go side by side if you find the right combination as I have done before, both in Ireland and Holland.  

"For me, I don't want to set a deadline on my career and say this is when I will finish X and start Y. I want to try and stay in it as long as I can; if my body or mind gives up, then a decision will need to be made or if the coach decides it is not for me anymore!  

"At the minute, I have no set plan. I love playing hockey for Ireland, I would love to combine it with a career and I hope things will break for me over the next few months."

For now, though, training forms her singular focus – a different kind of setup but one which O'Flanagan feels is making the best of the current situation.

The squad re-formed early in the summer on a regional basis and have been given the chance to train all together since July on Mondays and Tuesdays with some players staying in hotels near Abbotstown. Their famous social activities have been significantly curtailed, however.

"It's the little things around the pitch from the dugouts to the changing room access – there's no meetings, there's no lunch or coffees together. All the frills have been taken away.  

"We arrive at training, put our stuff on at the car, get our temperature checked and then go to pitch and then leave at the end. Everything else we can do, we do online.  

"For anyone who know us, the fun side is a big part of us. It's definitely been a struggle because there isn't that interaction between trainings; we're not all in a hotel together, we don't have a cup of tea or our meals together.  

"We have made an effort to do fun things at the start of training, small games to get the energy up and people excited to be there!"

"[In that environment], at the beginning, it was really hard with the uncertainty about the Olympics and the state of the world in general.

"But with the communication from the IOC that the Olympics is set to happen, that has given the squad the motivation again and that's picked people up. Hopefully, the thought of a slightly different 2021 is keeping us all going."

The Hook


---

Wapda awards Rs1m to its title winning hockey team




LAHORE   -  Pakistan Wapda honoured its hockey team for winning the National Hockey Championship title by awarding a cash prize of Rs 1 million during a ceremony hosted by Wapda Sports Board here at Wapda House on Monday.

Chairman Wapda and WSB Patron-in-Chief Lt Gen (r) Muzammil Hussain was the chief guest at the ceremony, who presented the cash award to players and the management. Wapda Member (Finance), Member (Power), Member (Water), MD (Admn)/WSB President, Secretary Wapda and WSB senior officers were also present on the occasion.

With emphatic win in 66th National Hockey Championship, Wapda now holds the rare honour of being men's, women's and junior's national champion simultaneously. Addressing the ceremony, the Wapda chairman congratulated the hockey team on their brilliant performance in the recently-concluded championship, as the team managed to win the men's title after nine years.

"Wapda, as an organization, has been promoting sports in Pakistan by providing facilities to its players and taking measures for their well being," he said and added: "The lesson for struggle in life can best be learnt from sports, which is a virtue and essential for any country, organization or individual to overcome the challenges. Together with enthusiasm and commitment, we can excel in all walks of life including sports."

Wapda has been playing a phenomenal role for promotion of sports in Pakistan for the last 60 years. Its players have not only been showing their class at the national level but also bringing laurels to Pakistan in international competitions. At present, Wapda is winner in 35 disciplines (men-19, women-16), and runners-up in 19 games (men-12, women-7) in national championships. Wapda is the biggest employer of sportspersons in Pakistan, as more than 2,200 players and sports officials are associated with various units of the WSB across the country while it has 66 teams – 37 men and 29 women – of different games.

The Nation


---

Dar Hockey Academy`s Awesome Presence at National Championships

By Ijaz Chaudhry

Pakistan`s 66th national hockey championships concluded at Rawalpindi`s MPCL ground on November 20th. WAPDA dethroned the reigning champions National Bank of Pakistan in the final In the 3rd position play off, Sui Southern Gas Company defeated Navy.

These four teams had made it to the last four from a 10 team league round where all the teams played each other.

Lahore based Dar Hockey Academy, which grooms talent scouted from all over the country, is easily the best nursery of the game in Pakistan.

As in last many nationals, a number of academy boys were seen in action this year. 26 of them appeared for seven teams in this final round of the National Championships.

Remarkably the Dar Academy studded teams occupied the top seven positions at the end of the league phase.

1. WAPDA: Five Dar Academy Players (Ajmal Butt, Waqar Younis,Sikandar, Aleem Bilal, Hammad Anjum)
2. SSGC: Four (Adeel Lateef, Adnan, Rana Sohail, Rizwan)
3. National Bank: Five (Aamir, Bilal Qadir, Abid Bhatti,Arslan Qadir, Faisal Qadir)
4. NAVY: Two(Asad Aziz, Zulqarnain)
5. MPCL: Seven (Mohsin, Wasim Akram, Asif Hanif, Aqeel, Abdul Rehman, Awais Arshad
& Murtaza Yaqoob)
6. PAF: One (Ibrahim Khan)
7. Punjab: Two (Gul Sher Khan, Saad)

It is worth mentioning that MPCL, PAF and Punjab had qualified from the 10 team second tier Tray Championships held in Lahore in late October.

By finishing among the top seven, these three sides retain their place in the next National Championships` Main round, while two or all three of the bottom teams 8-10(Army, Port Qasim and Police) in the National Championships will be relegated to the Tray competition.

Ijaz Chaudhry writes on hockey & other sports. For more about him and his work, visit: www.sportscorrespondent.info

Fieldhockey.com