All the news for Sunday 22 November 2020

"Enlarge Camp probables' list for quality", says World Cupper Jasjit Singh




Jasjit Singh Kular, former India player, comes from a family of doctors. Jasjit also appears to possess the ability of diagnosis – at least when it comes to an ill plaguing the sport in the country. The 30-year-old, not in the zone of national team reckoning after being sidelined by an injury in 2018, believes that selection to the National squad must be broad based.

"We must expand the core group from 30-35 to about 70-80," he said from Jalandhar where he lives.

"It will help create competition for places in the team and keep the players who have played for 5-6 years for the country on their toes. Some players in the national team take their places for granted because the governing body seems to go by names and reputation rather than form and ability. Selections by and large are done by watching the senior national championships. It's but natural that new players are somewhat behind the existing core group in terms of skills, ability, tactics and fitness. "They lose out when it comes to the final selection of the India squad as established names get the nod yet again."

"If these new players are given a chance to develop and if their numbers are increased, we could have healthy competition for places in the team and that would mean the regulars would have to prove themselves all over again."

Jasjit sparkled in India colours at the 2014 World Cup in The Hague, Netherlands, and at the HWL a year later. He scored two goals from drag-flicks against Malaysia in the World Cup that helped India notch their only victory.

Early in his career, he showed promise as a forward but moved to the midfield before finding his true calling as a defender, doubling up as a drag-flicker. Jasjit is also a late bloomer but one who took rapid strides. He took to hockey with focus and intensity only in college as an 18-year-old.

Jasjit caught the eye when representing Guru Nanak Dev University at the All India Varsity championship and it is commendable that he did so despite not attending a hockey academy or participating in any of the sub-junior or junior national championships.

"I picked up skills and tactics on my own as my family frowned upon me joining a hockey academy," he explained. "Players at these academies focus on their hockey and neglect studies and my family didn't want my studies suffering in any way," Jasjit said.




He joined the national camp in Pune in 2011 and remembers being called up for the 2014 World Cup squad as his most memorable moment. "I had suffered an injury a little before the selection and it sidelined me from tournaments. I wasn't sure of my chances but the coach (Australian Terry Walsh) stood by me and I travelled to the The Hague."

Another great memory was winning the 2016 HIL title with Jaypee Punjab Warriors.

"I can't forget how hard we trained and the bonding within the team along with the foreign players," he said. A not-so-happy-moment, however, arrived in 2018 when he sustained a knee injury at the Sultan Azlan Shah Cup. Jasjit found himself out of the team and vividly recalled the explanation by then head coach, Dutchman Roelant Oltmans.




""I needed a mentally stronger player" were his exact words, Jasjit recalled, somewhat remorsefully.

Sadness also surrounds Jasjit's village Sansarpur near Jalandhar. "It was once a hockey nursery but it isn't anything such now. "There's no trace of hockey there and I was the last player from Sansarpur who played for India. Before me, there wasn't anyone from the village who played for the country for more than a decade," he said. "Some famous names like Ajit Pal Singh and Col. Balbir Singh Kular were among 14 who donned India colours and did the village proud."

There's a hockey lineage in his family with his father, grandfather and great grandfather having wielded the stick. "My sister Chrisinder Kaur played at the national level for several years but is now a doctor in the army, a profession shared by her husband," Jasjit revealed.

Jasjit, now employed by Northern Railway eyes the Senior National Championships early next year to stage a comeback to the squad when he represents Indian Railways.

Stick2Hockey.com


---

Balbir Singh Sr: The silent jewel in Indian hockey's golden crown

Three-time Olympic gold medallist and Indian hockey legend Balbir Singh Dosanjh overcame a lot to reach the pinnacle but also gave plenty back to the sport.

By Rahul Venkat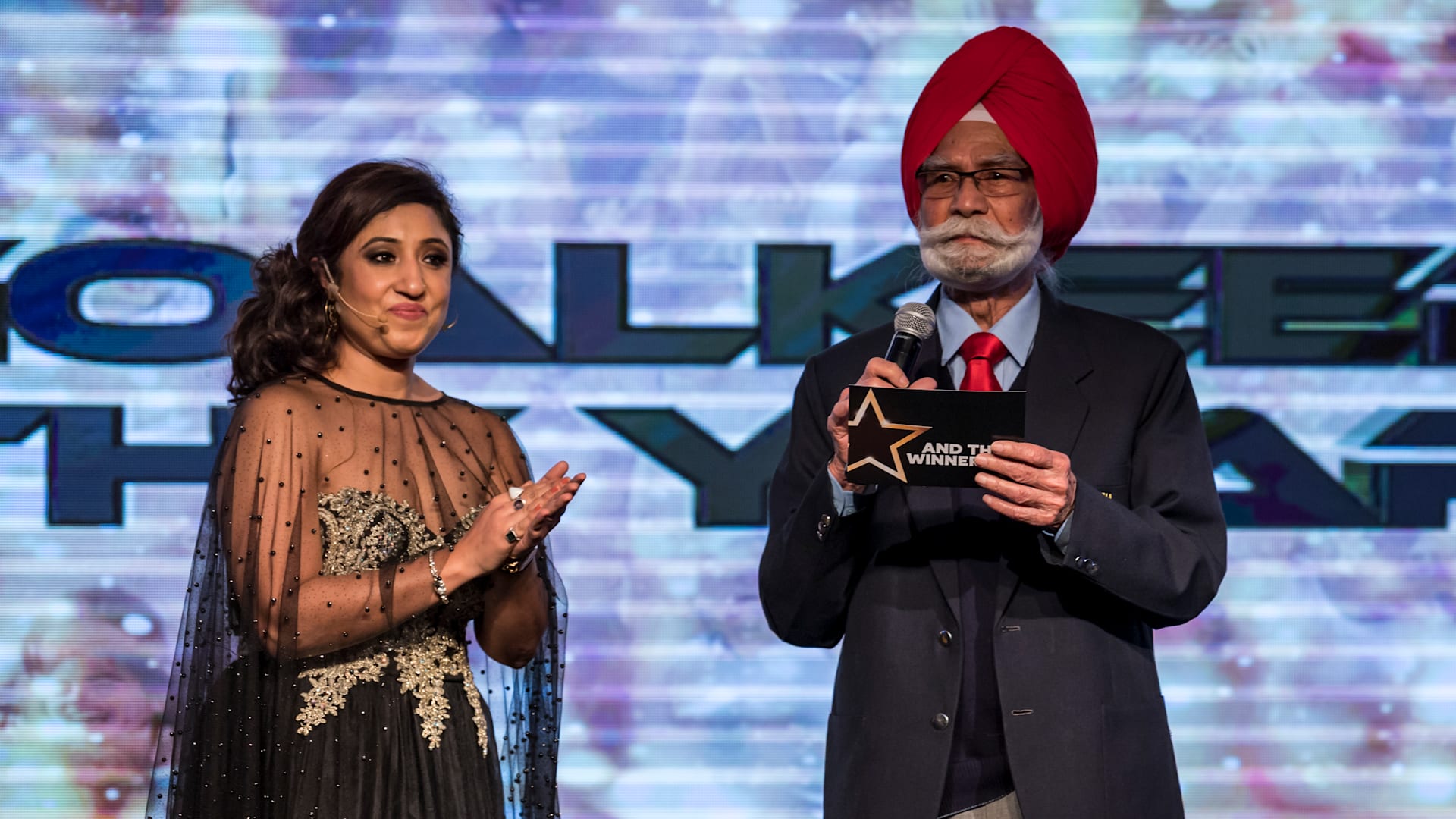 Any discussion on Indian hockey invariably steers towards the glory years of yore when the Indian men's hockey team seemed like indefatigable winners, triumphing in six consecutive Olympics from 1928 to 1956.

While it was 'The Wizard' Dhyan Chand who played a starring role in the Indian national hockey team's first three Olympic golds pre-independence, the architect of the other three was none other than Balbir Singh Dosanjh.

Balbir Singh Senior, a three-time Olympic gold medallist, still stands as one of India's most revered hockey legends and probably the only player whose name is uttered in the same breath as Dhyan Chand's in the Indian hockey folklore.

"It was destiny which helped me to achieve all I did during my career," Balbir Singh Sr. had summed up his accolades in an interview with The Hindu.

Finding gold amidst the partition chaos

Born in Punjab's Jalandhar district on December 31, 1923, Balbir Singh's fascination with hockey took root early.

After watching India win its third Olympic gold at Berlin 1936, Balbir Singh, then just 12-years-old, decided that hockey was the sport he wanted to make his mark in.

Six years later, Balbir Singh moved to Amritsar where Harbail Singh, the Indian hockey team coach at the 1952 and 1956 Olympics, spotted him and thus began his hockey journey.

As a 20-year-old, he was 'arrested' by the Punjab Police, not because he was involved in illegal activities but because they wanted Balbir Singh to play for them.

"My father and uncle were revolutionaries, the police were loyal to the British. How could I have joined them?" he told The Times of India years later.

Balbir Singh witnessed first-hand the horrors of India's partition as the state of Punjab was divided and poverty and violence engulfed its villages. Post-independence, most of his team-mates became citizens of Pakistan overnight.

He faced multiple obstacles to get to the London Olympics in 1948. The striker was not included in the original 39-man squad list as the authorities 'forgot' about him and made it there only on the insistence of Dickie Carr, a member of the 1932 Olympic gold medal-winning team.

Once in the reckoning, Balbir Singh made it to the final 20-man Indian hockey squad for the Olympics, but inter-team dynamics saw him banished from the playing XI in the first match. Only an injury to Ronnie Rodrigues saw him take the field against Argentina and he stepped up in style with six goals in a 9-1 win.

However, Balbir Singh was again axed in the third game and had almost entered the field for the semi-final before he was informed that he would not be playing. A few medical students took offence to this and their protest to the Indian high commissioner in London is what got him into the team for the Olympics final.

Balbir Singh scored two more goals in the final at the Wembley Stadium, against Great Britain no less, to help the Indian hockey team secure a 4-0 victory and their fourth Olympic gold. The win, and more importantly, the pride gave him an unprecedented high.

"For the first time in 1948, the tricolour was hoisted at the top of the world. As the flag was going up, I felt as if I was going up too. Then I realised, no, I am on the ground. I still remember how it felt, as if I was going up as well. I felt as if I was flying," Balbir Singh had told ESPN.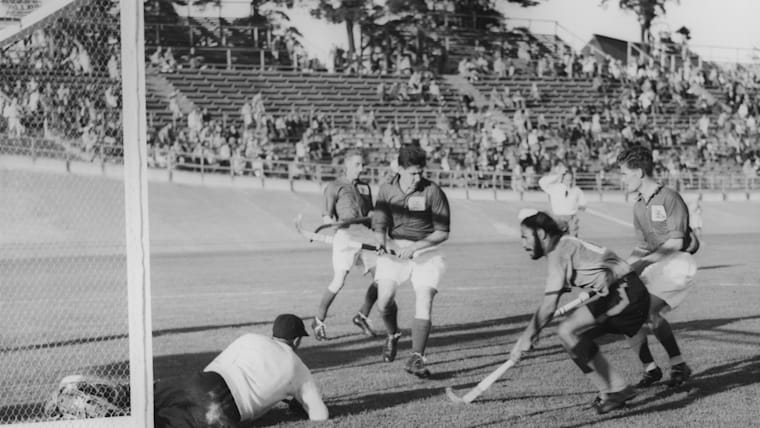 Balbir Singh in action during the hockey semi-final of the Helsinki 1952 Olympics.

An Olympic final record

By the time the next Olympics rolled around in 1952, Balbir Singh had become an integral part of the Indian hockey team and was named vice-captain to KD Babu for the Helsinki Olympics. He was also the flag-bearer for the Indian contingent.

"Finland is the land of the midsummer nights. The first night was terrible for us; the glare in the open window would not give us sleep. We adjusted to the odd sight of the sun shining in the night by downing our shutters and darkening our rooms with heavy curtains," Balbir Singh wrote in his memoir, The Golden Hat Trick.

A disturbed sleep cycle aside, the 1952 Olympics was where Balbir Singh was truly recognised as the heart of the Indian hockey team as he scored nine goals, including a hat-trick each in the semi-final and final.

In fact, Balbir Singh's five goals in the 6-1 win in the final against the Netherlands broke a 44-year record for most goals in an Olympic final and it still stands almost seven decades later.




In Melbourne 1956, Balbir Singh was named captain. He was not as prolific as before -- Udham Singh took the top scorer's honours with 15 goals - but the brave forward soldiered through a fracture in his right hand to help India win the final and secure a sixth Olympic gold.

It also completed India's second hat-trick of Olympic gold medals in hockey and the first as an independent nation.

The love affair with hockey

Balbir Singh became the first sportsperson to receive the Padma Shri, India's fourth-highest civilian honour, in 1957 and went on to win silver at the 1958 Asian Games, only conceding the gold to Pakistan on goal difference.

Though he did not play another Olympics, Balbir Singh's love for hockey saw him take up coaching after retirement. He guided the Indian hockey team as the sport expanded beyond the Olympics.

He managed the Indian hockey team to bronze in the 1971 Hockey World Cup and then was at the helm for their only Hockey World Cup win to date in 1975. In between, he also came to be known as Balbir Singh Sr. after three other Balbir Singhs were part of the bronze-winning team at the 1968 Olympics.

Balbir Singh Sr. breathed his last aged 96 on 25th May 2020 but is survived by a doting family and an insatiable desire that one day Indian hockey will reclaim the lofty heights to which he once guided it.

"My wish and prayer is that India will get back to the top of the pedestal once again at the 2024 Games in Paris. I will be 100 then!" he had exclaimed.

While he may not be around anymore, fulfilling that wish would be the best possible tribute to a bonafide great of Indian hockey.

Olympic Channel


---

Former Hockeyroo calls for independent review into team culture




Reports in Australia suggest that the Hockeyroos are embroiled in a toxic culture within the women's programme.

Paul Gaudoin, the Hockeyroos coach, recently denied that problems existed within the squad after reports surfaced in recent weeks following the resignation of three co-captains.

Georgina Morgan and Emily Chalker removed themselves as captains, while Jodie Kenny announced her retirement from international hockey last month.

Nicole Arrold, the two-time Olympian, recently called for an independent review of the Hockeyroos set-up after claiming poor culture problems dating back a decade.

Arrold, a former assistant coach, said that management was "chaotic" while there was a lack of clear direction over a span of three Olympic Games.

Gaudoin admitted to AAP that he had missed meetings with players after Arrold said there was a "lack of care and respect" towards the players, but denied any negative environment.

He told AAP: "For us it's been a really important part after Rio to come in and make sure we've got people who are feeling supported within the program."
---

Good day for Gordonians in an excellent North Conference game week




Gordonians had a good day, both their men`s and women`s sides notched victories, and although they are still three points behind the respective North Conference leaders, they are as yet two games behind.

Gordonians women showed their credentials as a Premiership outfit with a five goal victory over District League leaders Ellon at Countesswells.

It was certainly not a foregone conclusion at the interval with the home side only a goal to the good, but the second half certainly belonged to Gordonians with four further goals for a solid victory. Sophie Conrad was top scorer with a double while the other goals came from Anna Warnock, Katie Robson and Rebecca Murray from the spot.

In a review of the contest Murray said: "I would say we dominated most of the match, with some good and sustained pressure throughout, although Ellon had some good counter attacks though.

"We ended the match pleased with a good performance, having played some nice hockey in the right areas of the pitch."

Ellon captain Louise Gordon added her views on the contest. "They put out a really strong team and we were missing players due to injuries from last week.

"It was only 1-0 at half-time, then lost it in the final quarter. Our team consisted of five under-18s and they stuck in and did us proud.

"As always it was a good experience playing against a Premiership team."

In the other game Granite City Wanderers secured their second successive victory with a 2-1 win at Aberdeen University, Mia Kennedy was the students` scorer.

Gordonians moved to within three points of the lead at the top of the men's North Conference table with a 3-2 win over Granite City Wanderers, and they have still two games in hand of their opponents.

The hero of the hour was Robbie Wallis with a well-taken double, one following an impressive solo run. John Hamilton got the other to give Gordonians a comfortable 3-0 lead going into the final quarter. Granite City were far from out and towards the end of the contest Josh Laurence pulled two back from penalty corners, but Gordonians held on for the three points.

In the other game Aberdeen Grammar FPs gained their first points of the season with a 2-0 win at Ellon. It took to just before the interval before Aberdeen eased in front courtesy of a clinical strike from the top of the circle from Kieran Christine.

Aberdeen had most of the possession but failed to score from a series of penalty corners, that is until Stephen Malloy finally convert from the set piece when his flick crept over the line to seal a tight contest.

Scottish Hockey Union media release


---

Sport teams using app to stay fit and keep connected




Teamo, the team and club management platform, has launched a new feature to keep sport teams engaged during lockdowns.

In a bid to motivate players, Teamo FitLeague is designed to keep everyone connected and to push players to stay active.

FitLeague works by syncing with Apple Health or GoogleFit. If players have fitness trackers or mobile apps, these can link with Apple Health or GoogleFit so everyone can be involved.

Teamo, a product of Sportplan, offers an "all-in-one" online team management platform and mobile app for sports teams and clubs of all sizes and age groups.

More recently, the platform was enhanced to help clubs and teams return to sport safely in line with Covid-19 guidelines.

Sportplan CEO, John Nurse, said the latest feature can really help clubs to stay in touch not only during times of social distancing but also during the off-season or over the festive period.

"Teamo's latest addition makes it easy for players to stay fit and engaged when they can't be together. The activity tracker allows for a better player-coach feedback loop when training is not taking place and everyone is accountable for their own training."
---

How the IHF was born

BY DILJIT SINGH BAHRA




Hockey in India was vibrant even in the last quarter of  the 19th century. The sport proliferated the length and breadth of the country. From Srinagar to Chennai, Lahore to Dhaka and even from the far fringes of Peshawar came teams to participate in a surfeit of tournaments like the Beighton Cup, the Aga Khan and the MCC tournament to name a few. It was only a matter of time, then, that a national governing body would be formed. This Part VI in the Series, dwells on this defining moment for hockey in India – Editor

The first attempt at forming a national association took place in Calcutta (now Kolkata) around 1907. The move was revived in 1921 by Charles E Newham, who founded Punjab Hockey Federation.  He was its first president, ably assisted by Guru Datt Sondhi, later principal of Government College. Newham and Sondhi were both educated at Cambridge University in the UK.

The environment at that time was that various hockey organisations, provincial, regional and institutional, were being founded all over India. Associations like Bengal, Western India and Punjab only controlled hockey in their local towns. Their main functions were to organise in their towns the All-India tournaments, to which teams came from all over the country. They had no jurisdiction over the visiting teams, and if, as sometimes happened, a player was suspended for rough play, there was nothing to prevent him from playing next day in a tournament organised by another province, even if it happened to possess an association.



The opening page of the IHF Constitution

In November 1924, during the Scindia Gold Cup tournament in Gwalior, at the request of the now defunct Western India Hockey Association, Lieutenant Colonel Charles Eckford Luard CIE, then President of Gwalior Sports Association, addressed all hockey associations, clubs and individuals interested in the game. He invited them to a meeting in Gwalior during the Scindia Gold Cup tournament the following year.

Colonel Bruce Turnbull representing the Army Sports Control Board attended that meeting in November 1924 and succeeded in getting his draft of constitution accepted. This draft was sent out to the various hockey playing centres, informing them of the proposed meeting in 1925.

The inaugural meeting of the Indian Hockey Federation was held in the Moti Mahal, Gwalior, on November 7, 1925 during the Scindia Gold Cup tournament and lasted four hours during which various matters of importance were thoroughly examined.

Many representatives of individual clubs were present and the following provincial hockey associations were represented as follows:




Army Sports Control Board by Colonel Bruce Turnbull,
Bengal by Albert Barmes Rosser
Punjab by Charles E Newman,
Western India by Battacharjee
Gwalior by Professor Gangulee,
Other Punjab representatives were Professor Guru Datt Sondhi on behalf of Punjab University, and Mr Smith on behalf of North-Western Railway.

Colonel Kailas Narayan Haksar, CIE, President of the Gwalior Sports Association, was in the chair. He proposed a formal resolution "that a Central Association for the control of hockey be created for India". The motion was passed unanimously.

Haksar had became a minister in the Gwalior State and then in the J&K Govt.

Colonel Haksar had already expressed his opinion that for the purposes of voting only those should be eligible who were present as accredited representatives of provincial associations, but a very long discussion ensued, which resulted in permission for all present to record their opinion by vote, thereby placing provincial representatives very much in the minority.

An equally long discussion followed as to where the headquarters of the Central Organisation should be situated, and the only agreement attained was that it must be where an honorary secretary could be found willing to do the spade work for the first year. It was eventually decided that the headquarters should be regarded as temporary for the first year. Gwalior was strongly supported by the local representatives, and Delhi or Cawnpore by northern delegates, while Mr Rosser suggested Calcutta, and would have met with much support had he been able to undertake the duties himself.

Mr Newham proposed, and Mr Smith seconded, that Mr Lovell Hudson, of Lahore Gymkhana, should be elected temporary secretary and this was supported by Colonel Turnbull and Professor Sondhi, but the local representatives were too thickly mustered in favour of Mr Ansari of Gwalior. The chairman ruled further discussion out of order, and by the majority vote of the meeting Mr Ansari was appointed to carry on for the current year, with headquarters at Gwalior. There wasan effort to compromise by suggesting that Messrs Rosser and Ansari could be appointed as joint secretaries for one year but that motion failed.



Bruce Turnbull, seated third from left, was elected first president of the IHF in 1925

Colonel Bruce Turnbull who had served and played hockey for the 23rd Sikh Pioneers (pic above) since 1901 was elected President.

As the majority of the work is to be done by provincial associations, it was unanimously decided that the name of the Central Organisation should be the "Indian Hockey Federation."

The draft rules were then scrutinised one by one and, as finally amended, passed by the meeting. It was decided not to proceed with an umpires' organisation for the whole of India, as it was largely a provincial matter.

Two important rules were included in the general code as follows:

No affiliated club, nor any player or member of such club, shall institute, or take part in any hockey challenge cup, or prize, competition, unless such competition:
(a) Has been sanctioned by the council, or by a provincial association; or
(b) Has been sanctioned by the body recognised by the I.H.F. as controlling hockey in that area; or
(c) Has received the special sanction of the council of the I.H.F. in the event of there being no controlling body in the area.

Any players receiving, directly or indirectly remuneration of any sort, in addition to his railway (or road) fare and necessary accommodation expenses actually paid, shall be considered a professional, and shall be excluded from the provincial association concerned. Any club playing such players shall also be so excluded. Training expenses which are not paid by players themselves will be considered as remuneration beyond necessary travelling and accommodation expenses.



Medal awarded for the Scindia Gold Cup winners

The Indian colours were also decided; blue shirts with white sleeves and collars and the star of India on the pocket was decided. Others include dark blue shorts, dark blue and light blue ringed stockings, white sweaters, dark blue and light blue striped scarves, dark blue blazers with the star of India on the pocket.

The control of hockey in India was vested in the Indian Hockey Federation which in turn decentralised to the various provincial hockey associations. Other smaller states and the Army Sport Control Board (India) were also affiliated to the I.H.F.

Major Ian Burn-Murdoch of 32 Sikh Pioneers followed Colonel Bruce Turnbull as President of Indian Hockey Federation from 1927 to 29. He was responsible for selecting the team for the Amsterdam 1928 Olympic Games. T P Gately was elected as secretary in 1927 and the headquarters moved to Delhi.

The I.H.F. as an institution enabled India channel its myriad talent into a supply line to the national team which paraded its wares at the 1928 Amsterdam Olympics.
The Games there set the stage for a new order that was to present an indomitable force that would rule for more than three decades evinced by a haul of eight Olympic gold medals and a World Cup title.

Poignantly, that institution no longer exists. The I.H.F. was sent into oblivion in 2008, less than a century of its inception.

For all that, the I.H.F. cannot be ignored in any historical treatise on the sport in India. After all, it launched hockey as a sport that, for quite a while, was considered synonymous with the country itself.

Stick2Hockey.com


---

GB Hockey Olympian Helen Morgan passes away, aged 54




Great Britain Olympian Helen Morgan (Grandon), who as a goalkeeper won bronze in 1992, has lost her battle against cancer. She was 54.

Nicknamed 'Budgie', Morgan was part of the first ever GB women's squad to win an Olympic medal, securing silverware at Barcelona '92.

The Welsh keeper was also an integral part of Swansea Ladies and made history by becoming the youngest ever player to play in the European Club Championships.

After the 1992 Olympics, she was scouted by the Welsh women's football team and captained the team for two years.

On retiring, she followed her father into coaching where she helped the younger generation in the Portcawl region.

"Off the field you could not meet a humbler and kinder person, known for her smile and infectious laugh, with a mischievous twinkle in her eye," Swansea HC wrote on social media.