All the news for Saturday 30 October 2020

2020 FIH Pro League - 30 October

2020 FIH Pro League (Men)

27 Oct 2020     NED v GBR (RR)     1 - 0     Wagener Hockey Stadium, Amstelveen
29 Oct 2020     NED v GBR (RR)     3 - 1     Wagener Hockey Stadium, Amstelveen

Upcoming

31 Oct 2020 16:30 (GMT +1)    BEL v GBR (RR)     -     Royal Uccle Sport, Brussels    
1 Nov 2020 16:30 (GMT +1)     BEL v GBR (RR)     -     Royal Uccle Sport, Brussels

2020 FIH Pro League (Women)

27 Oct 2020     NED v GBR (RR)     1 - 1 (3 - 1 SO)     Wagener Hockey Stadium, Amstelveen    
29 Oct 2020     NED v GBR (RR)     3 - 0     Wagener Hockey Stadium, Amstelveen

Upcoming

31 Oct 2020 14:00 (GMT +1)     BEL v GBR (RR)     -     Royal Uccle Sport, Brussels
1 Nov 2020 14:00 (GMT +1)       BEL v GBR (RR)     -     Royal Uccle Sport, Brussels

Live streaming and full game replay on the Watch Hockey App (May be Geo blocked if there is TV coverage)

Pool Standings

Men's Pool
| Rank | Team | Played | Wins | SO Win | Draws | SO Loss | Losses | Goals For | Goals Against | Goal Difference | Points |
| --- | --- | --- | --- | --- | --- | --- | --- | --- | --- | --- | --- |
| 1 | Belgium | 8 | 5 | 1 | 0 | 1 | 1 | 26 | 13 | 13 | 18 |
| 2 | Netherlands | 8 | 4 | 2 | 0 | 1 | 1 | 21 | 18 | 3 | 17 |
| 3 | Australia | 8 | 3 | 1 | 0 | 3 | 1 | 27 | 20 | 7 | 14 |
| 4 | India | 6 | 2 | 2 | 0 | 0 | 2 | 17 | 15 | 2 | 10 |
| 5 | Argentina | 8 | 2 | 1 | 0 | 2 | 3 | 22 | 24 | -2 | 10 |
| 6 | New Zealand | 8 | 2 | 1 | 0 | 0 | 5 | 15 | 25 | -10 | 8 |
| 7 | Spain | 8 | 2 | 0 | 0 | 1 | 5 | 19 | 27 | -8 | 7 |
| 8 | Germany | 4 | 1 | 2 | 0 | 0 | 1 | 9 | 10 | -1 | 7 |
| 9 | Great Britain | 6 | 1 | 0 | 0 | 2 | 3 | 10 | 14 | -4 |   |
Women's Pool
USA v NED (26.01.2020) worth double points because of the match cancelled on 24.01.2020
AUS v GBR (01.02.2020) worth double points because of the match cancelled on 02.02.2020

FIH Match Centre


---

Dutch double up against Great Britain



Jeroen Hertzberger marked his 250th cap with 2 goals

Amsterdam (NED): The Netherlands women and men both recorded victories over Great Britain on a rainy evening but entertaining evening of FIH Hockey Pro League action at the Wagener Stadium in Amsterdam.

Having been held to a 1-1 draw by GB in their meeting on Tuesday before claiming a bonus point by winning the shoot-out, the Netherlands produced a vastly improved performance to earn a deserved win on Thursday. Caia van Maasakker opened the scoring with a perfectly executed penalty stroke just two minutes into the contest, with Frederique Matla and Eva de Goede converting penalty corners as the Dutch ran out 3-0 winners.

The result means that the Netherlands are now three points clear at the top of the FIH Hockey Pro League standings, having played one game less than second-placed Argentina. The score-line leaves GB lying in sixth position.

"It was definitely a better performance (than on Tuesday)", said Netherlands captain Eva de Goede, who was named Player of the Match. "I still think we can play a bit better, but it was our goal to play better today than we did on Tuesday, and we did so that's good. I think each individual played better today, and that is why we played better as a team. But it was mostly [about] our energy, which was way better than on Tuesday. It was more where it should be."

Great Britain captain Laura Unsworth said: "Obviously the Dutch came out a little bit stronger today, playing with a little bit more intensity than they did the other day. I still think as a squad we put in a good performance, and ultimately, we just couldn't put away our chances."

More information about this match can be found by clicking here.

The Netherlands men claimed their second victory over GB in three days with a dominant display, as 34-year-old striker Jeroen Hertzberger marked his 250th international appearance with his 119th and 120th international goals to seal all three points. Mink van der Weerden put the Dutch ahead in the first period with a trade-mark penalty corner, but a series of missed chances kept the Brits in the game, allowing Phil Roper to restore parity very much against the run of play on the stroke of half time with a fine penalty corner of his own.

Hertzberger's killer blows came in the fourth period and arrived within a minute of each other, brilliantly deflecting home a Van der Weerden penalty corner before tapping into an open goal thanks to Robbert Kemperman's precise, defence-splitting pass. It was no more than the Hertzberger and his team deserved, with the result pushing the Oranje up to 17 points, just one behind league leaders Belgium.

When asked if today's match had a special meaning to him, Hertzberger said: "It definitely does. I am very proud. Today was a special day, I got a lot of messages. I'm just very proud to play 250 games for the Netherlands. We had so many chances [today], Looking at that, I think we played really well, and I'm very happy that we won the game because we really deserved to. We kept pushing, and I think in the second half we dominated. We scored three goals, and it could have been six, but it's okay!"

GB captain Adam Dixon also offered his reflections, stating: "I think over the two games I think we had our opportunities, and it is a story of missing a few of those, and how easy that can change the course of the game, the momentum of the game. I think the Dutch scored goals at crucial periods. I thought our goal just before half time would have shifted the balance. We tried to attack, we wanted to chase the game and go for goals at the end. It got a little bit scrappy, but we haven't played international hockey for a long time. That is not an excuse, but it is nice to be back playing."

More information about this match can be found by clicking here.

The matches were played behind closed doors, with strict COVID-19 protocols being followed by the teams, staff, officials and everyone within the venue.

The FIH Hockey Pro League continues on Saturday 31 October and Sunday 1 November when the Great Britain men and women's teams take on the national sides of Belgium in double-headers at Royal Uccle in Brussels.

Keep up to date with all the latest news on the FIH Hockey Pro League via the Watch.Hockey app, event website and through FIH social media channels - Facebook, Instagram and Twitter.

FIH Hockey Pro League

Thursday 29 October 2020 – Amstelveen (NED)

Women's result: Netherlands 3, Great Britain 0 (Match 2 of 2)
Player of the Match: Eva de Goede (NED)
Umpires: Celine Martin-Schmets (BEL), Coen van Bunge (NED)  and Laurine Delforge (BEL - video)

Men's result: Netherlands 3, Great Britain 1 (Match 2 of 2)
Player of the Match: Jeroen Hertzberger (NED)
Umpires:Laurine Delforge (BEL), Jonas van t' Hek (NED) and Coen van Bunge (NED - video)

#FIHProLeague
#HockeyInvites
#PlayHockeyStayHealthy

Official FIH Pro League Site


---

Quickfire Double Sees Dutch Beat GB In FIH Hockey Pro League



George Pinner Netherlands v GB 2020FIHPL

Jeroen Hertzberger scored twice in a minute to help The Netherlands to a second consecutive victory over Great Britain's men in the FIH Hockey Pro League.

With the score at 1-1 heading into the final quarter, Hertzberger produced two fine finishes to secure the win for the Dutch.

Mink van der Weerden had given the hosts an early lead from a penalty corner before George Pinner made several crucial saves.

Phil Roper levelled proceedings on the stroke of half-time but Great Britain couldn't find the target again, coming up against an organised defence. The match also saw David Goodfield make his 50th combined appearance for England and GB.

Determined to make up for Tuesday's narrow loss, Great Britain started on the front foot as a Will Calnan cross caused momentary chaos after hitting the post before Liam Ansell fired a corner just wide.

The Dutch quickly grew into the game though and took the lead in the eighth minute as van der Weerden converted their first corner of the game.

They pushed hard for a second, with Pinner on hand with several important saves, Tom Sorsby producing a second brilliant goal-line clearance in as many games and Luke Taylor producing a beautifully timed tackle.

With just 30 seconds remaining in the first half, Zach Wallace won a corner that Roper beautifully threaded into the corner to ensure the teams went in level at the half-time break.

The Dutch continued to provide plenty of pressure on the British goal in the third quarter, winning four corners in just two minutes. But they couldn't find a way through the British defence, with Pinner also pulling off a fine diving save to thwart Thierry Brinkman.

There was nothing he could do to stop Hertzberger's first goal in the 47th minute as he deflected corner into the goal before turning in a brilliant cross by Brinkman moments later.

Rupert Shipperley had a shot on the spin saved with five minutes remaining but there were no further chances for Great Britain to try and salvage any points.

"I think over the two games we had our opportunities and it's a story of missing a few of those," reflected captain Adam Dixon after the game.

"We know how easy that can change the course and momentum of a game. The Dutch scored goals at crucial periods.

"The boys are just happy to be playing. We've been playing club hockey back in the UK but it's not the same. We've learned here that we've got to be a little bit sharper, tighter in defence and ruthless in front of goal."

Netherlands 3 (1)
van der Weerden (8', PC); Hertzberger (47', PC; 48', FG)

Great Britain 1 (1)
Roper (30', PC)

Starting XI: Pinner (GK), Taylor, Martin, Roper, Dixon (C), Goodfield, Ansell, Waller, Calnan, Wallace, Draper

Subs (Used): Shipperley, Creed, Condon, Gall, Sorsby, Smith

Subs (Unused): Payne (GK)

Great Britain Hockey media release


---

Dutch Ease Past Great Britain's Women In FIH Hockey Pro League



Netherlands v GB Women 2020 FIHPL Jo Hunter

Great Britain's women couldn't replicate their impressive point from Tuesday as they were beaten by the Dutch in Amstelveen.

Caia van Maasakker gave the Dutch an early lead they never looked back from, with Frederique Matla doubling the score just before half-time.

Sabbie Heesh pulled off several saves and Sarah Robertson came close to scoring in the third quarter as GB looked to hit back against the world champions.

But Eva de Goede swept home in the final quarter to hand the Dutch a comfortable victory.

The start to this second encounter of the week mirrored the first as the Dutch took the lead in the second minute, van Maasakker converting a penalty stroke.

Continuing to follow the pattern of Tuesday, Great Britain grew into the game and their first chance fell to Jo Hunter, who couldn't get enough of a deflection on a pass from Tess Howard to trouble Anne Veenendaal.

Amy Costello and Heesh then provided smart saves to thwart Dutch corners, while GB couldn't convert two set pieces either side of the quarter break.

Heesh was in action again to smother Lauren Stam in the 18th minute but she couldn't keep out Matla's flick seven minutes later.

The visitors won a corner right on the stroke of half-time and thought they had equalised through Tess Howard but the goal was ruled out on review after Hunter was adjudged to have blocked a defender.

Great Britain came out and applied plenty of pressure to the Dutch in the second half, with Robertson coming closest to scoring after a great interception by Laura Unsworth but Josine Koning thwarted her effort.

Mark Hager's side won several corners as well but couldn't convert, while at the other end Heesh was on hand with another couple of smart saves.

de Goede then all-but-secured victory for the Dutch early in the final quarter as she swept home a penalty corner rebound, while two minutes later Izzy Petter flashed a shot wide.

"The Dutch came out a little bit stronger today and played with a little bit more intensity than the other day," reflected Unsworth after the match.

"As a squad we put in a good performance, we just couldn't put away our chances like we did the other day.

"In the first match we were a little bit disappointed to come out with a draw - we thought we could have come out with a win - and then today disappointed to lose. But as a squad this is where we are, we've made good gains in the last two matches and we're looking forward to the next nine months ahead."

The team are back in action on Saturday 31 October when they face Belgium at 13:00 GMT live on BT Sport.

Netherlands 3 (2)
van Maasakker (2', PS); Matla (26', PC); de Goede (46', PC)

Great Britain 0 (0)

Starting XI: Unsworth (C), Toman, Townsend, Robertson, Rayer, Howard, Neal, Heesh (GK), Owsley, Balsdon, Crackles

Subs (Used): Jones, Hunter, Costello, Petter, Hamilton, Hunt

Subs (Unused): Pritchard (GK)

Great Britain Hockey media release


---

Dutch delight as they double up against Britain in latest FIH Pro League matches

By Neil Shefferd



The Netherlands women beat Britain 3-0 in their latest FIH Pro League encounter in wet conditions in Amsterdam ©Getty Images

The Netherlands men's and women's teams both enjoyed success over their British counterparts during the latest matches in the International Hockey Federation (FIH) Pro League in Amsterdam.

In a double-header played in the rain at the Wagener Hockey Stadium, the women played first with The Netherlands running out 3-0 winners.

It was an improved display from the previous meeting between the sides on Tuesday (October 27) when the hosts secured a bonus point for winning on penalties after a 1-1 draw.

The hosts took the lead after just two minutes when Caia van Maasakker scored with a penalty stroke.

In the second quarter, the Dutch doubled their advantage when Frederique Matla converted a penalty corner to make it 2-0.

Early in the final quarter, victory was secured by player of the match Eva de Goede who converted a penalty corner to make it 3-0 and wrap up the win.

Today's victory means that the Netherlands are now three points clear at the top of the FIH Pro League women's standings on 20 points.

Britain sit in sixth position with six points.



Britain's men suffered a 3-1 loss to their counterparts from the Netherlands in the FIH Pro League ©England Hockey

In the men's match that followed the hosts also triumphed running out 3-1 winners.

After a 1-0 win when the sides met on October 27, the Dutch produced a more convincing display in the sides' second meeting in three days winning 3-1.

The Netherlands took the lead in the ninth minute when Mink van der Weerden scored from a penalty corner.

On the stroke of half-time Britain levelled proceedings with Phil Roper netting from a penalty corner of his own to make it 1-1.

The hosts took control in the final quarter when Jeroen Hertzberger scored twice in as many minutes to seal a double success.

Hertzberger's first came in the 47th minute when he deflected van der Weerden's penalty corner into the goal.

The 34-year-old's second goal came less than sixty seconds later as he tapped home Robbert Kemperman's defence splitting pass from close range to secure a 3-1 win.

Today's victory moved the Dutch up to second place in the men's standings with 17 points, one behind leaders Belgium.

Britain sit bottom of the men's table with five points.

The FIH Pro League continues on Saturday (October 31) and Sunday (November 1) with Britain's men's and women's teams taking on their counterparts from Belgium in double-headers at Royal Uccle in Brussels.

Inside the Games


---

Holland double up against Great Britain



Holland men were too good for Danny Kerry's side PIC: FIH

Great Britain captain Adam Dixon asserted on Thursday night that "the boys are just happy to be back playing" following the Pro League hiatus. After a double defeat to Holland this week, they now head to world champions Belgium at the weekend looking to find their "ruthless" touch in front of goal. There's no better team to test their mettle.

In Amsterdam, the hosts ran amok in the final third and double scorer Jeroen Hertzberger admitted that the Dutch could have scored six, content instead with a 3-1 win which nestled Max Caldas' side up with Belgium at the top of the Pro League standings and left GB rooted to the bottom.

The Dutch had a succession of PCs, GB enduring the brunt of the defensive work; the impressive Tom Sorsby clearing off the line, while Luke Taylor, Brendan Creed and the returning George Pinner were also kept busy.

Mink van der Weerden gave Holland the lead via a PC, while Phil Roper expertly equalising from their second corner – one of only two shots on goal. The goal, on the stroke of half-time, could have sapped the energy from Holland, but their superior stick skills, vision and fast-paced rhythm proved a class act.

Hertzberger, playing his 250th match, deflected home in space to regain the lead and doubled up a minute later when a crash hit into the D saw evaded everyone bar the dashing Dutchman at the far post.

Captain Dixon said: "The boys are just happy to be playing. We've been playing club hockey back in the UK but it's not the same. We've learned here that we've got to be a little bit sharper, tighter in defence and ruthless in front of goal."

Earlier, Holland women proved too good for GB, with Eva de Goede's goal the highlight in a 3-0 win.

Recycled from an initial PC, two deft touches found De Goede who swept home inside the near post in the second-half.

GB's best chance came when Tess Howard won the ball on the edge of the D, found a quick release to Izzy Petter who skewed her effort wide.

Caia van Maasakker and the returning Frédérique Matla had earlier scored for the Dutch.

Both games this weekend against Belgium will be played in the afternoon with the host nation on a 10pm curfew.
---

Great Britain men and women lose to Netherlands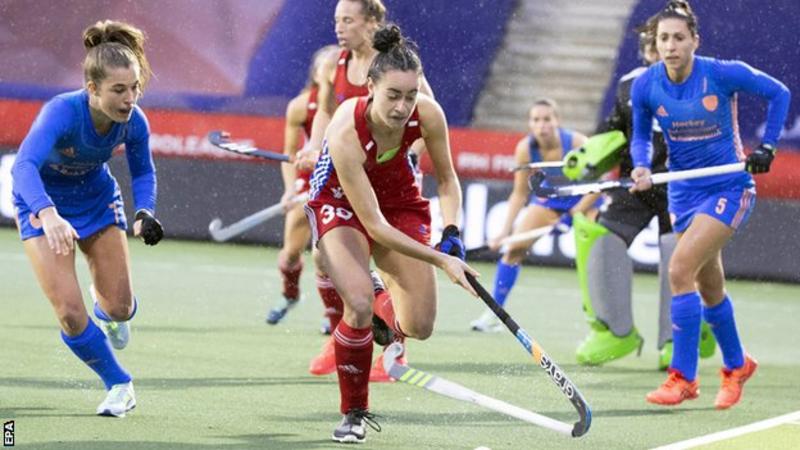 Fiona Crackles goes forward for GB against the number one side in the world

Great Britain's women and men both lost to the Netherlands in the second Pro League matches between the sides in three days.

The women were beaten 3-0 by the Dutch, who are the world number one-ranked side.

The men lost 3-1 with Jeroen Hertzberger scoring twice in the last quarter.

Both GB teams now travel to face Belgium in another double-header on Saturday and Sunday.

Mark Hager's women's side fell behind after two minutes when a goalbound shot hit GB captain Laura Unsworth's leg and Caia Van Maasakker sent Sabbie Heesh the wrong way from the penalty stroke.

The Dutch doubled their lead after 26 minutes when Frederique Matla scored her 44th goal in 73 internationals from a penalty corner, and when GB did find the net at the end of the first half the goal was disallowed for obstruction.

The Olympic champions forced a series of penalty corners in the third quarter but were unable to convert, and captain Eva de Goede wrapped up victory in heavy rain in Amstelveen.

The men, who had lost to their opponents on Tuesday, fell behind after eight minutes when Mink van der Weerden converted a penalty corner.

Phil Roper gave GB hope with an equaliser into the bottom right corner of the net just before the break.

But Hertzberger marked his 250th appearance for his country with a quickfire double to secure the points.

BBC Sport


---

Mr Rotterdam reigns supreme in Amsterdam

Hockey World News




The Netherlands have convincingly won their second FIH Pro League match against Great Britain. A 3-1 victory, thanks to two great goals in quick succession from Mr Rotterdam, Jeroen Hertzberger, who was competing in his 250th match for the hosts

The Netherlands were given a boost before the match with the return of their deadly penalty corner weapon Mink van der Weerden. It took just nine minutes until we once again saw the iconic fist pump and roar, that opponents have feared on the international hockey fields for a decade as van der Weerden netted his 112th international goal.



Mink van der Weerden cheers in his characteristic way. Photo: Willem Vernes

Great Britain started the match with a high intensity. Playing a high pressing, physical style of play, they created chances, but with star man Alan Forsyth being rested, the positive outcome in front of goal was sadly missing.

Energetic

Despite the strange atmosphere in the Wagener Stadium, with no fans, the game remained energetic. Both sides are playing as if everything was at stake, more than a Pro League match.

In the second quarter, the Netherlands dominated the match but could not make their dominance count. Half chances fell to Mirco Pruyser and Terrance Pieters, who both narrowly shot wide before Great Britain won their second penalty corner.   

An alternative routine for GB saw Phil Roper take the responsibilities from the top of the D, flicking low and hard to level the game going into the half time break.



AMSTELVEEN FIH Pro League Netherlands v Great Britain Picture: ©: Frank Uijlenbroek / World Sport Pics

After the interval, the worsening weather had little effect on the pace of the game. Although both teams were more tempered in their approach to keep the game calm, it was the Netherlands who won their seventh, eighth and ninth penalty corners in quick succession.



With a delicious tip-in, Jeroen Hertzberger scores 3-1. Photo: Koen Suyk

A change of plan for the hosts tenth penalty corner, the dreaded Van der Weerden was once again at the head circle. A straightforward training ground routine saw van der Weerden fire low for the onrushing Hertzberger to tip the ball past Pinner to increase the home sides lead.

Earning his 250th cap, 34-year-old Hertzberger showed that he still has plenty of life in him, as he skillfully sidestepped Jack Waller, to deflected a hard and tight cross from Robbert Kemperman (30) into the GB net to make the score 3-1. A matter of being in the right place at the right time. Something that Hertzberger has done so often for the Netherlands as he clocks up his 120th international goal.

The Netherlands and Great Britain are always entertaining hockey matches, and today they proved that the ambience and atmosphere in the national hockey stadiums are undoubtedly important, but high tempo and competitive matches can also provide a lot of entertainment without an audience.

Men's result: Netherlands 3, Great Britain 1 (Match 2 of 2)
Player of the Match: Jeroen Hertzberger (NED)
Umpires: Laurine Delforge (BEL), Jonas van t' Hek (NED) and Coen van Bunge (NED  – video)
Cards: GB – Shipperly – Green 20, GB – Smith – Green 41

Hockey World News


---

Comfortable win for the Netherlands as GB struggle in front of goal

Hockey World News




The Netherlands went top of the FIH Pro League table after a comfortable 3-0 win over Great Britain in a very wet Amsterdam on Thursday.

The Netherlands made two changes to the squad which had won a shootout 3-1 after a 1-1 draw in normal time forty-eight hours earlier. Malou Pheninckx and Frédérique Matla came in for Sanne Koolen and Ilse Kappelle.

Great Britain made one change, Holly Hunt replacing Sarah Evans who limped off during Tuesday's first meeting.

Once again Great Britain fell behind in the second minute having conceded a penalty corner after just 57 seconds and a penalty stroke twelve seconds later after the Dutch captain, Eva De Goede's shot was illegally blocked by her opposite number, Laura Unsworth on its way to goal. To add to the visitors' woes their video referral challenging the stroke award was rejected and Caia van Maasaaker made no mistake from the spot, slotting the stroke to Great Britain goalkeeper, Sabbie Heesh's right.



AMSTELVEEN FIH Pro League Netherlands v Great Britain Picture: Netherlands scored 3-0.©: Frank Uijlenbroek / World Sport Pics

Having gone ahead twenty seconds faster than in the first game, once again the Netherlands failed to follow up their early lead, Ireen van den Assem failing to convert from two further penalty corners in the first quarter.

Lily Owsley was Great Britain's main attacking threat, whilst Sarah Robertson and Anna Toman came closest nearer the Dutch goal.

Grace Balsdon sent a shot high and wide as Great Britain quickly forced a penalty corner early in the second quarter, but the Dutch immediately responded with Lidewij Welten firing narrowly past the left post following an attack from Lauren Stam.

Welten, De Goede and Pheninckx combined brilliantly in an excellent passing move before Pheninckx over-ran the ball at the British backline.

The Dutch doubled their lead in the 26th minute, Matla's drag-flick sent to Heesh's right at mid height to give Great Britain a slightly higher mountain to climb. However, the Dutch penalty corner routine was not without its setbacks, as a minute before the interval, Great Britain mounted a counter attack which ended with Sarah Jones having her shot deflected and rebounding off the Dutch crossbar while Anne Veenendaal could only watch before Margot Van Geffen cleared the danger.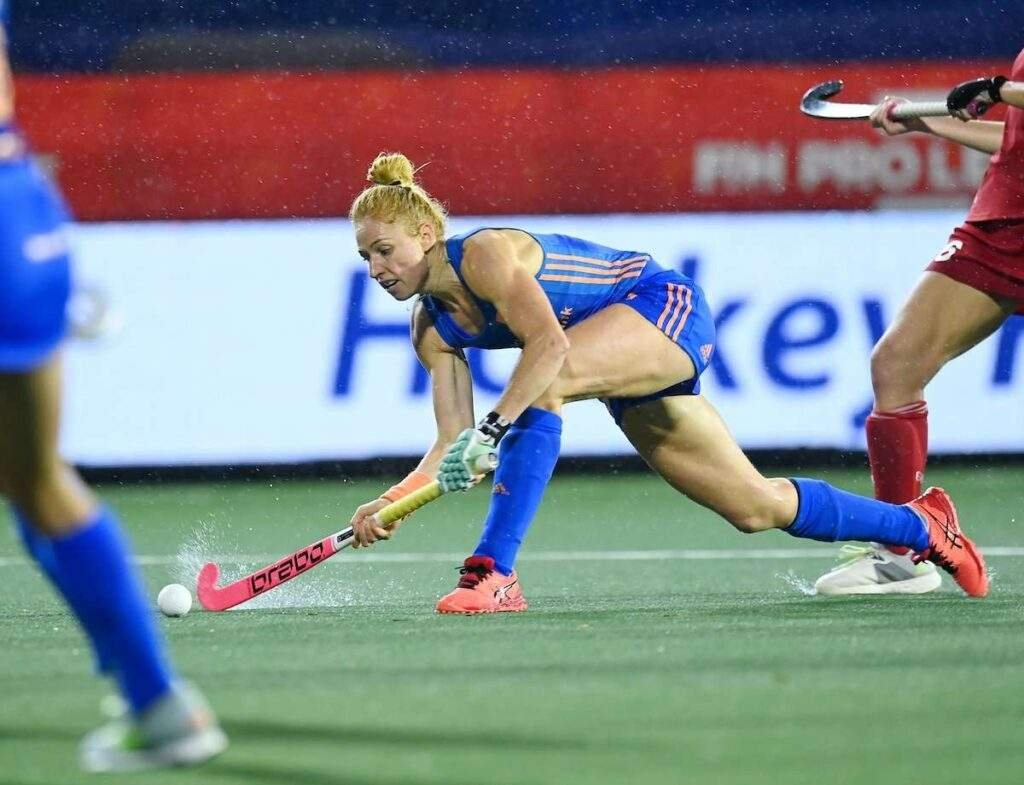 AMSTELVEEN FIH Pro League Netherlands v Great Britain Picture: Margot Van Geffen ©: Frank Uijlenbroek / World Sport Pics

In added on time at the end of the first half, Great Britain thought they had reduced the deficit after Tess Howard finished off a penalty corner routine, but the Dutch immediately video referred and the goal was chalked off due to obstruction.

In the third quarter, Great Britain forced a succession of penalty corners but couldn't make the vital breakthrough before inadvertently setting up a Dutch counter attack after the last injection was mistrapped. Pheninckx and Welten forced further saves from Heesh but the Netherlands carried their two goal advantage into the final quarter.

The third Dutch goal came from yet another penalty corner in the 46th minute, van Maasakker having her initial shot saved by Heesh before the ball was manoeuvred towards an unmarked De Goede at the left post.

Izzy Petter came close to scoring a consolation goal in the 48th minute, but shot past the right post.

Great Britain will now head to Brussels where they will face Belgium twice at the weekend. Both games on 31 October and 1 November will start at 1 pm GMT. The Dutch will follow on 4 November.



AMSTELVEEN FIH Pro League Netherlands v Great Britain Picture: Laura Unsworth and Kyra Fortuin ©: Frank Uijlenbroek / World Sport Pics

FIH Pro League – Women

Netherlands 3 Great Britain 0

Netherlands:

Scorers: Caia van Maasakker 2-PS, Frédérique Matla 26-PC, Eva De Goede 46-PC

Starters: Anne Veenendaal (GK); Malou Pheninckx, Laurien Leurink, Xan De Waard, Caia van Maasakker, Ginella Zerbo, Ireen van den Assem, Laura Nunnink, Lauren Stam, Eva De Goede (Capt,), Kyra Fortuin.

Subs: Frédérique Matla (3 mins), Maria Verschoor (3), Pien Sanders (4), Pien Dicke (5), Lidewij Welten (5), Margot van Geffen (6), Josine Koning (GK) (32).

Cards: None

Great Britain:

Starters: Laura Unsworth (Capt.), Anna Toman, Susannah Townsend, Sarah Robertson, Ellie Rayer, Tess Howard, Lizzie Neal, Sabbie Heesh (GK), Lily Owsley, Grace Balsdon, Fiona Crackles.

Subs: Jo Hunter (6 mins), Izzy Petter (6), Sarah Jones (7), Amy Costello (7), Sophie Hamilton (8), Holly Hunt (49).

Sub not used: Miriam Pritchard (GK).

Cards: None

Umpires: Céline Martin-Schmets (BEL) and Coen van Bunge (NED)

Hockey World News


---

Kakamigahara target for women's hockey

By Jugjet Singh



Nasihin Nubli. -- Bernama File Pix

THE Malaysian women's hockey team intend to bloom beautifully like the cherry blossoms next April in Kakamigahara, Japan.

Coach Nasihin Nubli's team are preparing for the women's Junior Asia Cup (JAC) on April 11-17 in the Japanese city.

Covid-19 permitting, the competition, which will act as a Junior World Cup qualifier, will be an exciting affair.

Nasihin has set a medal target (of any colour) for his team in Kakamigahara, for this will qualify Malaysia for the Junior World Cup (JWC).

"Our target is to make the semifinals and then win a medal to qualify for the JWC.

"This is something which the Malaysian women's team have yet to achieve.

"We want to write a new chapter in the history book," said Nasihin after the Asian Hockey Federation announced the new dates for the tournament, which was postponed from this year due to Covid-19.

The eight teams that will do battle in the women's Junior Asia Cup are defending champions China, India, Japan, South Korea, Malaysia, Singapore, Thailand, and Uzbekistan.

To specially allow those overaged by a year (as a result of the Covid-19 postponement) to play next year, the AHF announced that players, even if they are born on or after Jan 1, 1999, will be eligible to participate.

Next year will see the eighth edition of the JAC which made its debut in Kuala Lumpur in 1992. South Korea won the first three editions.

The tournament will make a comeback after a five-year break. It was last staged in 2015, Changzhou, where China emerged as champions.

For Malaysia, it has always been fifth spot. But Nasihin and his women are determined to break that glass ceiling by blooming in Kakamigahara.

New Straits Times


---

Junior India hockey camper Yashdeep tests positive for COVID

Yashdeep Siwach tested positive for COVID-19 on arrival at the SAI Centre of Excellence, Bengaluru and has been hospitalised as a precautionary measure.

Uthra Ganesan

Junior India hockey camper Yashdeep Siwach tested positive for COVID-19 on arrival at the SAI Centre of Excellence, Bengaluru and has been hospitalised as a precautionary measure.

Siwach arrived for the preparatory camp on Sunday along with the other trainees and underwent testing. Although SAI protocols stipulate that every player across sports has to get a mandatory RT-PCR test done before arrival, many had managed only the rapid-antigen test and were tested again on arrival.

The reports came late on Thursday. All players, however, have been in mandatory quarantine since arrival regardless of the test results. Siwach has been moved to the SD Sparsh Multispeciality Hospital and is being monitored constantly.

The junior men are expected to be in camp till January 18 for the upcoming Junior Asia Cup.

Sportstar


---

Semifinals of National Tray Hockey decided




LAHORE - Both the semifinals of Pakistan's 5th National Tray Hockey Championship were decided on the sixth day of the event here at the National Hockey Stadium on Thursday.

In the first semifinal, Punjab defeated Pakistan Air Force 7-3. Zain Ijaz and Hannan Shahid netted two goals each while Amir Ali, Mohsin Hassan, and Arslan Arshad scored one goal apiece from the winning side. For PAF, Abdul Rehman, Mohsin Khan and Adnan Haider shared one goal each.

In the second semifinal, MPCL beat HEC 4-1. Muhammad Murtaza Yaqoob scored two goals while Abdul Rehman, Umair Sattar contributed one goal each for MPCL. Sufian hit one for HEC.

The Nation


---

PHF president meets MPCL head to discuss revival of hockey




LAHORE = Pakistan Hockey Federation (PHF) President Brig (r) Khalid Sajjad Khokhar visited Mari Petroleum Head office Islamabad on Thursday and met Mari Petroleum Company Limited MD/CEO Faheem Haider and discussed the revival and promotion of the national game.

During the meeting, many hockey affairs were discussed such as most of the national-level hockey events that will take place at MPCL hockey ground, Ayub Park Rawalpindi.

MPCL to sponsors domestic and international hockey events and long term partnership between MPCL & PHF, said a spokesman of the PHF here.

The PHF chief lauded the efforts and contribution of Mari Petroleum towards the revival of the national game in Pakistan.

"Mari's efforts will give a big boost to ongoing efforts of the PHF for making Pakistan hockey to become a force to reckon with at international level."

He congratulated the Mari Petroleum MD/CEO on organization of their major contribution of 11 junior players in the training camp for the junior Asia Hockey Tournament.

Faheem Haider warmly welcomed the suggestions of Brig Khokhar and expressed his resolve to support the promotion and also offered all-out cooperation in this regard.

The Nation


---

In hockey, defenders win championship, strikers match: Mohammed Riaz

By Venkatachari Jagannathan

Chenna: In hockey, the defenders win the championship while the attackers win the individual matches, said one of India's reputed mid field player N. Mohammed Riaz having played about 280 international matches.

An Arjuna awardee, the 49-year old Riaz had played for India for a decade between 1990s and 2000 and is working with Air India as a Deputy General Manager.

Agreeing that the strikers/attackers are the cynosure of the crowd as they score the goal, Riaz pointed out that it is the mid field players who develop the chances for the strikers to score while preventing the opposition from scoring.

"The defenders win the championship while the forwards win the match," he remarked.

A former Indian team captain, Riaz had played for India in Olympics (1996 and 2000), World Cups (1994, 1998) and two Asian Games (1994, 1998-India won Gold after a gap of 32 years).

Later he had played in the professional league in Belgium and Germany in 2002 and 2004 respectively.

"Hockey runs in his blood. His father Mohammed Abdul Nabi was a good player and also an international referee. His family members too were good hockey players," former Indian Hockey team Captain and Olympian V. Baskaran told IANS.

Riaz's elder brother played hockey for Tamil Nadu while younger brother was a national player.

Many of his uncles were also hockey players and it was natural that Riaz took to hockey like a fish takes to the water.

Riaz said he had his schooling at the Government Madrasa-I-Azam Higher Secondary School here which has the reputation of sending about eight international hockey players.

Making it to the school and the state juniors' team, Riaz said the turning point of his career was the 1989 national junior championship.

"I played well there. Even when the team was trailing, playing at the centre half position, I scored goals and took the team to victory. The newspaper headline used to be Riaz vs the name of the rival state team," he mused.

After that there was no looking back for Riaz and his sports career went up like the curve in the hockey stick.

"I had watched Riaz as a junior player. He had played in a hockey tournament held for the wards of Railway employees in Varanasi. His father was in the Railways. The Southern Railway team reached finals. At that time itself, I had the feeling that this boy would turn into a big player and that happened," Baskaran who had captained the Indian team that won gold at the Moscow Olympics.

He went to the national junior's camp and got selected to the junior Indian team and into to the senior's camp as an outstanding junior player.

"As a lean and only player from Tamil Nadu, I had resolved to train hard and play well to prove myself as a player worthy to be in the national squad," Riaz recalled.

Riaz was the junior most player in the Indian team and the seniors who helped him with their tips and suggestions.

"They also cheered and guided me so that I got the confidence to play along with them and also against the seniors in the rival teams," Riaz said.

He made his debut in the International Hockey arena playing for India in the Azlan Shah Cup in Malaysia.

Riaz was part of the Indian squad that toured Australia in 1993.

"I was a substitute and during the third match got a chance to play for 10 minutes and from the next match onwards I was in the team. I was declared as the 'Best Find of the Tournament'," he recalled.

Speaking about his style play the Olympian Riaz said he is good at the drag part.

"As a mid-field player, I can see the whole field even as my head will be down tackling the ball," Riaz said.

"Riaz was a complete hockey player with lots of vision and a good team player. A gentleman player, Riaz has hockey brain. He had employed many of the modern day tactics like creating space for team mates, one-on-one skill and others. There won't be any major misses in his passes," Baskaran said.

"More than that, Riaz was a graceful player. There may be players who are talented but lack grace. But Riaz had both and was a delight to watch him play," Baskaran added.

Continuing further, Baskaran said Riaz can play both at the left and right wings which not many players can do.

The hockey game got him a job at Air India and in 2004 Riaz got married.

"At the time of marriage my wife knew about hockey," he said.

The couple begot two children - daughter 14-year old Shameena Riaz, 14, Tamil Nadu squash player and son eight year old Mohammed Rayhan who likes football.

"I had asked my son to play hockey or cricket to which he said the family has lot of hockey players while cricket players will be popular only in the countries where the game is played. On the other hand, football is played world over and the players become world famous," Riaz said.

As regards his daughter's love for squash Riaz said he had taken her to a club where squash was being played. She got a chance to play and hit two good shots and got hooked to the game.

Riaz declined to answer any non-sports related questions politely and gracefully.

Agreeing that cricket is popular and gets more space in the media, Riaz adds that hockey too is well covered by the newspapers.

Though the national game hockey is really fast paced needing huge amount of stamina, most star players do not get a chance to become a brand ambassadors for relevant products unlike cricket players, Riaz said.

Riaz also had a successful stint as a coach for Indian seniors and juniors team that had won gold and silver medals at prestigious tournaments like Asian Champions Trophy held in China in 2011 (Gold), Champions Challenge Hockey Championships held South Africa, in 2011 (Silver), the Gold winning Junior Indian Hockey Team at the Junior European Championships, Poland.

Today Riaz spends his free time going to the grounds and giving tips to juniors on playing techniques.

"I do free coaching for the students of my old school every year. I also coach the players of Kovilpatti Academy. I would like to share my skill sets with the juniors," he added.

Looking at the current Indian hockey scene, he said the Indian team is in the top five in the world and medal prospects are not far away.

"Earlier countries like Germany, Spain and Holland used to figure in the semi-finals of most tournaments. The world hockey scene has changed with low ranked teams doing well and winning championships," he said.

DaijiWorld.com


---

Her story: England and Great Britain's first ever black female player



Rosie Sykes, England's first black female player

As part of Black History Month and with the help of the Hockey Museum; England Hockey is sharing stories from some significant figures in the sport's history.

Rosie Sykes was the first black woman to play for England's national hockey team when she made her debut in 1978, and she took time out to look back on a trailblazing career for both England and Great Britain.

My late mother was English, my father was Nigerian. They married and went over there, I was born in Lagos but the marriage broke down so my mother came back to Kent. We arrived here in January, freezing and I've never experienced anything like that and had never seen snow! Having to go to school was a real culture shock.
 
I actually remember playing shinty at school and I could hit the ball hard and accurately. Then at secondary school my PE teachers - both male and female - introduced me to hockey. We only had one team for the whole school and they said I should join Thanet Nomads. The club took me under the wing, they'd pick me up for games and encourage me.

I remember going to Wembley to watch the England women's hockey team, because our school always used to go. I remember sitting there, looking down at the likes of Val Robinson and thinking I want to be there, I can do this. My teachers said I was good enough, I was about 14 or 15 I think, when I made it my goal to play internationally.

Of course at the time there were no other black faces. I don't remember any at school, certainly not in the hockey team. I was very much the lone black player, even when I started playing for Kent I only remember one other black player. Wherever I went in my life I was the only black face though so I got used to it. Now you see the ethnic mix of families, it's great to see, but it wasn't anything like that when I was at school.

If I hadn't been encouraged to play I don't think I could have done it. My mum was bringing up four children on her own with not much money, so I'm so grateful to the people who helped me. And living out on the edge of the country, going anywhere was a real trek, leaving at 5am even as a junior! I was determined because you had to be.

I'd been playing for my club for a number of years into adulthood and we had what were known as Territorials with all the counties playing on grass just after Christmas in Folkestone, you can imagine the weather! From those matches the England team was picked, which was very exciting. The feeling when I was selected for England was a big sigh of relief, and there were people who said 'at last you've done it, it should have come sooner,' and I remember my club Ashford had a big party and always supported me with a big banner at Wembley when I got to play there.

When I got called up I was teaching so I was in my late twenties. People said 'better late than never' but I only ever thought I just hard to work a bit harder and get myself noticed. People said to me later maybe it was a race thing but I couldn't possibly say that was the case. Maybe the selectors were conservative people all from a similar background, but like I say, lots of people had disappointments, lots of good players missed out and it just made me keep going. Oftentimes people came into the side and never came back, but once I got in I was a fixture in the squad and I felt it was my time.

How did it feel being the first black woman to play for England? I just felt it was great I'd got that far. Being black wasn't part of it to me. Perhaps to other people it was, but I just wanted to play. I did one or two interviews with newspapers and was likened to Viv Anderson who was the first black footballer for England at the same time. There wasn't a lot of hype and actually my uncle to this day says people didn't make enough of a fuss but I'm OK with that. It was other people rather than me saying that.

In terms of prejudice, by the time I got to England I never came across anything, although I had done previously at County level. I remember there being prejudice and also a lot of rivalry there. I stuck it out because I was determined to show that I was worth my place. I could easily have given it up then but my club, my family, my school were so supportive I didn't feel I could let them down. I could put up with it for the County in order to get through and play at a higher level, which of course I did.

My first game was against versus Wales at Llanelli in 1978 but I'd stupidly damaged my knee playing squash. I didn't know if I'd be fit to play but someone said to me to try the nearest football club, and lo and behold Tottenham were a huge help. They said 'yes no problem I'll get you ready.' My boss gave me the day off to go up to get treatment and advice from Spurs, so then I was able to play.



Rosie Sykes, England's first black female player

It was a whirlwind early on; debut in 1978; World Cup in 1979 and then in 1980 we qualified for the Olympics. But it was Moscow and Mrs Thatcher in her wisdom decided we would pull out. Team sports like hockey were all funded through government so that was it. Zimbabwe won gold against Czechoslovakia, and we were gutted to miss out because we had such a good chance. When the youngsters at my school get the story out of me, they get so irate and say I should've sued which is quite funny. They can't understand, but that's politics and sport with the athletes as the victims.

Then with regards 1984 in Los Angeles, we played all the qualifying matches but it was literally two weeks before we flew out and we were told we hadn't played enough games. I think the men's team may even have already flown out. There was an admin error somewhere, I've no idea whose fault it was but it was all brushed under the carpet and that was that. It was doubly galling because it was LA with the Americans putting on a show. We'd supported them in 1980 but then nothing seemed forthcoming in terms of help. You can imagine, after all that training, you're at your peak. We were crushed and didn't want to talk about it. I'm alright now but at least we were a team who could support each other. After that I felt I wasn't going to try for another Olympics; life moves on. I kept playing for Ashford which was great for the social, but once you've been up at the top it changes a little so I decided to focus on my teaching career.

I'm still one of the Vice Presidents at Ashford now but they all play golf which I don't! My grandson is six and he's started playing, he loves it which is the main thing. Unfortunately there's not so much hockey at school which is a sadness, those schools that can't afford an astro find it hard so you can't blame them. It's a fantastic sport and we just need it to be out there so people can be inspired to play. Not let them think it's a posh game, which is often said.

Looking back at my international career, I absolutely loved my time, it was brilliant. I remember when I was first picked for England, it was such a privilege to be able to play with other people who were at the same sort of level. I always felt so comfortable in that environment. By the time you get to the top, you've made it and so there isn't the same sort of rivalry that you have lower down. I've still got the same friends and one of the groups has a monthly Zoom call; it's like we've never been away, it's wonderful. I look back on those days with great pride.

The Hockey Museum (THM) is the first and only museum of hockey in the world. It aims to preserve, share and celebrate the rich history and heritage of the sport of hockey. For more details visit www.hockeymuseum.net

Great Britain Hockey media release


---

'Two peas in a pod': How North Carolina field hockey builds success through siblings

By Mary Mac Porter



UNC first-year Ciana Riccardo (8) at the game against UVA on Oct. 11, 2020. Her and her sister, junior Romea Riccardo, have established themselves as an iconic sibling duo in field hockey.Photo credit: Abe Loven

Ciana and Romea Riccardo are used to hearing the phrase, "Oh, that's a Riccardo." In Downingtown, Pennsylvania, having long brown hair and a field hockey stick makes you easily recognizable as a member of the big Riccardo family. The sisters are just two of their eight siblings — and the eldest three all play field hockey at the Division I level.

Ciana, a first-year, and Romea, a sophomore, have recently become part of a legacy of sibling pairs in North Carolina's distinguished field hockey history.

UNC head coach Karen Shelton has coached over 10 pairs of sisters during her tenure at UNC, and she embraces the trend. For Shelton, the high number of younger siblings following in their older sisters' footsteps is a testament to the culture of the field hockey program and the University as a whole.

The Riccardo sisters aren't the only duo from eastern Pennsylvania to come down to the Southern part of heaven to play field hockey. The Brill sisters, from Oley, Pennsylvania, both played in Chapel Hill and won two championships together in 2007 and 2009. Melanie and Teryn Brill, now Teryn Brill Galloway, credit their time in Chapel Hill for not only starting a lifelong passion for the game — they both coach and Teryn works for USA Field Hockey — but also for growing their relationship.

'Two peas in a pod'

Teryn and Ciana, the younger sisters in their families, were drawn to field hockey, and eventually UNC, because of their older sisters' experiences.

"They've definitely made me love it even more because seeing them succeed and have fun and be with friends and take all the next steps like committing to colleges it's made me be like, 'Oh my God, that's so cool. I want to be just like them,'" Ciana said.

Initially, she started playing the game because it was a fun family activity; she never imagined she'd eventually be competing at UNC alongside her sister. During Ciana's recruiting process, Romea focused on supporting the best decision for Ciana. But she made sure her sister knew she'd be welcomed "with open arms" in Chapel Hill.

Before verbally committing to North Carolina, Ciana kept her intention to become a Tar Heel secret from her sister. She called Shelton during a family vacation at the beach to make her commitment official first. Romea was ecstatic, running across the kitchen to hug her sister when she came downstairs to share the news with her family.

The Brill sisters were in a similar situation, but Teryn received a little more influence from her family. While her parents left the final decision up to her, they let Teryn know having their daughters at the same school would definitely make their lives easier — especially because they traveled the 14-hour round trip to Chapel Hill for almost every game. Teryn was happy to oblige her parents after falling in love with the town while visiting her sister.

"We were like two peas in a pod growing up, so it only felt fitting that we went to the same school," Teryn said.

Melanie said Teryn coming to UNC was one of the best things that happened to her, and she felt empowered by being a part of a legacy bigger than just her or her sister.

"We came into that program knowing that generations of siblings had come through Carolina," Melanie said. "For us, at least me personally, that just made you feel a little bit more connected that you had other sisters that had gone through the same program and you're walking in their footsteps."

'Sisters can talk to each other a certain way'

The high number of successful sibling pairs in athletics — the Manning brothers, the Williams sisters, the Curry brothers — is no coincidence. Both pairs of sisters said they relied on their siblings' honesty and tough criticism to grow as field hockey players.

Shelton has noticed the advantage of that strict sibling criticism over the years. It's unique to have players that push each other with harsh truths to ensure both players are the best they can be.

"I think sisters can be honest. They can say, 'Hey, that's not good enough. If you want to play, you've got to work harder,'" Shelton said.

The Brill sisters relied on their childhood fights to push each other for every practice and game. They knew what motivated each other and they didn't shy away from pushing buttons, constantly motivating each other to strive for greatness.

Melanie recalls that those conflicts weren't always pretty — there were tears and sometimes spite — but at the end of the day, both sisters knew they had each other's best interest at heart.

"They're always going to be that mirror that sometimes you are afraid to look in," Melanie said.

'A piece of home'

For the Riccardo and Brill sisters, who moved about seven hours away from their hometowns, having a family member at UNC made a difference.

"I liked the fact that when I went somewhere else, there would still be a piece of home still with me," Ciana said.

The sisters took that feeling of home one step further. The Brills lived in a house together during their time in Chapel Hill, and the Riccardo sisters plan to do the same thing next year.

For now, while Ciana finishes out her time in a dorm, the sisters have to settle for spending time together at practice and when Romea drops off homemade meals every night.

As for Teryn, even though she was over 400 miles away from Pennsylvania as a first-year, she never felt like home was more than a bus ride away.

"I never really felt homesick because I had [Melanie]," she said. "I would just hop on the P2P, jump over to her house and hang out."

The many pairs of sisters who have come through the program have helped generate this sense of community. But it was created by Shelton herself, who has focused on creating a North Carolina field hockey family in more ways than one.

"It's not just, come here, you play and you leave," Shelton said. "It's, you buy into a family unity. That's really important to all of us."

The Daily Tar Heel