All the news for Thursday 24 August 2020

2020 FIH Pro League (Men) 23 September

GER v BEL    1 - 1 (1 - 0 SO)

Pool Standings
| Rank | Team | Played | Wins | SO Win | Draws | SO Loss | Losses | Goals For | Goals Against | Goal Difference | Points |
| --- | --- | --- | --- | --- | --- | --- | --- | --- | --- | --- | --- |
| 1 | Belgium | 8 | 5 | 1 | 0 | 1 | 1 | 26 | 13 | 13 | 18 |
| 2 | Australia | 8 | 3 | 1 | 0 | 3 | 1 | 27 | 20 | 7 | 14 |
| 3 | Netherlands | 6 | 2 | 2 | 0 | 1 | 1 | 17 | 17 | 0 | 11 |
| 4 | India | 6 | 2 | 2 | 0 | 0 | 2 | 17 | 15 | 2 | 10 |
| 5 | Argentina | 8 | 2 | 1 | 0 | 2 | 3 | 22 | 24 | -2 | 10 |
| 6 | New Zealand | 8 | 2 | 1 | 0 | 0 | 5 | 15 | 25 | -10 | 8 |
| 7 | Spain | 8 | 2 | 0 | 0 | 1 | 5 | 19 | 27 | -8 | 7 |
| 8 | Germany | 4 | 1 | 2 | 0 | 0 | 1 | 9 | 10 | -1 | 7 |
| 9 | Great Britain | 4 | 1 | 0 | 0 | 2 | 1 | 9 | 10 | -1 | 5 |
---

2020 FIH Pro League (Women) 23 September

GER v BEL (RR)     3 - 1

Pool Standings
USA v NED (26.01.2020) worth double points because of the match cancelled on 24.01.2020
AUS v GBR (01.02.2020) worth double points because of the match cancelled on 02.02.2020

FIH Match Centre


---

Double joy for Germany against Belgium in Düsseldorf




It was a productive day for Germany's national teams in the FIH Hockey Pro League on Wednesday (23 September), with both the men's and women's sides claiming the lion's share of the available points in the second matches of their respective double headers against neighbours Belgium in Düsseldorf.

Germany's women made it two wins from two against the Red Panthers, with Hannah Gablac, Cecile Pieper and Rebecca Grote all hitting the target in a 3-1 victory. Ambre Ballenghien had put Belgium ahead with a superb penalty corner drag-flick in the 21st minute, before Gablac restored parity three minutes later from open play. Pieper and Grote netted penalty corners in the third and fourth quarters respectively, ensuring that the hosts claimed a second win in two days against the visitors.  

Speaking after the match, Gablac – who was named Player of the Match – said: "Our coach told us to keep the energy high - we did quite well in the second half, in the first ten minutes, then we lost our way a bit. But I'm very proud of my team - good work."

Belgium captain Barbara Nelen said: "In the first half, I think we played really well. We dared to play, had a lot of energy. But we had some opportunities that we didn't score. In the second half I think the energy was a bit less, and we 'dared' less, which is why Germany came back hard - they showed us who we are."

With two wins from their opening two matches in the current FIH Hockey Pro League season, Germany have moved up to fifth in the standings. More information about this match can be found by clicking here.

Germany's men shook off the disappointment of Tuesday's 6-1 loss at the hands of Belgium to produce an excellent display in match two, battling to a 1-1 draw before claiming the bonus point by winning the shoot-out.

The hosts took a deserved lead when Florian Fuchs touched home a defence-splitting pass from team captain Tobias Hauke in the 24th minute, before Belgium finally pulled level eleven minutes from the end thanks to Loick Luypaert's deflected penalty corner drag-flick. Belgium were denied on numerous occasions by goalkeeper Alexander Stadler, who produced a string of fine saves in regular time to earn a crucial point for Germany against the reigning World and European champions.

Stadler was almost single-handedly responsible for Germany's bonus point, making some wonderful blocks to keep a clean sheet in the shoot-out, with Christopher Rühr's converted effort being enough for a 1-0 win in the one-on-ones.

Speaking after the match, Stadler – who was named Player of the Match – said: "Our team did very well. We had wanted to get more spirit and more effort, and for the team to defend better and we did that. We did pretty well today. The difference [from yesterday and today] was that we defended better. There was a really good spirit with the team today."

While Belgium remain well clear at the top of the FIH Hockey Pro League standings, two points for Germany has seen Die Honamas move off the bottom of the table to seventh position. More information about this match can be found by clicking here.

The matches were played behind closed doors, with strict COVID-19 protocols being followed by the teams, staff, officials and everyone within the venue.

The next FIH Hockey Pro League matches take place in October, with the men and women of the Netherlands and Great Britain going head-to-head in Amstelveen (NED).

Keep up to date with all the latest news on the FIH Hockey Pro League via the Watch.Hockey app, event website and through FIH social media channels - Facebook, Instagram and Twitter.

FIH Hockey Pro League
Wednesday 23 September 2020 – Düsseldorf (GER)

Women's result: Germany 3, Belgium 1 (Match 2 of 2)
Player of the Match: Hannah Gablac (GER)
Umpires: Alison Keogh (IRL), Sarah Wilson (SCO) and Martin Madden (SCO - video)

Men's result: Germany 1, Belgium 1 – [1-0 After shoot-out] (Match 2 of 2)
Player of the Match: Alexander Stadler (GK - GER)
Umpires: Martin Madden (SCO), Marcin Grochal (POL) and Alison Keogh (IRL - video)

#FIHProLeague
#HockeyInvites
#PlayHockeyStayHealthy

Official FIH Pro League Site


---

Germany bounce back with victory over Belgium in FIH Hockey Pro League

By Liam Morgan



Germany beat Belgium in the second match between the two men's teams ©FIH

Germany's men bounced back from their crushing defeat yesterday with a shootout victory over Belgium in the International Hockey Federation (FIH) Hockey Pro League in Düsseldorf.

The German side won the shootout after the match had finished 1-1 at the end of normal time at Düsseldorfer Hockey Club 1905.

Florian Fuchs put the hosts, beaten 6-1 by the same opponents yesterday, in front after he touched home a defence-splitting pass from team captain Tobias Hauke in the 24th minute.

That was how it stayed until Loick Luypaert's deflected penalty corner drag-flick 11 minutes from time restored parity for Belgium, who sit top of the Hockey Pro League standings.

Germany claimed the bonus point by edging out their Belgian opponents 1-0 in the shootout, where Christopher Rühr was the only player to find the net.

German goalkeeper Alexander Stadler took the plaudits after the match for a fine display in the shootout as he kept a clean sheet.

"Our team did very well - we had wanted to get more spirit and more effort, and for the team to defend better and we did that," said Stadler.

"We did pretty well today.

"The difference [from yesterday and today] was that we defended better.

"There was a really good spirit with the team today."

Belgium remain top of the standings despite the shootout defeat, while Germany have climbed off the bottom of the table.

In the women's match, Germany recorded their second win against Belgium in as many days.

Hannah Gablac, Cecile Pieper and Rebecca Grote got on the scoresheet for Germany in a convincing 3-1 victory, which followed their 2-0 triumph yesterday.

They had fallen behind to Ambre Ballenghien's well-executed drag flick from a penalty corner before recovering to claim a deserved win.

Both matches were played behind closed doors due to the coronavirus pandemic.

The Hockey Pro League, which resumed after a six-month hiatus with the two matches between Germany and Belgium on Tuesday, is scheduled to resume next month.

Britain are due to travel to Amsterdam to face the Netherlands in the men's and women's leagues on October 27 and 29.

The FIH has extended the current Pro League season until June 2021 to cater for the delay caused by the pandemic.

Inside the Games


---

Double joy for Germany against Belgium in FIH Pro Hockey League

In the first match on Wednesday, Germany's women made it two wins from two against the Red Panthers, with Hannah Gablac, Cecile Pieper and Rebecca Grote all hitting the target in a 3-1 victory.




Dusseldorf: The men's and women's national teams of Germany both registered wins in the second matches of their respective double headers against Belgium in the FIH Hockey Pro League.

In the first match on Wednesday, Germany's women made it two wins from two against the Red Panthers, with Hannah Gablac, Cecile Pieper and Rebecca Grote all hitting the target in a 3-1 victory. Ambre Ballenghien put Belgium ahead with a superb penalty corner drag-flick in the 21st minute, before Gablac restored parity three minutes later. Pieper and Grote netted penalty corners in the third and fourth quarters respectively, ensuring that the hosts claimed a second win in two days against the visitors.

With two wins from their opening two matches in the current Pro League season, Germany have moved up to the fifth spot in the standings.

Meanwhile, Germany's men shook off the disappointment of Tuesday's 1-6 loss at the hands of Belgium to produce an excellent display in match two, battling to a 1-1 draw before claiming the bonus point by winning the shoot-out.

The hosts took a lead when Florian Fuchs touched home a defence-splitting pass from team captain Tobias Hauke in the 24th minute, before Belgium finally pulled level eleven minutes from the end, thanks to Loick Luypaert's deflected penalty corner drag-flick.

Belgium were denied goal-scoring opportunities on numerous occasions by goalkeeper Alexander Stadler, who produced a string of fine saves in regular time to earn a crucial point for Germany against the reigning World and European champions.

Stadler was almost single-handedly responsible for Germany's bonus point, making some wonderful blocks to keep a clean sheet in the shoot-out, with Christopher Ruhr's converted effort being enough for a 1-0 win in the one-on-ones.

While Belgium remain well clear at the top of the standings, two points for Germany has seen Die Honamas move off the bottom of the table to seventh position.

The next Pro League matches will take place in October, with the men and women of the Netherlands and Great Britain taking on each other in Amstelveen (NED).

Telangana Today


---

Next FIH Indoor Hockey World Cup postponed to early 2022




Lausanne, Switzerland: Due to the global COVID-19 pandemic still going on, the International Hockey Federation (FIH) and the Belgian Hockey Association have jointly decided to postpone the upcoming FIH Indoor Hockey World Cup - initially scheduled to be played in February 2021 - to 2-6 February 2022, in order to maximise the athletes' and fans' experience.

FIH CEO Thierry Weil stated: "The FIH Indoor Hockey World Cup is a great hockey spectacle which generates a fantastic atmosphere. With the current major uncertainties which we are facing - such as the ability of all teams to travel, the completion of all continental qualifiers or the access of fans to the venue - and in order to protect the health of everyone involved, a postponement was the only option to go for. Our thanks go to the Belgian Hockey Association and the Province of Liège for their great commitment to put together an amazing show in 2022!".

Hockey Belgium CEO Serge Pilet added: "In coordination with the Province of Liège, we are convinced that this is the wisest decision in regards to the actual health situation due to the COVID-19 pandemic. Let's hope this postponement will enable us to organise a superb event in Liège's magnificent Country Hall, in ideal conditions. But first, let's try to put the pandemic behind us …"

It will be the sixth edition of the FIH Indoor Hockey World Cup. The showpiece event will see 12 teams competing in both the men's and women's competitions. Austria men and Germany women won the last FIH Indoor Hockey World Cup events that took place in 2018 in Berlin, Germany.

More information about the history of the FIH Indoor Hockey World Cup is available here.

FIH site


---

A 'changed' Faizal knocks on Malaysian national team's door again

By Jugjet Singh



Faizal Saari

If you have not been impressive in the ongoing Razak Cup, don't worry too much.

For coaches Arul Selvaraj and Nasihin Nubli are not only keeping an eye on the matches but also have "spies" at Bukit Jalil to watch players on and off the field for their other qualities.

"I will name a 'new' training list a few days after the Razak Cup ends, as players need to undergo some tests before I confirm them.

"I have seen some promising players, old hands and young legs, and they will be given a chance," said Arul.

One former player, dropped by former national coach Roelant Oltmans after the Malaysia Hockey League (MHL) early this year, has impressed Arul.

"In Faizal (Saari), I have seen a changed player with more commitment and dedication.

"Though he has scored 14 goals in the tournament, I am not looking at that factor, but also his off the ball commitment, and other factors on and off the field.

"I spoke to him during the tournament... he is a changed man," said Arul of the Terengganu-born striker who used to have an attitude problem that peeved most coaches right from his junior days.

Faizal, who had said he would not play for the nation as long as Oltmans was in charge, has now shed his prima donna image.

"If I am recalled to join national training by coach Arul, it will be a very special day for me. I want to forget the past and write a new chapter in my hockey book by giving 100 per cent in training and matches.

"If I do not receive a call-up, I will look to Europe or other continents to ply my hockey trade," said Faizal.

In today's semi-finals, Terengganu have the edge over Pahang in terms of experience, but need to keep their pace in check as even a 100 per cent form Faizal won't be able to help them.

Surprise package Kuala Lumpur will be up against slow starters Perak and if the KL youth brigade don't crack under game condition in an empty stadium, coach S. Selvaraju's men should be going for gold next.

TODAY'S SEMI-FINALS — Terengganu v Pahang (8pm, Pitch II), Kuala Lumpur v Perak (8pm, Pitch I).

New Straits Times


---

Faizal sounds the board loud and clear ­– he's still national material

PETALING JAYA: If there is one guy who is hell-bent on proving that he has not lost his touch, it is Terengganu's mercurial striker Faizal Saari.

In the ongoing Razak Cup hockey tournament, the 29-year-old has been relentless – scoring a whopping 14 goals in just four matches.

With that kind of form, it is hard for national coach S. Arul Selvaraj to ignore calls for Faizal to be reinstated into the national team.

And surprisingly, Faizal managed to produce the sterling show despite having been away from hockey for more than six months.

The player fondly known as Peja has scored six field goals, seven penalty corners and a penalty stroke to help his team reach the semi-finals.

In the quarter-finals, he turned match winner scoring both goals in the 2-1 win over Sabah at the National Hockey Stadium in Bukit Jalil on Tuesday.

Faizal said he is determined to prove his worth to the national team.

"When coach Roelant (Oltmans) dropped me for the centralised training squad, I was disappointed. Now that there is a new coach, I want to show to the selectors that I still have it in me, " said Faizal, who has 247 caps and scored 170 goals for the country.

"I plan to return and give my all. I knew the Razak Cup was the best platform for me to showcase my ability. I want to prove that I can still do the job for the national team.

"I am glad that I am getting my goalscoring act right but I still have to be sharper. My final touches in the D are not good enough, " said Faizal.

"I know some would wonder why would I say that, when I have scored 14 goals in four matches. "For me, as a striker, I always want to score goals but as a player, scoring is not the only role. "There are many other things you need to work on if you want to be a top player, " he added.

Faizal, his brother Fitri Saari and Mohd Shahrun Nabil Abdullah are the senior players in the Terengganu side and the trio believe the players are gaining momentum in reaching the semis where they take on Pahang at the National Hockey Stadium today.

Pahang are no pushovers as they shocked last year's champions Melaka 2-1 in the quarter-final. They have national players Muhd Noor Firdaus Rosdi, Mohd Arif Syafie Ishak and Mohd Hafiz Zainol in their team.

"Group matches are different from the knockout stage which can be anybody's game.

"But I am not too worried about my boys. I believe in them, and I am sure they will give their best, " said Faizal.

The Star of Malaysia


---

Pavandip is a towering influence for KL

By Jugjet Singh



Pavandip Singh (left), back at his best in the ongoing Razak Cup, is a shoo-in for a national trainee call-up. Playing for Kuala Lumpur, the 20-year-old has shown that even though he took a two-year break from hockey after his SPM, he is still national material. - BERNAMA photo

KUALA LUMPUR: Pavandip Singh, back at his best in the ongoing Razak Cup, is a shoo-in for a national trainee call-up.

Playing for Kuala Lumpur, the 20-year-old has shown that even though he took a two-year break from hockey after his SPM, he is still national material.

Kuala Lumpur made it to the semi-finals and will play Perak at the National Stadium in Bukit Jalil.

Newly-appointed national coaches Nasihin Nubli and Arul Selvaraj have said they will be looking for new faces in the Razak Cup, and Pavandip has shone like a beacon with his height and agility with the ball.

Pavandip was selected for the 2020 Junior World Cup training squad when he was 16 years old in 2016 but took a study-break after going to university. And it looks like he will be playing in the Junior Asia Cup in Dhaka next year on Jan 21–30.

His sister, Kirandeep Kaur, 18, who represented Malaysia at the Jakarta Asian Games, is also playing for KL in the women's Razak Cup.

New Straits Times


---

Inconsistent Perak to rely on discipline to take them to final



Mastermind: KL's Shahril Saabah (left) tries to dribble past Pahang's Mohd Arif Syafie Ishak during the Razak Cup Group D match last week. — Bernama

PETALING JAYA: Perak are the obvious favourites in the semi-final clash against Kuala Lumpur in the Razak Cup but their inconsistency is making them feel uneasy.

Yet, they somehow managed to stay unbeaten up to the quarter-finals. In the group stages, they started with a 3-3 draw with Johor, then beat Sabah 2-0 and were held 2-2 by Selangor to finish tops in Group B with five points.

In the quarter-finals, they downed Perlis 2-0.

And for the semi-finals, captain Sukri Mutalib believes that a disciplined performance would see them qualifying for the Razak Cup final for the 10th time.

"In the beginning, we were not sharp but we have been improving from game to game. Our defence is getting better and we are much compact in midfield now. From the veterans to the youngsters, everyone is playing with discipline, " said the former national captain.

"Honestly, I have not watched any of their (Kuala Lumpur) games to know their strengths and weaknesses. I know they have several national players.

"They have Shahril (Saabah), Norsyafiq (Sumantri) and Hafizuddin (Othman). Also, former internationals like Ramadan (Rosli), Norhizzat (Sumantri) and Joel (Samuel van Huizen). Their core is good, and that can affect us. And they have Shahril, who is a good penalty corner hitter.

"To win this game, we have to score and defend well. Players will have to remain disciplined."

Perak manager Prof Madya Dr Norkhalid Salimin said players from both sides have played against each other before, so whoever controls the midfield will win.

"Our penalty corner conversion needs to be a bit more reliable. Against Sabah, we had five but could only convert one. So that has to improve.

"We struggled in the beginning, but our cohesion and chemistry are getting better. Let's hope we get into the final, " said Prof Norkhalid.

Meanwhile, Kuala Lumpur's Shahril said he is not satisfied with his performance even though he has scored five goals in four games.

"I missed a lot of chances in the D-Box. I need to be sharper and clinical. As we all know, Perak are the favourites in this tournament every year. They have experienced players and talented youngsters. We've to be careful when playing them. They are a balanced side.

"All players have to be 100 per cent committed, " said Shahril.

Kuala Lumpur manager Sukhjit Singh said his team had performed well throughout the tournament and their work rate has been excellent.

"We require 100% commitment from everyone in the team to match Perak. The strength of the KL team is our unity and teamwork, and not forgetting we have one of the best coaches in our team – S. Selvarajoo."

The Star of Malaysia


---

Complaints about 'sub-par' women's Black Sticks environment amid exodus of female staff

Zoe George



Concerns have been raised into the culture within the Black Sticks high performance environment Hannah Peters/Getty Images

The spotlight is back on the women's Black Sticks programme at Hockey New Zealand following complaints and an exodus of female support staff in recent months.

Stuff understands complaints about the environment started in August 2019. Later that year support staff raised concerns with the now outgoing HNZ chief executive Ian Francis and now former high performance director Paul MacKinnon. It is alleged by some within the programme that those concerns were not addressed.

Francis, who resigned in July but has not yet left HNZ, said he and the board were made aware a formal complaint had been laid with High Performance Sport NZ in May this year.



Concerns have been raised by athletes to Hockey New Zealand about the "sub-par" enviroment in the women's high performance programme. Kai Schwoerer/Getty Images

HPSNZ chief executive Michael Scott said he wrote to HNZ to "express our concerns" and "request that they respond in writing to the complainant with the steps to be taken to address their concerns".

Francis confirmed the board chair and a board member then met with a player to discuss concerns about the environment.

However, concerns were again raised, this time by the wider Black Sticks team, in late June. An email was sent from the athletes to the board and Stuff understands the correspondence included allegations of "sub-par" organisation, unprofessionalism and a lack of communication.

Issues were raised in a "good, open discussion" between athletes and Hockey New Zealand board's people and culture committee following the email, board chair Mike Bignall said.



Black Sticks coach Graham Shaw allegedly "shut out" athletes from training Christopher Lee/Getty Images

Following this, it's alleged the athletes were "punished" for speaking up by being "shut out" of high performance training facilities for a week.

Some athletes had travelled to Auckland to train, when they allegedly received an email from head coach Graham Shaw saying training was cancelled. Stuff has been told when the athletes asked for clarity regarding the "shut-out" they were not given answers by the coach or by Hockey New Zealand.

Francis and Bignall told Stuff the women's team trainings were "paused" in late July to allow time to "reset the programme following recent changes with coaching staff".

"Players continued with their personal and club trainings, and returned to group trainings the following week," Francis said.

"Hockey NZ and team management, in consultation with the players, took this opportunity to consider what is needed to put the team in the best possible position to perform to their potential at the Tokyo Olympics and beyond."

Bignall said the athletes were "by no means" being punished for speaking up.



Katie Glynn recently parted ways with the Black Sticks from her role as assistant coach. Getty Images

Stuff understands four female support staff, including the team manager, sports psychologist and assistant coach Katie Glynn, have left the programme in recent months.

Bignall declined to comment on whether Glynn had signed a non-disclosure agreement with Hockey New Zealand pertaining to her departure, but Stuff understands she did.

"That's a private matter between her and us," he said.

Stuff attempted to contact Glynn, but received no response.

Glynn has joined former Black Sticks coach Mark Hager in the United Kingdom. At the time of her resignation all 24 athletes within the Black Sticks squad released a statement in support of her.

The statement said "we are extremely saddened that Katie has resigned from a role she loves and excels in. The Black Sticks women have lost an integral element of our team, and offer Katie our full support going forward."



Katie Glynn has joined former Black Sticks coach Mark Hager in the UK. Dean Mouhtaropoulos

Bignall said exit interviews are undertaken with those who depart the high performance programme, but Stuff has been told reasons for the departures remain unclear to the wider Black Sticks team.

"Some of the communications could have been better … that's one of the things we said to the [players] that we need to up that, and that's what we've done," he said.

"People have the ability to leave the programme when they want, whether they are players or management. There's always change that's going on, so people make their own decisions in relation to [leaving]."

MacKinnon left the organisation in early August, soon after Francis' resignation.

A review was undertaken by Maria Dew in late 2018, addressing concerns about the negative environment within the Black Sticks women's programme and player welfare issues. It was released in 2019 and resulted in Hagar's departure as coach after a long and successful tenure.

Shaw was appointed to replace him.

Stuff understands both players and support staff were never given the full review by Hockey New Zealand, and there are claims that many of the issues that were present in 2018 still exist today.

But Bignall said some recommendations in the review have been applied, including players having access to "multiple feedback channels", including being encouraged to engage directly with the board.

"We have numerous discussions with the group and that's what we want to have, open discussions," he said.

"You do your best to listen to everybody but clearly you've got to decide on the course of action you've got to take knowing that's not going to please everyone in that context."

He said new initiatives have been put in place over the last 18 months, but more work is needed.

Stuff


---

India hockey's key man Ciriello steps down from role

Chris Ciriello had joined the backroom staff of the Indian hockey team in 2018 and had performed multiple roles including assistant coach and team manager.

By Rahul Venkat ·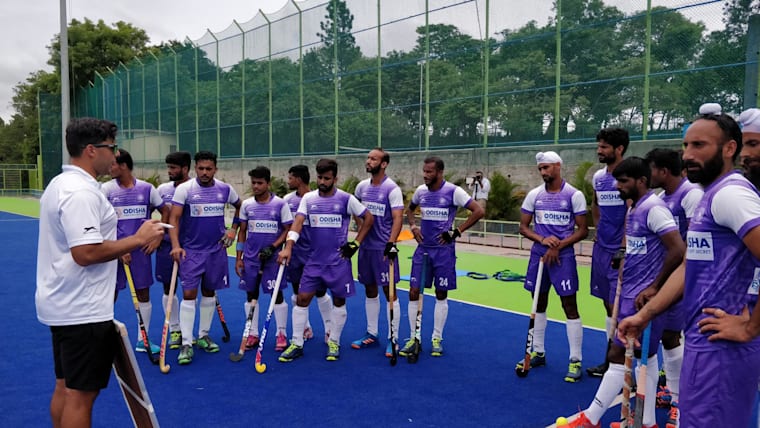 Former Australia international Chris Ciriello resigned from his post as analytical coach of the Indian hockey men's team on Tuesday.

Ciriello had returned home to Perth before the COVID-19-induced lockdown in India to undergo treatment for a skin condition. It is understood that this was the primary reason why he resigned despite signing a new one-year contract recently.

"My condition is getting better but I have to go for UV light treatment three times a week. Doctors said it could take six to eight weeks to recover but were not sure," Ciriello told the Hindustan Times.

"The (Indian hockey) team needs someone there now and I can't be there. I wanted to come back. But I also didn't want to put any of the guys at risk."

Ciriello is the third member of the support staff to quit the Indian hockey men's team in recent months after the departures of high-performance director David John and team physio David MacDonald.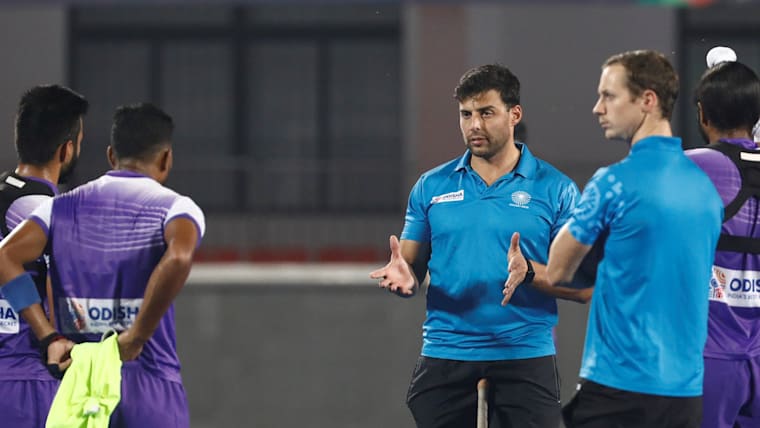 Chris Ciriello had been analytical coach of the Indian hockey team since 2018. Photo: Hockey India.

Donning multiple hats

The 34-year-old Chris Ciriello is a bronze medallist with the Australian hockey team at London 2012 Olympics and has lifted the 2014 World Cup, where he scored a hat-trick in the final. He retired in 2017 and joined the coaching staff of the Indian hockey men's team in early 2018.

The Australian was officially the analytical coach of the team but performed other roles, such as assistant coach and team manager, at various tournaments.

An ace drag-flicker during his prime, Ciriello's inputs also proved to be useful for India's penalty corner specialist Rupinder Pal Singh and other defenders.

Ciriello was also a vital cog in the backroom staff of current chief coach Graham Reid and his departure could be a big blow to the Indian hockey men's team a year ahead of the Tokyo Olympics.

Moreover, the effect of Ciriello's resignation will be felt off-the-field as well, as his wife Heidi took English language lessons for the team along with Graham Reid's wife Julia.

Olympic Channel


---

Hockey Ireland Cup Competition Finals - 27th September 2020




This Sunday will see Lisnagarvey Hockey Club host two more Hockey Ireland Cup Competition Finals in a double header format with Lisnagarvey teams facing North Kildare and Corinthian Hockey Clubs.

1.30pm will be push back time for the Irish Hockey Trophy final between Lisnagarvey and North Kildare. North Kildare are coming into the match fresh from their semi final last weekend where they beat Portadown 2-1 while Lisnagarvey saw off opponents Armagh 5-0 in a very strong performance at the beginning of the month.

4.00pm will see action between Lisnagarvey 2 XI and Corinthian 2 XI in the Irish Junior Cup Final. With the semi finals taking place back in February this will be a strongly contended match between the two teams. Corinthian Hockey Club won their place in the final after a tight shootout against Three Rock Rovers where they took the match 4-3 but Lisnagarvey saw off their Semi final opponents Clontarf with a strong 6-2 win.

Both matches are sure to be tightly contended and a show of excellent hockey.

Tickets are available for the matches on the Lisnagarvey Website https://lisnagarveyhockey.com/hi-finals-2019-20/

Due to Covid19 Restrictions we are unable to provide Hard Copy Programmes for our Cup Competition Finals this year. Instead we have an online PDF programme below will can be downloaded or viewed by phone/tablet or printed at home.  

Hockey Ireland Cup Competition Finals 27 September 2020 Programme.pdf

Good luck to all the teams competing this Sunday at the Hockey Ireland Cup Competition Finals and thank you to Lisnagarvey for the hard work and immense effort they have put in to making these finals a safe place to watch and play hockey.

Irish Hockey Association media release


---

Car sharers handed travel advice as hockey outdoors given green light

By Rod Gilmour



League hockey can continue in England as planned PIC: England Hockey

There was huge relief for leagues as outdoor hockey was given the green light to continue "as planned for the foreseeable future" by England Hockey following the prime minister's address on Tuesday.

While rules on outdoor organised team environments remain unchanged, it is reported that ministers could extend the rule of six to include contact team sports – such as rugby, football and hockey – if coronavirus cases continue to rise across England.

With hundreds of amateur players set to travel to away games this weekend, in updated travel guidance, the government has also advised people to try not to share a car with individuals that they don't live with or who are not in their "support bubble".

England Hockey told THP: "Government has clear travel advice on car sharing and it is this guidance that EH is following to the letter."

A 34-page government document advised that if people have to share a car, try to do so with the same people each time. In addition, people in the vehicle should keep windows open and face away from each other.

With potential problems facing the sport through catching the virus, England Hockey said that there wouldn't be funding available for clubs thinking of hiring larger vehicles to travel.

Despite hockey being allowed to take place as a grassroots sport and no testing taking place at clubs, THP asked England Hockey for a definitive statement given the close contact nature of the sport as hockey leagues kick into action this weekend.

"Cricket and Football does not have testing at community level; only professional sports have testing programmes and 'biosecure bubbles'," EH said.

"The government has continued to allow organised team sports at community level because the medical evidence for transmission of covid on the field of play is proven to be fleeting (less than 3 mins per match) and as long as social distancing outside of play is maintained then the risk of transmission during hockey is deemed minimal. Also 'organised' activity is seen to be safer than informal activity. All organised outdoor team sports that have approval via government have been allowed to continue."

EH reiterated the necessity of following guidance in an updated statement on Wednesday where some other sports have fallen short.

"The new rules made it perfectly clear that organised outdoor sport is considered to be a safe activity. This endorses the assessment of the medical evidence that team sport NGBs, including England Hockey, have had agreed by Public Health England and DCMS. The key point is that organised activity is being supported, therefore the expectation for all involved in delivering hockey is to ensure that the guidance is followed – particularly the need to maintain a safe social distance outside of play.

"In some other sports, activity has been stopped where there is evidence of the guidance not being followed, and we do not want that to have to happen in hockey."

Meanwhile, the UK government's latest update does mean that indoor hockey is unlikely to take place this winter.

Indoor organised sport for over 18s will no longer be exempt from the rule of six. However there is an exemption for indoor organised team sports for disabled people from Thursday.



The Hockey Paper