All the news for Friday 24 July 2020

Malaysian men's hockey team's Dhaka meet in doubt

By Jugjet Singh



National hockey coach Roelant Oltmans (centre) may not be in charge of the squad when it participate in the Asian Champions Trophy (ACT). - BERNAMA/File pic

THE national men's hockey team trained as usual yesterday, but there is much uncertainty over the only tournament that they are scheduled to play in this year.

And even if the Asian Champions Trophy (ACT) is still held in Dhaka, Bangladesh in November, Dutchman Roelant Oltmans might not coach Malaysia anymore.

Amid the second waves of Covid-19 outbreak around the world, the explosion of cases in Bangladesh is certainly worrying.

When Oltmans was asked how he feels about making a trip to Dhaka for the ACT, he said: "My government (the Netherlands) does not allow travel to Bangladesh at the moment and I don't know what the alert level will be in November.

"If the alert stays, I will not be able to travel with the team."

Then there is the issue of quarantine imposed on travellers.

"The 14-day quarantine upon arrival in Dhaka will not allow us to play any friendlies or even train.

"The situation right now is a bit sticky as Covid-19 is making a comeback.

"But let's wait and see what the AHF (Asian Hockey Federation) stand on the ACT.

"They should know better on what to advise the competing teams," said Oltmans.

Malaysia, like all the other ACT teams, will not be able to play any friendlies and if the tournament is held as scheduled, the teams will parachute into the tournament after a 14-day "rest" in Dhaka.

"Preparations will be difficult as it's almost impossible to hold international friendlies due to quarantine and flight arrangements.

"And it looks like the teams will have to jump into the tournament and take things from there," said Oltmans.

When asked if his assistants, Amin Rahim and Nasihin Nubli, are capable enough to handle the team in Dhaka if he is not allowed to travel to Dhaka, Oltmans took a wait-and-see stand.

"Actually it's too early to make such plans as the (Covid-19) situation might get better or worse... nobody knows for certain at this juncture.

"Let's wait and see. Like I said, the MHC (Malaysian Hockey Confederation) will make all the decisions about the ACT after being advised by AHF."

Bangladesh will make their ACT debut while the other teams are Malaysia, India, Pakistan, Japan and South Korea.

New Straits Times


---

Olympic Secrets: The night that GB women put hockey on the map back home

By Ross Bone

BBC One moved the 10 o'clock news. Nine million people tuned in. They were the number one trend on Twitter. Team GB's women's hockey team made quite an impression at Rio 2016.

An Olympic gold medal after a dramatic shootout win over reigning champions the Netherlands was one of the moments of the Games.

What are the untold stories behind that triumph? Four years on, we gathered some of the stars of hockey's 'where were you?' moment to relive that famous night in Rio. Here are some things we learned.

GB were inside the Netherlands players' heads

The Dutch were the gold standard in women's hockey. They were the Olympic champions in 2008 and 2012 and going for their third title in a row. They were the world's number one side and reigning world champions. And yet, the signs throughout suggested they weren't totally confident of overcoming Danny Kerry's team.

"When we were waiting in that line-up in the tunnel, the Dutch started shouting and screaming and doing high fives and hitting their sticks on the wall." says Helen Richardson-Walsh. "I was looking across thinking 'that's not what they do'. I felt like they were nervous. They know they've got a game on here."

When the game went into that now-famous shootout after a 3-3 draw in normal time, those signs of pre-match nerves were reinforced.

"When the final whistle went, our body language and theirs were complete opposites." says Hollie Pearne-Webb, who netted the decisive goal in the shootout.

"I looked over and they were stood hands on their knees, heads down. Everything was saying we would win it. We were ready."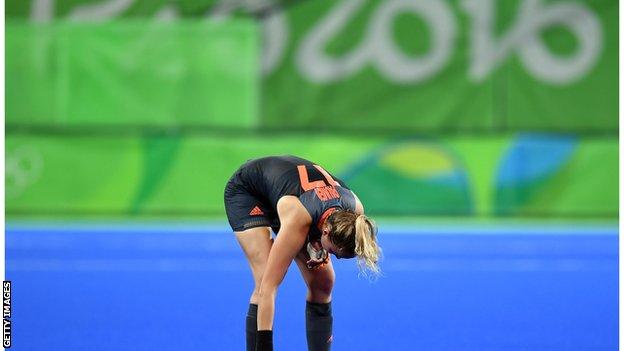 Dutch captain Maartje Paumen missed a penalty stroke in the first half

That sense of dread may have come from England's shootout win over the Dutch in the final of the 2015 European Championships. Whatever the reason, the body language was telling.

Helen Richardson-Walsh nearly didn't play in the final

She played a pivotal role in the shootout, slotting home a penalty stroke under immense pressure, but Helen Richardson-Walsh nearly didn't play at all.

"I pulled my hamstring in the semi-final and it was really touch and go," she says.

"I had to do a fitness test on the morning of the final; I still didn't know if I would play. I wanted to be out there and I felt I could do a job, but I wasn't sure what was going to happen.

"When I was warming up I was thinking about my injury and not the game. So I didn't really have any nerves, which was a good thing for me. I didn't feel like I contributed as well as I would have liked but I did a job. I just kept trying to get in the way and thankfully I scored in the shootout."

You shouldn't make Helen angry

Talking of that penalty stroke: As Helen Richardson-Walsh stepped up to take it, there was a crescendo of jeers from the largely Dutch-supporting crowd. For hockey that is highly unusual. Most crowds cheer when a goal goes in and applaud politely when someone does something good. The rest of the time there is just a hum of noise and not much else. Richardson-Walsh wasn't put off, though.

"I knew that all my team-mates wanted me to take it but when I walked up that's when I heard them booing, and it made me so mad," she says. "Emotion for me in these moments is good. I'm better when I'm a bit angry. You can tell how I felt by the way I celebrated."

Doing your homework pays off

Maddie Hinch's 'little black book' with details on each of the Dutch players' shootout plans is now the stuff of legend. The planning and practice for this moment had been done weeks ahead of time.

Hinch explains: "Under pressure, nine times out of 10, people revert to their strengths, so I had to trust that was what they were going to do. Credit to them if they go against that and take a little bit of a risk. I'd watched all the video I could. I knew what each of them preferred to do. I was ready and just looking forward to it. These are the moments you train for. You shouldn't fear it. It's just like an exam: If you've done your homework, there's no need to panic."

See? It's not just something your teachers used to say to you to get you to do something. It's true.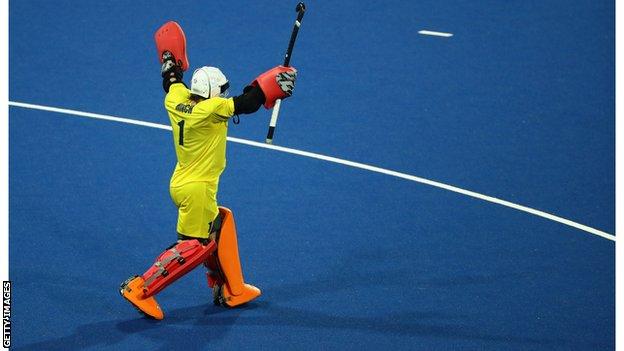 The Netherlands were unable to beat Maddie Hinch with any of their efforts during the shootout

Pearne-Webb decided she'd practised enough

The training session before the final saw some of Great Britain's players opted to practise their shootouts one last time. With the Dutch training on the adjacent pitch, Pearne-Webb decided against joining them.

"We'd practised them so much at home, we'd spoken about the mental processes and I just thought at that point I didn't need to. The Dutch were across there too, watching. I didn't need the additional worry of whether they saw me or not, so I left it. I'm glad I did."

With the title on the line, up she stepped and calmly slotted in the winner to clinch the gold medal.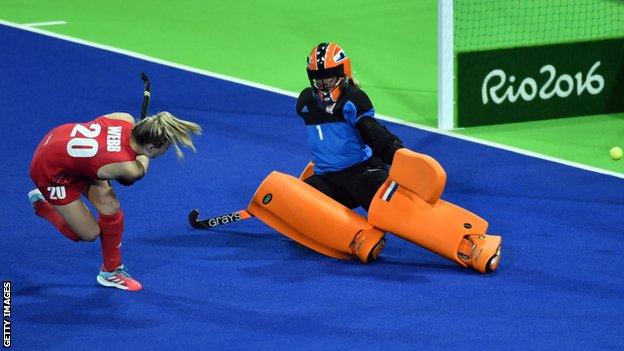 Hollie Pearne-Webb beats Joyce Sombroek for the winning goal in the Olympic final

Kate Richardson-Walsh and being 'summoned to see the headmaster'

It's reassuring to know that even Olympic gold medallists get that sinking feeling in the pit of their stomach when someone in authority asks for a "quick word".

The morning after the gold medal win, Richardson-Walsh was asked to be Team GB's flag bearer in the closing ceremony. However, with a fuzzy head after a night of celebrating, that was the furthest thing from her mind when the chef de mission Mark England broke the news to her.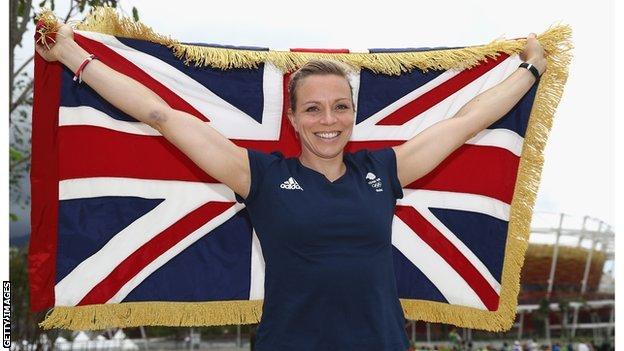 Kate Richardson-Walsh was selected to be Team GB's flag bearer for the closing ceremony

"We had quite a wild night out and there was a knock at the door in the morning. I opened the door and it was carnage. There were McDonald's wrappers and kit everywhere.

"There was a lady there from the BOA and I immediately thought something terrible had happened. I was running through all the scenarios in my head, wondering what it could be. The chef de mission sat me down and he was dead serious and he said: 'We'd like you to carry the flag for the closing ceremony.'

"I just burst out crying. It was an amazing honour. It was really special."

Tears of joy or tears of relief? It makes you wonder what happened on that night out that caused her to worry so much...

BBC Sport


---

When the Helsinki sun shone brightly on Indian hockey team at 1952 Olympics

Balbir Singh Senior's genius helped the Indian hockey team overcome some infighting, drop in form and the elements to land their fifth straight Olympic gold.

By Rahul Venkat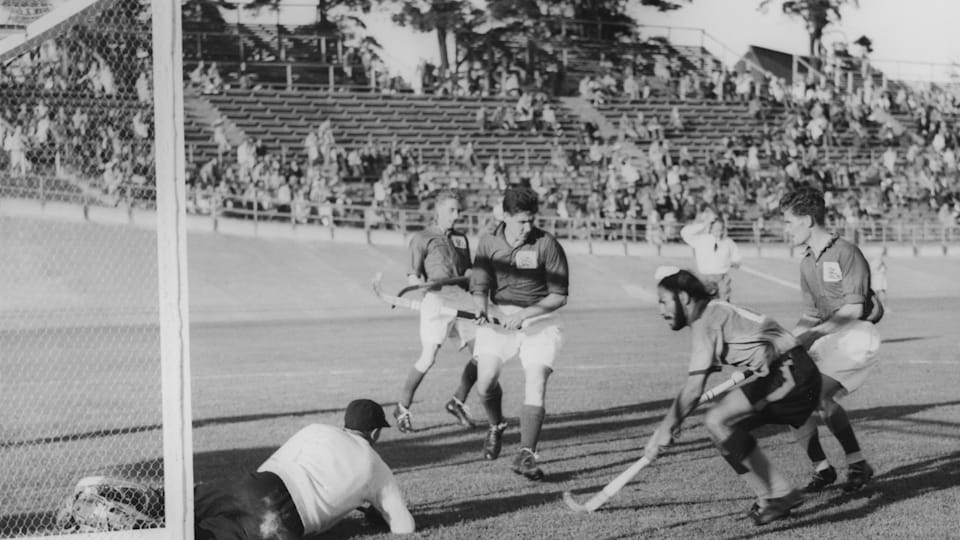 Balbir Singh Sr. scored nine goals at the 1952 Helsinki Olympics

When the Indian hockey team won a second hat-trick of Olympic gold medals (1948, 1952, 1956) as an independent nation, it created a legacy that would be talked about for decades to come. Those were the days of Balbir Singh Sr., KD Singh Babu, Leslie Claudius and Keshav Dutt.

July 24, 1952 was another red-letter day in Indian hockey. They reigned supreme over the Netherlands in the final of the Helsinki 1952 Olympics to clinch the gold medal for the fifth time overall.

However, the journey to Finland was anything but ideal for a team that was considered as a runaway favourite.

The tumultuous back-story

A month prior to the 1952 Olympics, the Indian hockey team for the Summer Games had been finalized with KD Singh Babu named captain and Balbir Singh Sr. his deputy.

However, the Indian Olympic Association (IOA) faced pressure from the Uttar Pradesh and Bengal state hockey associations to include centre-half OP Malhotra and striker CS Gurung in the team, respectively. This interference seemingly impacted the team's combination.

The Indian hockey team suffered an unexpected defeat against a local team in one of their practice matches in Madras. Worse, KD Singh Babu was injured, losing a few of his front teeth after colliding with a Madras XI player.

It led to some questions on the preparedness of the Indian hockey team that went to Copenhagen, Denmark for a preparatory camp. The main idea was to get acclimatized to the cold Nordic weather and the alien conditions they would encounter in Helsinki.

Finland, known as the 'Land of the Midnight Sun', would experience daylight for 24 hours a day for almost 70 days after the summer solstice on June 21, and the period coincided with the 1952 Olympics.

It was a phenomenon that the Indian hockey team, with 10 out of 18 members making their Olympics debut, was not familiar with. The time difference and those additional hours of sunlight were playing havoc with the team's sleeping pattern.

"Nanaji (grandpa) told me that the team would draw the curtains at all times and even used bedsheets to block out the light and make an entirely dark room to be able to get some sleep," Kabir Singh, Balbir Singh Sr.'s grandson, told the Olympic Channel.

The winning campaign

The Indian hockey team was given a bye in the first round, along with Great Britain and Pakistan and so, they began their campaign against Austria in the quarter-finals.

Both captain and vice-captain netted a goal each and Raghbir Lal Sharma and Randhir Singh Gentle added to the tally as India beat Austria 4-0.

Acclimatize, the players did, but only just.  The 4-0 scoreline against Austria looked great but India looked sluggish in their passing and the damp conditions made it difficult for the Indians to demonstrate their artistry on heavy grass. The inadequate sleep was certainly playing its part.

However, the Indian hockey team put on an improved show in the semi-final, beating Great Britain 3-1 with Balbir Singh Sr. scoring the second of his three Olympic hat-tricks. The deputy was especially pleased with how they had broken open the British defence.

"We were a completely changed lot in the semi-final against Britain. We moved swiftly and smoothly and scythed their defence with copy-book moves."- Balbir Singh Sr.

India reserved its best for last though, defeating the Netherlands 6-1 in the final.

Balbir Singh Sr. scored five goals on the day, a record in the final of a men's Olympic field hockey tournament that stands to this day, and captain KD Singh Babu put his name on the scoresheet too.

The Indian hockey team had won their fifth Olympic hockey gold in style. India scored 13 goals in all - a number incidentally Balbir Singh Sr. considered lucky - of which the legendary hockey player scored nine.

However Balbir Singh Sr. also believed that India had received divine blessing too.

"He shared a room with the coach Harbail Singh in Helsinki and Nanaji would hear him pray all night for the team's victory. He felt it did play some part in the win," revealed Kabir Singh.

Apart from Balbir Singh Sr. and skipper KD Singh Babu, it was also a second-consecutive gold for Randhir Singh Gentle, Leslie Claudius, Ranganadhan Francis, and Grahanandan Singh.

Grand celebrations

When the players returned home, the Indian hockey team got a grand reception, even playing an exhibition match which was attended by then Prime Minister Jawaharlal Nehru and President Dr Rajendra Prasad.

Punjab fans went overboard with fans even mobbing the train in which the four Punjab Police players – Balbir Singh Sr., Udham Singh, Dharam Singh and Raghbir Lal Sharma – had returned home.

"When we emerged from the train, they almost crushed us with bear hugs and shows of affection. We were taken in open Jeeps in a huge procession in Jalandhar," Balbir Singh Sr. had recalled to authors Boria Majumdar and Nalin Mehta in the book, Dreams of a Billion: India and the Olympic Games.

"Thousands of people lined the streets and cheered us from treetops and housetops. We were showered with small gifts, baskets of fruits and sweets and garlands — these constituted the people's simple way of showing their gratefulness."- Balbir Singh Sr.

Of course, the biggest moment would arrive four years later in Melbourne where India bagged their sixth consecutive Olympics gold. That was enough to make India a hockey superpower, a tag that still remains with the Indian men's hockey team.

Olympic Channel


---

David Ames proving football's loss has been hockey's gain



David Ames 2020 FIHPL

David Ames is widely regarded as being one of the best players currently gracing the world of hockey.

But if things had turned out differently when he was younger he could have ended up playing on the green grass of a football pitch rather than water-based astro turf, as he explained on the Ian Sloan Hockey Podcast.

As many young children are, Ames was mad about sport growing up in Cookstown, Northern Ireland. He was particularly obsessed with football and from very early on harboured ambitions of making it as a professional.

He even had some of the biggest clubs in England circling around him, only to be told he didn't have the physical prowess to make it to the top.

When you see him now, towering over and outmuscling many of his opponents, you can't help but feel that football's loss has certainly been hockey's gain.

"Being a footballer which was definitely something in the pipeline when I was younger," the 29-year-old said on the first episode of the Ian Sloan Hockey Podcast.

"From about the age of five all I wanted to do was play football. There was nothing else that really interested me.

"I got some trials for Preston North End, I was on their books for about a year on a scholarship, flying in at weekends when I was around 13 or 14. Me and another guy would fly over at the weekend, play some matches, fly home and go to school on the Monday.

"Chelsea came calling at one point, Aston Villa came calling at one point. But both of those came pretty much as I stopped playing football properly and carried on the hockey route.

"It was a lot to do with my growth spurt. I was really, really tiny when I was younger and the outcome was that I would probably never make it as a footballer because I was too small, too skinny.

"That sort of killed the dream which, when you look back now and how much money they're making it's quite a lot more than us, is a shame!"

Ames has since represented England and Great Britain Hockey on 93 occasions, won three international medals and appeared at a World Cup and an Olympic Games.

What makes this achievement even more impressive is that, up until his mid teens, Ames had barely even played hockey.

"I was 15, that was the first time I'd really picked up a stick properly," he said.

"My best mate's dad coached the U15 team and they were stuck one Sunday. I was there to watch and ended up playing and it started from there.

"It was very quick – 15, 16, 17 I blossomed into playing a sport I'd never done before. I genuinely have no idea how it happened. It obviously helped having been sporty all my life and being to take different aspects of sport but when you look at it like that it shows how far I've come. Not many people who play at international level only start when they are 15-years-old.

"Mum wasn't massively into that hockey – she played a bit but wasn't really into it. My brother is a very good hockey player as well. But it's all down to who I've been coached by.

"I'm also a bit of a geek so I studied a lot when I was younger and went to watch as much as I could. I remember mum taking me to watch the Europeans in 2007 in Manchester, the EHL in 2007 and 2008. Just spending the time watching the top players doing their thing and picking it up really quickly."

Great Britain Hockey media release


---

Hockey Foundation is ensuring that hockey is vibrant and bright at the grassroots




The Hockey Foundation has been busy over the past few months as it has been providing support to several Associations around New Zealand to help them at the grassroots level and get the 2020 hockey season underway.

The Hockey Foundation has had great pleasure in supporting some great projects and programmes post-COVID – 19 with the hockey seasons getting underway around the country.

The following is a snapshot of what the Hockey Foundations has supported to date with more to come:

Auckland Hockey: Lead coach initiative enabling club and school coaches to have better connectivity with other coaches around the region.

Taranaki Hockey: Helping support a holiday programme to get kids back into hockey and excited for the remainder of the hockey season.

Central Otago Hockey: Supporting a fantastic holiday programme offered to all levels of kids in the area.

Marlborough Hockey: Coaching clinics which benefit both coach development and the players in the area with the expertise of highly recognised HNZ coach Chris Leslie

Northland Hockey: Supporting a holiday camp to get keen kids on the turf over the holidays with drawcard – Black Stick Ella Gunson.

Bay Of Plenty Hockey: Helping support an umpire development role who looks after all the young up and coming umpires at the Junior and Secondary level in the Bay Of Plenty region.

North Harbour Hockey: Helping support the coaches in the Cubs and Hawklet U13 and U16 development programme which is running weekly sessions for the 2020 season finishing up with a great little festival.

Otago Hockey – The Foundation supported them earlier in the year with a girls activation day where hockey teamed up with other sports in the region. They also supported a coaching development programme which had a coach development focus.

Scholarship announcements:

The Hockey Foundation is also pleased to announce they have awarded the following scholarships with some financial help to the following young players:

Chica Gilmer Scholarship:

Three worthy recipients were

Kelsey Teneti – Poverty Bay
Olivia Coss Te – Awe Awe – Manawatu
Selina Akavi – Wellington

Who are all up and coming keen hockey players who give a lot to the game in their communities. Well done to these three and we wish you well for a successful 2020 hockey season.

Alan Lints Senior Scholarship:

Ben Algie is the first-ever recipient of the Alan Lints Senior scholarship. Ben is from the Manawatu and is a young enthusiastic umpire ready to learn and grow his umpiring abilities. Well done Ben and we wish you well for your season ahead.

Hockey New Zealand Media release


---

College Cuts Could Have A Far-Reaching Impact

by Ashley Morrison

What is symmetry? Is it two bookends adding a symmetry to a number of different height and width books? Or is it two identical vases on either side of a mantelpiece? Why as humans are we drawn to symmetry?


---

Life Member - Robert Taylor




All of Robert (Bob) Taylor's involvements have been honorary and on a voluntary basis, with hockey in the Australian Capital Territory being the major beneficiary of the fruits of his contribution to the sport.

Starting out playing at the United Hockey Club, Bob went on to represent NSW initially (the ACT was not yet recognized at national level) and then the ACT at national championships. His interest in the game started at the age of 5 when his uncle, who had been at a championship in Perth representing NSW, brought him back a hockey stick. Both of Bob's kids went on to represent Australia and as Bob puts it, "hockey has been a way of life – it was just something you did."

He has also had a huge impact as a coach and growing the game and developing talent in the ACT. As others like him who have received Hockey Australia Life Membership, Bob has willingly given of his time and service to hockey as he mixed a range of administration roles and duties during his coaching exploits.

Bob initiated the establishment of a hugely successful Minkey (junior) program in Canberra and the establishment of hockey as a sport in the newly created ACT Academy of Sport. He instigated the creation of the Canberra Lakers (a foundation member of the Australian Hockey League), while he also played a significant role in the establishment of the National Hockey Centre in Canberra, including overseeing the electrical design of the initial construction.

Bob served as a Board Member for the Australian Hockey Association for five years and then for a further five years on the Board of the amalgamated Hockey Australia, during which time he was the Chair of the Australian Hockey League Committee.

It is fitting to say that hockey, particularly in the ACT, would not be what it is today if not for the tireless and committed investment and passion for the game that Bob has brought to it.

What they said…

"I've had a go at everything – playing, coaching and administering, so it was a really nice surprise to receive Life Membership. When you sit back and look at what you've done you can't believe it and it made me think that I must have spent a lot of time at it…but it was never a burden for me.

Hockey has been my life…I can't remember not doing it. You talk about a network in sport…that network in hockey has certainly helped me in my life and the other thing about hockey is that you associate with really nice and unselfish people. It is a team sport and it amazes me how many unselfish people there are. Everyone I have met in hockey have been really good people and I think that has been the benefit to me – being able to hang around with nice people. So it is fantastic to be recognized in this way in receiving Life Membership and while I didn't expect it, I really appreciate it. None of this would have been possible without the support of my wife Nancy and my family." Robert Taylor

From those in the know…

"Bob endears himself across the hockey community. He has a history across many facets of the game and roles that you can play. As a parent he was involved in starting up the Minkey Program for the United Hockey Club back in the day. When the first Australian national hockey league started Bob, together with Mark Rutter, nurtured and produced a number of national players out of Canberra which was unheard of prior to that. Bob's knowledge and experience also helped me through my time being an NTC coach but also a coach who was learning the craft. For a long time now Bob's involvement, passion and love for the sport is really evident. I don't think he was given enough credit for his coaching and knowledge of the game in the time when he took on in his administration roles. It shows someone of Bob's ability and love for the game that he continues to be involved, albeit now through his grandchildren. He is also coaching United's second grade women's team because they didn't have anyone else and Bob said, "I can do it". That's the kind of person he is. His involvement with hockey in the ACT has been enormous and how do you put it in words…what he has brought to the sport in Canberra has been second to none. To get along with athletes, coaches, it's rare that you see him get upset and there is a calmness about him, and I think that shows with the teams and the involvement he has had, whether it's with athletes, on a committee, at the coaching level or now as a grandfather." Ray Dorsett (friend and colleague)

Robert Taylor
Player
Australian Capital Territory
1959-1995 United Hockey Club
1962-1966 Canberra Junior Representative
1969 U21 ACT
1974-1980 ACT Indoor Seniors

New South Wales
1965-1966 NSW U16
1968-1969 NSW U21
1969-1977 ACT Seniors
1970 NSW Seniors

Australia
1991-1992 Australian Masters

Coach
Australian Capital Territory
1967-1995 United Junior Coach (boys and girls)
1980-1992 ACT Junior Boys
1990-1993 United Senior Coach (men)
1990-1998 ACT Junior Girls           
1990-2005 ACT U21 Men and Women
1991-1998 Canberra Lakers Assistant Coach
1991-2005 ACT Academy of Sport Assistant Coach (men and women)
1995-1997 United Senior Coach (women)
1998-2005 Canberra Strikers
1999 ACT Girls Australian U18 Champions
2000-2005 ACT Academy of Sport (establishment of junior talent group)

Administrator
Australian Capital Territory
1980-1985 United Hockey Club President
1969-1990 United Hockey Club Committee (various)
1987 United Hockey Club Life Member
1966-1970 ACT Junior Association Committee member
1982 Establishment of Minkey in ACT
1987-1992 ACT Hockey Association President
1989 Establishment of ACT Academy of Sport Hockey Program
1989 Establishment of the ACT Hockey Centre
1989 Designed/managed lighting, electrical installation ACT Hockey Centre                    
1991 Establishment of the ACT Lakers
1994 ACT Hockey Association Life Member
2004-2005 Hockey ACT President

Australia
1995-2000 AHA Board Member
1996-2004 AHL Committee Chair
2000-2004 HA Board Member

Hockey Australia media release


---

The discrimination case which led to England Hockey disrepute changes

By Rod Gilmour




England Hockey say that a discrimination complaint levelled against a regional umpires' association four years ago led to "significant changes" in governance and how disreputes are handled – despite recent dispute claims having an unsatisfactory delay.

The issue has come to light after several of the signatories in a recent open letter to EH highlighting inequality at the top of the game had also brought a discrimination complaint against Herts & Beds Hockey Umpiring Association in 2016. The HBHUA was found to be guilty by an EH disciplinary process, but appealed the decision.

An independent panel upheld the HBHUA appeal against a finding that it had discriminated against and victimised Vauxhall HC. The original hearing in May 2016 had found that HBHUA had breached England Hockey's Equality Policy and HBHUA successfully appealed that decision.

Vauxhall players say the HBHUA was successful due to a process technicality, while there was no follow up by EH.

In HBHUA minutes from its 2017 AGM, it was noted that had the appeal failed, the Association "would probably have been wound up."

An England Hockey spokesperson told THP: "This case led to very significant changes to England Hockey's policies and procedures, including the appointment of a Head of Governance, and a subsequent overhaul of our regulations, ensuring that the most complex and serious matters are now referred to the new England Hockey independent disrepute complaints panel, and that all matters of disrepute should be reported to England Hockey."

However, these overhaul of regulations seem to go against dispute claims made this season.

THP understands that Southgate HC is still awaiting the outcome of a disrepute complaint following a national league game against Teddington last October.

The club reported that two Southgate players were subjected to racial and homophobic abuse and have yet to hear from EH's disrepute advisory panel despite the season having concluded.

Asked why the club had yet to receive an outcome, England Hockey told THP that its policy "is to not comment on the specifics of any individual case."

Please help keep independent journalism alive in these uncertain times. With the media industry affected by advertising, we are continuing to offer our coverage free until we return in print.

Ahead of the new season, please subscribe in print or in digital format. Subscriptions for clubs, schools and individuals.



The Hockey Paper