All the news for Wednesday 22 July 2020

Further details revealed around Premier Hockey League




Over the next month, as we build towards the first-ever Premier Hockey League, Hockey New Zealand will be releasing more details around the teams and players who will be taking part in this incredible new league.

You will see the best 160 players from across the country (80 Men and 80 Women) competing against one another on the highest domestic stage. There is even more on the line this year with selections on the line for the Vantage Black Sticks as they build towards the postponed Tokyo Olympics and FIH Hockey Pro League.

North Harbour Hockey will play host at the newly built world-class stadium which played hosts to the Olympic and World Champions earlier in 2020. It will be fantastic to see this incredible venue utilized to launch such an important event for our players who are pushing for selection in the National Squads.

The matches at North Harbour will be free to attend, and we would love to see the wider hockey community get along to the series and check out the incredible hockey that will be on display. If you can't make it don't worry as Sky Sports New Zealand will have all the games live-streamed on their Sky Sport Next platform as well as select games on Sky Sports Television.

The competition will see four men's and four women's teams play a round-robin competition over two extended weekends in August and September. The final weekend will culminate with a Sunday Finals day to decide the inaugural Premier Hockey League champions.

As the Premier Hockey League is preparing our top players for the rigours of international hockey as well as for the Olympic Games next year the level of competition must meet that need. Teams will be selected via the Hockey Premier League draft. With the majority of players selected as protected local players who will not be entered into the draft and will play for the team representative of where they play their representative hockey. The draft will then select the remaining players into teams and must include two goalkeepers.

To facilitate environments that will be ideal preparation for the International Game as well as ensuring a high pace of play the following adaptions will be made to the rules of the game for the Premier Hockey League.

Every game will be played in four, 15-minute quarters. If a match is drawn, it will result in a best of three penalty shootout.

Each squad will have a maximum of 20 players; however, during any match, they will only be able to have 18 players including two goalkeepers.

This is the first representative domestic hockey league that will be resuming around the world so make sure you follow along to see our current and future Black Sticks players battling it out as they push their case for higher honours.

Hockey New Zealand Media release


---

Arlene Boyles: Former international to leave Irish women's team manager post

By Nigel Ringland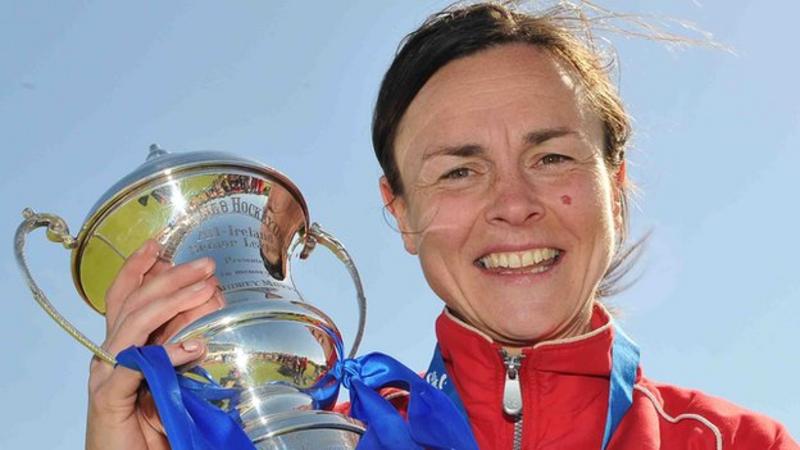 Defender Boyles had a successful career with Pegasus

Arlene Boyles will step down from her role as Team Manager of the Ireland women's squad when her contract expires at the end of August.

Boyles joined the management team as assistant coach in 2012 after being involved with Ireland A since 2010.

She took on the team manager's position in 2017 and oversaw the journey to the World Cup silver medal and Olympic qualification for the first time ever.

"It wasn't a decision that was taken lightly," Boyles told BBC Sport.

She added: "But with everything that is going on in the world and with the natural stoppage going on in our programme I'd been thinking about it for a while. With sticks down and with time to look back it seemed like now was the easiest time to step away when the programme is in downtime."

She had a successful international playing career with 123 caps, announcing her retirement after the 2002 World Cup in Australia and the timing of this decision with a year to go until the rescheduled Olympics will seem strange to some.

"Hockey Ireland has been part of my life since I was 13 years old and 30 plus years later I'm still standing on the edge of hockey pitches. I'm not one for regrets and I've put myself in the position where hopefully that doesn't happen.

"It's feels natural for me to do but it's a massive decision because this has been a big part of my life. It may seem strange to some who will wonder why I can't hold on for a year but this is a professional sport with a lot of time spent away from home and it's friends and family time now and a good time to go."

Irish coach Sean Dancer and his squad were back training together for the first time on Monday evening since lockdown restrictions were eased.

"Arlene has been such a mentor for so many of us, firstly through her playing experience and then through her coaching. She will be sorely missed," explained Irish captain Katie Mullan.

"Arlene has been there for us through the hardest times when we failed to qualify for Rio, right through to the best times when we won that silver medal at the World Cup and we wouldn't have achieved that without the influence of Arlene."

BBC Sport


---

After the pandemic, universities face obstacles ahead of hockey season

By Rod Gilmour



Global pandemic has created obstacle for Unis PIC: Adrian Burrows

England Hockey "fully anticipates" university teams to compete in the English Premier Divisions for the 2020/21 season despite potential obstacles for elite student teams following the coronavirus pandemic.

Loughborough Students, University of Birmingham and newcomers Swansea will compete in the women's Premier Division, while Brooklands MU, Exeter University and University of Durham are set for the men's top flight ahead of the new season, which at present is set to start in mid September.

However university students are facing up to either virtual or face-to-face courses from September onwards which could impact squad numbers.

Lauren Hunt, Uni of Birmingham's women's 1s captain, said: "This is an obstacle that we're aware of as a group and something that university clubs will struggle with more than the other clubs in the league.

"Because the University is aiming for at least a bimodal approach to teaching with both online and face-to-face contact, we're hoping that everyone in the squad will remain in Birmingham for the season and combine their studies with playing hockey."

But Hunt added that the modern set up at universites – which includes Birmingham's elite centre – means that players will be well catered for.

She said: "Another reason for our squad remaining in Birmingham is the level of support that the uni offers such as physiotherapy and strength and conditioning training. Because of the amount of training we have S&C is a vital component of our schedules and the physio support is unparalleled and so the majority of the squad will be making the most of that support and remaining in Birmingham."

Birmingham will start the season with a huge hole to fill following long-serving women's coach Phil Gooderham's retirement.

Hunt added: "You could say we were lucky in the way that we retained our position in the Prem without having to play in the Play-offs, however, we'd started preparations for that situation relatively early, and so felt confident that we would have been successful. We've done some good recruitment and have been putting in a lot of hard work off the pitch during this lockdown period and so we're hoping for a successful year."

Swansea say there could be "huge ramifications" if the pandemic causes further problems. The club now has 14 men and women teams and has doubled in size since its successful merger with the university.

Swansea women have recruited two American players on scholarships for the new season and remain buoyant ahead of their first foray as a top flight Welsh club, while Sport Wales has given the green light for elite teams to start training from August, which will aid both Swansea and Cardiff Met.

Meanwhile, the BUCS league is expected to reconvene in January.

THP contacted other universities for comment but they had yet to respond.

Please help keep independent journalism alive in these uncertain times. With the media industry affected by advertising, we are continuing to offer our coverage free until we return in print.

Ahead of the new season, please subscribe in print or in digital format. Subscriptions for clubs, schools and individuals.



The Hockey Paper


---

Flying high despite the pandemic




Flyerz Hockey is a growing phenomena in Great Britain as more and more clubs are committed to ensuring the sport is as accessible and inclusive as possible.

The sessions are planned and delivered so that disabled and able-bodied players can play hockey together. The emphasis is on participation and inclusion.

Flyerz Hockey started in 2011, when Access Sport partnered with Waltham Forest Hockey Cub to create the first wholly inclusive hockey section in the country. Access Sport is a charity dedicated to providing sporting opportunities for young people with disabilities or in deprived communities.

Flyerz became the movement that is associated with grassroots disability inclusive hockey. It has now been introduced into more than 20 Flyerz groups in England, Wales and Scotland. The aim is for 50 or more Flyerz sections to be running by 2021.

As with all sporting activities, the Covid-19 pandemic has hit Flyerz Hockey hard. The annual Festival of Flyerz Hockey had to be cancelled this year and training and events have all had to temporarily cease. For players, many of who have severe mobility issues, the lack of physical activity and social contact has hit home hard.

The good news is that organisers, coaches and players have been able to find innovative ways to keep their hockey activities going. The Tunbridge Wells Flyerz disabled hockey team are a case in point. The group were determined to hold their Sunday morning gatherings as usual, so the club's 19 Flyerz players and coaches put aside their sticks and instead held an online training session, complete with a warm-up featuring some energetic dance moves.

This was by no means an isolated example of how the Flyerz sections continued to support their members throughout lockdown. Tom Kirby is a member of the Midland Mencap Flyerz and he explained that his group was connected via WhatsApp and Facebook. Coaches would check in regularly with the players to ensure they were doing okay through self isolation but also that they were finding ways to stay active.




Hayley Barton is Access Sport Delivery Director. She says: "We have been overwhelmed by the attitude of Flyerz Clubs in their desire to reach out to members and their families to make sure they are able to support them socially and ensuring they stay physically active."

Home skills challenges, such as dribbling a ball around obstacles in a room or bouncing the ball on a stick, hockey-focused, fun quizzes, other physical activities and social group chats are all ways in which the Flyerz community has maintained contact with all its members.

Activities on the pitch may have been put on hold for the Flyerz community for a while but the sense of unity among its members has mean that the motivation to train and play and the love of the sport has remained as strong as ever.

The Great Britain and England national squads have been strong supporters of Flyerz Hockey since it began. The latest ambassador to join the Flyerz ranks is England and Great Britain International Emily Defroand. Quoted on the England Hockey website, Emily says: "The main reason I want to be a Flyerz Champion is because I'm a firm believer of inclusivity within sport. It shouldn't make a difference depending on your background, gender, age or ability to have the opportunity to participate in sport."

More information about Flyerz Hockey can be found at the following link: https://www.accesssport.org.uk/flyerz-hockey.

FIH site


---

Life Member - Lyn Hill




Successful in her own right on and off the pitch, Lyn Hill has dedicated much of her life to the development of hockey in numerous roles simultaneously.

This is the case particularly for what she has done in the officiating area and for indoor hockey within Australia at club, association, state and national level.

Lyn's passion and love for hockey started during her upbringing in Rockhampton. In the 1970's she was selected for Queensland Country while she also represented Rockhampton at Indoor hockey carnivals. She then went on to coach, umpire and serve on the Rockhampton Hockey Umpire Committee and Secretary of Rockhampton Indoor Hockey for 19 years (1979-1997).

Since the first time she blew a whistle as a hockey umpire, Lyn enjoyed the challenge and in the early 1980's started her umpiring pathway at the Queensland State Championships and then national tournaments. Her umpiring highlight was being awarded her Australian Umpires Badge in 1987, having the opportunity to umpire on AIS international team tours and four nation tournaments in Australia. Indoor Hockey provided another highlight with selection to umpire at the inaugural indoor World Cup in Leipzig where she umpired in the Final between Germany and Holland.

From this experience she became a highly regarded umpiring educator, mentor and coach to many budding umpires at various levels from U13 to Australia's best national competition. Notably, she has been an Umpires Manager or Coach at a number of national underage tournaments.

Relocating to Brisbane in the late 1990's for work, Lyn immersed herself in a range of hockey roles and activities within Queensland and across Hockey Australia. She was a selector for Queensland Women's Indoor Teams for a number of years; umpire and umpire coach at National Indoor since being awarded her National Indoor Badge in 1988, and has contributed to the Brisbane Women's Hockey Association in the support of officiating and coaching. Lyn also put her hand up to volunteer for many positions at Hockey Queensland from Board positions to many sub-committees including Umpiring, Athlete Development, Officiating and Competitions. She is currently Vice President of Ascot Women's Hockey Club and continues to play at club, state and national Masters level.

And Lyn shows no sign of slowing down. She is currently Chair of the Hockey Queensland Umpiring Committee and HA Appointments Panel and represents Australia on the Oceania Officiating Committee, while continuing to mentor and encourage umpiring participation at the grass roots level. She also continues to be a significant contributor and figure in Australia's indoor hockey scene.

Following the announcement of Lyn being named a Life Member of HA, Hockey Queensland published an article on her hockey journey, and it fittingly states what she has done in hockey 'is a rare and outstanding achievement'. The full article can be found here.

Lyn's Life Membership of Hockey Australia follows her being awarded Hockey Queensland Life Membership in 2018.

What they said…

"I feel very honoured to receive Life Membership from Hockey Australia along with the other five recipients who are so deserving and major contributors to our sport in so many ways. I know there are people from Hockey Queensland, staff and volunteers, who have nominated me and I am very appreciative for all who took the time to initiate this.

Hockey in all aspects has given me so much in friendships, opportunity to meet, play, officiate and administer with amazing people. I am really humbled by the time that so many people have taken to send me messages of congratulations, it means a lot." Lyn Hill

From those in the know…

"Lyn, or 'Hilly' as she is affectionately known is one of the most selfless, dedicated hockey volunteers I have ever known. I first met Hilly when I started working for Hockey Australia back in 2005, through her involvement in Indoor Hockey. Back then indoor did not have the profile it does these days and I will never forget her polite determination to promote 'her' format of our sport. Since leaving HA, I have had the pleasure of working alongside Hilly as an official, volunteer and most importantly to me, a friend.

I can honestly say I have never met a more selfless soul, willing to dedicate hours upon hours on a daily basis to help promote, play, educate and assist others in the sport she loves. I cannot think of a more deserving recipient of this prestigious Life Membership and am honoured to have had the opportunity to learn from and work alongside such a fabulous patron of hockey." Tammy Standley (fellow official, colleague and friend)

Hockey Timeline
Umpiring - Field
1986 U21 Nationals and recommended to attend Senior Nationals for Australian badge assessment
1987 National Open Women in Darwin and awarded Australian badge
1988 Selected to attend National U21's as Australian Umpire
1989-1993 National Open Women
1993-1995 Selected to umpire in Australian Hockey League
1989 FIH International badge
1990 AIS tour of Europe
1991 AIS tour of Korea
1994 Four Nations tournament in Cairns

Umpiring - Indoor
1988 National Indoor Open Women's (awarded Australian Badge)
1989-2013 National Indoor (except for 2 years)
1989 New Zealand Tour with Australian Indoor Team
1992 FIH Indoor International
1995 Europe Tour with Australian Indoor Team
1999 South African Tour with Australian Indoor Team
2001 South African Tour including 2 x Four Nations tournaments
2003 Indoor World Cup in Germany – umpired final and upgraded to International Grade 1

Umpire Manager - Field (National)
1994 Level 3 UM theory accreditation with practical assessment at U18 Nationals (Brisbane)
1994-2019 Various UM roles between U13 and U21 age Championships (not available every year for appointment)

Umpire Manager - Field (State)
1988-2019 Umpire Coach or Umpire Manager at various State Championships in Queensland

Umpire Manager - Indoor (National)
1993-2019 Umpire Manager at many National Indoor Championships for various age groups, in both lead and mentor roles, facilitating development of the next generation

Umpire Manager - Indoor (State)
1990-2019 Umpire Manager or Umpire Coach at various Indoor State Challenges/Championships

Administration
1988-2019 Member of HQ Umpire Committee (Chairperson since 2007)
2000-2003 Hockey Queensland Board Member
2016 Appointed to HA Officiating Committee (Chairperson in 2017)
2018-2020 Re-appointed to HA Officiating Committee (Chairperson in 2019 and 2020)
2017-2019 Appointed to Oceania Officiating Committee
2008-Present HQ Indoor Committee or Advisory Group (Chair since 2008)
2008-Present HA Indoor Advisory Group (Chairperson 2010-2020)
2015-Present Vice President Ascot Hockey Club

Awards
1997 Life Member Rovers Hockey Club, Rockhampton
1997 Life Member Rockhampton Hockey Association
2015 Life Member Ascot Women's Hockey Club
2018 15 Years Long Service BWHA
2018 Life Member Hockey Queensland
2020 Hockey Australia Life Member

Hockey Australia media release


---

R.I.P Emerson Velasquez Bucardo




For those of us who knew him, we know that his name is synonymous with cordiality, belligerence, selfless dedication, unlimited solidarity, brotherhood, honesty, perseverance, and a exceptional human being.

Emerson, together with Dr. Alejandro Rodriguez, current president, were the driving forces behind hockey in Nicaragua, and managed to incorporate Nicaragua into the Central American Games in Managua for the first time.

Our condolences to all the Nicaraguan family in this difficult moment.

Pan American Hockey Federation media release