All the news for Wednesday 24 June 2020

International hockey programme cancelled for summer 2020




As the ongoing Covid-19 pandemic continues to significantly challenge the sporting calendar, Scottish Hockey has confirmed the cancellation of the remainder of the summer programme for all Scotland senior and age group national teams.

This means there will be no international matches played until at least the end of August.

It has become clear that preparing international athletes to a level where international competition is meaningful is now not possible this summer given the timescales available. This is even before the current restrictions on travel, accommodation, social distancing and access to facilities, and their lifting, are considered.

During lockdown our athletes have not been able to train at full capacity. As restrictions are gradually lifted, we will follow sportscotland's advice on graduated return to full fitness. This will see several weeks of additional strength and conditioning work being put in before we can start training at the required levels for international athletes, and then a further number weeks before teams could reasonably play at international level.

Access to facilities in the short term is not possible restricting opportunities for athletes to prepare for competition as part of the planned summer programme.

It is Scottish Hockey's drive to ensure our senior and junior athletes are given the opportunities to continue their development, and represent their country, as soon as possible. Any potential training activity will be dependent on the Scottish Government's guidance.

Commenting on the cancellations Head of Performance for Scottish Hockey, Andy Tennant, said, "We are obviously disappointed that there will be no competitive international hockey this summer. It has become clear that even with the recent easing of lockdown measures, and the release of the Scottish Government route map out of the crisis, it will not be possible to access facilities in the short term or for us to be able to prepare our athletes for competition in time to save the summer programme."

He added "While I am sure we are all keen to return to hockey as soon as possible, given that the risk from Covid-19 is still very real we will be taking a cautious approach to returning our performance athletes to any formal collective activity. As a result, we have no plans for our performance athletes to return to the pitch during Phase 2 of the Scottish Government route map.

"You can be assured however that we are working hard in the background, planning the appropriate way and time to return to training. We will be doing everything in our power to make sure both our senior and junior athletes are given the opportunities they deserve to continue their development and represent their country on the field of play as soon as it is safe and reasonable to do so."

Scottish Hockey Union media release


---

Argentina's golden great Lucas Vila targets Olympic title defence in 2021




With Tuesday 23rd June being Olympic Day, it seemed the perfect opportunity to profile an athlete that played a starring role as Argentina's men claimed their first ever Olympic gold medal at Rio 2016.

Fifteen years ago, Lucas Vila became the most talked about young player in world hockey thanks to a series of devastating attacking displays at the 2005 Junior Hockey World Cup in Rotterdam, the Netherlands. The brilliant 18-year-old attacker from Banco Provincia Hockey Club in Buenos Aires was, quite simply, too hot to handle throughout the event, being named as the tournament's best player thanks to six goals and numerous assists as Argentina stormed to the title.

Eleven years later, no fewer than eight members of the 'Class of 2005' would again stun the world, this time on the biggest stage of all – the Olympic Games Rio 2016. Playing alongside fellow Junior World Cup winners Pedro Ibarra, Matias Rey, Facundo Callioni, Juan Saladino, Lucas Rossi, Manuel Brunet and Juan Lopez, Lucas Vila was the creative heartbeat of the Los Leones team that, against all the odds, snatched Argentina's first ever Olympic hockey gold medal. Whilst Argentina's senior men's team had won various continental titles over the pervious decade, as well as a surprise bronze medal at the Hockey World Cup in 2014, the Olympic success saw the huge promise displayed all those years ago in Rotterdam emphatically realised.

However, with Vila, Ibarra, Rey, Callioni, Rossi and Lopez still very much part of the Argentina set-up and determined to defend their Olympic crown at the delayed Tokyo 2020 next year, their journey is far from being over. In an interview with FIH.CH to mark Olympic Day, Lucas Vila looks back on his sparkling career and explains just what it means to him to be an Olympian.

Hi Lucas, thanks for talking to us. You have enjoyed a brilliant career, from winning the Junior World Cup in 2005 to becoming an Olympic gold medallist at Rio 2016 being two of many glorious highlights. How do you reflect on these incredible moments, and what is your biggest ambition in the years ahead?

Lucas Vila: "From the Junior World Cup in 2005, I think that a great team was starting at that time, and a lot of players were involved in the same team that, many years later, achieved the gold medal at Rio 2016. I think it was a really nice journey, [great] that I could be part of it, and I enjoyed it. We had a lot of ups and downs during that period, so I think that was something nice to enjoy. We struggled at certain points, but with a lot of training and effort, we achieved the most wonderful thing, the gold medal in Rio. I really enjoyed it [the whole journey], and I would do it again. For the years that are coming, I hope that this team can be together in Tokyo, 2021 now. I hope that we prepare in the best way to get something more there, to go there and defend the medal that we won, and to show ourselves that we can [do] something there."

Who or what first influenced you to pick up a stick and play hockey?

Lucas Vila: "I think the first influence I had in my life to play hockey was my dad. He used to be a hockey player, then he [became] a hockey coach. I think he always encourage me and my brothers [former Argentina internationals Matias and Rodrigo] to try and play hockey, and if we liked it, we could choose to play it as our main sport. Also, my club Banco Provincia [in Buenos Aires]. It was the first environment where I could develop myself and train with the other kids. It was always a really nice environment there."

Who has been the biggest influence on your career and why?

Lucas Vila: "It would be my two brothers, who were older than me and playing hockey already. When I was a kid, I was always watching how they play, the things they do. I was like every younger brother, trying to imitate my older brothers!"

How would you best describe your playing style or attitude on the pitch?

Lucas Vila: "My playing style is always [about] trying to do new things. I always pay attention and look carefully at what my defenders might do, so I try to come up with new things, new techniques that might work in every game. I'm always in the offensive part of the game, so I try to use all my skills, everything that I practise during the weeks and months before the tournaments. I try to use it at the right moment, and especially inside the circle."

What moment on the pitch are you most proud of and why?

Lucas Vila: "I always feel proud of myself, as a striker, when I score a goal, or when you win some [penalty] corners or get some offensive result during the game. This is because it will help your team and, in that part [of the field], that is your main objective. But also, I think as a striker, it is really helpful when you defend in the same way as the defenders do. You are also helping the team by defending and recovering the ball."

What would be the best advice you could give to aspiring young hockey players?

Lucas Vila: "I would say to the young players that at the beginning you have to enjoy the game, you have to enjoy playing with your team-mates, with your friends. It is a really nice sport, hockey. You can create many things [memories]. First, enjoy it, but when the competition starts, you have to try really hard to get some results. If you represent your country at the end, you will be very proud."

Tuesday 23 June is Olympic Day. As an athlete who has competed at two Olympic Games and is the proud owner of an Olympic gold medal, what does being an Olympian mean to you?

Lucas Vila: "I think that being an Olympic athlete is something unique. It is a feeling that you will always remember. I still remember my first game at London 2012, and I was kind of nervous and also kind of happy – you want to enjoy and to remember everything. In Rio I was a bit more relaxed, and we won the medal. It was a great few weeks in which we could enjoy our best hockey, and I think we played our best hockey. To do it during an Olympic Games, where the whole world is watching the sport at that time, it was really nice. It was the best memory that I could have inside a hockey pitch."

Profile*: Lucas Vila – Argentina
Position: Forward
Shirt number: 12
Age: 33
International appearances: 249
Current club: Mannheimer HC (GER)
Place of birth: Buenos Aires (ARG)

You can follow Lucas Vila on Twitter and Instagram.

* Information correct as of 23 June 2020.

FIH site


---

Kuira leaves past problems behind in search of stardom

By Washington Onyango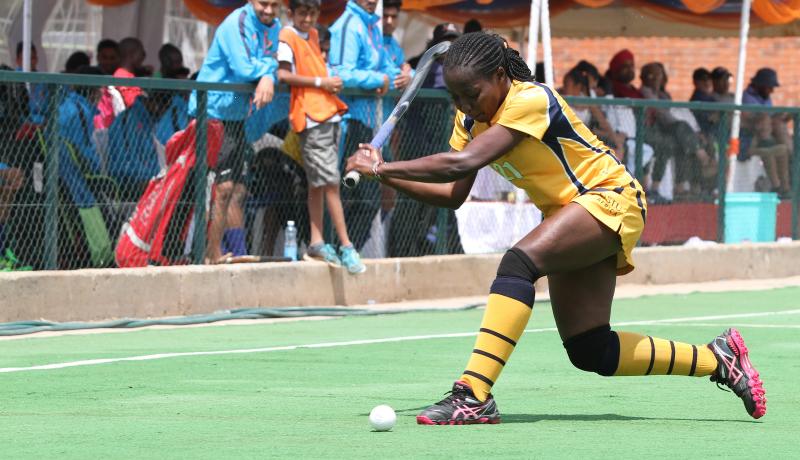 USIU's Rhoda Kuira clearing ball during Astro Turf tourney match against Telkom at Sikh Union Club in Nairobi, Kenya. Telkom beat USIU A 2-1 in the final period. [Jonah Onyango, Standard]

An ardent footballer, Rhoda started playing hockey after joining former East Africa regional champions Kerugoya Girls High School in 2009.

There can be chances to pass, chances to shoot, chances to score. Chances to come on as a substitute, chances to start, chances to impress.

Rhoda Kuira is not leaving any chances as she aims to win a major title before she hangs her boots and stick.

For one to be in a position of succeeding, the best in the industry will tell you that you have to take these chances, if and when they come along.

Even despite the coronavirus pandemic decimating the hockey calendar, Kuira has set her eyes on winning the Africa Hockey Club Championships set for Blantyre, Malawi later this year.

The 25-year-old United States International University (USIU) Spartans Hockey Club striker played in the last four during their debut at the 2018 tournament held in Nigeria.

Despite falling 2-0 to Ghana Police in the third place playoff (the Ghanaians bagged the bronze medal), Kuira is hopeful of an improved performance at this year's games after learning their lessons in Nigeria.

"It was a wonderful experience for the team. The privilege of representing my club and country is unmatched and despite the mixed results we registered, I am proud of what we achieved," she said.

"And after qualifying again for this year's tournament, I believe we learnt our lessons and mistakes and with proper preparations, we can get a podium finish, if not, win the title."

Blazers Hockey Club (formerly Telkom) has won the tournament 10 times and will represent Kenya alongside USIU as they seek to return after missing last year's edition and dethrone El Sharkia of Egypt.

"I love playing hockey and after reaching the playoffs two years ago, I believe we are growing into something big and we will strive to win."

Last season, despite playing four matches, Kuira scored five goals (including four against JKUAT) to inspire USIU to a podium finish in the Kenya Hockey Union (KHU) Women's Premier League.

They finished second behind record Kenyan champions Blazers.

Born and raised in Kirinyaga County, the first born in a family of three used to play football as an attacking midfielder for Muragara Primary School.

However, she had a change of heart after joining the then East African hockey queens Kerugoya Girls High School in 2009.

With limited playing chances, she, however, had to wait for two years to get into the school team and in 2011 and 2012, helped the school win both national and East African titles.

She later joined USIU on a sports academic scholarship, turning out for the USIU Spartans Hockey Club in the premier league and Kenya University Sports Association (KUSA) games.

In 2014, she made her international debut then as an 18-year-old. It was a memorable time as she scored a goal at the World League 2 tournament in Uruguay, a feat she repeated in Egypt, Ghana and South Africa championships.

She was voted the Best KHU Women's Premier League upcoming Player of the Year in 2016 and won four KUSA titles.

Kuria, who pays tribute to former captain Betsy Ommala, national coach Jacky Mwangi, Caroline Guchu and Zack Aura for guiding her, says she wants to be a coach and trainer in future.

The Standard Digital


---

Officiating webinar to support Australian hockey officials




Hockey officials around Australia are invited to attend a free webinar this Friday at 7.30pm AEST, to be held as part of the continuation in the process towards a return to play.

The webinar is designed to provide guidance and support for hockey officials as competitions prepare to commence.

A new set of checklists for officials, together with best practice competition guidelines, have been released to help support the resumption of hockey. The resources, which have been developed in collaboration between Hockey Australia and Hockey NSW, are specifically aimed to help the officiating community in the various aspects of returning to the pitch in a COVID-19 safe environment.

Hockey NSW Umpires & Officials Development Manager, Zeke Newman led the formulation of the resources, with input from Hockey Australia and the other Member Associations.

Newman will host the webinar and will step through the checklists and competition guidelines while also best respond to any questions or queries.

The webinar is targeted to the hockey officiating community and is open to any attendees nationally.

"These resources come from direct feedback received through recent COVID safety education sessions and acknowledges the significant role officials play in the sport," said Hockey Australia GM- Legal Strategy & Growth, Michael Johnston.

"Hockey NSW should be commended for their leadership in the officiating space, and it is a great outcome to see national resources being developed for the entire officiating community. It has been fantastic to see the cooperative spirit among our Member Associations in supporting the return to hockey."

Officiating resources that have been made available include:
Competition Guidelines - A set of guidelines and recommendations that competitions may think of implementing for the successful and safe return of competitions. These are not HA requirements, but good practice recommendations. It is expected MA's and Associations will adapt as necessary to suit their local requirements. To support this, the document is available as an editable Word document.
Technical Official Checklist - A practical checklist to assist Technical Officials perform their role in a COVID-safe manner.
Umpire Checklist - A practical checklist to assist Technical Officials perform their role in a COVID-safe manner.
The release of these resources and the webinar comes at a welcome time with competitions underway in the Northern Territory and South Australia, with Western Australia set to resume this week.

Please note that in order to attend the webinar, participants must pre-register here. Login details will provided upon registration.

Officiating Webinar Details

When: 7.30pm AEST, Friday 26 June 2020

Host: Zeke Newman (Hockey NSW Umpires & Officials Development Manager)

Registration: Participants must pre-register to attend the webinar. Click here to register.

Hockey Australia media release


---

New Parliamentary forum great news for hockey




Today's launch of the Parliamentary Friends of the Olympic Movement has been warmly received by Hockey Australia.

Announced on world Olympic Day, the Parliamentary Friendship Group (PFG) is a bi-partisan forum open to all Government Senators and Members to promote the values of Olympism in Australia with the underlying objective of raising awareness around the health and many other benefits of sport at all levels.

Hockey Australia CEO Matt Favier acknowledged the efforts and work done by the Australian Olympic Committee (AOC) and President John Coates AC in driving the establishment of the PFG, while also lauding both sides of government for their shared ambition.

"The Parliamentary Friends of the Olympic Movement is a great opportunity for sports, and particularly hockey, to be part of this group," said Favier.

"This is a great initiative by the AOC. We really value the work that they do for us and with us in these areas, so we will look to take advantage of that and continue working with them and the PFG in the future."




Some 30 MPs have backed the Olympic movement and initially joined the group, representing a broad cross-section of the Parliamentary landscape, something Favier believes highlights the integral role sport plays in Australian society and life.

"It is really important for us and any sport in the Olympic domain to understand the how crucial it is to work with government, so I think this is a real opportunity to increase the awareness and visibility of the Olympic movement and for the sport of hockey so we aren't only known as a sport that does well every two to four years."

"This representation on the PFG from both sides of the government sphere talks to the power and value of sport…that it is a really uniting force."

Following the recent announcement by the Federal Government of an additional investment into high performance sport, Favier said the postponement of Tokyo 2020 coupled with the challenges of COVID-19 had galvanized Olympic sports.

"I think it would be fair to say that all of the sports to a large extent work together – we're not fierce rivals in all areas," said Favier.

"Generally speaking we have common challenges, we all want each other to do well because if we all do well the sport industry flourishes."

Hockey Australia media release