All the news for Saturday 25 April 2020

FIH Hockey Pro League Season 2 extended until June 2021




Lausanne, Switzerland: Due to ongoing uncertainties surrounding the COVID-19 global health pandemic, and in agreement with the 11 participating National Associations (NAs), the second edition of the FIH Hockey Pro League is being extended through to June 2021, the International Hockey Federation (FIH) has announced.

Season 2 of the FIH Hockey Pro League – the annual global League involving the world's best international teams, both men and women – was initially set to run from January to June 2020. Around one third of the planned matches were completed between January and early March, before the escalating COVID-19 crisis brought the competition, like almost all major sporting events around the world, to a standstill.

Throughout this time of postponement, FIH has been liaising with all participating NAs in order to assess this ever-changing situation, the aim being to restart the playing of matches only when it is safe to do so, putting athlete welfare at the forefront of the decision-making process.

Taking into account both the latest recommendations from the World Health Organisation (WHO) and the recent announcement regarding the one year postponement of the Olympic Games Tokyo 2020, it was universally agreed that extending Season 2 into the middle of 2021 was the appropriate course of action, giving the best possible chance for this edition of the competition to be completed whilst enabling FIH and all NAs to deliver on broadcast and commercial partner agreements. 

FIH will continue to closely monitor the global evolution of the COVID-19 situation and, with the safety of athletes and fans being top priority, any potential dates regarding the resumption of the competition will be announced at the appropriate time.

As part of the continuing evolution of the competition and in agreement with all participating NAs, FIH can also announce that the window for Season 3 of the FIH Hockey Pro League will be from September 2021 to June 2022. The decision to spread the Pro League season over a longer time period will allow for greater flexibility in terms of the scheduling, reducing match congestion in the first half of the year whilst also helping to ensure that international hockey remains highly visible via broadcast for much of the year.

Speaking about the decisions, FIH Chief Executive Officer Thierry Weil said: "With the world facing a health crisis like nothing in living memory, predicting a date for when the current competition will restart is almost impossible at this time. Despite the difficult circumstances, these wholly necessary discussions between FIH and the participating National Associations were both positive and constructive. We all believe we have found the correct path forward regarding the current edition of the FIH Hockey Pro League, giving ourselves additional time to play the matches whilst also relieving pressure on both the athletes and the calendar for 2021.

"Looking ahead to the remainder of the 2020-21 Season and beyond, the changes that will be introduced for Season 3 are another significant step in the evolution of this fantastic competition. The honest and open dialogue that we have with our NAs enables us to mould the FIH Hockey Pro League in a way that works for all, and I want to place on record my personal thanks to all everyone for their efforts to find a workable solution."

#FIHProLeague

FIH site


---

FIH extends second season of Hockey Pro League through to June 2021

By Liam Morgan



The FIH Pro League has been extended through to June 2021 ©Getty Images

The second season of the International Hockey Federation (FIH) Hockey Pro League has been extended through to June 2021 because of the coronavirus pandemic.

The FIH said the decision gives the "best possible chance for this edition of the competition to be completed while enabling FIH and all National Asssociatons to deliver on broadcast and commercial partner agreements".

The third season of the home-and-away competition has been scheduled for September 2021 to June 2022, representing an extension to the traditional six-month window for the event.

insidethegames revealed last week the tournament had been postponed until at least July in response to the coronavirus crisis.

Participating nations and the governing body had set a tentative resumption date of July and the beginning of August prior to today's announcement.

The extension through to June 2021 allows matches which had been postponed to be held and raises the chances of the season being completed.



The third season of the FIH Hockey Pro League has also been extended ©Getty Images

Around a third of this season's planned matches had been staged before the pandemic sparked a near-total shutdown of sport across the world.

Critics of the FIH had called for the season to be annulled due to the COVID-19 virus, which has infected more than 2.7 million people and killed at least 192,000 worldwide.

"With the world facing a health crisis like nothing in living memory, predicting a date for when the current competition will restart is almost impossible at this time," FIH chief executive Thierry Weil said.

"Despite the difficult circumstances, these wholly necessary discussions between FIH and the participating National Associations were both positive and constructive.

"We all believe we have found the correct path forward regarding the current edition of the FIH Hockey Pro League, giving ourselves additional time to play the matches while also relieving pressure on both the athletes and the calendar for 2021."

Inside the Games


---

Confirmed: Postponement of remaining FIH Hockey Pro League matches



Giselle Ansley in the FIH Pro League for Great Britain's women

The International Hockey Federation (FIH) have confirmed that all FIH Hockey Pro League matches scheduled up to and including June 2020 have been postponed. The season window has been extended until June 2021 in order to allow all remaining matches to be rescheduled.

As a result, Great Britain Hockey have postponed our two scheduled weekends of home matches in 2020. Britain's men's and women's teams were due to face Spain/USA on 24-25 May and Germany on 13-14 June, all at Lee Valley Hockey and Tennis Centre. Anybody who purchased tickets for these games will receive a full refund, as will our season ticket holders and Premium Experience customers.

The FIH have announced that the third season of the FIH Hockey Pro League; previously set for January-June 2021, will now take place September 2021-June 2022. In consideration of both our domestic leagues and athlete welfare, England Hockey envisages playing all of its matches in the third FIH Hockey Pro League in 2022.

Great Britain Hockey media release


---

COVID-19: FIH extends Pro League by one year

The tournament will now run till June, 2021, after a slew of matches were postponed due to the pandemic.

Uthra Ganesan



India's Rupinder Pal Singh celebrates after scoring the third goal against Australia in a FIH Hockey Pro League contest on February 21, 2020. No Pro League match has been played since March 7.   -  Biswaranjan Rout

The second season of the Hockey Pro League would now continue till June 2021 although when it would actually resume is still uncertain.

The complete lockdown of sports activities across the world due to COVID-19 pandemic has forced the International Hockey Federation (FIH) to stretch the competition into next year, it said in a communique on Friday.

The Pro League was originally scheduled to be held from January to June 2020 in the run-up to the Tokyo Olympics but only 1/3rd of the Games were completed till early March before the health crisis cut short all activities.

While Australia was the first to call off its visits to Europe, the league itself was postponed till April 15 before extending subsequently to May 17. Earlier this month, New Zealand called off its scheduled trip to India in May.

"Taking into account both the latest recommendations from the World Health Organisation (WHO) and the postponement of the Tokyo Olympic Games, it was agreed that extending the into the middle of 2021 was the appropriate course of action, giving the best possible chance for the competition to be completed whilst enabling FIH and all NAs to deliver on broadcast and commercial partner agreements," the FIH said.

"Predicting a date for when the current competition will restart is almost impossible at this time. We (FIH and the 11 participating nations) all believe we have found the correct path forward, giving ourselves additional time to play the matches whilst relieving pressure on both athletes and the calendar for 2021," FIH CEO Thierry Weil said.

The 3rd season of the league has now been re-scheduled from September 2021 to June 2022.

Sportstar


---

Pieterse trades GK equipment for PPE

By Karien Jonckheere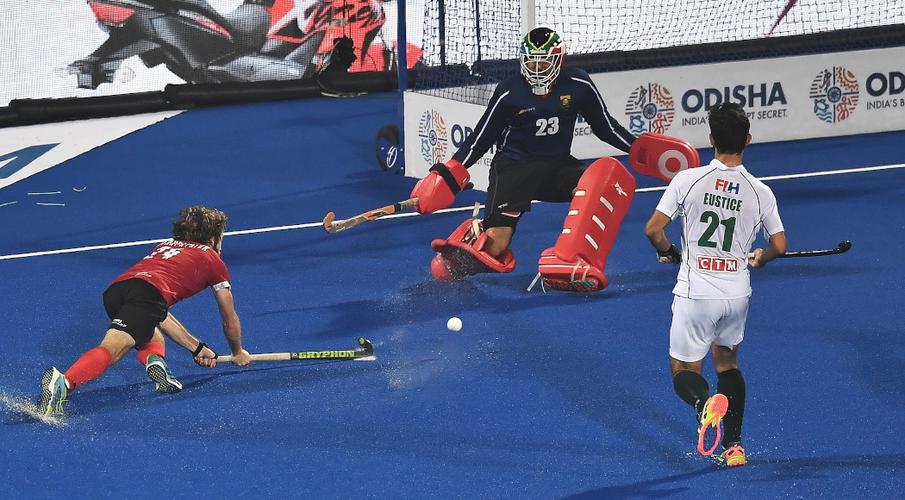 Rassie Pieterse © Gallo Images

Rassie Pieterse is well versed in the use of face masks and other protective equipment. Not only does he don it on a regular basis as the goalkeeper of the national men's hockey team, but he's also the Managing Director of leading manufacturer TK Sports in South Africa.

With the nation, and much of the world, now in lockdown because of the coronavirus pandemic and most sportspeople frustrated at home, Pieterse is busier than ever. Instead of churning out hockey equipment, TK Sports have asked their manufacturers to turn their skills to creating personal protective equipment (PPE) and other gear to help in the fight against the virus.

"A few months ago we could see what was happening worldwide. Not just in China, but we could see this virus spreading," explained the 36-year-old.

"In the middle of February I was at our TK head office in Germany and we were already discussing what was going to happen – not only with the hockey industry, but with the sports world out there. So we started discussing with our manufacturers the worst case scenario and tried to come up with certain kinds of plans. Not just to basically save ourselves and save our own manufacturers but to try to help the people we have connections with.

"We're lucky, the TK brand has been around the world – we're in about 58 different countries – we've got a wide network that we've built since 1985. So it was key for us to tap into all of this and see where we could help. And just to keep our people positive and keep our factories going."

As soon as permits were procured, work began in India, Pakistan, China and here in South Africa.

"At this stage we're using whatever resources we have our hands on. In South Africa we usually manufacture a lot of clothing so to support our friends in South Africa we've got the green light from government that we can manufacture some polyester three-ply masks. That production all started last week.

"In India and Pakistan we started manufacturing whatever we could do with plastics and moulds so we've got a lot of protective visors that are coming from there. Then of course we manufacture a lot in China as well and there what we've basically done is that all our sourcing agents have put their efforts into PPE – the real surgical stuff, the certified stuff.

"So those are the kind of products that we're doing right now, all the essential stuff. We're trying to support our local manufacturers here and all over the world to see where we can reach out."

Pieterse has also reached out to several organisations and charities to provide a helping hand, and with President Cyril Ramaphosa's recent announcement that all South Africans will be required to wear face masks, the demand has been ramped up even higher.

"At the moment we're working with many companies out there and we also urge any companies, maybe in the mining industry, maybe in the medical field or construction, any kind of workers out there to reach out to us and see how we can connect you with some of the people that we're supplying at the moment, that are buying bulk from us. Then with all the manufacturing that we're doing in South Africa – this we can do in smaller quantities. We reach out to companies and also to charities to see how we can give some of these funds back to certain charities by helping each other and corporates out there, especially on our polyester face masks. We can brand it with company names on or charity names."

Under normal circumstances, Pieterse would have been just three months away from representing South Africa at his second Olympic Games in Tokyo. He made his debut for the national team back in 2007 and since then has notched up an impressive 162 caps. Earning a 163rd will have to wait, after the postponement of the Olympics to 2021, and a halt on any sport around the world.

"I think as an athlete, naturally you just want to train. You want to keep fit and you want to stay healthy. So with the lockdown, there are a lot of parameters where you can't do certain things. I can't wait to put my pads back on and have some hockey balls hit at me and get out there again with my teammates. Obviously the biggest thing now is just to stay healthy and not to pick up this crazy virus. That's the most important thing," explained Pieterse, who said the team have a home workout programme they're using to maintain fitness levels.

"So when this turns and we get out of our lockdown, we don't start from scratch, we'll have a bit of a base. It'll take a week or two back on the field and then I'm sure we'll be back to normal. It's important now especially just to check your diet because I think you walk past that kitchen table so many times in a day. You have to make sure you don't just grab anything or put the hands into the cookie jar too often," he added with a laugh.

"As for the Olympic postponement, I think for any athlete, when you get the initial news, it's very sad because it's such a long build-up and so much prep and planning goes into that, especially in your head.

"My personal thoughts were that this would be my last Olympics and I thought to myself: Geez, if they cancel it, I'll never have that. But luckily they only postponed it, they didn't cancel it. So now it's just about moving the goal post to start preparing and planning for next year.

"I think it's absolutely the right decision. I think it would be crazy if they still tried to host it. And also to have the Olympics behind closed doors, I don't think that's the spirit of the Olympics. I think the Olympics is one of those things that brings people from all over the world together and celebrating sport. Personally we just have to re-plan now, restructure, try to stay fit.

"We've qualified for the Olympics so that at least is done, so now we can just prepare and I'm sure next year it will be the best Olympics ever. I think there will be such a great spirit and people will really celebrate sport and really appreciate it."

For now though, it's all about PPE, masks, joining the fight, and juggling orders and logistics, with charter planes arriving in South Africa from China almost every week. So the Olympics must wait.

Supersport


---

Stuck in a pandemic, hockey coaches try and improvise game's future in post-COVID world

Sundeep Misra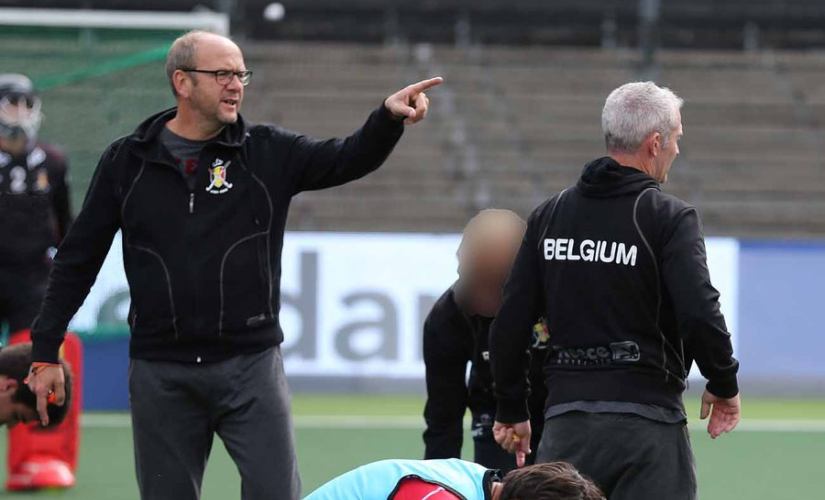 On top of the coaching tree at the moment sits Shane McLeod who coached Belgium to a 2018 World Cup win, the 2019 European Championships and the 2016 Olympic silver medal. Twitter @BELRedLions

It is disorienting; but, we cannot run away from the fact that the world, at the moment, lives under a canopy of distress and hope, both almost in equal measure. The sporting world, grappling with new realities, is standing on the edge of the precipice – difficult to step back and no tangible way forward, at least for the moment. Days have turned into weeks and then into months, hope comes like a whiff of smoke and then disappears a second later. Yet, in these uncertain times where agony, misery and torment wait to be swept aside by joy, health, and comfort, the one element in abundance is time.

As sport waits for its spectacle to come back, hockey coaches sitting back, analysing, and reanalysing their own tactical formulae, figure out further tactical shifts and the need for change. Has hockey as a sport prospered? Have we graduated from being an amateur sport with an emotional wrench to a multi-million dollar professional discipline, up there with the big boys? Does anything need to change in a sport where rules are revised at the snap of a finger?

Terry Walsh, the 1986' World Cup winner with Australia and former coach Australia, Holland and India has a few interesting suggestions. His first: "To stop confusion, deliberate infringement in the self-start ruling; 'The infringing defender must move out of the line to goal and not influence the game until the ball has travelled 5 metres.'"

Those skilful forwards would be rubbing their hands with glee and at the same time watch space expand in the opposition half. But Terry's most interesting point is on the aerial ball.

He says – "Any aerial ball landing in a contested area is penalised with a free hit to the defender from where the overhead was thrown. Forget about who was first etc…as this implies you must play a man to man style. No rule should dictate game strategy. Moreover many players just throw wild overheads from anywhere on the pitch. This will keep the ball more on the ground  - not so crazy when you think we spend millions of dollars laying synthetic surfaces."

And to think some coaches scream themselves hoarse asking defenders to go the aerial route!!

On top of the coaching tree at the moment sits Shane McLeod who coached Belgium to a 2018 World Cup win, the 2019 European Championships and the 2016 Olympic silver medal. Shane believes hockey leads the way "to making changes for the good of the game." The Belgian coach says changes will be seen in speed and power. "It appears as if the philosophy of these changes has been to remove all of the elements of the game that slow the sport down," he says. Shane also speaks about the over-head, the aerial.

"The modern game is played at a pace and skill level that never been seen before but it will continue to develop," Shane feels. "For me, the next area of the game, or at least the rule that still causes issue, is that of the throwing and receiving of overheads. The game has become more dynamic in the use of aerials but it is currently difficult to umpire the danger element consistently. The solution is not evident but an improvement in this aspect will assist in the flow of the game."

Japanese coach Siegfried Aikman, who took Japan to a 2018 Asian Games gold, the first in their history, feels there should be no more changing of rules. "It's important that people can recognise what going on when they watch a hockey match," Aikman says. "Now it's even hard for insiders to understand. If we watch football, the rules are long time unchanged and therefor the sport is very understandable for a big crowd."

The Japanese coach is not a big believer in the 60-minute, 4-quarter format. "I hope hockey will return to the 2 time 35 minutes format," he says. "I believe playing 35 minutes each half is more challenging." Aikman also wants the Champions Trophy to return as "it has added value and a tournament format is also financial better for the countries and for the fans."

Captain of the Indian team that won the 1980' Olympic Gold and former Indian coach, Vasudevan Bhaskaran points towards referrals being an issue. "That's where it needs to be full proof," he says.

Terry goes further on the video review process. "The video review process is way short of quality control," says the Aussie legend. "Solutions have been superficial and we have serious difficulties with process and presentation  - especially if we believe we are to positively present our product to the television world. Having umpires put their slant on what is being asked is frustrating and does the game presentation no favours."

So what is the answer?

"Maybe this: No question - only a review signal," says Terry. "Two video review experts then review with appropriate software tools and knowledge and a decision is provided in a timely manner."

On how hockey would look after a vaccine is developed and, sport, the world over makes a comeback, Terry's answer delves into the very functioning of the Pro-League.

"Hockey has done itself no favours in the manner in which we have poorly managed the Pro League opportunities, specifically in network financial management and delivery. On- line viewing will undoubtedly be developed but to be effective we must have quality commentary," says Terry.

On the four quarters and the quarter-finals introduced at the World Cup and the Olympic Games, Terry puts a question 'What has playing 4 quarters and quarter finals really achieved?' and then answers it: "My honest reaction is that in both cases it has enabled lower level teams a much better chance of success…and that is counterproductive to elite performance."

India's former coach under whom we won the 2014 Asian Games gold believes COVID-19 provides the sport 'with a moment for reflection, review and change where necessary.' He is especially critical on the International Hockey Federation (FIH). "We need to closely examine the poor performance of FIH in recent years. The resources being spent by the National Federations to finance the FIH programming has led to serious deficiencies in funding available to development within countries. Our youth is being asked to pay more funding just to play our game. This will quickly reduce the numbers playing the sport. This requires immediate and drastic action if we want to grow our sport. It seems to me that National Federations should insist on a thorough review of our International governance from FIH. After all FIH has been established for the better interest of the countries playing our sport. To be concise, FIH is the servant of the countries, not the other way around!"

Shane McLeod clarifies his views do not represent Belgium or the FIH – "My thoughts here are purely my own."

Shane praises the now defunct Champions Trophy. "I personally enjoyed Champions Trophy. I have watched this tournament as a boy and remember that this tournament was when the best of the best played each other. The tournament had 6 teams. A day consisted of such games as India v Pakistan, Holland v Germany, an GB v Australia. (Belgium were not in the picture in those days). What a great day of hockey. For sure now there are more teams that have reached that level and you could argue for 8 teams but the tournament itself was a special tournament. People understood it."

"Currently there is so much hockey for a top international player. For me, the Pro-League is a great concept but should fall between years of the World Cup and Olympic Games. This would allow for the local aspect of countries to continue to develop their players locally. It could even open a window for a champions Trophy Tournament in the lighter years."

Aikman votes for an Asian League. "I think we should invest more in local hockey. There should be more matches between India and Pakistan, Japan, and Korea, maybe an Asian League, the winners of the League can play a World League tournament. It will create more matches which are accessible for teams and fans and maybe more interesting for local sponsors."

On how to secure the future of hockey and keep the sponsors engaged, Terry wants 8-a-side to be seriously considered. "Our present game is arguably too crowded, especially in the defensive circles," he argues. "9's still has the ability to defend with too many numbers  - 6's will be the death of our game as skill sets will completely alter."

His argument for 8's on exactly the same rules and pitch dimensions are: "Looks and feels like today's game but with more space and opportunity. Smaller squad size - say 14 in the squad, reduced numbers especially at the Olympics. Much enhanced environment for our best to display skill, speed and opportunity…just what spectators want to see."

Terry also argues that 8's would also be taken positively by the IOC and puts forward "two quarters X 25 minutes or 4 X 12 min allowing for quality rescheduling". He also argues to "limit the interchange frequency to allow the best players more pitch time...best players are the ones spectators want to see."

Shane believes in growing the sport. "Continue to create a product that appeals to fans and sponsors," he says. "It has many aspects that are great for sponsors to align themselves with. It is a family sport with family values. It is a lifetime sport from 5 years to 85 years (master's hockey). We have to be well led in this area and we need to have plan to achieve reaching an even greater market. Belgium is a great example of growing a sport. From small beginnings the Federation has taken a little sport and turned it into a sport that the whole country is starting to fall in love with. They did this step by step but are constantly looking at ways to do even better."

Prodded, provoked, nudged are simple methods of generating opinion, an expression of sentiment from men who have played and coached at the highest level in their sport. In these times, nostalgia is also a balm. On the one moment that is Terry's most treasured, his answer is: "In fact it is not any one moment although I can recall numerous highlights," he says. "The real treasure for me is having been fortunate enough to be involved with so many people from around the world and had a career that has kept me in the international game for over 40 years. Now that can be really nostalgic!"

Shane's is somewhat predictable. "I have two recent moments that stand out for me in these lockdown moments. Both of them I re-watched this week in my scouting homework. The first was the final of the World Cup in India. Winning the shootout after playing an incredibly tight match against Holland. What an amazing feeling to win such an event in (what I believe) is the home of Hockey."

"The second was winning the semi-final against Germany in Antwerp (my home). It was a truly movie style match. Losing 0-2 and coming back to win against the odds. What made it so amazing was the event. Everyone that saw that game in the stadium will remember it always. That is why sport is so important. That is why (when it is possible again) it will be sport that will play an important role in bringing connect back in our world."

For Aikman, it is the excitement of India Vs Pakistan and the ones that he saw in Holland, his home country. "Those matches in Holland were always sold out," he remembers. "Always many goals, skilful hockey and high paced."

Bhaskaran's most memorable day "was representing India for the first time against England in a Test series in 1971 and playing alongside Ajit Pal Singh."

Firstpost


---

India women's hockey team forward Navjot Kaur says last year's performances have kept players motivated

Bengaluru: The string of good outings by the Indian women's hockey team last year has helped keep the entire group motivated as they continue working hard despite the COVID-19 lockdown, feels forward Navjot Kaur.

The year gone by was a fruitful one for the Indian women, which saw them produce some outstanding performances across tournaments.

They won the FIH Women's Series Finals Hiroshima 2019, Olympic Test Event in Japan, and the FIH Hockey Olympic Qualifiers Odisha, along with victories in their tours of Spain, Malaysia, Republic of Korea and England.

"I think the kind of performances we produced in 2019, especially at the FIH Women's Series Finals and FIH Hockey Olympic Qualifiers, has really helped us to stay motivated and continue putting in the hard yards in whatever way we can," Kaur was quoted as saying in a Hockey India press release.

The coronavirus outbreak, that originated in the Chinese city of Wuhan, has forced the sporting world to come to a standstill. The Tokyo Olympics have also been pushed to 2021.

In this testing time, the 25-year-old says the team is focussing on maintaining fitness and staying in touch with the sport as much as possible.

"There's no doubt that it's been difficult for everyone across the globe, but we have to stay positive and continue moving forward. All of us here are working very hard on our fitness and stick-work drills in our rooms."

The forward added that the players have also got a chance to indulge in their hobbies and catch up on a few shows.

"We are utilising our time to pursue our hobbies as well. Usually, we don't have a lot of time and therefore I am really enjoying drawing, colouring and catching up on a few shows on Netflix.

The 24-member core probables for the Olympic Games are currently stationed at the SAI Centre in Bengaluru.

"Staying here in Bengaluru has helped me keep busy. I guess if all of us can maintain a fixed routine, we can definitely stay positive and hope for the best," Kaur said.

Last week, the Indian women's hockey team launched a fun fitness challenge to raise funds for the migrant labourers whose families have been affected by the nationwide lockdown to combat the COVID-19 pandemic.

The team has raised over Rs 15 lakh and crowd funding will continue till 3 May.

"The response to the fun fitness challenge initiative has been absolutely amazing. We have to fight this battle together and it's great to see people around the country accepting our challenges and donating funds."

"People coming together from all walks of life to help the underprivileged during this difficult time raises all our hopes. We just have to take each day as it comes and one day we will be victorious," Kaur said.

Firstpost


---

Olympic hockey hero Hinch's good advice during a 'Cuppa & a Natter' with Defroand

Lee Power



Great Britain's goalkeeper Maddie Hinch saves a penalty from Netherland's Maartje Paumen during the gold medal match at the 2016 Rio Olympics

Olympic hockey champion Maddie Hinch had plenty of good advice for aspiring players in her online chat with Havering's Emily Defroand.



Emily Defroand talks to Maddie Hinch in her latest Cuppa & a Natter on Instagram

Hinch was the second guest in Defroand's new 'Cuppa & a Natter' series on Instagram Live on Thursday evening and covered a range of topics during their 30-minute talk.

Having expressed a preference for Yorkshire's English Breakfast tea, with milk and no sugar, and a custard cream in the morning, Rio 2016 gold medalist Hinch discussed being a goalkeeper.

"It's about understanding the role and being comfortable with letting in goals," she said.

"It comes with the territory but I was hard on myself and broke a few sticks on posts. It became known as the 'Maddie paddy' as I took every goal so personally, but I learned to compartmentalise and move on.

"It's not easy, it takes time to work out your reset button. I watched other goalies at the top level and they all different routines after a goal.

"Some just stand there, some walk to the top of the circle, but one went behind the goal and had a drink. When they stepped back over the line, they threw away their bottle. I stole that routine! It definitely helped me to quickly move on."

Talking of water bottles, Defroand asked about the famous drinks container used during the Olympic final against the Netherlands, which went viral after Great Britain memorably won in a penalty shoot-out.

The words 'relax', 'hand up' and 'chin out' were seen written on the bottle and Hinch added: "The notes were for the game to keep me grounded. They were my three go-tos. And I had a notebook for the plan of attack for the shoot-out.

"Six months later the water bottle was delivered to Bisham Abbey as I'd left it behind!"

As for winning that gold medal, with a TV audience of 10 million tuning in back in Britain, Hinch admitted it had been such a thrill.

"I remember being in the tunnel and we felt incredibly ready," she said.

"Of course I was nervous, but I was excited to play. I didn't fear anything. I couldn've have been more ready. If it went terribly, I would've had no regrets. We played a team we knew an awful lot about and I remember thinking 'imagine if we'd lost the shootout and I hadn't done my homework'."

Hinch then answered questions which had been sent in by fans, revealing how the worst thing about being a goalie was having such a large kit bag, how she would've liked to score goals if not a goalkeeper and how her worst fear was not being happy.

"Life throws challenges at you. I work hard to do things to make me feel happy and avoid things that don't," she said.

"You learn that when you get things wrong."

Finally, she paid tribute to the coaches who had helped her reach the top of her sport – being named world goalkeeper of the year three times – and how she was hoping to pass that knowledge on to the next generation at her own training camps.

"I had so much good advice from John Hurst. He took me on board and said I'll make you good at the basics and made me see the importance of having such strong basics to being regularly picked," she said.

"The key was consistency, not making big mistakes so your bad day is still quite effective. The knowledge I'm now passing on was passed to me by some great coaches, who all had an input into my game in some way."

Romford Recorder


---

'Never give up. If you are good at something, follow your peers and carry on'

Rising star Maddie Goodman speak to THP on her early setbacks and future hockey hopes

By The Hockey Paper



Maddie Goodman has risen through Bowdon ranks PIC: Hockeytoday.co.uk

Here's a disparity. Maddie Goodman, one of Bowdon Hightown's young cohort of hockey players, lives on the same road as Manchester City's player Tommy Doyle. Both have played for England NAGS in their respective sports, their lives are contrasted as top flight players.

Goodman currently attends Sandbach High School, which doesn't own a sports hall, and has time for just one training session with Bowdon. The forward and talented runner has faced adversity in her short career to date and clearly accepts her path as strives to reach the top.

Moving from Oxfordshire to Cheshire, Goodman first watched her sister play for her local club Triton 2s. She was soon playing and then for the rest of the season. "That's where I saw the physical side," she declares.

"But someone must have put a complaint in as I was 11 at the time. They stopped me playing when I was 12 and when I turned 13 I could play Cheshire League again."

Two seasons later she was voted the league's player of the year, aged 14.A keen rugby player around the same time, she was also banned from playing against the boys, with club coaches saying that it was getting too physical. "I had to stop completely and that was surprising. I could have played for a women's team in Manchester for rugby but I wasn't really committed at that time."

Hockey took over. "I was at that age when I didn't know I wanted to play hockey like I am now, with England and Bowdon 1s. I knew I would be a sporty person, that I would have that one sport I could be good at or love when I was older."

After moving on from Triton and a spell playing for Bowdon 2s, Goodman was happy to bide her time. "I just wanted to play a higher level and be surrounded by people who knew what they were talking about," she says. "Now I've got experts telling me what to do. It's been a big jump from Triton but I'm loving it."

For a 17-year-old, it has certainly been a learning curve and she is in a good position to offer fellow juniors some words of advice. She says: "A message I would send would be to not let it faze you and that you will face challenges and how you deal with them is what will make you a better person. If you are good at something, follow your peers and just carry on."

Changes to the England system means that she faced a tough selection wait to make the trimmed England under-18 squad. She just missed out but was asked for training in December.

Now into her final year of school, she is set to attend university in September and play Premier Division hockey alongside. She says: "I'm looking for someone who does my course and someone who does hockey at a very high level. I'm looking to continue hockey at the highest level I can and however far it goes I will go."

A mother's view

State school pupils can play high level hockey providing they develop other skills from playing a range of sport. Maddie didn't have the hockey experience and skills of other teenagers who have accessed fantastic resources and coaching in private schools, but she's developed other strengths, such as speed and balance through athletics club and participation in cricket and rugby. Coupled with good access to grass roots hockey, it's possible to do well.
Nicola Goodman

Does your club have interesting news or features? This email address is being protected from spambots. You need JavaScript enabled to view it.

This originally featured in a previous Hockey Paper edition. Don't miss out. Subscribe in print or in digital format.



The Hockey Paper


---

TikTok hails Sam Ward's creativity as nation gets on board

By The Hockey Paper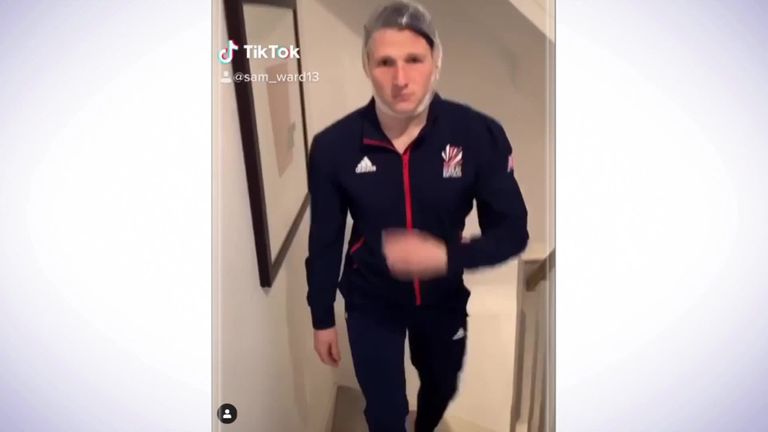 Social media giant TikTok has hailed the exploits of the #IsolationGames, inspired by Sam Ward's brilliant and unrehearsed take on Olympic sports.

Ward, 29, has been at the forefront of sporting lockdown since being forced into isolation thanks to his hilarious near daily Olympic event-by-event videos which have been a runaway viral success.

From skeleton to sailing and everything in between, Ward originally planned to do a few videos as a bit of fun before his videos began to resonate across the globe.

Ward recently teamed up with Team GB, TikTok and the British Red Cross and Thursday brought to a close the successful campaign – #IsolationGames – with money raised going towards food and medicine, supporting refugees and asylum seekers as well as those working for the NHS.

The #IsolationGames saw other athletes join the fray, including gymnast Max Whitlock, as they invited the nation to take on Team GB athletes by recreating the summer of sport in their own homes as creatively as possible.

The campaign saw 446m hashtag views, 270k videos published, 200m views, 1m shares and over 23m likes. GQ Magazine included the campaign in their '10 coolest things to do from home'.

George Nikolaou, European Community Manager, TikTok, said: "We've been thrilled to see the community response on TikTok to the #IsolationGames challenge, with users continuing to impress us with their creative and unique take on the sporting theme."

Ward added: "It's been amazing how many people have got behind the #IsolationGames. It's for a fantastic cause and hopefully we helped support the British Red Cross at this time. I'd like to say thanks to everyone who got involved and those who also donated."

Watch Sam's videos on his Instagram channel




The Hockey Paper


---

Sally Walton: Olympic hockey player and coach inspiring self-confidence in others

An inclusive culture has brought GB women's hockey great success. In Lesbian Visibility Week, London 2012 star Sally Walton says the youngsters she now coaches appreciate what authenticity means

Jon Holmes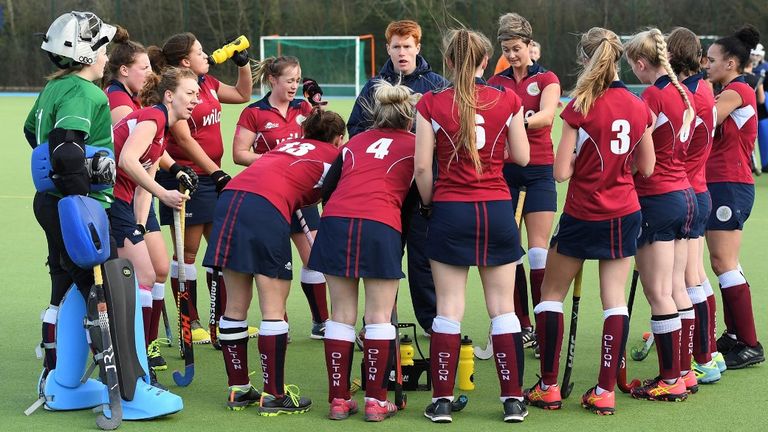 Former international Sally Walton is head of hockey coaching at the Royal Grammar School Worcester and continues to play competitively

"People look up to me as a role model in hockey and somebody who's very comfortable with who they are - but I'm just doing what I love doing."

Sally Walton is still smitten with her sport. After an international career that brought her over 160 caps and a clutch of medals - including Olympic bronze for Great Britain at London 2012 - her devotion to hockey has continued in both outdoor and indoor formats of the game with club sides Olton & West Warwicks and Bowdon Hightown.

With the latter, the former England defender has been a revelation in attack in recent seasons, frequently finishing as top scorer in the Jaffa Super Sixes Trophy, the UK's premier indoor tournament. Now 38, Walton's talents as a coach have also made her one to watch; since 2016, she has been working at the prestigious Royal Grammar School Worcester and has risen to become their head of hockey coaching.

Authenticity and how that quality positively influences young people is something Walton is well placed to talk about. The inclusive culture which characterises women's hockey in Britain is often referenced as a key factor on the road towards Rio 2016, the pinnacle of success. Walton was a part of that journey. "I've always been an advocate for embracing individual differences," she says. "If you've got 31 girls in a squad, you've got 31 very different ways of driving a gold medal standard."

She mentions her former team-mates Kate and Helen Richardson-Walsh, the captain and creative force respectively in that victorious Olympic side. "They both talk so well about that gold mentality. What filters through for me is respect. The beauty of team sport is you have to find a blend of people that will live together off the pitch but also bond on it - the right positions and the right personalities."

Like the Richardson-Walshs, Walton has been commended for helping to break down stigma in sport around sexuality. Within women's hockey itself, that has not been an issue but there has been much to learn for other sports and just by being herself as a coach, Walton is able to set a good example for the next generation too.

"The way I see it, as somebody who is out and is comfortable with that, I might be able to help someone who is really struggling. Maybe they are playing 3rd XI hockey, they are in their teens, and they do not quite know where they fit into society. Perhaps they are questioning things about their sexuality. That's the kind of person that I want to be able to go 'yeah actually, that's inspiring me to be a little bit more comfortable about who I am.'"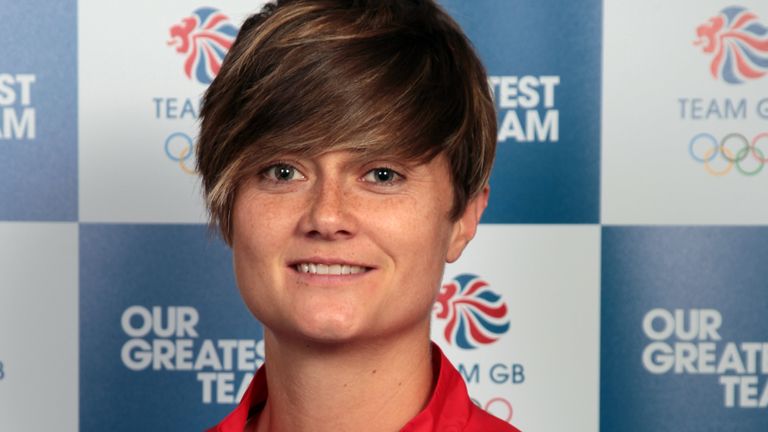 My sexuality doesn't determine how well I play my sport but the fact that I feel comfortable about it does. - Sally Walton

Pride is a positive outcome from Lesbian Visibility Week, feels Walton. In this instance, it's not about "waving a flag" but a simpler recognition of diversity. "There are girls out there who just want more of a quiet reassurance. There needs to be something for everybody," she explains. At RGS Worcester, she has found an environment that enriches its students with that approach. "We are broad and diverse here, and the kids are so accepting and open about all the information they take on board, whether that's to do with LGBT+, religion, or something else on inclusion.

"The school is really hot on supporting Rainbow Laces and all different kinds of things. I've been to a couple of schools coaching and I've been really impressed with how they handle it here."

She is looking forward to a time when attitudes of acceptance are universal; she does not feel that has been attained yet in the UK, and certainly not in many other countries. "At the moment, I understand it needs people like myself to say 'this is who I am', and for any role model to use their platform to show it's alright.

"Ultimately, a good athlete is a happy athlete. If you are in a healthy relationship and your family and friends support you, that tends to have a good impact on performance. My sexuality does not determine how well I play my sport but the fact that I feel comfortable about it does."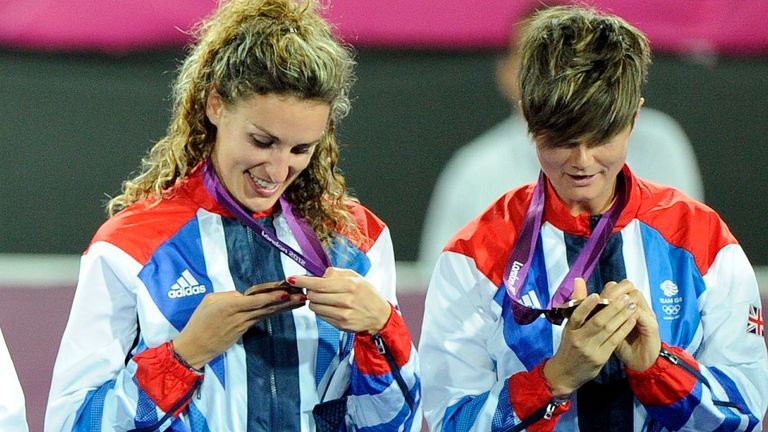 Walton and team-mate Ashleigh Ball inspect their Olympic medals after winning bronze at London 2012

Regrets and reassurances

She has been made to feel insecure about her sexuality, in the past. Walton says her own coming out story "wasn't a particularly happy one". Born in Formby and raised in Solihull, she returned to Merseyside to study sports science at Liverpool John Moores University. "I had a boyfriend back home when I went off to uni, but that relationship soon fizzled out. I felt this was my time to experiment and learn more about myself."

She came out within her group of friends but could not find an ideal way to tell her parents, even though they would regularly travel north to watch her play hockey. "I wanted to come out to them but never knew the right time. Then unexpectedly, someone else outed me to my parents and told them I had a girlfriend.

"They were taken aback and disappointed because they felt I was living a lie. It was tough. I got an absolute torrent of emotion.

"They then took the decision to tell everyone in my family - they wanted to tell them before they found out from someone else, like they had done. But actually, the wider family was very accepting."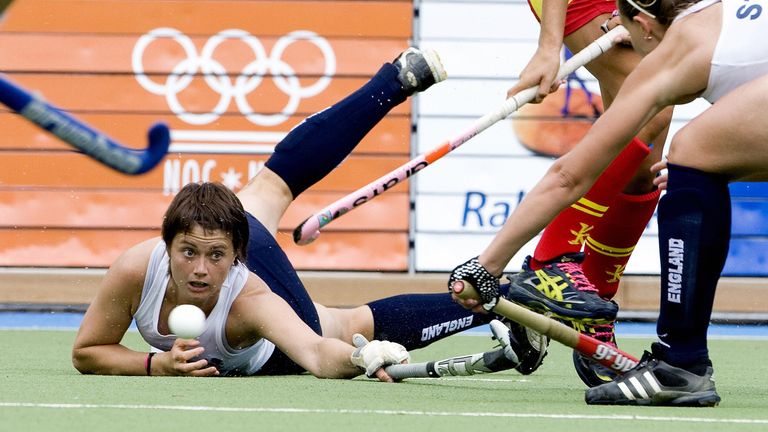 Walton played international hockey for over a decade and was also part of the England team that won bronze in 2010 at both the World Cup and Commonwealth Games

The initial shock faded away and conversations became easier. "Over time, I sat down and talked about it with my parents. At first, they were like 'well, just don't do it!' - but when I explained it wasn't a choice, they began to realise that and have been nothing but supportive since.

"Any parent is going to have concerns for their child and worry that the path isn't going to be smooth. My dad says he regrets how he handled it and it's one of my biggest regrets too, that I didn't tell them myself. That's what made it so bad. There's no way they would have reacted like that if I'd got to mention it first."

Walton is so relieved for young people today who are LGBT+ that those conversations with parents are, in the most part, easier to have. "What's also nice is that one of my cousins came out about eight years ago and said to me that I'd helped pave the way for him a little - soften the blow, you might say. We were joking around but he said he felt much more comfortable knowing his mum had been supportive of me when I came out."

'Emotion affects performance'

She welcomes the storytelling of Lesbian Visibility Week and the effect it might have. "It used to always be the kids who were LGBT+ having to broach the topic. But through awareness weeks like this, parents are a lot more educated and confident about it now, and can step up and say 'is this the case? Am I reading it wrong?' It just takes that little bit of pressure off."

Do coaches feel empowered to have that dialogue as well? "I think it's always important for coaches to understand their players. You're trying to teach them about the sport - the tactical and technical stuff - but also the wider qualities you need as a sportsperson. Teamwork, communication, problem-solving - you're making them into more of a rounded individual through sports.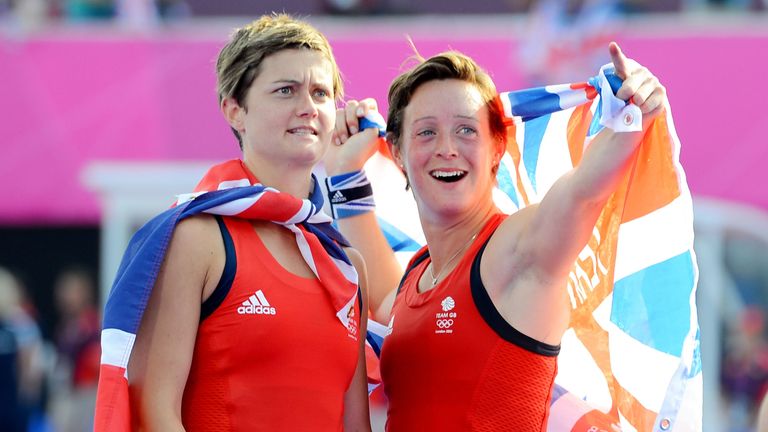 Walton and Hannah Macleod celebrate Britain's 3-1 victory over New Zealand which secured third place at their home Games

"Every coach has a responsibility to understand their athletes and the way they deal with pressure, and how emotion affects performance. There's a safeguarding aspect too, in terms of picking up on cues. Is this how they normally behave? Are they being affected by something at home? Having that duty of care to challenge where they feel they need to.

"If somebody comes to you wanting to talk about an issue they're struggling with, it's important that you've created an environment where they feel comfortable to share that."

Walton says she was always "the joker" around the camp in her international days and that was how she developed her own self-confidence. "You could ask me a question and get a very honest answer. I was very open because it was so accepting. That meant you could have that little bit of banter, but it was respectful."

Laughing off stereotypes about lesbians comes naturally. The rise of women's sport and social media means there is more opportunity for athletes to be known beyond the pitch. "I think the media has done a fantastic job. The tone has changed. They're more conscious and it has helped to open people's minds."

She returns to the idea of what it means to be a role model. "They're all around us now, which is the most important thing. The people you've really got to take your hat off to are those from the last 20 or 30 years. What they achieved has meant today can be like this."

Sky Sports


---

National Volunteer Week – Feature Volunteer Christa McAlduff

By Joshua Rey




Field Hockey Canada is celebrating National Volunteer Week from April 19-25. This week, we will feature a few volunteers from across the country. Thank you for the many nominations from your communities. We are thrilled to have such a terrific cast of volunteers and staff from coast-to-coast. Please enjoy our National Volunteer Week series!

Christa McAlduff Q and A

Today's featured volunteer Christa McAlduff of Summerside, PEI where she coaches the SIS Under 15 team.

Field Hockey Canada: How did you get into field hockey?

Christa McAlduff: I started playing field hockey in junior high school in 1987 and loved the sport immediately. It was a new sport for me but I enjoyed how quick and aggressive the game was. The sport at that time was played much differently than it is today. We only played on grass fields and at times the grass was long, making it more difficult and challenging. If you could run fast and dribble the ball in grass the sport was for you.

Field Hockey Canada: What motivates you to volunteer?

Christa McAlduff:  What motivated me to volunteer was my own daughters but once I started it became more than about my own girls but about all teenage girls. I noticed that this can be a very important time in their lives and with the choices they make. I see that many teenage girls lack self esteem and need help to build self confidence and when coaching teenage girls in a very competitive sport this can be a balancing act. The very way you speak with and to teenage girls can leave a lasting impression on them whether it be a positive or negative. I have seen the difference in teenage girls from the start of a season with low confidence to end the season with great confidence. They need to know a coach believes in them and then in turn they will believe in themselves.

Field Hockey Canada: What role does volunteering play in your life?

Christa McAlduff: Volunteering has become very important to who I have become and give back whether it be in the community with sports, my work or my church. It takes a community of volunteers to help build our youth.

Field Hockey Canada: What are some challenges when it comes to volunteering?

Christa McAlduff: Some challenges with volunteering is the time especially with all the other demands one has for example family and work.

Field Hockey Canada: What is your favourite part about giving back to the field hockey community?

Christa McAlduff: Is to bring this amazing sport to the youth. All the youth that I have coached had never played field hockey before until they played with me and after three years playing on my team and they moved up to high school and they continue to play field hockey.




Field Hockey Canada media release


---

MHC umpires chief Ranjit blasts websites over officiating allowances

By Jugjet Singh

STOP reading fake news on websites managed by irresponsible and agenda-driven individuals.

The Malaysian Hockey Confederation (MHC) are perplexed as to why officiating allowances of umpires have suddenly become an issue highlighted by dubious websites.

MHC vice-president Ranjit Singh, who is also the association's umpires committee chairman, said it is unbecoming of them to claim that the allowances last year for international grade umpires have yet to be settled by the MHC.

"I had discussions with the umpires during the Malaysia Hockey League (which ended on Feb 22) and was never told of any pending payments to international umpires.

"In fact, I met them again during a Junior Hockey League (JHL) briefing before it was called off following the implementation of the Movement Control Order. None of the umpires complained about unpaid allowances in 2019," said an irked Ranjit, who is also the Penang HA president.

Ranjit cautioned against believing the fly-by-night websites or those who have only been doing paid reviews for many years.

"We receive and read many fake messages every day and this is done by irresponsible people. I urge everyone not to be deceived by them," he said.

Ranjit also urged the disgruntled umpires, if there is any one, , to contact him immediately.

"All of them have my number, so call me. I can then instantly get in touch with the MHC treasurer or even the president to sort out matters arising among umpires.

"There is no use or any need for an umpire to be defended by a website.

"The right channel is the umpires committee. Talk straight to us.

"And on the matter of unpaid MHL umpires, all 31 of them were asked to submit their claims by April 25 (today) and they have done so before the deadline.

"The matter is under process, and they will get their allowances soon," Ranjit added.

New Straits Times