Al the news for Monday 30 March 2020

'We will win this': Indian women's Hockey team captain Rani Rampal urges all to stay home amid COVID-19 outbreak

India has seen a rise in the cases of coronavirus and the nation is trying its best to control the spread of the pandemic. Urging people to self-isolate themselves and help battle the COVID-19 outbreak Indian women's Hockey team captain Rani Rampal wants fans to stay at home.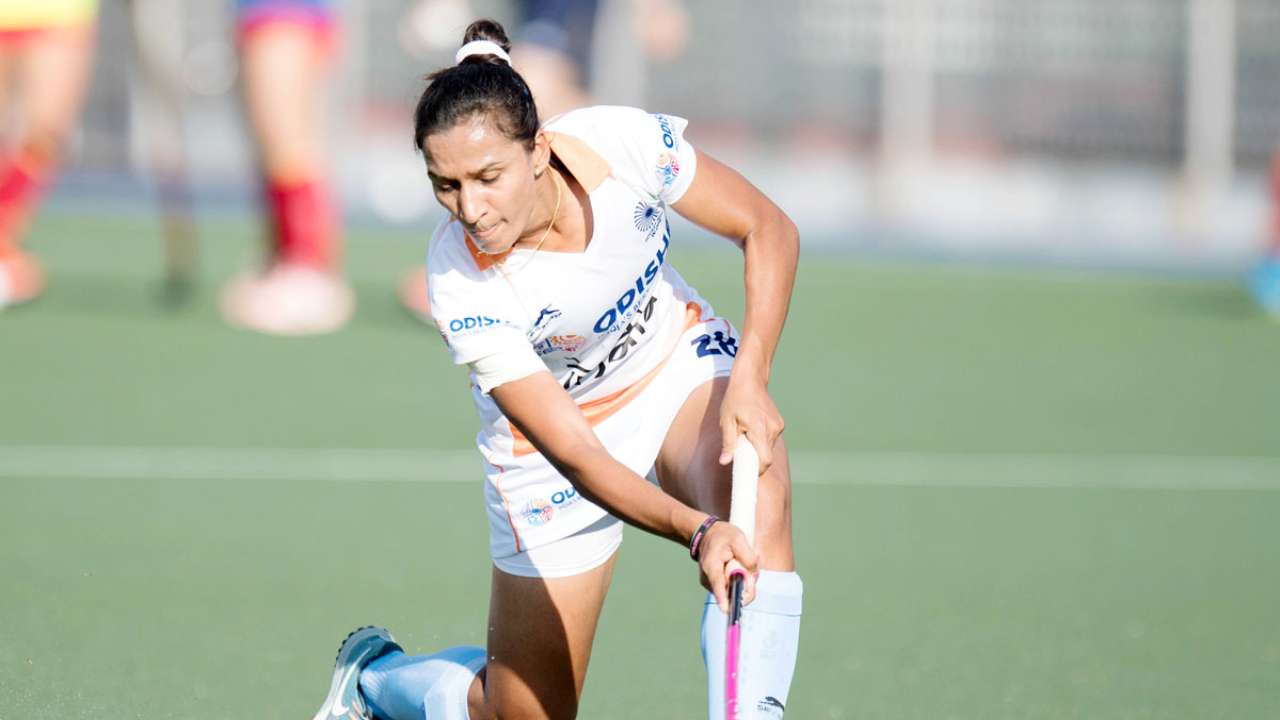 Rani Rampal urges all to stay home amid COVID-19 outbreak , Rani Rampal Twitter

India has seen a rise in the cases of coronavirus and the nation is trying its best to control the spread of the pandemic. Urging people to self-isolate themselves and help battle the COVID-19 outbreak Indian women's Hockey team captain Rani Rampal wants fans to stay at home.

Rampal took to Twitter and wrote: "To fight against Coronavirus is everyone's responsibility and with the collective effort, we will win this. Let's contribute for our families, nation by staying at home. #StayHomeSaveLives."

The virus has got all sporting activities to a halt and many have been postponed including the 2020 Tokyo Olympics and Euro 2020.

According to the Ministry of Health and Family Welfare, India has 979 confirmed cases of coronavirus of which 86 people have been cured or discharged. The country has also seen 25 deaths and to contain coronavirus, Prime Minister Narendra Modi on Tuesday announced a 21-day nationwide lockdown.

Daily News & Analysis


---

Amid coronavirus pandemic, Dutch men's hockey coach resets for Tokyo Olympics

Netherlands men's hockey team coach Max Caldas bats for an FIH Pro League which allows lower-ranked teams to compete with the top teams.

Samarnath Soory



Netherland men's hockey team coach Max Caldas during a media interaction.   -  BISWARANJAN ROUT

Netherlands men's hockey team coach Max Caldas has hit reset for the Tokyo Olympics as the world deals with the coronavirus pandemic.

"Now that we have more time to train for Tokyo next year, I'm curious to see which players are going to make the difference at the Olympics," he said during a Facebook Q&A session with hockeytoday.cc.

The Argentinian tactician, currently at home in Leiderdorp, is in touch with his players regularly through conference calls, but not all conversations are about hockey.

"We have a team conference every week and I have time to watch their club games. I give them feedback about their performances. However, these days it is about being there for them and talk about life and ask how they are doing. I think we need to act responsibly during this nightmare situation," he said.

Caldas, 47, who guided the Oranje to the semi-finals at Rio 2016, hinted that the postponement of the Olympics will not alter his team selection.

"Last December, I sat with them (players) and told them (about their role for Tokyo Olympics). I always have a third person with me so that we communicate better. Most of the times, players are not surprised if they are not part of the team," he said.

Eight of the Netherlands' core group are in their thirties. Caldas hopes none of them is thinking about retirement with the Olympics pushed back by a year.

"I think age is a funny thing. If you look from the outside, above 30 might seem old. The only thing is whether the players want to have a go at it. I think they are all ready to give it a go," he said.

Caldas, who guided the Dutch to the World Cup final in 2018, felt that there is a need for his team to spend more time on penalty corners.

"If you ask Mink (van der Weerden) or Jip (Jansenn), they will say it's not enough. I think that is one department we need to work on."

The former Argentina player also felt that the FIH Pro League should not spell oligarchy for the elite. He wants to see more lower-ranked teams competing in the tournament.

"The Pro League cannot be for just the privileged eight or nine teams. It should be for other teams as well. You cannot have just five or six teams at the top and leave out the rest of the world, because that's not sustainable. It's probably not easy to happen, but that's what needs to happen," Caldas said.

A World Cup and Olympic gold medal-winning coach with Netherlands' women, Caldas touched upon aspects that could make international hockey more competitive.

"The biggest challenge for hockey is how you merge club and international hockey. It's about bringing a system together for countries which have full-time programme for international teams with countries which have to find time for club competitions. And also don't change rules just for the sake of changing the rules."

Sportstar


---

GB hockey captain Hollie Pearne-Webb: 'These things gel you, going through tougher times'

Great Britain's hockey captain, who played a key part in the Rio gold, believes the postponement of the Olympics will give extra time to develop her young squad

Emma John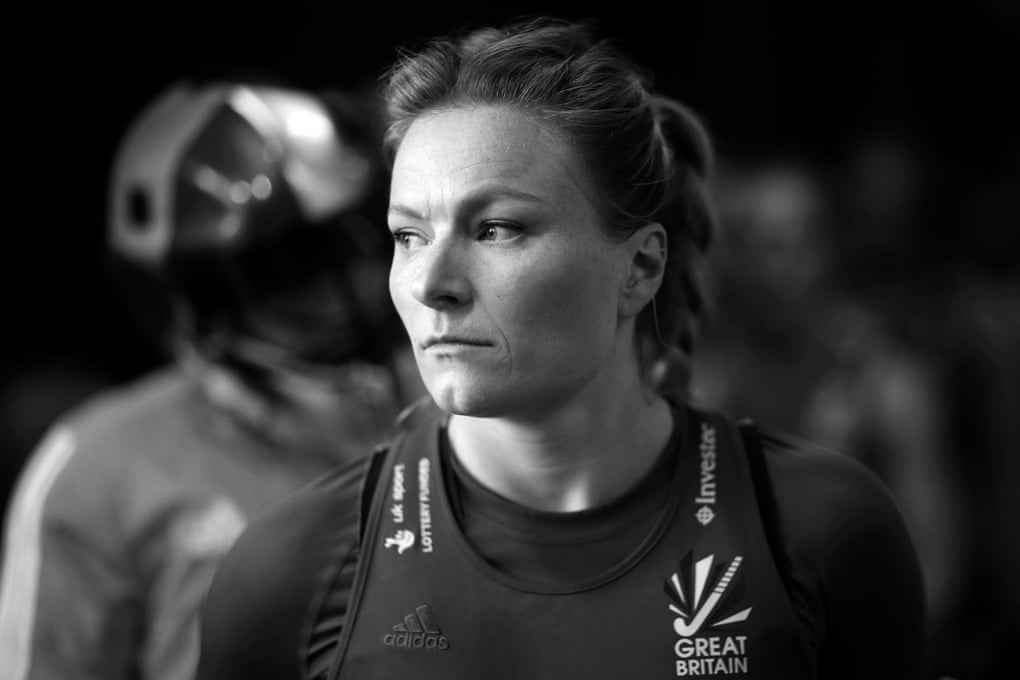 Hollie Pearne-Webb has plenty on her mind as she prepares for next year's Olympics. Photograph: Naomi Baker/Getty Images

When Hollie Pearne-Webb was growing up, she had an indoor pastime that drove her mum potty. She had fallen hard for hockey from her very first session, as an eight-year-old, at the club near her Derbyshire home. Now she hated to be without a stick in her hand. "I was always knocking around a ball inside the house, hitting things," says Pearne-Webb with a laugh.

The schoolgirl Hollie never imagined herself playing for the British women's hockey team, much less scoring the winning penalty in an Olympic final. But she would, at least, recognise the game Pearne-Webb has been playing on her living room carpet recently. Team GB have been training in isolation for the past fortnight – and not all of them have gardens.

Great Britain's captain has, so far, avoided breaking any furnishings. Most of her training is being done in her garage, converted into a makeshift gym, complete with stationary bike, bar weights and kettlebells borrowed from the neighbours. She had just finished a conditioning session when the news broke that this year's Olympic Games were to be postponed. She was expecting it – everyone in her team was. That didn't make the disappointment any less acute. "Every part of our life is geared towards going to the Olympic Games," says Pearne-Webb, "so having that moved changes so much."

For athletes who have been mentally and physically readying themselves for peak performance in August, a 12-month delay can be a career-ender. "There are probably a few girls in the team wondering: 'Can I do this for another year?'"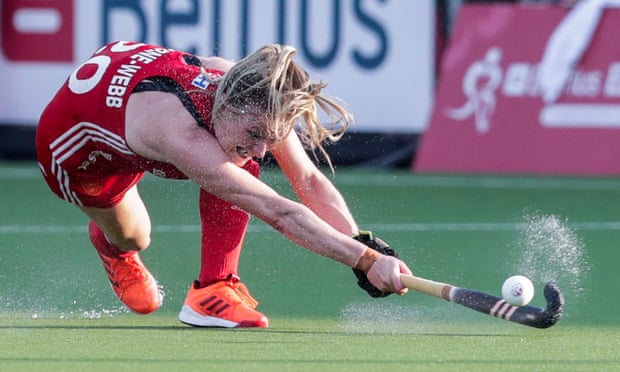 Hollie Pearne-Webb in action for England in the EuroHockey World Championships in Antwerp. Photograph: Stéphanie Lecocq/EPA-EFE

Andthen there's the prospect of no hockey for months. The longest an international player usually goes between games is two or three weeks: the current hiatus is likely to be "much, much longer". Happily, the team remains fully funded until next March, but Pearne-Webb still has to find a way to captain a 25-strong squad who can't be near each other. Even her long-time mentor, Kate Richardson-Walsh, who led the team to their gold medal at the last Olympics, hasn't any experience in remote captaincy.

Like any good leader, Pearne-Webb has already identified some positives. The delayed Games gives her and the coach, Mark Hager, another year to develop a young squad of players who have stuttered since Rio. After the retirements of the power couple Kate and Helen Richardson-Walsh, Pearne-Webb's England team were knocked out in the quarter-finals of their home World Cup in 2018.

Last year, their coach in Rio, Danny Kerry, moved to oversee the men's side and under Hager England were routed 8-0 by Holland in a record defeat in their EuroHockey semi. Back-to-back wins against Chile last autumn, to qualify finally for Tokyo, came as a considerable relief.

So Pearne-Webb knows the bonding power of adversity. "These sort of things do gel you, going through tougher times. I know we've felt that on the pitch throughout the last four years, which have been a bit of a rollercoaster. So although we're not together, team dynamics are pretty good and we're pulling each other along."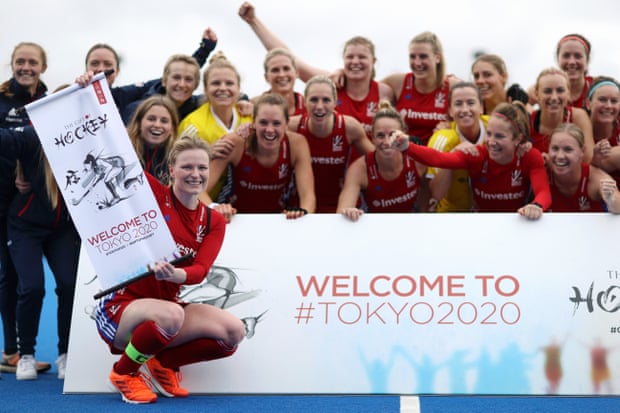 Pearne-Webb holds a scroll reading 'Welcome to Tokyo 2020" after their victory over Chile Women in November 2019 meant they qualifued for the Tokyo 2020 Olympic games. Photograph: Naomi Baker/Getty Images

The 29-year-old has always seen herself as a temporary captain, caretaking the team until the return of her good friend Alex Danson. On a holiday in Kenya two years ago, a freak accident left Danson with mild brain trauma. That life-changing injury, combined with her sister, Claire, being paralysed after a cycling accident, finally caused Danson to retire from the sport in February. "It was only then it sunk in that I would be captaining the team to the Olympics," says Pearne-Webb. "Then I started worrying: 'Am I doing what I should be? Am I doing a good job?'"

Her self-doubts have been helped, she says, by listening to interviews given by Richardson-Walsh ("I heard her saying she only felt she got the captaincy right within the last year") but those around her have no difficulty identifying her inspirational qualities. Pearne-Webb's never-say-die attitude was key to her side's Rio triumph, not least in their final match, where Great Britain spent most of the time against the Netherlands defending their hearts out. It was her ice-cool composure, taking the final penalty shuffle, that gave them victory.

So Pearne-Webb knows a bit about staying calm in a crisis. She's also an economics graduate and a part-time management accountant, working two days a week for the Department for Environment, Food & Rural Affairs, where her role includes risk assessment and financial planning. "As someone who likes to know what's going on, the current situation is a challenge," she says. "But I'm breaking it down on a daily and weekly basis, what can I do right now. I like structure and routine, so I've been filling my calendar every night – work, study, training, lunch and a fresh-air slot where I go out for a ride on my road bike."

While she finds the economic implications of the pandemic "really quite scary", she has taken some comfort in the way it has inspired people to think about their physical activity. "Going outside once a day you see more people running than ever. I'm hoping one of the things to come out of this is people finding a little bit more time for themselves."

Gender equality is another of Pearne-Webb's concerns – hockey is a rare team sport in which male and female internationals are paid the same. In January she joined the Women's Sport Trust's Unlock campaign, aimed at breaking down the barriers that still remain for women's sport. She foresees a real danger that recent improvements in its funding and profile could suffer in an economic downturn. "It is a worry that all the hard work and the years it's taken to get to this point could be lost."

Before then, however, there are some more immediate priorities. These include redecorating her hallway (she finds DIY therapeutic) and gym sessions with her ready-made training partner – her husband, Tom, who secretly wishes he was a professional athlete himself. And if the BBC does respond to requests to replay past Olympic triumphs to boost the nation's spirits, there's a good chance we'll get to see Pearne-Webb in action again. "It would be great if they replayed the Rio final," she says with a smile. "Because I don't think I've actually seen it."

The Guardian


---

Forced indoors, hockey champ PR Sreejesh turns to books

The Indian hockey team's goalkeeper said he has picked up reading as a new habit now.




With life brought to a standstill on account of the coronavirus-induced quarantine, PR Sreejesh, the Indian hockey team's goalkeeper, has indulged the bookworm in him.

Speaking to a sports website, Sreejesh said, "I've picked up reading as a new habit now. I've set myself a target of four books a month, and so far, I'm doing great."

Speaking about the books he's read, he added, "I was so hooked to 'The Da Vinci Code' that I jumped out of bed at 2 am, and could only go back to sleep after I finished the final few chapters. I also loved 'Ikigai: The Japanese Secret to a Long and Happy Life'. Now I'm reading 'Good Morning, Mr Mandela', a book that our former goalkeeper coach Dave Staniforth recommended when he was with the team. So far, I think I'm doing great."

Economic Times


---

Trying times ahead for MHC

By Jugjet Singh

WHILE most people are waiting for things to become normal again, Malaysian Hockey Confederation (MHC) president Datuk Seri Subahan Kamal anticipates difficult times for sports when it happens.

The Covid-19 pandemic and the Movement Control Order (MCO) have brought everything to a standstill and things might get tougher when the latter is lifted.

Funds will likely be much lesser or non-existent for some sports.

"It is a real trying time for the government. They are using all their resources to keep us safe.

"And once the MCO is lifted, it will not mean that sports will be back in action like normal, as financially, this sector will be hit.

"The government and sponsors may not be able to hand out cash like they used to," said Subahan.

The International Hockey Federation (FIH) and the Asian Hockey Federation (AHF) might also find it difficult to honour their commitments.

Several tournaments this year have already been postponed or cancelled due to the pandemic.

"Once the MCO is lifted, we (MHC) will have to look into the local and international tournaments on our calendar.

"The MHC will also need to come up with plans to prepare players for these tournaments.

"And we might have to work harder to source for money.

"But the MHC are not pressing the panic button just yet.

"We will make it through these trying times, just like every other sporting body in Malaysia," he added.

New Straits Times