All the news for Monday 23 March 2020

Canada refuses to attend Tokyo Olympics 2020 and Paralympics due to COVID-19 threat



The torch of the 2020 Tokyo Olympic Games. AP Photo

The Canadian Olympic Committee (COC) and Paralympic Committee (CPC) said on Sunday that Team Canada will not participate in the Olympic and Paralympic Games in the summer of 2020 due to concerns about the outbreak of the coronavirus.

Opposition to holding the Games in July has risen sharply in the past 48 hours, with several major stakeholders such as U.S. Track and Field and UK Athletics, along with several national Olympic committees, calling for a delay because of the pandemic.

More than 13,000 people have died globally since the coronavirus outbreak began.

"The COC and CPC urgently call on the International Olympic Committee (IOC), and the International Paralympic Committee (IPC) and the World Health Organization (WHO) to postpone the Games for one year and we offer them our full support in helping navigate all the complexities that rescheduling the Games will bring," the committees said in a statement.

"While we recognize the inherent complexities around a postponement, nothing is more important than the health and safety of our athletes and the world community," it added.

The IOC said on Sunday it would hold discussions that would include an option of putting back the 24 July start date or even moving the Games by a year or more due to the global coronavirus outbreak, but said cancelling the Games would not solve problems or help anybody.

Canada's withdrawal will add to growing pressure on the IOC to alter the schedule after criticism from a slew of current and former athletes with health concerns.

The Olympics have never been postponed or cancelled during peacetime but the IOC's decision to even consider postponement was met with relief from several major stakeholders, including World Athletics, the International Paralympic Committee (IPC) and major national Olympic committees.

Firstpost


---

Field Hockey Canada – Canadian Olympic Committee decides not to send athletes to Tokyo 2020

Field Hockey Canada supports the Canadian Olympic Committee's decision




Field Hockey Canada (FHC) supports and appreciates the leadership of the Canadian Olympic Committee (COC) and its partner organization, the Canadian Paralympic Committee (CPC) during this unprecedented time in our global society. Re-thinking the timelines relating to the 2020 Tokyo Olympic and Paralympic Games is the only sensible and ethical option at this moment.

The Canadian Olympic Committee's decisive action reminds us of the critical role Canada has across the sporting world. Field Hockey Canada is proud to stand united with all Canadian sport. We recognize that we all have the power to drive positive change and as such, FHC has asked its athletes to be at the forefront of social adherence to the guidelines articulated by the World Health Organization and Canadian and Provincial Health Authorities. Follow their lead and stand down from activity – stay off fields and out of gyms. The health and safety of our athletes, our national field hockey community and our local communities in which we live is of utmost importance at all times.

With the Canadian Men's National Team qualified for the 2020 Olympic Games, Field Hockey Canada awaits an announcement from the International Olympic Committee of new timelines for the Games. The Men's National Team will remain positive and focused towards their Olympic goals. We thank our community for your continued support.

Below is a clipping from the Canadian Olympic Committee announcement. To read full announcement, CLICK HERE

TORONTO (March 22, 2020) – The Canadian Olympic Committee (COC) and Canadian Paralympic Committee (CPC), backed by their Athletes' Commissions, National Sports Organizations and the Government of Canada, have made the difficult decision to not send Canadian teams to the Olympic and Paralympic Games in the summer of 2020.

The COC and CPC urgently call on the International Olympic Committee (IOC), and the International Paralympic Committee (IPC) and the World Health Organization (WHO) to postpone the Games for one year and we offer them our full support in helping navigate all the complexities that rescheduling the Games will bring. While we recognize the inherent complexities around a postponement, nothing is more important than the health and safety of our athletes and the world community.

This is not solely about athlete health – it is about public health. With COVID-19 and the associated risks, it is not safe for our athletes, and the health and safety of their families and the broader Canadian community for athletes to continue training towards these Games. In fact, it runs counter to the public health advice which we urge all Canadians to follow.

Field Hockey Canada media release


---

Field Hockey Canada won't send athletes to Tokyo Olympics



Canada qualified last November for Tokyo  PIC: Field Hockey Canada

With the men's side having qualified, Field Hockey Canada has backed its own National Olympic Committee after an announcement on Sunday that it will not send athletes to the Tokyo Olympics – and followed the Australian Olympic Committee's message to athletes to prepare for the Games being delayed by a year due to the COVID-19 pandemic

Both nations are calling for the Games to be postponed until 2021.

The increasing probability that the Games will not take place as scheduled for the first time in 80 years was put into perspective after the IOC earlier on Sunday said that it would make a decision on whether or not to postpone the games within the next four weeks.

In a letter to athletes, IOC president Thomas Bach wrote: "together with all the stakeholders, we have started detailed discussions today to complete our assessment of the rapid development of the worldwide health situation and its impact on the Olympic Games, including a scenario of postponement."

However, the Canadian Olympic Committee and Canadian Paralympic Committee said in a joint statement. "While we recognise the inherent complexities around a postponement, nothing is more important than the health and safety of our athletes and the world community. This is not solely about athlete health — it is about public health."

"With COVID-19 and the associated risks, it is not safe for our athletes, and the health and safety of their families and broader Canadian community for athletes to continue training towards these games. In fact, it runs counter to the public health advice which we urge all Canadians to follow."

Meanwhile, the Australian Olympics Committee said it "believes our athletes now need to prioritise their own health and of those around them, and to be able to return to their families, in discussion with their National Federations."

The AOC said that travel restrictions could be in place for six months, and that would include Olympians.

British Olympic Association chairman Sir Hugh Robertson said that restrictions meant that the Tokyo Games wouldn't see a level-playing field in the summer.

He said: "We welcome the IOC executive board decision to review the options in respect of a postponement of the Tokyo 2020 Olympic Games.

"However, we urge rapid decision-making for the sake of athletes who still face significant uncertainty.

"Restrictions now in place have removed the ability of athletes to compete on a level playing field and it simply does not seem appropriate to continue on the present course towards the Olympic Games in the current environment."

What Field Hockey Canada says…

The Canadian Olympic Committee's decisive action reminds us of the critical role Canada has across the sporting world. Field Hockey Canada is proud to stand united with all Canadian sport. We recognize that we all have the power to drive positive change and as such, FHC has asked its athletes to be at the forefront of social adherence to the guidelines articulated by the World Health Organization and Canadian and Provincial Health Authorities. Follow their lead and stand down from activity – stay off fields and out of gyms. The health and safety of our athletes, our national field hockey community and our local communities in which we live is of utmost importance at all times.

Don't miss out. Subscribe in print or in digital format.



The Hockey Paper


---

After Canada, Australia withdraws from summer Games as it asks athletes to prepare for 2021




Melbourne: The Australian Olympic Committee (AOC) said on Monday it could not assemble a team for the 2020 Tokyo Olympics due to the coronavirus outbreak and that its athletes should prepare for the Games to be postponed to 2021.

AOC Chief Executive Matt Carroll said the AOC's executive board had made its decision without waiting for advice from the International Olympic Committee due to changing circumstances with the pandemic in recent days.

Carroll's comments came after Canada announced it would not send its team to the Olympics and Paralympics in the summer of 2020.

"We've had to make a call now because of the situation here in Australia and other parts of the world," Carroll told reporters in Sydney on Monday.

"But the IOC is still working through their final decision-making."

Japanese Prime Minister Shinzo Abe said for the first time on Monday that the Tokyo Olympic Games may need to be postponed if the event cannot be held in its "complete form" due to the coronavirus pandemic.

The IOC said on Sunday after an emergency meeting that it is stepping up its "scenario planning" for the 2020 Games due to start on July 24, including a possible postponement.

Carroll said Australia's decision would give its athletes "certainty" and pushed for the Games to be held off until 2021.

"... 2021, it's 12 months, it has to be a summer Games, it's an appropriate amount of time but again that's a decision for the International Olympic Committee."

The AOC said in a statement earlier on Monday that it's decision reflected the IOC's "key principles of putting athlete health first and ensuring it acted in their best interests and the interests of sport".

Opposition to holding the Games in July has risen sharply in the past 48 hours, with several major stakeholders such as U.S. Track and Field and UK Athletics, along with several national Olympic committees, calling for a delay because of the pandemic.

More than 13,000 people have died globally since the coronavirus outbreak began.

Firstpost


---

Indian hockey men at the Olympics: A gold-laden history

The men's team dominated the prestigious in the early years, winning six consecutive golds from 1928 to 1956 and have added two more since.

The Indian hockey men's team have qualified for their third-straight Games at the 2020 Olympics and going by current form, look formidable enough to get home an Olympic medal, a feat they have not managed since Moscow 1980.

Ably led by skipper Manpreet Singh, the team is looking rejuvenated under head coach Graham Reid, regularly mounting attacks and creating multiple goal-scoring chances, something that the Indian hockey teams of yesteryear did aplenty.

The Indian hockey men's team have won eight Olympic gold medals in all, six of them in a row (from 1928-1956) and added two more at Tokyo 1964 and Moscow 1980.

Let's have a closer look at the staggering run the Indian hockey team enjoyed during this glorious period:

Amsterdam 1928

The Indian hockey team's first gold medal came at the 1928 Olympic Games at Amsterdam. The sport returned to the Olympic fold after eight years, having last been played at Antwerp 1920.

The Games saw the emergence of a certain wizard who went by the name of Dhyan Chand, though his genius was yet to be discovered. The Indian hockey legend scored 14 goals to end the event as top-scorer.

The team scored 29 goals without reply across five matches and fittingly, it was Dhyan Chand's hat-trick that secured a 3-0 victory in the final over home side, the Netherlands that gave the Indian hockey men's team its first-ever gold medal at the Games.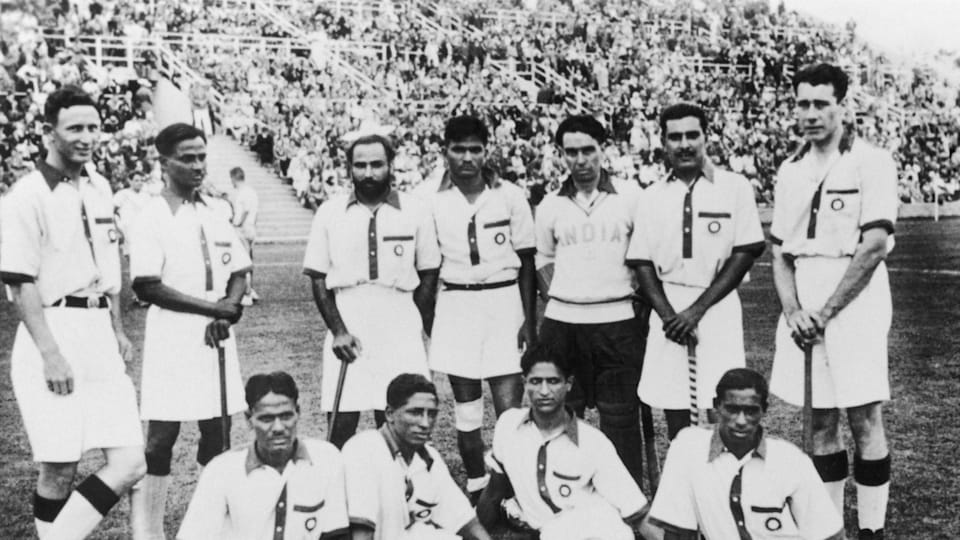 Dhyan Chand (second from left) was a wizard with the hockey stick and won three Olympic golds, one as captain

Los Angeles 1932

The 1932 Games at Los Angeles saw several bruised egos in the Indian hockey squad as the 'Indians' and the 'Anglo-Indians' were at odds against one another with one member of the squad even refusing to wear a turban, a part of the official team attire.

Fortunately, though, the players opted to channel their frustrations on the hockey pitch, which itself was reduced to just three nations competing- India, hosts USA and Japan.

The Indian hockey team decimated the hosts 24-1 in their first game, with Roop Singh, Dhyan Chand's younger brother, scoring a scarcely believable 10 goals. The latter, not to be left behind, followed suit with eight of his own.

With such fearsome form coming into the 'final', Japan stood no chance and predictably, the Indian hockey team thrashed them 11-1 to win a second consecutive Olympic gold medal.

Berlin 1936

The 1936 Games in Berlin saw the Indian hockey team bag a third Olympic gold medal and it was a fitting send-off for the then 31-year-old Dhyan Chand, who announced his retirement post the tournament and was promptly handed captaincy.

They went on yet another dominant run, scoring 30 goals and conceding none against Hungary, USA, Japan and France in the league stages and the semi-final as Dhyan Chand and Roop Singh again featured heavily in the scoring charts.

The final saw another star performance from the wizard, who scored a hat-trick, his second in Olympic finals, as the Indian hockey team beat hosts Germany 8-1 to ensure that Dhyan Chand retired with three Olympic golds to his name.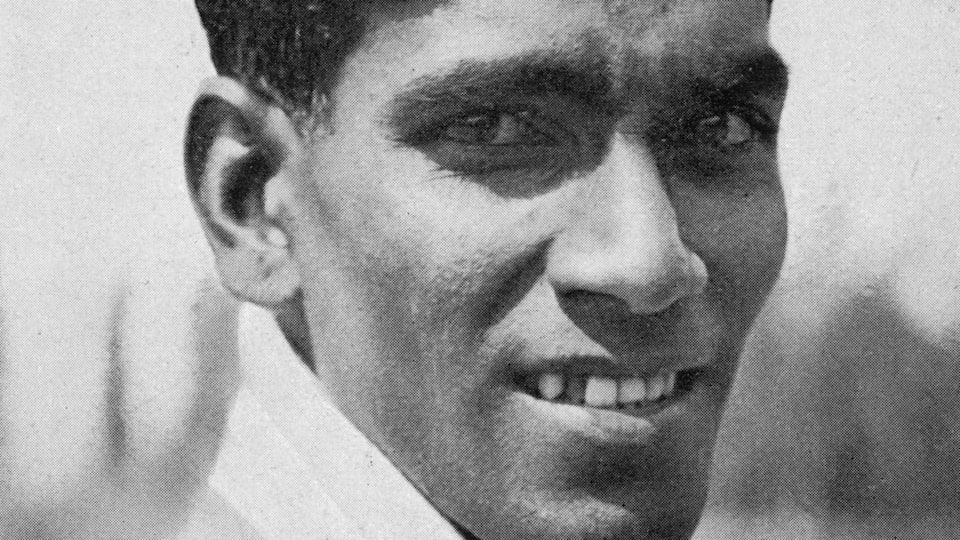 Roop Singh won the Olympic gold in hockey at Los Angeles 1932 and Berlin 1936

London 1948

With World War II leading to the cancellation of the 1940 and 1944 Olympics, the Indian hockey side saw an enforced lull of 12 years at the Games but they ensured that they returned with a fourth gold medal and their first after independence.

The event saw the emergence of a new star in Balbir Singh Sr. The striker played a starring role as the Indian hockey team beat Argentina 9-1 and Austria 8-0 before overcoming Spain 2-0 in the semi-finals.

The final pitted them against hosts Great Britain, the first time the two nations played against one another since India gained independence a year earlier, and they were greeted by a 25,000-strong capacity crowd at the iconic Wembley Stadium.

However, the Indian hockey team showed no nerves as Balbir Singh Sr scored twice to help them to a comprehensive 4-0 win. The movie 'Gold', which released last year was based on the performances of this team at London 1948.

Helsinki 1952

Four years later, Balbir Singh Sr put up another heroic performance, scoring nine goals across three matches, eight of them in the semi-finals and finals, as the vice-captain of the team.

The Indian hockey team first rolled Austria over 4-0 as the Europeans had no reply for a second-consecutive Olympics to the all-dominating team. In the semis, Great Britain managed one goal but were outdone by Balbir Singh Sr's hat-trick to go down 3-1.

The side reserved their best for the last as they outdid the Netherlands 6-1 in the final, with Balbir Singh Sr scoring five goals and skipper KD Babu adding the finishing touches as the Indian hockey team reigned supreme for a fifth time at the Olympics.

Melbourne 1956

The crowning glory for the Indian hockey team came at the 1956 Games in Melbourne, as they completed a second hat-trick of Olympic golds and their first as an independent country.

They started the campaign with a breezy, by their own lofty standards, 6-0 win over Singapore and more than doubled that tally in a 14-0 win over Afghanistan before going two better to annihilate USA 16-0, in their first three league matches.

They were brought down to earth somewhat by Germany in the semis as they could notch only a solitary goal to progress to the final against Pakistan. It was supposed to be a tough fixture made more difficult by the fact that Balbir Singh Sr suffered a fracture in his right hand.

However, the striker, now promoted to captain, came up with a true leader's performance, playing through the pain to help his team eventually triumph 1-0 and lift a historic sixth Olympic gold.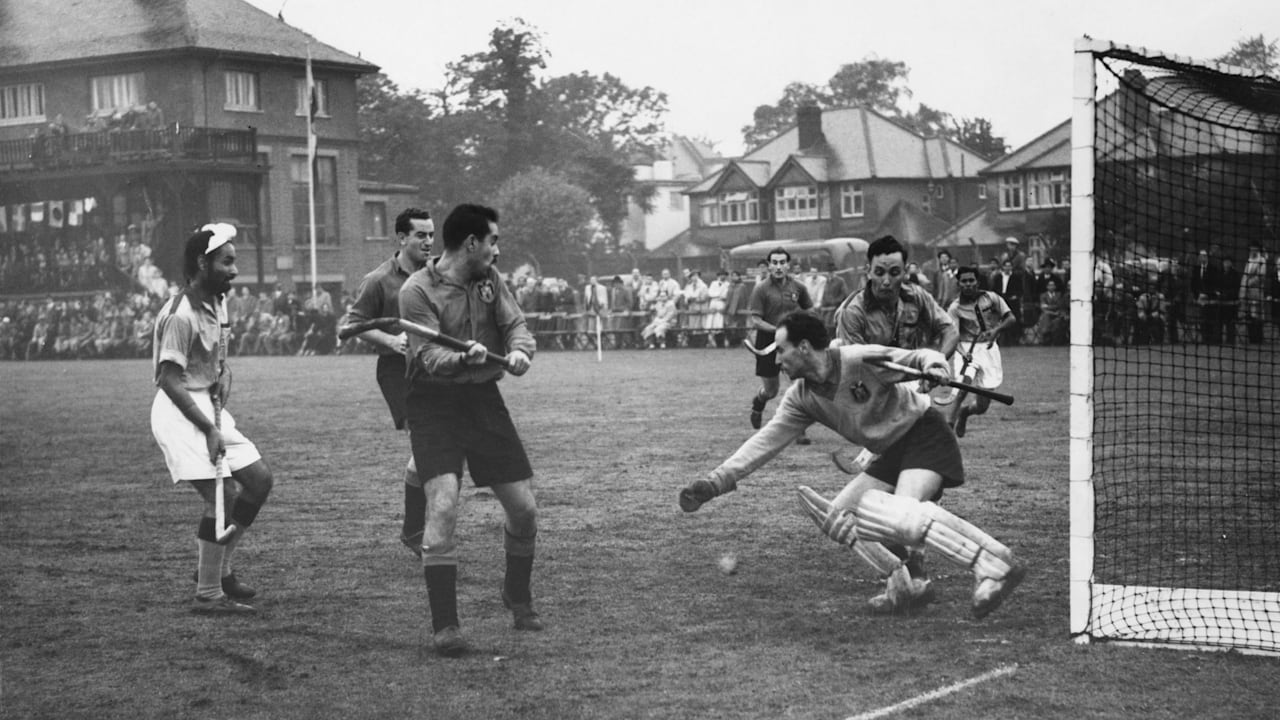 In Their Own Words: Excellence is not an art but a habit

Tokyo 1964

The Indian hockey team's Olympic dominance was ended by arch-rivals Pakistan at Rome 1960 as the latter beat them 0-1 in the final to win their first Olympic gold. However, India came out trumps four years later as the sides met in a third-consecutive Olympic final.

Unlike previous Games, the Indian hockey team found it difficult to get past teams, as they drew 1-1 against East Germany and Spain while beating Malaysia, Belgium and the Netherlands by either two or one-goal margins.

They steamrolled Canada 3-0 and Hong Kong 6-0 before beating Australia 3-1 in the semi-finals to gain back their credibility. However, Pakistan came into the final unbeaten throughout the tournament and their triumphs against India in the previous two Asian Games meant they started as firm favourites.

Pakistan's Munir Ahmed Dar blocked a shot from a penalty corner with his foot, giving the Indian hockey team a penalty stroke which Mohinder Lal crucially put away to give them the lead.

The Indian hockey team then survived a barrage of attacks from the Pakistanis with goalkeeper Shankar Laxman saving everything that his rivals threw at him to ensure a seventh Olympic gold, made sweeter by the fact that they had ended Pakistan's brief sway over them.

Moscow 1980

Three Olympics without the gold medal was unfamiliar territory for the Indian hockey team as coming into Moscow 1980, they had only managed two bronze medals at Mexico 1968 and Munich 1972 while recording an unheard of seventh-place finish at Montreal 1976.

They were under immense pressure coming into the 1980 Olympic Games and again, it was not an easy run. The Indian hockey team beat Tanzania (18-0) and Cuba (13-0) by huge margins but these were unfancied opponents.

They drew 2-2 each with more competitive ones in Poland and Spain but had done enough to reach the semi-finals where they put up a vintage performance to dismantle Russia 4-2.

Facing Spain in the final proved another arduous task as the European nation put up a tough fight but the Indian hockey team were saved by Mohammad Shahid, who had set up several goals across matches, and scored one himself in the final to enable a 4-3 victory and give the Indian hockey team its eighth and final Olympic gold to date.

The Olympic Channel


---

2020 Masters World Cup Announcement




Hockey New Zealand is excited to announce the Masters World Cup Selections for 2020.

The 2020 National Masters Tournament (NMT) was the largest in our history with 82 teams. The NMT provides the primary selection event for NZ Masters Age Group Teams.

The Masters World Cup is the pinnacle event for Masters Hockey. The best teams from around the world assemble to compete for the prestigious Masters World Cup title.

This year World Masters Hockey have modified the Masters World Cup format, moving away from the traditional single international tournament for all age groups. The new format includes three continents hosting three tournaments for specific age groups. Please see the tournament dates, locations, and age groups below.

Nottingham, England – August 8th-17th

    Over 35s and 40s Women
    Over 35s and 40s Men

Cape Town, South Africa – September 19th to 27th

    Over 45s, 50s, 55s, 60s and 65s Women's
    Over 45s, 50s and 55s Men

Tokyo, Japan – November 5th to 15th

    Over 60s, 65s, 70s and 75s Men

At the recent NMT, a highly capable team of 25 selectors and 3 convenors of selectors observed over 450 players vying for selection. Teams and or squads were selected across the age groups, with the exception of the Men's 75s and Women's 65s. This year will be the first time New Zealand will send a 70s Mens team to a Masters World Cup.

Hockey NZ would like to acknowledge and thank Convenor of Selectors: Pat Barwick, John Daniels and Lee Munt, and the team of selectors for their hard work and diligence.

Hockey NZ is committed to sending competitive teams to the Masters World Cup and Trans Tasman events. For 2020 a combined 60s and 65s women's team has been selected. This decision has been made with the intention to allow more time to grow further depth across both age groups for future competition.

Selection Panels in consultation with appointed coaches were provided the flexibility to select a team or squad. Where a squad has been selected, final selections will be made at future training camps. Due to the number of players registered for selection, no individual player feedback will be provided. Unsuccessful players are encouraged to contact their NMT coach to support their development.

Hockey NZ would like to thank all players for their efforts, congratulate those who have been successful, and encourage those who have not, to continue to work hard towards Trans Tasman 2021.

Hockey NZ appreciates there may be questions regarding Covid-19. We are working with World Masters Hockey to understand the potential ramifications on all three events. As it stands, all events are proceeding, and we will keep you updated as the situation progresses and more information comes to hand.  We're also working with House Of Travel (HOT) to understand the cut off dates for booking travel and accommodation.

Please click here for a message from HOT in regard to general travel and the evolving coronavirus situation.

At this stage, we believe it best to delay booking any travel and wait and see how things develop over the next 1-3 weeks. World Masters Hockey and the FIH are monitoring the current situation and will likely provide further direction in the coming weeks around these events specifically or more broadly on hockey-related international travel.  If you do decide to make any bookings, please ensure you are fully aware of your rights under your insurance given Covid-19 is now a "known event".

2020 National Masters World Cup Selections

Hockey New Zealand Media release


---

Beaulieu hockey team impress in Presidents Cup

Beaulieu teams gave their all in the inaugural Presidents Cup, but the women narrowly missed out on a finals spot.

Khomotso Makgabutlane



Jody Isaacs of Beaulieu runs forward with the ball in the team's final pool game in the Presidents Cup. Photo: Khomotso Makgabutlane

The first Presidents Cup hockey tournament was hosted on a hot afternoon with 15 teams taking part as the South African Southern Gauteng Hockey Association league is also set to get underway.

Beaulieu Hockey Academy (BHA) women's A side were placed in Pool A alongside In Touch, Pirates Hockey Club and Wanderers Hockey Club on 15 March. The men's sides were in Pool B with Morningside Country Club (MCC) A and Wanderers B.



The Beaulieu premier side narrowly lost to In Touch to get gold in the 3/4 place play-off. Photo: Khomotso Makgabutlane

Games were scheduled to 15-minute halves, and three minutes for half-time. The men started the tournament with an early morning game against Wanderers. After a very close match, BHA lost narrowly to Wanderers, only conceding one goal.

Their next and final match was against MCC A at the bottom field. MCC had taken an early lead thanks to Ryan Petschel's field goal. BHA quickly found themselves two goals down after MCC's Darren Murphy scored a penalty stroke. However, two quick goals by BHA's Winchester Scott brought BHA back in the game.



Jody Isaacs of the Beaulieu women's team lightly pops the ball of Lenize Oeschger's stick. Photo: Khomotso Makgabutlane

BHA could not score another goal and ended level with MCC. While second place was tied between the two teams, MCC went through due to scoring more goals.

Coach Jesse Salo was disappointed at the news. "We had chances to score again in the MCC game and that's what cost us. It sucks but it is what it is."

Their female counterparts had a much better showing throughout the day, given that six players were representing their province at the indoor Interprovincial Tournament in Durban.



Jody Isaacs of Beaulieu players sets up for an overhead ball during their 2–0 win against Wanderers. Photo: Khomotso Makgabutlane

BHA managed to end the match with a win after goals from Zeena Martin and Sasha Dikotla came in the second half with one goal to Pirates.

Into their next match against In Touch, Sadie van Niekerk gave BHA an early lead with a deflected shot of the ball. BHA had chances to extend their lead, but to no avail. With just under five minutes left in the match, Siobhan McKane of In Touch equalised thanks to a conceded penalty corner. The match ended in a stalemate.



A Beaulieu men's player loses his balance during a tackle at an MCC player. Photo: Khomotso Makgabutlane

The final pool fixture for BHA was against Wanderers. Three minutes in saw BHA take another early lead thanks to Lamya Patel. Going into the second half, another goal by BHA's Jody Issacs saw a lead extension and defensive play until the end of the match.

Since they drew one game and won two, BHA found themselves top of their pool and into the semi-finals against Wanderers C. A penalty corner goal scored by Wanderers' Oratilwe Selamolela saw her side take a 1–0 lead.



Sasha Dikotla of Beaulieu takes control of the ball. Photo: Khomotso Makgabutlane

BHA had an equalising goal disallowed since the ball was too high. Wanderers advanced to the final whereas a disappointed BHA side were to play for bronze against In Touch.

The final match for BHA ended in a 1–0 loss as brilliant play by In Touch came with a field goal and end their campaign with a bronze medal.

Shumbas and Jeppe were crowned champions of the inaugural Presidents Cup in their finals later that night against both Wanderers respectively.

Midrand Reporter


---

How Adhiambo juggles school work and keeping goal for KHU side Lakers

By Washington Onyango



Millicent Adhiambo of Sinyolo Girls (right) tussles for the ball with Stacy Awuor Tigoi Girls during the 2020 Biro Lich High School championships in Kisumu. [Washington Onyango, Standard]

Millicent Adhiambo loves winning whether in class or on the pitch.

The 17-year-old grew up playing football and volleyball during her primary school days at Migosi Primary School until she joined Nyanza region hockey giants Sinyolo Girls High School in 2017.

She decided to try hockey after being attracted to the game, not knowing it will take her places. She got a chance to play in the Kenya Hockey Union (KHU) Women Premier League and went to France in 2018.

She was part of the Sinyolo Girls school team that were crowned East African Champions in 2017, a team that went to France during the Centenary Celebration in commemorating World War II.

With a capability of playing both as a striker and a goalkeeper, 'Milee' as she is commonly referred to by her teammates tells Sunday Standard Sports how she is coping with both school and playing hockey considering she is expected to sit her KCSE by the end of the year.

HOW DID YOU BALANCE BEING IN SCHOOL AND PLAYING IN THE PREMIER LEAGUE?

I take advantage of tutoring services, study hall to stay on top of my academic game. When I am in school, I forget about Lakers and vice versa.

WHAT HAS BEEN YOUR BIGGEST CHALLENGE?

Maintaining my performance both academically and on the pitch. Both are practically important to me and I always try to do the best in both.

WHAT'S THE BIGGEST MISCONCEPTION OF THIS SPORT?

People view this sport as dangerous, considering we use sticks to hit a hard ball. A game that can injure someone. But that is not the case, this sport is enjoyable and fun.

YOU ARE A GOALKEEPER FOR LAKERS BUT A FORWARD FOR SINYOLO GIRLS... HOW DO YOU COPE WITH THE TWO?

I know the weaknesses and strengths of both positions and that's how I manage. For Lakers, I play as a goalkeeper which exposes me to know more about strikers' strengths and when I get to Sinyolo I play as a forward since I know what keepers will expect and do the opposite.

HOW HAS LAKERS IMPROVED YOU?

The exposure I got since joining the club in 2018 has been inspiring. That is why I am able to play in two positions.

WHAT IS YOUR SECRET TO SUCCESS?

There is no secret to success; it is all about hard work, discipline and putting God first.

WHAT IS THE BEST MOMENT OF YOUR PLAYING CAREER?

Leading Sinyolo to be East African Secondary School hockey champions in 2017 and having the opportunity to visit France the next year.

WHAT'S THE CRAZIEST THING YOU HAVE EVER DONE ON THE PITCH?

Hahaha! During the Kisumu County High School games, I rounded the goalkeeper, but decided not to score because we were leading by more than seven goals.

YOU ARE ONE OF THE MOST PROMISING PLAYERS; DO YOU SEE YOURSELF IN THE NATIONAL TEAM?

It is a dream that I hope to achieve. After winning the Premier League's Most Outstanding Goalkeeper award last year, I believe I can make it if I keep pushing my limits. Representing my country will be an honour.

WHO INSPIRES YOU IN BASKETBALL AND WHY?

Strathmore University and national team captain Jilly Okumu. She plays her heart out and she is a team player. She is always free and open to advise the young players and I admire her passion for the game.

WHO IS YOUR MOST TRUSTED FRIEND AND CONFIDANT IN THE TEAM?

Ashley Akinyi. Though she is strict, everything she tells me work to my benefit.



Sinyolo Girls Millicent Adhiambo (right) in action against Tigoi Girls. [Washington Onyango, Standard]

WHO IS YOUR MENTOR?

My mum. She is everything to me. She has struggled to ensure I get to where I am.

WHAT IS YOUR FAVOURITE MEAL?

Ugali and samaki. Fish is everything…hehehe

WHO IS YOUR FAVOURITE MUSICIAN AND WHAT KIND OF MUSIC DO YOU ENJOY MOST

Mafikizolo and Rayvanny in Africa and Mr Vegas and Christopher Martin globally. I enjoy reggae, bongo, gengetone, riddims and Lingala music.

IN KENYA... WHICH ATHLETE OR SPORTS PERSON DO YOU CONSIDER THE GREATEST OF ALL TIME?

Kipchoge Keino

IF NOT HOCKEY WHAT OTHER SPORT WOULD YOU HAVE PLAYED?

I would play football or volleyball.

WHICH KENYAN INTERNATIONAL HOCKEY PLAYER DO YOU ADMIRE?

Tunza Sports founder Rakel Otieno who plays in the United States.

WHAT DO YOU WANT TO ACHIEVE BY THE END OF THE YEAR?

Guide Sinyolo Girls back to the nationals and East African games.

IN THE NEXT FIVE YEARS... WHERE DO YOU SEE YOURSELF?

A player in Europe or United States.

GIVEN CHANCE, WHAT WOULD YOU CHANGE IN THE KENYAN HOCKEY?

I would have loved to see the Kenya Hockey Union organise more international tournaments for players, and of course all the hockey players paid well. Most of us are doing everything by ourselves and without support.

They should involve players outside Nairobi too in the national team.

The Standard Digital


---

Jacqueline Mwangi: My love affair with hockey and a lucrative escape in football

By Elizabeth Mburugu



Jacqueline Mwangi fights for the ball when they played Women Nationals with Jomo Kenyatta University of Agriculture and Technology City Park. Orange scored 10-0 on 13/09/15. [PHOTO: JENIPHER WACHIE, STANDRD]

To upcoming hockey players, she is the ideal role model and to young football lovers, she is a super coach.

She stands out on matchday repeatedly giving her teammates instructions that eventually lead to victories.

Her passion for hockey, a sport she loved since her high school days at Pangani Girls, has earned her recognition and appointments locally and internationally.

Just like fine wine that gets better with age, hockey star Jacqueline Mwangi is surely ageing with dignity.

She is not your ordinary player but an excellent striker and leader on and off the pitch.

Not even a decade long break from hockey would stop her from reminiscing her glory days.

The days when she starred in secondary school games and desired to play for Kenya's top women's hockey club Posta which has since rebranded several times and is now known as Blazers are still fresh in her mind.

Jackie as she is popularly known, remembers with nostalgia the mid-1990s when she played hockey in school then would walk from her Madaraka home to play football at Nyayo Stadium during holidays.

"I played in school only because there were no hockey clubs I could join during the holidays and so I walked to Nyayo where I always trained and played with the Ministry of Culture and Social Services Football Club," Mwangi said.



Jacqueline with the ball when they played Vikings in the Ladies premier league at City Park. Telkom scored 11-0 on 26/05/2018. [Jenipher Wachie, Standard]

After four years of excellent performance in secondary school games and bagging several top scorer and Most Valuable Player awards Mwangi signed off on a high with the 1997 national gong.

From Pangani all she desired was to join Posta women's team and continue playing hockey, but as luck would have it she secured a sports scholarship (football) at the Martin Methodist College in Pulaski, Tennessee. It was football that opened doors for her as she left the country in 1998 to study and play football in the United States.

Prior to leaving she had not only excelled in hockey, but was also a brilliant footballer and member of the 1996 Under 16 national girls' football team.

In the US, she was the 1999 Martin Methodist College football top scorer.

Her star kept shining and in 2000 she got another scholarship at the Alabama University where she pursued a course in Mass Communication.

Upon completing her studies in 2002, Mwangi who had already made a name for herself in Alabama ventured into coaching.

Her first coaching engagement was at the Huntsville Soccer Club. "I had done well as a player both for Martin Methodist College and Alabama University and so I decided to venture into coaching and it was also during my time as coach that I became a mother so it was much easier for me to succeed imparting skills rather than playing," Mwangi added.

Mwangi coached at Huntsville until 2007 when she decided to return to Kenya. She enjoyed success at the club winning several age-group tournaments with the girls in the state of Alabama.

For close to ten years that she stayed in the US, Mwangi says she focused on football but found a way to keep her hockey fire burning.

"One day I walked into a store and saw a hockey stick even though I had not budgeted for it I bought it and a ball. So I used to hit the ball whenever I was free and that is how I kept my love for hockey alive for years and it also helped me to unwind."



Just like fine wine that gets better with age, hockey star Jacqueline Mwangi is surely ageing with dignity. [Jenipher Wachie, Standard]

Even after returning to the country, it was not until she met one of her close friends who encouraged her to start playing hockey again.

"I did not start playing hockey immediately I returned because I had my third child and it was also difficult to go back because it was close to ten years that I had never played so I never thought I could do well in the sport," Mwangi said.

However, after her friend and former Pangani Girls coach James Akweri insisted, I gave in and joined Telkom later in 2007.

"I started training with Telkom because I wanted to regain fitness but they believed that I still had something to offer in the sport and so even after I regained my fitness I never quit but continued playing."

It was not long before she got her mojo back becoming a regular member of Telkom which has since rebranded three times and is now Blazers.

"I worked very hard and the club was very supportive.

"Coach Jos Openda gave me a chance to prove myself and I made the best out of it."

They say nothing good comes easy and Mwangi can attest to that having tested defeat in continental championships before the club finally got it right to dominate Africa.

"Club championships were very tough for us, we lost in 2007, 2008 and 2009 finishing second, 2010 was very bad for us because we finished out of the medal bracket which might have prompted us pulling out in 2011 because our sponsors were not impressed with our performance."

Even so, 2011 was not all gloomy for Mwangi who is the country's all time lead scorer in the Kenya Hockey Union women's premier league having tormented goalkeepers since 2010 as she got her first national cap.

"I earned it, I worked twice harder than everyone else I woke up early to train so I could not only rely on team training and my hard work bore fruit because I cemented my place in the national team until I voluntarily retired in 2015 to prepare for my transition from playing to coaching."

Telkom rebranded to Orange in 2012 and they returned to the continental champions, but this time they were much stronger and resolute to never fall again.

They fought a good fight and won the 2012 Africa Cup in Bulawayo, Zimbabwe.

Mwangi would play a key role as they ruled the continent winning five back to back Africa trophies.

They fumbled in 2017 allowing bitter rivals Ghana Revenue Authority to dethrone them in 2017 but reclaimed the title in 2018.

They were hard hit last year when their long term sponsor Telkom withdrew their sponsorship forcing them to pull out of last year's club championships.

Nonetheless, she believes that with support they will regain their place as Africa hockey queens. "We only changed from Telkom to Blazers but we are the same players eager to make Kenya proud, our only prayer right now is that a sponsor comes on board to ease our financial challenges so we can concentrate on what we do best that is win major trophies," Mwangi said.



 Jacqueline Mwangi is not your ordinary player but an excellent striker and leader on and off the pitch. [Jenipher Wachie, Standard]

Though she spent most of her youthful years away from hockey, Mwangi boasts of winning six continental titles and 13 league trophies with Blazers.

She has also represented Kenya in various international assignments and scored the lone goal against Ghana that saw Kenya qualify for the FIH World League Two series in held in Montevideo, Uruguay in 2015.  

She was recently appointed the women's national team head coach and she is already set goals. "I served as an assistant coach since 2019 and I take the top job as a challenge, together with my able assistant coaches Barbara Simiyu and Glennis Namasake will be looking to take Kenya back to the top and I believe we have what it takes to make it happen," she said.

Mwangi  who is currently a sports teacher at Hillcrest School is indeed a queen of multitasking as she pursues her Masters in Education (Teaching and Innovation) from the University of South Wales.

In 2018 she graduated with a Bachelor of Science in Information Systems and Technology (Cyber Security and Forensics) from United States International University of Africa.

She is a certified football coach having undergone various coaching courses in the US while locally she is a certified FKF Level One coach. She is an expert with children and is involved in mentorship programs.

"I do a lot of mentoring through sports, I ran an organisation called Bravillians some years back in Dagoretti and through the program I mentored girls through football, unfortunately, we lacked resources but I still hope that we will revive Bravillians in future."

She is the chairperson of the Africa Hockey Federation (AFHF) Athletes Committee and currently the only African on the 10-member International Hockey Federation (FIH) Athletes Committee. 

"I was humbled to be tasked with this responsibility because chairing a continental body is no mean feat. The appointment challenged me to give more to the sport given that it is no longer just about me or Kenyan players but I'm entrusted with the welfare of all African players," Mwangi said.

"My vision in the FIH Development Committee is to give each hockey player an opportunity to be the best they can be whether they just started playing or are experienced I want to create a favourable environment for them."

The Standard Digital


---

Training schedule to help hockey players keep fit

Ronald Mashinga

1OAK Hockey Academy in Zimbabwe has developed a schedule to help keep players fit during the current freeze in sporting   activities to help curb spread of the Covid-19 pandemic.

The academy helps boys and girls aged between five and 18 years to learn and develop their hockey skills.

Academy founder and coach Gerald Ntelezi, who is also a national team player, feels outbreak of Covid-19 is unfortunate, as it came at a time they were making progress with the more than 100 children they are working with.

The academy was largely working with learners from Girls College, Dominican Convent, Falcon College, Christian Brothers College and Milton High at Khumalo Hockey Stadium.

"We have opened a WhatsApp platform for all parents of children involved with the academy and we have given them a schedule for two months," said Ntelezi.

The schedule entreats the learners to jog three times a week, conduct drills every day such as hitting and trapping the ball as well as dribbling.

Links to online videos and hockey training websites have also been sent.

Ntelezi said after the covid-19 emergency has been lifted, they will conduct fitness and skills tests to evaluate effectiveness of the self-training exercises.

The Chronicle, Zimbabwe


---

Third time lucky for Hampstead hockey's own Tavern?

By The History Museum's Mike Haymonds




Many London area hockey people will remember with affection the home that Hampstead & Westminster HC created for themselves in an old pub adjacent to their playing pitches in Paddington. It came as a great surprise to everyone, not least Hampstead when the pub was suddenly demolished in a much publicised act of "commercial vandalism".

On the pretext of a stock take, the owners of the Carlton Tavern asked staff to stay at home on 8 April 2014. The landlord, who lived on the premises, was given 15 minutes to vacate before contractors moved in with a bulldozer and began to demolish the building. No warnings had been given and apart from a few traffic cones in the road there were no traffic control measures and no site hoardings. It all happened so fast none of the contents were removed. The pub was fully furnished including wall mounted TV screens and beer in the cellar. Maybe this was an easy way to stock take!

Hampstead & Westminster HC had previously adopted the Carlton Tavern as its clubhouse following its acquisition by the late Peter Boizot as part of his restaurant business. He was founder of the Pizza Express chain and club president. Following his retirement from business he sold the Carlton Tavern but Hampstead & Westminster continued to use it as its club house.

Three club members initially took on the lease as Peter began to retire. Many of the club's possessions were stored in the pub, as is normal with a clubhouse. However everything was lost as tons of rubble rained down on everything inside the building. This included goalkeeping and other club kit as well as much cherished club trophies and memorabilia, all destroyed in an instant.

The developer's planning application for demolition to provide for a new pub, with 10 flats above, had been refused by Westminster City Council, going against planning officers' advice. It was expected that the Tavern would be protected by designation as an Asset of Community Value. Historic England had carried out an evaluation. These would thwart redevelopment it was hoped.

First reports of the demolition reached Westminster City Council at 1.00pm. When officials arrived at the scene, all that was left was a side wall and part of the front elevation. An immediate court injunction was obtained to stop further work. The developers had taken a risk. Reportedly, they expected a fine for breaches of health and safety requirements, along with approval of their redevelopment proposals, now the building was no longer. The demolition made news headlines that day and was later covered in a Channel 4 TV documentary.

However, as the building was to be recommended for listing, a planning enforcement notice was issued. The council demanded that the pub be rebuilt as a facsimile of the original premises (that is, rebuilding brick by brick). The developer appealed and after a five-day planning Inquiry, the council's decision was upheld. The developer later challenged the brick by brick requirement but as detailed photographs had been taken earlier as part of the listing investigation and parts of the original construction were still visible, this was held to be legally enforceable.



Carlton Tavern could be rebuilt against all the odds

Locally, there was considerable scepticism that the rebuilding would be carried out. However gradually scaffolding appeared to shore up the remainder of the building and a hoarding was erected. Then work on the external parts began. A banner was erected, proclaiming that the Carlton Tavern would be "coming back soon". Progress was still slow and the deadline for completion of the work passed.

In October 2017, the developer submitted a further planning application to include three flats within the pub when rebuilt. This was rejected, it went against the decision of the planning inquiry.

There are reports that the internal features of the pub are also now being re-created. Locals admit that the project might well be completed, against all the odds. The pub might well be returned to community use but it is still for sale. Hampstead & Westminster HC will need to decide whether they want to return and, if so, how?

There had been a pub on the site of the Carlton Tavern for well over a century and ironically the original pub was also illegally demolished, but that time by German bombing. However unusually, it was during WW1, a war that is not usually associated with bombing raids. It was on the night of the 19 May 1918 when a German Gotha bomber managed a direct hit with a 300kg bomb, which demolished the pub and killed the landlord and his young son.

So, for the third time the Carlton Tavern could appear on the London scene and let us hope that, in an era when many pubs are closing, the "new" Carlton Tavern will prosper and will again provide a home for Hampstead & Westminster HC.

This originally appeared in a previous Hockey Paper edition

Subscribe to our print or digital edition for the bigger picture in 2020. Discounts with our partners and major savings on our digital product for global readers. Find out which subscription suits you best. Sign up now!



The Hockey Paper


---

Balasingam the quiet Olympian

By Jugjet Singh




Former national hockey player S. Balasingam who died on Saturday, was a reserved man who did most of his talking on the pitch.

Datuk Poon Fook Loke said he only got to know him well about 10 years ago, despite being teammates for countless international tournaments, including the 1975 World Cup in Kuala Lumpur.

"He did his talking on the pitch. He was one of the best left-halves of his era," said Fook Loke.

Fook Loke added: "He was a super player on the pitch, but often kept to himself after training or matches.

"I never knew my teammate until about 10 years ago at the Royal Selangor Club (RSC).

"We went for an RSC tour of Beijing, and that was when he opened up and I finally got to know his other side."

Balasingam died on Saturday following a battle with colon cancer. He was 73.

Due to the Covid-19 pandemic and the Movement Control Order, his cremation was a private affair, attended by family members, at the Puchong Crematorium yesterday.

"It's really sad that we could not go to his funeral because of the current situation.

"He was a determined player. He overcame a fractured finger and fought hard to make the World Cup team," said 1975 skipper Datuk Seri N. Sri Shanmuganathan.

He picked up the injury in a friendly against Britain in January, 1975.

"All of us thought his World Cup was over as the tournament was in March (1-15) but he kept on training even after we returned from Europe, and was selected on merit," said Shan.

The Ipoh-born was only 21 years old when he made his international debut at the 1968 International Hockey Tournament in Lahore, Pakistan.

He went on to play at the 1972 Munich and 1978 Montreal Olympics as well as the 1973 World Cup in Amsterdam.

"It was at the 1972 Olympics that he proved his mettle.

"Against Germany, Balasingam kept his marker in check and never allowed them to attack from the left.

"In the end, we lost 1-0 and did not qualify for the semi-finals," said Shan.

New Straits Times


---

1975 World Cup hockey legend Bala dies at 72




KUALA LUMPUR: Hockey legend S. Balasingam, who played in two Olympics Games – in Munich in 1972 and Montreal in 1976 – and the great 1975 World Cup squad, has died of colon cancer. The Ipoh-born star was 72.

Sadly, none of his teammate from the class of 1968-1976 could attend his funeral and cremation yesterday, due to the movement control order over the Covid-19 pandemic.

S. Bala, as he was known, leaves behind wife Indra and son Kumar.

He was not only a member of the Malaysian team that finished fourth in the 1975 Kuala Lumpur World Cup, he also played in the Holland World Cup two years earlier.Datuk Seri N. Sri Shanmuganathan, who captained the legendary 1975 World Cup team, said Bala was a great player who always gave his best in matches.

"I am sad to have lost a good friend. He was a fearless player and we're all going to miss him.

"I still remember when we went on a playing tour to Europe in early 1975 in preparation for the World Cup in KL that year. He fractured his hand in the match against England and was out of action for two months.

"But he never gave up and fought for his place in the national team to feature in the World Cup and helped Malaysia to finish fourth, " said Shanmuganathan.

"It's sad that none of the players, who played with Bala in the 70s, could attend his cremation (yesterday at the Puchong crematorium), " said Shanmuganathan.

Forward Poon Fook Loke, another member of the 1975 World Cup, said Bala was a fantastic player on the pitch but he was quiet and kept to himself after training or matches.

"As a player, nobody was better than him at the left-half, " said Fook Loke.

Balasingam was inducted into the Olympic Council of Malaysia Hall of Fame in 2004, along with his 1975 World Cup teammates.

The Star of Malaysia