All the news for Saturday 21 March 2020

Hockey great Jamie Dwyer would compete behind closed doors at Tokyo



Fourth World Cup - Australia's Jamie Dwyer (c) hockeyimages.co.uk

Four-time hockey Olympian Jamie Dwyer says he would have no qualms playing behind closed doors over not going at all to the Tokyo Games.

This week has seen calls for the Games to be delayed following the coronavirus pandemic but Dwyer, 41, said that any decision should be carefully considered, with athletes' careers set upon competing once every four years.

"If I had a choice between playing at the Olympics with no crowd or not going at all, I'd take no crowds any day," Dwyer, considered one of hockey's greatest players, told Reuters.

"I know in Australia, the majority would take that option, too. I'm 100percent sure, whether you're a hockey player a swimmer or whatever, you'd take that opportunity to go.

"The Olympics aren't until the end of July, so there's still a long time to go before we get to cancelling or making plan B."

Dwyer, who retired from an illustrious career with the Kookaburras after Rio 2016, added that "if one country can't come, or even 10 countries can't come, it's a shame but it's not the end of the world."

Subscribe to our print or digital edition for the bigger picture in 2020. Discounts with our partners and major savings on our digital product for global readers. Find out which subscription suits you best. Sign up now!



The Hockey Paper


---

WADA revises dope testing guidelines amid coronavirus pandemic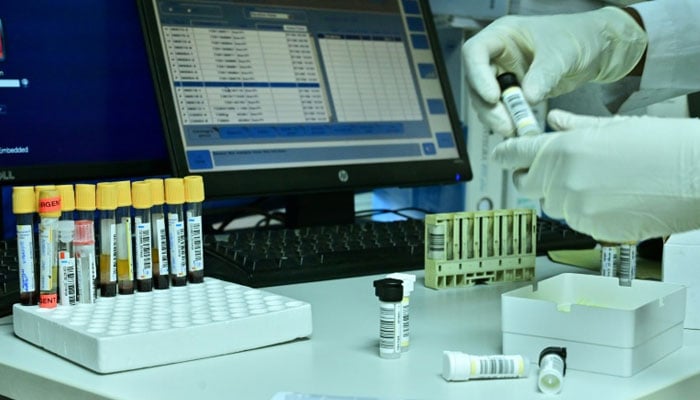 MONTREAL: The World Anti-Doping Agency (WADA) issued new guidelines on Friday to facilitate continued testing amid the constraints of the coronavirus pandemic.

Noting that the spread of COVID-19 had evolved into "an even greater health and societal emergency" since its March 6 communique, WADA urged Anti-Doping Organizations (ADOs) to act in accordance with restrictions placed by local health authorities "to ensure proper protection of athletes and doping control personnel, while protecting the integrity of doping control programs, particularly in the lead-up to the 2020 Tokyo Olympic and Paralympic Games."

WADA's latest guidelines advise anti-doping organizations to make sure that sample collectors are free from any symptoms of illness.

Collectors should also ask athletes if they have any symptoms or if they or anyone at the collection site are in the groups thought to be at heightened risk from COVID-19.

If test collection personnel are found to have contracted the virus, athletes they tested should be informed and vice versa, WADA said.

Protective wear such as masks should be used and work surfaces disinfected, and if local conditions limit what testing can occur then ADOs should "consider focusing their testing program on targeted athletes from high risk sports and disciplines," WADA said.

In locations where testing programs can't continue, WADA said, it and other anti-doping organizations and sports federations will work together "once the situation begins to return to normal" to identify gaps in testing "particularly as it relates to the Tokyo Olympic and Paralympic Games."

WADA said anti-doping organizations should continue to obtain information on whereabouts of athletes normally gathered to facilitate out-of-competition testing.

Athletes are still responsible for obtaining therapeutic use exemptions and "should be reminded that they can still be tested at any place, any time," WADA said.

With some WADA accredited laboratories already closed and others likely to follow suit, WADA said testing organizations should contact the Montreal-based organization for information on what labs might be able to receive samples.

"While there are no plans to change existing requirements under the World Anti-Doping Program, WADA fully acknowledges the complexities of this unprecedented situation and will ensure its compliance monitoring program provides a level of flexibility and understanding based on the circumstances," WADA said.

The News International


---

Message from USA Field Hockey

Dear USA Field Hockey Member,

Our thoughts are with all of you as we together face this global health challenge. Our overriding theme is to do what we can to provide for the health and well-being of the field hockey community. It has been painful for all of us to suspend so many field hockey programs over the past days. Programming that the dedicated USA Field Hockey staff have put so much effort into developing. It is also painful for all participants - from first time players to our national team athletes - to put the joy of playing field hockey on hold for the time being. At this moment, we are facing something much larger than sport and we all must play our part in meeting this challenge.

USA Field Hockey continues to closely monitor the spread of the coronavirus (COVID-19) and the effect it could have on regional, national and sanctioned events and programs as well as travel for member athletes, coaches, umpires and clubs. The organization is following close protocol from the United States Olympic and Paralympic Committee (USOPC), Centers for Disease Control and Prevention (CDC), World Health Organization (WHO) and local and state health authorities and with the well-being and safety of all parties the highest concern, USA Field Hockey is doing its part in the field hockey community to help control the spread.

As part of the national effort to contain the further spread of the COVID-19, based on the information that is available from the experts in the medical community and government agencies, as well as members in the sports community, USA Field Hockey has decided to suspend/put on hold all USA Field Hockey Activities. We are monitoring the situation daily and will continue to provide updates on a regular basis. Please refer to our COVID-19 website by clicking here.

The health and welfare of our membership, field hockey families and fellow citizens is our primary concern in all decisions we are making during these uncertain times.

On behalf of the family of people at USA Field Hockey, best wishes to you and your family, club and communities. We look forward to seeing you on the fields as soon as possible.

Simon Hoskins
USA Field Hockey
Executive Director

USFHA media release


---

From geography teacher to scoring against Australia - Shipperley's rapid rise




The saying 'with great risk comes great reward' could not be more pertinent when describing the last few months for Rupert Shipperley.

Last December, the Welsh international quit his job as a geography teacher in order to pursue a place on the full-time Great Britain programme based at Bisham Abbey.

Having been training with the team for several weeks at the end of the year, Shipperley took the bold decision in order to give himself the best possible chance of earning the contract.

In January he was then called up GB's opening games of the 2020 FIH Hockey Pro League away to Australia and New Zealand, with head coach Danny Kerry saying at the time 'we want to expose him against some of the leading sides to see if he's got what it takes'.

"I was told a decision would be made after the Australia/New Zealand trip so that was effectively my trial," Shipperley explained.

"I felt like I played well out there; I trained well too. But it's one of those subjective decisions - luckily I was on the right side of it.

"I was relieved and very happy when I got the call offering me the contract."

The Hampstead & Westminster player's debut was almost perfect as he scored in a game where GB led the Kookaburras 4-2, only for the team ranked second to claw it back to 4-4 before securing the bonus point in the shootout.

GB's men then picked up another draw and a win against New Zealand the following weekend, with Shipperley playing in all four games across the trip.

Speaking about his maiden GB trip, the 28-year-old said: "I was a little bit nervous, it was a bit like getting my first cap again for Wales; it reminded me of those emotions.

"Scoring on debut is always nice. I was absolutely shattered at the time, hence the celebration where I just stood still! It was a bit of a gift, I couldn't have asked much more than for a free pass on the penalty spot but it was a good experience. I managed to take it all in, despite the heat and the exhaustion.

"Obviously I still want to win whatever the situation so it was gutting not to put Australia away in the first game. We were trying new things across all the games and to get the win against New Zealand was good, as well as the draw.

"In the moment you're just playing a hockey game – yeah you're playing for GB but you don't think about that too much when you're playing. It's just you versus them at the end of the day - you just want to win."

While the prospect of playing any future FIH Hockey Pro League matches or appearing at the Olympics this year are very much up in the air, it has still been a fantastic few months for Shipperley that have proved the risk was worth taking.

When asked if he could believe how much had happened in a short space of time, he said: "No not really. I guess I knew what the circumstances were when I left my job and at the moment everything is going to plan.

"It's still a bit surreal. I met a few friends that I used to work with as a teacher quite recently and it felt a bit distant, everything has moved on so quickly but at the same time it feels like I've been here for years.

"Coming here every day with the guys, it feels like I've been here a long time but at the same time it's going quickly. Everything is going to plan."

Great Britain Hockey media release


---

Enrich signed up as new Mannheimer HC coach for next season




Mannheimer HC have signed the 36-year-old Spaniard Andreu Enrich for the coming season as coach of their Bundesliga men's team, taking over the reins from Michael McCann.

Enrich will take over responsibility for the men's first team from June 1, 2020, switching from KHC Leuven in Belgium where he is still an active players and trainer as well as a technical advisor at the Belgian hockey association.

Born and raised in Barcelona, ​​Enrich won eight Spanish national titles in 11 years  with his home club Atlètic Terrassa – four of them as captain – while he also won four European championships across Under-16, Under-18, Under-21 and the 2005 men's senior title in Leipzig. He was also part of the Spanish team to win the Champions Trophy for the first time in 2004.

He has held trainer and assistant coach positions since 2013 with Pinoké (Netherlands), Atlètic Terrassa, the Spanish Hockey Association, Hamburger Polo Club, Leuven along with the Belgian Hockey Association.

"The MHC is an interesting club that is now operating at a top European level," he explained about his decision to make the switch.

"I really like the structure of the club because the concept is sustainable. I am a trainer who works with great attention to detail to develop individual and team-specific performance. My coaching is, of course, very emotional – I'm Spanish, that's normal!"

"Andreu fits very well into our medium-term concept and we aim to work with him for a longer period of time," explained sporting director Peter Lemmen.

"He is not yet the finished article as a trainer and of course we are giving him a chance here. In intensive discussions, Jamilon Mülders and I gained an absolutely positive impression of Andreu.

"He will continue to develop our young players and talents. With Peter Maschke and Sebastian Blink, he will have two coaches in his staff who know the MHC inside out."

Euro Hockey League media release


---

Irish Club season in limbo as March 29 return looks unlikely



UCD coach Miles Warren. Pic: Adrian Boehm

With Thursday night's news that Irish Rugby has cancelled all their club competitions for the remainder of the season with immediate effect, it brought into focus the difficulties that face Hockey Ireland to try and complete the domestic season.

The women's EYHL was shaping up to be the most exciting run-in since the tournament's inception with the top four all harbouring hopes of taking the regular season crown and a European ticket.

The initial cessation of action due to the coronavirus pandemic is in place until March 29 but current outlook suggests that will be extended further.

It leaves the governing body in a tricky situation about what call to make and when. And should they call a halt to proceedings, what decision do they take when it comes to naming champions, who gets promoted and relegated, and possible European spots for the 2020/21 season.

For example, UCD's women have potentially nine games still on their agenda – four EYHL games, the Irish Senior Cup final, a Jacqui Potter Cup semi-final and possible final along with two possible ties in the EY Champions Trophy.

For coach Miles Warren – like many others – he says it leaves his squad in limbo about what to do next.

"At this point, we have just sent out a running plan and we will do a two-week running block for the next few weeks," he told The Hook.

"Depending on what happens at the end of that, if schools are still out and sport has a chance to start, we will then start back hockey. There's so much up in the air that no one really knows what is going to happen.

"It is frustrating because we have just started to build a bit of momentum and are playing good hockey and getting the results. I am talking purely hockey here and not comparing it to anything else outside which is far more serious.

"Hockey Ireland has a massive challenge like every other sporting body. They can put a plan in place but they may not be able to implement it in two weeks' time if everyone gets told you can't go back.

"We are relying on government decisions and so Hockey Ireland may have to make maybe one, two or three plans. In the worst-case scenario, the season gets called off.

"Being an amateur sport, how long can you tell players they have to be available? Can we extend the season? Maybe for a couple of weeks but it will have knock-on effects for everybody.

"These are all big games left. All of it depends on what decisions are made higher up which is out of Hockey Ireland's hands."

At this stage, Hockey Ireland continues to monitor the situation and so will wait to make a formal update.

The Leinster Hockey Association board, meanwhile, held a conference call this week and "the playing committees have been asked to assess where all competitions are at and look at options going forward.

"However, any decisions will be in line with guidelines issued by the Government, HSE and Hockey Ireland.  The health and safety of all our members is our first priority."

The Hook


---

East Hockey League to calculate placings on points percentage



West Herts finished top of Men's Premier Div PIC: West Herts gallery

The East Hockey League says its decision to complete the 2019/20 with immediate effect "will not please some" after it became the first English league to issue a season conclusion following the coronavirus pandemic.

Following England Hockey's advice to suspend all hockey activity until April 15, the league committee will use a percentage points basis to determine final placings.

In a move which is likely to be seen across the other leagues, East Hockey said to delay the culmination of this season would have a "serious impact" on organising the league for the 2020/21 season.

For the points basis, final placings will be "calculated on total points won (3 for a win, 1 for a draw), minus any points deducted for disciplinary offences, then divided by the total number of points available from the games played, multiplied by 100 to give the percentage. Should teams have the same percentage points goal difference will then be used."

With some times having finished playing an uneven amount of games, the league said "this method gives fairness to all teams."

It added: "We realise this decision will not please some, however even the most ardent objector will realise the situation we are in is a first in the history of the East League or any regional League in the Country.

"To simply leave the season open until we can play again would have a severe impact on the planning for next season and we know that many clubs who hire pitches from schools and colleges need to confirm their bookings prior to the school holidays."

Subscribe to our print or digital edition for the bigger picture in 2020. Discounts with our partners and major savings on our digital product for global readers. Find out which subscription suits you best. Sign up now!



The Hockey Paper