All the news for Friday 21 February 2020

India hopes to continue fine run against holder Australia



Indian men's hockey team is currently third in the FIH Pro League with eight points from four matches.   -  Biswaranjan Rout

Host India would look to continue its fine form when it takes on title holder Australia in its next FIH Pro League tie here on Friday and Saturday.

India has made an excellent start to its maiden FIH Hockey Pro League season and is currently sitting third in the table with eight points from four games.

The Manpreet Singh-led side claimed five points from a possible six against the Netherlands before claiming another three in a stunning 2-1 victory over Belgium, the reigning World and European champions. The Red Lions bounced back with a 3-2 win in the second match.

Few would dispute that India, is playing their best hockey in recent years under Australian coach Graham Reid.

It would also be India's penultimate home tie at the Kalinga Stadium here before it embarks on a series of away games. But past records and statistics don't look promising for the host as Australia has an outstanding recent record against India.

The Kookaburras have won 22 of their last 30 meetings against world no.4 India and have not faced a defeat since a 2016 Test match in Bendigo, Australia, when V.R. Raghunath scored twice in a 3-2 win.

Australia, managed by Colin Batch, who was recently named 2019 Men's Coach of the Year, also has an imperious record at the Kalinga Stadium, a venue where it has not suffered a defeat in regular time since a semifinal loss at the hands of Germany in the 2014 Champions Trophy.

The Australians were unbeaten in all six matches on the way to claiming the title at the 2017 Hockey World League Final, and won five of their six matches at the Odisha Hockey Men's World Cup 2018, with only the Netherlands getting the better of them in a semifinal shoot-out.

Indian hockey team coach Graham Reid on Thursday said he will look to mould his players into a battle-hardened and mentally strong outfit before the Tokyo Olympics.

"It is the mental aspect that we need to focus on, and make sure that we are ready to front up to different challenges, because that will help us in preparing better for the Olympics as well. The challenge is to keep going every weekend," Reid said.

"I think we have played some very consistent level of hockey in our first four matches against The Netherlands and Belgium. We faced two of the top-3 teams in the world, and showed that we can compete at the highest level constantly.

"We are feeling really confident ahead of the matches against the No. 2 team in the world, and of course they are also the defending champions of the FIH Hockey Pro League."

The defending champion began the 2020 Pro League as the world no 1 but the ranking to Belgium after picking up just one point from a possible six against the Red Lions. The Aran Zalewski-led team is currently fifth in the points table with six points from four games.

The Indian team will leave for away games in Germany (April 25 and 26) and Great Britain (May 2 and 3). The Men in Blue will return to play on home soil on May 23 and 24 against New Zealand before travelling to Argentina to play on June 5 and 6.

FIH Pro League, India vs Australia - When and where to watch in India?

First match - Friday, 7 PM on Star Sports 1, Star Sports 1 HD and Hotstar
Second match - Saturday, 7 PM on Star Sports 3, Star Sports 1 HD and Hotstar

Sportstar


---

Kookaburras out to build momentum against in form India



Tim Howard during training

The Kookaburras face a tough first up away FIH Pro League assignment when they take on India in two pivotal matches in Bhubaneshwar, starting tonight local time (12.30am AEDT Saturday 22 February).

It has been three weeks since the Kookaburras were last in action following a 5-1 win over Great Britain on 2 February in Sydney.

Now coming into the two matches against India, Kookaburras Head Coach Colin Batch is looking for his charges to take another step forward as the squad continues to build towards being at their peak for Tokyo 2020.

"While in the short term we want to improve this weekend and gain some momentum after playing well against Great Britain, it's still about taking care of the longer preparation of the Olympics," said Batch.

"Coming into these games, we feel we're better prepared than we were for the matches in Sydney, so we're expecting a good performance here."

The Kookaburras have India in their group for July's Tokyo Olympics, adding a further element of fascination about how both teams go about these two Pro League matches and whether they decide to show their full hand.

"I think the interesting thing with the Pro League is that everyone sees each other," said Batch.

"We're not sure how teams will play in Tokyo. There is flexibility in tactics and things like that, and I think the trick is to keep observing and changing your way of playing if you need to, but not too much. It's important to get the basics right and at a high quality."

With teams only permitted to name 18 players for each match, midfielder Matt Swann and forward Dylan Wotherspoon are the ones to be left out of the opening encounter. Nathan Ephraums and Kurt Lovett have both been named to make their second international appearances, Ephraums having been a late inclusion to the travelling party due to a minor injury complaint to Tom Craig.

Batch says the team has settled in well having arrived in Bhubaneshwar last Saturday.

"There is a lot to enjoy about India and it's always really positive when we come here," said Batch.

"The guys are doing well and we have been getting through what we need to from a training point of view."

After earning five points out of six against the Netherlands and then scoring a stunning win over World Champions Belgium in their opening two Pro League weekends, India, who are coached by former Kookaburra Graham Reid, find themselves third on the ladder and up to fourth in the world rankings.

The Kookaburras have lost just once in their past 14 encounters against India but with what the home side has shown in the Pro League so far, coupled with a parochial home crowd behind them, Batch knows it poses an exciting challenge.

"I think they have improved quite a bit in the last 12 months," said Batch.

"We played some matches against them in Perth last year and they have developed along nicely."

"They seem to have a lot of belief in their team and have had some good results. They are a team we will face at the Olympics so they should be really competitive matches this weekend."

With no other teams featuring in the FIH Pro League this weekend and six points on offer (teams get three points for a win), the Kookaburras can climb to second on the Pro League standings with two victories.
Both matches can be seen LIVE on Kayo and Fox Sports Channel 503. There will also be LIVE Twitter coverage on the official Kookaburras Twitter account.
Kookaburras v India – FIH Pro League 2020 Match Details
Match 1 – Friday 21 February 2020
Kalinga Stadium, Bhubaneswar
Start Time: 7:00pm local (12:30am AEDT Saturday 22 February)
Match 2 – Saturday 22 February 2020
Kalinga Stadium, Bhubaneswar
Start Time: 7:00pm local (12:30am AEDT Sunday 23 February)
Kookaburras v India – Overall Record
Played 128; Won 84, Drawn 21, Lost 23
Official FIH match pages: Match 1 | Match 2
Kookaburras 20-player team v India – FIH Pro League (21/22 February 2020)
| | | | |
| --- | --- | --- | --- |
| Name (Number) | Date of Birth | Hometown, State | Caps (Goals) |
| Jacob Anderson (9) | 22/03/1997 | Mackay, QLD | 21 (8) |
| Daniel Beale (23) | 12/02/1993 | Brisbane, QLD | 173 (28) |
| Josh Beltz (10) | 24/04/1995 | Hobart, TAS | 39 (3) |
| Tim Brand (29) | 29/11/1998 | Chatswood, NSW | 38 (16) |
| Andrew Charter (gk) (30) | 30/03/1987 | Canberra, ACT | 179 (0) |
| Matthew Dawson (6) | 7/04/1994 | Killarney Vale, NSW | 136 (12) |
| Nathan Ephraums | 9/06/1999 | Keysborough, VIC | 1 (0) |
| Jake Harvie (4) | 5/03/1998 | Dardanup, WA | 66 (3) |
| Jeremy Hayward (32) | 3/03/1993 | Darwin, NT | 153 (64) |
| Tim Howard (16) | 23/06/1996 | Wakerley, QLD | 58 (1) |
| Tyler Lovell (gk) (24) | 23/05/1987 | Perth, WA | 143 (0) |
| Kurt Lovett (18) | 15/01/1997 | Parkes, NSW | 1 (0) |
| Trent Mitton (25) | 26/11/1990 | Perth, WA | 170 (77) |
| Eddie Ockenden (11) | 3/04/1987 | Hobart, TAS | 362 (71) |
| Lachlan Sharp (1) | 2/07/1997 | Lithgow, NSW | 46 (10) |
| Corey Weyer (3) | 28/03/1996 | Biggera Waters, QLD | 40 (3) |
| Jacob Whetton (12) | 16/06/1991 | Brisbane, QLD | 201 (64) |
| Tom Wickham (5) | 26/05/1990 | Morgan, SA | 51 (21) |
| Dylan Wotherspoon (26) | 9/04/1993 | Murwillumbah, NSW | 89 (31) |
| Aran Zalewski (17) | 21/03/1991 | Margaret River, WA | 187 (24) |
Kookaburras – FIH Pro League 2020 Results
Saturday 25 January
Kookaburras 2 (Hayward 49', Craig 51')
Belgium 2 (Briels 18', Denayer 59')
Belgium wins 4-2 on penalties

Sunday 26 January
Kookaburras 2 (Sharp 42', Hayward 60')
Belgium 4 (Hendrickx 13'/25', Plennevaux 56', Stockbroekx 58')

Saturday 1 February
Kookaburras 4 (Ockenden 19', Wickham 29', Zalewski 56', Mitton 59')
Great Britain 4 (Jackson 20', Wallace 31', Shipperley 44', Ansell 45')
Kookaburras win 3-1 on penalties

Sunday 2 February
Kookaburras 5 (Wotherspoon 14', Sharp 19', Craig 29', Brand 45', Mitton 55')
Great Britain 1 (Taylor 18')

Hockey Australia media release


---

Stats Speak: Indians desperate to win against toughest opponent Australia

By B.G. Joshi (Sehore-Bhopal, India)

The Indian records against Pro League Champions and World Number Two Australia is not encouraging. India achieved only 17 percent success. In elite tournaments after Cologne Champions Trophy (2002) India has never won against Aussies. In Munich (1972) India last won in Olympics versus Kookaburras, while in World Cup India won against Australia 42 years back in Buenos Aires (1978). Statistical highlights are:
Particulars

India

Australia

Total matches played

126

126

Won

22

84

Drawn

20

20

Goals Scored

207

387

Pro League 2020(as on today)

Matches Played

4

4

Points Obtained

8

6

Standings

3

5

Matches  played in  Bhubaneswar

2

2

Won(Champions Trophy-2014)

0

1

Drawn(World League-2017)

1

1

If wins today's match in regulation period,gain of points

66.65

33.35

If wins today's match in shoot out,

gain of points

33.32

16.67
 Fieldhockey.com


---

Sam seeks home advantage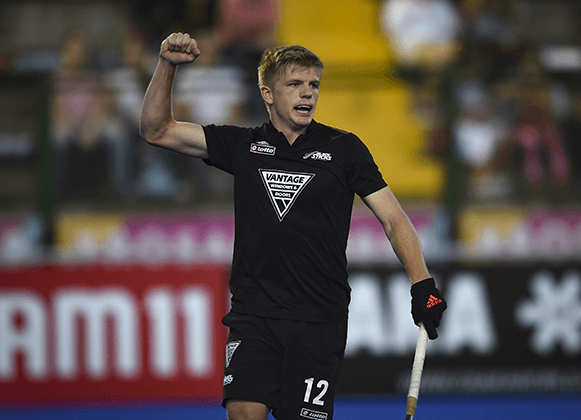 New Zealand men have got their FIH Hockey Pro League season off to a mixed start. Two defeats at the hands of Belgium were followed by a draw and a loss to Great Britain and then a loss and a win to Spain.

For Sam Lane, the matches against Spain were particularly special as they took place in his home city of Canterbury, at the Nga Puna Wai Stadium. The midfielder, who has been part of the senior side for three years and has 17 goals to his name, is looking forward to the second set of matches in Canterbury, taking place in two weeks time – against reigning Olympic champions Argentina (28 February & 1 March).

What will you look to change/improve ahead of your next games?
Sam Lane: "Against Great Britain there was a lot of double turnovers. We would receive it from GB and then give it back, so possession of the ball is key. We just have to trust what we do. We have some world class players here so we just have to do out own roles and really let it be.'

How important is home advantage in the FIH Hockey Pro League?
Sam Lane: "I think it is huge for hockey in Canterbury. This is the only opportunity – to play at home for me and a few of the other boys. It is huge for this community. They are loud and they are very passionate about the game. I'm really looking forward to it and we are going to get a really good turn out for it, so that is exciting for a lot of us."

#FIHProLeague

Official FIH Pro League Site


---

Spare the players, do not take away their achievements

By Jugjet Singh



Not everyone could accept HockAdemy's domination of the MHL in the women's event. TLT alleged that the HockAdemy team were yet to be endorsed by the Kuala Lumpur HA as an affiliate, and thus should be deemed as an "illegal club" competing in the MHL.

THE day HockAdemy were supposed to play their final match and win the women's title (on Monday) in the Malaysia Hockey League (MHL), they were hit by a registration issue.

Despite being newcomers to the MHL, HockAdemy made an instant impact by capturing the League title. This was achieved with the club recruiting six top women's national players.

The HockAdemy men's team, made up of youth and retired internationals, plus three Pakistan imports, did reasonably well to finish sixth out of eight teams.

However, not everyone could accept HockAdemy's domination of the MHL in the women's event.

There was a protest from the Terengganu Ladies Team (TLT) to the Malaysian Hockey Confederation (MHC) competitions committee.

TLT alleged that the HockAdemy team were yet to be endorsed by the Kuala Lumpur HA as an affiliate, and thus should be deemed as an "illegal club" competing in the MHL.

HockAdemy founder and KLHA president Datuk Seri Megat D. Shahriman responded by saying that though the KLHA Council have yet to meet and endorse the club's application, they had submitted it and banked in the required fees. And only a formality remains.

Megat is wearing two hats here, and even though he has just warmed the KLHA president's seat, he managed to form and field two teams in the MHL.

This is a remarkable feat which other state HAs should emulate, as right now the MHL men's eight-team tournament has only four quality teams while the women category has four challengers out of six teams.

On Wedneday, the MHL technical committee, made up of technical director K. Ananthavale and members Ravinderpal Singh and A. Francis Francis Xavier, deliberated on the matter and allowed the women's team to play in the Vivian May Soars Cup semi-finals later in the day.

Ananthavale had said he would submit a report to the competitions committee who in turn will report to the MHC executive board.

The TD's report will also have recommendations on checking all MHL teams as well as teams in the next tournament, the Junior Hockey League.

Of course, Ananthavale and his committee did check all the men's and women's teams in the MHL on the status of their affiliation as well.

Two other teams were also alleged to have breached the "affiliation process" but a check with the MHC constitution said otherwise.

If the MHC do decide to penalise HockAdemy, they should spare the players and not take away their achievements, for it was an administration mistake, not of the players' doing.

The MHC should use this "case" to tighten up their team registration process, and take it as a lesson in their stride.

New Straits Times


---

Korean Jong-hyun jangles the Tenaga nerves

By T. AVINESHWARAN



On a roll: Terengganu's Jang Jong-hyun (centre) celebrating with his team after scoring against Tenaga Nasional on Wednesday. — SHAARI CHE MAT/The Star

PETALING JAYA: Tenaga Nasional cannot seem to shake off the Jang Jong-hyun effect.

Last year, the side led by Nor Saiful Zaini were thrashed 3-8 by Terengganu in the two-legged semi-final of the TNB Cup, with the South Korean defender scoring a whopping six goals, all from penalty corners.

A year later, Tenaga were well aware of his drag flicking prowess but still could not find an answer to stop them.

Jong-hyun was again in his element as he scored a hattrick to help Terengganu beat Tenaga 4-3 to qualify for the TNB Cup final against league champions Universiti Kuala Lumpur (UniKL) at the National Hockey Stadium in Bukit Jalil on Saturday.

The Korean scored in the seventh, 27th and 28th minutes, while Luqman Nul Hakim Ahmad Shukran delivered the final blow in the 37th. Tenaga's goals were scored by Mohd Azrai Aizad Abu Kamal (33rd), Syed Mohamed Syafiq Syed Cholan (35th) and Mohd Aminuddin Mohd Zain (41st).

For Jong-hyun, scoring from the first three penalty corners of the game certainly helped, even though Tenaga mounted a fightback in the third and fourth quarter.

"I am pleased that my goals helped the team to qualify for the final. Last year, I scored six in two legs and helped my team to get into the final, " said the reserved Jong-hyun, who spoke in Korean which was translated by coach Seo Jong-ho."This is my second final in a row, and I hope to win it again. For the first three penalty corners, my aim was to hit the target, and I am glad I did.

Of the final, he said: "We lost twice to UniKL in the league (2-3 and 0-2), but the final is a whole different game. Both teams have a 50-50 chance, and I would like to assure everyone that I will give it my all on Saturday."

At 36, Jong-hyun has lighted up the league with his penalty corner prowess and is now the league's top scorer with 23 goals, nine ahead of second-placed Mohd Razie Abd Rahim from UniKL, who has 14.

Knowing that age is not on his side, Jong-hyun gives his all in the gym and training to ensure that he keeps up with the pace of the youngsters.

"As I get older, I train more. I am comfortable with that because, at the end of the day, it keeps me healthy and active for the game.

"Also, my mental strength is really good, Before entering a game, I already know what I want. To be honest, before the league started, I wanted the top scorer's gong, and I am on my way to winning it."

Meanwhile, Tenaga coach Nor Saiful Zaini was fuming over his team's defending during penalty corners and said it was too late when they tried to come back in the last two quarters.

"We failed to stop his first three penalty corners. Last year, the same thing happened. I told my goalkeeper and defenders about it, but we could not stop it. For me, it was three easy goals.

"Some of the penalty corner defenders are national players. They have played South Korea several times and should know how to stop him.

"If we had had an extra 30 minutes, we could have done something. We had so many chances too, but we could not convert those chances."

His team will face Maybank in the third-fourth placing match at the National Hockey Stadium on Saturday.

The Star of Malaysia


---

Alex Danson-Bennett announces her retirement from hockey



Alex Danson and Laura Unsworth

Great Britain and England Hockey have mixed emotions in reporting that Alex Danson-Bennett has decided to retire from hockey. Whilst it is hugely disappointing to lose a player of Alex's calibre, we are happy in the knowledge that this is the right decision for her.

As has been widely documented, Alex was incredibly unfortunate to suffer a mild traumatic brain injury whilst on holiday in Kenya in late 2018. Despite a Herculean effort on her part, it has not been possible for her to get back to playing for her country. In addition, with significant changes in her personal life she has chosen to hang up her stick, and Great Britain & England Hockey support her unequivocally in that decision.



Alex Danson at the Vitality Hockey Women's World Cup

Alex said: "After a long 18 months but a fabulous 18 years in the sport, it's the right time for me to retire.

"It's been the most incredible journey I could have asked for, but a lot has changed. My head injury has been life-changing, also in terms of my perspective and things that have happened within my family. Throughout my career I've been 100% immersed in being an athlete, but my priorities are different now. All of that means it's the right time.

"I've known over the last couple of weeks that it was a decision I needed to come to. It's difficult because this has been my life. It'll be strange moving into something new, but I'm totally thankful and content. I have zero regrets about the way I've lived my career.

"Hockey has always been my priority, but I've come to that stage where I can't do that and it wouldn't be fair to the team. Your family are everything, there are many factors that have led to this decision. The opportunity to spend more time with my family is a gift and I look at it that way.

"Every single session in my career meant something to me, so too the people I played with, the coaches, the staff, I just wouldn't change a thing. The people I've been around have made my career, from my PE teacher who got me into the game, my mum and dad who supported me, my first team at Alton Hockey Club. I'm privileged to be ending a career in a position where I feel happy. I'm not sad, I'm really happy.

"Now, I will be the number one supporter of the team, I'd love to be in Tokyo watching, I just need to convince my husband! I came back to the squad because I believe they are a winning team. I'm sad not to be on the pitch but I will always feel part of it."



Alex Danson at London 2012

The 34-year-old is a true giant of the game, not just for her achievements as an athlete but also for the way she conducts herself off the pitch. It is no exaggeration to say she embodies all that is good about hockey; a spirited individual who puts the best interests of the team first.

Performance Director Ed Barney said: "On behalf of everyone at Great Britain and England Hockey, we would like to send our very best wishes to Alex. She has been an inspirational figure to all those who have worked with her, to those who have had the fortune to play with her and to many who have watched her exhilarating performances.

"Alex is a truly special person. It is impossible to find the right words to reflect how fortunate we have been to have Alex as part of our sport. We will miss her hugely both on and off the pitch. Having spoken with Alex, we know that she has made an incredibly difficult decision, but one that is right for her. Her achievements in the sport should be an incredible source of pride for her and her family and a motivation to others."



Rio 2016 gold medal

Alex is Great Britain and England women's all-time joint leading scorer with 115 goals in 306 appearances. She was joint top scorer in Rio 2016 as GB's women won an historic gold medal and earned bronze at the London 2012 Olympics. She won a senior international medal for ten consecutive years from 2009 onwards, including European gold, Commonwealth silver and World Cup bronze among many others. At club level, she played for Clifton Robinsons, Reading, Slough, Trojans and Alton, while she also started an Academy in her name to introduce the sport to young children.

One of the leading figures in British women's sport, in 2016 she was awarded an MBE for services to hockey, and a year later she was voted captain of the Great Britain and England women by her teammates. Nominated four times for FIH World player of the year, her final game was in front of a 10,000 home crowd in London at the Vitality Hockey Women's World Cup.

Great Britain and England Hockey will formally mark Alex's incredible career in their FIH Hockey Pro League home game against Argentina at the Twickenham Stoop on Saturday 16 May. With a capacity of up to 14,800, it will be a great moment to recognise Alex's service to the sport.

Great Britain Hockey media release


---

Alex Danson retires from hockey after illustrious 18-year career

By The Hockey Paper



Alex Danson's career spanned 18 years PIC: World Sport Pics

The comeback opportunity lasted a matter of weeks but Alex Danson-Bennett, one of Great Britain hockey's greatest players, has 18 years of memories to look back on after she was forced to retire from the game on Thursday.

She said: "I've lived my career in a way that it's been my first priority and I've now come to that stage in my life where I can't live an athlete career without being the athlete I've always been. I would be doing myself an injustice."

Danson-Bennett, 34, has been suffering with long-term concussion (mild traumatic brain injury) since hitting her head against a wall in Kenya after laughing at her husband's joke while on holiday in 2018.

Six weeks later she was taken to hospital with a suspected bleed, was violently sick and had seizures. In the aftermath, she experienced a "loss of identity", sensitivity towards light, debilitating headaches and speech problems.

Undeterred, Danson-Bennett returned to training with the GB programme in January. But after deciding upon her future for the last two weeks, she has decided to retire. She accrued 306 international caps and scored a joint-record 115 goals.

"The challenge of returning to play following my head injury is too much, and the risk's too high," she said. "After a long 18 months but a fabulous 18 years in the sport, it's the right time for me to retire.

"It has been the most incredible journey but my priorities have changed and it's the right time. It's been my life and I've loved every minute of it.

"My head injury has been life-changing, also in terms of my perspective and things that have happened within my family."

Her triathlete sister Claire was paralysed from the stomach down after colliding with a tractor in an accident while riding her bike last summer.

The former Slough, Reading and Clifton forward will now hope to get more "people involved in the game that's changed my life" through the self-titled hockey academy she set up. "I would love to stay involved in sport," she added.

She will also become GB's "No.1 supporter on the side of the pitch" as the team prepares for their Olympic defence. "I would love to go out and support them," she said of her desire to watch Mark Hager's side in Tokyo.

"I came back to the squad as I believed that it's a winning team to do well in Tokyo," said Danson, whose first cap came in August 2001 against Germany. Fifteen years later she was a gold-medal winning Olympian.

Her illustrious career will be marked at The Stoop in May when GB women play Argentina.

The Hockey Paper will pay tribute to Alex's career in our March print issue special. Subscribe now



The Hockey Paper


---

Alex Danson-Bennett: Former Great Britain captain retires because of long-term concussion

Recovering from head injury has been my biggest challenge - Danson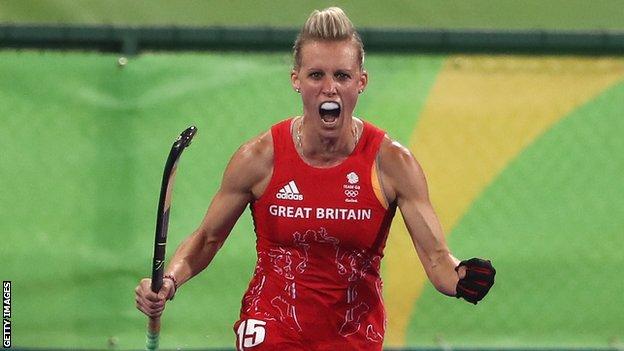 Great Britain's Alex Danson-Bennett celebrates scoring a goal in the Rio 2016 semi-final against New Zealand. Alex Danson-Bennett was a key part of Great Britain's Olympic win in 2016

Olympic gold medallist Alex Danson-Bennett has retired from hockey because of long-term concussion.

The former Great Britain and England captain, 34, hit her head on a wall on holiday in 2018.

She returned to the Great Britain set-up in January after 18 months out in a bid to make the Tokyo 2020 Olympics but says the "risk is too high".

"After a long 18 months but a fabulous 18 years in the sport, it's the right time for me to retire," she said.

"It's been the most incredible journey I could have asked for, but a lot has changed. My head injury has been life-changing, also in terms of my perspective and things that have happened within my family.

"Throughout my career I've been 100% immersed in being an athlete, but my priorities are different now. All of that means it's the right time.

"I've known over the last couple of weeks that it was a decision I needed to come to. It's difficult because this has been my life. It'll be strange moving into something new, but I'm totally thankful and content. I have zero regrets about the way I've lived my career."

Forward Danson-Bennett was part of the Great Britain team that won gold at the Rio Olympics in 2016.

She won 306 total caps for England and Great Britain and scored a joint-record 115 goals combined, level with Marjorie Pollard.

'This is not a sad retirement - I lived my dream'

Danson-Bennett's final international appearance was England's World Cup quarter-final defeat by the Netherlands in August 2018.

Weeks later, Danson-Bennett sustained a mild traumatic brain injury after hitting her head on a concrete wall while laughing at her now husband Alex's joke on holiday in Kenya.

In the months that followed the accident, Danson-Bennett spoke of "losing her identity", as she experienced debilitating headaches, light sensitivity and loss of speech.

In October, just over a year after the incident, she celebrated being able to jog for 30 minutes for the first time.

She returned to training with the rest of the players on the centralised programme in January, saying she was "still not 100%" but "time was running out" before the Tokyo Olympics in July.

"The challenge of returning to play following my head injury is too much, and the risk's too high," she wrote on Instagram.

"This is not a sad retirement. I have played more games in more tournaments than I could ever have dreamt of. I have made lifelong friends, travelled the world and loved every single minute of my career.

"I end my playing days completely content, proud of how I committed every day for 18 years and thankful to have had the most incredible people by my side. I look back and have not one single regret. I lived my dream."

'Alex is a truly special person'

Danson-Bennett, who played for Clifton Robinsons, Reading, Slough and Dutch club Klein Zwitserland during her career, made her England debut against Germany in 2001 at the age of 16.

Representing England, she won the 2015 European Championship, bronze at the 2010 World Cup and claimed one silver and three bronze Commonwealth Games medals.

With Great Britain, she also won bronze at the London 2012 Olympics and silver in the Champions Trophy the same year.

She was named temporary England captain in July 2017 before being appointed permanent England and GB captain in November that year.

Danson-Bennett was appointed MBE in the 2017 New Year Honours for services to hockey.

GB Hockey performance director Ed Barney said: "She has been an inspirational figure to all those who have worked with her, to those who have had the fortune to play with her and to many who have watched her exhilarating performances.

"Alex is a truly special person. It is impossible to find the right words to reflect how fortunate we have been to have Alex as part of our sport. We will miss her hugely both on and off the pitch."

Danson-Bennett's triathlete sister Claire was paralysed from her stomach down after colliding with a tractor when riding her bike in August last year.

BBC Sport


---

Concussion brings Alex Danson's hockey career to premature end

Olympic champion sustained freak injury in 2018: 'It's been the most incredible journey but my life has changed'

William Pickworth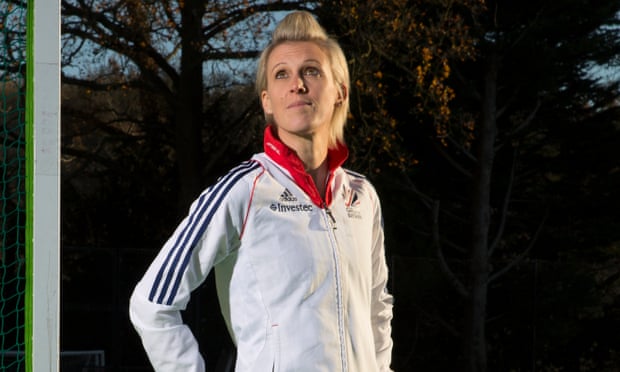 Alex Danson, pictured after Britain's gold at Rio 2016. Photograph: Tom Jenkins/The Guardian

The British Olympic gold medallist Alex Danson has retired because of long-term concussion. Danson, 34, won gold for Great Britain at the Rio Olympics in 2016. Two years later, in September 2018, she suffered a freak head injury that caused mild brain trauma and meant she could not cope with bright light or noise for more than nine months.

She was on holiday with her boyfriend, now husband, and threw back her head and laughed when he told her a joke. She hit her head against a brick wall and the damage became evident as the days, weeks and months passed. Despite hoping to return, the British captain has called time on her career having last played in August 2018.

"After a long 18 months but a fabulous 18 years in the sport, it's the right time for me to retire," she said. "It's been the most incredible journey I could have asked for, but my life has changed enormously in the last 18 months. My head injury has been life-changing and I still have problems with headaches every day.

"I've also moved, I've got married, my sister had a terrible accident [the triathlete Claire Danson was paralysed from the waist down after being hit by a tractor when cycling], and my priorities are more with my family. These have all changed my outlook on life.

"I retire very happy and very content with my decision. Throughout my career every choice was about what would make me the best athlete, so I don't have any regrets. I played more games than I would ever have dreamt of, went to some fabulous tournaments and the moments with my teammates and the places I travelled to is what I'll take away."

Danson, who was appointed England and Great Britain captain in 2017, won 306 international caps and oversaw a huge transformation in women's hockey, including the move to professionalism. She made her international debut aged 16 in 2001 and was awarded an MBE in 2017 for services to hockey.

"I started in a very different era," she said. "When I was at school, I never dreamt to be a full-time hockey player because they didn't exist. One of the proudest things is I've seen hockey transcend from amateur to a professional game. I'll never forget the first time we won a world medal in 2010. I believe that put us on the route to learning to win. London was spectacular and, of course, that moment in Rio, that's the pinnacle of anyone's career. Receiving my MBE was the most surreal thing in the world. I was more nervous for that than I was for the Olympic final.

"More recently, leading my country in the World Cup to 10,000 people in attendance and it being live on TV was an enormous honour. We've changed the face of hockey in this country. It was an incredible way to finish my career, even though I didn't know at the time. It's a different world now. And to leave, when I believe there's a way for it to go is very exciting."

Danson informed her teammates on Thursday and is hoping to stay in the game in a coaching capacity. That includes becoming more involved in the Alex Danson Academy, which aims to increase participation among youngsters. "I've seen a lot of the game, I feel like I have a lot to give and it's my turn to return that. Hockey entirely changed my life. I will do as much as I can to get the next generation of players loving the game."

She also hopes to raise the awareness of head injuries, having worked with Headway, a brain injury charity, and the neurological specialists Hobbs Rehabilitation during her recovery. "There's very little research about head injuries, mild traumatic brain injuries and concussions. I believe they are treatable. There aren't any rehab facilities in the UK, and I would love to see that change. I'll do whatever I can to support the right people."

Looking ahead to Tokyo, Danson is planning to support her former teammates and is optimistic about their chances. "They've come together at just the right time. I think they're going to do fabulously well. I'll be their No 1 supporter out there, dressed up in red, white and blue, waving my flag and I'll feel part of it in my own way."

The Guardian


---

Hager hails 'world class' Danson-Bennett




Having today announced her retirement from international hockey, GB and England Women's Head Coach Mark Hager paid tribute to the impact Alex Danson-Bennett:

"I've got a huge amount of respect for Alex," said Hager, "I always admired her from afar as a striker in her ability to convert chances out of nothing, having the tenacity and will in the circle to want to score goals…particularly when she wasn't playing against me when I was coaching New Zealand!

"She's a very talented hockey player and has a very good reputation, I think that's why she's so admired worldwide. When she crosses that white line, she's a real competitor and then off the field she's one of the nicest people you could meet.

"Between 2001 to 2004 when I was with the Aussie women, I knew of Alex even when she was a youngster before turning into a real world class striker who I coached against a lot with the New Zealand team.




"You try to put someone on her and be aware that she has that uncanny ability to pop up in the circle and score goals out of nothing. She was always so hard to defend against. She had that ability to dive and be on the ground, which is very hard to mark, and I think that's what stood her apart from a lot of other strikers is the fact she was always prepared to put her body on the line.

"She's been one of the world's best players and will really be missed. You can't replace someone like her easily with what she brings both on and off the field. Her wellbeing is the number one priority, we'll miss having her back and it's sad.

"She's played with a lot of the current team for a number of years and they were aware of what she was trying to achieve this year. Alex has always been up front and honest that if she didn't feel she was ready she'd make that tough decision of retiring.

"You just think of the medals she's won over the last two Olympics, especially the gold from Rio, I'm sure there are a lot of young people out there who aspire to be an Alex Danson in the future. She leaves an incredible legacy, not too many people have two Olympic medals and have achieved so much in the game."

Great Britain Hockey media release


---

Kerry pays tribute to retiring Danson-Bennett




Having spent numerous years coaching Alex Danson-Bennett during his time as Women's Head Coach, Danny Kerry gave an insight into one of the greatest players to represent GB and England:

"Alex, without reservation, has been one of the world's leading players for a generation. Her goal scoring prowess at the very highest level (Olympic Games) speaks for itself.

"But, and I would stress this, far far more significantly than this is that Alex the person is quite simply a wonderful human being. Her integrity, empathy and care for others always shone and continues today. Alex has used her profile for the good of our sport and sport in the wider context.

"Alex is an example of humility and giving back to sport and people that we can all reflect on. On a personal level I feel humbled to have worked with an athlete of this world leading calibre for so many years whose values always shone through.

"Alex's resilience in the face of wide and challenging adversities over many years would make a seminal and inspirational text on will power and drive.

"I am sure Alex, wherever life takes her next, will continue to 'inspire the future'. She is the living embodiment of that concept."




Great Britain Hockey media release


---

Danson-Bennett's career to be formally marked on Stoop Saturday




Great Britain and England Hockey will formally mark Alex Danson-Bennett's retirement at our FIH Hockey Pro League games against Argentina at the Twickenham Stoop on Saturday 16 May.

Danson-Bennett has announced her retirement after 18 years in the sport, and hangs up her stick as the joint top scorer in the history of our women's teams. With such an incredible career behind her, it is only right that the hockey family gets the opportunity to thank her in person.

With a capacity of almost 15,000, the Stoop will have our biggest audience of the season and therefore is a very opportune moment to collectively thank a player of her standing in the game.

England Hockey Chief Executive Nick Pink said, "Even in my short space of time here, it's clear to me the impact that Alex has had on our sport, both on and off the pitch. We will continue to see her legacy for a very long time to come, and the least we can do is thank her in person when we go back to the Stoop later this year.

"In many ways, the matches at the Stoop are only possible because of Alex and countless other athletes from both our women's and men's teams, and it will be a moment to look forward to as we give her our very best wishes."

Danson-Bennett said, "That day will be very special, it will be very emotional I'm sure. I want my retirement to be a thank you. No athlete has a career without many people helping, and it will be a lovely opportunity for me to thank them."

Great Britain's women take on Argentina at 2pm on Saturday 16 May at home of Harlequins, followed by the men's teams at 4:30pm.

Great Britain Hockey media release


---

Watch Alex Danson-Bennett's exclusive retirement interview



Alex Danson-Bennett

Watch the full interview as Alex Danson-Bennett speaks about her retirement from the sport, recognising the people that made her career so special, thanking her family and friends for their support and reflecting on some of her favourite moments.

Great Britain Hockey media release


---

Alex Danson-Bennett: My hidden story




Over the past few months, Alex Danson-Bennett has worked with Investec, principal partner of the Great Britain and England women's teams, to produce an in-depth film to tell the story of her mild traumatic brain injury.

Featuring Alex, her husband, brother, teammates, journalist Clare Balding and many more, the film is a fascinating insight into her journey to recovery, both as a person and as an athlete.

https://youtu.be/AkINKBXBROE

Investec recognises that distinctive performance is about overcoming your battles as well as being at the top of your game. Investec understands that a strong mindset is sometimes your most powerful tool. Investec has been a proud sponsor of GB & England women's hockey from grassroots to international level since 2011.

Great Britain Hockey media release


---

11 of the best: Alex Danson-Bennett's memorable moments




23/10/2001 - Makes senior international debut against Germany aged 16, becoming the youngest player to be capped for England.

10/08/2008 – Makes her Olympic debut against Germany in Beijing, a Games in which she would go on to feature in every match for GB.




Dec 2011 – Named alongside Helen Richardson-Walsh in the FIH World All Stars Team after enjoying a superb year that saw her help England take bronze at the EuroHockey Championships.

28/08/2015 – Notches 50th England goal in 2-0 victory over Spain in the 2015 Unibet EuroHockey Championships to send the team through to the final.

30/08/2015 – Scores shootout goal to help England defeat the Netherlands in the 2015 EuroHockey Championships Final and take gold on home soil.

19/08/2016 – Helps women's team to a first ever Olympic gold medal as the team triumph over the Dutch in the final. Despite not scoring in the final, she finished the tournament as the joint-leading goal scorer.




2017 – Sets up Hockey Academy aiming to improve the health and wellbeing of young people through participation in physical activity and to inspire as many children as possible to pick up a stick and play hockey.

10/06/2017 – Captains England for the first time in opening Investec Internationals match against Argentina. The next day, hits 100 international goals as England come back to draw 2-2 with the Netherlands in second Investec Internationals match.

08/11/2017 – Named permanent England and GB captain after being voted into the position by her teammates.

12/04/2018 – Joins an exclusive group of top appearance makers as she collects her 300th combined cap in Commonwealth Games semi-final match against Mark Hager's New Zealand side.

25/07/2018 – Wins 200th England cap in front of a packed-out crowd of 10,000 at Lee Valley Hockey and Tennis Centre against USA at the Vitality Hockey Women's World Cup. Making it an even bigger occasion as she also scored her 115th international goal to draw level with Marjorie Pollard as the top women's international goal scorer for her country. This would be her last international goal. Less than a week later she made what would be her final international appearance in defeat to the Netherlands.




Finishing as one of the most decorated female hockey players in England and GB history, she's amassed an incredible tally of titles and stats:
- 4 gold medals including 2016 Rio Olympics and 2015 EuroHockey Championship

- 17 career medals: 2x Olympics (gold & bronze), World Cup (bronze), 2x Commonwealth Games (silver & bronze), 6x EuroHockey Championships (gold, silver, 4x bronze), 2x Champions Trophy (silver & bronze).

- Featured in three Olympics, five World Cups and eight EuroHockey Championships in a career that spanned over 15 years.

- Nobody scored more goals than Alex Danson-Bennett in the past two Olympic Games, having bagged five at both London 2012 and Rio 2016 in which she was twice the leading goal scorer. She has ten goals over this time period, two more than the Netherlands' Maartje Paumen who has eight.

- On four occasions finished as runner up for the FIH Women's Player of the Year award (2013, 2015, 2016 and 2017), but was named as Hockey Writers' Player of the Year in the UK in 2011.

- After bursting onto the scene as a 16-year-old, Alex finished as runner up for the 2001 BBC Young Sports Personality of the Year Award.

Great Britain Hockey media release


---

Alex Danson



By Koen Suyk


---

World-class keeper leaves national outfit after 21 years

By AFTAR SINGH




KUALA LUMPUR: After 21 years in the national hockey team, S. Kumar (pic), considered one of the finest goalkeepers in the world, has finally called it a day.

Although he has quit playing for the national team, the 40-year-old from Negri Sembilan will still be in hockey. The goalkeeper, who has represented Malaysia 321 times, has been hired by the Malaysian Hockey Confederation (MHC) as the national junior team's goalkeeper's coach.

He will also continue playing for Tenaga Nasional.

The juniors will feature in the Junior Asia Cup in Dhaka, Bangladesh from June 4-14, the qualifying tournament for 2021 Junior World Cup.

NAME: S. Kumar

STATE: N. Sembilan

AGE: 40

POSITION: Goalkeeper

CAPS: 321

ACHIEVEMENTS: Asian All Star player in 2010.

Best Asian player in 2011, Won silvers in Guangzhou Asian Games in 2010 and 2018 Jakarta Asian Games.

Best keeper in the 2017 World League Semi-Finals in London.

Two time best keeper in Asia Cup in Chennai in 2007 and Kuantan in 2009.

Five times best keeper in Sultan Azlan Shah Cup in 2007, 2009, 2010, 2011, 2013

Kumar, who made his debut for Malaysia in the 1999 SEA Games in Brunei, will attend the coaching course during the Sultan Azlan Shah Cup tournament in Ipoh from April 11-18.

Kumar said he had wanted to quit the national team a few years ago especially when his three-year-old son Harshenn died of a blood infection in 2015. Kumar was in Antwerp, Belgium, for the World Hockey League Semi-Finals when the tragedy struck.

Kumar, who returned for the funeral before the start of the competition, said he continued to play for the country because his services were still needed.

"But I have finally decided to retire as I am already 40. I have other commitments and want to spend time with my family, " said Kumar, who was named the best Asian player in 2011, " he said at a press conference, a day after Tenaga's campaign in the Malaysia Hockey League came to an end with a 3-4 defeat to Terengganu.

"The time has come for other players to take over. We have a good set of senior and junior development goalkeepers for the national team.

Kumar's exit was hastened by the fact that Malaysia did not qualify for the Tokyo Olympics. Malaysia lost 9-3 on aggregate to Britain in London in the two Olympics playoff matches last November.

"I have played in two World Cups in (The Hague, Holland in 2014 and in Bhubaneswar, India in 2018) but my only disappointment is that I did not get to feature in the Olympics, " he said.

The other keepers in the national training team are Mohd Hairi Abdul Rahman, Mohd Hafizuddin Othman, Mohd Zaimi Mat Deris and Adrian Andy Albert.

Hairi featured in the World Cup in Bhubaneswar and also played in the FIH World Series in Kuala Lumpur last year.

Kumar has a piece of advice for the national keepers: "They should have no fear playing against top teams in tournaments.

"The goalkeepers' training is different than that for other players as they must be fast in clearing the ball in the semi-circle and always be on their toes, " said Kumar.

"I am keen to be a coach as I have vast experience in goalkeeping and would like to contribute back to the national team.

"Although I have retired from the national team, I will still stay active as a player for Tenaga in domestic tournaments, " said Kumar, who has won the best keeper awards few times in tournaments.

The Star of Malaysia


---

Three Olympic teams to compete in Malaysia's Sultan Azlan Shah Cup

KUALA LUMPUR – The 29th Sultan Azlan Shah Cup hockey tournament in Ipoh, Malaysia this April will be the last battle ground for three world leading squads – Australia, Canada and Japan – to test the tactical and strategic effectiveness of their respective coaches for the coming 2020 Tokyo Olympic Games in July.

Apart from the three Olympic sides, the championship at Azlan Shah Stadium from April 11-18 will also be participated by hosts Malaysia, South Korea and Pakistan.

Malaysian Hockey Confederation (MHC) President Datuk Seri Subahan Kamal said two more invited Olympic teams namely India and New Zealand would not join following their tight training schedule for the Olympics.

India, New Zealand, Australia, Argentina, Holland, Great Britain, Belgium, Spain and Germany would be competing in the FIH Professional League (FIH Pro League) from January to June.

Malaysia are 11th in the world rankings rung with Australia (2), Canada (10), Japan (15), South Korea (16) and Pakistan (17).

Despite failing to qualify for Tokyo Olympic Games, the national squad under Roelant Oltmans has been given the target of qualifying for the final, said Subahan at a media conference yesterday.

According to him, the target is realistic based on world rankings where Malaysia are among the top three teams in the tournament.

"The championship is a good platform to show other teams that Malaysia are still a force to be reckoned with after failing to be in the Olympics," he said.

Malay Mail


---

Performance Network Coaches Appointed




Hockey NZ is excited to announce three new coaches to take the turf in 2020 alongside a highly experienced athlete pathway manager.

Having a connected system for our players, but also coaches and officials are really important to us. Bryce Collins, who has started as athlete pathway manager, is excited at the prospect of beginning contact with the next group of players outside the Vantage Black Sticks squads.  Collins commented on what success looks like "Success to me is about sharing knowledge with everyone in the game and increasing our performance on the world stage. It is exciting to have full time, highly experienced coaches alongside us to help make a big step to be world-leading. Our difference is we are a country that can share and connect well. While we will be giving opportunities that prepare our players to be ready to perform, it is so important we create broader opportunities for people to excel, deliver enjoyable hockey and grow and encourage lifelong involvement in sport."

This combination of pathway manager and three new hands-on coaches is being called the Performance Network. It is set up with Associations to prepare aspiring hockey players, coaches and umpires with opportunities that challenge and support the coaches, umpires and players who participate. It will help prepare them for success, whether they stay in sport or if they choose to apply themselves elsewhere. The Network connects community and high performance and is targeted for aspiring players, coaches and umpires who have the motivation, drive and ability to compete on the World Stage.

The first three appointed coaches help us make a difference. Aaron Ford is the southernmost coach to join the performance coaching team. Having spent the last 8 years as a director of OPX Building Contractors, expertly building architecturally designed homes has supplemented his passion for coaching and been a challenging and enjoyable experience. The professional outcomes in the building industry have some great synergies with sport. We need to do the best for people, we listen and understand their needs and keep them updated every step of the way. Being based in Canterbury his coaching has included Head Coach for the successful Canterbury Cats and Canterbury U21 campaigns. Aaron has been able to develop his coaching skills in a variety of environments. After being involved with the NZ Junior programme over the last few years, he is looking forward to our new development systems being implemented and seeing that talent transition from potential players into world-class athletes.  "I am really looking forward now to making a difference to the development of individuals and sharing the learnings from our Black Sticks with the country."

Secondly, Mark Borgers brings a strong knowledge of the Dutch Hockey systems, coaching and coach education and the ability to drive an individually focussed development programme are standouts in an extensive hockey career that includes both outdoor and indoor experience with the Dutch Federation, Kampong Hockey Club and recently Midlands Hockey.

Borgers talked about his motivation behind the network "As an athlete in high-performance teams I have always been provided with 'the best' available coaches. Looking back I would define them as result driven and ambitious. Coaches who applied a proven practice and generic team approach in team cultures defined by strong hierarchies. What triggered me deeply, is that till the day I quit playing hockey I never felt complete confidence, trust or acknowledgement".

Known as 'Bacchus' in the hockey world, Colin Stewart's background has been in the Australian Institute of Sport Hockey Programme and qualified Art and PE teacher. 'Bacchus' has coached in five countries around the world, and three at international level. The latest chapter has been with the Irish Women's World Cup Silver medallists as Assistant Coach and Technical Coach. 'Bacchus' has previously coached with the New Zealand Black Sticks Women's team who were ranked third in the world at the time. At European level, he has coached with Pembroke and Surbiton men's to reach the EHL last 16.

Speaking about the role 'Bacchus' said " I'm very excited to be involved with such a positive and professional new network programme with New Zealand Hockey. It displays a real intent to progress both coaching and player development."

Bryce Collins believes the coaching team is a great one. He himself steps away from his previous role as Assistant coach to the Black Stick Men, a role he has held for the past 7 years that included the Rio Olympics, two World Cups, two Commonwealth Games and the inaugural FIH Pro League. Prior to this Bryce supported the Black Stick Women including being a member of staff that won the silver medal at the Delhi Commonwealth Games. He has lead the NZ U21 Men's programme over the past five years and held various high performance and community roles at North Harbour Hockey.

The team are looking forward to coming together and beginning their work in the community. For Coaches, the first steps are joint with the Hockey NZ Coaching team to launch a coach development programme with a focus on females. For invited Players and Umpires there will be an introduction camp in April for and a U21 High-Performance event in July.

Athlete Pathway Manager: Bryce Collins

Performance Coaches: Mark Borgers, Colin Stewart, Aaron Ford

Hockey New Zealand Media release


---

Multi-talented Railway looking to add another achievement to incredible honour roll



Railway Union following their Leinster indoor success in January. Pic: Tristan Seaton-Stedham

Railway Union take to the Porto boards for the women's EuroHockey Indoor Club Challenge I with a squad that could lay claim to being the most multi-talented Irish sporting line-up ever to come together.

Not only does the side have an aggregate total of well over 100 senior hockey medals between them.

They can also count in their number a ladies football All-Ireland winner, a national track cycling champion, three international cricketers, nearly 200 Irish outdoor hockey caps and, in captain Holly Jenkinson, a netball and tag rugby international.

"It's just a group of very talented athletes, serious high achievers!" Jenkinson said ahead of the event which begins on Friday morning.

It will be their second European campaign at this level, the previous one ending in gold in Bratislava in 2011. Back then, Jenkinson joked their best hope of silverware was the Fair Play Trophy, but improving performances and some serious group stage fortune put them in the frame to win the title for real.

It was a memorable trip, a first for all concerned with a healthy set of yellow-wig wearing fans in tow. Indeed, Railway's traditional colour scheme caused them a few problems as a social night out in their tracksuits to a local ice hockey match drew the vocal ire of the HC Slovan fans when they took up seats in the home section.

"We got an awful lot of abuse because we happened to be wearing the colours of the away team. It took some Kate McKenna-led convincing to calm things down; we had to learn the home team's songs and chants. They weren't too happy us sitting in there!"

In addition to Jenkinson and McKenna, the likes of Cecelia and Isobel Joyce, Kate Dillon, Orla Fox and Hannah de Burgh Whyte are still going strong from that vintage while Emma Smyth now offers her intricate skill-set to the mix.

"I don't know whether I should be proud or embarrassed but our average age is 31," Jenkinson says of the experience in the panel. "We have been playing together as an indoor team consistently for a long time but also on the outdoor stage [for over a decade].

"Playing with the same group of really good friends outside of hockey as well is one of the main reasons we keep going."



Railway's 2011 Euro indoor side

They start this week's campaign on Friday morning against Swedish side Partille (12pm) before facing Georgia's Ukimerioni Kutaisi (5.30pm).

Saturday morning begins with a tie against host club Grupo Desportivo do Viso before the event splits into top four and bottom four, promotion and relegation pools.

It follows a strong season domestically for Railway, retaining the National Indoor Trophy, scoring 42 goals and letting in just three.

"Going in, we have no real idea what to expect. In 2011, the standard was very varied and the Slovakian side [KPH Raca] were probably better than us but we got favours from others which got us into the semi-finals!

"Now, the standard seems to have improved even if it still the C division. In Ireland, there are now lots more people playing indoors and a lot more actually getting good at it with the Under-14 competitions, the Pro Series Indoor and the international setup.

"There was six or seven of us who were part of that training panel so we got lots of extra sessions under our belt with Dave Passmore.

"As individual players, we learned more about the game, different strategies and can bring that now to club level – a lot of things from our warm-up to our formations and strategies are similar to the Irish squad."

To that end, Irish manager Gareth Myburgh has been co-opted to coach the side in Portugal and ambitions are far less modest than 2011.

"Because of the unpredictable nature, we have smaller, mini-goals for each game and re-evaluate each time but overall, we definitely are setting our sights high to look for gold and promotion.

"My Whatsapp has been blowing up all week, everyone counting down the days to go. As a sport, it's on the rise in terms of numbers playing and the demographics with the international setup.

"We are hoping to be part of that rise, representing Ireland and Railway well. Whatever the results are, we hope we do everyone proud. We know it takes an army of people to get us to a competition like this so we are very grateful for everyone who has been involved."

Railway Union squad for EuroHockey Indoor Club Challenge I: Carolyn Crampton (GK), Riona Norton (GK), Orla Fox, Jenny Long, Holly Jenkinson, Isobel Joyce, Hannah de Burgh Whyte, Emma Smyth, Cecelia Joyce, Kate Dillon, Kate McKenna, Lily Lloyd

Non-travelling reserves: Lisa McCarthy, Rhiannon Evans

Coach: Gareth Myburgh

Manager: Helen Johnston

Physio: Amy Phelan

Women's EuroHockey Indoor Challenge I (all in Porto, Portugal)

Friday: Pool A: Railway Union v Partille (SWE), 12pm; Railway Union v Kutaisi (GEO), 5.30pm

Saturday, Pool A: Railway Union v Grupo Desportivo do Viso (POR), 12.45pm; classification matches to be determined

Sunday: classification matches

All matches will be live-streamed on EHTV: www.eurohockeytv.org/en-int/playerpage/

The Hook


---

Wanderers women play indoor in Porto while two men's Scottish Cup ties are settled




Once again there is a variety on offer this weekend, Dundee Wanderers` women head for Porto for the EuroHockey Indoor Club Challenge 1 – the last event of the indoor season – while for the men there are two outstanding Scottish Cup ties, left over from the November frosts.

In the initial pool competition Wanderers will take on Raca (Slovakia) and Akademik (Bulgaria) on Friday, and then Swansea (Wales) on Saturday`s opening encounter. The Dundonians will only advance to the later promotion group if they finish in the top two – and that has got to be the first target.

Wanderers had a very successful domestic season sweeping all before them – that is until the final match against Clydesdale Western when the bubble burst. The Taysiders went down 3-2, courtesy of a last gasp strike by Millie Steiger.

How far that reversal will dent Wanderers` confidence is difficult to quantify, but coach Iain Strachan is upbeat.

"This should be an interesting competition we rarely go into these things ranked at the top end. Porto is also a venue we have never visited before, so lots of firsts, lots of new teams for us to get our heads round.

"Only really the Irish we have played regularly and this is a different team this time round. So it will be a case of turn up see what`s on offer and what we need to do to get past them.

"In reality we should make the promotion pool and I feel we should be fighting for promotion."

In the search for promotion Strachan has the advantage of several players who can find the net on a regular basis – the likes of Vikki Bunce, always a lethal finisher, Emily Dark, Ruth Blaikie, Amy Snelle, Ellie Wilson and Jess Ross give the coach plenty of options.

The two outstanding Scottish Cup round 2 ties involve all-Premiership sides.

At the moment Grange is the only unbeaten side in the Premiership and top the table with a cushion of five points, therefore should be favourites to see off fifth-placed Clydesdale at Titwood.

The teams met at the same venue back in October with the champions coming out on top by 3-0. But it was not all plain-sailing, the match was poised goalless after the first half. Two goals in as many minutes by Aussie Josh McRae and a late penalty corner strike by Dan Coultas settled the issue in the end.

Further, Grange started the second half of the season with a comfortable 4-0 win over Hillhead – McRae was again on sharp form with another double. So perhaps there's not much rustiness in the Grange camp.

The winner will be away to St Andrews University.

In the other tie Kelburne entertain Edinburgh University at Glasgow Green. This could be a close affair if the league encounter at the end of the first half of the season is anything to go by – the sides shared an eight goal outing.

The students are having another good season, they are fourth in the table and could go third if they win their outstanding game against Hillhead.

In contrast, Kelburne are still on the road to recovery under coach Gordon Shepherd and have recorded a few promising results. As in the past the Paisley side have little problem scoring goals with Jack Mackenzie, Johnny Christie and Pol Albericio frequently on the score sheet, but a leaky defence has seen them lose 46 goals in nine outings.

The winner here will be at home to Gordonians.

Scottish Hockey Union media release


---

Skerritt's goals help Paragon outplay Army

By Rachael Thompson-King



Defence Force's Che Modeste, left, and Kalebh Quashie of Paragon battle for the ball during their T&T Hockey Board Open Men's Division match at the Woodbrook Youth Facility in Port-of-Spain on Saturday. Paragon won 7-5. Credit: Anthony Harris

Kelon Sker­ritt net­ted three goals to en­sure Paragon en­tered the Car­ni­val break with a win, com­ing from be­hind to pull off a 7-5 de­feat of De­fence Force in the T&T Hock­ey Board's Open Men's Di­vi­sion at the Wood­brook Youth Fa­cil­i­ty in Port-of-Spain on Sat­ur­day.

This af­ter the army/coast­guard com­bi­na­tion team put Paragon, coached by na­tion­al play­er Akim Tou­s­saint, on the back­foot fol­low­ing three unan­swered goals ear­ly in the clash. Isa­iah Scott opened the scor­ing in the sec­ond minute with Mar­cus James adding an­oth­er in the sixth. A minute lat­er, Che Mod­este (7th) put De­fence Force fur­ther ahead 3-0.

Paragon though man­aged to pull one back be­fore the end of the first pe­ri­od thanks to Skeritt, who found the back of the net in the 10th minute, to have his team trail­ing 3-1 go­ing in­to the sec­ond stan­za. It was here that Paragon be­came far more com­pet­i­tive and came with­in one (3-2) with an item from Joel Daniel in the 14th.

How­ev­er, De­fence Force, coached by T&T men's coach and for­mer na­tion­al goal-keep­er Glen "Fi­do" Fran­cis, kept at­tack­ing and re­gained a two-goal lead through Mick­el Pierre in the 16th to hold a 4-2 ad­van­tage at the half.

On the re­sump­tion, Paragon again chipped one off the sol­dier/sailor com­bi­na­tion unit's lead when Skeritt scored his sec­ond item and his team's third and then Kalebh Quashie equalised with a 23rd-minute item (4-4). De­fence Forcere­gained the lead once again off of Mod­este in the 28th to go up, 5-4.

Stun­ning­ly, De­fence Force went goal­less in the fourth quar­ter as Paragon upped its de­fence. On the of­fen­sive side, the even­tu­al win­ner re­turned the favour by adding three more unan­swered goals them­selves to close the af­fair.

Skeritt scored the equal­is­ing goal in the 35th while his team­mates Shel­don McKel­lar (39th) and Daniel (40th) net­ted the re­main­ing two items, re­spec­tive­ly.

In the oth­er match in the di­vi­sion, Malvern and the Queen's Park Crick­et Club (QPCC) shared points as they played to a 4-4 draw.

Mar­cus Pas­cal (7th, 24th, 31st) scored a hat­trick for QPCC and Kadeem For­tune (38th) scored the oth­er for QPCC while Shawn Phillip (18th), Daniel By­er (29th, 36th) and Shel­don Phillip (40th) were the goal-scor­ers for Malvern.

Re­sults

Open Men

De­fence Force 5 (Isa­iah Scott 2nd, Mar­cus James 6th, Che Mod­este 7th, 28th, Mick­el Pierre 16th) vs Paragon 7 (Kelon Sker­ritt 10th, 21st, 35th, Joel Daniel 14th, 40th, Kalebh Quashie 23rd, Shel­don McKel­lar 39th).

Open Men

Malvern 4 (Shawn Phillip 18, Daniel By­er 29th, 36th, Shel­don Phillip 40th) vs QPCC 4 (Mar­cus Pas­cal 7th, 24th, 31st, Kadeem For­tune 38th).

Un­der-19 Boys

Fa­ti­ma 6 (Roshane Hamil­ton 8th, 29th, Ghard­el El­cock 14th, Matthew Per­reira 21st, 37th, Alex­ei Mo­hammed 22nd) vs SHAPE 3 (Wayne Ed­wards 23rd, Leu­mas Nep­tune 36th, 40th)

Open Women

Mag­no­lia 2 (Amie Olton 30th, Sa­van­nah De­Fre­itas 36th) vs Paragon 1 (Nao­mi Samp­son 37th).

Trin­i­ty Women

Po­lice 2 (Teneil Gar­cia 21st, 30th) vs Mag­no­lia 2 (Toni Camp­bell-War­ren 23rd, 33rd).

Mixed Vets

Shape 13 (Ran­dall Jack­man 3rd, 20th, 27th, 31st, 36th, John Her­nan­dez 4th, 5th, 29th, 40th, Leroy Sookdeo 7th, Johnathan Williams 8th, 9th, 25th) vs Notre Dame 10 (Garth Bap­tiste 13th, 30th, 35th, Ak­il Nan­coo 15th, 18th, Gre­go­ry Gar­raway 19th, 28th, Dou­glas Co­ma­cho 20th, Lor­raine Fer­gu­son 23rd, 38th).

The Trinidad Guardian


---

Taking next umpiring step doesn't have to be daunting

By David Ellcock



England Hockey encourage people to try umpiring at club level

In a recent Hockey Paper piece, I suggested that people should just try umpiring and that this might lead to their getting the bug and wanting to take the next step. But what does that next step look like? It's nothing like as daunting as you might think.

England Hockey encourage people to try umpiring at club level, whether this is at training, during friendlies and pre-season matches, or even at junior events. The last option might be the best place to start as England Hockey have made it clear that absolutely no official umpiring accreditation is required to help with either Quicksticks or In2Hockey. Training for these formats can be accessed in the 'Teachers' section of the HockeyHub. There are umpiring guides and videos that will help you on your way in either format.

If you'd rather take your first step in the 11-a-side game, and want the comfort of a course to back you up, then EH offer a 3-hour "Introduction to Umpiring" session that provides details on the basics of umpiring and a lot of practical time on the pitch for you to have a go and practise in a live environment at club level.

To move on to umpiring regularly in a league you will need to take the EH Level 1 course. This is a 7-hour course, split 50/50 between classroom and practical exercises. This provides you with the opportunity to learn the basic elements and theories of umpiring and then put them into practice.

On completion of the course you immediately become a "Level 1 Unassessed" (L1U) umpire. This status doesn't expire and allows you to umpire at the lower levels of league hockey for as long as you wish. It also gives you the chance to practise your umpiring before moving onto the assessed level, if that's what takes your fancy.

Once you've properly caught the bug, progression is through assessment to become a "Level 1 Assessed" (L1A) umpire. This assessment can be undertaken by anyone from your local County Hockey Umpiring Association or any umpire of Level 2 (Regional League) status or above. You can be assessed on any competitive 11-a-side game between two teams of at least U15 status from different clubs, or two teams from a single club in an adult league competition. Once you've passed the assessment, there is no requirement to umpire a minimum number of games per season and, just like L1U, there is no expiry date on L1A, therefore, you can call yourself an umpire forever more.

The next step on the ladder is to seek assessment by your local County HUA, after successful completion of which you will be regularly appointed to league games as a neutral umpire. As your umpiring develops, you may well then be selected to move up to Level 2 and then Level 3 (National League). At these levels progression is very much in the hands of the coaches and assessors who will regularly work with you and help you to develop your umpiring skills.

As you can see, there are plenty of opportunities to develop your umpiring, whether as a club umpire or beyond. There is a huge amount of supporting information available from the EH website in the 'Officiate' section, or you could approach anyone who you see umpiring at your club. We're generally a pretty friendly bunch.

We feature umpiring opinion and news in every Hockey Paper edition

Subscribe to our print or digital edition for the bigger picture in 2020. Discounts with our partners and major savings on our digital product for global readers. Find out which subscription suits you best. Sign up now!

It's a huge year for the sport – and our mission is for all juniors, grass roots, masters and general hockey lovers to read the game.



The Hockey Paper

Another great international resource is Umpires Universe featuring videos supplied by the FIH