All the news for Wednesday 18 December 2019

Tokyo 2020: Japan-Australia (Men) to open the show




Lausanne, Switzerland: On the occasion of a press briefing in Tokyo involving Tayyab Ikram, FIH Executive Board Member and IOC Olympic Solidarity Commission Member, Koji Murofushi, Tokyo 2020 Sports Director, Shihori Oikawa, Japan Women's hockey national team player and Seren Tanaka, Japan Men's hockey national team player, the International Hockey Federation (FIH) today revealed the match schedule of the Tokyo 2020 Olympic hockey tournaments.

The opening match will involve the Men's national squads of Japan, the hosts, and the current number one team in the FIH World Rankings, Australia, on 25 July (09:30 local time). The first match of the Women's tournament will be played on the same day and sees the Netherlands – who are topping the FIH World Rankings – taking on India (20:45 local time).

The Men's and Women's Gold medal matches will take place on 6 and 7 August respectively.

The full match schedule of the Tokyo 2020 Olympic hockey tournaments as well as the pools – which were confirmed last month - can be viewed here.The matches will be staged in the brand-new Oi Hockey Stadium, in Japan's capital city.

The full information about ticketing for the events is available here for Japan residents and here for non-Japan residents.

#Tokyo2020
#RoadToTokyo
#GiftOfHockey

FIH site


---

Kookaburras to open Tokyo 2020 against hosts




The world number one Kookaburras will take centre stage in the opening match of the Tokyo 2020 Olympics hockey tournament after being scheduled first up against hosts Japan.

The match schedule for the men's and women's Olympic Games Tokyo 2020 hockey competitions was revealed at a press briefing tonight in Tokyo.

The Kookaburras' mouthwatering opening encounter against Japan will take place on Saturday 25 July 2020 at 10:30am AEST in front of what is sure to a be a full Oi Hockey Stadium.

After Japan, the Kookaburras take on eight time Olympic gold medalists India on Sunday 26 July before facing reigning Olympic champions Argentina.

"To be scheduled against the Olympic host nation to start the tournament is really exciting for our group and will be a great way to launch our campaign," said Kookaburras Head Coach Colin Batch.

"The Olympics is the pinnacle of our sport so we know the magnitude of the challenge in front of us and with the schedule now released, we can start to plan and prepare accordingly for what is ahead.

The Hockeyroos' first match of Tokyo 2020 is against Spain (ranked 7th) on Sunday 26 July (11:00am AEST).

The world number two ranked Hockeyroos will be back in action the following day against China, who they played against during the Tokyo Test Event earlier this year.

"There are no easy matches at the Olympics, and coupled with how tight and closely contested international women's hockey is at the moment, we will have to be at our best for every match we play," said Hockeyroos Head Coach Paul Gaudoin.

"All of the countries in our group are capable of beating anyone in the world on any given day so we need to make sure we prepare as best we can over the next eight months to make sure we are in the best possible condition, both physically and mentally."

The Men's and Women's Gold medal matches will take place on 6 and 7 August respectively.

The format of the Olympic Games Tokyo 2020 hockey tournaments sees the 12 competing teams split into two pools where they play in a round robin format.

The top four teams in each pool proceed to the quarter finals with the winners progressing to the medal rounds.

The full match schedule of the Tokyo 2020 Olympic hockey tournaments as well as the pools – which were confirmed last month – can be viewed here. The matches will be staged in the brand-new Oi Hockey Stadium.

Full ticketing information is available here.

Tokyo 2020 Olympics schedule

Kookaburras

Saturday 25 July v Japan (9:30am local, 10:30am AEST)
Sunday 26 July v India (6:30pm local, 7:30pm AEST)
Tuesday 28 July v Argentina (9:30am local, 10:30am AEST)
Wednesday 29 July v New Zealand (9:15pm local, 10:15pm AEST)
Friday 31 July v Spain (10:00am local, 11:00am AEST)

Quarter Finals (Sunday 2 August)
Semi Finals (Tuesday 4 August)
Medal Matches (Thursday 6 August)

Hockeyroos

Sunday 26 July v Spain (10:00am local, 11:00am AEST)
Monday 27 July v China (12:15pm local, 1:15pm AEST)
Wednesday 29 July v Japan (6:30pm local, 7:30pm AEST)
Thursday 30 July v New Zealand (9:15pm local, 10:15pm AEST)
Saturday 1 August v Argentina (11:45am local, 12:45pm AEST)

Quarter Finals (Monday 3 August)
Semi Finals (Wednesday 5 August)
Medal Matches (Friday 7 August)

Hockey Australia media release


---

Hockey schedule announced for Tokyo 2020 Olympics




The full schedule has been made for the Tokyo 2020 Olympic Games with Hockey action set to begin on Saturday 25 July.

Danny Kerry's men will be the first of the Great Britain teams to take to the field when they face South Africa on 25 July at 10:30am BST.

Mark Hager's women's side come up against Germany the following day at 1:30am BST, the same opposition that both GB teams will face in the final round of FIH Pro League action in London on the weekend of June 13 and 14 (tickets available HERE).

Following on from four big weekends of home international hockey, Great Britain's teams have collectively been drawn in Olympic pools with five teams they'll face in the FIH Pro League as 2020 looks set to bring a wealth of world class hockey matches. You can see the build up to the Olympics with an FIH Pro League Four day pass or Season ticket which are on sale now, click HERE for more information and to buy tickets.




Full GB Olympic match schedule:

Men's
GB v South Africa – Saturday 25 July – 10:30am BST
GB v Canada – Monday 27 July – 3:45am BST
Germany v GB – Tuesday 28 July – 4:15am BST
Netherlands v GB – Thursday 30 July – 4:15am BST
Belgium v GB – Friday 31 July – 1:15pm BST
Quarter-finals – Sunday 2 August – 1:30am BST, 4am BST, 10:30am BST, 1pm BST
Semi-finals – Tuesday 4 August - 2:30am BST, 11am BST
Bronze medal match – Thursday 6 August – 2:30am BST
Final – Thursday 6 August - 11am BST

Women's
GB v Germany – Sunday 26 July – 1:30am BST
South Africa v GB – Monday 27 July – 10:30am BST
GB v India – Wednesday 29 July – 2am BST
GB v Netherlands – Thursday 30 July - 11am BST
Ireland v GB – Saturday 1 August – 12:45pm BST
Quarter-finals – Monday 3 August – 1:30am BST, 4am BST, 10:30am BST, 1pm BST
Semi-finals – Wednesday 5 August - 2:30am BST, 11am BST
Bronze medal match – Friday 7 August – 2:30am BST
Final – Friday 7 August - 11am BST

Great Britain Hockey media release


---

Indian hockey Olympics full schedule, match timings



The Indian team booked its berth in the Tokyo 2020 Olympics by defeating USA in November.   -  Biswaranjan Rout

Indian women's hockey team will open its Tokyo 2020 Olympics campaign against world no. 1 Netherlands while the world no 5 men's team will face New Zealand in its first match.

According to the match schedule of next year's Olympics released by the International Hockey Federation (FIH), both the Indian teams will open their campaigns on the first day of hockey competitions.

After New Zealand, India will face world number one Australia on July 26, before taking on Spain (July 28), defending champion Argentina (July 30) and hosts Japan (July 31) in Group A.

The women's team, which is also clubbed in Group A, will lock horns with Germany on July 27, before meeting Great Britain (July 29), Ireland (July 31) and South Africa (August 1).

The men's and women's gold medal matches will take place on August 6 and 7 respectively, the FIH said in a statement.

The Indian men's team had qualified for the Tokyo Games after beating Russia 11-3 on aggregate in the Olympic qualifiers held in Bhubaneswar in November.

Ranked ninth in the world, the Indian women's team had qualified for the Tokyo Olympics after beating the United Sates 6-5 on aggregate in the qualifiers at Bhubaneswar.

Indian men's hockey team Olympics schedule (All timings in IST)

Saturday, July 25 - India vs New Zealand - 6.30 am
Sunday, July 26 - India vs Australia -  3 pm
Tuesday, July 28 - India vs Spain -  6.30 am
Thursday, 30 July - India vs Argentina -  6 am
Friday, 31 July - India vs Japan - 3 pm

Sunday, 2 August - Quarterfinals - 6 am, 8.30 am, 3 pm, 5.30 pm
Tuesday, 4 August - Semifinals - 7 am, 3.30 pm
Thursday, 6 August - Bronze medal match (7 am), Final (3.30 pm)

Indian women's hockey team Olympics schedule

Saturday, July 25 - India vs Netherlands - 5.15 pm
Monday, 27 July - India vs Germany - 5.45 pm
Wednesday, 29 July - India vs Great Britain - 6.30 am
Friday, 31 July - India vs Ireland - 8.15 am
Saturday, 1 August - India vs South Africa - 8.45 am

Monday, 3 August - Quarterfinals - 6 am, 8.30 am, 3 pm, 5.30 pm
Wednesday, 5 August - Semifinals - 7 am, 3.30 pm
Friday, 7 August - Bronze medal match (7 am), Final (3.30 pm)

Sportstar


---

Ireland face South Africa in opener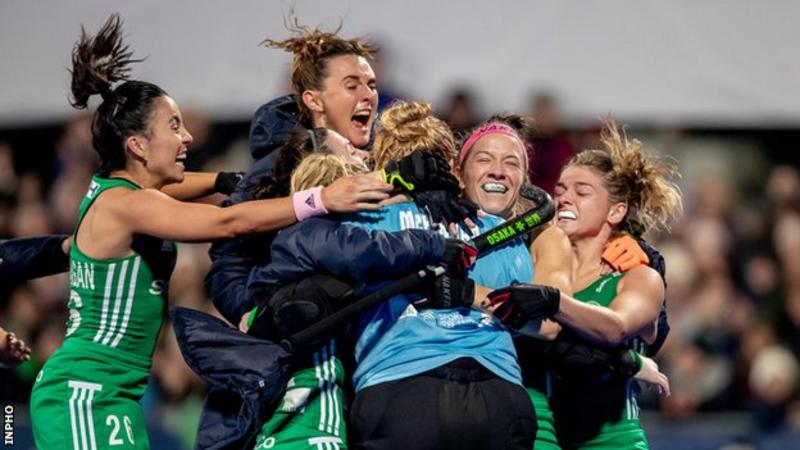 Ireland drew 0-0 with Canada over two legs in Dublin but secured qualification after a dramatic shootout victory

Ireland's women will face South Africa in their opening game of the 2020 Olympics in Tokyo.

The Netherlands, Germany, India and Great Britain also await Ireland in Pool A.

Sean Dancer's side qualified for their first Olympics after beating Canada in a dramatic shootout in November.

Great Britain's men, whose squad is likely to include several Northern Irish players, will also face South Africa in their opening fixture.

In preparation for the Tokyo Games, Ireland head coach Sean Dancer has selected his squad which will travel to South Africa in January for games against the hosts and Germany.

Zoe Wilson misses out through injury while Gillian Pinder and Nicci Daly will not travel with the squad.

Megan Frazer continues her rehabilitation after a long-term injury after sitting out of Ireland's play-off games.

Ireland are currently ranked eighth in the world while South Africa are the lowest-ranked country competing in the Olympics at 16th.

The game will be played on Saturday 25 July at the Oi Hockey Stadium on the first full day of competition at the Games.

Two days later Ireland will face the World and European champions, Netherlands, in a repeat of the 2018 World Cup Final when the Dutch won 6-0.

The remaining games in Pool A see Ireland take on Germany and then India and they'll finish against the defending Olympic gold medal winners Great Britain on Saturday 1st August.

The top 4 teams in each Pool will make the quarter-finals.

Meanwhile Great Britain's men will also begin their campaign against South Africa on the same day as Ireland's women.

The Great Britain squad is expected to include Northern Ireland players David Ames, Ian Sloan and Mark Gleghorne.

The other games in Pool B will be against Canada, Germany, Netherlands and world champions Belgium.

Ireland Women's Tokyo 2020 Olympics fixtures   
Ireland v South Africa    Saturday 25 July
The Netherlands v Ireland     Monday 27 July
Germany v Ireland    Wednesday 29 July
Ireland v India    Friday 31 July
Ireland v Great Britain    Saturday 1 August

BBC Sport


---

Fixtures released for the Tokyo Olympic Games

The International Hockey Federation (FIH) today revealed the match schedule for the Tokyo Olympics 2020 Hockey tournaments, the perfect #GiftofHockey before Christmas. Both the South African Men and the South African Women will be taking part in the Olympic Games and looked on with added excitement.

The opening match will involve the Men's national squads of Japan, the hosts, and the current number one team in the FIH World Rankings, Australia, on 25 July. The first match of the Women's tournament will be played on the same day and sees the Netherlands – who are topping the FIH World Rankings – taking on India.

For Garreth Ewing and the South African Hockey Men will start their campaign on the opening day of the competition with a match against Great Britain, in their fifth Olympic meeting, starting the tournament. The African Champions will then be in action just over 24 hours later against Netherlands.

The South African men are next in action two days later taking on World Cup Champions Belgium on the North Pitch on 28 July. Germany are the next team for Ewing's men on the 30 July before taking on former coach Gregg Clarke's Canada in the final group gam on 31 July.

Should the South African men finish in the top 4 of the group, they will progress to the Quarter-Finals on the 2 August which are followed by the Semi-Finals on the 4th and the Medal matches on the 6th August.

The South African Women kick start their campaign on the 25th as well starting with a tough encounter against World Cup silver medallists Ireland. Two days later Robin van Ginkel's team play the defending champions Great Britain before next up taking on World number 1 Netherlands on the 29th July.

South Africa round up their group stage with Germany on the 31st July before taking on India, who qualified through the Qualifying matches against USA, on the 1 August.

For the Women the Quarter-Finals will take place on Monday 3 August, the semi-finals on 5 August and the medal matches on the 7 August.

The matches will be staged in the brand-new Oi Hockey Stadium, in Japan's capital city.

(Right click and view image for a larger version of the pictures belok


SA Hockey Association media release


---

Stats Speak: Indian Hockey have fair chances for quarter finals in Olympic 2020

 B.G.Joshi (Sehore-Bhopal, India)

The draw for the prestigious quadrennial extravaganza was announced yesterday in Tokyo, Japan.

Indian men have to face Kiwis in early morning of July 25, while Indian eves will play against World Number -1 Netherlands in the afternoon on the same day.

Both Indian teams have good chances to win in last pool matches for quarter final entry.

World Ranked -5 India (men) will have a clear cut picture before last pool match against Japan (WR-15).  Similarly Indian eves (WR-9) will see the equation versus South Africa (WR-16) before their last pool match. Here are statistical highlights of Indian teams  against Olympic competitors:
A: Men

Particulars

Played

Won

Drawn

Lost

GF

GA

India vs. New Zealand, match on July 25,2020; 6:30 am IST

Total

101

55

17

29

231

160

In Olympics

7

4

0

3

13

11

India vs. Australia, match on July 26,2020; 3 pm IST

Total

126

22

20

84

207

387

In Olympics

10

3

2

5

17

22

India vs. Spain, match on July 28,2020; 6:30 am IST

Total

63

27

13

23

122

115

In Olympics

9

6

2

1

20

14

India vs. Argentina, match on July 30,2020; 6 am IST

Total

51

27

04

20

122

95

In Olympics

9

6

2

1

30

12

India vs. Japan, match on July 31,2020; 3 pm IST

Total

85

77

04

04

328

70

In Olympics

3

3

0

0

25

1

B: Women

India vs. Netherlands, match on July 25,2020; 5:15 pm IST

Total

12

1

0

11

10

53

India vs. Germany , match on July 27,2020; 5:45 pm IST

Total

16

2

2

12

16

47

India vs. Great Britain , match on July 29,2020; 6:30 am IST

Total*

35

4

10

21

30

99

In Olympics

1

0

0

1

0

3

India vs. Ireland , match on July 31,2020;8:15 am IST

Total

26

7

4

15

27

42

India vs. South Africa , match on Aug 1,2020; 8:45am IST

Total

36

10

7

19

53

76
Note: India eves never played against NED, GER, IRL and RSA in Olympics.
*includes England
 
Fieldhockey.com


---

Rio gold medal winner Nicola White to leave central programme



Nicola White

Following a lengthy period of concussion and recovery, Rio 2016 gold medallist Nicola White will be leaving the Great Britain Hockey centralised programme.

A key member of the England and Great Britain's women's teams since making her debut in 2009, Nicola has earned a total of 186 caps to date, scoring seventeen times and winning fourteen medals in her international career.

Nicola is also one of a handful of British women to have won two Olympic hockey medals, having scored three goals on the way to gold in Rio – including in the final – after being part of the side that won bronze at London 2012. Her successes also include a dramatic European gold medal for England in 2015 as they beat the Netherlands on a shootout to win in front of a packed Lee Valley Hockey and Tennis Centre.

Unfortunately, Nicola has not been able to play since suffering a concussion in March 2018 during a friendly against Ireland. The past 20 months have been incredibly challenging as Nicola has continued to work through her concussion and associated symptoms. We are hugely appreciative of the extensive and wide-ranging medical expertise from our partners at the English Institute of Sport throughout this time. Nicola's own wider network has been hugely supportive during a very challenging time and we would like to place on record our gratitude for that. Looking forward, the door remains open for Nicola to return in the future.

Ed Barney, Great Britain Hockey's Performance Director, commented: "Everyone at England and Great Britain Hockey has huge admiration for the way in which Nicola has approached the past 20 months. Her concussion has been incredibly tough and she has continued to persevere, fight and do everything within her power to recover. We have done our best to support Nicola and will continue to do what we can over the coming months. We are sad that the time has come to make a decision about her participation in the central programme, but we hope that she'll be back out on a hockey pitch as soon as possible."

Danny Kerry, coach to Nicola for eight years, commented: "I was fortunate to work with Nicola for a long time, and her two Olympic medals, World Cup medal and multiple Commonwealth and European medals are testimony to the playing qualities that she brought to the team. She brought fast hands and an excellent innate understanding of where to position and lead. Nicola was also a real character within the team, a quality which I will always remember. I wish her all the best for her future, and I hope our paths will continue to cross."

Great Britain and England Hockey want to wish Nicola the very best in her continued recovery.

Great Britain Hockey media release


---

Two-time Olympic hockey medallist Nicola White forced to leave GB programme over 20-month head injury ordeal

Fiona Tomas and Tom Morgan



Nicola White made her international debut in 2009 and played a key role in the England and Great Britain women's teams Credit: Jan Kruger/Getty Images

Nicola White, the two-time Olympic hockey medalist, has been forced to leave the Great Britain programme over a 20-month head injury ordeal which followed a freak concussion.

The 31 year-old, who revealed the extent of her debilitating symptoms in a special report on concussion by Telegraph Sport last month, suffered the injury during a Commonwealth warm-up game against Ireland in March 2018.

Her subsequent problems have been so severe that she recently had botox injections across her scalp and forehead in an attempt to rid the post-concussion vestibular migraines she has endured since the injury.

White made her international debut in 2009 and played a key role in England and Great Britain women's teams, earning a combined total of 186 caps throughout a medal-laden career. "I am hugely disappointed by this," she said in statement. "But I am determined to overcome my injury. Throughout this recovery I have done my utmost to try and get back to the level needed for international hockey. However, due to the severity of chronic symptoms and pain, it's not been possible to reach the deadline set for me."

She is part of an exclusive group of British hockey players to have won two Olympic medals, having been part of the team which defeated Holland in a dramatic penalty shootout at the 2016 Rio Olympics four years after Great Britain claimed a bronze in London.

Her successes also include a European gold medal in 2015 when England beat the Dutch to win in front of a packed Lee Valley Hockey and Tennis Centre.

Ed Barney, Great Britain Hockey's performance director, said: "Everyone at England and Great Britain Hockey has huge admiration for the way in which Nicola has approached the past 20 months. Her concussion has been incredibly tough and she has continued to persevere, fight and do everything within her power to recover. We have done our best to support Nicola and will continue to do what we can over the coming months."

Great Britain Hockey said the "door remains open" for White to return.

The Telegraph


---

Nicola White: Olympic champion leaves GB hockey after almost two years of "soul-destroying" concussion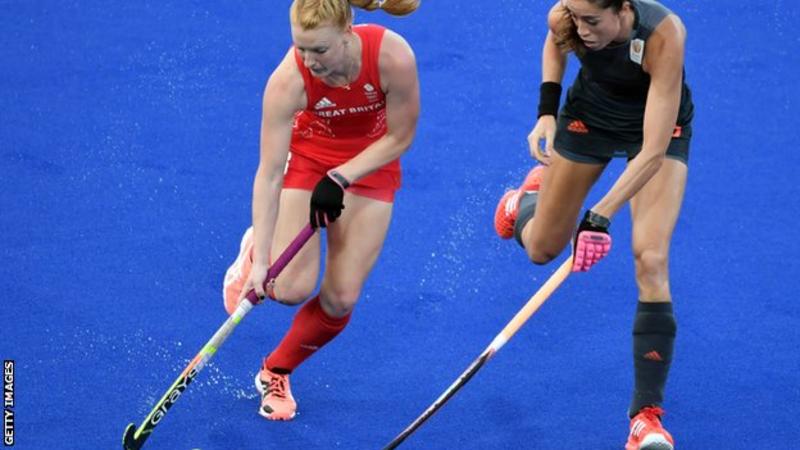 Nicola White won gold with Great Britain at Rio 2016

Olympic champion Nicola White has been removed from the Great Britain hockey programme after 20 months spent recovering from "soul-destroying" concussion.

White sustained the injury when she hit her head on a player's shoulder during a friendly against Ireland in March 2018 and has not played since.

The 31-year-old won gold with GB at Rio 2016 and bronze at London 2012.

"I am hugely disappointed by this," White said.

"But I am determined to overcome my injury. Throughout this recovery I have done my utmost to try and get back to the level needed for international hockey. However, due to the severity of chronic symptoms and pain, it's not been possible to reach the deadline set for me."

Great Britain's women's and men's teams secured places at the 2020 Olympics after qualifying play-off wins in November and White hopes she can return to fitness in time to compete in Tokyo in July.

She made her international debut in 2009 and has earned 186 caps, helping England to European gold in 2015.

A GB hockey statement said "the door remains open" for the forward to return.

"Her concussion has been incredibly tough," said GB hockey's performance director Ed Barney.

"She has continued to persevere, fight and do everything within her power to recover. We are sad that the time has come to make a decision about her participation in the central programme, but we hope that she'll be back out on a hockey pitch as soon as possible."

Fellow Olympic champion Alex Danson is still recovering from a head injury suffered in a freak accident on holiday in 2018, while Shona McCallin was kept away from the sport for 10 months because of concussion, although she missed a further seven months with a knee injury.

BBC Sport


---

Ireland Women's Squad announced for South Africa Tour Jan 2020




Head Coach Sean Dancer has selected the squad which will be travelling to South Africa in January. The squad leaves on the 16th of January with matches against Germany and South Africa arranged during the trip, although exact match dates are yet to be confirmed. The trip will provide the squad with good experience of competing in warmer climates as they prepare for Tokyo later in the year.

1 Ayeisha McFerran GK
2 Emma Buckley GK
3 Roisin Upton Def
4 Nikki Evans Str
5 Kathryn Mullan (Captain) MF / Str
6 Shirley McCay Def
7 Elena Tice Def
8 Emily Beatty Str
9 Beth Barr Def / MF
10 Serena Barr Def
11 Chloe Watkins MF
12 Lizzie Colvin MF
13 Hannah Matthews Def
14 Sarah Hawkshaw MF / Str
15 Anna O'Flanagan (Vice Captain) Str
16 Deirdre Duke Str
17 Ellen Curran MF
18 Elizabeth Murphy GK
19 Hannah McLoughlin Def
20 Sarah Torrans Str

Members of the wider squad who are not travelling will continue training as usual in Ireland.

Irish Hockey Association media release


---

New players added to Scotland women's squad

Scotland women's Head Coach Jen Wilson has announced six new players for the Scotland women's international squad. The squad additions have all stood out over the course of the last year and have earned a call up to the senior Scotland squad.

Ruth Blaikie; Catriona Booth; Georgia Jones; Eve Pearson; Bronwyn Shields and Ellie Wilson have all been called up to the senior squad after an incredible year that saw all six players win gold medals at U21 Women's EuroHockey Championship II in Alanya, Turkey.

The new players are joining a winning team on the back of a tremendous year that saw Scotland women win Women's EuroHockey Championship II in Glasgow. The squad has also won the Team of the Year award at the prestigious Sunday Mail sportscotland Awards; at the Scottish Women in Sport Awards (SWIS) 2019; and at the Scottish Hockey Awards 2019.

Now Scotland women will build towards EuroHockey Championships in 2021 as well as the Hockey Series, so it's a great time for the new recruits to join the Scotland ranks.

Scotland women's Head Coach Jen Wilson said, "I'm delighted to include these players in our squad. It's very exciting to see that we have a very talented group of U21 players coming through the system. These six players made significant contributions in their successful European U21 tournament this year, as well as at national hub sessions or at Scotland Performance Team matches. I look forward to seeing them challenge and compete within the squad in the future."

Players

Ruth Blaikie (AMVJ Dames)
Catriona Booth (Western Wildcats)
Georgia Jones (Edinburgh University)
Eve Pearson (Edinburgh University)
Bronwyn Shields (Clydesdale Western)
Ellie Wilson (Dundee Wanderers)

Scottish Hockey Union media release


---

Vantage Black Sticks Women announce charity partnership with Cure Kids




The Vantage Black Sticks Women are pleased to announce a charity partnership with Cure Kids New Zealand. The team are excited to help Cure Kids in several ways as they aim to create awareness and amplify the work that Cure Kids is doing to improve the health of kiwi kids. The New Zealand Women's Hockey Team play all around the globe, including the upcoming 2020 Olympics. They are looking to use this reach to bring in more awareness and exposure to this incredible charity. 

Cure Kids is New Zealand's largest charitable child health research organisation. Since inception 48 years ago, Cure Kids has funded research into a range of health conditions including childhood cancers, inherited heart conditions, epilepsy and infectious diseases to cystic fibrosis, sudden unexpected death syndrome in infants (SUDI), stillbirth, burns and mental health.

The Vantage Black Sticks Women commented "We are excited to have the opportunity to support this incredible cause. We look forward to working alongside such an inspiring and committed charity. For our team, it is important we use our platform where we can raise awareness and profits for Cure Kids research. We have had the privilege to meet with a few Cure Kids Ambassadors and hear about the obstacles they have faced with their health conditions. It was very inspirational to us to see how courageous and resilient these children are"

Hockey New Zealand CEO Ian Francis said "Creating a charity partnership with such an outstanding group was a priority for our team. The work that Cure Kids does is inspiring, and we are excited to be able to provide support.

Cure Kids CEO Frances Benge commented on the partnership "We are delighted to have The Vantage Black Sticks Women as a new partner and are thrilled to have such inspirational sportswomen help raise awareness and funds for the child health research projects we support."

Hockey New Zealand Media release


---

AH&BC Amsterdam's Wagener Stadium confirmed as venue for historic EHL Men and Women's FINAL8

The new era of the Euro Hockey League will hit full throttle next Easter as Amsterdam's Wagener Stadium has been confirmed as the host for the EHL FINAL8 festival from April 9-13, 2020.

It will be the first ever edition of the EHL Women's competition, running side-by-side, and on an equally amazing basis, to the EHL Men, showcasing the world's best club hockey.

It brings 16 of Europe's elite clubs from seven different countries together at one venue to play 20 knock-out games at the iconic home of AH&BC Amsterdam.

The schedule starts with FINAL8 games on Thursday, 9 April. The event begins with Irish side Pegasus against Spanish champions Club de Campo de Madrid in the first ever EHL Women's game. It will be followed by the EHL Men meeting of Dutch side SV Kampong against Belgium's number ones, Royal Leopold.

The EHL Women's meeting of German giants Club an der Alster against top English side Surbiton before the day closes with 2017 EHL Men winners HC Bloemendaal hoping to have a strong support for their game with England's Surbiton who advanced from October's KO16.

Friday, 10 April has four more FINAL8 games with Mannheimer HC's men facing Spain's Club Egara before a massive women's contest between Germany's UHC Hamburg and the Netherlands' HC 's-Hertogenbosch. A men's German derby follows between HTC Uhlenhorst Mülheim and Rot Weiss Köln. The first phase concludes with home favourites AH&BC Amsterdam's women – European Cup winners in 2019 – facing Belarus side HC Minsk.

Saturday, April 11 and Sunday, April 12 will feature FINAL4 and ranking matches with the weekend's crescendo taking place on Monday, April 13 with the BRONZE MATCHES and the GRAND FINALS.

In addition to EHL Men and EHL Women, AH&BC Amsterdam will also play host the ABN AMRO EHL U14 Boys and Girls tournaments. Both tournaments will pit six of the best Under-14 teams from around Europe against each other in a two-day competition, giving them a taste of the world's best club hockey.

EHF President Marijke Fleuren is thrilled to see the EHL expand in such a dynamic way.

"I am really looking forward to this first edition of a joint EHL Women and Men's FINAL8. I consider it a big milestone in our #EquallyAmazing approach.

"And that is not to speak of the joint ABN AMRO EHL U14 Girls and Boys joining the event! I am sure the atmosphere in AH&BC Amsterdam will be fantastic. Our fans will enjoy every minute!"

EHL Chairman Hans-Erik Tuijt adds it will be a real treat for hockey supporters: "The strong fan base of the EHL will now be able to see 16 of Europe's elite clubs from seven different countries together at one venue to play 20 knock-out games at the iconic home of AH&BC Amsterdam, the Wagener Stadium, creating a truly special atmosphere."

For AH&BC Amsterdam player Sosha Benninga, she says the joint format is a big step forward: "EHL Men has always been highly regarded while the EHCC had no video referral and elements like this so it is great that this will be equalised.

"Having the men and women playing together will ensure even bigger audiences. The public can now also see that it is not only about the men, but also about women."

For Amsterdam board member Eric Schnoeckel, he is thrilled to act as host: "It is a special edition of the EHL, having the women taking part in this tournament for the first time under the #EquallyAmazing motto.

"The facilities for ladies and gentlemen are now the same. Among other things, the prize money is equalised and the ladies can have a video referee for the first time. The decision of the EHF to grant the first version in the new format to one of the best placed ladies teams fits in perfectly with this idea.

"We are proud that our Ladies 1 are the first to participate in this tournament."

Tickets are now on sale for the EHL FINAL8. Adult day tickets for Thursday, 9 April and Friday 10 April are €20 online with youth tickets €12.50; Saturday, 11 April and Sunday, 12 April are €30 with youth entry at €17.50. Finals day tickets on Monday, 13 April are €35 for adults and youths are €20.

An adult Passepartout which offers entry for each day is €110 with a youth Passepartout €65. All prices include an €0.80 service cost and VAT.

EHL 2019-2020 Match schedule EHL Men and Women Final8
9-13 April 2020 at Wagener Stadium, Amsterdam (NED)

Thursday 9 April 2020 

M1       12.30h              pitch 1  FINAL8-1           (Women M1)    Pegasus HC – Club de Campo de Madrid
M2       14.45h              pitch 1  FINAL8-1           (Men M1)         SV Kampong – Royal Leopold Club
M3       17.00h              pitch 1  FINAL8-2           (Women M2)    Der Club an der Alster – Surbiton HC
M4       19.15h              pitch 1  FINAL8-2           (Men M2)         HC Bloemendaal – Surbiton HC

Friday 10 April 2020    

M5       12.30h              pitch 1  FINAL8-3           (Men M3)         Mannheimer HC – Club Egara
M6       14.45h              pitch 1  FINAL8-3           (Women M3)    UHC Hamburg – HC 's-Hertogenbosch
M7       17.00h              pitch 1  FINAL8-4           (Men M4)         HTC Uhlenhorst Mülheim – Rot-Weiss Köln
M8       19.15h              pitch 1  FINAL8-4           (Women M4)    AH&BC Amsterdam – HC Minsk

Saturday 11 April 2020

M9       09.30h              pitch 1 Ranking match  (Women M5)    5th/7th place      Loser FINAL8-2-Loser FINAL8-1
M10     11.45h              pitch 1 Ranking match  (Men M5)         5th/7th place      Loser FINAL8-2-Loser FINAL8-1
M11     14.00h              pitch 1  FINAL4 1                       (Women M6)    Winner FINAL8-2- Winner FINAL8-1
M12     16.15h              pitch 1  FINAL4 1                       (Men M6)         Winner FINAL8-2- Winner FINAL8-1

Sunday 12 April 2020  

M13     09.30h              pitch 1 Ranking match  (Women M7)    5th/7th place      Loser FINAL8-4-Loser FINAL8-3
M14     11.45h              pitch 1 FINAL4 2                       (Women M8)    Winner FINAL8-4- Winner FINAL8-3
M15     14.00h              pitch 1  FINAL4 2                       (Men M7)         Winner FINAL8-4- Winner FINAL8-3
M16     16.15h              pitch 1  Ranking match  (Men M8)         5th/7th place      Loser FINAL8-4-Loser FINAL8-3

Monday 13 April 2020 

M17     09.30h              pitch 1  3rd/4th Place      (Women M9)    Loser FINAL4 2 – Loser FINAL4 1
M18     11.45h              pitch 1  3rd/4th Place      (Men M9)         Loser FINAL4 2 – Loser FINAL4 1
M19     14.00h              pitch 1  Final                 (Women M10)  Winner FINAL4 2 – Winner FINAL4 1
M20     16.15h              pitch 1  Final                 (Men M10)       Winner FINAL4 2 – Winner FINAL4 1

Note: Match times and schedule subject to change due to the requirements of television or other factors as determined by EHL.

For further information:
Twitter:@ehlhockeytv
Facebook:Euro Hockey League
Instagram: ehlhockeytv
Hashtags: #EHLFINAL8 #equallyamazing

Euro Hockey League media release