All the news for Thursday 5 December 2019

2019 Test matches ARG vs GER (W) - 2nd Test
Buenos Aires (ARG)

4 Dec 2019      ARG v GER     1 - 1

FIH Match Centre


---

2019 Test matches RSA v IRL Indoor (W) - 1st Test
Durban

4 Dec 2019     RSA v IRL     2 - 1

FIH Match Centre


---

Brown relishing chance to lead Ireland indoors



Chloe Brown in indoor action for Ards.

CHLOE Brown's international career has been a largely frustrating affair until now, writes John Flack, but she can hardly contain her excitement at co-captaining the national indoor team which will be playing six games against South Africa over the next six days.

The former Ards striker agonisingly missed out on a host of major tournaments at outdoor level, including last year's World Cup, having been in the frame until late on.

Indeed, of her 58 caps, a staggering 51 have come in non-competitive matches, the only exception being the low-key European second division series in Prague in 2015 and a couple of games in the penultimate stage of Olympic qualifying in Banbridge in June.

She decided to step away from the Ireland outdoor set-up after initially being named as a reserve for the Havelock Park event, only to be called up as an injury replacement for Megan Frazer.

Now though, the 25-year-old has a new lease of life, as Ireland warm up for the European indoor championship in Bratislava next month with the South Africa series which begins in Durban this evening (4pm, Irish time).

Now in her second season with East Grinstead, Brown has found her niche and last season helped the club lift the English indoor title.

Ireland are back in international competition after 29 years in the wilderness as far as the six-a-side version of the sport is concerned, much to the delight of Brown, one of six Ulster women in the 12-strong squad which arrived in South Africa yesterday.

She is joined by former Ards team mates Caroline Adams and Amy Benson, along with Queen's trio Jessica McMaster, Erin Getty and Tori Hastings.

Brown said: "I'm really looking forward to the South Africa series which will be a brilliant experience in front of an amazing crowds.""Being ask to co-captain the squad is honour and I'm really looking forward to the challenges ahead.

"Especially around this time of year, I love coming inside and focusing on the indoor game. This will be a brilliant experience for my East Grinstead campaign as we have our league in January were we are aiming to reach the Super Sixes finals and Europeans.

"After last year's title success,we have qualified for A Division Europeans in the hockey capital of the world, The Hague.

"It is exciting to see that more and more people are taking up indoor and the youth programmes in place will only lift the profile in a positive manner.

"The South Africa trip has come at a really good time as it will be a massive opportunity to gel as a group and learn the game in a more in-depth way.

"The Europeans will be exciting but challenging as well as it's been nearly three decades since Ireland entered a team but we're really excited about the tournament."

** All the matches in Durban are being streamed LIVE on the following Facebook page: https://www.facebook.com/MCLMyYouthHockey/

December 4: South Africa vs Ireland, 4pm, Danville GNS
December 5: South Africa vs Ireland, 4pm, Danville GNS
December 7: South Africa vs Ireland, 5pm, Cape Town Velodrome
December 8: South Africa vs Ireland, 5pm, Cape Town Velodrome
December 10: South Africa vs Ireland, 8.20am, Cape Town Velodrome
December 10: South Africa vs Ireland, 7pm, Cape Town Velodrome

The Hook


---

SEA Games 2019 (Men) - Day 1
Laguna (PHI)

4 Dec 2019     THA v MYA (RR)     4 - 1 (2 - 0)
4 Dec 2019     SGP v PHI (RR)     4 - 1 (3 - 0)

FIH Match Centre


---

SEA Games 2019 (Women) - Day 1
Laguna (PHI)

4 Dec 2019      CAM v SGP (RR)     3 - 3 (1 - 2)
4 Dec 2019     MAS v PHI (RR)     15 - 0 (6 - 0)

FIH Match Centre


---

3 Nations Invitational Tournament - Canberra (AUS) - Day 3
Under 21 Women.s Outdoor

5 Dec 2019     IND v AUS (RR)     1 - 1

Pool standings
| Rank | Team | Played | Wins | Draws | Losses | Goals For | Goals Against | Goal Difference | Points |
| --- | --- | --- | --- | --- | --- | --- | --- | --- | --- |
| 1 | India | 2 | 1 | 1 | 0 | 3 | 1 | 2 | 4 |
| 2 | New Zealand | 2 | 1 | 0 | 1 | 3 | 3 | 0 | 3 |
| 3 | Australia | 2 | 0 | 1 | 1 | 2 | 4 | -2 | 1 |
---

India stun New Zealand at U21 series




The New Zealand U21 side was looking to back up their impressive first outing against Australia when they met India in their second match of the Tri-Series in Canberra. India used a late first-quarter goal to be the difference-maker in the match as they would go onto take the contest 2-0 to leave all three sides on one win after the first round of matches.

The New Zealand side was slow out of the blocks and it was India who found themselves in the lead heading into the first quarter break 1-0. New Zealand turned the ball over deep in India territory, the Indian side then capitalised on this as they would break down the other end of the field and pass the ball around the New Zealand goalkeeper to put themselves in the lead.

New Zealand would then regain their composure as they would construct several more scoring opportunities throughout the contest including several penalty corners. The Indian goalkeeper Bichu Kharibam was proving to be a difference-maker in the contest as she stifled several of the Kiwis scoring opportunities.

As the contest wore on the Kiwis continued to press, against the run of play India earned themselves a penalty corner where the ball would trickle over the goal line in the final minute of play to seal the win for India.

New Zealand will now have a rest day before they return to the turf on Friday against Australia.

New Zealand U21 Women's Coach Katie Glynn reflected on the tough match against India "The second game provided a tough challenge for the group. A little bit of a slow start with some basic errors had the team on the back foot against a fast and skilful Indian attack who converted at the end of the first quarter. After settling at half time we came out and controlled the second half well, creating some good goal scoring opportunities but were unable to convert. The final quarter had the girls throwing everything forward trying to find that equalizer only to concede again in the dying seconds of the game. Some great learnings for the team coming up against a style of play they were not used to. A rest day today will provide some good recovery time before coming up against Australia again tomorrow".

New Zealand 0
India 2 (Lalrindiki 15 min, Prabhleen Kaur 60 min)

Hockey New Zealand Media release


---

Winning start for India junior women

The Indian junior women's team starts its campaign with a 2-0 win over New Zealand.

The Indian junior women's hockey team began its sojourn in the Three-Nation tournament on a winning note, defeating New Zealand 2-0 here on Wednesday. Striker Lalrindiki and midfielder Prabhleen Kaur scored the goals for India.

India was aggressive right from the start. Thanks to its dominance in the opening quarter, it won an early penalty corner in the third minute but it failed to utilise the chance. A defensive lapse from New Zealand then handed India a golden opportunity at the stroke of the quarter break and Lalrindiki found herself with enough space in front of the goal to slot the ball home in the 15 minute.

New Zealand had a chance to equalise early in the second quarter from a penalty corner, but Indian goalkeeper Bichu Devi Kharibam made a good save. The two teams battled for possession in the middle of the park but neither could create any clear chances, meaning India retained its one-goal advantage at the half-time break.

Exciting chances

The third quarter was filled with some exciting chances for both sides. First, the Indian team was awarded with two penalty corners at the start of the period. But India couldn't extend its lead; there was a shot off-target and a brilliant save from New Zealand goalkeeper Kelly Carline.

New Zealand also won a penalty corner at the end of the third quarter, but India's defensive line stood firm.

In the fourth quarter, New Zealand desperately searched for the equaliser. Some close moments in the last 15 minutes saw India defend well against one more penalty corner in the 48th minute.

With 30 seconds remaining on the clock, India was awarded yet another penalty corner and this time Prabhleen made no mistake, slotting the ball home to secure the win.

India will play host Australia in its second match on Thursday.

Sportstar


---

'We think we can beat any team in the world': Spain captain Miguel Delas




The FIH Hockey Pro League second season gets underway in January 2020 after a hugely successful first edition. We caught up with the coaches and players from the participating teams as they prepare for the new look FIH Hockey Pro League season to get underway. In the following interview, Spain men's captain Miguel Delas talks about the forthcoming season and what the FIH Hockey Pro League means to him and the team.

Spain (FIH World Ranking: 8) finished the 2019 FIH Hockey Pro League season in seventh position. Their 2020 campaign starts with a home fixture against Germany (WR:6) on 24 January 2020.

What did Spain learn from the first season of the FIH Hockey Pro League?
Miguel Delas: "Our first season in the FIH Hockey Pro League was really good. I think it was an experience and [we] looked forward to playing against really good teams both away and at home, which was really good for us. The matches that we played were often a really good experience, especially looking forward with our focus on the European Cup [where Spain finished as silver medallists]. We also built up a really good ambiance with our team-mates, because playing away with the long trips makes the team really [close]."

What are your thoughts about the 2020 Edition of the FIH Hockey Pro League?
Miguel Delas: "This season, 2020, the main goal is the Olympics [Tokyo 2020], and the FIH Hockey Pro League really is good preparation [for that]. Every player prefers to play matches rather than training, so for us it is really good. I think we are going to take a lot of positive things from playing at home and also away. I think that when we play at home, either in Valencia or Madrid, the feeling of all the players is really good because we have fun in front of an amazing crowd. It is emotional to play at home but also away, so the main goal is to prepare ourselves to be a good team to play the Olympics."

What was your favourite moment of the first season?
Miguel Delas: "The best moment of last season, in my case, because I was injured and I spent almost four months away, was when I had the chance to play at home against Germany [Spain claimed a 4-3 shoot-out win after regular time finished 4-4]. It was a thrilling match, full of tension and chances to score for both sides. For me personally, it was one of the best moments. But also, I can remember many comebacks from Spain, with all the crowd supporting us. Both moments were really good. For next season, hopefully this repeats. Hopefully we keep on going and Spain [competes with] every single team, because we think we can beat any team in the world, but of course we have to be in our best moment."

What message have you got for the fans to get them along to watch the matches in the second season?
Miguel Delas: "Please make sure you follow us and come to support Spain in the FIH Hockey Pro League! You know we are a really passionate team and we are able to do everything that we want, and hopefully you guys will enjoy who we are playing because this competition is really good." 

#FIHProLeague
#HockeyInvites

Official FIH Pro League Site


---

Team USA continue along the learning curve




The FIH Hockey Pro League second season gets underway in January 2020 after a hugely successful first edition. We caught up with the coaches and players from the participating teams as they prepare for the new look FIH Hockey Pro League season to get underway. In the following interview, USA women's captain Kat Sharkey, talks about the forthcoming season and what the Hockey Pro League means to her and the team.

USA (FIH World ranking: 13) finished the 2019 FIH Hockey Pro League season in ninth position. Their 2020 campaign starts with a home fixture against Netherlands (WR:1) on 25 January 2020

What did the side learn from the first season of the FIH Hockey Pro League?
Kathleen Sharkey: I think from the last Hockey Pro League season we learnt a lot about game management. Our team was very young and inexperienced and we ended up losing a lot of games in the fourth quarter. So I think taking those lessons and applying them to the this season is our goal and that will give us more good results in the Hockey Pro League.

What are the team's ambitions for this second season?
Kathleen Sharkey: I think our ambitions for this second edition of the Hockey Pro League is to play to our potential in every game. Maximising what we learn in training and applying it to the games. With the new format as well, being able to match the  effort of the first game in the second game and we need to make any necessary changes and apply them [in the second game].

What are your thoughts on the new FIH Hockey Pro League format that will be introduced in the second season?
Kathleen Sharkey: I think the new format will be very different to last year. Last year we played one team and then we didn't see them again for a few weeks. So this format of playing teams back-to-back or at least 24 hours apart will force us to look critically at the first game and implement changes very quickly. That is more realistic to how it is at an international tournament, so it will be a good experience for us.

Which fixture are you most looking forward to?
Kathleen Sharkey: I think we are most looking forward to our away game in Argentina. It is a great hockey atmosphere down there. They have lively, energetic crowds and it is a fun environment to play in and, of course, they are a very challenging team, so we are looking forward to that one.

What was your #MyProLeaguemoment from the first season?
Kathleen Sharkey: My Pro League moment from the previous season has to be the home game against China. We had a great win against a really challenging opponent in front of a home crowd. That was definitely my favourite moment from last season.

What message have you got for the fans to get them along to watch the matches in the second season?
Kathleen Sharkey: I invite all the fans to come out and catch as many Hockey Pro League games as you can. It will be great hockey and a great atmosphere and I'm sure you'll enjoy it.

#FIHProLeague
#HockeyInvites

Official FIH Pro League Site


---

New German coach Al Saadi named large panel ahead of busy 2020




New German coach Kais al Saadi has named a large 42-player squad to come together for central training in Mannheim as he looks to assess his options ahead of a busy year of Pro League and Olympic commitments.

It features a wealth of players who will potentially line out in the Euro Hockey League next Easter.

From Rot-Weiss Koln, Victor Aly, Jonas Gomoll, Christopher Ruhr, Mats Grambusch, Johannes Grosse, Timur Oruz, Tom Grambusch and Thies Ole Prinz are all involved.

Uhlenhorst Mulheim's Lukas Windfeder, Niklas Bosserhoff Benedikt Furk, Malte Hellwig, Timm Herzbruch and Jan Schiffer form part of the camp along with Mannheimer HC's Teo Hinrichs, Linus Muller, Justus Wiegand, Raphael Hartkopf, Dan Nguyen as does HC Bloemendaal's Florian Fuchs.

"All in all, I was impressed by the dedication and emphasis that the participants in the course have made to their claims," al Saadi – an EHL winner with UHC Hamburg – said of the selection.

" The team dynamics as well as the extremely high willingness to cooperate are extremely positive. Of course, there are players I can trust to play a big role in Tokyo. These are in the prospective squad.

"Among the players who have now dropped out are some experienced internationals, and I know that the situation is tough for them. However, I have chosen others for their positions.

Another panel will be a training course in Valencia, Spain, in January, culminating in their Pro League fixtures against Spain on January 24 and 25.

Euro Hockey League media release


---

Future bright for Hockeyroos with announcement of Women's National Development Squad

Nic Kerber



Nicola Hammond of HC Melbourne is a new addition the squad

The Hockeyroos continuation as a force in world hockey is looking bright following the announcement of the Women's National Development Squad (NDS) for 2020.

An 18-athlete squad has been finalised by the selection panel, ten of which come from the Hockey Club Melbourne and Brisbane Blaze squads that reached the Sultana Bran Hockey One League Grand Final.

Queensland quartet Hannah Astbury, Morgan Gallagher, Meg Pearce and Britt Wilkinson, Victorian Nicola Hammond and Perth based Shanea Tonkin are all new additions to the NDS, with a significant factor in their selection being impressive performances in the Sultana Bran Hockey One League.

The Women's NDS consist of athletes on the fringe of selection for the Hockeyroos squad and are viewed to be in contention to represent Australia at the 2022 Commonwealth Games, 2022 World Cup and 2024 Paris Olympics.

Hockeyroos Head Coach Paul Gaudoin is pleased with the calibre of athletes named in the NDS and believes it is an encouraging sign for the years ahead.

"These athletes have all proven they have talent and something special to bring to the national setup," said Gaudoin.

"This squad is about post Tokyo 2020 and being ready for opportunities to perform in Visitor Athlete Agreements (VAA) and next year's Sultana Bran Hockey One season before the next senior squad is selected."

"Importantly, for the NDS we are not only looking for athletes who are capable of performing and competing at the highest level, but who also have the right attitude and are fully committed to the cause of keeping the Hockeyroos at the peak of women's hockey."

"I congratulate all of the players who have been selected and urge them to keep training hard and improving because they all have bright futures in the game and you never know when the opportunity will present itself."

As part of the NDS, athletes will continue to train in their home daily training environment with their National Training Centre (NTC) programs, under the guidance of the national program coaches.

In addition, these athletes may be invited to train with the senior Hockeyroos squad as part of a Visitor Athlete Agreement and be involved in training and match environments that are above their current level of competition.

2020 Women's National Development Squad
Name, State, Hockey One Team
Hannah Astbury (gk), QLD, Brisbane Blaze
Kristina Bates, VIC, HC Melbourne
Roos Broek, WA, Perth Thundersticks
Ashlea Fey, QLD, Brisbane Blaze
Savannah Fitzpatrick, QLD, Brisbane Blaze
Morgan Gallagher, QLD, Brisbane Blaze
Rebecca Greiner, QLD, Brisbane Blaze
Nicola Hammond, VIC, HC Melbourne
Hayley Padget VIC, HC Melbourne
Candyce Peacock, WA, Perth Thundersticks
Meg Pearce, QLD, Brisbane Blaze
Aleisha Power (gk), WA, Perth Thundersticks
Michaela Spano, SA, Adelaide Fire
Penny Squibb, WA, Perth Thundersticks
Tina Taseska, ACT, Canberra Chill
Shanea Tonkin, WA, Perth Thundersticks
Britt Wilkinson, QLD, Brisbane Blaze
Abigail Wilson, NSW, NSW Pride

Hockey Australia media release


---

VR Raghunath: From defender to drag flicker

How VR Raghunath's tenacity made him an Indian hockey legend. The drag flick expert found himself out of favour but made his way back.

By Saurabh Shankar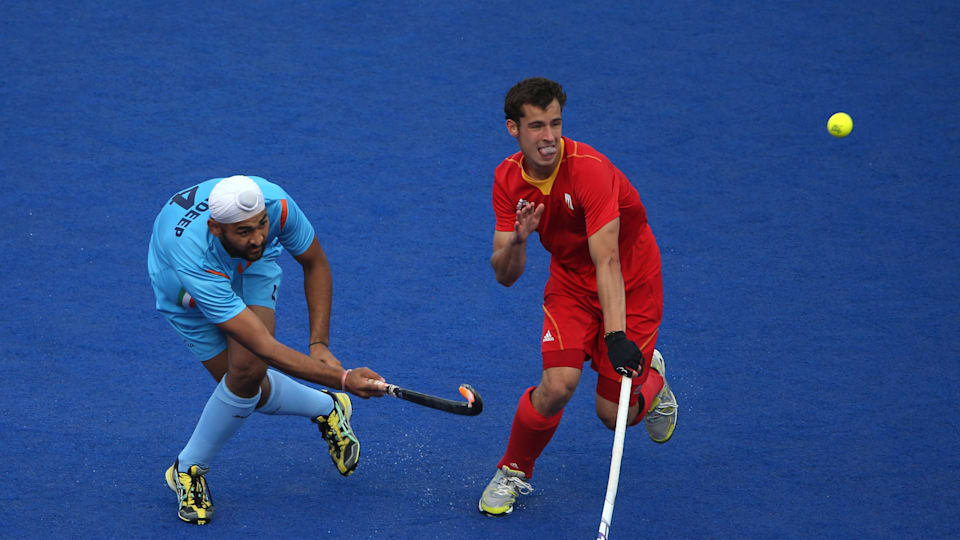 VR Raghunath made his Indian debut in 2005 due to an injury to Sandeep Singh (left)

Vokkaliga Ramachandra Raghunath, better known as VR Raghunath, was born in the small village of Hathur in Karnataka's Kodagu district in 1988.

Right from when he was nine years old, Raghunath was inclined towards a career in sport with his father VS Ramachandra — a former India hockey player — being a strong influence on him in his early years.

As a youngster, he was an avid basketball as well as a hockey player; and played both at school level. However, the love for hockey slightly overpowered his craze for badminton, and right from a young age, he harboured aspirations of one day winning medals for India.

In 2003, Raghunath gave a trial at the Sports Authority of India in Bengaluru, and was subsequently picked to be part of India's sub-junior team for the 2003 Asia Cup. The youngster made his mark as a defender in that competition and helped his side to the title.

A couple of years later, VR Raghunath made the step up to the senior India hockey team, when he was flown in as a last-minute replacement for Sandeep Singh for a bilateral series against Pakistan. He was only 17 years old at that time and was given limited game time by the Indian coach.

To bolster his chances of forging a starting berth in the India hockey team, a young Raghunath worked on his drag flicking abilities to help contribute to his side's attack as well.

"I observed that India hadn't had many quality drag flickers. It is one important skill required in the team to convert close games to wins. I thought that I had the build for it, and I put in extra hours under the sun, training for it," said Raghunath.

Raghunath was then picked in the India hockey team for the 2008 Sultan Azlan Shah Cup and he proved solid in defence in that competition, helping his side claim a silver medal. Despite his best efforts though, the youngster faced stiff competition among the Indian defence, with established Indian hockey players like Sandeep Singh, Jugraj Singh and Ignace Tirkey competing for the same position.

Raghunath's spell on sidelines

The first few months of 2010 were some of the most challenging times for Raghunath, as he was dropped from the India hockey team just days before the FIH men's Hockey World Cup which was to be played on home soil. He had gained a lot of weight and that was beginning to affect his fitness. Raghunath missed the 2010 Commonwealth Games as well — another tournament played on home turf where India bagged the silver medal.

The defender, though, never let his confidence drop despite the ouster and showed great resilience and dedication towards the game in a bid to make a comeback to the India hockey team. Raghunath performed brilliantly in the Indian domestic circuit, excelling in the subsequent Bhopal Senior Trials.

Within a year, the muscular defender was back in the Indian setup and had become a mainstay of the team at the 2012 London Games. The appointment of new Australian coach Michael Nobbs and physio David John also played a big role in Raghunath's comeback to the squad and also helped the India hockey team get better results.

The India hockey team, however, struggled at the 2012 Olympics, finishing bottom of their group after conceding 18 goals in that competition. The men's hockey team also struggled in the 2012-13 FIH Pro League, finishing the competition in sixth place.

VR Raghunath rises up the ranks

With a string of poor performances, India were expected to struggle at the 2013 Asia Cup, with many top sides like Malaysia, Pakistan and South Korea also participating in the tournament.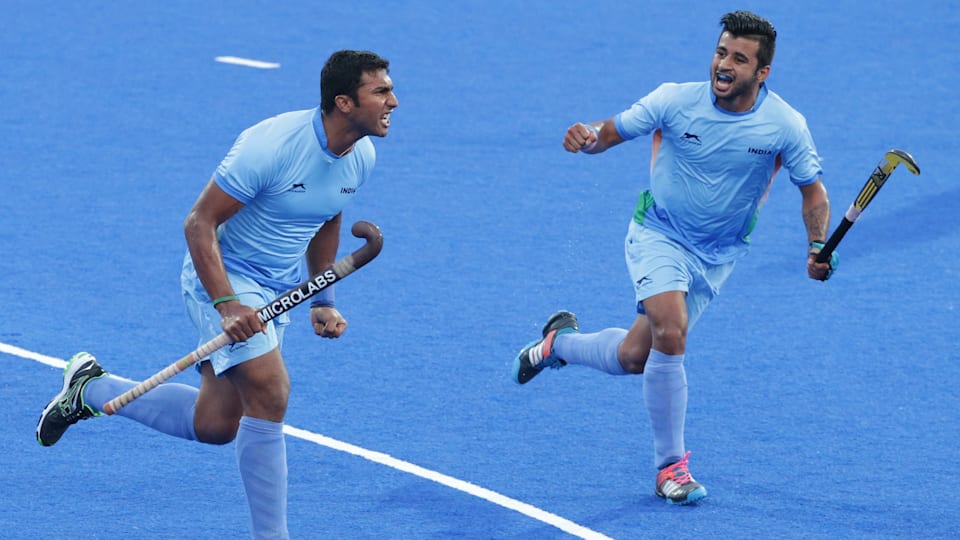 VR Raghunath was player of the tournament in the 2013 Asia Cup

However, that competition turned out to be a revelation for the team and for VR Raghunath. The defender showed his drag-flicking prowess, scoring six goals as India cruised into the final. They, however, lost a closely-contested final against South Korea 4-3 but VR Raghunath forever immortalized his stature in the India hockey scene at that 2013 Asia Cup, as he was awarded the 'player of the tournament' title.

VR Raghunath continued to be a vital cog of the India hockey setup and was part of the roster when India won a silver medal at the 2014 Commonwealth Games held in Glasgow and also played in the 2016 Rio Games.

For his efforts and contributions to Indian sport, the defender was conferred the prestigious Arjuna Award in 2016, alongside Indian women's hockey player Ritu Rani.

VR Raghunath's retirement came in 2017 ending a career that produced 132 goals in 228 appearances, several international honours and medals, and leaving the Indian defence in the stable hands of Birendra Lakra, Harmanpreet Singh and Rupinder Pal Singh. Post-retirement, Raghunath has taken on the role of vice-president of the Karnataka Hockey Association.

His never say die attitude and undeterred determination helped him immortalise his stature in the India hockey camp. His story, undoubtedly, will inspire the next generation of athletes and Indian hockey players.

Olympic Channel


---

Andrew nets SA hockey selection

Andrew Fenske is one of three KZN players, which includes Bruce Grant and Cameron Dunstan-Smith, who have been named in the SA squad.

Shiraz Habbib



Durban North resident, Andrew Fenske, was recently selected for the SA squad for the World Masters Hockey (WMH) World Cup which takes place in the UK in August next year.

IT was a dream come true for Durban North resident, Andrew Fenske, who was recently selected for the South African squad for next year's World Masters Hockey (WMH) World Cup in Nottingham in the UK. Fenske, who is a member of the Northwood Crusaders Hockey Club is also the head of hockey and first team coach at Northlands Girls' High School.

The masters squad, which encompasses the 35-40 age group, will see 14 nations vie for the coveted world cup trophy.

"I'm excited and overwhelmed that I was selected for the squad. Being able to be part of the squad with some super talented players is a reward in itself. I'm lucky to be supported by so many people who believe in me which has made a big difference as well," he explained.

Fenske is one of three KZN players, which includes Bruce grant and Cameron Dunstan-Smith, who have been named in the squad.

The SA team recently played in the African Invitational Series which saw the them take on the SA over 40s and two invitational teams in the mother city.

"I think we are medal contenders for the world cup next year. The squad is blessed with an abundance of talent and skill. Personally I've set myself the goal of keeping fit and making the final cut, when the squad of 20 will be whittled down to the team. And then my other goal is to win a world cup medal, that would be incredibly special," he said.

Besides playing for the Crusaders hockey club, Fenske also coaches the women's first team with Michael Baker.

"I think KZN's hockey credentials are really showing and the talent within each club is unreal. It is one of the fastest growing sports here and I've seen playing for the Crusaders team, who went up in the ranks. You also see it in other clubs too with the various inter-club tournaments," he said.

Fenske is now training hard for the next SA camp at the end of February.

Northglen News


---

New Scottish National league 1 indoor season to get underway




The indoor season is now in the offing and both Western Wildcats (men) and Dundee Wanderers (women) have the challenge to hold on to the titles they won last year.

Western Wildcats got their claws into the men`s indoor National League title last year for the first time in the club`s history, but if the rest think it was simply a flash in the pan, perhaps they had better listen to coach Vishal Marwaha. Marwaha said with confidence:

"Yes, I do believe we can retain the title. The squad has a couple of changes but is broadly similar to last season. We do have a very young squad but having won the title last year they should go into this season with confidence."

Western Wildcats start the defence of their crown with a three match session at Bell`s Sports Centre in Perth on Saturday, they open against Uddingston, then a big one against Grove Menzieshill, before Dunfermline Carnegie provide the stern opposition in the final game of the day.

Marwaha`s approach is simple, but deadly: "We want to win every game we play and therefore nine points is the target. However we do appreciate that teams will want to beat us as current champions, so all games will be tough."

However, the Wildcats` coach added, "The format of the league also allows for us to try some different tactics at this point of the competition. This will be important for us in trying to prepare for the latter stages and Europe in particular."

Last season Grove Menzieshill and Inverleith were perhaps favourites to battle out the indoor title as they had done for the previous decade, it was the Wildcats who got their paws on the silverware after seeing off the Taysiders in the final.

But it took a penalty shoot-out to decide the issue after Wildcats and Grove Menzieshill finished normal time tied at three each. Albert Rowling, Jamie Golden and Gavin Tomlinson scored for the Dundonians, the Wildcats replies all come from Andrew McConnell. And it was McConnell who got the winning strike in the shoot-out to take the title back to Auchenhowie.

So, who are the chasing pack for the Wildcats` crown? Chief among them must be the 2017 champions Grove Menzieshill who have a long tradition of indoor success, both in Scotland and Europe.

The Hill have been the senior partner in the indoor Tayside monopoly which has been the feature of the last three decades, but that was finally broken by the rise of Inverleith who won five titles between 2011 and 2018.

Also in the mix should be last season`s other semi-finalists Inverleith and Grange while it is anticipated that both Dundee Wanderers and Clydesdale along with Dunfermline and Uddingston may push the favourites on occasions – but it is difficult to predict without any up to date form to go on.

In the women`s competition, the challenge is to beat champions Dundee Wanderers – after all they have won the title eight out of the last ten years.

Wanderers open Sunday`s action with Grange as the opposition, then later in the programme Watsonians are the opposition.

Tayside coach Iain Strachan confirmed that his squad is mainly the same as last season, although their GB EDP players might be missing at various dates.

On this season`s prospects, Strachan maintained:  "I am confident we can win the league. There`s always problems and some luck is needed along the way. Injuries can play a part and the format makes it particularly challenging.

"We can win every game, then a team who has lost a couple of games along the way can snatch it away on the final day.

"We will be aiming to retain our title, we have a good group and if it all goes to plan, I think we will triumph."

On the Wanderers` squad, Strachan said: "Our real strength is that we have been together for a long time, and we know what we are trying to do as a group when teams present new problems to us."

So who are the teams likely to present problems? Well Watsonians might do just that on Sunday, they finished in fourth place last year.

In addition, the Edinburgh side were only a whisker away from the final, they drew 2-2 with Clydesdale Western at the penultimate stage and only went out on a penalty shoot-out.

Over the years Grove Menzieshill and Clydesdale have provided the champions with the sternest test… and the expectation is that both clubs will be on form once again.

The latter were last year`s finalists, but went down 7-2 to the Taysiders. That day, Charlotte Watson scored a hat-trick while Ruth Blaikie, Emily Dark, Ellie Wilson and Heather Elder picked up the others.

Edinburgh University have made their mark at times over the last few seasons while the other sides include Grange, Inverleith and Hillhead – who knows there might be a surprise packed lurking in there.

Scottish Hockey Union media release