All the news for Monday 4 November 2019

FIH Hockey Olympic Qualifiers 2019 (Men) - 3 Nov 2019
1 Nov 2019 20:00     IND v RUS (GMT +5:30) 4 - 2 

2 Nov 2019 15:00     NZL v KOR (GMT +13) 3 - 2
2 Nov 2019 20:00     IND v RUS (GMT +5:30) 7 - 1 India qualify for Toko 2020
2 Nov 2019 16:30     GBR v MAS (GMT +1) 4 - 1 
2 Nov 2019 18:30     GER v AUT (GMT +1) 5 - 0

3 Nov 2019 15:00     NZL v KOR (GMT +13) 3 - 0 New Zealand qualify for Tokyo 2020
3 Nov 2019 15:00     GBR v MAS (GMT +1) 5 - 2 Great Britain qualify for Tokyo 2020
3 Nov 2019 16:30     GER v AUT (GMT +1) 5 - 3 Germany qualify for Tokyo 2020

Match replays on https://FIH.live (may be geoblocked) and other broadcast partners

FIH Match Centre

---
1 Nov 2019 18:00     IND v USA (GMT +5:30) 5 - 1

2 Nov 2019 18:00     IND v USA (GMT +5:30) 4 - 1 India qualify for Tokyo 2020
2 Nov 2019 14:00     GBR v CHI (GMT) 3 - 0
2 Nov 2019 16:00     GER v ITA  (GMT+1) 2 - 0
2 Nov 2019 19:00     IRL v CAN (GMT) 0 - 0

3 Nov 2019 12:00     GBR v CHI (GMT) 2 - 1 Great Britain qualify for Tokyo 2020
3 Nov 2019 14:00     GER v ITA (GMT +1) 7 - 0 Germany qualify for Tokyo 2020
3 Nov 2019 19:10     IRL v CAN (GMT) 0 - 0 (S/O 4/6 - 3/6) Ireland qualify for Tokyo 2020

Live streaming on https://FIH.live (may be geoblocked) and other broadcast partners

FIH Match Centre
---

Last six tickets to Tokyo 2020 secured on final day of FIH Hockey Olympic qualifiers



Ireland women qualified for the Olympic Games for the first time in their history. Photo Copyright: Luke Duffy / Hockey Ireland

The sixth and final day of the FIH Hockey Olympic qualifiers has drawn to a close, and the final six tickets to Tokyo 2020 have been claimed.

New Zealand's men booked a safe passage through to next year's Olympic Games Tokyo 2020 thanks to a 3-0 victory over Korea in Stratford.

Great Britain's women claimed a 2-1 win over Chile in the second match of the day, a result which gave them a 5-1 victory on aggregate to keep alive the dream of successfully defending the Olympic title that they won at Rio 2016. Later in the day, Great Britain's men joined their women on the plane to Tokyo thanks largely to Alan Forsyth, who bagged a hat-trick as the hosts won 5-2 against Malaysia on the day and 9-3 on aggregate.

Germany's women also booked their place at Tokyo 2020 with a dominant and impressive 7-0 win over Italy. The earlier game had seen Die Danas run out as slightly more tentative 2-0 winners, but the 9-0 aggregate score underlined their superiority over the lower-ranked European neighbours. Germany's men followed up their 5-0 first leg win over Austria on Saturday with a 5-3 triumph in Sunday's second game to earn their Olympic berth.

The final ticket to Tokyo 2020 was dramaticaly claimed by Ireland's women at Dublin's Energia Park, with the hosts claiming a 4-3 shoot-out victory over Canada in front of 6000 enthralled fans. The Green Army - silver medallists at least year's Vitality Hockey Women's World Cup London 2018 - trailed 3-1 in the shoot-out before staging a remarkable comeback before winning in sudden-death to achieve Olympic qualification for the first time in their history.

The final participation in the Olympic Games for any team must be approved and confirmed beforehand by their respective National Olympic Committee. More information about today's matches can be found below.

FIH Hockey Olympic qualifiers: Day 6 – Sunday 3 November 2019

Stratford (NZL) – Men: New Zealand 4, Korea 0 (New Zealand win 6-2 on aggregate)
Goals from Stephen Jenness, Sam Lane and Russell Kane gave New Zealand men a 3-0 triumph over Korea in Stratford (NZL) to secure a place at the Olympic Games Tokyo 2020. The Black Sticks came into the contest knowing that a draw would be good enough to seal Olympic qualification thanks to their narrow 3-2 win in the first leg on Saturday. However, open play strikes from Jenness - who scored twice in Saturday's win over Korea - and Lane in the second quarter put the 1976 Olympic champions on course for victory before Kane's third quarter penalty corner goal put the contest beyond the reach of the visitors. Korea piled on the pressure in the final quarter, but the Black Sticks held their nerve to book a 13th appearance on the Olympic stage.

For more information on this match please visit the Live Reporting page by clicking here.

London (ENG) - Women: Great Britain 2, Chile 1 [Great Britain win 5-1 on aggregate]
Reigning Olympic champions Great Britain defeated Chile for the second time in two days, with Sunday's 2-1 triumph being coupled with a 3-0 success on Saturday to create a comprehensive 5-1 aggregate score-line at the Lee Valley Hockey and Tennis Centre. Mark Hager's team did all of the damage in the first quarter, with Tessa Howard and Laura Unsworth both scoring superb backhand goals to all but guarantee a place at Tokyo 2020. Great Britain were perhaps guilty of wastefulness in front of goal for the remainder of the match, with Chile netting a consolation goal thanks to Fernanda Villagran's well taken penalty corner effort.  

For more information on the match please visit the Live Reporting page by clicking here.

Mönchengladbach (GER) – Women: Germany 7, Italy 0 (Germany win 9-0 on aggregate)
Three goals in the space of 8 minutes was enough to put an early damper on the Italian threat and send Germany women on their way to a dominant 7-0 victory. Added to their 2-0 win from the previous day, the aggregate 9-0 score underlines Die Danas' Olympic ambitions. The goals came from Cecile Pieper (2), Elisa Grave (2), Lena Micheel, Pia Maertens and Player of the Match Nike Lorenz. Italy fought hard but they found the German defence impenetrable and once the German's had the ball, their attacking movements were sharp, instinctive and precise.

For more information on the match please visit the Live Reporting page by clicking here.

London (ENG) - Men: Great Britain 5, Malaysia 2 (Great Britain win 9-3 on aggregate)
Thanks to a 4-1 victory in the Saturday's first leg, Great Britain's men brought a healthy advantage into their second match against Malaysia and quickly added to their aggregate tally with two goals in the first period. Alan Forsyth put GB ahead from the penalty spot with his 100th international goal (Scotland and Great Britain combined) before Sam Ward added a brilliant second, catching veteran Malaysia goalkeeper Kumar Subramiam off-guard with an unexpected shot from a tight angle. Fitri Saari pulled a goal back for Malaysia in the second quarter before Ward slammed home a penalty corner early in the third period. Razie Rahim's penalty corner rocket reduced GB's match-day lead to 3-2 before Forsyth put the result beyond all doubt, sliding home from open play before completing his hat-trick from the penalty spot to give his side a richly-deserved place at the Olympic Games Tokyo 2020.

For more information on the match please visit the Live Reporting page by clicking here.

Mönchengladbach (GER) – Men: Germany 5, Austria 3 (Germany win 10-3 on aggregate)
The teams went into this game with different agendas. Germany's interim Head Coach Markus Weise wanted a stronger performance from his team, while Austria's Head Coach Tomasz Szmidt asked his players to play for their own honour. In the end, both teams will have positives. Germany scored five top class goals, all created from fast, slick passing moves and finished with style. Austria, for their part, took the game to their much higher-ranked rivals and scored three penalty corners – all from the stick of Michael Korper. The result gives Germany the chance to build on their Olympic medal tally of 11 medals, four of them gold.

For more information on the match please visit the Live Reporting page by clicking here.

Dublin (IRL) – Women: Ireland 0, Canada 0 (Ireland win 4-3 on shoot-out)
For the second day in succession, over 6000 people packed into Dublin's Energia Park to witness Ireland's women take on Canada, and the home fans certainly went home happy. Following on from Saturday's score-less first leg, both teams showed a real determination to settle this contest in regular time, but excellent defending meant that the Olympic ticket would be decided by a shoot-out. It all seemed to go wrong for the home team, who found themselves facing heartbreak as Gillian Pinder and Roisin Upton failed to convert while goals from Stephanie Norlander, Amanda Woodcroft and captain Kate Wright gave Canada what looked like an unassailable 3-1 advantage. However, Ireland's never-say-die spirit once more came to the fore, with goalkeeper Ayeisha McFerran keeping Brienne Stairs and Shanlee Johnston off the score-sheet while sensational finishes from Ireland's Beth Barr and Chloe Watkins sent the match to sudden-death. Roisin Upton then put the Irish ahead with another wonderful finish before McFerran denied Woodcroft, giving Ireland an incredible victory and triggering scenes of utter joy in the stadium. It was a heartbreaking defeat for Canada, who matched their higher-ranked opponents throughout but fell just short in the shoot-out.     

For more information on the match please visit the Live Reporting page by clicking here.

How Olympic qualification works: The winners will be determined as follows: teams will be ranked according to the number of points each has accumulated in both matches (for each match, 3 points are awarded to the winner, 1 point to each team in the event of a draw and 0 point to the loser). If there is equality among the two teams, then the teams will be ranked according to their respective goal difference. If the equality remains, a shoot-out competition will be played to establish the winner.

FIH Hockey Olympic qualifiers

Results
Friday 25 October 2019 - Day 1 Results
Perth (AUS) - Women: Australia 4, Russia 2 (Match 1 of 2)
Changzhou (CHN) - Women: China 0, Belgium 2 (Match 1 of 2)
Valencia (ESP) - Men: Spain 3, France 3 (Match 1 of 2)
Valencia (ESP) - Women: Spain 2, Korea 1 (Match 1 of 2)

Saturday 26 October 2019 - Day 2 Results
Changzhou (CHN) - Women: China 2, Belgium 0 (Match 2 of 2)
Perth (AUS) - Women: Australia 5, Russia 0 (Match 2 of 2)
Amsterdam (NED) – Men: Netherlands 4, Pakistan 4 (Match 1 of 2)
Valencia (ESP) - Men: Spain 3, France 2 (Match 2 of 2)
Valencia (ESP) - Women: Spain 2, Korea 0 (Match 2 of 2)
Vancouver (CAN) – Men: Canada 3, Ireland 5 (Match 1 of 2)

Sunday 27 October 2019 - Day 3 Results
Amsterdam (NED) – Men: Netherlands 6, Pakistan 1 (Match 2 of 2)
Vancouver (CAN) – Men: Canada 3 Ireland 1 [5-4 After Shoot-Out] (Match 2 of 2)

Friday 1 November 2019 - Day 4 Results
Bhubaneswar (IND) – Women: India 5, USA 1 (Match 1 of 2)
Bhubaneswar (IND) – Men: India 4, Russia 2 (Match 1 of 2)

Saturday 2 November 2019 - Day 5 Results
Stratford (NZL) – Men: New Zealand 3, Korea 2 (Match 1 of 2)
Bhubaneswar (IND) – Women: India 1, USA 4 (Match 2 of 2)
London (ENG) - Women: Great Britain 3, Chile 0 (Match 1 of 2)
Bhubaneswar (IND) – Men: India 7, Russia 1 (Match 2 of 2)
Mönchengladbach (GER) – Women: Germany 2, Italy 0 (Match 1 of 2)
London (ENG) - Men: Great Britain 4, Malaysia 1 (Match 1 of 2)
Mönchengladbach (GER) – Men: Germany 5, Austria 0 (Match 1 of 2)
Dublin (IRL) – Women: Ireland 0, Canada 0 (Match 1 of 2)

Sunday 3 November 2019 - Day 6 Results
Stratford (NZL) – Men: New Zealand 3, Korea 0 (Match 2 of 2)
London (ENG) - Women: Great Britain 2, Chile 1 (Match 2 of 2)
Mönchengladbach (GER) – Women: Germany 7, Italy 0 (Match 2 of 2)
London (ENG) - Men: Great Britain 5, Malaysia 2 (Match 2 of 2)
Mönchengladbach (GER) – Men: Germany 5, Austria 3 (Match 2 of 2)
Dublin (IRL) – Women: Ireland 0, Canada 0 [4-3 After Shoot-Out] (Match 2 of 2)

#Tokyo2020
#RoadToTokyo
#GiftOfHockey

FIH site


---

Black Sticks Men book their ticket to the Tokyo Olympics



The Black Sticks Men have scored their spot in Tokyo. Stratford Press

With an Olympic berth on the line, the New Zealand men's hockey team put together a clinical performance to see off a strong challenge from South Korea and book their passage to Tokyo.

After winning the first match of the series 3-2 on Saturday, the Black Sticks needed only a draw to book their spot at the Games but came out firing and put Korea under early pressure. However, they couldn't crack a resolute Korean defence and went into the first break tied at 0-0.

A minute into the second quarter, New Zealand's dominance was rewarded when Stephen Jenness deflected home a great cross for his third goal of the series to put the hosts in a commanding position with a two-goal aggregate lead.

The Black Sticks continued to play with confidence throughout the quarter and were rewarded in the 23rd minute when Sam Lane finished off some slick passing to touch in the second goal.

Korea needed three goals in the second half to force the match to a penalty shootout and forced New Zealand keeper Leon Hayward into some spectacular saves.

After the Black Sticks broke downfield and secured a penalty corner late in the third quarter, experienced drag flicker Kane Russell ripped a shot into the top netting of the goal to give New Zealand an almost unassailable lead.

Into the final quarter and needing four goals, the Koreans pulled their keeper and were rewarded with several penalty corners.

The visitors dominated possession through the last quarter but the Black Sticks held their nerve to book their place at the Tokyo Olympic Games.

The side now take a break after a long season which started in January with the inaugural FIH Pro League, before returning to the turf at the start of February for season two of the Pro League.

The Black Sticks will begin their Olympic year against world champions Belgium at the new National Hockey Centre in North Harbour.

Black Sticks Men 3 (Stephen Jenness 16', Sam Lane 23', Kane Russell 42')
Korea 0

The New Zealand Herald


---

Great Britain's women qualify for Tokyo 2020 Olympics



Great Britain's women celebrate reaching the Tokyo 2020 Olympics

Great Britain's women qualified for the Tokyo 2020 Olympics after a professional 2-1 win over Chile in the second leg of their FIH Hockey Olympic Qualifiers.

Early goals from Tess Howard and Laura Unsworth made the outcome certain after Saturday's 3-0 win in the first leg, and Mark Hager's side put in a very secure display to earn the result they so craved.

After rebuilding under Hager, it has been a testing period for the women's programme, but they handled the occasion with aplomb and the result was never in doubt.

Now they will rest, recuperate and begin to look forward a hugely exciting 2020; first of all with the FIH Pro League back in London and then the huge occasion that is the Olympic games.

Full report

Britain settled any early nerves by taking the lead inside the first four minutes with a well-constructed team goal. Hollie Pearne-Webb played a nice ball from the back that Hannah Martin did well to shift on to Lily Owsley. Our number 26 then found Tess Howard inside the area, and when the shooting chance opened up she made no mistake.

And soon enough the lead was doubled; Laura Unsworth doesn't score too many but produced a super finish on the reverse high into the net. After a blistering start, the first quarter then settled down somewhat and there were no more goals in the first 15 minutes.

With qualification as good as secured, the game was played at a slower pace in the second quarter with few chances of note at either end.

Mark Hager's side continued to dominate possession early in the second half, and brilliance from Owsley down the left led to a super save from Claudia Schuler in the Chile goal. The ever-threatening Owsley was then narrowly wide from a penalty corner. Izzy Petter then had a swing and a miss inside the D as Britain began to up the ante.

Chile still carried an occasional threat, and Maddie Hinch was forced into a good save from a 41st minute corner. The visitors did then have the ball in the net, but it was disallowed for the ball not travelling five metres before entering the D.

Into the final quarter and Anna Toman was inches away from a second goal in two days, while Owsley was in fine form and danced into the opposition D on more than one occasion.

Chile had put up a valiant fight, and it was impossible to begrudge them a goal on 57 minutes, Fernanda Villagran netting from a corner.

Of course, the contest was long since over and it was a job well done by Britain's women as they celebrated a place at Tokyo next year. In a pressure situation, they handled the occasion well and were always in control over the two days.

As reigning champions, they will go to Japan with a significant challenge ahead of them, but one they will relish.

Great Britain 2
Howard (4', FG), Unsworth (7', FG)

Chile 1
Villagran (57', PC)

GB win 5-1 on aggregate.

Great Britain: Hinch (GK), Toman, Ansley, Pearne-Webb (c), Unsworth, McCallin, Robertson, Howard, Owsley, Martin, Petter
Subs used: Townsend, Neal, Hunter, Costello, Watson, Wilkinson
Unused sub: Heesh (GK)

Great Britain Hockey media release


---

Toman: Why it took me a moment to realise we'd done it!



Emily Defroand and Anna Toman celebrate qualifying for Tokyo

Great Britain defender Anna Toman was left delighted after helping the women's team secure qualification for Tokyo 2020.

Having won the first leg 3-0, Mark Hager's side secured a 2-1 victory in the second leg to seal a spot on the plane to Japan next summer.

Toman is one of our younger crop of players who will be very hopeful of being in the final squad for the games, and she impressed again at the back, also scoring in Saturday's match.

She said, "I'm absolutely over the moon. I think the girls went out and delivered what we needed to do, ultimately, we've qualified and that's the main thing.

"I'm just so happy, we've been working so hard over the past few weeks and I think we really put it out there on the pitch today so it's hard to put into words, but we've qualified for the Olympics and that's what we came here to do."

Reflecting on the final whistle, she said, "I actually think it took me a few seconds to realise it, Giselle was the nearest person to me and then I just thought 'oh my goodness we've actually qualified', after all the hard work and it's finally happened. Everything is just looking forward to the next eight months now.

"Today they were two absolute worldie goals from Tess and Unsy, so it really helped us to settle into our game. It was quite different from yesterday's game, so I'm absolutely thrilled for them and the team that we could get those two goals early on, then we tried to work on getting more goals, it didn't happen, but ultimately we've qualified."

Toman scored her second goal in two games on Saturday, having previously gone 71 matches without finding the net. She said, "It's hopefully something that will become more of a habit for me, it's nice being involved in corners now, I'm just happy I don't get a nose bleed when I'm up there to be honest! A goal is a goal, I don't care who scores it so long as we're winning at the end of the day.

"I think the crowd have been fantastic, they're always great at Lee Valley Hockey and Tennis Centre and always put on a good show. I just want to say thank you to everyone who came out here and supported us, it means the absolute world to us, thankfully we qualified and could do you all proud."

Great Britain Hockey media release


---

Great Britain joy as Tokyo 2020 tickets confirmed

By The Hockey Paper



GB captain Hollie Pearne-Webb celebrates PIC: WORLDSPORTPICS / WILL PALMER

It took several seconds after the final hooter, but then the moment dawned for the 11 players out on the Lee Valley pitch. Great Britain women can now safely talk of Tokyo and defending their title at next year's Olympics. Relief and joy were spread across Great Britain's faces in equal measure. Then came the multiple hugs as the wider squad and coaching staff were able to celebrate together after a testing year.

It certainly hasn't been easy going for GB since Rio, with retirements, long-term injuries, a change of coach and young, battling players experiencing the cut and thrust of the Pro League.

But when it mattered, after an intense training period following the EuroHockey Championships, GB came good over two Olympic play-off legs here to beat Chile 5-1 on aggregate.

"There is so much relief, we came here under immense pressure and essentially it's job done," said Maddie Hinch.

"It's a new group and we are starting our own legacy. This weekend there was a huge amount amount of pressure but it showed we can cope with it."

The next phase will be equally tough as players now fight for one of 16 coveted tickets to Tokyo as defending champions. "It's back to training, back to Bisham and now we have made Tokyo anything can happen," added Hinch.

Their 3-0 and 2-1 victories over Chile were also their first back-to-back wins as a GB unit since their record run at the Olympics.

And following the nervy opening to Saturday's fixture, Mark Hager's side were in no mood to offer the same on Sunday as fine goals from Tess Howard and Laura Unsworth, with unbeatable reverse shots, ended Chile's hopes.

Howard found space at the top of the D and unleashed a telling backhand in the fourth minute, while Unsworth went high with her reverse three minutes later to hand GB a five-goal cushion.

Chile did well to stem the tide thereafter and, with qualification assured, the game never kicked on, the scoreboard threatened or continued momentum in the final third.

Perhaps that was down to a notable figure entering the Chile camp, coach Sergio Vigil having welcomed a pre-match pep talk from Leeds United coach Marcelo Bielsa as the South Americans looked to pull back a three-goal deficit.

They did their hardest to get on the score sheet and they never gave up the chance, despite being hampered by several on-field injuries and a litany of cards over the two legs.

Their best chance had come when they had a goal ruled out in the third quarter, Hinch beaten with a volley tap in, but the ball hadn't travelled five metres before entering the D.

Yet, they were finally rewarded with a goal four minutes from time when Fernanda Villagran slotted home through Britain's defence.

But Britain's own defence can now be fixed on Tokyo. There will be seven Rio experienced hands, plus the rise of the likes of Anna Toman and Hannah Martin, both impressive this weekend, and the emergence of the young brigade: Howard, Izzy Petter, Lizzie Neal etc. Hager looks to have found a nucleus. Now the hard work can begin.

This article was brought to you by The Hockey Paper, on-sale regularly via subscription in print or digital



The Hockey Paper


---

Great Britain women's hockey team qualify for Tokyo 2020 Olympic Games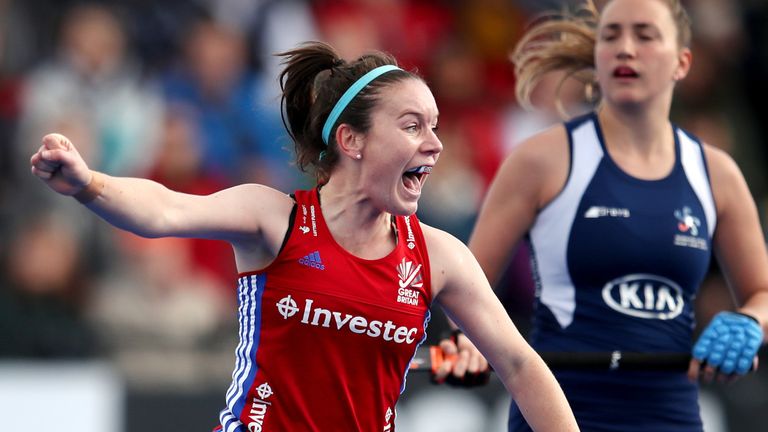 Laura Unsworth of Great Britain celebrates after scoring against Chile Women

Great Britain women's hockey team have qualified for the Tokyo 2020 Olympic Games.

The defending Olympic champions beat Chile 5-1 over two qualifying play-off legs to secure their place at the Games in Japan next year.

The 2016 gold medallists led 3-0 from the first leg and qualified with a 2-1 success in the second match at Lee Valley in London on Sunday.

Tess Howard and Laura Unsworth were on target in the first half for Britain while Fernanda Villagran scored a late consolation for Chile, who were being watched by their country's former national team football manager and current Leeds boss Marcelo Bielsa.

Qualification for Tokyo comes as a relief to coach Mark Hager, who has presided over a tough transitional period since taking the job in January 2019.

Great Britain finished second-bottom in the inaugural FIH Pro League season, and finished outside the medals at the 2018 World Cup and the 2019 European Championships.

Sky Sports


---

Great Britain's men secure their place at 2020 Olympics



Sam Ward and Alan Forsyth celebrate for Great Britain

Great Britain's men put in a super performance to reach the Tokyo Olympics, overcoming Malaysia in some style in London.

A hat-trick from Alan Forsyth and two more from fellow striker Sam Ward gave Britain a crucial win, and they fought very hard to secure a place in Japan.

Two early goals gave Britain the upper hand in the first quarter, and their spot on the plane always looked secure from then on in.

Full report

Britain started with real attacking intent, and Alan Forsyth was handed a great chance one-on-one, but the goalkeeper pushed him wide and Malaysia were able to smother the chance.

The first goal did come very soon though, a foul on Sam Ward inside the D resulting in a penalty stroke that Forsyth dispatched for his 100th goal in international hockey. And only three minutes later it was two, Ward producing a lovely near-post finish to put GB in a strong position.

Malaysia began to come into the game more in the second quarter, Tengku Tajuddin forcing George Pinner into a good save before Norsyafiq Sumantri went close at the near post. And then they did breach the British defence, Fitri Saari with the tidy finish from a corner.

It only took 18 seconds for the first goal of the second half as Ward made it 3-1 with a penalty corner low past Kumar Subramiam. And then Malaysia struck back five minutes later with a Razie Rahim corner in a topsy-turvy period of the match. To their credit, Malaysia were sticking to their task despite needing a miracle in the final quarter, and Britain had to defend resolutely.

Then with five minutes to go was Forsyth again on target from a low Tom Sorsby pass on the break. And a minute later he had his hat-trick, scoring a second stroke of the game after Sorsby was felled.

When the final whistle came amid the final rays of evening light at Lee Valley Hockey and Tennis Centre, Britain rightly celebrated a job very well done indeed. This has been a highly pressured weekend for Danny Kerry's side, and especially after going 1-0 down in the first match they have shown resilience and quality to come through with a significant aggregate victory.

They will rightly take time to digest this milestone, and soon enough they will turn their attention to 2020; first of all the FIH Pro League and then the huge prospect of the Tokyo Olympics.

Great Britain 5
Forsyth (9', PS), (56', FG), (57', PS), Ward (11', FG), (31', PC)

Malaysia 2
Fitri Saari (24', PC), Rahim (35', PC)

GB win 9-3 on aggregate

Great Britain: Pinner (GK), Weir, Waller, Sanford, Dixon (c), Ames, Sorsby, Wallace, Roper, Forsyth, Ward
Subs: Willars, Gall, Calnan, Martin, Draper, Sloan
Unused sub: Gibson (GK)

Great Britain Hockey media release


---

Dixon reveals his overriding emotion after securing a spot at Tokyo



Adam Dixon celebrates qualifying for Tokyo 2020

GB men's captain Adam Dixon was left with an overriding sense of relief after helping put his team on the plane to Tokyo 2020.

His side won their two games 4-1 and 5-2, and the result was never truly in doubt once they overcame an early 1-0 deficit in the first match.

Dixon said, "I'm not going to lie, it's a massive sense of relief. There was a lot of pressure on these two games. We knew that pressure and nerves would come into it, so we tried to tackle it head on and channel it. Nerves are only a human emotion, we took it on the chin and put two good performances in this weekend. To wrap it up with a ticket to Tokyo makes it even sweeter.

"We got off to a flyer but I never really felt totally confident until Aldo scored that final penalty stroke with four minutes to go, only then did I think that we'd got it in the bag!

"Malaysia kept on coming and we knew that would be the case. I think we dug deep defensively, we just had to make sure we didn't make any silly errors and in large parts that's exactly what we did.

"Scoring nine goals is the icing on the cake. We're lucky that we do have some real talent in that forward line with an eye for goal, so we just play to our strengths, that's certainly a massive part of it but it's been a great team effort this weekend.

"Now I'm really excited about what's ahead. There's still loads of hard work to do to catch up with the top teams in the world but after a little break now we'll regroup and will be back to business looking forward to the FIH Pro League again.

"We need to make sure that winning becomes a bit of a habit, I want this team to enjoy moments like this, winning games off the back of good team performances and if we can build momentum like this over the next eight months then that would be really good."

Great Britain Hockey media release


---

Great Britain men trounce Malaysia to reach Tokyo

By The Hockey Paper



World class: Sam Ward and Alan Forsyth  PIC: WORLDSPORTPICS / WILL PALMER

For Great Britain men, successive Olympics since 1984. For Malaysia, only uncertainty.

After a 5-2 win, Great Britain raced to Tokyo 2020 qualification on Sunday thanks to a 9-3 overall aggregate victory. The cold environs of Lee Valley, the world-class forward play and finishing of Sam Ward and Alan Forsyth, who scored a brace and hat-trick respectively, ultimately proved too much for the Tigers.

Now, Malaysian hockey chiefs will likely wield the axe on coach Roelant Oltmans after the nation's failure to reach their first Olympics since 2000. Their president has already said he would quit if GB won.

Great Britain, meanwhile, has two teams competing in Japan, a relief for funding first and foremost, the potential story lines incoming: a Olympic husband and wife, a brother and sister, and belief now for the men's team that they can atone for their ninth place in Rio.

The hosts won handsomely here. On Sunday, Forsyth, after being fed a pin-point 30-yard pass and failing in his one-one-one attempt, duly made amends to score his 100th international goal from a penalty stroke soon after.

His seventh minute slot home was doubled by Ward two minutes later, fed by Harry Martin, whose sister Hannah played two impressive games for GB women.

Malaysia were always going to prove a handful at corners and their riposte came via Fitri Saari's stick. But a second from Ward put the game to bed, his double coming with a low dragflick and a gleeful celebration. In the final minutes, Forsyth finished off a sparkling attacking move and then slotted a third from a penalty stroke after a push in the D.

GB's performance over two legs showed their class, although Malaysia did prove a tricky outfit. GB started the year in Pro League style, largely kept the momentum to reach the Finals, but endured a below par Euros with largely the same squad.

With Ward, who was grounded after receiving what seemed a heavy blow from a close-range Martin shot, and Forsyth, GB have a deadly duo up front, the return of Ashley Jackson – fighting for Rio redemption – can add further fuel, while David Ames continues on a world-class trajectory, as does man-of-the-match Zach Wallace. The signs look good as coach Danny Kerry attempts the ultimate in coaching: gold with both men and women.

This article was brought to you by The Hockey Paper, on-sale regularly via subscription in print or digital



The Hockey Paper


---

Great Britain sides secure Tokyo 2020 Olympics places

By Ross Bone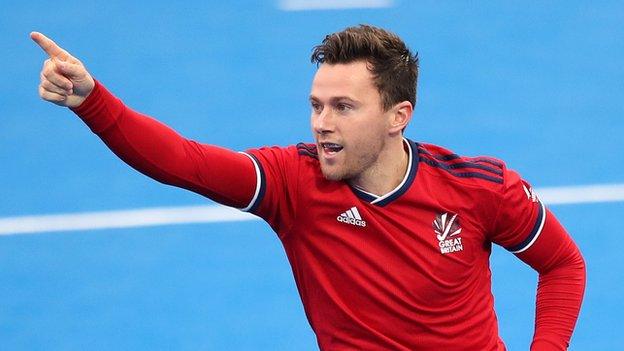 Alan Forsyth recorded his 100th international goal en route to a hat-trick against Malaysia

Great Britain's women's and men's teams each secured places at Tokyo 2020 after commanding wins in their Olympic qualifying play-offs at Lee Valley.

The women will now have the chance to defend their title after beating Chile.

After a 3-0 win in Saturday's first leg, Mark Hager's side secured a 2-1 victory in the second leg to claim the tie 5-1 on aggregate in London.

The men beat Malaysia 5-2 on Sunday following a 4-1 first-leg win to take the tie 9-3 overall.

It was the final chance for both sides to qualify for the Games after disappointing results in recent tournaments.

"I'm so proud of all the girls," Great Britain captain Hollie Pearne-Webb told BBC Sport.

"I'm really excited now looking forward to the next eight months. I think we can make some huge progress in that time. The hard work starts now."

Goals from Tess Howard and Laura Unsworth put the hosts 2-0 up inside seven minutes on Sunday.

Chile thought they had pulled a goal back in the third quarter but Francisca Parra's strike was ruled out by the video umpire, as the ball had not travelled the required five metres before entering the circle.

Las Diablas did score with just three minutes remaining through Fernanda Villagran but by then it was no more than a consolation.

Qualification for next year's Olympics will come as a huge relief to Hager, who has presided over a tough transitional period since taking the job in January 2019.

Great Britain's women won their first Olympic title with a thrilling shootout victory over the Netherlands at Rio 2016.

But high-profile players such as Helen Richardson-Walsh, Kate Richardson-Walsh, Sophie Bray and Crista Cullen have since retired, while Alex Danson - England and Great Britain's joint leading scorer of all time - has been out with a long-term head injury.

Only seven of the Rio gold medallists are in the current squad, which finished second-bottom in the inaugural FIH Pro League season and outside the medals at the 2018 World Cup and the 2019 European Championships.

"The pressure on the girls [at qualifying] was huge, especially as they are the defending Olympic champions," said Hager.

"We had to win these two games and I'm really proud of the girls. It's a fantastic effort. Now we can put our plans in place for what's to come.

"It's great going to the Olympics but if you look at the percentage of people who win medals it's not very many.

"Our next objective is to make sure we've got the process to find that extra 10-20% improvement we need to compete for a medal."

Leeds United manager Marcelo Bielsa attended the match and gave the Chile side a pre-match pep talk in support of his friend, Las Diablas coach Sergio Vigil.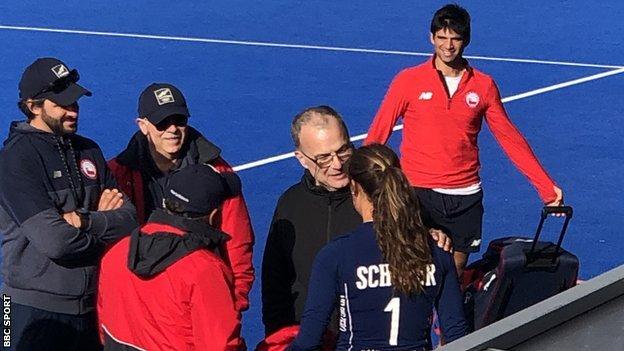 Leeds manager Marcelo Bielsa spoke to Chile's players before the second leg

Forsyth hat-trick downs Malaysia

Great Britain's men now have the chance to improve on their group-stage exit at the last Olympics, as they saw off Malaysia through a hat-trick from Scotland's Alan Forsyth and two strikes by Sam Ward.

Danny Kerry's side settled their nerves early on, taking the lead from a penalty stroke in the ninth minute as Forsyth converted for his 100th international goal.

Ward made it 2-0 two minutes later with a beautiful lofted finish at the near post.

Goalkeeper George Pinner had already made a splendid save to keep out Tengku Tajuddin at the start of the second quarter but there was nothing he could do to prevent Fitri Saari from pouncing on a penalty corner rebound to make it 2-1.

Ward restored the two-goal lead with a superb drag flick at the start of the third quarter.

Malaysia scored a second through Razie Rahim, but Forsyth applied the finish to a lovely sweeping move with five minutes left and then completed his hat-trick, scoring again from the penalty spot to seal the win and Great Britain's passage to the Olympics.

"There was a lot of pressure on me - all over social media I was being told I was on 99 goals, so it was hard," Forsyth told BBC Sport.

"My mum was here yesterday so I tried to get it done while she was here, but we got the win, that's what matters.

"I don't want to look back and be disappointed but I use not being selected for Rio [as motivation] every day - I missed one Olympics and I don't want to miss another. I know we've qualified but I've got a lot of work to do to make sure I'm in the team for Tokyo."

BBC Sport


---

British teams secure Tokyo 2020 spots after playoff wins

By Hardik Vyas

(Reuters) - Britain's women's and men's teams booked their spots for the Tokyo 2020 Olympics after posting comfortable victories in the qualifying playoffs at Lee Valley in London on Sunday.

Early goals from Tess Howard and Laura Unsworth ensured the defending Olympic champions won 2-1 in the second leg to claim the tie 5-1 on aggregate.

Chile had a goal ruled out in the third quarter before Fernanda Villagran scored late on for the visitors.

After Saturday's 4-1 comeback win over Malaysia, Britain's men powered past the visitors 5-2 in the second leg to clinch the tie 9-3 overall.

Scotland forward Alan Forsyth finished with a hat-trick and Sam Ward scored twice in a commanding display, ensuring Britain will now have a chance to improve on their disappointing group stage exit at the Rio Olympics.

Since winning the Olympic title in 2016, Britain's women's team have endured a difficult transition period.

Helen Richardson-Walsh, Kate Richardson-Walsh, Sophie Bray and Crista Cullen have retired from the international game, while England and Britain's most capped female player Alex Danson continues to recover from a long-term head injury.

They finished second bottom in the inaugural FIH Pro League earlier this year, winning only three of their 16 matches in the competition.

On Saturday, however, Mark Hager's side looked in complete control as they powered past Chile 3-0 in the first leg with goals from Izzy Petter, Hannah Martin and Anna Toman.

Only seven of the Rio gold medallists are part of the current squad, but Hager is confident his players have the quality to return to the podium in Tokyo next year.

"The pressure on the girls (at qualifying) was huge, especially as they are the defending Olympic champions," said Hager.

"We had to win these two games and I'm really proud of the girls. It's a fantastic effort. Now we can put our plans in place for what's to come.

"Our next objective is to make sure we've got the process to find that extra 10-20% improvement we need to compete for a medal (in Tokyo)."

The Star of Malaysia


---

Hockey team miss the boat to Tokyo Olympics

By Jugjet Singh



Malaysia's Fitri Saari

KUALA LUMPUR: The Malaysian men's hockey team gave their best but it was not enough to qualify for the Tokyo Olympics.

After losing 4-1 to Britain on Saturday, they went down fighting 5-2 n the second leg of the Olympic Qualifier at the Lee Valley Stadium in London.

Bundled out on a 9-3 aggregate, Malaysia will have to wait another four years to try their luck. Malaysia last appeared in the Olympics in 2000 Sydney.

Starting the match with a three-goal deficit. Malaysia were punished by a penalty stroke and a field goal in the first quarter of the second leg.

Briton Alan Forsyth converted the penalty stroke in the ninth minute while Sam Ward made it 2-0 in the 11th minute.

Fitri Saari injected some hope with a penalty corner rebound goal in the 24th minute but Sam Ward made it 3-1 in the 31st minute.

Sports Minister Syed Saddiq Syed Abdul Rahman, as well as Malaysian Hockey Confederation president Datuk Seri Subahan Kamal and state hockey officials were at the Lee Valley Stadium to offer support.

Razie Rahim closed the gap with a 40th minute penalty corner goal but Alan Forsyth nailed another in the 56th minute.

It was more misery for Malaysia when Forsyth scored a hat-trick with a 57th minute penalty stroke to make it 5-2.

New Straits Times


---

M'sian men's hockey team fail to make it to Tokyo 2020 after going down 9-3 on aggregate to Britain

By AFTAR SINGH



National team hockey head coach Roelant Oltmans speaks to players in preparation for the Olympic playoff match with Britain at Stadium hockey Bukit Jalil. - Filepic

KUALA LUMPUR: Malaysia's men's hockey team were a big letdown in the Olympic qualifier matches against Britain.

Malaysia failed to qualify for next year's Tokyo Olympics after losing to Britain by an aggregate of 9-3.

It was a disappointing performances by coach Roelant Oltmans men.

They lost 4-1 in the first Olympic qualifier match at the Lee Valley Hockey and Tennis Centre on Saturday (Nov 2) in London and also made defensive errors in the second match and lost 5-2 Sunday (Nov 3) at the same venue.

Malaysia have failed to qualify for the Olympics for the last 20 years, having last played in the Olympics in Sydney in 2000.

Britain focused on attacking and took a 2-0 lead with Alan Forsyth scoring in the ninth minute and Sam Ward hitting the backboard in the 11th minute.

Malaysia managed to narrow the deficit with a field goal from Mohd Fitri Saari in the 24th minute.

But seven minutes later, Ward was on target again to score his second goal to give Britain a 3-1 lead.

Mohd Razie Abdul Rahim converted a penalty corner in the 40th minute but Britain punished Malaysia for defensive errors to score two more goals in the space of just a minute.

Forsyth was the hero for Britain, netting two more goals in the 56th and 57th minutes.

Malaysia skipper Mohd Sukri Abdul Mutalib said that they were sad to let the Malaysian fans down.

"We tried our best in both matches but Britain were just too good," said Sukri.

With Malaysia failing to qualify for the Olympics, heads are expected to roll,

A few of the senior players are also expected to retire after the Olympic qualifier matches.

The Star of Malaysia


---

Ireland women's hockey team qualify for Tokyo 2020

Second leg of Olympic qualifier ends in another scoreless draw leading to penalties

Mary Hannigan



Ireland's Ayeisha McFerran was the hero as her team qualified for the 2020 Olympics. Photograph: Morgan Treacy/Inpho
 
If 2018 was a magical year for the Irish women's hockey team, 2019 might just have surpassed it. All that talk about the World Cup being but a stepping stone to Tokyo? Well, Tokyo, here come the history-makers: the first women's hockey team from this island to qualify for the Olympic Games.

And they did so in a nerve-shredding climax to their Olympic qualifier against Canada, the tie going to a shoot-out after the teams played out their second scoreless draw in two nights. If the game itself lacked drama, the crowd of 6,137 in Donnybrook were more than compensated by what followed.

A week after the men's team lost in the cruellest and most controversial of circumstances to Canada in their Olympic qualifier in Vancouver, the women looked set to have their dreams of sealing a place in Tokyo crushed by the same nation when they trailed 3-1 in the shoot-out. By now, Irish hockey reckoned it would be seeing maple leaves in its nightmares.

But with the steeliest of guts and the most immense of character, Ireland dragged themselves back in to it, Ayeisha McFerran, just as she did in those World Cup shoot-outs, producing some brilliantly composed goalkeeping, not least when she faced Shanlee Johnston - if Johnston had converted, then it was Canada who would have been Tokyo bound.

While Nicci Daly tucked away her effort, both Gillian Pinder and Roisin Upton failed to convert theirs, so when Sara McManus fired home a stoke, awarded after McFerran had fouled Kate Wright when she attempted to round the goalkeeper, that had Ireland on the verge of defeat.

But that was to be the end of Canada's shoot-out scoring, McFerran thwarting all their remaining efforts while Bethany Barr, Chloe Watkins and Roisin Upton calmly put away theirs. Watkins' score forced the drama in to sudden death, Upton putting Ireland 4-3 up. And that drama intensified when Canada referred their final miss to the video umpire, hoping she would spot a foul by McFerran, so while the Irish players and their supporters initially celebrated, a hush fell over the ground as the decision was checked.

And then came the reply from the umpire, it was music to Irish ears: "No clear reason to change your decision." The place erupted.

"I'm just so incredibly proud of this bunch of players," said captain Katie Mullan. "We have worked so hard, some of us have put in 10, 12 years, and it's also for all the players that have gone before us. All those who committed so much of their lives to international hockey and never made it to an Olympics. We are representing them. I am so delighted."

Tyrone woman Shirley McCay, who won her 301st cap for Ireland on Sunday evening, had planned on retiring after the World Cup, but she had so much belief in this side's potential she decided to give it one more year. Now, after helping them achieve their Olympic dream, she'll have to give it another.

After all the heartache, after coming within 60 minutes of qualifying for the last two Olympics only to fall at the final hurdle, it's mission accomplished. It's some story.

Ireland 0 Canada 0 (Ireland win 4-3 after sudden death penalty shootout)

IRELAND: A McFerran; R Upton, K Mullan (capt), S McCay, E Tice, B Barr, C Watkins, L Colvin, N Daly, A O'Flanagan, Z Wilson. Rolling subs: S Barr, N Evans, G Pinder, H Matthews, E Murphy, S Hawkshaw, D Duke.

CANADA: K Williams; K Wright (capt), D Hennig, R Donohoe, K Johansen, N Sourisseau, S McManus, A Woodcroft, B Stairs, S Johnston, S Norlander. Rolling subs: A Lee, E Wong, H Haughn, N Woodcroft, M Secco, R Harris, K Leahy.

Umpires: Annelize Rostron (South Africa) and Michelle Meister (Germany).

The Irish Times


---

Ireland beat Canada on penalties to secure Olympic berth

Ireland realise Olympic dream after penalty drama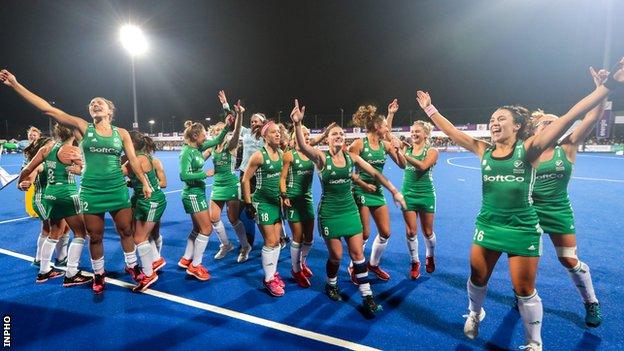 Ireland's women have booked their place at the 2020 Olympics in Tokyo

Ireland's women have qualified for the Olympics for the first time, courtesy of a highly dramatic penalty shootout win over Canada at Donnybrook.

After the second leg finished in a 0-0 draw as the first leg had done, Irish hopes hung in the balance having missed two of their first three penalties.

Ayeisha McFerrin then made two saves to force the shootout into sudden death.

After Roisin Upton scored for Ireland, Amanda Woodcroft failed to convert, sparking jubilant home celebrations.

A week ago Ireland's men fell foul of the video referee as they missed out on an Olympic berth in controversial fashion, but the women's team were spared such heartache despite the video umpire's heavy involvement in the shootout.

On another cold and wet night in Donnybrook, the game itself followed a similar pattern to the first leg.

Although Ireland began with more purpose they were unable to take control of proceedings as both sides struggled to find rhythm to their game.

Anna O'Flanagan saw her first-quarter effort slide narrowly wide of the post before Brienne Stairs nearly deflected the ball beyond McFerrin, but again the ball drifted past the goal.

With the deadlock unbroken after four quarters, it was Canada who took the ascendancy in the shootout.

Stephanie Norlander, Woodcroft and Sara McManus converted for the visitors while Nicci Daly was the only one of Ireland's first three penalty takers to find the back of the net.

With Canada needing to score only one of their two remaining penalties to qualify, and Ireland needing to score both of theirs in order to force sudden death, all the momentum was with the visitors.

However McFerrin, so often the hero during Ireland's run to the 2018 World Cup final, made two saves from Stairs and Shanlee Johnston while Bethany Barr and Chloe Watkins held their nerve to score.

Upton, who had missed her first penalty, stepped up for Ireland's first sudden-death penalty and scored, surviving a video referral which revealed that the eight-second shot-clock had not been set before the penalty was taken.

Then Woodcroft failed to get her shot off before the eight seconds were up, sending Ireland through to Tokyo 2020.

We can do something special - McFerrin
Ireland goalkeeper Ayeisha McFerrin

"I'm doing my job for the team. They get me there, they believe in me and I believe in them.

It's just about trying to stay calm. I really try to ignore the crowd and not let them into my head.

I know I can do the business when I'm ready."

BBC Sport


---

We can do something big in Tokyo - captain Katie Mullan

Ireland realise Olympic dream after penalty drama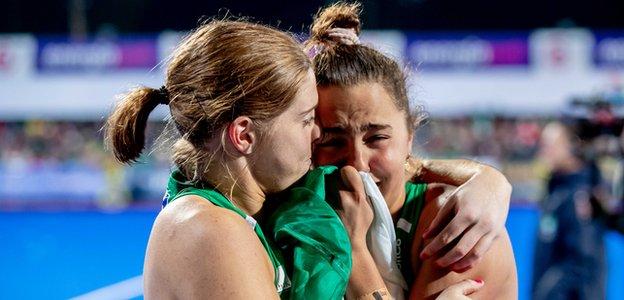 Mullan has captained Ireland to a World Cup final and Olympic qualification

Ireland hockey captain Katie Mullan says her side can "ruffle a few feathers" in Tokyo next year.

Sean Dancer's team became the first Irish women's team to qualify for an Olympics by defeating Canada in a dramatic penalty shootout on Sunday.

They will be among 12 nations looking to claim a hockey medal in Japan next summer.

"There's no reason why we can't do some damage and even look for something big in Tokyo," said Mullan.

"If we keep progressing the way we are with Sean and his style of play I've no doubt that we'll do a good job."

3-1 down in the shootout after three penalties each, it looked as though Ireland's Olympic dream was set to be dashed in agonising fashion.

However, as was the case in last year's World Cup shootout wins over India and Spain, goalkeeper Ayeisha McFerrin rose to the occasion to help force the contest into sudden death.

The victory sparked emotional scenes at Energia Park as Ireland completed the job despite being far from their best during the two-legged tie.

"We're going to really enjoy this moment for a couple of weeks," Mullan said.

"We have put so much effort into this and made so many sacrifices."

The Irish Olympic squad is likely to be predominantly feature players who were present during their fairytale run to the World Cup final in London, a journey which catapulted the team and indeed the sport into the spotlight in Ireland.

"When we qualified for the World Cup we didn't necessarily quality as one of the top teams," reflected Mullan.

"We proved that we can take anyone in the world on.

"We'll be hoping to do the same."

BBC Sport


---

Ireland defeats Canada in sudden-death shootout to claim Olympic berth

Six-round shootout goes in favour of Ireland. Canada comes up short in Olympic Qualifier



Photo – INPHO/Morgan Treacy

Dublin — Donnybrook stadium erupted when Ireland's goalkeeper Ayeisha McFerran made the final save but then was quickly silenced as Canada referred the play. Six thousand fans held their breath and then erupted again when the call was confirmed. Ireland advanced to 2020 Olympic Games with a dramatic sudden death shootout victory over Team Canada.

The two-game series played in front of back-to-back capacity crowds was a nail biter from wire to wire. Zero goals through eight quarters of play set up a thrilling shootout to cap off the Olympic Qualifier weekend.

Standout performances by Canada's Amanda Woodcroft, Dani Hennig and Sara McManus kept the Irish out of the defensive end. Canada came away with most of the 50-50 balls especially in the defensive end while protecting their D. Attacking forays led by Brie Stairs, Hannah Haughn and Steph Norlander caused some havoc, and although both teams earned penalty corners, neither team was able to convert.

Early in tonight's match, it just started to feel inevitable that this series was going to go the distance. After back and forth play all game, Canada earned two penalty corners in the dying seconds of the match but was unable to convert either and as if it was scripted, these two incredible teams lined up at centre for extra drama.

In the shootout, Canada came out firing with goals from Norlander, A. Woodcroft and a penalty stroke converted by McManus. Then the momentum started to shift towards Ireland. The Irish fought back with a pair of terrific saves by McFerran and two conversions. The heart wrenching final moments were tough to watch if you were a Canadian fan. Up 3-1 in the shootout and unable to close it out.

With the win, Team Ireland becomes the first Irish Women's National hockey team to qualify for an Olympic Games.



Team Canada in Donnybrook Stadium for the 2019 FIH Olympic Qualifiers. Photo/Yan Huckendubler

Field Hockey Canada media release


---

Heartbreak for Canadian field hockey women in Olympic qualifier shootout loss

DUBLIN — Canada suffered heartbreak in an Olympic women's field hockey qualifier Sunday, losing 4-3 to Ireland in a penalty shootout with a berth in the 2020 Tokyo Games on the line.

Canada led 3-1 in the shootout, only to see Irish goalkeeper Ayeisha McFerran shut them down.

The two-legged aggregate playoff Saturday and Sunday ended scoreless after regulation time at Energia Park, former home of the Leinster rugby team. Canada had two penalty corners in the final minute Sunday but was unable to get a shot through a sea of bodies.

The Irish women are ranked eighth in the world, compared to No. 15 for Canada.

The Canadian men, ranked 10th in the world, qualified for Tokyo in late October in a sudden-death shootout over No. 13 Ireland in West Vancouver.

Steph Norlander, Amanda Woodcroft and Sara McManus scored for Canada in Sunday's shootout. Nicci Daly opened Ireland's account.

McFerran stopped Brie Stairs at 3-1 to keep Irish hopes alive. Beth Barr scored to make it 3-2 and McFerran then denied Canada's Shanlee Johnston. Ireland's Choe Watkins scored to tie it up at 3-3 and send the shootout to sudden-death.

Roison Upton made it 4-3, knocking her shot in off the post. And Woodcroft couldn't beat McFerran to keep Canada in the contest.

The Canadians sat out the last six Olympics, last competing in 1992 when they finished seventh in Barcelona.

The Irish are coached by former New Zealand assistant coach Sean Dancer, a former Australian under-21 player. He took over in April, inheriting a team that turned heads by finishing runner-up at the 2018 World Cup.

The Irish won both their quarterfinal and semifinal matches at the World Cup via penalty shootout

Having lost their Own The Podium funding, the Canadian women turned to family, friends and supporters to fund their Olympic qualifying journey.

On coach Giles Bonnet's suggestion, the women moved to Belgium in September 2018 to join club teams. It gave them access to elite coaches and trainers while allowing the Amsterdam-based Bonnet to work with them regularly.

Airdrie Today


---

India women's hockey coach Sjoerd Marijne shares Olympic-size 'big dream'

India women's hockey team coach admits he's "very proud" of the progress made by Rani Rampal and co., who secured qualification for Tokyo 2020 Olympics.

Uthra Ganesan



Rani Rampal (right) and coach Sjoerd Marijne address the media during the Tokyo 2020 Hockey Qualifiers.   -  Biswaranjan Rout

The dramatic Olympic Qualifier that saw the team book its ticket to Tokyo by the slimmest of margins at the cost of a shocked USA on Saturday was perhaps the closest to a movie script Indian women's hockey had written in a long time. The final flourish came, not unsurprisingly, from the stick of captain Rani Rampal, the lynchpin of this side for a decade.

For the girl herself, though, it was deja vu on field. "Before scoring there was nothing on my mind except aim and shoot. It was a good move all the way from the back and Lalremsiami didn't give up even when she lost her balance, everyone made the effort to not let the ball go out of the circle. After, my first thought was of the last qualifiers when I scored a similar goal and then managed to qualify for Rio," Rani said after the game.

That match, in 2015, saw the Indians defending their one-goal lead for almost 45 minutes against Japan. On Saturday, they had to do it for only 12 but against a rampaging, physical USA, that felt an eternity.

"We knew we had to keep it simple and not make any mistakes at the back. Whatever beautiful hockey we wanted to play was to be done only in their half. Everyone knew what was needed, what we had to do and what each one's role was. We knew this was our chance after Asiad disappointment. Everyone took responsibility and I didn't have to tell them much. We did it together," Rani added.

Asiad figures in every interaction by every member of this team. Those missed chances in the final that necessitated this circuitous route to Tokyo continue to rankle the girls. For coach Sjoerd Marijne, though, it was a tense first half hour that made him wonder if all the work done with the girls in the past 27 months in pursuit of an Olympic dream would be undone by one bizarre day.

"The first half, I was like what is going on here, what's happening and we really reacted. I really thought the pressure was gone and we had four goals, so watching with Wayne (Lombard, the conditioning coach), I didn't know what was going on. I could not adjust any one thing because there were so many things that were going wrong!" Marijne admitted.

But spare a thought for USA. Down four goals against a dominant host in a stadium the likes of which they have never seen back home filled with crowd they can only dream of, the team of youngsters gave itself a chance when no one else did, and almost pulled off one of the biggest comebacks in modern hockey.

"They are devastated, I am devastated, we played really, really well today and were just unlucky. The yellow card in the end changed the game, I think that was harsh. I am proud of them because no one gave us a chance after yesterday. But we lost the game yesterday, not today," a drained coach Janneke Schopman admitted.

She did question the two video referrals, the yellow card to Alyssa Manley in the 48th minute -- minutes before India got the all-important goal – and advocated a more free-flowing game but also admitted that the constant pressure from India in the final 10 minutes did affect her team's momentum. That pressure, Marijne revealed, was the key to not just stay ahead in the game but ensure the Indians did not get space to over-think the game.

"The only thing you can do on the pitch is run. Because if you are running, you are not thinking about winning or losing. I had to take the pressure off the girls and we had to put USA under pressure and get them to make mistakes," he said.



Rani Rampal celebrates with her team-mates after her crucial goal that sealed India's place at Tokyo 2020 Olympics.   -  Biswaranjan Rout

When he took charge of the Indian women's team for the first time in February 2017, Marijne would have assumed he had 42 months to produce a decent performance at the Tokyo Olympics, an improvement on the 12th place finish and zero wins in 2016.

He got only 34, broken into two stints which meant the first seven months meant little when it came to producing results. In the past 27 months, he has managed to take the girls to an Asian Games final, a respectable 8th finish at the World Cup, victory at the FIH Series Finals against Asiad winner Japan that ensured enough points to assure a home Olympic Qualifier, and then won the qualifier in dramatic fashion.

"That's a dream, you want to be there at the Olympics because it is the biggest thing but also because as a team we believe we can do better than the previous Olympics. One thing that is very important to mention is how they have grown as a person, as a woman taking responsibility. They are very smart girls and I am very proud of their process," Marijne had previously explained.

The dreams have gotten bigger now. "The dream is to get a medal at the Olympics and the most beautiful colour is gold. This was just the first step, it was not easy but we have a big dream and I am proud of the fighting spirit of these girls. Preparation starts tomorrow morning, we have to go on, we only have 10 months," he declared.

He told the girls after the game that he was in the country for hockey, not to get a new heart. But for now, he and the girls get a well-deserved two-week break before they get back putting the heart into working for the bigger dream.

Sportstar


---

Dharmaraj works wonders with women's indoor hockey team

KUALA LUMPUR: K. Dharmaraj is a coach with the midas touch.

He has only taken charge of the Malaysian women's indoor hockey team more than a month ago but the players have shown progress and are on the right track to secure their first gold in the Philippines SEA Games next month.

His players were in top form, winning all their five matches in the five-nation Tuanku Zara invitational international women's indoor hockey tournament at Jubli Hall in Kuala Kangsar yesterday.

Malaysia scored a whopping 35 goals and conceded only one in five matches.

Malaysia started the ball rolling by whipping Philippines 12-0 in the opening match before they outplayed Taiwan 5-1. They beat Uzbekistan 2-0 and wrapped up the round-robin matches by thrashing Nepal 13-0.In the final, Malaysia beat Uzbekistan 3-0.

Nur Aisyah Yaacob was the toast in the final by scoring two goals while Qasidah Najwa Mohd Halimi was also on target.

Nur Afiqah Syahzani Azhar was the star for the Malaysian team, netting nine goals in the tournament.

Malaysia also avenged their defeat to Uzbekistan in the playoff for the bronze medal in the Asia Indoor tournament in Chonburi, Thailand in July. The Malaysians then lost 1-0 in a penalty shootout after the game was tied at 1-1.

Dharmaraj, who took over from Yahya Atan early last month, said indoor hockey has great potential in Malaysia and should be promoted widely in all states.

"I believe if there is a local league and our players are given more chances to play in overseas tournaments, more medals can be won, " he said.

The Star of Malaysia


---

2020 FIH Pro League Schedule Announced




Having taken the world of hockey by storm in its inaugural season, the FIH Pro League bigger and better than ever.

A new league format for 2020 and 2021 will see teams play each other twice at home and twice away alternately across the two years, whereas last season each nation played one home and one away match against each opponent. For example, Great Britain's men and women will both play Argentina twice at home on 16 and 17 May next year before travelling to South America to fulfil the remaining fixtures in 2021.

With this being the final major event before the Tokyo 2020 Olympics get underway, you won't want to miss out on your chance to be part of #ThePride as rivalries are renewed between the world's best nations.

Full schedule

Here are the dates of when Great Britain's men and women will be playing in the 2020 FIH Pro League (exact timings are still TBC) – home fixtures are highlighted in bold. All games will be shown live on BT Sport.

    Sat 1 Feb/Sun 2 Feb – Australia v Great Britain (M + W)
    Sat 8 Feb/Sun 9 Feb – New Zealand v Great Britain (M + W)
    Tue 28 Apr/Wed 29 Apr – Netherlands v Great Britain (M + W)
    Sat 2 May/Sun 3 May – Great Britain v India (M)/Great Britain v China (W)
    Sat 16 May/Sun 17 May – Great Britain v Argentina (M + W)
    Sun 24 May/Mon 25 May – Great Britain v Spain (M)/Great Britain v USA (W)
    Fri 29 May/Sun 31 May – Belgium v Great Britain (M + W)
    Sat 13 Jun/Sun 14 Jun – Great Britain v Germany (M + W)

New season, new structure

Earlier this year the FIH outlined a refined structure for the 2020 and 2021 FIH Pro League campaigns following recommendations from competing nations to halve the amount of travel time.

The league will now see teams play each other home and away in alternate years. For example, in 2020 Great Britain will play a total of four matches against Argentina (two women's games and two men's) before travelling to South America for four away games in 2021. The new format is not dissimilar to the Six Nations in rugby union, but nations play each other twice each year instead of once.

Furthermore there will also no longer be a Grand Final, with both the men's and women's overall winners being determined by who finishes at the top of the table come the end of that season's matches.

India's men join the party

The men's league is set to hot up even more next year as India's men join the party.

Their addition to the tournament means that each of the world's nine top ranked men's teams – India are fifth, one place higher than Great Britain – will be taking part in the FIH Pro League in 2020.

And with the competition being so closely fought last time round, their inclusion will add even more excitement next year as they bring an attacking style of play and some incredibly passionate fans to the party.

Great Britain's men will open their home campaign against India between 2-3 May in what is set to be a fantastic contest.

The world's best are coming back to London

World class hockey will be returning to London once again this year as we host another 16 FIH Pro League games.

We were inspired by the thousands of members of #ThePride who turned out last year and gave our teams such fantastic support, including the biggest crowd this country has seen since the London 2012 Olympics when nearly 12,000 people descended on Harlequins' Twickenham Stoop.

England Hockey is currently in discussions with Harlequins about one of the home FIH Pro League fixtures taking place at The Stoop, with other home fixtures being played at Lee Valley Hockey and Tennis Centre.

Our final double header against Germany on 13-14 June will also give #ThePride the chance to give the men's and women's teams the perfect send off to the Tokyo 2020 Olympics, depending on whether they win their Olympic Qualifiers in November.

Great Britain Hockey media release


---

Hockey India names players for junior men's, women's national coaching camp

The core group of players of the junior hockey team will report at the Sports Authority of India, Bengaluru campus for the four-week national camp.



The Indian junior men's hockey team reached the final at the Sultan of Johor Cup 2019 recently.   -  SPECIAL ARRANGEMENT

Hockey India on Sunday named a 33-member probable list for the junior men's national coaching camp, beginning in Bengaluru on Monday.

Players will report at the Sports Authority of India, Bengaluru campus for the four-week national camp.

The Indian junior men's team produced an impressive performance at the 9th Sultan of Johor Cup earlier this month, beating Malaysia, New Zealand and Australia in the competition.

India finished runners-up after going down to Great Britain in the final.

The group has been playing together for over a year now and will look to work on a few aspects at the camp.

"This camp will give us a chance to focus on getting into good positions and creating goal-scoring opportunities. The group needs to improve on passing the ball and team coordination as well," said David John, High Performance Director, Hockey India.

Core Probables List:

Goalkeepers: Pawan, Prashant Kumar Chauhan, Sahil Kumar Nayak

Defenders: Suman Beck, Pratap Lakra, Sanjay, Yashdeep Siwach, Mandeep Mor, Parampreet Singh, Dinachandra Singh Moirangthem, Nabin Kujur, Sharda Nand Tiwari, Niraj Kumar Waribam

Midfielders: Sukhman Singh, Gregory Xess, Ankit Pal, Akashdeep Singh Jr., Vishnu Kant Singh, Gopi Kumar Sonkar, Vishal Antil, Surya NM, Maninder Singh, Rabichandra Singh Moirangthem

Forwards: Sudeep Chirmako, Rahul Kumar Rajbhar, Uttam Singh, S Karthi, Dilpreet Singh, Araijeet Singh Hundal, Amandeep Singh, Prabhjot Singh, Shivam Anand, Arshdeep Singh.

39 players named for junior women's national coaching camp --

A 39-probable player list for the upcoming Indian junior women's national coaching camp, which is scheduled to begin on Monday, was named on Sunday.

The players will report to coach Baljeet Singh Saini at the Sports Authority of India, Bengaluru campus for the national coaching camp which will conclude on November 28.

The Indian junior women's team is scheduled to play a three-nation tournament starting December 3 in Australia with New Zealand being the third team.

"The players were put under a strenuous training regime in their last camp in October and they have improved on various aspects tremendously," said Saini.

"However, we are expecting tough challenges from Australia and New Zealand and therefore we have jotted a few more things that we need to work on in the next National Coaching Camp."

The coach expressed his excitement of training with six players from the senior women core probables group.

Suman Devi Thoudam, Bichu Devi Kharibam, Mahima Choudhary, Reet, Chetna, and Sharmila Devi, who are in the age of the junior women's category, will add a different kind of experience to the national coaching camp.

"We are very excited to have six players from the senior women core probables group, as they can share their experience and guide the junior players in the right direction," said Saini.

"The Indian Junior Women's Team played brilliantly during the tour of Belarus in June, but we have to perform even better in the 3-nation tournament in Australia. The team will gain a lot of confidence if they perform in a top hockey-playing nation such as Australia."

Core Probables List:

Goalkeepers: Rashanpreet Kaur, Khushboo, F Ramengmawii

Defenders: Priyanka, Simran Singh, Marina Lalramnghaki, Gagandeep Kaur, Ishika Chaudhary, Jotika Kalsi, Sumita, Akshata Dhekale, Usha, Parneet Kaur, Mahima Choudhary, Suman Devi Thoudam.

Midfielders: Baljeet Kaur, Mariana Kujur, Kirandeep Kaur, Prabhleen Kaur, Preeti, Ajmina Kujur, Vaishnavi Phalke, Kavita Bagdi, Baljinder Kaur, Sushma Kumari, Reet, Chetna, Bichu Devi Kharibam.

Forwards: Mumtaz Khan, Beauty Dungdung, Gurmail Kaur, Deepika, Lalrindinki, Jiwan Kishori Toppo, Rutuja Pisal, Sangita Kumari, Yogita Bora, Annu, Sharmila Devi.

Sportstar


---

Sultana Bran Hockey One League Men's Round 7 Review




NSW Pride stamped their claim as outright and deserved title favourites after dismantling the previously unbeaten Brisbane Blaze away from home, Tassie Tigers continued their impressive run, and bottom placed Adelaide Fire gave HC Melbourne an almighty scare.

And the semi finalists for the inaugural Sultana Bran Hockey One season have been decided following a final round of matches that threw up some intriguing and surprising results.



(AAP Image/Leigh Winburn)

Tassie Tigers enter the finals on the back of a third successive win as they comfortably accounted for the Perth Thundersticks 4-0 at the Tasmanian Hockey Centre.

All of the goals came in the opening 20 minutes, Josh Beltz opening the scoring in the 4th minute, Sam McCambridge continuing his impressive season with a quick fire double before Gobindraj Gill knocked in a fourth in the 19th minute to kiss any outside hopes the Thundersticks had of sneaking into the top four good-bye.



(AAP Image/Dan Peled)

The top of the table clash between NSW Pride and Brisbane Blaze pitted two undefeated teams looking to send an early finals statement. The talk in the build up was on which team would be able to cover better for their absent Kookaburras stars – Blake Govers missing for the Pride and midfielder Matt Swann absent for the Blaze.

The Pride answered that question in comprehensive fashion with another outstanding hockey display under the guidance of Head Coach Brent Livermore.

Kookaburra Lachlan Sharp stunned the home crowd when he provided the deftest of touches to open the scoring after just two minutes. Ky Willott then cracked home a field goal and scored the subsequent conversion opportunity in the shadows of three quarter time to make it 3-0, before Tom Craig sealed the result with a first class solo effort and finish.

The 5-0 result gave NSW Pride the minor premiership and sent out a warning to the other contenders that they will take some stopping.



(AAP Image/Scott Barbour)

One of those contenders, who the Pride will meet in the semi finals, is HC Melbourne. The Victorians finished in fourth spot after escaping with a 6-5 win over bottom placed Adelaide Fire in their last regular season match.

The 11-goal thriller had Adelaide Fire head into half time 3-1 in front courtesy of a field goal and conversion double to Kota Watenabe and a Cameron Joyce drag flick.

But when Aaron Kleinschmidt and then captain Russell Ford both scored field goals and their one-on-one conversion opportunities a two goal deficit was suddenly a two goal lead for the hosts.

Joyce's second goal kept the Fire well and truly in the game but drag flick specialist Josh Simmonds responded again for HC Melbourne on the stroke of three quarter time.

Despite Joyce completing his hat-trick in the 52nd minute, the Fire would fall just short of claiming a last round scalp as HC Melbourne's focus turns to their sudden death semi final encounter with the Pride.

All four semi finals will be broadcast LIVE and exclusive on Kayo with the Grand Finals to be shown LIVE on Fox Sports.

Sultana Bran Hockey One 2019 Season – Round 7 Results

Tassie Tigers 4 (J.Beltz 4', McCambridge 8'/8', Gill 19')
Perth Thundersticks 0

Saturday 2 November 2019
Tasmanian Hockey Centre (TAS)

Tassie Tigers Men's team: 2.Nicholas Leslie, 4.Hayden Beltz, 11.Eddie Ockenden (c), 12.Sam McCulloch, 13.Josh Beltz, 14.Jack Welch, 15.Kieron Arthur, 19.Tim Deavin, 20.James Bourke, 21.Ben Read, 23.Henry Chambers (GK), 27.Gobindraj Gill, 29.Sam McCambridge, 32.Jeremy Hayward

Perth Thundersticks Men's team: 1.Brayden King, 4.Jake Harvie, 5.Frazer Gerrard, 7.Tyler Lovell (GK), 8.Coby Green, 9.Dane Gavranich, 10.Tom Wickham, 14.Liam Flynn, 19.Daniel Robertson, 23.Matthew Fisher, 24.Alec Rasmussen, 25.Trent Mitton (c), 26.Brandon Gibbs, 27.Marshall Roberts

Brisbane Blaze 0
NSW Pride 5 (Sharp 2', Willott 45'/45', Craig 60'/60+')

Saturday 2 November 2019
State Hockey Centre (QLD)

Brisbane Blaze Men's team: 2.Shane Kenny, 3.Corey Weyer, 4.Hugh Pembroke (c), 5.Scott Boyde, 7.Joel Rintala, 9.Jacob Anderson, 10.Robert Bell, 12.Jake Whetton, 14.Luke Tyne, 16.Tim Howard, 19.Blake Wotherspoon, 23.Daniel Beale, 26.Dylan Wotherspoon, 32.Mitchell Nicholson (GK)

NSW Pride Men's team: 1.Lachlan Sharp, 2.Tom Craig, 5.Ash Thomas (GK), 6.Matthew Dawson (c), 7.Daine Richards, 11.Hayden Dillon, 12.Kurt Lovett, 19.Jack Hayes, 20.Ky Willott, 22.Flynn Ogilvie, 23.Ryan Proctor, 24.Dylan Martin, 26.Ehren Hazell, 29.Timothy Brand

HC Melbourne 6 (Ephraums 2', Kleinschmidt 33'/33', Ford 37'/37', Simmonds 45+')
Adelaide Fire 5 (Kota 9'/9', Joyce 15+'/42'/52')

Sunday 3 November 2019
State Netball and Hockey Centre (VIC)

HC Melbourne Men's team: 1.Craig Marais, 2.Max Hendry, 3.Simon Borger, 5.Andrew Philpott, 7.Will Gilmour, 9.Nathan Ephraums, 10.Russell Ford (c), 12.Connar Otterbach, 14.Jonathan Bretherton, 15.Josh Simmonds, 18.Johan Durst (GK), 21.Jake Sherren, 25.Aaron Kleinschmidt, 29.Oscar Wookey

Adelaide Fire Men's team: 1.Fraser Bowden, 3.Lachlan Busiko, 7.Scott Germein, 9.Fred Gray, 11.Cameron Joyce, 15.Andy Leat, 18.Al Oliver, 19.Glyn Tamlin (c), 22.Chris Wells, 23.Cameron White, 24.Hirotaka Zendana, 25.Kota Watenabe, 26.Liam Alexander, 29.Edward Chittleborough (GK)

Sultana Bran Hockey One League – Men's Semi Finals

NSW Pride v HC Melbourne

Saturday 9 November 2019
Sydney Olympic Park Hockey Centre (NSW)
Match Start: 1:00pm local (1:00pm AEDT)

Brisbane Blaze v Tassie Tigers

Saturday 9 November 2019
State Hockey Centre (QLD)
Match Start: 6:30pm local (7:30pm AEDT)

Sultana Bran Hockey One League Media release


---

Sultana Bran Hockey One League Women's Round 7 Review




Adelaide Fire ruined HC Melbourne's perfect season, Brisbane Blaze locked up a home semi final, while Canberra Chill snuck into the finals courtesy of the Tassie Tigers' stunning win over the Perth Thundersticks.

And the semi finalists for the inaugural Sultana Bran Hockey One season have been decided following a final round of matches that threw up some intriguing and surprising results.



(AAP Image/Leigh Winburn)

The round began in Hobart with the Tassie Tigers producing their best performance of the season to notch their first win and extinguish Perth Thundersticks' finals hopes in the process.

Needing to defeat the previously winless Tigers to secure a top four spot, the Thundersticks received the perfect start when Karri Somerville struck in the 4th minute. But by half time they found themselves 3-1 down after Sarah McCambridge scored and then Sophie Rockefeller fired home a brace with a field goal and resultant successful conversion.

Renee Rockliff reduced the deficit early in the final quarter but the massive boilover was complete with three minutes remaining as Phillida Bridley scored from general play and then converted her one-on-one opportunity to give the Tigers a thrilling victory and send retiring goalkeeper Holly Bonde off a winner.



(AAP Image/Dan Peled)

The State of Origin rivalry was reignited in Queensland as the Brisbane Blaze and NSW Pride welcomed back a host of their Hockeyroos stars for a match that had the Blaze aiming to sew up second spot, while the visitors had just their namesake to play for.

Blaze goalkeeper Hannah Astbury made a stunning early save to keep scores level and in a tightly fought contest, two quality drag flicks from Hockeyroos duo Jodie Kenny and Madison Fitzpatrick was enough to separate the teams and ensure Brisbane Blaze would host a semi final.



(AAP Image/Scott Barbour)

Finally, after a tense scoreless first three quarters, HC Melbourne and Adelaide Fire turned on a thriller at Melbourne's State Netball and Hockey Centre.

A well taken drag flick by Hockeyroo Karri McMahon eventually broke the deadlock to give the Fire the lead in the 53rd minute, but just as the visitors appeared to have inflicted HC Melbourne's first loss of the season, Kristina Bates pounced on a loose ball to smash home an equaliser in the dying seconds.

Bates had a chance to win it with her resultant one-on-one conversion opportunity but Fire goalkeeper Ashlee Wells pulled off a fine save with her left leg to send the match to penalties.

In the shootout it was the Adelaide Fire who would hold their nerve, HC Melbourne's Madi Ratcliffe missing her penalty to give the South Australians a memorable victory and plenty of confidence heading into their cutthroat semi final against Brisbane Blaze.

All four semi finals will be broadcast LIVE and exclusive on Kayo with the Grand Finals to be shown LIVE on Fox Sports.

Sultana Bran Hockey One 2019 Season – Round 7 Results

Women's Competition

Tassie Tigers 5 (McCambridge 25', Rockefeller 29'/29', Bridley 57'/57')
Perth Thundersticks 3 (Somerville 4', Rockliff 47', Vanderzwan 60+')

Saturday 2 November 2019
Tasmanian Hockey Centre (TAS)

Tassie Tigers Women's team: 1.Sarah McCambridge, 2.Amelia Spence (c), 3.Hannah Richardson, 4.Nicole Geeves, 5.Molly Haas, 8.Holly Bonde (GK), 9.Emily Donovan, 10.Laura Spandler, 13.Phillida Bridley, 15.Sophie Rockefeller, 16.Samantha Lawrence, 19.Esmee Broekhuizen, 20.Katerina Lacina, 21.Lauren Canning

Perth Thundersticks Women's team: 1.Phillipa Morgan, 3.Candyce Peacock, 4.Jemma Buckley (c), 8.Georgia Wilson, 9.Shanea Tonkin, 12.Liné Malan, 14.Roos Broek, 15.Caitlin Pascov, 16.Karri Somerville, 17.Annie Gibbs, 18.Renee Rockliff, 19.Aleisha Power (GK), 21.Jade Vanderzwan, 29.Agueda Moroni

Brisbane Blaze 2 (Kenny 26', M.Fitzpatrick 41')
NSW Pride 0

Saturday 2 November 2019
State Hockey Centre (QLD)

Brisbane Blaze Women's team: 1.Savannah Fitzpatrick, 2.Madison Fitzpatrick, 3.Layla Eleison, 4.Ashlea Fey, 5.Rosie Malone, 6.Morgan Gallagher, 7.Jodie Kenny (c), 8.Jordyn Holzberger, 9.Jesse Reid, 14.Meg Pearce, 15.Hannah Astbury (GK), 19.Morgan Mathison, 20.Aleisha Neumann, 22.Britt Wilkinson

NSW Pride Women's team: 1.Jocelyn Bartram (GK), 2.Sarah Johnston, 7.Grace Stewart, 10.Greta Hayes, 14.Kaitlin Nobbs, 16.Jessica Watterson, 19.Morgan Blamey, 20.Maddison Smith, 21.Alice Arnott, 22.Kate Jenner, 23.Abby Wilson, 28.Casey Sablowski (c), 29.Courtney Schonell, 31.Emma Spinks

HC Melbourne 1 (3) (Bates 60')
Adelaide Fire 1 (4) (McMahon 53')
Adelaide Fire win 4-3 on penalties

Sunday 3 November 2019
State Netball and Hockey Centre (VIC)

HC Melbourne Women's team: 1.Sophie Taylor, 2.Aisling Utri, 3.Nicola Hammond, 5.Kristina Bates, 7.Kary Chau, 10.Laura Desmet, 12.Carly James, 14.Laura Barden, 20.Hayley Padget, 21.Florine van Grimbergen, 22.Madi Ratcliffe, 23.Samantha Snow (c), 25.Hannah Gravenall, 27.Rachael Lynch (GK)

Adelaide Fire Women's team: 1.Linzi Appleyard, 3.Brooklyn Buchecker, 6.Jane Claxton, 7.Emma De Broughe, 8.Holly Evans (c), 13.Sarah Harrison, 15.Euleena Maclachlan, 17.Karri McMahon, 19.Gabi Nance, 20.Hattie Shand, 21.Miki Spano, 22.Leah Welstead, 25.Kate Denning, 30.Ashlee Wells (GK)

Sultana Bran Hockey One League – Women's Semi Finals

Brisbane Blaze (2) v Adelaide Fire (3)

Saturday 9 November 2019
State Hockey Centre (QLD)
Match Start: 5:00pm local (6:00pm AEDT)

HC Melbourne (1) v Canberra Chill (4)

Sunday 10 November 2019
State Netball and Hockey Centre (VIC)
Match Start: 2:30pm local (2:30pm AEDT)

Sultana Bran Hockey One League Media release


---

Semi Finals set for inaugural Sultana Bran Hockey One season




The ticketing and match details for the Sultana Bran Hockey One 2019 Semi Finals have been released as the inaugural season draws closer to its exciting climax.

Tickets for the Sultana Bran Hockey One 2019 Semi Finals will go on sale to club members in an exclusive 24 hour priority period from 3pm AEDT today before general public sales open at 3pm AEDT tomorrow (Tuesday 5 November 2019).

The match ups for the semi finals see first host fourth on the ladder, with the team who finished second earning hosting rights against the third ranked team.

The women's semi finals begin with Brisbane Blaze (2) against Adelaide Fire (3) on Saturday 9 November at Queensland's State Hockey Centre at 5:00pm local (6:30pm AEDT).

Then on Sunday 10 November minor premiers HC Melbourne are at home to fourth placed Canberra Chill at 2.30pm AEDT at the State Netball and Hockey Centre Melbourne.

In the men's semi finals, the undefeated NSW Pride (1) will take on HC Melbourne (4) at 1:00pm AEDT on Saturday 9 November at the Sydney Olympic Park Hockey Centre.

The other semi final pits Brisbane Blaze (2) against the in form Tassie Tigers (3), the match to be played as the second of a double header following the women's semi between the Blaze and Adelaide Fire.

With the do-or-die semi finals confirmed, the stage is set for a thrilling finale.

"The inaugural Sultana Bran Hockey One League home and away season has certainly delivered on our vision of 'Real Hockey – Reimagined' with amazing skills, brilliant goals and upset results," said Tony Dodemaide, Sultana Bran Hockey One League General Manager.

"The finals series promises more of the same, with all remaining teams boasting familiar names of Kookaburras and Hockeyroos alongside exciting new local talent. We're in for a cracking program this weekend to determine the first ever men's and women's Sultana Bran Hockey One League Grand Finalists."

The Grand Finals will be staged as a men's and women's double header on Saturday 16 November, with further details to be announced at the conclusion of the semi-finals.

All four Sultana Bran Hockey One League Semi Finals will be shown LIVE and exclusive on Kayo, with the Grand Finals to be LIVE on Fox Sports.

Sultana Bran Hockey One League 2019 Semi Finals

Women's Competition

Brisbane Blaze (2) v Adelaide Fire (3)

Saturday 9 November 2019
State Hockey Centre (QLD)
Match Start: 5:00pm local (6:00pm AEDT)

Ticketing:

Click here for members pre sale

Click here for general public sales

HC Melbourne (1) v Canberra Chill (4)

Sunday 10 November 2019
State Netball and Hockey Centre (VIC)
Match Start: 2:30pm local (2:30pm AEDT)

Ticketing:

Click here for members pre sale

Click here for general public sales

Men's Competition

NSW Pride v HC Melbourne

Saturday 9 November 2019
Sydney Olympic Park Hockey Centre (NSW)
Match Start: 1:00pm local (1:00pm AEDT)

Ticketing:

Click here for members pre sale

Click here for general public sales

Brisbane Blaze v Tassie Tigers

Saturday 9 November 2019
State Hockey Centre (QLD)
Match Start: 6:30pm local (7:30pm AEDT)

Ticketing:

Click here for members pre sale

Click here for general public sales

Sultana Bran Hockey One League Media release


---

Mombasa stun KCA to open promotion race

By AGNES MAKHANDIA



Butali Sugar Warriors midfielder Brian Musasia (centre) in element against KCA- University during their Kenya Hockey men's Premier League match at the City Park Stadium, Nairobi on August 26, 2018. PHOTO | FILE |  NATION MEDIA GROUP

Mombasa Sports Club (MSC) revived their promotion chances with a shock 1-0 win over Kenya College of Accountancy University (KCA-U) in a Super League match at City Park Stadium on Sunday.

Dennis Barasa scored the lone goal for the visitors in the 13th minute.

Leaders Parkroad Badgers, who were inactive this weekend and have four games left to play, remain in pole position to win the league with 46 points from 18 matches.

KCA-U, who have 40 points from 21 matches, needed a win to seal second place but they faltered allowing MSC to take their tally to 36 points from 19 matches. The students have one match left to play while MSC have three games in hand.

The top two teams in the Super League will earn promotion to the top tier while the last two teams in the Premier League will be relegated at the end of the season.

MSC coach Mariano Emadau said destiny is now in their hands ahead of their remaining matches against Multimedia University, Kisumu Youngstars and Impala.

"We last featured in the top tier in 2017. Therefore we are fully aware what is expected of us since there is no coastal side is in the Premier League and that's what is pushing us to do better. We will take one match at time and see what happens from there," said Emadau.

Meanwhile, Western Jaguars held United States International University of Africa (USIU-A) to a 1-1 draw in a men's Premier League match played at the same venue.

Robinson Omutekele scored for Jaguars in the eighth minute while Brian Kipkorir replied for the students. Jaguars had beaten relegation-threatened Strathmore University 2-0 on Saturday.

The four points picked by Mike Malungu's charges sees them move fourth level on 21 points with Kenya Police who have two matches in hand.

Daily Nation


---

USIU-A survive Jaguars attack at City Park

By Elizabeth Mburugu



Samson Ratia of USIU during Premier Leageu match against Western Jaguars at City Park Stadium on Sunday Oct 3, 2019. [Jonah Onyango, Standard]

Going gets tough for former Strathmore Gladiators as they face relegation threat.

Western Jaguars had a successful Nairobi outing bagging four points out of the possible six in the Kenya Hockey Union men's Premier League, at City Park.

Jaguars began their weekend with a deserved 2-0 win over 2016 champions Strathmore University Gladiators on Saturday evening.

Yesterday, they laboured to 1-1 draw against United States International University of Africa (USIU-A) to salvage a point and move to fifth place with 21 points.

The four points also saw the Kakamega players, who set their sights on a top-four finish at the start of the season, move closer to achieving their objective.

Jaguars coach Mike Malungu lauded his charges for the good fight.

"Four out of six means they played well but our aim was to gain maximum points. We are also working at ensuring we don't settle for less going forward," Malungu said.

Malungu rued missed chances against USIU-A, saying victory would have seen them move to third, which is within their season's objectives.

"Victory against USIU-A was very crucial because it would have moved us closer to our goal. However, all is not lost because we have three matches remaining and we are determined to make them count."

Robinson Omutekete and Kelvin Machinji were on target for Jaguars to condemn Strathmore, who are one place above relegation, to their 10th loss of the season.

With only one point separating Strathmore and second from the bottom Nairobi Sikh Union, the students will have to up their game in their remaining encounters if they desire to remain in the top tier or face the axe.

Against USIU-A, Omutekete converted a penalty corner in the eighth minute to give Jaguars an early lead. Brian Kipkorir outwitted the Jaguars defence and goalkeeper Paul Navangi to level the score in the 25th minute.

The two sides then unsuccessfully attempted to break each other's defence for the remaining part of the match finally sharing spoils.

In the men's Super League, Mvita XI bounced back from their 1-4 defeat to Kenya College of Accountancy University (KCAU) to beat Nakuru 1-0.

A first half short corner conversion ensured that Mvita did not return to Mombasa empty-handed.

Their Mombasa Sports Club (MSC) counterparts left Nairobi a happy lot after chalking double victories.

MSC beat Nakuru 2-0 on Saturday before edging out KCAU 1-0 yesterday. 

The Standard Digital


---

Penn field hockey uses hot start to capture 3-2 road win against Brown

The Quakers scored two goals in the first five minutes of the game

By Justin Dechiario



Senior forward Alexa Schneck scored her ninth career game-winning goal in Penn field hockey's 3-2 victory over Brown on Saturday. Credit: Kelsey Warren

Penn field hockey came out of the gates quickly and had a strong finish against Brown on Saturday afternoon.

The Quakers beat Brown, 3-2, in Providence, R.I. in a game in which they never trailed.

Penn (7-9, 4-2 Ivy) got off to a quick start when junior midfielder Erin Kelly took a shot from the arc that found the back of the net at the 1:07 mark in the first quarter. A little over three minutes later, junior forward Erin Quinn tacked on another goal off an assist from junior back Reese Vogel to put Penn up by a score of 2-0.

Coming out in attack mode was something the Quakers wanted to do, and they were able to execute that immediately.

"It was definitely part of our game plan going in," Kelly said. "We all came out super hungry for a good win, and we were not going to sit back and let them dictate the beginning minutes."

The remainder of the first half was quiet offensively, as the two teams took only a combined three shots in the second quarter. With less than 30 seconds to go in the third, Brown (5-11, 1-5) got its first goal of the game off a rebounded shot to cut Penn's lead in half.

Senior forward Alexa Schneck provided the game-sealing goal with under five minutes left in the match, knocking the ball in off a penalty shot to give Penn a 3-1 lead. The Quakers conceded a final goal with less than a minute left to go in the game, but it was too little, too late for the Bears.

While penalty shots come with a lot of pressure, Schneck never had a doubt about converting.

"For me, I just think it's going in," Schneck said. "There is no question in my mind that I am scoring, so it's more mental and just being confident that you can make it."

The Red and Blue played a balanced game overall, getting contributions from many players, along with solid goalkeeping from senior Ava Rosati. While she didn't score, freshman defender Elita van Staden was in attack mode all day, as she had the most shots on the team with five and the most shots on goal with three.

"This was really a team effort," Kelly said. "Whether it was our offensive urgency or how we all came back when a goal was scored against us, we all knew what we needed to do."

"We really did a good job of making sure everyone was involved in the offense," Schneck said. "No one person was the center of our scoring opportunities."

Penn has one more game left on the schedule — Senior Day against No. 8 Princeton — when the group will look to end the season on a high note.

"Knowing that it is the seniors' last game is definitely going to give us a lot of motivation because we all want it so bad," Schneck said.

A Senior Day game against rival Princeton should be enough motivation, but the players are also motivated to play for one another.

"We all have this feeling that this is a very special team that we're on, and we only have so many more chances left to be able to play with this exact team," Kelly said.

The Quakers have one more opportunity to play together next Saturday, and much like in this weekend's game, they are hoping to finish strong.

The Daily Pennsylvanian


---

No. 11 Northwestern shines in a 6-0 over Indiana in the final game of the regular season

Gabriela Carroll



Saar de Breij watches Shannon Daley hit the ball. The senior midfielder played her last regular season game for the Cats on Friday. Daily file photo by Alison Albelda

They're in the endgame now.

No. 11 Northwestern destroyed Indiana 6-0 in their final game of the regular season. After a scoreless first quarter where the Wildcats seemed shaky offensively, the team took advantage of their scoring opportunities en route to a lopsided victory. And, to add to NU's great weekend, Iowa defeated Michigan on Sunday to give the Cats the third seed in the Big Ten tournament.

NU (13-6, 5-3 Big Ten) had possession on its offensive half of the field for almost the entire first quarter, but could not seem to score. Despite taking seven shots, the Cats kept missing tips and shooting balls wide. But two penalty corner goals in the second quarter helped break that streak.

"We were getting shots, we were attacking from the end lines, we were getting people in front of the net, diving, and that's all you can ask," coach Tracey Fuchs said. "It didn't happen in the first quarter, but I knew if we just kept on it and if everyone was down and ready, we'd be able to grab some goals."

Fuchs said executing on penalty corners is important if NU hopes to make a run in the tournament. And on Friday, the Cats showed off the versatility of their penalty corner attack.

For the first goal, with leading scorer and usual target freshman Bente Baekers on the bench, junior forward Lakin Barry took the shot from the top. Freshman midfielder Ana Medina Garcia deflected her hit upwards and into the back of the net.

Later in the game, NU scored two goals off the traditional stick-stop corner with a Baekers shot from the top. They also ran the play with sophomore midfielder Maren Seidel, which led to the final goal of the game. After Seidel's initial hit, inserter and senior defenseman Kirsten Mansfield cut to the post and passed the ball in, capping off senior day with the third senior goal.

Every senior played Friday, and three seniors, midfielder Saar de Breij, midfielder Lily Gandhi and Mansfield scored.

"Everyone was ready to celebrate the day, celebrate our season and just defend our turf," Mansfield said.

The Cats also took advantage of second chances, with all three seniors scoring off of rebounds. de Breij took the initial shot, but the Hoosiers' goalie dove and blocked it. Freshman midfielder Alia Marshall took another shot that bounced off the stick of an Indiana defender and came right back to de Breij, who lifted it just over the defender's stick to score her ninth goal of the season, a career high.

Gandhi's goal came barely a minute into the third quarter. Baekers missed a shot, forcing the Hoosiers' goalie to dive, and Gandhi got the rebound. It was Gandhi's first goal of the season.

"My first goal of the season! I'm normally defending, so it was good to get a goal," Gandhi said.

"Not the last one of the season," de Breij said.

"Hopefully not the last one of the season!"

The Daily Northwestern