All the news for Sunday 11 August 2019

Pan Am Games 2019 (Men)
Lima (PER)

Results

10 Aug 2019     PER v MEX (7/8 Place)         0 - 6
10 Aug 2019     CUB v TTO (5/6 Place)         1 - 2
10 Aug 2019     USA v CHI (Bronze)         2 - 1
10 Aug 2019     ARG v CAN (Gold)             5 - 2

Final standings

1. Argentina - Qualifies for Tokyo2020
2. Canada
3. United States
4. Chile
5. Trinidad & Tobago
6. Cuba
7. Mexico
8. Peru

FIH Match Centre


---

Argentina put on display in Pan Am Championship win over Canada

Ali Baggott



Photo: Yan Huckendubler  

The reigning Olympic champions were in fine form on the final day of the 2019 Pan American Champions bucketing five goals on Canada for a 5-2 victory and a ticket to the 2020 Tokyo Olympics.

Jose Tolini notched two, while Maico Casella added one to put both at the top of the scoring table with 10 goals each. Lucas Martinez and Martin Ferreiro also got on the board while, Canadian drag flickers Scott Tupper and Gordie Johnston scored for Canada



Photo: Yan Huckendubler

A tight opening quarter had few scoring opportunities for either team but the pace was high and the defence was stingy. Although no goals were scored Canada suffered their biggest lost when veteran midfielder and two-time Olympian Mark Pearson was walked off the field in the ninth minute after getting tangled with an Argentina player. He didn't return. The Canadians didn't hang their heads for long though.

In the 16th minute, Brenden Bissett brought down an aerial in the Argentina circle and forced the ball towards goal. The ball popped high off Juan Vivaldi's pads and gave Canada their first penalty corner. Tupper delivered a flick to the top of the net to stun the crowd with the game's first goal. As champions they are, the Leones charged back in the next minute of play to earn a penalty corner of their own.

Tolini flicked low and David Carter made the save but there were no Canadians there to clear the rebound. Tolini walked in and buried his own rebound to tie the game 1-1.

Not two minutes later a hard ball was sent in to the Canadian circle and caught Tupper on the foot. Argentina showed how dangerous they are on the set piece as Tolini flicked a low shot that rung off the back boards for his 10th goal of the games.

Canada didn't panic but they also couldn't find a way past the Argentine defence. Juan Lopez and Pedro Ibarra closed every entry that Jamie Wallace and Keegan Pereira tried on the left side of the circle.

In the 27th minute Canada earned their second penalty corner and a chance to draw level. The ball was miss trapped at the top of the circle and a frantic effort to get the ball in to the circle backfired. Argentina countered with incredible speed and before Canada could turn, Lucas Vila was running into Canada's circle with options.

Vila dished to a wide open Ferreiro who swept the ball up and over a sliding Carter to bring Argentina ahead 3-1.

Pan American Hockey Federation media release


---

Canada falls to Argentina and claims silver in Lima

Men's National Team comes up short against a tough Argentina in gold medal game

By Ali Baggott



Photo: Yan Huckendubler

The reigning Olympic champions were in fine form on the final day of the 2019 Pan American Champions bucketing five goals on Canada for a 5-2 victory and a ticket to the 2020 Tokyo Olympics. For Canada, the silver medal was the second in two days as Canada's women's team also came up short yesterday against Argentina.

Canadian drag flickers Scott Tupper and Gordie Johnston each scored for Canada but the scattered offense wasn't enough against a tough Argentine side that saw Jose Tolini notch two goals, Maico Casella, Lucas Martinez and Martin Ferreiro also get on the board.

A tight opening quarter had few scoring opportunities for either team but the pace was high and the defence was stingy. Although no goals were scored Canada suffered their biggest lost when veteran midfielder and two-time Olympian Mark Pearson was walked off the field in the ninth minute after getting tangled with an Argentina player. He didn't return. The Canadians didn't hang their heads for long though.

In the 16th minute, Brenden Bissett brought down an aerial in the Argentina circle and forced the ball towards goal. The ball popped high off Juan Vivaldi's pads and gave Canada their first penalty corner. Tupper delivered a flick to the top of the net to stun the crowd with the game's first goal. As champions they are, the Leones charged back in the next minute of play to earn a penalty corner of their own.

Tolini flicked low and David Carter made the save but there were noCanadians there to clear the rebound. Tolini walked in and buried his own rebound to tie the game 1-1.

Not two minutes later a hard ball was sent in to the Canadian circle and caught Tupper on the foot. Argentina showed how dangerous they are on the set piece as Tolini flicked a low shot that rung off the back boards for his 10th goal of the games.

Canada didn't panic but they also couldn't find a way past the Argentine defence. Juan Lopez and Pedro Ibarra closed every entry that Jamie Wallace and Keegan Pereira tried on the left side of the circle.

In the 27th minute Canada earned their second penalty corner and a chance to draw level. The ball was miss trapped at the top of the circle and a frantic effort to get the ball in to the circle backfired. Argentina countered with incredible speed and before Canada could turn, Lucas Vila was running into Canada's circle with options. Vila dished to a wide open Ferreiro who swept the ball up and over a sliding Carter to bring Argentina ahead 3-1.

Argentina seemed to only get better from there, while Canada's momentum, if any, seemed to halt entirely. Carter was still sharp in the Canadian goal denying a back-hand blast from Agustin Mazzilli in the 38th minute. Maico Casella extended Argentina's lead in the 40th minute. His diving touch in mid-air went to video referral and the ball changed direction off the stick ever so slightly and Casella was credited with his 10th goal of the tournament.

Up 4-1 Argentina seemed on auto-pilot and showed their superiority through the final quarter. Canada seemed to lose track of the ever-rotating Argentina forwards and in the 53rd minute Juan Lopez blasted a ball to the top of the circle. Martinez shook both Canadian defenders and delivered a forehand rocket to give Argentina the 5-1 go ahead.

Canada's Johnston added a goal on a penalty corner in the final 30 seconds of the game but it would not be enough to beat the two-time defending Pan American champions. This is Argentina's 10th Pan American Games gold medal since the inaugural 1967 games. The four other championships not won by Argentina were won by Canada (1983, 1987, 1999 and 2007).

The Canadians will await another opportunity to go to Tokyo in the fall when the Olympic qualifier opponents are announced.

Field Hockey Canada media release


---

USA make big return to podium after edging Chile for bronze

Ali Baggott


   
Photo: Yan Huckendubler

The USA returned to the Pan American Games podium for the first time since 1995. The Americans edged Chile 2-1 for the bronze medal, improving on their two fifth place finished in 2015 and 2011. The Chileans who have won bronze at the last three editions of the Pan American Games are forced to settle for fourth.

Deegan Huisman and Aki Kaeppeler scored for the USA, while Felipe Renz's fourth quarter tally nearly had Chile back in it.

The United States set the tone in the first two minutes as Huisman deflected a Kei Kaeppeler shot to lift USA 1-0 on their opening rush in to Chile territory. Both teams matched each other in physicality but also in the amount of turnovers.



Photo: Yan Huckendubler

Chile forward Javier Osses drew the first penalty corner of the game. Nicolas Renz laid the ball off to Juan Amoroso but the low flick was booted away by keeper Jonathan Klages. The teams traded action in the middle of the pitch with the only other scoring chance coming in the 13th minute on a penalty corner that Axel Troncoso earned for Chile. This time Amoroso's flick soared high over the goal.

In the second quarter Pat Harris' hard work up the middle got the ball to the stick of team mate Sean Cicchi. Cicchi was fouled by a flurry of Chilean players but the ball popped loose for Alberto Montilla. Howeer, Montilla's back-hand shot sailed high over the net. The Americans had one other first half scoring opportunity as Harris deflected a ball in to a Chilean foot in to the circle. The flick from Cicchi was low and saved by Chilean keeper Adrian Henriquez to leave the game still 1-0 in USA's favour by half time.

In the third quarter Harris drew USA's second corner of the game after some nifty moves at the top of the circle. Aki Kaeppeler pulled the trigger on a high drag flick that beat Henriquez and gave USA the 2-0 lead.



Photo: Yan Huckendubler

In the 50th minute Chile finally got on the board. A flick from Renz was blocked by the USA's runner Kei Kaeppeler and the rebound fell to Martin Rodriguez. Rodriguez looked for space and popped the ball towards goal where a waiting Nicolas Renz was there move the ball past Klages. Chile trailed 2-1 heading in to the final nine minutes of the game.

Chile had a number of rushes and attacks towards goal to find an equalizer. They pulled Henriquez in the final minutes to add an extra field player. Seconds after Chile earned a penalty corner. Nicolas Renz's flick was redirected off the line by USA's Mike Barminski.

The USA did well to maintain possession through the final minute and until they could finally celebrate the team's best finish in 24 years. The USA women also won bronze just a day earlier. The game also marked the 150th international match for midfielder and four-time PAHF Elite Team member Pat Harris.

Pan American Hockey Federation media release


---

USMNT Holds Off Chile to Earn First Pan American Games Medal in 24 Years




LIMA, Peru - It's been since 1995 that the U.S. Men's National Team medaled at the Pan American Games. No. 28 Chile was the only thing that stood between the No. 24 USA walking away with Lima 2019 bronze or going home defeated. It was a scrappy battled until the very end at the Villa Maria del Triunfo complex in Lima, Peru, as USA scored first and led by two goals for the majority of the game. Los Diablos' attempted comeback fell short with only one goal, as the USMNT earned the 2-1 win and place on the podium.

USA wasted no time getting on the scoreboard, putting one away in the first two minutes of the match. The play developed when Pat Harris (Moorpark, Calif.) dribbled in from the left side of the circle, Kei Kaeppeler (Stuttgart, Germany) picked it up and his shot was tipped in out of the air by Deegan Huisman (Almere, The Netherlands). As USA held an early 1-0 lead, Chile worked to change that momentum and drew a penalty corner a few minutes later. The slip pass to a drag flick by Juan Amoroso was handled well by the USA defense, and goalkeeper Jonathan Klages (Berlin, Germany) cleared the ball out of danger. Los Diablos pressed on as they looked for a chance to even the score. They earned a second penalty corner with two minutes remaining in the quarter, but the shot flew high over the goal. USA saw a few opportunities to add to their lead without a result, leaving the score at USA 1, Chile 0.

USA opened the second quarter with more chances to score that went untranslated. While a few long balls trickled over the end line untouched, Chile countered with a few looks of their own, but USA was able to turn them away. Recovering after each threat, Aki Kaeppeler (Stuttgart, Germany) and the defense passed the ball around the back field as they inched forward and looked for the open player. Through this transfer movement a play developed in the 27th minute and Sean Cicchi (Thousand Oaks, Calif.) drew a USA penalty corner where his drag attempt cleared out by goalkeeper Adrian Henriquez. As time ran out in the first half, Harris dumped the ball over to Paul Singh (Simi Valley, Calif.) at the top of the circle, but he could not get a shot off before the Chile defense stepped. USA continued to lead 1-0 going into halftime.

Taking back possession right away, USA charged up the field to start the third frame. They created ample opportunities to score but were tripped up by the Chile defense until halfway through the third quarter. When Los Diablos tried to send an overhead over the midfield, USA was there to disrupt their plan. Eight minutes into the half, A. Kaeppeler connected with Michael Barminski (Ventura, Calif.) who found Harris at the right side of the circle to draw a second penalty corner. A. Kaeppeler executed a perfect drag into the net above Henriquez to put the red, white and blue up by another goal. Although USA saw a handful of other looks to score, Chile turned them away as the quarter concluded with USA on top, 2-0.

Chile came out in the final quarter with a mission to make a comeback. They cut the deficit in half when Felipe Renz sent a drag past Klages on a penalty corner five minutes in. Following this, play turned frantic as both teams felt the pressure to perform. It looked like Chile would tie things up with four minutes to go as several circle entries required Klages and the USA defense to make stops. Chile pulled their goalkeeper with two minutes remaining, hoping the extra player would help the scoring effort. Los Diablos drew a penalty corner shortly after, but Barminski came up with a big defensive save on the post. USA worked the ball into the corner of the field to run out time and sealed their place in the medaling ceremony. USA held off the Chile comeback to win their first medal in the Pan American Games in 15 years with a score of 2-1.

U.S. Men's National Team midfielder Harris was recognized before today's match for earning his 150th international cap, making him the highest ever capped male athlete in the program.

USFHA media release


---

Double delight as Argentina are Tokyo-bound



Argentina celebrate Pan American gold. Pic credit Yan Huckendubler/PAHF

It was a double delight for Argentina in Peru as both the men and women won the Pan American Games and earned the right to compete at the Tokyo 2020 Olympic Games in the process.

Argentina are just the second nation to seal their spot at next years XXXII Olympiad joining host nation Japan, whose men's and women's teams have qualified twice, once as hosts and then as Asian continental champions.

It was Canada who came runners-up to the South American team in both the men's and women's finals but, despite strong performances from the Canadians, they were no match for their southern neighbours, with the women running out 5-1 winners and the men winning 5-2.

Both USA men and women took the bronze medal, beating Chile in both matches, but they will have differing feelings as they reflect on the results. For the men, bronze indicates their improvement and progression in recent months and this is their first medal at the Games since 1995. For the women, a bronze is their lowest finish at a Pan Am Games since 1991 and they are sure to move down the FIH World Rankings as a result.

In the women's final it was the Silvina D'Elia show. The defender, who returned to the squad in January 2019 after a temporary four-year retirement, scored twice and put in an impeccable performance in defence to help deny the Canadian attack force of Brienne Stairs and Stephanie Norlander.

Julieta Jankunas also scored a double, sealing her place as the tournament's top scorer with 11 goals, all from open play. Another returning retiree, Carla Rebecchi, made it five goals for the South American team.

Canada pulled one back through captain Kate Wright and, for much of the match, the Canadian midfield certainly kept pace with the Argentina side, the difference between the teams was in the two attacking circles where both Argentina's defensive qualities and their attacking powers were superior.

While Argentina were delighted to have sealed their trip to Tokyo, Canada will also see this event as a great preparation for their second stab at Olympic qualification at the FIH Olympic qualifiers later in the year.

In the bronze medal match, USA overcame Chile by a 5-1 scoreline with a hat trick from teenage scoring sensation Erin Matson.

The match between USA and Chile match was fast-paced and entertaining, with both teams scoring within three minutes of the start of the game. USA's Lauren Moyer opened the scoring, with Chile's Consul de las Heras evening things up. USA captain Kat Sharkey also found her way onto the scoresheet with a rasping strike from the top of the circle.

In the men's final, the reigning Olympic champions were in fine form as they scored five goals past Canada for a 5-2 victory. Jose Tolini notched two, while Maico Casella added one. The goals put the two strikers at the top of the scoring table with 10 goals each.

Lucas Martinez and Martin Ferreiro also got on the board while, Canadian drag flickers Scott Tupper and Gordie Johnston scored for Canada.

It was Canada who opened the scoring through captain Tupper but Argentina answered within the minute. From that point on, Argentina upped the ante in both their attacking speed and ferocity and their defensive discipline.

While Canada tried everything to remain within touching distance, Argentina were a class apart and the gold medal was just reward for a comprehensive campaign at this event.

Like the women's team, Canada now head to the FIH Olympic Qualifiers in a second attempt to qualify for Tokyo 2020.

In the bronze medal match USA edged Chile 2-1, improving on their two fifth place finished in 2015 and 2011. The Chileans who have won bronze at the last three editions of the Pan American Games were forced to settle for fourth.

Deegan Huisman and Aki Kaeppeler scored for the USA, while Felipe Renz's answered for Chile in the fourth quarter.

At these games, two umpires reached the 100 international games milestone. USA umpire Gus Soteriades reached the landmark In the semi-final between Chile and Canada, while Catalina Montesino became the first Chile umpire to reach the 100 mark as she took charge of the women's final.

Final placings
Women
1 Argentina
2 Canada
3 USA
4 Chile
5 Uruguay
6 Mexico
7 Peru
8 Cuba

Men
1 Argentina
2 Canada
3 Chile
4 USA
5 Trinidad and Tobago
6 Cuba
7 Mexico
8 Peru

(With thanks to Ali Lee/PAHF for the match reports)

FIH site


---

EuroHockey Championship II (Women) 2019
Glasgow, Scotland

Results

10 Aug 2019 09:30     WAL v CZE (Pool C)         1 - 2
10 Aug 2019 11:45     UKR v TUR (Pool C)         5 - 2
10 Aug 2019 14:00     AUT v POL (3rd/4th Place)    2 - 4
10 Aug 2019 16:15     ITA v SCO (Final)             1 - 2

Final standings

1. Scotland
2. Italy
3. Poland
4. Austria
5. Wales
6. Czech Republic
7. Ukraine
8. Turkey

FIH Match Centre


---

Scotland win gold at Women's EuroHockey Championship II in Glasgow



The Scotland team celebrate with the trophy – Photo by Duncan Gray

Scotland, backed by a huge home support, won Women's EuroHockey Championship II in Glasgow with a 2-1 victory over Italy. The Tartan Hearts had already gained promotion back to the top level of European hockey, and did so with a gold medal at the Glasgow National Hockey Centre.

The Scots got off to an excellent start and enjoyed lots of early pressure in the contest.



The Scotland team huddle before the start of the game – photo by Duncan Gray

Six minutes into the final, Scotland took the lead. Bex Condie powered her way into the D and turned the defender before smashing the ball goal ward. Sarah Jamieson deflected the ball past the goalkeeper and it bobbled over the line to make it 1-0.

It was nearly a quick response from the Italians as they carved Scotland opened at the back for a one-on-one with Amy Gibson, but the goalkeeper was out quick to block.

Scotland continued with some good pressure and Sarah Robertson showed some lovely skill to keepie uppie her way into the D, but she couldn't find an Italian foot at the vital moment.

At the start of the second quarter Italy had the ball in the back of the Scotland net but it was chopped off for a back stick in the build-up. The Italians looked sharp as half time approached but they couldn't break Scotland down, and the Tartan Hearts held onto their lead at the break.



Sarah Jamieson tries to beat the Italian keeper. – Photos by Duncan Gray

Early in the second half Fiona Burnet thought she'd scored but the goal was disallowed and the gap remained at one goal.

Scotland continued to search for a second goal and Amy Costello had opportunities from penalty corners to find the net. The first prompted an excellent save low to the left, then another was blasted just wide of the right post.

Then Robyn Collins came close, this time from an elaborate penalty corner routine that saw the ball switched around the D with Collins smashing just wide left.

The Italians emerged back into the contest and very nearly equalised when a great attack down the left saw Gibson touch the ball onto the post and wide.

After a series of Italian penalty corners it was Scotland who managed to strike the next goal. Amy Costello did well to win the ball, break forward and send Louise Campbell sprinting down the right. Campbell cut the ball back and Charlotte Watson managed to force the ball over the line to make it 2-0.

In the final minute of the match Italy pulled one back when a penalty corner looped into the net, but Scotland held on and won Women's EuroHockey Championship II in Glasgow.

Scotland Head Coach Jen Wilson said, "I'm absolutely delighted with the win. We said yesterday we had one more job to do and the girls' absolutely went out and did it today. It was a tough game for us but we played how we know we can play. It's very exciting how this team is developing and they've earned this win tonight."

Captain Kaz Cuthbert said, "I'm delighted, absolutely ecstatic. We had a goal when we came here – to get promoted and win the tournament. We got promotion yesterday and today was all about the gold medal. It's important that we continue to develop from this but we're over the moon to have won this on our own patch."

Scottish Hockey Union media release


---

Scotland beat Italy 2-1 in final

Scotland have won Women's EuroHockey Championship II after dominating Italy in the final at Glasgow's National Hockey Centre.

The hosts, who had qualified for the 2021 EuroHockey Nations Championship by beating Poland in Friday's semi-final, took the lead through Sarah Jamieson.

Charlotte Watson doubled the Scots' advantage in the second half.

And although Italy pulled one back with 90 seconds remaining, Scotland held on to clinch the title.

"We are absolutely ecstatic," said captain Kaz Cuthbert. "We came here with a goal to get promotion and we absolutely smashed it by getting a trophy.

"It was a feisty game but we didn't get riled and stuck to our gameplan.

"Now it is about making sure we build on this. We are a top-tier team and we need to go out and prive that by training hard and performing in the next tournament that comes along."

BBC Sport


---

EuroHockey Championship IV (Men) 2019 - Day 5
Helsinki, Finland

Results

10 Aug 2019     HUN v CYP (Pool A)     1 - 1
10 Aug 2019     NOR v FIN (Pool A)         1 - 1

Pool Standings
| Rank | Team | Played | Wins | Draws | Losses | Goals For | Goals Against | Goal Difference | Points |
| --- | --- | --- | --- | --- | --- | --- | --- | --- | --- |
| 1 | Finland | 3 | 2 | 1 | 0 | 7 | 3 | 4 | 7 |
| 2 | Hungary | 3 | 2 | 1 | 0 | 6 | 4 | 2 | 7 |
| 3 | Norway | 4 | 1 | 2 | 1 | 5 | 5 | 0 | 5 |
| 4 | Cyprus | 3 | 0 | 2 | 1 | 3 | 5 | -2 | 2 |
| 5 | Slovenia | 3 | 0 | 0 | 3 | 4 | 8 | -4 | 0 |
---

Kenyan National hockey teams off to Olympic qualifiers

By AYUMBA AYODI



Kenya Hockey Union President Nahashon Randiek arrives at the City Park Stadium on August 10, 2019. The national men and women's teams have departed the country for the 2020 Tokyo Olympic Games Africa qualifiers in Stellenbosch University, Cape Town. PHOTO | CHRIS OMOLLO |  NATION MEDIA GROUP

There was only one change in the men's team when the national hockey teams left the country on Saturday for the 2020 Tokyo Olympic Games Africa qualifiers.

Coaches from both teams exuded confidence of posting good results in the weeklong championships that start on Monday at Stellenbosch University, Cape Town.

Greensharks defender Clayton Luvanda, who fractured his finger in training has been replaced by Ken Munialo from Wazalendo in the men's team that is captained by Butali Sugar Warriors defender Constant Wakhura deputised by experienced Kenya Police midfielder Willis Okeyo.

Strathmore University Scorpions' Gilly Okumu will lead the women's team that remained intact on departure.

Men's head coach Meshack Senge, who served in the same capacity in the previous qualifiers for the 2016 Rio Olympic Games, promised a different show altogether.

"We are not just going to participate but stake a serious acclaim there," he said. "We train to win and for sure we are going for improved results by placing the best foot forward."

The men are hoping to qualify for the Summer Olympics for the first time since 1988 Seoul.

Kenya finished third during the Africa qualifier for the 2016 Rio Olympic Games, beating Ghana 4-3 in the play-off. South Africa once again got to represent the continent at the 2016 Rio Olympics after they beat Egypt 4-2 in the final.

Senge was quick to dispel the grumbles and murmurs over the radical changes that saw many experienced players locked out.

"Experience is what you can do on the pitch and some of the first caps have in the past done amazingly well," explained Senge, adding that the youngsters in the team have the passion and desire to perform.

"There is complacency with older players and it's better to go with the young and ambitious ones since it's that strong mental frame and confidence that I give the players as a coach."

Senge said that 10 of the players in the squad have been in the national team system before with eight making their debut.

"We have watched our rivals especially South Africa, Egypt and Ghana before heading to Cape Town and for sure things are looking good. All the teams are a threat and we can't overate or underrate either," said Senge.

"South Africa have been the habitual qualifiers but we want to break that by installing a new world order in the Mother City," declared women's head coach Tom Olal, adding that they are aware about the challenge posed by South Africa. "We are shall be facing players who are full professional but the players believe in themselves."

TRAVELLING PARTY

Men

Goalkeepers: - Simon Odhiambo (Nairobi Simba), Prince Omollo (Parkroad Badgers),

Defenders: - Robert Masibo, Constant Wakhura (Butali Warriors), Paul Omariba (Strathmore), John Rioba (Wazalendo), Obare Otora (Greensharks), Ken Munialo (Wazalendo).

Midfielders: - Franklin Wahongo (Strathmore), Ivan Ludiali (Western Jaguars), Moses Ademba (Butali Warriors), Francis Kariuki (Butali Warriors), Willis Okeyo (Kenya Police).

Forwards: - Festus Onyango (Strathmore), Douglas Nyerere (Sailors), Dunston Baraza (Wazalendo), Arnold Marango (KCA), Amos Barkibir (Butali Warriors)

Women

Goalkeepers: - Nouvelle Becca Ochia Awino (USIU), Cynthia Akinyi (Telkom).

Defenders: - Beatrice Mbugua (USIU), Anne Wanjiru (Strathmore), Flavia Mutiva (Telkom), Lucy Wangeci (Telkom)

Midfielders: - Grace Makokha Akumu (USIU), Harriette Omindi (USIU), Caroline Guchu (Telkom), Tracy Karanja (Telkom), Leah Omwadho (Amira), Lillian Aura (Telkom).

Forwards: - Rhoda Kuira (USIU), Gilly Okumu (Strathmore), Maureen Okumu (Telkom), Alice Aoko Owiti (Lakers), Ruth Adhiambo (Strathmore).

Daily Nation


---

Kenny Bain excited now long wait is over to take on hockey elite

By Graeme Macpherson



Kenny Bain doesn't see himself coming back to live in Scotland any time soon

THERE will be few surprises waiting for Kenny Bain when Scotland take their place among European hockey's elite this week for the first time in 14 years.

Promotion sealed on home soil two years ago has presented the 29-year-old with a belated opportunity to play in the Euro Hockey Championships A division at the seventh time of asking, something he has aspired to since his first appearance in the B event back in 2007.

While the setting will be new, however, there will an air of familiarity about each of Scotland's three group opponents in Antwerp.

Bain knows all about the Netherlands, in particular. He has lived there for almost a decade as a professional hockey player and has experienced playing either with or against many of those he will line up against in Scotland's third match. Stopping them, though, will be another matter.

"I've known a lot of the Dutch guys for a while now," he said on a brief visit home for a training weekend with the Scotland camp. "The Netherlands are always really tough to play against and they have some really talented players. Their coach Max [Caldas] is a good friend of mine which adds an extra edge to it. They're hockey mad there so there's a real expectation going into this tournament. The winner also qualifies for next year's Olympics so that's another added incentive."

He is virtually a local now himself. With a six-month-old daughter, Romy, in tow, and his coaching career taking off, the former Kelburne player does not envisage moving back to Scotland any time soon.

"I've been here almost 10 years now so it's amazing how time flies. I've signed a new two-year contract with my club Hurley and I'm taking on a coaching role with the youth team and also training the women's first team twice a week.

"I want to keep playing for as long as I can but I'm looking to the future, too. I'm settled there, especially with my daughter being born. I don't see me coming home to Scotland in the immediate future. There are too many opportunities here to stay involved in hockey."

Heightened interest in Germany at the Euros comes in the form of Bain's partner, Julia Mueller. Now retired from international hockey, Muller captained Die Danas and played in three Olympic Games. While she may be able to deliver intel on the German squad, Bain is confident she will be rooting for Scotland.

"Julia is coming to Antwerp with Romy to watch us and she's going to be supporting us and not the Germans," added Bain. "So I'm not sure how that will go down given she's a former captain of the national team! But it will be good to have them both there."

Then there is Ireland who will provide some competitive Celtic spice to the group. The Scots played their neighbours recently in two warm-up matches – Bain scored in one – and again he has ties to the squad.

"The Irish coach is a Dutchman called Alex Cox, and his wife, Marsha, and Julia are best mates. They've got a wee baby too so we often have play dates with them. So there's always a connection. That's just Dutch hockey for you. And also because I've been around the international scene for a while now. I'm nearly 30 so almost a veteran."

With little funding to support an extended pre-tournament training camp, Derek Forsyth's squad have had little opportunities to train together. But with players representing Great Britain and at major clubs throughout Europe and England, Bain hopes the Scots can put in a decent show against some of the best countries in the world. Finishing sixth in the eight-team event and avoiding relegation would count as a huge success.

"We're going in as underdogs as the second-lowest ranked team in the tournament," he added. "We'll go in aiming to get to the semi-finals but we know how hard it is going to be.

"Getting to compete against the big teams in the world is like Scotland's Olympic Games and sixth place would be the equivalent of a gold medal for us.

"I've been counting down the days for two years and now it's finally here. I can't wait."

The Herald


---

No shame in defeat for Oltmans' men

By Jugjet Singh



THE national team were handed a lesson in hockey as Roelant Oltmans' side were thrashed 5-1 by World No 2 Belgium in yesterday's friendly in Antwerp. -- NSTP Archive

Malaysia's national team were handed a lesson in hockey as Roelant Oltmans' side were thrashed 5-1 by World No 2 Belgium in yesterday's friendly in Antwerp.

However, there is no shame in the defeat as the national team are using the friendly matches in Europe to iron-out weaknesses and improve consistency ahead of their Olympic qualifier in October.

Oltmans team will play Belgium, who won last year's World Cup, again tomorrow.

"We lost because the energy level of the players is not like at the beginning of the Tour.

"We will now try to recover in time and play one more good match before returning to Kuala Lumpur," said Oltmans.

Tengku Ahmad Tajuddin Tengku Abdul Jalil netted for Malaysia in the 34th minute, after Belgium had taken a 3-0 lead. The Belgians scored two goals each in the first and last quarter against a lethargic Malaysia.

After the friendly tomorrow, Malaysia will return to KL before heading to Tokyo for a Four-Nation tournament (Aug 17-21), also comprising hosts Japan, India and New Zealand.

World No 12 Malaysia are expected to play Spain, Germany, New Zealand or Canada in the final Olympic qualifier in October.

New Straits Times


---

Malaysia hardly a Test for world champs Belgium

KUALA LUMPUR: World champions Belgium outplayed Malaysia 5-1 in a hockey Test match in Antwerp, Belgium.

Belgium, ranked second in the world, went on the offensive from the start and took a 2-0 lead in the first eight minutes of the match on Friday.

Cedric Charlier scored a field goal in the seventh minute and hardly a minute later, goalkeeper S. Kumar was beaten again by Nicolas de Kerpel.

Belgium added another goal in the 24th through Tom Boon while Malaysia managed to reduce the deficit with a field goal from forward Tengku Ahmad Tajuddin Tengku Abdul Jalil in the 34th minute.

Belgium extended their lead with two field goals in the last nine minutes of the match.

Florent van Aubel made it 4-1 in the 51st minute and six minutes later, Victor Wegnez completed the rout with the fifth field goal.

Mohd Fitri Saari, who marshalled the midfield, said that Belgium played a fast attacking game from the start and punished Malaysia for their errors in defence.

"We need to play a tight marking game and can't afford to make mistakes in defence, " said Fitri.

"We also created some scoring opportunities but only managed a field goal in the first half. It was a good match against the world champions but we need to play with more determination in our second and last Test with Belgium on Monday.

"We have two days rest and will use it to come up with a better strategy to counter the Belgians, " said Fitri.

Monday's match against Belgium is the ninth and last Test match in Malaysia's tour of Europe.

Malaysia are preparing for the playoff tournament in October to qualify for next year's Tokyo Olympics.

The Star of Malaysia


---

35 probables picked for Pakistan hockey training camp

KARACHI: The national hockey team selection committee, headed by Olympian Manzoor Junior, has shortlisted 35 probables for the training camp, scheduled to begin in Lahore later this month, 'The News' has learnt.

According to a source, performance of players in the recently concluded 65th National Hockey Championship was also considered by the selection committee.

He said that three players for each position have been selected, adding that most of the shortlisted players are emerging youngsters.

Before the final stage of training camp it may be reduced to 25 players, he said.

Members of the selection committee witnessed the matches of National Hockey Championship to scout talented young players.

The national hockey team has two big assignments later this year, Olympics qualifying round in September-October and South Asian Games in December.

The Green-shirts will be allowed to participate in the Olympics qualifying round after paying the first installment of fine imposed by the FIH after their non-participation in the FIH pro League held earlier this year.

The News International


---

Hockey India announce 33 players for junior men's national coaching camp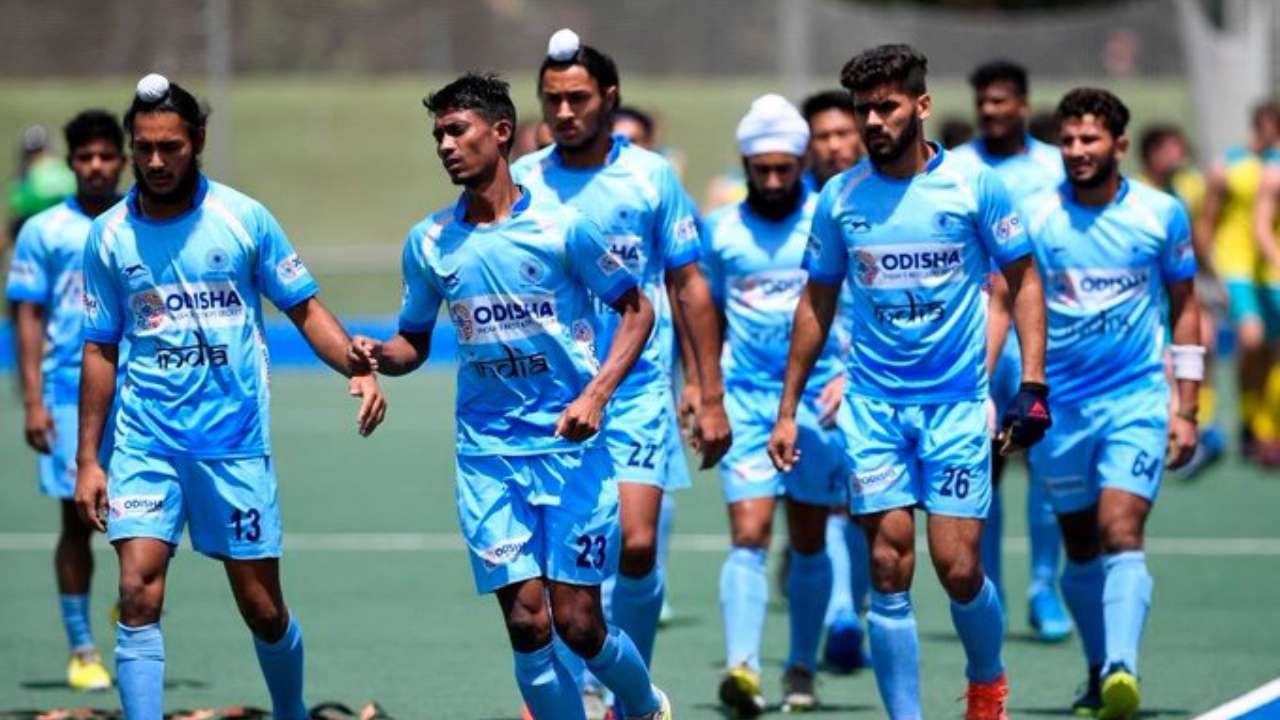 Hockey India , Twitter

Hockey India on Saturday announced 33 players for the upcoming junior men's national coaching camp, which is scheduled to begin on August 12.

The Indian junior men's team is scheduled to take part in the 9th Sultan of Johor Cup 2019 later this year in October, therefore the focus of the national camp will be on maintaining the fitness and rhythm of the players.

"The players selected for the national coaching camp remains the same from our last camp in July, and the aim for us is to make sure that the players maintain their fitness, agility and rhythm," Director High Performance, David John said.

"Apart from that, we have the 9th Sultan of Johor Cup 2019 coming up later this year, and the camp will be utilized to make sure that we are preparing the Core Probables in the best way possible and to make sure that they are prepared to compete against the teams participating in that tournament," he added.

The players will undergo a training and conditioning camp at the national training camp, and the list includes:

Goalkeepers: Pawan, Prashant Kumar Chauhan and Sahil Kumar Nayak.

Defenders: Suman Beck, Pratap Lakra, Sanjay, Sundram Singh Rajawat, Mandeep Mor, Parampreet Singh, Dinachandra Singh Moirangthem, Nabin Kujur, Sharda Nand Tiwari and Niraj Kumar Waribam.

Midfielders: Sukhman Singh, Gregory Xess, Ankit Pal, Akashdeep Singh Jr, Vishnu Kant Singh, Gopi Kumar Sonkar, Vishal Antil, Surya NM, Maninder Singh, and Rabichandra Singh Moirangthem

Forwards: Sudeep Chirmako, Rahul Kumar Rajbhar, Uttam Singh, S Karthi, Dilpreet Singh, Araijeet Singh Hundal, Amandeep Singh, Prabhjot Singh, Shivam Anand and Arshdeep Singh.

Junior men's national coaching camp is scheduled to begin from August 12 at the Sports Authority of India (SAI), Bengaluru Campus. The camp will conclude on August 31.

Daily News & Analysis


---

Gemma McCaw comes out of hockey retirement, coy on Black Sticks return

The former hockey international is playing in the national league pre-season and could add to her 200-plus caps for the Black Sticks.



Gemma McCaw, left, has not played for the Black Sticks since the 2016 Rio Olympics. GETTY IMAGES

Gemma McCaw is back playing hockey.

The 246-cap Black Stick retired from the sport in October 2017 after playing in that year's National Hockey League for Midlands. She has not played for the Black Sticks since the 2016 Rio Olympics.

She gave birth to her first daughter, Charlotte, in December 2018, but will return to play for Midlands at this year's NHL in her hometown of Tauranga, starting on September 14.



Gemma McCaw, left, has come out of hockey retirement.. GETTY IMAGES

While she has returned to provincial hockey, the 29-year-old was coy on whether that would translate to a national team return.

"You can never say never, but at the moment I'm just focusing on Midlands and NHL," she told 1News. 

McCaw has been commuting from Christchurch to the North Island to train with Midlands.

She played in a pre-season game on Sunday, but almost didn't make her flight home, posting videos to her Instagram account of arriving at Auckland Airport still wearing her bright orange Midlands kit while carrying baby Charlotte and dragging her gear with her.

Husband Richie was also on hand to help out, telling 1News he was proud of his wife for making the comeback.

"You've got to take your hat off to her. Any mum that has to experience being a mum then get back to it with all the running around and day-to-day sort of things, she's done really well."

Baby Charlotte was tended to by Richie on the sidelines on Sunday, but Gemma McCaw said she was doing her best to stay focused on what was happening on the field.

"I'm loving the opportunity to run around again. I try not to look to the sideline too much, just stay focused."

Stuff