All the news for Saturday 3 August 2019

Pan Am Games 2019 (Women) - Day 6
Lima (PER)

Results

2 Aug 2019     URU v CAN (Pool A)     0 - 5
2 Aug 2019     USA v PER (Pool B)     8 - 0
2 Aug 2019     ARG v CUB (Pool A)     13 - 1
2 Aug 2019     MEX v CHI (Pool B)         0 - 2

Pool Standings

Pool A
| Rank | Team | Played | Wins | Draws | Losses | Goals For | Goals Against | Goal Difference | Points |
| --- | --- | --- | --- | --- | --- | --- | --- | --- | --- |
| 1 | Argentina | 3 | 3 | 0 | 0 | 18 | 1 | 17 | 9 |
| 2 | Canada | 3 | 2 | 0 | 1 | 15 | 3 | 12 | 6 |
| 3 | Uruguay | 3 | 1 | 0 | 2 | 8 | 8 | 0 | 3 |
| 4 | Cuba | 3 | 0 | 0 | 3 | 2 | 31 | -29 | 0 |
Pool B
| Rank | Team | Played | Wins | Draws | Losses | Goals For | Goals Against | Goal Difference | Points |
| --- | --- | --- | --- | --- | --- | --- | --- | --- | --- |
| 1 | United States | 3 | 3 | 0 | 0 | 17 | 2 | 15 | 9 |
| 2 | Chile | 3 | 2 | 0 | 1 | 17 | 4 | 13 | 6 |
| 3 | Mexico | 3 | 1 | 0 | 2 | 4 | 7 | -3 | 3 |
| 4 | Peru | 3 | 0 | 0 | 3 | 0 | 25 | -25 | 0 |
---

Quarter-final placings revealed as Argentina, USA take top spots in pool play on Day 5

Ali Baggott



URU v CAN. Photo: Yan Huckendubler

Day 5 of the Pan American Games wrapped up pool-play to set the stage for the quarter finals. Canada locked up second place in Pool A with a 5-0 win over Uruguay, while Mackenzie Allessie scored four goals to lift USA to the top of Pool B with an 8-0 win over Peru. Argentina's Noel Barrionuevo had four goals in a 13-1 victory over Cuba to secure first spot of Pool A, while Chile bet Mexico 2-0.
WOMEN Pool A: Uruguay vs. Canada (0-5)
Goals on penalty corners, in free play and on a penalty stroke showed that Canada's offensive powers were firing on all cylinders in their 5-0 win over Uruguay on Day 5 of the Pan American Games. Sara McManus scored two goals in a game that locked Canada in to second spot of Pool B.
WOMEN Pool B: USA vs. Peru (8-0)
A four-goal performance from Mackenzie Allessie propelled the USA to the top of Pool B after an 8-0 win over hosts Peru in the teams' first-ever match up. Despite the score margin Peru goalkeeper Chaira Conetta was superb, while her team mates showed a great defensive improvement in just three games of the tournament.
WOMEN Pool A: Argentina vs. Cuba (13-1)
Argentina affirmed their spot at the top of Pool A with a convincing 13-1 victory over Cuba. An eight goal first half depicted the flow of the game despite several saves from Cuba keeper Yurismailis Garcia.
WOMEN Pool B: Mexico vs. Chile (0-2)
It wasn't easy but Chile were able to find the net twice on several chances for a 2-0 victory over Mexico and ultimately second place in Pool B. Carolina Garcia and Manuela Urroz each scored for Chile in the win.
Read more...

With pool-play over, the teams will now look towards the quarter-finals on August 4. The quarter-finals will cross-over as follows: Argentina vs. Peru (9:30), Canada vs. Mexico (11:45), Uruguay vs. Chile (15:00) and Cuba vs USA (17:15). All times are local to Peru (-5 GTM). 
Semifinal action will take place on August 6 and finals on August 9.
Follow the Pan American Hockey Federation on Instagram, Twitter and Facebook at @panamhockey and online at panamhockey.org for the latest information.

Pan American Hockey Federation media release


---

Four Goals by Allessie Leads USWNT Over Peru in Final Pool Match of Pan American Games



US Captain Kat Sharkey at full stretch. Image Taken by Mark Palczewski

LIMA, Peru - August 2, 2019 - In their final pool match of the Pan American Games, the No. 13 U.S. Women's National Team took on host No. 38 Peru. With the Peruvian band in attendance and many fans with vuvzelas, the packed home stands were lively. USA was held to only one goal in the first quarter but went on to tally seven more, behind four from Mackenzie Allessie (Mount Joy, Pa.), on their way to a 8-0 win and the top seed in Pool B.

USA wasted no time at the start of the game to gain a circle entry. Allessie drove it on the left baseline but no USA teammates was there. Off Peru's restart, USA applied pressure, Margaux Paolino (Villanova, Pa.) picked it up, passed it off to Allessie on the left but her shot hit the post. USA continued to threaten and earned their first penalty corner in the third minute, but was unsuccessful. Play remained in favor of the red, white and blue and another penalty corner chance came four minutes later. On this attempt USA converted, as the sweep from Ali Froede (Burke, Va.) was deflected into the net by Lauren Moyer (York, Pa.) for the 1-0 lead. USA saw two more penalty corners and multiple scoring opportunities to close out the quarter, but Peru's goalkeeper Ciara Conetta and defense held strong.

The second quarter resumed in similar fashion with USA on the front foot in the opening minutes. USA earned a series of long corners and another penalty corner but Conetta put a stop to Ashley Hoffman's (Mohtnon, Pa.) drag attempt. In the 21st minute, a close chance came for USA as Caitlin Van Sickle (Wilmington, Del.) sent a long ball into the circle to Allessie. She passed it off to Linnea Gonzales (Bel Air, Md.) whose shot was saved by the glove of Conetta. A minute later, Conetta was tested again when Allessie met her in a 1v1 situation, but no result. In the final minute, USA found the back of the goal twice to extend the lead to 3-0. The first came when Danielle Grega (Kingston, Pa.) buried a goal after a scramble and next a pass from Alyssa Manley (Lititz, Pa.) found Erin Matson (Chadds Ford, Pa.) who made space and ripped a hard shot on goal that went between Conetta's legs.

With continued momentum, USA worked possession into their circle and earned a penalty corner 40 seconds into the third quarter. The straight hit from Kathleen Sharkey (Moosic, Pa.) was tipped in by inserter Van Sickle, but the officials conversed and called no goal. Less than a minute following USA capitalized when Allessie used quick stick skills to send a reverse flick into the net to make it 4-0. The goal margin increased as Allessie tallied her second of the game off an almost identical play, this time she finished with a forehand flick into the net. USA earned a penalty corner in the 36th minute; the straight shot by Gonzales and follow-up attempt by Manley were both saved by Conetta. This was followed by good pressure from Matson who initiated a give-and-go with Paolino but her shot narrowly missed. Allessie again added her name to the scoresheet after a build up play from Froede went outside to Paolino on the right. She passed it to Allessie at the top of the circle who beat two defenders and reverse swept it into the net to make it 6-0. USA produced four more looks on goal but the quarter ended.

At the start of the fourth quarter, Peru saw a glimmer of hope after intercepting the ball and taking it into their attacking end. The host nation ran the left baseline but were unable to make an outcome. USA immediately transitioned down the other way and in the 48th minute Allessie added another to make it 7-0. The control remained with USA as they earned a flurry of close chances that went untranslated. In the last minute of play off a penalty corner, Sharkey topped off the scoring with a straight shot that snuck into the right corner to make the final score 8-0.

After finishing at the top of Pool B, the U.S. Women's National Team will play the fourth place finisher in Pool A on Sunday, August 4. Tomorrow, the U.S. Men's National Team has their final pool match against No. 32 Mexico at 1:00 p.m. ET.

USFHA media release


---

Women's National Team secures second in Pool A with win over Uruguay

Team Canada's offense takes over in 5-0 victory over Uruguay

By Ali Baggott



Photo: Yan Huckendubler

Goals on penalty corners, in free play and on a penalty stroke showed that Canada's offensive powers were firing on all cylinders in their 5-0 win over Uruguay on Day five of the Pan American Games. Sara McManus scored two goals in a game that locked Canada in to second spot of Pool A.

The Wolfpack team wasted no time throwing their attack at Uruguay as Kate Wright's pass into the circle earned Canada their first penalty corner on the opening play. Uruguay's Constance Schmidt-Liermann made the save on Karli Johansen's flick. It was a sign of what was to come as the Canadians seem to come at Uruguay in waves. Hannah Haughn's baseline entry minutes later earned Canada a second go from the top of the circle and this time they capitalized. Johansen's low flick was again saved but the ball didn't rebound far and Stephanie Norlander, on her knees, one-timed the ball in to the corner for a 1-0 Canada lead.

The attack continued as Rachel Donohoe's smash across the circle found Brienne Stairs but her diving deflection rang off the post. Anna Mollenhauer was there with an open look but her one-time sweep went wide of the Uruguay net. In the 10th minute Canada doubled their lead off the hard work of Rachel Donohoe, who pressed the Uruguay defence to cause the turnover. A give and go with Maddie Secco gave Donohoe the circle entry she needed to lifted dribble and fire an upright reverse hit off a bouncing ball to make it a 2-0 Canada lead.

Uruguay started to build their own momentum in the second quarter with strong rushes by Teresa Viana and Manuela Vilar del Valle but there was little support from behind and the Canadian defence was able to quickly collapse on them. Canada had just one penalty corner chance earned by Amanda Woodcroft. Johansen delivered the ball through the middle looking for the stick of Natalie Sourisseau but the pass was off target.

In the 27th minute Vilar del Valle one-timed her reception to move swiftly past Johansen just inside the Canadian half. The speedy forward raced 40 yards down the field and in to the Canadian circle but Kaitlyn Williams slid out and Vilar del Valle couldn't beat her stacked pads. The Canadians clung to their 2-0 lead at half time, while Uruguay ended the half with the attacking momentum.

In the third quarter Constanza Barrandeguy earned Uruguay their first penalty corner but Agustina Taborda's low flick was cleared away by the kicker of Williams. Back the other way Canadian defender Shanlee Johnston found herself at the top of the Uruguay circle and she found a foot but advantage was played for Hannah Haughn to blast a shot that was well saved by Schmidt-Liermannn.

In the 38th minute Canada earned another penalty corner chance. A textbook play from the top saw Sara McManus sweep hit the ball to the far post. Haughn was there to get the deflection but the ball went up and in to Viana standing at the post to give Canada a penalty stroke. McManus buried the stroke in to the bottom corner to score her third of the tournament and lift Canada 3-0. McManus added a fourth for Canada on another penalty corner in the 38th minute after her sweep hit bounced off a Uruguay defender and in to the net.

Uruguay had two penalty corners in the final quarter but Camila de Maria hit Canadian runner Sourisseau both times. Canada pushed their lead to five when Natalie Sourisseau turned on a dime and let off a forehand blast. Holly Stewart got the last touch at the far post to make it 5-0 for Canada in the 51st minute.

According to captain Kate Wright, it was nice for Canada to open up the scoring after a scoreless game against Argentina.

"We started firing on all cylinders and wanted to make sure we came out and moved the ball," Wright said. "It showed as we were able to capitalize in the circle."

At this point, the team is simply looking to take each game one at a time now that the tournament has moved into elimination play. Wright said, "we're just going to try to do everything right. We want to keep moving forward, keep building, keep putting the ball in the back of the net."

Canada had a series of rushes right until the final whistle but their hard work had already been done and the 5-0 win secures them second place in Pool B, while Uruguay finishes third. Their quarterfinal will take place on August 4 at 11:45am. Their opponent will be the loser of the Mexico vs Chile tilt scheduled for this afternoon.



Photo: Yan Huckendubler

Field Hockey Canada media release


---

Pan Am Games 2019 (Men) - Day 6
Lima (PER)

Fixtures (GMT -5)

3 Aug 2019 10:00     CHI v TTO (Pool A)
3 Aug 2019 12:00     MEX v USA (Pool B)
3 Aug 2019 14:00     ARG v CUB (Pool A)
3 Aug 2019 16:00     CAN v PER (Pool B)

NB. No live streaming until the Semi - final stages

Pool Standings

Pool A
| Rank | Team | Played | Wins | Draws | Losses | Goals For | Goals Against | Goal Difference | Points |
| --- | --- | --- | --- | --- | --- | --- | --- | --- | --- |
| 1 | Argentina | 2 | 2 | 0 | 0 | 11 | 1 | 10 | 6 |
| 2 | Chile | 2 | 1 | 0 | 1 | 5 | 5 | 0 | 3 |
| 3 | Cuba | 2 | 1 | 0 | 1 | 3 | 6 | -3 | 3 |
| 4 | Trinidad & Tobago | 2 | 0 | 0 | 2 | 2 | 9 | -7 | 0 |
Pool B
| Rank | Team | Played | Wins | Draws | Losses | Goals For | Goals Against | Goal Difference | Points |
| --- | --- | --- | --- | --- | --- | --- | --- | --- | --- |
| 1 | Canada | 2 | 2 | 0 | 0 | 9 | 1 | 8 | 6 |
| 2 | United States | 2 | 1 | 0 | 1 | 16 | 4 | 12 | 3 |
| 3 | Mexico | 2 | 1 | 0 | 1 | 9 | 7 | 2 | 3 |
| 4 | Peru | 2 | 0 | 0 | 2 | 2 | 24 | -22 | 0 |
---

Live From Lima: Scouting Report - USMNT vs. Mexico




As a lead up to today's Pan American Games (PAG) match-up, here are a few details you'll want to know before the starting whistle.

Game Day: Saturday, August 3, 2019

Time: 1:00 p.m. ET

Opponent: Mexico

FIH World Ranking: 32

2015 Pan American Games Finish: 6

Current Pan American Games Record: 1-0-1

Last Time USA Played Opponent: For their final pool matchup, USA will play another familiar opponent in Mexico. Just last month, the two faced each other at the FIH Series Finals in Bhubaneswar, India. Seven different USA players registered goals, including Michael Barminski (Ventura, Calif.) and Sean Cicchi (Thousand Oaks, Calif.) who both tallied two goals each in the 9-0 victory. One year earlier, the two teams battled head-to-head in the 2017 Hockey Series Open in Salamanca, Mexico, where they qualified to compete in India. A completely different game, USA fell behind early but managed to tie it 5-5. Francisco Aguilar sat atop the leaderboard in the Hockey Series Open with 16 goals in the tournament, while Guillermo Pedraza and Luis Villegas scored six and five goals, respectively.

What You Need to Know: Mexico managed to hold off No. 10 Canada for most of the first quarter in their opening game of the 2019 Pan American Games. Aguilar tallied a lone goal early in the third quarter off a penalty corner drag flick for Mexico, but Canada held a four-goal lead for the remainder of the match. For their second game of the tournament, Mexico took on the host nation and came out on top as Peru tried to make a comeback. Six different players, including Aguilar, all contributed goals in the 8-2 win. USA is coming off a tough loss to Canada where they were unable to answer four goals by their neighbors to the north. USA held off any additional scoring in the fourth quarter, but their last-minute attempts to get on the scoreboard fell short. Looking to finish pool play with a win, USA will come out strong against Mexico.

Mexico Roster:
#            Name     Caps
3           Yamil Mendez     38
5           Roberto Garcia (C)     138
6           Maximiliano Mendez     40
7           Edgar Garcia     117
9           Miguel Leon     56
10           Alexander Palma     15
11         Ruben Martinez     108
15           Francisco Aguilar     102
16           Luis Gonzalez     41
17           Daniel Castillo     52
18           David Terminel     32
22           Erik Hernandez     6
23           Luis Villegas     21
25           Juan Sosa     4
26           Jorge Estrada     6
29           Jose Hernandez (GK)     52
                   
            Head Coach: Pol Moreno
            Manager: Hector Chavira

USFHA media release


---

Canadian Officials Take in Pan American Games Experience

Canadian presence on all ends surround the Pan American Games in Lima

By Ali Baggot



Photo: Yan Huckendubler

Lima, PERU – It's not always just athletes that get to shine on the international stage at multi-sport events like the Pan American Games. The 2019 edition sees six Canadian field hockey members proudly representing Canada not as players, but as part of the officials team. Two umpires, an umpire manager, one technical official and two members of the media team are contributing to the sport of field hockey at the 2019 Lima Pan American Games.

On the pitch Canadian umpires Megan Robertson, from Vancouver, and Tyler Klenk, from Saskatchewan, join an elite crew of umpires who work together on and off the pitch, much like the teams.

"I am so proud to be Canadian and it's something that I take very seriously representing my country and myself," said Robertson, who will surpass 50 international caps in Lima. "There is an opportunity to show what Canada is about when you travel to these international places and Canada has a good international reputation. People are happy to meet Canadians and I want to do that history and legacy proud."

Robertson is at her second Pan American Games following her 2015 debut, while she also has been appointed to a Junior Pan American Games and an Asian Games.

"Being here definitely shows the progress have made from where I started," said men's umpire Tyler Klenk, who is making his first appearance at the Pan American Games. "It's a good split here of experience in older, knowledgeable umpires and some new, up-and-coming umpires. I think I fall in the middle as I'm young by age but also have had some good experience. I can learn from Peter and Gus in the older group and also help share and develop some of the younger umpires as well."

Twenty-nine-year-old Klenk is among a men's umpire group that includes South African umpire Peter Wright who is fresh off the 2018 World Cup and FIH Pro League, as well as USA's Gus Soteriades who nears his 100th international cap at this tournament. The learnings here are both for Klenk individually but also for young, aspiring Canadian officials back home.

"Being here shows other Canadian umpires that may not be internationally badged quite yet that there are lots of events and opportunities for Canadian umpires," adds Klenk, who highlights appearances heading in to these games include the 2018 Commonwealth Games, 2017 Asia Cup and 2017 Pan American Cup. "Any time you can do this shows the field hockey world shows that Canada is a country not to be over looked whether that be as umpires, technical officials or players."

Also in the umpiring mix is Calgary's Wendy Stewart, who ended her prolific international umpiring career after the 2014 FIH World Cup and XX Commonwealth Games. Stewart, who also umpired at the 2012 Olympic Games, has since been an umpires manager, there to support and help coach umpires at the tournament. Together with another well-known and retired international umpire Soledad Iparraguirre, from Argentina, the duo serve as the women's umpire managers at the Lima Pan American Games. Stewart rolled right in to her umpire manager career in December 2014 and has since been appointed to the 2015 Pan American Games in Toronto, the 2016 women's Junior World Cup, the FIH Hockey World League Semi-Final in Belgium, the 2018 Indoor Hockey World Cup and various FIH Pro League events.

"It's a lot of fun to come to these tournaments and meet new people and learn new things to take back to share with people back in Canada," remarked Laurie Hogan, who is in Lima as a technical officer. "As a technical official I am a match manager. As soon as warm up starts I'm in charge of everything to make sure the game starts on time, the team benches are managed well, understanding the goal scorers are known, the clocks are running correctly and so basically, I would be in charge of everything until the whistle blows. Then, the umpires take over the field but I still have to manage what's happening outside of the field."

Hogan, who hails from Wolfe Island, Ontario, was appointed as a judge at the 2015 Toronto Pan American Games, while she has also had technical experience at the 2017 Hockey World League Round 2 in West Vancouver and the 2018 Youth Pan American Championships in Guadalajara, Mexico.

"I started doing this because I was passionate about this sport and where it took me in life. I'm a very organized person and I like working with others. If that sounds like you and you understand the sport of field hockey and you are confident in the rules and you can explain yourself to others you should definitely come join me as a technical official."

Rounding out the Canadian contingent in Lima are media officer Ali Baggott, from Victoria, representing the Pan American Hockey Federation to help with the digital communications for the tournament, as well as long-time Canadian hockey supporter and media expert Yan Huckendubler from Chelsea, Quebec. Huckendubler is also in Lima representing PAHF as the tournament photographer, actively catching every moment on and off the field to ensure the athletes and fans have permanent memories from these games.

Action at the Pan American Games runs from July 29 to August 10 with the men and women alternating competition days.



Photo: Yan Huckendubler

Field Hockey Canada media release


---

Abdul Ningi blast Sport Ministry over refusal to sponsor Nigeria hockey team

Mo Saliu




Abdul Ningi blast Sport Ministry over refusal to sponsor Nigeria hockey team

Senator Abdul Ningi has blasted sports ministry over refusal to sponsor Nigeria hockey team to Olympic qualifiers in South Africa after describing hockey as 'a non-performing sport'.

Speaking to brila.net, Ningi expressed his discontent of the federation inability to secure the required funding from the sports ministry.

"We received a letter from the sports ministry indicating that there are no funds to sponsor the Hockey federation to the Olympic qualifier, this is painful and tragic," he said.

"We have been in camp for the last three weeks both the male and female teams, the federation has fed them and also paid their camp allowances, only for the ministry to said that the government have not allocated money for them"

"It is unfortunate that we are this condition when the federation goes out, they are not carrying our names but Nigeria, we should appreciate their sacrifice, how can we perform if we don't go for international competitions if don't get the required exposure," he added.

According to him "We have gone out of our way to start the visa process with our personal funds, so when the funds are released we can go and compete."

Brila.net


---

EuroHockey Championship II (Men) 2019 - Day 6
Cambrai, France

Results

2 Aug 2019      UKR v BLR (Pool C)         1 - 0
2 Aug 2019     ITA v CZE (Pool C)             1 - 1
2 Aug 2019      RUS v POL (Semi Final 1)     2 - 0
2 Aug 2019      FRA v AUT (Semi Final 2)     1 - 1 (4 - 3 SO)

Fixtures (GMT +2)

3 Aug 2019 10:15     ITA v BLR (Pool C)
3 Aug 2019 12:30     CZE v UKR (Pool C)
3 Aug 2019 14:45     POL v AUT (3rd/4th Place)
3 Aug 2019 17:00     RUS v FRA (Final)

Live streaming on http://www.eurohockey.org

Pool C standings
| Rank | Team | Played | Wins | Draws | Losses | Goals For | Goals Against | Goal Difference | Points |
| --- | --- | --- | --- | --- | --- | --- | --- | --- | --- |
| 1 | Italy | 2 | 1 | 1 | 0 | 6 | 4 | 2 | 4 |
| 2 | Ukraine | 2 | 1 | 0 | 1 | 4 | 5 | -1 | 3 |
| 3 | Czech Republic | 2 | 0 | 2 | 0 | 2 | 2 | 0 | 2 |
| 4 | Belarus | 2 | 0 | 1 | 1 | 1 | 2 | -1 | 1 |
---

EuroHockey Championship III (Men) 2019 - Day 6
Gibraltar, Gibraltar

Results

2 Aug 2019     LTU v MLT (Pool C)             5 - 3
2 Aug 2019     TUR v SVK (Pool C)         1 - 0
2 Aug 2019      SUI v POR (Semi Final 1)     3 - 2
2 Aug 2019     CRO v GIB (Semi Final 2)     1 - 1 (4 - 1 SO)

Fixtures (GMT +2)

3 Aug 2019 09:00     TUR v MLT (Pool C)
3 Aug 2019 11:15     SVK v LTU (Pool C)
3 Aug 2019 15:45     POR v GIB (3rd/4th Place)
3 Aug 2019 18:00     SUI v CRO (Final)

Pool C standings
| Rank | Team | Played | Wins | Draws | Losses | Goals For | Goals Against | Goal Difference | Points |
| --- | --- | --- | --- | --- | --- | --- | --- | --- | --- |
| 1 | Turkey | 2 | 2 | 0 | 0 | 5 | 2 | 3 | 6 |
| 2 | Slovakia | 2 | 1 | 0 | 1 | 3 | 2 | 1 | 3 |
| 3 | Lithuania | 2 | 1 | 0 | 1 | 7 | 7 | 0 | 3 |
| 4 | Malta | 2 | 0 | 0 | 2 | 4 | 8 | -4 | 0 |
---

EuroHockey Championship III (Women) 2019 - Day 6
Lipovci, Slovenia

Results

2 Aug 2019     SLO v SVK (Pool C)         1 - 2
2 Aug 2019     FRA v SUI (Semi Final 1)     4 - 0
2 Aug 2019     LTU v CRO (Semi Final 2)     3 - 0

Fixtures (GMT +2)

3 Aug 2019 11:00     SLO v HUN (Pool C)
3 Aug 2019 13:15     SUI v CRO (3rd/4th Place)
3 Aug 2019 15:30     FRA v LTU (Final)

Pool C standings
| Rank | Team | Played | Wins | Draws | Losses | Goals For | Goals Against | Goal Difference | Points |
| --- | --- | --- | --- | --- | --- | --- | --- | --- | --- |
| 1 | Slovakia | 2 | 2 | 0 | 0 | 5 | 1 | 4 | 6 |
| 2 | Slovenia | 1 | 0 | 0 | 1 | 1 | 2 | -1 | 0 |
| 3 | Hungary | 1 | 0 | 0 | 1 | 0 | 3 | -3 | 0 |
---

Women's EuroHockey Championship II live stream on BBC




Scottish Hockey, supported by VisitScotland's EventScotland team, will live stream every match of Women's EuroHockey Championship II in Glasgow.

The tournament will see 20 women's international matches held at the Glasgow National Hockey Centre and all games will be live streamed, with highlight clips posted on social media.

Every Scotland and Wales match will be streamed on the BBC website worldwide, as well as on the Red Button and iPlayer. EuroHockey TV will also stream every match from the tournament.

Competing nations also have been offered the option to have their matches live streamed on their own social media platforms to help give sports fans across the globe visibility of the tournament.

Scottish Hockey is committed to live streaming and has live streamed all of its Scottish Cup and Grand Finals over the last few years. With support from EventScotland is has also live streamed Men's EuroHockey Championship II in 2017; Men's World League 1 in 2016; and U18 Boys' and Girls' EuroHockey Championship II in 2016.

David Sweetman, CEO of Scottish Hockey, said, "I'm delighted that we'll be live streaming every match of what will be a fantastic women's international hockey tournament. EventScotland has shown us excellent support in helping us showcase Scotland as a wonderful venue for international hockey tournaments, and Women's EuroHockey Championship II is set to be another opportunity to show the world how good Glasgow is as a host for sport.

"It is really exciting to have BBC coverage of the event once again and it really helps us open up to a wider audience what a brilliant sport hockey is to watch, and to play."

Paul Bush OBE, VisitScotland's Director of Events, said: "EventScotland is excited to be supporting Scottish Hockey to stream all the Women's EuroHockey Championship II matches. Streaming has opened the door for so many live sports events, providing them with the platform to both engage with their fans during games as well as showcase their sport to new audiences. It has also allowed for the building of partnerships with mainstream broadcasters, like the BBC.

"As part of our women's summer of sporting events, being able to support the broadcasting of the Women's EuroHockey Championship II ensures we continue to shine a spotlight and build on the momentum shift currently behind women's sport."

Scottish Hockey Union media release


---

Four Nations Series - Day 2
Spain
Results

IRL v MAS    1 - 2
ESP v ENG    4 - 2
| Rank | Team | Played | Wins | Draws | Losses | Goals For | Goals Against | Goal Difference | Points |
| --- | --- | --- | --- | --- | --- | --- | --- | --- | --- |
| 1 | Malaysia | 2 | 2 | 0 | 0 | 6 | 3 | 3 | 6 |
| 2 | Spain | 2 | 1 | 0 | 1 | 6 | 3 | 3 | 3 |
| 2 | Ireland | 2 | 0 | 1 | 1 | 4 | 5 | -1 | 1 |
| 4 | England | 2 | 0 | 1 | 1 | 5 | 7 | -2 | 1 |
---

Malaysia sink Spanish armada with late rally

By Jugjet Singh



Akhimullah Anuar Esook scored Malaysia's third goal in their 4-3 win over Spain in the Four-Nation Invitational in Terrassa on Thursday.

A THREE-GOAL blitz in the fourth quarter allowed Malaysia to edge mighty Spain 4-3 in the Four-Nation Invitational in Terrassa on Thursday.

Coach Roelant Oltmans' charges have been impressive of late, beating Germany 4-2 and losing narrowly 1-0 to Spain in two Test matches recently.

So, yesterday's win over Spain was sweet indeed.

It was made all the more sweeter as hosts Spain had taken a 2-1 lead and then 3-1 before Malaysia staged a fightback to slam in three goals in the last 15 minutes for victory.

Malaysia's scorers were Tengku Ahmad Tajuddin (25th), Nik Aiman Nik Rozemi (49th), Akhimullah Anuar Esook (60th) and Razie Rahim (60th).

The dying seconds of the game produced incredible drama.

After Akhimullah had levelled the score at 3-3 with a field goal, Malaysia mounted a swift attack upon restart and won a penalty corner just before the hooter was sounded. Thankfully, Razie kept his cool to score the winner.

Oltmans named midfielder Marhan Jalil as the star performer in his 251st appearance for the country.

"The team played much better in the second and third quarters, but missed many scoring chances. However, a fast and furious final quarter made up for the misses," said Oltmans.

"Marhan was in his element in midfield, while young striker Akhimullah led the fightback."

There was also high drama in the other match when England held Ireland 3-3 after a last-minute goal rush.

Malaysia will now play Ireland early today and Oltmans said: "We must make our chances count."

The national team last met Ireland in the 2018 Azlan Shah Cup and won 4-1.

Malaysia are in Europe to prepare for the Tokyo Olympics Qualifier in October, with Spain, Germany, New Zealand or Canada being possible foes in the home-and-away format.

New Straits Times


---

Ward double not enough as Spain beat England in Four Nations



Sam Ward

Two goals from Sam Ward were not enough to prevent England succumbing to Spain for their first loss of the Invitational Four Nations series in Barcelona.

Having drawn 3-3 with Ireland yesterday, England were hoping to secure their first competitive victory over Spain since beating them 4-0 at the 2015 EuroHockey Championships.

But they found themselves 3-1 down at half-time courtesy of goals from Pau Quemada, Diego Arana and Xavi Lleonart, although Ward had briefly pulled the scores level after Quemada's opener.

Ward then struck early in the second half but, unlike yesterday, England couldn't pull of a fightback as Quemada scored once again to see his team to their first win of the tournament, having lost 4-3 to Malaysia previously.

Danny Kerry handed appearances to three players who didn't feature in yesterday's draw with Ireland – Harry Gibson, Ollie Willars and Zach Wallace – as he continued to rotate his players ahead of this month's EuroHockey Championships in this warm-up competition.

After a slow start, the game burst into life in the second quarter as Quemada – who was the second highest male scorer in the FIH Pro League with 10 goals – opened his account in the 20th minute.

Ward took his tally for 2019 into double figures just two minutes later to bring the game level, only for Arana and Lleonard to both convert corners in the final five minutes to give the hosts a strong advantage at half-time.

England started the second half well as Ward pulled his team back into contention in the 32nd minute but, despite a yellow card for Lleonart, they couldn't find the equaliser.

Instead it was Quemada who had the final say as he bagged a second to secure the win, while in the other game Malaysia emerged victorious once again as they beat Ireland 2-1.

Despite the result, both Kerry and Ward were happy with large aspects of the performance as they continue to build towards the Euros later this month.

"It was a good tight game. There were tiny moments that didn't happen for us but we also some saw really pleasing aspects of our development," Kerry said.

Ward added: "The result didn't go our way but it was a much improved performance on last night. Now we will make the most of our rest day tomorrow before facing a different challenge against Malaysia."

England finish their Four Nations campaign against Malaysia at 9am on Sunday.

They will then meet Spain again in their final EuroHockey Championships group game at 12:30pm BST on Tuesday 20 August. They also face Wales (10:15am BST, Saturday 17 August) and Belgium (5pm BST, Sunday 18 August) in the group stages knowing that if they win the tournament then Great Britain's men will qualify to play at the Tokyo 2020 Olympics. If they don't, GB will then play a two-legged qualifier in either late October or early November.

Spain 4 (3)
Quemada (20', FG; 49', FG), Arana (25', PC), Lleonart (30', PC)

England 2 (1)
Ward (22', FG; 32', FG)

England Starting XI: Gibson, Willars, Ames, Jackson, Martin, Sloan, Ward, Roper, Dixon (C), Calnan, Wallace
England Subs (Used): Weir, Griffiths, Gleghorne, Gall, Sorsby
England Subs (Not used): Pinner, Hoare, Ansell, Condon, Waller

England Hockey Board Media release


---

Sam Ward scores twice as England lose to hosts Spain

Ward's goals took his tally for 2019 into double figures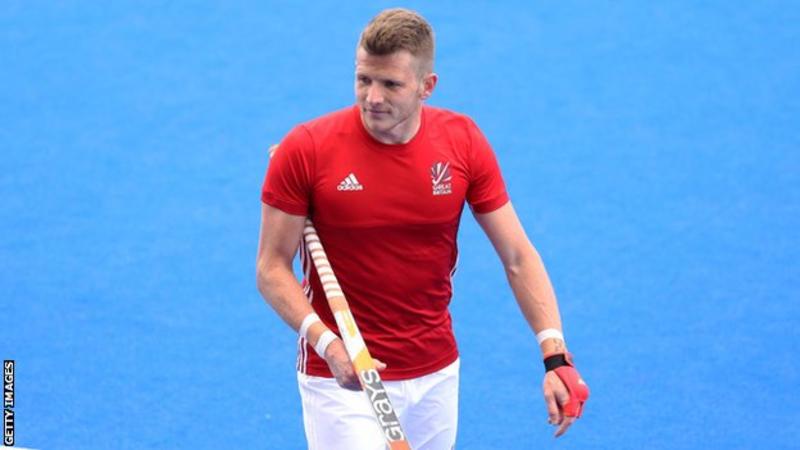 Sam Ward

Sam Ward's double proved to not be enough as England fell to a 4-2 defeat by hosts Spain in the Four Nations.

Ward scored his first minutes after Pau Quemada had given Spain the lead, but England found themselves 3-1 down at half-time following further goals from Diego Arana and Xavi Lleonart.

He scored his second after the break but Quemada also doubled his tally to seal Spain's victory in Barcelona.

"It was a good tight game," said England head coach Danny Kerry.

"There were tiny moments that didn't happen for us but we also some saw really pleasing aspects of our development."

The Four Nations acts as a warm-up tournament for the EuroHockey Championships in Antwerp, Belgium, later this month.

England play Malaysia in their final game of the round-robin tournament on Sunday.

BBC Sport


---

Ireland draw with England and fall to Malaysia in Four Nations

Ireland drew with England 3-3 and fell 2-1 to Malaysia in their first two Four Nations tournament games in Terrassa.

http://www.hookhockey.com/wp-content/uploads/Screenshot-2019-08-02-at-23.11.34.jpg

Former Irish international Mark Gleghorne denied the Green Machine an opening day victory as he scored for England in a 3-3 draw at the Four Nations in Terrassa with just 25 seconds to go.

Ireland led for over 50 minutes of the tie only to be denied the result in the dying seconds. Ben Walker netted his third goal in three successive games to give Ireland an early advantage and Shane O'Donoghue doubled the advantage two minutes into the second quarter from a penalty corner.

Will Calnan pulled one back before half-time and England drew level via Sam Ward's set piece goal in the closing quarter.

Parity lasted just a minute, however, as Daragh Walsh restored the Irish lead with eight minutes to go, making it 3-2.

England, though, withdrew their goalkeeper with three minutes as they threw everything into attack to try and a nick a win.

And it paid dividends as they camped in the Irish 22 – with O'Donoghue in the sin-bin – for the final phases before Gleghorne scrambled in the equaliser.

Men's Four Nations (Terrassa, Spain)

Thursday: Ireland 3 (B Walker, S O'Donoghue, D Walsh) England 3 (W Calnan, S Ward, M Gleghorne)

Ireland: J Carr, J Jackson, J Bell, S O'Donoghue, S Murray, M Robson, B Walker, P Gleghorne, L Cole, S Cole
Subs: M Bell, T Cross, E Magee, K Shimmins, J Duncan, S Loughrey, M Ingram

England: G Pinner, D Ames, H Weir, H Martin, C Griffiths, S Ward, M Gleghorne, P Roper, A Dixon, D Condon, W Calnan
Subs: H Gibson, A Jackson, I Sloan, M Hoare, L Ansell, J Gall, T Sorsby

Ireland fell to a 2-1 defeat at the hands of Malaysia in their second four nations game in Terrassa, letting slip an early advantage.

They did take the lead in the eighth minute when Shane O'Donoghue fired in a bullet penalty corner to the roof of the net, his second goal in two games.

Malaysia, though, were razor-sharp in and playing at a serious pace and they got back on level terms within a minute via Fitri Saari.

Razie Rahim made it 2-1 early in the second half with a powerful Razie Rahim finish from a corner.

It was Malaysia's second win of the competition having scored twice in the last minute to beat Spain on Thursday. Ireland will complete the tournament on Sunday against host Spain at 11am (Irish time) with a win potentially earning second place.

Friday: Ireland 1 (S O'Donoghue) Malaysia 2 (F Saari, R Rahim)

Ireland: M Ingram, J Jackson, J Bell, S O'Donoghue, S Murray, M Robson, B Walker, D Walsh, P Gleghorne, L Cole, S Cole
Subs: T Cross, M Nelson, K Shimmins, C Harte, J Duncan, S Loughrey, J Carr

Malaysia: K Subrmiam, N Hassan, M Jalil, F Saari, S Mutalib, R Rahim, A Hasan, T Tajuuddin, A Rozemi, S Saabah
Subs: N Sumantri, J van Huizen, F Jali, A Anuar, A Ishak, F Rosdi

The Hook


---

Hockey team's penalty corner executions get thumbs-up




KUALA LUMPUR: The Malaysian hockey team are finding their sharpness in penalty corners during their playing tour in Europe.

That was evident in the national team's 4-3 win over world No. 9 Spain in the ongoing four-nation invitational tournament in Barcelona, Spain, on Thursday.

Roelant Oltmans' men converted three penalty corners to come back from two goals down to take the win. On top of that, Malaysia's fighting spirit was also a factor.

They were 2-3 down with just a minute left on the clock but they never gave up as they stormed back to net two goals in the last 26 seconds for victory.

It started with youngster Muhd Akhimullah Anuar Esook (pic) scoring the equalising goal from close range to make it 3-3.

The inspired Malaysians' relentless attacks were rewarded when they earned a penalty corner with five seconds remaining on the clock.

Defender Muhd Razie Abdul Rahim became the toast of the team when his drag flick sailed past Spanish goalkeeper Quico Cortes. It was a sweet win for world No. 12 Malaysia as they lost 1-0 to Spain in a Test match on Tuesday in Barcelona.

On Thursday, Spain started off well by taking a 2-0 lead with field goals by Xavi Lleonart and Albert Beltran in the 17th and 24th minutes respectively.

But a minute later, seasoned campaigner Tengku Ahmad Tajuddin Tengku Abdul Jalil narrowed the deficit by deflecting the ball into goal off a penalty corner push by Faizal Saari.

Spain netted their third goal through Alvaro Iglesias in the 36th minute to make it 3-1.

But Malaysia, who stunned world No. 7 Germany 4-2 in a Test match in Krefeld, Germany, last week, never gave up and fought back to net three goals in the last 11 minutes.

Nik Mohd Aiman Nik Rozemi narrowed the score to 2-3 off a penalty corner goal in the 49th minute before Malaysia went on the offensive to net two goals in the dying seconds.

Team manager Stephen van Huizen praised the team for their fighting spirit.

"The boys played with determination and did really well to deliver two goals in the very last minute of the match," said Stephen.

"Our penalty corner set-pieces are also working well as we converted three of the four we earned in the match.

"Our defence also did well by not giving away any penalty corners. It was a good win and we look forward to a better performance against Ireland," said Stephen.

World No. 7 England staved off a strong challenge from Ireland, ranked 11th in the world, to come back from two goals down to snatch a 3-3 draw.

The Star of Malaysia


---

National Junior Squads Announced

Mitch Wynd




The pathway to uncovering the next crop of Hockeyroos and Kookaburras stars is a step closer after the announcement of the Hockey Australia Men's and Women's National Junior Squads for 2019.

Women's Head Coach Tim White and Men's Head Coach Ben Bishop each named a 27-player squad. Where the selection process was largely based on performances at the recent National U21 Championships.

White and Bishop are both excited to be able to announce their National Junior Squads and are buoyed by the potential.

Notably in the women's squad, two sets of siblings have been selected, with Queenslanders Casey and Dayle Dolkens joining sisters Aisling and Ciara Utri from Victoria.

"The squad, which was selected after an exhaustive process at the recent Under 21 Nationals, forms a major part of Australia's high performance pathway," said White.

"The purpose of the National Junior Program is to identify and broaden the talent base in Australia. It also serves to transition athletes into other squads, namely Development and Senior Squads.

"I'm looking forward to playing a part in the development of these young athletes, together with the NTC coaches in each of the players' home States."

The men's squad comprises seven players from the New South Wales team that were crowned National U21 Champions.

"The National Junior Squads are a very important part of our development pathway in ensuring the sustained international success of our senior teams," said Bishop.

"The level at this year's U21 Championships was pleasing to see and the competition for spots in this squad was strong.

"I look forward to getting the group together through competition and targeted training activities over the next 12 months, and along with our NTC network of coaches, playing a part in shaping the development of these young men."

White and Bishop also commended the contribution by coaches and support staff from the National Institute Network and respective State Associations who have played a significant part in identifying and developing the players who were selected.

The 2019/2020 National Junior Program is set to comprise training camps, a combined NTC competition as well as international matches.

Hockey Australia 2019 Women's National Junior Squad
Name, State
Alice ARNOTT    NSW
Hannah ASTBURY    QLD
Morgan BLAMEY    NSW
Isabella COLASURDO    VIC
Emma DE BROUGHE     SA
Casey DOLKENS     QLD
Dayle DOLKENS     QLD
Abigail DOOLAN     NSW
Kendra FITZPATRICK     QLD
Talei FORREST     ACT
Sara FOSTER     WA
Annie GIBBS     WA
Rachel GUY     VIC
Amy HAMMOND     SA
Ruby HARRIS     QLD
Carly JAMES     VIC
Grace JEFFREY     NSW
Morgan MATHISON     QLD
Pippa MORGAN     WA
Eve REITH-SNARE     NSW
Renee ROCKLIFF     WA
Courtney SCHONELL     NSW
Jolie SERTORIO     WA
Hattie SHAND     SA
Maddi SMITH     NSW
Aisling UTRI     VIC
Ciara UTRI     VIC

Hockey Australia 2019 Men's National Junior Squad
Name     State
Cade BANDITT     QLD
Jonathon BRETHERTON     VIC
Luca BROWN     QLD
Lachlan BUSIKO     SA
Lain CARR     NSW
James COLLINS     WA
Patrick COATES     VIC
Harrison FARRELL     QLD
Michael FRANCIS     QLD
Brinley GALLAGHER     NSW
Dane GAVRANICH     WA
Gobin GILL     TAS
Fred GRAY     SA
Sam GRAY     NSW
Anand GUPTE     ACT
Tom HARVIE     WA
Ehren HAZELL     NSW
Brayden KING     WA
Aaron KNIGHT     ACT
Dylan MARTIN     NSW
Daniel McBRIDE     VIC
Sam McCULLOCH     TAS
Robert McLENNAN     NSW
Alistair MURRAY     WA
Daine RICHARDS     NSW
Christian STARKIE     WA
Ben WHITE     VIC

Hockey Australia media release


---

Dar Hockey Academy's Massive Show at the National Championships

By Ijaz Chaudhry

Dar Hockey Academy is by far the biggest hockey nursery of Pakistan.

Academy's players regularly gain selection in Pakistan's national and age group teams.

Pakistan's last international appearance was at the 2018 World Cup. Four players from the Dar Academy were part of that team.

Academy which is based in Lahore has players from different parts of the country,

The colts are given high quality coaching at home. The academy teams regularly tour abroad, mostly the leading European hockey nations, to get international competition, and they will be touring Europe for the sixth time from August 13-28.

The scouts are always on lookout for the talented youngsters.

Hence, the supply line remains intact.

It is no surprise that as many as 34 Dar HA boys have been in action for 10 teams at the ongoing 65th National Championships at Karachi's Abdul Sattar Edhi hockey stadium.

They include players who have donned international blazer for Pakistan's senior and age group sides as well as up and coming lads, some making their maiden appearance at the National Championships.

Interestingly, squads of all the four semi finalists and seven of the eight quarter finalists include academy players.

Dar Hockey Academy boys at the 65th National Championships:

Teams in the Semifinals:
WAPDA: 5, Sui Southern Gas: 5, National Bank of Pakistan: 4, WAPDA Whites 2

Losing Quarter Finalists:
PIA: 4, Army: 2  Navy: 2

Other Teams:
Railways: 3, Punjab: 3, Mari Petroleum Company Limited: 4

Ijaz Chaudhry writes on hockey & other sports. For more about him and his work, visit: www.sportscorrespondent.info  

Fieldhockey.com


---

Amirol's on a roll – and national junior coach Nor Saiful's watching

By AFTAR SINGH

KUALA LUMPUR: Muhd Amirol Hamizan Azahar is definitely a star in the making.

He is already on the radar of national junior coach Nor Saiful Zaini who is very impressed with the scoring prowess of the 19-year-old Tunku Mahkota Ismail Sports School (SSTMI)-Thunderbolt player.

"I'm very impressed with his ability to score field and penalty-corner goals. He is a dedicated player who guided Malaysia to the gold medal in the Youth Olympic Games (in Buenos Aires, Argentina, last October).

"The talented player is sure to play for the senior national team next year. I have decided to make him captain of the team in the Sultan of Johor Cup tournament (Under-21 international meet at the Taman Daya Stadium from Oct 12-19)," enthused Nor Saiful.

Amirol, who hails from Penang, is certainly hogging the limelight in the ongoing Malaysian Junior Hockey League (MJHL) especially after having netted 26 goals – 15 from penalty corners, 10 field goals and one penalty stroke to be the league's top scorer.

He has already bagged the top scorer award even before the final match for the overall title. The second highest scorer is Muhd Amirol Hanif Mamat of Bukit Jalil Sports School (BJSS) with 16 goals and there's no way for him to increase his goal tally as BJSS are not involved in today's final.

Instead, today's showdown for the overall title at the National Hockey Stadium in Bukit Jalil will be between SSTMI and the Pahang Hockey Academy-Thunderbolt teams.

SSTMI will be out to repeat their double feat of last year. They have won the MJHL title already and with hotshot Amirol in the fray, they are fancied to take the overall title today.

Amirol said that his dream to play for the national team is on the right track.

"I believe that it's just a matter of time before I'm called up to train with the national team," said Amirol.

"I'm happy with my scoring ability as last year, I scored only 10 goals. Our team did well to win the league title by scoring a whopping 88 goals in 13 matches and now we will focus on retaining the overall title.

"We have a talented team and I'm confident that we will lift the Cup," said Amirol, who will be featuring for the last time in the MJHL which is for the Under-19s.

In this year's league clash, SSTMI edged the Pahang outfit 4-3. In the fight for the overall title last year, SSTMI came out tops with a 4-0 victory in the final.

The Star of Malaysia


---

Openda back at Telkom as champs seek top spot

By AYUMBA AYODI

Defending champions Telkom have a battle at hand when they take on Kenyatta University and Sliders respectively in women's hockey Premier League this weekend at City Park Stadium.

Victories for Telkom, who are placed third in the log with 11 points draw from three wins and two draws, will see them reclaim the top as the league hits the midway point of the season.

The Telkom camp has been abuzz over the last two weeks with the return of the coach Jos Openda, who had resigned in January this year after 16 years with the team.

It's a big boost to Telkom, who have lost their title sponsors Telkom Kenya after three decades with the team. Telkom are chasing their 22nd league title this season.

"I am back and I want to help the girls get a new sponsor God willing before the end of the season and continue winning titles with them," said Openda, who only has been coming in to advice since his departure.

Telkom, who are the only other side yet to concede defeat besides Lakers, will meet Kenyatta University Titans on Saturday before taking on Sliders in a derby on Sunday.

Last season, Telkom beat both KU Titans and Sliders home and away. "I believe they can regain their winning form despite having drawn a couple of matches," said Openda.

Telkom are set to change their name to Queens of Hockey when the season ends.

They have beaten Strathmore (2-0), Jomo Kenyatta University of Agriculture and Technology (3-0) and United States International University (2-1). They have drawn with Amira Sailors (0-0) and Lakers (2-2).

Winless Titans are placed seventh in the eight-league team with two points from four losses and two draws, Sliders are sixth with six points from a win, three losses and three draws.

The men's Premier League also has matches that will keep fans on the edge of their seats this weekend. Former champions Kenya Police face Sailors, while USIU hope to recover from their 3-0 loss last weekend to Strathmore with a good result against favourites Wazalendo. The two matches are set for Saturday.

On Sunday, battered Nairobi Simba will hope to chalk up their first victory of the season when they meet Greensharks, while Sailors are up against Parklands with all matches at City Park Stadium.

Police are placed second in the 10-team league standings with 14 points drawn from four wins, two draws and a loss while their opponents Sailors have seven points, having claimed two wins, a draw and four defeats.

Third-placed Wazalendo are tied with Police virtually on everything save for the superior goal difference that Police enjoy while USIU are sixth with seven points made of one win, four draws and three losses.

"Even though we are at full strength, we must be careful against Sailors who are good at long crosses," said Police coach Patrick Mugambi. "They are a good side that you can't underrate."

FIXTURES

Saturday

Men's Premier League: USIU v Wazalendo (4pm); Kenya Police v Sailors (6pm) City Park

Women's Premier League: Telkom v KU (2pm) City Park

Women's Super League: MSC v Oranje Leonas (4pm) Mombasa

Sunday

Men's Premier League: Parklands v Sailors (3pm), Greensharks v Sikh Union (5pm) City Park

Telkom v Sliders (11am) City Park

Men's Super League: MMU v Kimathi University (1pm) City Park

Men's National League: - Thika Rovers v UoN (9am) City Park

Daily Nation