All the news for Tuesday 19 March 2019

Indian men's hockey team captain Manpreet Singh says lessons learnt from World Cup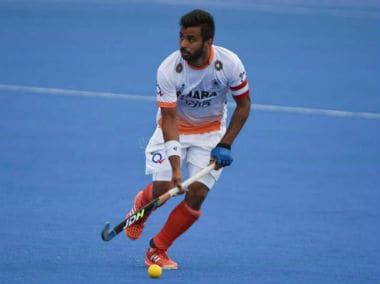 File image of Manpreet Singh. Image courtesy Twitter: Manpreet Singh 

Bengaluru: The Indian men's hockey captain Manpreet Singh feels the team has learnt its lessons from the World Cup debacle last year and is geared up for a positive start to the season at the Azlan Shah Cup in Ipoh, Malaysia.
Sultan Azlan Shah Cup: Indian mens hockey team captain Manpreet Singh says lessons learnt from World Cup

Speaking to the media before leaving for Ipoh on Sunday night, Manpreet said the side has prepared itself for the hot and humid weather in Ipoh by having noon practice sessions at the national camp.

"...we are quite eager to make a positive start as it will give us the right momentum ahead of the FIH Men's Series Finals Bhubaneswar Odisha 2019. We have worked really hard in the camp, often training at noon to get used to playing in the hot and humid weather conditions," Manpreet.

India begin their campaign against Japan on 23 March and will be looking to continue their winning form against the side, who they last met during the Hero Asian Champions Trophy last year.

"We will be playing the Asian Games Champions Japan in the opening match and we will have to be at our best to beat them. We have a lot of youngsters in the team, it will be a great test for them and us as a unit," stated Manpreet who will have Surender Kumar as deputy.

The Indian team will play their second game against Korea on 24 March while they take on nemesis and Asian Games silver-medallists Malaysia on 26 March.

"Though we are the highest ranked team in the tournament, we cannot get ahead of ourselves and have to take one match at a time rather than thinking directly about the Final as we have some tough encounters to begin with.

"Each step is important and the objective will be to ensure that we come out victorious in all our matches," he said.

Manpreet believes that the 2018 Odisha World Cup, in which the team lost in the quarterfinals, was a major learning step and many players, who have been given a chance, are in a better position to handle pressure situations.

"The World Cup was great learning for all of us. Though, we weren't able to go beyond the quarterfinal, I believe the world took note of the immense potential of a young team who played with all their heart.

"At this camp, we have looked back at our mistakes and have also tried to develop some new combinations that can help us improve our game. We are confident of our chances of winning but don't want to get complacent," he said.

Firstpost


---

India eye gold in Sultan Azlan Shah Cup hockey

Indian hockey team skipper Manpreet Singh and his troops expressed their eagerness to compete in the Azlan Shah Cup.



Indian mens hockey team skipper Manpreet Singh (File Photo | EPS)

BENGALURU: Ahead of the Indian mens hockey teams departure for the 28th Sultan Azlan Shah Cup in Ipoh, Malaysia, skipper Manpreet Singh and his troops expressed their eagerness to compete in the first marquee event of the year.

India begin their campaign against Japan on March 23 and will be looking to continue their winning form against the Japanese side who they last met during the Hero Asian Champions Trophy last year.

"It's the first tournament of the season and naturally we are quite eager to make a positive start as it will give us the right momentum ahead of the FIH Men's Series Finals in Bhubaneswar," Manpreet said.

"We have worked really hard in the camp, often training at noon to get used to playing in the hot and humid weather conditions that we are going to experience in Ipoh."

The team left for Malaysia from Kempegowda International Airport in Bengaluru on Sunday night.

"We will be playing the Asian Games Champions Japan in the opening match of the tournament and we will have to be at our best to beat them. he added.

The Indian team will play their second game against Korea on March 24, while they play their nemesis and Asian Games Silver medallist Malaysia on March 26.

"Though we are the highest ranked team in the tournament, we cannot get ahead of ourselves and have to take one match at a time rather than thinking directly about the final, as we have some tough encounters to begin with. Each step is important and the objective will be to ensure that we come out victorious in all our matches," the skipper said.

Manpreet believes that the World Cup was a major learning step for the team and many players who have been given a chance are in a better position to handle pressure situations.

"The World Cup was a great learning for all of us. Though, we weren't able to go beyond the quarter final, I believe the world took a note of the immense potential of a young team who played with all their heart.

"At this camp, we have looked back at our mistakes and have also tried to develop some new combinations that can help us improve our game. We are confident of our chances of winning but don't want to get complacent," he said.

The New Indian Express


---

Hockey coach search will be over soon

The Hockey India has gone through the applications for the post of head coach of the men's hockey team and will prepare a shortlist in the next 10 days

S Kannan



India are likely to have a foreign coach following Harendra Singh's exit earlier this year (Hockey India Photo)

The hunt for a foreign coach to take charge of the men's hockey team will be over by the end of March. Mail Today has learnt from sources that Hockey India has gone through the bio-datas of applicants and in the next 10 days it will prepare a shortlist.

The final decision on who gets the coach's job will be held after consultations and discussions with the Sports Authority of India, who are officially the employers and pay salary.

Since the time India lost in the quarter-finals of the FIH World Cup in December in Bhubaneswar, there was a huge doubt over the continuance of Harendra Singh.

Once Hockey India held its review meeting in January and decided the performance of the team under Harendra was not good enough at the Asian Games in Jakarta and the World Cup, going back to a foreign coach became the obvious choice.

Hockey India had on its website advertised for the coach's job and various applications have been received. It is learnt two of the three short-listed coaches are from Europe and Australia. Names are being kept as confidential as there is no point in upsetting the current employers of these coaches.

When the Indian team left for the Azlan Shah tournament in Malaysia recently, with no coach in charge, it looked a bit strange. David John, the high performance director is virtually in command, though his hockey acumen is questionable.

However, this time around, Hockey India has not been in a rush to find a foreign coach as they need someone who can be of huge help to the team. At stake are the Olympic qualifiers later this year and hopefully preparations for the 2020 Tokyo Olympics.

Word has it that good coaches are willing to come and work in India as the salaries paid are quite handsome.

India Today


---

SA Hockey seeks a new men's coach to take Proteas to the Olympics

Ockert de Villiers



Daayan Cassiem of South Africa celebrates goal with his teammates during the 2017 Cape Town Summer Series II match against Germany at Hartleyvale Stadium. Photo: Chris Ricco/BackpagePix

JOHANNESBURG – South African hockey is looking for a new head coach for the men's team on the eve of the qualifying period for the Tokyo 2020 Olympic Games.

The SA Hockey Association (SAHA) advertised the head coach position for a four-year cycle culminating in the World Cup in either 2022 or 2023.

Like the women's position which has since been filled by Robin van Ginkel, it will be on a volunteer basis.

Incumbent men's coach Mark Hopkins stepped into the role at the beginning of 2018 with only a year left in the four-year tenure.

Fabian Gregory stepped down after the FIH World League Semi-Finals in South Africa in July 2017.

Interim head coach Sheldon Rostron held the fort, coaching both the men's and women's teams to the 2017 continental titles.

Hopkins coached the team to the World Cup in India where they finished at the bottom of their pool. They suffered heavy defeats to hosts India and Belgium but made amends with a 1-1 draw with Canada.

The deadline for application submissions is set for March 29 with SAHA looking to fill the position in April.

The Proteas coach will have their work cut out for them as they have the task of qualifying the team for the Tokyo Games.

The team will return to India in July for the Hockey Series Finals which is an Olympic Qualifying tournament.



Central Hockey Club's Quanita Bobbs (right) and SA teammate Jade Mayne in action against China at Hartleyvale Hocey Stadium, Cape Town in January 2017. Photo: Ryan Wilkisky/BackpagePix

Meanwhile, Van Ginkel announced a 26-player women's squad ahead of the FIH Open Series Final in Valencia in June where they will face Italy, Wales and Thailand in Pool B.

"I am really excited to take my first team to Spain and look to do well," Van Ginkel said. "The team selected has a good core of experienced players that will help blend the new names into the team.

"I am really looking forward to the start of our four-year process and the success we can bring to South African Hockey."

The squad includes a host of new players which include Robyn Johnson, Sandi Tabata, Ashleigh Datnow, Nikki Veto, Stephanie Botha, Casey-Jean Botha, Bianca Wood, Hannah Pearse and Tegan Fourie.

Proteas women's squad:

Stephanie Baxter, Quanita Bobbs, Kara Botes, Casey Jean Botha, Stephanie Botha, Dirkie Chamberlain, Ashleigh Datnow, Lisa Deetlefs, Lilian du Plessis, Celia Evans, Tegan Fourie, Tarryn Glasby, Erin Hunter, Robyn Johnson, Nicole la Fleur (GK), Ongi Mali, Marizen Marais, Phumi Mbande (GK), Mmathshepo Modipane (GK), Kristen Paton, Hannah Pearce, Sandi Tabata, Izelle Verster, Nikki Veto, Nicole Walraven, Bianca Wood.

The Star


---

SA hockey women target Olympic qualification

Wesley Botton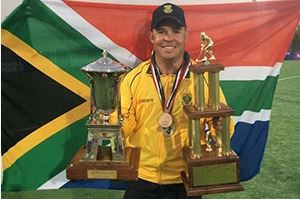 Robin van Ginkel.

It's a time of transition for the team under new coach Robin van Ginkel.

A 26-member national women's hockey squad was unveiled on Monday, as they geared up for the final stage of their Olympic qualifying campaign.

While the SA team competed at four successive editions of the quadrennial Games between 2000 and 2012, they were left out in the cold ahead of the 2016 Rio Olympics after the SA Sports Confederation and Olympic Committee (Sascoc) tightened the qualifying criteria, which denied them a place at the showpiece as the African champions.

Again looking to secure their spot at next year's Tokyo Games without relying on continental qualification, with Sascoc arguing that African competition was not strong enough, they needed to finish among the top two teams at the FIH Open Series Final in Valencia in June.

The SA squad, which included nine uncapped players, were set to face Italy, Wales and Thailand in Pool B of the tournament, with hosts Spain turning out in Pool A alongside Belarus, Canada and Namibia.

Training under new coach Robin van Ginkel, who had taken the post as a volunteer due to the SA Hockey Association's financial struggles, the team for the Open Series tournament would be selected from the training squad.

"I am really excited to take my first team to Spain and look to do well in the FIH Hockey Series Final," Van Ginkel said.

"The team selected has a good core of experienced players that will help blend the new names into the team and into international hockey.

"I am really looking forward to the start of our four-year process and the success we can bring to South African hockey."

SA squad: Stephanie Baxter, Quanita Bobbs, Kara Botes, Casey Jean Botha, Stephanie Botha, Dirkie Chamberlain, Ashleigh Datnow, Lisa Deetlefs, Lilian du Plessis, Celia Evans, Tegan Fourie, Tarryn Glasby, Erin Hunter, Robyn Johnson, Nicole la Fleur, Ongi Mali, Marizen Marais, Phumi Mbande, Mmathshepo Modipane, Kristen Paton, Hannah Pearce, Sandi Tabata, Izelle Verster, Nikki Veto, Nicole Walraven, Bianca Wood

The Citizen


---

Dragons secure quarter-final spot with glorious van Aubel goal crucial



©: Frank Uijlenbroek / World Sport Pics

KHC Dragons secured their place in the Belgian quarter-finals as Florent van Aubel scored a goal for the ages against Braxgata.

His overhead volley from Tommy Willems perfectly directed diagonal aerial toward the left post from the right wing.

It was a tough battle for Dragons from Brax who thought they had an early lead when Loïck Luypaert's corner shot hit the net but it was ruled out as the ball never left the circle.

Van Aubel's goal came in the 20th minute but they were unable to pull away after that and they were pegged back three minutes into the second via Tanguy Clément who robbed a loose clearance and fought his way to the right of the circle to slap home.

Tobias Walter kept it level with some good saves before Willems grabbed the winner following a lovely piece of work from van Aubel down the right wing.

The results assures Dragons a place in the top four of Group A alongside Royal Racing Club de Bruxelles – the only unbeaten side – Oree and Beerschot.

In Group B, Waterloo Ducks continue to be the most impressive performers with 12 wins with a 5-1 win away to La Gantoise. It gives them the most wins of any club in either pool, three more than anyone else.

Royal Leopold are also in excellent form as they won 8-0 away to White Star. La Gantoise and Herakles are also in the playoffs.

Euro Hockey League media release


---

Injury-hit Kampong snatch big win over Bloemendaal as Meulenbroek scores again



©: World Sport Pics

SV Kampong ended HC Bloemendaal's long unbeaten run with a strong defensive effort to win out 2-1, closing the gap at the top of the table.

Like on Friday night, Philip Meulenbroek made a crucial impact with the winning goal. He had retired from top hockey after the EHL FINAL4 last year but he was brought back in by Alexander Cox after a spate of injuries and he made it three goals in three days.

"I score regularly against Bloemendaal; it seems to suit me!" the laid-back Meulenbroek told hockey.nl after his back post tip-in from Bjorn Kellerman's cross.

David Harte was the other hero, making numerous saves as Kampong coped without the injured Sander de Wijn, Jasper Luijkx, Floris de Ridder and Casper Roelofs.

Thierry Brinkman did slam home a brilliant first time shot for 1-0 in the third minute but Bloemendaal could not build on that and Kampong got back level via Jip Janssen's close-range finish before Meulenbroek won the game with seven minutes to go.

HC Oranje-Rood overcame the frustration of two missed penalty strokes in the first half against Klein Zwitserland to come back and win 4-1. Koen Bijen had KZ one up at half-time but two Benjamin Stanzl goals and one each from Lucas Martinez and Mink van der Weerden changed the game.

AH&BC Amsterdam fell to their biggest ever home Hoofdklasse defeat at the hands of HGC 8-2. Max Plennevaux and Kenta Taknaka made it 2-0 inside four minutes before Ashley Jackson and Olivier van Tongeren made it 4-0 with barely 21 minutes gone.

Teun Rohof's corner rebound got one back but further goals from Karst Timmer, van Tongeren and Jackson ensured a miserable afternoon for Amsterdam at the Wagener Stadium.

The upshot of those eye-catching results sees Bloemendaal's lead cut to three points back to Kampong with HGC in third place. Oranje-Rood have a little gap on 27 points between them and fifth placed Den Bosch on 23 – after their win over Rotterdam – with both Amsterdam and Rotterdam with plenty of ground to make-up.

Euro Hockey League media release


---

Surbiton closing quickly in on English regular season crown




Reigning English champions Surbiton boosted their bid for another Men's Hockey League Premier Division title with a 2-0 victory at second-placed side Hampstead & Westminster on Sunday.

Goalless at half time, the game sprung into life mid-way through the second half as the division's top scorer Alan Forsyth gave the away side the lead with a goal from open play in the 57th minute.

Zach Wallace sealed all three points for the league leaders with another goal from free play in the 63rd minute. The result puts Surbiton six points clear with two rounds of matches to go, meaning they need just a point to secure first and a potential European ticket for 2019/20.

They will be favourites to do just that next Sunday when they face bottom placed Sevenoaks who have yet to win a game this season.

Beeston missed out on an opportunity to close the gap on second and cement third place as they fell to a 6-4 defeat at Reading. Chris Proctor fired Beeston into a 3-0 lead with a hat-trick in the first half before Stuart Loughrey responded with two goals for reading to leave it 3-2 at the break.

Elliot Hibell extended the away side's lead with a goal from a penalty corner in the 41st minute before goals from Lee Morton and Peter Scott (2) gave Reading the lead. Loughrey completed his hat-trick in the 65th minute and sealed the points for the home side.

Elsewhere Wimbledon performed well at home, winning 1-0 against fourth place East Grinstead. Jonny Codling scored the only goal of the game in the 46th minute from open play.

Brooklands MU came out on top after a thrilling 6-4 win at home against bottom of the table Sevenoaks. Keenan Horne, Stefan Ray-Hills, Sam Perrin, Leo Watton and David Flanagan (2) were all on the scoresheet for the home side.

Tim Warrington (2), Duncan Parnis and Andrew Oxburgh were the goal scorers for Sevenoaks as they still look for their first win of the season.

Euro Hockey League media release


---

Butali, Wazalendo in winning starts

By AYUMBA AYODI



Butali Sugar Warriors' Emmanuel Simiyu celebrates Zack Aura's goal against Strathmore University during their Kenya Hockey Union men's premier league match played on December 3,2018 at City Park Stadium. PHOTO | CHRIS OMOLLO

Defending champions Butali Sugar Warriors and Wazalendo felt the impact of their new signings as they launched their 2019 Kenyan men's hockey Premier League campaign with wins over the weekend.

Calvin "Kanu" Otieno, formerly of Kenya Police, scored Butali's second goal in the 42nd minute to spur them to a 2-0 victory against stubborn Sailors on Sunday at Nairobi's City Park Stadium.

It's Frank Wanangwe, who opened the score charts for Butali when he sunk in from a penalty corner in the 11th minute, before Otieno's field goal exploits.

Butali Sugar Warriors also fielded Amos Barkibir, who they also acquired from arch-rivals Kenya Police for the season alongside Moses Ademba from Multimedia University and defender Arif Shah, who has re-joined the Kisumu-based side from Nairobi Simba.

Butali Sugar team manager Kamal Sembi said that they are determined to seal their fourth cup success after having won the diadem in 2014, 2015 and last season.

"We have prepared well for the last three months and I am sure the coaches will have a selection nightmare. We have a big and strong squad of 30 players," said Sembi.

"Our performance will depend on the day but we can't underestimate our rivals."

Sembi reiterated that their target this year is to defend their crown come end of season in December and ultimately win the continental crown.

It was Sailors' second defeat of the season, having lost to United States International University (USIU) 3-0 in a mid-week clash last week.

Dunston Baraza, who has been signed from Multimedia, lived up to his billing when he completed a bounty weekend for Wazalendo with their third goal a minute from full time to see them whack Greensharks 3-0 on Saturday.

After a barren first half, Nelson Shilaku put Wazalendo ahead in the 42nd minute from a field goal, before Joseph Kuramah made it two in the 52nd minute in a similar fashion.

In the women's Premier League, Kenyatta University Titans forced former champion Sliders to a goalless draw, while defending champions Telkom claimed a walkover against JKUAT, who failed to show up for their match.

Telkom had been forced to a barren draw by newcomers Amira Sailors the previous weekend.

Nakuru, who were relegated to men's Super League, launched their campaign strongly with a 2-1 win over Wazalendo Masters.

Kevin Kimutai put Nakuru ahead in the 10th minute when he converted from the spot, but Richard Njuki levelled for Masters with a penalty corner 10 minutes later.

Then Gary Jean Louis would score the winner for Nakuru nine minutes into the third quarter. The leagues take a break this weekend for national teams training.

Daily Nation


---

Crawford net impressive victory at hockey comp

Crawford La Lucia met previous two times regional winners, Danville Park Girls' High in the gold silver game where the final score ended 1 nil in favour of Crawford.



Perfect balance: Captain of the Crawford College La Lucia hockey team, Rachel Wilkinson fires in a shot during the finals against Danville Park High School in the Durban North Regional at the SPAR KZN Schoolgirls' Hockey Challenge. PHOTO: Rogan Ward

PERSEVERANCE most certainly paid off for the determined host school, Crawford La Lucia achieving their first Durban North Regional title in the nine year history of the South African SPAR KZN Schoolgirls' Hockey Challenge that took place recently.

Crawford La Lucia met previous two times regional winners, Danville Park Girls' High in the gold silver game where the final score ended 1 nil in favour of Crawford.

Coach for Crawford La Lucia, Justin Collins stated after the prize giving, "It has been a real privilege to be a part of the tournament again. It has been a fantastic day out with a lot of competitive hockey being played. It has been inspiring to see the talent on hand and we were fortunate to come out as winners. It is good progress for the start of our season and certainly, with this win we are going in the right direction."

"Danville is a very good team, we knew what system they were going to play so it was nice to actually turn that around. We didn't give them any chance to keep the ball or get out their own circle. We applied pressure from the whistle, and we managed to come out winners, which is great. We are really, really happy with this success."

Brent Phillips from Crawford La Lucia was deemed the Umpire of the Day. He received his award at prize giving and dashed off to officiate another game at Riverside as a favour owed to his father.

Securing their spot for the Grand Finals, Crawford La Lucia join the two Pietermaritzburg teams that have already earned their ticket. The first team to earn their spot was St Anne's College (Pietermaritzburg North Regional) and Epworth School (Pietermaritzburg Central Regional).

Results:
1 Crawford La Lucia
2 Danville Park Girls' High
3 Our Lady of Fatima
4 Ashton College
5 Northlands Girls' High
6 Reddam House uMhlanga
7 Durban North College
8 Crawford North Coast

Northglen News


---

Growth of hockey in Nepal – Ambition deserves sustenance

Courtesy of the Asian Hockey Federation




The Asian Hockey Federation (AHF)is promoting hockey at both development and elite level across the continent through a series of hockey assisted programmes. One such programme was the AHF's National Education Development and High Performance Assistance Project, which enabled national men's and women's teams from Nepal to benefit from high performance training at the hockey centre in Lahore, Pakistan.

More than 60 people took part in the project, including the men's and women's squads, officials and high-ranking individuals from the Nepal Hockey Association. Most of the players from both the men's and women's squad are either students at high schools and colleges or work in the services division.

The AHF is also working closely with its member associations to help players develop their own careers alongside their international hockey commitments. It is these measures that will prove vital for growth of hockey in the region as it will allow players to commit to representing their nation without compromising future careers.

The Nepal men's and women's teams traveled first to India for a week-long training camp, where they faced district level teams in Amritsar and Himachal. These matches helped prepare them for the intense development activity planned for them in Lahore.

Lahore, Pakistan then became the headquarters for all the training and coaching activities to be held by the AHF. The courses were delivered by FIH high performance educators and AHF experts.




In addition, during the training camp, both teams were given the opportunity to build on their training and monitor their performance when they faced top quality provincial and club level Pakistani opposition. The training camp and high quality matches are all part of the preparations before Nepal embark on  the challenge of the Hockey Series Open.

To further hockey development in Nepal, a Regional Coaching and Umpiring seminar was held in Lahore, which was attended by the coaches and umpires from Nepal. The seminar was instrumental in sharing valuable knowledge to the participants.

Furthermore, AHF provided support in the form of equipment to the Nepal Hockey Federation to aid their progress in development. The donated equipment mainly consisted of hockey sticks, balls and goal keeper sets that was provided free of cost as part of AHF's equipment support programme.

The underpinning strategy of this development work is to educate the players and coaches so they understand what it means to be international hockey professionals. The main agenda of the Lahore training programme was to help players develop skills, tactics, game awareness and to foster the ability to recognise and address their own strengths and weaknesses.




The long-term aims of the AHF is to enable national teams from all over Asia to become competent, top level teams. In particular the Nepal women's team is gunning for second spot behind India in the South Asian region. The AHF is offering its full support to help the Nepal women's team rise up the FIH World Rankings and achieve this dream. Similarly, the Nepal men's team also has its own ambitions, for which the AHF is willing to lend them all the help necessary to achieve their personally defined goals.

The AHF constantly seeks to align its objectives to promote the growth of hockey at all levels. Nepal is a good example of the continental federation's policies bearing fruit as the national teams continue to develop. The future for hockey in Nepal is bright as the country continues to receive support from the AHF.

FIH site