All the news for Wednesday 13 March 2019

Fit-Again Brand Eager To Make Sydney Return

Ben Somerford




Sydney product Tim Brand has regained his fitness after a knee problem and is chomping at the bit to play for Australia in front of his home crowd for the first time this weekend.

The Kookaburras and Hockeyroos will take on Argentina and New Zealand in the new FIH Pro League at Sydney Olympic Park from 3pm AEDT and 5pm AEDT on Saturday-Sunday 16-17 March.

Brand hasn't been in action for the Kookaburras since the opening weekend of the FIH Pro League in early February when he injured his knee against Belgium.

He resumed full training last week and has put himself in contention to be selected for this weekend's matches, with the teams to be announced on Thursday.

"I'm going well. The knee is all good now," Brand said.

"I started training last week. I had a cork on my knee, which was bone bruising.

"I'm good to go now, so hopefully I get a run on the weekend. It'd be awesome to play in Sydney."

Brand debuted for Australia in June last year and enjoyed a strong debut year, scoring eight goals and being nominated for the 2018 FIH Rising Star award.

The 20-year-old hails from Ryde-Hunters Hill, not far from Sydney Olympic Park, and would love to play in front of some familiar faces.

"I've never played at home before, so it'd be a dream come true to play in front of family and friends and people who've never seen me play hockey," Brand said.

"That'd be a great opportunity. Guys who've had a big impact on my career, from Ryde hockey club and NSWIS."

The Kookaburras are currently second on the FIH Pro League standings, with Argentina in fifth and New Zealand down in last place, but Brand was wary of both opponents.

"They're two tough teams," Brand said.

"I've never played New Zealand before but we always have a rivalry with them in any sport.

"Argentina, I've played a few times, they're really skilful and fast and will definitely be a challenge.

"We're doing really well at the moment. They're giving everyone a chance and hopefully we can continue our momentum into this weekend."

Matchday tickets are available from $30 for adults and $10 for children via Ticketbooth and this link.

Hockey Australia thanks Destination NSW for their support in enabling the FIH Pro League matches to be played in Sydney.

Saturday 16 March 2019
Kookaburras v Argentina - 3pm start (local time)
Hockeyroos v Argentina - 5pm start (local time)

Sunday 17 March 2019
Kookaburras v New Zealand - 3pm start (local time)
Hockeyroos v New Zealand - 5pm start (local time)

Hockey Australia media release


---

FIH Series Finals To Take Place In Banbridge




Hockey Ireland today announced that the women's FIH Series Finals (June 8th-16th), originally expected to be held in Dublin, will now be held at Banbridge Hockey Club. While work has commenced on two new top-class hockey pitches in Dublin, the National Sports Campus and UCD, neither will be completed in time to accommodate the required pre-tournament training on the match surface by the Green Army. Banbridge Hockey Club have laid a new pitch in recent months and the club grounds offer Hockey Ireland the appropriate amount of space to accommodate all that is required with an international tournament of this calibre.   

Speaking about the announcement, Performance Director Adam Grainger said "While our preference was to hold the tournament in Dublin, it was not possible for the pitches to be completed within our time frame. We are confident that both pitches will be worth the wait and will only add to the sport of hockey in the future. It is important we get the pitch correct at the National Sports Campus as it will be our base going forward. Banbridge Hockey Club and the surrounding community have proven themselves to be highly enthusiastic when holding tournaments before and we are looking forward to working with them once again". 

Ticket information will follow in the coming weeks. To view the full match schedule, please click here.

Irish Hockey Association media release


---

Banbridge step in to host women's Hockey Series Finals



Banbridge during EHL ROUND1 in 2016. Pic: Frank Uijlenbroek / World Sport Pics

Banbridge's Havelock Park has been confirmed as the new host venue for the women's Hockey Series Finals to take place from June 8th to 16th this year, ending a six-month saga.

The competition is a vital stepping stone for Olympic qualification with a top two finish at the event – where Ireland are top seeds – guaranteeing a place in the direct playoffs later this year for Tokyo 2020.

The move finally gives the Irish women's team clarity over the venue since Ireland was announced as the host of the event last October.

UCD's Belfield was the preferred venue but work on the ground only began last week. Abbotstown's National Sports Campus was also mooted as an option with a pitch being laid in anticipation of it becoming the high performance base for Hockey Ireland.

Work was initially announced as starting straightaway back in December but the sod has yet to be turned there. As such, neither venue could guarantee it would be ready in time to host the event, let alone offer the extra home advantage for training sessions at the venue in the lead-up.

Other clubs in Dublin were assessed but none were deemed fit to host an event which requires extra infrastructure for television and crowd purposes.

Speaking about the switch, Hockey Ireland Performance Director Adam Grainger said: "While our preference was to hold the tournament in Dublin, it was not possible for the pitches to be completed within our time frame.

"We are confident both pitches will be worth the wait and will only add to the sport of hockey in the future. It is important we get the pitch correct at the National Sports Campus as it will be our base going forward."

Banbridge, though, look to be a good bet to step in at this late stage. The club hosted the Euro Hockey League ROUND1 in 2016, the first and only time the elite competition has come to these shores, bringing the biggest event to Ireland since 2012's Olympic qualifiers.

The Co Down club had been due to host the 2018 EY Champions Trophy last May but that, too, had to be relocated. In that case, the cancelation was out of their hands with the contractor going into administration before work was complete, leading to a hasty move to Three Rock Rovers.

Banbridge President Jo-Anne Lyttle said of the announcement: "We are delighted that Banbridge has been chosen as the venue for this FIH tournament in June.

"This will be the first time the Ireland Women's team will have played in Ireland since winning their historic silver medal at the World Cup in London in 2018. To have them playing in Banbridge is a fantastic opportunity for the club and we are looking forward to welcoming all the teams to Havelock Park.

"The Irish Women's team put hockey in Ireland to the fore last year and their momentous achievement will live long in our memories. To see these hockey heroes playing at Havelock Park in this important tournament will be a significant occasion not only for us as a club but also for the Borough of Armagh, Banbridge and Craigavon.

"The silver medal winners inspired hockey players across the island of Ireland and beyond with their success in the World Cup; to be able to showcase their talent in Banbridge will be great chance for anyone with a hockey or sporting interest to watch them live in action on home soil as they strive towards Olympic qualification.

"The club has experience of showcasing top events, having hosted the EYHL finals on a number of occasions and the EHL Round 1. We will now be working with Hockey Ireland to ensure that this event will be another great success for our sport."

The Hook


---

Hockey Ireland forced to move Olympic qualifying tournament out of Dublin

A lack of a suitable venue in the capital means the FIH tournament will be played in Banbridge this summer.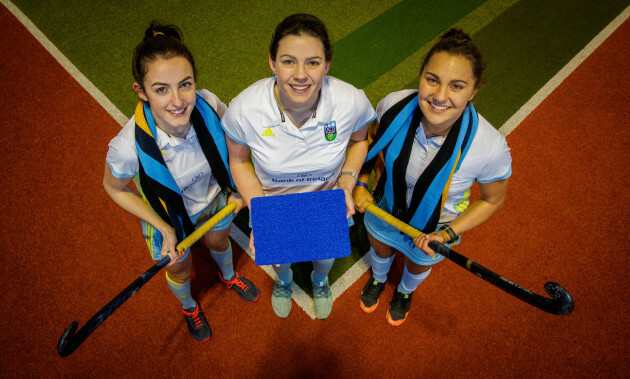 The UCD pitch was due to be ready for June. Source: UCD

HOCKEY IRELAND HAS been forced to change the venue for this summer's Olympic qualifying tournament to Banbridge, despite the International Hockey Federation [FIH] originally awarding the hosting rights to Dublin.

The tournament, which takes place in June, was due to be staged in UCD after plans for the redevelopment of the National Stadium were given the green light last December, but work on the Belfield venue has been delayed again.

Hockey Ireland also explored the option of using the new state-of-the-art pitch on the National Sports Campus in Abbotstown, but with that project also yet to start, there were no guarantees it would be ready for use in time.

It left the governing body with no suitable venue to stage an international tournament in the capital, with other club pitches such as Monkstown at Rathdown School and Three Rock Rovers failing to meet the criteria for infrastructure set out by the FIH.

In a statement this afternoon, Hockey Ireland say the tournament — which marks the beginning of the women's national team's bid to qualify for Tokyo 2020 — will be played in Banbridge Hockey Club from 8-16 June.

Ireland, who are currently without a head coach following the shock departure of Graham Shaw, are hoping to build on last year's World Cup silver medal and qualify for the Olympics for the first time.

"While work has commenced on two new top-class hockey pitches in Dublin, UCD and the National Sports Campus, neither will be completed in time to accommodate the required pre-tournament training on the match surface by the Green Army," the statement read.

"Banbridge Hockey Club have laid a new pitch in recent months and the club grounds offer Hockey Ireland the appropriate amount of space to accommodate all that is required with an international tournament of this calibre."

Ireland, who are in Bisham Abbey presently playing Great Britain in an uncapped series, will open their FIH Series Finals campaign against Malaysia on 8 June before facing Czech Republic and Singapore in further Group A games on 9 and 11 June.



Roisin Upton, Ayeisha McFerran, Gillian Pinder, Anna O'Flanagan and Katie Mullan Ireland will begin their Olympic qualifying campaign in Banbridge. Source: Morgan Treacy/INPHO

The uncertainty surrounding the tournament venue, coupled with Shaw's resignation to take over as the New Zealand women's head coach, has hardly been ideal preparation.

While the eight-team tournament will be shown live on BT Sport, the move north of the border is likely to see a reduction in crowd sizes, while the team have yet to play in Dublin since last summer's magical run to the World Cup final.

"While our preference was to hold the tournament in Dublin, it was not possible for the pitches to be completed within our time frame," Hockey Ireland performance director, Adam Grainger, added.

"We are confident that both pitches will be worth the wait and will only add to the sport of hockey in the future. It is important we get the pitch correct at the National Sports Campus as it will be our base going forward.

"Banbridge Hockey Club and the surrounding community have proven themselves to be highly enthusiastic when holding tournaments before and we are looking forward to working with them once again."

The 42


---

Bombay Gold Cup hockey: Champions Indian Oil to meet Punjab & Sind Bank in final

Indian Oil defeated BPCL 7-2 while Punjab and Sind Bank got the better of South Central Railways 2-1



Action from the semi-final match between Indian Oil and BPCL | Hockey Mumbai

Defending champions Indian Oil enjoyed a smooth passage to the final as hammered last year's runners-up Bharat Petroleum Corporation Limited 7-2 in the first semi-final of the 53rd All India Bombay Gold Cup hockey championship at the MHAL-Mahindra Stadium in Mumbai on Tuesday.

They will face Punjab and Sind Bank in the final.

Up against a depleted BPCL outfit, Indian Oil fully exploited the situation to dominate play and launched a series of attacks on the rival goal and scored at regular intervals. BPCL took the field without a proper bench strength as they started without four key players who had played in the earlier matches. Rabichandran Moiranthem, Dinachandran Moiranthem, Sudeep Chirmako and Shivam Anand, all had to report for the Hockey India organised routine fitness and conditioning camp for junior India players, which commenced in Bangalore from Monday.

Besides, BPCL also missed the services of several senior players, including, S.V. Sunil and Lalit Upadhyay, both recovering from injuries, Harmanpreet Singh who has been advised rest and Birendra Lakra who is in the senior India camp.

They still showed the gumption to fight but could not match their superior opponents and as a results the semi-final contest was reduced to a one-sided affair.

Indian Oil drew first blood when Sunil Yadav scored from an indirect drill from their first penalty corner in the sixth minute and a minute later Armaan Qureshi's feeble attempt slipped through goalkeeper Vikas Dahiya to double the lead.
Advertisement

BPCL managed to cut the deficit in the second quarter through Darshan Gawkar's goal in the 28th minute but Indian Oil restored the two goal lead when Mohd Rahil found the net on the stroke of half-time.

After switching ends, Indian Oil continued in the same vein and scored four more goals to run away to victory. Deepak Thakur hit the target twice (39th & 57th minutes) while Talwinder Singh (38th minute) and Nilam Sanjay Xess (54th minute) completed Indian Oil's tally. Gawkar scored BPCL's second goal in the 56th minute.

Later, former champions Punjab & Sind Bank snatched a 2-1 win against South Central Railway in the second semi-final. Punjab & Sind Bank, who had last emerged champions in 2004, scored through Ranjot Singh (11th minute) and Navdeep Singh (51st minute). South Central Railway scored through Sandeep Kumar Singh (59thminute).

Results – Semi-finals: Indian Oil 7 (Sunil Yadav 6th, Armaan Qureshi 7th, Mohd Rahil 30th, Talwinder Singh 38th, Deepak Thakur 39th, 57th, Nileem Sanjay Xess 54th) beat Bharat Petroleum 2 (Darshan Gawkar 28th, 56th).

Punjab & Sind Bank 2 (Ranjot Singh 11th, Navdeep Singh 51st) beat South Central Railway 1 (Sandeep Kumar Singh 59th).

Scroll.in


---

Sir Owen Glenn threatens to end sports funding after Tokyo Olympics

Billionaire benefactor Sir Owen Glenn has threatened to withdraw all sports funding in New Zealand following the Tokyo 2020 Olympics.

Glenn, who says he has given $2 million to Hockey New Zealand and $3 million to the New Zealand Olympic Committee, is angry at the way Hockey NZ has acted over governance issues.

He is upset over its refusal to release the full independent review in the Black Sticks women's environment, 1 News reported.

He has frozen two months funding to Hockey NZ, instead giving it to former coach Mark Hager, who is now coaching the Great Britain women's side.

"I'm fed up with it. I'm not supporting any more sport after this," Glenn told 1 News.

"Well I finish paying the two million I pay for hockey and the three million to the Olympic committee, it will be over. Unless something changes.

Hockey NZ's actions had tarnished his view of governance of sport.

"I don't think the sport is being run correctly, it's going to get worse," he said.

Glenn is a staunch supporter of Hager and last month, in the wake of the latter's departure to Great Britain, the Auckland businessman confirmed he had frozen the $2 million funding he had committed to the New Zealand men's and women's hockey teams.

​Hager, who led the Black Sticks to gold at last year's Commonwealth Games, was at the centre of an independent review in which 24 of the 33 current and past players interviewed had serious concerns over a "negative" team environment.

The review, conducted by Maria Dew QC, also found Hockey NZ had not done enough to respond to concerns when previously raised and to ensure player welfare was adequately considered.

Hager resigned as the Black Sticks coach in mid-January to take up the same role with Great Britain and England, at a time when he had seen a draft copy of Dew's review.

Glenn, meanwhile, had originally called for Hockey NZ to be investigated for his funding to continue.

But Hager convinced Glenn to end his suspension.

"It wasn't Hockey New Zealand that did anything. Mark [Hager] said it's passed, let it go, I don't want to keep fighting," Glenn told NZME. "It's clearly wrong but I don't want to keep fighting, so he just said I've moved on so let's just accept it.

"But all of those Hockey New Zealand people who have apologised are still there."

The funding will resume from this month but Glenn said the payments from January and February won't be back-dated.

Instead, the money has gone to Hager.

"It will allow him four return trips to see his family. His family have now settled in New Zealand and obviously he's in England and they don't want to go there," Glenn said to NZME.

He said he would continue the Hockey NZ funding through to the Olympics.

Stuff