All the news for Sunday 3 March 2019

2019 FIH Pro League (Men) - 3 March

2 Mar 2019    AUS v ESP (RR)   2 - 1

Unofficial Pool standings
| Rank | Team | Played | Wins | Win Draws | Loss Draws | Cancelled Draws | Losses | Goals For | Goals Against | Goal Difference | Points | Percent |
| --- | --- | --- | --- | --- | --- | --- | --- | --- | --- | --- | --- | --- |
| 1 | Australia | 5 | 3 | 0 | 1 | 0 | 1 | 14 | 12 | 2 | 10 | 66.7 |
| 2 | Belgium | 4 | 2 | 1 | 1 | 0 | 0 | 14 | 9 | 5 | 9 | 75.0 |
| 3 | Great Britain | 3 | 2 | 0 | 0 | 0 | 1 | 12 | 9 | 3 | 6 | 66.7 |
| 4 | Netherlands | 4 | 1 | 1 | 1 | 0 | 1 | 15 | 15 | 0 | 6 | 50.0 |
| 5 | Germany | 3 | 1 | 0 | 0 | 1 | 1 | 5 | 5 | 0 | 4 | 44.4 |
| 6 | Argentina | 3 | 1 | 0 | 0 | 1 | 1 | 6 | 7 | -1 | 4 | 44.4 |
| 7 | Spain | 4 | 0 | 2 | 0 | 0 | 2 | 11 | 13 | -2 | 4 | 33.3 |
| 8 | New Zealand | 4 | 0 | 0 | 1 | 0 | 3 | 10 | 17 | -7 | 1 | 8.3 |
The FIH inexplicably and confusingly use a system not used in any other sports League in the World, of making the Percentage more important than Points until the end of the League when they will revert to Points only. Fieldhockey.com prefers to use the conventional Points and so the Unofficial Pool Standings on this site are reflected in this manner.

FIH Match Centre


---

2019 FIH Pro League (Women) - 3 March

2 Mar 2019    AUS v USA (RR)  2 - 1 
3 Mar 2019     CHN v NED (RR) 1 - 2

Unofficial Pool standings
| Rank | Team | Played | Wins | Win Draws | Loss Draws | Losses | Goals For | Goals Against | Goal Difference | Points | Percent |
| --- | --- | --- | --- | --- | --- | --- | --- | --- | --- | --- | --- |
| 1 | Australia | 6 | 4 | 1 | 0 | 1 | 13 | 8 | 5 | 14 | 77.8 |
| 2 | Netherlands | 5 | 4 | 0 | 0 | 1 | 10 | 3 | 7 | 12 | 80.0 |
| 3 | Argentina | 4 | 1 | 2 | 0 | 1 | 7 | 6 | 1 | 7 | 58.3 |
| 4 | New Zealand | 5 | 2 | 0 | 0 | 3 | 8 | 6 | 2 | 6 | 40.0 |
| 5 | Belgium | 3 | 2 | 0 | 0 | 1 | 3 | 3 | 0 | 6 | 66.7 |
| 6 | Germany | 3 | 1 | 0 | 2 | 0 | 7 | 5 | 2 | 5 | 55.6 |
| 7 | Great Britain | 3 | 0 | 1 | 0 | 2 | 3 | 10 | -7 | 2 | 22.2 |
| 8 | United States | 3 | 0 | 0 | 1 | 2 | 3 | 9 | -6 | 1 | 11.1 |
| 9 | China | 4 | 0 | 0 | 1 | 3 | 6 | 10 | -4 | 1 | 8.3 |
The FIH inexplicably and confusingly use a system not used in any other sports League in the World, of making the Percentage more important than Points until the end of the League when they will revert to Points only. Fieldhockey.com prefers to use the conventional Points and so the Unofficial Pool Standings on this site are reflected in this manner.

FIH Match Centre


---

Kookaburras and Hockeyroos continue fine form with wins against Spain and USA in Sydney




Australia's men and women both recorded important wins to maintain their high placings in the FIH Pro League standings, overcoming the respective challenges of Spain and USA at the Sydney Olympic Park Hockey Centre.

A fourth quarter strike from Daniel Beale gave Australia's men a narrow 2-1 triumph over Spain to record their third successive victory in the FIH Pro League, with the Kookaburras now starting to gather real momentum following a patchy start to this competition. Their shoot-out loss against the Netherlands and a 4-1 defeat at the hands of world champions Belgium are now a distant memory, with wins against Germany, Great Britain and now Spain has seen them rise to second place in the men's standings as the race for the all-important top four finish continues.

Australia's women scored twice in the final quarter through Jodie Kenny and Mariah Williams to grind out a 2-1 success over a USA team that were greatly improved from their recent 5-0 home defeat at the hands of the Netherlands. The Hockeyroos created numerous chances but failed to make the most of their opportunities, not helped by a sensational goalkeeping performance from USA's Jessica Jecko, who was named Player of the Match. The result moves Australia into first position in the women's standings with 77.8 percent, having claimed 14 of the 18 points available in their matches played so far.

The opening quarter of the men's match between Australia (FIH World Ranking: 2) and Spain (FIH World Ranking: 9) was dominated by the Kookaburras, although clear-cut scoring opportunities were few and far between thanks to a disciplined defensive performance from a Red Sticks team playing their first match away from home after some fine performances in Valencia. In-form Australia attacker Jacob Anderson had the only real chance of the period when he was picked out by a disguised pass from Tom Craig, but Anderson's attempted backhand effort failed to test goalkeeper Mario Garin.

The first mark on the scoreboard arrived midway through the second period when Lachlan Sharp pounced from close range to flick high into the Spanish net. It was a goal that sparked a near immediate reaction from a Spanish side that always looked dangerous on the counter-attack, with Pau Quemada touching home a close-range equaliser after Marc Bolto's shot squeezed between the pads of Australian shot-stopper Tyler Lovell.

The European visitors could easily have taken a lead into both half time and the third quarter breaks, with Joan Tarres hitting the post at the end of the second quarter before Lovell produced an outrageous third quarter save from Xavi Lleonart's deflection, with the goalkeeper changing direction and flicking out a stick to stick to stop the ball sailing into the top left corner.

Those missed opportunities proved costly two minutes into the final quarter when Australia scored the winner through Daniel Beale, who made a late run across the face of the Spanish goal to fire home a pass from Dylan Wotherspoon.

"Spain have had some good results so far in the Pro League and certainly pushed us all the way today", said Australia's Aran Zalewski, who was named Player of the Match. "We converted late in the game to put us 2-1 in front so I'm really happy with the result. It was a tough start [to the Pro League], losing to Holland and Belgium in the first weekend, but we have turned the results around a little bit. We'd still like to keep improving and playing better but three wins is great and we look forward to coming back to Sydney in a couple of weeks."

Despite the defeat, Spain captain Marc Salles said: "It was really tough, it is very hot here in Sydney, but I think we fought to the end so we are happy. We have to think now about [our match against] New Zealand next Friday [in Auckland]. Against Australia to only concede two goals is good because they never stop, they always keep going to try to score goals, so I think we had a very good game with our defending."

Australia (WR:3) came into their women's meeting against USA (WR:12) as heavy favourites and their dominance in the opening minutes of the first quarter against the Americans certainly justified that label. However, the team coached by Paul Gaudoin could not translate their supremacy into goals and found themselves trailing 1-0 when Dannielle Grega weaved her way into the circle before her attempted pass somehow crept past Australia goalkeeper Ashlee Wells and into the bottom corner.

It was a goal that seemed to come out of nowhere, but laid the foundations for a terrific defensive display by a team that had suffered a 5-0 home defeat at the hands of world champions the Netherlands in their recent home FIH Pro League fixture in Winston-Salem. USA goalkeeper Jessica Jecko was at the centre of everything, producing numerous world class saves as Australia - the only team to have beaten the top-ranked Netherlands in the Pro League - threw everything at their opponents in search of a leveller. Arguably Jecko's best save came from an Australian penalty corner, with the 24-year-old diving low to her right to tip Jodie Kenny's powerful drag-flick around the post.

Kenny finally broke American resistance one minute into the fourth quarter with an unstoppable penalty corner drag-flick to Jecko's opposite side, with the winning goal arriving six minutes later from what is becoming a very reliable source. Mariah Williams scored her third goal in her last four matches with a brilliant strike on the turn, crashing a ferocious effort that clipped the pads of Jecko but was only ever destined to hit the backboard.

"I'm disappointed that we didn't finish in the circle how we wanted to as we created a lot of scoring opportunities and didn't capitalise on that", said Australia captain Georgina Morgan after the match. "Credit to the girls for getting the job done when you are not playing well. That is what you want to be happening, so credit to them for grinding it out and getting the win in the end."

When asked her thoughts about USA conceding twice in the final quarter, Player of the Match Jessica Jecko said: "I don't think anything went wrong, I think we just needed to clean up our defence a little bit and try to create a few more scoring opportunities. It was a great attack by Australia and they were putting a lot of pressure on us, so it is something for us to learn from."


The FIH Pro League action continues on Sunday 3 March as women's world champions the Netherlands play their fifth match away from home when they take on China in Changzhou.

FIH Pro League

2 March - Sydney, Australia

Result: Men's Match 15

Australia 2, Spain 1
Player of the Match: Aran Zalewski (AUS)

Result: Women's Match 17
Australia 2, USA 1
Player of the Match: Jessica Jecko (USA)

#FIHProLeague

Official FIH Pro League Site


---

Australia Comes from Behind to Defeat USWNT in FIH Pro League



Image taken by FIH/Getty Images

SYDNEY, Australia – March 2, 2019 – The Sydney Olympic Park Hockey Centre saw an exciting match between the No. 12 U.S. Women's National Team and No. 4 Australia. USA was leading 1-0 going into the final quarter, but it was the experienced Hockeyroos who came from behind to score twice and claim their fourth FIH Pro League win.

The opening five minutes saw Australia have the upper hand in terms of possession and shots. The Hockeyroos' first chance came in the fourth minute when Grace Stewart's attempt was saved by USA goalkeeper Jessica Jecko (Sauquoit, N.Y.). Within that same minute, Australia earned a penalty corner and again Jecko was there to make the stop. Continuing to be put under pressure, USA made the most of their first run forward. In the 7th minute, Danielle Grega (Kingston, Pa.) collected it on the right side, weaved into the circle and put it on goal as it went past Australia goalkeeper Ashlee Wells. A determined Australia side continued to threaten as shots came from Brooke Peris and Savannah Fitzpatrick but USA's defensive unit held strong to hold a 1-0 lead.

Play continued to be in favor of Australia at the start of the second frame as they earned a penalty corner within the first minute but a collective effort from Jecko and USA's defense kept the Hockeyroos off the score board. Back and forth play was present for a few minutes, as USA saw a few opportunities up field. A long ball down the right side in the 25th minute was controlled by Kathleen Sharkey (Moosic, Pa.) who earned USA their first penalty corner. Off the attempt, Ali Froede's (Burke, Va.) sweep was stopped and cleared by the Australia post player. The Hockeyroos finished the quarter with two consecutive penalty corner opportunities but USA's defense jointly remained tough.

A bit of a turn to start the third quarter as it was USA who earned a penalty corner in the first minute after Sharkey was taken to the turf outside the circle. Another sweep attempt by Froede was stopped on the pads by new Australia goalkeeper Jocelyn Bartram. At the other end, the Hockeyroos were on the hunt for the equalizer but they continued to be met by a USA side that worked hard to get numbers back and in lanes. A very close chance came for Australia in the 37th minute, off a second attempt penalty corner, when Jecko made a brilliant stick save to keep USA ahead. The final minutes of the quarter saw Australia earn another penalty corner chance but not before USA had a last second surge but to no avail.

Heading into the final frame with a 1-0 led, USA knew they had to continue their strong defensive performance to outlast the higher ranked host nation. That game plan was quickly deflated as similar to the second quarter start, Australia worked the ball forward and earned a quick penalty corner. After the initial attempt hit a USA foot, the re-award saw Jodie Kenny covert on a drag to tie the match at 1-1. There was some back and forth play for a period as the game opened up to be anyone's for the taking. In the 51st minute a USA turnover in the middle of the field led to an offensive spark for Australia. After a free hit, the Hockeyroos worked it into the circle and Mariah Williams collected, turned and sent a hard ball into the goal to put Australia up 2-1. USA didn't let up and produced a few late runs that saw a shot from Lauren Moyer (York, Pa.) get blocked by Edwina Bone and a close chance for Laura Hurff (Newark, Del.) finish with no result. The 2-1 victory for Australia earned them their fourth FIH Pro League win.

Following the game, USA's Jess Jecko earned Player of the Match for her excellent performance in goal.

The U.S. Women's National Team will fly over to Auckland, New Zealand for their fourth FIH Pro League game against the FIH World Ranked No. 6 team on Friday, March 8.

#FIHProLeague

USFHA media release


---

Fourth quarter goals push Australia past USA Field Hockey 2-1 in FIH Pro League play Saturday

DIANA PUGLIESE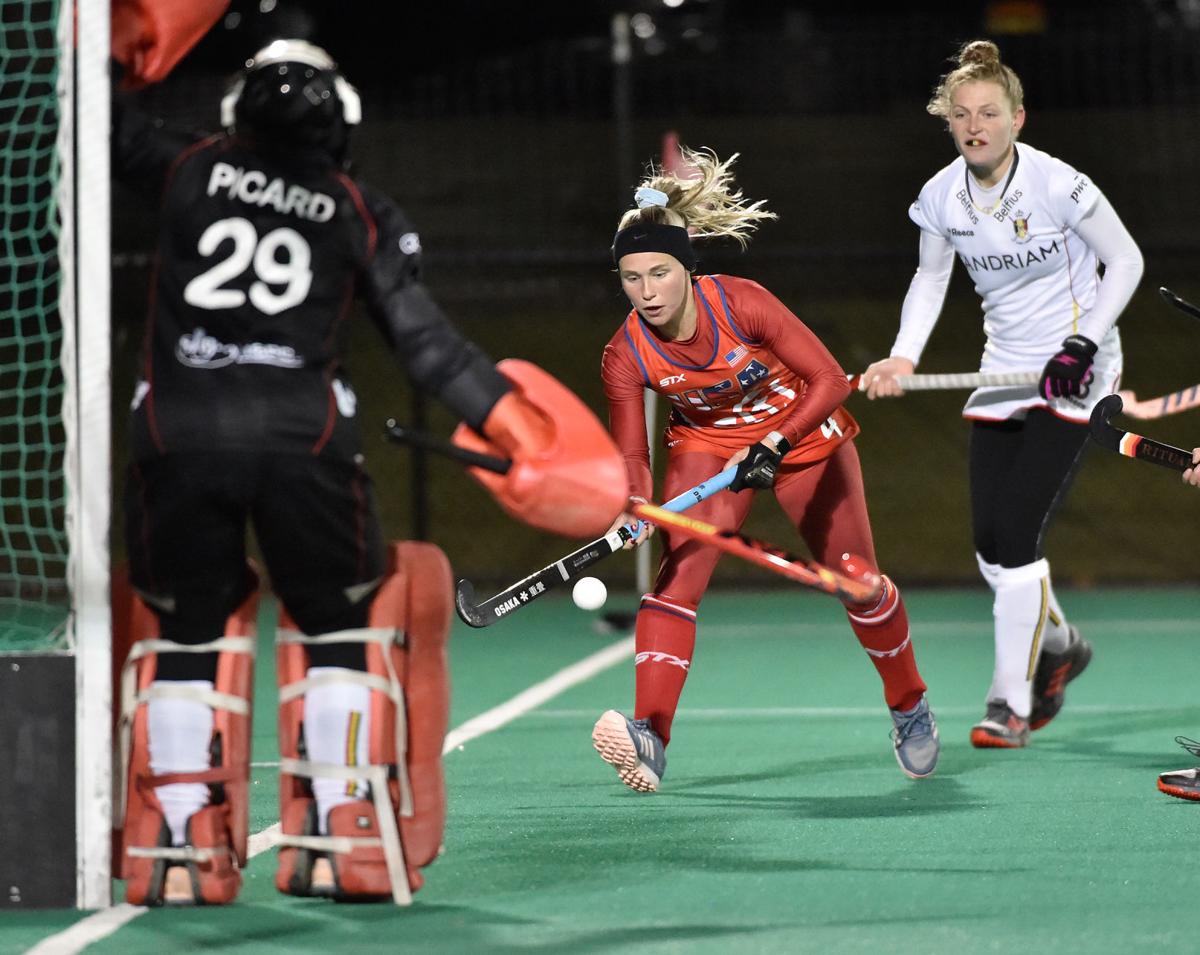 United State's Danielle Grega (4) works her way inside the circle before passing to a teammate as Belgium's Elodie Picard (29) and Emma Puvrez (8) watch her work on Tuesday, November 27, 2018. Suzette Wenger

The U.S. women's field hockey team led for more than 45 minutes Saturday morning, taking a one-goal advantage early in the first quarter on a shot from Danielle Grega.

That tally, however, proved not to be enough as No. 4 Australia rallied back in the fourth quarter, scoring two goals in six minutes to pick up a 2-1 FIH Pro League victory at the Sydney Olympic Park Hockey Centre.

The decision keeps the Hockeyroos in first place in the league standings with 14 points in six games. Team USA on the other hand, has yet to crack the win column, but holds one point in the league standings after playing to a 2-2 draw with Argentina in regulation. Las Leonas went on to win that game 3-1 in a shootout to pick up a bonus point.

While No. 12 Team USA cracked the scoreboard first on Saturday, it was Australia applying the early pressure.

The Hockeyroos earned their first of nine corners three minutes into the game, but U.S. goalie Jess Jecko made the diving save on Grace Stewart's drag flick. Jecko turned away another attempt in the seventh minute, before the U.S. was finally able to transition to the other end.

Quick passing got the ball up to Amanda Magadan just outside the 25-yard-line, where the midfielder slipped a pass to Grega on the right side. The midfielder, who was playing in just her sixth game with Team USA, weaved into the circle and, with her back to the cage, spun to her left and flipped the ball into the backboard with 8:10 left on the clock.

Other than a U.S. corner in the second quarter where Ali Froede's shot was blocked, the rest of the first half was all Australia. The Hockeyroos held an 11-2 lead in shots and a 4-1 advantage in corners, but couldn't crack Jecko and the U.S. defense.

Australia sent a deflection just wide of the cage in the first before Savannah Fitzpatrick sent a reverse toward the goal. Jecko again was there for the stop, while Julia Young came out to block the rebound. Taylor West blocked another Australian corner to open the second quarter, before Young helped turn away a pair of corners in the closing seconds of the half.

Team USA looked poised to double its lead on a corner in the opening 30 seconds of the third quarter, but Australian goalie Savannah Fitzpatrick stopped Froede's drag flick. Donegal's Mackenzie Allessie tried to scoop up the rebound, but Fitzpatrick again made the save.

Australia went on the attack again, but still couldn't get through the defense. Jecko made a stick save on a corner with just over nine minutes left in the quarter before Ashley Hoffman stopped another corner attempt in the final four minutes.

As well as the defense held up for the first three quarters, Australia would not be denied on its home turf.

It took just 20 seconds and two corners in the fourth quarter for Jodie Kenny to fire the equalizer over Jecko and into the top right corner of the net. The Hockeyroos found the winning goal six minutes later as Mariah Williams took the ball in the circle, turned and fired into the backboard.

"I don't think anything went wrong, I think we just needed to clean up our defense a little bit and try to create a few more scoring opportunities," Jecko, who was named Player of the Match, told the FIH of the fourth quarter. "It was a great attack by Australia and they were putting a lot of pressure on us, so it is something for us to learn from."

Lancaster Online


---

ROUND-UP: English Men's Hockey League

Hampstead & Westminster beat Holcombe 7-2 as the race for play-off spots in the Men's Hockey League Premier Division continues to throw up some enthralling hockey.

Second in the table only on goal difference, Hampstead & Westminster continue to push current leaders and reigning champions Surbiton hard, and in the process dented Holcombe's play-off hopes.

Goals from San French, Rupert Shipperley (2), Matt Guise Brown, James Oates, James Chaffey and Chris Cargo proved too much for Holcombe, although Nick Bandurak scored two for the Kent outfit.

Meanwhile, Surbiton were 5-1 winners at Reading with Alan Forsyth scoring two and others coming from Ben Boon, James Royce and Hayden Beltz. Lee Morton scored for Reading.

East Grinstead boosted their play-off hopes with a 3-2 win over rivals Beeston, with Simon Faulkner (2) and Ross Stott scoring their goals, while for Beeston it was Elliot Hibell and Nick Park.

The University of Exeter continued to fight hard to avoid relegation with a 3-1 win at Brooklands MU. Thomas Butler, Archie Winter and James Carson scored their goals, while David Flanagan claimed Brooklands' lone goal.

Wimbledon fired six goals past hosts Sevenoaks, Ed Horley, Phil Roper, Callum Swinnerton-Ions and Jack Waller scoring in the first half before Ben Arnold and Chad Conlon added more after the break.

Men's Conference East

Sam Ward and James Tindall both scored hat-tricks to help leaders Old Georgians to a 7-0 win over Brighton & Hove in the Men's Conference East, while Tom Watson also scored in a win which leaves them 12 points clear.

Second-placed Southgate were 3-1 winners over Cambridge City, while Canterbury strengthened third spot with a 5-2 win over Richmond, with Will Heywood scoring a hat-trick for the hosts.

Elsewhere, bottom of the table City of Peterborough were 3-1 winners over Oxted with Joe Finding, Brendan Andrews and Ross Amblers their scorers, while Teddington beat Old Loughtonians 3-2 in a result that could prove vital in both team's ambitions to make it into the top six and secure a place in Division One for next season.

Men's Conference North

Two goals from Ben White plus others from Archie Phillips and Oliver Stoddart helped Bowdon to a 4-2 win at Belper which leaves them six points clear at the top of the Men's Conference North.

Second-placed University of Durham lost ground on their rivals after losing 3-2 to Leeds at home, while the University of Nottingham are now level on points with Durham after winning 3-0 at Doncaster.

Elsewhere, Ed Greaves scored twice in Loughborough Students' 5-3 win at Sheffield Hallam, while Steve Masterson and Max Nicholson were scorers in Preston's 2-0 win at Alderley Edge.

Men's Conference West

Cardiff & Met gave their promotion hopes a big boost in the Men's Conference West, beating the University of Birmingham 6-1 to move up to third spot, level with their opponents.

Two goals each from Rhys Gowman and Jack Pritchard and single strikes from Luke Hawker, Callum Mackenzie helped the Welsh side to hit back from an early deficit.

The win leaves them as one of three teams on 25 points, all six points behind leaders Havant who were 2-0 winners over Oxford Hawks.

Elsewhere, Olton & West Warwicks dropped to fourth when they were beaten by Team Bath Buccaneers. Goals from Scott Rawlings, Stuart Rushmere and Alex Renwick helped them to a win which strengthens their bid for a top six place and a spot in the new Division One next season.

The University of Bristol were 1-0 winners over Chichester, while Fareham beat Isca by the same scoreline.

RESULTS:

Men's Premier Division: Beeston 2, East Grinstead 3; Brooklands MU 1, Univ of Exeter 3; Holcombe 2, Hampstead & Westminster 7; Reading 1, Surbiton 5; Sevenoaks 0, Wimbledon 6.

Men's Conference East: Canterbury 5, Richmond 2; City of Peterborough 3, Oxted 1; Old Georgians 7, Brighton & Hove 0; Southgate 3, Cambridge City 1; Teddington 3, Old Loughtonians 2.

Men's Conference North: Alderley Edge 0, Preston 2; Belper 2, Bowdon 4; Doncaster 0, Univ of Nottingham 3; Sheffield Hallam 3, Loughborough Students 5; Univ of Durham 2, Leeds 3.

Men's Conference West: Havant 2, Oxford Hawks 0; Isca 0, Fareham 1; Team Bath Buccaneers 3, Olton & West Warwicks 2; Univ of Birmingham 1, Cardiff & Met 6, Univ of Bristol 1, Chichester 0.

England Hockey Board Media release


---

ROUND-UP: Investec English Women's Hockey League



Loughborough Students scorer Hannah Cozens in action against Jodie Connolly. Credit Andrew Smith.

Holcombe opened up a three point gap at the top of the Investec Women's Hockey League Premier Division with a 4-1 win over Slough as title rivals Surbiton lost at the University of Birmingham.

Dirkie Chamberlain gave the home side the lead in the second minute when she slotted home from open play before Sofia Viarengo Cervino doubled their advantage four minutes later.

Joanne Westwood scored in the 17th minute from free play to leave the game 3-0 at half time.

Philipa Newton hit back for the away side from a penalty corner in the 44th minute, but Viarengo Cervino scored her second of the day seven minutes from the end of the match to secure the win.

The University of Birmingham performed well at home, defeating second-placed Surbiton 1-0.

The only goal of the game came in the 41st minute when Jo Turnbull finished from a penalty corner to secure only Birmingham's second victory of the season.

Third-placed East Grinstead closed the gap on second place as they won 5-0 at Beeston.

The score was 3-0 at half time after goals from Chloe Brown, Lucy Holder and Natasha Brennan.

The second half saw the away side extended their lead after Chloe Palmer and Sophie Bray both found the net to secure three points.

Elsewhere, Buckingham secured a 6-2 victory against Canterbury.

Natasha James (2), Madeleine Newlyn, Liz George, Eloise Laity and Phoebe Richards were all on the scoresheet for the home team.

Tilly Tillings and Agustina Alvarez scored the goals for Canterbury as they remain bottom of the table.

A brace from Claire Thomas ensured that Clifton Robinsons were victorious at Bowdon.

The home side took the lead in the 34th minute when Aine Curran score from a penalty corner.

Thomas scored her first of the day in 56th minute before finding the winner in the 60th minute and taking her goal tally for the season to 14, as she tops the goal scoring charts.

Investec Women's Conference West

Reading produced a good performance at home in the Investec Women's Conference East, winning 3-1 against top of the league Stourport as they look to secure a top six spot ahead of the league restructure next season.

India Shakespeare gave the home side the lead from a penalty corner in the fifth minute before Claire Pearson equalise for Stourport in the 31st, also from a penalty corner.

Jo Ellis went on to secure the win for Reading with a second half brace with both goals coming from penalty corners in the 40th and 64th minutes.

Exe secured their first victory of the campaign with a 3-0 win at home to fellow strugglers Oxford Hawks.

A brace from Hannah Rhodes and a goal from Ruby Jarman was enough to secure all three points for the home side.

Elsewhere, Gloucester City drew 3-3 with Barnes, Olton & West Warwicks won 2-1 at home to Isca and Trojans won 2-1 at Swansea City.

Investec Women's Conference North

Loughborough Students extended their lead at the top of the Investec Women's Conference North with a 2-0 victory at second-placed Leicester.

Lucy Millington gave the away side the lead when she slotted home from a penalty stroke in the 44th minute.

Hannah Cozens ensured Loughborough took home all three points after finishing from a penalty corner in the 51st.

The victory now means that Loughborough have a six point advantage at the top of the table.

Brooklands-Poynton closed the gap on second place with a 3-1 win at Belper.

Goals from Emma Hardern, Sophie Clough and Kim Baker were enough to seal the win for the away side. Sally Goodman scored the only goal for Belper.

Elsewhere, Ben Rhydding won 5-1 at home to Timperley, Sutton Coldfield won 5-4 at Fylde and the University of Durham won 3-0 at home against Leeds.

Investec Women's Conference East

Hampstead & Westminster remain top of the Investec Women's Conference East after winning 6-0 at Horsham.

Goals from Louise Radford, Lauren Turner (2), Melanie Wilkinson, Jasmine Clark and Emily Maguire were enough for the away side to seal all three points and remain two points clear at the top of the table.

Wimbledon kept pace with the leaders after winning 3-0 at third place Sevenoaks.

A quickfire brace from Crista Cullen and a goal from Eliza Brett ensured that they didn't lose ground on the leaders and left it all to play for at the top of the table.

Elsewhere, St Albans won 4-2 at home to Bedford, Harleston Magpies won 2-0 at bottom of the table Ipswich and Southgate versus Cambridge City ended 2-2 at full time.

RESULTS:

Investec Women's Hockey League (Saturday, March 2 2019)

Investec Women's Premier Division: Beeston 0, East Grinstead 5; Bowdon Hightown 1, Clifton Robinsons 2; Buckingham 6, Canterbury 2; Holcombe 4, Slough 1, University of Birmingham 1, Slough 0.

Investec Women's Conference West: Exe 3, Oxford Hawks 0; Gloucester City 3, Barnes 3; Olton & West Warwicks 2, Isca 1; Reading 3, Stourport 1; Swansea City 1, Trojans 2.

Investec Women's Conference North: Belper 1, Brooklands-Poynton 3; Ben Rhydding 5, Timperley 1; Fylde 4, Sutton Coldfield 5; Leicester 0, Loughborough Students 2; University of Birmingham 3, Leeds 0.

Investec Women's Conference East: Horsham 0, Hampstead & Westminster 6; Ipswich 0, Harleston Magpies 2; Sevenoaks 0, Wimbledon 3; Southgate 2, Cambridge City 2; St Albans 4, Bedford 2.

England Hockey Board Media release


---

Terengganu HT dethrone UniKL

By Jugjet Singh

KUALA LUMPUR: Terengganu Hockey Team dethroned Universiti Kuala Lumpur (UniKL) 2-1 in a highly entertaining TNB Cup final at the Tun Razak yesterday.

UniKL, handicapped by the absence of their four foreign imports, fought gallantly and even had a penalty corner in the dying minutes to take the match into shoot-out, but Najmi Farizal Jazlan missed the post by inches.

Terengganu were powered to the title by their two South Korean imports, Jang Jong Hyun who scored his 22nd goal of the tournament in the 25th minute, while Jang Man Jae delivered in the 40th minute -- both off penalty corners.

National penalty corner flicker Razie Rahim gave UniKL hope with a 44th minute penalty corner, but they could not find the equalsier.

Terengganu received RM100,000 while UniKL RM60,000 and Tenaga Nasional RM40,000 for their efforts.

UniKL coach Arul Selvaraj saluted his charges who gave their all even though they were short of four of their best.

"My foreign imports were sorely missed in the final but the players who took over their positions fought gallantly and I am proud of their efforts," said Arul.

UniKL waited until the last minute for a release letter from the European Hockey Federation (EHF), to allow their players to ply their trade overseas until Feb 28, but it never came.

This ruling saw UniKL's best players Dutchmen Valentin Verga, Robert Kemperman and Martijn Havenga as well as Irish top goalkeeper David Harte who helped UniKL win their first League title in nine years, watch the final from the stands.

"I salute UniKL because even though they were short of players, they planned their game well and gave us a good fight. As for my players, they never gave up the fight and even though we finished third in the League, we clawed back and won the TNB Cup with pride intact," said Terengganu HT coach I. Vikneswaran.

In the bronze battle, Tenaga Nasional hammered Maybank 7-2 with goals from Firhan Ashaari (23rd, 45th), Aiman Nik Rozemi (34th), Amirul Hamizan Azahar (39th), Aiman Nik Rozemi (41st), Arif Syafie Ishak (46th) and Amirol Aideed Arshad (54th).

Maybank scored late off Hafiizhuddin Zaidi (57th) and Amirrullah Zainol (59th).

RESULTS:
TNB Cup Final -- Terengganu Hockey Team 2 Universiti Kuala Lumpur 1.
Third-Fourth: Maybank 2 Tenaga Nasional 7.

Jugjet's World of Field Hockey


---

Double dose of ginseng

By Aftar Singh



Top gun: Terengganu's Jang Jong-hyun (centre) celebrating with teammates after scoring against UniKL at the Tun Razak Hockey Stadium yesterday.

KUALA LUMPUR: The South Korean ginseng did the trick for Terengganu.

Jang Jong-hyun and Jung Man-jae combined well to score a penalty corner each to help the East Coast team beat Universiti Kuala Lumpur (UniKL) 2-1 to win the TNB Cup at the Tun Razak Hockey Stadium yesterday.

Jong-hyun gave them the lead in the 25th minute before Man-jae increased the lead in the 40th minute.

Last year's defending champions UniKL earned seven penalty corners but only managed to convert one through Muhd Razie Abdul Rahim in the 44th minute.

It was Terengganu's fifth overall cup and they pocketed RM100,000 for their efforts while UniKL took home RM60,000.



East Coast bound: Terengganu players and officials celebrating with the TNB Cup. — IZZRAFIQ ALIAS/The Star.  

UniKL went into the final without four key players - goalkeeper David Harte and three Dutch internationals Robert Kemperman, Valentin Verga and Martijn Havenga – and it affected their game.

The four players returned to Europe today as the European Hockey Federation's window to play in overseas leagues ended on Feb 28.

The players have a contract to play in the EuroHockey League knockout stages from April 17-22 – with Harte, Havenga and Kemperman playing for SV Kampong while Verga will be featuring for Amsterdam in Holland.

Terengganu coach I. Vickneswaran said it was a hard-fought win and praised his players for giving their all in the final.

"Winning the cup was a pleasant surprise as we only managed to have all the players together a week before the league started.

"In the final, we did not have a good start in the first quarter but my players slowly got into their rhythm and eventually scored two goals from the eight penalty corners," said Vickneswaran.

Tenaga Nasional outplayed Maybank 7-2 to finish third and received RM40,000.

The Star of Malaysia


---

Life's no drag under master Takema

KUALA LUMPUR: Former Dutch penalty corner specialist Taeke Takema will be in Malaysia to help improve the conversion rate of the national hockey team's penalty corner drag flickers.

He was one of the world's greatest drag flickers during his time more than a decade ago.

In the 2007 Men's Euro Hockey Nations Championship, Takema struck a record 16 goals, including a double hattrick against hosts Belgium in the semi-finals.

He represented Holland for 11 years from 2000 and scored a total of 221 goals in 242 matches.

Malaysian Hockey Confederation (MHC) president Datuk Subahan Kamal said that Takema will be here to raise the standard of the national penalty corner drag flickers.

"National coach Roelant Oltmans has requested to have Takema here and we agreed to it. According to coach Roelant, penalty corner conversion rates are very important in winning matches.

"Our drag flickers will benefit with his help," said Subahan after chairing the executive board meeting yesterday.

The penalty corner flickers in the national team are Muhd Razie Abdul Rahim, Faizal Saari, Syed Syafiq Syed Cholan and Muhd Shahril Saabah.

Subahan said that the national team did not have a good outing in the World Cup in Bhubaneswar, India, last December.

"But in terms of penalty corner conversion rates, we finished fifth among the 16 teams that featured in the World Cup," said Subahan.

Malaysia targeted a top-10 finish among the 16 teams that featured in the World Cup but failed to reach the second round and ended up last in their group.

Malaysia were thrashed 0-7 by Holland and held Pakistan to a 1-1 draw before losing 3-5 to Germany.

There are 28 players in the national training squad and the team will train in Kuantan for six days from March 10 in preparation for the Sultan Azlan Shah Cup in Ipoh from March 23-30.

The other teams in the fray are Canada, India, South Korea, Japan and South Africa.

"The national team's target is to win the Sultan Azlan Shah Cup as Malaysia have never won the tournament since its inception in 1983.

"Winning the tournament will be a big boost in preparation for the World Series (at the National Hockey Stadium in Bukit Jalil from April 26-May 4)," said Subahan.

The World Series is the qualifying tournament for the 2020 Tokyo Olympics.

The Star of Malaysia


---

Sulette Damons transformed hockey, now she's transforming lives

She was within reach of a magical 200 international caps, but the primary school teacher now has other priorities.

Ken Borland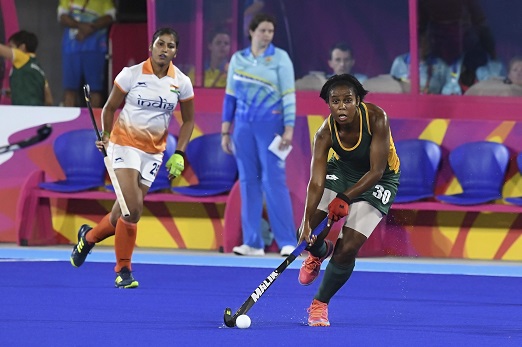 Sulette Damons during Hockey vs India on day 6 of the Gold Coast 2018 Commonwealth Games on April 10, 2018 in Gold Coast, Australia. (Photo by Wessel Oosthuizen/Gallo Images)

The lure of 200 Test caps was strong, but with the excitement of getting engaged, the approach of her 30th birthday and the new teaching job she has started, South African women's hockey star Sulette Damons decided to call time on her illustrious career last week after making 198 appearances for the national team.

Robin van Ginkel, the new coach, recently held the second training camp of the year and the women's national team is going to be a different, less exuberant environment without Damons, who was as loved off the field for her personality as she was respected on it, being one of the co-captains for last year's World Cup, the most recent action the team saw.

"It would have been nice to reach 200, but I reached what I needed to and I played in three Commonwealth Games, three World Cups and an Olympic Games, so I feel like I've done all I could. I am getting older and I feel it's the right time to concentrate on my career as a teacher and I've just got engaged as well," Damons said.

Blessed with terrific pace and ball-skills, Damons played on the wing and scored and set up many goals for South Africa.

The child of a domestic worker, Damons feasted on every opportunity that came her way and is truly an inspirational transformation success story.

Raised in the Umasizakhe township in Graaff-Reinet, Damons' life changed when the family who employed her mother, Frances Buffels, funded her schooling at Union primary and high schools.

The brilliance that lay within her DNA was soon recognised and she captained both her school and the Eastern Province hockey teams.

Damons then won a bursary to the University of Potchefstroom (Pukke) and was chosen for the SA U21 team in 2008, before making her debut for South Africa in 2010, at the World Cup in Rosario, Argentina.

She made the most dramatic of entrances into international hockey as well, scoring the winner against Spain.

"My favourite goal was most definitely the one on debut in the 2010 World Cup, my first international goal, against Spain. It was the winner and it was South Africa's first win at the World Cup in a long time, so it was my best goal ever.

"Captain Marsha Marescia was at halfway and I just saw a gap so I started sprinting and she hit a backsticks aerial pass over everyone, and it was just me and the goalkeeper in the circle. I put my stick out and I don't know how, but by the grace of God the ball hit it and went in!" Damons recalled.

She tended to do well in World Cups and another of her favourite memories is scoring in the 4-2 win over England in the 2014 World Cup at the Hague, in her 150th game for South Africa.

Having qualified with a B.Ed, Damons is now teaching Grade IIIs in Bloemfontein, where her fiancé lives, at St Michaels School for Girls.

Obviously they have got her involved in hockey as well, and she coaches the U13A side. A career in coaching might just lay ahead.

"Once I find my feet in coaching, maybe I'll look to take it further. For now I still want to play a bit, for both my club and province, and hopefully I can play in the Premier Hockey League [PHL] as well," Damons said.

Never mind her coaching expertise, Damons' life story is enough to inspire and she says her success was all about exposure, and believes that is the answer to the all-important transformation questions facing South African hockey.

"Transformation is important because there is a lot of talent in this country and a lot of players are talented enough to reach what I did. The potential is there but it's all about exposure, which is why the PHL is great, it allows the up-and-coming prospects to play with experienced players. We just need to make sure there are enough tournaments for these players," Damons said.

And while the national team bombed out at the first stage of last year's World Cup, finishing 15th out of 16 teams, Damons said all is not doom and gloom in that department, with change afoot.

"The change of coach was good and they've had a good start to the year under Robin, plus there's more staff and a bigger squad now, it's not just the same people over and over. There's a lot of youth in that squad so that's very healthy, it ensures the senior players don't feel too comfortable because now there's more competition.

"The youngsters are hungry and want experience. The biggest issue though is finances and if you don't have that you can't compete and we'll still be behind the other teams. But if they can fix that and have more training camps and tours then they will be okay. The difficulty is hockey is an amateur sport in South Africa and we need players who are willing to take unpaid leave or put their studies on hold," Damons said.

But if stories like Damons' – a life transformed and now she is busy transforming other lives – don't inspire support for hockey then it is difficult to know what will.

The Citizen