All the news for Friday 21 December 2018

Haier Hockey Series Open, Pakistan, 2018
Lahore (PAK)

Result 20 December

UZB v NEP (RR)     6 - 1

Pool standings
| Rank | Team | Played | Wins | Draws | Losses | Goals For | Goals Against | Goal Difference | Points |
| --- | --- | --- | --- | --- | --- | --- | --- | --- | --- |
| 1 | Uzbekistan | 2 | 2 | 0 | 0 | 17 | 1 | 16 | 6 |
| 2 | Kazakhstan | 2 | 2 | 0 | 0 | 14 | 0 | 14 | 6 |
| 3 | Nepal | 2 | 0 | 0 | 2 | 1 | 12 | -11 | 0 |
| 4 | Afghanistan | 2 | 0 | 0 | 2 | 0 | 19 | -19 | 0 |

Note: Pakistan is taking part as an invitational team and their results are not recorded

FIH Match Centre


---

Uzbekistan rout Nepal in FIH Hockey Series




LAHORE  -   Uzbekistan routed Nepal 6-1 in the only match on the fourth day of the Haier FIH Hockey Series Open here at the National Hockey Stadium on Thursday.
READ MORE: PM House converted into INU

Although, the scoreline indicates a one-sided encounter, the Nepalese were very much in the game when the third quarter ended, trailing only 1-2. The more experienced Uzbek side scored four in the last 10 minutes to make it a tennis score. The margin of their win also helped Uzbekistan go ahead of Kazakhstan in terms of goal difference which could decide the winner of this event, if the match between these two sides tomorrow (Saturday) ends in a draw.

The Uzbeks dominated the first half but could make only one of the many chances, both open play and penalty corners, count. Khakimov converted a penalty corner with a good flick. They added one more in the third quarter, an open play goal by Khaytboev in the 36th minute. Having been outplayed till then, the Nepalese boys looked a different side during the last nine minutes of this quarter.

With fast passing game they entered the rival circle quite a few times. One of the raids resulted in a penalty stroke in the 41st minute. Roman Rana's push had been anticipated by goal keeper Uzakov but the ball scrambled over the goal line off his arm. It was 2-1, and all to play for in the last quarter. However, Uzbekistan completely controlled the proceedings. Ruslan Karimov, later named man of match, scored two open play goals while captain Kalandarov and Sultanov availed penalty corners.

Today (Friday), two matches will be played as Nepal will take on Afghanistan in the first encounter of the day while Pakistan President XI will vie against Kazakhstan in the second match of the day.

The Nation


---

Two time windows set for 2022 FIH World Cups



 © Getty Images

Lausanne, Switzerland: The 2022 FIH World Cups – Men's or Women's – will be held either in July 2022 (1-17 July) or in January 2023 (13-29 January), as decided by the Executive Board of the International Hockey Federation (FIH) in its meeting held last week in Bhubaneswar, India.

Therefore, the bidding process to host either event has been re-opened until 31 January 2019. The Executive Board will make the final decision on both hosts on 14 June 2019.

Bidding process timeline:

15 Dec 2018 - 31 Jan 2019: Bidding process re-open with new hosting windows

1 Feb – 15 March 2019: Site visits

15 March 2019: Hosting agreement and event manual to be sent to the host candidates

16 March – 30 April 2019: Host candidates to sign the hosting agreement

1 May – 31 May 2019: Administration evaluation process

12 June 2019: Task force to meet and make recommendation to the Executive Board

14 June 2019: Executive Board to decide on the hosts of the 2022 FIH Men's and the 2022 FIH Women's World Cups

FIH site


---

Hockey World Cup in Bhubaneswar a tough act to follow, FIH further confounds future hosts by reopening bids

The Hockey Insider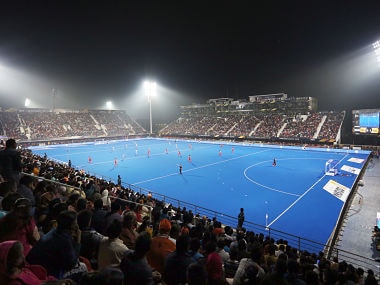 Competing nations and those merely observing the event were all praise for Bhubaneswar.

Barring protests against the lengthy duration of the just-concluded men's Hockey World Cup, the competing nations and those merely observing the event were all praise for Bhubaneswar and conceded that it would be a tough act to follow.

Several European contingent members told The Hockey Insider that it would not be easy, if possible at all, to get the whole city involved with an event like Bhubaneswar 2018 World Cup. Several contenders for future World Cups are already finding ways to play down the hype generated by Bhubaneswar city's involvement: be it the hockey-themed murals painted across the city's walls; the cultural festivities and artisans' exhibitions; the lavish opening ceremony celebrations; or the city-schools' involvement with the event.

With the Odisha state government pulling out all stops to welcome the global hockey fraternity and dropping the penny at every step, the expense burden was also playing on the minds of countries which have put in bids for the 2022 World Cup.

If that was not enough, the International Hockey Federation (FIH) has further confounded matters by reopening the bids for the next World Cup without citing reasons for this unusual step.

Bids for the 2022 World Cups – for men and women – closed in September 2017, the deadline that caused some consternation among European nations as it came just after the usual summer vacation season.

National hockey associations had to work hard to meet the bidding deadline and four bids have been received by the FIH. Australia, Germany and Malaysia have submitted bids for both the men and women's World Cups, while Spain has submitted a bid to stage just the men's event.

Two of these nations would have earned the right to stage World Cups in 2022 with the FIH having taken a decision that the 16-nation World Cups for men and women would be staged separately during the time-window provided by them, with an eye on maximising the financial benefits from two separate World Cups.

It was all well until then. But last weekend's FIH Executive Board meeting in Bhubaneswar decided to reopen the bids with January 2019 as the new deadline – provoking protests from those who had already bid and eliciting comments that a delayed decision would affect preparations in nations where a lot of planning takes place before the execution of projects. The FIH Executive Board turned down the protests, even without a polite word like 'sorry' for disrupting the procedure that had already been set into motion.

Besides the FIH Executive Board decided to spike all discussion of expanding the field beyond 16 nations, for now. The Executive Board was told that there was "no intention to increase the field, but definitely stick to 16 nations." The problems presented by the three-week men's World Cup in Bhubaneswar also made the Executive Board decide that "future World Cup will be restricted to 15 days" with a provision of "more games being played every day."

The Hockey Insider has learnt from Executive Board members that the financial burden on the teams caused by the two-matches-daily formula practiced in Bhubaneswar had evoked protests, which the Executive Board "simply could not ignore."

All four bidders have past experience of separately staging both the men and women's World Cups. In fact, only The Netherlands have jointly staged the World Cup for men and women – in 1998 and 2014.

Australia successfully staged the women's World Cup in 1990 (Sydney) and 2002 (Perth), while it hosted the men's World Cup in 1994 (Sydney). Australia was among the bidders for the 2018 edition for both the men and women's events, but financial reasons made it withdraw from the race.

Germany hosted the women's World Cup in 1976 and the men's event in 2006. Malaysia staged the men's World Cup in 1975 and again in 2002, while it hosted the women's competition in 1983 Malaysia have never boasted of a strong women's team, but stepped in to host the event when not many countries were bidding for it.

Kuala Lumpur is also the only city to stage a men's World Cup twice, although The Netherlands earned the distinction of being the first nation to bringing the event back to the country – but the venues were in different cities (Amsterdam in 1973 and Utrecht in 1998). In 2014, The Hague became the third Dutch city to stage the hockey World Cup.

Spain, which staged the inaugural men's World Cup in Barcelona (1971) and the women's event twice in Madrid (1978 and 2006), has some interesting dimensions to its bid for the 2022 edition of the men's competition.

In 1971, Spain stepped up to stage the event "for the world" when the FIH decided to move the event from the western Pakistani city of Lahore due to security reasons.

The Barcelona 1971 World Cup gave the FIH its first "self owned" international competition that hitherto was restricted to the quadrennial Olympic Games.

The Hockey Insider has learnt that Spain is now bidding to bring the World Cup to the Catalan city of Terressa for the event to coincide with the Centenary of the Spanish and Calatonian hockey associations, besides the 50th anniversary of the 1992 Olympics. Four city and state governing bodies have committed grants totalling to one million Euros every year to upgrade hockey infrastructure for World Cup. So far, only Malaysia's bid can compare with it.

Bhubaneswar, most 2022 bidders confess, may be difficult to match, but there are interesting dimensions in all 2022 bids. However, the FIH, which ought to have announced the decision by now, is still seeking fresh bids. Interesting times for world hockey, indeed.

FIrstpost


---

Did the Hockey World Cup 2018 meet its objective of relocating Odisha from fringe to the core of changing India?

Jitendra Nath Misra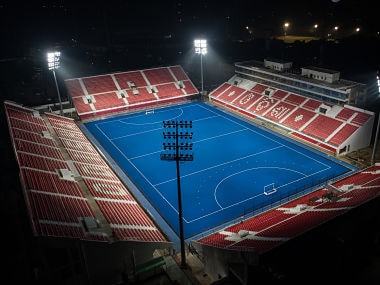 Like no other sport, hockey embodies craft, guile and intellect. Its on-field aggression is softened by what it is, as the required body posture and technique make the sport less brutish than football. Let imagination run a little bit,  and hockey's grace borders on poetry. All this was in the mix in the recently-concluded World Cup at Bhubaneswar.

The hockey is done, but what kind of impact will the World Cup leave behind?

I deliberately took views from foreign visitors, because they are not distracted by bravado. On the one hand, being guests, they can be expected to be polite and diplomatic. But, unlike local fans, travelling thousands of miles to watch one World Cup after another, they can make informed comparisons.

The Netherlands ambassador Marten van den Berg, a keen sports follower who attended the final two days, told me: "It was a great organisation. The audience, the people, the officials, the organisation. Everythig was +++, as we say in the financial markets. The players also have a very good feeling about the tournament."

"India is printed in my heart. The World Cup is a great experience — the best hockey in a great atmosphere of family and friends," said Danae Andrada, a member of the FIH Executive Board from Uruguay, adding, "India has something that makes you fall in love with the sport. Yesterday (on December 16, 2018) India was not playing, but the stadium was full. There are discussions (in pan shops). People ask me for tickets."

Dutch honorary consul in Kolkata, Namit Shah: "We met the Dutch team management. The manager had wonderful things to say. He said: "this is one of the best tournaments we have participated in." "

Other impressions, going beyond the stadium and games, show how far Bhubaneswar has progressed in getting visitor- friendly. Harjinder Singh Dhupar from Kenya: "People are very helpful here, very honest. The traffic is fine. People follow the rules. We had a good experience overall."

Visitors would have been lifted by the overflowing venue. Fellow-humans around you create security, comfort and positivity. The stadium was full for the late evening games and near-full for the afternoon games. Only in the Netherlands do fans show up in comparable numbers.

Despite these numbers, there was little fuss over crowd control. Security was friendly and unobtrusive, and India's experience in managing huge crowds in public spaces would have helped. There was not a single incident in the field or on the stands requiring a security scramble.

Spectators embraced good play all around, also cheering injured players, an uncommon sight in India. They remained seated right until the end of the shootout in the semi finals, and until the end of the medal ceremony after the finals. Such impeccable manners show the innate grace of Bhubaneswar's fans, and a proper understanding of the magnitude of the occasion. A culture of grace and accomplishment, for so long understated, may be the reason. With the World Cup, eagerness for the world to take notice might set in.

The facilities were clean. Toilets were cleaned thoroughly and regularly, and carpets installed in lifts were replaced every day. Such actions may appear trivial, but care for detail is sometimes lacking in India. Doubtless, instructions had been sent down, and had been followed, but, now that everything is over, will citizens embrace a culture of public hygiene?

A sports literary festival, advertised as the first in Asia, filled a gap, in a city that lacks serious intellectual discourse, despite a growing number of literary events. The media gave the nudge to the World Cup, with outstanding coverage. Orissa Post, Bhubaneswar's locally- owned English language daily, put the World Cup on the front- page. Belgium's gold medal victory had "Belgian Delight" in bold headlines on the sports page. Odia language newspapers like Samajaand Dharitri ran a series of stories on many pages throughout the tournament.

The diplomatic aspects were well- handled. The warm reception accorded the Pakistani team repaired the rupture caused by the events of the Champions Trophy 2014. Hassan Sardar, the Pakistani team manager, and Islahuddin Siddiqui, the former international player, were relaxed and convivial in conversations. Pakistani high commissioner Sohail Mahmood conducted classical diplomacy, meeting and praising Chief Minister Naveen Patnaik, and hosting a lunch for the Pakistani team.

No World Cup can be complete without experiencing the poignancy of victory and defeat. Remember the photographs of weeping German and Dutch players after defeats in the quarter finals and finals? The passionate hockey follower from Bengaluru, Harini Kota, right behind me, was struggling to hold back tears after India's quarter final loss to The Netherlands. Stunned spectators created the loudest noise in funerary silence.

The Kalinga Stadium has beeen a wonderful advertisement, but it is the fans that have pushed this World Cup to the limelight. Scepticism can build up when a region remains in the wilderness for decades. Thus, Bhubaneswar looked to get the attention, and it has. Erik Cornelissen, an FIH Executive Board member told me: "I'm very positive and even a little surprised by the stadium. Its great in terms of the organisation and logistics, and the venue. Its a pity India lost."

Odisha's aggressive branding of its sports portfolios was out of character, challenging the stereotype of a people content to just be, under the protective umbrella of Jagannath, the state's deity. What I noticed is that Odisha Administrative Service officers have fire in their bellies, leaving the despondency of the past behind. Remarkably, Principal Secretary, Sports, Vishal Dev and his team displayed passion, grace and composure, with steely resolve and care for detail.

Go beyond impressions to the creation of a sporting legacy, and its hard to tell what this will be.The answer lies in the future. The hockey has been very good, but the average spectator is looking to what happens the day after. If hockey's fandom in Odisha is strong, cricket's shadow lurks everywhere. Even in the middle of hockey's biggest event,  it was the presence of former Indian cricketer Virender Sehwag which caused a little nuisance in a quarter final game.

What about the wider legacy? Has the World Cup met its objective of relocating Odisha from the fringe at the core of the changing India? It is difficult to say. The World Cup is not just about the World Cup. The government generously arranged tours of Bhubaneswar, Konark and Puri for diplomats and FIH officials. Suresh Nair, Air Asia's general manager for India, Sri Lanka, Bangladesh and Nepal, visited Bhubaneswar to launch a new flight to Bangkok, elaborating to me on the support he had received from Chief Minister Patnaik. Fans like Dhupar told me of plans to visit Puri's Jagannath temple and Bhubaneswar's Lingaraj temple. Other Indian and foreign visitors laid out elaborate tourism programmes to me. Players and officials went to the beaches of Puri. Such interventions are needed for Odisha to get up there among the best.

All this adds up to the numbers, but tourism by itself is never enough. Social and cultural transformation has to be people-driven. Of this, there are signs. Odisha is not what it was twenty years ago. In India: A Million Mutinies Now,

V.S. Naipaul spoke of India's revolt against the past. The rage he spoke about, against layers of cruelty, has now a toe- hold in Odisha. With strong leadership, willing and able to pull the trigger, there could be the all- round take- off this society needs.

Firstpost


---

Lessons from Red Lions' den

Indian hockey needs long-term planning if the country wants to emulate Belgium's success

Indervir Grewal



The Belgian hockey team received a grand welcome at the Brussels City Hall on Tuesday, two days after winning its first world cup title. AFP

Belgium's story would inspire India. The similarities between the two nations' transformation would have raised hopes among most Indians, including the federation, that India could emulate the Belgians and win a big title.

From world No. 13 in 2007, the Red Lions have climbed to the top of the rankings. The cherry on the cake was obviously the World Cup title. Their first major title came after three silver medals — in the 2013 and 2017 European Championships and the 2016 Olympics.

Similarly, after touching its nadir — missing the 2008 Olympics and finishing last in 2012 — the Indian men's team has climbed back to world No. 5. India have won four medals in FIH tournaments — including two silver in the Champions Trophy — since their Asian Games gold medal in 2014.

Going into the 2018 World Cup, both Belgium and India were seen as contenders. Despite all the hopes of the home fans, India winning the World Cup would have been a miracle. Belgium's win, however, was anything but a miracle — it was the culmination of years of planning and hard work.

Deeper change

A deeper look at the reasons for Belgium's transformation makes it clear that the similarities with India are only at the superficial level.

The big change in Belgium started over a decade ago. "It was 12 years ago that they (federation) started seriously investing in hockey again," said Belgium's Arthur van Doren, who was adjudged the World Cup's best player.

In 2007, Belgium hired Adam Commens as the men's team's chief coach. The former Australia player led the side to their first medal (bronze) in the European Championships. Belgium also qualified for the 2008 Olympics, their first appearance since 1976.

But the change was much deeper. "It was not only short-term for the senior team but also long-term," said van Doren. "The federation had a long-term vision. And they did a really good job in youth development. The emphasis was on good coaches, good facilities and good training."

Changing coaches

Indian hockey's biggest change — apart from Hockey India (HI) replacing the Indian Hockey Federation as the national association — also came with the hiring of a foreign coach in 2009. Though there had been one foreigner in charge of the team earlier, Spaniard Jose Brasa's appointment started a trend of only foreign coaches being given the top job.

Brasa's removal in 2010 started another trend of hiring and firing coaches on a regular basis, without rhyme or reason. Since Brasa, the Indian men's team has had five foreign coaches — with Roelant Oltmans lasting the longest. Harendra Singh is the first Indian coach of the team since Brasa, but his job also seems in jeopardy.

Belgium also changed coaches in the last 10 years — Commens was followed by Australian Colin Batch, Dutchmen Mark Lammers and Jeroen Delmee, and New Zealand's Shane McLeod. But each change had a logical reason.

Inspired by many

Belgium's game is mainly inspired by the Australian and Dutch styles. "We have a cross between the European and Oceania styles," said McLeod. "So we take the best of Germany, the Netherlands, Australia and New Zealand, and then put it into one playing style. You can see that," he added.

Belgium's decision on whom to hire as coach also depended on the style they wanted to develop and adopt. Each coach also brought his own ideas.

India's game has also become an amalgamation of different styles, with the federation preferring Australian and Dutch coaches. However, India's style keeps changing with each new coach, while Belgium has always had a system in place. Belgium picked features from different countries and moulded their own style; and every new coach only tweaked it. For example, under McLeod, who got the job in 2015, Belgium shifted to zonal defence. McLeod's Belgium have some resemblance to Ric Charlesworth's Australia of early 2010s. But Belgium's style became so successful that other teams also adopted it after the 2016 Olympics.

The biggest difference between Belgium and India has been that any considerable change made with the national team went down to the grassroots level. In India, foreign coaches are hired exclusively for the senior national teams, while the system of training at the grassroots level is obsolete.

But in Belgium, when the change started, foreign coaches also came into their national system. Before Commens and McLeod got the top job, they were already coaching in Belgium. After coaching in Australia, Commens returned to Belgium as the high performance director in 2016. What worked in Belgium's favour was that the country already had a widely-spread league. Clubs had teams of all age groups, so it was easier for the change to spread uniformly. "The quality of training improved," said van Doren, who started playing hockey in the children's wing at the KHC Dragons (club in Brasschaat). "I was pretty lucky to have grown in that system, to have done all the youth programs," added the 24-year-old, who was in "one of the younger generations" when the big change started.

Long-term vision

Belgium's "long-term vision" has resulted in the level of players, coaches and hockey in the country improving phenomenally. The quality of the league has improved, which has made it commercially more viable. More kids are taking up the sport and the youth program ensures the conveyor belt keeps producing world-class players.

The benefit of having a uniform youth program was evident at the World Cup. During the tournament, Belgium lost two of their senior players early on — John-John Dohmen to illness and Emmanuel Stockbroekx to injury. Yet, it didn't affect their campaign. "Everybody (from the youth to national team levels) plays the same structure, has the same vision, same concepts. That's what makes it easier for the younger guys like Victor Wegnez and Antoine Kina to fit into the team," van Doren said.

Van Doren added that currently the youth program in the country is one of the best in the world. "Our three generations — from Dohmen's batchmates to my group to Wegnez's new lot — won almost every tournament in Europe in different junior age groups," said van Doren.

Meanwhile, in India, even after almost 10 years of HI coming into existence, and after five years of creating the post of high performance director, there is no uniform youth program. The state that started a long-term player development system over 12 years ago — Punjab — has the biggest representation in the national camps. The World Cup team had nine Punjab players, while the 20-player squad had 11. The 2016 Junior World Cup team had 11 from Punjab.

For HI to have considered India as medal prospects in the World Cup devalued the efforts of Belgium and all the other top nations. Unlike India, the elite of hockey set long-term targets that are achievable. "(When the change began) The federation said that this generation will bring us a medal in the 2016 Rio Olympics. We ended up doing it so that was really cool," said van Doren.

Their historic first World Cup triumph was even cooler.

The Tribune

---

Stats Speak: Medalists played consistent in all four quarters of the World Cup matches

By B.G.Joshi (Sehore-Bhopal, India)

Bhubaneswar World Cup (Nov 28-Dec 16, 2018) again highlights the consistency in the match.

Belgium (Gold), Netherlands (Silver) and Australia (Bronze) have scored in all four quarters.

Their grit and determination paves the way for podium. Poor goalkeeping dethrone the India again.

Here is quarter wise break down of goals scored and conceded:
How they  scored quarter wise

 

 

 

 

 

 

 

 

 

 

Goals For

 

 

 

Goals Against

 

 

Rank

Team

Qr-1

Qr-2

Qr-3

Qr-4

Total

Qr-1

Qr-2

Qr-3

Qr-4

Total

1

Belgium

7

6

4

5

22

2

0

2

1

5

2

Netherlands

5

6

5

6

22

2

1

0

5

8

3

Australia

6

6

9

8

29

2

1

1

0

4

4

England

2

2

5

3

12

5

2

7

9

23

5

Germany

3

2

2

4

11

1

3

1

1

6

6

India

4

0

3

6

13

2

0

1

2

5

7

Argentina

3

3

2

4

12

2

5

2

2

11

8

France

1

4

1

2

8

2

2

2

3

9

9

New Zealand

0

1

0

3

4

1

3

2

2

8

10

China

1

0

1

1

3

3

4

5

3

15

11

Canada

0

0

2

1

3

2

3

3

5

13

12

Pakistan

1

0

0

1

2

3

2

3

4

12

13

Spain

3

1

1

1

6

4

0

0

3

7

14

Ireland

1

0

3

0

4

2

0

4

1

7

15

Malaysia

0

2

1

1

4

2

4

3

4

13

16

South Africa

1

0

0

1

2

3

3

3

2

11

 

Total

38

33

39

47

157

38

33

39

47

157

Red Lions Alexander Hendrickx joint top scorers (7 goals) with Blake Govers of Australia, Hendrickx scored all goals by carpet drive on penalty corners. Ball went in cage between goalkeeper and right post.

Fieldhockey.com


---

Pakistan captain Muhammad Rizwan lashes out at management after team's dismal performance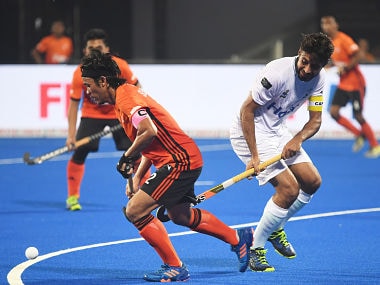 Pakistan's Muhammad Rizwan (R) fight for the ball with Malaysia's Sukri Mutalib during the field hockey group stage match between Malaysia and Pakistan at the 2018 Hockey World Cup in Bhubaneswar on December 5, 2018. (Photo by Dibyangshu SARKAR / AFP)

Karachi: Pakistan captain Muhammad Rizwan senior has lashed out at the team management and authorities, saying it is unfair to blame senior players for the national team's debacle at the men's hockey World Cup in India.

"The people in the management are now trying to blame six or seven of the senior players for what happened in the World Cup which is totally unfair," Rizwan said.

"The fact is that we have to stop these ad-hoc arrangements of appointing local coaches and management for short-term periods. We need to have a foreign coach and qualified staff from one World Cup to the next if we want to get good results," he said.

Pakistan had crashed out of the hockey World Cup in Bhubaneswar after suffering a devastating defeat at the hands of Belgium.

Rizwan said that whenever foreign coaches had been brought in they had tried to improve the system and structure of hockey in the team and performance of players had improved.

"Unfortunately they come for short periods and so we don't get required results. The coach of the Holland team has been with them for four years now. Similar is the scenario with coaches of other teams," he said.

The Pakistan Hockey Federation was unable to stop Dutch coach, Roelant Oltmans from leaving his coaching assignment with the Pakistan team after just five months before the World Cup over financial issues.

While in 2012 also it replaced another Dutch coach, Van Den, weeks before the London Olympic Games after Pakistan won the Asian Games gold under his coaching.

Rizwan said it was very easy to blame the players for the World Cup debacle but in Pakistan, the captain was not even consulted on the selection of the team.

"They don't even bother to talk to the captain and take his opinion. Till the last moment I was not sure if I would be captain for the World Cup," said Rizwan, who sustained an injury after two matches and was ruled out of the competition where Pakistan finished at 12th position in 16 teams.

The fall-out from the World Cup has already seen chief coach Tauqir Dar, manager Hasan Sardar and coaches Rehan Butt and Danish Kaleem resign while pressure is also increasing on the government to change the PHF top leadership.

Prime Minister, Imran Khan is patron in chief of both the Pakistan Cricket Board and PHF.

The PHF President, Brigadier (retd) Khalid Khokar has appointed a probe committee to look into the causes for the poor show in the World Cup but interestingly, its head, Abdul Rasheed junior has already said that bad administrative decisions was a primary reason for the debacle.

Sources said some former top Olympians have been in touch with the Prime Minister's secretariat and sports minister and changes in the PHF could also be on the way soon.

Pakistan's next international assignment is in Argentina in February in the FIH league.

Firstpost


---

Pakistan's Imran Butt announces retirement from international hockey




Pakistan goalkeeper Imran Butt announced his retirement from international hockey on Thursday.

"I officially announce my retirement from international hockey. I would like to thank all the people who encouraged me in this amazing journey of my hockey career," Butt posted on Twitter.

Butt who has represented Pakistan in 156 matches said the Hockey World Cup in Bhubaneswar, India was his last event.

The 30-year-old further said that he will share the reason behind his retirement in a press conference.

Butt is the brother of former captain of Pakistan national hockey team Rehan Butt.

The Nation


---

USWNT Goalkeeper Widdall to Retire from Squad




COLORADO SPRINGS, Colo. – U.S. Women's National Team goalkeeper Alesha Widdall (Whitney Point, N.Y.) has shared her decision to retire from the senior international squad after seven years and 57 international caps.

"Alesha was a great goalkeeper, the crazier the environment the calmer and composed she would be, excelling when it was needed," said Janneke Schopman, USWNT Head Coach. "Flashy saves were not what she was about, she read the game and did what she had to do, efficient and with great care. In the last years she had to wait for the few opportunities she got, but whether it was World League Round 3 in Spain or the Pan American Cup bronze medal match, she was a good goalkeeper and teammate, I knew as coach I could rely on."

Widdall, a New York state native, was originally a swimmer much like her immediate family before finding passion in field hockey in middle school. Since then, Widdall has proudly dawned goalkeeper pads for the CNY and Thoroughbreds II field hockey clubs, University of Massachusetts and Team USA.

"I got started playing field hockey because it was something that all of my friends were doing," said Widdall, regarding how she got started. "I became a goalkeeper because I love diving on the ground and I didn't love to run, and I just wanted to do something really intense."

As a Minutewoman, she was a four-time All-Region selection, earned NFHCA All-American honors twice and Atlantic 10 Defensive Player of the year in 2011. Widdall also helped guide UMass to four Atlantic 10 Championships and two appearances in the NCAA tournament.

"I chose to play in college because I always wanted to be on the national team and I saw that as an avenue of getting good enough to be on the team," added Widdall.

Widdall's Team USA journey began in 2006 when she was named to the U.S. U-21 Women's National Team. In 2008, she was a member of the USA squad that claimed the gold medal at the Junior Pan American Games in Mexico City. She was also a member of the 2009 Junior World Cup team that competed in Boston before being named to the USWNT in 2011.

"Being a part of USA Field Hockey is an honor and something that I've always been so proud to represent the United States," commented Widdall. "To travel to different countries, experience different cultures and play a sport that you love is something that I will always cherish. Even more when you're around other athletes of different sports that are also part of Team USA, it's an amazing community and everyone is connected in their aspirations toward representing the United States as best they can."

Wearing the red, white and blue, Widdall recalls several favorite memories, including playing against Ireland at the 2012 Champions Challenge. It was an atmosphere that she would never forget as her career continued to move forward. In 2013, Widdall helped lead USA to a silver medal at the women's Pan American Cup in Mendoza, Argentina before a gold medal performance at the 2013 FIH World League Round 2 in London.

She also vividly recalled USA's world-turning performance at the 2014 Rabobank Hockey World Cup in The Hague, The Netherlands. While the team finished fourth in the tournament, it remains as a favorite moment for many USWNT athletes, including Widdall. That goes double for the Rio 2016 Olympic Games, where she was an alternate athlete.

"The World Cup in Holland in 2014 when the team blew expectations out of the water was an amazing accomplishment," continued Widdall. "Of course, going to Rio and being with the team during the entire Olympic Games was the highlight of my career, hearing the crowd chant 'USA, USA USA!' will forever be embedded in my memory."

Widdall transitioned from athlete to coach after she joined the coaching staff of Cornell University this past fall. She also acquired her master's degree in exercise science and rehabilitation from Logan University to add to her bachelor's degree in anthropology from UMass.

"I want to say this amazing journey I had as a USA Field Hockey player would have never been possible without all the support of so many people," added Widdall. "I want to thank my many coaches, my amazing Whitney Point community, the cheers of fans and young athletes all over the world, all my teammates from every level of competition, my great sponsors, but most of all my family who have been there from day one and will always been there for me. I have been blessed to be able to use my talents in this amazing way and I wish all the best to the U.S. Women's National Team program."

USA Field Hockey would like to wish Widdall best of luck in her future endeavors!

USFHA media release


---

Fiji Hockey icon Hector Smith receives highest coaching honour



Fiji National Head Coach Hector Smith receives his FIH Master Educator accreditation. Photo: Fiji Hockey Federation

The long-time Fijian hockey mentor Hector Smith has been awarded the sport's highest coaching accreditation.

The 63-year-old is a former coach of Fiji's senior men's and women's teams before moving into his current role as the Fiji Hockey Federation's national head coach, which allows him to get out into the islands, alongside the Fiji Sports Commission, and conduct coaching clinics in the community.

He said it came as a complete surprise when he was presented with the FIH Master Educator accreditation at the weekend, during the final of the Fiji Invitational Series in Suva.

"I had no idea at all but I'd been following through on all the courses and things like that and pleasantly surprised and, at the same time, honoured that a Pacific Islander has got it," he said.

"It's up to me to keep progressing and hopefully move another level up while my health allows me and share it with the new talent that's coming through and we've got some good talent that's coming through and looking forward to the Oceania (Cup) next year in Rockhampton."

Smith said he was introduced to the sport that would become a life-long sporting passion while growing up on Vanua Levu in the 1960s.

"I started playing when I was in primary school and actually my first hockey stick was shaped from a mangrove tree by my dad," he said.

"From primary school I moved onto a place called Levuka. Levuka is the home of hockey as it was our original capital of Fiji and we had a lot of English settlers then when hockey was introduced.

"From there from school in the 70s and then into the main city looking for a secondary education and I moved onto playing in the capital city side and ultiumately going onto the national side.

"At the end of my playing career, which was in 1995, I decided to take up coaching, although in between I was doing club coaching and things like that. One thing led to another and with the support of the local Fiji Federation and Oceania I was fortunate enough to be given some training

"So from then, after playing for the country, I decided to put back something into coaching and I'm thoroughly enjoying it."



The Fiji men's hockey team up against China at the World Hockey League Round 2 event in 2017. Photo: FIH

Smith's passion for hockey has also been passed onto his three children, Hector Smith Junior, Adrian Smith and Lucretia, who have all played for and captained their country.

"I am fortunate I've got a daughter and two sons and one is the current captain of the national team, Hector Junior, and my young son, Adrian, is playing in Christchurch (in New Zealand) at the moment. The Avon club took him up and he's benefiting from the hockey up there," he said.

"And my daughter, Lucretia, she had to stop playing to have some children and she's starting to get back into shape again and hopefully carry on playing and share her knowledge to win the game. It's been good for us as a family. It's taken us all over the world and it's been a privilege to play the sport."



Fiji men's captain Hector Smith Junior puts his body on the line against India during the World League Round 2 match in New Delhi in 2013.

Fiji men's captain Hector Smith Junior puts his body on the line against India during the World League Round 2 match in New Delhi in 2013. Photo: AFP

Smith juggles his coaching commitments with a full-time job as an engineer at a shipping firm but said after over half a century as a player and coach he relished the opportunity to give back to the sport that has given him so much.

"I feel really priviliged to do this and I think it's going back to where as a player I started and also with Fiji giving me this training and with a little bit of support from FIH and Oceania then it's only right I take it back, since I'm here full time," he said.

"We only can discover better talents and new talents and it's something I actually look forward to while at the same time I work with our current (senior) coaches and hopefully I share a little bit of what I've learnt over the years, through the support of the national federation, FASANOC, (Fiji) Sports Commission and the Federation of International Hockey, who took me to a coaching clinic in India a couple of years ago.

"It really opened my eyes, meeting people that I only used to see on TV and you're working with them: you've got the Mark Hagar's, you've got Terry Walsh, Ric Charlesworth and all these people. You rub shoulders with them, you do benefit and you can see their level of thinking and how tough it is with them."

Radio New Zealand


---

Irish women's hockey team win Irish Independent Team of the Year award after fairy tale World Cup run

Cian Tracey



2 August 2018; Ireland players celebrate with goalkeeper Ayeisha McFerran after their victory in a penalty shootout during the Women's Hockey World Cup Finals Quarter-Final match between Ireland and India at the Lee Valley Hockey Centre in QE Olympic Park, London, England. Photo by Craig Mercer/Sportsfile

The summer of 2018 will forever belong to the Ireland women's hockey team as they gripped the nation by propelling Irish sport to dizzying new heights.

Before one cool, calm and collected stroke of Gillian Pinder's stick booked a place in the decider, Ireland had never competed in a World Cup final in a team field sport.

Pinder's winning penalty sent the country into raptures and Ireland's historic achievement was enough for them to see off some stiff competition and be crowed the Irish Independent Team of the Year.

While Ireland's remarkable journey didn't quite have the fairytale ending as Graham Shaw's side came unstuck against a genuinely world-class Dutch outfit in the final, no one can take anything away from what was a truly unforgettable tournament in London.

Ranked 16th in the world, Ireland were the only amateur team who competed in this year's World Cup and they well and truly ripped up the script to stun some of the best (and better resourced) teams around.

From goalkeeper Ayeisha McFerran, who was outstanding, to the prolific goalscorer Anna O'Flanagan, every member of the squad played their part as Shaw managed to get the best out of a supremely talented group, who sacrificed so much along the way.

After O'Flanagan's goal against Spain in the semi-final was cancelled out, Ireland went on to hold their nerve in a dramatic shoot-out as McFerran made four crucial saves, before the nerveless Pinder stepped forward and finished with aplomb to create history.

Returning home to a hero's welcome with silver medals around their necks, Ireland proved that there will always be room for a plucky underdog story in the demanding world of professional sport.

Irish Independent


---

SoftCo extends Sponsorship of the Green Army




SoftCo, the leading global Finance Automation Software provider, today announced the extension of its main sponsorship agreement for the Ireland Women's Hockey team up until at least 2021. The partnership with Hockey Ireland will incorporate the 2019 European Championships and the team's qualification campaign to the 2020 Tokyo Olympics.

SoftCo, who are involved with grassroots hockey for 15 years, were delighted to support the Green Army during the recent World Cup in London where the team defied the odds to become the first Irish Senior team to reach the final of a World Cup, in any field sport. These achievements were recognized recently as the silver medal winning team and manager, Graham Shaw, were announced as 2018 Team and Coach of the Year at the RTE Sports Awards.

Preparations for the Tokyo 2020 qualifying campaign will begin with a competitive match series in Santiago, Chile in January. In June 2019, the team will be part of an eight-team FIH Hockey Series Finals event in Dublin with two teams progressing to a head-to-head Olympic qualification event in October/November 2019.

Commenting on the announcement, Jerome Pels, CEO, Hockey Ireland said:

"SoftCo's support of the Green Army was of real benefit in the immediate run up to the World Cup and at the tournament against the best teams in the world. We are now looking to build on that success with the immediate goal being qualification for the Olympics. We are delighted to once again have SoftCo's support during an extremely important time for the team".

Commenting on the announcement, Susan Spence, Co-Founder, SoftCo said:

"We were so proud of the team in their run to the World Cup final during the summer. An Irish team achieving success on the world stage was a true inspiration to us all. This is a further significant investment to assist the team to reach its ambitious goals. We are delighted to be extending our support".

Irish Hockey Association media release


---

No time to rest on laurels as Softco support brings Tokyo 2020 firmly into focus



Roisin Upton, Ayeisha McFerran, Gillian Pinder, Anna O'Flanagan and Katie Mullan at Softco's sponsorship announcement. Pic: Morgan Treacy/Inpho
Anna O'Flanagan says there is no time for the Green Army to rest on their laurels as the World Cup silver medalists gear up for a Christmas Day training session as Tokyo 2020 comes firmly into view.

"We need to save up for those extra mince pies!" she joked to Dublin City FM's Declan Hughes at today's announcement that SoftCo will continue their journey with the Irish women's team following their World Cup silver medal.

The global Finance Automation Software provider confirmed they will be the team's main sponsor until 2021, covering the 2019 European Championships and Olympic qualifying campaign.

For O'Flanagan, she was thrilled at the extension of the deal from the company that took a punt on supporting the side, something they repaid many times over in London.

Now, though, she says the focus is very much looking forward and they will leave no stone unturned in pursuit of the next key target.

"When you are a hockey player with a goal like Tokyo in your sights, training on Christmas day doesn't really bother you," she continued. "People will laugh and joke about it, saying 'what are you doing?' but our goal is always the Olympics.

"We have had a great few months [since the World Cup] but this goal hasn't changed and we will do everything to get there."

Their performances has set in motion some extra urgency in the delivery of top-line facilities for hockey, something that may never have been on the agenda but for their performances.

O'Flanagan says the challenge is now to get more time to actually use the planned new training centre at Abbotstown as well as the redevelopment of UCD.

"It's amazing to see we might now have a home to play in. That was our first big need. Now we need to move on from that and get players available to train as much as we can.

"There are no restrictions now on how often we can train bar our professions or studies. Now the question is how we get together as often as we can in a professional environment.

"After the World Cup, we all went our separate ways, back to our jobs, back to studies. Our lives didn't really change in terms of how we lived our lives, or how we approached the sport in Ireland."

The new pitches are part of the side's World Cup legacy; O'Flanagan, though, says that the after-effects of their achievements can potentially be far wider.



Susan Spence, Co-Founder SoftCo,Katie Mullan, Ayeisha McFerran and Softco's Jim Coffey at Softco's sponsorship announcement. Pic: Morgan Treacy/Inpho

"It's been an incredible year for our sport and we are really proud of what we have achieved. Not necessarily the games that we have won but how we have put hockey on the map in Ireland has been the standout thing for us, how many people know about hockey and follow us.

"We always set out to create a legacy and be role models, not only for girls in sport but girls in general. To see lots of people picking up sticks is amazing and even girls in their teenage years that are sticking with hockey where previously might have given up, to hear stories like that is why we play the game."

SoftCo, the leading global Finance Automation Software provider, today announced the extension of its main sponsorship agreement for the Ireland Women's Hockey team up until at least 2021. The partnership with Hockey Ireland will incorporate the 2019 European Championships and the team's qualification campaign to the 2020 Tokyo Olympics.

Commenting on the announcement, Jerome Pels, CEO, Hockey Ireland said: "SoftCo's support of the Green Army was of real benefit in the immediate run up to the World Cup and at the tournament against the best teams in the world.

"We are now looking to build on that success with the immediate goal being qualification for the Olympics. We are delighted to once again have SoftCo's support during an extremely important time for the team".

Commenting on the announcement, Susan Spence, Co-Founder, SoftCo said: "We were so proud of the team in their run to the World Cup final during the summer. An Irish team achieving success on the world stage was a true inspiration to us all. This is a further significant investment to assist the team to reach its ambitious goals. We are delighted to be extending our support"

The Hook


---

McFerran looking forward to Living Like a Legend again in 2019

By John Flack



Ayeisha McFerran during the epic days of summer in London. Pic: Christopher Lee/Getty

Ayeisha McFerran will make her return to the Ireland squad for the first time since her World Cup heroics in August for next month's trip to Chile.

The Larne women was named goalkeeper of the tournament after helping Ireland reach the final in London with a series of stunning performances, having been instrumental in penalty shootout wins over India in the quarter-finals and Spain in the last four.

McFerran says she is happy to be back on board after she recently made history by being named in the all-American colleges selection for a record fourth time in a row in this her final year at the University of Louisville.

She said: "I was very surprised and honoured to be the first four-times all American for the field hockey programme at Louisville.

"However, it was very much an achievement for the rest of the team, and coaching staff as much as myself as they are the people that help make me better each day at training."

However, McFerran says she found it difficult trying to replicate her World Cup performances after returning to America.

"It has been a hard season in terms of individual performance throughout as I struggled to regain the form I had at the World Cup and bring it over to college," she revealed.

"I feel that I tried to push myself too hard to get to playing at that level again, and it didn't quite happen. However, I will definitely use that as a learning experience to help prepare me for future season where ever I may be."

But the former Pegasus keeper says he is looking forward to getting back into international action as Ireland continue their preparations for their Olympic qualifying campaign.

"I'm excited to be heading to Chile with the girls, there's a lot of new and different faces on the squad so it will be good to see how they get on," she added.

"It's definitely a good start to the Olympic qualifying year, spending so much time together is only a positive as we get to know each other very well on and off the pitch which is huge if we want more success to come, and the next step in that is qualifying for Tokyo."

McFerran and the rest of the 19-strong World Cup silver medal-winning squad, along with coach Graham Shaw and manager Arlene Boyles, are featured in a BBC NI documentary to be shown over the Christmas holiday.

Entitled 'Live like Legends', it's a must-watch 30-minute programme, expertly produced by Nigel Ringland, to be broadcast on BBC 2 at 7pm on Thursday December 27, as all the players recall their incredible journey in London in their own words, with a tear or two along the way.

The documentary, which has highlights from all of Ireland's games, includes previously unseen fly-on-the-wall footage and will tug at the heartstrings as Frazer emotionally reveals her pain at missing the final due to injury.

Speaking of pain of a more serious variety, McFerran's deputy Grace O'Flanagan explains how she battled cancer to resume her hockey career, defying all the odds, just like the national team did when they finished runners-up at the showpiece.

Grace describes the scenario as beyond her wildest dreams, in an unstated metaphor for Ireland's wonderful journey, after coming off the bench to replace McFerran in the latter stages of the final against the Netherlands.

Nigel's 30-minute programme is fabulous from start to finish – just like those 15 unforgettable days in London.

The Hook


---

Spartans edge Kada Queens for first win in Africa

By BRIAN OTWAL



USIU Spartans captain Grace Akumu (right) competes for the ball against Ghana Revenue Authority hockey player in their Africa Cup of Club Champions match played on December 17, 2018 in Abuja, Nigeria. PHOTO | BRIAN OTWAL | NATION MEDIA GROUP

Debutants USIU Spartans have finally recorded their first victory of Africa Hockey Club Championships after edging out Nigeria's Kada Queens 2-1 on Thursday in Abuja, Nigeria.

The win means that Spartans will have an opportunity to fight for the bronze medal after collecting four points from matches played so far. They are placed fourth ahead of Kada Queens.

The students started the match with intend and determination to break their three-match  losing streak at the continental club championships. The put up a spirited defence in the first and second quarter only to be breached by a Benedicta Johnson's shot that gave Kada a halftime lead

After the interval, a resurgent Spartans equalized after Harriette Omindi  capitalized on defensive lapse in the Kada's danger area. Rhoda Nyambura then gave Spartans the lead with three minutes to the end of the third quarter. They then hold onto the slim lead to notch their first win in the championships.

In the other match, Ghana Police beat Nigeria's Delta Queens 3-2 to climb to second position with 10 points, two behind leaders Telkom Kenya. Umaru Nafisatu scored a brace with Joyce Amakye adding the third for Ghana Police while Bueaty Irame had a couble for Delta Queens. Delta have two points same as Kada, but have inferior goal count.

USIU will know their opponents after the match between defending champions Ghana Revenue Authority (GRA) and red hot Telkom Kenya. A win for third placed GRA will take them back to second and earn them a slot in the finals. A loss will mean Ghana Police book a date with Telkom Kenya in the finals.

Daily Nation


---

USIU outshine Kada Queens to record maiden Africa win

By Elizabeth Mburugu



USIU Rael Wangui with the ball.(Jenipher Wachie, Standard)

After a series of failed attempts, United States International University of Africa (USIU-A) Spartans registered their maiden continental victory.

Yesterday, the Kenyan girls beat hosts Kada Queens 2-1 to chalk up their first win in the ongoing hockey Africa Cup of Club Championships at Abuja National Stadium, Nigeria. The win saw them finish fourth on the standings and increased their chances of a podium finish on their debut to the annual event.

An elated USIU-A captain Grace Akumu said the win boosts their morale and confidence ahead of their bronze medal clash.

"We tried very hard to win but fell short because our opponents we're more experienced than us. We finally won and the victory revived our fighting spirits and we are determined more than ever before to return home with a medal," Akumu said.

She said they were ready to take on either of the Ghanaian sides that will finish third on the standings.

Spartans began their campaign with a 1-1 draw against Delta Queens of Nigeria. However, they failed to keep up the momentum losing 4-0 to compatriots Telkom.

Get the latest sports news updates. Subscribe to our SMS sports service by texting 'SPORTS' to 22840.

They were unable to match defending champions Ghana Revenue Authority (GRA) going down 1-0 before succumbing to a 1-3 loss to Ghana Police.

Bounce back

Not ready to fall for the fourth time in a row, they bounced back to humble Nigerian big shots Kada Queens 2-1. Spartans put up a spirited fight to rally a goal down and secure their first maximum points.

Benedicta Johnson put the home girls ahead in the 27th to give them a 1-0 lead at half-time. Harriette Ominde levelled the score for the students in the 37th minute before Rhoda Kuira netted the winner five minutes later. In the men's contest, 23-time winners Sharkia of Egypt continued with their winning ways beating  Ghana's Exchequers 7-5 in their last preliminary match.

They are on top of the log with 13 points and are likely to play their Egyptian rivals and former holders Eastern Company who are second on the standings in the final.

Nine-time women's Africa Cup of Club Championships Telkom will renew rivalry with Ghana Revenue Authority.

The Standard Digital


---

Chinese champions to debut in Malaysian national women's league

KUALA LUMPUR: The Liaoning Province Club from China are set to add spice in the 2019 National Women's Hockey League (NWHL) scheduled from Jan 10-March 2.

They won the China league this year and will be worthy opponents in the league.

National women's hockey coach K. Dharmaraj said it would be a new chapter in the history of the women's league.

"It's a good idea to invite the Chinese club to play in the women's league as it will make the league more competitive and interesting," said Dharmaraj.

"They have a number of national players. Our players will definitely benefit playing against this top club in Asia and it'll prevent the tournament from being boring."

He added that the national players needed to play against stronger clubs like Liaoning club to further improve their game.

"Our players need as much exposure as they can against strong foreign clubs," he said.

"I hope more foreign clubs will join in future to make this league competitive."

Six other clubs in the fray are Blue Warriors, PKS Universiti Tenaga Nasional (Uniten), KL Wipers, Terengganu Ladies Team, Tunku Mahkota Ismail Sports School (SSTMI) and Penang Sports Hockey Association (PSHA)-MSSPP.

There will be a significant increase in prize money for the women's league.

The league champions will receive RM50,000, runners-up (RM30,000) and third (RM20,000) compared to the 2018 season prize money of RM20,000, RM10,000 and RM5,000.

Seven local teams featured in the women's league this year and PKS-Uniten won the title but they lost out to Blue Warriors for the overall title – the Vivian Soars Cup.

The Star of Malaysia


---

The new FIH Rules of Hockey 2019

Jaime Bracewell

From the 1st January, five new law amendments will come in to force for the Rules of Hockey. These rule changes were proposed in Lausanne, Switzerland by the Rules Committee of the International Hockey Federation in their biennial meeting and consequently approved by the Executive Board.

The detailed amendments will be available from the 21st December.


---

Hockey NZ Statement on Independent Review

Hockey New Zealand has provided the following statement to the media today in response to some news outlets carrying information around our ongoing Independent Review


21 December 2018

Hockey New Zealand is still conducting an independent review into the Black Sticks Women's team environment. To maintain the integrity of the review, and out of respect for people's privacy and confidentiality, neither Hockey NZ nor the reviewer lawyer Maria Dew, will make any public comment until the review findings are completed.

Hockey New Zealand Board Acting Chair Shane Collins says "we want to ensure the review is as comprehensive and robust as possible to help the sport as it continues on its journey of continuous improvement".

Ms Dew QC expects to release her final report to Hockey New Zealand in early January 2019.

Shane Collins says "No decisions will be made until the final review has been completed".

The focus of Hockey NZ and Black Sticks Women's head coach Mark Hager is on the FIH Pro League which starts January 27.

Hockey New Zealand Media release


---

FIH signs 4-year partnership agreement with sports technology and management company GSC




Lausanne, Switzerland: The International Hockey Federation (FIH) has signed a partnership agreement with sports technology and management company Global Sports Commerce (GSC) for a duration of four years, making GSC an FIH Global Supplier for the 2019-2022 period for the category of brand analytics and measurement.

The deal includes the following major FIH Events:

    FIH Pro League (2019-22)
    FIH Series Finals (2019 and 2021)
    Olympic Qualifiers Men & Women (2019)

GSC is one of world's largest sports technology and management companies providing dynamic solutions, sponsorship & commercial management and premier consulting services to leading global sports stakeholders – including sports bodies, leagues, rights holders, stadiums and brands. Headquartered in Singapore, GSC has a worldwide presence with offices in 16 cities, across 10 countries including UK, Australia, India, UAE, Hungary, Switzerland, New Zealand, South Africa and the USA.

FIH CEO Thierry Weil said: "FIH is very pleased about this partnership with Global Sports Commerce in the field of brand analytics and measurement for the coming four years. We're looking forward to our cooperation which will contribute to our mission to develop hockey on a global basis."

Commenting on entering this multi-year official partnership with FIH, CEO of Global Sports Commerce Mr. Murlidharan said: "GSC is pleased to partner with the International Hockey Federation for multiple events for the next four years. GSC is looking forward to facilitate nearly 200 plus premier hockey matches across the globe with the best of its digital and technological solutions." "Maplytiks, a subsidiary of GSC will play an integral role in this partnership by providing digital technology, deep data analytics in particular brand measurement along with holistic value of brand exposure on screen for FIH and its affiliates worldwide", he added.

FIH site