All the news for Friday 30 November 2018

2018 World Cup - New Zealand vs. France - 100th international match for Peter Wright!


Martin Madden of Scotland (L)and Peter Wright of South Africa (R) take to the field in the New Zealand v France game. Photo: Yan Huckendubler.

World Panel Umpire South African Peter Wright, younger brother of the renowned John Wright, umpired his 100th International in the New Zealand v France game.

Congratulations, Peter
Martin Madden of Scotland (L)and Peter Wright of South Africa (R) take to the field in the New Zealand v France game. Photo: Yan Huckendubler.

World Panel Umpire South African Peter Wright, younger brother of the renowned John Wright, umpired his 100th International in the New Zealand v France game.

Congratulations, Peter

---

Odisha Hockey Men's World Cup Bhubaneswar 2018 - Day 2
Bhubaneswar (IND)

Results 29 November

ARG v ESP (Pool A)     4 - 3
NZL v FRA (Pool A)          2 - 1

Fixtures 30 November (GMT +5:30)

17:00     AUS v IRL (Pool B)
19:00     ENG v CHN (Pool B)

Upcoming pool fixtures
   
1 Dec 2018 17:00     NED v MAS (Pool D)
1 Dec 2018 19:00     GER v PAK (Pool D)

2 Dec 2018 17:00     CAN v RSA (Pool C)
2 Dec 2018 19:00     IND v BEL (Pool C)

3 Dec 2018 17:00     ESP v FRA (Pool A)
3 Dec 2018 19:00     NZL v ARG (Pool A)

Pool Standings
| | |
| --- | --- |
| Pool A | Pool B |
| Pool C | Pool D |
---

Impressive display of hockey n Day 2

s2h Team

Close contests, exciting goals and enthralling finishes marked day two of the Odisha World Cup. First, Argentina and Spain played their heartout to set the Kalinga stadium turf on fire. The scoreboard reflects the true intensity of the game (4-3). There may not have been more goals in the next game between New Zealand and France.

New Zealand exerted enormous pressure against the European side to extract a 2-0 lead which they led till 73 end from the hooter. Around that time, France got their third penalty corner with an added player on account of coach Jerone Delmee taking out the goalie. Captain Victor Charlet struck to narrow down the score to 2-1 but the Kiwis passed out the remainder of the time without any further damage to collect full points.

But match of the day goes to Argentina-Spain. The traditional rival dished out a rich fare, entertaining nearly full stands, mostly school kids.

The credit for scoring the first goal goes to enterprising, bandana wearing Enrique Gonzalez (3rd minute). In the next minute, a neat free hit deflection by Agustin Mazzilli saw the score levelled. Two early goals set the stadium on fire. But the heat was on.

Joseph Romeu tapped in a PC rebound to give his side 2-1 lead in the 14th minute only to see it nulliefied by fighting Argentina (Agustin Mazzilli again) in the 15th minute (2-2). Same minute even as first quarter hooter had sounded, Gonzalo Peillat struck through another PC for a fighting score 3-2. The flurry of goals kept the cheering crowd busy.

Stick2Hockey.com


---

Argentina starts on the right foot

Errol D'Cruz



Photo by Siddharth Mittal of Stick2Hockey.com

Olympic champions Argentina reminded one that the making of champions very often means winning matches even when not playing well – at least by one's own standards and targets.

It happened on Thursday in the South Americans' 4-3 win against Spain in a World Cup thriller that produced five goals at the end of the first quarter at which Argentina led 3-2.

"I was not happy with our defence and ball possession in the first half," said German Orozco, the Argentinean coach confessed.

Argentina, however, were able to call upon their trump card Gonzalo Peillat, widely regarded as the best drag-flicker in the world.

The top scorer at the Rio Olympics two years back scored twice from three penalty corners his team earned – putting away the first award to start his Bhubaneswar campaign in style.

Argentina have had turbulent times in the run-up to the World Cup. Carlos Retegui, the passionate coach who fashioned an Olympic champion team, parted ways with after disagreements with senior members early this year. Orozco, Retegui's successor, touched upon the delicate situation of handling star players in a team.

"Yes, it's difficult but also easy. Top players give their best in training because they know what it takes to become champions," the 42-year-old, who was a teammate to some of the players in the current team.

One of them Pedro Ibarra, the veteran defender and captain, suggested that the Olympic success is now history. "We may be the Olympic champions but this is another team and we have another coach. We don't care what happened before and we are happy we have started this tournament on the right foot," the 33-year-old said. His words also mean that the Rio gold medal brought no added pressure to win the title here in Bhubaneswar where Argentina, nicked named Les Leones (The Lions), have now to counter France and New Zealand in Pool A. The French went down to the Kiwis 1-2 in a taut match played later in the day at the Kalinga Stadium and Orozco knows there is no room for complacency as the battle hots up in a tricky pool.

Fred Soyez, the Frenchman coaching Spain, has built a solid philosophy of teamwork over individual play which, in a sense, is a paradox of sorts.

Soyez, a player of consummate skill, could have walked into any side in the world at the peak of his playing days not so long ago.



Photo by Siddharth Mittal of Stick2Hockey.com

Also, among his charges, Soyez has Enrique Gonzales de Castejon, the 2016 Junior World Cup star in Lucknow who bids fair to revive the dying art of ball control and dribbling.

Forty-year-old Soyez said in no uncertain terms his team was better on the day and that he and his players are going to dissect their performance to discern what went wrong.

He hopes to do that before the next game against his countrymen France on Monday where a point at least would be crucial to his team's progress in the tournament.

Stick2Hockey.com


---

Argentina prevails in a close contest

Spain comes off second best despite playing with verve

Y.B. Sarangi



Playing his part: Agustin Mazilli, left, contributed to Argentina's win with two goals. Photo Credit: Biswaranjan Rout

Olympic champion Argentina relied on Agustin Mazilli and Gonzalo Peillat's braces to rally twice and record an exciting 4-3 win over a formidable Spain in the opening Pool A match of the Hockey World Cup here on Thursday.

The contest, featuring six players from both sides appearing in their fourth World Cup and one, Matias Paredes, playing his fifth, had a thrilling start as the opening quarter produced five goals.

Lovely goals

Free-flowing hockey kept the spectators engaged as Spain attacked in unison from the left and stunned Argentina in the third minute through Enrique Gonzalez's lovely goal off an Alvaro Iglesias pass, following an exchange inside the circle. Argentina answered back in no time with Mazilli brilliantly deflecting Juan Lopez's cross.

Spain again went up through Josep Romeu's penalty corner conversion from a smart variation. He found a diagonal angle to launch his rasping shot along the ground.

The Latin Americans fought back in style, pumping in two goals — Mazilli's diving deflection and Peillat's low short corner conversion — in the final minute of the quarter.

After a quiet second period, when both sides resorted to tight marking, the Europeans outwitted Argentina with a fast-paced plan to draw parity. Alvaro Iglesias' reverse hit from the left rebounded off the post but Vicenc Ruiz hammered it in from the right.

Argentina, which focused on its defence by closing the gaps and retaining the ball, cut down Spain's pace and wrested the lead through Peillat's strike, which got deflected from a defender's stick. Argentina remained unaffected even though Spain replaced its goalkeeper to press harder and the former was one man down towards the close.

The results: Pool A: Argentina 4 (Mazilli 4 and 15, Peillat 15 and 49) bt Spain 3 (Gonzalez 3, Romeu 14, Ruiz 35).

New Zealand 2 (Kane Russell 16, Stephen Jenness 56) bt France 1 (Victor Charlet 59).

The Hindu


---

Olympics champs Argentina down gritty Spain in a thriller

Indervir Grewal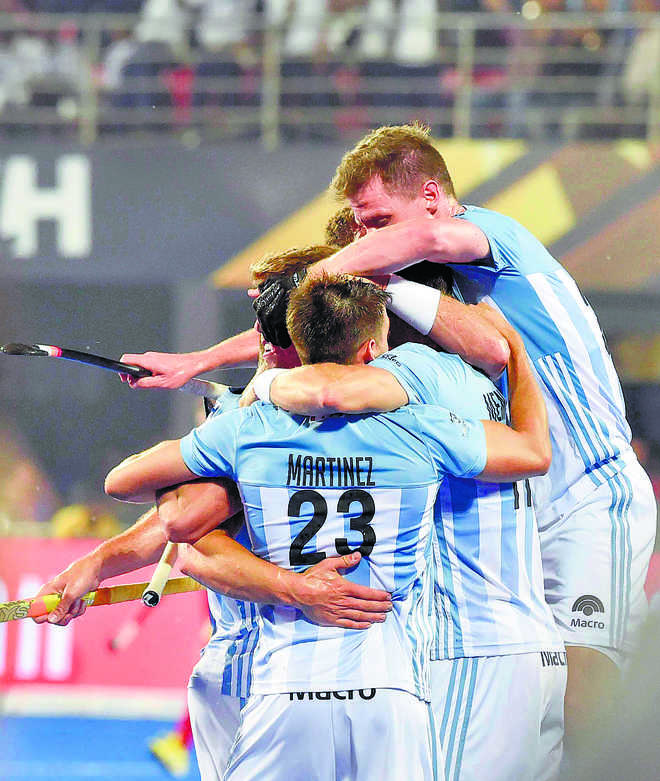 Argentina's players celebrate after scoring a goal. PTI

Day 2 surpassed the opening day in the number of goals scored, all thanks to a thrilling high-scoring encounter between two teams known for their tight defending. The second day's first encounter was expected to be a low-scoring match, with both Argentina and Spain known for playing a defensive, counter-attacking game. But the possibility of a goalless draw went out of the question within three minutes, when Spain struck a surprising blow. Enrique Gonzalez, the best player of the 2016 Junior World Cup, finished a quick move after an interception in the Argentine half.

Argentina's plan of easing into their World Cup opener with a few minutes of warming up was quickly dashed. Spain's aggressive start shook them. They hit back instantly, Agustin Mazzilli equalising within a minute. It was scary to see the ease and swiftness with which Argentina changed gear.

They fell back again in the 14th minute to a Josep Romeu strike, but that was the last time they trailed. Argentina scored two in the next minute, Mazzilli getting the equaliser again, and Gonzalo Peillat scoring the first of his two drag-flicking goals. The world's deadliest drag-flicker's strike went in through the goalkeeper's pads and back out off the backboard even before Quico Cortez could join his legs.

Spain equalised in the 35th minute through Vicenc Ruiz, but Peillat put Argentina ahead 11 minutes from the end. If anyone doubted Argentina's place among the pre-tournament favourites at the start of the match, the end showed why the gritty South Americans, who have developed a habit for winning, are the reigning Olympics champions.

France falter on return to World Cup

New Zealand survived a late fightback from France, who were guilty of wasting their chances, to start their campaign with a 2-1 win. New Zealand got the opener in the 16th minute through Kane Russell. They held on to their lead despite France being more dominant. New Zealand rubbed salt into France's wounds with another goal late into match. Stephen Jenness finished off a counterattack in the 56th minute.

"We had the ball and the occasion but we failed to convert the chances," said France captain Cictor Charlet, who gave France hope with a goal in the penultimate minute.

But France, hoping to get at least a point from their first World Cup match since 1990, left themselves too little time for a comeback.

The Tribune


---

In Argentina versus Spain thriller, lessons abound for Harendra Singh's India

Shantanu Srivastava



Argentina players celebrate after scoring against Spain. Image Courtesy: Twitter @TheHockeyIndia

Bhubaneswar: At the end of the third quarter of the pulsating Argentina-Spain match on Thursday, television cameras zoomed at the players' arena of the Kalinga Stadium. On the giant screen flashed the toothy grins of Nilakanta Sharma, Chinglensana Singh, Manpreet Singh, PR Sreejesh, Birendra Lakra, and Varun Kumar — pretty much the backbone of the Indian team.

As the men joked and posed for selfies, one hoped their vision went from self-indulgence to self-appraisal, even so as both the European teams were in the middle of an attacking masterclass.

Traditionally, Argentina and Spain prefer to sit back and defend. Moves are initiated from the midfield, pace is controlled from the centre, and attacks are mounted by a battery of fearsome forwards.

Thursday was different. Both teams went on the offensive early, and Total Hockey replaced positional play. In the flexibility and relentlessness of the Europeans lay a lesson for the Indians, who play Belgium on Sunday. It was a tutorial on attack, man-marking, penalty corner conversions, deflections, deft touches, and most of all, fitness.

Manpreet's India are among the fittest teams in the world, and coach Harendra was confidence personified on Tuesday when he declared India have the stamina and strength to launch attacks even in the last quarter. The match against South Africa barely tested India, and Harendra ensured he kept his word with some intelligent substitutions.

The boys responded with three goals in the second half, one of which came in the last quarter. But do they have the legs and lungs to withstand a barrage of attack similar to the one that Argentina and Spain exchanged in the opening quarter?

On Thursday, the first 15 minutes saw five goals, with both teams playing a hockey variant of pound-for-pound boxing.

Argentina made their intentions clear in the first 20 seconds when Gonzalo Peillat lobbed a 60-yard aerial pass that fell just short of the Spanish 25m line. It was a sign of things to come, as power and precision became a template for next 60 minutes of gripping hockey.

There's a lesson there. Against South Africa, India had a chance to experiment with some aerial shots, but the hosts preferred to rely on ground strokes. There were a few overhead hits, of course, and Mandeep Singh even trapped one beautifully in the South African D and went on to enforce, and score, from a penalty corner. India's reluctance with the long aerial balls could be a tactical move too, but against teams with better speed and man-marking skills, runs through the flanks will get tougher and India would do well to find alternate ways to send the ball across.

With an average age of 23.4 years, hosts have fielded one of the youngest teams in the competition. And with an average age of 30, Argentina are the oldest. Sure, fitness has many parameters, but the argument used by Harendra in the recent past to quell experience-versus-youth debate has, almost always, involved the insistence on the age factor.

"I'd say we are not old, we are experienced," chuckled Agustin Mazzilli, fresh from scoring a brace.

Among other things India could learn from Thursday night is to stop mixing age with fitness. Of course, a youngster will have stronger muscle fibres and faster recovery, but that's where balance comes in. It's too late for Harendra to dwell over team composition now, but an openness to occasionally revisit the latest template may help. Sure, seven players from the Junior World Cup have made their way to the current squad, but with destiny and design combining to rob India of some of its most gifted players, it remains to be seen how the team would respond under siege.

For the record, 12 of the 18 players in the Argentina squad played the 2016 Rio Olympics together, and Belgium, among the most improved teams in recent times, do not believe in knee-jerk chops either.

In the third minute of the match, the Spanish Armada sailed across the deep blue turf and cut right into the Argentine D from the left. It was a sensational burst of energy from Enrique Gonzalez, the Player of the Tournament at the Junior World Cup in Lucknow two years back, as he beat a converging herd of defenders to collect a short pass from Alvaro Iglesias and score from close range.

Moments later, Argentina punched back as Juan Lopez's pass was deflected by Agustin Mazzilli into the far corner. Spain were relentless though as Gonzalez initiated a move from the right, and found a defender's foot. Josep Romeu, after some creative variation by Sergi Enrique, converted the chance and the Spaniards restored the lead in the 14th minute.

Argentina responded the very next minute as Lucas Villa's pass was deflected in by a diving Mazzilli. The Olympic champions ended the breathless quarter with a penalty corner, which Peillat slotted in on the right of goalkeeper Quico Cortes.

Cue Harmanpreet Singh. India's primary drag-flicker tried everything he could to score from the penalty corner, but couldn't beat the South African custodian. If he'd watched Thursday's game closely, Harmanpreet would know that keeping a calm head at the top of D is as important as the flick itself.

Also, contrast this quarter with India's first 15 minutes against South Africa. Mandeep, unmarked and on the run, fails to trap a pass from Manpreet inside the D in the third minute to lose a scoring opportunity. Minutes later, Lalit Upadhyay and Dilpreet make circle entries, but both fail to score. India end the quarter 2-0 instead of 4-0. They win the match 5-0, but questions remain.

Argentina and Spain have set an unreasonable bar at this World Cup, and India will have to play out of their skins to match it. Watching the contest with his guard down and confidence up, Harendra would have taken notes. Of what good will come of it, Sunday will have the answers.

FIrstpost


---

Peillat the match-winner in seven-goal thriller; New Zealand edge out France



©: Frank Uijlenbroek / World Sport Pics

Olympic champions Argentina and New Zealand's Black Sticks both claimed victories on the second day of action at the Odisha Hockey Men's World Cup Bhubaneswar 2018, overcoming strong Pool A challenges from Spain and France respectively.

The day's opening match exploded into life from the very beginning, with Argentina and Spain sharing five goals in the opening quarter. Spain's Red Sticks lead twice thanks to strikes from Enrique Gonzalez and Josep Romeu with Argentina's Agustin Mazzilli twice levelling the scores, before Mannheimer HC's Gonzalo Peillat rattled a penalty corner drag-flick between the legs of Club Egara goalkeeper Quico Cortes to give Argentina a 3-2 lead.

Following a goal-less second quarter, Spain restored parity against the Olympic champions five minutes into the third quarter through Vincenc Ruiz, who fired into the roof of the Argentine goal a split-second after a shot had rebounded off the post.

The scoring in a remarkable game was completed by Peillat, who netted his second with a ferocious penalty corner effort to give Los Leones a hard-earned victory over a Spain side that had excelled.

Speaking after the match, Lucas Vila – another Mannheimer HC man – was pleased that his side had made a winning start to their title challenge here in Bhubaneswar.

"The first half was a bit crazy with a lot of goals, both against and also for us, but in the end, it was a win and it was what we needed, to start the competition in a good way", said the 32-year-old Olympic gold medallist. "We needed to defend our circle better. We tried to do it today but couldn't do it in the best way, but at least we could score more than them."

The second match was another close encounter, with 20th ranked France giving 8th ranked New Zealand a real run for their money. The first quarter was evenly contested, but the Black Sticks opened the scoring in the first minute of the second quarter thanks to an open play strike from Royal Leopold's Kane Russell, edging his side ahead against a French side that gave a very good account of themselves throughout.

The key moment arrived four minutes from the end of the contest when Player of the Match Stephen Jenness smashed home from a tight angle to effectively seal victory for the Black Sticks.

France pulled a goal back in the final minute thanks to a penalty corner rocket from Waterlook Ducks' Victor Charlet, but New Zealand controlled the dying seconds to claim all three points.

On Friday, Australia face Ireland while England take on China. Ireland head coach – and SV Kampong boss – Alexander Cox expressed his thoughts ahead of the clash with the Kookaburras, stating: "They're number one in the world so we know it's going to be tough game.

"We are going out there looking for a result and will give it our all. It's a privilege to play here in India and we're looking forward to getting our tournament started."

Euro Hockey League media release


---

Vantage Black Sticks Get World Cup Campaign Under Way in Style




The Vantage Black Sticks came up against a confident France side in their opening match of the Odisha Men's Hockey World Cup. The last time these two sides met was at the 2017 World League Semi Final when the result was a 3-3 draw. The Vantage Black Sticks were looking to begin their campaign strongly and gain some momentum heading into a tough second match against Argentina. 

The Vantage Black Sticks lined up on a warm evening in Bhubaneswar and started the game with some great focus passing the ball around the back well and looking to put themselves into a good position in the match. The Vantage Black Sticks had some early chances which saw a few crash balls into the circle nearly go past the French goalkeeper. Despite opportunities for both sides the 1st Quarter remained scoreless and set up what was looking likely to be a tight match. 

The Vantage Black Sticks started the second quarter with a lot more urgency. In the second minute Kane Russell picked up a ball wide and then drove along the baseline with some great speed and finished it off by shooting a reverse shot past the French goalkeeper to put the Vantage Black Sticks in the lead 1-0. The remainder of the second quarter saw both teams have several opportunities including some close misses off direct shots to the Vantage Black Sticks however there was no change to the score and the teams went into the sheds at halftime with the Vantage Black Sticks in the lead 1-0. 

The arm wrestle continued in the third quarter as both sides struggled to construct many opportunities. France eventually earnt the first penalty corner of the match. Vantage Black Sticks goalkeeper Richard Joyce came up big and saved the drag flick to keep the score at 1-0. At the end of Quarter 3 the score remained the same as neither side was able to apply much pressure. It set up a tense and exciting 4th Quarter where the Vantage Black Sticks were looking to protect their 1 goal lead. 

France started the 4th Quarter with some great speed and accuracy and created some fantastic opportunities which saw them test Richard Joyce out with several shots. The Vantage Black Sticks defense was up to the challenge and kept the guys from New Zealand in the lead 1-0. The Vantage Black Sticks then blew the game open when Nic Woods won a ball in the middle of the field and counter attacked by throwing an overhead on the move to Stephen Jenness who received and powered the ball past the French goalie. The goal gave the Vantage Black Sticks a needed buffer heading in to the final 3 minutes of the game. France got one back when Victor Charlet flicked a penalty corner high into the goal which set up a nerve-racking final 2 minutes in the game. 

The Vantage Black Sticks held firm to secure a much needed 3 points and start their Odisha Men's Hockey World Cup Campaign in a great fashion. 

The Vantage Black Sticks are next in action on Tuesday morning when they take on reigning Olympic Champions Argentina in a battle between the last two undefeated teams in Pool A. 

Player of the Match Stephen Jenness said "We started really well. France kept putting us under a lot of pressure but we held firm and made the most of our opportunities". 

Vantage Black Sticks Coach Darren Smith commented on the win "We started the game very well creating 3 or 4 good opportunities and had intent to our play - Although we got a bit conservative in the 2nd half. In the end it is great to get the 3 points which was built on a solid defensive effort. We now look forward to the Olympic Champions Argentina where we expect an exciting game".

Vantage Black Sticks 2 (Kane Russell 16", Stephen Jenness 56')
France 1 (Victor Charlet 59')

Hockey New Zealand Media release


---

Black Sticks men open Hockey World Cup campaign with win over France



Stephen Jenness scored the match-clinching goal for the Black Sticks in their Hockey World Cup opener. (File photo) JAN KRUGER/GETTY IMAGES

The Black Sticks men have opened their Hockey World Cup campaign in India with a victory over France.

Kane Russell and Stephen Jenness provided the goals as World No 7 New Zealand held off 20th-ranked France 2-1 in Bhubaneswar, India on Thursday (Friday NZ Time) to open Pool A play and join Argentina, 4-3 winners over Spain, on three points.

It was an eventful first half for the handlebar-moustached Russell as he opened the scoring in the 16th minute, then being shown a green card in the 29th minute and forced to sit out for two minutes.

Russell used his speed on the right side to get to the end-line, then cut back and unleashed a tomahawk shot past French goalkeeper Arthur Thieffry.

Man-of-the-match Jenness gave New Zealand to a 2-0 lead in the 56th minute, blasting a shot past Thieffry from just inside the circle.

France got within a goal in the 59th minute through captain Victor Charlet from a well-placed penalty corner drag-flick but could not find an equalising goal in the final 90 seconds despite pulling Thieffry and getting an extra attacker on the field.

Darren Smith's side faces Argentina on Monday (2.30am Tuesday NZT) and Spain next Thursday (12.30am Friday NZT), with a top-three finish in the pool good enough to move them onto the crossover knockout round, while winning the pool would put them directly into the quarterfinals.

New Zealand 2 (Kane Russell, Stephen Jenness)
France 1 (Victor Charlet).
1Q: 0-0, HT: 1-0, 3Q: 1-0

Stuff


---

New Zealand down France 2-1 in Pool A of Hockey World Cup

BHUBANESWAR: France, the lowest-ranked team of the tournament, fought well against New Zealand but went down 1-2 in the Hockey World Cup Pool A encounter at the Kalinga Hockey Stadium on Wednesday. The first-quarter, unlike the first three games of the tournament, witnessed no goals. The execution inside the penalty circle wasn't perfect. Passes were missed, untrapped and, hence, despite both teams penetrating each other's penalty circles, they failed to score. But within a minute of the second quarter's start, the Black Sticks scored. The intermission of the first quarter seemed to break France's momentum. Shea McAleese surprised them with an aerial long ball from the half-line. Kane Russell, from the right flank, trapped the ball after it bounced once. He, then, sprinted along the byline and, with a reverse-tomahawk, made a spectacular finish.

France played much better than their ranking (20th in the world) suggested. In the first half they had better possession (52%) in New Zealand's half than New Zealand (48%) had in theirs. The defence, too, was solid. New Zealand could convert only one of their five shots on goals.

With seven minutes to go, France got two back-to-back penalty corners, which they couldn't convert. Captain's Victor Charlet's drag-flicks were successfully thwarted by the 'keeper Cory Bennett on the first occasion and by the defence on the second. Then Stephen Jenness, with four minutes to finish, scored a goal similar to that of Russell's to extend New Zealand's lead. Unmarked in the right flank, he received an aerial pass from Nic Wood from half-line and, from the edge of the circle, unleashed a mighty hit that beat the 'keeper. There was still drama left when captain Charlet, scored France's first goal of the tournament, drag-flicking the ball to the top-right corner of the net in the 59th minute. France, alas, didn't have enough time to save the match.

The Daily Times


---

Batch wary of Irish threat of "causing an upset"



Australia coach Colin Batch during the World League Final in 2017 at the Kalinga Stadium. Pic: Frank Uijlenbroek

Australia coach Colin Batch says his side won't be underestimating world number 10 Ireland in their opening game of the 2018 FIH Men's Hockey World Cup in Bhubaneswar.

The Kookaburras last played Ireland at the Azlan Shah Cup in Malaysia in March, winning 4-1, continuing their perfect record in nine international meetings with Ireland.

The Irish also warmed up for the World Cup with five matches at the recent Four Nations in Valencia where they recorded two wins over world number seven England.

Pointing to those results and the FIH Women's World Cup earlier this year, where Ireland reached the final, Batch said the Kookaburras wouldn't be taking anyone lightly.

"Any team can cause an upset here," Batch said at the pre-match press conference. "I think Ireland is one of those teams.
"We haven't played them since earlier this year. It's a different group that we're playing against.

"They've had some good results in Europe. We're not underestimating them. We need to take care of our own performance. They'll be a very competitive and difficult opponent for us on Friday so we need to play at our best."

Australia arrived in India last Saturday and trained in midweek at a venue which is familiar to them having won last year's World League Final in December at the Kalinga Stadium.

They drew all three group matches at the World League Final, before triumphing in all three knockout matches to take out the title.

"We continued to improve during the tournament," Batch said. "We could not win a game in the group stage but we drew three games against quality opposition. We made it to the quarter-finals and our hockey improved significantly from there.

"We have got some belief from that tournament that we can continue to improve at whatever level we start at. Earlier this year we have got some success in the Commonwealth Games and the Champions Trophy. Each tournament creates different obstacles."

Australia heads into the 2018 World Cup as one of the favourites for the title, given their 2010 and 2014 success, as well as their success over the past 12 months at the World League Final, Commonwealth Games and Champions Trophy.

The side achieved modest results this week in the lead-up to the Ireland clash, defeating South Africa (ranked 15th) 2-1 and drew 1-1 with Germany (sixth) in warm-up matches.

Kookaburras co-captain Aran Zalewski said the players were out to create their own history.

"It's great that Australia has such a proud history in World Cups," he said. "We have taken experiences from the past but this is completely different group. We have now got 10 guys making their debut at World Cup.

"For us as a team this is our first real chance of winning a World Cup as a group. We are not taking it as pressure but as a challenge."

The Hook


---

Harte of Mumbai getting ready for World Cup cauldron



David Harte greeted by the press. Pic: Hockey India

While David Harte is by a distance Ireland's most high profile men's hockey player, there is the distinct possibility he is far more recognised in India than on home soil.

The two-time world goalkeeper of the year is something of a cult figure in the country following four stints in the Hockey India League. And he will look to add to that status this week at the World Cup which gets underway on Friday with Ireland meeting tournament favourites Australia (11.30am, Irish time).

David Harte with the other captains at Konark Temple. Pic: Hockey India[/caption]They do so with the majority of his team mates experiencing heavy media attention for the first time in a country where hockey is still counted as one of the national sports.

The side were greeted off the plane in Bhubaneswar by banks of photographers, camera crews and reporters and it happened again off the team bus.

For Harte, though, he is well used to the hero worship that comes with hockey after spending almost a year of his career in the country between World League Round 2 in 2013 and then his HIL experiences even if his toes curl at his own dedicated terrace chant: "Davey Boy, the Harte of Mumbai, he stands up tall, just like a wall".

"It was cringe-worthy stuff but also nice to get that appreciation. Stepping off team buses and seeing the volume of cameras in your face, the live audience and all that is a bit unnerving but you do get used to it," Harte told the Irish Independent ahead of the competition.

His green machine team enjoyed a spectacular opening ceremony on Tuesday, reportedly costing the local Odisha government $14m, while Wednesday's first day of matches saw a sold-out crowd of 15,000 at the Kalinga Stadium in Bhubaneswar.

Harte said it is a real cauldron: "Bhubaneswar was one of the only Hockey India League stadiums which was sold out for every single match.

"You had people trying to sneak in – they are hockey-mad despite it being more rural than Mumbai or Delhi. It was the first time I played in a place where you simply couldn't communicate with your defenders!

"In my second, third and fourth year, I developed to levels I probably never imagined possible. I owe an awful lot to the country.

"It is chaotic but it all works, somehow or some way! The road system, the low hanging electricity wires, the mass of people in such small spaces.

"It is an assault on your senses with the sounds, the smells, the tastes, the views. You can read about it but you have to live there to really experience it!"

And experience it he will following a tumultuous preparation in which he was initially likely to be ruled out through a fractured fibula only for a second opinion just severe bruising.

It means he can take his place in what will be Ireland's first World Cup appearance since 1990 but the target is a top-eight finish at the least.

After Australia, they will play more inviting group games against England and China with the top side going into the quarter-finals while second and third go into a crossover game.

Ireland have never drawn against the Aussies in nine previous games and so the focus is likely to be on containment.

The side is in full health with Eugene Magee able to play despite two broken fingers sustained earlier in the week. Ireland beat Pakistan 1-0 in their last warm-up challenge match at the tournament venue.

Off the field, Harte was recently co-opted onto the FIH's athlete commission, a role he also does with the Olympic Federation of Ireland, being charged with giving a voice to the athletes to the governing bodies.

"Having been 12, going on 13 years, and 200 caps played, you see an awful lot of how hockey is going from a governance side of things.

"Playing in the Hockey India League, the Malaysia league, it doesn't always favour the players the best. The powers that be recognise that we are the greatest resources in the hockey world and, at times, they are not treated as they should be.

"I am on the FIH's athletes commission and the Olympic Federation of Ireland's commission on the back of Rio.

    The Irish Women's Team was a revealation in London. The @IreMenHockey would like to ensure they are the bigger surprise ???#Odisha2018 #HWC2018 @irishhockey pic.twitter.com/KFESB41kOW

    — Hockey World Cup 2018 – Host Partner (@sports_odisha) November 25, 2018

"I have already voiced my opinions that athletes should never be treated the same way again. Instead of being a hurler on the ditch, I have an opportunity to go and do something about it and it's a great opportunity."

He is in an interesting situation as one of hockey's most high profile players not to be taking part in the FIH Pro League. As such, he recognises the impact it can have and says it is an issue he will raise when the FIH athletes commission meets.

"The Pro League doesn't make sense to me and I am pretty curious about how it is all going to unfold. The FIH's choices of teams to be selected and others not to be and now the debacle of Pakistan not playing their matches in their chosen city [Glasgow] – the governing body has a lot to answer for and I am hoping that will be one of my main tasks.

"The idea that precious world ranking points are only up for grabs for these nine teams for the next four years – no relegation, no promotion – it's an absolute farce."

The Hook


---

Shane does not have to look far for World Cup inspiration




Shane O'Donoghue says he does not have to look too far to draw inspiration as he looks forward to the Hockey World Cup in India this week, getting underway on Friday against reigning champions Australia.

Throughout the Green Machine's preparations, recurring media questions have centred on what inspiration can be taken and how can they emulate the women's incredible run to silver during the summer in London.

While the men and women's squads operate largely independent of each other, though, O'Donoghue has been inspired by Graham Shaw for the vast majority of his career.

Growing up, his father Rory was in the Glenanne first team with Shaw, one of the stars of the club's golden period in the 2000s. Shane was soon chomping at the bit to get up to train with the first team and Shaw took on a mentor role for the young midfielder, quickly instilling in him the Tallaght club's intense fighting spirit.

"As a 15 or 16-year-old, going up to St Mark's for training, there were very few times you didn't come home black and blue. Even at that age, they would tear into you. It was character-building – sometimes you would think, I'm not going back up there!

"Graham was definitely one of the lads I looked up to – maybe not physically because he's not the tallest! He was ferocious. For me, it was so infectious as a youngster, watching the intensity he trained at. Himself, Stephen Butler and Joe Brennan were the top men and it gave something to aspire to and then carve a path to go even further."

Their intertwined club careers culminated in the 2010 Irish Senior Cup when O'Donoghue was still in school and gave him a grounding to make his Irish debut at just 19.

Shaw's international playing career would end in frustration with near misses on the World Cup and Olympic stage.

O'Donoghue, though, has been a central figure in taking on the mantle, winning a first ever European Championships bronze medal in 2015 and then qualifying for the 2016 Olympic Games for the first time in over a century.

Now 26, he has been a pivotal figure in midfield while scoring 92 goals, leaving him one off the national record held by John Jermyn. He flew up the scoring charts in a spectacular 2017 when the World Cup spot was assured and the Hamburg Masters trophy was won, all achieved with a new look side following multiple post-Rio departures.

For O'Donoghue, he says it was a tough time for him personally. Like many of the stories from the women's squad, the balancing act between elite sport and personal development off the field is a tough one to manage, one that he had issues with.

He was working through his masters in sports exercise and performance psychology in UL, heading up the hockey programme at Rathdown school and also trying to manage himself for World League Round 2 and 3 and the Euros.

"That period from January 2017 up to the Europeans last summer, it was an extremely busy period, trying to do well in all different avenues.

"It was difficult – I found myself, maybe not quite in a dark place, but I was chasing my tail, constantly frustrated and wound-up. I suffered a little with anxiety and kind of burned myself at both ends.

"When I look back on it and the masters and what we focused on, finding the balance is so important. With both the men and women's team, we are only part-time athletes – strictly amateur – so we need that support network. It really was the support networks we have in place that got me through."

Conversely, while 2018 has been tougher for Ireland on the field, having a singular focus with this week's World Cup always the long game, has made things easier.

Ireland did struggle – partly due to widespread illness – at the Sultan Azlan Shah tournament in Malaysia but O'Donoghue says it will stand to the side.

"That was a major learning curve for the younger guys. In 2017, they experienced a lot of wins. They were used to winning all the time which, before that, wasn't always the way and we had to scratch out all sorts of draws and results. 2018 has been less hectic, gearing up for one event at the end of a calendar year, zoning in on one thing."

The side was rocked further when groundbreaking coach Craig Fulton moved to Belgium to take up an assistant coach role in the summer. Highly decorated Dutchman Alexander Cox came in at short notice with a new approach, aiming to add to Ireland's traditional tight, defensive game.

O'Donoghue says it has been trial and error in recent friendlies, picking up good wins against higher ranked England – whom they meet in the group stages – but also enduring heavy losses to the Netherlands.

"Ned [Fulton] did an awful lot of great things that brought us to the level we are at, to compete against the top eight in the world. There was a little bit of a culture change [when Alexander came in] and the Dutch mentality is heavily based on attack and having a go, being direct.

"That is something people can expect from our game now. The [warm-up games] were a little bit of a trial and error process and maybe we left ourselves a little exposed against the Dutch counter so there is plenty to take away from that tie."

Shaw's women had similar problems prior to their World Cup, suffering heavy losses to Germany and Canada mixed among strong performances but they peaked perfectly at the right time. No better source of inspiration.

The Hook


---

Ireland intent on 'defying odds' at Hockey World Cup

By Micil Glennon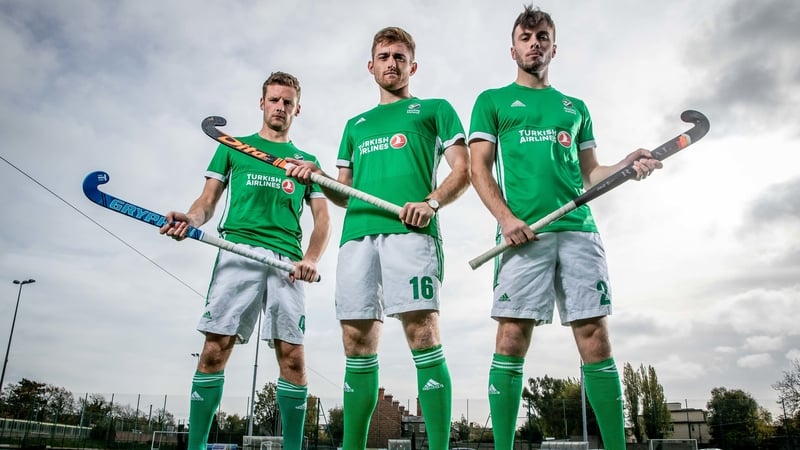 Ireland hockey players Jonny Bell, Shane O'Donoghue and Daragh Walsh

They may have waited 28 years but Ireland are back at the World Cup and determined to "defy the odds".

It is only the third time that the Green Machine, now ranked 10th in the world, have made the finals, with previous appearances coming in 1990 and 1978, finishing in 12th on both occasions.

A 1-0 win over New Zealand – their first ever victory over the Blacksticks – in October sealed their place in the showpiece tournament, which takes place in Bhubaneswar, India from 28 November to 16 December.

Alexander Cox's side find themselves in Pool B alongside the world's number one side, Australia, China (ranked 17th) and England (7th).

They open their campaign on Friday morning (11.30am) against the Aussies but experienced defender Jonny Bell says that this Ireland team is ready for the challenge.

"We've shown in the past, that with our minimal resources, we can still beat teams ranked higher than us," the Lisnagarvey player told RTÉ Sport.

"We've done that to qualify for the Olympic Games, for this World Cup.

"Our team is constantly about defying the odds, circling the wagons and putting in massive performances."

On the subject of massive performances, Ireland have a tough act to follow.

Just last August the women's team defied the odds themselves, reaching the World Cup final and exposing the sport to new audiences along the way.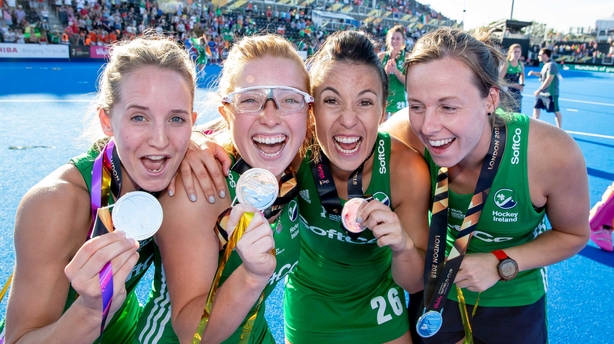 Bell doesn't believe that the run that Katie Mullan-captained side went on in London puts any extra pressure on the men's team.

Instead the 153-times capped back reckons that the challenge is to display the same spirit that gave the country such as boost during the summer.

"I don't think [the women's success] would skew [the public's expectation].

"It just brings that added attention to hockey, which is fantastic and has really increased the profile of hockey in Ireland.

"We, as a hockey community, need to capitalise on that. Hopefully now the men's team, we can go out and back up what the girls did in London and give a really good showing."

Bell, an environmental planner, admits that his side are "essentially amateurs" competing against teams on "full-time programmes".

With that in mind, the goal is simple: navigate out of the pool and see how things go from there.

Avoiding bottom place achieves the first target but that's not to say that the Aussies, the reigning champions, won't be in for a game.

"When you are playing against different opposition you will do video analysis and set yourself up tactically in a particular way to defend and to try and negate the strength that the opposition has," he says.

"Defensively, we are a strong unit right across the pitch. We try to build on that and use our counter attack. We have a very good drag-flicker, a very good penalty-corner set piece that I think can rival any in the world.

"We've a very strong deep defence and we've a lot of speed on the counter attack."

The foundation of that defence is goalkeeper David Harte, holder of 212 caps and currently playing with Kampong in Holland.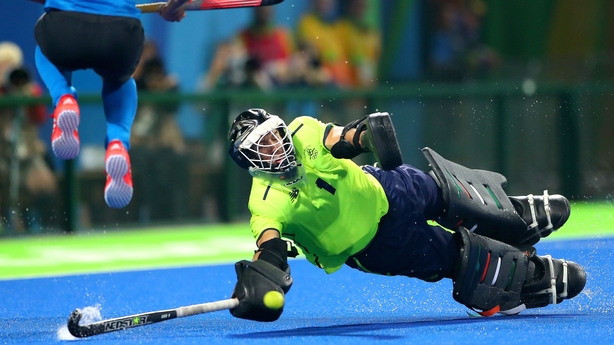 "He's a world class player," says Cox of the 30-year-old Cork man.

"He was twice voted as best goalkeeper in the world.

"I think he's [still] the best goalkeeper in the world. His experience at international and club level is massive and the opposition is, let's say, afraid of him.

"He is really important for our team and our way of playing. First of all we need to defend well.

"That's our main task also at the World Cup, and when you have a great goalkeeper that helps."

It's a verdict that midfielder Daragh Walsh agrees with.

"As a goalkeeper one of the most important things is just being a loud voice and an organiser on the pitch.

"And that he is, just filling you with confidence in behind that even if you do make a few mistakes most likely he's going to sweep it up and make a save and that's brilliant for us.

"As captain as well he's a fantastic leader."

Ireland arrived in India on Saturday having had mixed results in a World Cup warm-up tournament in Valencia.

Two defeats to the Netherlands and one to hosts Spain were bookended by a double over England, the last of which came via a shootout.

Their final group game comes against England and Walsh knows qualification could hinge on that result.

"It's certainly going to be a huge game, it's the final group game so it could be a decider," he said.

"Playing against any English team you're probably up for it more than most."

"I've played them [a few times] and it's always been tight so it's a game we're really looking forward to."

Ireland will be hoping that they beat China and other results go their way so that it doesn't come down to a must-win clash in the final day.

"We need to avoid that bottom place in the pool where we'd be automatically eliminated," says Bell.

"We need to be targeting that quarter-final. If we can make a quarter-final, who knows what can happen?"

Fixtures

Ireland v Australia Friday, 30 November, 11.30am, BT Sport 1.
Ireland v China, Tuesday, 4 December, 13.30pm, BT Sport 1.
Ireland v England, Friday, 7 December, 13.30pm, BT Sport 1.

RTE Sports


---

No more a top-three affair, says Middleton

The versatile Englishman is playing in his fourth World Cup

Y.B. Sarangi



England's Barry Middleton. File Photo Credit: Rajeev Bhatt

When England takes on China in its opening Pool B match here on Friday, 34-year-old Barry Middleton will achieve a rare feat of being the only player from the country to participate in four editions of the event. Middleton, who made his international debut in 2003, feels that the love for the sport has kept him going.

"I love it. I enjoy playing, I like challenging myself personally and with the team. Personally for me, (it's) planning and getting better every day, working hard and push my body to its limits," Middleton told The Hindu on Thursday.

"I am still a coached player. Our preparation has been good. It's nice to be here before a few days. We just want to get going."

In the last 15 years, the biggest source of pleasure for Middleton has been the increase in the level of competition.

"The rules have changed. Things have become better and quicker. The self-pass rule (for example) has made the sport more exciting. The big thing I like is it's not just the top-three (nations) now," said Middleton.

The Hindu


---

Barry Middleton: Making of an England hockey great

By Rod Gilmour




A remarkable world caps record in sight, Barry Middleton should rightly be feted as one of world hockey's greats.

With four World Cups, a potential fifth Olympics and an insatiable appetite to keep learning his craft, it is little wonder that Danny Kerry, the Olympic-winning coach, calls Barry Middleton a "scholar of the game".

To his team-mates and old club mates, coaches and friends, he's loveable, modest and humble. He's also deemed – remarkably – under-rated as a player. It seems an odd admission. For Middleton would still stroll into most top nations' starting XI's.

It has been this way ever since he was given first team opportunities at his beloved Doncaster HC as a 14-year-old.

His playing shirt may have been too large and the numbers on his back seemingly bigger than the sleight player which started out in the game. But given space and a stick, he simply cut through local teams. However, he never attempted to make people look silly on the pitch. Middleton was too good.

He was immersed in hockey from an early age by his parents, Roger and Sheila, who are still 'part of the fabric' of Doncaster HC; his father being a player and first team coach; his mother a first team ladies' captain and both ran the junior section at the club.

By the age of 10, he was the stand out young club player. "He was playing age group games and handing out master classes," says Alan Stoves, who was to give Middleton his debut first-team cap.

"It wasn't that he was so much better, he just loved the sport and he never made out he was above the rest."

Middleton was ushered into the first team aged 14. Boy against man. But Middleton was never subjected to difficulties, on or off the pitch. He was just a popular member of the team and this seemed to transcend him. "He was just a team player," adds Stoves.

He was sharp, with strength to match. Middleton wasn't daunted and clearly revelled in the challenges laid out before him, out muscling adult Yorkshiremen with his nous and graft.

Middleton had the capacity to make the right decisions, even at such a tender age. On first sight of this sleek player, opponents believed that Doncaster were making up the numbers or just short of players that weekend. Soon they saw that he was playing by right. And running the game.

Away from the club, at his school, now Hall Cross Academy, Middleton's team-mates were largely formed of rugby players. "He would make a pass to them and they would miss. Barry would make the same pass again, without success again. But he never got frustrated," recalls Stoves. "He had an ability to be himself and never be arrogant."

There were concerns that Middleton was playing too much at school, without the proper development. He waved away those fears. He just wanted to play with his friends.

His closest is still Jonathan Redfern. A Doncaster 1s player as a 15-year-old in the national league, thanks to the passion instilled by Middleton's parents, nearly 20 years later Redfern is still playing for the club, via a few matches for Wales and now a regular part of the England over-35s.




Redfern and Middleton were next door neighbours, when it was not uncommon for one of the two youngsters to knock on the wall to signal play time after tea.

"He never used to eat much and I would go round at tea time and finish it off," jokes Redfern. Then it would be down to a succession of games, with Redfern usually found trailing in Middleton's wake. "Time messing about with a ball. Hours spent messing about," as Middleton tells it.

Says Redfern: "He had a snooker table in his conservatory. He would be a multiple break builder. He couldn't be bowled in street cricket. At the cricket club, he was scoring centuries as a 10-year-old."

Sport was his calling. So too the Middleton dog – Rusty – described by Redfern as "the most vicious mongrel in the world."

"It used to go to Barry at his command and whenever I started beating him up he would call over the dog and he would be laughing his head off," recalls Redfern, noting his friend's "sharp humour".

"Sometimes I would be leaving and Barry would suddenly announce that I had five seconds to leave. There I would be hurdling the gate to get away from Rusty, with tears in Barry's eyes at the doorway!"

His happy childhood was entwined with his parents never heaping pressure on their son. Barry had to earn his stripes at the club, too. His father, a straight-talking Yorkshireman, let Stoves take over. "He didn't ask for any favours and did everything on his own merit," Stoves says of Barry's entree to the first team.

Stoves chuckles with one anecdote between the two friends. Redfern liked to dribble. And in one game Stoves remembers, frustration spread through the team and he asked Middleton to get a dictionary and look up the word 'pass' and hand it to Redfern.

"He was so good to play with, but he was so unselfish," recalls Redfern. "He would never go out to purposefully embarrass people on the pitch. He just found space and made people look daft."

In Middleton's first season, he didn't start a game until the last match of the season when Doncaster travelled down to Lewes in the old Division 2 National League. However he did score the club's 500th national league goal during it.

The Sussex side needed a win against mid-table Donny to see in promotion to the Premier Division. Middleton was one of the scorers that day, his first goal for the club aged 16, courtesy of a brilliant strike which ultimately sent Loughborough Students up to the top flight.

A few years later and Middleton was off to the same university, the north still proving his calling card and playing for Cannock, before receiving his international debut cap in 2003, aged 18.

Three years later he was off to Holland, HGC and the Hoofdklasse. That stint, says Middleton, "may be the reason why I haven't got a full-time job."

At the time, England and Great Britain were struggling on the global scene. Middleton and Company were travelling to tournaments with no chance of competing for tournament trophies.

Out in Holland, meanwhile, many were questioning whether Middleton could continue playing in England – and full-time for England. "There was no way I could stop playing for England and the amount of pride you take in it is too much," says Middleton. One can sense this with the pride at holding up the 2009 European title in front of his team-mates as captain.

In 15 years, he has amassed plenty of broken bones: a broken toe, a broken shoulder, and a broken knuckle last year when he took six weeks off over Christmas. But, in that time, he has missed only one tournament.

"He keeps that drive and desire to get better," says goalkeeper George Pinner. "He wants to improve and at his age of his career he's not resting on his laurels. That's incredibly inspiring to see.




"He is so modest and humble in the way he handles himself around the group. He's actually under-rated as a player. People don't realise how good he is. You watch Barry and his ability to give and go and it makes hockey look quite a simple game."

Phil Roper, one of England's co-captains, says: "You are always learning lessons and the team comes first. He's still one of the fittest and puts everything out there each session. He puts it out there and I aspire to do what Barry has done for his country."

And there's admiration too from Danny Kerry, the England and GB men's coach, who now watches him from close-up after a decade and more witnessing his talent as performance director and from afar as women's coach.

"He just genuinely loves the game. He's a scholar of the game, the nuances and the discussions he has around hockey," states Kerry.

"He is one of our leading athletes. You add to that his ability to perform under pressure and other every metric, and the guy is off the charts. I feel genuinely humble to have worked with him.

"It's not on the pitch, it's what you see off it: how he understands the game and talks to athletes and coaches. It's the level of application in detail on the training ground and in every conversation. He is world class."

This status has now seen the son of Doncaster accumulate well over 400 international caps – "I never set out to achieve this, but I always believed in myself," says Middleton – and close in on the 453 set by Dutch great Teun de Nooijer.

It's a supreme feat of longevity on a 34-year-old body which shows no sign of abating in the ever-increasing rigours of international hockey.

Meanwhile, De Nooijer's eyes light up when speaking of a player who could break the record some time in 2019 or, perhaps, in Olympic year. He is certainly Great Britain's most capped Olympian.




"Playing against him, he did things at speed that other people couldn't," recalls the Dutchman. "He was so good at attacking that he gave you space the other way, too. But you switch off for a second and you gave him the one chance and you soon worked out he was pretty special."

Naturally, his close pal says it will be a "sad day for British hockey" when he eventually retires. "They will do well to find someone else with his level of commitment," Jonathan Redfern adds.

Which includes regularly returning to Doncaster – he's also played for East Grinstead and Holcombe during his club career – to play in the Old Boys' team at Hall Cross as a season curtain-raiser. "We are exceptionally proud of him and most of our kids want to aspire to be him," says Alan Stoves.

"You would never know that to look at him. That's why he is so respected.

"He's just a good Doncaster boy, with great parents and he's gone on to achieve unbelievable things." All done with a smile on his face. For the love of the game.

The Hockey Paper


---

England look to home comforts at Hockey World Cup




England have attempted to ward off sickness by renting their own restaurant at the men's World Cup.

England officials have flown out their own chef for the three-week campaign and will be accompanied to Smog Restaurant by extra security for each of their meals.

It follows previous tournaments in Bhubaneswar where teams have been blighted by illness and mystery bugs.

"My strong sense is that it will work," coach Danny Kerry said of the health plan.

The plan was the brainwave of Ed Barney, England Hockey's performance director.

He said: "India is an exciting and vibrant place to be. We thoroughly enjoy the culture, warm welcome and great hospitality and this year we have taken the opportunity to have some bespoke dining."

This will be Kerry's second World Cup of the year after leaving the women's job following England's quarter-final exit to Holland in London.

England play China on Friday in their opening Pool match. Australia and Ireland will pose bigger tests in their attempt to qualify outright for the quarter-finals.

This news story is a trimmed version from our opening World Cup newsletter on Wednesday.

The Hockey Paper is the only British and Irish publication accredited for the 2018 World Cup – so don't miss out!

The Hockey Paper


---

China's team comes from one province!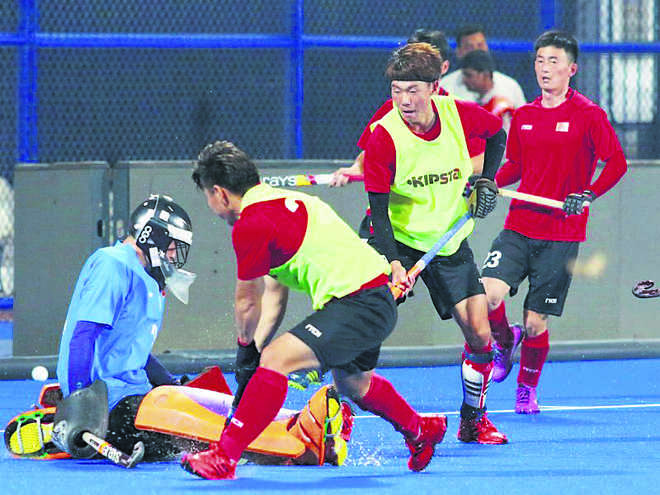 China will make their World Cup debut against England today.

Despite its sporting culture, several provinces and gargantuan size, China, surprisingly, had to pick its entire 18-member World Cup squad from a single province!  China is made up of 34 provinces, but the entire team belongs to one province — Inner Mongolia Autonomous Region.

Hockey is not that popular in China. It is mostly played by the Daur people, a Mongolic-speaking ethnic group in northeastern China. They have been playing their traditional sport 'Beikou', which is similar to field hockey, for about 1,000 years. Modern hockey took root in China in the mid-1970s.
"All players from the team are from Inner Mongolia. They all are from just one club and one province," said China's South Korean coach Sang Ryul Kim. Kim, who guided his own country to a silver medal in the 2000 Sydney Olympics and mentored China to beat India and Pakistan before claiming the 2006 Doha Asiad silver, has got a wealth of experience as a coach.

"Hockey is popular in that region of China. It's similar to a traditional sport of that region named 'Beikou', so these players have easily adapted to the game," he added. China will make their World Cup debut against England on Friday. The coach said his players have the capability to cause an upset or two in the tournament. "They have the fitness, mental strength as well. The only problem with our players is that they have very little experience of playing against strong teams. That's the only weakness," Kim said. "If they are worried and doubtful on the pitch, they can't do anything. If they are confident, they can do something," he added.

The Tribune


---

Crouching Tigers at the World Cup

By By Jugjet Singh

BHUBANESWAR: "For sure we will be in for a tough time against the World No 4, as everybody (including coach Roelant Oltmans and the International Hockey Federation) have cast them as the early favourites to win the World Cup.

That is the reply from midfielder Mohd Fitri Saari on Malaysia's opening World Cup match against the Netherlands tomorrow.

"But we have our own plans as laid out by our coaches.

"Firstly, there is the element of surprise for a win or a draw.

"And if we can't get the better of them, we need to make sure the margin of defeat is not too big," said Fitri.

This is because the Malaysian Tigers' main target for points in Group D is to beat Pakistan and qualify for the next stage.

The other team in Malaysia's group are Germany, who are heavyweights, no less.

The Germans also trained at the Kalinga stadium yesterday, but it was a quick 30 minutes before coach Stefan Kermas' men packed up.

They only trained on penalty corner set-pieces, and warmed down before making a quick and unexpected exit before the video and cameramen could film them.

Malaysia will play Germany last, and by then, the Tigers should know their fate in the World Cup.

The world meet in Bhubaneswar has 16 teams in four groups, and the top teams in each group advance to the quarter-finals.

The second and third placed teams will get involved in a crossover to decide the other four quarter-finals.

And the four teams who finish last in their group will pack their bags earlier and head home — there are no playoffs for them.

New Straits Times


---

Malaysian Tigers find the going heavy

By Jugjet Singh

BHUBANESWAR: Malaysia had their third feel of the Kalinga artificial pitch yesterday, and the consensus was that it plays heavy.

It's so heavy that the players had to adapt fast, especially the penalty corner push-out which is normally done by Firhan Ashaari and Marhan Jalil.

The Malaysian Tigers are in Group D of the World Cup with the Netherlands, Germany and Pakistan — and their opening match is against the Dutch on Dec 1.

"The stadium, as well as the facilities, are very good and up to date.

"However, the pitch is very heavy and it is not only a problem for us to adapt to, but all the teams will face the same problem.

"However, after three sessions at the Kalinga stadium, I believe the players have gotten used to the pitch conditions," said team manager Stephen van Huizen.

The stadium can seat 15,000 fans and was packed to the brim when India played South Africa on Wednesday.

India won 5-0 while in the other match, Belgium edged Canada 2-1.

Yesterday, the national players underwent penalty corner drills as well as loosened their muscles, while waiting for the crunch opener.

On fan support, goalkeeper S. Kumar hopes India will be behind Malaysia.

"Malaysia and India have a very good relationship in hockey, and when we play the Netherlands, I hope the fans will turn up in numbers and support us.

"We need every help we can get to force an upset against the mighty Dutch," said Kumar.

New Straits Times


---

Malaysian squad fit and raring to go against Holland

THE Malaysian men's hockey team are all ready for the biggest challenge in the World Cup after their third training session at the Kalinga Stadium.

A confident national coach Roelant Oltmans proudly declared that the players have adapted to the pitch and are eager to get into action.

"They enjoyed playing on the new turf and are in high spirit for the tournament. The players are all fine and don't have any problems at the moment. They are fit and injury free. This is a good sign," said Oltmans.

"We are looking forward to our first match of the tournament. The players are ready to face Holland although it is going to be a tough game," said the Dutchman, who knows the strength and depth of the Holland team.

"The players have been focusing on direct penalty corner flicks. The have made a lot of progress in development and also in tournaments.

"The challenge will be on us to get the desired results against them," added Oltmans, who is the oldest coach in the World Cup.

He added that the pressure is always on the stronger teams when they play weaker teams in the first match in a tournament as was evident when world No. 3 Belgium only managed a 2-1 win over No. 11 Canada in their opening match.

"Against Holland, we cannot allow them to play their fast-flowing game as once they dominate they can be very dangerous. We also have to make full use of the chances we create," he added.

"So we have to rise to the occasion and put up a strong challenge against Holland," said Oltmans after yesterday's training session.

Muhd Razie Abdul Rahim and Faizal Saari were seen practising their penalty corner drag flicks and the challenge is for them to deliver the goals in the Holland match.

The Star of Malaysia


---

Marhan and Hertzberger face off in first group match

By Aftar Singh

HOCKEY fans may feel perturbed if they see Mohd Marhan Jalil hugging Jeroen Hertzberger like long-lost brothers in the ongoing hockey World Cup in Bhubaneswar, India.

One is from Malaysia and the other comes from Holland, the land of tulip fields, in northwestern Europe.

And don't be surprised if Hertzberger knows a sprinkling of Bahasa Melayu words such as terima kasih. He is, after all, like a brother to Marhan and are the best of buddies on and off the hockey pitch as they played together for the Universiti Kuala Lumpur Malaysia (UniKL) in the Malaysia Hockey League (MHL) early this year.

However, come tomorrow, they turn from friends to foes when world No. 12 Malaysia play world No. 4 Holland in the opening Group D match at the Kalinga Stadium.

The 32-year-old Dutch forward is the world's best penalty corner drag flicker. He scored 12 goals – five field and seven from penalty corners – to help UniKL win the overall title in the MHL.

The fearsome Hertzberger will be leading the Oranje team for the third time in the World Cup. They reached the final at the last edition in The Hague in 2014 but lost out to eventual champions Australia.

The 28-year-old Marhan, who skippered the UniKL team, said he has high respect for Hertzberger, who is his best pal and, of course, a calibre player.

Up against such a player, Marhan knows the mammoth task he faces.

"He played a vital role in helping UniKL win the overall in the MHL by netting 12 goals. He has the ability to score field and penalty corner goals," said Marhan.

"Hertzberger is a key player for Holland and very deadly in the semi-circle. So the challenge will be on us to stop him from scoring.

"If Holland get a penalty corner, I am the first runner and I'm willing to use my body to stop his drag flick," said midfielder Marhan.

Hertzberger was part of the Dutch team for the 2007 Champions Trophy in Kuala Lumpur where they won the bronze medal.

In 2010, Hertzberger played in his first World Cup in New Delhi and scored one goal in Holland's bronze-medal finish.

In the next edition four years later, he netted four goals for Holland to end up with the silver medal.

Hertzberger is the all-time top scorer in the Euro Hockey League competition with 26 goals.

Marhan said Hertzberger will be going in with guns blazing to score as many goals as possible to help Holland win their fourth World Cup.

"It will be tough playing against Holland as they are a good and capable side. So we have to be on our toes and we cannot afford to make any mistakes in defence as it will be costly for us," said Marhan.

"I last played Holland in the Test match in 2016 in Amsterdam and we lost 8-1. So we have our backs against the wall to stop them from scoring."

The Star of Malaysia


---

Hasan Sardar lays down the law on players' behaviour even as Pakistan feel hassled by security detail

The Hockey Insider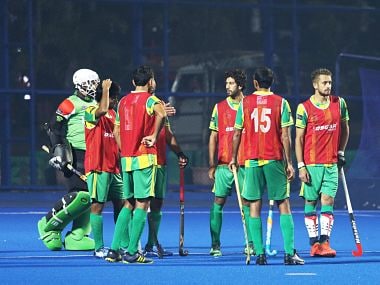 Former Pakistan captain and current team manager Hasan Sardar, has drawn a strict line against poor on-field behaviour for this squad.

Pakistan's hockey players are not too pleased with the security detail following them all the time. If they are feeling confined to moving around with the security personnel surrounding them all the time, it has a lot to do with the instance of 2014 Champions Trophy where their celebrations – after defeating India in the semi-final encounter – went over the top. Some obscenity was discovered in the gestures they made at the galleries and it led to suspensions and warning from the International Hockey Federation (FIH). Hockey India insisted on a written apology before even staging an FIH event featuring Pakistan.

A senior member of the squad complained to The Hockey Insider that they were feeling cramped with the intense security provided to them, while other teams had just a fraction of the security detail around them. After some elements announced they would protest Pakistan's appearance in Bhubaneswar, the Odisha state government and tournament organisers have increased the security around the Pakistan squad.

While the security may be intense and somewhat stifling, the Pakistan team's mood was lifted by the warm reception they received during the World Cup's opening ceremony. The cheers from the spectators were second only to those for the Indian captain, which ought to have reminded the Pakistani squad that the Bhubaneswar crowds had supported them even in 2014 until the encounter against India.

However, their "obscene" gestures in the celebrations after defeating India seemed to have rubbed the hockey fans the wrong way. It turned the entire crowd during the final in Germany's favour, and the Germans acknowledged it by applauding the spectators as "a home crowd" after winning the title. The flowers that the Pakistan team had thrown at the galleries were spurned. A few obscene gestures had done the damage.

Going into the World Cup, the team management, headed by former Pakistan captain Hasan Sardar, has drawn a strict line against poor on-field behaviour for this squad, insisting in the team meetings that earning applause from the Bhubaneswar hockey fans was among the achievable targets set for this tournament.

For a team that carries the tag of being four-time World Cup champions and failed to qualify for the 2014 edition, Pakistan's squad has been given a message that is loud and clear: "Bad behaviour will not be tolerated."

A legend of Pakistan hockey and the star centre-forward of the all-conquering team of the early 80s, the suave Sardar was appreciated around the world. His dazzling on-field skills of yore are matched by his composed behaviour as the team manager even in adverse situations. His choice as team manager – a designation Pakistan hockey gives to the boss as in football – could have a lot to do with the professed target of earning appreciation from Indian spectators

Returning to Bhubaneswar's Kalinga Hockey Stadium, the same venue, four years later, the Pakistan team has reasons to wonder if the spectators would have forgotten the incidents of 2014.

Drawing a line on the behaviour expected from his players, Sardar is eager to get the Bhubaneswar crowd behind the team. "Other than matches where we played India, the hockey fans of India had always rooted for Pakistan. My game was appreciated a lot by the Indian spectators who applauded us all the way to winning the World Cup in Bombay in 1982," says Sardar.

Before coming to India, this Pakistan squad was told by the team management that their behaviour will be under scrutiny.

In fact, just a month ahead of the World Cup, Sardar made the Pakistan Hockey Federation recall coach Mohammad Saqlain from the Asian Champions Trophy in Muscat owing to his bad behaviour when asked not to abuse the players who had just lost to India in a league match.

Pakistani players told The Hockey Insider that Saqlain, a former captain, was screaming at the players when Sardar intervened and told him not to use harsh words as the boys were young and would learn from their mistakes. At this juncture, Saqlain used harsh words at the manager himself. It required just one phone call from Sardar for the PHF to ask coach Saqlain to board the first flight back home.

As the team manager, Sardar is aware that flowers cannot buy peace with the spectators after their on-field behaviour caused rancour. The Pakistan team manager wants applause to be earned for their dazzling play and good behaviour.

Firstpost


---

Forwards strike right chord

Fernandes rates India forwards higher than 'Shahid-Iqbal-Fernandes' of 80s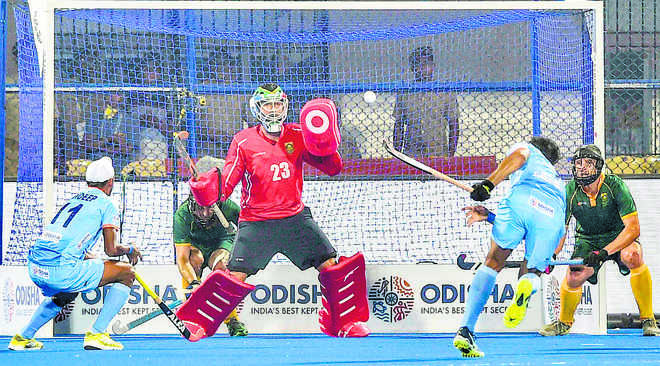 Forwards Mandeep Singh, Akashdeep Singh, Simranjeet Singh and Lalit Upadhyay made their presence felt in the opener against South Africa. file

It's not often that the Indian team has a collectively good game. This year, India have had too many unfavourable results and they have faced criticism from all over — be it the federation, the media or the fans. Their defence has been panned for conceding soft goals, but it's the forward-line that has borne the brunt for missing chances in key matches. The frustration of losing too many times despite dominating the matches has even led to the team's coaches openly criticising the forwards.

After India's goalless draw against Malaysia at the Asian Champions Trophy, coach Harendra Singh criticised the Indian strikers, saying "things will not come on a platter every time". To make matters worse, constant comparisons are made with India's star forwards of yesteryears. Hockey fans and current team's critics reminisce about the former players' dribbling runs with the ball, their dodging skills or "lethal finishing".

In India's World Cup opener, the forwards must have been under huge pressure but they stood up to give India a flying start. All five Indian goals came from the forwards — Mandeep Singh, Akashdeep Singh, Simranjeet Singh and Lalit Upadhyay. India's performance even impressed former India forward Merwyn Fernandes, one of the mainstays in the Indian team in the 1980s. Fernandes even said that he had "always wished to see the Indian forwards play like this".

Opportunistic scorers

"I have to say this, in the current Indian team, all the forwards look capable of scoring goals," said Fernandes. Despite being a part of India's famed forward-line of the 1980s, with Zafar Iqbal and Mohammed Shahid as his co-strikers, Fernandes said that not many of his teammates were good finishers. "Zafar was a good scorer, but Shahid and I were not good finishers. But in the current team, not only the forwards but also the midfielders look capable of scoring goals," he added.
"We weren't opportunistic like the current players. The way these players dive around to make deflections, we didn't do that," he added. "I like the fact that they take quick shots at goal. I always say that you don't need to take a long swing when shooting at goal. There is not enough time and it has a surprise element to it. These players take quick tries from different positions, those flicks and pushes at goal… it is good to watch."

Defending wins tournaments

Fernandes also praised the current forwards for their defensive abilities. The modern game has become fast and complex and requires every player to carry out different duties. Most importantly, all 11 players must defend, because it is "impossible to defend without a solid first line", Ireland goalkeeper David Harte said.

Fernandes said the current forward-line's "defending was unbelievable", adding that the forwards of his time did not defend. "We were bad at defending, especially Shahid and me, we were horrible," Fernandes said. "But it's so refreshing to see the current forwards -- when they lose the ball, they sprint back. When the opposition starts an attack, they are already in position. These are basic things but make a big difference. If we had been this good at defending, we would have won…" Fernandes broke off in mid-sentence, imagining what could have been.

At the 1986 World Cup, Shahid was declared the tournament's best player. Yet, India had finished last. "Exactly," Fernandes said when reminded  of this.

Good chemistry

Despite the defensive frailties, Fernandes was part of an attacking line that was known for its great understanding. He said there were not too many changes made during his time, which helped in developing understanding. In contrast, India have fielded 21 different forwards since 2014. Even Sardar Singh was designated as a forward in the 2016 Rio Olympics.

"Yes, these are too many changes," he said. "But these players are good learners; they learn quickly (to play together). (On Wednesday) They were creating good space, linking up well; there were lovely layovers, one-touch passes. It was lovely to watch."

Fernandes added that from the understanding displayed in the South Africa match, this combination looked settled. "For long, I had wanted to see the Indian team play like this," Fernandes said.

There is little doubt that India's attacking capabilities have improved significantly. In the last two years, the number of India's circle entries and attempts in almost every tournament has been at par with the top teams. India, though, have been constantly let down by their finishing. The start in Bhubaneswar has been promising but tougher opponents, with better defences, await India next.

The Tribune


---

Legend's Voice: The outcome of India-Belgium clash will be decided by goalkeepers and drag-flickers

VR Raghunath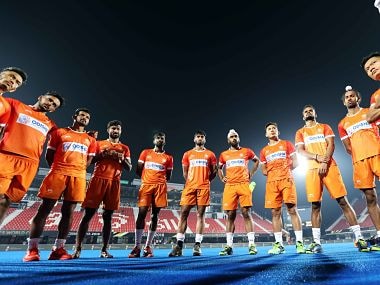 After a 5-0 win over South Africa, India will play Belgium on Sunday. Hockey India

VR Raghunath played two World Cups (2006, 2014) for India as a fullback. An acclaimed drag-flicker, Raghunath is a Champions Trophy silver medallist (2016), Commonwealth Games silver medallist (2016), and an Asian Games gold medallist (2014). He spoke to Shantanu Srivastava.

India had a really good start to the World Cup. A 5-0 win is an excellent score and I think we have got a great goal-average lead. The players should rest well and look forward to the next match. Going forward, games will only get tougher, and the players should concentrate on penalty corner conversion.

We had 4-5 penalty corners against South Africa, and every drag flick was saved. The ones that we scored of were from rebounds. If we can't score field goals in crucial matches, I think penalty corners will give us a good chance of getting goals. We should be positive. The boys are playing very good. They are competitive, fit, energetic, and I think they are on a right track.

Every team has a different style of play. South Africa and Canada have a similar ranking, but Belgium couldn't score as many as us. They missed quite a few penalty corners themselves. It's always important to start a big tournament with such a result. In the next match, all our players will come with a free mind and start opening up the game.

There were some hiccups in the third quarter, but these kinds of bad five-six minutes will arrive in every game and the opponents will start applying pressure at some stage. I think the Indian team realised their strategy very fast. Some inputs came from outside and they changed their plans.

India were a lot settled team after that period, but these kinds of 5-6 minutes will come in every match and we should be ready for them. I think the trick is to keep things simple, easy and safe.

I think South Africa gave up after that quarter. By that time they were 0-3 down, so mentally they were tired. Indian boys kept up the intensity for 60 minutes, and didn't look tired. They are well-versed with the weather and the ground conditions, and it showed.

PR Sreejesh and rest of our defence did well in that phase. Sreejesh came up with two saves and Birendra Lakra did well too, especially when South Africa got a penalty corner. One or two goals then would have been a close match.

We have to understand that forwards will make some mistakes and 2-3 stray balls will come in your half. That is where the role of defence comes in; it is their responsibility to bail the side out in such tough situations.

My favourite goal was the one scored by Lalit Upadhyay in the third quarter. It was a wonderful field goal, and I truly enjoyed it.

India next play Belgium, and I know both teams will play a different game than what they did on Wednesday. It will be a match of very small margins. Both teams will commit very few errors, and whoever errs the least and capitalises on the opposition's mistakes will win.

I think the Belgium game will be decided by penalty corners. They have a very good goalkeeper, and I think the game will be decided by goalkeepers and drag-flickers.

To our team, I just want to say, play your heart out. You are playing at home, you have all the advantage. Just enjoy the occasion, play as a team, give your best, and the result will come automatically.

Firstpost


---

Crucial for India to improve PC conversion rate

Harendra insists more variations and different flickers would be tried out against Belgium

Uthra Ganesan



More consistent: India's cause would be well served if Harmanpreet Singh can make his flicks count more often. Photo Credit: Getty Images

On Wednesday, India earned five penalty corners and converted two, neither direct. Belgium could not convert any of its seven.

On a stage like the World Cup, those numbers may well be the difference between winning and losing.

India's woes in the department are not new.

At the Asian Games, the conversion rate was far below the 50% – a huge improvement on the three out of 33 that it managed at the Commonwealth Games.

Reluctance

The reluctance of successive coaches to not attempt too many variations or even give more opportunities to the second and third line of drag-flickers in the side has also remained an unsolved mystery.

Coach Harendra Singh insisted things have changed.

"There will be a lot more variations seen here and they will be done regardless of the situation or state of the game. We have worked on our drills and we will certainly try and use them.

"Also, like we did against South Africa, all three of our players — Harmanpreet Singh, Varun Kumar and Amit Rohidas — will get their chances," he told The Hindu on the team's rest day after its opening game here.

Improved defence

Shane McLeod, on the other hand, credited improving standards of defence.

"Teams are getting very good at defending corners. The goalkeeping is also at a very high level internationally at the moment.

"Our goalkeeper (Vincent Vanasche) is at a very high level and Sreejesh has taken some very big steps in that area in recent years," the Belgian coach admitted.

But both agree that the final flick is just 1/3rd of the entire routine even though the scorer alone gets both the bouquets and brickbats.

"In the first match also, there was problem with both injection and stopping at different moments, and once we couldn't stop.

"All of it matters, specially now, when the space for stopping has become very small," Harendra explained.

Differentiator

They both believe PCs could end up being the differentiator on Sunday.

"May be corners are going to be the deciding factor with both teams pretty even in their abilities in those areas," McLeod said.

"We have three very good flickers, as have they including Tom Boon.

"PCs will play a huge role in the outcome of the game," Harendra agreed.

With space shrinking and margin of error minuscule, Sunday would be a good time for the flickers to step up and be counted.

The Hindu


---

Is the drag flick a dying art in modern hockey?

Jonathan Selvaraj in Bhubaneswar



Josep Romeu of Spain scored the first direct PC goal at the FIH 2018 Hockey World Cup, against Argentina. Cees van Hoogdalem/Soccrates/Getty Images

It was a clever bit of deception that saw Spain score the first direct penalty corner (PC) goal at the 2018 Hockey World Cup, an effort that put them 2-1 up against Olympic champions Argentina. Alvaro Iglesias' push was trapped by Sergi Enrique. Pau Quemada then shaped to take the strike but simply ran over the ball, which Enrique pushed to Josep Romeu to the left of goal. With Argentina's first runner Lucas Rossi committed to running at Quemada, Romeu was left to take an unhurried flick that beat the outstretched left glove of goalkeeper Juan Vivaldi.

Ever since their introduction to field hockey, drag flicks have been seen as one of the sport's showcase skills and goals scored through them are one of the highlights of any match. Yet over the years, the actual success rate of the technique has steadily dipped. At the 1998 World Cup for example, 116 goals were scored off the 250 penalty corners awarded over the course of 84 games. And while it's still early days at the 2018 edition, it's unlikely teams are going to come anywhere near that astounding strike rate of 46.4 percent.

Romeu's strike was only the third goal in 20 penalty corners awarded over three games in the tournament. Of those, an unusually high number (7) were missed by Belgium alone. And while the Belgians claimed they had had a bad day, there are increasing precedents for this lowered efficiency of conversion. At the Breda Champions Trophy against India, they had one successful PC strike in eight attempts.

Players and coaches are aware that the days of easy hunting are over. "Teams are defending better. Goalkeepers are learning faster. You see the first runner (the defender standing closest to the pusher) taking the glove side and the goalkeeper taking the stick side. It makes it harder to score. There is a lot of video footage out there and teams are more aware of which side we will be striking now, " says Belgian striker Tom Boon.



Canada's Scott Tupper believes the tide has shifted in favour of the defence when it comes to the PC. Kieran Galvin/NurPhoto via Getty Images

Canada captain Scott Tupper, a veteran of 286 matches, believes the tide has been slowly shifting in favour of short corner defenders. "I think just the defence is catching up to the offence. Goalkeepers are just getting better and better and better," says Tupper, who stood at the post for Canada against Belgium.

He says the fact that drag flicking was so effective early helped countermeasures to develop too.

"I think there are more elite drag flickers in the world today. In the past when you showed up to a tournament there would be two or three players who are world class and surprised all the goalies. Now the 'keeper trains every day with elite flickers at the club or national level so it isn't as much of a surprise anymore," says Tupper.

Tupper also says the increased readiness of the first runner to charge out at the drag flicker following the introduction of protective gear has also contributed. "The big change has been in how the runners have adapted. They used to just put their stick out and hope for the best. Now they are actively taking the goal away with their legs and stick right on top of the ball. That makes it easier for the keeper because he can take one side of the goal and it also makes it more frustrating for the flicker because he can see the runner getting bigger and he might almost be running into him a little bit," says Tupper.

England coach Danny Kerry says he first noticed the relatively reduced effectiveness of the drag flick around six years ago, when he was coach of the Great Britain's women's team. "I think the women's side of things started doing it earlier and better. The men have started to understand it and now worked on it hard. And it's also difficult to do. For the women, after 2012, the defence started to dominate. For the men it was possibly in 2014 when we noticed that the change was starting to occur," says Kerry.

As such, coaches and players are starting to scale down their expectations from the drag flick. "If you score anything around one in three goals it is a very good percentage," says Boon.

While it might not be as effective, Canada's Tupper says the arms race between offence and defence isn't over. "It (the drag flick) will just evolve," he says. "That's the nature of things. The flickers were quite a bit ahead of the defence. Right now, the defence is catching up a little bit. Flickers will start to evolve too. You will start seeing flickers curve the drag of the ball and try to bend it around the first runner. Maybe they will try to be a little more deceptive in what they are doing," he says.

Kerry says the subtlety of those variations means that they might be saved for use towards the business end of the tournament rather than at the start, where they could be studied. "With the improved defence, in the women's and men's game, variation routines will become more important and teams will have to decide whether to use those variations earlier in the tournament or later. Yesterday you had Belgium have a lot of PCs but were leading so didn't change the variations. I think if they were playing the semis or finals, they would have changed things out. They wouldn't have kept going straight because it wasn't working," he says.



Gonzalo Peillat of Argentina scores from a penalty corner during the FIH Men's Hockey World Cup Group A match between Argentina and Spain. Charles McQuillan/Getty Images for FIH

Of course when done right, even the straight and hard drag flick has immense value. "Someone like Gonzalo Peillat will still be successful even with all the improvements in defence. He just hits the ball a lot harder than others. It's still very difficult to stop him," says Kerry.

Peillat, who almost single-handedly won Argentina the Olympic gold with his drag flicks in 2016, proved just that in the game against Spain. He scored his side's second goal courtesy a strike that went right through the keeper's legs and then added another goal off his third attempt of the match, playing a key part in Argentina's 4-3 win.

Peillat would remain modest about his efforts. "Everyone is doing their best. Today was my day. Maybe tomorrow it would be the goalkeeper's day," he says.

ESPN Inda


---

'More surprised than hurt' by sudden ouster as India hockey coach: Roelant Oltmans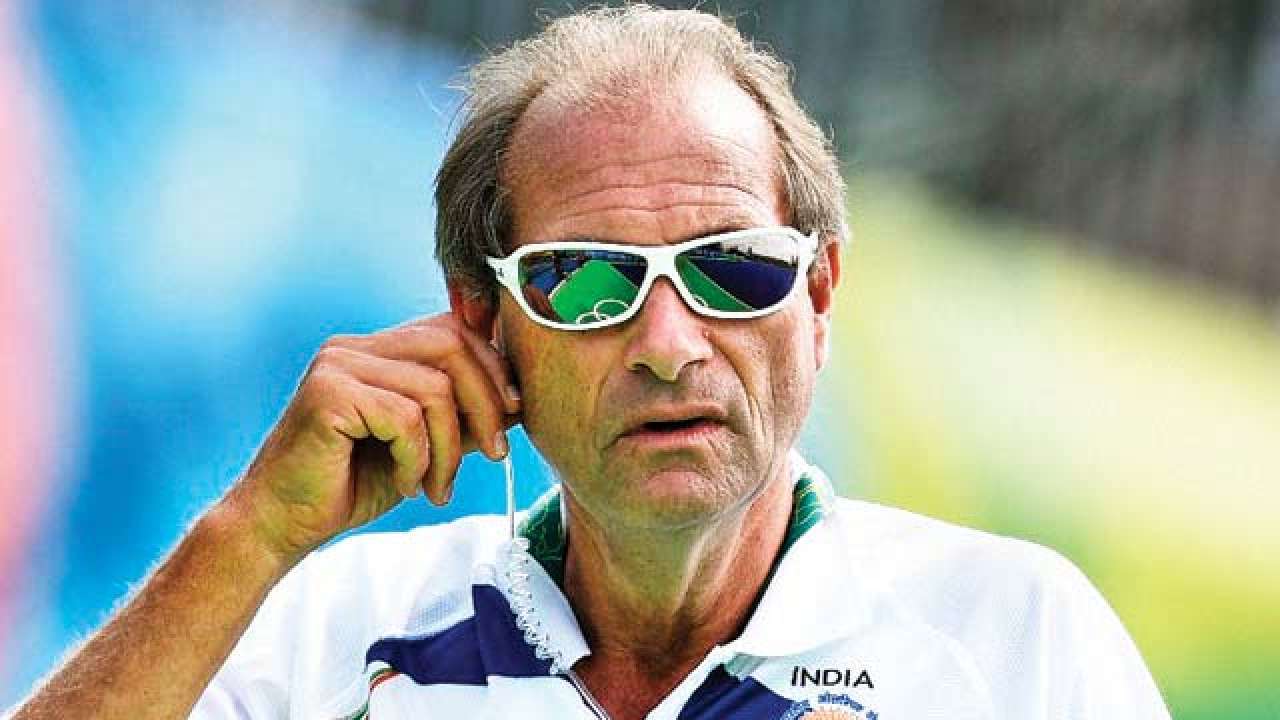 Roelant Oltmans , File Photo

India is a closed chapter now for Roelant Oltmans but the legendary Dutch coach said more than hurt he was surprised by the way he was unceremoniously shown the door by Hockey India, especially after investing his time in the country for nearly five years.

Oltmans came to India as High Performance Director in 2013 and played an instrumental role in reviving Indian hockey before taking up the position of men's team's chief coach.

Oltmans' association with Indian hockey for nearly five years came to an end in September last year after he was sacked by the national federation for lack of results.

"I was not hurt (about the sudden sacking). That is part of our coaching job but I must admit I was surprised," the 64-year-old master tactician said.

"There are certain moments people take decisions and you need to accept the decisions the way they are," said Oltmans, who is here as the head coach of Malaysian team participating in the World Cup.

During his time as a High Performance Director in India, Oltmans strengthened the grassroot level besides working with all the national teams, be it junior or senior, men or women.

He also worked with the domestic coaches, including current India chief coach Harendra Singh, and played a key role in restructuring the game in the country.

Some former players have even said that Indian hockey is currently reaping rewards for Oltmans' labour.

"I worked here (in India) for 5 years with a lot of pleasure. I enjoyed my stay here. India has a rich hockey history and I am satisfied that I could contribute something to Indian hockey's rebirth," Oltmans said.

"I am happy to see that Indian hockey in this period has grown. This is a new team with new group of people. I have worked with a lot of these players. I hope the best for India apart from one game (against his own team Malaysia if they face each other in knockout stages)."

Asked about India's podium chances at the World Cup, Oltmans said: "I said it before that the winner of the World Cup will come from the top six teams of the world at the moment." India are currently ranked fifth in the world.

After the India sojourn, Oltmans was with Pakistan team on a two-year contract but resigned barely four months into the job.

After the Asian Games, Oltmans took over as Malaysia coach for a two-year tenure with an aim to help the side qualify for 2020 Tokyo Olympics.

Malaysia missed a golden chance to seal their Olympic berth after losing to Japan in the final at the Asian Games earlier this year but the Dutchman said that episode, which he was not part of, is history now.

"Of course, it was a big disappointment but that is history now. We can't change history but we can change the future and that is what we will try here. The boys have talked about what went wrong there, but many things were right or else we won't be there in the final of the Asian Games," he said.

Malaysia are placed in what can be termed as pool of death at the ongoing World Cup alongside three former champion sides -- Pakistan, Germany and Netherlands -- in Pool D.

"We have set very simple targets. First is to survive in this pool of death. That's the challenge and we take it as a challenge. How we survive, it doesn't matter. Then, we will reset our goals for the next phase," Oltmans said.

He also feels that his knowledge about India and familiar weather conditions will help Malaysia in the World Cup.

"All the 16 teams are well prepared. Of course, it helps us that we are coming from Asia. We did not have to travel too much. We are used to weather conditions in this time of the year. But these are minor advantages because every team has prepared themselves to make sure they are the best and this is what World Cup is about," Oltmans signed off.

Daily News & Analysis


---

Belgium Overpowers USWNT in Final Series Game



Image Taken by Mark Palczewski

LANCASTER, Pa. - The No. 12 U.S. Women's National Team looked to finish the series strong against No. 13 Belgium on Thursday night in the dome at Spooky Nook Sports in Lancaster, Pa. Scoreless at halftime, USA scored first but Belgium answered with four of their own to take the series and game, 4-1.

USA dominated the first few minutes of play, successfully keeping the ball above the 50-yard line with their defensive press. In the third minute, Kathleen Sharkey (Moosic, Pa.) collected a free hit outside Belgium's circle quickly and sent the ball in to a diving goalkeeper Elena Sotgiu for the save. Following this, Belgium turned up their tempo breaking into the USA defensive end several times. USA would keep knocking, and an opportunity presented itself in the 10th minute. Alyssa Manley (Lititz, Pa.) sent a ball from the midfield to a cutting Sharkey who dumps it back to Danielle Grega (Kingston, Pa.) whose backhand shot is saved by Sotgiu. Two minutes following, Belgium would have a lone shot on USA goalkeeper Jess Jecko (Sauquoit, N.Y.) that would go just wide. Time would tick down with Belgium looking to score, but USA remained strong on defense to keep the score deadlocked at zero.

At the start of the second quarter, both teams were on a mission to open up the scoring. Belgium had a close chance in the 18th minute when they built up play down the right side, got in the circle and send a cross that went between the legs of Ambre Ballenghien. In the 21st minute, USA earned their first penalty corner of the game after Anna Dessoye (Mountaintop, Pa.) was able to find a Belgium foot. The straight shot by Sharkey was saved by Belgium's goalkeeper Sotgui but inserter Caitlin Van Sickle (Wilmington, Del.) was on the rebound but unable to find the back of the goal. Belgium tried to keep momentum going with several shots but USA's goalkeeper Jecko turned them away. With 30 seconds left in the half, Belgium requested a video referral looking for a foot in USA's defensive circle. The call would be inconclusive, and no penalty corner was awarded. The score at halftime would stand at 0-0.



Image Taken by Mark Palczewski

The second half proved to be full of excitement for both teams in the scoring column. Six minutes into the half Taylor West (Princess Anne, Md.) found Grega inside the circle who passed the ball on to Alyssa Parker (Woodbine, Md.) who turned and finished into the goal for the first score of the night. Within the same minute, Belgium earned a penalty corner after the ball hit a foot in the USA circle. The Red Panthers would find the equalizer as the initial drag was saved by USA goalkeeper Kelsey Bing (Houston, Texas), but the rebound was picked up by Alexia 'T Serstevens and slipped into the near post. Belgium didn't let up and earned another penalty corner in the 40th minute. This attempt was mis-trapped but Belgium kept possession, sent the ball to the right and Pauline Leclef ripped a hard shot toward the left post but Bing made the save. Continuing to pressure, Belgium converted in the 43rd minute when Alix Gerniers used a quick breakout on the left side to eliminate a USA defender a bury a hard backhand into the corner of the goal. This go-ahead goal shifted momentum a bit as Belgium kept up the pressure but USA showed resilience to keep fighting and earned a penalty corner a minute later. Sharkey's straight shot was saved by Belgium's goalkeeper Sotgiu stick. When the buzzer sounded Belgium held a 2-1 lead.

USA was on the hunt in the final frame to find the equalizer. Belgium had other plans, and within a two minutes span tallied two more goals. The first came a picked up ball in the middle of the field was passed to Leclef whose backhand shot toward was tipped in on the far post by Joanne Peeters. The second came off a similar play when Jill Boon's shot to the far post was tipped in by Ballenghien. The scoring chances were limited for USA as Belgium tightened up on defense. Some grit was present for USA in the final minutes of play when Sharkey worked the ball up the left side into the corner and sent the ball to Grega waiting on the far post. She was unable to collect it, and the call was blown coming out. Belgium would run out the time high in their attacking end was the final score stood 4-1 in favor of the Red Panthers.

The two teams ended the series with another friendly round of five shootouts.

A special noteworthy accomplishment in tonight's contest was that USWNT mid-fielder Amanda Magadan (Randolph, N.J.) played in her 50th international competition for USA.

Next, the U.S. Women's National Team will travel to Corboda, Argentina for their first FIH Pro League game on February 2, 2019. Next they will open up home competition when they host The Netherlands at Wake Forest University in Winston-Salem, N.C. on February 16. Member Only Bundle Tickets are now on sale.

USFHA media release


---

New Zealand draw first blood against new-look Aussies in first under-21 test in Napier

by Anendra Singh




New Zealand have thrown down the gauntlet with victory over Australia in the opening match of the inaugural under-21 women's three-test hockey series in Napier today.

The Kiwis pipped the Aussies 3-2 after leading 2-0 at halftime on a day when the weather gods came out to play as well at the hockey stadium in Park Island.

Goal scorer Holly Pearson, of New Plymouth, said the Aussies had eked out a rash of penalty corners but the Kiwi defence had remained staunch for the first three spells.

"They were pretty good out there and there was some pushing and shoving in the circle so they'll definitely be out to get a win on Saturday and Sunday so we'll just have to prevent them from doing that," said the grinning 20-year-old striker suspecting the weather probably played into the hosts' hands as well.

Australia's two-goal scorer, Amy Lawton, said it was the first game the side had ever played together although the downpour didn't help the cause of finding rapport.

"For me, personally, the water was really slippery on the stick as well," said the 16-year-old Victorian, who lives about an hour out of Melbourne.

Lawton said while such factors played on the mind, they had worked out a sense of cohesiveness and intensity to score twice in the final quarter.

She expected an improvement on Saturday in their second outing at 2pm.

"Today, I guess, was about what we're good at and what we need to improve on."

Lawton agreed the rivalry between the two nations meant physicality in the circle was a given.

"I was too much among it, luckily, because I'm quite small compared with the other girls, I guess," she said but felt it made it more interesting for the fans.

The first 15-minute quarter was scoreless with the hosts spending more time defending penalty corners but, importantly, keeping their goal intact.

With five minutes left in the spell, the rain came down with a vengeance and New Zealand player Hope Ralph finding herself in the naughty chair for two minutes.

When play resumed Kiwi referee Lani Jackman pinged the tourists, sending Morgan Blamey to the chair with a green card within a minute.

Whatever coach Greg Nicol, of Napier, said the Kiwis got on the front foot a bit more although the Aussies kept the pressure on with two more penalty corners.

Another two-minute green-card sentence to Blamey gave the New Zealanders a penalty corner with nine minutes to go in the second spell but goalkeeper Hannah Astbury thwarted on the left upright. The Kiwis reloaded a few minutes later but no cigar.

However, a circle infringement, with five minutes to go, saw Estelle Macadre push the Kiwis 1-0 up from a penalty stroke.

A fraction more than a minute later, it was Ralph's turn to extend the lead to 2-0 from a field goal.

The third quarter smacked of end-to-end sparring although the Aussies' intent was obvious when Tara Leonard picked up a green card as the aggression stakes were raised.

But that stanza proved fruitless for either side despite the rain staying away.

It was the visitors who pulled one back, 2-1, just 90 seconds into the final quarter when Lawton found the back board.

But that only stung the Ella Hyatt-Brown-captained Kiwis into action with Holly Pearson bringing joy to the Park Island faithful with a tit-for-tat goal, 3-1, within a minute.

With 10 minutes remaining, Australia player Phillipa Morgan hobbled off with an injury.

However, Lawton wasn't done with seven minutes remaining. She came out shining with a sunny tribute from the Green and Golds from a field goal, 3-2, that momentarily silenced the crowd.

Two minutes later, Kaitlin Cotter, of Napier, had a chance to extend the lead but missed a sitter from a cross to the far post from Ralph.

Australia goalkeeper Talei Forrest thwarted a PC corner attempt from Macadre soon after but by then clock ran out on the Aussies.

Hockey New Zealand Media release


---

Black Sticks men announce their squad for FIH Pro League




New Zealand have announced their men's squad for 2019. The year marks a new phase for Hockey as FIH launches the FIH Pro League on January 19 and the Black Sticks would look to field their best combination in the six-month long tournament.

Former Black sticks midfielder Darren Smith will continue to coach the men's side with Bryce Collins as his deputy.

Defender Shea McAleese is the most experienced player in the 25 member squad announced by the Black Sticks.

New Zealand men's squad:

George Enersen
Richard Joyce
Devon Manchester
Shea McAleese
Dane Lett
Blair Tarrant
Cory Bennett
Brad Read
David Brydon
Kane Russell
Arun Panchia
Nic Woods
Aidan Sarikaya
Marcus Child
Harry Miskimmin
Hayden Phillips
Mac Wilcox
Hugo Inglis
George Muir
Dominic Newman
Sam Lane
Stephen Jenness
Jared Panchia
Dylan Thomas
Nick Ross

#FIHProLeague

FIH site


---

Black Sticks women reveal their squad for FIH Pro League




World number six and Commonwealth games gold medallist New Zealand have announced their women's squad for 2019. This year will witness first of its kind home and away international league FIH Pro League that starts on January 19. The six-month long event will witness the Black Sticks taking on some of the best teams in Hockey.

Former Australia International Mark Hager will continue to coach the Black Sticks women with Sean Dancer continuing as his deputy.

The squad is a mix of youth and experience as three uncapped players have been added to the squad while Stacey Michelsen is the most capped player for the Black Sticks.

New Zealand women's squad:

Leah Butt
Sam Charlton
Tarryn Davey
Frances Davies
Steph Dickins
Madison Doar
Shiloh Gloyn
Ella Gunson
Megan Hull
Kate Ivory
Alia Jaques
Tessa Jopp
Rose Keddell
Olivia Merry
Stacey Michelsen
Brooke Neal
Grace O'Hanlon
Kirsten Pearce
Brooke Roberts
Deanna Ritchie
Sally Rutherford
Olivia Shannon
Kelsey Smith
Liz Thompson
Lulu Tuilotolava

#FIHProLeague

FIH site


---

Sindh, Punjab Colours and Army score wins




LAHORE: Thursday saw better contested games during the 30th Pakistan National Women's Hockey Championships here at the National Hockey Stadium Lahore.

Punjab Colours didn't have an easy sailing against their junior string Punjab Whites. The Whites put up a good fight against the strongest regional side of this event and only went down 0-2.

Sindh Colours also had to struggle to get past Balochistan 1-0.

In a vital clash of Pool B, Pakistan Army faced Higher Education Commission. The HEC, who had upset Pakistan Railways, put up a good show against their experienced opponents but Army were the deserving 2-0 winners.

In the last match of the day, Sindh Whites riding on Alisha's brilliant first half hat trick had an easy 4-0 win over Islamabad.

Results:

Punjab Colours beat Punjab Whites 2-0
Sindh Colours beat Balochistan 1-0
Army beat HEC 2-0
Sindh Whites beat Islamabad 4-0

The Daily Times


---

Army, Sindh teams, Punjab Colours score wins

LAHORE - Pakistan Army continued its winning spree in the National Women Hockey Championship with 2-0 win over spirited Higher Education Commission of Pakistan (HECP) here at National Hockey Stadium on Thursday.

Quality hockey matches were witnessed as all the four teams registered deserving victories compared to previous day's results, when dozens of goals were scored by departmental teams against their respective provincial teams. It was a lucky day for Sindh teams as Sindh White routed Islamabad 4-0 and Sindh Colours edged Balochistan 1-0. The Punjab Colours beat sister team Whites 2-0.

Army went closer to top their respective pool by edging past HECP in a match, which produced a fine brand of hockey. Army girls, coached by former Pakistan captain and Olympian M Usman, kept students under pressure with lively moves and smart distribution of passes. Mahajabeen and Fakhra scored one goal apiece from the winning side.

Sindh White rode on a hat-trick from Alisha, scored a firm over Islamabad. Mishal was the other goal getter. Sindh Colours were stretched to full length before striking a narrow 1-0 margin win over Balochistan. Punjab Colours survived some anxious moments before beating sister team Punjab Whites by 2-0.

The Nation


---

Nepalese women win exhibition hockey match

LAHORE - The visiting Nepalese women hockey team beat Punjab junior team 1-0 in an exhibition match here on Thursday at the National Hockey Stadium. The match was organised by Pakistan Hockey Federation (PHF) Women Wing to pay tribute to the late Parveen Atif, the first president of PHF Women Wing.

Madhu scored the match-winning goal from the visitors.

Parveen Atif, who died recently, was among the pioneers of women hockey in Pakistan. As the first president of PHF's Women Wing, she organised many domestic events.

Foreign women national teams -- Ireland, Malaysia and China -- toured Pakistan for the first time during her tenure.

She also worked hard for grooming female umpires and technical officials.

She also held an office in the Asian Hockey Federation.

She was wife of late Brig (R) MH Atif.

The Nation


---

FIH announces a first-of-its-kind partnership with India's biggest sports game Dream11




Lausanne, Switzerland: The International Hockey Federation (FIH) has signed a four-year partnership agreement with Dream11, India's biggest sports game. Over the 2019-2022 cycle, Dream11 will develop and operate the official fantasy games relating to all FIH events that include:

    FIH Pro League (2019-22)
    FIH Series Finals (2019 and 2021)
    Olympic Qualifiers Men & Women (2019)
    Junior World Cups Men & Women (2021)
    World Cups Men & Women (2022)

This global partnership kick-started at the Odisha Hockey Men's World Cup Bhubaneswar 2018. This is the first time in its history that FIH has associated with a fantasy game platform for hockey matches. Hockey fans will get the unique opportunity to select their fantasy hockey teams, for all FIH global matches.

Announcing the partnership, FIH CEO, Thierry Weil said: "I'm very pleased that Dream11 is a Global Partner of FIH for the men's World Cup and will deliver the official fantasy game for the next 4 years. This deal will help engage more people with hockey, in particular the current 45 million gamers on the Dream11 platform."

Commenting on the partnership, Harsh Jain, CEO and Co-Founder, Dream11 said: "We are happy to be the global Official Fantasy Game of FIH. The FIH Dream11 partnership marks the launch of a new sport on Dream11 and also the beginning of fantasy field hockey on a global scale. The partnership will encourage hockey fans to further popularise hockey and encourage fans to deeply engage with the sport thereby increasing participation and viewership. This is a great opportunity to increase hockey consumption driven by Dream11 users."

FIH site