All the news for Wednesday 31 October 2018

2018 4 Nations Mens Tournament Valencia (M) - Day 2
Valencia (ESP)

Results 30 October

ENG v NED (RR)     1 - 2
ESP v IRL (RR)     1 - 0

Wednesday 31 October is a rest day

Pool Standings
| Rank | Team | Played | Wins | Draws | Losses | Goals For | Goals Against | Goal Difference | Points |
| --- | --- | --- | --- | --- | --- | --- | --- | --- | --- |
| 1 | Spain | 2 | 2 | 0 | 0 | 3 | 1 | 2 | 6 |
| 2 | Netherlands | 2 | 1 | 0 | 1 | 3 | 3 | 0 | 3 |
| 3 | Ireland | 2 | 1 | 0 | 1 | 2 | 2 | 0 | 3 |
| 4 | England | 2 | 0 | 0 | 2 | 2 | 4 | -2 | 0 |
---

Late Hertzberger goal sees Netherlands beat England




A goal from Jeroen Hertzberger six minutes from time fired the Netherlands to a 2-1 victory over England at the Four Nations in Valencia.

Thierry Brinkman had given the Dutch the lead in the first half before Barry Middleton equalised in the final quarter. However that wasn't to be the end of the scoring as Hertzberger scored a late winner.

Speaking after the game, head coach Danny Kerry said: "We are absolutely delighted with our performance. It was a tight and even game and we carried plenty of threat and created opportunities. Equally, we were strong in defence.

"Unfortunately a late yellow card was the difference in the scoreline. I was very proud of the standard of our performance today."

In the opening quarter it was the Dutch who took the lead as Brinkman scored a field goal after 13 minutes. There were no further goals in the second quarter as the Netherlands took their lead into the half-time break.

A tightly contested third quarter saw two cards awarded but no goals as the Dutch entered the final fifteen minutes still in the lead. However with 12 minutes remaining the scores were levelled as Middleton equalised for England.

With six minutes remaining though the Dutch restored their lead as Hertzberger fired home to claim victory for the Netherlands.

England XI: George Pinner, David Ames, Henry Weir, Harry Martin, Chris Griffiths, Ian Sloan, Mark Gleghorne, Phil Roper, Barry Middleton, Brendan Creed, David Goodfield

Subs (Used): Harry Gibson, Luke Taylor, Adam Dixon, David Condon, Jack Waller, James Gall, Zach Wallace

England Hockey Board Media release


---

Spain Beat Green Machine 1-0 In Tight Encounter

There were few real opportunities for either side in the opening half as torrential rain made conditions difficult. Ricardo Sanchez arguably had the pick of the bunch as he shot straight at goal, but David Harte calmly palmed the effort away. Michael Robson linked up nicely with Mitch Darling to set Eugene Magee up for Ireland's first attempt on goal. Darling was again on hand to create a chance with Matthew Bell down the right-hand side but neither side could convert their chances in the opening 30 minutes.

The second half played out much the same as the first with chances at a minimum for both teams. Spain won 2 penalty corners in quick succession but couldn't convert either attempt. The Green Machine responded with their first penalty corner but the effort was charged down. The hosts eventually broke the deadlock in the 48th minute from a penalty stroke converted by Xavi Lleonart after Conor Harte stopped a shot on the line with his body. Ireland continued to chase the equaliser and won a penalty corner with 90 seconds on the clock but sent the shot just wide and Spain ran out narrow victors.

4 Nations Tournament Valencia

Ireland 0
Spain 1 (Lleonart)

Starting: D Harte (Captain), J Bell, M Bell, L Madeley, C Cargo, M Nelson, E Magee, K Shimmins, M Darling, C Harte, J Duncan

Subs: A Sothern, S Murray, M Robson, D Fitzgerald, D Walsh, P Gleghorne, L Cole

4 Nations Tournament Valencia:

29/10 16:30 Ireland 2 - 1 England
29/10 18:30 Spain 2 - 1 Netherlands
30/10 16:30 Netherlands 2 - 1 England
30/10 18:30 Spain 1 - 0 Ireland
01/11 16:30 Ireland - Netherlands
01/11 18:30 Spain - England
03/11 10:00 1st vs 4th
03/11 12:30 2nd vs 3rd
04/11 10:00 3rd vs 4th
04/11 12:30 Final

Irish Hockey Association media release


---

Lleonart stroke earns Spain win over Ireland



Xavi Lleonart scores the all-important stroke. Pic: RFEH

Spain continued their good recent run of results against Ireland with Xavi Lleonart's penalty stroke 12 minutes from the end earning the Four Nations hosts a second win of the campaign.

In a game marked by the incessant rain at the Polideportivo Virgen del Carmen-Beteró, Spain shaded the first quarter in tricky conditions but only Ricardo Sánchez's light shot was offered, David Harte palming it away with ease.

The second quarter offered much of the same, a tight battle on a slow surface in Valencia that stymied some promising attacks.

The first corners came after half-time with Spain having two to Ireland's one with each run down to keep the scoreboard blank.

A breakthrough of note finally came in the closing quarter from a great move by Quique González de Castejón, picking out Álvaro Iglesias. His shot was worn by Conor Harte en route to goal and led to a stroke which Lleonart converted.

Ireland bossed the last 12 minutes but, as so often a superb Quico Cortés, prevented an equaliser from happening, including from a corner in the last 90 seconds. It meant Spain had a fourth successive win over Ireland since the Green Machine's success at the 2017 Hamburg Masters.

Round three of the group stage of this competition takes place on Thursday with Ireland meeting the Netherlands who were 2-1 winners over England. The Spaniards are top on six points with Ireland and the Dutch level on three points with England bottom.

Men's Four Nations tournament
Ireland 0
Spain 1 (X Lleonart)

Ireland: D Harte, J Bell, M Bell, L Madeley, C Cargo, M Nelson, E Magee, K Shimmins, M Darling, C Harte, J Duncan
Subs: A Sothern, S Murray, M Robson, D Fitzgerald, D Walsh, P Gleghorne, L Cole

The Hook


---

Ireland lose to Spain as England beaten by Netherlands in Valencia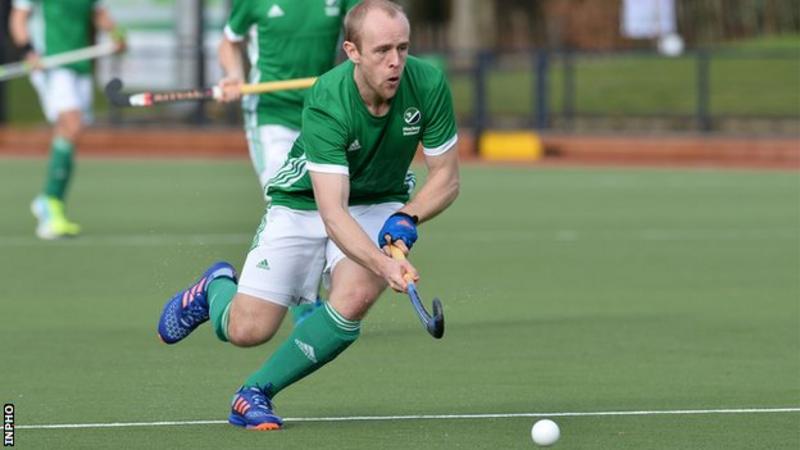 Eugene Magee went close for Ireland in Tuesday's game against Spain

Ireland and England both suffered defeat in their second Four Nations matches in Valencia.

Ireland lost 1-0 to hosts Spain while England were beaten 2-1 by the Netherlands.

The Irish started the tournament with a 2-1 win over England on Monday but failed to find the net against Spain.

Eugene Magee went close with an early chance for Ireland while Spain won it with a penalty stroke from Xavi Lleonart.

Ireland are back in action on Thursday against the Netherlands, when England will face Spain.

A goal from Jeroen Hertzberger six minutes from time handed the Netherlands victory.

Thierry Brinkman had given the Dutch the lead in the first half but Barry Middleton equalised in the final quarter before Hertzberger's late winner.

BBC Sport


---

KL forward Kirandeep fails to find the net in Razak Cup

By Aftar Singh




KUALA LUMPUR: Expectations were high on national forward Kirandeep Kaur (pic) to deliver goals for Kuala Lumpur in her first Razak Cup hockey tournament.

But the 15-year-old, who represented Malaysia in the Asian Games in Jakarta last month, has failed to get her name on the score sheet in four group matches.

Kirandeep made her international debut for Malaysia in the FIH World Series in Singapore in June and she scored a goal in the final to help Malaysia outplay Thailand 6-0 to win the tournament.

The Form Three student of SMK Bukit Bandaraya in Bangsar, said she was disappointed after firing blanks in four group matches.

"I had a few chances to score but I failed to get it right. I have to be sharper in the semi-circle," she said.

Kirandeep is aware that she needs to perform well here to be called up for national training in preparation for the FIH World Series in Ireland next June to qualify for the 2020 Tokyo Olympics.

KL, who finished fifth in the tournament last year, emerged runners-up in Group A with seven points from two wins, one draw and one defeat in the Razak Cup.

The team, powered by three national players, lost to Selangor 1-0 before they bounced back to outplay Singapore 5-1.

In the third match, KL drew 1-1 with Police before beating Melaka 3-0 at the National Hockey Stadium in Bukit Jalil yesterday.

KL face Group A winners Armed Forces in the semi-finals on Friday while Selangor will take on Penang in the other semi-final match.

Kirandeep said the pressure would be on her to score her first goal in the semi-final match against Armed Forces.

"Armed Forces have some experienced players and they will start as the favourites against us.

"But I believe that we have enough strength to beat them to reach the final," said Kirandeep.

The Star of Malaysia


---

From gold at Youth Olympics to Cuba's success at CAC Games, these are bright times for PAHF hockey

Sarah Juggins



Bright times for PAHF hockey   

It has been a frenetic year so far for hockey teams across the PAHF region. The Hockey Series Open events; the South American Games; the Central American and Caribbean Games; the Vitality Hockey Women's World Cup; the Youth Olympics – and it is not over yet!

In just a few weeks Argentina women will be seeking their eighth win at what is likely to be the final Hockey Champions Trophy, while Argentina men and Canada men will be competing against the best nations in the world at the Odisha Men's World Cup, Bhubaneswar.

But as we take a brief pause for breath between the excitement and drama of the Youth Olympics and the two year-end grand finales, it is a fitting moment to reflect on how the PAHF nations are faring on both the continental and world stage.

It is also time to take a look at 'where now' for our teams.

At the South American Games there was little surprise that our own 'powerhouse nation' Argentina won both the men's and women's events with ease. Currently ranked two and four in the world respectively, Argentina has never been beaten in these championships – the one year they didn't take away a gold medal, 2016, they didn't enter the event as it clashed with Olympic preparations.

Of course, the men's team still has a job to do at the 2018 Odisha Hockey Men's World Cup in Bhubaneswar, but since 2014, Los Leones have been on a progressive and, at times, meteoric rise up the rankings of world hockey. Since 2017 there has been some rumblings in the ranks as team management changed shape but, for now, with former international German Orozco in the head coaching role and Matias Vila as manager, there is stability in the team.

So accepted was Orozco's appointment, that two players, Gonzalo Peillat and Agustin Mazzilli, withdrew their resignations from the national squad and will be available for Los Leones in India at the World Cup. As for the head coach, he has promised that Argentina will be the "protagonists" at the World Cup. "Argentina is going to be a team that attacks with more people than it did, clearly without neglecting our defensive side. We will seek to be protagonists in all our matches."

The women, by contrast, have enjoyed stability in their coaching ranks but have seen the team slide down the world rankings to fourth. Las Leonas are a squad in transition, with a seventh-place finish at both the 2016 Olympics and the 2018 World Cup, far below their usual standards. Head coach Agustin Corradini has put together an exciting squad - Lucina von der Heyde's award as Best Young Player at the World Cup emphasizes the young talent in the squad - but the squad needs a little more time to gel. As England women's former head coach Danny Kerry said as The Netherlands swept to victory in the World Cup: "The team I think can break the Netherlands' stronghold on the game is Argentina. They have the talent in their squad to do that."

How dearly the team would love to make that prophecy come true in China at the Hockey Champions Trophy!

The other PAHF team in London for the Vitality Hockey Women's World Cup was USA. They fared worse than Argentina, eliminated from the competition after just three matches. Bottom of the pool, including an opening day 3-1 loss to Ireland, was enough to send USA plummeting down the World Rankings to 12th place, out of the top 10 for the first time in four years. With the resignation of stalwarts Jackie Briggs and Melissa Gonzalez, Team USA has some building to do. In teenage sensation Erin Matson, however, they definitely have a star of the game.

Looking northwards, Canada men will be travelling to Bhubaneswar to join Argentina in their World Cup adventures. The Canadian men's team has a tough opening fixture against Belgium, the side that currently sits third in the FIH Hero World Rankings. They also have host nation India (WR:5) in their group; the more experienced members of the squad will also be all too aware of the vociferous nature of a hockey match against the host nation in India and that is something that no amount of training can prepare you for.

The Hockey Series has taken the hockey world by storm this year. It is a two-stage competitive format that offers teams not in the new FIH Pro League a chance to progress towards Olympic qualification and also gain valuable international experience.

All hockey-playing nations are eligible to enter the Hockey Series Open, with one or two of the top placed teams (depending upon number of entries for that event) qualifying through to three Hockey Series Final events. Each of the three Hockey Series Finals will comprise eight teams, with the nine top ranked teams outside the Pro League, taking part alongside those teams qualified from the Hockey Series Open events. The top two nations at each Hockey Series Final will then progress to Olympic Qualification events.

This year, Salamanca in Mexico hosted the very first Hockey Series event, with five men's teams and five women's teams all vying for the top two places and a ticket through to the next round. Victors in the women's tournament were Canada, who sailed through the event unbeaten and with a very healthy goal difference of 70.

Canada will be joined in the Hockey Series Finals by Mexico, whose only loss was an 8-1 thrashing at the hands of the champions.

Mexico men will be joining the women's team in the next round after they finished runners-up to the USA. Nothing could split the two sides as they played out a 5-5 draw but the USA had a superior goal difference from their other pool matches. The results mean USA men will also be at the Hockey Series Final, which will offer Rutger Wise and his men a great chance to improve their world rankings.

There was a neat symmetry to the Hockey Series, starting and ending in PAHF nations – just as it has launched with a bang in Salamanca, so it ended with an exciting event in Santiago.

Chile men and women dominated the two competitions. The women's team sailed through unbeaten to claim the top spot, while the men dropped just two points, when they drew with Uruguay.

Uruguay women and Brazil men took second place in the competition, a sure sign in both cases of how international exposure at a high level helps shunt development on exponentially. Uruguay experienced top level competition in the 2015 Hockey World League Semi-Finals, while Brazil competed with the world's best at the Rio Olympic Games in 2016.

The teams who have qualified for next year's Hockey Series Finals will be competing at the following venues and against the following teams:

- Kuala Lumpur, Malaysia 26 April - 4 May: Canada and Brazil men's teams will be competing against Austria, China, Italy, Malaysia, Vanuatu and Wales.

- India 6-16 June: Mexico and USA men will be facing India, Japan, Poland, Russia, South Africa and one team yet to be decided.

- Le Touquet, France 15-23 June: Chile men will be up against France, Ireland, Korea, Scotland, Singapore and one more team.

- Japan 15-23 June: Chile, Mexico and Uruguay women will compete against Fiji, India, Japan, Poland and Russia.

- Valencia, Spain 19-17 June: Canada women will face Belarus, Italy, South Africa, Spain, Thailand, Wales and one team yet to be confirmed.

Looking back at the first season of the Hockey Series Open, many of the score lines reflected the wide gulf between some of the more established sides and the up-and-coming nations. Between them Mexico and Canada hammered 58 goals past the Guatemalan women's defence, while Panama men suffered a 22-0 defeat to USA. But the very fact that teams such as Guatemala, Panama, Peru and Bolivia now have national teams playing international fixtures is a sign that hockey development in the PAHF region is working. Very few adequate facilities, a skeleton coaching staff and a lack of hockey heritage are all barriers that are being smashed apart as the dedicated hockey administrators push their sport into the spotlight.

When talking of developing nations, two teams that deserves special mention are the high-flying Cuban men's and women's teams. Entering the 2018 Central American and Caribbean Games at the lower end of the FIH World Rankings, Cuba men lost their opening match to Trinidad and Tobago but then saw off all opposition, including Mexico in the final.

Cuba women did even better. They won all their matches, including a tightly contested 1-0 win over Mexico to take the gold medal.

With Argentina women storming to victory at the 2018 Buenos Aires Youth Olympics, with Canada, Chile, Uruguay and Mexico knocking on the door of the top flight of international hockey, with Trinidad and Tobago holding their own at the Indoor World Cup, with Brazil on an upwards trajectory, and with teams like Cuba, Guyana and Guatemala all creeping up the rankings and gaining invaluable experience of international hockey and, importantly, success on an international stage, it is true to say that hockey in our region is in pretty good shape!

Pan American Hockey Federation media release


---

46th FIH Congress kicks-off in New Delhi




Some 250 delegates from all over the world gather in New Delhi, India, this week, for the 46th Congress of the International Hockey Federation.

The Congress is the supreme body of the FIH and meets every second year. This is where strategic decisions are made for the development and governance of hockey globally.

While the Congress session itself will take place on 3 November at the Lalit Hotel, the week will kick-off on 31 October with the FIH Executive Board meeting as well as a meeting of the Continental Federation CEOs. The FIH Honorary Awards ceremony, rewarding personalities having made an outstanding contribution to the game, will be held on 1 November.

The Congress agenda includes an overview of the status of the game, its evolution and development worldwide. Furthermore, delegates will elect four members to the Executive Board, while the Athletes' committee will be renewed. Other items on the agenda include the ratification of the appointment of the President of the Judicial Commission, an update on the IOC Solidarity Foundation as well as a report on the FIH finances.

FIH President Dr Narinder Dhruv Batra said: "Over the past years we have worked tirelessly to develop and expand hockey worldwide. As we find ourselves almost half way through our ten-year Hockey Revolution strategy, we have a busy week ahead of us and I am looking forward to holding fruitful discussions together and making good decisions as we strive constantly to develop our sport globally and strengthen our governance to make hockey a global game that inspires the next generation."

The full Congress agenda is available here.

FIH site


---

English hockey's Pendle Forest hit 80 matches unbeaten




Northern England record breakers Pendle Forest don't venture into their pre-match huddle and go "right, let's make it 81 victories."

This isn't the Lancashire team's mindset. No, according to one-time England and GB international Charlotte Hartley, their ethos is to play for the club and each other.

It would be easy to become complacent after such a remarkable streak and take their foot off the gas for that one match which could end this run.

But Hartley says: "We know how hard the league structure is. It's not about the wins, it's about the opposition and playing to our strengths."

After back-to-back titles over the last two years, Pendle Forest HC are breaking yet more boundaries in their third season unbeaten.

They sit atop the North Hockey Women's League Premier Division and experienced their 80th match unbeaten at the weekend. Some recent matches have seen Pendle go behind, but this only fuels the fire.

"It's going great but we've had to step it up. We're now playing a faster game and physically it's more challenging," said Hartley, a coach and athletes' mentor who also represented England at the 2006 Commonwealth Games.

When The Hockey Paper first profiled the Burnley club, which celebrated 50 years in May, it was clear that family ties and togetherness bonded the club.




Several months on and it is these aspects which continue to contribute to their success.

"We're not focusing on the 80. We've got a great, family club.

"A lot of people are relatives. We've got great youngsters mixed with great experience."

Experience lies with ex-England, Premier Division and county players.

The young tyros include 17-year-old Freya Blythell, whose form was rewarded with a call-up to the England Hockey under-18 development squad.

As they only train once per week at the local community college – they also train rigorously as individuals – there is rarely a missed session.

"Everyone wants to be there. There is a great social side and we just train hard," added Hartley.

With the domestic restructure seeing four teams progress from Pendle's division this season, another move up the northern hockey period is looking likely.

But one aspect on their agenda is far from their minds: 100 matches unbeaten. For Pendle, it's all about the next game and playing for the club.

Stage and sport mix

Pendle's success continues to see them recognised in the local community. Actors from Lancashire's The Garrick Theatre Club have been trained by Pendle Forest for their production of Daisy Pulls It Off, a comedy starring a girls' hockey team.

The Hockey Paper


---

From Russia to Redruth, Cornish man makes hockey push back

By Richard Bright




A hockey-mad Cornish player travelled 2,000 miles from Russia's Far East to turn out for Duchy HC at the weekend.

In what was surely the most committed story of the weekend, Stuart Richardson, a mining engineer, arrived in Moscow at 4am on Saturday and London four hours later. He was then back at home at 2pm for a quick of tea before a 4:30pm push back at Redruth

"I'm club secretary and 2nd XI captain, and have been heavily involved in the club since it's inception," he told The Hockey Paper.

"And while I couldn't make my own game, I could get back to Cornwall in time for the 3s match, which happened to be a late evening game.

"Basically, there was an opportunity to play hockey – just about – so I went for it!"

Despite the travelling, Richardson couldn't end the weekend on a winning note as Duchy went down 4-2 to Okehampton 2s.

Yet Richardson forms part of a club which continues to make inroads in its 10th season of existence.

"At the time, there was no club in the Camnorne/Pool/Redruth area and a number of players, who were disillusioned at their existing club, decided to try and put something together.

"We've now got three mens' teams, two women's teams, youth and masters' set up.

"I've not played every match – I'm fourth on the overall list in fact at 190 matches. Leading the way is our club chairman, and one of my fellow co-founders Max Chippett, who has played over 220."

Duchy are currently enduring a mixed start to the season.

The Men's 1s are having a tough season in Conference South, the Mens 2s are top of South West 1, the Womens 1s are second in Trelawney 2 while the womens 2s are newly formed and playing friendlies.

The Hockey Paper


---

Hockey and literature cross new boundaries




One of the aims of the FIH is to inspire the next generation to play, watch and love our sport. Junior camps, modified games, inspiring talks from hockey heroes – all ways that the hockey community seeks to engage with a new, young audience.

But one writer has taken a different route to inspiring young players – she has created fictional hockey heroes in a series of fantastic children's books – Die Hockey Kids.

Sabine Hahn is a writer and illustrator who was inspired to write about hockey when she was unable to find any books about the sport for her young son to read. "I loved to fill my children's book shelf with plenty of books until the day I tried to find a book about my son's favourite hobby: hockey. It didn't exist.

"There was a lot about football but nothing about hockey. There were some skills-based books but nothing that was fun or a hockey adventure."

That was four years ago and since then, the hockey exploits of youngsters Lena, Lars and Max have been read by thousands of primary school children across Europe. Hahn herself has been on reading tours in classrooms and hockey clubs across Germany and, in the past 12 months, she has seen her books translated into Dutch, French and English. 

The Hockey Kids also made an appearance at the Indoor Hockey World Cup in Berlin, where Hahn ran a stall and kids' writing and illustration workshop. The children attending were also able to meet the hockey stars who were playing in the World Cup.

The story starts when the three Hockey Kids, Lena, Max and Lena's little brother Lars, join the newly formed Hockey Project at school. Giving nothing away about the plot, this is a story that is authentic, highly entertaining and contains heaps of messages that reflect and enhance the ethos surrounding our sport. Equality, team-work, overcoming disappointment, the importance of practice and training are all covered in a fun way – and it is backed up with top hockey training tips from Hahn's hockey advisor – FIH elite coach Chris Faust – too.

Hahn has now written a second book about the exploits of Lena, Max and Lars and, while there is no substitute for playing the game, this great series is the perfect literary showcase for hockey.

FIH site