All the news for Monday 29 October 2018

Men's Hero Asian Champions Trophy 2018 - Finals
Muscat (OMA)




Results 28 October

MAS v JPN (3rd/4th Place)     2 - 2 (3 - 2 SO)
PAK v IND (Final) - Match abandoned due to heavy rain

Final placings

1=. India
1=. Pakistan
3. Malaysia
4. Japan
5. Korea
6. Oman

FIH Match Centre


---

India and Pakistan joint winners after thunderstorm hits Muscat




MUSCAT: India and Pakistan were declared joint winners of the Hero Asian Champions Trophy on Sunday after a thunderstorm and heavy showers forced the final to be abandoned.

The storm arrived just ahead of the title encounter. After waiting for the storm to subside for more than an hour, it became apparent that it would not be possible to start the match on Sunday. After a meeting between the officials of the two teams and the Technical Delegate, Brian Fernandez of Malaysia, it was decided that the two be adjudged joint winners.

In four previous editions, both holders India and Pakistan had won the title two times each.

India won the toss of coin supervised by His Highness Sayyid Taimur Asaad Tariq Al Said. Indian captain Manpreet Singh won toss and earned the right to take home the trophy of the biennial tournament for the first year. It will be given to Pakistan for the next year.

The tournament gold medals were presented to the Pakistan players. Asian Hockey Federation's Chief Executive, Dato Tayyab Ikram said gold medals will soon be sent for the Indian players.

The following players were awarded individual recognition:

Hero Player of the Tournament: Akashdeep Singh (India)
Best Goalkeeper of the Tournament: P.R. Sreejesh (India)
Highest Scorer of the Tournament: Faisal Saari (Malayia).
Emerging Player of the Tournament: Abu Bakkar Mahmood (Pakistan)

Earlier, Malaysia claimed the bronze medal by prevailing 3-2 in the penalty shootout against Japan after the two teams were tied 2-2 in regulation period.

In a dramatic shootout, Japan faltered on their first two attempts while Malaysia scored on both. Then came Malaysia's turn to miss and they muffed the next two attempts, while Japan scored both of these to be 2-2 level after four shootout attempts.

Tengku Tajuddin clinched the issue for Malaysia with the fifth shootout after Wataru Matsumoto's shot for Japan rebounded off the post. Aiman Nik Rozemi and Norsyafiq Sumantri had earlier scored for Malaysia, while Mahran Jalil and Syed Cholan failed to do so.

For Japan, Hiromasa Ochiai and Hirotaka Wakuri found the target in the shootout, but Koji Yamasaki and Seren Tanaka faltered. In regulation period, Japan took the initial lead through a field goal from Kenji Kitazato in the 18th minute, only to see Saari equalise with a penalty corner two minutes later.

Saari's was again on target in the 46th minute with a field goal for Malaysia, but even their lead was short-lived. This time Wakuri scored in open play to equalise for Japan within two minutes and the contest went to the shootout.

Asian Hockey Federation media release


---

Malaysia claim bronze with shootout win against Japan

MUSCAT: Malaysia claimed the bronze medal by prevailing 3-2 in the penalty shootout against Japan after the two teams were tied 2-2 in regulation period at the Sultan Qaboos Sports Complex here on Sunday.

In a dramatic shootout, Japan faltered on their first two attempts while Malaysia scored on both. Then came Malaysia's turn to miss and they muffed the next two attempts, while Japan scored both of these to be 2-2 level after four shootout attempts.

Tengku Tajuddin clinched the issue for Malaysia with the fifth shootout after Wataru Matsumoto's shot for Japan rebounded off the post Aiman Nik Rozemi and Norsyafiq Sumantri had earlier scored for Malaysia, while Mahran Jalil and Syed Cholan failed to do so.

For Japan, Hiromasa Ochiai and Hirotaka Wakuri found the target in the shootout, but Koji Yamasaki and Seren Tanaka faltered.

In regulation period, Japan took the initial lead through a field goal from Kenji Kitazato in the 18th minute, only to see Faizal Saari equalise with a penalty corner two minutes later.

Saari's was again on target in the 46th minute with a field goal for Malaysia, but even their lead was short-lived. This time Wakuri scored in open play to equalise for Japan within two minutes and the contest went to the shootout.

Malaysia's coach, Roelant Oltmans said the bronze medal contest was a close encounter like most games in the tournament. "We lost the last game on a shootout, but won this one. Glad to have won our last match, but I would have liked it to be the final," said Oltmans.

Seigfried Aikman, coach of the Japan team, said his team played well but missed too many chances.

"Today was not our day. It was one of the days when everything you do goes wrong," said Aikman.

Asian Hockey Federation media release


---

India and Pakistan share ACT hockey title; Akashdeep named best player




India's Akashdeep Singh was adjudged player of the tournament but the team had to share the Asian Champions Trophy with Pakistan after the much-anticipated summit clash was abandoned due to heavy downpour here.

Heavy rain delayed the start of the final on Sunday night and even though the skies relented later, the damage had been done.
The turf was completely waterlogged because of thunderstorm and heavy showers and after discussion with both the coaches of India and Pakistan, the tournament director decided to call off the match and declare both the teams as joint winners.

India won the toss of coin and earned the right to take home the trophy of the biennial tournament for the first year. It will be given to Pakistan the next year.
Since the Indians took home the trophy, the tournament gold medals were presented to the Pakistani players. Asian Hockey Federation Chief Executive Dato Tayyab Ikram said gold medals would soon be sent for the Indian players.

Akashdeep was adjudged Player of the Tournament while PR Sreejesh was declared best goalkeeper. Pakistan's Abu Bakkar Mahmood was named Emerging Player of the Tournament while Malaysia's Faisal Saari the emerged highest scorer.

India remained unbeaten in the tournament having topped the round robin stage with 13 points, courtesy four wins and a draw out of their five games. Pakistan ended the round robin stage on the second spot with 10 points.

India had earlier defeated Pakistan 3-1 in the round robin stage.

Malaysia claimed the bronze medal by prevailing 3-2 in the penalty shootout against Japan after the two teams were tied 2-2 in regulation period.

It was both India and Pakistan's last international outing before the season-ending FIH men's World Cup to be held in Bhubaneswar from November 28 to December 16.

India and Pakistan had won the title twice each before the current edition. India came into the tournament this year as defending champions having won the last edition in 2016 after their title triumph in the inaugural edition in 2011.

Pakistan won the title twice in 2012 and 2013 besides finishing runners-up in 2011 and 2016. India, too, have finished runners-up once in 2012.

The Tribune


---

India-Pakistan share title after final called off due to heavy rain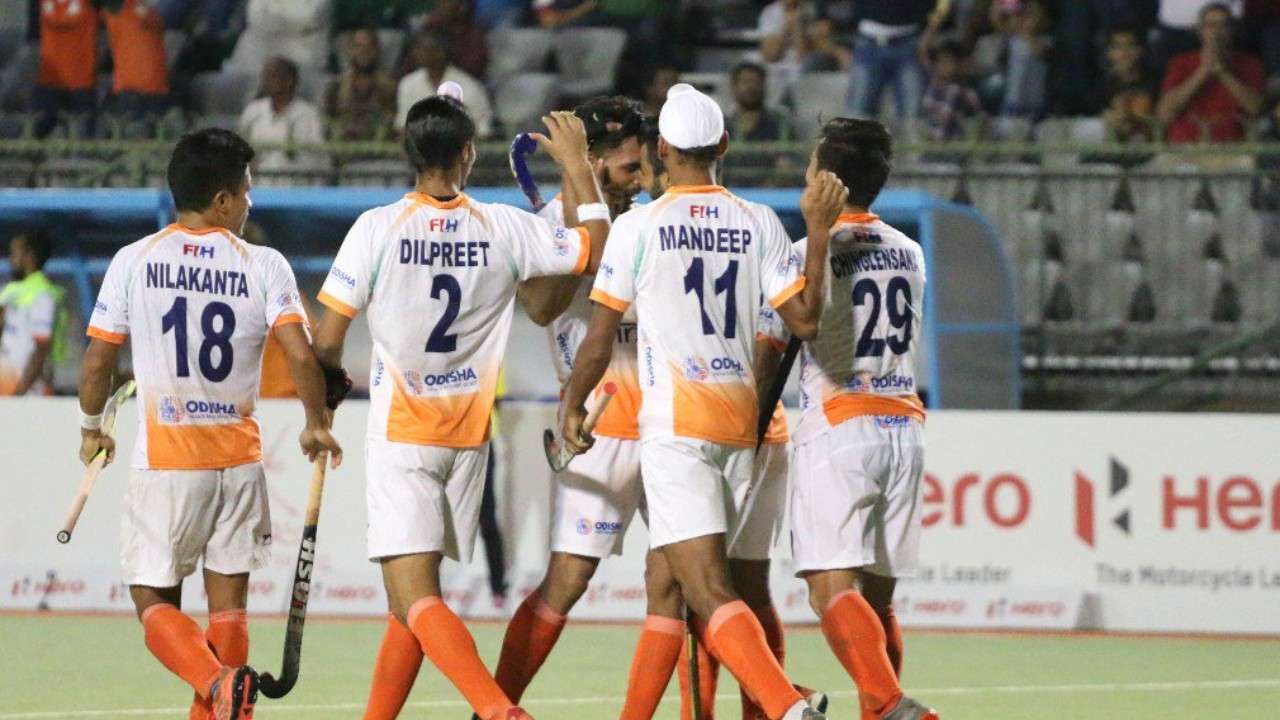 Indian Hockey Team , Twitter

Arch-rivals India and Pakistan were on Sunday declared joint winners of the fifth Asian Champions Trophy (ACT) hockey tournament after the much-anticipated summit clash was called off due to heavy downpour here.

Heavy rain since evening delayed the start of the final and even though the skies relented later, but by then the damage had already been done.

The turf was completely waterlogged because of the heavy showers and after discussion with both the coaches of India and Pakistan, the tournament director decided to call off the match and declare both the teams as joint winners.

India, thus, remained unbeaten in the tournament having topped the round-robin stages with 13 points, courtesy four wins and a draw out of their five games.

Pakistan ended the round robin stages on the second spot with 10 points.

India had earlier defeated Pakistan 3-1 in the round robin stage.

It was both India and Pakistan's last international outing before the season-ending FIH men's World Cup to be held in Bhubaneswar from November 28 to December 16.

For records, India and Pakistan had won the title twice each before the current edition. India came into the tournament this year as defending champions having won the last edition in 2016 after their title triumph in the inaugural edition in 2011.

Pakistan won the title twice in 2012 and 2013 besides finishing runners-up in 2011 and 2016. India too have finished runners-up once in 2012.

Daily News & Analysis


---

Pakistan, India declared joint winners

MUSCAT - Pakistan and India were declared joint winners of the 2018 Asian Champions Trophy Hockey Tournament after rain washed out the final in Muscat, Oman on Sunday.

After non-stop rain during the final, the managers of the finalist teams met with the tournament director, who informed them about the international laws about the trophy and gold medals. India won the toss and grabbed the trophy and silver medals while Pakistan players were awarded gold medals.

The men in green qualified for the fifth Asia Cup final after beating Malaysia in the penalty shootout. India edged out Japan 3-2 in their semifinal to set up the big clash against Pakistan. This was the second contest of the tournament between Pakistan and India. In their earlier meeting, India beat Pakistan 3-1.

The last time, the sub-continent rivals met in the final of the tournament, was in 2016 when India defeated Pakistan 3-2 to lift the title for the second time. Both Pakistan and India have won the trophy twice with Pakistan winning the title in 2012 and 2013 while India was named champions in 2011 and 2016.

The green shirts won three of its five matches, losing one and drawing two. They defeated South Korea 3-1 in the opening match of the tournament while they lost to arch-rivals India 3-1. This was followed by an 8-1 thrashing of hosts Oman, 1-1 draw against Japan and a 1-0 win against Malaysia to book a place in the semi-final.
READ MORE: FM Qureshi, British envoy discuss bilateral ties in diverse sectors

In the third-fourth playoff earlier, Malaysia, under former Pakistan as well as India hockey coach Roelant Oltmans, defeated Japan after a shootout to clinch the bronze medal. It was a sweet revenge for Malaysia as they overcame Japan 3-2 in a penalty shootout, as they were locked in a 2-2 at the final hooter but the Malaysians got the better of Japanese in the penalties to secure third place finish in the tournament.

Billed as a repeat of the Asian Games hockey final held in Jakarta, both teams looking to stamp their supremacy on the game began on a subdued note ending the first quarter with moving the scoreboard. Japan, then opened up the game using their flanks to make inroads into the opposition, it was in the 18th minute when Kenji Kitazato received a pass to score from a field goal and give Japan a 1-0 lead, two minutes later Malaysia was awarded a penalty corner after the ball hit the foot of a Japanese defender, Faisal Saari who has top scored for Malaysia made it 1-1 to go into the half time break.

Japan looking to up the tempo by resorting to aggressive play received two green cards with Kazuki Yoneda being sent off in the 27th minute of the second quarter while Seren Tanaka got one in the first two minutes of the third quarter with both teams still looking to break the deadlock in the first period of the second half.

With the pushback of the fourth quarter Malaysia immediately stormed the Japanese citadel and it was Faisal Saari again who doubled his tally by giving his team a 2-1 lead, but Japan not to be out done broke back through Hirotaka Wakuri to level the score at 2-2 in the 48th minute to take the match into a penalty shootout at the final buzzer.

The Nation


---

Hockey strikes chord, 3000-seater Oman stadium sold out

Shashank Gupta



UTSC stalwarts

As the Hero Asian Champions Trophy 2018, Muscat, enters its last phase, Hashir drives towards the Hockey-stadium but his phone never stops to ring. There are non-stop queries about availability of tickets. Of course, there are booths set up at popular locations but then there are second, third or even fourth level connections of Hashir, who are interested in witnessing the match but live at distant locations and want tickets to be reserved for them.

'If India is playing against Pakistan in the finals, I want to purchase 2 tickets in the VIP-stands,' says the caller.

'That will be 10 Omani-Rials for each ticket,' replies Javis who is attending the call as Hashir drives.

'But it was 5 (Rials) earlier…?'

'Those were Pool-Matches. These are semis and the finals.'

Hashir and Javis who belong to a local club called UTSC (United Thalasserry Sports Club) never mind the manual work involved in ticket-distribution. Along with their other voluntary members they are offering unconditional support, at all possible levels, to the Oman Hockey Federation for successfully holding this tournament. After all, their heart beats for Hockey.

Hockey has little visibility amongst the common public. If reports are to be believed, Star Sports asked a local-channel for 50000 OMR (roughly, 1 Crore Indian Rupees), for giving out the broadcasting-rights for all the matches. The local channel denied it and thus, only select-matches are broadcasted by Star Sports for the locals.

There is no Hotstar here either.

So, as the tournament approaches its closure, the demands for the ticket is on the rise. This is the first time, an Asia-level Hockey tournament is happening in Oman. As you go around the stadium, people look at you and smile, for no plausible reason.

If you dig deeper, people (of diverse nationalities) tell you that the Omanese-lot are welcoming people and treat everyone with great respect.




If they know that you have come from India, they start speaking to you in Hindi. Ask them how they learnt Hindi, they will proudly tell you, 'In our neighborhood, there are both Indians and Pakistanis. We know a lot about Indian culture.'

A local-youngster, Imaad, a digital-marketing entrepreneur, is managing social-media campaigning for Oman Hockey Association. He narrates an interesting example:

"The other day, a bunch of children were being loud and noisy. Seated not far from them were a few VIPs. A volunteer, an Omanese gently walked up to the parent and requested them to take care of the children. As expected, it didn't work. So, a few minutes later, he got the children flags of Oman. The children were a happy lot fluttering the flags around. Both parties were happy!"




A bunch of Koreans come to the stadium every time Korea plays a match. You talk to them and they are so enthused that someone walked up to them to talk that when you walk away, they hand over a bottle of water to you, as a good-will gesture.

Occasionally you can find a lone-Spaniard watching the game with keen observation. He remarks, 'Oh! I love Hockey. I left Spain a few years back, but I love Hockey. This is the first time a high-level tournament is happening here, so I come to watch India's matches. I am hoping to see some good contest between the three: India, Pakistan and Malaysia."

Then there are former Omanese players who dedicatedly watch each match. Malaysian-fans' presence is also visible in the stadium.

Last but not the least, there are noisy Indian and Pakistani fans who bring life to the stadium whenever they show up at the venue, Sultan Qaboos Sports Complex, Muscat.




If you go to the public-stands, you can find Mutasim, an Omanese with this mother hailing from 'Bombay' (as he says), proudly volunteering to be 'ticket-checker'. On the day of India v Pakistan league match, Mutasim had to took a decision, i.e. 1 stand for Pakistan, and rest three for the Indians. 'I told them (Indians and Pakistani supporters): Jump, dance, sing, beat drums, shout but don't come anywhere near the bottom-most stair of the stand. The whole stand will collapse if people jump here. They are free to enjoy at every other place,' Mutasim points out with joy, expression and enthusiasm. He then points out to a bunch of laborers who attempt a freebie entry to the stands everyday, "Every day I tell these people, the ticket is hardly 1 or 2 Rials. You purchase and enter. Without the ticket, I can't let you enter!"

What one is trying for free today, may not be even available at a price tomorrow. The reason being, apparently, a Finals between India v Pakistan match is what everyone is waiting for. In anticipation of that tickets are running out fast for the Finals.




Big-names of Hockey have already started to landed up in Oman. Pakistan Hockey Federation President, Secretary (Shahbaz Ahmed Sr.), some former star players from Pakistan, former Coach to Pakistan team Akhtar Rasool Chaudhary, Ambassador of Korea, Japan, India, Pakistan, Malaysia, they all have started to come to cheer for their teams.

In anticipation of a full-attendance Finals, and may be, people returning empty-handed from the stadium, the security is beefed-up around the entry points of the stadium and local-volunteers are seen to be receiving terse instructions from their team-leaders about restrictions of movement of people in the marked-zones.

It's the first-time Oman is witnessing so much public around the Hockey-pitch. Amongst everyone, the luck-lot are the ball-boys, brought in by Hashir, Javis and the UTSC-members. After each match, they take autographs and pictures with Indian and Pakistani players. This has become a routine ritual for them. Each day they do the same with renewed enthusiasm. As Javis rightly remarks, 'If we are in India there will be no access to Indian players. The children are a privileged lot.'




At a press conference, the President of Oman Hockey Federation, ruled out bidding for next version of Asian Champions Trophy but issued a caveat with certainty that Oman is committed to further its presence in Asian Hockey, when it comes to hosting tournaments in the future.

As a result of efforts of UTSC and OHF, it is revealed that the 3000-capacity stadium is sold-out for the Finals:

India v Pakistan game today.

So, it's only a matter of time, Hockey-pitch will be frequently by more and more fans of Hockey and as they here in Arabic: Inshallah (God wishes), Hashir's phone will be busier than ever!

Stick2Hockey.com


---

PHF chief arranges funds again for hockey team

ISLAMABAD - Like witnessed in the Asian Games, once again Pakistan Hockey Federation (PHF) President Brig (R) Khalid Sajjad Khokhar once again arranged $40,000 for the green shirts, which enabled them to participate in the Asian Champions Trophy final in Muscat.

Brig Khokhar said he had arranged funds in his personal capacity again, as they had to arrange accommodation, meal and other things for the players. "Being a president, it is my national and moral responsibility to ensure green shirts being provided the best facilities and they should only focus on playing, rather than thinking about how to get money."  He said the national integrity and Pakistan always come first to him. "In the best interest of hockey and country, I arranged funds for the national team with the help of some friends, despite facing a lot of hazards and difficulties. I am trying my best to take Pakistan hockey to where it used to be and I will never let down players and nation, it is my promise."

"It is a great honour for Pakistan team to reach the final. But unfortunately, the rain washed out the final and both the teams were declared joint winners.

The Nation


---

2018 4 Nations Mens Tournament Valencia (M)
Valencia (ESP)

Fixtures 29 October (GMT +1)

16:30     ENG v IRL (RR)
18:30     NED v ESP (RR)

FIH Match Centre


---

Walsh has stomach for the Indian battle as Ireland take every precaution



Daragh Walsh at the Irish squad announcment. Picture: INPHO/Morgan Treacy

Daragh Walsh says the Irish men's team have already spent six months trying to get their stomachs ready for the World Cup in India in late November.

Bhubaneswar, the host city in the east of the country, has already become notorious in hockey circles among European sides with stomach bugs abounding.

Famously, Germany had eight players struck down, leading to goalkeeper Marc Appel being used as an outfielder, scoring against the host nation in the Champions Trophy in 2017 in the same city.

For Ireland, they had similar issues at the Sultan Azlan Shah Cup in Malaysia, leaving them with a bare 11 available out of 18 for the back end of the tournament.

"We have been on probiotics for the last six months or so, trying to get ourselves as healthy as possible," Walsh said of the extra challenge ahead of the Irish men's first World Cup appearance since 1990.

"We will take a lot of hygiene measures over there and it is why we are bringing the two reserves because it is very likely someone will get sick!

"I have been to Malaysia and I would imagine it is not too dissimilar in terms of the climate and hockey is a big sport there. Hopefully, that will stand me in good stead.

"I loved the food and definitely ate a lot of it!"

Head coach Alexander Cox was in Bhubaneswar in 2015, too, as Dutch assistant coach and he admitted that the side will be pretty much on lockdown for three and a half weeks.

During that tournament, hockey.nl ran a story on the provisions the Dutch team had to take to maintain their health. It caused a stir locally who were offended by the measures taken.

"The funny thing was the last tournament I was in India, our doctor became ill. One or two players got ill, too," Cox said of the issue as European teams struggle with the new environment.

"It's a massive problem but luckily the FIH, but also Hockey Ireland, are really focused on this and have spoken a lot with the hotels. The hygiene of the food needs to be good. Of course, it's a concern but we hope its ok.

"What I have learned from the past is you just can't do anything there. You need to shower, you need to clean your hands with sanitisers the whole day. You can't eat street food.

"But this team and the staff have a lot of experience so I don't think it will be a big problem but, still, things can happen."

It does mean the squad will have little scope to move around the city to limit the chance of getting sick.

"It is absolutely a challenge. With a tournament in Europe on an off day, you can give players some freedom, do some shopping, have a golf day or whatever. That's not possible there.

"We have to work our way around it because you can't do anything outside the hotel. You can't really go for a cup of coffee in Bhubaneswar. The focus will be hockey, the hotel and the stadium but we need to do fun stuff because otherwise, your mind will go crazy!"

Nonetheless, the 21-year-old Walsh is looking forward to playing on the biggest stage of his career to date in front of some fervent crowds instead of doing his winter assignments.



Hockey Ireland chief executive Jerome Pels and head coach Alexander Cox. Pic: INPHO/Morgan Treacy

"I wasn't involved in the qualification tournament last year and I knew I wasn't a cert so it could have gone either way. It's only my second tournament so I'm buzzing to go.

"College has taken a back seat so far. I will have to defer my exams to next August but it will be worth it!

"This is the first year we have December exams [in Trinity] so they will be postponed. They have been very good to me but I will be sitting them as a repeat and then trying to do as much of my continuous assessment while I am away in India or Spain or wherever it may be."

The side begin their preparations in earnest on Monday in Valencia where they will play five games in seven days, facing Spain, England and the Netherlands in a four nations tournament.

Elsewhere, Walsh found out Three Rock's Euro Hockey League fate last week and he is relishing the challenge of taking on Dragons in the EHL KO16 next Easter following an "infamous" 20-10 result in a crossover game last year.

That game featuring the Irish and Belgian champions produced the craziest scorelines of the two-for-one field goals trial and probably played a part in its short-lived use in the EHL.

In normal terms, it would have ended 12-5 which is still a mad scoreline but World Cup-bound Walsh is keen for his side to come closer this time around, especially as he plays his international team mates Shane O'Donoghue and Kirk Shimmins.

"We were obviously part of that infamous game last year," Walsh said. "It will be good playing two of the Irish lads which will be good. We could have got a more favourable draw but we are all excited, will give it a crack and see what happens.

"They have lost a couple of key players which we know of but there is still have plenty of talent and plenty of internationals. We will certainly still be underdogs but we will give it all we have."

Looking back on the 20-10 game, there was a stage when Three Rock trailed 17-0 but scored five field goals in 11 minutes to give a little bit of respectability to the scoreline.

Nonetheless, with up to 200 Irish fans making the trip to Rotterdam, their late rally did provide some momentum for their domestic season.

"It was looking pretty bad for us! We all just wanted to be out of there at some stage. Our crowd – we weren't giving them much to chant for having made the trip over.



Walsh in action against Saint Germain in the EHL KO16 last spring. Pic: Frank Uijlenbroek/World Sport Pics

"I don't know whether they took the foot off the gas or we stepped it up but we managed to get a few goals which gave us a bit of momentum going into the Irish Senior Cup final the next week so it did give us some confidence.

"I just remember we were out on our feet; we only had 12 or 13 players fit because the lads got a stomach bug. That wasn't a cause of the 10-goal difference but the lads were wrecked so it didn't help."

Having such a support in place, though, did create a special memory for Walsh and he is keen for more of the same at Easter in Eindhoven. Rovers qualified from ROUND1 with a 6-0 win over Racing Club de France and a last-gasp 1-1 with Junior FC, giving them another chance of becoming the first Irish side to reach the KO8.

"That Saint Germain game was one of the best atmospheres I have played in. There were a couple of hundred for both teams; that Harry Morris goal got some of the biggest cheers I have experienced at a hockey game and hopefully they all come out in force again."

The Hook


---

Queensland Blades Win Record-Breaking AHL Title

Ben Somerford




The Queensland Blades have won the last-ever Australian Hockey League (AHL) title after an entertaining 5-3 win over the NSW Waratahs at the Gold Coast Hockey Centre on Sunday night.

Tweed Coast forward Dylan Wotherspoon returned from suspension to score three crucial goals in the win, which earned Queensland a record-breaking 10th men's title.

Queensland went ahead early but the Waratahs rallied twice thanks to Blake and Kieran Govers, with the hosts ahead 4-3 at the final change.

Wotherspoon got the decisive goal in the 47th minute although Queensland had to withstand wave after wave of Waratahs pressure.

NSW had the first chance of the game as Blake Govers' drag flick was well saved by Blades goalkeeper Matthew Finn.

Govers came close again moments later when his shot was brilliantly blocked on the line by Queensland's Adam Imer.

The breakthrough came early in the second, when Wotherspoon calmly slotted Jacob Anderson's pass in the 19th minute.

Wotherspoon stepped up to wrongfoot NSW keeper Ash Thomas to make it 2-0 from the conversion.

NSW replied almost immediately, after Kurt Lovett won a short corner, which Blake Govers fired powerfully into the backboard to make it 2-1.

Queensland responded a minute later, as Daniel Beale started and finished a play with a reverse stick shot having pounced on a loose ball. Beale took his conversion to make it 4-1.

Labrador local Corey Weyer shot wide in the 36th minute, while Finn saved well from Kieran Govers' drag flick.

Moments later Kieran Govers did get his goal, whacking home an emphatic finish at the far post, before capitalising on his conversion opportunity to make it 4-3.

The final term was a seesawing affair, but Wotherspoon gave Queensland the ideal start with a close-range deflection after great lead-up play from Scott Boyde.

Thomas did well to cleverly swat away Wotherspoon's conversion to keep NSW within touching distance in the final 10 minutes.

NSW pulled their goalkeeper with eight minutes to play for an outfield player in a bold move and had their chances with Flynn Ogilvie's low drive forcing a save from Finn.

The Waratahs huffed and puffed with Queensland's Matthew Swann's tackle from a short corner symbolic of the Blades' resilience as they claimed the last-ever AHL title.

Queensland Blades 5 (D. Wotherspoon 19', 19', 47', Beale 22', 22'). NSW Waratahs 3 (B. Govers 21', K. Govers 43', 43')

Hockey Australia media release


---

NSW Arrows Claim Last-Ever AHL Title In Thriller

Alexie Beovich




The NSW Arrows will be recognised as the last ever Australian Hockey League gold medallists after defeating the Queensland Scorchers 7-6 in an epic finish at the Gold Coast Hockey Centre on Sunday afternoon.

Impressive performances from duo Emily Smith and Mariah Williams secured the historic win, which went down to the wire in front of more than 1,100 hockey fans.

Williams, having recently returned from injury, found the ball deep in attack early and was able to hit the backboard with a reverse stick shot.

Queensland goalkeeper Hannah Astbury made her work for the conversion but Williams was able to force it into the goals giving the Arrows an early 2-0 lead.

The Fitzpatrick sisters combined for a field goal in the 12th minute, Madison found Savannah on the run who found the gap and scored. Savannah went back and was able to nail the conversion with a reverse stick shot from a very tricky angle.

Rosie Malone had a chance late in the first after cutting off the Arrows attack in their defensive half, she ran unmanned into the D but her strike was blocked by Jocelyn Bartram.

Arrows co-captain Emily Smith showed off her pace in the 21st minute, dribbling the ball into the D on a breakaway and striking at goal. Her shot was deflected into the goals by teammate Greta Hayes.

Hayes backed down Queensland keeper Astbury in the one-on-one conversion opportunity putting herself in a position to flick the ball into the corner of the net.

Trailing 4-2, it was the Scorchers who struck first in the second half. Queensland's forward half pressure was enough to create a penalty corner opportunity and veteran Jodie Kenny capitalised, scoring her third trademark penalty corner for the tournament.

The maroon celebrations didn't last long, just two minutes later Lisa Farrell was able to score from the field. Farrell was set up after a ball was deflected by keeper Astbury, her shot powered into the net to quieten the crowd.

Farrell's trick-shot almost snuck the conversion past Astbury, but the keeper reacted and killed the ball on the last line of defence.

An incredible passage of play in the 49th minute threatened to put the game out of reach for the Scorchers.

Kate Hanna intercepted a pass from opposition player Ash Fey before hitting Tamsin Bunt with an electric pass. Bunt was able to look inside the D for Lisa Farrell who found Grace Stewart for the field goal.

Stewart took on Astbury for the conversion but she was forced wide and couldn't find the net.

Moments later Abigail Wilson jumped on a wayward Queensland pass deep in the Arrows attack, she was able to run into the D and smash the shot into the backboard. Once again Astbury was able to defend the conversion.

Trailing 7-3 it looked as though the Scorchers fate was already sealed but a 55th minute field deflection goal from Savannah Fitzpatrick sparked some hope for the Queenslanders.

Bartram showed why she's in the national squad, worrying Savannah Fitzpatrick out of the shot long enough for the conversion timer to exhaust.

With just one minute remaining Stephanie Kershaw scored in dramatic fashion, breaking past the defence and nailing home a field goal. With momentum on her Kershaw was able to beat Bartram in the one-on-one to score the conversion.

With the clock ticking down, the Arrows were able to maintain possession and hold onto a famous victory.

Hockey Australia media release


---

Knowles & Claxton Crowned Top Kookaburras & Hockeyroos

Ben Somerford

Legendary skipper Mark Knowles and durable midfielder Jane Claxton have been won the prestigious Kookaburras and Hockeyroos Player of the Year awards at tonight's Hockey Australia gala event on the Gold Coast.

Approximately 400 guests were in attendance at the QT Gold Coast Ballroom for the cocktail event which was held following the conclusion of the 2018 Australian Hockey League (AHL) Finals.

The individual awards winners from the AHL Finals were also announced, along with Australian Hockey's top officials while numerous athletes were recognised for milestones and retirements.

Knowles, who retired following Australia's Commonwealth Games gold medal victory in April, was crowned the Kookaburras' top player for 2017.

The Rockhampton talent led the Kookaburras to Oceania Cup and World League Final titles in 2017, ultimately culminating in the side re-claiming their number one world ranking. The 34-year-old defender was an inspirational leader and defensive rock full of energy and voice.

Knowles won the award ahead of Matthew Dawson (runner-up) and Jake Whetton (third).

Claxton was named the Hockeyroos' top player for 2017 after a consistent year where she was a key part of the Hockeyroos' World League semis campaign and their Oceania Cup success in 2017, scoring in the 2-0 win over New Zealand in the final.

She was a durable performer, playing 26 of the Hockeyroos' 27 matches in 2017 and stepping in as interim captain.

Claxton won the award ahead of Stephanie Kershaw (runner-up) and Renee Taylor (third).

Kathryn Slattery (12 goals) and Jeremy Hayward (21 goals) were also recognised as the respective sides' top scorers for 2017.

The AHL awards were also handed following Sunday's finals, with Victoria's Lily Brazel and Canberra's Elena Tice winning the Women's Player of the Tournament, while Queensland's Jake Whetton claimed the Men's Player of the Tournament.

HA HP Awards
Kookaburras Highest Goal Scorer
Jeremy Hayward
Hockeyroos Highest Goal Scorer
Kathryn Slattery
Hockeyroos Player of the Year
Jane Claxton
Kookaburras Player of the Year
Mark Knowles

AHL Awards
Women's Leading Goal Scorer
Jodie Kenny (Queensland), Rebecca Greiner (Queensland), Emily Hurtz (Victoria) – 9 goals
Men's Leading Goal Scorer
Blake Govers (NSW) – 11 goals
Women's Best Goalkeeper of the Tournament
Rachael Lynch (Victoria)
Men's Best Goalkeeper of the Tournament
Andrew Charter (Canberra)
Women's Player of the Tournament
Elena Tice (Canberra) & Lily Brazel (Victoria)
Men's Player of the Tournament
Jake Whetton (Queensland)
Women's Player of the Final
Kaitlin Nobbs (NSW)
Men's Player of the Final
Corey Weyer (Queensland)

HA Officials Awards
Men's and Women's Emerging Technical Official of the Year
Martin Courtney & Kim Monoghan
Men's and Women's Technical Official of the Year
Joshua Burt & Tammy Standley
Men's and Women's Emerging Umpire of the Year
Ben Hocking & Kristy Robertson
Men's and Women's Umpire of the Year
Ben De Young & Aleisha Neumann
Men's and Women's Emerging Umpire Manager of the Year
Carlos Mueller & Angela Holloway
Men's and Women's Umpire Manager of the Year
David Saunders & Minka Woolley

Hockey Australia media release


---

ROUND-UP: English Men's Hockey League

A hat-trick from Alan Forsyth helped Surbiton beat Beeston and go top of the Men's Hockey League Premier Division table.

The reigning champions moved top of the pile following their 5-3 win, with former leaders Hampstead and Westminster and third-placed Holcombe battling out a goalless draw.

Beeston took the lead with Robbie Gleeson scoring after five minutes, and they went two-nil ahead with Elliot Hibell scoring from a 19th minute penalty corner.

James Royce pulled one back for Surbiton on 22 minutes, and Forsyth's first made it 2-2 before Hibell added another and give Beeston a 3-2 lead at half time.

But Forsyth scored again on 37 and 65 minutes, and Ben Boon's 68th minute strike helped ensure the win.

East Grinstead secured a 3-2 victory over bottom of the table Sevenoaks.

Sevenoaks went 1-0 up in the eighth minute from an Ali Taylor goal. Dominic Bowden drew East Grinstead level in the 14th minute from a penalty corner.

Simon Faulkner gave the home side the lead in the 18th minute before Tom Chandler scored for Sevenoaks in the 37th minute to make the score 2-2. Finally, Liam Ansell hit the winner for East Grinstead in the 47th minute after he bagged from a penalty corner.

Elsewhere, Brooklands MU clinched their first victory of the season with a 3-1 win at the University of Exeter on Sunday.

Goals from David Flanagan, Henry Pymm and Mike Shaw for Brooklands were enough to secure all three points for the away side. James Carson scored the only goal for the University of Exeter.

Reading sealed victory at home to Wimbledon, narrowly winning 1-0. The only goal of the game came in the 46th minute when Jatinder Bachu found the net from open play.

Men's Conference East

James Tindall hit a hat-trick to help Old Georgians record a 6-4 win at Richmond in the Men's Conference East.

Jordan Hussell had already scored three for Richmond by half time when the score was 3-3, but Tindall's goals helped the leaders to victory.

Elsewhere, City of Peterborough secured their second victory of the season with a 3-2 win at home to Brighton and Hove. Ben Read, Joe Finding and Grady Wing scored the goals for the home side.

Elsewhere, Canterbury won 2-0 at Old Loughtonians with goals coming from Craig Boyne and Tom Bean, Oxted ran out 3-2 winners at Teddington and Cambridge City and Southgate played out a 3-3 draw.

Men's Conference West

The University of Birmingham maintained their position at the top of the table in the Men's Conference West with a 5-4 victory at the University of Bristol on Friday night.

Cuthbert Shepherd scored a brace and one goal apiece for Tom Poustie, Jaylon Morgan and Eddie Way was enough to seal the win for the away side.

The goal scorers for University of Bristol were Rufus McNaught-Barrington (2), Kincaid Ingram and Josh Goodfrey.

Elsewhere, Olton & West Warwicks won 2-0 at home to Team Bath Buccaneers to keep the pressure on the top of the table, while second-placed Cardiff & Met ran out 4-1 winners at Oxford Hawks with Jack Pritchard scoring a hat-trick.

Havant performed well away from home winning 5-3 at Chichester and Fareham won 6-1 at home to bottom of the table Isca with Jack Gilbert scoring four goals.

Men's Conference North

Bowdon Hightown maintained their five-point advantage at the top of the Men's Conference North with a 3-1 victory at home to Sheffield Hallam.

Oliver Stoddart opened the scoring for Bowdon in the 30th minute when he found the net from open play.

Billy Root equalised for Sheffield Hallam in the 38th minute, before Stoddart added his second of the game in the 49th minute, scoring once again from open play.

Thomas Ainsworth sealed the victory for the home side in the 57th minute after finding the net from free play.

Elsewhere Belper and Preston played out a 3-3 draw, Loughborough Students ran out 3-1 winners at home to Doncaster, Leeds won 3-2 at home to the University of Durham and the University of Nottingham performed well away at Alderley Edge winning 3-0.

RESULTS

Men's Hockey League

Premier Division: Beeston 3, Surbiton 5; East Grinstead 3, Sevenoaks 2; Hampstead & Westminster 0, Holcombe 0; Reading 1, Wimbledon 0; University of Exeter 1, Brooklands Manchester University 3.

Conference East: Cambridge City 3, Southgate 3; City of Peterborough 3, Brighton & Hove 2; Old Loughtonians 0, Canterbury 2; Richmond 4, Old Georgians 6; Teddington 2, Oxted 3.

Conference West: Chichester 3, Havant 5; Fareham 6, Isca 1; Olton & West Warwicks 2, Team Bath Buccaneers 0; Oxford Hawks 1, Cardiff & Met 4; University of Bristol 4, University of Birmingham 5.

Conference North: Alderley Edge 0, University of Nottingham 3; Belper 3, Preston 3; Bowdon 3, Sheffield Hallam 1; Leeds 3, University of Durham 2; Loughborough Students 3, Doncaster 1.

England Hockey Board Media release


---

Surbiton men and women hit league table heights



Surbiton went top of the men's top flight PIC: Tim Reder

A hat-trick from goal king Alan Forsyth helped Surbiton beat Beeston as the Londoners went top of the Men's Hockey League Premier Division table.

The reigning champions moved top of the pile following their 5-3 win, thanks to two goals in the final five minutes from the visitors.

Former leaders Hampstead and Westminster and third-placed Holcombe battled out a goalless draw at Lee Valley on Saturday night in front of a few hundred spectators.

Beeston took the lead with Robbie Gleeson scoring after five minutes, and they went two-nil ahead with Elliot Hibell scoring from a 19th minute penalty corner.

James Royce pulled one back for Surbiton on 22 minutes, and Forsyth's first made it 2-2 before Hibell added another and give Beeston a 3-2 lead at half time.

But Forsyth scored again on 37 and 65 minutes, and Ben Boon's 68th minute strike helped ensure the win.

East Grinstead secured a 3-2 victory over bottom of the table Sevenoaks.

Slough secured their first win of the season at the expense of high-flying Holcombe, holding on to an early lead to win 2-1 in the Investec Women's Hockey League Premier Division on Saturday.

Slough went 2-0 up inside the first 15 minutes thanks to a double from Emma Onien, both from penalty corners.

They held on into the second period, but saw their lead halved when Steph Elliott scored for the visitors on 44 minutes and set up a tense final 25 minutes.

But Slough held on, and jumped up to seventh in the table while Holcombe drop to fourth.

Leaders Surbiton went five points clear with a 3-1 triumph over Beeston.

Meanwhile, in the battle of the Richardson-Walshs, player-coach Helen came out on top as Cambridge City got back to winning ways in the Investec Women's Conference East, beating Hampstead & Westminster – co-coached by wife Kate – by a 3-2 scoreline.

Megan Crowson scored all three of the Cambridge goals, including a last minute strike to help her side leapfrog Hampstead & Westminster into top spot.

The Hockey Paper


---

The Mynah Men that became Raiders that became Champions




In 2017 the KZN Raiders romped to the South African Indoor title dismissing all before them. 12 months later and the team looked significantly different. Of the 11 to feature in the tournament in Durban last year, 9 were not available leaving only Jarryd Jones and Greg Last. A host of players that featured for the Mynahs last year, finishing fifth, took the step up including Keegan Hezlett, Jayson Reed and Jonty Robinson. The remaining spots were filled by young debutants. The chances of a fourth consecutive title and the unheralded double double (back-to-back indoor and outdoor IPT champions) were a lot lower. And then they started the tournament with a defeat.

But slowly and surely game by game Cameron Mackay's team started growing in stature and composure and when they beat Pens in the semi-final it set up a third consecutive final against Southern Gauteng.

Keegan Hezlett, who had a fine goal-scoring tournament, got the early lead for Raiders. Chad Futcher, the Southern Gauteng captain, pulled a goal back and his form in this tournament deserved a title. Unfortunately, his team mates could not keep their composure and at times appeared more interested in arguing decisions than playing indoor hockey. The Raiders took advantage of this mindset and after Hezlett got his second the Jarryd Jones show started. The World Cup star was everywhere making tackles, interceptions, through balls, key passes and finishes. In the space of three minutes he took the game away from Southern Gauteng with another two goals.

After a delay to the start of the second half, the Raiders continued their dominance and South Africa's indoor hockey superstar Jarryd Jones completed his hat-trick with a beautiful finish. There was also time for a Jason Flanagan goal and a Cameron Goodwin masterclass in goals, before Julian Hykes missed a stroke too.

Chad Futcher was the scorer of the last goal of the tournament and he was honestly a superbly bright spot on a dark night for Southern Gauteng. The game was over, and the unfancied Raiders had their hands on a historic double-double.

Bronze medal was won by Namibia who were outstanding throughout with Liam Hermanus and Cody van der Merwe getting the attention of all the South African fans. Trevor Cormack is a man who coaches with class and his team are performing in much the same way.

Fourth was Pens, fifth was Northern Blues, sixth was WP, seventh PSI WP Invitational (With 16-year-old Mustapha Cassiem starring), Mpumalanga 8th, Eastern Gauteng 9th and the KZN Mynahs 10th.

Jarryd Jones was obviously named player of the tournament while Sizwe Mtembu (Northern Blues) was named goalkeeper of the tournament.

SA Hockey Association media release


---

SPAR KZN Raiders continue to reign Supreme




For the fourth time in succession the SPAR KZN Raiders are the champions of women's indoor hockey in South Africa. They earned the title through a show of supreme dominance throughout the week and although they were gainfully tested in the final against Pietie Coetzee's Southern Gauteng, the weight of pressure paid off and earned the team the gold.

They did not have it all their own way as Calvin "Chicken" Price's team were asked some difficult questions by Southern Gauteng. They were asked to stop a hard-working Lilian du Plessis, a goal hungry ex-Raider Kara Botes, a new international star Alex Kavanagh and to find a way past goalkeeper extraordinaire Namibian Petro Stoffberg. For much of the opening half those questions were asked, but on the verge of half-time they finally found an answer. A beautiful team move involving Jessica O'Connor, Tegan Fourie and Shelley Higgo saw the ball worked through to Kelly Reed and the South African ace fired the defending champions into the lead.

Karen Bowyer, the Mynah promoted to the Raiders on the back of Botes move to Johannesburg, was then the benefactor of a rare error from Stoffberg, who had already pulled off three or four high quality saves, and scored just her second goal of the tournament. Although that was a sucker punch for the Johannesburg ladies they refused to give up and having soaked up more pressure they pushed forward, and Ashleigh Redhead pulled a goal back. For the tactical approach to the game it was a goal well deserved and set up a tense final 9 minutes.

But this is where the Raiders showed their class. They managed the clock creating a few chances and limiting Southerns to small chances that Cheree Greyvenstein would save easily. The game was then put to bed in the 37th minute when Shelley Higgo was the benefactor of a goal mouth scramble the game was over.

Elsewhere in the tournament it was the KZN Inland women who stole a dramatic bronze medal with a penalty shootout victory over Western Province. This after equalising with 6 seconds left on the clock. The KZN Mynahs confirmed a back-to-back 5th place finish with a 4-3 win over WP Disa's. Mpumalanga sealed their highest finish at 7. The remaining places were WP Peninsula (8th), Northern Blues (9th), Free State (10th), SG Witsies (11th) & Eastern Gauteng (12th).

The goalkeeper of the tournament was awarded to Petro Stoffberg (Southern Gauteng) and the player of the tournament was Jessica O'Connor (SPAR KZN Raiders).

SA Hockey Association media release


---

Namibia win bronze at Indoor Hockey IPT

By Helge Schütz



Liam Hermanus in action for Namibia against South Africa

NAMIBIA won the bronze medal at the South African Indoor Hockey Inter Provincial Tournament after beating Western Province Peninsula 9-3 in the third place playoff on Saturday.

Namibia held a narrow 3-2 lead at half time but stepped up the tempo after the break to run out comfortable victors.

Liam Hermanus scored a hat trick for Namibia while Cody van der Merwe scored two goals, and Dylan Finch, Ernest Jacobs, Siabonga Martins and Nico Neethling one goal each.

Earlier on Saturday, Namibia narrowly failed to reach the final after losing 4-3 to Southern Gauteng in the semifinals.

It was their first defeat at the tournament after they had won four and drawn one of their five group matches to top Pool A during the group stages.

Brynn Cleak gave Namibia an early lead, but Southern Gauteng soon equalised and two more goals saw them taking a 3-1 lead.

Liam Hermanus pulled a goal back for Namibia to make the halftime score 3-2, but Southern Gauteng once again increased their lead with a goal early in the second half.

Another goal by Hermanus saw Namibia reducing the deficit to 4-3 with seven minutes to go, but Southern Gauteng managed to hold on for the victory.

Kwazulu Natal Raiders won the gold medal after beating Southern Gauteng 6-2 in the final.

Namibia's Cody van der Merwe meanwhile finished fifth on the top goal scorers list with 14 goals.

Dayaan Cassiem of Western Province was the top goal scorer with 21 goals.

The Namibian


---

Razak Cup Div 1: KL 3 Johor 0

By Jugjet Singh

KUALA LUMPUR: Kuala Lumpur got their act together to beat a young Johor side 3-0 in Division One of the Razak Cup Sunday.

In their curtain raiser, KL could only manage a 0-0 draw against Malacca and so coach K. Gobinathan was elated with the encouraging result.

"We could not settle down in our opening match against Malacca, who gave us some very strong resistence. And even against Johor, we could not open up the match early and had to wait for after half-time to crack them," said Gobinathan who coached the Bangladesh team at the recent Asian Games in Jakarta.

Aminudin Zain gave KL a break with a 32nd minute goal, while Wan Haziq Hisyamudin (54th) and Syamim Yusof (56th) made sure full points were theirs.

"After a day's break we play defending champions Perak and we need to keep today's fire burning to collect full points. Perak are the early favourites even though they were held 1-1 by Terengganu Saturday they came back stronger to beat Malacca 5-0," said Gobinathan.

RESULTS: Men's Division One: Johor 0 Kuala Lumpur 3, Perak 5 Malacca 0, Penang 2 Terengganu 4.

Women's Group A: Kuala Lumpur 1 Police 1, Malacca 1 Selangor 2; Group B: Pahang 1 Armed Forces 1, Penang 3 Terengganu 2.

MONDAY: Men's Division Two: Pahang v Kelantan (4pm, Pitch I), Singapore v Selangor (4pm, Pitch II), Police v Armed Forces (6pm, Pitch I).

Women's Group A: Selangor v Singapore (7.30am, Pitch II), Police v Malacca (7.30am, Pitch I); Group B: Armed Forces v Terengganu (9.30am, Pitch I), Penang v Pahang (9.30am, Pictch II).

Jugjet's World of Field Hockey


---

KL record first Razak Cup win

By Jugjet Singh

KUALA LUMPUR: Kuala Lumpur recorded their first win in the Razak Cup by overcoming Johor 3-0 in a Division One match at the National Hockey Stadium in Bukit Jalil today.

In their curtain raiser, KL drew 0-0 with Malacca.

"We could not settle down fast enough in our opening match against Malacca, who gave us a tough fight.

And even against Johor, we could not open up the match early and had to wait until after the breather to crack them," said coach K. Gobinathan.

Aminudin Zain gave KL a break with a 32nd minute goal, while Wan Haziq Hisyamudin (54th) and Syamim Yusof (56th) made sure full points were theirs.

"After a day's break we play defending champions Perak and we need to keep today's fire burning to collect full points. Perak are the early favourites even though they were held 1-1 by Terengganu on Saturday. They, however, came back stronger to beat Malacca 5-0," Gobinathan added

RESULTS: Men's Division One: Johor 0 Kuala Lumpur 3, Perak 5 Malacca 0, Penang 2 Terengganu 4.

Women's Group A: KL 1 Police 1, Melaka 1 Selangor 2;

Group B: Pahang 1 Armed Forces 1, Penang 3 Terengganu 2.

FIXTURES

MONDAY: Men's Division Two: Pahang v Kelantan (4pm, Pitch I), Singapore v Selangor (4pm, Pitch II), Police v Armed Forces (6pm, Pitch I).

Women's Group A: Selangor v Singapore (7.30am, Pitch II), Police v Malacca (7.30am, Pitch I); Group B: Armed Forces v Terengganu (9.30am, Pitch I), Penang v Pahang (9.30am, Pictch II).

* matches at the National Hockey Stadium in Bukit Jalil

New Straits Times


---

No change at the top of Scottish National League 1



Edinburgh University v Grange

There was no change at the top for the first time for several weeks, both Grange and Edinburgh University held on to pole position in the respective men`s and women`s National League 1.

Grange`s tenure was hardly troubled with a ten goal victory over bottom side Gordonians in Aberdeen. Aussie Dylan Bean was top scorer with four, both Frank Ryan and Dan Coultas got two while Jacob Tweedie and Ali Irvine completed the scoring.

Ironically there are now four teams on 12 points in the chasing pack, but they are now five points adrift of Grange.

Second placed Grove Menzieshill slipped from grace with a 2-1 home defeat at the hands of Western Wildcats who now move into the runners-up spot on goal difference. Grove Menzieshill seemed to be in the driving seat when Cameron Golden put them ahead with a powerful drag flick at a penalty corner.

But Wildcats clawed their way back into the contest when an Andrew McConnell penalty corner shot was blocked, the rebound fell to Adam McKenzie who fired home the rebound. The winner came from an open play strike by Rob Harwood to take the valuable points back top Auchenhowie.

Hillhead moved on to the 12 point mark with a 3-1 away win at Clydesdale. Callum Duke opened with a penalty corner strike, and Ross Jamieson added a second at a counter-attack. The nail in the coffin came with a deflection by David Gay at another set piece.

Edinburgh University failed to make any progress in the top four after going down 2-0 to Kelburne who seemed to have found a winning sequence at last. The Paisley side's goals came from Adam Bain in the first half and then Peter Baldwin after the interval.

Uddingston also went on the rampage with an 8-2 win over Watsonians, Aussie Brad Hughes got three, Steven Percy a double and the other goals came from Paul Counsell, Ben Wilson and Jonjo Lavin.



Photo by Mark Pugh

Champions Edinburgh University are also on top of the pile in the women`s National League 1 race, they beat GHK 7-0 with Hanna McKie getting a hat-trick, Becky Mill got two while the others came from Zara Malseed and Sophie Maunder.

Dundee Wanderers moved into second spot on goals difference after a convincing 9-1 win over Grange, Heather Elder scored a hat-trick and there were doubles for Vikki Bunce, Emily Dark and Charlotte Watson.

Although Wildcats have slipped back to third in the table, they went to Tayside and took three points from Grove Menzieshill in a 3-1 victory. The catalyst was a cracking hat-trick from Alex Stuart, Grove Menzieshill`s consolation came from Lucy Smith.

Watsonians moved up to fifth in the table with a single goal victory over a courageous Glasgow University side, the only goals came from Georgia Jones in the closing minutes.

Clydesdale Western kept up the pressure at the top with a comfortable 7-1 win over Hillhead, there were two goals each for Fran Lonergan, Millie Brown and Emma McGregor with Heather Howie got the other.

Scottish Hockey Union media release


---

Police hammer KCA-U to draw level with leaders Butali

By AYUMBA AYODI



Kenya Police midfielder Willis Okeyo passes the ball to a teammate during their Kenya Hockey Union men premier league match against Western Jaguars at City Park Stadium on September 22, 2018. PHOTO | CHRIS OMOLLO |  NATION MEDIA GROUP

Champions Kenya Police crushed Kenya College of Accountancy - University 4-0 on Sunday at City Park to go level with Butali Sugar Warriors on points at the top of the men's hockey Premier League.

Brian Saina and Samuel Wokila slotted home from penalty corners in the first quarter to give Police the lead 2-0 before Samson Barkibir made in three in the 26th minute from a field goal.

That saw Police lead 3-0 at the break as Vincent Odindo's filed goal in the 38th minute put Police beyond reach to tie with Butali on 48 points each at the top.

Butali, however enjoy superior goal difference though the champions have a match at hand, having 16 wins and one loss. Butali Sugar have 16 wins and two losses.

In other matches, Jacob Githinji's field goal in the first quarter is what Nakuru needed to stun Wazalendo and haul themselves out of the relegation zone albeit temporarily.

The victory saw Nakuru move two places to eighth with 20 points while Wazalendo stayed third with 29 points.

United States International University whacked visiting Western Jaguars 4-1 to scale one place to sixth with 22 points.

Justine Ng'etich and Lawrence Makhatsa's field goals in the first and 20th minutes put USIU in the lead at half time 2-0. Then Bryton Ndwati pulled one back for Jaguars in the 44th minute.

Timothy Barasa slotted home a field goal in the 52nd minute before Makhatsa completed his brace four minutes later to seal Jaguars' fete.

Daily Nation


---

Mannheim's ROUND1 experience to serve them well against Kazan



©: Dirk Markgraf

Mannheimer HC's Michael McCann says the German club's first round experience will stand to them when they come up against Dinamo Kazan in the EHL KO16.

The German side made it through ROUND1 with a 7-2 win over Dinamo Elektrostal before getting the 1-1 draw they needed against Wimbledon to go on to the KO16.

Next for them is a game with Kazan and, should they make it through, set up a game with either Eindhoven hosts HC Oranje-Rood or Uhlenhorst Mulheim in the KO8.

"We were fortunate to have the Russian experience in Barcelona against Elektrostal which should assist us for our match against Kazan who have been the last 12 years in the EHL," McCann said.

"It's gonna be a tough challenge because all the teams in the KO16 deserve to be there. If we are lucky enough to get through Kazan, then we are looking forward to play a German KO8 or a clash against the hosts like we did last year against Rotterdam."

Mannheim endured a tough weekend to close out the first half of their season after a tiring spell of 16 games in nine weeks. They drew with Mulheim on Saturday 3-3 and then lost 4-3 on Sunday to Krefeld to end the first half of the campaign in second place behind Rot-Weiss Koln.

" We wanted to go into the winter break with confidence but that's not so easy anymore. The long, intense season with EHL, 16 games in nine weeks and long trips was perhaps one of the causes. It was hard."

Euro Hockey League media release


---

Opportunity knocks for Surbiton at EHL KO16 next Easter




Surbiton coach Mark Pearn says last Sunday's Euro Hockey League draw does offer plenty of opportunity for the English champions as they look forward to a date with the Waterloo Ducks next Easter.

An Alan Forsyth hat trick on Saturday evening saw Surbiton beat Beeston 5-3, coming from 3-2 behind to land the win with two goals in the last five minutes making the difference.

It keeps them flying high in the division, level on 16 points with Hampstead & Westminster after six rounds of matches with Holcombe and Beeston occupying the other top four places.

Looking forward to the EHL KO16 date with the WatDucks, meanwhile, Pearn told The Hockey Paper he is content enough with their potential path through the competition.

"The Dutch clubs traditionally have the strongest squads in the EHL and, alongside Rot Weiss Koln; these were the three teams we felt could have given us the toughest test.

"Although we are pleased to have avoided these sides in the KO16 round, we won't be taking Waterloo Ducks lightly. The Belgium league has become increasingly stronger over the past few seasons and we will need to be right at our best to progress to the quarter-finals."

Last season, Surbiton withdrew from the EHL following a clash with the Commonwealth Games which would have left the club shy several international players.

This year, though, Pearn says the timing of the competition is far more amenable to the club's schedule.

"The way the KO16 and FINAL4 follows immediately after our domestic playoffs this season gives us the best chance possible to be successful in the competition," he said.

"Also having our GB players available for the playoffs and EHL is obviously a major boost to our chances."

Euro Hockey League media release


---

Grove under no illusions for huge EHL KO16 task ahead




Grove Menzieshill coach Neil Allan is under no illusions over the size of the task in front of his side as they face up to an EHL KO16 date with Dutch giants AH&BC Amsterdam.

It will be the Dundee club's first appearance in the EHL following their Scottish playoff success last spring but they could not have drawn many harder opponents.

"Let's face it, they have some of the best players in the world and they are full professionals," Allan said of the challenge to the Edinburgh Reporter.

"We have 15-year-old schoolboys, joiners and doctors in the squad but, in saying that, it is a wonderful opportunity for them to test themselves against world-class players."

They are currently sitting in a share of second place in their domestic competition with five wins out of six following a Saturday win over Western Wildcats.

Grove were in the driving seat when Cameron Golden put them ahead with a powerful drag flick at a penalty corner. But Wildcats clawed their way back into the contest when an Andrew McConnell penalty corner shot was blocked, the rebound fell to Adam McKenzie who fired home the rebound. The winner came from an open play strike by Rob Harwood to take the valuable points back top Auchenhowie.

They sit two points below leaders Grange but have a game in hand. Grange ran up a ten goal victory over bottom side Gordonians in Aberdeen. Aussie Dylan Bean was top scorer with four, both Frank Ryan and Dan Coultas got two while Jacob Tweedie and Ali Irvine completed the scoring.

Euro Hockey League media release


---

No. 1 North Carolina field hockey ends regular season undefeated with 3-0 win Sunday

By Mollie Brewster



Senior midfielder Ashley Hoffman (13) sprints with the ball in her possession against Wake Forest defender Veerle Bos (17) in UNC's winning match of 5-1 on Saturday afternoon in the Karen Shelton Stadium. Michaela Stutts

On away turf, in its last regular season game of the season, the No. 1 North Carolina field hockey team secured another win, beating No. 25 Old Dominion, 3-0, to secure an undefeated season.

What happened?

UNC (17-0, 6-0 ACC) stepped on a strong offensive front early in the first half, outshooting the Monarchs (10-7, 3-4 Big East) 7-0 in the opening nine minutes. The Tar Heels took the lead in the 12th minute of the game with a goal from captain Ashley Hoffman.

North Carolina remained dominant in the first half, preventing any offensive action from Old Dominion. The Tar Heels did not decline in the second half as they continued to put offensive plays together and keep the action off their half of the field. In the 54th minute, Meredith Sholder added another goal for the Tar Heels.

Quickly to follow came goal number three scored by UNC's Marissa Creatore. The team remained dominant for the rest of the half and gained its 17th win of the season.

Hoffman, in her last regular season game as a Tar Heel, had four shots on goal and was one of three scorers in the game. She leads the Tar Heels in minutes played this season. First-year forward Erin Matson is currently ranked tied for eighth in the nation for assists per game with a .69 percentage and has the most assists for the team (13). She has played in all 17 games this season and added two more assists to her season against Old Dominion.

"We've had a target all year," head coach Karen Shelton said. "It's not like we have set out to be undefeated, every game we try and win and that's not going to change in post-season. Every game we are going to approach things the same way, we're going to try to play well, together, hard and smart in hopes that the score will take care of itself."

When was it decided?

The Tar Heels started the game in full attack, emphasizing why they are the top-ranked team in the nation. In the first half, UNC had 12 shots, six corners and no saves while the Monarchs had zero shots, zero corners and five saves. UNC scored two goals within five minutes of each other in the second half that secured the win for the team.

Why does it matter?

The Monarchs are the eighth opponent the Tar Heels have shut out in the regular season this year as they have outscored their opponents, 76-10.

The last time UNC field hockey was able to finish undefeated in regular season play was in 2007, when the Tar Heels went on to win the national championship. The Tar Heels have had six showings in the title game since 2007, including a win in 2009. As the top seed, the Tar Heels have secured a first round bye in play for the ACC Championship.

"Our team has been focused," Shelton said. "I think they have been humble. They know they're strong but they know they haven't played their best yet. It is a good group that is steady in their approach to the game and I hope that they peak at the right time."

When do they play next?

The ACC tournament begins on Nov. 2 at noon. The Tar Heels will host the tournament, played at Karen Shelton Stadium.

The Daily Tar Heel


---

No. 2 Maryland field hockey crushes Michigan State, 6-0, in Big Ten tournament quarterfinal

The Terps outshot the Spartans, 30-2.

By Lila Bromberg



Forward Lizzy Dessoye searches for an open teammate during Maryland's 3-0 win against Michigan State on Oct. 29, 2017. (Marquise McKine/The Diamondback)

When Maryland field hockey called a timeout in the 62nd minute of its Big Ten tournament quarterfinal game against Michigan State, coach Missy Meharg's voice was overshadowed by the screaming coming from the Spartans huddle.

Michigan State assistant coach Tamara Durante aggressively demanded a better effort out of their team, with the Terps' fully in control and up by five goals. But following the break, Maryland scored yet another goal to cap off a 6-0 victory over Michigan State and advance to next weekend's semifinals in Evanston, Illinois.

They will face either No. 4-seed Ohio State or No. 5-seed Rutgers.

"This was a pure dominance of a game," Meharg said. "We played as one. Every layer was supporting each other."

Maryland's offense looked out of sync in its last few matchups, averaging 10.3 shots and not scoring more than two goals in any of its past three games, including a 3-1 loss to Virginia last week. But the Terps rediscovered their firepower Sunday against the No. 9-seed Spartans, tallying 20 shots before halftime.

No. 1-seed Maryland had the upper hand from the opening minutes and never looked back. In the fourth minute, midfielder Madison Maguire passed the ball by a defender's legs to forward Linnea Gonzales, who hammered a shot from just inside the circle for the first goal of the matchup.

"Definitely very exciting to come back after the loss from last week," Gonzales said. "We really connected well today and took our shots and finished."

The Terps continued to fight hard and kept the majority of possession while firing shot after shot at Spartans goalkeeper Jade Arundell. In the 13th minute, Arundell fell to the ground and was unable to stop defender Bodil Keus' hard shot past her on a penalty corner.

Less than a minute later, forward Mayv Clune forced a turnover in the center of the field and carried the ball toward goal, where she passed to forward Bibi Donraadt. Donraadt's shot was saved by Arundell, but Clune immediately collected the rebound and scored with ease to give Maryland a three-goal lead less than 14 minutes into the contest.

"The greatest part of Mayv's game is goalscoring," Meharg said. "Her hands are so quick under pressure, her decision-making and her instincts are world class. … I'm not surprised, and the more minutes she gets, the more she's going to find herself in those positions."

Maryland's dominant performance continued in the second half, when the team notched three more goals to tie its season-high in scoring. Six different Terps scored in the victory, with the other goals coming from forward Lizzy Dessoye, defender Nike Lorenz and Donraadt.

The Spartans only managed two shots in the entire 70 minutes, while Maryland ended with a season-high 30 shots.

"The big games are coming up, so the energy is going up a little bit and everyone's a little bit more on fire," Lorenz said. "[It's] just a great part of the season"

The Diamondback


---

Maryland field hockey is without two key contributors for the postseason

Kyler Greenwalt tore her ACL, and Sophie Giezeman left the program.

By Lila Bromberg



Midfielder Kyler Greenwalt cheers after Bodil Keus scores during Maryland field hockey's match against Ohio State at the Field Hockey & Lacrosse Complex on Sept. 21, 2018. (Andi Wenck/The Diamondback)

Two Maryland field hockey players are unavailable for the remainder of the season as the team begins postseason play.

Midfielder Kyler Greenwalt left the Terps' matchup with Virginia on Oct. 21 with an injury, and has since been ruled out with a torn ACL. Defender Sophie Giezeman decided to permanently leave the program, according to a team spokesperson. Giezeman also missed the final two games of the regular season, but a spokesperson said she was visiting family.

Both sophomores were key parts of the Terps' roster. Greenwalt started 11 of the the 18 games she played and scored two goals and added two assists on the year. Last season, she contributed seven goals and one assist.

Giezeman, a Leidschendam, Netherlands, native, started 14 of 16 games played and had two goals this season. Last year, she started every game and recorded three assists.

Coach Missy Meharg has praised her team's depth all season and the two absences didn't seem to hinder the Terps as they took a dominant 6-0 victory over Michigan State in the Big Ten tournament quarterfinals on Sunday. Forwards Mayv Clune and Lizzy Dessoye came off the bench and each scored a goal.

The Diamondback


---

No. 7 Penn State Field Hockey Falls To No. 9 Iowa 3-2 In Big Ten Tournament

By Hope Damato




No. 7 Penn State field hockey (12-5, 6-3 Big Ten) dropped a double-overtime heartbreaker 3-2 to No. 9 Iowa (9-7, 4-2 Big Ten) on Sunday afternoon in the first round of the 2018 Big Ten tournament.

The Nittany Lions had nine corners and 18 shots, but it wasn't enough to knock the Hawkeyes out of the tournament for the second consecutive season. Anna Simon and Moira Putsch scored for the Nittany Lions, but Iowa's Anthe Nijziel scored the game-winning goal with 4:47 to play in the second overtime period.

Jenny Rizzo made five saves in the loss.

How It Happened

The Nittany Lions got off to a rocky start on Sunday afternoon. Aurelia Meijer asked for a video review on a play that she thought was a penalty corner. The original call on the field stood, so Iowa took over possession of the ball at the 16-yard line.

Penn State bounced back nicely when Gini Bramley took the ball all the way up the left sideline and came across the goal line. She sent a perfect pass to Moira Putsch, who stood ready next to the right post and tapped the ball in around the goalie for a 1-0 lead with 12:49 left in the first half.

The first half ended with the Nittany Lions in the lead, but the Hawkeyes appeared to have tied the game early in the second half. They managed to send the ball to the back of the net, but it was overturned due to height after another video review.

Two minutes later, Iowa was awarded another corner. Maddy Murphy took a shot at the top of the circle, and Ellie Holley deflected it into the left corner to tie the game just over 10 minutes into the second half. The Hawkeyes added a second goal 7:12 after their opening goal to take a 2-1 lead with 17:22 to play in the second half.

Penn State continued to push for an equalizer in the later stages of the second half and finally found one with 74 seconds to play. Anna Simon — the Nittany Lions' leading goal-scorer this season — once again found the back of the net on a penalty corner to tie the game at two and force overtime. The penalty corner was one of five the Nittany Lions got in the second half as part of their comeback bid.

The first overtime period finished without a goal despite a combined five shots between the teams, but Iowa's Anthe Nijziel buried the game-winner with 4:47 to play in the second overtime period to knock Penn State out of the Big Ten tournament.

Player Of The Game

Jenny Rizzo | Senior | Goalkeeper

In her final Big Ten game as a Nittany Lion, Rizzo played aggressively despite conceding the golden goal in double overtime. She made five saves and was a presence in the net all game.

What's Next

Penn State is out of the Big Ten tournament, but they could still potentially qualify for the NCAA tournament via an at-large bid. The national tournament will begin on November 7.

Onward State


---

Michigan cruises past Wildcats in Big Ten Tourney

Peter Warren

For the past two seasons, whenever Northwestern has taken the field in a major game — whether it be for a share of the Big Ten regular season title, in the Big Ten Tournament or in the NCAA Tournament — and lost, it has been against one team.

Michigan.

It happened three times in 2017 and earlier this year, No. 7 NU (9-10, 3-5 Big Ten) lost to the No. 2 Wolverines (13-5, 7-1) and proceeded to lose four of its next five contests to end the Big Ten campaign, setting up a conference quarterfinals matchup with Michigan on Sunday.

The fifth iteration of the battle followed the same script as the first four as the Wolverines won the matchup — this time a 3-1 win in Ann Arbor — with Emma Way playing a key role for the victors.

"Nobody likes losing, our kids gave it their best effort today, we just didn't have it," coach Tracey Fuchs said. "Michigan played a good game and deserved to beat us today."

After playing scoreless field hockey for 26 minutes, Michigan broke through with two goals in a three-minute stretch. First, Abbey Hutton received a pass in space in the Wolverines' attacking third and fed Way, who spinned and took a shot that was blocked by junior goalkeeper Annie Kalfas. However, Way collected the rebound and sent her second shot into the back of the net.

Then, Meg Dowthwaite received a long pass in the attacking circle and fired a backhanded shot that got past Kalfas and found its way just inside the far post to put Michigan up 2-0.

"They were pressuring for probably 10 minutes before that and our defense held on," Fuchs said. "Annie made a really good save on the first shot and (Way) just got a rebound and put it in and we just couldn't recover."

The Wolverines were held scoreless for over 30 more minutes before Fay Keijer played a ball from the touchline into the area right in front of goal. The ball took a redirection of a defender and trickled over the line for Michigan's third goal of the game.

The Cats were able to respond quickly to Keijer's strike, but it was too little, too late. Earning a corner less than a minute after the goal, senior midfielder Eva van Agt deflected a shot from senior midfielder Puck Pentenga to cut the deficit to two.

In total, the Wolverines outshot the Cats by 19, taking 24 shots compared to five for NU. Michigan also had 10 penalty corners compared to four for the Cats.

With the loss, it appears that the Cats season is over. Only eight at-large bids are given out for the NCAA Tournament and with NU having a losing record and ranked as the No. 22 team in the country in RPI, the odds are extremely unlikely of the Cats playing another game.

That means the careers of NU's senior class — which includes van Agt and Pentenga — is most likely over. Fuchs said she wishes the Cats had won a few more games this season in order to give the graduating players one final run in the NCAA Tournament.

"We had a disappointing season in our eyes. We thought we were a top-eight team," Fuchs said."We were one step away from being a really, really good team in so many of those games."

The Daily Northwestern


---

Yale slays Lions on Senior Day

Lucy Liu



Courtesy of Sam Rubin

The Yale field hockey team's four graduating seniors ended their collegiate career on Johnson Field with a thrilling shootout win over Columbia on Saturday.

The weekend's hard-fought victory featured a 1–1 scoreboard at the 70-minute mark, two scoreless overtimes, three shootout goals from rookies and a trio of spectacular saves from goalie Sydney Terroso '21. Before the match, the Bulldogs (9–7, 3–3 Ivy) celebrated their quartet of seniors — goalkeeper Chaney Kalinich '19, back and captain Jackie Kisa '19, midfielder Marissa Medici '19 and forward Brooke Reese '19 — for whom the match versus the Lions (8–8, 2–4 Ivy) marked the last home game of their collegiate careers. Following a 1–1 deadlock, the Elis sent a lineup of all first years into the shootout and, after three goals, emerged victorious in their closest game of the season.

"Yesterday's win was huge for us," forward Imogen Davies '21 said. "It was great to put on such an exciting performance for our amazing seniors. Although [Columbia's] goalkeeper had a good game and was very tall, we had full confidence, and our players' speed and ability to change angles was really impressive. And of course, Sydney saving all three of their [shots] was amazing."

While Saturday's weather made for frigid, rainy conditions, the two evenly matched sides toughed it out in an epic battle lasting over two hours. The Lions took the lead in the first half following a goal by midfielder Jamie McCormick, whose shot from the right wing slipped under Terroso's foot. Three minutes into the second half, Yale answered with a penalty corner goal. Midfielder Bridget Condie '20 notched her seventh tally of the season off an assist from stick stopper Sarah King '21, tying the score at 1–1 before the teams headed into overtime.

The first overtime was fairly even, with both teams making shots and producing saves as the extra frame remained scoreless. The second overtime, however, saw the Lions overpower the Bulldogs in offensive opportunities, firing six shots compared with zero from Yale. Terroso, who was named Ivy League Defensive Player of the Week coming into the weekend, kept the Elis in game with five excellent saves, pushing the game into a shootout and setting up its dramatic conclusion.

"We had confidence into double overtime that we would win," forward Anissa Abboud '21 said. "We knew we were the better team if it wasn't obvious before regulation ended. We've been practicing shootouts every week with half the team. Choosing who took them was easy, and we had all the confidence we needed."

The Yale first years proceeded to shine in the skill competition. First to the 23-meter line was midfielder Alissa Wong '22, who fired a diving backhand goal to establish Yale's momentum. A stop from Terroso on the following Columbia shot secured the Bulldogs' advantage.

Next up was midfielder Théodora Dillman '22, who dribbled to the right and then ripped the ball past Columbia goalkeeper Katie Dempsey to bring the score to 2–0 in Yale's favor. Terroso maintained the lead by forcing Lions' attacker Danielle Buttinger's shot to sail wide of the net.

"Just like how we practice overtime every week, we also practice shootouts," Wong said. "As a team, we've put in a lot of time and effort. Even after the whistle blew ending the second overtime, we were still very confident in ourselves that we could come out with a win together."

Both goalies denied the shooters in the third round. Then, in an outstanding maneuver of speed and agility, Yale's fourth shooter and back Katie Pieterse '22 delivered the game-winning shot by driving directly towards Dempsey before darting to the right and whipping the ball into the side of the cage. The stadium erupted in cheers, celebrating the field hockey team's hard-fought victory at home and the conclusion of a well-played game on both sides.

The Bulldogs turn their attention to Brown next Saturday in Providence. A win would give the Elis a double-digit victory total for the first time since 2011, when the team claimed the Ivy League Championship title. For a cohort that won only three games in its first year, the class of 2019 has helped the Bulldogs improve the team's playing record throughout the past three years, demonstrating their perseverance and commitment.

"The team's performance during the game was not incredible solely because we played good and clean hockey, it was great in the fact that we left everything we had on that field," captain and back Kisa reflected. "Despite the freezing conditions and very apt opponent, the team battled every single moment of regulation, overtime, and into shootouts. As a senior having just finished her last home game on Johnson field, I have never been prouder to call this team my family and wouldn't want to finish my field hockey career with anyone else."

With the win, the Bulldogs improved to 7–3 at home this season.

Yale Daily News