All the news for Saturday 27 October 2018

Men's Hero Asian Champions Trophy 2018
Muscat (OMA)




Fixtures 27 October (GMT +4)

16:40     KOR v OMA (5th/6th Place)
18:55     PAK v MAS (SF 1)
21:10     IND v JPN (SF 2)

FIH Match Centre


---

Keen fare promised in semi-finals of Hero Asian Champions Trophy

Pakistan take on Malaysia in the first Semi-Final; Defending Champions India face Asian Games Gold Medallists Japan in the second Semi-Final




MUSCAT: The semi-finals of the Hero Asian Champions Trophy Muscat 2018 at the Sultan Qaboos Stadium promise a keen fare on Saturday, with a lot at stake for the three teams heading to next month's World Cup.

India vs Japan

Defending champions India are seeking to reinforce their position as Asia's top-ranked team in the encounter with the recently crowned Asian Games champions Japan. Eager to assert their authority as proof that the disappointing bronze medal at Jakarta was just an aberration, India will be looking to post another runaway victory in their second meeting with Japan. India had won 9-0 in the preliminary league encounter between the two sides.

Having induced six youngsters in the squad after their gold medal at the Jakarta Asian Games, Japan have decided to focus on a long-term team-building exercise. Not burdened by their status as the new Asian Games champions, Japan are the only team among the semi-finalists here not to have qualified for the World Cup. Japan, however, will play for pride and find a way to blunt the Indian attack. Their recent habit of turning the form-book on its head will cause some unease for the rivals.

What they say -

Harendra Singh (Coach, India): "I would like my boys to play aggressive hockey with control over their emotions. The semi-final will be a different ball game. The result or score-line of our last encounter with Japan in the preliminary league will have no significance when the semi-final gets underway on Saturday."

Siegfried Aikman (Coach, Japan): "I have always said that India will have an edge nine times out of our 10 encounters. We're hoping that Saturday will be that one time when we go out and defeat them. Our performance in the preliminary league, including the loss to India, is history now. My young players have grown in confidence."

Pakistan vs Malaysia

Two-time winners of this title, Pakistan go into the semi-final against Malaysia with their confidence boosted from the solitary-goal victory over Asian Games silver medallists Malaysia in the last league match of the Hero Asian Champions Trophy Muscat 2018 on Thursday. Meeting the same team within two days can prove to be tricky affair and Pakistan are aware that Malaysia are tough opponents. Pakistan also draw confidence from their league stage win over Malaysia during the Asian Games in Jakarta. Malaysia went on to claim an Asian Games silver medal behind Japan, while Pakistan finished fourth.

Pakistan face an injury problem after their captain Mohammad Rizwan's hamstring forced him to limp out of the pitch on Thursday.

What they say-

Hasan Sardar (Manager, Pakistan):

"Winning the league match against Malaysia was a good confidence booster for the boys, but everyone has to start afresh now. We're playing well as a unit, yet we continue to miss a lot of chances. There are some things that require attention ahead of the semi-finals. We've done some work on our defence, which is now playing a disciplined game."

Roelant Oltmans (Coach, Malaysia):

"We've not conceded many goals. In two games against India and Pakistan, the two teams who have won this title before, we conceded just one goal. We need to take our chances and make best use of the openings we create."

Asian Hockey Federation media release


---

Sigfried Aikman: big names don't give big results

Shashank Gupta




This coach doesn't shout from the sidelines. He doesn't know much of Japanese anyway. To communicate with the players, he uses a translator. Even when you hear the English of the translator, the accent is very different, and at times, not even decipherable.

So, how does the Coach of the Japanese team, a Dutchman Seigfried Aikman, make the players play his strategy? He teaches them how to think!

He believes in making a player responsible for their own development and decision-making is the key to improve the game of each one of them.

He quotes an example, 'We don't stop the ball. We receive the ball.' Now what's the big difference between the two? The former is just an act and the latter being a complete concept which proceeds another one. He emphasizes that if you just teach about stopping the ball, the player will look back at you once he/she has done that because that is what you taught him/her.

The Japanese team under his aegis, is encouraged to discuss and ask questions, thereby making players think what they could have done or will do differently.

"In a game, where the stress-levels are typically high, players end-up doing things which they have never ever done before. How does that happen? Can I bring in a change at that level? Change comes from awareness. If a player is aware of what exactly happened last time when a given situation came and then there is a discussion on how to change the outcome next time, we can bring in a change in their thinking," suggests a calm and composed Aikman.

The Asian Games Gold medal, a couple of months back, hasn't made him boastful. Staying put on ground, he says, "All I got back in Japan was a handshake and a 'Thanks'. I am well-aware that even though we have won the Gold-medal, we are not yet the best team in Asia."

The man who never seems to be in a hurry or worry, watches all the matches but never takes notes during the game. He says he has 100% coverage of everything, thanks to the videographer. Whatever interests him, he has it after each game.

An absolute favorite for everyone around in the stadium, Aikman comes across as a friendly and a warm person who offers fruits to all the people sitting around him. Siggy, as addressed by the Japanese team, is a blend of various cultures. With a maternal-side ancestor from India, the Asian Games Gold-medalist Coach, was born in Surinam, moved to Netherlands and has been coaching Japan for more than a year now.




"I had coached Japan back in 2008-11 as well until I ran into opinion-difference with the then President of the Federation. Now when I am back, the interesting part is, all my staff-members are the players whom I had trained during my previous stint," Aikman tells with great enthusiasm and joy.

The coach who was always fascinated by Japanese and Indian cultures, follows Indian Hockey closely.

None of the Asian teams he feels develops a 'Coaching Structure' but instead focusses on 'big-names' to deliver the short-term goals for them. Moreover, the big-names are typically coaches who themselves are at least a few years behind in modern Hockey. So, hiring big-names really doesn't produce big-results because others are progressing faster than Asian Hockey.

Another factor he feels is that Asian-players lack employability skills so the only way they can keep their living going for them is by playing more and more Hockey. That is why it makes it increasingly difficult for them to quit. Aikman relishes the career-graph and contribution of Sardara Singh to Indian Hockey but feels that it was the right-time for him calls it quits. One should always leave on a high, he opines.

In contemporary Hockey, whereas the rolling substitutes, especially for the Forwards, come-in every 3-minutes, the coach foresees a future that will witness this number come down to as much as 1.5 minutes. He points out to a few scientific studies to further his claim. By 2024, he feels the game would be more dependent on video-analysis and will turn biomechanical.

While watching the match between India and Korea, as we overhear the words exchanged between the Indian players, Siggy explains to his Assistant-Coach, the interpretation of some crucial words that the Indian players exchange with each other while playing: 'shaabaash', 'upar', 'neeche'. The young former player from Japan hears him with fascination and notes it down, diligently. Who knows, that little, seemingly insignificant information, at some critical moment, might turn out to be useful for the players.

When asked about what does he do when things are too negative around him? He responds instantly, "You always have the choice," Aikman draws a solid-circle at the center of the page and asks me back, "What do you see?"

He continues, "White is the positive and Black is the negative. While remembering the white, you can work towards reducing the black-one, thus increasing your white-zone. You, and no one else, makes that choice."

Aikman is a man of positivity and never appears stressed out with the game of his team.

If he can implement his ideas with the Japanese team, it's only a matter of time, Japan will be rubbing shoulders with the powerhouses of World-Hockey.

Stick2Hockey.com


---

India face Japan in semifinals

Captain Manpreet Singh believes that his team has the chance to peak at the right time when they play the semifinal against Japan.



Indian men's hockey team celebrate their victory over Pakistan in the Hero Asian Champions Trophy in Muscat. Photo Credit: PTI

Defending champions India will be hoping to secure a spot in the final of the fifth Mens Asian Champions Trophy hockey meet when they take on Japan in the semifinal encounter at the Sultan Qaboos Sports Complex in Muscat on Saturday.

The defending champions have remained unbeaten in the competition so far as they topped the pool standings in the round-robin stage by accumulating 13 points from five matches via four wins and a draw.

India started the competition with a 11-0 victory over hosts Oman, and then came from behind to defeat arch rivals Pakistan 3-1 in their second match.

The semifinal on Saturday will be a rematch of India and Japan's third round-robin encounter where the World No. 5 had showcased their dominance to run away with a 9-0 victory over World Number 16.

However, a rusty performance from the Indians saw them draw their fourth match against Malaysia 0-0 where the team wasted several chances, but the attackers did come good in their last match as they defeated South Korea 4-1 to progress to the semifinals.

Captain Manpreet Singh, who scored a stunning individual goal against Pakistan, believes that his team has the chance to peak at the right time when they play the semifinal against Japan.

"I think in the recent tournaments we have played this year, we have always started the competitions well but we have not been able to finish as well as we would have liked," Manpreet said.

"With an eye on the Odisha Hockey Men's World Cup Bhubaneswar 2018, this semifinal encounter against a good Japanese side will give us the chance to peak at the correct time, and book a place in the final," the 26-year-old said.

There will be no dearth of confidence within the Indian team as they have not lost to the Asian Games 2018 Gold Medallist since the 2013 Men's Asian Champions Trophy where Yoshihara Heita scored twice for Japan to register a historic 2-1 victory.

In the past 12 meetings between the two teams, India have ended up on the winning side on the last 11 consecutive occasions, while one match ended as a 1-1 draw.

"We know that we go into the match as the favourites but that doesn't mean anything if we don't perform on the field. We will be ready to fight for every duel, and every ball, and we will look to start the match well," the Indian skipper said.

"It is important to produce a good performance and for us to be efficient in all departments. If we manage to do that, we should be able to secure a place in the final," he added.

The midfielder also believes that the team's good form in the round-robin stage will help them in settling down and keeping their composure.

"We have had as many as eleven different goal-scorers in the tournament so far which is a very positive sign for us," the 2018 Arjuna awardee said.

"Our attacking approach and dynamic play during the matches helps us in keeping the balance on the field, and gives every outfield player a chance to get involved in the final third.

"I am expecting a good match against Japan and I am sure the team is ready to produce a performance which shall give us the victory," he added.

The Hindu


---

India look to assert continental supremacy against Japan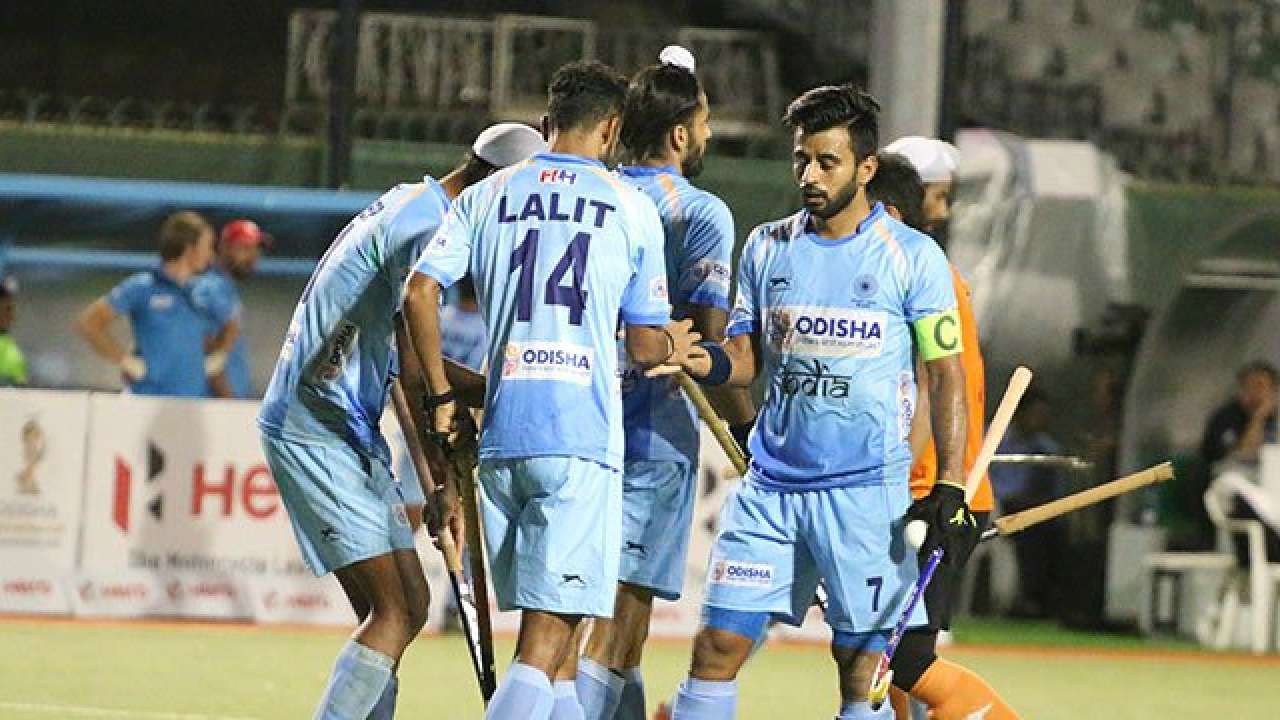 The Indian men's hockey team in action during the 2018 Asian Champions Trophy , Twitter (@HockeyIndia)

Defending champions India will look to assert their continental supremacy once again when they take on reigning Asian Games gold-medallists Japan in the semi-final of the Asian Champions Trophy (ACT) hockey tournament in Muscat on Saturday.

Having spanked Japan 9-0 in the round-robin stage, India will start overwhelming favourites against the Asian Games champion side. India are the only side in the tournament that remained unbeaten in the round-robin stage, having won all their matches except for a close goal-less draw against old nemesis Malaysia.

India qualified as the top team with 13 points from five games. Arch-rivals Pakistan finished second on 10 points ahead of Malaysia on account of a better goal difference, while Japan were fourth with seven points. The ongoing Asian Champions Trophy being the last tournament before the season-ending World Cup in Bhubaneswar, the Indians would be desperate to prove their critics wrong with another strong performance on Saturday.

Going by performance, the Indians looked the dominant side in the tournament with convincing wins except for the stalemate against Malaysia. Harendra Singh's men defeated Oman 11-0, Pakistan 3-1, Japan 9-0 and South Korea 4-1. And come Saturday, India would be eager to prove that the disappointing bronze at the Asian Games was just an aberration with another big morale-boosting win over Japan.

India's chief coach Harendra Singh said Saturday will be a completely new game for his side.

"I would like my boys to play aggressive hockey with control over their emotions. The semi-final will be a different ball game. The result or score-line of our last encounter with Japan in the preliminary league will have no significance when the semi-final gets underway on Saturday," Harendra said on the eve of the match.

Japan, on the other hand, have fielded six youngsters in the squad after their gold medal at the Jakarta Asian Games in their bid to focus on a long-term team-building exercise. Japan are the only team among the semi-finalists here not to have qualified for the World Cup.

Japan, however, will play for pride and find a way to blunt the Indian attack. Their recent habit of turning the form-book on its head will cause some unease for their rivals. "I have always said that India will have an edge nine times out of our 10 encounters. We're hoping that Saturday will be that one time when we go out and defeat them," Japan coach Siegfried Aikman said. "Our performance in the preliminary league, including the loss to India, is history now. My young players have grown in confidence," he added.

In the other semi-final of the day, Pakistan will lock horns against Malaysia. The final of the tournament will be played on Sunday.

Daily News & Analysis


---

India has all wins records in the semifinal against Japan

By B.G.Joshi (Sehore-Bhopal, India)



Mandeep Singh (no 11) won the match for India against Japan in 2017 Azlan Shah Cup by netting hat trick in 4-3 wins. Photo (courtesy Hockey India)

Reigning Asian Champions Trophy champions India and Jakarta Asian Games hockey champions Japan will clash in the semifinal in Muscat today. Match will be live on Star sports 2 from 10:40 pm IST.

India have won all 10(7 in Asian Games and 3 in Asia Cup) semifinals against Japan. Big wins in the last few years' shows Indian domination prevailed over Japan. As Indian beat Samurai 10-2 in Qantan (Malaysia) Asian Champions Trophy (2016), In the Jakarta Asian Games (August 2018) India dubbed Japanese 8-0 and on last Sunday India won 9-0.

In the Azlan Shah Cup of 2017, by virtue of Mandeep Singh hat-trick India came victorious by 4-3 against Japan. Mandeep Singh (5 goals) and Harmanpreet Singh (6 goals) are strong contender of golden stick in Muscat.

Japan won only 4 matches against India in history, 3 matches in test series played during 1965 and 1966. In a turf hockey and in any event, Japan defeated India once only by 2-1 in the Asian Champions Trophy 2013 played at Kakamigahara (Japan), where India had fielded their junior team.

This is the 5th edition of the Asian Champions Trophy; So far
India has won Gold Medals twice (2011 and 2016) and silver (2012) once. In Muscat India is on way for third gold medal triumph.

India- Japan (men) in international hockey: at a glance
| | | | | | | |
| --- | --- | --- | --- | --- | --- | --- |
| Particulars | MP | W | D | L | GF | GA |
| Total | 81 | 73 | 4 | 4 | 310 | 63 |
| In Asian Champions Trophy | 5 | 3 | 1 | 1 | 24 | 6 |
| In Semifinals | 10 | 10 | 0 | 0 | 40 | 5 |
 Fieldhockey.com


---

Oltmans confident Malaysia can do better

By Jugjet Singh

KUALA LUMPUR: Malaysia will play Pakistan in the semi-finals of the Asian Champions Trophy in Muscat, Oman, tomorrow (Saturday).

The national players ended third in the standings at the end of pool matches, after they lost to Pakistan 1-0 yesterday (Thursday).

It was Malaysia's only defeat in the tournament as in other matches, they started with a 3-0 win over Japan, followed by 3-1 win over Oman, a 4-2 win over South Korea, and a 0-0 draw against India before the loss to Pakistan.

India top the pool unbeaten, and will play Japan in the other semi-final.

Malaysia's coach, Roelant Oltmans is convinced that his charges will be able to pull their socks up and perform better by scoring in tomorrow's semi-final.

"Sport is very simple, you can't win matches if you don't score. We didn't in the last two matches. One time without conceding (0-0 with India), and the other time we just didn't put enough effort in our counter control.

"I believe we'll see a match on a different pace (in the semi-final against Pakistan again), and I'm convinced we'll score goals in the upcoming match.

"If you play a semi-final, you will always give something extra. You can't focus on the outcome, but you can take the right approach to execute the game plan," said Malaysia coach Roelant Oltmans.

Pakistan manager Hasan Sardar on the other hand said: "It was important for my men to taste victory against opponents whom we will face again in the semi-final."

The only difference in the pool encounter was Muhammad Irfan 54th minute goal, as otherwise Malaysia had a good outing.

New Straits Times


---

Hockey strikers get the stick for firing blanks

KUALA LUMPUR: The Malaysian strikeforce have been a disappointment in the last two matches of the men's Asian Champions Trophy hockey tournament in Muscat, Oman.

National coach Roelant Oltman's forward line, led by the nippy Faizal Saari, fired blanks against defending champions India on Tuesday and Pakistan on Thursday in the six-nation tournament.

Malaysia were held 0-0 by India but edged 1-0 by two-time champions Pakistan. Muhammad Irfan Junior scored Pakistan's solitary goal in the 53rd minute at the Sultan Qaboos Sports Complex.

Apart from Faizal, Malaysia's other forwards are Tengku Ahmad Tajuddin Tengku Abdul Jalil, Muhd Firhan Ashaari, Muhd Shahril Saabah and Nik Muhd Aiman Nik Rozemi.

Pakistan are also in the same group as Malaysia in the World Cup in Bhubaneswar, India, from Nov 28-Dec 16.

The other teams in the same group with Malaysia are Holland and Germany. Malaysia's defeat to Pakis­tan in Oman was their first loss in the ongoing Asian Champions Trophy.

Both teams are tied on 10 points after five matches but Pakistan finished second ahead of Malaysia in the standings on better goal difference.

World No. 12 Malaysia face Pakistan again in the semi-finals today. Malaysia's loss to Pakistan in Oman was their second defeat this year to the world No. 13. They also clashed in the Asian Games in Jakarta in August, where Pakistan won 4-1 in a group match.

India topped the Asian Champions Trophy standings with 13 points from four wins and a draw and they face Asian Games gold medallists Japan, who finished fourth with seven points from five matches, in the other semi-final.

In the round-robin match, two-time champions India trounced Japan 9-0.

The 64-year-old Oltmans, who was hired on Oct 1 to help Malaysia qualify for the 2020 Tokyo Olympics, said the sport is very simple as "you can't win matches if you don't score."

"We didn't score in the last two matches. One time without conceding a goal against India and one time we didn't put enough effort into our counter-attacks," said Oltmans.

"I believe we'll see a match with a different pace in the semi-finals. And I'm convinced we'll score goals in the upcoming match."

The Star of Malaysia


---

Talib Al Wahabi strives to lift Oman hockey

Shashank Gupta



Tayyab Ikram, CEO of the Asian Hockey Federation and Talib K Al Wahaibi, the President of Oman Hockey Federation

Hockey in Oman is alive and kicking. It has set tangible targets to become a force to reckon with in Asia to start with. Considering the rise of countries like Ireland and Japan, who have recently upset the apple cart of traditional biggies to carve out a niche for themselves, the days are not far off for this country to rise. The optimism stems from the fact that the Oman hockey has a strong man at top to steer to success from where it is now.

Talib K Al Wahaibi is the man of the moment. He heads Oman Hockey Association, which is hosting biggest event on its soil, the ongoing Asian Champions Trophy.

He is a multi-faceted personality. A Merchant-Navy Captain, a sailor at heart, a hockey-player by hobby, he emerges as colourful as person could ever. Proficient in many Indian languages (Kannada, Marathi and Hindi) besides Arabic, a coach, a visionary, the man who runs Hockey in Oman, invite your attention as the Asian Champions Trophy is progressing here in the Gulf.

"You are in a peaceful country (Oman). Hockey is our message of peace to the World," says Talib K Al Wahaibi, the President of Oman Hockey Federation (OHF).

Oman, apparently, had considerable presence of Hockey in the 70s and 80s. Numerous clubs were playing hockey back then. But slowly, it conceded space to football which remains to the most fascinated sport in the country. Hockey is only second to it, currently.

Oman has 8 synthetic turfs. They want to capitalize on the help they are getting from the Government, FIH and AHF to improve things.

Wahaibi also has support from Tayyab Ikram, (in pic with Wahabi), the CEO of the AHF to realize his dream of lifting Oman by a few notches. He fondly addresses Tayyab as brother, a sign of bonhomie between the two.

Oman is currently ranked 33 in World Hockey. Wahaibi has a big task at hand to improve the rating. He believes that the children must be initiated to Hockey early-on. So, the Federation is now promoting Hockey at the school-levels.

"Our focus now is schools", he says fittingly

Oman hockey's goal in the next 2 years is to develop two national age group teams, 12-15 years and 16-19 years.

Oman also wants to up their ranking in Asia, from 7th to 6th to start with.




Wahaibi has fond memories of his hockey career, and was fascinated by the game of his contemporaries like Indian stars Mukesh Kumar and Dhanraj Pillay. Amongst the current lot, he mentions the name of Rupinderpal Singh in awe and much admiration.

A thorough professional, Wahaibi tells that he won the elections democratically, acknowledges the work of previous administration and admits that he is building from the platform that was offered to him.

Hosting Asian Champions Trophy in Muscat, Oman has been a proud moment for him. He hopes to further the visibility of Oman-Hockey at the Asian-level.

Asia nowadays is hub of world hockey. With the rise of Malaysia and Japan, the dynamism of the powers is on cataclysmic change. Will Oman be able to cash in on the current euphoria and build a strong national teams is a question the hockey world will be looking for in the coming days.

Stick2Hockey.com


---

The Netherlands announce squad for World Cup




The Dutch men's national team who will compete at the upcoming Odisha Hockey Men's World Cup Bhubaneswar 2018 was announced earlier today.

Head coach Max Caldas said: "We are professional athletes and will play the World Cup to win the title. But we do realize that we're not the only team with that ambition. It's a tough competition, all teams are very strong. Therefore, at the World Cup we want to perform better than we have ever done before, in skills, tactics as well as physically and in mental strength. If we can do that, we will be able to compete for the title. I'm convinced about that."

"We will play the World Cup to win the title"
Max Caldas, Netherlands Head Coach

The Netherlands, runners-up of the last edition of the Hockey World Cup played at home, sit in Pool D with Germany, Malaysia and Pakistan.

The Netherlands men's team for the Odisha Hockey Men's World Cup Bhubaneswar 2018:

Seve van Ass
Sander Baart
Billy Bakker
Lars Balk
Pirmin Blaak
Thierry Brinkman
Thijs van Dam
Jonas de Geus
Jeroen Hertzberger
Robbert Kemperman
Mirco Pruyser
Glenn Schuurman
Sam van der Ven
Valentin Verga
Bob de Voogd
Mink van der Weerden
Sander de Wijn
Floris Wortelboer

Reserve players: Jorrit Croon, Joep de Mol

#HWC2018

FIH site


---

Jeroen Hertzberger recalled for Holland's World Cup squad

By Richard Bright



Bjorn Kellerman and Jorrit Croon miss out PIC: EHF/World Sport Pics

Dutch coach Max Caldas cut a confident figure on Friday as he selected his 18-strong squad for next month's men's Hockey World Cup.

Dutch forwards Bjorn Kellerman, Jorrit Croon and Joep de Mol were left out of Caldas' squad but Jeroen Hertzberger, who returned to the national squad after over a year in April, is included and will play in his third World Cup alongside Robbert Kemperman, Billy Bakker, Valentin Verga.

The Dutch won bronze in 2010 and silver in 2014 and will be hoping to win gold in India after losing the title on home soil to world No 1 Australia four years ago.

Meanwhile, Oranje-Rood's Pirmin Blaak has been appointed as the first choice goalkeeper.

"These past tournaments both goalkeepers a lot of experience", said Caldas. "They have both become stronger but we decided to designate Pirmin as the first keeper.

"We are top athletes and we are going to India to win the World Cup, but we realize that we are not the only country that has that goal.

"The competition is huge, it is close together and we are better than we've ever been, both technically and tactically, physically and mentally. And if we can bring that, we'll take part in the title, that I'm convinced."

GKs: Pirmin Blaak (Orange-Red), Sam van der Ven (HGC)

Defenders: Mink van der Weerden (Orange-Red), Sander Baart (Braxgata), Sander de Wijn (Kampong), Floris Wortelboer (Bloemendaal), Glen Schuurman (Bloemendaal), Lars Balk (Kampong)

Midfielders: Seve van Ass (HGC), Billy Bakker (Amsterdam), Valentin Verga (Amsterdam), Robbert Kemperman (Kampong) and Jonas de Geus (Almere)

Attackers: Mirco Pruyser (Amsterdam), Jeroen Hertzberger (Rotterdam), Bob de Voogd (Oranje-Rood), Thierry Brinkman (Bloemendaal), Thijs van Dam (Rotterdam)

The Hockey Paper


---

Asiad champs Japan in the fray for Sultan Azlan Shah Cup

KUALA LUMPUR: Asian Games gold medallists Japan will be among the six teams competing in the 27th Sultan Azlan Shah Cup in Ipoh from March 24-April 1.

The other teams are India, Ireland, South Korea, Canada and Malaysia.

Perak Hockey Association secretary M. Selvakumaran said that six teams have confirmed their participation.

"The Sultan Azlan Shah Cup will be good preparation for Malaysia for the men's FIH Series Finals hockey tournament," said Selvakumaran, who is also the organising secretary of the Sultan Azlan Shah Cup.

Eight teams will feature in the FIH World Series, to be held at the National Hockey Stadium in Bukit Jalil from April 26-May 4.

World No. 12 Malaysia are the second-highest ranked team among the other seven competing in the tournament, which is the qualifying meet for the 2020 Tokyo Olympics.

Canada, ranked 11th in the world, is the top seed, followed by world No. 17 China, Austria (No. 18), Wales (No. 24), Brazil (No. 26), Italy (No. 37) and Vanuatu (No. 64).

The teams will be divided into two groups.

The Star of Malaysia


---

Selangor women beat KL in opener

KUALA LUMPUR: Women's Razak Cup champions Selangor got off to a good start when they beat Kuala Lumpur 1-0 in Group A today.

The winner was delivered by Nor Hidayah Ahmad off a field attempt in the 11th minute.

Selangor, who won their first title last year, will next play Police on Saturday.

RESULTS: Men's Division Two: Selangor 2 Armed Forces 2, Pahang 6 Singapore 0, Kelantan 2 Police 6.

Women's Group A: Malacca 2 Singapore 0, Selangor 1 Kuala Lumpur 0.

Group B: Pahang 2 Terengganu 0, Armed Forces 2 Penang 2.

Tomorrow:

Men's Division One: Perak v Terengganu (6pm, Pitch I), Malacca v Kuala Lumpur (8pm, Pitch I), Penang v Johor (8pm, Pitch II).

Division Two: Police v Singapore (4pm, Pitch I), Kelantan v Armed Forces (4pm, Pitch II), Selangor v Pahang (6pm, Pitch II).

Women's Group A: Selangor v Police (7.30am, Pitch II), Kuala Lumpur v Singapore (7.30am, Pitch I).

New Straits Times


---

MHC clarify Razak Cup ruling



Malaysian Hockey Confederation (MHC) competitions committee chairman Brian Fernandez says the eligibility rule is there to make sure states develop their own talent. - NSTP/AIZUDDIN SAAD

KUALA LUMPUR: Malaysian Hockey Confederation (MHC) competitions committee chairman Brian Fernandez said today the player eligibility rule in Razak Cup is to make sure states develop their own players.

In a statement, Brian said the rule is not new and has been practised for a long time, only that it was limited to four players this year.

Earlier, states could field as many "guest" players as they liked, provided they get release letters from states that they sign players from.

Player eligibility rules forced Division One teams Negri Sembilan and Perlis, as well as Division Two side Kedah, to withdraw from the Razak Cup at the 11th hour.

"Eligibility rule is there to make sure states develop their own talent and not rely on others to form a team.

"If grassroots development is carried out regularly, states would have no problem fielding a team.

"And as everybody knows, state leagues are very active right now, and players should have been spotted at this level and states should no longer have problems in player selection," said Brian.

Perlis, Kedah and Negri claimed that even though half of their team had identity cards which state they were born elsewhere, the said boys have been schooling as well as playing for them for a long time.

Brian said the competitions committee, chaired by George Koshy and with members from states, emphasise on development and so states should have a bigger pool of players to make sure there is no shortage.

New Straits Times


---

Ex-national goalie Roslan out to play for keeps in his last Razak Cup

By Aftar Singh

KUALA LUMPUR: Former national goalkeeper Roslan Jamaluddin will play for Perak for the last time in the Razak Cup – and he hopes to make it memorable.

Roslan, who turns 40 on Dec 18, wants younger players to take over.

Perak open their campaign against Terengganu today at the National Hockey Stadium in Bukit Jalil and it will be Roslan's 22nd appearance since his debut in 1996 in the country's oldest hockey tournament.

"It will be my last outing for my home state in the tournament. I've contributed enough for the national team and also for Perak in domestic tournaments," said Roslan.

The Perak-born player guided the Silver State to the Division One title by defeating Terengganu 3-2 in the final in his home town in Ipoh last year.

He has also featured for Kuala Lumpur in the Razak Cup.

"The time has come for me to focus on my job as the goalkeepers' coach for the national women's team," said Roslan, who has been coaching the girls since 2016.

"I want to see younger and upcoming goalkeepers playing well in this tournament. Malaysia has produced a number of good goalkeepers and I hope to see more youngsters making their mark in the Razak Cup."

Roslan was only 19 when he was named the best goalkeeper at the 1998 Kuala Lumpur Commonwealth Games. He was part of the team that finished second at the Games.

Being the oldest player in the tournament, Roslan is still fired up to help Perak win the title, which they last won in Kuantan in 2013.

"I'll be playing alongside my younger brother and defender Mohd Izad (Hakimi Jamaluddin), who is back in action after suffering from a knee injury early this year," said Roslan, who has donned national colours 249 times from 1998 to 2015.

"We have a solid team led by former national defender Azlan Misron and I believe that we have the depth to give the other five teams in Division One a strong challenge ," said Roslan.

The other teams in Division One are Melaka, Penang, Johor and Kuala Lumpur.

The Star of Malaysia


---

Who will end the weekend top of the Scottish table?



Grange v Western Wildcats

Several teams have had a place in the sun at the top of both the men`s and women`s National League 1 tables already this season, but so far they have all been unable to hold onto the top spot.

After last Sunday`s catch-up games respective champions Grange and Edinburgh University have emerged from the pack to occupy pole position – the question is, will their tenure be any more permanent?

Grange have a two point lead over Grove Menzieshill, the side they beat 7-3 last Sunday, but the Taysiders do have a game in hand.

It would be a huge result if the Edinburgh side went up to the north-east to face a Gordonians side that have yet to get off the mark and come away empty handed. The sides have already met in the opening game of the season and the champions triumphed 6-1 at Fettes courtesy of a Frank Ryan hat-trick and a double from Aussie Dylan Bean.

Grove Menzieshill will entertain a Western Wildcats side that is more than capable of putting a further dent in their title aspirations.

Last Sunday`s second half struggle against Grange, where Grove Menzieshill conceded six goals without reply, will certainly have given the coaching staff something to think about in midweek training – although perhaps a source of encouragement to the Wildcats` youthful strike force.

Further the Wildcats won the equivalent fixture last season 3-2, the scorers that day were Rob Harwood, Owen Jenkins-Garcia and Andrew McConnell.

And Wildcat`s coach Harry Dunlop will also be anxious to get back to winning ways after losing at home to Edinburgh University, a result that propelled them out of the top four.

Meanwhile – Clydesdale, who have moved down from pole position to fourth, have their third meeting of the season with Hillhead – the first league meeting ended in a 1-1 draw and that was followed by Clydesdale`s 3-2 win in the Scottish Cup.

The `Dale failed to find the net at all against Grove Menzieshill last weekend, perhaps missing their chief striker Struan Walker.

Mark Ralph`s charges followed up a promising start to the campaign with a rather lean spell, only one point from the last three outings, leaving Hillhead now in sixth spot in the table.

After a positive result against Wildcats last weekend, courtesy of a strong second half comeback, Edinburgh University will hope to cement their place in the top four with a home win against second bottom Kelburne. However, coach Graham Moodie will be wary of a Paisley side used to success but struggling a bit in their rebuilding mode, but who recorded their first victory last weekend against Hillhead.

Watsonians against Uddingston is the final fixture on the men's card, both sides are in the lower reaches of the league, and it has a sense of unpredictability about it, although the latter`s free-scoring Aussie Brad Hughes may have a major say in the outcome.



GHK v Clydesdale Western – photo by Duncan Gray

After taking the three points from Wildcats at Auchenhowie last weekend Edinburgh University have moved into a powerful position at the top of the women`s National League 1, they have a two point lead and still with a game in hand.

The students are at home to GHK – and will be looking to ensure they don't lose any ground this weekend.

Wildcats lost their unbeaten record to the champions and failed to find the net, on Saturday they travel to Tayside to take on Grove Menzieshill – another difficult venture.

Grove Menzieshill have had a challenging season so far by their own lofty standards, but what is consistent is the lethal finishing of Lucy Smith, she has scored nine goals in seven outings.

This could be a close affair, last season the equivalent contest finished in a goalless draw. But there is an incentive for both sides to go for the win, three points could well push the Taysiders into the top four while only a victory could guarantee Wildcats` retention of second spot.

The Auchenhowie outfit are on the same points total as Dundee Wanderers who are at home to Grange.

After their strong 3-1 win over Grove Menzieshill last weekend Clydesdale Western should keep up the pressure at the top with a home win over Hillhead, they are now only a single point behind Wanderers and Wildcats and with a game in hand.

Sixth placed Watsonians have scored a goal a game in their last three matches, coach Keith Smith will be anxious to add more at home to Glasgow University. However, the newcomers to the top flight will not be an easy three points, the Glasgow students recorded their second win of the season with a 3-2 score over Grange.

Scottish Hockey Union media release


---

I admired Sean Kerly but I had to let him go, admits fashion guru



Fashion innovator George Davies, left, and Sean Kerly

As the anniversary month of Great Britain's 1988 Olympic triumph ends, The Hockey Paper speaks to the fashion guru who may well have played a part in gold

Sean Kerly's employment status in the 1988 Olympic guide was marked as 'unemployed'.

Working in retail as a merchandise manager for a conglomerate of chains, Kerly's day-to-day had involved monitoring sales and forecasting stock. When the Leicester-based Next purchased the business Kerly was working for, he was kept on to wind the business down. He then moved from Crawley to the midlands to work as a trainee in early 1988, the start of Olympic year.

Kerly was not a regular international either in the build-up, missing Champions Trophy tours and had just started a family. Travelling from Reigate on a Monday morning, Kerly would go back home midweek and return on a Thursday and commute back on Friday trying to play club hockey. 'I was knackered and it wasn't doing me any good'.

Eventually, he went to see George Davies, the founder of retailer Next in the 1980s.

'Mr Davies, I need some time off, there's something I've got to do'.

'Well, when I was a lad I used to play football,' retorted Davies, 'there came a time when I had to choose between my work and sport. You've got a good opportunity here.'

It was an uncomfortable conversation. 'I thought about it for five minutes and when I next went in he told me I had a decision to make. The 5pm phone call from management came that day. I was told to clear my desk out and I was off with a legacy redundancy package.'

Kerly was now free for the five months leading up to Seoul to focus on his hockey, while his coach Roger Self managed to find a sponsor to pay the family mortgage back in Surrey.

With day time also free, Kerly started training in Reigate Park, with a 'killer hill which gave the most pain in the shortest amount of time.'

Who knows the outcome may have been different if Kerly had been granted permission to stay at Next and then stayed on in the job until the squad was given the required time off.

For those five months handed Kerly the time to get Olympics-ready. Conversely, Davies, who went on to build Asda's clothing business, was undergoing a trying time at Next.

1988 was also the year when Davies was front page news before being ousted from Next, the company he founded, at the back end of the year.

"I was under a lot of pressure," the now 76-year-old recalls. "One of the challenges was Sean's training schedules. We would agree a certain time and then it would change again. Not because of him but because of the way the hockey authorities behaved at the time."

Davies had been a gifted sportsman himself and played England schoolboys' football.

"When I joined Littlewoods, I was picked for an Football Association XI in Sheffield. My boss at the time said "you have to choose between your career and your sport, George."

"I wasn't like that. I had tried to work around it all the time.

"When you give somebody a special treatment for quite a period and then it changes again, that's when you have to decide what you have to do."

Today's business environment, says Davies, is a very different market place to the one in the 1980s.

"I admired what Sean did. I was a great believer in him but I was probably under pressure from other people at the time," he admits of his decision to let Kerly go.

"The thing that got me was the lack of understanding. Not with Sean, as I was very proud at what he was achieving."

The rest, as they say, is history.

"He carried on doing very well. He was a great success and it was brilliant for them winning in Seoul."

This article features an extract from Seoul Glow: The Story Behind Britain's First Olympic Hockey Gold, published by Pitch Publishing and available on Amazon

The Hockey Paper


---

Inside Coaching: The new hockey coach



Todd Williams during his time coaching Surbiton Men

With new seasons well under way, columnist Todd Williams hands out advice to those starting in a new role overseeing players

It doesn't matter what the level, it's always exciting to start coaching a new team. Being asked to guide and improve a group of hockey players through a combination of your knowledge, strategies and motivation is a wonderfully positive challenge to take on.

Added to that challenge, however, are the circumstances that have led to your appointment. In many cases, it's where a team hasn't been going as well as perhaps they should and the hope is that you'll be able to do something about it. On the other hand, you might be replacing someone that has been very successful and that brings another entirely different set of challenges.

Either way, there are some important steps a coach can be aware of when you are taking on a new team that can be really helpful in making your integration as efficient, positive and hopefully as successful as possible.

Spread your message

Not surprisingly, these steps are based around the cornerstone of coaching – communication. It sounds obvious but there is far more to it than just your ability to explain a drill or give a half-time talk. It was Einstein that said something like "if you can't explain something easily, you probably don't know it that well yourself" and so putting yourself in situations where you need to explain the simple principles of what you want your team to do is a great way of testing and refining your message.

And don't just limit it to your players. Talk to partners, parents, supporters, loyal club members and anyone else that has an interest in the team you are coaching. Most importantly though, watch their response. If they like what you're saying then your players probably will too. But, if you find people switching off because it's too long or too complicated then it might just be that your players will do the same.

Manage expectations

Sharing your ideas are also a great way of getting your team and the people around them to buy into what you're trying to do. It's inevitable that your style will bring change and whilst that can bring instant success, there's just as good a chance that there might be some backward steps before some forward ones.

Again though, if you've communicated what it is you are trying to do to people either side of the fence, then everyone is more likely to be more accepting of a slow start as long as the right signs are there. Suffice to say that this is something football managers can't bank on!

Be clear on your starting point

Another important part of your message – particularly if your team has been under-performing – should focus specifically on your plan to improve the features of the team's play that haven't been helping them get the results they want.




This could be too much dribbling, poor passing, below average receiving skills or even poor discipline. The point is that whilst you don't want to be seen to be blaming previous coaches or players for seasons past, it's also not fair to inherit those problems as your own doing.

So whilst your team might still not be able to trap in the first few weeks of the new season, it's still important that you, the team and those around them know that you are working hard to improve it.

Understanding change

Finally, and going back to an earlier point, never forget that as a new coach you are bringing with you a process of change. As positive and enthusiastic as you are, and as welcoming as you think your players might be, change is still something that people can struggle with.

Often, players will be completely supportive of your wish to play a different way or to bring in younger players, until it directly effects them. Again, that's why you need your simple and concise message out amongst as many people as possible.

Then, when the situation arises where someone feels aggrieved at selection, pitch time or the position they are playing, you at least have a much better starting point to the conversation. Taking the example above, if someone's receiving is not at the level you need then it's much easier to discuss why they haven't been selected if you've made it clear to the group from the beginning that you see it as one of the most important priorities of your play.

The old saying is that a problem shared is a problem halved. So never forget, you're a coach, not a wizard and you're much better off trying to fix problems and improve players by being open and consistent rather feeling that it's up to you to wave a magic wand to get the results everybody wants.

Todd Williams' coaching column is in association with Gryphon

The Hockey Paper


---

Vermont tops No. 15 Maine for the first time since 2007 in 3-0 shut out



Vermont topped No. 15 Maine for the first time since 2007. Vermont Athletics

ORONO, Maine – Pleun Haantjes scored in the 15th minute and the Vermont Catamounts (8-9, 4-3 AE) never looked back, taking a 3-0 win over the 15th-ranked Maine Black Bears (13-4, 4-3 AE) Friday afternoon in Orono.

COACH'S QUOTE

"We have been talking about maintaining a growth mindset, and one of the objectives going into today was to connect on the pitch for the duration of the match, and have our strongest defensive performance to date against a very effective Maine offense," head coach Katie Pfeifer said. "We certainly accomplished that and will be looking to improve on this performance on Sunday. It was great to see some progress with how we are connecting on attack, and taking some really smart risks as well."

HOW IT HAPPENED


Haantjes received a pass off a Vermont penalty corner in the 15th minute and fired a shot past Mia Borley (5 saves) for the early lead.
Sierra Espeland (9 saves) kept the Catamount lead in the 20th minute with a big save on Maine's Casey Crowley from in close.
Landon Warren received a long pass in the Black Bear circle and was alone with Borley and teammate Bailey Matthews. Warren moved the ball to a waiting Matthews on Borley's left, who found the back of the net easily for a 2-0 lead.
The Cats nearly made it 3-0 in the 35th minute off the stick of Rachel Phillips, but a Vermont foul reversed a Cat goal.
Phillips did not wait long to make another impact though, her 58th minute shot off a Vermont corner was deflected by Warren for the seniors eighth goal of the season.
Maine held a 15-10 edge in shots but only a 9-8 lead in shots on goal. Vermont held a 7-6 advantage on penalty corners, and scored on a pair of corner chances.

NOTES


UVM takes its first win over Maine since October 2007, when UVM left Orono with a 2-1 win. It is just the 10th win over Maine in program history.
Vermont holds a 4-3 America East record heading into Sunday's regular season finale at Moulton Winder Field. The Catamounts will clinch the second seed in next weekend's America East Tournament with a win and a Maine loss on Sunday.
Warren now sits fifth in Vermont field hockey history with 79 career points and is now tied for second in program history with 39 career goals.
Espeland recorded her second career shutout with her nine-save performance against the Black Bears. It is just the second time this season Maine has been held scoreless.
With the victory, the Cats Win, Community Wins campaign and Vermont Mutual Insurance Group will donate another $100 to the Boys and Girls Club of Burlington, bringing this year's total to 86 wins and $8,600.

UP NEXT

Vermont hosts Albany to close the regular season on Sunday (Oct. 28) for Senior Day, presented by UVM Alumni Association, at Moulton Winder Field. Jackie Gillen, Carla Godsman, Olivia Hurd, Lauren Tucker, and Landon Warren will be honored prior to the 2 p.m. match start.

NCAA