All the news for Thursday 25 October 2018

Men's Hero Asian Champions Trophy 2018 - Day 7
Muscat (OMA)




Results 24 October

JPN v PAK (RR)     1 - 1
IND v KOR (RR)     4 - 1

Fixtures 25 October (GMT +4)

18:55     PAK v MAS (RR)
21:10     JPN v OMA (RR)

Pool standings
| Rank | Team | Played | Wins | Draws | Losses | Goals For | Goals Against | Goal Difference | Points |
| --- | --- | --- | --- | --- | --- | --- | --- | --- | --- |
| 1 | India | 5 | 4 | 1 | 0 | 27 | 2 | 25 | 13 |
| 2 | Malaysia | 4 | 3 | 1 | 0 | 10 | 3 | 7 | 10 |
| 3 | Pakistan | 4 | 2 | 1 | 1 | 13 | 6 | 7 | 7 |
| 4 | Japan | 4 | 1 | 1 | 2 | 3 | 13 | -10 | 4 |
| 5 | Korea | 5 | 1 | 0 | 4 | 8 | 15 | -7 | 3 |
| 6 | Oman | 4 | 0 | 0 | 4 | 4 | 26 | -22 | 0 |
---

Japan, Pakistan in 1-1 draw in Hero Asian Champions Trophy Muscat 2018




MUSCAT: Two-time champions Pakistan banked on Mubashar Ali's penalty corner conversion to earn a 1-1 draw with Asian Games gold medallists Japan on Wednesday in the Hero Asian Champions Trophy Muscat 2018 at the Sultan Qaboos Sports Complex.

Captain Kenji Kitazato put Japan in the lead in the 12th minute when he swapped passes with Hirotaka Wakuri to flick into the boards. Ali restored parity for Pakistan in the 25th minute with a low penalty corner drag-flick.

The second half saw both teams squander several scoring opportunities to split two points from this encounter.

In their last encounter, Japan had scored a shock win over Pakistan in the semi-finals of the Asian Games in Jakarta and went on to defeat Malaysia in the title encounter to claim their first gold medal.

Pakistan, with seven points from four matches, are in the third place in the standings behind India and Malaysia, while Japan are on four points from as many games.

Pakistan will take on Malaysia, while Japan will play hosts Oman in their last outings of the preliminary league, which will be followed by the top four teams advancing to the semi-finals.

Pakistan team manager Hasan Sardar and Japan coach Siegfried Aikman were left ruing the missed opportunities.

Sardar was not satisfied with the result, although he said the team played well. "We played well, but missed a lot of chances. We should have scored at least two more goals," said Sardar.

Aikman insisted that Japan should have emerged winners from this encounter. "I'm disappointed with the draw. We created a lot a chances and should have won this one," said Aikman, who has made six changes to his squad of the Asian Games because Japan does not have to prepare for the World Cup starting next month.

"Our players are here to learn. We played a mature game today and the young boys have improved with every outing," he said.

The four Asian teams who have qualified for the World Cup are hosts India, Pakistan, Malaysia and China.

Asian Hockey Federation media release


---

Harmanpreet scores hat-trick in India's 4-1 victory over Korea

Defending Champions remain unbeaten in the round robin stage



Harmanpreet Singh scored a hat-trick of drag flicks

MUSCAT: Harmanpreet Singh scored a hat-trick of penalty corner conversions to give India a 4-1 victory over Korea on Wednesday in the Hero Asian Champions Trophy Muscat 2018, knocking the Koreans out of semi-final contention.

Harmanpreet opened the Indian scoring in the fifth minute with a firm drag-flick and returned to score two goals in the last quarter with rasping shots in the 47th and 59th minute to become the tournament's third player to score a treble.

India's Dilpreet Singh and Pakistan's Aleem Bilal are the other players to have registered hat-tricks in the Hero Asian Champions Trophy Muscat 2018.

After Harmanpreet opened the scoring, Gurjant made it 2-0 in the 10th minute when he picked up a through ball on top of the circle, turned around and sent a stinging shot into the boards.

Lee Seung-Il brought Korea back into the game with an opportunist strike in the 20th minute. Lee picked a short pass inside the scoring zone and sent a rasping shot into the top left corner of the goal, but Korea could not deliver goal-bearing shots in some openings they created after half-time. Harmanpreet's return to goal-scoring action sealed the fate of the encounter.

"I feel happy the way I am shooting the penalty corners. I just focused on a job and they goals came," said Harmanpreet.

After Korea's loss in their last preliminary league outing, they are left on three points.

The four semi-finalists have been decided, but the league standings will be finalised only after Malaysia, Pakistan and Japan play their last preliminary round matches on Thursday.

India stayed on top of the standings with 13 points from five outings, followed by Malaysia on 10 points from four matches, Pakistan on seven points from four outings and Japan on four points in four games.

Korea will play Oman Saturday in the play-off to decide the fifth and sixth positions. Hosts Oman, who are yet to earn a point from four fixtures, still have a game against Japan remaining. Even a victory over Asian Games gold medallists Japan, Oman cannot log more than three points.

Indian coach Harendra Singh was all praise for Harmanpreet. "He is one of the best penalty flickers in the game," the coach said.

Asian Hockey Federation media release


---

Pakistan play 1-1 draw with Japan




LAHORE: Two-time champions Pakistan banked on Mubashar Ali's penalty corner conversion to earn a 1-1 draw with Asian Games gold medallists Japan in the Asian Champions Trophy Hockey Tournament at the Sultan Qaboos Sports Complex in Muscat, Oman on Wednesday. Captain Kenji Kitazato put Japan in the lead in the 12th minute when he swapped passes with Hirotaka Wakuri to flick into the boards. Ali restored parity for Pakistan in the 25th minute with a low penalty corner drag-flick. The second half saw both teams squander several scoring opportunities to split two points from this encounter. In their last encounter, Japan had scored a shock win over Pakistan in the semi-finals of the Asian Games in Jakarta and went on to defeat Malaysia in the title encounter to claim their first gold medal. Pakistan, with seven points from four matches, are in the third place in the standings behind India and Malaysia, while Japan are on four points from as many games.

Pakistan will take on Malaysia, while Japan will play hosts Oman in their last outings of the preliminary league, which will be followed by the top four teams advancing to the semi-finals. Pakistan team manager Hasan Sardar and Japan coach Siegfried Aikman were left ruing the missed opportunities. Sardar was not satisfied with the result, although he said the team played well. "We played well, but missed a lot of chances. We should have scored at least two more goals," said Sardar. Aikman insisted that Japan should have emerged winners from this encounter. "I'm disappointed with the draw. We created a lot a chances and should have won this one," said Aikman, who has made six changes to his squad of the Asian Games because Japan does not have to prepare for the World Cup starting next month. "Our players are here to learn. We played a mature game today and the young boys have improved with every outing," he said. The four Asian teams who have qualified for the World Cup are hosts India, Pakistan, Malaysia and China.

The Asian Hockey Federation (AHF) is the governing body for the sport of hockey in Asia, recognized by the International Hockey Federation (FIH). Founded in 1958, the AHF today has 31-member National Associations and organizes and sanctions more than twenty types of continental and regional events across all levels and age groups as well as overseeing the hockey competitions in several multi-sport events such as the Asian Games.

The Daily Times


---

Harman's hat-trick sinks Korean

Drag-flicker shines in India's 4-1 victory, Men in Blue all but assured top spot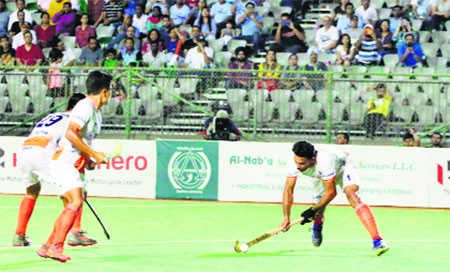 Harmanpreet Singh scored all his goals from penalty corners. AHF

India had to fight hard to break down a gritty South Korea before pulling off a 4-1 win over the former Olympics finalists in the Asian Champions Trophy here today. Harmanpreet Singh scored a hat-trick of penalty-corner conversions as India knocked Korea out of semifinal contention.

Harmanpreet opened the Indian scoring in the fifth minute with a firm drag-flick and returned to score two goals in the last quarter with rasping shots in the 47th and 59th minutes to become the tournament's third player to score a treble.

India's Dilpreet Singh and Pakistan's Aleem Bilal are the other players to have registered hat-tricks in the tournament. After Harmanpreet opened the scoring, Gurjant made it 2-0 in the 10th minute when he picked up a through ball on top of the circle, turned around and sent a stinging shot into the net.

Lee Seung-Il brought Korea back into the game with an opportunist strike in the 20th minute. Lee picked a short pass inside the scoring zone and sent a rasping shot into the top left corner of the goal, but Korea could not deliver goal-bearing shots in some openings they created after half-time. Harmanpreet's return to goal-scoring action sealed the fate of the encounter. "I feel happy the way I am shooting the penalty corners. I just focused on a job and they goals came," said Harmanpreet.

After Korea's loss in their last preliminary league outing, they are left on three points. The four semifinalists have been decided, but the league standings will be finalised only after Malaysia, Pakistan and Japan play their last pool matches tomorrow.

The Tribune


---

India beat Korea 4-1 to remain unbeaten, storm into semis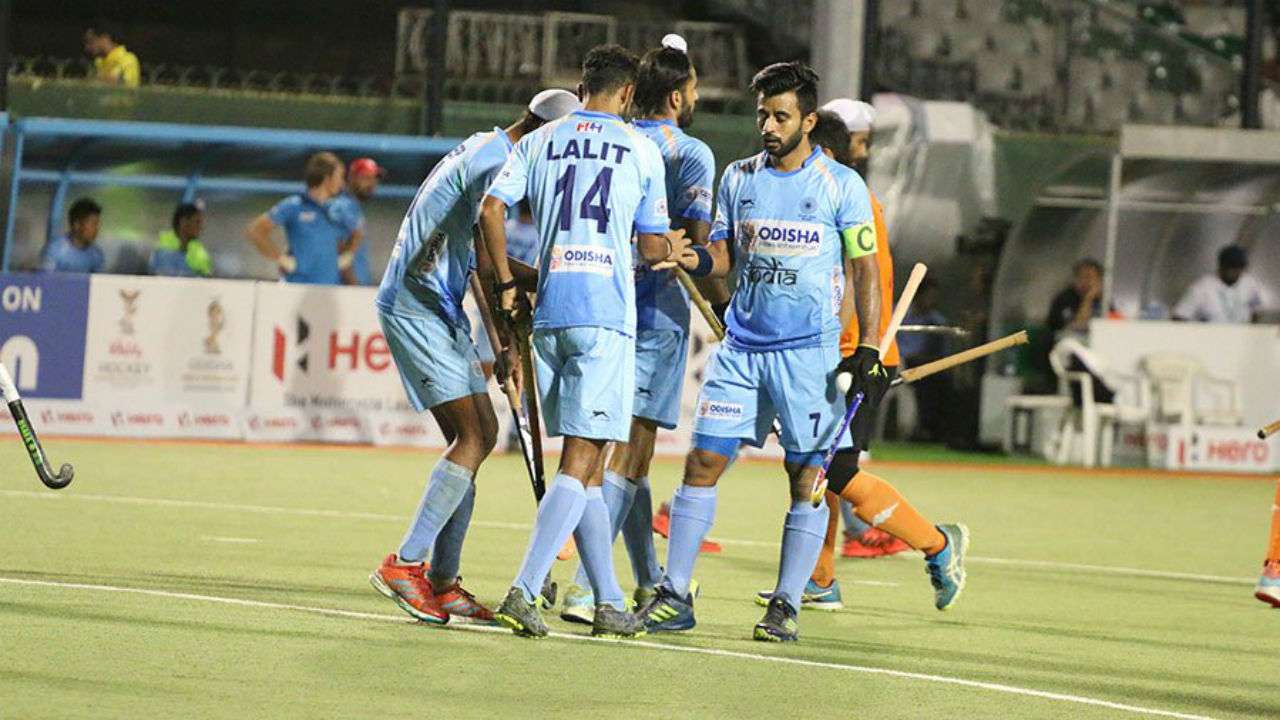 Indian Men's Hockey Team , Twitter(@TheHockeyIndia)

Dragflicker Harmanpreet Singh scored a hat-trick as defending champions India defeated South Korea 4-1 in their final round robin match to keep a clean slate and storm into the semi-finals of the Asian Champions Trophy (ACT) here on Wednesday.

By virtue of this win, India are presently atop the standings with 13 points from five games.

Both India and Malaysia have already qualified for the last four stage of the tournament.

Malaysia still has a game left against Pakistan on Thursday while Asian Games gold medalist Japan will take on hosts Oman.

Harmanpreet (4th, 47th and 59th minutes) converted three penalty corners for India, while Gurjant Singh Singh scored the other from a field effort in the 10th minute.

For South Korea, Lee Seungil scored a brilliant field goal in the 20th minute.

The final semi-final line-up will be decided after last round robin matches on Thursday.

India had earlier thrashed hosts Oman 11-0 before outclassing arch-rivals Pakistan 3-1. In their last two match, India mauled reigning Asian Games gold medalist Japan 9-0 before being held by old nemesis Malaysia to a goalless draw.

Daily News & Analysis


---

Jaded India indulge in individual play as chances go abegging in Malaysia stalemate

Sundeep Misra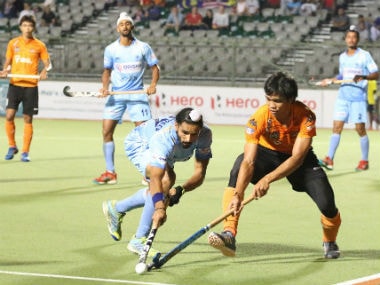 India missed a number of chances in their 0-0 draw against Malaysia. Image courtesy: Twitter/ @TheHockeyIndia

Exactly 35 days are left for Hockey World Cup, and if the goalless draw against Asian Games finalist Malaysia is any indication of match intensity, tactical innovation, and simple preparation, one can safely assume there is much more to be done. Leave alone the 'revenge' theory to somewhat cleanse ourselves of that defeat in the Asian Games semi-final against the same opponents, India, even with 60 percent possession in the match and dominating, somehow never looked like scoring. Each player was an individual trying to make his mark, the word 'team' absent from his terminology.

Malaysia played as if coming in off a trans-Atlantic 15-hour flight. They seemed jet-lagged and heavy on their feet. Attacks were not only sporadic but their lacklustre approach to the game seemed to rub on to the Indians. If that was a tactical move, it brilliantly paid off. If there was something common between both the teams, it was the staid approach, complete lack of innovation which in turn is disquieting and extremely perplexing. If pace was the catalyst that drove the India midfield and forwards upfront, the lack of creativity and the will to organise when things don't go your way was missing.

Yet when the first salvo hit the Malaysian defence, a speedy Gurjant hitting a wonderful reverse from outside the striking circle, the cross whizzing past Mandeep, the feeling was that over the next hour, things will come together. The start was aggressive but slowly the match turned into more of individual skills rather than a team effort. Worrying was the fact that each player decided to go on his own – the effort that went in creating and building the game, like against Pakistan or Japan, was completely missing. India did stretch the flanks and used hard hits into the striking circle. But with due respect, it wasn't an inexperienced Oman defence but an opponent who understands and knows the way India plays.

Technical deficiencies came to the fore. Indian forwards refused to go low on the turf when trapping difficult hits. There was lethargy and inertia that either made them take pot shots or show slackness in front of the goal. The argument could be that India missed 3-4 sure-shot goals and that performances do dip in matches. But consistency is what the team needs to be working on when the World Cup is around the corner; a performance like this in the World Cup and the campaign could end even before it has started.

Dilpreet Singh is a precocious talent at his age. But somebody needs to rein him in when it comes to organising that craft, to be able to use that skill in giving his team victory and not throwing away that flair in a moment of flashy but unrewarding play.

In the first quarter came India's best chance in the match at that stage. Varun Kumar's aerial was perfect. It deflected off a Malaysian defender's stick and sped to Dilpreet who with just the goalkeeper to beat. It's a crime not to test the goalkeeper and get a rebound. In a one-to-one situation, Dilpreet went for the corner but the width was too much.

With a minute left in the 1st Quarter, Akashdeep, who again created most of the chances and effortlessly switched positions, sent in a lovely through ball for Mandeep, who beautifully turned around, sending the defender the wrong way but the shot went high above the goal. It's not the goal, but the expectancy from a forward that he will at least make the shot count by ensuring the opposition defence is on its toes. Even in the last five seconds of the quarter, a cross saw Mandeep bending too late as the ball zipped past his stick.

A different malaise hit India in the rest of the quarters. Playing one-touch hockey seemed the perfect way of finally getting that gap and squeezing in an opening goal. But players decided to strike out on their own. Hardik Singh, in for a lot of praise after the first few games, decided that he would get a goal on his own. Thrice in the match, he launched his own strike, going past 2-3 defenders till being stopped and Malaysia opened up with counters. Luck was in for India that Malaysia didn't show too much of an appetite either. Malaysia's counter-attacks didn't have the usual venom and penetration expected from players like Saari and Tajuddin Tengku.

The play got so scrappy in the 2nd Quarter it resembled a street-fight. Sumit, who seems to be in the play but with no understanding of what needs to be done, raced down the flank, cut into the striking circle and despite Mandeep and Dilpreet in his line of vision, sent the ball out with a rash hit. If the idea was to get a lucky goal, a deflected piece of brilliance, it wasn't happening. None of the players seem to be in the right position. The team was like a bunch of office-goers forced to work on a Sunday.

In the 2nd Quarter, India had six turn-overs, all in the midfield and the edge of the Malaysian striking circle – that's more than the Pakistan and Japan match combined. At the end of the 2nd quarter, India had four shots on goal and 13 circle entries, not good enough by any standard.

The improvements didn't come in the 3rd Quarter. The midfield was muddled. Manpreet Singh, a shadow of the leader against Pakistan, did strive to pick up the pace but the outbound players were struggling to even get into positions. With Malaysia not forcing any concentrated attacks, India could afford to lie low. Surender Kumar had a good first two quarters, a mix of sound defence and a few good aerials. But then in the 3rd and 4th Quarters, the bug caught him too and he started to take on the Malaysian defence, quite often giving away a turn-over and having to run all the way back.

India increased the intensity in the 4th Quarter. But yet again the fluency was missing. The build-up had improved and Lalit set up Nilakanta Sharma with a gift-goal. But the midfielder swung away with a wayward hit as the ball went wide. Nilakanta was in front of the goal with the Malaysian goalkeeper out of position. With frustration building up, India were taking direct hits, hoping something would materialise; a lucky deflection or a horrendous mistake leading to a goal.

India had their 2nd PC in the 4th Quarter. It could have been a telling moment. But Harmanpreet, even though the push was fine, delayed the flick and allowed the runner enough time to deflect. The game had opened up a bit. With India searching for a goal, space had opened up for Malaysia too. Dilpreet created India's 3rd PC with some smart play. But Harmanpreet missed the flick.

In the dying seconds, a lovely through ball from Gurjant found Mandeep but the trap was completely missed. The end move summed up India's play which could be termed very disappointing. Applying too much pressure does backfire and one doesn't know if that's what happened on the pitch. In the lead-up to the World Cup, every game counts and the performance against Malaysia would worry the management. The positive is it came early in the Asian Champions Trophy and hopefully corrective measures would be taken. It's not the lack of goals that is worrying but the individual play indulged in by seasoned players as well as the youngsters.

The lack of organisation was apparent. Crucially, Malaysia might have become our psychological bugbear. With ten points each, both India and Malaysia are through to the semi-finals with India topping the pool as they have a better goal difference. The goalless draw was the first between the teams in their last ten games out of which India have won six and Malaysia three. As the teams cooled down at the Sultan Qaboos Sports Complex, the night fading away into the distance, what loomed large were the misses. In the Asian Champions Trophy, there will always be second chances. In the World Cup, none.

Firstpost


---

Forwards must sharpen up for Pakistan after draw with India

By Aftar Singh

KUALA LUMPUR: The Malaysian hockey forwards need to buck up for their match against two-time champions Pakistan in the men's Asian Champions Trophy in Muscat, Oman, today.

The Malaysian strikeforce of Faizal Saari, Tengku Ahmad Tajuddin Tengku Abdul Jalil, Muhd Firhan Ashaari, Muhd Shahril Saabah and Nik Muhd Aiman Nik Rozemi failed to make a decent attempt at goal against defending champions India, which ended in a 0-0 draw at the Sultan Qaboos Sports Complex on Tuesday.

Malaysia, who edged India 7-6 in a penalty shootout after both teams drew 2-2 in regulation time to qualify for the final in the Asian Games in Jakarta last month, also failed to earn a single penalty corner this time.

India dominated the match and created a few good chances. They also earned three penalty corners but were let down by poor finishing.

Malaysia's slightly-built defender Faiz Helmi Jali was named the man of the match for his good defending.

Malaysia and India are tied on 10 points with three wins and a draw but India top the standings because of a better goal difference.

Malaysia last played Pakistan in the Asian Games last month where Malaysia were outplayed 4-1 in the group match.

Muhd Amirol Aided Mohd Arshad suffered a hamstring injury against India and will be doubtful for the Pakistan game.

National coach Roelant Oltmans was happy with the outcome against India although he felt they didn't have enough ball possession.

"I'm proud of the team's effort in defence. The players worked hard and were disciplined.

"We didn't give many opportunities to a team who have already scored 23 goals in the first three matches.

"The important thing is to recover from two back-to-back tough matches. And once we've recovered, I would like to see a better performance and better ball possession," said the 64-year-old Dutchman.

The Star of Malaysia


---

Easy path for Malaysia to reach final round of Olympic qualifiers

KUALA LUMPUR: The national men's hockey squad can expect an easy path towards the final round of the Tokyo 2020 Olympic qualifiers after the International Hockey Federation (FIH) confirmed the composition of the pools for the FIH Series Finals next year.

On paper, world No. 11 Canada are the only threat for hosts Malaysia, who are ranked 12th in the world. The pool also includes China (17), Austria (18), Wales (24), Brazil (26), Italy (37) and Vanuatu (64).

The Malaysian Tigers need to secure a top-two finish in the tournament scheduled from April 26 to May 4 next year at the National Hockey Stadium to confirm their berth for the final round of the Olympic qualifiers.

FIH, through their official website, also announced that India will host another Series Finals from June 6-16 while France's edition is scheduled from June 15-23.

The national women's squad, ranked 22nd in the world, are set to face stiff challenges after being put in the same pool as hosts Ireland (8), South Korea (10), Scotland (18), Czech Republic (19), Ukraine (27), France and one team qualifying from the Hockey Series Open.

FIH have yet to confirm the venue for the tournament, which is scheduled from June 8-16 while Japan and Spain will host the other two editions from June 15-23 and June 19-27 respectively.

A total of 24 men's and 24 women's teams, with three pools of eight teams, will battle and only the top two finishers will advance to the Olympic qualifiers to be held in November next year.

The final round of the Olympic qualifiers will feature 12 teams, six from the Hockey Series Finals, four Pro-League teams and two teams based on world rankings.

Only seven teams will qualify for Tokyo 2020.

Japan, who have automatically qualified as the host, have also taken the continental champions spot after bagging the Asian Games gold medal in both the men's and women's events.

The Star of Malaysia


---

Black Sticks can quit living off scraps, says men's coach

OLIVIA CALDWELL



Olivia Merry and the women's and men's Black Sticks will receive additional fnding ahead of the Tokyo Olympics from businessman Sir Owen Glenn and HPSNZ. ALISHA LOVRICH/PHOTOSPORT

Black Sticks men's coach Darren Smith says the new cash injection for Hockey New Zealand means his players can stop living off the smell of an oily rag.

The Black Sticks will receive a $4 million dollar cash injection from the government and Kiwi businessman Sir Owen Glenn.

The men and women's teams will receive the much-needed funding boost of $2 million a year starting next month.



Sir Owen Glenn has donated $2 million to the Black Sticks squads. TOM LEE/FAIRFAX NZ

Glenn will donate $1 million per annum for two years while the government through High Performance Sport New Zealand will match the figure bringing the overall boost to $4 million.

Black Sticks men's coach Darren Smith says the injection allows his players a level of comfortable living, something they have never really had.

Smith said the funding will change a lot for his side, including the hours they train, the amount of work they will have to do outside hockey and hopefully their performance.

"It means a better balance between work and study. It is a really exciting time and we had some happy men at training the day after that email went out," he said.

Twenty-five players from Smith's team will now be on contract, meaning each will get a retainer and match fees on top when they are selected to play. The Black Sticks women will also have 25 contracted players.

"It's just the way sport is going and I think it is fantastic. If you are a Black Stick and you do a bit of work...we hope you can live comfortable and if you are doing study you can start to live a bit more comfortably and that's all we want."

"They have been living off the smell of an oily rag and, yes we are happy to do that, we are Kiwi.

"But it's massive and it is a massive step forward."

Smith was a Black Stick between 1995 and 2006. He was not paid to play the sport and says the new financial incentive will help with balance in the players' lives.

The team are with Smith for 130 days of the year, which in the past has basically been free labour.

"Unless you are giving someone 100k you have got to allow them to balance or otherwise you end up going through a sporting career, where they are not allowed to save enough to buy a house. We have just got to be smart here."

The funding is to help the Black Sticks in their lead-up to the 2020 Tokyo Olympic campaigns.

Hockey NZ boss Ian Francis said the money comes at a crucial time for the Black Sticks squads.

"For our players to compete in the FIH Pro League and on to the Tokyo Olympics, we needed to raise significant additional funds.

Meanwhile, Hockey New Zealand confirmed Black Sticks women's coach Mark Hager will be part of the selection process to pick women's team.

Hager's position is under review following claims that he created a negative environment within the side. The review is due to be released by HNZ at the end of next month.

Francis says he was confident with the selection process and that there will be no conflict of interest, despite Hager's involvement.

"Mark is our head coach and we've got a team of selectors in and around him, and there is actually a full selection process to undertake. So yes we are confident in the process."

Glenn, a former hockey player, donated the money in the hope it would give the Black Sticks a better chance at winning medals in Tokyo.

Stuff


---

FIH to capitalise on Hockey 5s format

By The Hockey Paper



Argentina women claimed a first gold PIC: Hockey Argentina

The International Hockey Federation (FIH) believes it can capitalise on the success of Hockey 5s at the Youth Olympics.

Argentina women and Malaysia men took gold last week in Buenos Aires in a tournament which saw packed crowds, as well as minor nations take part.

"After the huge success of the Hockey5s, we will be reviewing all opportunities for this format and all age groups," Jon Wyatt, FIH sport and development director, told The Hockey Paper.

Argentina has looked into hosting an under-18 Hockey 5s World Cup three years ago, but the FIH hasn't ruled out a global tournament at junior level to further grow the game.

Wyatt added: "There are no current proposals on the table, but we are certainly looking to capitalise on the success to attract new players to the sport across all formats.

"A successful shorter format has been demonstrated to be very positive across many sports and hockey is no different to this."

"The hugely successful Indoor World Cup in Berlin earlier this year, and the very popular Hockey 5s tournament this month, have demonstrated that hockey has very attractive and exciting shorter formats that are engaging new players and fans around the world."

Several top nations didn't enter qualifying for the Youth Olympics, including Holland, Great Britain and Germany.



FIH hope Hockey 5s will attract new audience PIC: Buenos Aires 2018

Great Britain officials told The Hockey Paper that their decision was based on "finite resources at our disposal" but would look at participating in Hockey 5s in the future.

Wyatt said: "We hope that as many nations as possible choose to participate in as many different formats of hockey as possible, but also appreciate that every nation has different resources and priorities.

"Having traditional hockey nations participating in these formats is obviously great, but it is also exciting that newer hockey nations are succeeding in these new formats providing hockey with the chance to grow quickly in less well developed hockey nations."

The Hockey Paper


---

New Zealand Officials make their mark at Youth Olympic Games




The Youth Olympic Games is an international sports, cultural and educational event for all. This was no exception for the New Zealand officials appointed to the tournament from the Oceania Hockey Federation, Colin French, Nick Saunders and Helen Travers.

The elite sporting event aimed to develop younger athletes and the community through the Olympic values – excellence, friendship and respect – was held in Buenos Aires, Argentina from October 7-18. With 32 sports involved, including hockey in the 5's format, Buenos Aires as hosts fully embraced the opportunity to bring it's unique energy and latin spirit to this special sporting spectacle.

Helen and Nick spent the most part of their Youth Olympic Games experience on the turf displaying excellent performances which were reflected in the positions they were appointed as competition commenced. Nick made his way to umpiring a semi-final and was named a reserve for the men's gold medal match, while Helen reached the top position that the games offered – Technical Official for the women's final.

"The Youth Olympic Games was an amazing experience with the exciting format of Hockey 5's together with non-stop action and fantastic vocal crowds," said Hockey New Zealand's Technical Manager Colin French. "A special acknowledgment to Helen Travers & Nick Saunders who not only had very strong performances on the field, but who were also excellent ambassadors for NZ and contributed so much to the hockey officials team by embracing the Olympic values in all that they did."

New Zealand has had multiple officials excel on the world stage as of late, including most recently Gavin Hawke, Kelly Hudson, and Amber Church at the 2018 Women's World Cup. This demonstrates the pathways there are for all our aspiring umpires and officials to aim for.

Hockey New Zealand Media release


---

Teams' pullout leaves Razak Cup in turmoil

By Jugjet Singh

KUALA LUMPUR: The second oldest hockey tournament in the country was thrown into turmoil at the 11th hour, as two teams have withdrawn while one more is waiting for an appeal.

The problem is the player-eligibility rule which was introduced a month ago after the closing date of entries.

The 56th Razak Cup will start at the Bukit Jalil Stadium on Friday but Division One team Negri Sembilan and Division Two team Kedah have written to the Malaysian Hockey Confederation (MHC) to withdraw their teams.

Perlis, in Division One, are still waiting for an appeal to be considered by MHC.

However, it looks like the three states can say goodbye to their Razak Cup hopes, as MHC Competitions Committee manager Brian Fernandez, when asked if they will relax the rule, said: "It's the states' prerogative if they wish to participate or not."

Negri team manager S. Chandran said in the end, the players will become victims of a rigid rule.

"After the entries closed we were informed of a new eligibility rule where only four guest players are allowed per-team while the rest must be born in their respective states.

"More than half of our boys were born in other states but have been studying and staying in Negri Sembilan for a long time. In fact, they are a product of our development programme.

"Only their identity card number shows that they were born in another state (normally the mother's state).

"So, we did appeal to the MHC Competitions Committee to relax the rule but they stood their ground. And so, we have no choice to withdraw even though all the players played for Negri in the recent Malaysia Games," said Chandran.

The Razak Cup team managers meeting is tomorrow.

Kedah HA secretary B. Sandra Gesan faces the same problem.

"Half our team is born in other states but we are the ones who developed them. So we had no choice but to withdraw," said Sandra.

Perlis team manager Mohamed Shurizat said they are still waiting: "We are also facing the same problem like Kedah and Negri, as half of our boys are born in other states as well.

"If there is no favourable reply from the Competitions Committee, we will be forced to withdraw as we do not want to be whipping boys in Division One."

For the record, the oldest hockey tournament in the country is the Gurdwara Cup which has been held for 67 years without a single break.

New Straits Times


---

Negri and Kedah pull out of Razak Cup – no thanks to new rules

By Aftar Singh

KUALA LUMPUR: The Razak Cup hockey tournament, which begins tomorrow at the National Hockey Stadium in Bukit Jalil, is in turmoil after Negri Sembilan and Kedah have pulled out at the eleventh hour due to the new competition rules.

Under the new rules, introduced by the Malaysian Hockey Confederation (MHC) competitions committee, each state is allowed to have four guest players.

Negri Sembilan team manager S. Chandran said they are unhappy with the new rules.

"We have eight players, who are studying at schools in Tampin and in Gemencheh, which are districts of Negri Sembilan," said Chandran, who is also the Negri Sembilan Hockey Association coaching committee chairman.

"And they've been playing for us in age group tournaments and also the Sukma. We have named them for the Razak Cup.

"But the eight players' MyKad code is 04 as they were born in Melaka.

"So, these players are considered guest players and we must get a release letter from the Melaka HA for them to play for us in the Razak Cup."

"We have supporting documents to prove that they're all studying and playing for Negri Sembilan since they were young.

"We'll also provide you copies of their school leaving certificates and also supporting documents from their respective schools that they are still studying in Negri Sembilan.

"We tried to contact the MHC competitions committee chairman and team competition committee manager to explain the situation. But they were unable to resolve the issue.

"The MHC president and deputy president also could not assist us. We have no choice but to withdraw from this year's Razak Cup," said Chandran.

Kedah HA secretary B. Sandragesan said they also withdrew due to the four guest players ruling.

"We have seven players who have played for Kedah in age group tournaments although they are born in Penang," said Sandragesan.

"We could not assemble a team for the Razak Cup because we could not get the release from Penang HA.

"We also could not get in touch with MHC officials to help us resolve the issue. So we decided to pull out."

With Negri Sembilan's withdrawal, seven teams will feature in Division One – defending champions Perak, Terengganu, Kuala Lumpur, Penang, Melaka, Johor and Perlis.

Kedah were supposed to play in Division Two and with their withdrawal, only six teams are left – Pahang, Armed Forces, Kelantan, Selangor, Police and Singapore.

Meanwhile, MHC competitions committee manager Brian Fernandez, who was supposed to be in charge of all domestic tournaments in Malaysia, is in Muscat, Oman, as the tournament director of the Asian Champions Trophy.

The Razak Cup – now in its 56th edition – is the oldest hockey tournament in the country.

The Star of Malaysia


---

Sarjit thrilled to be back coaching his home state




KUALA LUMPUR: Former national coach Sarjit Singh (pic) is back in his home state Johor to guide them in the Razak Cup hockey tournament, starting tomorrow at the National Hockey Stadium in Bukit Jalil.

Sarjit was hired as chief coach of Johor for two years beginning this month.

The former national skipper was coach of Terengganu from 2014 to 2018 and he guided the East coast state to win the Razak Cup in 2016.

Sarjit also helped Terengganu win Malaysia Hockey League (MHL) double titles – league and overall – three times from 2014 to 2016.

Sarjit said he last coached Johor in the Razak Cup in 2009 and he was happy to return after nine years.

"The Razak Cup will be my first assignment and I'm looking forward to helping Johor do well.

"We only had our first training session today and we also don't have any national players in the team," said Sarjit, who was the national coach from 2006 to 2008.

"Most of the players in the squad are from the Malaysia Games (Sukma) squad that played in Perak last month.

"But I have faith in the players and I believe that we can reach the semi-finals despite being drawn in a tough group," said Sarjit.

Eight teams will feature in Division One and Johor are drawn in Group B with last year's runners-up Terengganu, Melaka and Penang while defending champions Perak are in Group A with Kuala Lumpur, Negri Sembilan and Perlis.

Sarjit added that all three teams in their group are strong and the challenge would be on them to play well in every match.

"I have included almost 10 Sukma players in the Razak Cup as I was hired to help Johor win gold in the 2020 Sukma, which Johor will be hosting," said Sarjit.

Last year, Johor featured in Division One and they finished seventh among eight teams.

The Star of Malaysia


---

Indoor is back as Western Province host the 2018 Indoor IPT




The outdoor club season has winded down across South Africa and attention has shifted back to indoor hockey as the provincial sides prepare to face off for a battle of supremacy. The Belville Velodrome, which hosted the 2016 edition, will once again play host to 22 teams playing off over four days for the title of South African Men's or Women's indoor champions.

We start with the girls, with indoor hockey on a high following the 3-0 series victory against African Champions Namibia, taking the run to 25 undefeated matches in a row. The 12-team's taking part of in the Women's tournament will all be looking to try and stop the imperious SPAR KZN Raiders who have won the last 7 titles in a row. They have the two most capped indoor players in Africa in Jessica O'Connor and Cindy Hack and complete the line-up with 6 further South African players, including the player of the series from the recent SPAR Series Jessica Lardant, and Namibian superstar Kiana Cormack. On paper they will be the team to beat once again.

Southern Gauteng will be optimistic about their opportunity to dethrone the Raiders as they will offer a first Gauteng selection at nationals to the brilliant Kara Botes, while Lilian du Plessis, Alex Kavanagh and Robyn Johnson were all part of the most recent national squad. In Namibian Petro Stoffberg they have a shot stopper that can decide matches.

The KZN Inland challenge also looks to be a good one after their runner-up finish in 2017. They have the abilities of Amore de Wet and sensational youngster Edith Molikoe along with goal scoring machine Eloise Walters and Amy Greaves filling the squad. Keagan Walters is also a passionate coach who manages to get the best out of his teams so will be looking to time the run perfectly again.

You also can't discount the abilities of Western Province playing at home, they are a much-changed team from the impressive 2017 team but in Gillian Hermanus, Jamie Southgate and Jessica Glass they have great experience and talent. They also have a superb keeper in Nicole la Fleur who always saves her best for the biggest games.

Women's IPT 2018 – Groups

Group A

Southern Gauteng
WP Disa's
KZN Mynahs
Eastern Gauteng
Western Province
Mpumalanga

Group B

Northern Blues
WP Peninsula
KZN Inland
SG Witsies
SPAR KZN Raiders
Free State

In the men's tournament it will be a case of rebuilding the confidence after the disappointment of the indoor hockey world cup. All eyes will obviously look to the KZN Raiders once again, but it will be a much different side that Cameron Mackay presides over. There are a host of changes and playing away from home the Raiders will be up against it. Jonty Robinson, Jarryd Jones and Greg Last will be integral for the defending champions.

Southern Gauteng will be looking to go a step further this year after back-to-back silver medals. They have lethal goal-scoring talent in Chad Futcher and Julian Hykes, while the experience of Reza Rosenberg and Kyle Marks will be of incredible importance. Can they step up to challenge the other sides?

Dale Isaac will lead the challenge for last year's bronze medallists, who will be looking to at least get into the title match this time around as hosts. They once again have a host of new caps, so the challenge will be a tough one, but the likes of Jacki Mohlaba, Andrew Winter and Anton van Loggerenberg are all capable of producing moments of magic.

The men will also have to deal with the challenge of Namibia, who have been invited to take part once again. Trevor Cormack has continued his blend of selection bringing DJ Strauss, Brynn Cleak and Siyabonga Martins all selected along with the young stars in Cody van der Merwe, Liam Hermanus and Nico Neethling. They will be a fantastic test for everyone they play against and will add a great quality to the tournament.

Mens IPT 2018 – Groups

Group A

KZN Mynahs
Northern Blues
KZN Raiders
Namibia
WP Peninsula

Group B
   
PSI WP Invitational
Eastern Gauteng
Southern Gauteng
Western Province
Mpumalanga

SA Hockey Association media release