All the news for Thursday 11 October 2018

3rd Youth Olympic Games - Day 4
Buenos Aires (ARG)

Men's Results

AUT 4 KEN 3
MEX 6 ZAM 4
VAN 1 POL 15
BAN 5 CAN 2
MAS 2 ARG 4
IND 3 AUS 4

Pool standings
Men' Pool A
Rank
Team
Matches
Goals
 
Played
Won
Draw
Lost
For
Against
Diff
Points
1
4
4
0
0
12
2
4
3
0
1
9
3
4
2
0
2
6
4
4
2
0
2
6
5
4
1
0
3
3
6
4
0
0
4
0
Men's Pool B
Rank
Team
Matches
Goals
 
Played
Won
Draw
Lost
For
Against
Diff
Points
1
4
4
0
0
12
2
4
3
0
1
9
3
4
3
0
1
9
4
4
1
0
3
3
5
4
1
0
3
3
6
4
0
0
4
0
Women's results

MEX 1 ZIM 2
CHN 3 AUS 1
NAM 0 POL 1
URU 18 VAN 0
IND 2 ARG 5
AUT 1 RSA 2

Pool Standings
Women's Pool A
Rank
Team
Matches
Goals
 
Played
Won
Draw
Lost
For
Against
Diff
Points
1
4
4
0
0
12
2
4
3
0
1
9
3
4
3
0
1
9
4
4
1
0
3
3
5
4
1
0
3
3
6
4
0
0
4
0
Women's Pool B
Rank
Team
Matches
Goals
 
Played
Won
Draw
Lost
For
Against
Diff
Points
1
4
4
0
0
12
2
4
2
1
1
7
3
4
2
0
2
6
4
4
1
1
2
4
5
4
1
0
3
3
6
4
0
2
2
2
---

More teams progress to Quarter-Finals at YOG 2018



China women made it four wins from four on Day four Photo: FIH/WSP

Day four of the Buenos Aires 2018 Youth Olympic Games saw more teams qualify for the Quarter-Finals of the men's and women's Hockey5s events in Youth Olympic Park.

In the women's event, Australia, China and Poland qualified from Pool B.

Reigning champions China beat fellow qualifiers Australia this morning, but it proved their most challenging match so far. Two goals from Zou Meirong plus another from Gu Yangyan was enough to secure their 3-1 win to maintain their 100% record in the competition.

Poland meanwhile edged Namibia 1-0 to qualify thanks to a goal from Dzesika Mazur, while earlier in the day Zimbabwe kept their Quarter-Final hopes alive by defeating Mexico 2-1.



Zimbabwe Minister for Sport, IOC Athletes' Commission Chair and Zimbabwe Olympic Committee Vice-President Kirsty Coventry proved a lucky charm for her team today Photo: FIH

Uruguay women got today's Pool A proceedings off to a stunning start as they picked up their first win in some style by defeating Vanuatu 18-0, which included six goals from Pilar Oliveros.

Argentina meanwhile continued their winning streak whilst also ending India's 100% record as the hosts won 5-2.

The last women's Pool A match of the day say South Africa clinch their place in the Quarter-Finals thanks to a narrow 2-1 win against Austria.

In the men's competition, Poland pulled off the biggest win of day four as they defeated Vanuatu 15-1 in Pool A. Their win included five goals from Eryk Bembenek.

The Pool A leaders, Argentina and Malaysia, also went head to head today, with the hosts emerging 4-2 winners to maintain their undefeated record in front of another bumper crowd.

Speaking afterwards, Argentina's Tadeo Marucci said: "We are feeling really enthusiastic going into the next matches. I'm really proud of our performances so far but we need to keep improving."

Teammate Santiago Micaz added: "The dynamic and attitude of the team has been really impressive. We are always attacking but also working hard for each other. The fans have also been amazing and been a huge boost for us."

Mexico meanwhile picked up their first win as they defeated Zambia in a 6-4 thriller this afternoon.

In men's Pool B, Australia remain the only unbeaten team as they beat Asian rivals India 4-3.

Austria picked up their third win of the event, but Kenya made them work for their victory with the final score also 4-3.

Bangladesh were another team to secure their first win of the event as they defeated Canada 5-2, with Safiul Alam grabbing two goals for his team.

#YOG2018

FIH site


---

Aussie Hockey 5s Men Remain Perfect At Youth Olympics

Ben Somerford




The Australian men's Hockey 5s team have maintained their perfect record at the 2018 Youth Olympics in Buenos Aires despite a scare winning 4-3 over India on Thursday morning.

Meanwhile, Australia's women went down 3-1 to reigning champions China PR, but despite the defeat still qualified for the quarters.

China scored twice inside the first five minutes to open up a lead before Maddison Smith replied for Australia in the eighth minute.

Australia couldn't muster an equaliser before the Chinese sealed the win with a 14th minute goal to Zou Meirong.

In a tight clash in the men's competition, Australia took an early two-goal lead after strikes from Miles Davis and James Collins.

India hit back before half-time but the game remained 2-1 until a frantic final three minutes where four goals were scored.

Australia initially moved further ahead through Alistair Murray's goal but India immediately.

Co-captain Bradley Marais restored the two-goal margin but India grabbed another late goal, only for Australia to hold on.

Australia are up against Austria next in the men's (1:45am AEDT)  and Mexico in the women's (5:30am AEDT) on Wednesday morning.

Click here to view men's report

Click here to view women's report

For the first time ever, there will be 24/7 streaming Youth Olympic Games coverage through www.olympics.com.au/live-stream.

Australian Schedule (all times AEDT):
Men's Hockey
Monday 8 October 1am – Australia 7 Kenya 0
Tuesday 9 October 4am – Australia 4 Bangladesh 3
Wednesday 10 October 1am – Australia 6 Canada 3
Thursday 11 October 7:45am – Australia 4 India 3
Friday 12 October 1:45am – Australia v Austria

Women's Hockey
Monday 8 October 3:30am – Australia 10 Zimbabwe 0
Tuesday 9 October 1am – Australia 3 Namibia 4
Wednesday 10 October 5:30am – Australia 8 Poland 0
Thursday 11 October 12:15am – Australia 1 China 3
Friday 12 October 5:30am – Australia v Mexico

Selected Australian Teams:
Men's Hockey
Lain Carr (18), Matcham, NSW
James Collins (18), Perth, WA
Miles Davis (17), Sydney NSW
Brad Marais (18), Melbourne VIC
Craig Marais (16), Melbourne, VIC
Alistair Murray (18), Tincurrin, WA
Jed Snowden (16), Melbourne, VIC
Christian Starkie (17), Perth, WA
Ben White (18), Blackburn, VIC

Women's Hockey
Caitlin Cooper (17), Perth, WA
Naomi Duncan (16), Sydney, NSW
Amy Lawton (16), Emerald, VIC
Morgan Mathison (18), Gold Coast, QLD
Indianna Robertson (18), Bentleigh, VIC
Courtney Schonell (17), Narellan Vale, NSW
Jolie Sertorio (16), Peppermint Grove, WA
Maddison Smith (18), Albion Park, NSW
Grace Young (15), Yowie Bay, NSW

Hockey Australia media release


---

Indian women's hockey team goes down to Argentina

The Indian under-18 women's hockey team suffered its first loss of the Youth Olympics' five-a-side competition, going down 2-5 to hosts Argentina in Buenos Aires.

After three successive wins, India lost the toughest match they played in the event on Wednesday night.

Argentina opened scoring with a seventh minute goal through Celina Di Santo. India's Mumtaz Khan equalised soon after in the eighth minute but the hosts regained the lead in the 10th minute with a field goal by Sofia Ramallo.

Just before the half-time, Reet scored a fine field goal draw level for India.

The second period, however, was totally dominated by Argentina as they showcased brilliant attack that helped them score three back-to-back goals in the 12th, 17th and 19th minute through Sofia, Josefina Rubenacker and Gianella Palet respectively.

The Indian team will now face South Africa in their fifth match of the competition on Thursday.

Daily News & Analysis


---

Senior hockey player Jankunas wishes she could relive her Youth Olympic Games



Credit: Buenos Aires 2018 Olympic Committee

Argentina's hockey 5s team, the favourites for the gold medal, got a very special guest during their third match at Buenos Aires 2018 - Julieta Jankunas, a member of the senior national team 'Las Leonas'.

For Jankunas, the Youth Olympic Games have a very special and personal meaning. She was part of the junior team that won the bronze medal at Nanjing 2014 and she was the top scorer in the tournament, getting 19 goals. She was only 15 years old at the time.

"I have the best memories of the Youth Games, what I experienced there was incredible," Jankunas said. "If I could, I would go through it again, 1,000 times.

"The Youth Games motivated me. It was almost like jumping into the life of a professional player, being careful with the meals, exercising a lot," she added. "It was then when I knew that this wasn't only about hockey. I chose to follow that path to achieve my dream of playing for 'Las Leonas'."



Argentine field hockey player Julieta Jankunas watches the junior team's victory from the stands. (Photo: Santiago Abdala / Buenos Aires 2018)

Among the things that Jankunas remembers most fondly about Nanjing 2014 is the Youth Olympic Village.

"It was beautiful to live there, where you get to share a home with people from all over the world and meet a lot of people. But that's also the place where you are when you go in search of the dream, and your goal is to win a medal," Jankunas said. "Getting to be the top scorer at Nanjing was something unbelievable. I still cannot believe it. I wish I could live it again."



Jankunas was part of the Argentine field hockey team that won a bronze medal at Nanjing 2014. (Photo: Santiago Abdala / Buenos Aires 2018)

Speaking about Argentina's women's hockey 5s team at the 2018 Youth Olympic Games, Jankunas said: "I see them very well. They've trained a lot and they are well prepared for this. My message to all the other athletes is that they have to enjoy this, to feel the Argentine support, which is something unique, as well as the encouragement of their families."

For Jankunas, the Youth Olympic Games were a huge springboard in her career. After Nanjing 2014, her team won the 2016 Women's Hockey Junior World Cup in Chile. And this year she played his first senior World Cup in London. She scored Las Leonas' first goal in that tournament, becoming the youngest player to accomplish this feat, at age 19.

"Playing for Las Leoncitas and playing for Las Leonas are two different things. You get different sensations and feelings," she said. "But when you're wearing Argentina's shirt you just want to honour it, so the passion is the same."

From the Youth Olympic Games to the World Cup, Jankunas' career blossomed in just a few years. Her dream of playing for the national team came true and she now hopes to see Las Leoncitas accomplishing their dreams at Buenos Aires 2018. In the meantime, she is here to watch and support them.

FIH site


---

2018 Sultan of Johor Cup - Day 4
Johor Bahru (MAS)

Results 10 October

IND v AUS (RR)     5 - 4
MAS v GBR (RR)     1 - 5
NZL v JPN (RR)     2 - 2

Pool standings
| Rank | Team | Played | Wins | Draws | Losses | Goals For | Goals Against | Goal Difference | Points |
| --- | --- | --- | --- | --- | --- | --- | --- | --- | --- |
| 1 | India | 4 | 4 | 0 | 0 | 15 | 6 | 9 | 12 |
| 2 | Great Britain | 4 | 2 | 1 | 1 | 11 | 7 | 4 | 7 |
| 3 | Japan | 4 | 2 | 1 | 1 | 6 | 5 | 1 | 7 |
| 4 | Australia | 4 | 1 | 1 | 2 | 13 | 10 | 3 | 4 |
| 5 | New Zealand | 4 | 0 | 2 | 2 | 10 | 17 | -7 | 2 |
| 6 | Malaysia | 4 | 0 | 1 | 3 | 8 | 18 | -10 | 1 |
---

Burras Beaten By India Denting Final Hopes

Ben Somerford




The Burras' hopes of qualifying for the Sultan of Johor Cup final after practically after suffering a pulsating 5-4 defeat to runaway leaders India on Wednesday night at the Taman Daya Hockey Stadium.

The Indians were champions in 2013 and 2014 and are now on target to win a treble of titles, having qualified for Saturday's decider with the win.

India made a great start in the first quarter when they took a 4-0 lead. The Australians were simply overwhelmed by the Indian's attack before Damon Steffens led a fightback with four goals.

Gurusahibit Singh scored in the sixth-minute form a field attempt. This was followed by another field goal with Haspreet Singh deflecting the ball from close range.

In the 14th minute, Mandeep Mor managed to make good use of their first penalty corner as he flicked low to the right to give goal number three for India.

A minute later Vishanukant Singh was on target for a 4-0 first quarter lead.

The second quarter saw a more settled Australian side as they managed to pull a goal back in the 18th minute through a Damon Steffens penalty corner.

Steffens was again on target at the start of the third quarter with the third penalty corner in the 35th minute. It seemed like the Australians might make a comeback in the game.

In the 43rd minute, Shilanand Lakra added the fifth goal to ease the pressure on the Indian team.

The fourth quarter saw India starting with a 5-2 lead.

The last quarter saw the defending champions pushing hard but found the Indian defensive wall a hard nut to crack.

In the 58th minute from their 12th penalty corner attempt, the Australians gained a penalty stroke. Damon Steffens made no mistake for his third goal of the match.

And a minute later with 35 seconds on the clock, the Australians scored their fourth goal off a penalty corner once again from Steffens, but time ran out for them and India go on to the final.

Australian coach Chris O'Reilly was disappointed with his team's performance and said that chasing a four-goal lead was a tough proposition.

"It was a poor first quarter for us as they had the control of play," he said.

"By the time we started scoring, the game was getting out of our reach. I am proud at the way the players fought back. This is surely a good learning curve for the players."

The Burras play New Zealand in their final round robin game on Friday at 11:35pm (AEDT), needing to win and hope both Great Britain, who play India, and Japan, who play bottom-ranked Malaysia, lose. Watch the game via this link.

Story by Satwant Dhaliwal via www.sultanjohorcup.com.my

Burras' 2018 Sultan of Johor Cup schedule:
Saturday 6 October 8:05pm (AEST) - Australia 1 Japan 2
Sunday 7 October 11:35pm (AEDT) - Australia 6 Malaysia 1
Tuesday 9 October 7:05pm (AEDT) - Australia 2 Great Britain 2
Wednesday 10 October 7:05pm (AEDT) - Australia 4 India 5
Friday 12 October 11:35pm (AEDT) - Australia v New Zealand
Saturday 13 October - Finals

Burras' 2018 Sultan of Johor Cup team:
Cade Banditt (QLD)
Hayden Beltz (TAS)
Lachlan Busiko (SA)
Hayden Dillon (NSW)
Nathan Ephraums (VIC)
Matthew Finn (QLD)
Matthew Fisher (WA)
Liam Flynn (WA)
Coby Green (WA)
Niranjan Gupte (ACT)
Ehren Hazell (NSW)
Brayden King (WA)
Dylan Martin (NSW)
Daniel McBride (VIC)
Alec Rasmussen (WA)
Ben Staines (ACT)
Damon Steffens (VIC)
Blake Wotherspoon (QLD)

Hockey Australia media release


---

Indian junior hockey team beat Australia in thriller, seal final spot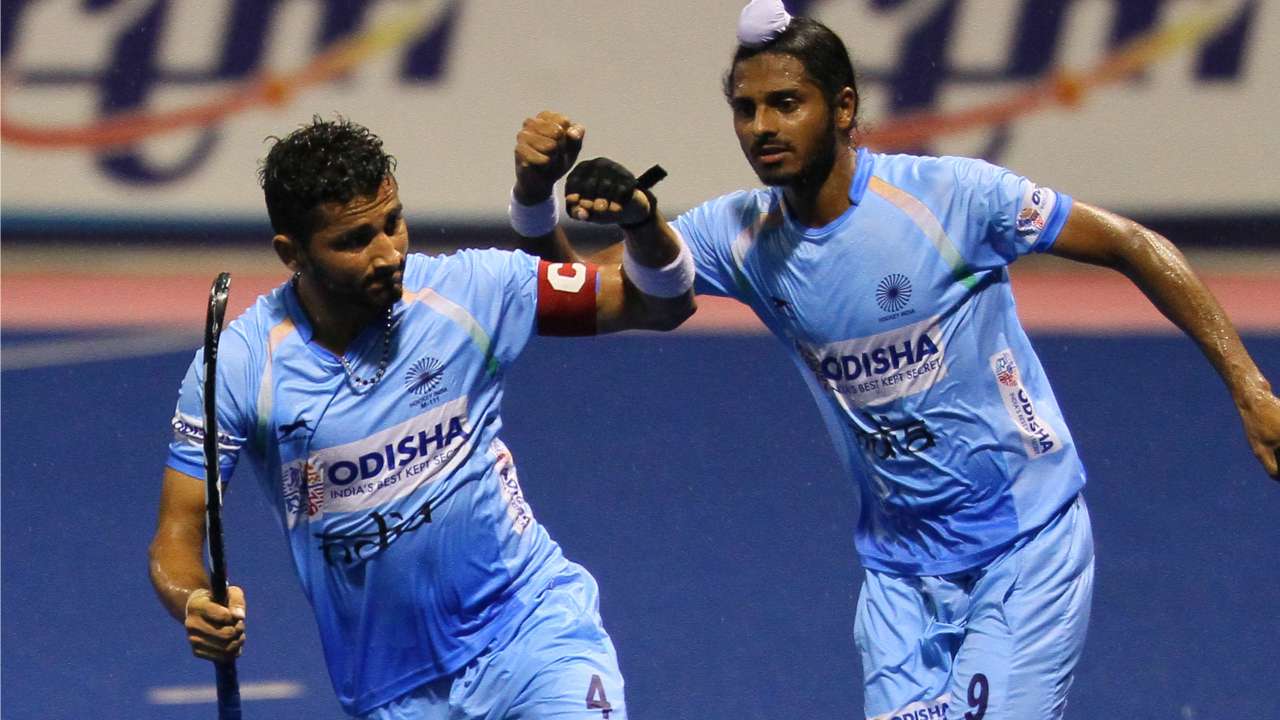 Mandeep Mor celebrating his goal

The Indian junior men's hockey team recorded its fourth successive victory at the Sultan of Johor Cup with a 5-4 win over defending champions Australia, assuring a final spot. The win has also helped India top the pool.

India made a dominating start to the game. Though their initial chance of scoring from a PC went amiss, Gursahibjit Singh scored a fine field goal to give India 1-0 lead in the 5th minute. The team built on a good start to score three more back-to-back goals in the 11th, 14th and 15th minute through Haspreet Singh, Mandeep Mor and Vishnukant Singh respectively. The 4-0 lead at the end of the first quarter was a major setback for the defending champions.

However, India faltered in their defence in the second quarter only to give away an easy goal through a penalty stroke in the 18th minute. Damon Steffens, who scored the first goal for Australia, ended up scoring the second goal too when an Indian infringement inside the circle saw them concede a PC in the 35th minute, narrowing the goal deficit to 4-2. Though Shilanand Lakra scored in the 43rd minute to take India's lead to 5-3, Australia put India through some tense moments as they appeared to make a late recovery, by stretching India's defence.

In the 59th minute, the pressure to defend the scoreline saw India colts give away another penalty stroke which was easily converted by Steffans, taking the goal difference to just one. But India held their nerves to finish the match in their favour. India will next take on Britain in their fifth match on October 12.

Daily News & Analysis


---

India edge past Australia 5-4, storm into final

Johor Bahru (Malaysia - The Indian junior men's hockey team withstood an Australian fightback to edge past the defending champions 5-4 and qualify for the Sultan of Johor Cup final of the fifth time. India, who won the tournament in 2013 and 2014, recorded their fourth successive victory of the eighth edition.

India made a dominating start to the game. Striker Gursahibjit Singh scored a fine field goal to give India the lead in the 5th minute. The team built on the good start to score three quick goals in the 11th, 14th and 15th minutes, through Haspreet Singh, Mandeep Mor and Vishnukant Singh, respectively.
However, India faltered in the second quarter to give away an easy goal through a Damon Steffens-converted penalty stroke in the 18th minute. Steffens narrowed the lead further with a penalty corner conversion in the 35th minute. Though Shilanand Lakra scored in the 43rd minute to make it 5-2, Australia put India through some tense moments in the last few minutes. After three quick penalty corners, Australia won another penalty stroke in the 59th minute and Steffens converted it to get his hat-trick. With 30 seconds to go for the final hooter, Steffens reduced the margin to one goal after converting Australia's 12th penalty corner. However, Australia ran out of time to mount another attack as India managed to get all three points.

"I am proud of the players for achieving the win," India coach Jude Felix said. "But the display was a bit disappointing. We should have continued to play hockey our way after the fourth goal instead of throwing the ball and hoping to defend. That will not work against top teams. But thankfully they got the fifth goal and we managed to win the tie. We look forward to the final next."
India will take on Great Britain in their final pool match on Friday. Britain beat hosts Malaysia 5-1, while Japan held New Zealand 2-2.

The Tribune


---

Five Star Britain Keep Sultan Of Johor Final Chances Alive



James Oates at SoJC 2018

Great Britain kept their hopes of reaching the 2018 Sultan of Johor Cup final firmly alive with an impressive victory over Malaysia.

Scotland international Cameron Golden scored his fourth goal of the tournament while last year's top scorer Duncan Scott opened his account this year in an exciting game.

Daniel West, James Oates and Thomas Russell were also on target for the U21s while Muhammad Ishak score Malaysia's only goal.

With India already qualified for the final, Great Britain are level with Japan on seven points but ahead in the table on goal difference with one game left to play.

Buoyed by their impressive comeback against Australia, Great Britain started strongly and forced Muhammad Muhammad into three quickfire saves to keep out a Matt Ramshaw corner alongside efforts from West and Tim Nurse.

But West gave him no chance in the sixth minute as he latched onto Jack Turner's pass before neatly finishing underneath the 'keeper.

However Malaysia hit back with their first foray into the British half as Ishak's flick was deflected twice on its way into the net, but they were only level for two minutes as Oates fired in a superb tomahawk in the 13th minute.

Scott gave his side some breathing space four minutes before half-time as he coolly deflected Ramshaw's drag flick over Muhammad's shoulder shortly after producing a stunning goal-line block to keep out Ishak.

Players from each of the Home Nations then combined for the fourth as Golden deflected Jacob Draper's cross into the path of Russell, who showed great composure to spin and score under pressure from the 'keeper.

Exeter University student Scott then turned provider in the final throws of the third quarter, setting up Golden to score for the second game running, while at the other end Ollie Payne made three impressive saves.

Both teams had chances to add to the scoreline in the final quarter, with Ramshaw thwarted on three occasions by Adrian Albert while James Mazarelo produced a diving stop to keep out a late Malaysian corner.

Great Britain's final group game is against India at 09:05 on Friday 12 October, with a victory needed to guarantee themselves a place in the final while hoping that Japan don't beat Malaysia by a significantly greater margin. You can watch that match here.

Malaysia 1 (1)
Ishak (PC, 11)

Great Britain 5 (3)
West (FG, 6); Oates (FG, 13); Scott (PC, 26); Russell (FG, 39); Golden (FG, 45)

Starting XI: Payne (GK), Nurse, Draper, Oates (C), Turner, Griffiths, Ramshaw, Park, Crowson, Mackenzie, Scott

Subs: Mazarelo (GK), Buckle, West, Russell, Golden, Rushmere

Great Britain Hockey media release


---

Britain bash Malaysia for second win

JOHOR BARU: Britain, the 2015 champions, chalked up an impressive 5-1 win over Malaysia at the Taman Daya Hockey Stadium here yesterday which keeps them in the running for a final berth on Saturday.

Malaysia however, who endured their third defeat in the tournament, are now left to contend for the fifth and sixth placing match.

The home side were subdued for most part of the match and hardly troubled their more superior opponents.

The Malaysian team made too many unforced errors during the match which Britain duly capitalised on to register yet another convincing win.

With the win, Britain moved up to second spot in the standings and keep their hopes alive of a third final.

They were champions in 2015 and finalist last year.

But their hopes of making the final will depend largely on how Japan fare in their last two matches. Britain must also win their match against India tomorrow if they want to further improve their chances.

Britain coach Jon Bleby does not want to think about the final but instead focus on their next match against India.

"There is no need to think too far ahead. The next game will do, and it is an important match. We need to win it and then see how Japan does. It is out of our hands," he said.

Britain took the lead in the sixth minute with a field goal by Daniel West. The Malaysians managed to draw level in the 11th minute thanks to Mohamed Ishak who scored from a penalty corner.

But James Oates put Britain back in the lead in the 13th minute with a field goal.

The Malaysian fightback was doused when Duncan Smith scored from the penalty corner in the 26th minute.

Thomas Russel and Cameron Golden scored for Britain in the 39th and 45th minutes respectively to put the match beyond Malaysia's reach for their second win in the eighth edition of the tournament.

Britain play India tomorrow while Malaysia take on Japan.

Malaysia coach Nor Saiful Zaini did not attend the post-match interview after the defeat.

New Straits Times


---

Sloppy Malaysia fizzle out in battle with Britain

By Mohd Farhaan Shah

JOHOR BARU: Malaysia's winless run in the Sultan of Johor Cup hockey tournament continued when they suffered a demoralising 1-5 defeat to Britain.

Britain took just six minutes to rattle the national youth squad when they scored the opener through a field goal by Daniel West at the Taman Daya hockey stadium yesterday.

Muhammad Nur Asyraf Ishak equalised in the 11th minute when he converted a penalty corner to spark a glimmer of hope but it all ended in vain when Britain hit back two minutes later when captain James Oates scored from a field goal to regain the lead.

Due to Malaysia's weak defence and sloppy attacks, the 2015 champions continued to add on to their tally.

Duncan Scott put his name on the scoresheet by converting a penalty corner in the 26th minute and Thomas Russell made it 4-1 through a field goal in the 39th minute.

Then, Cameron Golden completed Malaysia's nightmare when he scored in the 45th minute to make it 1-5.

Prior to the match, Malaysia have already conceded 12 goals.

Their defeat yesterday ended their hopes of finishing in the top-four ranking.

They now have to play in the fifth-place playoff.

The defeat seem to upset national youth coach Nor Saiful Zaini Nasiruddin as he refused to meet the media after the match.

Meanwhile, India defeated defending champions Australia 5-4.

The Star of Malaysia


---

New Zealand hold Japan as three teams fight for final berth

JOHOR BAHRU: Britain and Japan played out a 2-2 draw in their fourth Sultan of Johor Cup (SOJC) match at the Taman Daya Hockey Stadium earlier today (Wednesday).

The result has now thrown the fight wide open for the second berth to the final which sees three teams in the fray.

Britain have seven points and are second in the standings, and a win against leaders India will take them through.

Japan also have seven points and they will need a win against Malaysia if they are to stand a chance of claiming the berth.

But they have an inferior goal difference compared to Britain and will need a big win against the hosts' team.

Australia on the other hand, will need to win big against the Kiwis and hope for the other two teams to falter in their last match.

New Zealand will now play the fifth place match against Malaysia on Saturday.

The match was important for Japan, as a win would have put them in a comfortable position for a final berth.

And the final berth will go down to the wire on Friday with Japan, Britain and Australia all in the running. The Aussies have four points and play New Zealand last.

India, who have already qualified for the final, will play Britain.

Thus, it is too close to call and every match on Friday will be a crunch match.

In today's match, the Kiwis took the lead in the fourth minute off a penalty corner set-piece move.

But in the second quarter, the Japanese struck twice to take the lead.

First Shoji Iseki scored with a direct drag flick from the penalty corner in the 25th minute.

Then Kosei Kawabe added the second in the 28th minute off a field attempt.

The Kiwis continued to attack and had seven penalty corners' in the three quarters.

The seventh attempt in the 42nd minute bore fruit with Andrews scoring with a direct flick to put New Zealand on level terms.

Japanese coach Hiroki Sakamoto said they must now get a good result in their last match to make the final.

"It is not in our hand as Britain could win and put the whole thing out of our reach. It was important we beat New Zealand, but they played well to stop us. Their early goal threw us off balance and that made us fight back even harder. Actually we could have done better," he said.

New Straits Times


---

Welcome sight in Odisha

Good crowd braves rain to watch the exhibition match

Uthra Ganesan



For the love of it: The threat of Cyclone Titli notwithstanding, people turned out in large numbers. 

BHUBANESWAR - For the two international hockey tournaments it has hosted so far, Bhubaneswar had set high standards in terms of public participation. On Wednesday, as Odisha prepared to face the might of Cyclone Titli and heavy rains, it again proved it was ready to welcome the World Cup later this year.

Perhaps nowhere else in the country would an exhibition match featuring some legends of the game but clearly past their prime, part of the inauguration ceremony of the newly-refurbished Kalinga Stadium, attract a crowd, holding umbrellas, despite a heavy downpour on a week day.

It justified the FIH's decision to allot the World Cup to the city, a reward for its unstinting support to hockey over years.

It was also the first time the World Cup trophy was displayed at the venue that has new turfs laid both for competition and training and two new stands being built to take the capacity from 7500 to 15000 within a year.

On field, Dhanraj Pillay and Dilip Tirkey, a key figure responsible for the overhauling, turned back the years to pick up a stick each after more than a decade, leading their respective sides in the game that featured the cream of Indian hockey over the years — from the likes of Deepak Thakur and Jugraj Singh to current stars PR Sreejesh and Sardar Singh.

The result was 2-1 in Tirkey's favour at the end of 30 minutes. But it was more fun to watch Pillay, weave through the opposition defence once again as a centre-forward, Thakur create penalty corners for his team, and Jugraj attempting to flick them, in a throwback to the team of 2003-04. And, with the two teams sharing the entire current national squad between them, the goals were scored by Thakur (2) and discard Gurjant Singh!

Come November 28 and the city would welcome the world again, this time accompanied by the charisma of Shahrukh Khan and the music of maestro AR Rahman setting the tone to legendary Gulzar's tournament anthem. And if Wednesday was any indication, Bhubaneswar would again be setting a new benchmarks.

The Hindu


---

Star striker SV Sunil in serious doubt for hockey World Cup due to knee injury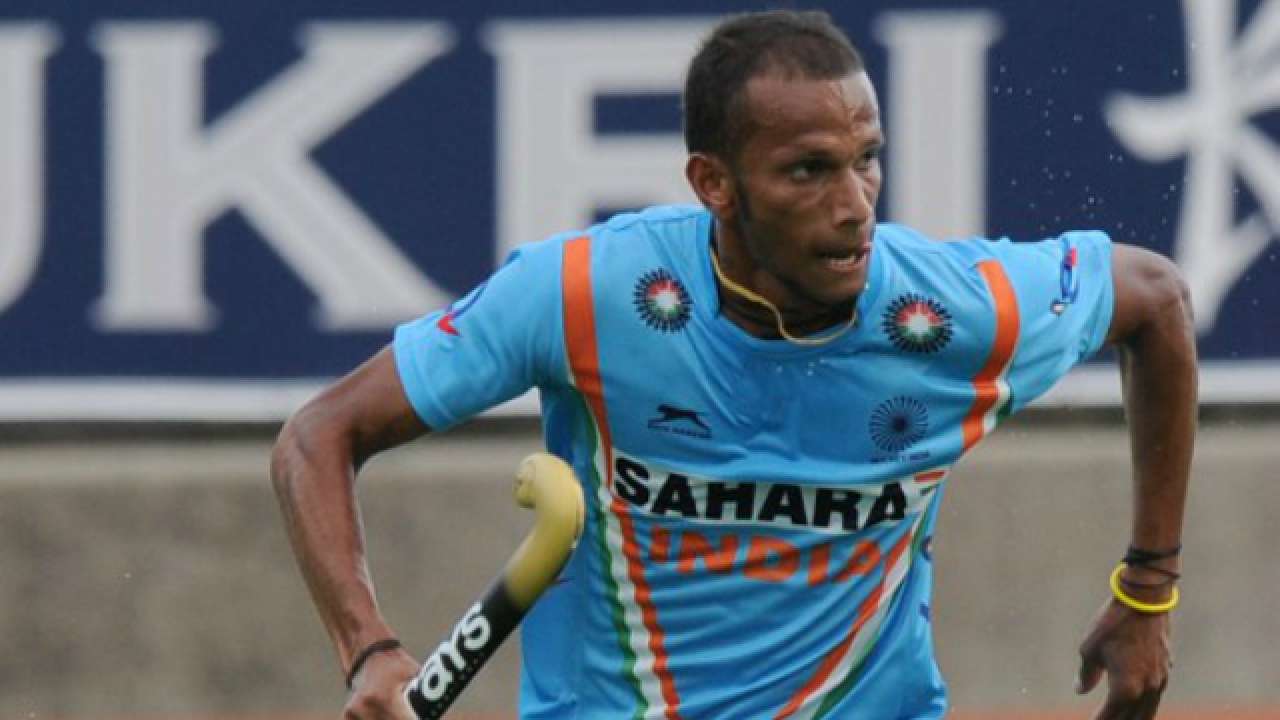 SV Sunil - File Photo, AFP

In a major setback for the Indian hockey team, star striker SV Sunil has been all but ruled out of next month's World Cup after suffering a knee injury.

Sunil suffered the ligament injury on his left knee on October 4 during India's ongoing preparatory camp in Bhubaneswar. He will require four to five weeks to recover from the injury, which virtually shuts the door on him for the World Cup to be held here from November 28 to December 16.

"I suffered the injury while diving for a ball during training on October 4. I have consulted specialists here and the MRI revealed it is an Lateral Collateral Ligament injury (LCL) injury," Sunil told PTI at the Bhubaneswar airport.

"Initially there was massive swelling and then the doctors here said that there appears to be a slight gap in the knee joint," he added.

Sunil is flying to Delhi on Thursday to consult Hockey India's official doctor B K Nayak after which his availability for the World Cup will be known.

He, however, still remains hopeful. "I am still hopeful because a week has already passed and recovery from the LCL injury generally takes four weeks. Let's see what happens. I will get a clear picture tomorrow. But if I can't play in the World Cup that would be a massive loss for me," he said.

Daily News & Analysis


---

Asian Champions Trophy: India will approach each game cautiously after Asiad disappointment, says captain Manpreet Singh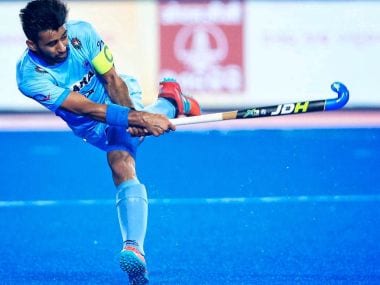 File image of India captain Manpreet Singh. Image courtesy: Twitter @TheHockeyIndia

Muscat: The Asiad disappointment still "haunts" and Indian hockey captain Manpreet Singh on Wednesday said they will have to approach and play each and every game cautiously in the Asian Champions Trophy.

The disappointment of losing to Malaysia in the semi-finals of the 18th Asian Games in Indonesia still lingers.

"It was a tournament we should have won and the disappointment of losing to Malaysia in the semi-final still haunts us," stated the midfielder, who was named the captain for the tournament here.

Over the past three weeks, the Indian men's hockey team has been put through the grind at the Kalinga Stadium — the venue for the prestigious men's World Cup in Bhubaneswar.

Doing well at the Asian Champions Trophy will be integral in their preparations for the mega event on home soil later this year.

Manpreet said, "At the Asian Games, I think we were slightly overconfident that we are Asia's No.1 team and this complacency is what we need to avoid during the Asian Champions Trophy Muscat 2018 if we want to retain the title.

Post the semi-final loss, the team had several meetings to understand where we went wrong and watched the videos from that match numerous times. When we regrouped for the National Camp, we told ourselves it's time to move on and we cannot let the past affect our chances at the upcoming two big tournaments."

The defending champions will take on hosts Oman in their opening match on 18 October and play arch-rivals and previous edition's runners-up Pakistan in their second round robin match on 20 October.

The captain stated that the challenging weather conditions in Oman will help them acclimatise to the humid playing conditions in Bhubaneswar.

"The playing conditions in Oman will be similar to Bhubaneswar and we are training hard, sometimes train till late in the night as some of our matches start late in the Asian Champions Trophy Muscat 2018.

"Our aim going into the tournament is simple. We play to our potential against every team without taking anyone including Oman lightly.

"There won't be any room for complacency. We have watched videos of how each of these teams play and we are prepared for the challenge," he said.

Speaking of his own role in the midfield, in the absence of stalwart Sardar Singh who announced his retirement last month, Manpreet said: "I always aim to do my best for the team and what is expected from me by the team.

"We have youngsters like Nilakanta Sharma who plays beside me and defender Hardik Singh who is making his debut, the seniors constantly talk and communicate on the field to help the youngsters and ensure everyone understands each other's game well.

"Everyone is putting their best effort in our preparations and we have paid a lot of attention to on-field communication apart from other aspects of the game," Manpreet concluded.

Squad

Goalkeepers: PR Sreejesh, Krishan Bahadur Pathak

Defenders: Harmanpreet Singh, Gurinder Singh, Varun Kumar, Kothajit Singh Khadangbam, Surender Kumar, Jarmanpreet Singh, Hardik Singh

Midfielders: Manpreet Singh (Captain), Sumit, Nilakanta Sharma, Lalit Kumar Upadhyay, Chinglensana Singh Kangujam (Vice Captain)

Forwards: Akashdeep Singh, Gurjant Singh, Mandeep Singh, Dilpreet Singh.

Firstpost


---

Weissen and Grange mapping out benefits from EHL weekend



©: Frank Uijlenbroek / World Sport Pics

Grange put their trust in youth last weekend at EHL ROUND1 as they handed EHL debuts to a number of teenagers.

Seventeen-year-old Jacob Tweedie scored in the Scottish club's tie with SV Arminen last Friday. He was joined by fellow 17-year-olds Ralph Weissen and Ritchie McCluskey while 15-year-old goalkeeper Charlie Gates was also in the in panel.

Indeed, Weissen,– in his last year of secondary school – was captured preparing for one of the biggest games of his life in unique fashion, photographed working on his final year geography project two hours before the Scottish team met Oranje-Rood and their team of superstars.

"I was just trying to take my mind off the game because obviously, they are class opposition," Weissen told the EHL website. "I was so excited to play Oranje-Rood and they proved their quality, beating us 6-0. But I thought we did play well.

"On Friday, we hoped to get something out of it against Arminen because the opposition didn't have the quality of these guys. Against Oranje-Rood, we did a better job and I am really proud of the way we played."

While the results did not go as hoped for Grange, ending with two losses, Weissen says the level of competition will be a big springboard for them when they return to domestic competition.

"It is amazing to play at this level and take it into the Scottish season. The standard is amazing. We can analyse it and then if we can take that into every match, it will be really good for us."

Euro Hockey League media release


---

Julie Duncan 'makes the hard times better' for Maryland field hockey

Duncan has been a vocal leader for the Terps.

By Lila Bromberg



Forward Julie Duncan tries to get the ball in front of the net while the goalie is out of position in Maryland's 4-1 win over Indiana at the Field Hockey & Lacrosse Complex on September 17, 2016. (Reid Poluhovich / The Diamondback)

One night in spring 2017, Maryland field hockey forwards Julie Duncan and Linnea Gonzales made their way to the Field Hockey and Lacrosse Complex.

Then sophomores, Duncan and Gonzales had just watched the women's lacrosse team play, a program that wound up undefeated that season to secure its third national title in the past four seasons. As they sat in the locker room, the pair came to a similar consensus.

"We want to be national champions too, we want to get that feeling," Gonzales recalled saying. "Let's do this next year."

The Terps made it to the national championship game the following season in 2017, but fell short to Connecticut. Now, as a senior captain, Duncan has one more chance to lead her team to a title and reach the goal she and Gonzales had dreamt of that night.

"It's bittersweet for me because … this is my last year," Duncan said. "Every day, I try to enjoy every moment of it knowing that it's going to be over soon."

With time dwindling on her college career, Duncan has started four total games. She's scored four goals on 30 shots and chipped in four assists. But Duncan's leadership qualities, which have continued to develop over the last two seasons, have made her a key piece for an annual tournament challenger.

Terps coaches and teammates have praised her presence on and off the field. When asked about her on Wednesday, everyone began to smile.

The Medford, New Jersey, native is described as "straight-up" by her teammates. She doesn't sugar-coat anything and is able to confront people about their actions in an honest, productive way.

And when she does get her chance to play, Duncan has impressed coach Missy Meharg with her athleticism and work ethic.

"From an explosion aspect, she's one of the fastest athletes to ever play," Meharg said. "When Julie's in the game, she has an impact on the defense of the other team. She punishes them."

After Maryland's first loss of the season Sunday, Duncan gathered the squad to give a speech. The forward is often known for pumping her teammates up before contests, but following Penn State's 3-1 upset, Duncan offered a message to refocus her teammates and reinvigorate the energy levels that had built during the Terps' 13-game win streak to start the year.

"Yeah, we just lost our first game of the season," midfielder Kyler Greenwalt recalled Duncan saying. "But we need to take this game, we need to learn from it and realize that there are a lot of people coming after us right now and we can't let our guard down."

While Duncan supplied a serious message postgame, she also serves as the team jokester.

In her freshman season, she would go around and do magic tricks for other players to break the ice. Prior to certain big home games, Duncan turns off all the lights in the locker room and brings out a strobe light, putting her jersey over her head and starting a giant dance party.

"That's where she's really unique. She's such a great leader because she just always shows those qualities on the field, but also she just lightens the mood," Greenwalt said. "She just, like, really makes the hard times better. … That's one of her best qualities."

The Diamondback


---

Botswana Hockey Association grows hockey in schools

Keswetseng Samokunda




Botswana Hockey Association (BHA) has introduced development programmes to grow the sport.

The targeted areas include Kanye, Lobatse and Jwaneng in the southern part while in the northern part, the association targeted Maun, Kasane and Francistown.

Speaking during the Maun Hockey Club schools tournament held in Maun recently, BHA president, Unaswi Matebu, said the association worked to promote, develop and facilitate hockey throughout Botswana with emphasis on participation, interaction and enjoyment from a larger base of players.

The tournament brought together public and private schools.

Matebu said BHA also provided an opportunity for skills development through sport. "Because of limited resources, we have started in Maun schools where we introduced the sport. We want to attract more students and stakeholders so that they appreciate the sport code," she added.

Matebu noted that in Maun, they managed to attract few schools of Moremi and Botswelelo Primary School as well as Leapotswe English Medium School.

She said they wanted to start from the roots hence, engaging primary schools.

She also appreciated that young people were falling in love with the sport, something that gave them hope that the sport would grow with time.

Matebu encouraged parents to let their children decide which sport they wanted to join, adding that hockey was as good as any sport.In addition, she said, hockey was also a high paying sport like football and athletics.

Matebu said they were working around the clock to meet  requirements of affiliating to Botswana Integrated Sports Association (BISA), which is an affiliate of Botswana National Sports Council (BNSC), and the Confederation of Schools Sports Associations of Southern Africa (COSSASA).

BHA was formed in August 1992 and affiliated to the Botswana National Sports Council, the Botswana National Olympic Committee, the African Hockey Federation and International Hockey Federation..

Matebu said they implemented sustainable programmes that promoted development of playing facilities, provision of equipment for development and provide opportunities for players to improve their performance levels.

Inside Education


---

Former hockey captain Manzoor urges PM to dissolve PHF

LAHORE: Former Pakistan captain Manzoor Junior has suggested that the government either dissolve the incumbent body of the Pakistan Hockey Federation (PHF) or release funds for national side's preparations for the Asian Champions Trophy and World Cup.

Talking to reporters at the National Hockey Stadium here Wednesday, Manzoor, who led Pakistan to their last gold medal at the Los Angeles Olympics in 1984, said Prime Minister Imran Khan has the authority to nominate PHF president and shouldn't delay in making a final decision in retaining the current body or send it home, because the status quo situation is not a good sign for the national team that had to be prepared for this month's Asian Champions Trophy and the World Cup in India in December.

"Being the PHF patron, the Prime Minister must take serious notice of the hockey affairs prevalent at the moment," Manzoor said. "Steps must be taken to clean up the mess due to bad governance."

Manzoor also urged all the Olympians to get on one platform and forget the bitter past because Pakistan hockey is currently lost in a graveyard while urging the PHF should initiate a campaign to unite the Olympians.

The Daily Times