All the news for Friday 28 September 2018

Young hockey stars takes to the stage in Buenos Aires

Sarah Juggins



Youth Olympic Games pitch - Buenos Aires, Argentina   

PAHF athletes from Argentina, Canada, Uruguay and Mexico will be competing in the third Youth Olympics in Buenos Aires from 7-14 October.

The Games, which were first held in 2010 in Singapore, are the perfect platform for young athletes as they make the transition from talented youngster to elite performers. The opportunity to compete in a huge international competition provides all the experience and stress associated with elite performance but at an intensity suitable for their age.

Argentina gold medal winner Matías Paredes is one of two hockey players who have been selected as Athlete Role Models at the Buenos Aires YOG. He says one of the most important things is for the young hockey players to enjoy the occasion. "The players should enjoy all the incredible experiences that they will encounter. Enjoy the event from the cultural, social and sporting point of view. As Argentines, especially, we are fanatical about sports, and at this event, on home soil, the support will be amazing. So the stadiums will be full, very noisy and very supportive, so the young athletes should enjoy the atmosphere and perform to their best."

The competition is a perfect opportunity for the players to experience different styles of hockey from around the world. All the continents are represented at the event, so players will be able to pit their wits against the highly skilled and disciplined Asian teams, the physical and hard-running African and Oceania competitors and the tactically astute sides of Europe.

As the 288 athletes and their coaching staff line up for the opening ceremony of the third Youth Olympic Games (YOG) in Buenos Aires on the 6 October there will be a plethora of mixed emotions spiralling around the minds of the young hockey stars.

Nerves – definitely; excitement – undoubtedly; anticipation – probably; fear – most likely. One hockey player who has faced all those emotions over her long and successful career is gold medallist and four times Olympian Helen Richardson-Walsh. She joins Paredes as an Athlete Role Model and both players will be on hand during the event to offer words of support to the players.

"When we were training for the Sydney 2000 Olympics, we were all handed a red folder with tactics and such like in it," says Richardson-Walsh. "Within the folder was a quote that I cut out and stuck on the front of the folder and it remains as relevant today as it did back then – 'feel the fear and do it anyway', That's a perfect piece of advice. Everyone will feel afraid at some point, that is normal. Just don't let it stop you."

Both Paredes and Richardson-Walsh have been elite internationals for more than 17 years and have a lot of empathy with the young players as they face their biggest competition to date. 

"Whatever your age, It is not easy to combine everything as an elite athlete," says Paredes. "We set out on this route to an international career but as we get closer to our dreams, those aspirations take us away from our families, our time with friends, they impact our study hours. It is important to get balance. We can do that by setting clear goals and staying strong as we pursue them, even in difficult times."

And Richardson-Walsh makes the point that, on the eve of a big event, there is a temptation to change processes or do things a little differently. Her advice to both coaches and players is simple: stick to your usual routine.

"There is always a temptation to change things at a big event," says the midfielder. "You really shouldn't. Whether you are the coach or a player, trust in the processes you have followed so far. The minute you start changing things, then you make people uncomfortable. In a competition environment, you need to know exactly what you are doing."

She also emphasises the importance of preparation. "Don't have a last minute panic. Make lists, think about what you might need – spare trainers, extra protein bars, things that you might not be able to get while you are at an event. People go to an event like the Youth Olympic Games and think everything will be perfect. You quickly learn that is not always the case. You need to get into the habit of planning down to the finest detail."

And that is one of the strongest messages that the Olympic gold medallist would pass on to the youngsters in Buenos Aires. "This is all part of learning. You will make mistakes and you will learn what works and what doesn't. But there is nothing to get stressed about, you are starting out on a career and learning is all part of that process."

The PAHF countries have a consistent, if not outstanding record at the Youth Olympic Games.

Canada took a silver medal at the 2014 Games in Nanjing, when they lost to Australia in a dramatic shoot-out. The Canadian team finished third in their pool after beating South Africa and Bangladesh. They then performed heroics in the knock-out stages as they beat Pakistan on shoot-out – the score at full-time had been a competitive 7-7. They then showed the same nerves of steel to beat Spain in shoot-out after the semi-final match had finished 4-4. The Canada team's shoot-out luck ran out against the reigning champions Australia. The score was 3-3 at full-time but the Australian side were clinical in the shoot-out, winning 3-2.

In the women's competition, Argentina have flown the flag for PAHF, winning silver in 2010 and bronze in 2014. In 2010 it was the Netherlands who scuppered Las Leona's hopes for a gold medal. The match was drawn 1-1 at full-time, with Augustina Albertario scoring the Argentina goal, but in extra time Lieke van Wijk scored the winning goal to secure gold for the Netherlands.

Four years later and it was again the Netherlands who were the curse of Argentina. This time the two teams met in the semi-final stage and the European team won by a convincing 4-2 scoreline. Argentina then beat Japan 5-2 to take bronze. Julieta Jankunas was the hero with a hat trick of goals in the match.

At the 2018 edition of the women's event, Argentina and tournament debutants Uruguay are competing in Pool A, where they will face Austria, India, South Africa and another debutant side – Vanuatu. Mexico will be facing the challenge posed by Australia, China, Namibia, Poland and Zimbabwe in Pool B.

The men's competition sees Argentina and Mexico in Pool A, alongside Malaysia, Poland, Vanuatu and Zambia. In Pool B Canada have the unenviable task of overcoming the reigning champions Australia, as well as Austria, Bangladesh, India and Kenya.

To all the young players setting out on this exciting journey into international hockey competition, Matias Paredes has this advice: "Train, train, train... it is the only way to ensure that they will be able to enjoy and show the best version of themselves. At the YOG, the result is not the most important thing, but the focus must be placed on the experience that this type of event leaves us for the future."

Pan American Hockey Federation media release


---

Success is all in the training, says Olympic hero Matías Paredes



Olympic gold medallist Matias Paredes is looking forward to helping the next generation of hockey stars at YOG Photo: FIH/WSP

At 36-years of age and with more than 360 caps to his name, Matías Paredes is definitely a hockey player who knows what it takes to get to, and stay at, the top.

The midfielder was part of the Argentina gold medal-winning squad at the 2016 Rio Olympic Games and has a host of other gold and silver-ware that have been garnered through his 17-year international career.

Now Paredes is using all his wisdom and knowledge in his role as a Youth Olympic Games (YOG) Athlete Role Model at the Buenos Aires 2018 Youth Olympic Games .

At the very heart of his advice is one simple rule: train, train and then train some more. "It is only by training, and knowing you have trained as best you can, that you will enjoy the event and be the best version of yourself."

"As Argentinians, especially, we are fanatical about sports, and at this event, on home soil, the support will be amazing."
Matias Paredes, Argentina, gold medallist Rio 2016

"My advice to every athlete who is starting out, either at the Youth Olympic Games or further down the line, is that above all things, be prepared in the best way possible. Preparation as an athlete must be comprehensive. It is about the physical, mental, nutritional – all facets of performance."

However Paredes believes that the other fundamental rule to having a good event is to enjoy the experience. That includes embracing the bad times as well as the good. He says athletes sacrifice a lot of other things – family life, social life – to pursue a career as an elite performer, so it is important that every moment is grasped with both hands.

"You should enjoy all the incredible experiences that you will encounter. Enjoy the event from the cultural, social and sports point of view. As Argentines, especially, we are fanatical about sports, and at this event, on home soil, the support will be amazing. So the stadiums will be full, very noisy and very supportive, so the young athletes should enjoy the atmosphere and perform to their best."

Paredes also says that things have changed for hockey players dramatically over the course of his own career. In particular, he points to the increasing professionalism of the athletes' support teams. He uses nutrition as an example: "Athletes now work with trained sports nutritionists with experience in high performance, who help us to train better, to recover faster and to compete to the maximum of our possibilities, always respecting the rules and taking care of our body."

Paredes' own longevity at the top of the game is testimony to the care he has taken with his own health and fitness over the past two decades. He says the demands placed on an athlete's body increases over time and it is important to tailor training and preparation to suit the rigours of the game.

He also stresses the importance of continually setting goals and aspirations. "I think the most important thing is to dream, have desires and aspire to great feats. But to achieve your dreams, the fundamental part is to train. Yes, take care of your body, but the only bridge that brings us closer to our dreams is to train at 110%."

#YOG2018

FIH site


---

Hockey star set for Youth Olympics

Susan Segar.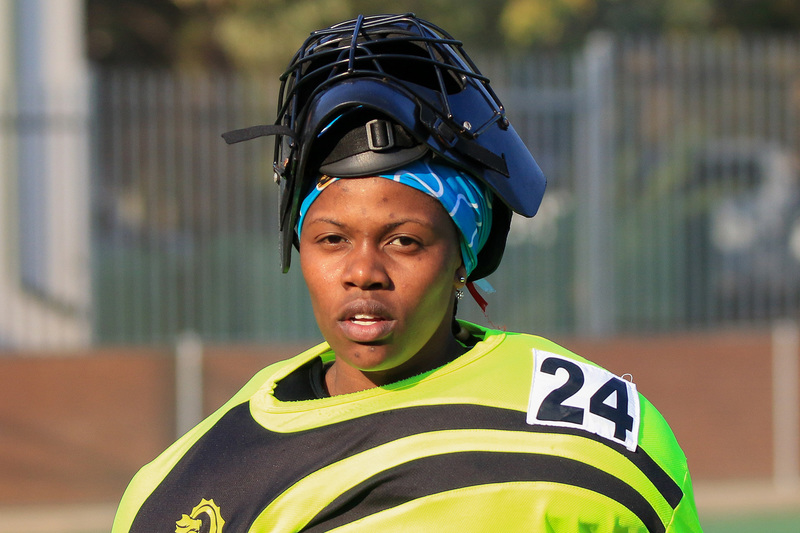 UCT's first-team hockey goalkeeper Nepo Serage elicits praise from sports administrators for her actions on and off the field. Photo Arnold Dippenaar Photography.

First-year physiotherapy student Nepo Serage has been making big waves in hockey circles since becoming the University of Cape Town's (UCT) first-team goalkeeper just eight months after joining the squad. Now, 18-year-old Serage will be jetting off to Buenos Aires, Argentina as part of the team representing South Africa at the Youth Olympic Games from 6 to 18 October.

Serage, who has played hockey since she was in grade 1, has gone from strength to strength – not just at UCT, but at provincial and national level – since arriving at the university at the beginning of the year. But she nearly didn't sign up for varsity hockey as she didn't know how she'd pay for her goalie kit.

"I was worried about the finances. I didn't want to burden my parents but I applied to join the team anyway, and when I got in, my father was so proud. He said we'd make a plan whatever happened," she said.

As it turns out, she's had a great deal of support from the university.

"I was so happy to get into the second team. I loved the whole environment – everyone was so welcoming – and they gave me the goalie kit," she said.

"Considering she's only 18 and in her first year at UCT, she has done incredibly well in hockey," said UCT Sports Administrator Clinton Maart.

"As a player, she's amazing and as a person, she's in a class of her own. She is always helpful, always more than happy to give of her time and always available to help with development hockey and other things," he said.

"She always goes the extra mile and works so hard for her sport. We really see Nepo going places in her hockey and we wish her so well."

Winning streak

Earlier this year, Serage was selected to play for the U18 Western Province team that participated in an interprovincial tournament (IPT) in Pietermaritzburg. The team won, she was voted Goalkeeper of the Tournament and she was also selected for the South African (SA) U18 side.

A week after the IPT, she was included in the SA team that won a challenging three-match series against the Australian U18 side in Durban.

In July, her UCT team won the B section at the University Sports South Africa (USSA) games.

In September, she kept goal for the U21 Western Province team that won their interprovincial tournament in Pretoria.

"I keep telling myself my job is easy, as all I have to do is stop the ball!"

Serage, who was born in Limpopo but moved to the Free State when she was four, matriculated from Witteberg High School in Bethlehem. She excelled at school hockey and, while playing for the school's second team in grade 9, was selected for the Northern Free State A team.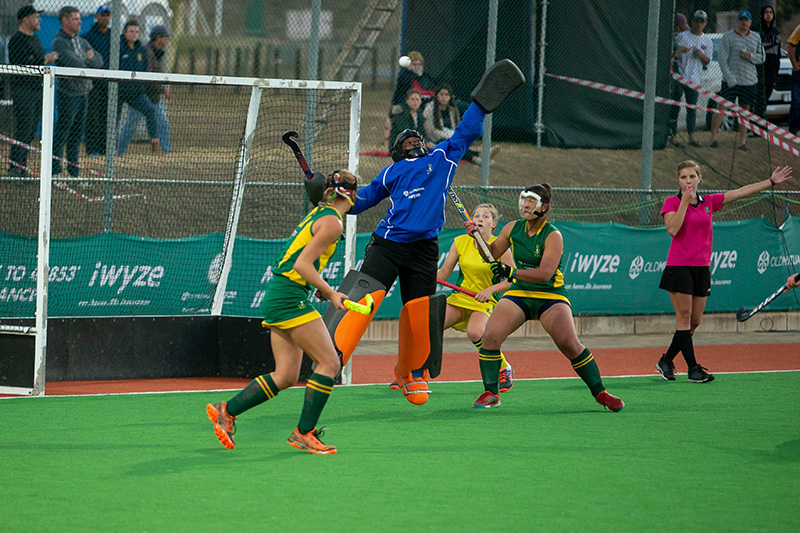 Nepo Serage shows off the form that has catapulted into the hockey spotlight not only at UCT, but also nationally. Photo Supplied.

In matric, she played for the school's first team while continuing to play for the provincial team.

Although she started playing hockey in primary school, she only took to the position of goalkeeper in grade 8.

"We had a hockey clinic in grade 8 and the former goalie of the SA team, Sanani Mangisa, attended the clinic. Watching her and learning from her inspired me to carry on playing and to dream of making nationals. After meeting her, I was like, ʻI want to be there. I want to be that person'.

"I now enjoy playing goalie much more than playing infield," she said.

Argentina and the future

Of her upcoming trip to Argentina – her first trip overseas – Serage said: "I know it will be hard, because we will be playing Argentina in their own country. I keep thinking of the crowds that will be supporting them, but I'm trying to keep my cool. I am really looking forward to this. I keep telling myself my job is easy, as all I have to do is stop the ball!"

She hopes to do some sightseeing while in Argentina too.

"But I will miss three weeks of lectures while I am away and I have exams when I return, so I will have to spend some time studying."

How does she keep fit?

"I do a lot of running and I spend a great deal of time in the UCT gym. I love the gym as it has everything I need. I do a bit of bodybuilding, but I mainly focus on cardio. I believe that if you are cardio fit, you can do anything."

As for her future ambitions, she has her sights set on the Junior World Cup in 2021.

"That is the goal I will work towards for now. Then, hopefully one day I will play for the national team as goalie. I wouldn't play in any other position.

"I have also had thought of playing overseas. The European league looks fun but these are all just thoughts at the moment."

 "We have this thing at home that no matter what happens we are always there for each other. Come good, we are there. Come bad, we are there."

Goals and inspiration

In terms of her other goals, she would love to become a sports physiotherapist.

"As part of our course we do a lot of job shadowing in government hospitals. It is clear that they are understaffed. I would like to work in a government hospital some day. I will have to work out a way to apply my specific skills to be able to assist there."

Besides Mangisa, Serage's other inspiration in hockey is Ongeziwe Mali who is currently in the national hockey team.

"We were on hockey camp together and she inspired me to believe that there is a chance for young players in the squad. She played for U18 A SA and U21 and got pulled up to the national squad; at 19. That is amazing."

But Serage's main inspiration is her family.

"We have this thing at home that no matter what happens we are always there for each other. Come good, we are there. Come bad, we are there. I can count on the stable support and love of my family at all times. We have often struggled with finances, but we have always supported each other and managed to come through."

University of Cape Town News


---

Buenos Aires 2018 - Olympic Park Inauguration Day




Argentina's President, the Engineer Mauricio Macri, Buenos Aires City Mayor Horacio Rodriguez Larreta, Argentina's Olympic Committee President Gerardo Werthein, Argentina's Sports Secretary  Carlos Mac Allister, Buenos Aires 2018 Organizing Committee CEO Leandro Larrosa, Event Manager Laura Macchiotti and other authorities inaugurated the Olympic Park from the Hockey facilities, during todays morning.

After a park tour by President Macri in the company of city authorities, the President of the Olympic Committee, authorities of the Organizing Committee and athletes of Argentina's Team inaugurated the Olympic Park.

A Hockey5s stadium, a training ground and a warm-up stadium will be the stage for 216 athletes from all over the world who will compete in the hockey competition that begins on October 7 and ends on October 14.

During the Games there will also be various cultural activities and the Pan-American Hockey Federation will launch its Para-Hockey project on October 13 at 17.30 with the support of Leonas and Leones who will come to share this important moment.

President Macri emphasized the importance of Olympic values ​​and the effort of the team that works to organize an event of this magnitude.

Pan American Hockey Federation media release


---

Scotland women to play Wales in Jen Wilson's first games as Head Coach




Scotland women will play Wales in Cardiff in new Head Coach Jen Wilson's first matches at the helm.

The two-match series will be played at the Hockey Wales National Centre on Sunday 30 Sunday at 2:30pm, and Monday 1 October at 12:00.

South African triple Olympian Jen Wilson was appointed as Head Coach in July before starting the role formally in August to kick start an exciting new era for women's hockey in Scotland.

There's a big year ahead for Scotland women which will see them play at the Hockey Series Finals before competing on home soil in Women's EuroHockey Championship II.

Scotland women's Head Coach Jen Wilson said, "We will be travelling with a large squad of 30 players to Wales – not all the players will gain an international cap, however those who have done well so far, or historically, will feature. The Wales training camp will also give me an opportunity to see players that I have not seen yet.

"We have a large squad of 40 players at present and all of the players have leaped into our new format of training with real intent and professionalism, which has been exciting to see.

"I am extremely grateful for our support staff team from the Scottish Institute of Sport, along with our new hub coaches who must also be commended with a vast array of staff making significant contributions to our new programme already."
 
Travelling squad:
Hanna McKie     Edinburgh University
Becky Mill     Edinburgh University
Becky Ward     Western Wildcats
Bex Condie     Gloucester City HC
Charlotte Watson     Dundee Wanderers
Danie McMurray     Western Wildcats
Emily Dark     Dundee Wanderers
Fiona Burnet     N/A
Fiona Semple     Wimbledon
Fran Lonergan     Clydesdale Western
Heather Howie     Clydesdale Western
Jen Eadie     Clydesdale Western
Kate Holmes     Western Wildcats
Katie Robertson     Grove Menzieshill
Kaz Cuthbert     Western Wildcats
Lexi Sabatelli     Clydesdale Western
Lorna Cruickshank     Durham University
Lucy Camlin     Watsonians
Lucy Lanigan     Watsonians
Mairi Drummond     Wimbledon
Millie Brown     Clydesdale Western
Millie Steiger     Clydesdale Western
Nicola Skrastin     Sevenoaks
Nikki Alexander-Lloyd     Wimbledon
Nikki Cochrane     Beeston
Robyn Collins     Surbiton
Karin Belch     Clydesdale Western
Rachael Mack     Leicester
Sarah Jamieson     Munchner Sports Club
Katie Stott     Grove Menzieshill

Scottish Hockey Union media release


---

Ireland facing life after Craig Fulton

Dutch experience of Cox will be useful as Ireland face into four nation competition

Johnny Watterson



Departed Ireland head coach Craig Fulton. Photo: Gary Carr/Inpho

A week into the All Ireland hockey league and soon the interest in hockey will turn towards the men's World Cup at the end of November in India.

The women's stunning silver medal run in the Olympic Park in East London has put a sharper focus on how the men are expected to perform, especially as they have had to adjust to a new coach Alexander Cox coming in for the departed Craig Fulton.

South African Fulton will be a hard act to follow. Following the retirement of former Irish captain Ronan Gormley during the week, his career high points including a European bronze medal, qualification for Rio 2016 Olympics and Ireland's elevated ranking into the top 10 in the world all happened under Fulton's watch.

On the issue of the flight of coaches, Irish Hockey might usefully assume that women's coach Graham Shaw is being approached by other nations and act now rather than react later.

The Dutch experience of Cox will be useful as Ireland face into a four nation competition in Spain next month involving the hosts, Argentina and Netherlands. With 16 of the most recent 28-man squad now playing their hockey outside of Ireland, pitch time together may be the first hurdle Cox must leap.

Ireland face the Dutch, ranked fourth in the world on October 29th followed by a game against eighth-ranked Spain on the 30th and finally against Argentina, the world number two team, on November 1st before the classification matches.

The first match of the World Cup in Bhubaneswar takes place at the end of November against Australia, the number one ranked side in the world.

EY Hockey League fixtures

Saturday: Annadale v Glenanne, Strathearn Grammar 2.30; Cookstown v Lisnagarvey, Cookstown 2.30; Pembroke v Monkstown, Serpentine Avenue, 2.30; YMCA v TRR, Wesley College 2.30; Banbridge c Cork C of I, Havlock Park 2.45

The Irish Times


---

Grange realistic ahead of mammoth task in Barcelona




Grange coach David Knipe says his side are excited about the prospect of facing SV Arminen and HC Oranje-Rood but are "definitely realistic" about their chances at EHL ROUND1 next week in Barcelona.

Indeed, the Dutch giants were the club were the ones they really wanted to avoid in terms of their chances of progressing to the KO16 of the competition.

Nonetheless, it will be a formative experience as they look to make an impact against the 2015 champions – when known as Oranje-Zwart – and their array of stars.

"Of course we will look forward to the challenge but it is such a difficult game for a team at our level. All we can do is give our best at each moment and enjoy it. We have to make sure in each game that we make our club proud!" he told the EHL website.

"Arminen are a really strong side with lots of international experience. They had such a hard draw last year but you can see from these games that they have good quality. Austria and Scotland are pretty close so hopefully this is a good, exciting game."

His side will feature six players who were involved in their last EHL campaign in October 2015 with Gregory Hopkinson, Cameron Fraser, Callum Milne, Frank Ryan, Todd Mills and Jonathan Baird on the squad list from three years ago.

Duncan Riddell, Fraser and Robbie Shepherdson were part of the Scottish side that finished second at the World Series Open in Portugal last month while Dan Coultas – a powerful drag-flicker – has 63-caps with the Scots and three for Great Britain.

Clemens Rusnjak – with two caps for Austria – is a new arrival with EHL experience having played in the competition for HC Wien. There, he played against his new club, Grange, in a 0-0 draw.

Grange qualified for the EHL thanks to their victory in the Scottish regular season, winning it on the last day ahead of Kelburne in dramatic fashion via goal difference.

They followed up with EuroHockey Trophy gold which boosted Scotland's ranking enough to earn a second EHL berth and their ticket to the EHL.

Asked about what the key was to their success, Knipe said: "Good players who worked hard and some luck! In Scotland, there are now more teams who are on the same level so the competition is good and that really helps when our teams go and play in Europe."

Euro Hockey League media release


---

Holcombe face Buckingham test



Holcombe's scorer from week one, Emma Trunks. Credit: Simon Parker.

After kicking their seasons off with victories last weekend, Holcombe and Buckingham face each other this Saturday as the Investec Women's Hockey League Premier Division continues.

Last season's beaten finalists, Holcombe beat Bowdon Hightown last weekend while Buckingham battled to a 2-1 victory over East Grinstead.

"The Bowdon game wasn't our greatest performance," said Holcombe coach Leigh Maasdorp. "We had to dig deep, and Bowdon came out firing and made us work hard.

"But this weekend we've got our three players back from playing in the New Zealand Hockey League which will give us a boost."

However, Holcombe will still be without South African international forward Dirkie Chamberlain, who is still recovering from a hamstring injury.

After battling to a draw with the University of Birmingham in last weekend's opening match, newly-promoted Beeston continue their Investec Women's Hockey League Premier Division campaign with another tough clash, this time at East Grinstead on Saturday.

Beeston were leading until the final few seconds of the match against Birmingham, showing some of the gritty play that saw them promoted from the Investec Conference North through the play-offs at the end of last season.

Reigning champions Surbiton are at home against Clifton Robinsons this Saturday in a clash of two teams who both won their opening matches last weekend, while in other top flight action the University of Birmingham entertain Slough while Canterbury head to Bowdon Hightown.

In the Investec Conference East promoted Ipswich play host to St Albans, while fellow national league newcomers Horsham go to Sevenoaks.

Relegated Leicester face promoted Belper in the Investec Conference North on Sunday, while on Saturday promoted Leeds go to Fylde.

After being transferred from the Investec Conference East Barnes head to last season's Investec Conference West champions Stourport, while another new team Exe are also on the road, playing at Olton and West Warwicks.

Details of all this weekend's fixtures can be found on the league pages of the England Hockey website. Use the drop down menus and select IWHL or MHL and relevant Divisions; you can also see details of player movements here, see Stats and Player Moves for listings.

FIXTURES

Investec Women's Hockey League

Saturday, 29 September 2018

Investec Premier Division
Univ of Birmingham v Slough 13:00
Bowdon Hightown v Canterbury 13:45
East Grinstead v Beeston 16:00
Holcombe v Buckingham 16:00
Surbiton v Clifton Robinsons 16:00

Investec Conference East
Bedford v Harleston Magpies 13:30
Hampstead & Westminster v Wimbledon 13:30
Ipswich v St Albans 14:00
Cambridge City v Southgate 15:30
Sevenoaks v Horsham 16:30

Investec Conference North
Sutton Coldfield v Timperley 12:30
Ben Rhydding v Brooklands Poynton 13:30
Fylde v Leeds 13:30
Loughborough Students v Univ of Durham 16:00

Investec Conference West
Isca v Trojans 12:00
Olton & West Warwicks v Exe 12:00
Gloucester City v Oxford Hawks 13:00
Reading v Swansea City 13:30
Stourport v Barnes 14:30

Sunday, 30 September 2018

Investec Conference North
Belper v Leicester 12:00

England Hockey Board Media release


---

The season starts here: Loreto the ones to catch in women's EYHL



Loreto celebrate their Champions Trophy success. Pic: Adrian Boehm

After a ground-breaking summer for Irish hockey, the World Cup stars have dispersed far and wide ahead of the new women's club season which gets underway in earnest this weekend.

At EYHL level, Loreto go into the season as reigning national champions having won the EY Champions Trophy last May, upsetting the odds after sneaking into the playoffs with a fourth place finish in the regular season.

And they look to have strengthened for the new campaign with the arrival of Liz Murphy, an Under-21 goalkeeper who has earned international caps in the past year.

She joins Irish stars like Hannah Matthews and Ali Meeke in their line-up and rising star Sarah Torrans who came close to a call-up to the World Cup panel.

Their first test is an away date at Farmer's Cross in a repeat of last year's national final. Cork Harlequins were runners-up in both the EYHL and the Champions Trophy and they will hope to be there or thereabouts once again with Cliodhna Sargent available from the start of the season this time out.

The Cork side will miss the services of Roisin Upton who is back at her original club, Catholic Institute in Limerick, where she hopes to bolster their promotion bid from EYHL Division 2. Naomi Carroll, meanwhile, will undergo knee surgery.

UCD – the regular season winners last year – will provide strong opposition but will face a year of rejuvenation with Deirdre Duke and Katie Mullan graduating to professional clubs in Germany after several years with collidge.

In total, six of their mainstays have moved on while nine have come in. They will, however, have to wait to see Lena Tice in action as she remains down under where she won the New Zealand Hockey League last weekend. They will be without Ellen Curran – recovering from a tonsilectomy – and Hannah McLoughlin for their opener with Pegasus

Pegs have a high quality coaching panel on board with Greg Thompson joined by Andy Smyth, Arlene Boyles and Sharon Moffett. Kerri McDonald is their marquee addition as they look to turn strong runs into trophies after an Irish Senior Cup final and EY Champions Trophy semi-final run last term.

Railway Union just missed out on the playoffs a year ago by a single point but have recruited well with Niamh Sweeney, Cliona McCullough and Carolyn Crampton arriving from Trinity.

They have an interesting first test against a promoted Old Alex side intent on making their mark on the league. Ivan Ovington has come back to coach the side in his third spell and they have plenty of big players in place with Aine Connery an eye-catching addition.

Belfast Harlequins enjoyed a solid season in mid-table last year and, with Zoe Wilson, Gemma Frazer and Lizzie Colvin forming an imposing spine to the team, they could be a surprise package.



Pembroke's Emily Beatty. Pic: Adrian Boehm

First opponents Pembroke fall into a similar variety as Emily Beatty and Gillian Pinder are joined by fellow international Sinead Loughran. Tara Melvin – a member of the 2009 Colaiste Iognaid Kate Russell winning side – is back in Ireland after a spell in the English Premier Division with Bowdon while Lynne Froeschle is an eye-catching new name from Hamburg's Club an der Alster.

On Sunday, Ards approach the season with a youthful side looking to learn quickly with a number of experienced heads moving on during the summer, offering opportunity for new faces to step in.

They come up against Muckross who have completed a remarkable rise through the Leinster leagues to get back to the national stage they were central to in the 1990s, reaching six Irish Senior Cup finals in eight years.

Their Leinster league success last year was their first in 21 years and has been achieved primarily with development from within. Yasmin Pratt, last season's top scorer, has decided to stay in Ireland after an offer from the US to study and play hockey, giving their attack real venom.

The season follows the same format as last season with 18 rounds of league games producing an EYHL winner who is guaranteed European hockey next season.

The top four from the league advance to EY Champions Trophy. Bottom place is relegated automatically while second last goes into a playoff tie to decide their fate.

Women's EY Hockey League fixtures

Saturday: Cork Harlequins v Loreto, 1.05pm, Farmer's Cross; Old Alex v Railway Union, 2pm, Milltown; Belfast Harlequins v Pembroke, 2.30pm, Deramore Park; Pegasus v UCD, 4pm, Queens

Sunday: Muckross v Ards, 3.15pm, Muckross Park

Team by team previews:
Ards
Belfast Harlequins
Cork Harlequins
Loreto
Muckross
Old Alex
Pegasus
Pembroke
Railway Union
UCD
---

Ireland stars return to action as hockey season gets under way

UCD open title defence at Pegasus with most internationals playing domestically

Mary Hannigan



Ireland's Róisín Upton, Chloe Watkins and Anna O'Flanagan celebrate winning the penalty shoot-out in their World Cup semi-final against Spain in August. Photograph: Sandra Mailer/Inpho

They're most probably still perched on cloud nine after the summer they experienced, but it's back down to earth this weekend for a clutch of Ireland's World Cup squad as the new EY Hockey League season gets under way.

While six of the panel will be playing abroad in the months ahead, as well as reserve goalkeeper Emma Buckley who has left Cork Harlequins for Racing Club de Bruxelles, two-thirds of Graham Shaw's panel will still be based at home.

Both Chloe Watkins, who has returned to Monkstown after her Dutch adventure with Bloemendaal, and Róisín Upton, who has re-joined Catholic Institute from Harlequins, will be playing in the inaugural Hockey League 2 where 10 teams, divided in to two pools of five, will battle it out for promotion to the top tier.

Trinity, Corinthian, Queen's, UCC and Greenfields make up pool A, while pool B is comprised of Institute, Monkstown, Lurgan, Dungannon and NUI Galway. The winners of the playoff between the two pool winners at the end of the campaign will be promoted to the Hockey League, with the losers given a second chance against the team that finishes second from bottom of that top tier.

UCD will open the defence of their Hockey League title away to Pegasus on Saturday without their three World Cup stars, although while Ireland captain Katie Mullan and Deirdre Duke will be playing their hockey in Germany this season, Lena Tice is expected to return to the fold before the end of the year. Tice was part of the Harbour Hawks side that won the New Zealand national title for the first time in eight years last weekend.

Loreto, last season's surprise Champions Trophy winners, have added Irish under-21 goalkeeper Liz Murphy to their ranks after she joined from Monkstown. They begin their campaign away to Cork Harlequins who they beat in May's final.

Newly promoted Old Alexandra square up against Railway Union at Milltown in the day's only all-Dublin clash, while Belfast Harlequins host Pembroke Wanderers at Deramore Park. Harlequins have Ireland's Zoe Wilson and Liz Colvin on board again this season, but Pembroke could be one to watch having strengthened during the summer, among their new recruits Lynne Froeschle from German champions Club an der Alster and Sinéad Loughran from Monkstown.

Muckross make their return to the top flight of Irish hockey on Sunday when they take on Ards at home, the Ulster side having to make do this season without the prolific Chloe Brown who has joined East Grinstead in the English league.

Hockey League – Saturday: Cork Harlequins v Loreto, Harlequins Park, 1.05pm; Old Alexandra v Railway Union, Milltown, 2pm; Belfast Harlequins v Pembroke Wanderers, Deramore Park, 2.30pm; Pegasus v UCD, Belfast High School, 4pm. Sunday: Muckross v Ards, Muckross Park, 3pm.

Hockey League 2 – Saturday – Pool A: Queen's v Greenfields, Queens, 1pm; Trinity v Corinthian, Santry Avenue, 1.30pm. Pool B: NUI Galway v Dungannon, NUI Galway, 1.20pm; Lurgan v Monkstown, Lurgan Junior High School, 2.30pm.

The Irish Times


---

Can Irish hockey replicate World Cup success with domestic crowds?

By The Hockey Paper




There will hopefully be a surge of interest on the back of the Green Army's World Cup success when the Irish women's domestic league starts this weekend.

Loreto head into the season as defending champions after winning the EY Champions Trophy last May, upsetting the odds after a fourth place finish in the regular season

And they look to have strengthened for the new campaign with the arrival of Liz Murphy, an Under-21 goalkeeper who has earned international caps in the past year.

She joins Irish stars like Hannah Matthews and Ali Meeke in their line-up and rising hope Sarah Torrans, who came close to a call-up to the World Cup panel.

UCD – the regular season winners last year – will provide strong opposition but will face a year of rejuvenation with Deirdre Duke and Katie Mullan graduating to professional clubs in Germany after several years with collidge.

In Lena Tice, they will continue to have a World Cup star in their midst while nine of their panel were in the Irish Under-21 squad during the summer, showing the talent on the rise under coach Miles Warren.

The season follows the same format as last season with 18 rounds of league games producing an EYHL winner who is guaranteed European hockey next season.

The top three from the league advance to EY Champions Trophy along with the Irish Senior Cup winner – should the cup winner come from the top three, fourth place in the EYHL earns the last play-off spot.

Meanwhile, teams split into two groups of five will contest the newly introduced EYHL Division 2 for the first time.

There will be quality here too with Monkstown welcoming back Chloe Watkins after a year in the Netherlands.

The Hockey Paper


---

Three Sukma players get national call-up

By Aftar Singh

KUALA LUMPUR: Goalkeeper Muhd Zaimi Mat Deras of Tereng­ganu is one of the three Malaysia Games (Sukma) players called up for the Under-21 six-nation Sultan of Johor Cup at the Taman Daya Hockey Stadium in Johor Baru.

The other Sukma players for the Oct 6-13 tournament are forward Muhajir Abdu Rauf of Sabah and midfielder Adam Aiman Mamat of Melaka.

National junior coach Nor Saiful Zaini said he was impressed with the three Sukma players and believed they were ideal replacements in the absence of seven key players – Muhd Hamiz Mohd Ahir, Muhd Arif Syafie Ishak, Mohd Akhimullah Anuar Esook, Muhd Amirul Hamizan Azhar, Muhd Muhibuddin Moharam, Syarman Mat Tee and Muhd Noor Firdaus Rosdi.

"The seven of them will feature in the Youth Olympics Games in Buenos Aires, Argentina, which also begins on Oct 6," said Nor Saiful, adding that they would be at a disadvantage as they lacked match exposure."It's going to be a challenge for us to put up a strong performance against the other teams in the absence of seven key players."

image: https://content.thestar.com.my/smg/settag/name=lotame/tags=Int_Sports,Int_Sports_Football,all

The national juniors will play a friendly match against Australia on Oct 2 and Britain on Oct 3 before they open their campaign against reigning world junior champions India on Oct 6.

Malaysia's other matches are against defending champions Australia (Oct 7), New Zealand (Oct 9), Britain (Oct 10) and Japan (Oct 12). The final is on Oct 13.

Last year, Australia beat Britain 2-0 for the title while India outplayed Malaysia 4-0 to finish third.

The Star of Malaysia


---

Mother Manjit is the biggest motivation for Manpreet Singh

Manpreet Singh received the Arjuna Award from President Ram Nath Kovind at the Rashtrapati Bhavan in New Delhi on Tuesday.

Rohit Paniker



Manpreet Singh said he owes everything he has achieved to his mother. (@rashtrapatibhvn Photo)

Twenty four hours before his big moment would arrive, Manpreet Singh sat next to his mother Manjit talking about the Arjuna Award he will receive from President Ram Nath Kovind. The two shared a few giggles and words thinking about Tuesday's prestigious ceremony.

His mother, Manpreet said, is his best friend, someone with whom he shares all his secrets. She is also Manpreet's biggest motivation to play hockey.

"I would be nothing if it wasn't for my mother. I think I owe here everything that I have earned over the years. I share everything with her. I tell her about my good days, about my bad days and days when I feel I have lost everything. She keeps motivating me and asking me to keep doing better. I dedicate my Arjuna Award to her because it wouldn't have been possible without her," Manpreet told Mail Today on Monday.

The 26-year-old also recalled the year 2016 when his father passed away while he was in Malaysia playing the Sultan Azlan Shah Cup. Manpreet said if it wasn't for his mother, he would not have returned to participate in the tournament again.

"I was shocked because I was told minutes before our match against Japan. All my teammates advised me to leave immediately and after I reached home, completed the rituals and sat with my mom, the only thing she could ask me to do is return back. She told me that my other family is waiting for me in Malaysia and they need me there. She told me I would be sad and upset sitting at home and I could use the distraction. That's the kind of impact my mother has on my life," he said.

Likewise, mother Manjit was brimming with pride as the former hockey captain Manpreet talked about his career and joy of receiving the prestigious award on Tuesday.

Her only wish is to watch her son win a gold medal for the country in the Olympics.

"As a kid, he was always notorious. He would never eat properly and would be always out roaming around. But now as I look at him, I am really proud. I want him to keep playing for the country and it's my wish that he wins a gold medal in the Olympics and bring laurels to the country," she concluded.

India Today


---

SBP offers assistance to hold CNS Hockey




LAHORE - Director General Sports Punjab Muhammad Aamir Jan has said that Sports Board Punjab (SBP) will lend full cooperation for holding the Chief of Naval Staff (CNS) All-Pakistan Hockey Tournament from October 1 here at National Hockey Stadium.

He said this during his meeting with Station Commander Navy Headquarters Commodore Naimatullah and Deputy Station Commander Lt Commander Abdul Basit on Thursday. Aamir said the best facilities would be provided to Navy for successful holding of the event in a befitting manner.

"The SBP is collaborating with all departments for promotion of sports in the province," he added.

He said that establishing top-level sports structure in the province has been top priority of Punjab government.

"We are making the best possible efforts for this mission."

Station Commander Navy Headquarters Commodore Naimatullah lauded the role of Sports Board Punjab for providing best sports facilities to talented youth across the province.

He also expressed his gratitude to SBP for extending cooperation for upcoming CNS All-Pakistan Hockey Tournament.

Station Commander Navy Headquarters Commodore Naimatullah and Deputy Station Commander Lt Commander Abdul Basit also presented souvenir to Director General Sports Punjab Aamir Jan on this occasion.

The Nation


---

Boost for hockey meet

Eroni Tuinuku



Charlotte Barnett, fourth from left, and husband Gary, third from right, of Geotech Drillings International Services Limited handovers the cheque to the Marist Hockey Club during the cheque presentation at the FASANOC office in Suva on September 26, 2018. Picture: JONACANI LALAKOBAU

FIJI'S biggest hockey tournament is expected to be a nail-biting three-day event for fans and players as Geotech Drilling continues its sponsorship for the annual memorial competition.

The 24th Geotech Drilling Eastgate Memorial Hockey tournament has attracted 16 teams to participate in this year's event at the National Hockey Centre in Suva this weekend.

Over the years, the Marist Hockey Club has ensured the operation and officiating of the competition.

This year the tournament has been boosted with a $15,000 sponsorship from Geotech Drilling.

The Marist men and women's hockey teams will be defending the main titles.

Club president Peni Sigabalavu said despite a long drought of trying to win in previous years, they expected a tough encounter this year.

"We did not win the men's division for the past 20 years until last year. We want to continue winning this year," Sigabalavu said.

"We have a young side and we believe they are capable of doing the job and win the title again this year."

The Marist men's team will be boosted with the presence of the five players who are studying under scholarships in New Zealand.

Marist player Douglas Havea is confident of his side in trying to defend the title this year.

The tournament will start today, and continue tomorrow and Sunday at the National Hockey Centre in Suva.

The Fiji Times


---

Weekend College Games




Each week, USA Field Hockey highlights some of the top college games in Division I, II and III.

THURSDAY, SEPTEMBER 27

DII: Bridgewater State vs. Anna Maria | 7:00 p.m. ET
Bridgewater State will host Anna Maria at 7:00 p.m. ET today. Bridgewater State is coming off a dramatic 2-1 win over Worcester State this past Tuesday. The Bears scored with just 2:16 left in the game to secure the victory. Despite being outshot 21-6 as well as an 8-2 penalty corner disadvantage, Bridgewater State managed to capitalize on their opportunities, improving to 3-4 overall and 2-3 in conference play. Anna Maria is coming off a huge 12-0 win over Albertus Magnus this past weekend, where they started out the game strong scoring in the first 49 seconds. The AMCats quickly scored two more goals to extend the lead in the first four minutes of the game. The win improved them to 4-3 overall and 1-1 in conference play. The last time these two teams played, Bridgewater State defeated Anna Maria 3-0.

DIII: No. 6 Bowdoin vs. Wellesley | 6:30 p.m. ET
Bowdoin will host Wellesley in a non-conference match-up today at 6:30 p.m. ET. Bowdoin is coming off their first loss of the 2018 season this past weekend after falling to top-ranked Middlebury 2-4 on Saturday. The Polar Bears quickly bounced back to defeat Southern Maine 6-0 on Sunday, improving to 6-1 overall and 3-1 in conference play. Bowdoin has scored 27 goals over seven games averaging 3.9 goals per game. The No. 6 ranked team will look to keep their strong offensive outcomes going this weekend. Wellesley meanwhile will be looking to get back on track after suffering a three-game losing streak. Wellesley is coming off a 1-3 loss to Smith this past weekend, and dropped to 3-4 overall and 0-2 in conference play. Will Bowdoin keep its high scoring momentum going or will Wellesley be able to end their losing streak?

FRIDAY, SEPTEMBER 28




DI: Ball State vs. Appalachian State | 3:00 p.m. ET
Appalachian State will host Ball State in Boone, N.C. at 3:00 p.m. ET this Friday. Appalachian State has lost their last five games in a row with two of those losses coming from top-10 ranked teams. The Mountaineers' most recent loss is from No. 8 Louisville, 0-4, this past Sunday, and this defeat dropped them to 4-6 overall and 0-2 in conference play. Appalachian State won four of their first five games and will be looking to get that winning momentum back this weekend in a Mid-American Conference match-up. Ball State will be looking earn their first win of the season and end their 8-game losing streak. The Cardinals are coming off a heartbreaking 4-5 overtime loss to University of California, Davis this past Monday. The loss dropped Ball State to 0-8 overall and 0-1 in conference play. Despite the loss, they fought until the end and gained more confidence going into this weekend's match-up.

DIII: Wheaton vs. Husson | 7:00 p.m. ET
This game will be a great game to watch in Division III this weekend when Wheaton hosts Husson this Friday at 7:00 p.m. ET. Wheaton is coming off a big 3-2 conference win over Clark University. The win was the first New England Women's and Men's Athletics Conference (NEWMAC) victory for the Lyons since October 22, 2016. On Tuesday, they added another win to their record when they defeated Johnson and Wales (R.I.) 6-1. These wins improved Wheaton to 4-3 overall and 1-1 in conference play. Husson is coming off a big 4-1 win against UMaine-Farmington this past Saturday. The win ended Husson's five-game losing streak and gave them their first victory of the 2018 season. The win moved the Eagles to 1-5 overall and 1-0 in conference play. The last time these two teams played was back in 2012 when Husson defeated Wheaton 6-1.

SATURDAY, SEPTEMBER 29

DI: Dartmouth vs. Brown | 12:00 p.m. ET
Dartmouth will host Brown in an Ivy League match-up this Saturday at 12:00 p.m. ET in Hanover, N.H. Dartmouth is coming off a 0-3 loss to Ivy League foe No. 5 Princeton. The loss dropped the Big Green to 3-4 overall and 0-1 in conference play. Brown is coming off a big 4-2 win over Georgetown this past Sunday, which advanced them to  3-5 overall and 0-1 in conference play. Both teams will be looking to get their first Ivy League win of the season. Expect this game to be a close one until the end as both these teams have similar records. When these two teams played last year, Dartmouth defeated Brown 3-2 in penalty strokes.




DII: No. 8 Bloomsburg vs. Slippery Rock | 5:00 p.m. ET
Bloomsburg will host Slippery Rock this Saturday at 5:00 p.m. in Bloomsburg, Pa. After falling in a close 1-2 loss to Kutztown last week, Bloomsburg rebounded on Tuesday to defeat No. 5 Millersville 3-2 on the road. The Huskies are now 4-1 overall and will be looking to continue this momentum into the game against Slippery Rock. Similar, Slippery Rock lost 0-4 to No. 3 West Chester before rebounding on Tuesday to beat Mercyhurst 3-2. This moved the Rock to 5-2 on the season.

DII: Coker vs. Converse | 3:00 p.m. ET
Converse will be looking for their first win of the 2018 season when they host Coker Saturday at 3:00 p.m. ET. The Valkyries lost their first five games and the team is coming off a tough 0-3 loss to Belmont Abbey on Tuesday. The loss dropped the team to 0-5 overall and 0-2 in conference play. Coker will also be looking for its first win of the 2018 season this weekend. They were supposed to have four games under their belt before this match-up but two of their games were postponed. Coker is coming off a 2-4 loss to Limestone this past Sunday. The loss dropped them to 0-2 overall and 0-2 in conference play. Tune in to see which team gets their first overall and first conference win of the season.

DIII: Colby vs. No. 1 Middlebury | 12:00 p.m. ET
Colby will host Middlebury in a New England Small College Athletic Conference (NESCAC) match-up this Saturday at 12:00 p.m. ET in Waterville, Maine. Colby has had a roller coaster season so far splitting wins and losses each week. The Mules are coming off a 2-1 conference win against Connecticut College this past Sunday, which improved them to 4-3 overall this season and 1-3 in conference play. Colby will be looking to earn their first back-to-back win against Middlebury this weekend. No. 1 Middlebury has started off the 2018 season with a seven-game winning streak, being one of a handful of undefeated teams in Division III. The Panthers are coming off a 2-1 win over No. 5 Babson this past Sunday, where they scored with 4:30 left in the second half to secure the win. The win improved them to 7-0 overall and 4-0 in conference play. Tune into see who will improve their record in NESCAC play.

SUNDAY, SEPTEMBER 30




DI: No. 20 Liberty vs. No. 21 Wake Forest  | 1:00 p.m. ET
No. 20 Liberty will host Wake Forest in Lynchburg, Va. this Sunday at 1:00 p.m. ET. This game will be an exciting one in Division I field hockey as Liberty is coming off a four-game winning streak including a huge upset win over No. 15 Virginia. The Flames most recent win came on Tuesday when they defeated Big East opponent Temple 8-2. The win improved Liberty to 7-2 overall and 2-0 in conference play. Both of Liberty's losses were extremely close and determine by a one goal difference. No. 21 Wake Forest is also coming off a four-game winning streak including a 4-2 win over No. 8 ranked Atlantic Coast Conference foe Louisville this past Friday. The Demon Deacons then went on to defeat Richmond 4-0 on Sunday. These wins improved Wake Forest to 5-4 overall and 1-1 in conference play. Wake Forest has scored four goals in each of the the last four wins, giving them an edge and nose for the goal. Tune in to this closely ranked game to see if Liberty will be able to knock off another top tanked opponent or if Wake Forest will extend their winning streak to five.

DII: Limestone vs. Bellarmine  | 12:00 p.m. ET
Limestone will host Bellarmine in Gaffney, S.C. at 12:00 p.m. ET on Sunday. Limestone is coming off a 4-2 win over South Atlantic Conference foe Coker this past Sunday. During the match-up, the Saints outshot Coker 20-4 and had a 10-2 advantage in penalty corners. The win moved Limestone to 2-3 overall and 1-0 in conference play. Bellarmine is coming off a 2-3 loss to Newberry College this past Sunday. The loss snapped the Knights' four-game winning streak as they are now 5-2 overall. Last season, these two teams matched up twice with Limestone coming away with both two victories. Will Bellarmine be able to get revenge from last year or will Limestone keep winning the series?

USFHA media release


---

Maryland field hockey wants revenge for last year's national title loss against UConn

By Lila Bromberg



Midfielder Kyler Greenwalt cheers after Bodil Keus scores during Maryland field hockey's match against Ohio State at the Field Hockey & Lacrosse Complex on Sept. 21, 2018. (Andi Wenck/The Diamondback)

Ten months later, the loss to Connecticut in the national championship game still weighs heavily in the minds of the Maryland field hockey team.

After allowing a late go-ahead goal, the Terps were left to watch the Huskies hoist the trophy, the program's third title in the last five years. At that point, Maryland was sad that it had missed its chance — and angry that UConn's game-winner marred its strong second half.

Now, with an undefeated record at stake, the Terps want to harness that anger — and avenge their painful title game loss — when they travel to play the Huskies on Sunday.

"Going into the game, I'm going to remember that feeling, and I'm going to get really angry," midfielder Kyler Greenwalt said. "And I think everyone feels that way."

Last year, Maryland overcame a 6-5 start to the season to advance to the NCAA title game. To open the 2018 campaign, the No. 3 Terps have won their first 11 games, their best start since 2013, as they prepare for a rematch with No. 2 UConn.

Maryland has toppled seven ranked teams this year, including then-No. 3 Duke and then-No. 5 Princeton. The Huskies may be the Terps' toughest test yet, and a win could push them higher in the rankings.

Maryland players said the loss last year to UConn is what has spurred them onto a dominant start to this season. Immediately following the title-game defeat, Greenwalt told reporters that she had a feeling her team would be positioned for a deep run this year.

"Coming into this season, we all had the same energy and just the will to do it for one another," forward Linnea Gonzales said. "We've come a long way since then, and we use that feeling as fire almost for where we want to be this season and how we want to compete."

This time around, the Terps are more confident on how the Huskies will play. Maryland uses a fast-paced style, but UConn generally takes a slower approach and speeds up at select moments to catch opponents off guard. Greenwalt said players were thrown off by their pace last year, but now she's confident her team will be able to take control in that area.

While the stakes for Sunday's matchup may add an extra facet to the game, Greenwalt stressed the need to remain even-keeled, despite any anger she still holds on to from last year's title game.

"What I've been preaching is speed of execution and technical skills and attention to detail," coach Missy Meharg said. "If we can clean up a few things that have just been out of carelessness, we're going to be a really strong unit. And we're going to need to do that if we want to come out on the winning side of Sunday."

The Diamondback


---

Cal field hockey looks to get back on track with start of conference play

By Tim Sun



Phillip Downey/File

The top-25 ranking was nice while it lasted, but after a 0-2 road trip, Cal field hockey is back on the outside looking in. This Sunday, the 3-5 Bears will seek to bounce back from their disappointing weekend with the start of conference play against the University of the Pacific.

The Tigers (6-4) are paced on offense by senior forward Kriekie van Wyk, a two-time All American and two-time reigning America East Offensive Player of the Year. Van Wyk has scored 10 goals in Pacific's 10 contests this season, with 54 shots and 35 on goal.

Behind van Wyk is a steady supporting cast: Four players have scored multiple times this season, and five more have added a single goal. Redshirt sophomore goalkeeper Marlise van Tonder ranks in the top 10 in the nation in save percentage and anchors a defense that has earned three shutouts this year.

Like the Bears, the Tigers have faced off with some of the country's top teams. Early in the season, Pacific fell 3-0 to now-No. 3 Maryland but has gone down to the wire with No. 6 Michigan and No. 11 Syracuse, losing in overtime both times. The Tigers actually led last weekend's matchup against the Orange 2-0 at halftime, but a late goal from Syracuse after a Pacific green card sent the game to the decisive extra period.

When comparing the Tigers to the Bears based on mutual opponents, Cal holds the advantage. Both teams were shut out by Maryland, but Cal defeated Providence handily while Pacific prevailed by just a single goal. Cal also won a close game against Miami (Ohio), whereas Pacific lost 3-1.

Sunday's game, therefore, will serve as a good opportunity for the Bears to get back on track. Cal has lost four of its last five games, and the team's offense has been stagnant for most of the season. The Bears have managed to score just 11 goals in eight games, and sophomore forward Megan Rodgers is the only player who has found the back of the net more than once.

Of course, the competition has been tough, but the Bears are playing against elite teams, keeping most games close. Defensively, play has also been strong, but Cal's offense just simply has not been able to help the defense out with early scores.

The Bears have yet to score a goal in the first 25 minutes of any game, and this lack of first-half activity puts additional pressure on the defense. It's not that Cal starts slow, either — head coach Shellie Onstead is often happy with the way her team competes from start to finish. The Bears just do not have the goals to show for it.

Onstead highlighted that the team's focus this week would be on the offensive side of the ball, as not generating goals was previously seen as bad luck but is now a genuine area of concern. Whether it is feeding Rodgers more often or creating more systematic opportunities for the entire team, it will be interesting to see how the Bears attempt to solve their offense woes this Sunday.

The Daily Californian


---

HA Congratulates Irvine & Mowat On HV Life Membership

Ben Somerford

Hockey Australia (HA) congratulates Jim Irvine and John Mowat on their recent induction as Hockey Victoria (HV) Life Members.

The pair were officially recognised at the 2018 Hockey Victoria Awards Dinner on Wednesday 19 September at the Melbourne Cricket Ground.

Irvine is a former Kookaburras defender who competed at the two Olympic Games as an athlete and was an assistant coach for Australia at the 2000 Sydney Olympics where the side claimed bronze.

The tenacious defender, who was an Australian vice-captain, represented his country at the 1976 and 1984 Olympics, winning silver in Montreal.

Irvine has enjoyed a lengthy association for several decades in Hockey, having also worked as a Hockey Victoria coaching director and is a club legend at Greensborough Hockey Club in Melbourne.

Mowat's contribution has been equally long-standing over several decades, from playing in Melbourne in the 1970s to his current role as HA's Education Manager.

He is a registered FIH Coach, who led both the Victorian men's and women's in the Australian Hockey League over several years, as well as numerous under-age state teams and chaired selection panels. He's also coached numerous teams in Melbourne.

Mowat has worked extensively in coach education and conducted development programs at a range of clubs across Melbourne, with a durable commitment to Hockey.

Hockey Australia media release