All the news for Monday 25 September 2018

Great Britain to face Belgium on 1988 gold medal anniversary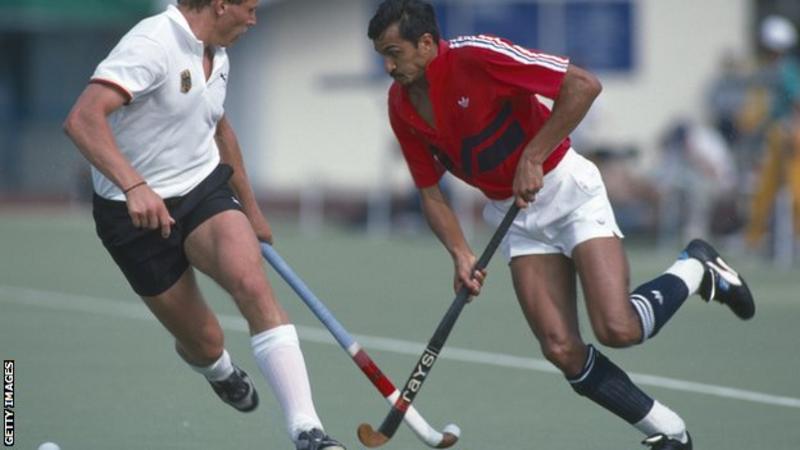 Imran Sherwani (right) inspired the famous commentary line from Barry Davies with his second goal against West Germany

Great Britain are to face Belgium to celebrate 30 years since their 1988 Olympic gold medal win in Seoul.

The game, which will be coach Danny Kerry's first in charge of the men's team, will be on 3 October.

A number of the Olympic gold medal winning team will be in attendance at Lee Valley.

Commentator Barry Davies, whose line - "Where were the Germans? But frankly, who cares?" - has gone into sporting folklore, is also expected to appear.

The game will be streamed live on BBC Sport online, app and connected TV.

Britain beat West Germany 3-1 in the final in Seoul, South Korea.

Imran Sherwani, who scored twice in the final and inspired Davies' commentary classic, had been a newsagent before having his moment in the final.

The Germans had beaten Great Britain in the pool stage but GB qualified for the final after an unlikely win over favourites Australia.

It had the nation glued to its TV screens for the final as millions watched the men claim gold.

In October, Kerry's full strength Great Britain side will take on world number three Belgium in a very important match ahead of the Hockey Men's World Cup later in the year.

Great Britain v Belgium
Venue: Lee Valley Hockey CentreCoverage: Wednesday 3 October, 19:30
Coverage: BBC Sport website, app and connected TV

BBC Sport


---

1988 Seoul hockey book published to coincide with 30th anniversary match

By The Hockey Paper




Danny Kerry's first match in charge of the Great Britain men's team will fall against the backdrop of one of the nation's finest sporting moments.

Great Britain's match against Belgium on October 3 will mark 30 years since the late Roger Self's side famously beat West Germany to win Olympic gold in 1988.

A book recounting the gold, written by The Hockey Paper editor Rod Gilmour, has also been published to commemorate the 30th anniversary.

Little to the team's knowledge, the final caught the British public's imagination and Seoul Glow aims to bring the story to life.

After Sean Kerly's semi-final heroics and Imran Sherwani's double in the final, BBC commentator Barry Davies uttered the now infamous line: "Where were the Germans? But, frankly, who cares?"

Victory for a team of amateurs, who had either quit their jobs or taken holiday to play in Seoul, propelled the team to celebratory heights on their return to British shores.

It was GB's first hockey gold in the post-War era and followed an eight-year plan for a major title.

Seoul Glow also reveals how the team was inspirationally led by Self, the manager who gelled his players into Olympic title holders.

The story of Self's 'no nonsense' approach is also told exclusively for the first time.

Several 1988 stars, including Davies, will attend the GB match, coming two days after the exact anniversary of October 1.

The Anniversary International, in partnership with Toshiba TVs, takes place at Lee Valley Hockey and will also be streamed live by BBC Sport.

If the match has a friendly air to it, the evening will be anything but, with Kerry eager for an opening win and the two teams vying for bragging rights ahead of the upcoming men's World Cup in India

Adult tickets for the game begin at just £12.50, with Under 18s from only £4.50, and NUS holders at £10.



Available from Amazon as a hardcover or Kindle book

he Hockey Paper


---

Pakistan names probables for Asian Champions Trophy 2018

LAHORE: The Pakistan Hockey Federation (PHF) on Monday named 31 probables for a national training camp for the upcoming Asian Champions Trophy Hockey Tournament. The fifth edition of the Asian Champions Trophy will be held at the Sultan Qaboos Sports Complex in Muscat from October 18 to 28, 2018. Besides Pakistan, India, Malaysia, Oman, Japan and South Korea will participate in the event. Pakistan players have been asked to report to the camp at the National Hockey Stadium in Lahore on September 25 (today). Pakistan have won the Asian Champions Trophy twice: in 2012 and 2013. India clinched the title in 2011 and 2016.

The probables include: Imran Butt (PIA), Mazhar Abbas (NBP), Amjad Ali (SSGC), Muhammad Irfan Senior (PIA), Rashid Mehmood (NAVY), Muhammad Aleem Bilal (WAPDA), Ammad Shakeel Butt (NBP), Mubashar Ali (SSGC), Tasawar Abbas (WAPDA), Muhammad Rizwan Junior (SSGC), Muhammad Rizwan Senior (ARMY), Muhammad Toseeq Arshad (WAPDA), Ali Shan (SSGC), Muhammad Umar Bhutta (WAPDA), Abu Bakar Mahmood (NBP), Shafqat Rasool (PIA), Muhammad Azfar Yaqoob (SSGC), Muhammad Atiq (NBP), Muhammad Arslan Qadir (NBP), Ajaz Ahmad (WAPDA), Rana Suhail Riaz (SSGC), Muhammad Irfan Junior (WAPDA), Muhammad Dilber (NBP), Muhammad Faisal Qadir (NBP), M Rizwan (SSGC), Muhammad Atif Mushtaq (NBP), Rizwan Ali (SSGC), Muhammad Zubair (PIA), Saran Bin Qamar (Punjab), Muneeb-ur-Rehman (SSGC) and Syed Zeeshan Bukhari (SSGC).

The Daily Times


---

PHF confirms hosting of Six-Nation Hockey tourney in Dec

ISLAMABAD - Pakistan Hockey Federation (PHF) Monday confirmed that the Six-Nation Hockey Tournament will take place in Lahore from December 17 to 31.

PHF Secretary Shahbaz Ahmed Senior revealed that the Asian Hockey Federation (AHF) has rescheduled the dates for the event and has included it in their activities calendar. "The Asian Hockey Federation has given the deadline of October 5 to all foreign teams for confirming their entries for the extravaganza," he said. Besides Pakistan, other teams to participate in the tournament include Oman, Qatar, Bangladesh, Sri Lanka, Kazakhstan and Afghanistan.

"This event is very important for the revival of international hockey in Pakistan and a total of Rs three million will be incurred to host the tournament," said the Pakistan Hockey Federation secretary Shahbaz Senior.

It may be mentioned here that the said tournament was previously to be held in Lahore in September but countries including Oman, Qatar and Sri Lanka excused to participate in the event due to financial reasons that led the Asian Hockey Federation to reschedule the event.

The Nation


---

Honours even between Rot-Weiss and Mannheim



©: Dirk Markgraf

Rot-Weiss Koln and Mannheimer HC shared a lively draw in the meeting of the top two in the German league on Saturday, ending the former side's perfect record.

It ended 1-1 with both scoring corners in the second with Tom Grambusch's effort cancelled out by Lucas Vila's delightful deflection in the closing stages.

The guests were the dominant team for the first two quarters but could not get past the impressive Victor Aly in the Koln goal. The 2017 EHL champions turned up the heat in the second half in what Andre Henning described as "the best quarter of this young season" so far which featured the Grambusch goal only for Vila to leave honours even.

"It was an incredibly intense, fast game," Henning said. "The fastest of the season so far. However, we did not hit the heights in the first half. MHC had more of the game and set the tone. We did not put the pressure on their game as we had hoped.

"After the strong third quarter, we did not defend well enough individually in the final phases so the equaliser at the end was well deserved."

Mannheim coach Michael McCann felt the same: "The draw is fine. It was an incredibly fast paced game; so many mistakes but overall a top Bundesliga match. For us, it was very hard to score for three quarters after such a high investment of energy so it was great to get that equaliser. "

A day later, Mannheim went to Dusseldorf and picked up a 4-1 win with two goals from Timm Haase and one each from Argentina stars Gonzalo Peillat and Guido Barreiros. MHC are currently looking forward to their EHL ROUND1 in Barcelona when they will play Wimbledon and Dinamo Elektrostal.

Rot-Weiss got back to winning ways with a 3-1 win over Nürnberger HTC, moving them up to 22 points from eight games with Mannheim two points back.

Polo Club continue to produce the goods since their promotion with two more wins and a third place. They beat Blau Weiss Berlin 4-2 and then saw off Berliner HC 1-0 thanks to a Tomás Procházka corner in the last minute.

They are on 19 points and have a seven-point gap to fourth place Uhlenhorst Mulheim whose game with Harvestehuder THC on Sunday was abandoned.

Euro Hockey League media release


---

Polo bowl over Racing in surprise French league battle



©: Christophe Bellenger

Racing Club de France became the first big gun to lose points in the French championship as they succumbed to a 4-3 loss to Polo on day three of the competition.

CA Montrouge and Saint Germain produced narrow wins over Stade Français (2-1) and Lille (1-0), respectively, to sit in a share of the lead at this early stage.

It was a spectacular match with a surprise finale with plenty of debate over the defining penalty corner. Early in the game, Racing took the lead with Christopher Peters-Deutz continuing his scoring spree with a sixth minute goal.

Polo levelled from a corner from François de Bettignies in the 25th minute but Peters-Deutz restored the Racing lead on the half-hour with his seventh goal of the season. Charles Coffigniez equalised in turn for 2-2 after 33 minutes.

Coffigniez got his second soon after the break but it was all square once more when Alastair Haughton – who will meet his former club Three Rock Rovers in EHL ROUND1 in October – finished off a move down the left.

But Polo picked off the seventh and final goal of the game with six minutes left, De Bettignies scoring for a 4-3 result.

Saint Ger nicked their 2-1 with goals from Willem-Ike Jeammot and Francois Goyet netting against Stade Français. For Montrouge, Thimotée Clément scored the only goal at Lille to extend their winning run to three wins from three.

Euro Hockey League media release


---

Grunwald eventually break down Start Gniezno defence




WKS Grunwald Poznan were pushed to the limit by UKH Start Gniezno with just a Karol Majchrzak getting the only goal of the game in the second half.

It was a far cry from their opening game of the season when they won by 14 goals against HKS Siemianowiczanka.

The host team set up a defensive cordon around the circle and it frustrated Grunwald for long periods and held their discipline for long periods, leaving minimal openings for the 22-time champions.

They were unable to make use of a number of penalty corners with the club learning plenty of lessons that they need to apply themselves and stay concentrated for each battle in the Polish league.

Their preparations are intensely focused now on their chances at the EHL in Barcelona next week where they will meet Belarussian side HC Minsk on Friday, October 5 and Belgium's Royal Leopold on Saturday, October 6.

Euro Hockey League media release


---

Junior suffer setback against as CD play out 2-1 result




Junior FC came unstuck 2-1 at the hands of CD Terrassa in the latest round of the Spanish Honor Division, making it four points out of nine from their season to date.

The Sant Cugat club are in the final weeks of preparation for the EHL where they will be the most local club from October 5-7 at the Pau Negre Stadium in Barcelona, facing Ireland's Three Rock Rovers and Racing Club de France.

Sergi Enrique slipped a corner chance just wide of the post as Roger Pallarols' side held control for much of the early periods. Álex Gil had two good chances but Alberto Carnicer was impressive between the posts, keeping it scoreless into half-time.

It took until the 40th minute for the opening goal to arrive when Lukas Plochy from a corner. Despite the setback, Néstor Llobet's team were patient and took their time to fight their way back into contention, forcing a number of stops from Albert Perez.

Marc Lara was a constant threat for the Terrassa club who drew some brilliant saves before making it level at 1-1 in the 54th minute from point-blank range. Junior had their chances to win but they were stung right on the hooter via a very well taken goal from Oriol Garreta four minutes from the end.

It means Junior sit in a five-way tie for third place in the Spanish competition on four points alongside Atletic Terrassa, CD Terrassa, Club de Campo and RS Tenis.

Real Club de Polo and Club Egara are both on maximum points with the former beating Linia 22 2-1 thanks to goals from Xavi Lleonart and Javi Cabot.

Egara beat FC Barcelona 3-2 with Josep Romeu, Pau Quemada and Xavi Gispert on the mark, counteracting efforts from Fergus Dunn and Matias Fernandez.

Euro Hockey League media release


---

The Irish abroad: Tice a big hit down under

A round-up of how the wild geese got on this week around the world




The Irish abroad enjoyed a week to remember with Lena Tice taking gold with North Harbour from New Zealand's Hockey League the highlight.

She helped the side win their first championships since 2009 – and their first final since 2010 – as they got the better of Central 2-0 thanks to goals from Courtney Winterbottom and Kirsten Pearce.

Elsewhere, University of Louisville's Ayeisha McFerran was named ACC Defensive Player of the Week as she produced a series of fine performances for her team.

In the statistically charged US system, McFerran "collected six saves as Louisville posted back-to-back shutout wins against a pair of ranked teams".

The Larne woman had five saves to help the Cardinals defeat number nine ranked Boston College 1-0. McFerran also had a crucial save to ensure Louisville's 1-0 win on Sunday against number 11 Northwestern.

The three-time NFHCA All-American and All-ACC selection stands second on Louisville's list for career clean sheets with 18.

In Germany, Katie Mullan is riding high with Club an der Alster as her new club made it seven wins from seven last weekend. Mullan got her third of the season in a 4-0 win against Berlin and then helped them to an 11-0 success against the Zehlendorf Wasps.

The Hamburg club lead the way by four points from Deirdre Duke's Dusseldorfer HC with Nikki Evans' UHC Hamburg in third and Megan Frazer's Mannheim in fourth.

In Belgium, Alan Sothern is the joint top goalscorer in the Belgian league from open play with five goals already to his name with La Gantoise, most recently with a double against Daring in a 5-2 win.

Jeremy Duncan was also on the mark last weekend for Herakles in their draw with EHL-bound Royal Leopold. Shane O'Donoghue scored his second of the season in Dragons 2-0 win over Beerschot.

In the Netherlands, meanwhile, there was a battle between two Irish goalkeepers as HC Rotterdam – and Mark Ingram – picked up a big 2-1 win over David Harte's SV Kampong, the former Pembroke man booting away a corner at the end to maintain their lead.

The Hook


---

Debutants Lakers inch closer to women's top tier

Police chase after league leaders Butali

By Elizabeth Mburugu



Kenya Police player Oliver Ochenje with the ball. PHOTO; JENIPHER WACHIE

Telkom firm grip on top spot as Kisumu based Lakers topple KU Titans from the summit of the women's Super League standings.

Kenya Hockey Union men's Premier League champions Kenya Police chalked two crucial victories at the weekend to reduce the gap between them and league leaders Butali Sugar Warriors to six points.

The law enforcers who returned to action after a long break hammered Western Jaguars 4-0 in their first weekend tie before edging United States International University of Africa (USIU-A) 1-0.

Following the double victory, Police now have 36 points six less than Butali who top the log with 42.

However, Police have two matches in hand and victory will see them level the points.

Butali who are seeking to end a two-year trophy drought have played 15 matches two more than Police. Both sides have lost a match each.

Champions Police will also need to up their game at the opponents' goal to increase their chances of retaining their title.

Butali have been superb in attack and enjoy a 46 goal difference having scored 57 goals and conceded 11. Police on the other hand have only found the back of the net 33 times and allowed 14 goals in their own net.

Police captain Oliver Echenje remained optimistic saying they are still on course to successfully defending their title and all they need is to keep winning.

"It was good to return to action after a very long time and I'm glad we secured maximum points. Our title defence campaign is still concrete. We just need to ensure that we don't drop a point and also win convincingly," Echenje said.

Wazalendo are third with 26 points from 16 outings while Greensharks are fourth with 24. Former holders Strathmore University Gladiators end the top five with 22 points.

Western Jaguars who had a disappointing city visit going down to Police lead from the bottom with eight points.

In the women's Premier League title chase Telkom inched closer to a record 21st title after thrashing Jomo Kenyatta University of Agriculture and Technology Ladies (JKUAT) 11-0.

They top the table with 27 points six more than Strathmore Scorpions. The battle for a promotion to the women's Premier League hit a notch higher at the weekend after newcomers Lakers beat Multimedia University 2-0 to topple Kenyatta University (KU) Titans from the top.

Lakers are now at the peak of the table with 15 points one more than the Titans who are seeking to return to the top tier after being demoted this season.

Debutants Wolverines are third with ten while University of Nairobi (UON) are fourth with nine.

Novices Nakuru Ladies who are yet to win a match remain at the bottom with three points from three draws and three losses.

The Standard Online


---

Linnea Gonzalez has emerged as a leader for Maryland field hockey this year

By Lila Bromberg



Forward Linnea Gonzales pushes the ball up the field during Maryland's 3-0 win against Michigan State in 2017. (Marquise McKine/The Diamondback)

Before each game, forward Linnea Gonzales is a presence at the center of the Maryland field hockey team's huddle. The senior hypes up her teammates and encouraging them to play at the level the program has come to expect.

In practice, Gonzales has also emerged as a vocal character, pushing teammates to keep intensity levels high. In the words of defender Nike Lorenz, she "just always spreads a good mood."

Gonzales has always been a scoring threat for the Terps. But this year, as one of three captains, she's stepped up as more of a leader.

"This year, she's a completely new, elite, high-performance athlete in every way," coach Missy Meharg said. "The way that she prepares to be at her best, her mindset when she comes to training. … When you do it yourself, it's easy to ask that of others."

Under the leadership of Gonzales, along with captains Kelee Lepage and Julie Duncan, the Terps have won 11 straight games to start the season, including seven victories over ranked opponents, for their best start since 2013.

Gonzales said being a team captain has allowed her to develop as a player.

"For me, it's just having confidence on the field and having a voice," Gonzales said. "When I'm vocal, I don't get in my head as much, and just helping my teammates fuels me and gets the energy going."

Through each of the past three seasons, Gonzales has tallied 10 goals. Now, nearly halfway through her senior season, she's already notched 10 to reach 40 for her career.

Against No. 8 Michigan on Sunday, Gonzales scored both of the Terps' goals en route to a 2-1 victory. Meharg moved Gonzales around the field, employing the Bel Air native in different positions to keep the Wolverines' defense unsteady.

Just two days before in Friday's game against No. 23 Ohio State, Gonzales struggled to find the back of the net as all three of her scoring chances went wide of the net.

Gonzales said assistant coach Katie Bam helped her with her stroke. Bam stressed focusing on details and setting up the right chances before she shoots.

As Gonzales spends more time helping her teammates now that she is a captain, she has found an uptick in her own performance, too.

"She's really fast, really good on the stick, and she just understands the game and really knows where to go," Lorenz said. "Her leadership has so much to do with how confident she is on the pitch and how she just always keeps going."

The Diamondback


---

Scottish hockey mother hailed inspirational after shedding five stone

By The Hockey Paper



Alana Willox, right, played for Scotland Masters at the World Cup

A Scottish masters player has been hailed an inspirational figure after returning to the sport which helped her to then lose five-and-a-half stone (35Kg) in weight.

Alana Willox, a 40-year-old, played hockey in her youth and early 20s before becoming a mother of four.

Willox, from Fraserburgh in Scotland, returned to hockey in her late thirties and dropped from 14.9 (94.8 Kg) stone to nine (57.2 Kg).

"I had my first son when I was 24 and had three more soon after at 26, 29 and 31," the primary school teacher told the Evening Express.

"I truly thought that I would never play hockey again."

A chance encounter with a former team-mate saw her start playing again, while her first tournament saw her fail to fit into her former vests.

"It was a real wake up call. I feel amazing – there are no words," added Willox, who trains at Merlins Gordonians HC.

Willox was called up for Scotland's over-40s for the Masters World Cup in Spain during the summer.

"I never thought I would achieve playing at this level – we travel the world with that team," she told the paper.

"It makes me feel like there is still room to progress and get better.

The Hockey Paper


---

Lawyer Maria Dew to lead review of Black Sticks women's team environment



An independent review of the Black Sticks women's team environment will be led by lawyer Maria Dew. JOHN COWPLAND/PHOTOSPORT

Employment Lawyer Maria Dew will lead an independent review of the Black Sticks women's team environment, which is expected to be completed by the end of November.

Her appointment, made by Hockey New Zealand in consultation with the players' association, was announced on Tuesday.

In a statement, the governing body said Dew would also review, "the standards, policies, and processes relating to Hockey New Zealand's high performance programme".

The review comes after an unknown number current and former players approached the players' association in August, with some critical of the team environment under coach Mark Hager.

That led to a meeting at the end of August between the players' association and Hockey NZ, who issued a joint statement confirming an independent review would be held.

"[We] have had a positive and constructive meeting to discuss and understand the feedback by some past and present players about the Black Sticks women's environment," the statement said.

"We have agreed a plan to address the feedback, which involves an independent person to look into the feedback and gather more information if appropriate.

"There is absolutely no question that athlete welfare is paramount. At the same time, we must consider and protect the rights of employees."



Mark Hager has coached the Black Sticks women since 2009. GETTY IMAGES

One former player who has spoken publicly is former Black Sticks goalkeeper Amelia Gibson.

She told 1 News she was mistreated as a player in the national women's hockey side and last year called time on her international career because of it, while raising her concerns with Hockey NZ.

Three days after the August 20 meeting, seven former players - Katie Glynn, Laura Douglas, Lucy Talbot, Anna Alexander (nee Thorpe), Bianca Russell, Emily Gaddum (Naylor) and Krystal Forgesson - issued a statement expressing support for Hager.

Earlier in August, it was revealed that Hager had sent an email, in error, to the team during July's Hockey World Cup, in which he criticised certain players' work ethic and fitness levels.

"... is struggling to run, ... struggles to do repeated efforts, ... struggles to push through pain and heat," the email read, with Hager apparently hitting reply all instead of replying to one person.

The email was sent after a loss during the World Cup, in which the Black Sticks failed to reach the quarterfinals.

Players' association executive manager Glenn Sulzberger previously said the email incident had been a "catalyst" that prompted players to come forward with their concerns.

Hager has coached the team since 2009.

Stuff