All the news for Thursday 23 August 2018

2018 Asian Games - Day 4
Jakarta (INA)

Men's Results 22 August

Pool B     KAZ - BAN     1 - 6
Pool A     KOR - SRI     8 - 0
Pool A     IND - HKG     26 - 0
Pool B     MAS - THA     10 - 0
Pool A     INA - JPN     1 - 3
Pool B     PAK - OMA     10 - 0

Pool Standings

PoolA
|   | Played | Won | Draw | Lost | GD | Points |
| --- | --- | --- | --- | --- | --- | --- |
| India | 2 | 2 | 0 | 0 | 43 | 6 |
| Korea | 2 | 2 | 0 | 0 | 19 | 6 |
| Japan | 2 | 2 | 0 | 0 | 13 | 6 |
| Indonesia | 2 | 0 | 0 | 2 | -19 | 0 |
| Sri Lanka | 2 | 0 | 0 | 2 | -19 | 0 |
| Hong Kong China | 2 | 0 | 0 | 2 | -37 | 0 |
Pool B
|   | Played | Won | Draw | Lost | GD | Points |
| --- | --- | --- | --- | --- | --- | --- |
| Malaysia | 2 | 2 | 0 | 0 | 24 | 6 |
| Pakistan | 2 | 2 | 0 | 0 | 20 | 6 |
| Bangladesh | 2 | 2 | 0 | 0 | -3 | 6 |
| Oman | 2 | 0 | 0 | 2 | -11 | 0 |
| Kazakhstan | 2 | 0 | 0 | 2 | -9 | 0 |
| Thailand | 2 | 0 | 0 | 2 | -20 | 0 |
---

18th Asian Games Jakarta Palembang 2018 - Day 4 Review




Match 01 - Bangladesh 6 - 1 Kazakhstan

JAKARTA: Bangladesh secured their second win of the tournament when they defeated Kazakhstan 6-1 in a Group B match at the GBK Hockey Stadium.

But Bangladesh coach K. Gobinathan was not a happy man.

"One cannot complain about the scoreline. I am not happy at the way they played the game and numerous missed chances. You need to be patient and not waste the chances at goal. Against a better team, it will prove costly. It is these matches where you need to learn and get the moves right. The players have to understand this and not get carried away when they play teams ranked lower than us," he said.

Mohamed Fazla Hossain Rabby opened the scoring for the Bangladesh team in the 10th minute from a field attempt. In the 14th minute, 19-year old Rashel Mohamed playing in his 10th match for the team scored an opportunistic goal. It was only his third for the team since making his debut last year. Bangladesh kept the attack going and goal number three came through a field attempt by Mohamed Mainul Islam in the 18thminute. Md Khorshadur Rahman then added two goals from the penalty corner in the 32nd and 47thminutes. ASHKEYEV Yermek Tashkeyev scored a consolation goal form a field attempt in the 51st minute. But a late penalty corner goal from Mamunur Rahman in the 59th minute gave the Bangladesh team a 6-1 win.



Match 02 - Korea 8 - 0 Sri Lanka

JAKARTA: Former champions South Korea turned in a comfortable performance to beat Sri Lanka 8-0 in a Group A match at the GBK Hockey Stadium.

The Koreans had beaten Hong Kong 11-0 in their opening match and top their group for now.

But coach Kim Young-kyu was a hard man to please.

"I think we should have scored more goals. The conditions were not that hot but I am pleased with the way we moved the ball.

"So, the finishing was not that good despite the chances we created. We have another easy match against Indonesia and we need to stay focus on the task," he said.

"My main focus in on the match against Japan and India. That is the two matches matter in our group. I will be happy to win that even if it is just one goal," he added.

The South Korean opening goal was scored by Kim Seong-kyu in the fourth minute via a penalty corner conversion. A minute later Kim Jung-hoo added the second goal from a field attempt.

The Koreans continued to dominate the play and soon chalked up a 4-0mscoreline in the first quarter.

Hwang Weon-ki and Bae Jong-suk were the scorers in the eighth and 13th minutes respectively. There were no goals in the second quarter.

In the third quarter, penalty corner specialist Jang Jung-Hyun scored three goals in the was 32nd, 41st and 43rd minutes. All the goals came from the penalty corners.

Hwang Tae-il scored the eighth goal in the 51st minute for Korea's second win in the tournament.



.
Match 03 - India 26 - 0 Hong Kong China

AKARTA: India scored 26 goals against Hong Kong China in their second match at the men's Pool A match at the Asian Games. This was India's highest margin of victory since the 1932 Olympics when they defeated the United States 24–1. Coach Harendra Singh was elated with the margin of the win and paid tribute to his players.

"They deserve the accolades as collectively the team performed well," said Harendra."We are taking every match on its merits and in actual fact, our match against Japan will be tough, so we want to be ready for that. Japan, as a side, is very organized and tactical and we need to be at our very best for that game."

Akashdeep Singh was the first to get his name on the scoresheet, scoring in the second minute. A minute later. Manpreet Singh was on target to make it 2-0 before a brace from penalty corner specialist Rupinder Pal Singh who scored in the 3rd and 4th minute to give India a 4-0 lead within five minutes of the start.

SV Sunil (7th minute), Vivek Prasad (14th minute), Lalit Kumar (17th minute, 19th minutes), Manpreet Singh (16th minute), Mandeep Singh (21st and 23rd minutes) , Amit Rohidas (26th minute), Harmanpreet Singh (29th minute) and Varun Kumar (30th minute) gave India a 14-0 lead at the break. Not only were scoring from field goals, but they also managed to net five penalty corner goals from the nine they were awarded for the first 30 minutes of the match.

Akashdeep made it 15-0 in the 32nd minute while Lalit powers in the 16th goal via a penalty corner. Dilpreet Singh (48th minute), Chinglensana Singh (51st minute), Harmanpreet (52nd, 53rd, 55th minutes) Simranjeet Singh (53rd minute)Surender ( 54th minute), Rupinder Pal ( 59th minute) completed the historic win for Hockey India.




Match 04 - Malaysia 10 - 0 Thailand

Malaysia had another easy win, this time beating Thailand 10-0 at the GBK Hockey Stadium in Jakarta.

Coming off a 16-2 win over Kazakhstan in their opening match on Monday, the Malaysians were more disciplined in defense and totally dominated the match, refraining their opponents to a handful of forays into their semi-circle.

Coach Stephen van Huizen was naturally pleased with his charges performance. "I am happy with the performance and this sets us up well for the tougher matches to come. We created chances and that is important as the team is playing well and if we can make use of chances then things will be better for us in tight matches," said Stephen.

"We are ready to take on Bangladesh despite the fact that we are playing at noon. The heat should not be a factor as we need to display a high level of consistency throughout the match and this will negate the humid conditions. We are as prepared as ever to face the tougher teams after the relatively two east matches"

Malaysia got off to a bright start as Mohd Meor Azuan Hassan scored in the 7th minute. A penalty stroke successfully converted by Faisal Shari gave Malaysia a 2-0 advantage in the 18th minutes. Seconds later it was Firhan Ashaari who inflicted more damage on the Thai's to take it to 3-0. The five-goal hero in the match against Kazakhstan Razie Rahim steeped up to convert a penalty corner in the 20th minute for a 4-0 lead for Malaysia.

Faisal, however, missed a penalty stroke in the 25th minute to widen their lead. Mohd Azri Hassan was on target in the 27th minute as the Thai's could not cope with the pace and skills of their opponents with Shahril Saabah scoring the sixth goal. At halftime, Malaysia led 6-0.

Youngster Amirul Aideed made it 7-0 in the 37th minute. And Shahril notched his second, Malaysia's eight in the 40th minute. Veteran striker Tengku Ahmad Tajuddin Tengku Jalil finally opened his accounts in the Asian Games in the 44th minute to give Malaysia a 9-0 lead at the end of the third quarter. Playmaker Fitril Saari scores the 10th goal for Malaysia and they were all set to take on tougher opponents in the coming days.



Match 05 - Indonesia 1 - 3 Japan

JAKARTA: Japan was given a scare by host Indonesia in their second Group A match when they scrape through with a 3-1 win at the GBK Hockey Stadium.

For the Indonesians, who are playing in only their second Asian games, scoring the goal was an achievement. In the opening game, they had lost 0-17 to India. They last played in the 1962 Games which were also held in Jakarta.

At that Games, they scored two goals. But conceded 18 in the four matches played.

Indonesian coach Gusmana Ahriandi said that they played one of their better games in recent times. "Our preparation period was short and not enough. But today the players showed they can be molded into a good team. They had the fighting spirit and played with a structure. I am sure we can improve from here," he said.

Japan only managed to score in the 13thminute when Hirotaka Zendana slot home a field goal.

But the Japanese had a scare in the 17thminute when the Indonesians scored their first goal of the tour made a further inroad with an0otment. From a quick counter-attack, Astri Rahmad netted a field goal to level the score.

That put the Japanese side under tremendous pressure as they Indonesians managed o hold out until the 41st minute.

In the 42nd minute, Kazuma Murata scored after a goalmouth melee and eased the pressure on the Japanese. In the 48th minute, Kenta Tanaka made sure of full points when he also scored with a field goal.

Japan coach Siegfried Aikman said the match is a wake-up call for the players.

"Full credit to the Indonesian team for a splendid job and they showed good fighting spirit. I felt we would win the match and so was not overly worried when they scored.

"Indonesia showed that there is no easy match in this kind of tournament. Every team wants to win and they are no different. We play India next and the players have to learn from this match. You cannot make the same mistakes and expect to win," he said.



Match 06 - Pakistan 10 - 0 Oman

Pakistan grabbed another victory in the Pool B fixture when they defeated Oman 10-0 in the Men's competition at the GBK Stadium in Jakarta. In the scoresheet, Pakistan had six different players amongst the scorers with Ali Shan scoring three, Muhammad Dilber and Muhammad Irfan scoring two each.

"It was a rather slow start but once we increased the momentum the goals started to come. It is good to see so many players getting on the scoresheet and this shows that we do not rely on certain players to get the goals, said Pakistan's Muhammad Rizwan.

"We, however, need to improve our penalty corner conversion rate as that could make a difference between winning or losing a match. Overall, it was a decent performance and we are pleased with the score."

Pakistan had defeated Thailand 10-0 in their opening match on Monday while Oman lost narrowly to Bangladesh 1-2. Umar Bhutta scored in the first two minutes to weave past the Omani defense to give Pakistan the lead. Seconds before halftime, Ajaz Ahmad put Pakistan 2-0 up. The goal stood after a Video Referral by Oman was turned down. Till halftime, Pakistan had four penalty corners but had failed to capitalize on them.

However, Pakistan picked up their game post their fifth penalty corner in the 34th minute, as Mohamad Irfan made no mistake to drive the ball home and put his team 3-0 ahead. Ali Shan capitalize on the Omani defense to slot home the fourth goal from close range in the 37th minute. Muhammad Dilber became the fifth player for Pakistan to score in this match with a field goal in the 40th minute.

A minute later it was the turn of Muhamad Atiq to get his name amongst the scorers and Pakistan were cruising to another easy win. The seventh goal was netted by Ali Shan after a breakthrough on the right by Umar Bhutta in the 44th minute.

Dilber netted his second and Pakistan's eight in the 49th minute before Ali Shan completed his hat-trick in the 55th minute to make it 9-0. Irfan put the icing on the cake with his second of the night in the 59th minute to give Pakistan a 10-0 win.

Asian Hockey Federation media release


---

86 year old record broken

s2h Team

India struck 24-1 against USA 86 years ago. This was the biggest score for India. It stood till today for the long standing Indian record of Indian men's biggest international victory. Today, it is broken by PR Sreejesh' team when they defeated Hong Kong 26-0 at Jakarta Asian Games.

Led by Lal Shah Bokhari, who later became Pakistan's Sri Lankan Ambassador, India crushed the hosts States 24 - 1 in Los Angeles Olympics on its way to retain the Olympic gold medal. The team had such greats as Dhyan Chand and Rup Singh on its rolls.

A couple days ago, India made 17-0 against Indonesia at Jakarta. That time it was thought the novice team may turn out to be a mincemeat for the Indians who may create the history. However, they coould contain India to that score, but today the Hong Kong team caved in to not deny India its space in the sky.

Of course, this is not the world's biggest score as many bigger scores have been struck in Oceania and Pan American Games above 30 goals in a match.

Continuing its freeflow hockey, India amassed six goals at the end of first quarter, first four goals coming in first four minutes, six more in the next. Second half saw another 12 goals coming in.

Stick2Hockey.com


---

26-0 India's biggest ever wins, yet only 11th best ever in World

By B.G.Joshi (Sehore-Bhopal, India)



Rupinderpal Singh has netted 7 goals in 2 matches

India recorded its best ever win in 92 years of international hockey by annihilating Hong Kong 26-0.

However it is only 11th best ever in World, as lop-sided matches in Oceania Cup, Pan Am Cup, Pan Am Championships and African Championships results have 10 matches with scores from 27-0 to 39-0.

The World record of the biggest ever win is held by New Zealand. In 2007 Budrim(Australia) Oceania Cup New Zealand  beats Papua New Guinea by 39-0.

I, B.G.Joshi, have compiled World Records on 113 different angles of the game of hockey by continuous research over 40 years. Most Titles, Most Goals in Tourney, Highest Tournament Score and Top Scoring in tournaments- all these are in my record book for all IOC/FIH/Continental tournaments. 

PTI reports New Zealand beat Samoa by 36-1 in 1994 is not correct.

Here is top 5 wins of India in international hockey since debut in the year 1926:
| | | | | |
| --- | --- | --- | --- | --- |
| Score | Year | Venue | Tournament | Opponent |
| 26-0 | 2018 | Jakarta | Asian Games | Hong Kong |
| 24-1 | 1932 | Los Angeles | Olympic Games | USA |
| 22-1 | 1954 | Hong Kong | Test Match | Hong Kong |
| 21-0 | 1935 | Colombo | Test Match | Sri Lanka |
| 21-0 | 2010 | Dhaka | South Asian Games | Nepal |
 Fieldhockey.com


---

India mauls Hong Kong

Breaks own record of biggest victory margin after 86 years

Uthra Ganesan



Ceaseless: India took over a minute to score its first, and then kept coming at the target. Photo Credit: PTI

It took 86 years but when the Indian men's hockey team walked off the turf here on Wednesday, it had broken its own record of the biggest victory margin ever with a 26-0 mauling of Hong Kong.

The result overshadowed the 24-1 India had registered against USA at the 1932 Olympics but, more importantly, it gave the boys the right momentum ahead of what coach Harendra Singh said the "real beginning of Asian Games competition". The highest ever in the world is a massive 37-0 win by New Zealand against Samoa in 2015.

"I was looking more at the structure and discipline of the team. The way they played the ball, moved ahead, executed the plans were areas of interest for me. Records are meant to be broken but for now, these boys are part of a historical win and I am sure they will savour it," he said.

If anything, the result was lesser than what was expected given the way India started off. Fourteen goals at half time — seven in each quarter — and Harendra admitted the pace dropped off post break. But he blamed it more on experimenting and attempting variations than any complacency. "If they were complacent then they wouldn't have scored so many," he added.

India took over a minute to get the first goal, and then kept coming at the target. The ball entered the Indian half a grand total of five times through the match. The last of them was in the penultimate minute, when Hong Kong received a penalty corner and India was without a goalkeeper, but it was overturned.

Asked about a goalkeeper's role in such games, captain P.R. Sreejesh was generous. "Such matches are actually sometimes difficult because you never know when a stray ball might come and beat you. Staying alert in such games is difficult but you have to do it," he said.

Harendra, though, was still looking at areas of improvement. "Clean movement and sharpness inside the D. There will always be areas to get better," he said.

The Hindu


---

Hockey men win 26-0, break 86-year-old record

Vinayak Padmadeo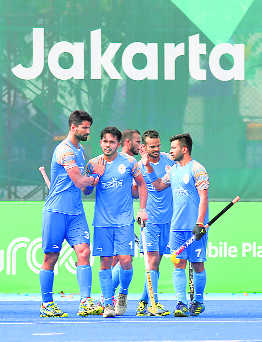 India's players celebrate a goal against Hong Kong. PTI

"For us, the real Asian Games start in two days' time," this comment by men's hockey team coach Harendra Singh, savage as it is, shows the real picture.

Harendra's comment was a true reflection of the game as India broke an 86-year-old record by pumping in 26 goals against Hong Kong on Wednesday. It was the biggest international win for India, improving on the 24-1 margin registered against USA at the 1932 Olympics. The legendary Dhyan Chand and Roop Singh were part of that Indian team.

As for today's win, no one would have any doubt about the result. The reigning Asian Games champions and world No. 5 India were clear favourites. And sure enough, the team gave an early signal that they were in the mood to score goals for fun. India scored four goals in the first five minutes to set the tone of the match, adding a sixth before the end of the first quarter. They were 14-0 up after the second quarter.

Halftime push

At halftime, Harendra asked his team to give it all to break the long-standing record. "I told them to go for the record and become a part of history. I can understand today they do not know the significance of the scoreline but once they age, they will feel proud of this achievement," Singh said after the match.

Harendra's men then put their hapless opponents to the sword. As many as 13 players from India logged their name on the scorecard. The scoring chart was led by drag-flickers Rupinderpal Singh (3rd, 5th, 30th, 45th, 59th minute) and Harmanpreet Singh (29th, 52nd, 53rd, 54th), and Akashdeep Singh (2nd, 32nd, 35th) was the third player to score a hat-trick. Manpreet Singh (3rd, 17th), Lalit Upadhayay (17th, 19th), Varun Kumar (23rd, 30th), SV Sunil (7th), Vivek Sagar Prasad (14th), Mandeep Singh (21st), Amit Rohidas (27th), Dilpreet Singh (48th), Chinglensana Singh (51st), Simranjeet Singh (53rd) and Surender Kumar (55th) too sounded the board.

India withdrew the regular goalkeeper Krishan Bahadur Pathak, who had replaced PR Sreejesh after the first half, and put Rupinderpal in the goal as kicker-back. He scored the last of his goals in the 59th minute playing as the makeshift goalie.

Wednesday's win came on the back of a 17-0 win over hosts Indonesia on Monday.

Challenges ahead

Harendra later said that things going forward will get tougher. "We got two good practice matches against these two teams. We could experiment in these games but as far as I am concerned, the real Asian Games for us begin in two days," he said.

India will play Japan on Friday and South Korea on Sunday. Manpreet Singh conceded that the Indians went into the match eyeing improvements before playing Japan and South Korea. "We have two big games coming up so the plan was to do simple things correctly. Our focus was on penalty corner conversion and controlling the ball speed and on attacking play," he said. "We got to know about the record only after the match. Focus during the match was to score as many goals as we could... But yes, it is great that we have created history by scoring so many goals," he added.

Chris Ciriello, the analytical coach of the team, said a few things didn't go according to plan. "Every drag-flicker got to score a goal, which is a good thing. I feel sorry for the guys playing for the opposition team," the former Australian drag-flicker said. "It was also good that the strikers are making that many PCs as well. We won 26-0 in this game but there were a lot of things the guys didn't do well," he added. "We had a few corners today from which some of the pushes and traps weren't good enough."

The Tribune


---

India thrash Hong Kong China 26-0 in hockey, record biggest win

India bettered its 86-year-old record when it defeated USA with a 24-1 margin in the Olympics



India's players celebrate after a goal during the men's hockey pool A match between India and Hong Kong at the 2018 Asian Games in Jakarta on August 22, 2018. Photo Credit: AFP

Indian men's hockey team on Wednesday recorded its biggest ever win in international hockey by annihilating Hong Kong China 26-0 in a Pool B match of the Asian Games here.

The huge gulf between the two sides was evident as India bettered its 86-year-old record when it defeated USA with a 24-1 margin in Olympics.

The record for biggest win in international hockey remains with New Zealand, who beat Samoa 36-1 in 1994.

Such was India's dominance of India that with seven minutes to go, India took its goalkeeper off the field.

It was always expected to be a lop-sided affair between world no. 5 India and world no. 45 Hong Kong China.0

Rupinderpal Singh (3rd, 5th, 30th, 45th, 59th minutes), Harmanpreet Singh (29th, 52nd, 53rd, 54th) and Akashdeep Singh (2nd, 32nd, 35th) scored a hattrick each, while Manpreet Singh (3rd, 17th), Lalit Upadhayay (17th, 19th), Varun Kumar (23rd, 30th), SV Sunil (7th), Vivek Sagar Prasad (14th), Mandeep Sinhgh (21st), Amit Rohidas (27th), Dilpreet Singh (48th), Chinglensana Singh (51st), Simranjeet Singh (53rd) and Surender Kumar (55th) were the other goal getters for India.

India did not show any mercy to their opponents, scoring four goals in the first five minutes of the match. They ended the first quarter with a comprehensive six-goal lead and made it 14-0 after adding eight in the second quarter.

It turned out to be just a practice match for India, which had trounced hosts Indonesia 17-0 in their first pool match.

The play was restricted to Hong Kong China's half and Indian captain PR Sreejesh, guarding the goal post, was not challenged even once.

If goalkeeper Michael Chung had not made a few good saves in the third quarter, the scoreline could have been worse for Hong Kong China.

While Sreejesh guarded the post in the first half, Krishan Bahadaur Pathak did the duty in the second.

India will next play Japan on Friday.

The Hindu


---

Fireman, clerk among Hong Kong amateurs

Vinayak Padmadeo

For the Hong Kong team and its supporters, the hooter at the end of the fourth quarter was a sound of relief. The team was already ready to explode from within. Defender Chan ka Chun cut a frustrating picture after seeing some of the defending work from his teammates. The angst brought him a yellow card in the dying minutes.

The gulf between the teams was pretty apparent as India scored 26 goals while Hong Kong failed to register a single shot at goal. But that's hardly surprising — Hong Kong's players train only three or four times a week.

"The team is full of amateurs who come to train — sometimes after finishing their regular job — from 7:30 to 10 in the night," Hong Kong Hockey Association president Sarinder Dillon told The Tribune. "Ours is a totally amateur team, which was up against a fully trained and well drilled professional team. This was a classic 'men against boys' scenario."

Gabriel Long Ting Tsoi, who is a defender, is an office clerk by profession while forward Windfall Wing Fung Monthong is a fireman. Both the men's and women's national team share one ground, the Kings Park Hockey ground.

Dillon informed that in Hong Kong, there are over 70 men's teams and 30-odd women's teams playing in various club divisions. But the only club to own a ground is the Hong Kong Football Club. Even the national teams have to share a training ground. "They train on different days but sometimes they have to share the ground too. We have to release them for the club matches on Sundays," he said.

In the past, the Hong Kong team was stronger, represented by a lot of Indian and Pakistani expatriates. Dillon's cousin Bill, a senior official of the hockey federation, says the team was in the top-8 in Asia until 2011. But a rule change by the International Hockey Federation (FIH) made it compulsory that only players with the Hong Kong Special Administration Region (SAR) passport could be part of the team. This started the downfall.

"We had 6-7 Indian and Pakistani boys who had good skills in the team. They could represent us as they had the Permanent Identity Card but the FIH rule change forced them out," Dillon says. "They could have got the SAR passport, but we cannot complain. I mean why would anybody change their nationality? And for what, only to play for three-four years!"

The Tribune


---

It's goals galore but Stephen wants players to be sharper up front

MALAYSIA hockey team coach Stephen Van Huizen wants his team to be sharper upfront as they chase glory in the Indonesia Asian Games.

The team chalked up another easy win, demolishing Thailand 10-0 in their second Group B match at the Gelora Bung Karno Hockey Stadium yesterday.

Malaysia scored through Mohd Meor Azuan Hassan (fifth minute, 26th), Faisal Saari (18th), Mohd Firhan Ashaari(19th), Mohd Razie Rahim (20th), Shahril Saabah (28th, 40th), Mohd Amirol Aideed Mohd Arshad (36th), Tengku Ahmad Tajuddin (43rd) and Mohd Fitri Saari (57th).

Stephen's men started their campaign with a 16-2 win over Kazakhstan on Monday.

"The smaller teams are playing a tight game to keep the scores down. We're trying to move the ball around quickly and are banking on penalty corners to get the goals," said Stephen.

"I want the conversion rate of the penalty corners to be high but we also have good penalty flickers and strikers who can score field goals. I want the team to score goals from all areas."

The Star of Malaysia


---

Asian Games 2018: Pakistan pulverise Oman for second straight 10-0 victory



Pakistan's Ali Shan(C) and Oman's Mahmood Al Hasni (R) fight for the ball - AFP

Pakistan national hockey team on Wednesday registered their second straight 10-0 victory of the 2018 Asian Games, this time making Oman the victim of their freescoring start to the campaign.

The Green Shirts, who had also dealt a 10-0 shellacking to Thailand in their tournament opener, were unwilling to relent against their weak Pool B rivals.

It took them a little under two minutes to get off the mark for the game, with Mohammad Umar Bhutta being the scorer.

Ajaz Ahmad doubled the lead in the final minute of the opening period, but surprisingly the second period did not see a single goal.

With Pakistan sitting on a 2-0 lead at the end of the half, few would have bet on the final scoreline to go into double figures.

However, all hell broke lose in the third quarter, with the Rizwan Sr-led men breaching the Omani defence no less than five times to up the score a staggering 7-0 in their favour.

By the time the final whistle put the minnows out of their misery, Pakistan had scored thrice more.

Substitute Ali Shan was the hat-trick hero for Pakistan, while Muhammad Dilber and Muhammad Irfan netted a brace each.

Ajaz Ahmad, Muhammad Atiq and Bhutta all found the net once.

With that victory, Pakistan now have six points to their name but are second on the points table due to Malaysia's better goal difference.

Elsewhere, India were even more dominant in their game, crushing Hong Kong 26-0, which, when added to Pakistan's victories, highlights the massive gulf in quality between the competing sides.

Next up for Pakistan will be Kazakhstan; the two teams will clash on Friday.

Dawn


---

Hockey Series Open - Vilnius 2018 (Women) - Day 2
Vilnius (LTU)

Results 22 August

CZE v TUR (RR)     7 - 1
WAL v UKR (RR)     0 - 1

Pool Standing
| Rank | Team | Played | Wins | Draws | Losses | Goals For | Goals Against | Goal Difference | Points |
| --- | --- | --- | --- | --- | --- | --- | --- | --- | --- |
| 1 | Ukraine | 2 | 2 | 0 | 0 | 3 | 0 | 3 | 6 |
| 2 | Czech Republic | 1 | 1 | 0 | 0 | 7 | 1 | 6 | 3 |
| 3 | Wales | 2 | 1 | 0 | 1 | 1 | 1 | 0 | 3 |
| 4 | Lithuania | 1 | 0 | 0 | 1 | 0 | 2 | -2 | 0 |
| 5 | Turkey | 2 | 0 | 0 | 2 | 1 | 8 | -7 | 0 |
---

Hockey Open Series: Wales 0-1 Ukraine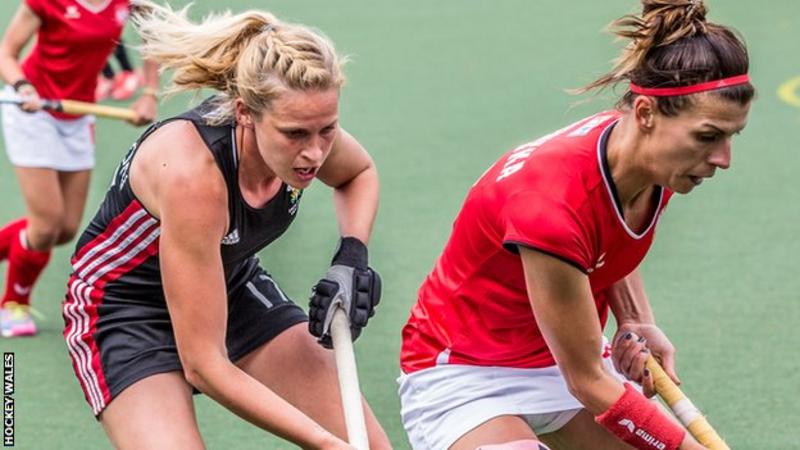 Leah Wilkinson (L) is captaining Wales in Lithuania

Wales Women suffered their first defeat at the Hockey Open Series tournament after losing 1-0 to Ukraine.

Yevheniya Kernoz's 24th-minute penalty proved the difference between the two sides on Wednesday at the Zemyna Gynasium Hockey Stadium.

Wales began the round-robin tournament in Vilnius, Lithuania, with a 1-0 win over Turkey on Tuesday.

They next face the Czech Republic on Saturday, before playing hosts Lithuania the following day.

Wales have taken a squad featuring only nine of the 18 players selected for April's Commonwealth Games.

Captain Leah Wilkinson made her 150th appearance for her country in the win over Turkey.

Wales squad:

Leah Wilkinson (C), Beth Bingham (VC), Emma Brierley (GK), Amy Burton, Hannah Cozens, Cari Davies, Lauren Dunn, Izzie Howell, Xenna Hughes, Caro Hulme, Ella Jackson (GK), Danni Jordan, Eloise Laity, Phoebe Richards, Jess Roe, Emily Rowlands, Sarah-Jayne Thorburn, Joanne Westwood.

BBC Sport


---

Scotland men's squad announced for Hockey Series Open in Lousada

The Scotland men's squad for the Hockey Series Open in Lousada has been announced. Scotland will compete in Portugal on 4-9 September against Turkey; Portugal; Gibraltar; Russia; and Belarus with the top two progressing to the next stage – the Hockey Series Finals.

The Scotland men's squad is on an upward curve with tremendous successes over the last couple of years. During this time they won EuroHockey Championship II in Glasgow; reached the World League semi-final; earned their highest ever finish at a Commonwealth Games in the Gold Coast; and won the Team of the Year award at the NRS Sunday Post Sporting Awards.

Now the Blue Sticks head to Lousada in Portugal for their first major tournament since Gold Coast 2018 as they compete in the newly formed Hockey Series.

Open to all countries not in the Hockey Pro League, the Hockey Series gives developing hockey-playing nations the opportunity to test themselves against some of the world's best, on the road to hockey's flagship events.

The Hockey Series is composed of two rounds, played over two years preceding either an Olympic Games or Hockey World Cup.

From all teams competing in this round, a minimum of 15 teams will qualify for one of three separate Hockey Series Finals.

Scotland is the highest ranked team competing in the Lousada at 22 in the world, closely followed by Russia (23); then Belarus (35); Portugal (36); Turkey (44); and Gibraltar (66).

Scotland men's Head Coach Derek Forsyth said, "I'm looking forward to the Hockey Series Open with a lot of new faces in the squad. It's exciting times ahead with many young talented players emerging and getting this opportunity to play in a senior international tournament."

Squad

Tommy Alexander (HTC Uhlenhorst)
Russell Anderson (Cannock HC)
Tim Atkins (Surbiton HC)
Michael Bremner (HTC Uhlenhorst)
Gavin Byers (HTC Uhlenhorst)
Luke Cranney (Grange)
Callum Duke (Hillhead)
David Forrester (C.A Montrouge)
David Forsyth (Qui Vive)
Hamish Galt (Western Wildcats)
Cammy Golden (Grove Menzieshill)
Rob Harwood (Western Wildcats)
Willie Marshall (Surbiton HC)
Aidan McQuade (Grove Menzieshill)
Duncan Riddell (Reading)
Robbie Shepherdson (Loughborough)
Ross Stott (East Grinstead)
Kyle White (Hampstead and Westminster)

Schedule

September 4 2018 | 14:30 | Scotland v Turkey
September 5 2018 | 16:30 | Scotland v Portugal
September 6 2018 | 14:30 | Gibraltar v Scotland
September 8 2018 | 14:30 | Scotland v Russia
September 9 2018 | 12:30 | Belarus v Scotland

Scottish Hockey Union media release


---

Goalkeeper Briggs, Captain Gonzalez Announce Retirement from USWNT




COLORADO SPRINGS, Colo. – After competing at the 2018 Vitality Hockey Women's World Cup in London, U.S. Women's National Team goalkeeper Jackie Briggs (Robesonia, Pa.) and captain Melissa Gonzalez (Mohegan Lake, N.Y) have formally announced their retirement from the senior squad. The duo joined the USWNT in 2010 and have been staples of the red, white and blue roster for nearly a decade. Together, the pair combined for 425 international caps and several moments of shock, cheer and success on the pitch.




"All my friends that I grew up playing soccer with decided to try field hockey in 7th grade," said Briggs, regarding how she began the game. "One of the girls I played soccer with, and was good friends with, had us all try hockey because her mom was the coach, and she made it really fun."

Born in Reading, Pa., Briggs' field hockey career took off as a member of the High Styx field hockey club and while attending Conrad Weiser High School, earning All-State honors, before the rising star headed to the University of North Carolina (UNC) at Chapel Hill. When deciding where to go and what sport to participate in at the next level, Briggs ultimately chose field hockey over horseback riding.

Briggs helped the Tar Heels to two NCAA Division I National Championships. In 2008 while still at UNC, Briggs helped USA claim the gold medal in the Junior Pan American Championships in Mexico City and was a member of the squad that played in the 2009 Junior World Cup in Boston, Mass.

After joining the USWNT in 2010, one of her defining moments came just before the 2011 Pan American Games. Originally left off the roster, Briggs made a last minute flight to join the squad in Guadalajara, Mexico. From there, she helped USA upset Argentina in the final, earning the program's first ever Pan American gold medal, and punching their ticket to the London 2012 Olympic Games. That same year, she helped USA to a silver medal finish at the Champions Challenge I in Dublin, Ireland before earning gold in the 2013 FIH Hockey World League Round 2 in Rio de Janeiro, Brazil. She would return to Brazil three years later as the starting goalkeeper for Team USA at the Rio 2016 Olympic Games.

"Winning the 2011 Pan American Games will always be one of my favorite memories because not only did we make history, but I wasn't even supposed to be there," continued Briggs. "Another favorite memory of mine would be representing my country in the Rio 2016 Olympic Games. Four years of hard work and determination went into that moment, and I am incredible grateful for it."

One of her most defining moments of her career came in the lead up to the London 2012 Olympic Games, where she was an alternate athlete. Determined to make the starting roster next time around, Briggs set out with more motivation than ever.




"As an alternate in 2012, I became obsessed with earning a starting spot in the Olympics in 2016," said Briggs. "It really defined the next four years of my career and lit a fire in me to achieve that goal. In 2016, representing my country in the Olympic Games was a true honor and an experience I will never forget. That team was something special, and we gave up a lot to get to the Olympic Games, and it was worth it in the end." 

Briggs was also a member of the 2014 squad that shocked the world in a fourth place finish at the 2014 Rabobank Hockey World Cup and a gold medal at the 2014 Champions Challenge. She was also pivotal in USA's gold medal at the 2015 Pan American Games and bronze medals in the 2016 Champions Trophy and 2017 women's Pan American Cup. More recently, her goalkeeping highlighted the USWNT's gold medal performance at the 2017 FIH Hockey World League Semifinals in South Africa, where she was named Best Goalkeeper of the Tournament following two critical shootout victories. This aided her being nominated for the 2017 FIH Hockey Stars Awards Female Goalkeeper of the Year. She finishes her career with the USWNT with 184 international caps.

"Jackie was a very good goalkeeper, still getting better, and in my opinion definitely one of the top goalkeepers in the world," said Janneke Schopman, USWNT Head Coach. "She is one of the most competitive players I have worked with. Her passion on the field was always visible and whether it was a small sided game or an international match you knew there was someone in goal doing everything possible to win. I would like to thank her for all of her hard work and dedication to the team and USA Field Hockey, it was a true pleasure working with her as a player, she will be missed."

"Representing my country on the field was unlike anything I've experienced," added Briggs. "It was an incredible honor to put on the USA jersey and sing the national anthem alongside my teammates. There is no greater honor than representing your country, and I feel very lucky to have played as many games as I did."

Briggs recently moved to Cary, N.C. where she will be the volunteer assistant coach for UNC this fall, a role she held back in 2012. She would like to thank her parents, husband and coaching staff for all of their support and help over the years. Specifically, Briggs noted the support of her goalkeeper coach, Dave Williamson, who volunteered his time for over a year to "teach an old dog new tricks."

"He helped me take my game to another level at the pinnacle of my career by refining my skills and believing in me," noted Briggs. "I also would like to thank my sports psychologist, Peter Haberl, for helping me learn how to deal with negative thoughts and nerves, which inevitably led to a lot of my success. Being a goalkeeper is 90% mental, after all. And lastly, I want to thank all my teammates over the years. Being a part of a group of strong, courageous, determined women has really shaped me into the person I am today. I've met some of my best friends in life playing field hockey. I also would've never played as long as I did if it weren't for my teammates. I will always miss playing, but I will miss my teammates even more."




Gonzalez, a two-time Olympian, was dominate in the midfield since her days of leading her high school team to two state championships in 2003 and 2006. Originally recruited to the University of Connecticut for soccer, Gonzalez ultimately chose field hockey as she helped guide the Huskies to the NCAA Tournament every year.

"My father passed away my junior year of high school," said Gonzalez. "I was contemplating soccer in college. However, when he passed soccer, being our sport, began to be too difficult for me to play. So my focus really turned to field hockey, especially because he was the first person who would said he believed if I worked hard I could be a part of Team USA."

She earned several honors and awards, including NCAA All-Final Four Team, Big East All-Tournament Team, All-Big East Second Team and NFHCA All- Mideast Second Team honors her freshman year in 2007. In 2008, Gonzalez entered her sophomore season as UConn's top returning scorer while also being selected for Junior National Camp and the U.S. U-21 Women's National Team the same year. She was named Big East Defensive Player of the Year and earned NFHCA All-America and All-Mideast First Team honors in 2009, as well as being named to the Junior World Cup Team alongside Briggs. In 2010, she was again named Big East Defensive Player of the Year in addition to First Team All-American honors and a finalist for the Honda Sports Award.

Much like Briggs, Gonzalez verified her importance to the USWNT at the 2011 Pan American Games in the team's stunning first place finish. From there her leadership skills continued to grow and resonate with her teammates over the years from the 2014 Rabobank Hockey World Cup and 2015 Pan American Games, to the 2017 women's Pan American Cup, FIH Hockey World League Semifinals, and London 2012 and Rio 2016 Olympic Games.

"Melissa was a silent force in the team when I first joined," commented Schopman. "A very hard worker, doing her job not for the praise but because that was what was expected. She had excellent skills, and if anything, tried to beat players more than once just for fun. She was also a great person to have in the group because you knew there would never be dull moment with Melissa around. She was a fierce and strong competitor, never afraid of a challenge whether in the gym or on the field."

"She will be missed on the team and I would like to thank her as well for all of her effort and dedication she put toward the sport and the team."

"Being a part of Team USA has been the one of the most rewarding, challenging, demanding most difficult things I've ever done," continued Gonzalez. "It was the best and worst of times. But it taught me a lot about myself as a person. It helped challenge and grow my character. It taught me about hard work, resilience and being the best version of yourself even when you've been pushed to all physical and mental limits. I loved every one of my teammates and they have become family. It was an honor to wear the red, white and blue."




Gonzalez has accepted the assistant coach position at Wake Forest University in Winston Salem, N.C. and will look to use her playing experience to lead the Demon Deacons. She would like to thank every single person who helped, challenged and supported her across her career.

"To every single person who supported and believed in me when I didn't believe in myself," said Gonzalez. "All my coaches, family, friends and teammates I love you all and appreciate every word kind gesture."

USA Field Hockey wishes the best of luck to Briggs and Gonzalez in their coaching endeavors!

USFHA media release


---

Growing the Game: U.S. Women's Masters Hockey

By Dr. Susan Elliott, Four-Time Masters World Cup Participant




COLORADO SPRINGS, Colo. - Five women's teams completed their competition at the 2018 EXIN Masters World Cup in Terrassa, Spain in August. Ninety athletes, five coaches, five managers and six trainers all with years of experience as players and coaches of this amazing game embarked on this ongoing journey to compete on an international stage in various age categories along with approximately 125 teams from across the world.

The birth of U.S. Women's Masters Hockey started in 2014 with trials for the Masters World Cup in Rotterdam, The Netherlands. Two teams represented the inaugural U.S. Women's Masters program. Although each team brought talent, hard work and passion to each match, the women's teams were unable to secure a victory during the tournament and struggled to generate offense. Despite the frustrating finish, members of the women's Masters teams were determined to continue building the program in the United States and prepare for the next opportunity to represent the red, white and blue on the international stage.

In 2016, the U.S. Women's Masters sent two teams to the next World Cup in Canberra, Australia. Both teams included returning athletes as well as new teammates ready to represent the United States on the pitch. Both teams played stronger, keeping their opponents to fewer goals, and each team secured a single victory on the final day of competition. As a result of their victory, the U.S. O-45 Women's Masters Team earned the bronze medal. With new teammates experiencing the level of competition and excitement of representing the United States on an international stage, the desire and dedication to increase Masters hockey in the United States grew. Members of the committee and current players were excited to recruit more Masters players for the next World Cup in Spain.

Fast forward to July 2017 when more than 200 hockey players ages 35 to beyond 60 participated in several trials for the next rendition of the tournament with plans to send five teams to Spain. After selecting the five women's Masters teams to travel across the pond, the teams began practicing together, training independently and competing in various tournaments in preparation for the big stage. Each team played strong and secured several victories with stronger finishes. The U.S. O-50 Women's Masters Team netted the strongest finish, placing seventh in a pool of sixteen teams and earning victories over Chile, South Africa and Argentina. The other teams representing the United States defeated Sri Lanka, Ghana, Wales, Italy, Spain and Canada.

Each member of the U.S. Women's Masters Teams finished this international tournament proud to represent the USA, and excited for the opportunity to compete in the next World Cup in 2020. They have set goals to play together more often and prepare for even stronger finishes when they take the pitch next as members of the U.S. Women's Masters Teams. They want to grow the game and show that, regardless of age, field hockey is a game you can continue to play competitively.

To learn more about the U.S. Masters Teams, visit their website by clicking here. For direct information, reach out to This email address is being protected from spambots. You need JavaScript enabled to view it. for women or This email address is being protected from spambots. You need JavaScript enabled to view it. for men.

USFHA media release


---

Mike Hosking: Maybe Mark Hager not so bad after all

Newstalk ZB's Mike Hosking looks at whether our athletes need to toughen up.

I am very pleased to see some sort of rear-guard action from the hockey players who don't think Mark Hagar is an ogre.

If you have missed things to this point, Hagar, who as far as I can tell has been a very successful coach of the women's hockey team, sent out an email accidentally to all the players with criticism of some of their attitudes and actions.

This led to upset and complaint, so much so that an investigation has been announced.

Ironically, it comes at a time where other sports seem to be suffering similar sorts of issues, from cycling, to rowing, to football.

Everyone appears to not like the way things are run.

I have refrained from saying anything due to the fact I am merely a hockey fan not an insider, but there was always a sneaking suspicion, watching the complaints of the aggrieved, that there just might be a little bit of personal softness driving the overall upset.

The letter that Hagar wrote, as far as I can tell, didn't say anything a coach wouldn't ordinarily say at practice. It talked of a lack of toughness with heat, and pain, and fitness.

So it is with much relief we hear today from former players who have penned an open letter in defence of the coach.

Yes, he's hard. Yes he's demanding. But guess what?

This is elite sport and that's what separates the winners from the losers.

And if you're looking at the record of the team, you'd be hard-pressed to argue they're not a well-honed, drilled and successful side.

So then the big question is, are all the sports with similar issues suffering a similar malaise? They don't like hard-arse coaching? They find it hard to be held accountable? And maybe yelled at a bit occasionally?

Has the disease of angst-wringing PCism, that the rest of us have to deal with these days, crept its way into elite sport? And athletes now want hand-holding sessions and support groups instead of advice on how to win?

Has the attitude we heard yesterday, whereby cross country is now optional so the poor kid who can't run properly doesn't end up in tears, found its way to the highest level of sport?

Can athletes, who don't like the way they are made to feel, get to burst into tears, and go complain to the media, and spark inquires?

Because if that is what is happening, start preparing yourself to stop being internationally successful at sport?

Elite sport is hard. And the gap between winning and losing is mental, not physical.

And if our mental fragility has imploded and stray e-mails lead to inquiries and calls for change, the only change we'll see is a scoreboard full of losses.

The New Zealand Herald


---

Longest-serving Black Stick, Whanganui's Robbie Matthews, goes in to bat for Central Hockey

By Iain Hyndman



Under a Hockey New Zealand proposal Central Hockey would go.

One of New Zealand's longest seriving Black Sticks has gone into bat for Central Hockey as Hockey New Zealand looks to reduce its regions from eight to six.

Newly-appointed Hockey Wanganui chief executive Robyn Matthews said the outcome of a Hockey New Zealand strategy review had proposed reducing the regions to align with High Performance centres meaning central and Northland would miss out.

Matthews is the longest serving Black Stick playing between 1985 and 2000 and was the first women to reach 150 test caps. Matthews also played for Central and still has links as a coach of Central Region teams.

"This proposal has come out of left field and is based on funding regions aligned with High Performance centres," Matthews said.

A Hockey New Zealand document describing the proposal said the aim was to have regional performance centres, linked with associations, which would be joint-funded by the regions, Hockey NZ and High Performance Sport New Zealand.

Age-group tournaments from under-13s to under-17s would be based on associations. But under-19s, under-21s and National Hockey League tournaments would all be centred on the six high-performance centre regions.

Nine associations fall under the Central Region umbrella, including Whanganui and ironically just last year Hockey New Zealand awarded Central a trophy for recording the largest growth in the country in 2016. Central recorded a 28 per cent growth, while Taranaki and Whanganui were the second and third highest. Both, of course fall under Central.

"Central is the largest region and we are certainly doing our job providing a lot of up-and-coming players, aspiring coachges and even umpires," Matthews said.

"The recently-named under-21 squad features seven Central players with the next highest number coming from Canterbury with six and four coming from the likes of North Harbour, Auckland and Midlands. Central is strong in under-18 and under-20 divisions.

"All nine associations have made submissions to Hockey New Zealand to retain Central, even if the regions were reduced to seven,' Matthews said.

The New Zealand Herald


---

Field Hockey Canada Announces 2018 Hall of Fame Inductee Class

Broderick, Forshaw, Lanning and Mendonca join illustrious company in the Field Hockey Canada Hall of Fame




Toronto, ON – Field Hockey Canada announced today the Hall of Fame class of 2018. Kathy Broderick (Builder), Sheila Forshaw (Athlete), Margaret Lanning (Builder) and Louis Mendonca (Builder) will be inducted to the Field Hockey Canada Hall of Fame on November 18, 2018 at a ceremony held at Hart House on the campus of the University of Toronto. Ticket information for the event is found at the bottom of the announcement.

The Field Hockey Canada Hall of Fame was initiated in 2014 to celebrate Field Hockey Canada's proud past and to inspire the future.  Broderick, Forshaw, Lanning and Mendonca will join the ten individuals and one team currently inducted.

Kathy Broderick – Builder

Cutting edge, tactical, motivating

Forming a dynamic coach duo with Marina van der Merwe, Broderick's strengths were in scouting, tactics and motivation. Additionally, during her time with the Women's National Team, Broderick was considered one of the world's leading goalkeeper coaches. As an assistant coach from 1978-1995, she worked three Olympic Games, three Pan American Games, six FIH World Cups and countless other international competitions. Broderick was also a coach during Canada's first foray into international indoor competition where she was instrumental in leading a Canadian team to a bronze medal in the 1981 European Zone Indoor Championships in Berlin.

Sheila Forshaw – Athlete

Humility, ferocity, role model

For 10 years between 1978-1988, Forshaw was a permanent fixture on the Canadian Women's National team's front line where she established herself as one of Canada's most prolific goal scorers in history. When it came to on-field play, Forshaw had everything one could ask for: acceleration, speed, ball control and an eye for the goal. She was calm and calculated on the pitch, always providing an extraordinary example for her teammates. An all-Canadian student athlete at York University, Forshaw was selected for three Olympic squads and competed in four world championships. She played on the Canadian women's teams that reached the podium at the 1983 and 1986 World Cups.

Margaret Lanning – Builder

Leadership, vision, dedication

From 1983 to 1996, Lanning was one of two umpires from the Americas to consistently be on the prestigious World Cup / Olympic umpire list. A world-renowned umpire and administrator, Lanning represented North America as the only official in the 1983, 1986 and 1990 FIH World Cups and the 1984, 1988, 1992 and 1996 Olympic Games. She was assigned the gold medal match at the 1986 and 1990 FIH World Cups as well as the 1987 and 1995 Pan American Games. Within Canada, Lanning served as an active volunteer in the Canadian Field Hockey community and was an important role model and mentor for aspiring umpires.

Louis Mendonca – Builder

Tireless, Inspiration, mentorship

Mendonca entered the Ontario provincial coaching scene in 1984 before moving up to the national junior men's program in 1992. Between 1999 and 2012, Mendonca held various coaching positions with the senior programs including head coach of both the women's and men's national team. A highlight of his career included the 2007 Pan American title and a qualification spot at the 2008 Olympic Games. In total, Mendonca served as head coach at four Pan American and two Commonwealth Games. His dedication to coaching was recognized in 2012 when he received the Andy Higgins Lifetime Coaching Achievement Award. Mendonca remains active in the Ontario regional programs and is the longstanding Director of the Canadian National Indoor program.

"On behalf of Field Hockey Canada, we congratulate these four individuals on being named to the Hall of Fame," said Jeff Sauvé, Field Hockey Canada's CEO. "While the international achievements of the 2018 class will be highlighted, it is equally inspiring to acknowledge the longstanding commitment each individual has made to field hockey in Canada."

    Field Hockey Canada Hall of Fame Induction
    Sunday, November 18, 2018
    Hart House, University of Toronto
    11:00AM
    $50 per person
    Hart House brunch with induction ceremony to follow

RESERVE YOUR TICKET NOW

Fill out the form below to reserve your ticket today! OPEN IN NEW TAB

*you can reserve up to three tickets at a time for three separate guests
*please allow five business days to receive email confirmation of your reservation.
*deadline to reserve tickets is Tuesday, November 13, 2018.

Field Hockey Canada media release


---

Hockey coach suspended

by Helge Schütz



Magy Mengo the athletes representative of the Namibia Hockey Union.

THE coach caught in the hockey storm over Liya Herunga's omission from the Namibia u16 team to tour Zimbabwe later this year, Maryke Short, has been suspended until an investigation into the matter has been completed.

This follows a meeting on Tuesday between Short and the athletes representative of the Namibia Hockey Union (NHU), Magy Mengo, as well as Coenie Wessels and Marietta Stofberg of the NHU executive committee.

The storm erupted after Liya's mother Ruth Herunga aired her grievances on Twitter following Liya's omission from the u16 team to tour Zimbabwe, and inclusion in the u18 team, whose tour was postponed, and since then she has received countless replies and messages of support.

Mengo on Tuesday said that Short had been suspended until further notice.

"I called Ruth to understand the issues from her side. I called Coenie and Mariette and we had a meeting yesterday afternoon with Maryke. She has now been suspended until further notice until the investigation is completed," she said.

"I asked Maryke a few questions and one or two things were not according to how things are supposed to be done. For instance she should have called Liya's mother and not Liya herself to inform her that she had been promoted to the u18 team. It seemed like there were also issues on the NSSU tour to Bloemfontein where she was also the coach, so I asked her for a formal report and we are awaiting that now. I'll also talk to the parents of the other players on that tour to get all the views," she added.

Mengo said she had discussed the issue with the athletes representative of the Namibia National Olympic Committee, Gaby Ahrens, and they would hold a press conference soon to resolve the issue.

"I engaged with Maryke and didn't experience any racism, but we are waiting for the facts to come out and she has been suspended until then," she said.

Wessels, meanwhile, said that Liya was not dropped from the u16 team, but promoted to the u18 team.

"The facts are skewed. Liya was never dropped from the u16 team, but promoted with two other very competent players to the u18 team. The u18 tour was also never cancelled, but postponed to a later date in the year," he said.

According to Wessels the u18 tour had to be postponed due to matric examinations, while they were also awaiting confirmation from Zimbabwe on which dates would suit them. They have since replied that the end of November would suit them better, with the result that both the u16 and u18 tours will now take place from 28 November to 3 December.

Ruth Herunga had also complained that Liya had not received enough game time on the Bloemfontein tour but Wessels said the facts did not bear this out.

"According to the time sheets that we received, Liya was one of the most active players in her team and was on the field 69 percent of the time," he said.

He said that parents who had grievances about their children should speak to Mengo in future.

"The damage has now already been done on social media, but in future parents should go and talk to Magy, that's why she is the athletes representative, to engage on these issues," he said.

The Namibian