All the news for Thursday 2 August 2018

Vitality Hockey Women's World Cup 2018 - Quarterfinals day 1
London (ENG)

Results for 1 August

GER v ESP (QF)     0 - 1
AUS v ARG (QF)     0 - 0 (4 - 3 SO)

Upcoming 2 Aug 2018

18:00     IRL v IND (QF)
20:15     NED v ENG (QF)

Final Placings

5 - 8
Argentina
Germany

9-12
Belgium
Italy
Korea
New Zealand

13 - 16
China
Japan
South Africa
United States

FIH Match Centre


---

Spain continue to live the dream while Australia dig deep to beat Argentina



Spain celebrate. Pic credit: Getty Images/FIH

The surprises just keep coming. This time it was Spain who claimed a scalp at the Vitality Hockey Women's World Cup, London 2018.

"If you don't score, you don't win," was the simple summing-up statement of a clearly hugely disappointed Head Coach Xavier Reckinger.

For Spain the 1-0 win means a first appearance in a World Cup semi-final since Madrid 2006. Then they faced Australia, losing 1-0 after extra time. This time they will face either the world number one side and reigning champions the Netherlands or the world number two and host nation, England.

In the first quarter final of the evening, Germany (FIH Hero World Ranking: 6) played their European rivals Spain, who are ranked five places lower. It was a game where the big names in each team really needed to step up and lead from the front.

Marie Mävers was first to almost get on the score-sheet as she struck the ball across the face of Maria Ruiz's goal. The German pressure was rewarded by a penalty corner in the third minute but Ruiz was equal to the challenge.

It was not one way traffic however. While Germany were swinging the ball around and seeking opportunities to release their speedy forwards, Spain were always looking for their own opportunity to break. Berta Bonastre showed her tremendous ability as she reached to interrupt a German pass. Her subsequent pass was just out of reach of its intended target, Alicia Magaz, who was playing her hundredth match for Spain.

This was a to-and-fro game with occasional bursts of exhilarating skill from individuals. One of the most exciting players at this World Cup has been Charlotte Stapenhorst and, again, she didn't disappoint. Her run up the pitch, from deep inside her own defending area left a trail of defenders behind. Her shot, hit mid-height with venom, was well saved by Ruiz.

Another player who has impressed throughout the tournament is Selin Oruz. Like Stapenhorst, she burst deep out of defence and was goal bound until a timely tackle from Rocio Gutierrez stopped her in her tracks.

Janne Muller-Wieland used all her vast experience to prevent Miailen Garcia from entering the circle when a break down in the German attack left the world number six side exposed in defence. Where many people would have committed a foul in that position, Muller-Wieland's tackle was as clinical as it was timely. In the final quarter, there was still no separating the teams.

Spain were playing the more aggressive hockey and this prevented Germany playing their usual fast-moving game. Spain won their first penalty corner and Perez was very close to giving her team the lead.

"All too often it is 'we are making progress', but tonight all our hard work paid off." Berta Bonastre, Spain

The decisive strike came in the 54th minute. Carmen Cano was the hero who put Spain through to the semi-finals of the World Cup after she cleverly batted a midair ball past Julia Ciupka.

Spain then had to withstand six minutes of German pressure, something that was intensified when Carlota Petchame was sent from the field with a yellow card. The Spanish defence held firm, although the entire stand of Red Sticks fans held their breath as Janne Muller-Wieland slammed a penalty corner just wide of the post with just seconds left on the clock.

Charlotte Stapenhorst echoed her coach's words when she spoke of the need to convert chances to goals. "Spain gave us no space to play our game, so we needed to take chances when we could. That didn't happen tonight and then one moment of switching off and they scored. That is quarter-final hockey."

A relieved but ecstatic Berta Bonastre said: "There were no stars out there today, we all played for each other. We have worked so long for this and all too often it is 'we are making progress', but tonight all our hard work paid off." And in perhaps the most unlikely analogy encountered at the World Cup so far, Bonastre added: "We see ourselves as pineapples, we are all one piece in a whole."

Spain will now play either India or Ireland in the semi-finals on Saturday 4 August at 16:30 (UTC).

It took 60 minutes of hockey and a further 14 shoot-out attempts to discover who would be heading to the semi-finals and a meeting with the Netherlands or England.

World number three team Argentina and the world number five team Australia have always been well-matched but in this quarter-final it seemed nothing could separate them. They have both won the World Cup twice, they have long occupied a place within the top five in the world, they both have iconic players in their glorious hockey history and neither side can stand losing.

There is little to separate Australia and Argentina at the best of times and the quarter final of the Vitality Hockey Women's World Cup was the best example of how neither team will ever give an inch.

Australia's defence over this World Cup has been good, only conceding three goals, while Argentina had been 135 minutes without conceding a goal, so scoring opportunities on the part of both teams was always going to be limited.

In the first quarter, both teams were testing each other out, which made for a cagey and defensive first 15 minutes. There were forays into each other's goals but on the whole neither Belen Succi or Rachael Lynch were called into action much.

Australia always knew that scoring past Belen Succi and her defence would be a tough ask and so it proved. Just how defensive these two teams were playing is encapsulated in the statistics. By the end of 30 minutes of play, there had been two shots from Australia and four from Argentina.

Neither side, aware of the threat of Australia's Jodie Kenny and Argentina's Noel Barrionuevo, had conceded any penalty corners.

The second half saw both teams start to explore the attacking options a little less tentatively. Ambrosia Malone and Renee Taylor both had shots that tested the Leonas defence, while Delfina Merino, Agustina Albertarrio and the effervescent Maria Granatto all forced some brave defending from the Hockeyroos.

A run by Julieta Jankunas looked dangerous but was dealt with by the rock steady Australian defence, where Vitality Player of the Match Georgina Morgan was one of the stars.

At the other end Kathryn Slattery showed her agility in front of goal when she spun and shot, bringing a great reaction save from Succi. There was an instant counter-attack as Rocio Sanchez weaved her way through the Australia defence, only to be met by the barrier that is Lynch.

A great referral for a stick check was called by Martina Cavallero to earn Argentina their first penalty corner but they faced a defensive unit that was not going to give an inch. Led by Jodie Kenny and Maddy Fitzpatrick, who were both excellent throughout the match, the Hockeyroos looked unassailable as the Argentina attack tried to prise the defence open.

Argentina were in the ascendency and looking the more likely to score when a breakdown by Edwina Bone released Slattery. She drew a penalty corner and Jodie Kenny and Goergina Morgan both set up to strike. Kenny's rasping shot was chased down by the Argentina defence and Las Leonas were able to relieve the pressure.

A speedy run by Lucina von der Heyde looked dangerous but again, the Hockeyroos stood firm. At the other end of the pitch, Brooke Peris was creating problems with her own attacking running. If the Hockeyroos were strong and tall, so the Argentina defence were equally hard-working and proving impossible to break down.

The game moved to shoot out and it took another 14 attempts and much drama to find a winner. Both Succi and Lynch were heroic in goal, Merino thought she had scored but was timed out, there was a penalty stroke after Succi brought Kenny down. In the end it was gladiatorial as Brooke Peris faced Succi. The Australian held her nerve and scored, and seconds later she was mobbed by a sea of yellow shirts.

Speaking after the game, scorer of the winning goal, Brooke Peris said: "I just had a plan and I knew what I had to do. I am so proud of our performance."

"We knew we had to keep a really strong defence," added Edwina Bone. "And then we have someone like her [Rachael Lynch] on our side and she was brilliant tonight."

 The match was also a special moment for Belgium umpire Laurine Delforge who officiated her 100th senior international.

RESULTS: Quarter-finals 1 & 2

Germany v Spain 0-1
Australia v Argentina 0-0 (Australia win shoot out 4 - 3)

Quarter final matches on Thursday 2 August

18:00 (UTC) India v Ireland
20:15 Netherlands v England

#HWC2018

FIH site


---

Day Eleven: The Vitality Hockey Women's World Cup




A night of high drama at Lee Valley Hockey and Tennis Centre saw Spain and Australia progress to the semi-finals of the Vitality Hockey Women's World Cup.

In the opening game, the Red Sticks defied the world rankings to beat Germany 1-0, while in the second it took a shootout and fourteen penalties for Australia to see off Argentina.

Nothing could separate the sides in normal time and Brooke Peris netted the fourteenth penalty of the shootout to send Australia through.

Goalkeepers Rachael Lynch and Belen Succi were in fine form throughout making seven saves between them in the shootout and many more during the match.

It was a quiet opening quarter but the game eventually sprung into life in the second half as Argentina began to dominate possession as Australia battled to keep Las Leonas at bay.

There were chances at both ends but neither side could make a telling strike and the tie headed to a shootout.

Kristina Bates, Rosie Malone and Karri McMahon all found the net for Australia while Lucina Von Der Heyde, Agustina Albertarrio and Julia Gomes were on target for Argentina as the sides headed for sudden death.

Lynch was quick to punce and stop Albertarrio before Succi kept her side in the match with a great tackle on Bates.

It was then the turn of Argentina captain Delfina Merino whose first effort was retaken after a foul from Lynch but with her second chance shot into the side netting.

This allowed Peris to step up and send Australia into the semi-finals. She headed left and dragged Succi wide before spinning back onto her strong side and tucking into the net.




In the first quarter-final of the evening Spain sprang a surprise in beating Germany 1-0 to qualify for the semi-final of the Vitality Hockey Women's World Cup.

Going into the game, Germany were, along with the Netherlands, the tournament's in-form team after taking three wins from their group-stage games. Moreover, one of these wins was against Spain, by three goals to one. 

It was a different Spain today, though. In a cagey encounter, they showed great resilience to absorb continual German pressure, before hitting them with a late counter-punch.

Discussing her tournament ambitions, a jubilant Spain captain Maria Lopez said: "I think we can win. Now we are in the semi-final and we want the final. We believe in ourselves."

The game started according to the form book, with Germany on top. Setting out to deprive the Red Sticks of time and frequently stealing the ball from them, much of the first quarter was spent in Spain's half.

After an early Germany short-corner, there was a moment of brilliance from one of the players of the tournament, Charlotte Stapenhorst, who fired a backhand shot at the Spain goal, which forced the very best out of keeper Maria Ruiz.

The stats at the end of the quarter showed that Germany had had five shots on goal to Spain's zero.

Though they had a 17th minute short corner, Germany's dominance began to lessen in the second quarter. Spain had the best chance of the period when Maialen Garcia returned to the pitch following a green card unbeknownst to Germany's defence.

Collecting the ball just inside Germany's half, she had a clear run to the 'D', but she checked back, allowing a German defender to recover.

Spain continued to be focused and organised defensively, and Das Dianas were not able to summon up the moments of real quality required to break them down. Though Germany's Marie Mavers had a half-chance on the turn, they regularly miscontrolled the ball and grew noticeably frustrated.

By the last quarter, the pendulum had swung Spain's way. In the 48th minute, Spain's Beatriz Perez narrowly failed to connect with a cross from the right. Germany had been warned. Six minutes later and from the same right flank, Carlota Petchame crossed for Carmen Cano to convert from a yard and put the Red Sticks in front.

Das Dianas had one last chance to equalise when a short corner was awarded with 24 seconds on the clock, but Nike Lorenz slapped agonisingly wide and Red Sticks celebrations could begin.

The semi-finals take place on Saturday, with Spain due to play the winner of the Ireland and India match tomorrow night. Australia play the team that prevails in tomorrow night's other big game, between world numbers one and two, the Netherlands and England.

England Hockey Board Media release


---

Hockeyroos Hop Into World Cup Semis With Shootout Win

Ben Somerford




The Hockeyroos have progressed to the 2018 Women's World Cup semi-finals after a dramatic shootout victory over Argentina in Thursday morning's (AEST) quarter-final clash in London.

Brooke Peris held her nerve to convert the decisive penalty in sudden death to clinch a 4-3 win over the world number three Argentines.

Hockeyroos goalkeeper Rachael Lynch had saved Australia from elimination when she denied Magdalena Fernandez with scores at 3-3 and Argentina having the final penalty attempt before sudden death.

The cagey contest had ended 0-0 after 60 minutes, with Argentina edging the better of the chances in a tight encounter.

However the fifth-ranked Hockeyroos came out on top with Krissy Bates, Rosie Malone, Karri McMahon (after Jodie Kenny was fouled for a penalty stroke) and Peris converting their penalties.

The victory means Australia will play either the Netherlands (world number one) or England (world number two) in the semi-finals from 11pm AEST on Saturday LIVE on FOX SPORTS.

Penalty hero Peris said: "I just focused on what I needed to do. She's a very good goalkeeper. I had a plan in mind and I just did what I wanted to do. I got the result so I'm pretty happy."
Peris added: "I'm very proud of the girls. It was a very tough performance.

"We hung in there. It does come down to one-on-ones sometimes and you've got to get the job done."

In a game of few chances, Argentina came closest in the opening period with efforts from Agustina Albertarrio and Rocio Sanchez.

Julieta Jankunas' 22nd minute deflection went wide but had Lynch sweating, while the Hockeyroos keeper had to save to deny Eugenia Trinchinetti shortly after.

The Hockeyroos came close early in the third period when Stephanie Kershaw's dangerous ball inside the circle almost found captain Emily Smith, with Argentina keeper Belen Succi intervening.

Australia's best chance came in the 37th minute when WA forward Kathryn Slattery produced a reverse stick shot on the turn which forced a good save from Succi.

The first penalty corner of the game came late in the third quarter, with Argentina winning another in the 50th minute which ended up in the back of the net but Bianca Donati's slap was disallowed for being too high.

The Hockeyroos came close again in the 53rd minute when Kenny laid off to Emily Hurtz from a short corner, but the Victorian goal poacher's slap shot was saved low by a diving Succi.

The match headed for a shootout where Australia went first with Peris denied, but she'd later turn out the hero.

When Succi swept away Madison Fitzpatrick's attempt and Albertarrio converted Argentina's third, Las Leonas held a 2-1 lead after three shots each.

Malone and Julia Gomes traded goals to make it 3-2 to Argentina, before Kenny was toppled by Succi, with McMahon stepping up to convert to put the pressure on Las Leonas with one attempt left before sudden death.

Lynch kept Australia in the contest, denying Fernandez, before then thwarting Albertarrio to allow Bates the opportunity to win it, only to be saved.

Australia's opportunity came shortly after, albeit after a long delay for a video referral from Merino's penalty, which was re-taken but not converted.

Up stepped, Peris to score and usher in wild celebrations.

Australia 0
Argentina 0

Shootouts
Australia: Peris O, Bates X, M. Fitzpatrick O, Malone X, Kenny (McMahon) X; Bates O, Peris X
Argentina: Merino O, von der Heyde X, Albertarrio X, Gomes X, Fernandez O; Albertarrio O, Merino O

Hockey Australia media release


---

Australia and Spain into semi-finals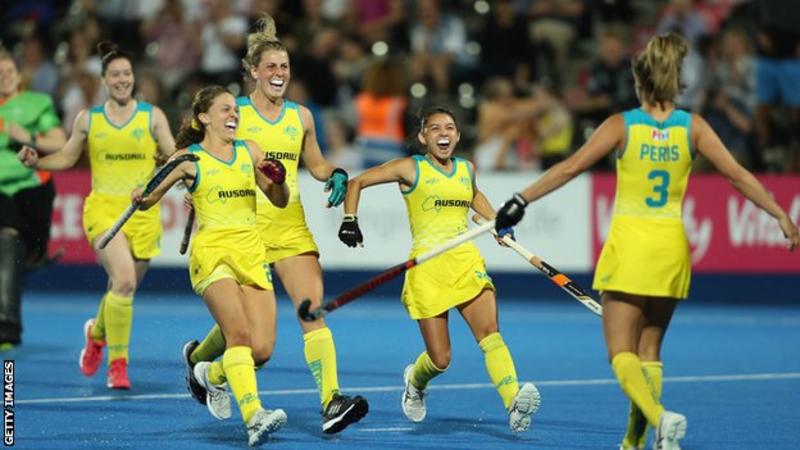 Australia team celebrate World Cup win over Argentina. Australia are aiming to win the World Cup for a third time

Australia could face hosts England in the World Cup semi-finals after beating Argentina in the last eight.

Argentina dominated for long periods but the resolute Australians secured a 0-0 draw and a penalty shootout.

Argentina captain Delfina Merino then fired wide and Brooke Peris scored the decisive penalty, so Australia will next face the Netherlands or England.

Meanwhile, Spain will play either Ireland or Italy after a shock 1-0 victory over two-time winners Germany.

Germany were on top for three quarters of the match and missed a host of good chances, with Charlotte Stapenhorst twice going close in the first half.

Spain sensed their opportunity in the fourth quarter and, with the Germans growing increasingly nervous, Carmen Cano scored a late winner to complete a memorable rearguard effort.

https://ichef.bbci.co.uk/onesport/cps/624/cpsprodpb/9F87/production/_102793804_anneschroder.jpg
Germany's Anne Schroder could not prevent Spain reaching the semi-finals for just the second time

'Netherlands can't be happy to face us'

England face the Netherlands at 20:15 BST on Thursday, with Australia awaiting the winner.

Lily Owsley scored the second goal in England's 2-0 crossover win over South Korea and says they will respect the Netherlands, who she says remain "the best team in the world" after winning the World Cup in 2006 and 2014.

"Nobody's pretending they're not an incredible side," Owsley told BBC Radio 5 live.

"We can't go in there being arrogant or too confident. But we've got nothing to lose.

"I really think we can do it; we just need to stay defensively strong. If the game stays tight, I think they'll start to panic."
Highlights: England beat South Korea to reach quarter-finals

England and the Netherlands have met in several high-profile encounters in recent years, with the Dutch winning at the 2017 EuroHockey Championships, while many England players featured in the Great Britain team that won a dramatic 2016 Olympic final.

Owsley says that the Netherlands' Olympic loss remains "at the forefront of their minds".

"They wouldn't say it, but they can't be happy about facing us," said Owsley.

"Every time they face us now, they want to prove to everyone they're still the best team in the world.

"I love it - the more they're out for revenge, the more I want to knock them back.

"These kinds of games only come around once, twice or three times in a career. We'll do everything we can to get that semi-final place."

Quarter-final schedule

Thursday, 2 August

Ireland v India, 18:00 BST
Netherlands v England, 20:15 BST

BBC Sport


---

Netherlands blend play with performance




As the Netherlands prepare for their quarter-final clash with host nation England, there will undoubtably be some nervousness among the players. This is where the business end of the Vitality Hockey Women's World cup starts for the Dutch, who are the reigning champions.

Pool matches saw them in imperious form as they swept aside Korea (World Ranking: 9) by a 7-0 scoreline. In beating China (WR:8) 7-1, they became the first team to score seven goals twice in one World Cup.

More history was made when they scored 12 against Italy (WR:17). The previous biggest score was 10-1 when West Germany beat Nigeria in 1978.

Now the Oranje will meet the host nation England in a top of the table clash between the teams sitting at one and two in the FIH Hero World Rankings. There is much history between the two hockey nations. England famously beat Netherlands at the Lee Valley Hockey and Tennis Centre in the final of the 2015 EuroHockey Championships, while the Netherlands bossed the same tournament two years later on home turf. That win was part of a winning streak by the Dutch that goes back to the Olympic final in Rio 2016 – Oranje's last loss was to Great Britain, where eight of the current England squad were playing.

But pressure is something the Dutch thrive on and they know full well how to deal with it. Captain Carlien van den Heuvel has more than 200 caps to her name and is playing in her third world cup. She explains how pressure is dealt with by the squad.

"At the 2010 World Cup in Rosario, I was young and because of that I felt no pressure. It was my first big tournament and I was one of the new members of the squad. The pressure was on the older, more experienced members of the team, like Janneke Schopman and Minke Smeets."

"Yes, and now the pressure is on you far more," chipped in Xaan de Waard, who was just 18 when she played her first World Cup in the Hague in 2014.

"I think that I feel a certain amount of pressure but it is about my game. If I do more job, then I add value to the team. That is where my responsibility lies, but for Carlien, as captain and the experienced member of the team, she really feels the pressure for the whole team."

One of the new crop of talented Netherlands players is Frederique Matla. She agrees with de Waard that the only pressure on the younger squad members comes from within. "The leadership group take pressure on behalf of the team but they don't take my own pressure. It's not heavy but I am an attacker so I put pressure on myself, it is a responsibility I feel. You want to take your own responsibilities but the way our squad works, I don't feel that it is totally on me."

Despite her younger colleagues being in agreement that the captain and leadership group took much of the team responsibility on their shoulders, in truth during the interview van den Heuvel couldn't have looked more relaxed. She did concede that the match against the host nation is always tough.

"Yeah, but the crowd in London, they know hockey and while there might be a little 'booing' mostly it is good natured and we don't feel as if the crowd hate you."

This final point is in reference to the 2010 World Cup Final in Rosario where the huge stadium of Argentina fans gave the Netherlands team a taste of South American fandom.

"We got off the team bus and our coach said to us, 'go and enjoy it,'" says van den Heuvel. "We walked into the stadium and it was like everyone was our enemy. That was one of the most crazy atmospheres I have ever played in. But it was an amazing experience – playing Las Leonas in a final in Argentina is unbelievable."

One way that the team has dealt with pressure is by having fun and mixing their activities up. There have been very serious training and preparation sessions and the team of Dutch coaching staff are constantly at the Hockey Arena observing other teams, but there have been light moments too.

"We like to have fun," said Eva de Goede. "It is what makes the hockey so enjoyable. We have a lot of activities that are the 'young' players versus the 'old', and that is really good for team bonding and also relieving the pressure. It is a question of getting the right balance"

During one three day period between pool games, the team travelled to Bisham Abbey [home to England Hockey] for a training session and then spent time playing the traditional English game of croquet before enjoying a traditional 'high tea' of scones and jam.

"The 'old' team won," said Frederique Matla. "They mostly do," she added with a joking air of resignation.

The banter between the players gives away the fact that this is a squad of players who just enjoy what they do. In an earlier interview, van den Heuvel said she had decided against retirement from the game because she still enjoyed playing at this level so much.

And in an unsubstantiated rumour, it seems the Head Coach Alyson Annan isn't above lightening the mood in the camp. A person dressed as a Hockey Maker and looking suspiciously like the double gold medalist and Olympian was reported to have greeted the Dutch team as they boarded their team bus after a training session.

The Netherlands' next match in the Vitality Hockey Women's World Cup is a quarter-final match with England at 20:15 on Thursday 2 August.

#HWC2018

FIH site


---

Owsley & Unsworth preview Dutch quarter-final




With a victory over Korea Vitality Hockey Women's World Cup hosts England have booked and secured a quarter-final showdown with rivals the Netherlands on Thursday night.

The sides last met at the semi-final stage of the EuroHockey Championships back in 2017 where the dutch edged past England 1-0 in front of a partisan home crowd.

The tables will be turned tomorrow night as 10,500 England fans pack into Lee Valley Hockey and Tennis Centre to see the next episode in their rivalry.

There was a great deal of excitement for the contest from England's stars after their 2-0 victory over Korea and anticipation is already skyrocketing amongst fans and players alike.

Lily Owsley, who scored against Korea and was on target in Great Britain's famous win over the dutch in the Rio 2016 Olympic final, said: "Games like this only come around a few times in a career and even fewer times on home soil in front of 10,000 fans.

"I don't think they would admit it, but I guarantee the Dutch do not want to be playing us in the quarter finals here, given our history, given how we are playing and building.

"They are unbeaten, we are unbeaten, we've been building and building with those chances being created and created and we are starting to put them away.

"Nobody is pretending we aren't underdogs. The Dutch are brilliant and the number one side in the world. World number one versus number two with 10,000 fans cheering us on, anything can happen."




England vice-captain Laura Unsworth is equally excited and believes that the extra match the team have played in the crossover could offer some momentum.

She said: "It's always great playing the Dutch, they're the world numbers one and we're the world number two so to have us in the quarter-finals, you couldn't ask for a better match.

"It was a tight match against them in the European semi-final last summer but we're a year on, we've had another year's training behind us and we'll be ready to go come Thursday evening.

"I think playing this extra game does give us an advantage. Because we're in a centralised programme playing this extra game is no different for us so getting out there and getting an extra game under our belt we'll keep on gaining momentum.

"We've had two draws and now two wins in our last two matches so morale is really high and we're really excited going into Thursday's match."

England Hockey Board Media release


---

Indian revenge against Green Army could put India in SF after 44 years

Uphill task for England against team in the mood for goals

By B.G.Joshi (in Lee valley hockey stadium, Olympic Park, London)



India needs full press against Green Army:Photo - Avtar Bhurji (sportmediagroup.com.au)

After losing 0-1 in pool match India has a good chance to take revenge with Ireland. Green Machine has better records winning 15 out of 24 played so far against India. However in the last 10 matches India has upper hand by virtue of winning 4 and drawing 3.Irish have World Ranking 16, while India is on 10th rank. 

By registering win today India will play in semifinals after 44 years. In inaugural World cup (1974) Indian ladies under captainship of Ajinder  Kaur(now living in  Derby UK) played the semis and finished fourth. Chanchal Randhawa widow of great full back Surjit Singh, Rupa Saini and Rekha Mundphan were also in that squad.

India-Ireland match will play first today at 6pm BST (10:30 pm IST).

In the second quarter finals (8:15 BST) today hosts England will lock horns with reigning champions Netherlands. It will be an uphill task for England against the team in the mood for goals. Netherlands are likely to break their record of 28 tournament goals set by them in 1981. The Dutch have scored 26 goals in 3 matches so far.

World Number one Oranje have record of podium finish in 12 (7 Gold Medals) out of 13 World Cup. Here are the statistical highlights of two quarter finals:

IND-IRL: head to head
India

Particulars

Ireland

10

World Ranking

16

IND-IRL played once only in pool match of 2018,IRL won1-0,

Total head to head

24

Played

24

6

Won

15

3

Drawn

3

23

Goals For

41

Stats from 2018 WC matches

19

PC   Obtained

8

3

PC   converted

2

16%

Success rate  in  PC  conversion

 

25%

44

GS  Obtained

18

5

GS  Converted

4

11%

Strike rate  in goal  scoring

22%
 NED-Eng in WC: head to head
Netherlands

Particulars

England

1

World Ranking

2

7

Played

7

7

Won

0

18

Goals For

5

Stats from 2018 WC matches

19

PC   Obtained

28

6

PC   converted

2

32

Success rate  in PC  conversion

7

88

GS  Obtained

68

26

GS  Converted

5

30

Strike rate in goal  scoring

7
Fieldhockey.com


---

Ireland determined to exceed expectations again

Stakes raised significantly as Shaw's side face India – this time for a place in the last four

Stephen Findlater in London



Ireland players celebrate following the victory over India in the Pool B group game of the World Cup at Lee Valley Centre in London, England. Photograph: Harriet Lander/Getty Images

Manager Arlene Boyles has perhaps best summed up the shift in expectation for the Irish women's side as they gear up for tonight's maiden World Cup quarter-final in London against India.

"To say we would be disappointed with a quarter-final spot coming into the tournament, we would by lying. Now, we would be disappointed not to go further!"said Boyles in an interview with the BBC.

Pre-tournament, expectations were that they could emerge from the group, maybe take their chances in a crossover game and perhaps sneak into a quarter-final.

Victories over the US and India, though, and suddenly Ireland were guaranteed to bypass those crossovers with a game to spare and all bets were off.

And then things got even better. By quirk of a curious tournament format, Ireland face into the biggest match in their World Cup history with at the very least an even chance of success as they have avoided numerous sharks.

Coach Graham Shaw is among those who has raised an eyebrow at the way group rivals could potentially meet just a couple of days later in the quarter-finals once the crossover ties are ironed out.

He described it as "strange and unusual" but stopped short of saying he was too displeased with the outcome. Had the alignment of crossover games gone a different way, the alternative could have been a game against either two-time winners Argentina or 2006 bronze medal winners Spain.

In that sense, it shows how kind the draw has been as Ireland meet one of the only two other sides remaining from outside the top eight in the world.

"I am guessing supporters and everyone back home would prefer a bit of variety! Playing the same opposition is strange and unusual for everyone involved but we just have to prepare for India and try and put in a performance that we know can get us a result and put us through."

That it is a repeat of the group match is the ultimate test of Shaw and his staff's coaching nous – as it is for India boss Sjoerd Marijne – as they seek to learning and apply the lessons learned from the first meeting.

Statistical dominance

India found their mojo on Tuesday night when they proved far too strong for Italy with teenager Lalremsiani emerging as a real star in attack. But their attacking penalty corner moves – an area highlighted as a real threat to their rivals pre-tournament – have proved disappointing so far.

Runners Anna O'Flanagan, Yvonne O'Byrne and Nikki Evans had their lines worked out perfectly for the first tie but there is now a wealth of information on their patterns and so how each side adapt will be critical.

India have taken heart from their statistical dominance of the group game, believing Ireland cannot produce such a defensively sound display again. This is certainly no gimme for Ireland.

For both countries, this in uncharted territory. India's best finish came in 1974 but, like Ireland, they have not been frequent visitors to the main event since then. Indeed, as much as it is Ireland's biggest game, the same is true for their opponents.

How both sides handle the game in a potentially strange atmosphere remains to be seen. With English fans getting access to buy tickets before the visiting supporters, it is likely the 10,600 in attendance will be mainly neutral, waiting for their main event of the double-header.

Irish fans have been scrambling to adapt to the change in times but Shaw said he always had a draft schedule in place to cope with such changes. A much wider audience will be available to view the game with RTÉ picking up the rights from BT Sport to show the game live.

Shaw is hopeful his players will continue to approach the game in the same relaxed but determinedly focused manner of the group stages, savouring the moment.

But the players are acutely aware that the magnitude of this competition surpasses anything they have experienced before.

"It's something that all of us have only ever dreamed of so it's really exciting but also we are really focused and ready for it come Thursday evening," said Katie Mullan.

"We can really take confidence from the previous games but it is completely different stakes now and so it will be a completely different game."

The Irish Times


---

Ireland face India rematch in quarter-final

Ireland 'so ready to go' for World Cup quarter-final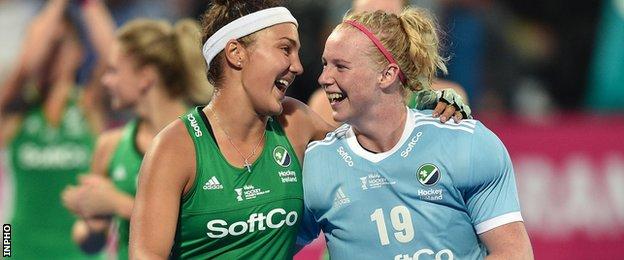 Goalkeeper Ayeisha McFerran (right) has had an outstanding World Cup for Ireland. Irish 'quietly confident' says McFerran

Ireland's women will meet India for the second time in seven days at the World Cup in London on Thursday.

India set up the quarter-final with Ireland by beating Italy 3-0 on Tuesday with Lalremsiami, Neha Goyal and Vandana Katariya on target.

The Irish secured top spot in their first-round pool by beating the Indians 1-0 last Thursday.

With their quarter-finals spot already booked, Ireland were defeated by hosts England 1-0 on Sunday.

Ireland coach Graham Shaw says his squad are 'enjoying the journey' at the World Cup

The Irish have insisted morale remains high despite that loss as they look forward to the country's first ever Women's World Cup quarter-final.

Ireland's contest with India has been moved forward to 18:00 BST for TV scheduling reasons with England facing the Netherlands in the later match.

England set up their quarter-final against the Dutch beating South Korea 2-0 in the other play-off game on Tuesday.

Ireland goalkeeper Ayeisha McFerran, who has had an outstanding tournament for Graham Shaw's side, is optimistic that the Irish can repeat their pool win.

"We're quietly confident that if we put in a good performance tomorrow and do our jobs, we'll get the result that we want," Larne woman McFerran told BBC Sport Northern Ireland on Wednesday.

Roisin Upton added that the Irish are "ready to go again" having not played since Sunday's England game.

"If you told us that we could have brought this match forward, we would have," said Upton.

"We just can't wait to get back out there."

Upton believes that having to face the Indians again will not faze the Irish.

"We're hungry. If you had told us before the tournament, that we were going to get to a quarter-final, we would have bitten your hand off.

"But now we are there, we want to get to the semi-finals. We're so excited about tomorrow."

BBC Sport


---

Indian women look to repeat 70's success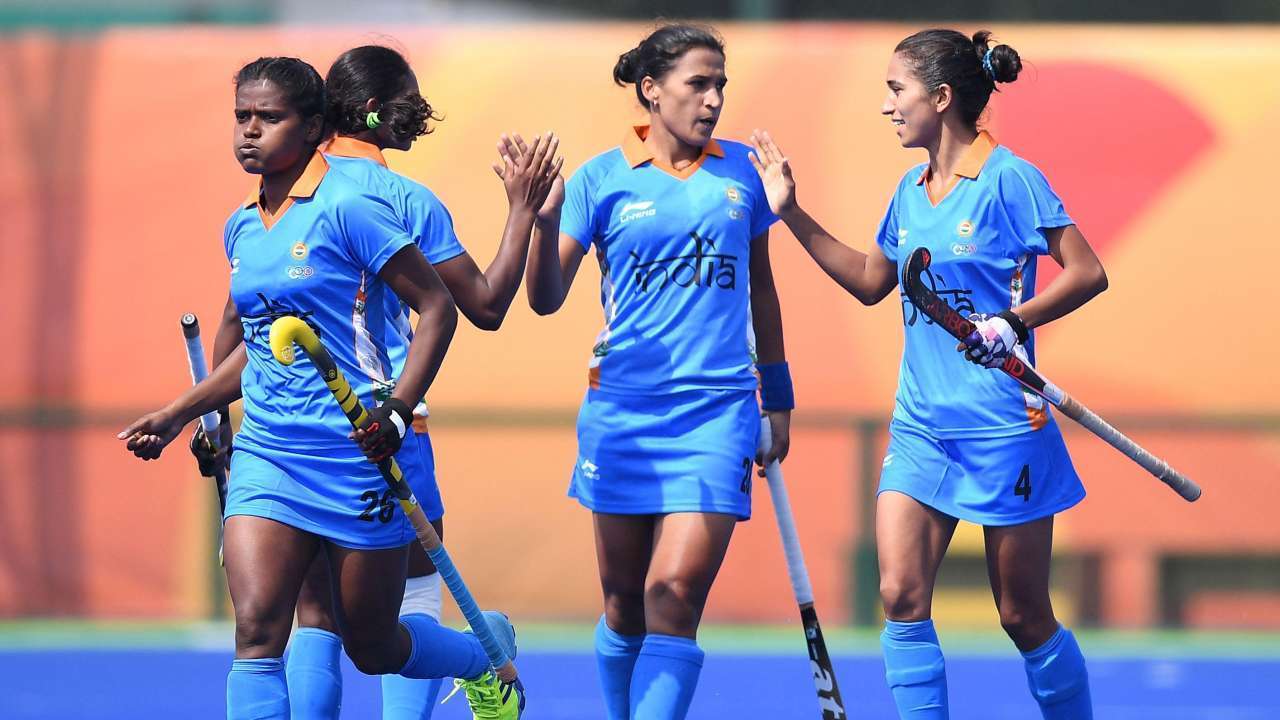 Indian Women's Hockey Team , AFP File Photo

Indian women's hockey team would now be aiming to secure its first World Cup semifinal spot in 44 years by extracting revenge from giant-killers Ireland in the last-eight stage on the ongoing World Cup on Thursday.

The Indian women will also look to avenge the group stage loss they suffered on July 26. India last played in a quarter-final encounter 40 years ago in the 1978 Madrid Women's World Cup. The semi-final appearance in the inaugural edition of the World Cup in 1974 remains India's best performance in the history of the prestigious event.

However, these stats would not play on the team's mind when they take on the Irish side on Thursday according to team captain Rani.

"All I know is, we are not done yet. Our best hockey is yet to come," she asserted adding that the only thing on their minds would be to avenge their narrow 0-1 loss to Ireland in the Pool Stage and book a place in the semi-final against the winners of the other quarter-final clash between Spain and Germany.

"Though we lost against Ireland in the Pool Stage, we know we played really well that day but we did not put the ball in the goal. Now we have a golden opportunity to beat them in the quarter final," she added.

India registered their first win of the tournament by sailing past Italy in a quarterfinal play-off. In the match against Italy, it was Lalremsiami, Neha Goyal and Vandana Katariya who scored in India's crucial win.

It was a dominant overall performance that saw them make the next round and in the hindsight, Rani believes the team have improved match-by-match in this prestigious tournament where they drew 1-1 to World No.2 England, lost 0-1 to Ireland, drew 1-1 with the USA followed by a triumphant 3-0 score-line against the Italians.

"Against Italy, we wanted to ensure we score in the first two quarters and put pressure on them. In the previous three matches in the Pool Stage, we were doing everything except scoring. But on Tuesday, we ticked that box right and we have realised that it all boils down to the self-belief we have," stated the 23-year-old striker.

The Irish have been in ominous form having topped Pool B ahead of higher-ranked USA and India.

Beating Ireland, who are high on confidence after topping Pool B with a 3-1 win against USA and a 1-0 win over India, would be a tough task especially if they start well and put pressure on India's structure.

India, on the other hand, had to slog it out to make it to the quarterfinals, having drawn 1-1 against England and USA respectively and losing 0-1 to Ireland.

Having come second best in their last two meetings, it would be quite a task for the Indians to beat Ireland.

Rani, although, was categorical in her stance as she said that this is a once-in-a-lifetime opportunity for her team to create history.

"For us, it is a once-in-a-lifetime moment to be playing the Quarter Final of the biggest event in hockey. We will do everything we can to win this match and make the Semi-Final and the team believes we stand a realistic chance," asserted Rani.

In the last edition of the tournament in Rosario, Argentina India had finished a disappointing eighth.

Daily News & Analysis


---

Upbeat India seek semifinal berth




Its erratic campaign back on track, the Indian women's hockey team would now be aiming to secure its first World Cup semifinal spot in 44 years by exacting revenge on Ireland in the last-8 stage here on Thursday.

India registered their first win of the tournament by sailing past Italy in a quarterfinal playoff on Tuesday.

The only time India had managed to enter the semifinals of the show-piece event was back in 1974 in Mandelieu, France, where they eventually finished fourth. In the last edition of the tournament, in Rosario, Argentina, India had finished eighth.

Having lost their last two encounters, it would be quite a task for the Indians to beat Ireland. World No. 16 Ireland have been in great form, having topped Pool B ahead of higher-ranked England, USA and India. Ireland beat USA 3-1 and India 1-0 before slumping to a 1-0 defeat against world No. 2 England. But they still managed to top the group and secure their maiden World Cup quarterfinal berth. India, on the other hand, had to slog it out to make it to the quarterfinals, having drawn 1-1 against both England and USA and losing to Ireland.

The Indians would take heart from the 3-0 win over lower-ranked Italy in the cross-over match.

The Rani Rampal-led side rediscovered their scoring prowess to end Italy's World Cup adventure. India would look for an encore to outwit the gutsy Irish.

The Tribune


---

Captain Rani Rampal appeals fans to watch and support Indian team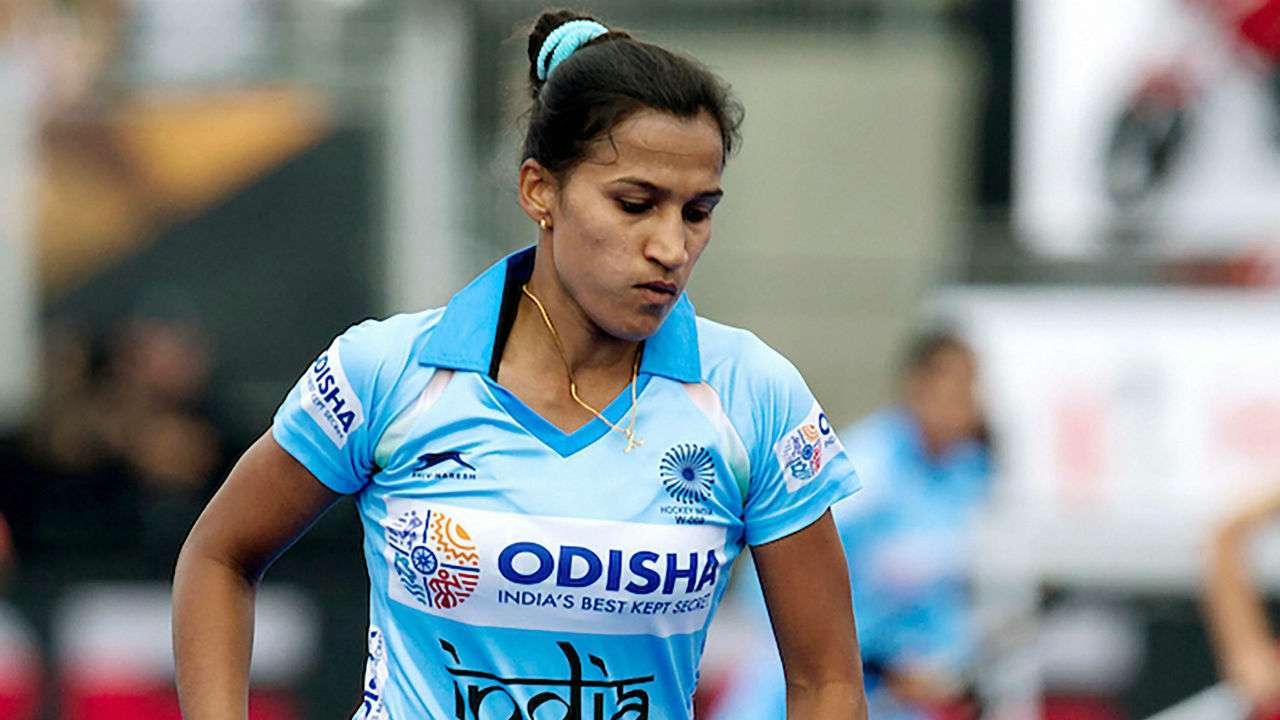 Rani Rampal , PTI file photo

Captain Rani Rampal asked fans to give their full support to the Indian women's hockey team ahead of their quarterfinal clash against Ireland on Thursday.

Hockey India, on Wednesday, uploaded a video on its official Twitter account. In the video, Rampal is seen thanking fans and asking them to keep supporting the team.

"Women's Hockey team has reached the World Cup Quarterfinals with the support of all the fans. We will face Ireland in the quarters on Thursday at 10:30 PM IST. So, please all of you watch the match and support us."

She said that the players will give their all on the field to make it into the semifinals.

"We need your support and blessings. On the ground, each player will give their 100 percent, but you guys please give us your 100 percent support outside the ground," she said.

"We all will make you feel proud in tomorrow's game. Keep supporting India. Jai Hind," the forward added.

India last played in a quarter-final encounter 40 years ago in the 1978 Madrid Women's World Cup. The semi-final appearance in the inaugural edition of the World Cup in 1974 remains India's best performance in the history of the prestigious event.

Beating Ireland, who are high on confidence after topping Pool B with a 3-1 win against USA and a 1-0 win over India, would be a tough task especially if they start well and put pressure on India's structure.

Daily News & Analysis


---

India exhibit great character despite midfield struggles in win over Italy

Sundeep Misra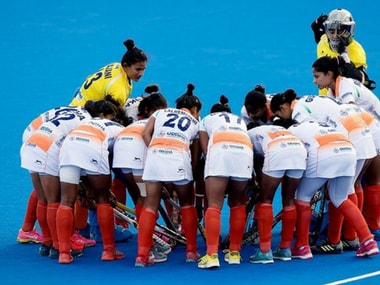 India beat Italy 3-0 in the cross-over match to reach quarter-final. Image courtesy: Official FB page of Hockey India

Amidst moments of fluidity, midfield struggles and bouts of solo exhibitionism, India did enough to sparkle in every quarter and prevail 3-0 over Italy, who were clearly still suffering from the hangover of that brutal dozen-goal thrashing from the Dutch.

After two draws and a loss in the pool matches, India showed great character and mental strength to create a record of sorts and enter the quarter-final of the 2018 World Cup. The last time India entered the semi-finals of a World Cup was when the Ajinder Kaur-led side finished fourth in the 1974 edition. It's been a good 43 years since then and now, they stand a step away.

The 3-0 victory margin gave India its first win in this World Cup and sent Italy, who had come into the cross overs with two wins and a loss, home. With India's slightly defensive structure, punctuated with counter-attacks, there was a chance that Italy could also stifle the goal scoring. Even though it wasn't a fluent midfield display with turn-overs spoiling chances of regular attacks, India picked up goal opportunities and managed to close down the match in the 4th quarter.

Indian goals came in the 1st, 3rd and 4th quarter, virtually cutting off any escape routes that Italy could try and conjure. India's defence was solid and first-time clearances were the order. Even Deep Ekka was quick on the ball to release it to the flanks. However, the midfield could have done with a bit of calm to ensure play was smoother. Namita playing central did the rotation with Neha Goyal wonderfully overlapping. Lilima also found herself in attacking positions. Pushing constantly despite pressure from the Italians after India's opening goal showed that the Indian midfield was gaining in strength and belief, match after match.

Even though the goals were divided between Lalremsiami, Neha and Vandana Katariya, it was Siami who was the live wire. Attacking from each flank, she had the Italian defence completely stretched. Lalremsiami's swish-dribble, controlling the ball like a yo-yo on a string, her speed and remarkable enthusiasm ensured that the Italians kept a three-defence structure at the back. There was a wonderful moment in the match when she sashayed the ball to the left, then right, rendering the Italian defender clueless and then squeezed the ball between her legs into the circle. Lalremsiami's growth as a player has been remarkable with a lot of credit going to the coaching staff.

For Italy, errors in the midfield, inability to leverage advantageous situations and throwing away turn-overs didn't give them the momentum required to pressure the Indian defence. Giuliana Ruggieri and Jasbeer Singh were the exceptions, constantly striving to break through the middle. Jasbeer had some good moves moving past the Indian midfield. But as a team, they couldn't come up with the answers expected from a country that had beaten Korea and China.

India's opening goal was a classic opportunistic strike. It came after India had earned their 1st PC; a free hit from outside the circle, the sluggish Italian defence still in the process of flinging their masks when Reena Khokhar flashed in a hit. Navjot Kaur edged it with a deflection, Minz too finding the edge of her stick as the ball avoiding Italian lunges travelled to Lalremsiami who even though the angle was acute, flicked into the gap between Martina Chirico and the post. Such strikes can demoralise an opponent already disheartened by the 12-1 thrashing from the Dutch in their last game.

India still had a fair amount of chances in the Italian striking circle but the fluency wasn't top class. A lot of hockey was played in the middle zone with defenders on both sides covering the zones well. It showed in the stats that circle entries in the 2nd Q dropped off with India getting only 2 to Italy's one. Italy didn't have a shot on goal while India had one.

At the break, Indian coach Sjoerd Marijne said that he was happy with the lead but not too enthusiastic about the "performance."

Not finding that eloquence hits teams at times and earlier, an Indian team would have got bogged down with more errors. But now, it's seen that the Indian women show more grit and tenacity ensuring a scrappy performance only makes them more determined to fight it out.

India's second goal came right at the end of the 3rd quarter off their 4th PC. After the strike, it was a goalmouth melee with Chirico sitting on the ball and Vandana trying her best to either squeeze it through or bring it back. But it was Neha who prised it out and pushed it into the goal for India to lead 2-0. It was Neha's second goal of the tournament.

All India needed to do in the 4th quarter was to keep errors away and ensure that possession was with India in the midfield. With Italy trying to rush things and find their way back into the match, India's possession fell to 45 percent. But the defence wasn't letting in anything; except for one blip that resulted in Italy's only PC of the match which Indian goalkeeper Savita defended well.

India had two PCs in the 4th Q. Off the 6th PC of the match, in the 55th minute, Gurjit powered in a low flick and Vandana managed to deflect the ball high into the net. It was a brilliant deflection or as Marijne had said a day before the match — "things have to fall in at the right place at the right time." With five minutes on the clock, there was no comeback for Italy.

An excited Indian captain Rani Rampal, said, "We came to win and be in the quarter-finals. But the journey is not over yet. We have an exciting game ahead and we are ready to win it."

Even though Sjoerd Marijne couldn't keep the smile off his face, he was realistic in his analysis. "Being consistent is tough and the PCs need to be better. We didn't play really well but we kept the structure intact."

Marijne also said this is a moment for the women and "they should enjoy this as it doesn't come too often. After recovering, we will start thinking about our opponents."

For now, India can reflect, reminisce, take a stroll through Stratford Mall, and chill a bit. Against the Irish, they need to come back more dynamic, creative and hungering to etch their place in history.

Firstpost


---

When India played its first women World Cup

s2h team

HISTORY: Indian women's hockey too has a rich legacy, but was only eclipsed totally by the historical supremacy of their men's counterpart. First Women's hockey Club in India was formed in 1982. It was called Wanderers Athletic Club, controlled by men, but only women competed. Some more clubs added, Calcutta hosted the First women's Hockey Tournament, won by the Wanderers. Rovers came second. Delhi hosted the first inter-Provincial Championship 10 years later. Bengal won with Delhi coming second. It was held three years more but the World war II broke out, the Championship was discontinued. Then IHF president Naval Tata again started a full Inter-Provincial Championship, it was held in Mumbai in 1947 and 1948, which were officially the start of Nationals for women.

A representative Indian team was selected to tour Amsterdam in 1947, but it did not take place. J Carr was the designated coach and he selected a team too.

Chronology of Indian women's hockey events on the international stage till it made it to the first World Cup in 1974.

1953: Folkstone Festival in England. Won 4 out of 16 matches
1953: Festival Tournament, Australia. Won 8 out of 20 matches
1960: Sri Lanka Series in India. India won the series 4-1.
1962: Return tour to Sri Lanka. India won all the matches it played
1964: Japan test Series in India. India lost the series 1-3
1967: Sri Lanka Test Series. India won the series 5-0
1968: First Asian Championship. India fielded two teams, both lost in the Semis
1970: Japan Silver Jubilee Cup.
1970: hong Kong Test Series
1971: Uganda Test Series. India fielded two teams, North and South
1971: IFWHA Auckland Hockey Festival
1971: Singapore Test Series
1974: First World Cup World Cup was by far the most serious tournament that India took part. The FIH World Cup was held even as the entire Asia did not have its continental Championship, competition avenues were hard to come by and each participants of the World Cup was unknown to each other. India thus was an unknown element, bordering dark horse. Indian team led by defender Ajinder Kaur, now settled in England, surprised many by topping its pool.

India started the event badly losing to Belgium by two goals to nil. Ohn and Biart struck for the winners. And then India went on to win next three matches. With a two goals from Rupa Saini and one from Kulwant Bhullar, India beat Mexico 3-0. In the next crucial match, Baljeet Bhatti's two goals, and one each from Darshan Chauhan and Otilla Mascarenhas, India doused Spain for a 4-1 win. Next was much awaited one, against Netherlands. Baljeet Bhaati's lone goal did not get any reply for India to finish on top of the pool.

In fact, India was placed first as it defeated Netherlands which also had six points with three wins.

However, the tables turned in the knock out phase. India lost to Argentina by 0-1, goal coming from tournaments' second top scorer, V Alfonso. It was her last goal of the tournament.

Now the bronze was at its stake, but Germany had other ideas. Drescher and Klimpel struck goal apiece, and India could not score. Thus ended the fairy tale progress the Indian women made in Mandilu, France.

This record of reaching the semis stands even now, seems the Rani Rampal's Indian team in London will level it if not exceed in the coming days.

Indian team: Ajinder Kaur (Captain), Teresa Georoge, Shiela Dhansatey, Kulwant Bhullar, Rupa Saini, Neena Asaikar, Ina Re Bellow, Chanchal Kohli, Darshan Chauhan, Parminder Sekhon, geeta Sareen, Otillia Mascarenhas, Rekha Mundpan, Lata Mahajan, Baljeet Bhati.

Stick2Hockey.com


---

It's been fun, says Biddy Burgum, one of England hockey's oldest living players

By Rod Gilmour



Biddy Burgum made her international hockey debut in 1950 PIC: England Hockey

Here at the World Cup, Biddy Burgum, who celebrates her 92nd birthday this month, is describing the modern game with lively hand gestures in the air.

"The sticks are up here and it's all the turning around," she smiles. "It's all very different. In our day, we were told that hockey was a polite game so you mustn't turn on your opponent."

One would never have guessed that she was the oldest living player at England Hockey's Pride of England function last Sunday, as the national governing body invited – and tracked down – past women's international representatives for a celebration of women's hockey.

Biddy's sporting life means that both body and mind are seemingly as active as when she ran out at The Oval cricket ground for her England debut against Scotland, in 1950.

She was a teacher at Chelsea PE and Bedford colleges at the time. "Teaching during the week and playing in front of 60,000 at Wembley at the weekends," she reflects joyously.

"It was in front of lots of kiddies, some of whom I was teaching. It was all rather different, as we were all amateurs. I enjoyed it because I was full-time. The kids would come up on the coach in the morning and see me play in the red and white and cheer like mad.

"On the Monday they would tell me 'Oh, Miss Burgum, we did enjoy watching you at Wembley, but you let them do so and so but you don't let us'. I would say 'well, when you're a little bit stronger and older then you will be able to do a one-handed stroke'.

"Nowadays it's all professionalism. I played hockey in the winter, cricket and tennis in the summer, teaching children and fitting in sport at the weekend."

Burgum can still vividly recall her debut, breaking into the team as a versatile winger which started an 11-year international career, taking in tours to South Africa, and, most fondly, plenty of matches at the famous Wembley towers.

"From 3,000 at The Oval, the numbers gradually increased to 60,000 at Wembley Stadium," she adds.

Alongside hockey and teaching, she used to write Biddy Burgum's Schoolgirls' Column for magazines like Hockey Field and played Surrey County cricket and tennis.

But the Fifties were in stark contrast to life surrounding World War II, with Birmingham her home from 1939 to 1945, give or take several evacuations.

"It was pretty hard work. We were down in cellars every night. It was tough," she admits.

"Our playing fields had become a barrage area so we used a recreation ground for hockey in the day. It may have helped, mind, as the pitch was bumpy so it may have helped my skill and ability!"

Biddy retired from teaching in 1983 and became an advanced hockey coach for England, travelling abroad to Europe and Canada.



Biddy, second right, with 1950s England hockey team-mates

She played hockey until her 50s to keep herself fit and active. If only there was a Masters scene back then, she says, it would have prolonged her playing career.

And with that, she's off for a photo with surviving members of an England touring party to South Africa and then on to watch England's modern stars and their sticks waving. 'It's been a lot of fun," she says.

The Hockey Paper


---

EXIN Masters World Cup - Day 5
Click here for the Official Results for all age groups.
---

EXIN Masters World Cup Day 5: Six Squads in Action; Women's O-50 Advance to Quarterfinals




TERASSA, Spain - Day 5 of the EXIN Masters World Cup concluded with six USA squads in action. The men's teams won each of their respective matches, while the women's squads combined for two wins and two losses as the O-50 side advanced to the quarterfinals for the first time in the tournament's history.

O-45 Men's 2 vs. New Zealand 1

The U.S. O-45 Men's Masters Team delivered a strong statement with their win over highly ranked New Zealand to complete their last pool game of the EXIN Masters World Cup. The team started strong with solid defense and good ball handling in the midfield. A swift counter attack gave Randy Christie (Bronx, N.Y.) the opportunity to dribble past a defender and the New Zealand goalkeeper to score the first goal of the game. During the second quarter ,USA kept momentum in their favor and gave New Zealand very little chances. A quick play near the 25 yard line led to a penalty stroke opportunity, which was successfully converted by Alvaro Salcedo (Baltimore, Md.) to give USA the 2-0 advantage.

The second half of the game saw a relentless attack from New Zealand which eventually led to a penalty stroke in their favor to make it 2-1. However, solid defensive work from Andre Ferguson (Attlebro, Mass.) and Barry Merriman (Washington, D.C.) fended off all attempts of the opposition through the remainder of the game to give the U.S. O-45 Men's Masters Team their first win of pool play. At the end of the match, Merriman was recognized by the New Zealand as the Player of the Match.

O-55 Men's 3 vs. South Africa 0

O-35 Women's 11 vs. Sri Lanka 0

The U.S. O-35 Women's Masters Team had a breakout performance defeating Sri Lanka 11-0. The match was off to a quick start with the first USA goal coming within the first 30 seconds of play by Elizabeth Wood (Phoenix, Ariz.).  With some great connections and quick ball movement USA was able to maintain control of the pace of the game. Rounding out scoring in the first half, midfielder Kiley Strohm (Hummelstown, Pa.) put in her second goal of the day off a penalty stroke. In total, eight different players registered goals for USA, including Shannon Minnich (Mechanicsburg, Pa.), Tiffany Cappellano (Oley, Pa.), Jessica Rose Shellenberger (Lancaster, Pa.), Elizabeth Putz (Monroeville, N.J.), Kelly Dearolf (Lancaster, Pa.) and Patricia Gillern (Hartford, Vt.). On the defensive end, goalkeepers Nicole Baudini (Doral, Fla.) and Heather Long (Pottstown, Pa.) teamed up to give USA their first shutout of the tournament. The U.S. O-35 Women's Masters Team now look ahead to the Thursday matchup against Spain at 6:25 a.m. ET.

O-40 Women's 1 vs. Spain 3

In a quarterfinal matchup, Spain got in the board with two early goals in the first quarter. Both squads were unable to convert on several scoring chances in the second and third quarters. In the final frame, just when USA was gaining momentum, Spain intercepted a pass at the center line, quickly got up numbers and finished with a goal. USA got on the board with a minute left in regulation to sneak one past Spain's goalkeeper.

O-50 Women's 3 vs. South Africa 2

The U.S. O-50 Women's Masters Team made their place in the quarterfinals with a 3-2 win over South Africa. Sophie Etienne (Belmont, Mass.) opened the scoring three minutes into the opening period on a pass from Carol Gulija (Flemington, N.J.) to take the early lead. South Africa responded in the second period to tie the game 1-1, but USA's Toni Arner (Quakertown, Pa.) tipped a shot from Denise Zelenak (Wilmington, Del.) to regain the lead. A strong shot off a penalty corner in the third period would tie the game once again for South Africa. In the final seconds of the period, USA responded with a goal off a penalty corner. Nicky Hitchens (Philadelphia, PA.) received the ball at the top of the circle and scored on a rebound from her own shot to put USA up 3-2. Hitchens's goal would prove to be the game winner as the fourth period would remain scoreless. USA will face Ireland again in a rematch that will decide which team will advance to the semifinal round. This is the first time a U.S. O-50 Women's Masters Team has made it to the quarterfinals.

O-55 Women's 0 vs. Australia 2

The U.S. O-55 Women's Masters Team faced an undefeated Australia team at the Marti Colomer Olympic Stadium in Terrassa, Spain, falling 0-2. Australia played a strong possession game in the first half, challenging USA's defense and goalkeeper, Donna Chung (Canton, Mass.) on multiple occasions. USA rallied to keep Australia at bay but let up momentarily on a cross from the right side to a weak-side forward, who gave Australia the 1-0 advantage. The third quarter remained scoreless with USA playing tough and tight defense, fending off Australia's pressure and creating several scoring opportunities. In a hard fought fourth quarter, Chung stopped all shots in the field of play. Despite USA's momentum build, Australia scored their second goal on a hard penalty corner shot just inside the post. USA proved to be a tough opponent for the talented Australia team, and will play their final pool game against New Zealand, who also lost 0-2 against Australia, with crossovers beginning Thursday.

USFHA media release


---

Malaysian 55+ vets play Netherlands in last four

By Jugjet Singh



MALAYSIA 55+ in blue against Germany Wednesday.

KUALA LUMPUR: The Malaysian veterans' 55+ team lost their last Group C match 2-1 to Germany, and will play Netherlands in the quarter-finals of the Masters Hockey World Cup in Terrassa, Spain.

Germany took a 2-0 lead, before skipper Sarjit Singh scored Malaysia's goal in the 46th minute.

However, the 45+ Malaysian team lost 7-0 to Spain Wednesday. They started with a 2-1 win over Scotland, but lost 3-0 to France and 7-2 to Germany in Group B and will play in the 9th-12th position.

After a day's rest, the 55+ will play in the knock-out on Friday.

"It was a good match against Germany, and even though we tried to claw back into the match, they defended well.

"Now, we need to keep our structure and make sure we do not miss any sitters against Netherlands. I have watched the Dutch play and I believe we have a 50-50 chance against them," said Sarjit whose team ended second in Group C.

According to Sarjit, the favourites so far in the 55+ are Australia.

The Star of Malaysia


---

Australia A Full Of Positives After Malaysia Series

Ben Somerford




Australia A have rounded out their five-game series against Malaysia with an emphatic 6-1 win to secure a series victory at Perth Hockey Stadium.

The Australians got together in Perth for a 10-day camp which included five matches, winning four of the encounters and drawing the other.

Wednesday's fifth and final match saw Tasmanian Jack Welch open the scoring in the ninth minute, before Malaysia levelled through Mohd Fitri Bin Saari (20').

New Kookaburra Josh Simmonds (29') restored Australia's lead right on half-time, before a barnstorming end to the third period secured the win.

Joel Rintala (42'), Jacob Anderson (44') and Matt Butturini (45') all fired home within three minutes to open up a significant buffer, with Welch (54') adding another in the final quarter.

Kookaburras assistant coach Anthony Potter took charge during the camp and was thrilled with the gains made by Australia A players throughout.

"Winning the games is a bonus," Potter said. "What's been really good is the way the guys have turned up in shape ready to play.

"They've developed the way of play that we preach with the Kookas day-in day-out.

"In the short and long-term it gives them a really good insight into what we want as Kookaburras; our daily programme, how we prepare for games, play the games, how we feedback and recover afterwards.

"Those were the main objectives from the start when we put the tour together. To see the guys grow every day and play better and better as the five games went on is really pleasing.

"As well, part of the values we talk about in the Kookaburras is taking it back to your club, so your teammates learn and it filters right through the system."

Potter said the national coaches and selectors would review the games before identifying any individuals with a view to Kookaburras selection.

The Kookaburras next tournament is September's Darwin International Hockey Open, with the team to be confirmed in early September.

The 2018 Australian Hockey League (AHL) commences in October, pitting state against state, and Potter was excited to see many of the Australia A players' progress then.

"We're really keen to see how they progress from now to their AHL competition which should be really exciting," he said.

The 2018 AHL starts on Saturday 6 October, with Tasmania hosting ACT in Hobart and New South Wales welcoming Queensland in Sydney.

On Sunday 7 October, South Australia hosts Western Australia in Adelaide and Northern Territory entertains Victoria in Darwin.

Australia A v Malaysia Series Results:
Australia A 6 (Welch 9', 54', Simmonds 29', Rintala 42', Anderson 44', Butturini 45') def Malaysia 1
Australia A 2 (Hayes 9', Rintala 55') drew with Malaysia 2
Australia A 3 (K. Govers, Rintala, Anderson) def Malaysia 0
Australia A 3 (Weyer 38', Gerrard 44', Day 49') def Malaysia 2
Australia A 4 (Gerrard 25', 54', Hayes 25', Anderson 29') def Malaysia 2

Hockey Australia media release


---

Hockey team have their work cut out for Asian Games

KUALA LUMPUR: The national men's hockey team are not up to their mark for the Asian Games, which begins in two weeks.

National coach Stephen van Huizen men made the same defensive errors in the five-match playing tour in Perth.

Australia did not parade their full squad but still chalked up four impressive wins (4-2, 3-2, 3-0, 6-1) and drew one (2-2).

Malaysia's backline led by the experienced Muhd Razie Abdul Rahman conceded 18 goals in five matches and it clearly shows that they need to buck up or will face a difficult task in the Asian Games.

Malaysian Hockey Confederation (MHC) have set a target for the team to win the gold medal and qualify for 2020 Tokyo Olympics.

Stephen admitted that his team were punished by world champions Australia for making silly errors in defence.

"I am disappointed with the fifth match we played today (yesterday) as we conceded six goals in 22 minutes. It shows that our players lack focus in defence.

"This is one area we really need to rectify as we will face some tough opponents in the Asian Games," said Stephen.

He added that Australia did not field their full squad in the five matches but they were very sharp in the semi-circle.

"Some of the Australian players are fighting for places in their national team but they still play a high-level game and are fast in creating chances," said Stephen.

Stephen was also unhappy that his team had failed to earn enough penalty corners in five matches.

"We earned a total of 10 penalty corners in five matches and converted three. We need to earn more penalty corners with the hope of converting more goals in matches.

"We will regroup to review our weaknesses. We have only two weeks left to rectify our mistakes in defence and also need to have more option in penalty corners set-pieces for the Asian Games," said Stephen.

Three players Muhd Nik Aiman Nik Rozemi, Meor Mohamad Azuan Hasan and Mohd Marhan Mohd Jalil are down with injuries in the playing tour and Stephen said that he would assess their injuries before finalising the 18 players for the Asian Games.

The Star of Malaysia


---

Exclusion from Commonwealth Games' squad was a shocker, reveals Sardar Singh




Sardar Singh has revealed that he was shocked from the Indian Hockey team after being excluded from the squad for the Commonwealth Games earlier this year. Sardar has been a part of the Indian team for the past twelve years and has appeared in 300 matches with sixteen goals under his belt.

The former skipper had a rough patch being in and out of the Indian squad for almost six months. He was dropped from the 18-man squad for the Gold Coast Commonwealth Games which was completely unexpected. Post the Commonwealth Games, Harendra Singh took over the responsibility of the team from Sjoerd Marijne as the head coach of the Indian team and the Indian made sure that Sardar was called back into the national team.

Speaking of his unforgettable six months, Sardar said that things were normal initially as he felt that the coach wanted to encourage youngsters. But, when Sardar was made to lead an inexperienced side at the Sultan Azlan Shah tournament in April during the Commonwealth Games, something did not seem right to the veteran. However, he did not think much about it and focused on his duties. Later on, when the squad was announced, Sardar was not even among the standbys. This came as a shock to the midfielder which was hard to digest.

"After we won the Asia Cup, the coach (Sjoerd Marijne) told me that he wanted to try others from the 42-player core group as well. I was dropped for the following two-three tours. I did not mind it as I thought the coach wanted to try out the youngsters as well. But, when I was asked to lead a young side at the Sultan Azlan Shah tournament, I had a feeling that something was amiss. However, I did not think much about it and carried on with what was expected of me. Soon the squad for the CWG was announced and I was not even among the standbyes. I was just shocked as it was totally unexpected," Sardar said.

The year 2018, according to Sardar, was very important for Indian hockey as the four-year cycle culminated in the Commonwealth Games, Asian Games and World Cup. He focused on winning a gold medal at the Asian Games so as to directly qualify for the Olympics and said such tournaments come once in four years and one has to prepare well in advance. He further spoke about the uncertainty of the participation in such tournaments given the four-year gap.

"We all know 2018 is a very important year for Indian hockey as three major tournaments (Commonwealth Games, Asian Games and World Cup) have been scheduled in the same year. On top of that, we need to win a gold at the Asian Games in order to directly qualify for the Olympics. Every athlete who participates in such tournaments waits eagerly for four years. There are high chances that you won't be around four years from now. So, through this period I planned and prepared accordingly," he added.

Things turned around in Sardar's favour just after India's new head coach Harendra Singh took over. Speaking of which the 32-year-old said that the coach knew him since 2002 and knew his strengths and weaknesses. He further spoke about the much-needed motivation he got from coach Harendra and concluded by backing the Indian coach.

"Harendra sir has coached me since my junior India days, starting with 2002-03 season. He knows my strengths and weaknesses. He supported me and I felt the positive vibes as soon as he took over. People say Indian coaches are not good, but we want to change that," Sardar concluded.

Sports Cafe


---

South African 2018 Senior Men's IPT A Section
Pietermaritzburg

Results 1 August

SAU21 v NW (Pool A)     3 - 2
SGW v EP (Pool B)         2 - 1
WP v SGN (Pool A)         11 - 2
NG v FS (Pool B)         4 - 1
WPP v KZNM (Pool B)     3 - 1
KZNC v SG (Pool A)     1 - 2

Pool Standings
Pool A
Pool B
---

South African 2018 Senior Men's IPT B Section
Pietermaritzburg

Results 1 August

KZNI v NCA (Pool A)     7 - 1
NGB v MPU (Pool A)     3 - 0
SACD v NCB (Pool A)     8 - 4

Pool standings
---

Three of the four Semi-Finalists decided on day four



KZN Coastals and SA National Squad keeper Gowan Jones

In today's headline game the defending champions Kwazulu Natal Raiders took on the 2016 champions Southern Gauteng in a battle for supremacy in Group A. Southerns were playing on the back of their victory against Tuffy Western Province and knew that a draw would likely be enough to secure their spot in the final four, while the Raiders were keen to get the win to relieve the pressure on a final day meeting with Tuffy Western Province.

The match was always expected to be a tight affair featuring two of South Africa's best goalkeepers in Gowan Jones and Rassie Pieterse, while the defences boasted a collection of International players. The game played out in the expected way with the cagey affair not producing any goals in the first half.  Eventually though it was Southerns who broke the deadlock as Nic Spooner when he punished the Raiders with a penalty stroke. Southerns would further enforce the advantage when Julian Hykes, who has more than 100 caps for South Africa, made it 2-0 on the whistle of the third quarter.

Try as they might the Raiders could not break through the defensive wall in the fourth quarter until the 58th minute when another international veteran Jonty Robinson pounced to set up a nervy end. The result remained, and it sets up a "Quarter-Final tomorrow when Tuffy Western Province play the KZN Raiders for a place in final four of the A Section.

Northern Blues secured their place in the final four with a workman-like 4-1 victory over Free State with Tevin Kok scoring the pick of the bunch, while Witsies had a tough encounter with Eastern Province that they emerged victorious from securing a 2-1 win and a place in the final four when Kingsley Botes scored the decider in the 58th minute.

In the B Section the SA Country Districts cemented their place as favourites when they convincingly beat Northern Cape B 8-4. It was an impressive attacking display as SACD netted at least one goal in each quarter to set themselves clear at the top. It was also an impressive day for KZN Inland who defeated Northern Cape A convincingly to reignite their campaign in the B Section.

Day 4 Results – A Section

SA Invitaitonal U21 3-2 North West
SG Witsies 2-1 Eastern Province
Tuffy Western Province 11-2 SG Nuggets
Northerns Blues 4-1 Free State
WP Peninsula 3-1 KZN Mynahs
KZN Raiders 1-2 Southern Gauteng

Day 4 Results – B Section

KZN Inland 7-1 Northern Cape A
Northern Blues 3-0 Mpumalanga
SA Country Districts 8-4 Northern Cape B

SA Hockey Association media release


---

Predicting the 2018 NCAA Final Four


The 2018 collegiate competitive season kicks off in August, but all 250+ teams are currently in the thick of it, working hard over the summer to get themselves ready for what promises to be an amazing series of contests from August into December. With the return of the Division II sports festival, we get to enjoy hockey for an additional two weeks this year, which is a good sign considering the level of play is increasing and the excitement is rising just as well.
In Division III, the reigning champion Middlebury College Panthers are looking to return to the final weekend, but they have to navigate a tough road in the New England Small College Athletic Conference (NESCAC) first. Arguably the nation's toughest conference, the NESCAC features eight teams that can make a run into the tournament and head to Spooky Nook Sports. With a solid group of scorers back plus a goalkeeper with championship experience, Middlebury will look to lead the way, but Tufts University and Bowdoin College are looking to regain the top spot while the rest of the conference, including 2017 NCAA participant Trinity College, will have something to say about it. That's not to say the New England Women's and Men's Athletic Conference (NEWMAC) will give up without a fight. With Babson College and Massachusetts Institute of Technology both returning a core group of players that helped the Beavers and Engineers have solid seasons in 2017, both programs will challenge for supremacy in the conference and in the region.
Across the Adirondacks in New York, a number of schools sit ready to plan a trip to Lancaster, Pa. for the final weekend. The State University of New York, Cortland returns a plethora of talent, and these former champions are looking to get back on top of the podium. The Liberty League is another deep league, with the University of Rochester and Vassar College set to challenge perennial power Skidmore College. The Yellowjackets return talent on both sides of the ball, as do the Brewers and Thoroughbreds, and whoever comes out of the New York region will be well battle-tested in November.  

Certainly the New Jersey and Pennsylvania areas are not going to sit by idly, and last year's runner-up Messiah College is looking to rise out of the region and return to the final game. The College of New Jersey is also looking to get back to the final weekend as they return a host of key players. Gwynedd Mercy University joins a new conference, but their consistency over the last number of years will keep them in the hunt.
Moving into the South, the Capital Athletics Conference is another hotbed of hockey where half the conference will be challenging for the AQ and possibly an at-large bid or two. Salisbury University and Christopher Newport University are both welcoming back a host of players from strong 2017 seasons, but the University of Mary Washington and York College will both continue to push them and are just as eager to make the post season. In the Old Dominion Athletic Conference (ODAC), Lynchburg College continues to press the league, but with Bridgewater College and Washington and Lee University taking the berth in the last two years, the Hornets are looking to reverse that trend and return to the post season.
As hockey continues to grow in the Midwest, so does the level of the play. Centre College rode a senior-laden squad to the final eight last year, but they will be pushed by Southern Athletic Association rival Rhodes College, who welcomes back a strong core of underclassmen. Denison University from the North Coast Atlantic Conference (NCAC) won the league, and with two freshmen national All-Rookie selections back for the Big Red, the Midwest should have a strong couple representatives in the tournament.
The Division II championships will once again be a part of the Division II sports festival, which means that these teams will compete in December in Pittsburgh, Pa., with a couple not having to travel too far as the Pennsylvania State Athletic Conference (PSAC) will once again be a force in Division II. The Lady Raiders of Shippensburg University didn't miss a beat with the arrival of Tara Zollinger at the helm, and with a strong core around national Rookie of the Year Jazmin Petrantonio, Ship very well could pull the three-peat. Of course, their rivals in the PSAC such as Millersville University and East Stroudsburg University will have something to say about that. Both of these schools are former national champions and return a host of experience and talent that will push the conference once again. In addition, West Chester University is still riding the anguish of not making the tournament after winning the conference, a testament to the strength of the league.
In the North, the Northeast-10 champion will know that they ran a gauntlet to win the league, another conference with incredible depth. St. Anselm College has been the standard the last couple of years, and their veterans will be well-tested by the likes of Stonehill College and national finalist Long Island University, Post, a member of the ECC but an affiliate in the NE-10 until the ECC adds the sport as a conference. With Kacie Smith back to build on her record-setting career for the Skyhawks, Stonehill is poised to take the crown and earn a berth to the NCAA tournament.
The return of many schools to the hockey family, especially in the south and west, has seen the rise of programs such as Lindenwood and Limestone. Both of these programs, from non-traditional areas of the sport, have won conference titles and have been on the verge of the national post-season. With these two welcoming back a number of veterans, the post season could have a slightly different look come December.
The Division I tournament returns to the University of Louisville, but that doesn't mean the four teams who made it there last year will necessarily return. The parity in Division I continues to grow, and that's a great thing for the sport. This year's host Louisville came within inches of winning a conference title against eventual NCAA semifinalists the University of North Carolina, and both welcome back squads that can make a run deep into November. UNC welcomes U.S. Women's National Team member Erin Matson to Chapel Hill, N.C., and the Tar Heels also welcome the arrival of their new facility after playing away from home throughout 2017. Of course, these two will have to navigate the very tough Atlantic Coast Conference (ACC), and with Boston College, Duke University and Syracuse University returning numbers and talent, there is no doubt that the ACC will have a strong presence nationally.
The University of Connecticut are the defending national champions, but it's a new year and the Huskies will also have a new look. They will face an intense schedule, starting in their own Big East/AAC with the likes of Liberty University and Providence College, both of whom welcome back key players in runs that helped push the Flames and Friars into the national spotlight. The Ivy League continues to grow in depth and in exposure, with Harvard University joining Princeton University in the tournament last year. With both of these two returning key players to their runs to the NCAA, look for the Crimson and Tigers to battle for the top spot in the Ancient Eight this season.
The University of Delaware is just two years removed from an NCAA title, so the Blue Hens still have championship experience and talent on the roster that will help them as they face a tough road in the Colonial Athletic Association with the likes of James Madison University and William and Mary, two squads that are ready to return to the national tournament. St. Joseph's University of the Atlantic-10 is also poised to make a run, welcoming back a strong core of athletes that fended off a tough University of Massachusetts squad that is also looking to get back to the championships, a feat they can accomplish with the players returning.
While the America East is going to get a new look in 2019, the 2018 version features a number of teams that can make a run into November. Stanford University returns a solid core of athletes from an NCAA berth in 2017; however, the University of Pacific will give them a run in the western half of the conference and the University of Albany will yet again challenge them from the East.
The Big Ten made up half of the final weekend, and they will be another factor in the national championship discussion of 2018. The parity in the conference continues to be strong, and yet again a couple schools will come out of the league into the final 18. Penn State University welcomes back a number of underclassmen, and the Nittany Lions will look to fend off challenges from perennial powers the University Maryland, Northwestern University and University of Michigan. The Midwest strength grows with the MAC, as final-16 entry the University of Miami (Ohio) returns the majority of its team from last year; the RedHawks will face stiff competition from rival Kent State University and conference newcomers Longwood University and Appalachian State University for conference supremacy.
The parity in all three divisions is an exciting hint of what is yet to come for 2018. As the sport continues to grow both in depth of numbers and level of talent, the collegiate scene promises hundreds of good games throughout the fall. The return of the Division II Festival allows hockey fans to make a couple of the final weekends this year, and from the early looks of it, it's going to be a wild ride all year long.
Happy Hockey!

USFHA media release