All the news for Tuesday 31 July 2018

Vitality Hockey Women's World Cup 2018 - Day 9
London (ENG)

Results 30 July

BEL v ESP (Cross-over)     0 - 0 (2 - 3 SO)
ARG v NZL (Cross-over)     2 - 0

Upcoming 31 July

18:00     ITA v IND (Cross-over)
20:15     ENG v KOR (Cross-over)

Final Placings

9-12
Belgium
New Zealand

13 - 16
China
Japan
South Africa
United States

FIH Match Centre


---

Fiesta time as Spain and Argentina win through to quarter-finals



Beatriz Perez in the shoot-out. Pic credit: Getty Images/FIH

There was a distinctly fiesta feel to Lee Valley Hockey and Tennis Centre as first Spain and then Argentina won through to the quarter-finals of the Vitality Hockey Women's World Cup, London 2018.

The opening match of the knock-out phase was a tense and cagey affair as Belgium (FIH Hero World Ranking:13), the runners-up in Pool D, went head-to-head with Spain (WR:11). With a quarter-final match against Germany on the line, both the Red Panthers of Belgium and Spain's Red Sticks were conservative in their attacking play, reluctant to commit too many players forward seemingly out of fear of conceding.

While excellent defensive organisation kept genuine scoring chances to a minimum, there were occasional moments where it seemed the deadlock might be broken. A weaving run and shot from Spain's Begona Garcia forced a decent but comfortable save from Belgium goalkeeper Aisling D'Hooghe in the first quarter, while the defences of both teams used smart video referrals to overturn penalty corners awarded against them in the second period.

"We really deserve this because we did a great job out there." Berta Bonastre

Belgium were perhaps the better team as half time neared, with Stephanie Vanden Borre having two penalty corner efforts charged down before a late Spanish counter-attack brought another good save from D'Hooghe.

The sides continued to cancel each other out in the third and fourth quarters, although the two best opportunities arguably fell the way of the Spaniards. Lola Riera sent her penalty corner drag-flick over the crossbar before Garcia missed a glorious chance to score a late winner when she crashed an off-target backhand strike into the body of a Belgian defender.

The nerves of the attacking players were there for all to see in the shootout, with only Louise Versavel and Pauline Leclef of Belgium and Spanish duo Lola Riera – converting a penalty stroke after a foul on Beatriz Perez – and Berta Bonastre finding the target from ten attempts, triggering sudden death.

The defining moment arrived after Vitality Player of the Match Beatriz Perez made it 3-2 with a supremely cool effort. Louise Versavel failed to convert her chance and so Spain had set up a quarter-final date with Germany.

"That was a difficult game", said a delighted Berta Bonastre after the match. "We are two teams who know each other well. We have been talking about reaching this level for a number of years and working hard to achieve it. We really deserve this because we did a great job out there."

Speaking about her team's exit from the Vitality Hockey Women's World Cup London 2018, Belgium captain Anouk Raes said: "In the first half we were really good and again in the third half. But Spain are very tough to play, they have a good structure, good creativity and some really excellent players, who stopped us playing our lines. We have come a long way but this is not the first time we have lost a shoot-out. We need to keep practicing."

If anyone ever doubts how much wearing the national shirt means to the athletes lining up at the Vitality Hockey Women's World Cup then they should take note of the tears in Belen Succi's eyes as the Argentina anthem played.

The 'keeper, who is competing in her third world cup, was at the heart of a Las Leonas performance that was a marked improvement on their stuttering game against South Africa in their last pool match.

Not that this was an easy ride. New Zealand are the fourth best team in the world and always bring a hardworking physicality to any encounter. And with the magnificent Stacey Michelesen at the heart of their midfield, they are a side that you cannot write off until the final whistle.

That said, Argentina started the fastest out of the blocks, with Vitality Player of the Match Delfina Merino firing over the bar in the fourth minute and Rocio Sanchez's shot following the same path.

No sooner had New Zealand weathered that attack than they were launching their own attack at the other end. Madison Doar coming close with a shot that just popped over the bar.

As befits a world cup match between the world number three and the world number four sides, this was end-to-end stuff. Shiloh Gloyn was involved in a pile-up with Succi as she went for a ball that had been beautifully played through by Anita McLaren.

Seconds before the quarter finished and Maria Ortiz blasted through the centre of the pitch and fed her captain a beautiful pass. Merino tried to play Maria Granatto in, but the New Zealand defence was alert to the danger and they ran the ball down the other end of the field.

There was no separating the teams in the second quarter as they probed to find gaps in each other's defence. There really was nothing left on the pitch by either side as both Succi and Grace O'Hanlon were called into action as the ball was batted out of the air or undercut through the melee of defenders.

The breakthrough came when O'Hanlon was unfortunate to lose her glove after a great double save. The Argentina players called for a penalty stroke and Noel Barrionuevo stepped up and calmly slotted home to O'Hanlon's left-hand side.

Kelsey Smith was unlucky not to even things up when she fired a shot low to Succi's right but the Argentina shot-stopper was so fired up she was seeing everything with clarity and she picked the shot as it whizzed towards her.

The second half was played at equal intensity with both sides creating chances but finding both shot-stoppers in great form. Considering the intensity of the match and the speed of attack nd counter attack this was a game that was low on shots in the first three quarters. With 15 minutes left, Argentina came out of the traps firing on all cylinders. Three penalty corners were earned in quick succession but foiled by O'Hanlon and her speedy defence.

The fourth corner of the quarter provided the cushion Leonas were seeking as Delfino Merino got a crafty touch on the ball to deflect past O'Hanlon. New Zealand removed their goalkeeper with six minutes left but Argentina stepped up and defended high. New Zealand were given a further boost when Maria Ortiz was sent from the pitch for two minutes. Despite the deficit, Argentina comfortably defended their lead and the consensus after the game was that Las Leonas had finally shown world cup form.

"We didn't hit our game in the pool matches," said New Zealand's Head Coach Mark Hager after the game. "No-one wants a game with Argentina at this stage. We only have ourselves to blame for earlier results."

Rocio Sanchez admitted her team had received a really tough training session in the build up to this match after below par performances earlier in the competition. "I think we wanted to play tonight, we were inspired and very determined and that was a huge improvement."

Both quarter finals will be played on 1 August. Spain will play Germany at 18:00 (UCT) while Argentina will face Australia at 20:15.

#HWC2018

FIH site


---

Day Nine: The Vitality Hockey Women's World Cup




Argentina and Spain progressed to the quarter finals of the Vitality Hockey Women's World Cup after crossover victories over Belgium and Argentina.

Spain won a dramatic shootout against Belgium which went to sudden death while Argentina were comfortable 2-0 winners over New Zealand.

The shootout between Spain and Belgium went to sudden death and after Beatriz Perez had scored for Spain with an incredibly calm back hand effort, Belgium's Louise Versavel backed into the goalkeeper and her foul saw the Spanish progress.

With Spain 11th in the world rankings and Belgium 13th a close contest was always likely and in normal time the teams largely cancelling each other. With the teams so well matched there was an air of inevitability that it would need a shootout to separate the sides.

Pauline Leclef and Versavel were successful in the shootout for Belgium while Perez and Berta Bonastre held their nerve for Spain to take the teams to sudden death.

Perez strolled into the circle moving to her left and finished strongly into the bottom corner on the reverse. Versavel stepped up to keep Belgium in the tournament but turned her back to the keeper and was adjudged to have made an obstruction which saw Spain to victory.

The Spanish now get ready to face world number six Germany in the quarter-finals on Wednesday 1 August.

The first half between Argentina and New Zealand was equally close with the deadlock being broken on 25 minutes. The ball dropped at the far post but as the Argentinean player went to tuck home she made contact with the lose glove of goalkeeper Grace O'Hanlan and a penalty stroke was awarded.

Noel Barrionuevo stepped up and converted with aplomb to give her side the lead at half-time.

With the lead Argentina immediately took control of the match after the break and were able to keep consistent pressure on the New Zealand back line while keeping the ball for long periods.

Eventually the lead was doubled when from a penalty corner captain Delfina Merino cleverly deflected home from close range to seal the win and secure a quarter final for Argentina against Australia on Wednesday night.

England Hockey Board Media release


---

Controversy as Belgium denied in shoot out over Spain

By The Hockey Paper




Belgium's Red Panthers were denied the chance of a World Cup quarter-final berth in controversial fashion as Spain advanced in a tense shoot out on Tuesday.

With the scores locked at 3-2 to Spain in sudden death, and after 12 shuttles, Louise Versavel had to score to keep Belgium in the game.

But with her back to goal in the D she was adjudged to have backed into Spanish goalkeeper Maria Ruiz by umpire Michelle Joubert and the game ended abruptly.

With no video referral forthcoming, Belgium remonstrated with Joubert leaving Spain, who achieved fourth in 2006, to celebrate wildly.

It did seem a particularly harsh decision given that the same obstruction 'offence' would generally be considered legal on the field during normal play.

"Our world cup ends here, this is sport," tweeted the Red Panthers account on social media.

The decision marred an otherwise drab play-off game after it had finished 0-0 at full-time. Germany now play Spain in the last eight.

Argentina, the 2010 champions, beat New Zealand, the Commonwealth champions, 2-0 in the late play-off match to set up a quarter-final meeting with Australia on Wednesday.

The goals came from Maria Barrionuevo and Delfina Merino.

The Hockeyroos will be without Kalindi Commerford, who has been ruled out of the World Cup after sustaining an injury against New Zealand in the Pool stages.

Italy and India play the third play-off match on Tuesday, before hosts England take on South Korea for the chance to take on Holland, the holders, in the last eight.

The Hockey Paper


---

Vantage Black Sticks out of World Cup



Photo: Getty Images

The Vantage Black Sticks women have been knocked out of the Hockey World Cup going down 2-0 to a strong Argentina side in the team's cross-over match in London.

Separated by just one place in the world rankings there was nothing to choose between the two teams in the opening quarter.

The Vantage Black Sticks Women started with some busy attack work but it was Argentina who came closest to breaking the deadlock. Lucina von der Hyde's strike on goal well saved by New Zealand goalkeeper Grace O'Hanlon. World player of the year Delfina Merino also firing over the crossbar from the middle of the circle.

Up the other end good work from Stacey Michelsen led to Shiloh Gloyn getting a shot in on the Argentinian goal but it was kicked away to safety by goalkeeper Succi.

Good pressure from New Zealand prevented the South Americans from getting into their stride and Argentina's lack of clinical finishing continued.

New Zealand were also struggling to properly test Belen Succi between the Argentinian posts, Gloyn with another attempt to deflect the ball home after a strong cross from the right flank, tight marking from the opposition putting her off with the ball going wide.

The 1st quarter went one way and then the other with Argentina edging possession with 57%, both teams recording 3 shots each.

New Zealand came out the blocks quickly in the 2nd quarter, good work from Anita McLaren on the right led to a half chance for Kelsey Smith but she couldn't contact cleanly and the ball dribbled wide.

Argentina upped the pace and forced two penalty corners in quick succession. Then came something many struggled to remember happening before. A strong penalty corner shot from Argentina forced a great save from New Zealand's goalkeeper Grace O'Hanlon. The ball fell to Habif who would have slotted home the rebound with ease. As she went to strike the ball however O' Hanlons glove flew through the air and the striker connected with the equipment rather than the ball. After a video referral Argentina were awarded a penalty stroke.

Noel Barrioneuvo duly stepped up and slotted the ball away off O'Hanlons left pad into the bottom right hand corner.

The Black Sticks came back strong with Olivia Merry firing a pass across goal towards Shiloh Gloyn who looked to deflect the ball into the net. Against strong Argentinian defending however she failed to connect properly and the chance went begging.

Merino had a golden opportunity to double Argentina's lead with a reverse stick shot in the circle but O'Hanlon stood up well to prevent the ball going in the net. Argentina went into the break 1-0 up and it was New Zealand with it all to do.

The South American's became more dominant in the  second half with three penalty corners in a row, The Black Sticks held firm however keeping themselves in the game.

Argentina continued to press and doubled it's lead from a well worked penalty corner. The ball came back to taker Augustina Habif who played it across to her captain Delfino Merino who smashed the ball into the back of the Kiwis net. Argentina led 2-0.

With its world cup hopes slipping away in the dying minutes New Zealand took off goalkeeper Grace O'Hanlon converting defender Brooke Neal into a kicking fullback, giving the Kiwis the extra outfield player.

But it was to no avail and the Kiwis lost by two goals.

Vantage Black Sticks Women's coach Mark Hager said his team should have converted its chances in the first half.

"We played well first half but second half we lost a bit of structure and pattern and just didn't play well in the second half at all."

"They're gutted as they are out of the tournament. There's a few tears being shed as there should be, they're a disappointed group as they didn't come here to finish in the bottom half of the competition but unfortunately that's what happens."

Argentina now progress to the quarter-finals to play Australia.

Hockey New Zealand Media release


---

Black Sticks crash out of World Cup

By David Leggat



Noel Barrionuevo of Argentina celebrates scoring the opening goal from a penalty stroke. Photo / Getty

New Zealand's World Cup hopes are over, beaten 2-0 by Argentina in their elimination game in London today.

The world No 4-ranked team could have few complaints.

After the first half had been pretty even, with chances at both ends, Argentina, ranked No 3, gradually took charge through the second half and will meet Australia in the quarter-finals.

They retained possession better than the Black Sticks, who were guilty of frittering away the ball too easily.

New Zealand had one piece of misfortune six minutes before halftime on which, arguably, the game turned.

Goalkeeper Grace O'Hanlon made a fine block at a penalty corner but lost a glove, which freakishly landed on the ball, leading to a penalty stroke. That was converted by Noel Barrionuevo.

New Zealand had missed scoring chances, through Shiloh Gloyn, in front of an open goal, Maddy Doar and Kelsey Smith.

But they needed more from senior figures such as captain Stacey Michelsen, key attacker Olivia Merry and busy midfielder Anita McLaren.

The game was effectively decided 11 minutes from the end, when Argentina's world class captain Delphina Merino turned in a cross from close range after a cleverly-worked set piece at a penalty corner.

New Zealand won the Commonwealth Games title on the Gold Coast in April. This was always going to be a stiffer challenge and when they reflect on the tournament will rue their 2-1 loss to the 12th-ranked Japan in their second game.

That hurt their prospects of advancing directly into the last eight.

Argentina have had much the better of their head-to-head matches, this being their 54th win, against 18 by New Zealand, in 89 internationals.

The New Zealand Herald


---

Freak glove foul leads to Black Sticks' World Cup exit with loss to Argentina

A freak incident led to the Black Sticks crashing out of the Women's Hockey World Cup as they lost 2-0 to Argentina in the second round in London on Monday (Tuesday NZ time).

Argentina went ahead in bizarre circumstances after they were awarded a penalty stroke on review because Agustina Habif's goal-bound shot was stopped by Grace O'Hanlon's loose left glove.

Black Sticks keeper O'Hanlon had made a save, but one of her gloves flew off and landed on the turf. Habif then whacked the stray glove instead of the ball and New Zealand cleared the danger, but a review penalised the odd offence.



Argentina surround Noel Barrionuevo after she converted her side's penalty stroke. GETTY IMAGES

Noel Barrionuevo converted the penalty in the 25th minute, and with the Black Sticks desperately searching for an equaliser in the final quarter, Argentina doubled their lead as Delfina Merino's 49th minute strike secured them a quarterfinal with Australia on Wednesday (Thursday NZ time).



New Zealand's Stacey Michelsen runs into Argentinian traffic in London. GETTY IMAGES

After opening their World Cup campaign with victory against Belgium, a poor defeat to Japan followed and the Black Sticks could only finish third in their pool after drawing 1-1 with Australia.

While Australia advanced straight to the quarter-finals, New Zealand were drawn against world No 3 Argentina in a play-off to reach the last eight.

The world No 4 Black Sticks, who thumped Australia 4-1 to win gold at the Gold Coast Commonwealth Games in April, were unfortunately behind after a penalty stroke was awarded for an infringement rarely seen in hockey.

O'Hanlon dived low to her right for a save but her left glove came off and denied Barrionuevo a certain goal. A video review would rule in Argentina's favour.

Merino would later double Argentina's advantage from a penalty corner as the Black Sticks were eliminated from the World Cup before the quarterfinals.

Argentina 2 (Noel Barrionuevo 25', Delfina Merino 49') New Zealand 0. HT: 1-0

Stuff


---

Desperately poor return for Black Sticks

By David Leggat



New Zealand Blacks Sticks celebrate. Photo / Photosport.co.nz

New Zealand have paid a heavy price for their profligacy in front of goal at the women's hockey World Cup.

The upshot is that they didn't even make the quarter-finals in London. From a world ranking of No 4, and as Commonwealth Games champions, that is a desperately poor return.

A 2-1 loss to 12th-ranked Japan in their second pool game ultimately proved crucial, while they had chances to beat old rivals Australia in their final match in the group, which was drawn 1-1.

They had one piece of misfortune in the elimination game against third-ranked Argentina yesterday, a fluke event seasoned coach Mark Hager reckoned he'd never seen before in a lifetime of hockey.

They had been right in the game, an end-to-end entertaining contest until the 24th minute.

Goalkeeper Grace O'Hanlon made a fine save from a penalty corner, but her glove fell off and landed on the ball. Her second glove flew in front of an Argentina player about to shoot. Cue a penalty stroke and from that point on New Zealand were clearly second best in the 2-0 loss.

The Black Sticks had chances in the first half but didn't take them. Their game steadily subsided and they offered no real threat in front of goal in the second half.

''We weren't getting into circle to create a goal, or shot of any quality. That's the disappointing thing,'' Hager said.

It was a miserable way to go out, especially having arrived with hopes of making an impact after the Games victory on the Gold Coast.

''We weren't clinical enough and for whatever reason didn't get up in the second half,'' Hager said.

There will be some hefty soul-searching among the players about the campaign but also their future with the Tokyo Olympics two years ago, but no rushed decisions.

Hager rightly maintained making important decisions in emotional times is the wrong approach.

Later this year New Zealand will take part in a four nations tournament in Australia. Expect some younger faces then and in an anticipated subsequent visit from 15th-ranked Chile.

A drop in ranking is expected. New Zealand haven't suddenly become a poor team, indeed defensively they were solid, notably central figure Brooke Neal and experienced Sam Charlton and Ella Gunson.

But goals is the name of the game. If you don't score them you go home.

New Zealand managed six in their four games, three from striker Olivia Merry, who was barely sighted yesterday.

When they needed their senior figures to stand up, it didn't happen and Argentina, who had been below par themselves during the pool play, found their feet. They had more energy and the gulf in skill showed up after halftime.

Just when the players might have felt like heading for Heathrow, they are stuck in London several more days due to booking arrangements.

Plenty of time to ponder their futures you would imagine.

The New Zealand Herald


---

Indian determination could beat the Azzurre

By B.G.Joshi (in Lee valley hockey stadium, Olympic Park, London)

The India- Italy cross-over match will be a battle of two giants captains Rani Rampal (216 match 115 goals) and Chira Tiddi(143 caps).

Both teams have an equal chance, however India have an edge as other than the goalkeeper and rookie Reena Khokhar,  all other 15 Indian players have scored at least 1 goal  in  their career.

Italian Jasbeer Singh is a daughter of Inder Singh who played for India in the Mexico Olympics (1968) and won a bronze medal with the team.

The Italians have defeated the Chinese and Koreans and are looking to defeat another great Asian team India.

Ranked 17(the lowest rank) the Azure blue team are playing in the World Cup after 42 years whereas, India would like placing in top 8 after 40 years(7th—1978 Madrid).

Indian penalty corner expert Gurjit Kaur has to maintain her strike rate, to date she scored 55 in 58 matches. Here are the statistical highlights of today's matches:

IND-ITA in WC: head to head
India

Particulars

Italy

10

World Ranking

17

IND-ITA  did not played in World Cup,

Head to head :  total matches

 

15

Played**

15

8

Won

3

4

Drawn

4

22

Goals For

13

Stats from 2018 WC matches

13

PC   Obtained

9

1

PC   converted

2

8%

Success rate  in

PC  conversion

22%

29

GS  Obtained

23

2

GS  Converted

5

7%

Strike rate

in goal  scoring

22%

ENG-KOR in WC: head to head
England

Particulars

South  Korea

2

World Ranking

9

4

Played

4

1*

Won

2

1

Drawn

1

8

Goals For

10

Stats from 2018 WC matches

27

PC   Obtained

3

2

PC   converted

0

7%

Success rate  in

PC  conversion

nil

55

GS  Obtained

17

3

GS  Converted

1

6%

Strike rate

in goal  scoring

6%
*won in tie breaker,**Last played in 2015 Antwerp World league (Olympic Qualifier), India won 1-1(5-4); so 4-4, sdso 1-0

Fieldhockey.com


---

Pumped up India face Italy test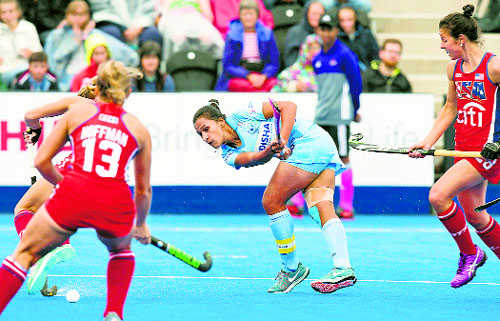 India had held USA to a 1-1 draw in their last pool match. file

Bolstered by the campaign-saving draw against the mighty USA, Indian women's hockey team will fancy its chances against lower-ranked Italy in the cross-over World Cup match, here tomorrow.

Ranked 10th, India will start as favourites against 17th ranked Italy in the crucial knockout and a win will pit them against Ireland in the quarterfinals on Thursday.

While India had to fight their way into the knockout round from Pool B after registering draws against England and USA and a loss to Ireland, Italy beat China (3-0) and Korea (1-0) before slumping to a 12-1 loss to the Netherlands.

However, going into tomorrow' game, the momentum surely would be on India's side. Under pressure, the Indians produced a spirited performance against USA to come out of a difficult situation and salvage their World Cup campaign.

Having conceded a goal in the 11th minute against USA, India were staring down the barrel and it took a valiant all-round effort and an inspiring goal from skipper Rani Rampal in the 31st minute to secure the all-important draw, a result which shut the doors on the Americans.

Experienced India captain Rani knows what it takes to win such crucial matches and asserted that they need to go full throttle. "We need to just focus on ourselves, build on our strength and ensure we use our positive points in the match against Italy."

"There is no doubt we need to go all-out in this crucial crossover match if we want to see ourselves in the quarterfinal," said Rani whose goal against USA enabled India to finish third in Pool B.

The skipper also emphasised the need to have a winning mentality to do well in big tournaments. "We all knew a draw would be enough, but we wanted to go for the win. I think that attitude helped us," she said.

Notwithstanding Italy's 12-1 drubbing against the Netherlands in their last match, the Indian skipper warned her side against complacency, saying the Italians are a serious contender.

"Italy is a good team and they have enjoyed good wins in this tournament too. But we need to go into the match with the belief that we can beat them," Rani said.

The Tribune


---

Reckinger plays the listening game



Xavier Reckinger inspires Germany to win against Argentina. Pic credit: Getty Images/FIH

Germany have got off to a flying start at the Vitality Hockey Women's World Cup, London 2018. They have won all three Pool C games, beating South Africa, Argentina and Spain to qualify straight through to the quarter-finals. This was achieved after the squad had spent just 28 days together this year.

The team has been on a mostly upward trajectory since its disappointing performance at the Rabobank Hockey World Cup 2014, but there have also been some blips. Bronze at the Rio Olympics was a high point, fourth at the Rabobank EuroHockey Championships was a disappointment. But, based on recent performances, the blips could be a thing of the past as Die Danas start to flex their collective muscle in London.

If one thing symbolises a change in the German mindset it is the sight of Franzisca Hauke racing up the side of the pitch as she uses her devastating speed to unleash another Die Danas assault on their opponents.

A short while ago Hauke and Anne Schröder were both central defenders but under Head Coach Xavier Reckinger, this is a more fluid German side. It is also a side that is smashing the generally held stereotypical image of Germany as a nation that sees defence as it's best form of attack.

Speaking after their 3-1 win over Spain, in which she was awarded the Vitality Player of the Match award, Hauke said: "Germany was always known as the hardest nation when it comes to defending but now we are playing a really attacking game as well. We want to shoot more goals, it is not enough to just defend our goal. We are also much more fit than we were four years ago, and that is key.

"Xavier Reckinger (Head Coach) has a good eye for positioning: for example, Anne [Schroeder] and myself used to play central, now we are wide and can use our speed much better. That works well."

"The whole process should be much more of an exchange, rather than the coach telling people how to play." Xavier Reckinger

It is not just the positioning that Reckinger has tinkered with. He is also making subtle changes to the foundations that his predecessor Jamilon Mülders had put in place. The two coaches have enormous respect for each other, with Reckinger frequently referencing the progress Mülders had effected with the team, and Mülders saying that Reckinger and his team were a "great appointment, who are already seeing results."

Reckinger took over as Head Coach to Germany just eight months ago. Prior to that he and been assistant coach following the Rio Olympics in 2016. As he says, "When you take over with such a short time before a major tournament you don't want to change too much."

In fact, Reckinger's appointment to the role took place on the same day that he had to select his squad for the Hockey World League Final in New Zealand.

For the Head Coach, the key to a successful squad is getting his players involved in the decision-making and solution-finding process. As a recent international (328 caps for Belgium) himself, he understands the things that matter to the players. One of those things is a feeling of involvement.

"I like to get the players involved. I ask my players what they think. Sometimes they make a suggestion that I think 'oh, that is a bit dodgy', but I still commit to following their suggestions. For example, in the match against Argentina, they called a penalty corner that I didn't agree with. I won't tell you if we scored from it or not but it was a classic example of me listening to the players. The whole process should be much more of an exchange, rather than the coach telling people how to play."

The willingness of the coach to listen to his players is, says Reckinger, having a positive impact on how the players react to his own ideas.

"Because they know their opinions are always considered, they will accept my opinions too. We see the positive impact of that on the pitch and around the camp at this World Cup. I know that after we have made a plan they will follow it. I see my role as guiding them through and helping find solutions."

Germany's next match is a quarter-final clash with Spain.

#HWC2018

FIH site


---

Reaction: England 1-0 Ireland




England recorded their first win at the Vitality Hockey Women's to finish second in Pool B and qualify for the knockout stages.

A late drag-flick from Giselle Ansley was enough after 53 minutes as England beat Ireland 1-0.

Next up for England is a crossover game against Korea on 31 July, with the winners facing the Netherlands in the quarter finals.

Hollie Pearne-Webb:

"We dominated the game, we went out there and played our game and created a lot of chances and they really didn't have any chances at all.

"I think performance wise we can be pleased with that but there are still things we want to look at and improve on for the next match in terms of capitalising on the chances we create and getting more out of them.

"I think we can be really pleased with our performance. Ireland played other teams and other teams conceded goals against them and we literally didn't give them a sniff, so we can look at the positives take them through to the next game and try and improve on converting our chances."

Hannah Martin:

"It's great to get the three points in our last pool game. We've been playing really well, the performances have been there, so it's great to get a win.

We knew we were good enough, and we executed our game plan really well today, winning lots of penalty corners, so I'm glad we were able to put a chance away."

Anna Toman:

"We created a lot of chances and defended really well, as did Ireland. Their goalkeeper Ayeisha McFerran had a brilliant game, but we stuck to it and got the goal in the end."

"It's really exciting as a defender to be able to contribute up front. It's a fantastic attribute of this team that we're fast and attacking, so we create chances, and hopefully we can convert a few more.

"We're really happy with the performance, and hopefully we can take that through to our next game against Korea. We played them in the World League, so we know a little bit about them. We'll go away and look at the videos and focus on the next match."

Grace Balsdon:

"I thought we controlled the game quite well today, we dominated play and in terms of performance we were strong, so as a whole I think we're really happy with that result.

"The crowd were amazing, it was another sell-out which is incredible, the energy we get off the crowd is so good, that lift and the cheers I can't articulate it enough- it really helps.

"Looking forward to Korea now, we are ready. We train every day, our centralised programme puts us in good stead for this kind of quick turn-around tournament play- we're fit enough and I believe we can do the job."

England Hockey Board Media release


---

Hockeyroos To Face World No.3 Argentina In Quarters

Ben Somerford




The Hockeyroos will face Argentina in the 2018 Women's World Cup quarter-finals on Thursday morning (AEST) after Las Leonas defeated New Zealand 2-0 in the playoffs overnight.

Australia had already progressed to the last eight after topping Pool D, avoiding the sudden death playoffs after a 1-1 draw with New Zealand on Sunday morning (AEST).

Argentina are currently third on the FIH Hero World Rankings and finished second in Pool B behind Germany, with a win, a draw and a loss across their three matches.

Australia and Argentina last met at the 2016 Rio Olympics, with the Hockeyroos triumphing 1-0 thanks to Emily Smith's 33rd minute goal.

The Hockeyroos finished topped their pool with one win and two draws from their three matches.

Australia coach Paul Gaudoin said they'd need to improve on their pool performances if they were to reach the semi-finals.

"We've got to be better than that if we're going to go deep into this tournament," Gaudoin said.

"We've got to be a bit smarter to keep the ball in those late stages.

"There's lots to learn and it was obviously a pressured game against New Zealand so we're looking forward to the next chapter."

Gaudoin said there were positives to take from the Black Sticks draw, particularly his side's press which kept FIH Player of the Year nominee and New Zealand captain Stacey Michelsen's influence to a minimum.

Argentina possess plenty of top-class players too, including reigning FIH Player of the Year winner Delfina Merino, who was best afield against New Zealand, and 2017 FIH Rising Star winner Maria Jose Granatto.

"I thought it was an interesting game," Gaudoin said, about Australia's 1-1 draw with New Zealand. "We pressed pretty well and took care of their key players.

"Michelsen is a quality player who we kept reasonably quiet, although she got off the leash a couple of times."

The winner of the Australia-Argentina quarter-final will play either the Netherlands (ranked 1st), England (ranked 2nd) or South Korea (ranked 9th) in the semi-finals.

Hockey Australia media release


---

Holland women prosper under 'DvdH'

By The Hockey Paper



Carlien Dirkse van den Heuvel, Holland captain PIC: Getty Images

Every international tournament brings caps' milestones: acknowledgments or flowers for 50, 100 and 150 and so on. Sunday's latest presentation was eye-opening for Dutch captain Carlien Dirkse van den Heuvel – and their rivals.

The 31-year-old midfielder marked her 200th cap as Holland racked up a Women's World Cup record score, 12-1 against hapless Italy.

In that time, she has scored 28 goals. Yet of those 200 matches, she has only played on the losing side 13 times, according to Hockey.nl, with 27 draws. Some record!

The most active player in this World Cup team, 'DvdH' is now ninth on the all-time Dutch caps list, 12 behind Janneke Schopman.

Seen as the joker of the side, she is also one of the most relaxed captains on the international scene.

And while Delfina Merino is billboard status back in Buenos Aires, DvdH can roam Amsterdam without being noticed; just how the amiable star likes it.

"I can do whatever I want and I can walk around without being recognised. Also, I don't where my bandana in the street," she told The Hockey Paper.

The city suits DvdH's way of life as she combines her hockey with understanding physiotherapy for a possible career after she retires.

She purchased two canal boats last year with an aim to perhaps spend some time doing them up to stave off hockey pressures. "Yes, I bought two boats, but then it was like 'why do I need them, so I sold them after a year'."

Having taken over the captaincy from Marloes Keetels at the start of the year, she was unsure whether she would be carrying on until Tokyo 2020.

Coach Alyson Annan wanted a captain to see them through, but a leadership compromise was carved and it has worked out well for the Dutch.

After debuting in 2008 – along with Eva de Goede and Lidewij Welten – the SCHC player is more than an experienced hand.

Some may say, after three coasting wins in London, that they might be undercooked ahead of the last eight here. But Annan has been canny in how they've approached the World Cup since January.

"She chose not to see too much of us," said DvdH. "We spent a lot of time with clubs. Usually it has been Monday to Wednesday with the team, the rest with the clubs. This year it has mostly been with the clubs."

And their build-up has also seen in two Four Nations tournaments and around 12 games in the lead up to the World Cup.

Three games, 26 goals. 200 caps, just 13 defeats. At this rate, Dirkse van den Heuvel will finish her career with fewer international losses than the number of letters in her surname.

The Hockey Paper


---

England anxious after corner woe, says coach Danny Kerry

England coach Danny Kerry says some of his squad have "lost belief" after a misfiring penalty corner routine threatened their World Cup place.

A 1-0 win over Ireland thanks to Giselle Ansley's final-quarter goal put England through to the play-offs, after draws in their first two pool matches.

But they needed 14 penalty corners before converting the winner.

"When momentum around a corner story builds, then the players put pressure on themselves," Kerry told BBC Sport.

"I think people now have started to get a little anxious and lose a little bit of belief.

"My job over the next few days is to say 'we've got to commit to the corners, got to believe and just go for it'."

England face South Korea on Tuesday in a play-off match for a place in the quarter-finals.

Korea are yet to win a match at the World Cup, finishing third in their pool behind the Netherlands and Italy, but Kerry is still wary of their threat.

"If I'm honest I'm a little anxious, as Korea are an awkward side. They will probably sit deep and play on the counter attack, they can have a corner threat.

"They are a little bit different to what we are used to. That's going to be an interesting challenge for some of our less experienced players."

England goalkeeper Maddie Hinch kept her first clean sheet in the victory over Ireland, and believes the win can spur her side on.

"We are not finding the net as much as we would hope, but we are creating the chances and stopping teams creating their chances. Essentially that's all that matters.

"This whole tournament has thrown up a huge amount of surprises and we've not got too nervous. It could have gone either way.

"I think we should take a huge amount of confidence from that and how much we've fought to get where we are and take that momentum into the next game."

BBC Sport


---

From Euro Hockey bronze to ball patrol to HWC 2018

by Jonathan Twumasi




A 16-year-old Hockey Maker showcased her desire to be a part of the Vitality Hockey Women's World Cup by working on a shift – the day after achieving bronze in an international hockey competition.

"I came straight from the airport to do my first shift here," said a euphoric Rowena Hearn. "I had flown in from Spain where I had been playing for the England under-18's in Santander and had just won the bronze medal."




Hearn's team defeated Germany 2-1 to claim third in the EuroHockey Youth Championships just three months after the England women's team accomplished an identical feat in the Commonwealth Games.

"[Santander] was amazing," said the Oxford Hawks fullback. "The weather wasn't the best, but the experience was so good – especially winning the bronze medal."

Hearn has already played on the Lee Valley pitch with her club side and will remain close to the action during the Vitality Hockey Women's World Cup in her role on the Ball Patrol team.

"Being on ball patrol has been good. It's all very full on, but it's a good experience – especially being so close to the pitch and interacting with it."

Hopefully the England Women can be spurred on by the successes of their younger counterparts and secure a first World Cup gold in August.

England Hockey Board Media release


---

Finally -- a draw for Malaysia

By Jugjet Singh

KUALA LUMPUR: The Malaysian men's hockey team finally shared the spoils with Australia A, when they drew 2-2 in Perth Monday.

However, it came at the back of three 3-2, 4-2 and 3-0 defeats, and the national side will play their last friendly on Wednesday.

The team is in Perth for their final Asian Games preparation, and the scores are still not encouraging enough as coach Stephen van Huzien and his men have been targeted to win gold in Jakarta and qualify for the 2020 Tokyo Olympics.

Yesterday, Australia A took the lead in the eighth minute, and Fazial Shaari equalsied in the 21st while Razie Rahim gave Malaysia the lead off a 52nd minute penalty corner.

However, with four minutes to end, Australia A scored to share points. Malaysia only had two penalty corners in the match, while Australia A had five.

Van Huzien said: "The game was tight and close and we did create some good chances and showed clever individual skills but lacked in the final touch.

"In the end, it was either poor finishing, not sharp enough, or the ball was saved by goalkeeper."

As an example, van Huizen said: "We had a good chance towards the end with a breakaway (counter-attack) but the final execution was not good enough."

The good part of the game with excellent invividual skills was displayed by striker Faizal.

"We scored the equalsier when a long pass from Razie found Faisal in the semi-circle and he dummied the goalkeeper to go down, and hit into goal," said van Huizen.

After three defeats and a draw, Malaysia will surely be looking for a winning end on Wednesday.

For the record, Australia A is made up of state as well as retired players trying to break into the national World No 1 side.

Jugjet's World of Field Hockey


---

EXIN Masters World Cup - Day 3
---

Malaysia 55+ beat Argentina for quarters

By Jugjet Singh



THE 55+ Malaysian team

KUALA LUMPUR: The Malaysian veterans' 55+ team beat Argentina 2-0 Monday to qualify for the quarter-finals of the Masters Hockey World Cup in Terrassa, Spain.

  The team, coached by Olympian Sarjit Singh, had earlier beaten Ireland 9-0. They qualified for the knock-out stage with two matches in hand against Italy Tuesday and Germany Wednesday -- to try and top the group.

V.  Chandrasegar (45th) and Derek Fidelis (51st) scored for Malaysia.



SKIPPER: Sarjit Singh exchanging mementos with Argentina skipper before the match, Malaysia won 2-0.

"We achieved our target of playing in the quarter-finals and now we need to keep the momentum in the next two games to top the group.

"We missed too many sitters against Argentina, and need to improve not only at the group stage, but to get it right in the semicircle during the knock-out as well," said Sarjit Singh, who was former national skipper.

Malaysia are also competing in the 45+ event, and after a 2-1 win over Scotland they lost 3-0 to France.

The 45+ play Germany next to decide their fate.

Jugjet's World of Field Hockey


---

Seven USA Squads In Action on Day 3 of EXIN Masters World Cup




TERASSA, Spain - The third day of the EXIN Masters World Cup in Terassa, Spain featured seven of USA's nine teams compete.


O-40 Men's 6 vs. Denmark 1

After a tough 7-0 loss to the defending 0-40 World Cup champions, Australia, the U.S. O-40 Men's Masters Team rebounded with a 6-1 victory over Denmark. Alex Armas (Charlotte, N.C.) set the tempo before the 5 minute mark with a perfectly placed reverse stick shot on an assist from Federico Baudini (Doral, Fla.). From there, USA played a balanced game scoring from both field and penalty corners.
 
O-45 Men's 2 vs. Wales 2

O-35 Women's 0 vs. Australia 1

The U.S. O-35 Women's Masters Team lost their second match of the tournament 0-1 as they played another tough opponent, Australia. Both teams had attacking opportunities in each half of play, but it was Australia who struck first by converting on a penalty corner in the first quarter of the match. Although the result was not what USA was hoping for, the squad continues to move forward while focusing on the improvements made from match to match. After a rest day on Monday, July 30, USA will look to pick up their first win in their third match against Sri Lanka.

O-40 Women's 1 vs. Argentina 5

The U.S. O-40 Women's Masters Team dropped a tough match to a very experienced Argentina squad. Argentina managed to score two goals in the opening quarter, one on a breakaway and the other on a penalty corner opportunity. USA rallied just before the conclusion of the first half on a broken corner with a strike by forward Lauren Baugher (Waltham, Mass.) to score the first goal against the Argentina in the tournament. Despite a strong effort and possession game by USA, Argentina converted two more penalty corners in the third frame to take a 4-1 lead into the final period. Despite earning two penalty corners of their own in the final quarter, USA was unable to convert while the Argentinia managed to notch one more for a final score of 5-1.

O-45 Women's 0 vs. Spain 1

In a competitive game against Spain, the U.S. O-45 Women's Masters Team fell 0-1 in the final moments. Anna Berra (Doral, Fla.) dominated the backfield holding Spain to just a handful on shots, while goalkeepers Maya Harutyunyan (Glendale, Calif.) and Jen Anderson (Owings Mills, Md.) shut down Spain's other chances in the first and second half, respectively. With 1:30 remaining in the fourth quarter and a man down due to a yellow card, a hard shot from the top was tipped around Anderson for the deciding goal.

O-50 Women's 0 vs. Argentina 1

The U.S. O-50 Women's Master Team also came up just short against Argentina. The squad worked well to counter Argentina's tight passing and stick work by switching the field and stretching the defense. Early in the first period, Argentina scored on a short penalty corner. The remainder of the match was evenly played, with USA earning three short corners of their own, but were unable to capitalize.

O-55 Women's 1 vs. Scotland 2

Barbara Doran (New York, N.Y.) was able to put the U.S. O-55 Women's Masters Team on the board late in the first period. On a penalty corner attempt, Doran eliminated the fly with a quick pull left and shot which was saved, but was able to put the rebound into the goal for the 1-0 lead. The third period proved to be the downfall for USA. Donna Chung (Canton, Mass.) was unbelievable in handling multiple breakaway chances caused by interceptions on transfers in the back. But another Scotland scramble in front of the goal and a well-placed lifted shot crossed the goal line, making the score 1-1. Another chaotic scramble in the circle was almost cleared out by USA on two separate plays, but in the end Scotland was able to caused a penalty stroke when it hit a USA defender's body. Scotland scored making it 2-1 at the end of the third period. USA tried to rally during the fourth period, but the final remained 2-1 Scotland.

For more information regarding the EXIN Masters World Cup, including full schedule, results, roster, live stream information, and more, check out the official event program by clicking here.

USFHA media release


---

Hockey players refuse to play in Asian Games if 6 months' allowances not paid

Abdul Ghaffar



Captain Mohammad Rizwan Sr. and other players.

Players of the Pakistan hockey team on Monday threatened to boycott next month's Asian Games — also known as Asiad — if their daily allowances from the last six months are not paid, DawnNewsTV reported.

The warning followed the announcement of an 18-member squad by the Pakistan Hockey Federation (PHF) for the Asiad slated to be held in Jakarta from August 18 to September 2.

Talking to reporters along with other players, team captain Mohammad Rizwan Sr. said the team had decided that they would not travel to take part in the Asian Games unless all of their dues from the last six months are cleared.

He said none of the players had been paid their daily allowances for last six months, which total more than Rs0.8 million per player.

"This is the entire team's decision and we are with the captain," said player Imran Butt.

In another video, Rizwan Sr. said it had been six months since the players were paid their domestic or international dues. "Therefore we have decided we should make the government realise that it is treating the national sport like an orphan," he maintained.

The Hockey captain said he was at a loss to understand why the funds were not being released, even though the players were going to represent the country on an international platform. The team will train for the games until August 8, but if the dues are not cleared by then, they will go home, he warned.

Meanwhile, coach Rehan Butt told DawnNewsTV that reports that the team had boycotted the training completely were false, adding that players will train tomorrow as per routine.

The team's point of view is that they want the funds to be released before the Asian Games, and they may decide against participating if that is not done, Butt said.

Earlier, chief selector Islahuddin Siddiqi announced an 18-member squad for the Asiad at the end of a training camp for the national team that was organised in Karachi.

Squad

Mohammad Irfan Sr. (captain), Imad Shakil (vice-captain), Imran Butt, Amjad Ali, Mubashir, Faisal Qair, Rashid Mehmood, Tasawwur Abbas, Umar Bhutta, Rizwan Sr., Shafqat Rasool, Tauseeq Arshad, Aijaz Ahmed, Abubakar Mehmood, Ateeq Arshad, Ali Shan, Dilbar and Junaid Manzoor.

Dawn


---

Pakistan hockey team announces to sit out in pay protest

KARACHI: The Pakistan hockey team has announced to not participate in the forthcoming Asian games in protest over the non-issuance of their due daily allowance.

"The players have not yet received the daily allowance for the training camp held for Champions Trophy," said national side's skipper Rizwan Senior. "We won't participate in the Asian Games if we aren't given our due daily allowance."

The national side's training camp was scheduled in Holland for the Champions Trophy.

"It's not a revolt we are asking for our due right," Rizwan added.

Senior player Imran Butt said that the team has conveyed their decision to the team management.

Pakistan Hockey Federation President Khalid Sajjad Khokar, in his reaction on the developments, said that there is a conspiracy underway against the national hockey team.

Khokar requested the players to not give any statement to the media regarding the pay issue.

"We will clear all dues before going to Asian Games. Unfortunately, our grant was stopped due to certain unknown reason," he said. "If we don't get money from the money I will pay the players through my own means." He urged the players to focus on their training.

Geo TV


---

Hockey players threaten to boycott Jakarta Asian Games




LAHORE: Players of the Pakistan hockey team on Monday threatened to boycott next month's Asian Games if their daily allowances from the last six months are not paid. The warning followed the announcement of an 18-member squad by the Pakistan Hockey Federation (PHF) for the Asiad slated to be held in Jakarta from August 18 to September 2. Talking to reporters along with other players, team captain Mohammad Rizwan Senior said the team had decided that they would not travel to take part in the Asian Games unless all of their dues from the last six months are cleared. He said none of the players had been paid their daily allowances for last six months, which total more than Rs0.8 million per player. "This is the entire team's decision and we are with the captain," said player Imran Butt. Rizwan Sr said it had been six months since the players were paid their domestic or international dues. "Therefore we have decided we should make the government realise that it is treating the national sport like an orphan," he maintained.

The hockey captain said he was at a loss to understand why the funds were not being released, even though the players were going to represent the country on an international platform. The team will train for the Games until August 8, but if the dues are not cleared by then, they will go home, he warned. Meanwhile, coach Rehan Butt said that reports that the team had boycotted the training completely were false, adding that players would train soon as per routine. "The team's point of view is that they want the funds to be released before the Asian Games, and they may decide against participating if that is not done," he said. Earlier, chief selector Islahuddin Siddiqi announced an 18-member squad for the Asiad at the end of a training camp for the national team that was organised in Karachi.

Squad:

Mohammad Irfan Sr. (captain), Imad Shakil (vice-captain), Imran Butt, Amjad Ali, Mubashir, Faisal Qair, Rashid Mehmood, Tasawwur Abbas, Umar Bhutta, Rizwan Sr., Shafqat Rasool, Tauseeq Arshad, Aijaz Ahmed, Abubakar Mehmood, Ateeq Arshad, Ali Shan, Dilbar and Junaid Manzoor.

The Daily Times


---

Sending team earlier key to Asiad medal

Mohsin Ali




ISLAMABAD - Pakistan Hockey Federation (PHF) secretary Olympian Shahbaz Senior has requested Pakistan Sports Board (PSB) to send 25-meber Pakistan hockey contingent at least a week earlier, as they have golden chance of finishing on the podium.

Shahbaz Senior was present at Pakistan Sports Complex along with director media Raja Mohsin Ijaz to meet with DDG Technical and Training M Azam Dar, who is also director national federations. They requested him to ensure Pakistani contingent reach Jakarta, Indonesia for Asian Games by 10th of next month. "The boys were trained well at the camp established in Karachi and head coach Roelant Oltmans is very much optimistic about green shirts' chances in the Asian Games hockey. We have set Asian Games as our target and despite lack of funds to pay even dailies of the players, the moral in the camp is high and each and every player wants to play out his heart to ensure the team finish on podium."

Azam Dar agreed to forward Shahbaz' request with a condition that the PHF has to pay the expenditures and when the PSB receives its grant, it will clear the federation's dues. Shahbaz informed Azam that the federation's accounts are almost empty, they are running from post to pillar to meet their daily expenditures and are unable to pay dailies to players and team management, so they are unable to afford such heavy amount of sending the team earlier to Jakarta.

Shahbaz, while talking to The Nation, congratulated Imran Khan and his party PTI on winning the 2018 general elections and then requested would-be Prime Minister Imran Khan to ponder over federation's request, as he is also a sportsman and he can better understand problems of athletes. "I request Imran Khan to release funds for the federation. We are not demanding a single penny for personal benefits, as we have realistic chances of winning medal in Asian Games hockey. We want to send 18 players and 7 officials at least a week earlier to Jakarta to get used to the climate and to play few practice matches against different teams and clubs, as it will boost their winning chances."

The former Olympian said: "We are using all our energies to ensure merit, provide top class facilities, international exposure, top class national and international coaches and round-the-year training to the players, so that they may earn medals for the country at international level.

"When we took over, we hardly had 30 plus players, with no junior and youth concept existing in the federation. But with day and night hard work, we managed to not only enhance the pool of players to well over 200, but also created youth and junior team and send them abroad for international experience. Those, who are pointing fingers on development squads' visit to Canada, don't know ABC of hockey and also unaware of the importance of investing on youth. They just want to criticise the federation, nothing else.

"Cricket has overwhelmingly eaten all the sports in Pakistan and hockey is worst affected. In the past, youth wanted to follow the footsteps of former greats and used to love to play hockey, but now not a single former greats family wants to play hockey and represent the country at international level. A few player joined hockey just to secure their jobs. It is alarming situation, but no one in the past paid heed to this issue of grave importance. We have made different plans and time is coming when we will reap the benefits," he added.  The PHF secretary said that he is ready to step down, if someone comes up with solid plans and guarantee that after his resign, Pakistan hockey will start flourishing rapidly. "We need time to flourish the national game, and I promise to nation that soon we will start getting better results. Hockey is in my blood and it hurts me more than anyone else, when I see Pakistan is nowhere in hockey world, which we once ruled. I appeal to Imran Khan to release funds for the PHF and ensure the team leave early to brighten their chances of winning Asian Games hockey medal," Shahbaz concluded.

The Nation


---

2018 South African Senior Men's IPT A Section - Day 2
Pietermaritzburg

Results 30 July

SG v SGN (Pool A)         12 - 0
SGW v WPP (Pool B)     4 - 3
NG v KZNM (Pool B)     5 - 0
EP v FS (Pool B)         3 - 2
WP v NW (Pool A)         7 - 0
KZNC v SAU21 (Pool A)     3 - 2

Pool Standings
Pool A
Pool B
---

2018 South African Senior Men's IPT B Section - Day 1
Pietermaritzburg

Results 30 July

NGB v NCB (Pool A)     3 - 4
SACD v KZNI (Pool A)     3 - 0
MPU v NCA (Pool A)     4 - 1

Pool Standings
---

Early markers by Title Challengers



Photo: Sean Burke

Undoubtedly all eyes were on the final game of day 1 of the 2018 Men's IPT, where Tuffy Western Province would take on the SA Invitational U21 side. In a group that features both last year's winners SPAR KZN Raiders and 2016 winners Southern Gauteng, an early loss would make the mountain far more difficult in the route to the crown.

The game produced a humdinger as Tuffy Western Province, captained by former national skipper Austin Smith, took the lead through Callum Buchanan in the 22nd minute and made it 2-0 on the stroke of half time when Luthando Jonas finished off smartly. Keenan Horne made it 3-0 to Tuffy Western Province in the third quarter before the SA Invitational U21 fought back.

Dayaan Cassiem, playing against his home province, pulled one goal back before a 51st minute Matthew Roman goal created a frenetic finish in front of two of South Africa's top referees Peter Wright and Ayden Shrives. Tuffy Western Province would hang on for a massive three points and ending the day in a happier position.

Earlier in the day two of the three Southern Gauteng sides dominated their matches with Southern Gauteng and Witsies easily seeing off North West and Free State respectively. Nic Spooner, a man all fans would love to see in Green and gold again, netted a hat-trick, which itself was matched by Matt Brown, while the Witsies side were spurred on by a brace from Kingsley Botes and Chad Futcher.

SPAR KZN Raiders, the defending champions, also had cause for happiness as 7 different scorers got their names on the scoresheet including Greg Last who netted two. The Northern Blues were also pushed all the way in their entertaining 2-1 win against the WP Pens. Dirk van der Spuy the hero when he scored in the 53rd minute.

In the opening game of the day Eastern Province were barely troubled putting together a fine 4-0 win against the KZN Mynahs, with Ignatius Malgraff coming to the fore again.

The Men's IPT has produced some remarkable results in recent years with Witsies, SA Under 21 and WP Pens all making the finals in the last 5 years and we all know what happened when Pens made the final. In IPT there may be an "A" and "B" section, but there is no such thing as a "B" Team

Day 1 Results – A Section

Eastern Province 4-0 KZN Mynahs
Southern Gauteng 13-0 North West
Witsies 6-1 Free State
SPAR KZN Raiders 8-2 SG Nuggets
Northern Blues 2-1 WP Peninsula
Tuffy Western Province 3-2 SA Invitational U21

SA Hockey Association media release


---

Three Sides keep 100% record in each Group



National Squad player Tyson Dlungwana appearing for Northern Blues

After the thrill of the opening day's action, crowds in Pietermaritzburg were once again entertained by a day of goals and more. After two days both Group A and Group B are perfectly split with the top 3 having 100% records and the bottom three yet to taste victory.

The pick of the watching from the A Section was undoubtedly in the closing game of the day when the defending champions, the KZN Raiders, took on the SA Invitational U21 side. It was the coastal side who got off to the better start when South African striker Bili Ntuli scored in the fifth minute before underrated Greg Last fired home a penalty corner.

Sam Mvimbi fought back for the SA youngsters with his own penalty corner that ended the quarter 2-1 to the Raiders, a score that would remain until the 43rd minute when Damian Kimfley regained the two-goal cushion for the Champions. That lead was short lived as Michael Forrest cut the deficit to 1. A combination of good defence and Gowan Jones was able to repel any chances that the youngsters created to hold onto a well-deserved victory.

In Group B EP fought back from 1 goal down to win 3-2 with Malgraff in the goals again, while the other humdinger of the days saw the battle of the "B" teams produce "A-Class" quality when Witsies took on Pens. Pens came out firing and led 3-1 at the end of the first Quarter through a brace from Jordan Turnbull and a goal from Dave Agar either side of a Stuart Phillip strike.

Witsies methodically fought back under the tutelage of Anthony Woodhouse, famous for his gripping #PickWoody campaign for PHL 2017, and went into the half-time break only one down thanks to Matthew Povall's strike. In the third quarter they turned up the heat even more and former SA U21 skipper Kyle Lion-Cachet levelled before Chad Futcher scored what would be the decisive goal, maintaining Witsies undefeated status.

In the three other games Southerns walloped the Nuggets with hat-tricks for Julian Hykes and Richard Pautz, Tuffy Western Province were dominant against North West with a brace for both Luthando Jonas and Connor Beauchamp, while the Northern Blues were hardly tested in a routine win against the Mynahs. The Letuka twins each got on the scoresheet for their province.

The B Section got underway today as well and it was wins for Mpumalanga, SA Country Districts and Northern Cape B.

Day 2 Results – A Section

Southern Gauteng 12-0 SG Nuggets
SG Witsies 4-3 WP Peninsula
Northern Blues 5-0 KZN Mynahs
Eastern Province 3-2 Free State
Tuffy Western Province 7-0 North West
KZN Raiders 3-2 SA Invitational U21

Day 2 Results – B Section

Northern Daisies 3-4 Northern Cape B
SA Country Districts 3-0 KZN Inland
Mpumalanga 4-1 Northern Cape A

SA Hockey Association media release


---

Champs Butali Warriors and Telkom top KHU league

By Elizabeth Mburugu



Photo: Jenipher Wachie, Standard

Former Kenya Hockey Union (KHU) men's Premier League champions Butali Sugar Warriors remain on course to retaining their title.

Butali are top of league standings with 27 points from nine wins and one loss. In the women's title chase, 20-time winners Telkom lead the log with 18 points after winning all their first leg matches.

Men's defending champions Kenya Police are second, tied on points with Butali from 10 rounds of matches but with an inferior goal-difference.

Butali, who are seeking to recapture the title they last won in 2015, have been impressive at the opponents' goal scoring 28 goals and conceding seven.

Police on the other hand have fell short in defence, conceding 14 goals despite scoring 30. With only one first leg match remaining for both Butali and Police, the two, who have always engaged in a two-horse race, will be engaged in a neck-and-neck chase for this season's trophy.

Butali captain Kenneth Nyongesa said they are not going to relent because they want to go all the way.

Get the latest World Cup news updates. Subscribe to our SMS sports service by texting 'SPORTS' to 22840.

"Our main objective is to reclaim our title. We have been training a lot and each one of us is determined to make it happen," Nyongesa said.

"We are on top but with same points as Police. Our aim is to break the tie and fight harder in the second leg."

Wazalendo are third with 19 points from six wins, one draw and four losses.

Greensharks, who started on a winning note including a 4-3 win over Police, slowed down are currently fourth with 17 points from 10 outings.

The Gladiators, who won the 2016 title, are fifth, one point a drift Greensharks.

Parkroad Badgers, Western Jaguars and Nakuru are bottom in the standings.

Badgers are last in the 12-team league with six points from one win, three draws and seven losses.

Jaguars are 11th, one point better than Badgers. Nakuru are courting relegation despite their 4-0 win over Parklands at the weekend.

The Standard Online